Looking for the most incredible and best incredible luxury cabins in Virginia? Tourists fall in love with the state's beautiful landscape, and it's an excellent option for a mountain getaway near D.C. Whether you're going to a Virginia music festival or visiting historical sites, this state has a whole lot to offer.
Thanks to its long history, Virginia is replete with incredible historic landmarks. It also boasts a beautiful beach scene on the Atlantic coastline. This article will cover ten outstanding cabin getaways in Virginia to help you plan your dream vacation.
If you're looking for even more unique ways to see the state, why not go glamping in Virginia? There are endless rentals just waiting to be explored. Also, be sure to read my guides on Luxury Cabins in Georgia & Luxury Cabins in Ohio for more nearby getaway ideas!
---
1) New River Haven Cabin
Where: Old Town Galax, Virginia
Price: $140 + USD per night
This cabin rental in Old Town Galax is right across from the New River, where you can fish for smallmouth bass or go on an unforgettable kayaking expedition. Guests of the cabin can make use of the two kayaks on the property, and you won't want to miss out once you see the river's breathtaking surroundings.
Besides the excellent location, the Haven Cabin also offers impeccable views of the forest from the upstairs deck. Each room is cozy and rustic, with a classic, cabin-style feel that is sure to charm you. The living room also offers a big stone fireplace where you can roast marshmallows and toast with hot chocolates.
When you're not out on the water, you and your friends or family can enjoy the numerous hiking and biking trails around the property. You might even be lucky enough to spot a bald eagle or the other Virginia wildlife out and about amongst the trees.
View Photos, Read Reviews & Check Availability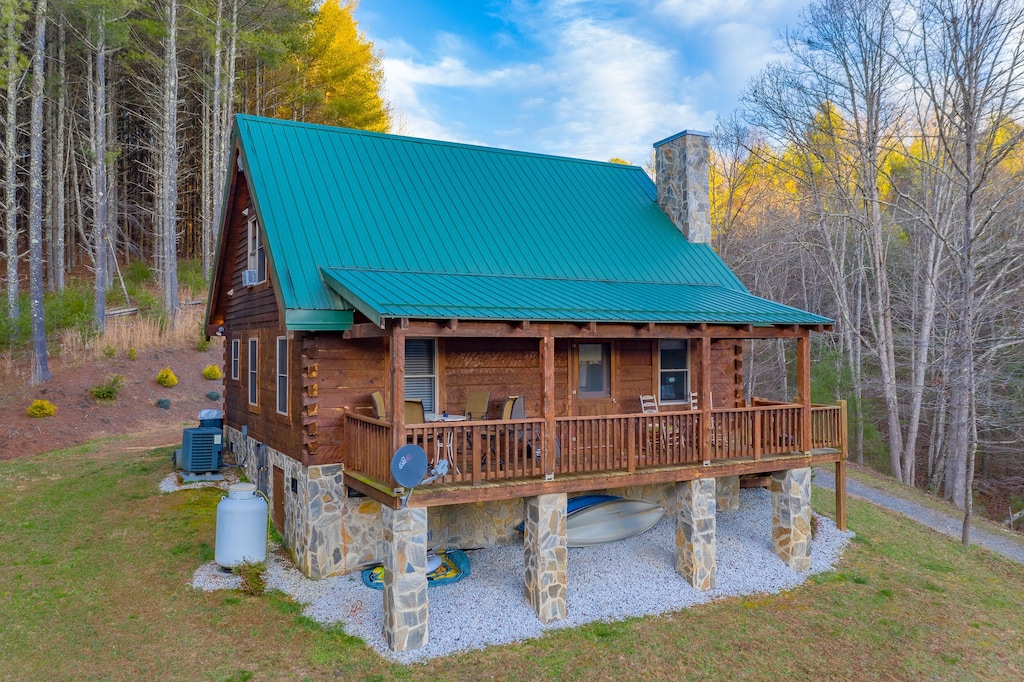 ---
2) High Lonesome Cabin
Where: Tyro, Virginia
Price: $191 + USD per night
If you're looking for cabins in the Virginia mountains, consider this rustic two-bedroom rental in Tyro. You'll practically have the mountain to yourself, as the property is situated on 20 private acres and surrounded by national forest land. The mountain looks majestic from the rental's outdoor deck, as well as the fire pit where you can cozy up on a cold winter night.
With such a gorgeous view, you could find yourself staying in a lot. But if you plan to venture out, there's plenty to do and see near the cabin. Crabtree Falls, the highest waterfall east of the Mississippi, is just a couple of miles away. You and your friends can take the scenic forest loop through the trees to get there for a fun morning walk with great views.
The cabin itself is woodsy and inviting, with a stone fireplace that you'll adore in the winter. And in the summer, there are swimming holes you can visit in the area. The Tye River is also right across the street, where you can enjoy a waterside picnic on a romantic summer afternoon.
View Photos, Read Reviews & Check Availability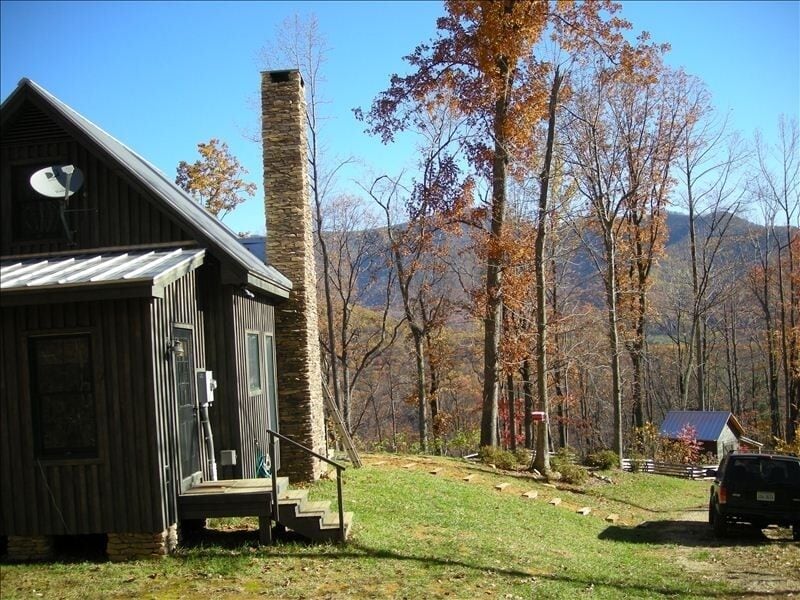 ---
3) Cabin 3 Smith Mountain Lake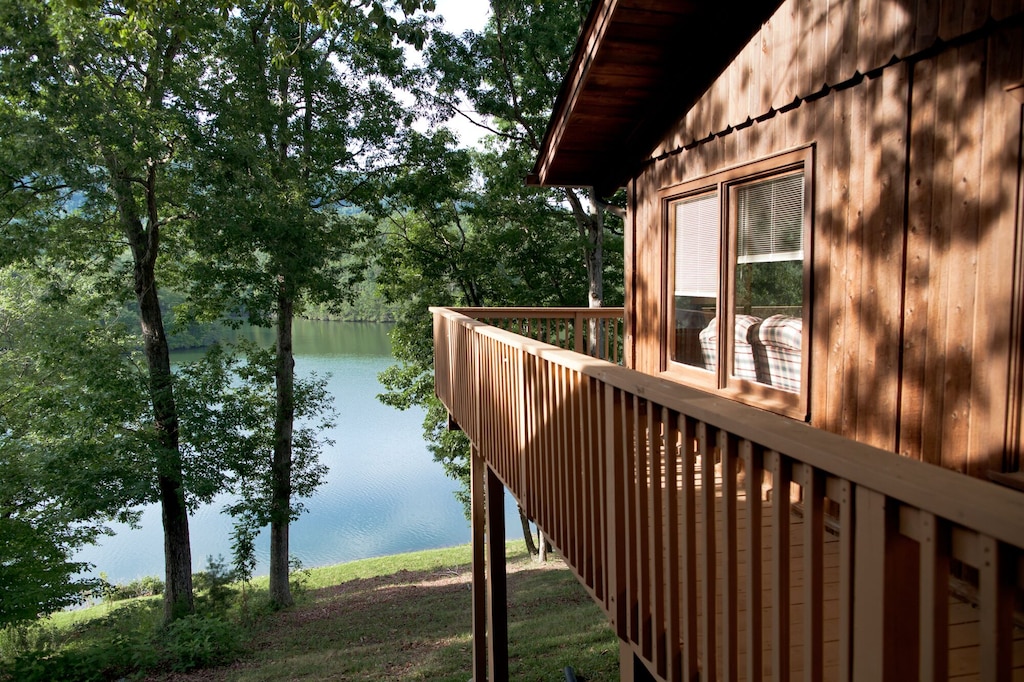 Where: Huddleston, Virginia
Price: $219 + USD per night
While this cabin's interior is quite simple, the lake view from the outdoor patio is stunning on a crisp, early morning. With the sun rays glistening on the water, you couldn't ask for a better place to sip your morning coffee.
You can even make your way down to the shared dock and dive into the lake for a refreshing swim. If you'd like to take a boat out, rent kayaks and canoes at the nearby Mitchell's Marina.
The cabin has everything you need for a comfortable stay, including air conditioning, indoor heating, and a fully equipped kitchen. There's also a charcoal grill on the deck where you can barbecue up some grub in view of the lake.
There's plenty of hiking for you to do in the woods around the property. If you're still craving more activity, check out the golf course within driving distance of the property.
View Photos, Read Reviews & Check Availability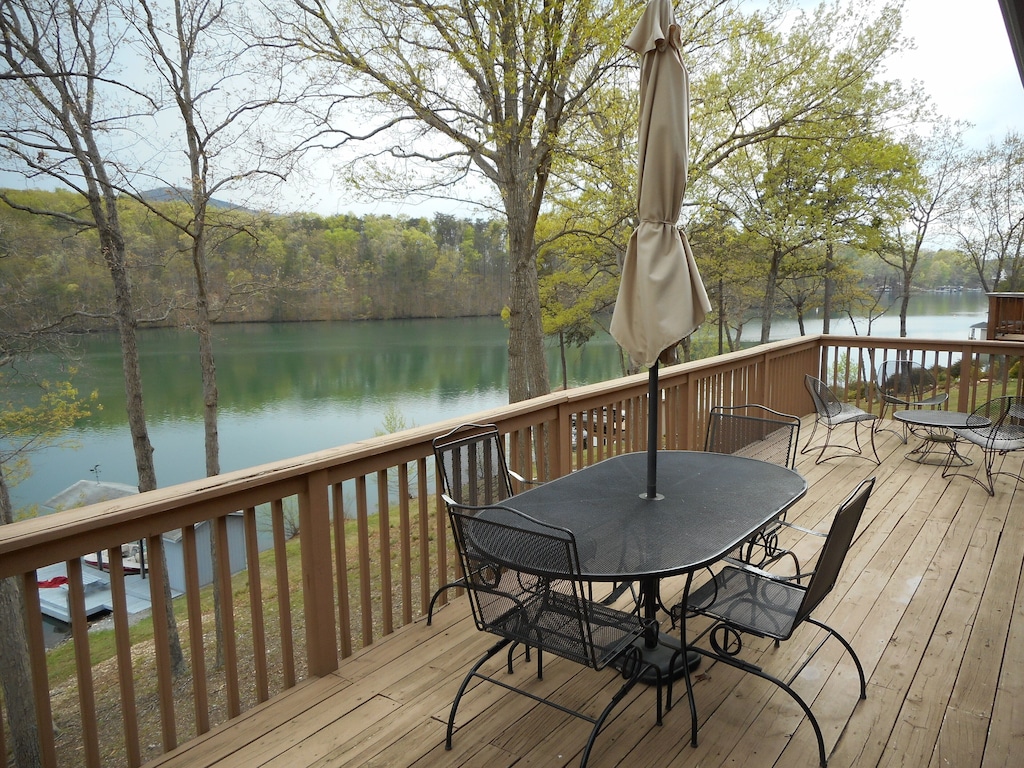 ---
4) Secluded Mountain Cabin
Where: Stanley, Virginia
Price: $195 + USD per night
https://www.vrbo.com/3572148ha
Are you looking for cabins in the Blue Ridge Mountains, VA? This rental may be what you've been dreaming about. You can wake up every morning to a view of the mountaintops and hills in the distance. The wraparound deck is the perfect spot to do your morning yoga or just kick back and bask in the natural beauty.
The jacuzzi on the deck adds a special touch to the already fantastic view. You and your partner can soak in the bubbles, split a bottle, and watch the sun dip below the horizon at sunset.
The cabin borders Shenandoah National Park. It's the perfect place to enjoy a scenic hike on your vacation. The park is abundant with cascading waterfalls, like Rose River Falls, as well as plenty of greenery to get you in touch with nature.
The bedrooms inside are quaint and cozy and this would be a cute spot to rent for a young family. There's a fully equipped kitchen, a jungle gym outside, and a fire pit to roast s'mores over.
View Photos, Read Reviews & Check Availability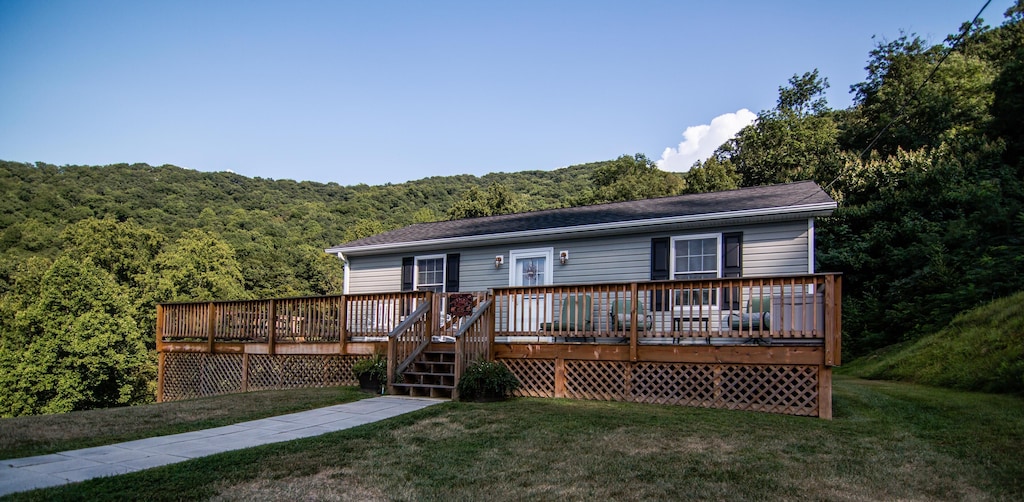 ---
5) Romantic Cabin For a Couples' Getaway
Where: Blue Ridge, Botetourt County, Virginia
Price: $135 + USD per night
This couples' cabin in Blue Ridge would make for a romantic getaway for honeymooners. But it would also make a peaceful getaway if you're going on a solo trip. The cabin may be small, but who could complain when there's a fireplace crackling just steps away from the bed? The Couples' Getaway rental has a cute design, inviting furnishings, and a hot tub outside to boot.
On lazy mornings, relax on the porch and look out over the pretty farmland. The farm is peaceful and quiet, and you can even see cows grazing in the fields. There's also a lovely view of the Peaks of Otter, the three mountain peaks in the Blue Ridge Mountains.
When you're not relaxing in the hot tub, head over to the pond for a picturesque picnic. You can also chill out on the porch rocking chairs and enjoy the fresh air. This cabin is a peaceful farm oasis and a tranquil escape from routine life.
View Photos, Read Reviews & Check Availability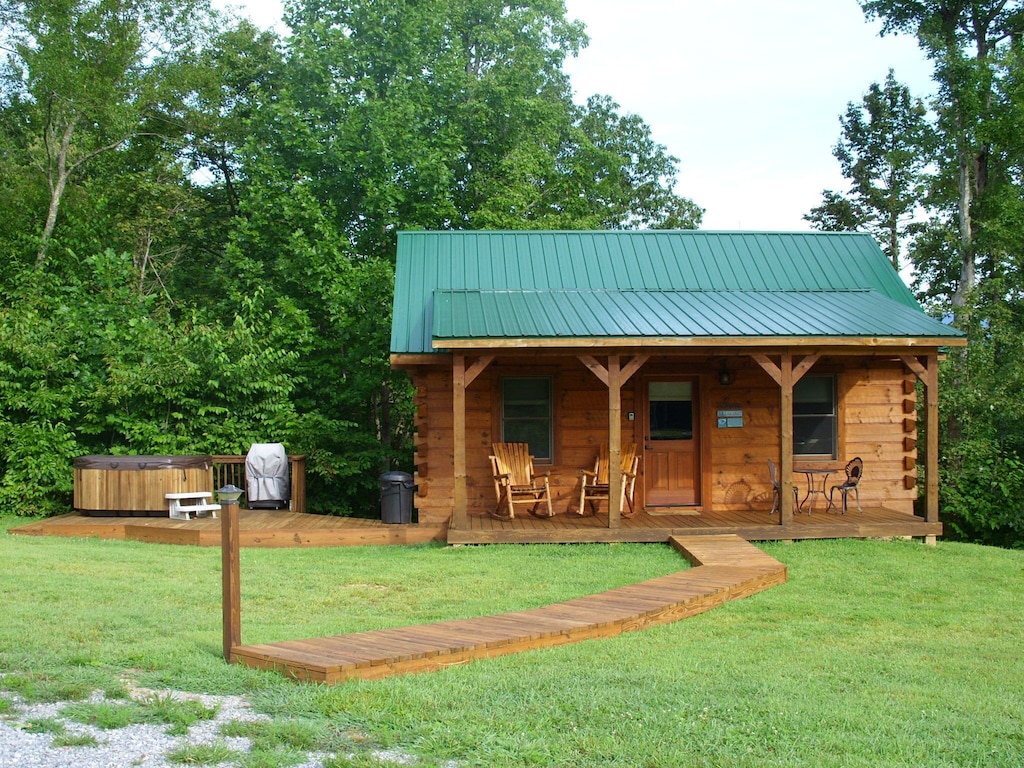 ---
6) Appalachian Estates Cabin
Where: Linden, Virginia
Price: $199 + USD per night
https://www.vrbo.com/4369600ha
This elegant A-frame rental is one of the best cabins in Virginia. The home exudes luxury with its high ceilings, chic decor, and abundance of natural light. Boasting an impressive stone fireplace, outdoor patio, and hot tub, this is a great cabin rental for winter or summer.
The cabin also has a fully equipped kitchen you can use to cook up a storm for you and your guests. You can also make use of the grill on the deck for an afternoon barbecue.
If that's not enough to convince you, take a peek at the unique Bubble House on the property. For an extra $89 – $99, you can spend the night in the magical transparent dome. What could be more relaxing than sleeping under the stars?
If you're looking for entertainment nearby, the property is only a couple of miles from Sky Meadows State Park. The park offers a great perspective of the Blue Ridge Mountains, and there are tons of scenic hiking trails you can try out.
View Photos, Read Reviews & Check Availability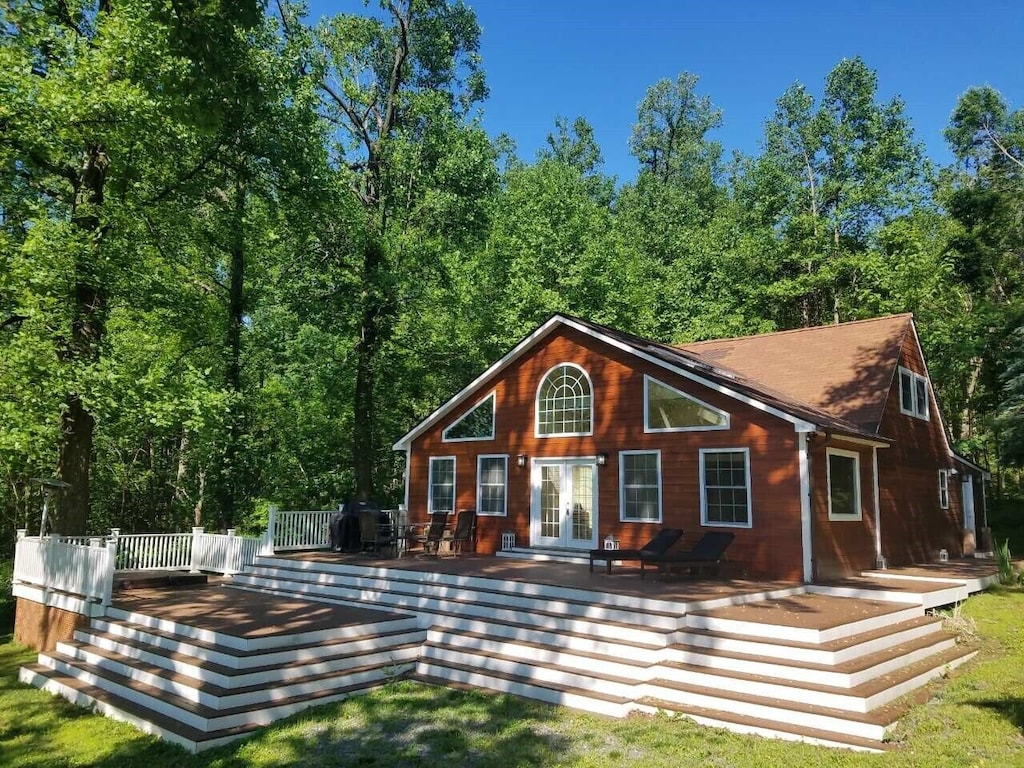 ---
7) Stunning Mountainside Chalet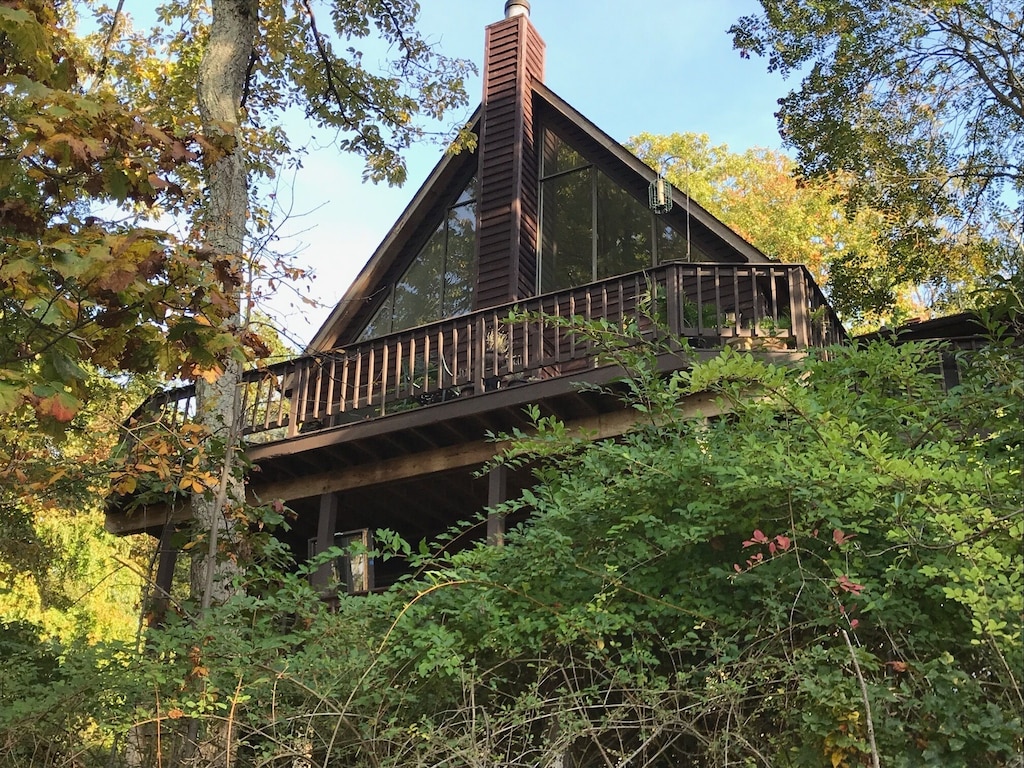 Where: Harpers Ferry, Virginia
Price: $359 + USD per night
https://www.vrbo.com/7109461ha
Looking at the humble face of this wood cabin rental, you'd never guess it would be one of the most high-end cabins on this list. The outside may look like a traditional cabin, but inside, you'll be greeted with a spectacular view of the surrounding forest. Thanks to sky-high windows and vaulted ceilings, this cabin has a refreshing and tasteful feel any guest would love.
The magnificent fireplace stands at the heart of the home – it's a fantastic place to kick back with a good book and enjoy the view. There's also a lovely hammock on the outdoor deck where you can take an afternoon snooze.
The cabin has three bedrooms, each with a generously sized bed and modern furnishings. There's even a telescope in the living room, which you can use to take a closer look at the distant mountain landscapes.
There are tons of wineries, boutique stores, and vineyards to check out in Harpers Ferry. In fact, Breaux Vineyards is just three miles from the cabin, where you can indulge in a wine tasting or take a tour of the vineyards.
View Photos, Read Reviews & Check Availability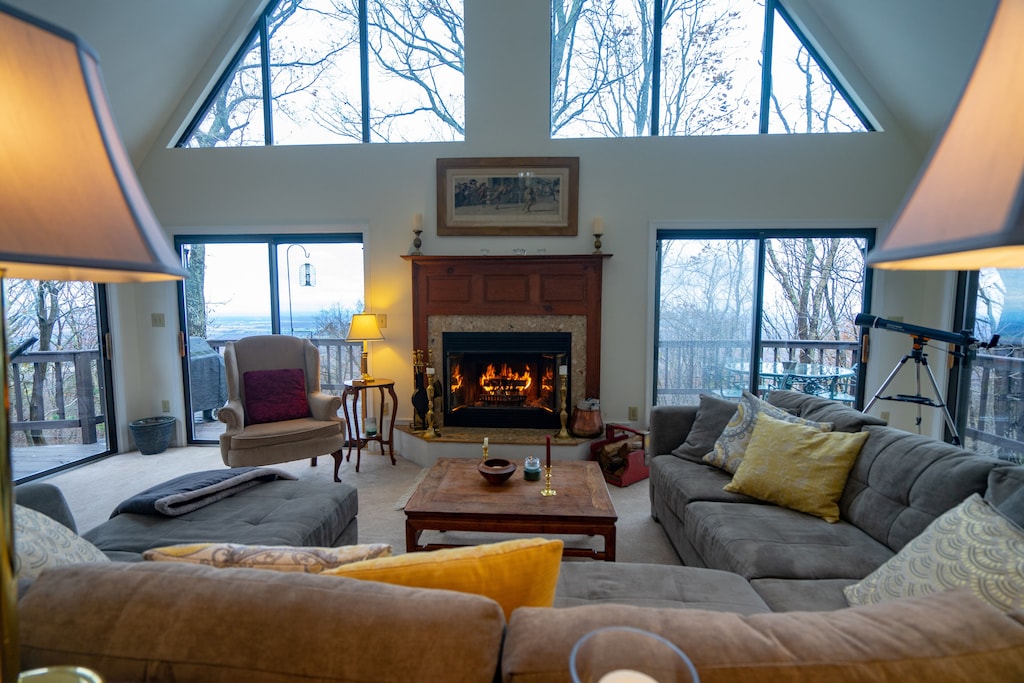 ---
8) Cozy Cabin Hideaway on a Lake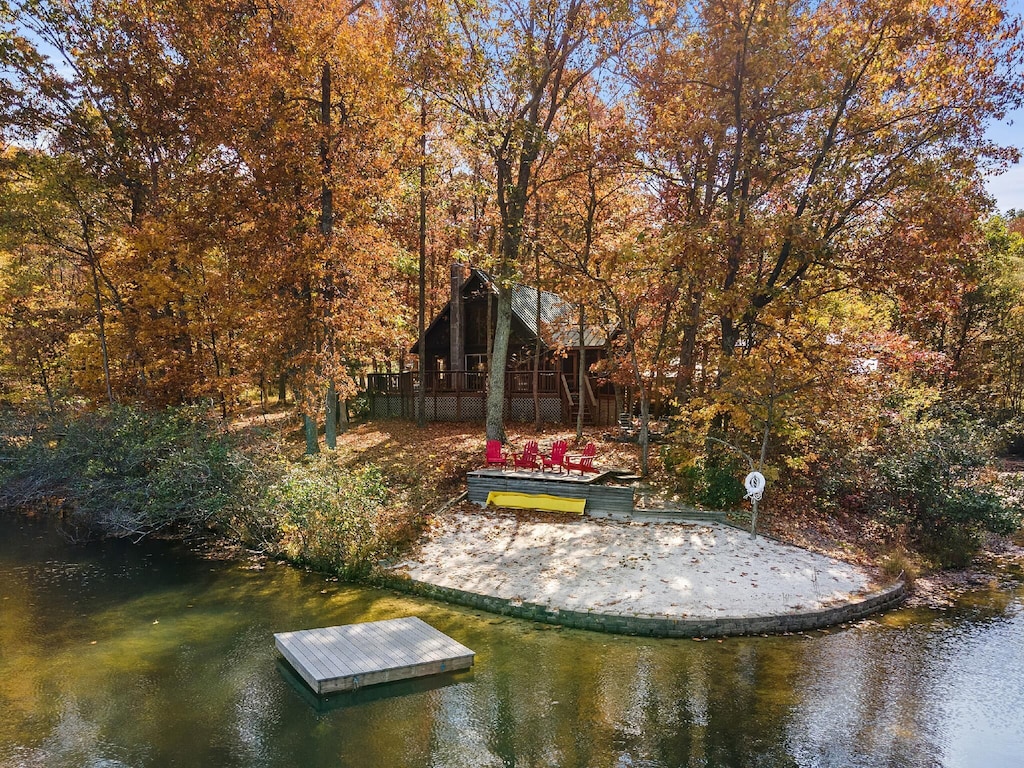 Where: Harpers Ferry, Virginia
Price: $695 + USD per night
https://www.vrbo.com/7363039ha
This secluded cabin rental in Virginia will give you plenty of privacy for a nature retreat. The cabin itself is intimate and warm, with cozy furnishings and beautiful decor. Just steps from your door, you'll find your very own private beach by the lake. The sunset over the water looks incredible at dusk and even better from inside the hot tub on the deck.
The cabin gets filled with natural light every day, offering beautiful views of the treetops outside. You can also warm your toes by the fireplace for a truly Instagram-worthy moment in view of the lake. The cabin can comfortably sleep six guests, so this would be a great spot for a big friends' vacation by the lake.
If you enjoy water sports, you can rent kayaks from the nearby Mountain Lake Club. There are also loads of historical attractions in Harpers Ferry to explore, including some fascinating 19th-century buildings.
View Photos, Read Reviews & Check Availability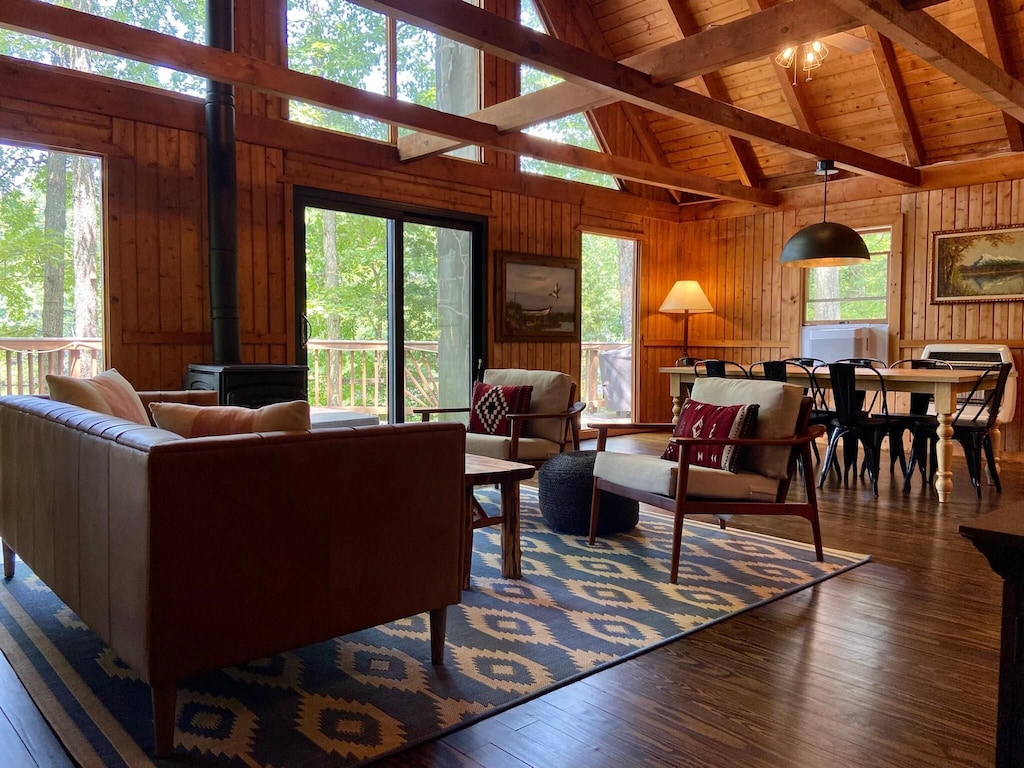 ---
9) Shenandoah Peak: Your Private Home Away From Home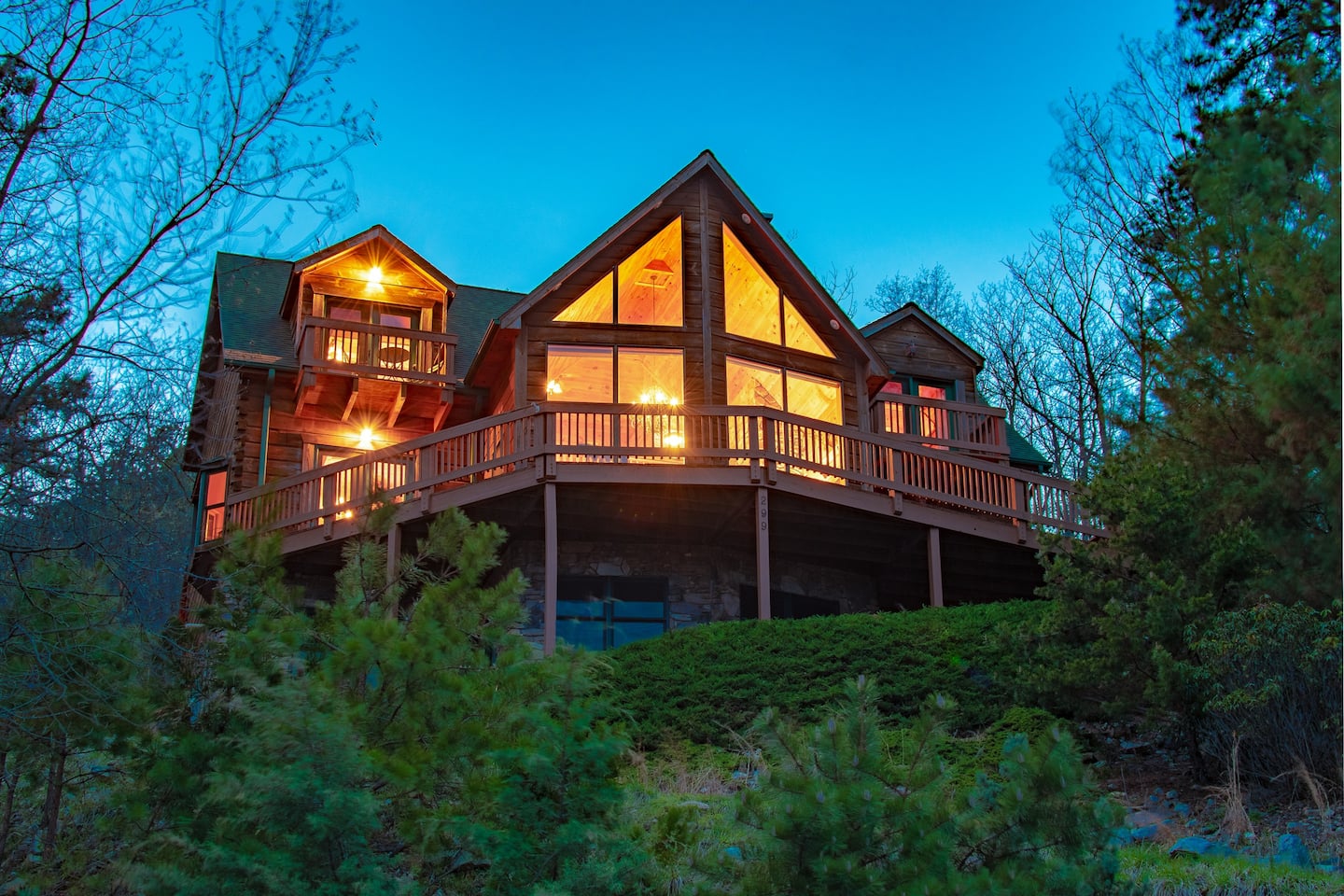 Where: McGaheysville
Price: $332 + USD per night
https://www.airbnb.com/rooms/18198148
One of the best cabin rentals in Virginia, this outstanding four-bedroom cabin is nestled in the heart of the Shenandoah Valley. Almost the entire front wall of the cabin is glass, so you can expect some breathtaking sunrise and sunset views. If you're an early riser, this spot will be heaven on earth for your vacation in Virginia.
This cabin is one of the more traditional on this list, boasting incredible woodwork throughout the design. There's also an enticing stone fireplace in the heart of the home where you can cuddle up at sunset. And at night the deck offers a spectacular view of the twinkling lights below the Blue Ridge Mountains.
In winter, you can hit the slopes at the ski resort nearby or even go snow tubing. If you're traveling with kids, they'll never run out of entertainment. There are also plenty of restaurants in the area, as McGaheysville has a buzzing vibe that previous guests thoroughly enjoyed.
View Photos, Read Reviews & Check Availability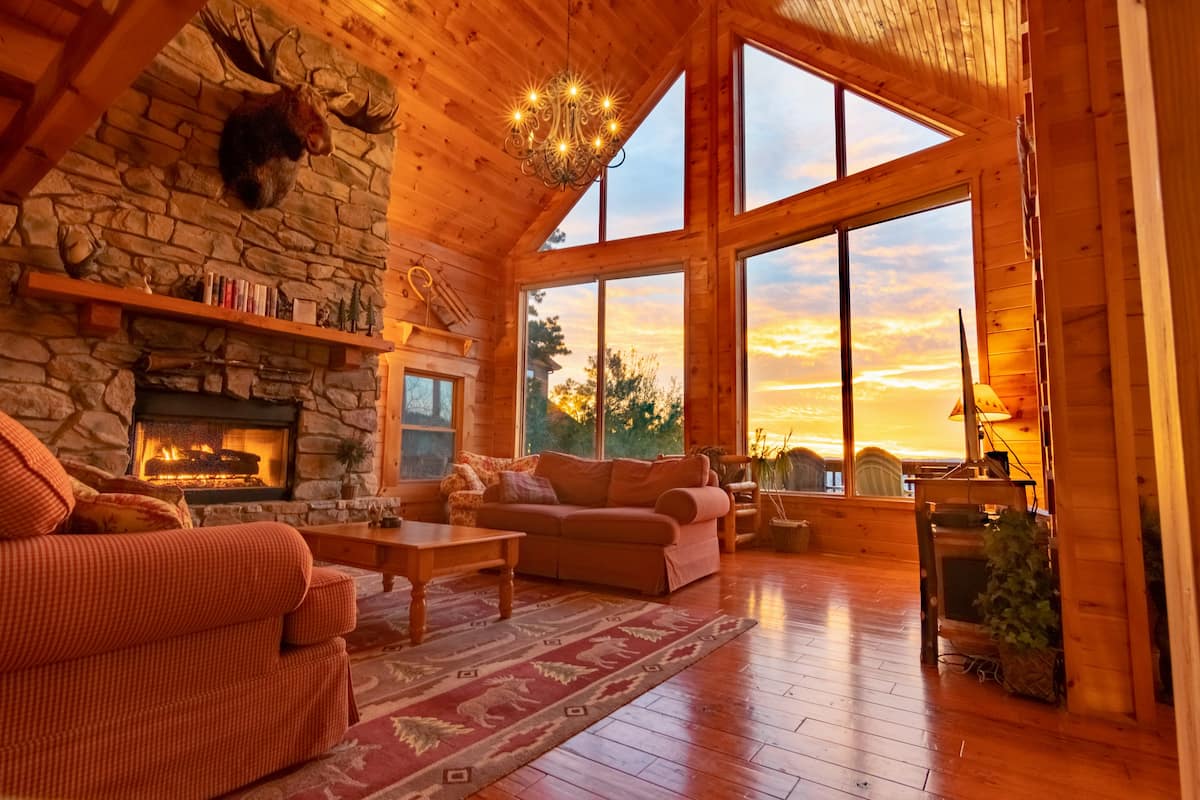 ---
10) Cozy and Private Riverfront Cabin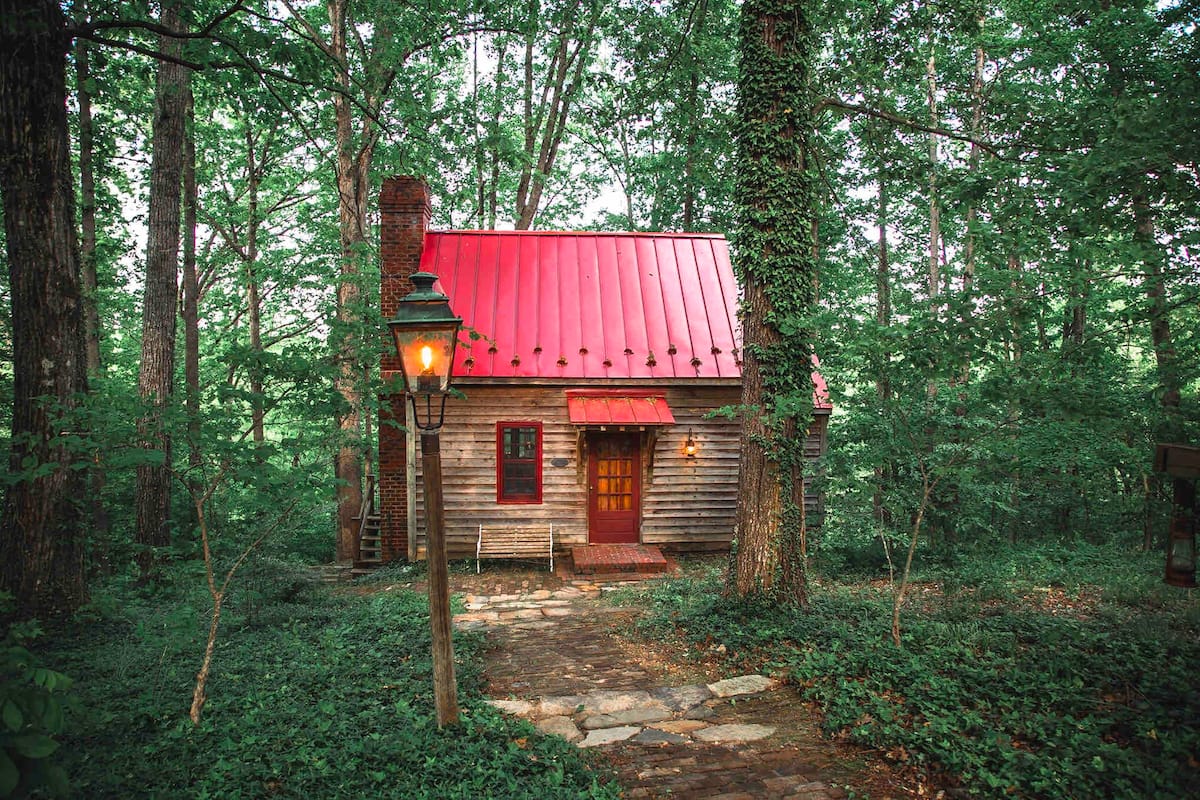 Where: Appomattox, Virginia
Price: $225 + USD per night
https://www.airbnb.com/rooms/43466214
If you're looking for a romantic cabin getaway in Virginia, this place may be the one for you. It's as charming as they come and looks like something out of a storybook, with a cute red roof and a wooden exterior.
When you walk through the front door, you'll feel like you've stepped inside of a Pinterest board. The decor is simple but modern, with a touch of flair to give you that vacation feel. There are even house plants about the place – and who doesn't love those?
The deck is tucked away in the trees, offering a welcome escape from the noise of everyday life. Despite the peace and quiet at this rental, the hubbub of town is only half a mile away. If you're not skipping rocks at the river nearby, you can head into town to grab a bite or sightsee.
Of course, any couples' cabin should have a fantastic master bedroom. Well, this rental doesn't disappoint. The loft bedroom is just as charming as the rest of the home, with big windows and a picture-perfect window seat.
View Photos, Read Reviews & Check Availability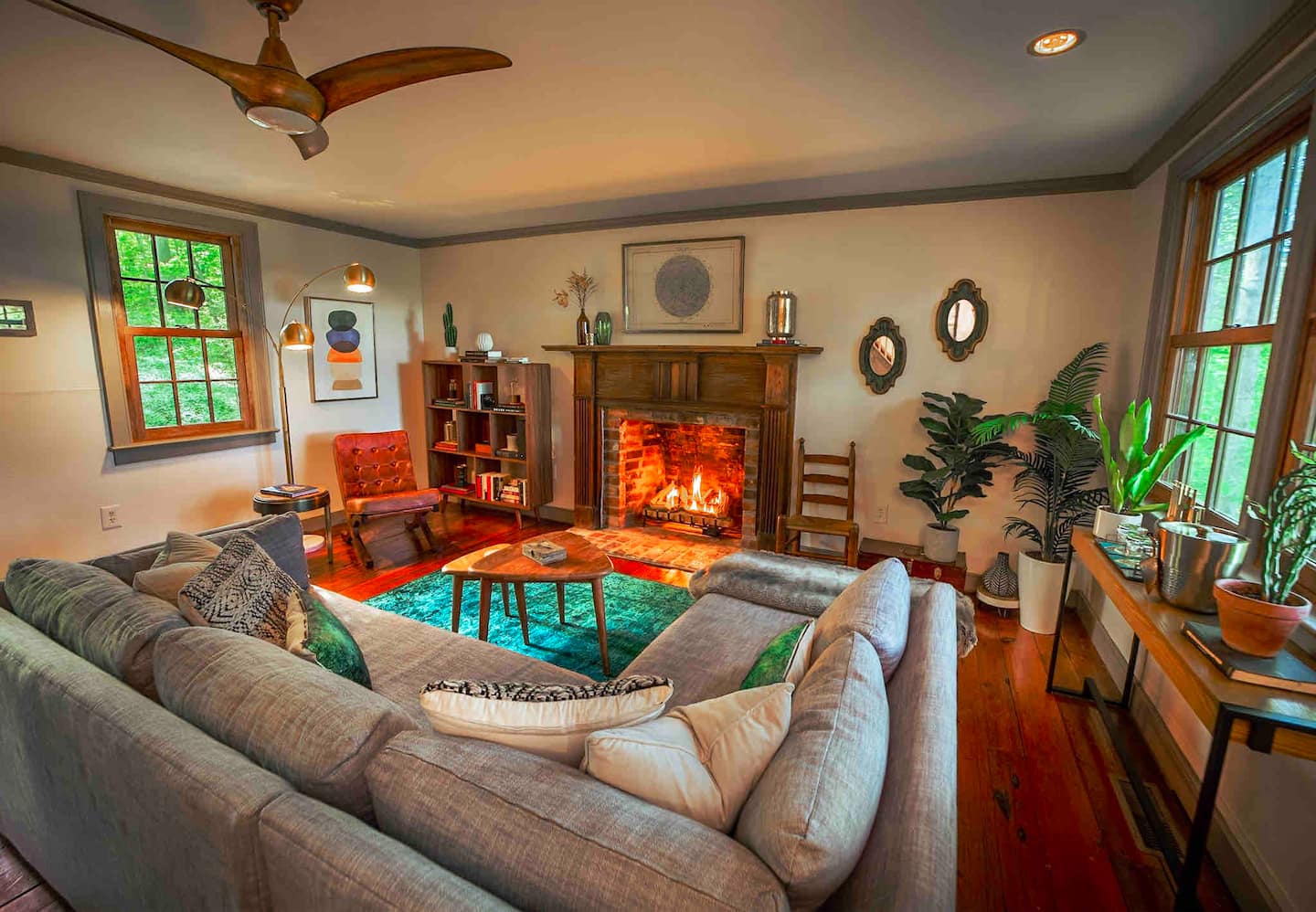 ---
THANK YOU FOR READING THIS LIST OF MY FAVORITE CABIN GETAWAYS IN VIRGINIA!
SHARE THIS LIST OF VIRGINIA CABIN RENTALS WITH YOUR FAMILY AND FRIENDS TOO!
https://www.jonesaroundtheworld.com/wp-content/uploads/2021/07/Luxury-Cabin-Rentals-in-Virginia.jpg
768
1024
TravelTractionsJATW
https://www.jonesaroundtheworld.com/wp-content/uploads/2017/03/logotry-1-1-300x106.png
TravelTractionsJATW
2021-07-28 21:52:19
2022-03-04 17:49:19
Top 10 Luxury Cabins in Virginia | Best Rentals & Mountain Getaways