Few rustic getaways offer more bang for your buck than one of these luxury cabins in Ohio. Tourism is such a big deal in this state; it's a significant player in its economy. Among the most popular attractions are the Rock & Roll and Pro Football Halls of Fame, and the Mound City Group National Monument.
A surprisingly little-known fact about Ohio: nearly half of the entire population of the US is located within 500 miles of the state capital, Columbus. That makes Ohio a state that can truly claim to be "The Heart of it All", as the state slogan proudly proclaims.
But, Ohio luxury lodging is also famous and popular for its lakeside cabins, some of which sit at the base of hills and mountains. They provide outstanding views, and idyllic scenes ready for your best effort at unwinding and relaxing. Ohio luxury cabins are definitely a must for your consideration, and here are just 13 of the coolest available in The Buckeye State.
Also, be sure to read my guides on Luxury Cabins in Georgia & Luxury Cabins in Oklahoma for more travel planning inspiration!
---
1) Ultimate Wayne Forest Getaway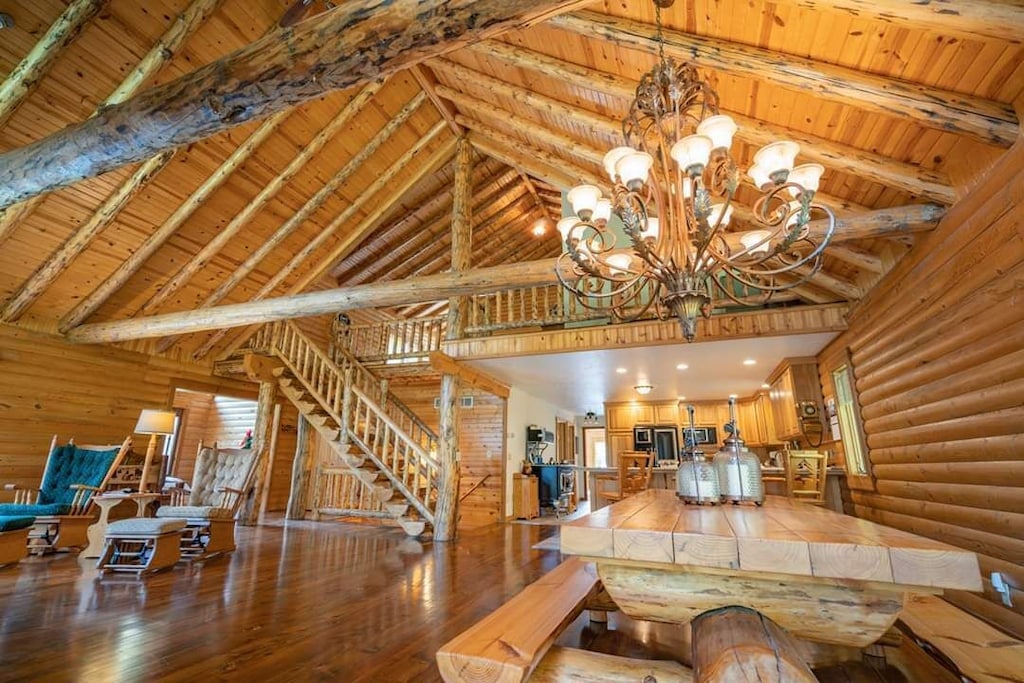 Where: New Matamoras
Price: $450+ USD per night
When you're out in the forest, the key elements you're looking for are wildlife and stargazing. This cabin in the woods ticks all the boxes. A spacious deck will be ideal for staring up at the star-filled sky at night or simply enjoying the daytime sun.
The main living area feels enormous, partly because of the really high A-shaped ceiling. There's a lofted main bedroom which overlooks the space, and you can take some time to enjoy its private hot tub and separate balcony.
A games room invites a pool challenge, jukebox-led dance and a laugh at the bigfoot silhouette on the wall. You can also head outdoors to the lush lawn for open-air games and a bit of fresh air. Take some bikes to explore the trails – 80 miles of them – around the 63 000-acre Wayne National Forest.
Probably the best feature of this cabin is that it's a true getaway. No wi-fi and no phone reception, you'll have to get to a nearby hill for that. It's the ideal environment to get off the grid.
View Photos, Read Reviews & Check Availability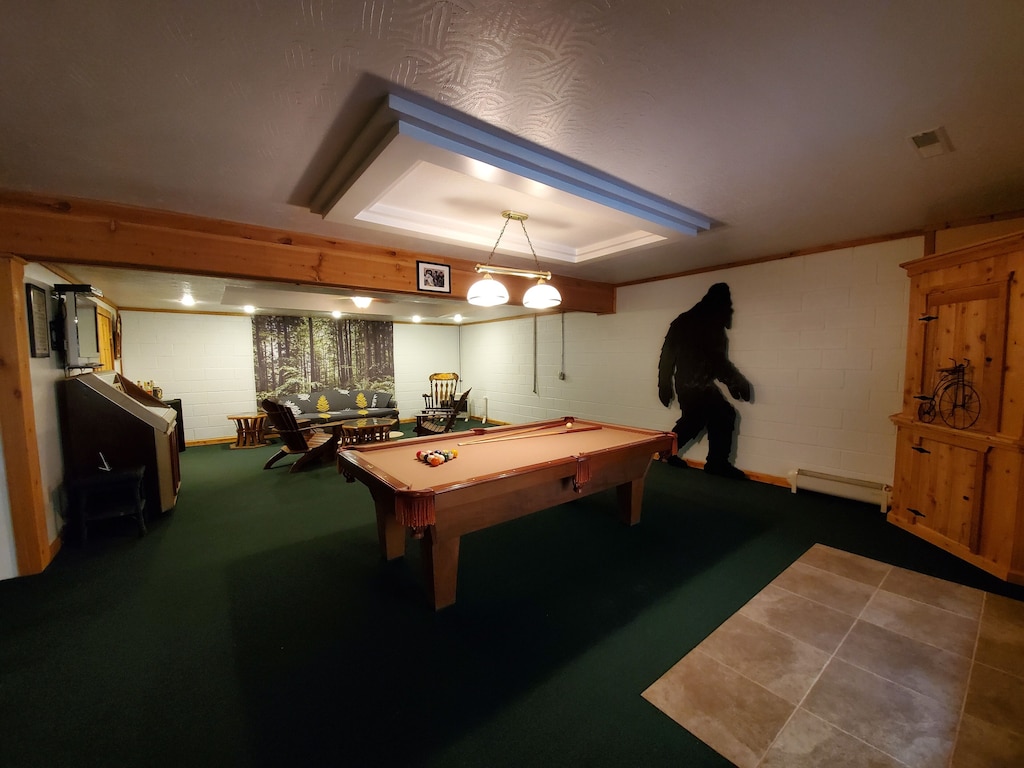 ---
2) Serenity Lodge in Hocking Hills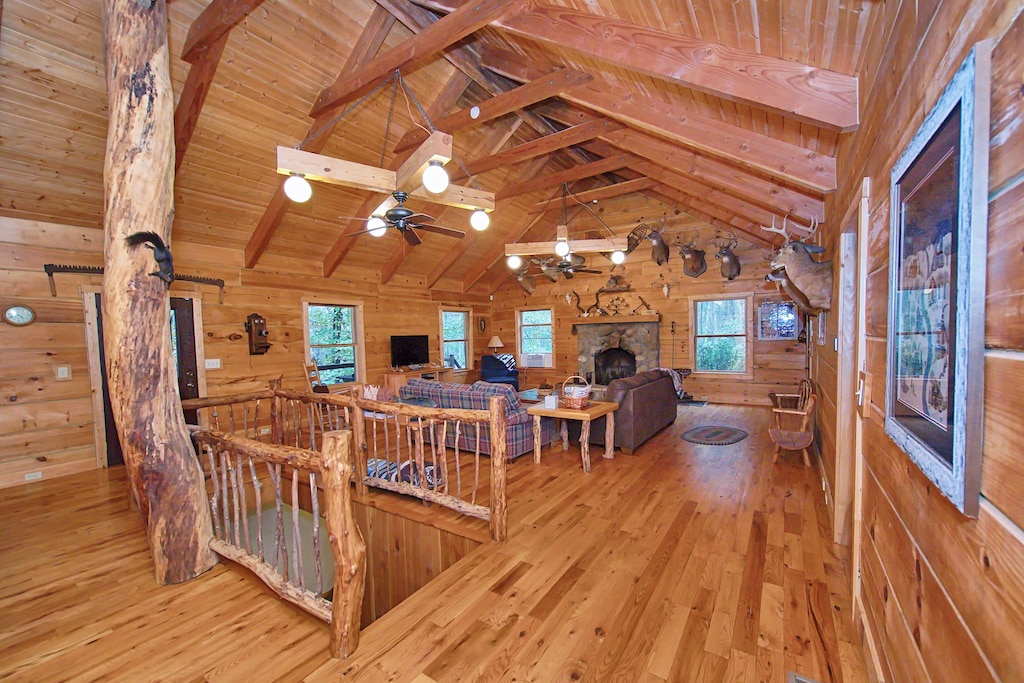 Where: New Plymouth
Price: $467+ USD per night
Hocking Hills luxury cabins are a trendy and highly rated option for cabin getaways. This 2900 sq ft beauty is isolated on a 101-acre lot. It's a two-level split design offering three bedrooms and bathrooms for great privacy.
In this Hocking Hills cabin rental, elements of rustic living (although, glamping in Ohio is certainly a different option) are combined with modern conveniences like a hot tub, WiFi, and satellite TV. You can even enjoy the Wii gaming console or a game of pool to while away some time. But the best part is that the walk-out deck allows you to enjoy a tasty early morning coffee in the great outdoors while gliding back and forth gently on the porch swing.
In the evening, why not relax by the big old stone fireplace with a classic movie on the TV? Cabins in Hocking Hills Ohio are the ideal spots for a cozy curl up under the covers.
View Photos, Read Reviews & Check Availability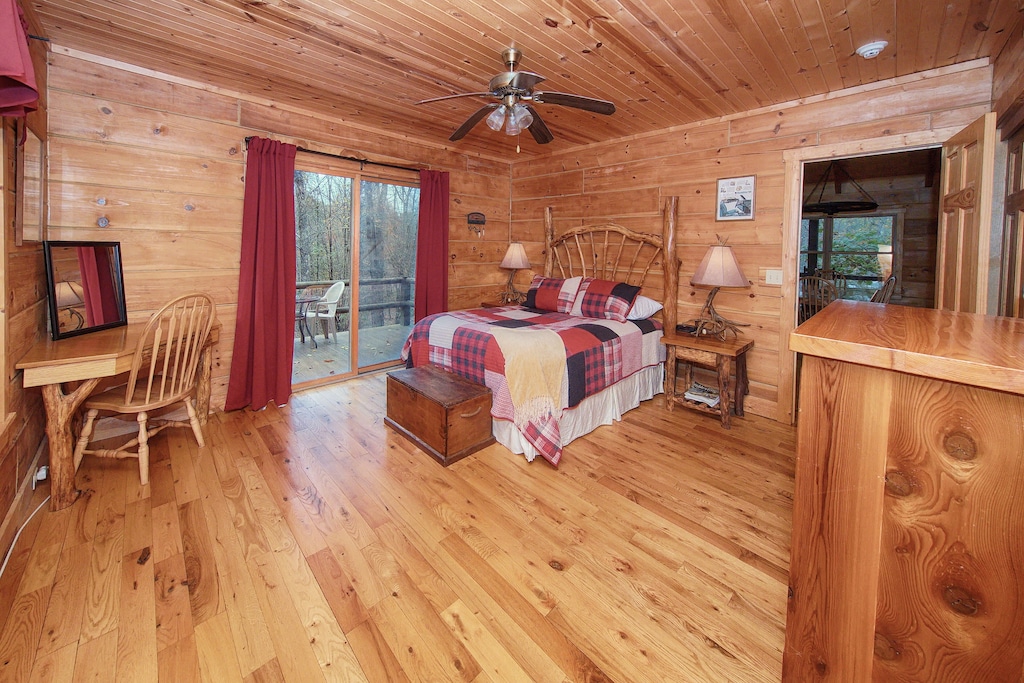 ---
3) Luxury Log Cabin with Hot Tub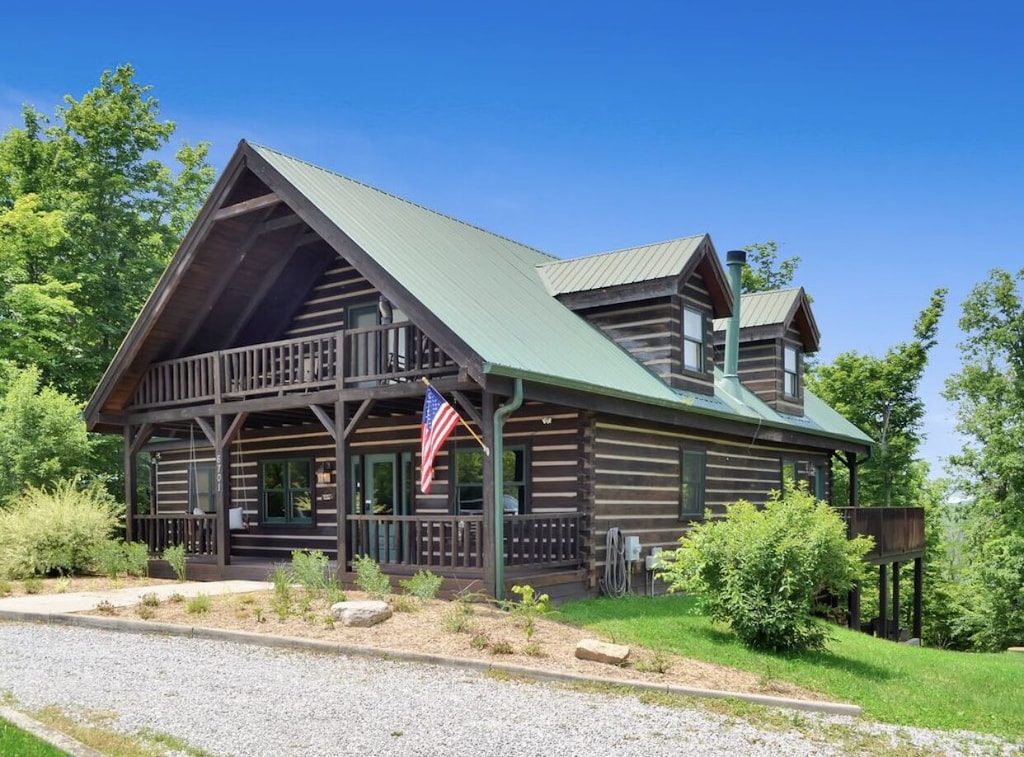 Where: Loveland
Price: $518+ USD per night
One of the striking features of this cabin is how the colors of the stone and wood create a gorgeous sparkle. It's attractive at first glance, like a beautiful painting. It also overlooks the Little Miami Valley trail in Loveland, which cannot be a bad thing at all.
The home seems to be deck central. Two of them face east, and another two face west, providing captivating sunrises or sunsets, depending on your preference.
This is a great cabin, big enough to host an entire extended family of 15! So send the youngsters up to the second floor, where 11 can bed down comfortably. Below, the two king bedrooms are ideal for the senior members of the party.
Hot Tip: The game room upstairs has a classic Atari 2600 system with a 105 game selection. This would be a great time to teach the kids about REAL gaming before it was cool.
View Photos, Read Reviews & Check Availability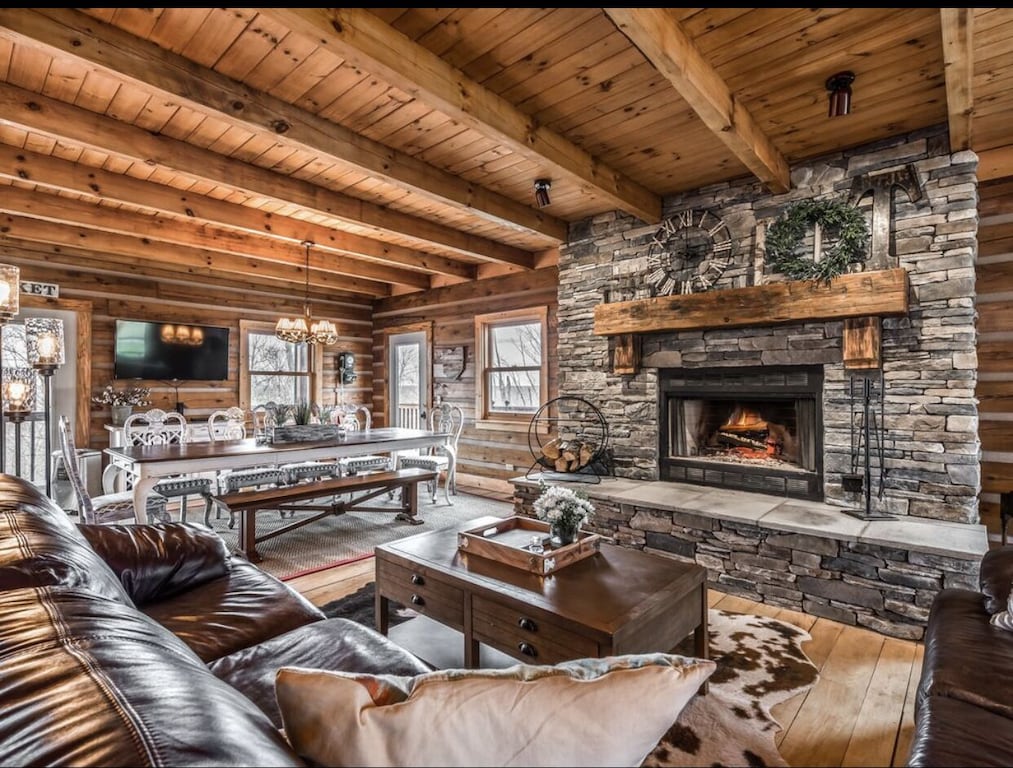 ---
4) Family-Friendly Warsaw Cabin w/Furnished Deck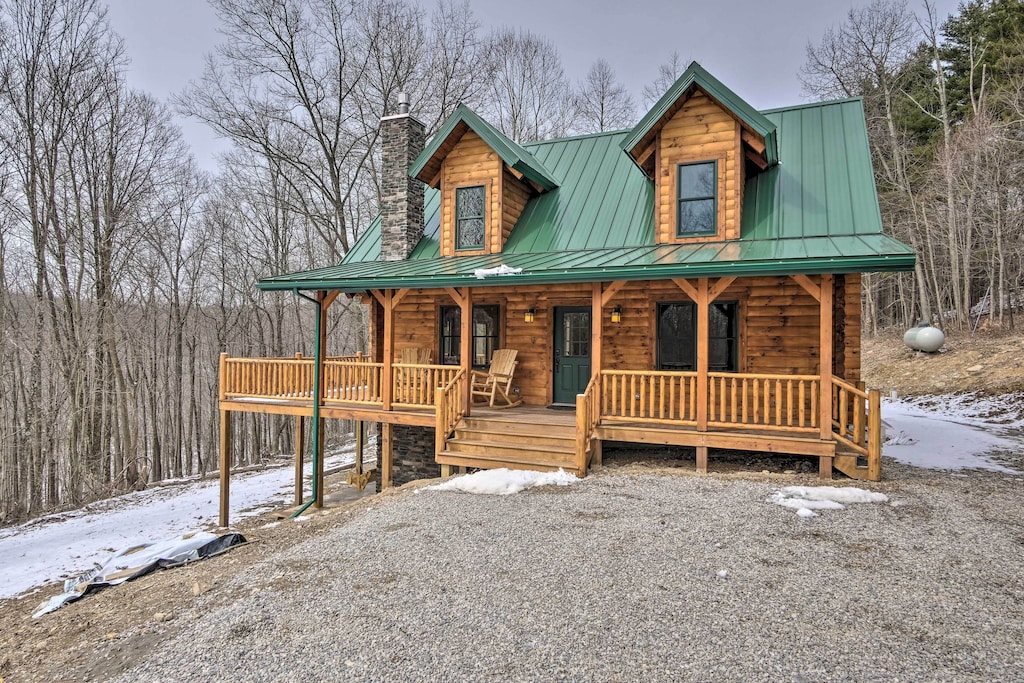 Where: Coshocton County
Price: $691+ USD per night
https://www.vrbo.com/7679691ha
The huge and plentiful windows in this glorious cabin provide loads of natural light, making it seem even bigger. After all, what's better than the great outdoors for a wall?
One of the social highlights here will be dinner. You can eat around the big main table or head out to the patio, if the warm summer night plays along. Afterward, enjoy the flatscreen TV entertainment, or light a fire in the firepit for a chat and a drink. If it's colder, light the fire inside instead and curl up with a mug of cocoa or mulled wine.
The Woodbury Wildlife Area will occupy many hours of your day, especially if you explore it as a family. There's plenty of wildlife to spot and even activities like archery and fishing to challenge yourself.
If you're a history buff, visit nearby Roscoe Village, which has living history tours, a canal boat, and is a recreation of an 1800s town on the Erie Canal.
View Photos, Read Reviews & Check Availability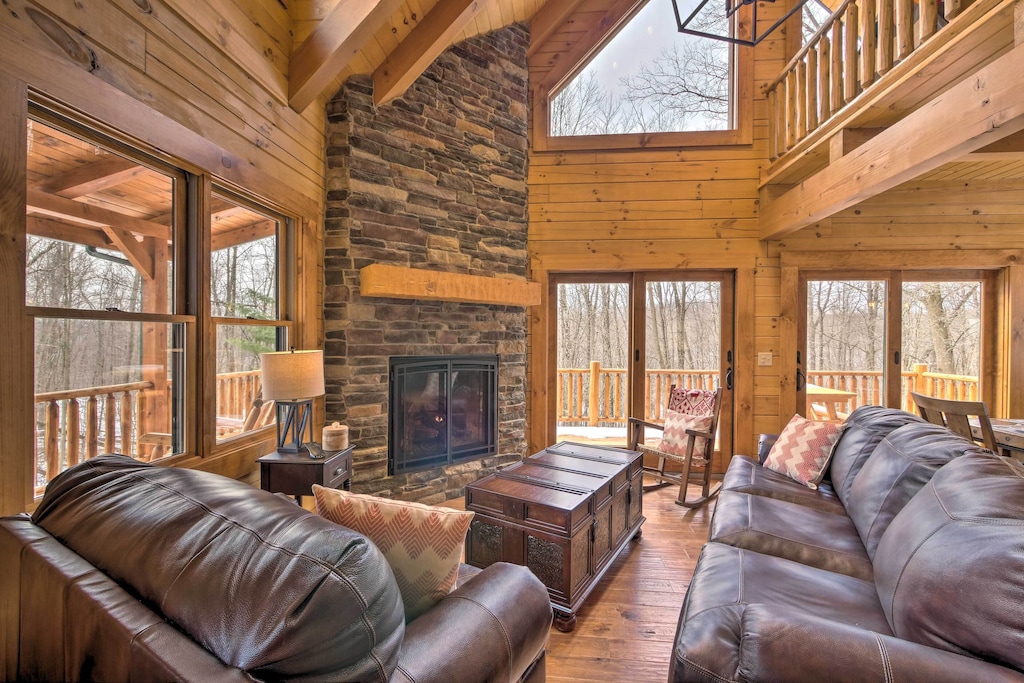 ---
5) The Lodge: SLEEPS 23 – Hot Tub, Fire Pit, Game Room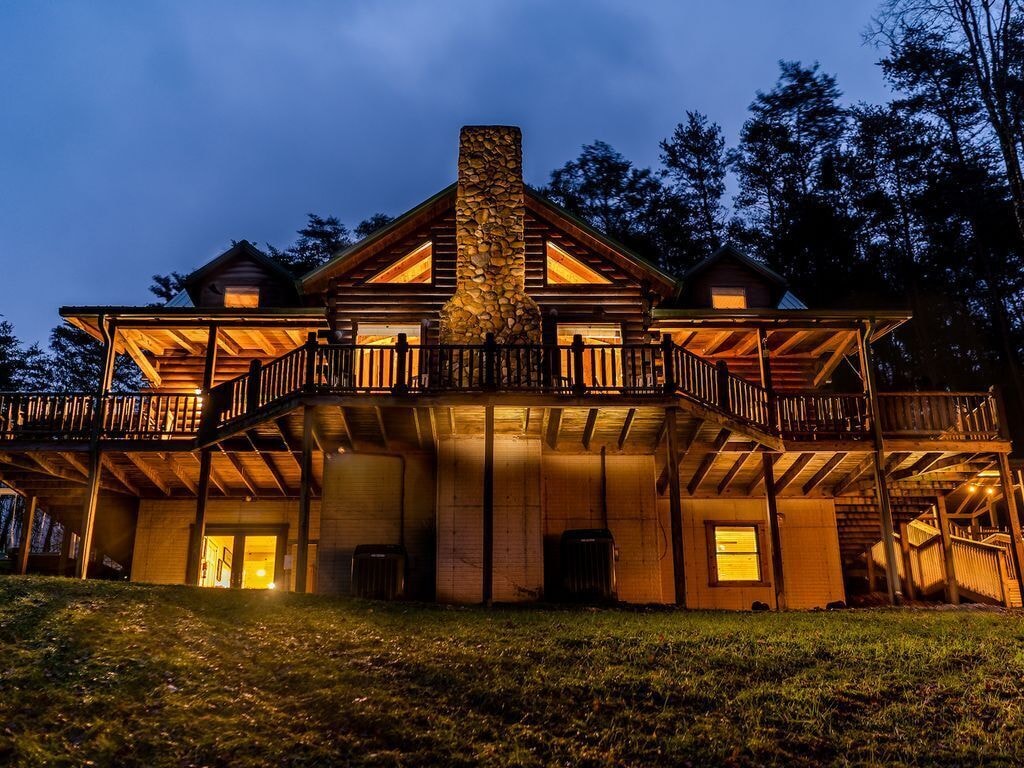 Where: Hocking County
Price: $891+ USD per night
This Hocking Hills cabin-mansion is enormous and ideal for the ultimate family getaway far from the distractions of the big city and suburban life.
The bulk of your entourage will no doubt enjoy the big screen TV. A movie night here might resemble a rowdy cinema experience with all the kids. Except, this cinema has a fireplace, making it the coziest in the world.
Kids under 5 won't be left out. That's if you get them out of the game room downstairs, which features arcade games, air hockey, foosball and more.
When it's time for dinner, the adults can gather at the 10-foot table, while kids can enjoy the extra seated space around the kitchen counter. The three adult bedrooms feature king and twin beds, while the main kids room has a total of 9 bunks available.
Outside, the hot tub is always welcome but the attention given to the fire pit area is impressive. It's got swinging chairs and a neatly designed area that just feels so inviting. Definitely among the finest luxury cabins in Hocking Hills.
View Photos, Read Reviews & Check Availability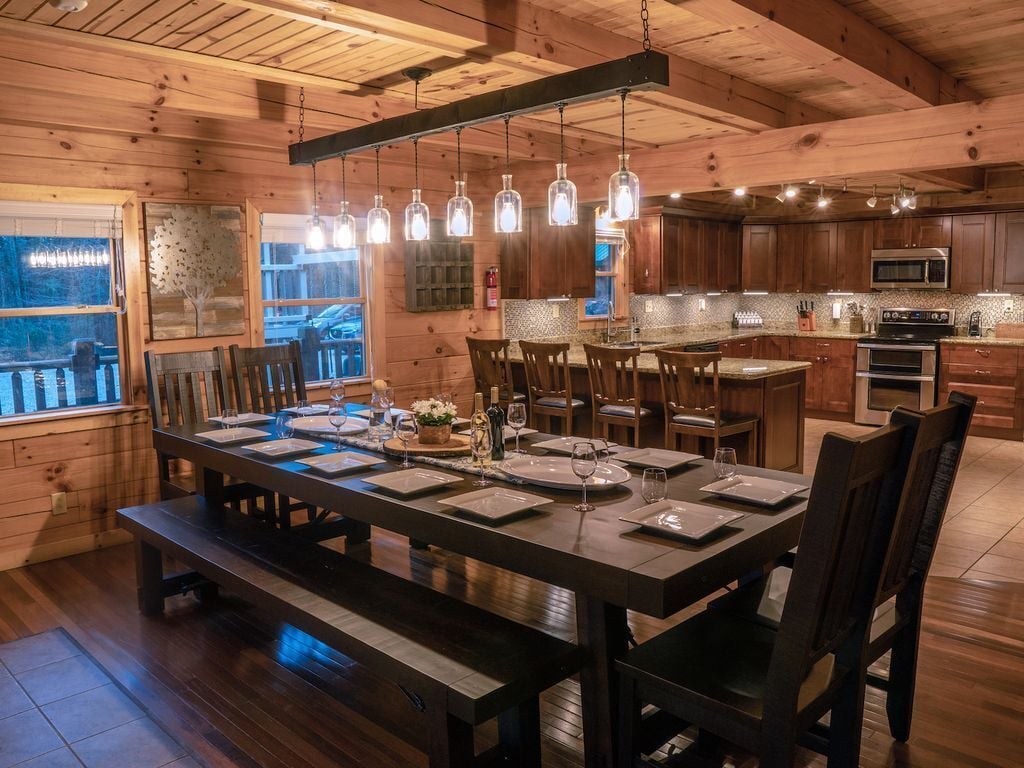 ---
6) Panoramic Lake Views Cabin ~Hot Tub~FREE Kayak/Canoe/Bike~3D photos~Game Room~KING beds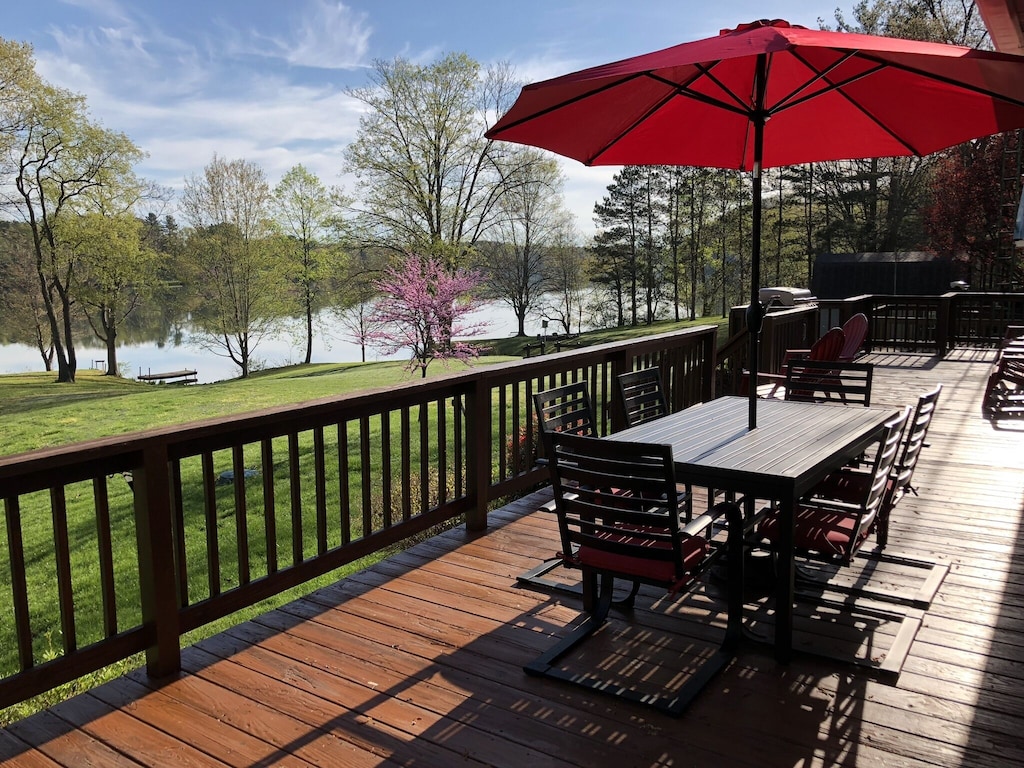 Where: Falls
Price: $566+ USD per night
Would you believe that you can fish from right off the cabin's dock here? A nice bonus is the free use of the bikes, kayaks and canoes.
The cabin itself is exquisite, designed to feel authentic yet very classy. Notice how the flatscreen is sunken into the pillar above the fireplace. This has all been beautifully planned, and even the decks seem outrageously spacious.
From those decks, there's a rolling green lawn leading down to the water. But even when the glorious green grass doesn't appeal, you can take on a challenger in the games room, whether electronic arcade games, pool, or air hockey is your thing.
View Photos, Read Reviews & Check Availability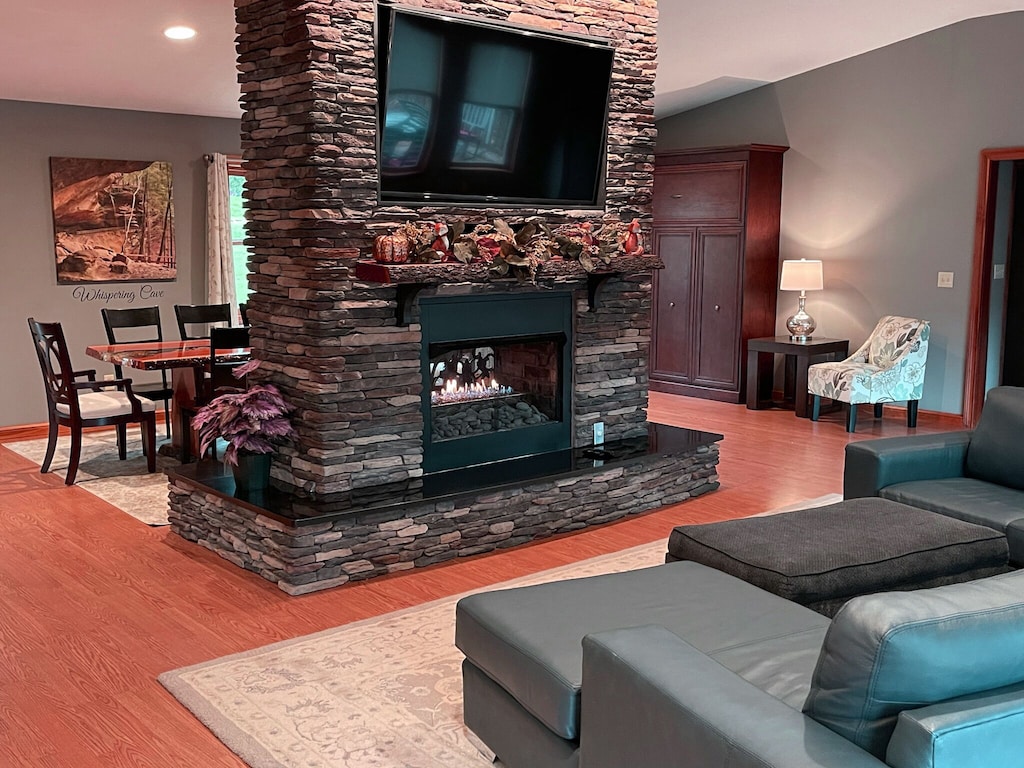 ---
7) Treetops Lodge and Family Fun Barn (5 Minutes to Old Man's Cave!)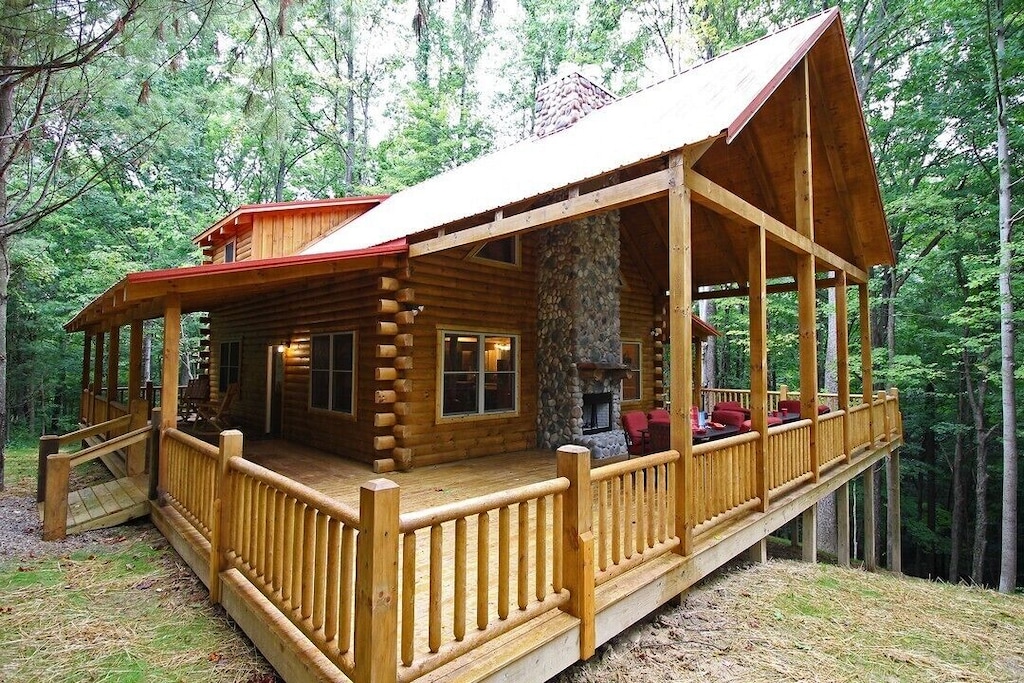 Where: Benton Township
Price: $937+ USD per night
There's an exciting element to this beauty, partly elevated above a deep ravine. So there's a part of the deck that looks down into a forested valley. It makes for a wonderfully rustic atmosphere, placing you inside nature, as it were.
But, there's the hot tub or sauna to help alleviate any sense of absolute roughness if you must. Add to that an interior that commits its feel to a "togetherness"; most of what you do here feels contained to the main living area.
It invites a closeness to this holiday for your group. You're not here to do your separate things. You're here to bond, whether you're visiting the fun barn for games or the nearby caves for some exploration together.
View Photos, Read Reviews & Check Availability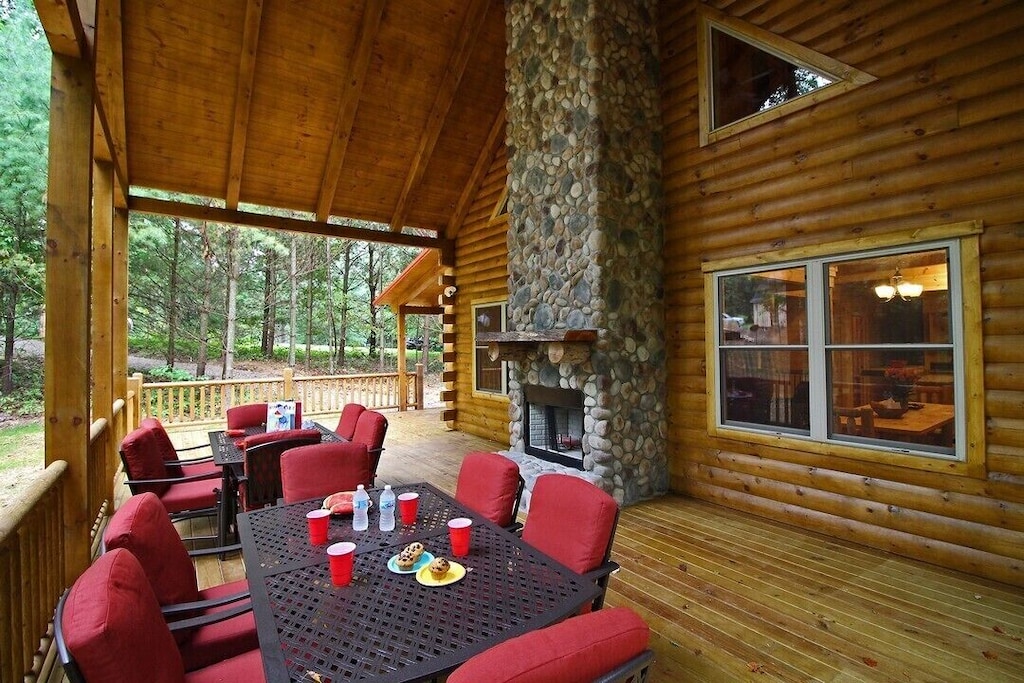 ---
8) The Oasis Retreat Cabin in Ohio's Amish Country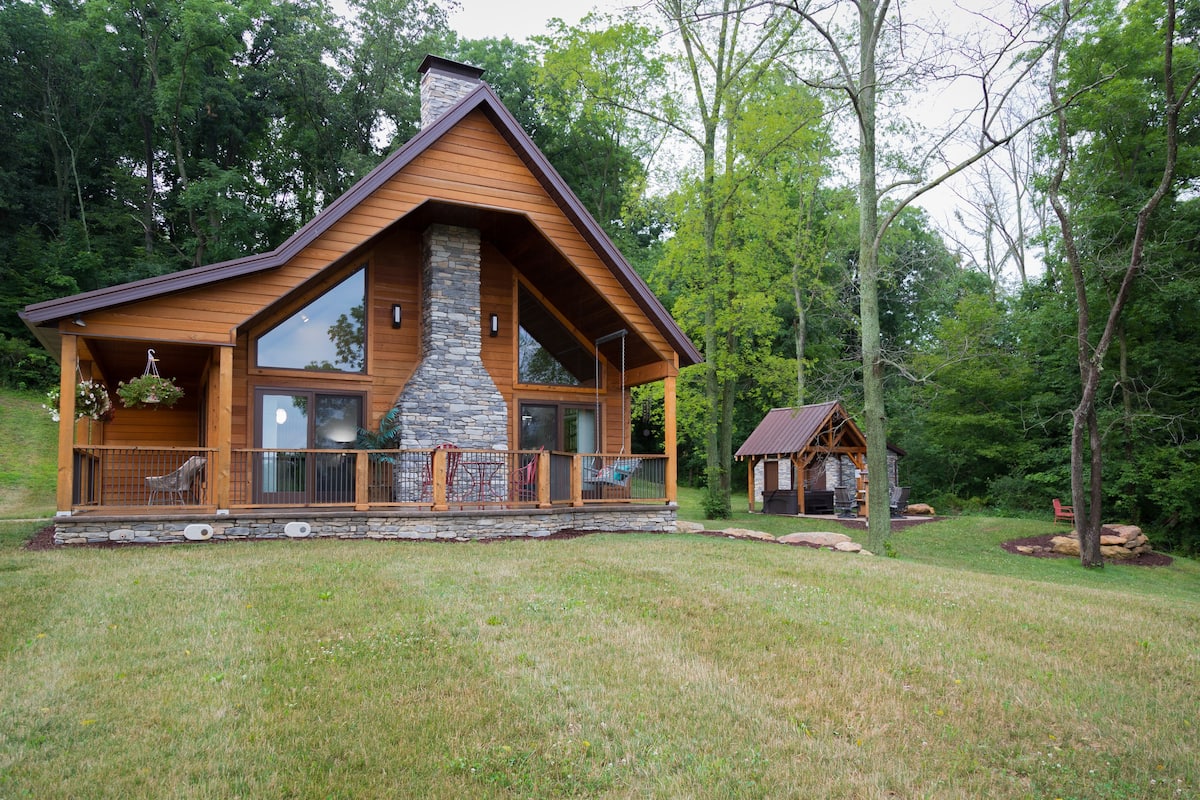 Where: Millersburg
Price: $250+ USD per night
https://www.airbnb.com/rooms/20858464
If you've ever wanted to visit and stay in Amish country, this luxury cabin is right for you. The cabin itself is simply beautiful, with large partial glass walls letting life and light in through the main entrance.
The interior balances practicality with elegance, without overstating its grandeur.
Outdoors it gets even more appealing, with a hot tub overlooking the lake scene and a firepit placed at the end of a small walkway.
Best of all are the local attractions. You've come to Amish country for a reason, so get out there and visit the Dutch Valley Amish cooking restaurants, farms, and the cheese house.
View Photos, Read Reviews & Check Availability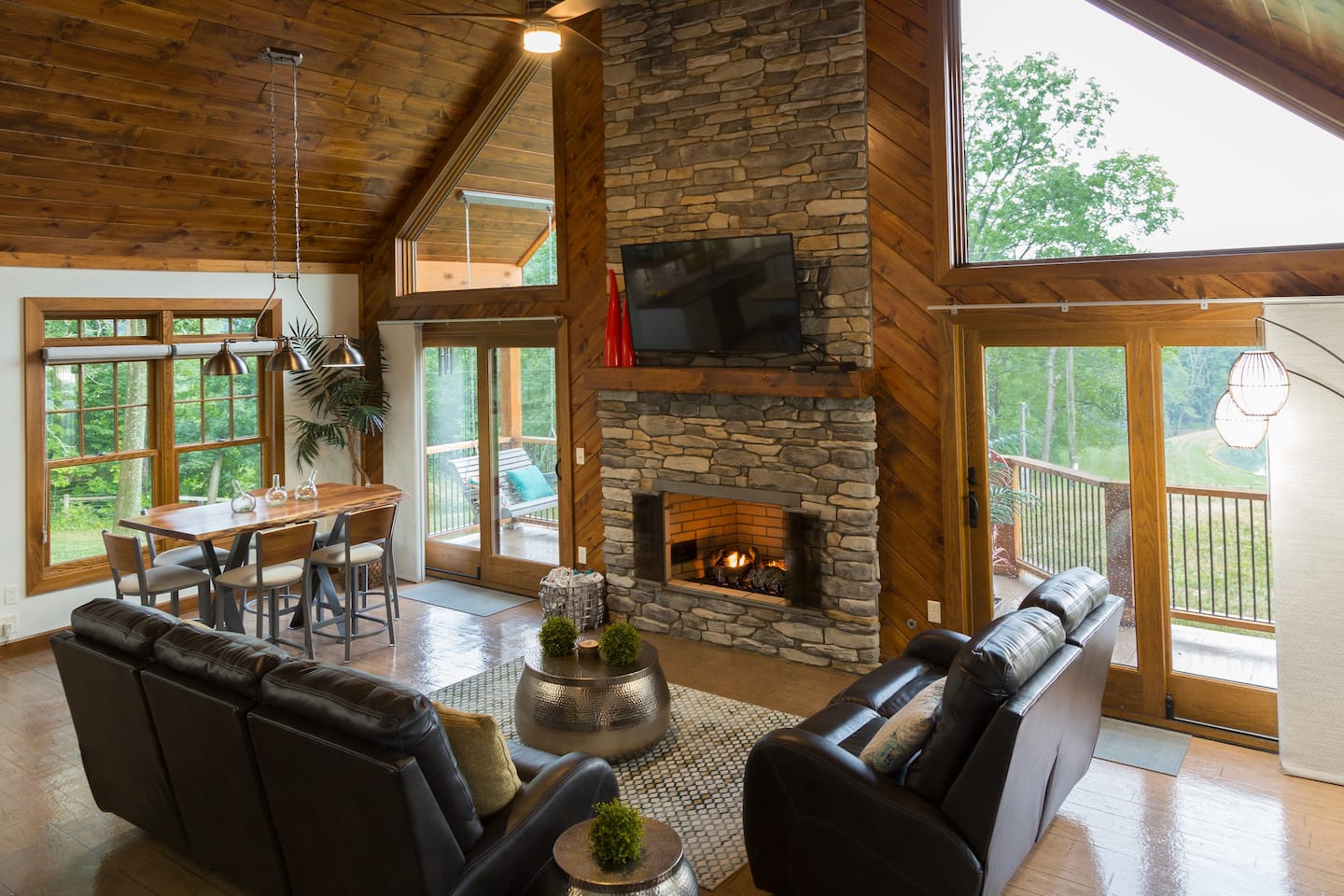 ---
9) Family Size Cabin with Kitchen, Fireplace, Hot Tub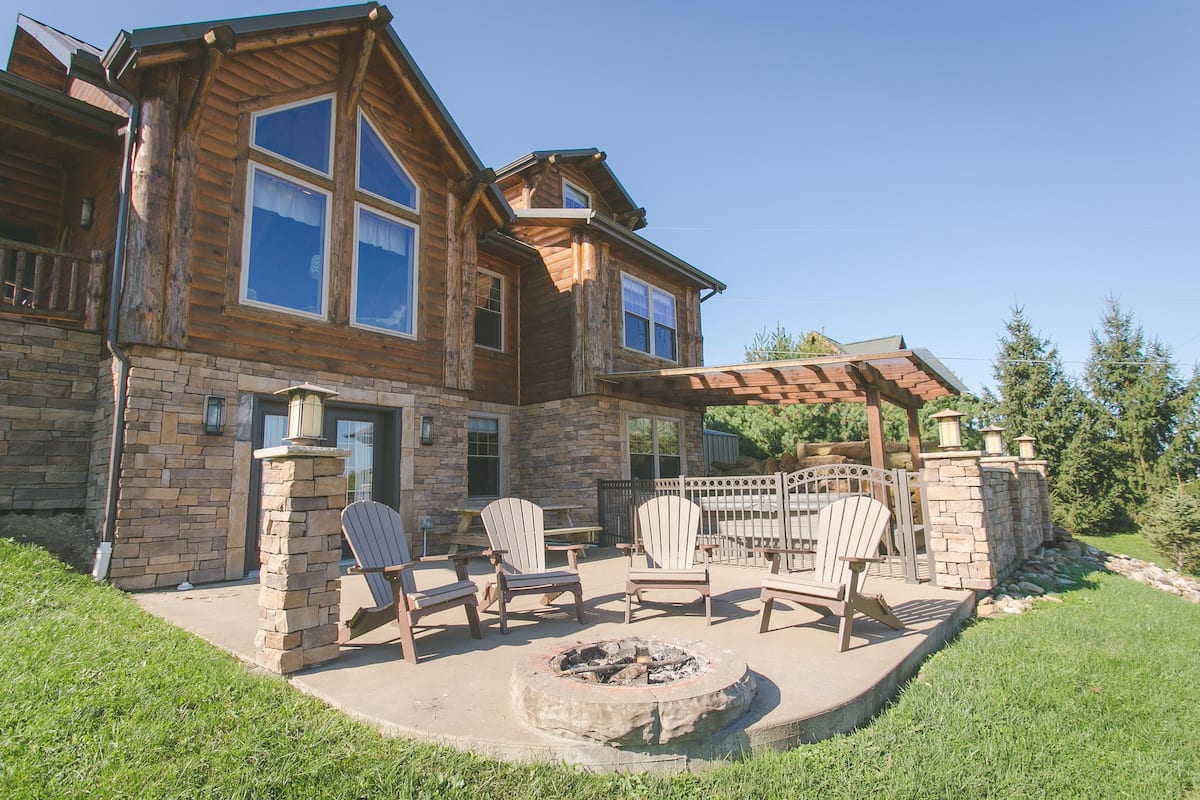 Where: Millersburg
Price: $310+ USD per night
https://www.airbnb.com/rooms/39919688
The designers of this beautiful cabin took a theme and indeed ran with it. Here you can wash up in a bathroom fitting that looks like a barrel. You can also enter doorways that resemble huge barrel tops. And, your headboards look like logs sticking out of the wall.
Overall, you've got the run of a three-story home with all the expected amenities, plus a 10-person hot tub. You can all soak together in this one! The living space and its fireplace invite you to relax on the couch with a book or some TV, but you may also want to look out of the glass walls and windows for a view of the best of what Ohio country life has to offer.
Rest up in the king-size main bed, or take advantage of the two-person jacuzzi in the private bathroom attached. Definitely among the top luxury cabin rentals in Ohio.
View Photos, Read Reviews & Check Availability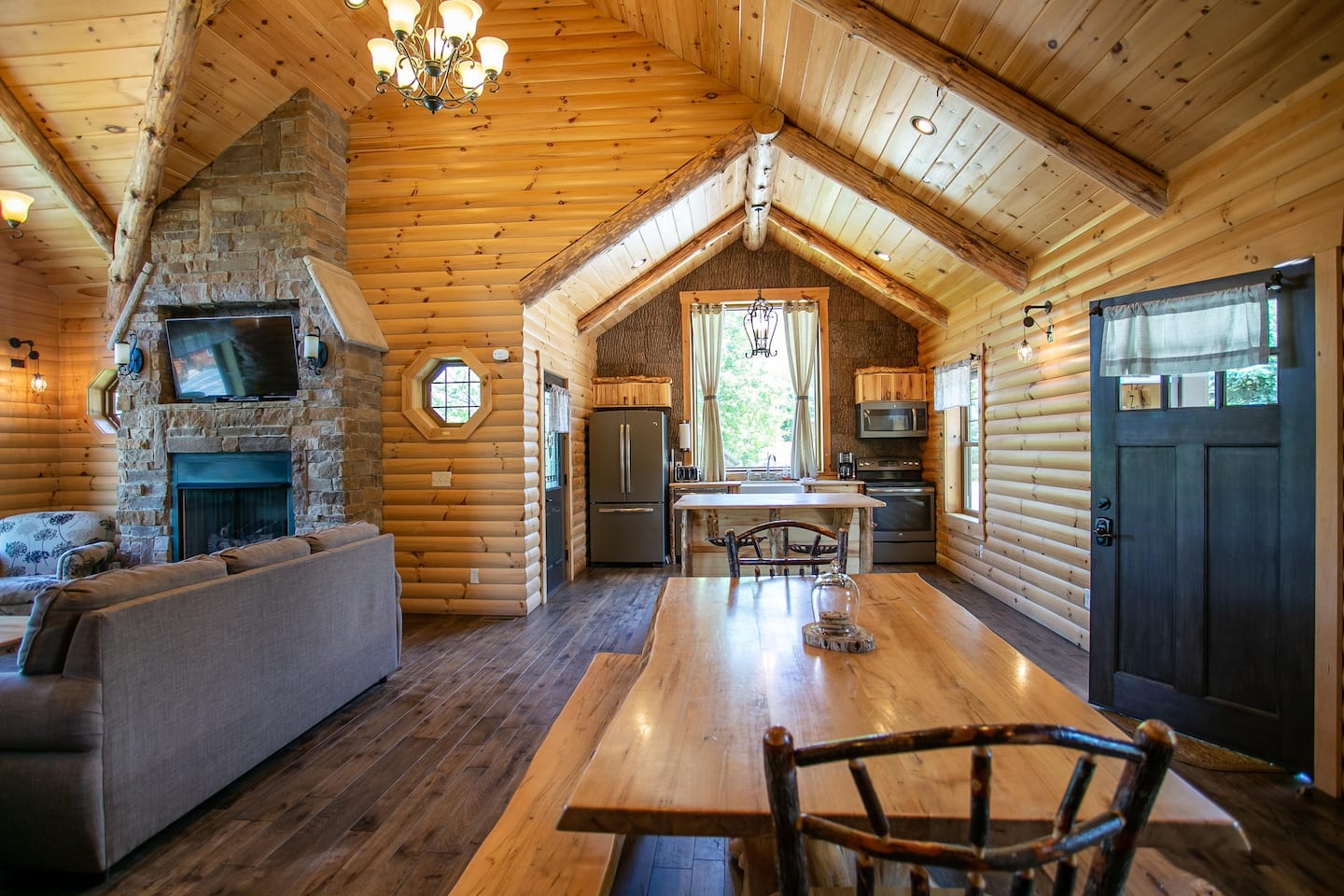 ---
10) Hocking Hills 'Woodland Lodge' on 14 Acres!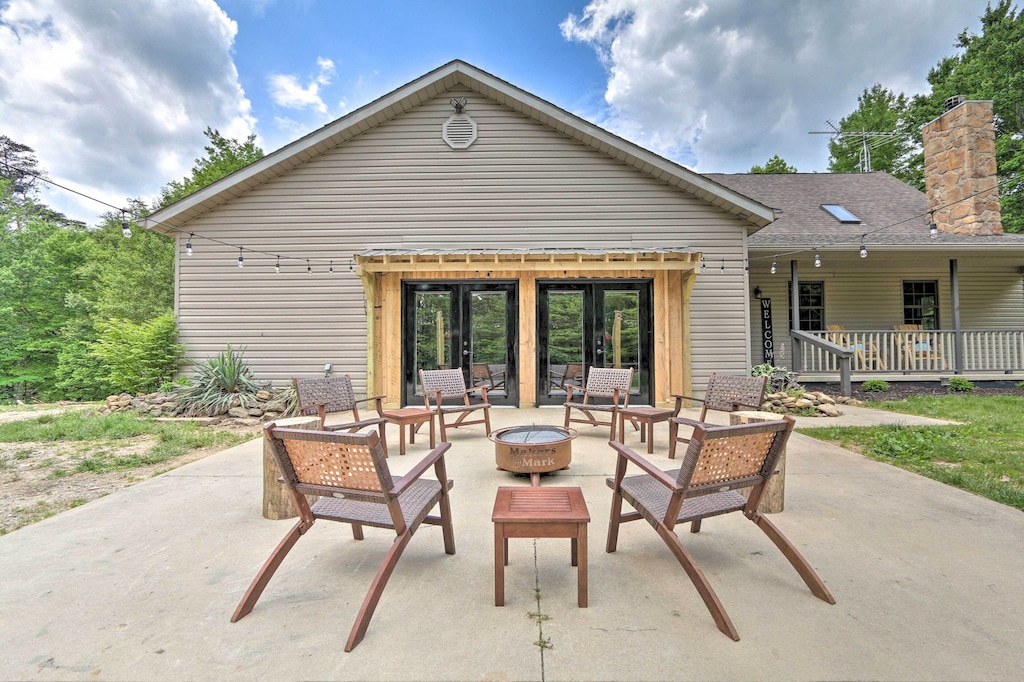 Where: Falls
Price: $1153+ USD per night
https://www.vrbo.com/9577784ha
This 5 bedroom luxury cabin is within touching distance of the Hocking Hills State Park and downtown Logan. So it's easy to get supplies, try the local food or do a wine tasting. The property itself is an impressive 4500 ft and includes the obligatory hot tub and games room.
Inside, the feel is more modern and spacious than a traditional cabin. The design has gone for less of a log cabin feel, emphasizing the modern conveniences. But it is open-planned in a sense, giving a minimalist feel to a bright, airy space.
View Photos, Read Reviews & Check Availability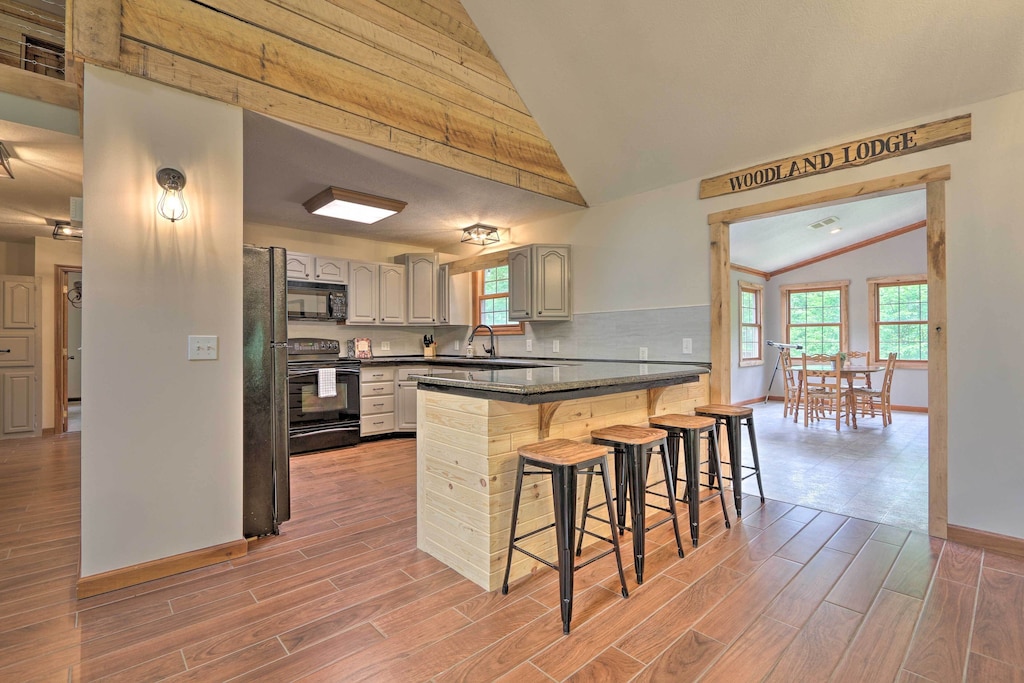 ---
11) Beautiful Hocking Hills Log Cabin Featuring 8 bedroom, 4 Baths, and 2 Kitchens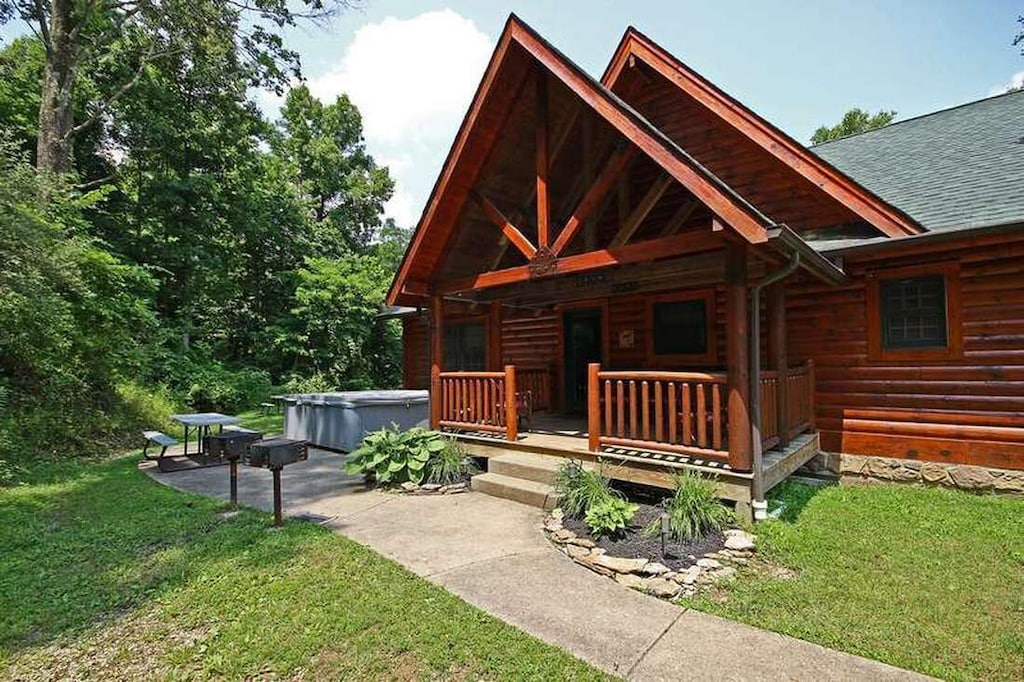 Where: Laurel Township
Price: $932+ USD per night
https://www.vrbo.com/9456678ha
There's something about A-frame Hocking Hills cabins for rent that just feels right. Maybe it's the impressive height of the ceilings that reach majestically upwards? They create a vast spacious room that is welcoming and invites you to breathe deeper.
This one has 8 bedrooms, 2 kitchens, and even 2 living spaces. It's also just the right amount of isolation, being 7 miles from the nearest grocery outlet. So the idea is to plan, bring supplies, and just park yourself down.
The surrounding 6-acre lot is heavily wooded, so it's great for hikes. If you'd prefer to just sit in the hot tub, out on the decks, or enjoy cooking and eating in the cavernous kitchen, though, no one would blame you.
View Photos, Read Reviews & Check Availability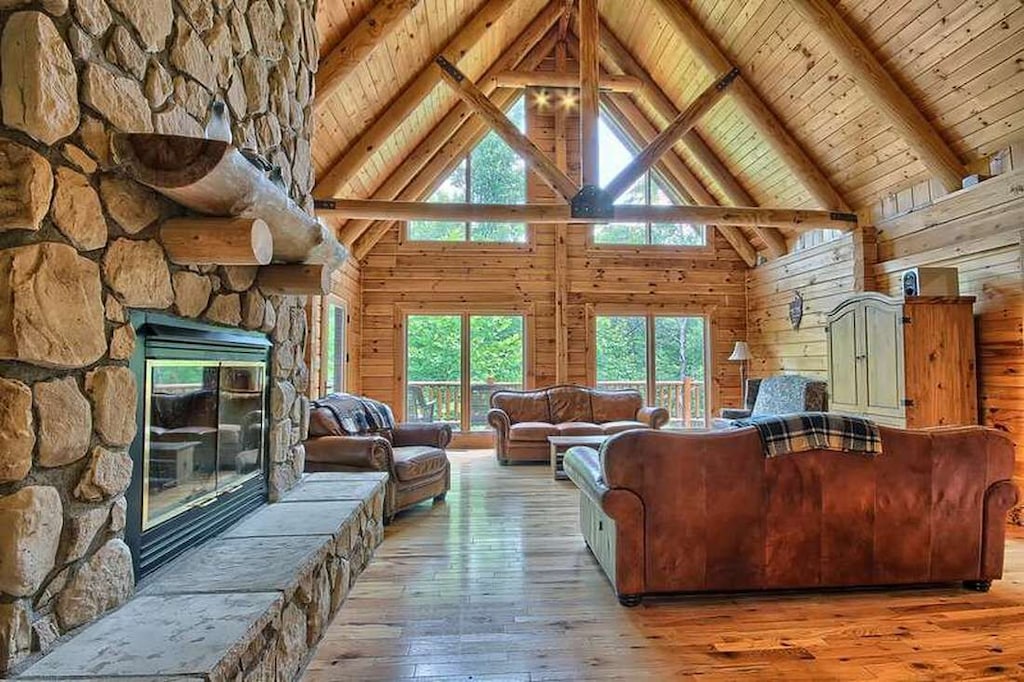 ---
12) Quiet Cabin w/Hot Tub & Trails~15Mi to State Parks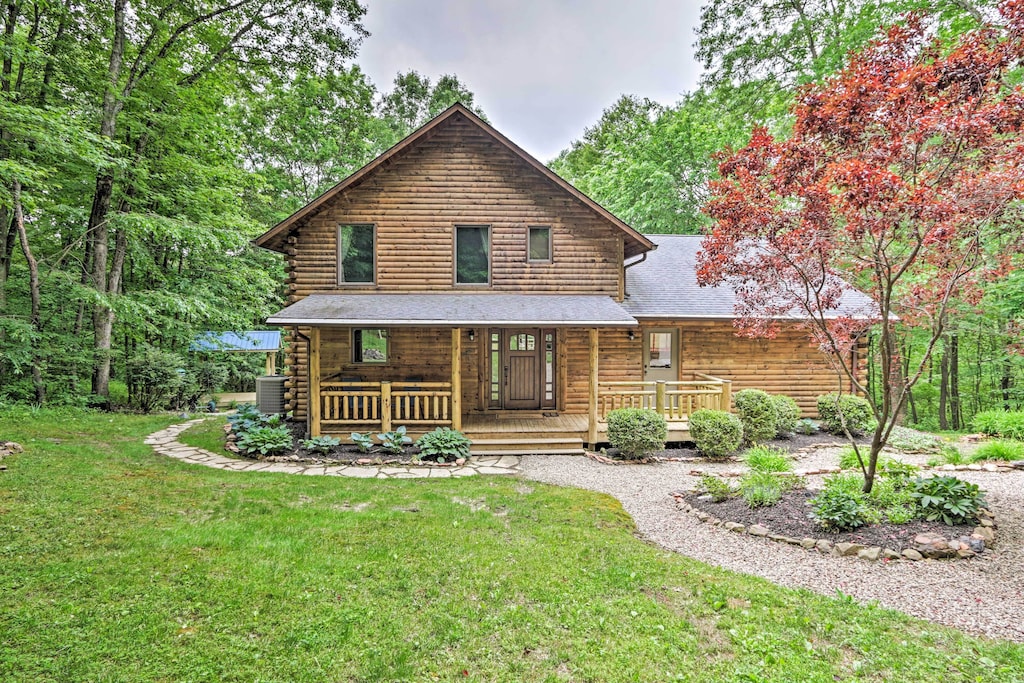 Where: Hocking County
Price: $1294+ USD per night
https://www.vrbo.com/9473596ha
The Wayne National Forest sits in your backyard, so go for a hike and enjoy the wonders of the American wilds. You could also just relax on the decks, roast a few smores and sip on a hot beverage.
A striking feature of this particular cabin is the way the windows surround the living space. There's light here from every angle, and it feels hot and energizing, perhaps because of the green wall of foliage beyond those windows. Why would you ever want to leave this?
View Photos, Read Reviews & Check Availability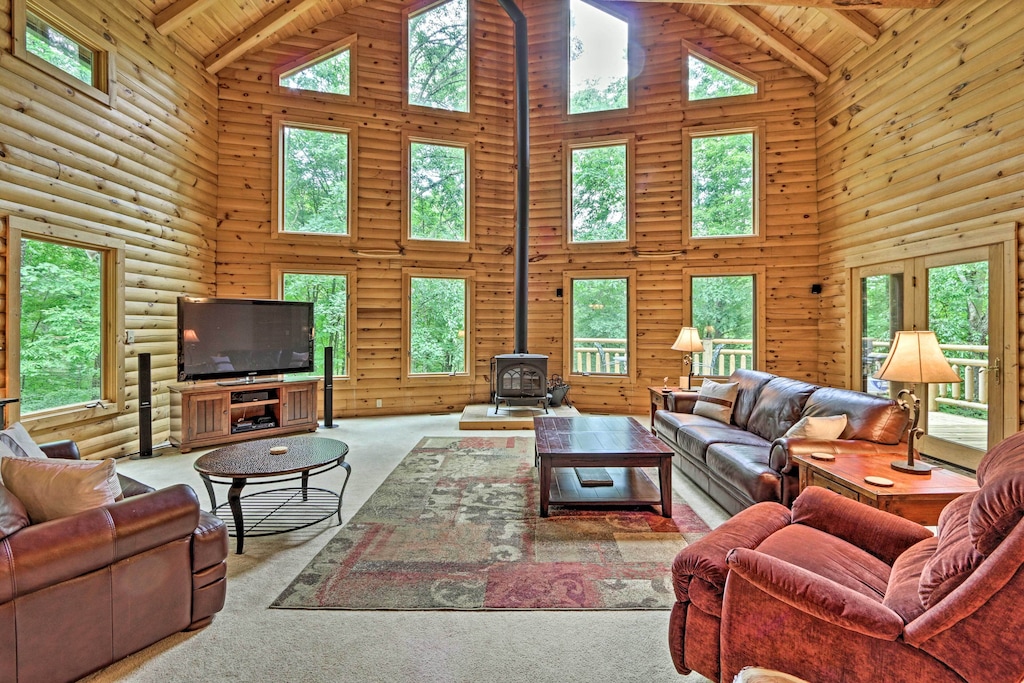 ---
13) 1K&6Q beds! Comfortable & luxurious entertaining! Indoor&outdoor seating for 14!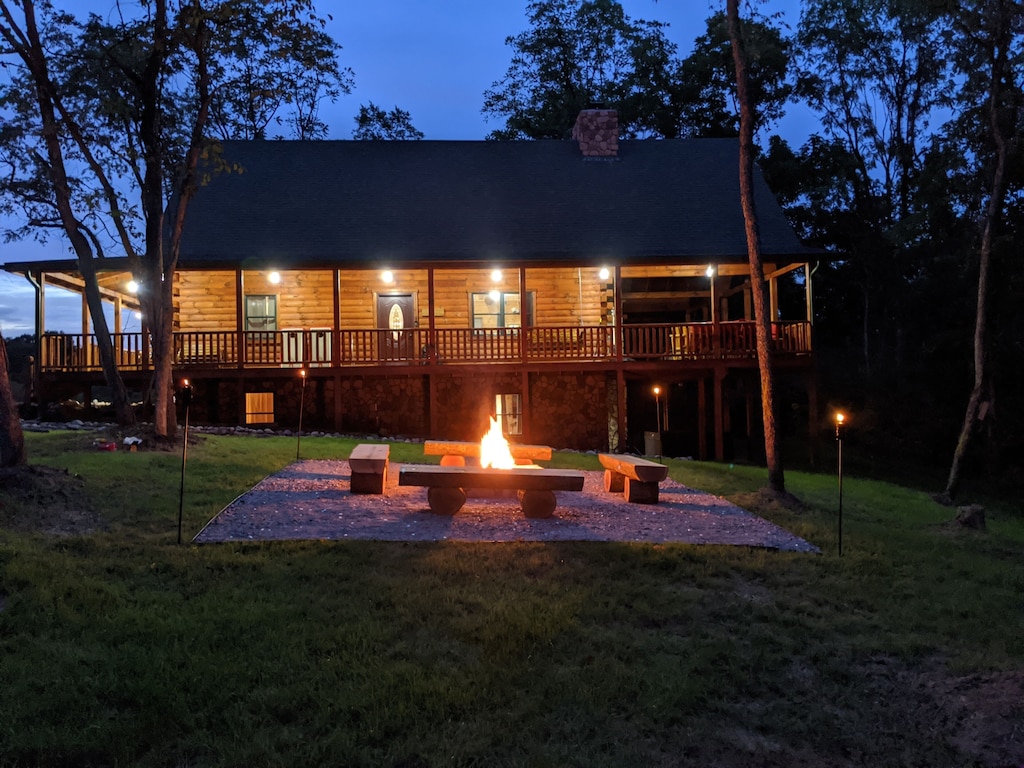 Where: Ward
Price: $725+ USD per night
The suggestion at Byers Retreat would be to grill every night. The deck offers a covered area where you can relax in front of the outdoor fireplace as the meat sizzles alongside.
This place is more than a wonderful wrap-around deck though. Inside, the king and queen bedrooms provide enough comfort for a large party. Play some games, hang out in the hot tub downstairs, or just snack away in the kitchen.
But ultimately, it's the deck you'll come back to every time, even for dinner at the huge square table.
View Photos, Read Reviews & Check Availability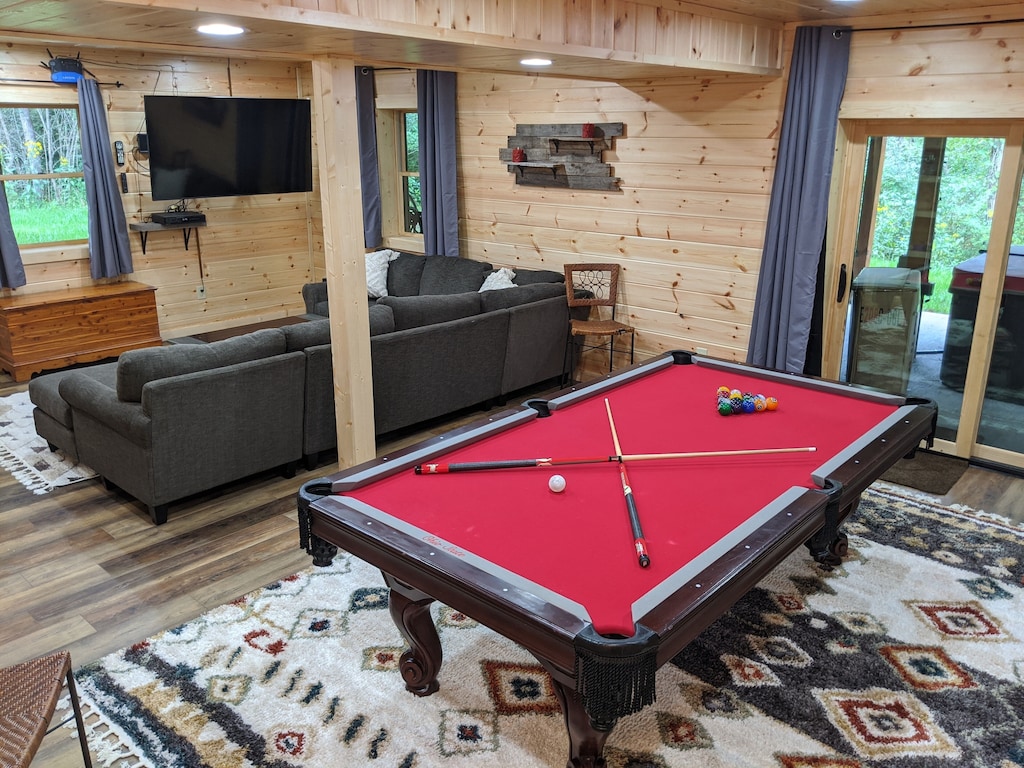 ---
https://www.jonesaroundtheworld.com/wp-content/uploads/2021/07/Hocking-Hills-Luxury-Cabin-Rental.jpg
768
1024
TravelTractionsJATW
https://www.jonesaroundtheworld.com/wp-content/uploads/2017/03/logotry-1-1-300x106.png
TravelTractionsJATW
2021-07-28 21:19:23
2021-07-28 21:19:23
TOP 13 Luxury Cabins in Ohio: Hocking Hills Rentals & Beyond