Are you planning a Glamping Ohio getaway? Well, you've come to the right place. This guide includes 20 epic unique stays, cabins and yurts in Ohio that are guaranteed to impress!
This midwest state is boarded by Lake Erie as well as five other states. The topography mostly consists of rolling plains, which is ideal for glamping! Ohio showcases the four seasons, and each accommodation is equipped to cope with all types of weather, and you'll be surprised by all of the glamorous camping spots you'll find just outside the larger cities.
These destinations provide solitude from the busy world. They allow you to enjoy the comfort of a hotel room, but with the ambiance of the great outdoors. Whether you're looking for furnished tents, cozy campers, spacious yurts, or cabins with indoor pools in Ohio, you'll find it all here.
Ohio offers many glamping opportunities. This guide describes what you can expect at each site, including the price, location, and a helpful review. You'll also notice that some of the listings have videos underneath. These are super useful and will give you a visual of the glamping site and/or area they're in.
As well, be sure to read my guide on the best Ohio Music Festivals to see if your trip lines up with some fun events!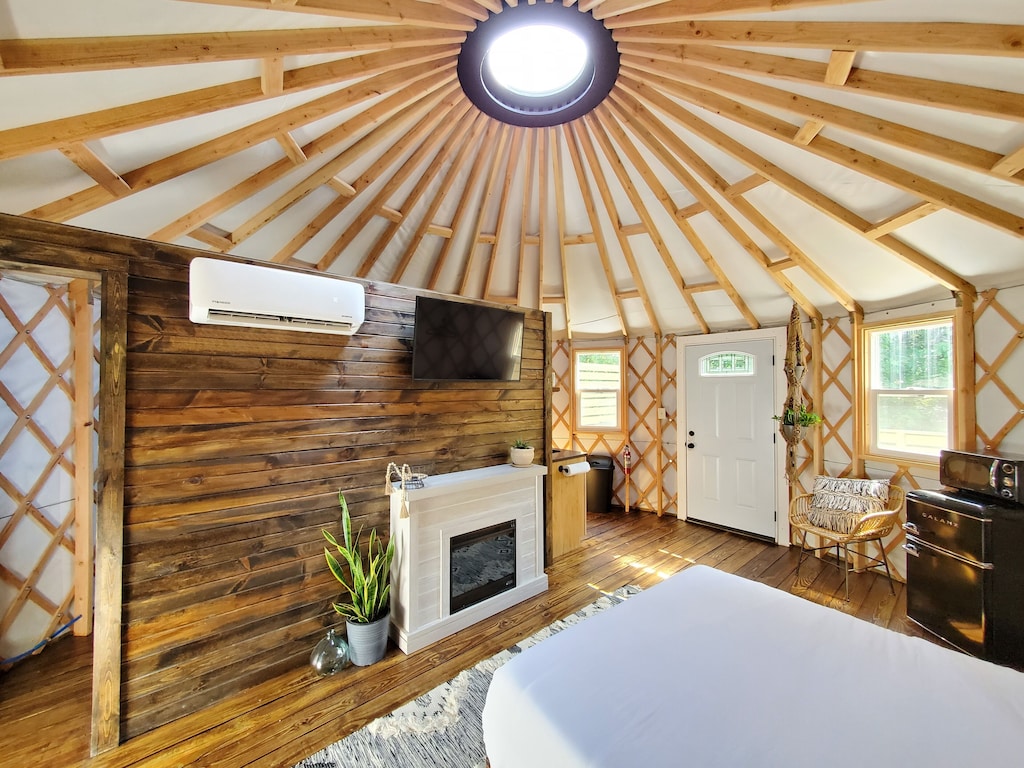 ---
1) Romantic Treehouse in Hocking Hills
Location: South Bloomingville
Price: $280 avg. per night
Sleeps: 2 people (2 bed/1 BR/1 bath)
With over 140 reviews, this stellar property maintains a 5-star rating for good reason! Tucked away amongst the trees, this contemporary vacation getaway has 360 degree views of the surrounding nature, rave reviews about the comfortable interior, chic outdoor lighting and bluetooth speaker for relaxing in the evening, and is near to various natural attractions such as caves and waterfalls. Whether you come in the winter, summer, spring, or fall, you're sure to be greeted with great views and leave the property feeling refreshed and recharged.
View Photos, Read Reviews & Check Availability
Guest Review: "The tree house was clean and beautiful. I loved the lights and small touches that make it feel like home. The kitchen is stocked with all sorts of cooking items such as hot plate, omelette maker, toaster, pots, pans, etc! Everything you could need. My dog also loved exploring around. I traveled in winter and it was beautiful but I would definitely like to come back during summer or fall to see the trees full of leaves. Also, the bed was so comfortable. We slept like a rock each night and woke up in the morning to enjoy coffee and the sunrise!"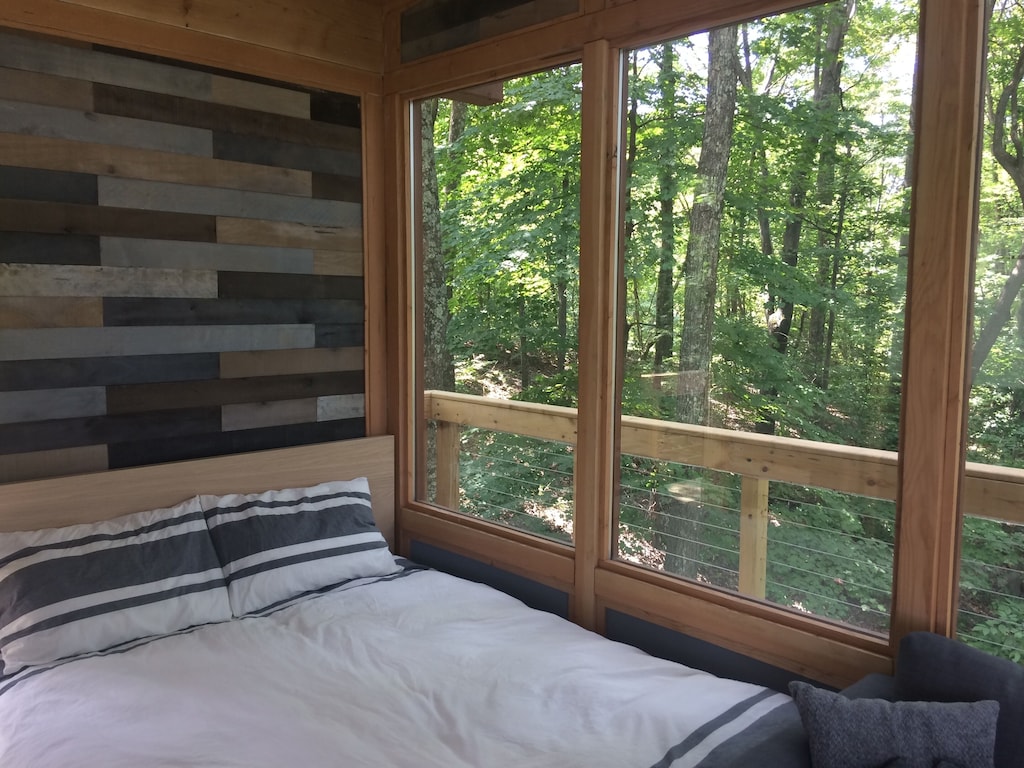 ---
2) Stylish 20ft Yurt – The Hummingbird
Location: Good Hope Township
Price: $260 avg. per night
Sleeps: 2 people (1 bed/1 BR/1 bath)
This spacious yurt is located in the heart of Hocking Hills, and is a superbly stylish structure! Featuring an open plan living space with comfortable queen bed, TV, kitchenette and appliances, fireplace, AC, and an elegant glass enclosed shower, this is the perfect place to spend a few nights in nature while enjoying the amenities of a 5-star hotel. The property even features a hot tub, as well as a community recreational space with a pool table, darts, and more!
View Photos, Read Reviews & Check Availability
Guest Review: "We stayed in the Hummingbird Yurt for 2 nights. The Yurt was immaculate. We were so impressed with the look, layout, convenience and cleanliness of the entire property. It was somewhat secluded and the hot tub was a great treat. The community game room was a nice touch. We will recommend this place to all our friends and family."
---
3) The Pine Treehouse – Glamping at Dragonfly Lake, Maryland
Location: Monroe County
Price: $67 avg. per night
Sleeps: 4 people (3 beds/1 BR/1 bath)
This is off-the-grid glamping at its finest! If you're searching for seclusion, look no further. This treehouse style cabin sits on 20 acres of private land tucked up next to the Appalachian foothills. There is a private lake as well, which you can make the most out of with the provided kayaks, paddle boards, and paddleboat all of which guests are welcome to use. The Pine Treehouse is very budget friendly and provides you with all the best parts of camping without the hassle of setting up and tearing down your site. This is place to be to really get away from it all!
View Photos, Read Reviews & Check Availability
Guest Review: "Adorable off grid cabin perfect for a quiet getaway. All the amenities and cozy touches you need for a relaxing weekend. Very clean and we loved the outdoor shower!!!"
---
4) The Oasis Retreat Cabin in Ohio's Amish Country
Location: Millersburg
Price: $249+ USD per night
https://www.airbnb.com/rooms/20858464
This Ohio cabin getaway is in the heart of Amish country. It's perfect for families wishing to spend quality time together. The layout is very spacious and can sleep six people comfortably. There are three bedrooms (one has bunk beds) and two full bathrooms.
The cabin also has a full-sized kitchen, a cozy living room with a gas fireplace and TV, and plenty of kid's DVDs and board games. For some outdoor fun, relax in the hot tub, check out one of the hiking trails around the property, or go fishing in the nearby pond. You'll feel totally at home and be able to connect with your loved ones in a fun setting.
View Photos, Read Reviews & Check Availability
Guest Review: "This trip was above and beyond what I expected. The house is impressively clean and beautiful! I loved the chipmunk trail and the large amount of land that the house was on. We had more than enough room to play all of the outdoor games we brought along. It was nice to leave the city and feel like we were living in seclusion. Definitely recommend!"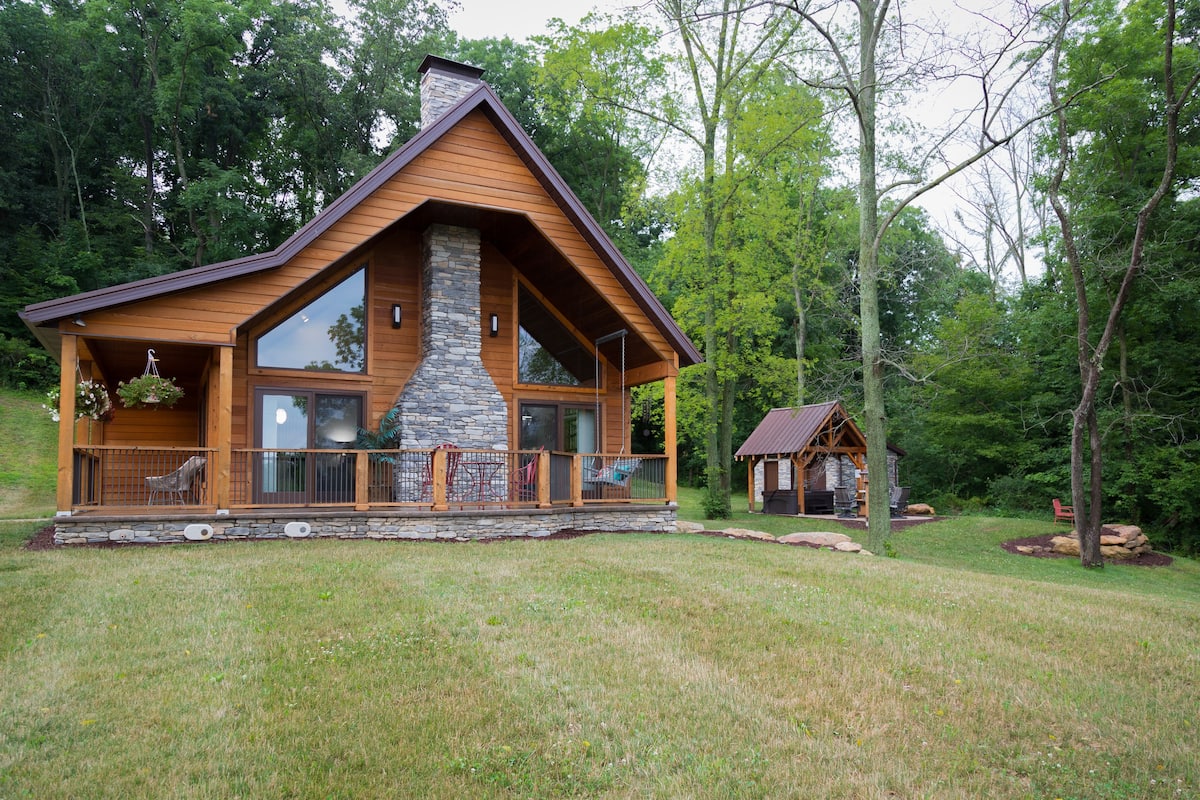 ---
5) Yurt Retreat at UpS Botanical Sanctuary
Location: Rutland
Price: $94+ USD per night
https://www.airbnb.com/rooms/22995602
How does yurt camping in Ohio's Appalachian foothills sound? This cozy retreat is on 379 acres of private forest in the United Plant Savers Botanical Sanctuary.
Nature and adventure are right at your doorstep. Go hiking through the surrounding area, take a dip in the property's Heart Pond, and discover the many different plant species native to the area. If you want to venture out further, the buzzing city of Athens is just a short drive away.
The cozy yurt has plenty of windows to let sunlight in. It's well equipped with all of the essentials you'll need, including a fully equipped kitchen, a full bathroom, a heater, and a futon that sleeps two.
View Photos, Read Reviews & Check Availability
Guest Review: "I wasn't sure what to expect of this place, but it was the perfect little retreat. Situated near a few different trails on the botanical sanctuary, it was such a quiet respite. The yurt was perfectly cozy and included all the amenities we would need for a comfortable retreat into nature. I can't wait to visit again soon!"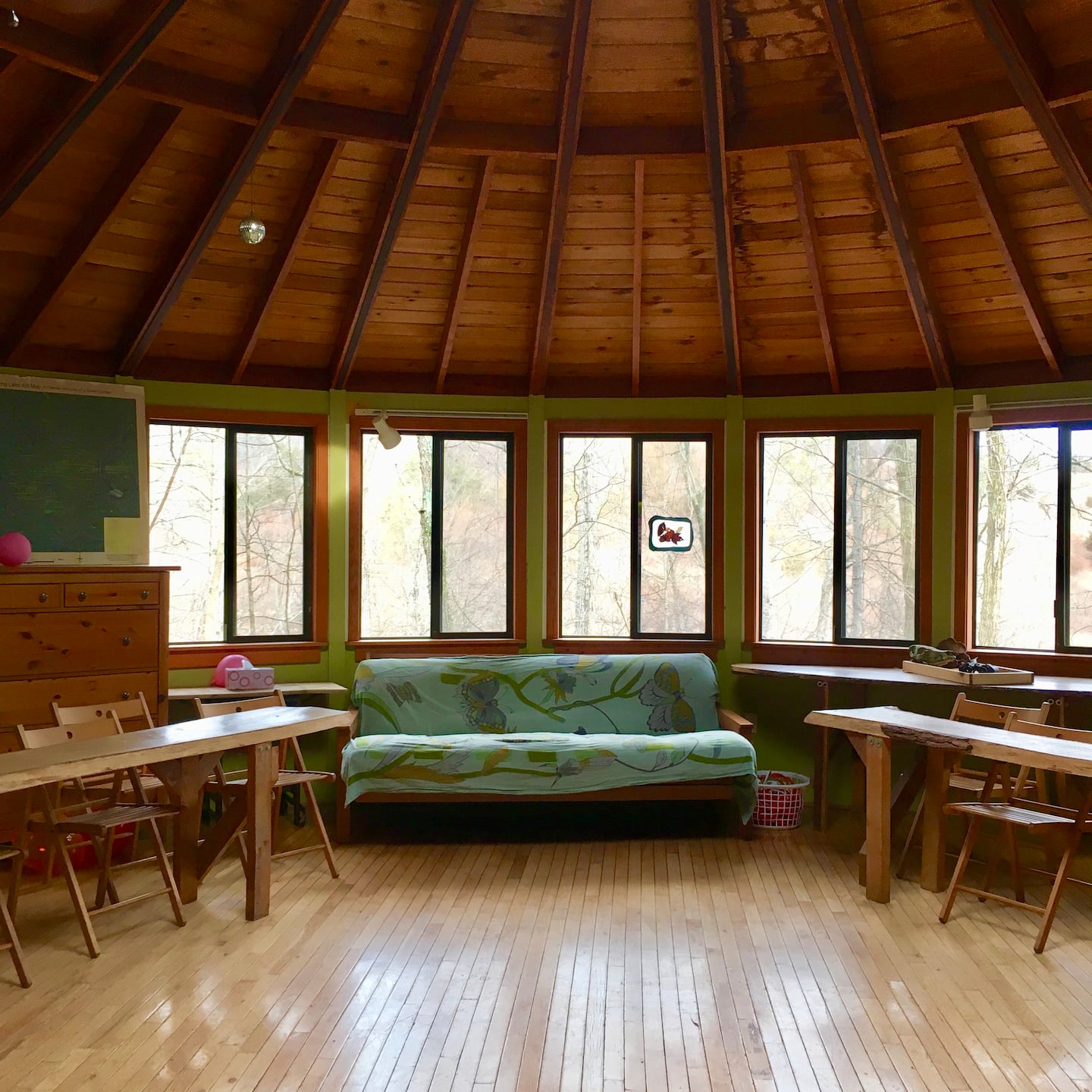 ---
6) Mini Pearl Cabin
Location: Logan
Price: $153+ USD per night
https://www.airbnb.com/rooms/30063304
This Hocking Hills' romantic cabin is perfect for couples – or anyone after a quiet and cozy getaway. You can't beat the location. It rests on top of a hill overlooking a scenic valley. You can enjoy the stunning views from the front porch swing.
The cozy loft (accessible by a library ladder) has a queen-size bed. Downstairs, the snug living space has a gas fireplace, a sofa, and a TV with streaming programs. The kitchenette has all your basic cooking essentials. However, possibly the best feature of all is that it's one of the cabins in Logan, Ohio with a hot tub.
View Photos, Read Reviews & Check Availability
Guest Review: "We loved the cabin and its remote location, just south of Hocking Hills and almost invisible from the neighbor and main road. The place is very small, perfect for a single person or two people who actually do like each other:) The AirBnB pics do it justice, it's lovely. The bed is comfy, too."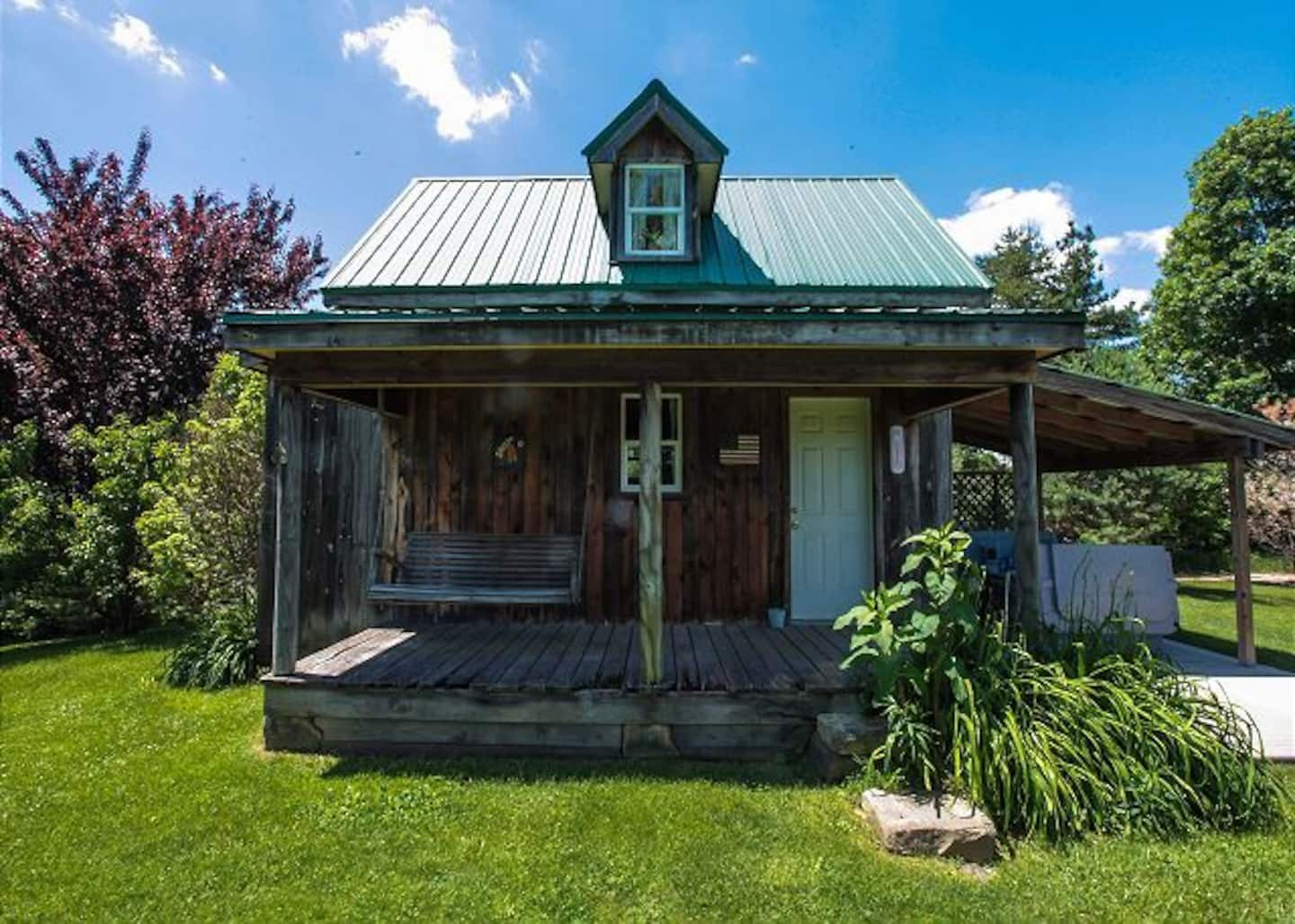 ---
7) Observatory Luxury Cabin with Pool
Location: Logan
Price: $319+ USD per night
https://cherryridgeretreat.com
This is an excellent choice if you're searching for Hocking Hills cabins with private pools. Ohio is all about enjoying nature, and this is the perfect place to do so. The private outdoor area includes not only a pool, but also a hot tub, a sunken cold plunge pool, sun loungers, and spectacular nature views.
Inside the cabin, the open floor plan features spacious living quarters, an open kitchen with modern appliances, a king suite bedroom, and a luxurious bathroom. This place will definitely take your glamping game to a whole new level.
Cherry Ridge Retreat - Observatory Luxury Swimming Cabin
---
8) Creekside Cabins
Location: New Straitsville
Price: $50+ USD per night
http://www.begleyscampground.com
If you're planning a trip to southeast Ohio, these Wayne National Forest cabins are the perfect place to base your trip. The price is very reasonable and includes basic necessities, like a refrigerator, two full beds with sheets included, and access to the campsite restrooms with heated showers.
From the campsite, you'll have direct access to the Wayne National Forest. After a fun day exploring the area, you can relax on your covered porch and watch the sunset. No matter what month you visit, you'll be comfortable thanks to the cabin's air-conditioning and heating system.
Wayne National Forest in 4K | Best Ohio Backpacking | Bushcraft, Hiking, & Camping Lake Vesuvius
---
9) Cedar Point or Fisherman's Camper Vacation Rental!
Location: Port Clinton
Price: $51+ USD per night
https://www.airbnb.com/rooms/27132563
This modern camper is the perfect option for an affordable vacation rental near Cedar Point Amusement Park. It has everything you need for a simple little getaway. The bedroom has a queen-size bed and an adjoining bathroom.
The kitchen space is small but fully equipped with everything you'll need, including a coffee machine. There is even a small living area with a plush sofa, chair, and dining room table that seats four. Or, if you'd prefer to relax outside, there is seating on the deck that looks onto a grassy lawn with an outdoor firepit.
View Photos, Read Reviews & Check Availability
Guest Review: "This place is amazing! The RV was very clean & all necessary amenities were there including hot water! Amanda & Bryan were great hosts, they respond quickly We had campfire & stared at the sky full of stars (take a bug spray with you) And the next morning paddled on the river It's beautiful with lotus & other wildlife Amanda was so nice & let us hang out with Gizmo (huge Tortoise) & goats If you are a light sleeper, it might be hard to sleep (railroad nearby) but I think it's still worth the experience"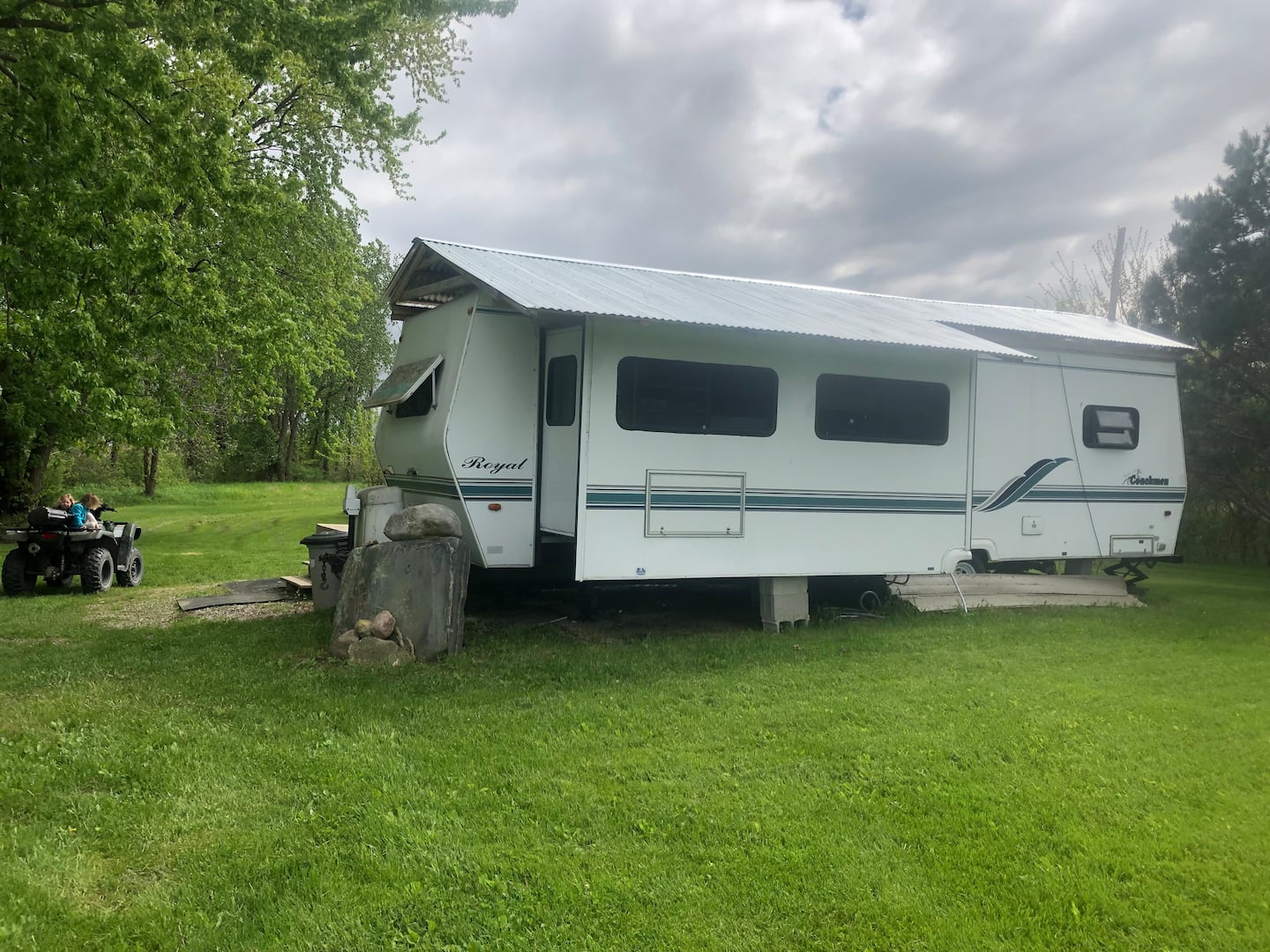 ---
10) Glamping in Style! Steps Away From the River!
Location: Howard
Price: $149+ USD per night
https://www.airbnb.com/rooms/24794398
If teepee camping in Ohio is something you're interested in, this glamping site is just the ticket. Set on 15 acres of lush property, just steps from the beautiful Kokosing River, you'll feel one with nature. It's perfect for glampers who are interested in fishing, kayaking, hiking, and the great outdoors.
Inside the teepee, there are two-floor mattresses and one couch. There is also an AC unit that will keep you nice and cool on warm summer days. The charcoal grill and fire pit are perfect for cooking up some tasty camp food or socializing around a crackling fire.
View Photos, Read Reviews & Check Availability
Guest Review: "Our stay was AMAZING! We camp Very frequently, and this TP was definitely on our list of top Trips! The access to the river was awesome, we put our chairs in the water and relaxed all day! The bathrooms were so clean, there was access to firewood on-site, and the bed was so comfortable. Matt was also quick to help us with anything we needed. 10/10 will stay again any chance we get!"


---
11) Inn & Spa at Cedar Falls Yurt
Location: Logan
Price: $280+ USD per night
https://www.airbnb.com/rooms/21924304
As far as yurts in Ohio go, this one is hard to beat in terms of comfort and convenience. The inside is cozy and beautifully decorated. It features a double bed, a skylight, a small nook for relaxing, and a bathroom. And, with the heating and AC unit, It's enjoyable no matter the season.
Complimentary breakfast is available to all guests at the on-site restaurant. There's also a coffee machine in your room for wherever you need a caffeine fix. Enjoy a fresh cup on your outside deck, which includes comfortable chairs.
View Photos, Read Reviews & Check Availability
Guest Review: "Our stay here was exactly what we needed. Remote but convenient, quiet, and picturesque. We loved it!"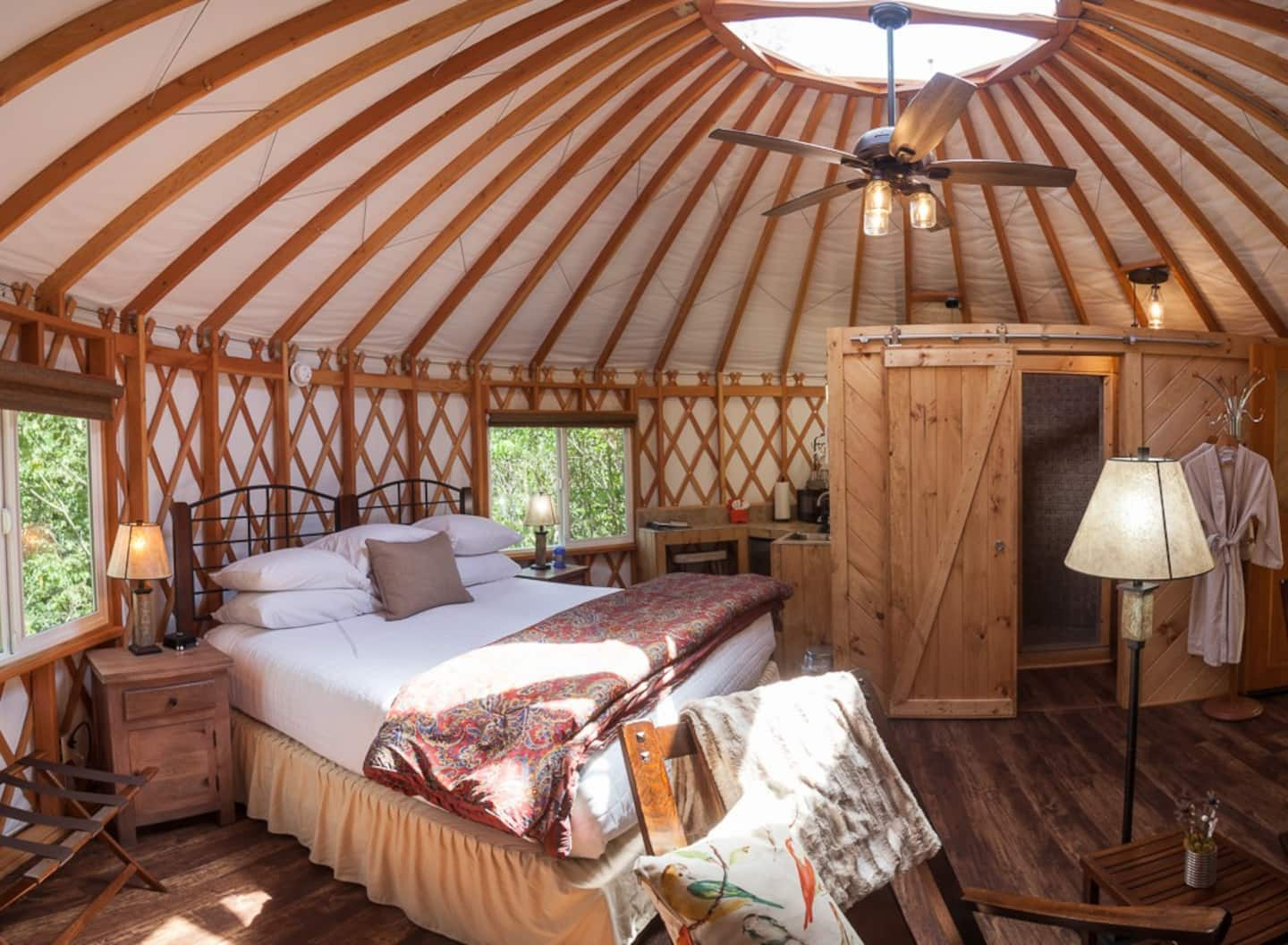 ---
12) Yurt Glamping – Secluded Retreat
Location: Xenia
Price: $62+ USD per night
https://www.airbnb.com/rooms/43336401
For Ohio glamping on a budget, you can't beat the price of this glamp camp. The inside of your tent is super snug. It features carpeting, a queen-size bed, and a small kitchenette. There is also an outdoor shower (with hot water) just steps from the tent entrance.
Guests have access to all the features of the main house. This includes a full kitchen, laundry facilities, two living rooms, a sunroom, and an entertainment deck with a pool.
There's a four-mile hiking loop trail on the property. Or, for something a little more adventurous, you can book fun activities with your host like rock climbing, kayaking, and sailing.
View Photos, Read Reviews & Check Availability
Guest Review: "We were very impressed with this host and location. Robert was kind, communicative, and flexible. The yurt and entire space was peaceful, beautiful, stylish, and overall great. I wish I could have spent more time there."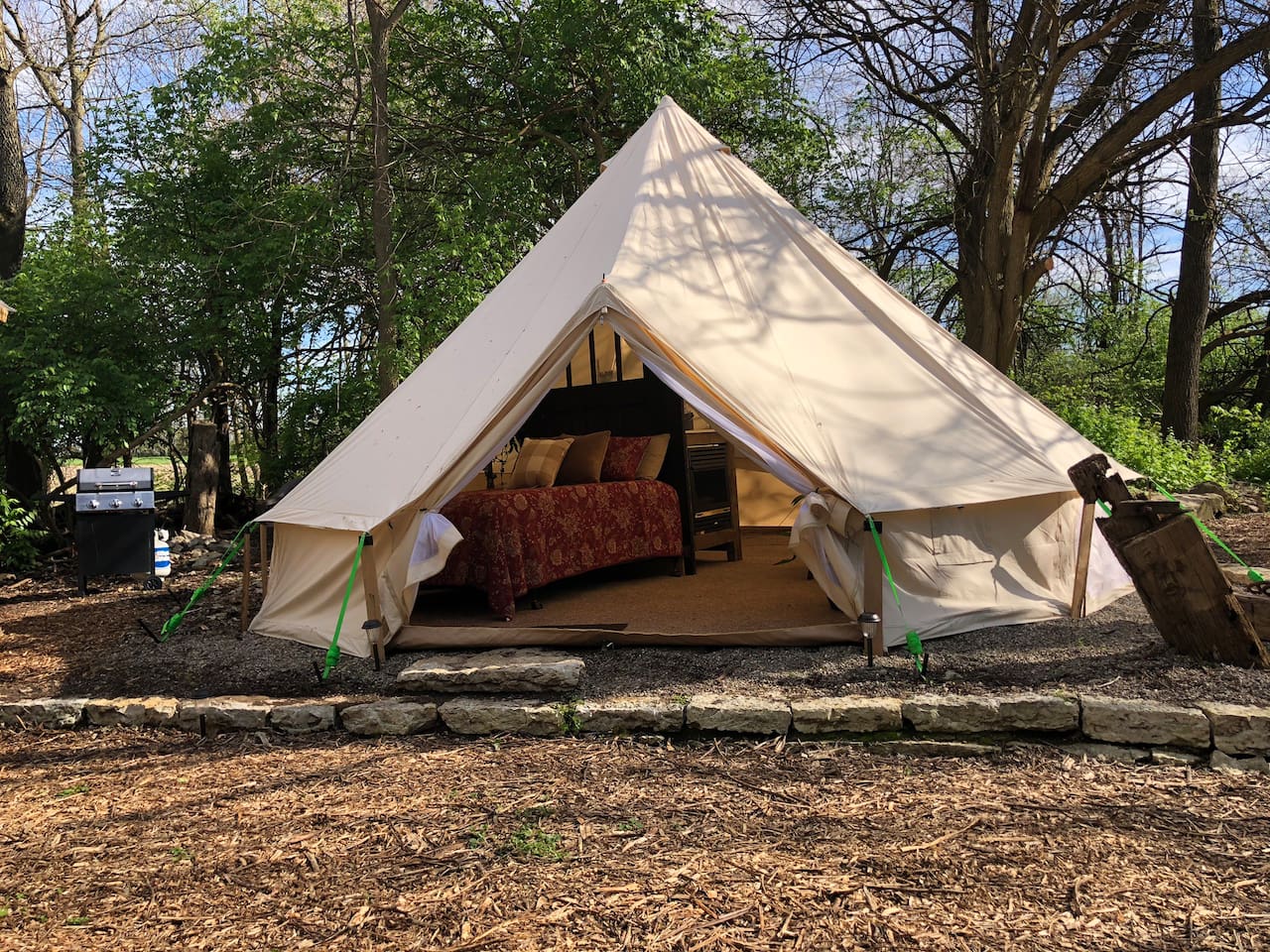 ---
13) Enjoy Yurt-Stay! A Suburban Glamping Experience
Location: Dayton
Price: $99+ USD per night
https://www.airbnb.com/rooms/39915988
This 16-foot yurt is a cozy hideaway on a half-acre property. It's nice and secluded, but just a short drive from all the excitement of Dayton. The queen-size futon bed will guarantee a good night's sleep, and during the day you can relax on the comfortable indoor hammock.
When cooking your meals, you'll find all your basic necessities, like a small stove, pots and pans, and dishware. Your host supplies free coffee and tea, as well as some awesome extras, like organic eggs for you to cook with, homemade pastries, and fruit.
There is an outhouse with a composting toilet and guests staying more than two nights can request to use the indoor house shower.
View Photos, Read Reviews & Check Availability
Guest Review: "So lovely! Sarah is definitely quick at responding and definitely values her Yurt. She's very helpful in making sure that you enjoy your stay. All the little details and love that she has put into it made it so enjoyable. Also, her muffins are amazing!"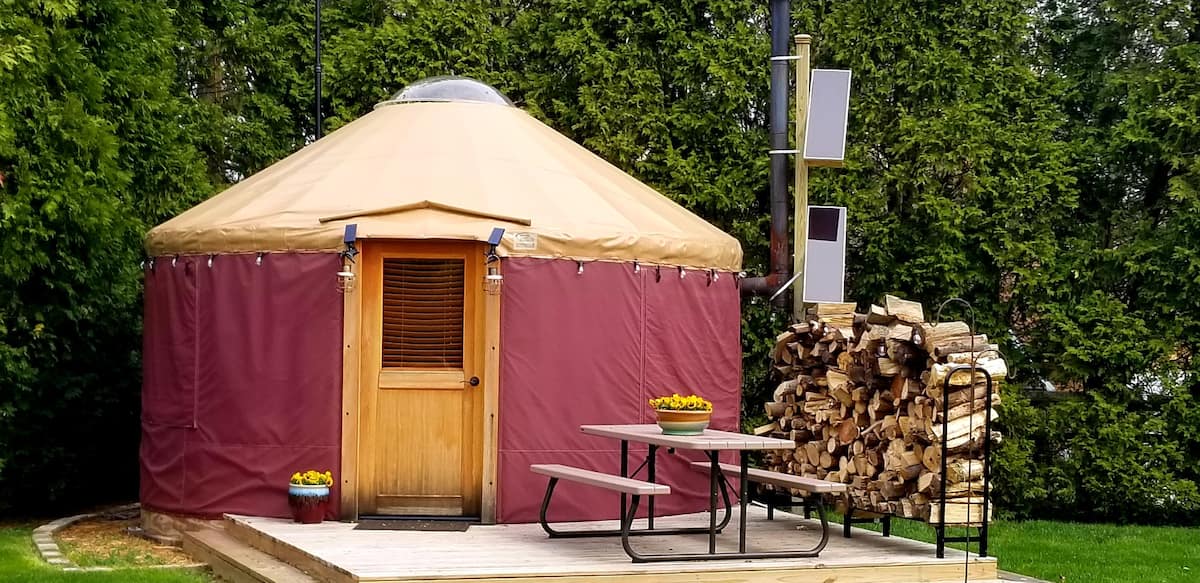 ---
14) Ohio's Best Glamping!
Location: Howard
Price: $111+ USD per night
https://www.airbnb.com/rooms/18637681
This large walled tent is perfect for a relaxing getaway. Set just a stone's throw from the scenic Kokosing River, you'll have easy access to water activities, like kayaking, fishing, swimming, and paddleboarding.
Inside your comfortable tent, you can relax on your queen-size bed or sofa while listening to the calming sounds of nature. Outside, you'll find a charcoal grill and fire pit where you can cook your meals, camp style. You'll have room inside your mini-fridge to store your food supplies, including a few cold ones.
View Photos, Read Reviews & Check Availability
Guest Review: "We stayed in the tent for 2 nights and it was awesome! Super comfy bed, very clean, and beautiful view of the river. Matt and Gina are amazing hosts. We can't wait to come back next month."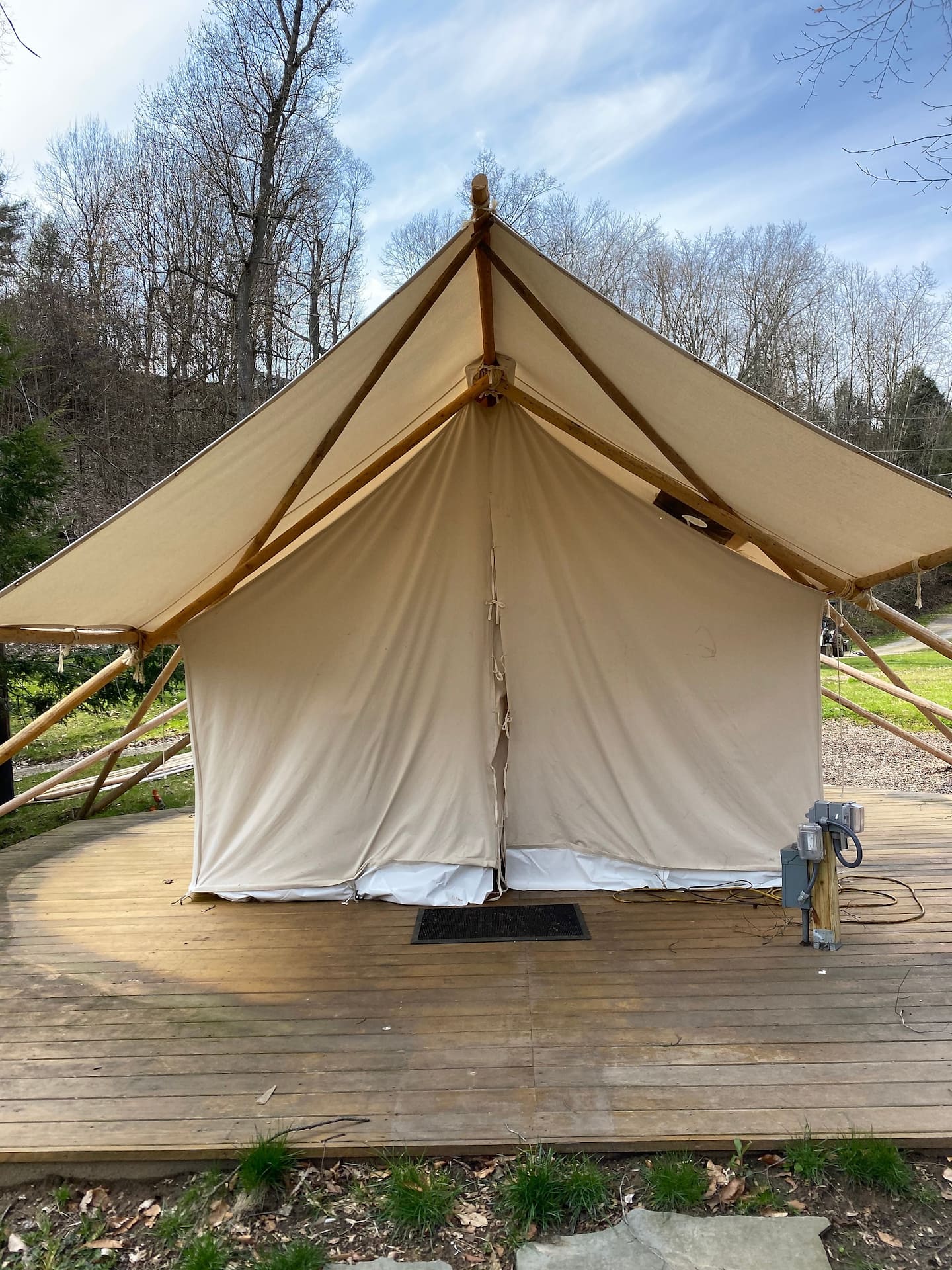 ---
15) Enchanting & Heated Yurt in the Forest
Location: Swanton
Price: $148+ USD per night
https://www.airbnb.com/rooms/20730575
This Ohio yurt is the best choice for environmentally conscious travelers. The eco-camp focuses on sustainable standards in all regards to the camp's operation. The natural canvas tents have a carpeted interior, a queen-size bed, solar lights, and basic cooking essentials, including a charcoal grill.
The large social hall and community space are the perfect places to unwind after a busy day exploring nature. There is plenty of seating and a large communal fire pit where you can mingle with the other campsite guests. You'll have everything you need for a fun glamping getaway.
View Photos, Read Reviews & Check Availability
Guest Review: "The Eco Camp was amazing! There were so many little touches that made the space extremely magical. Alex was a great host! He was very responsive & welcoming. I would recommend to anyone!"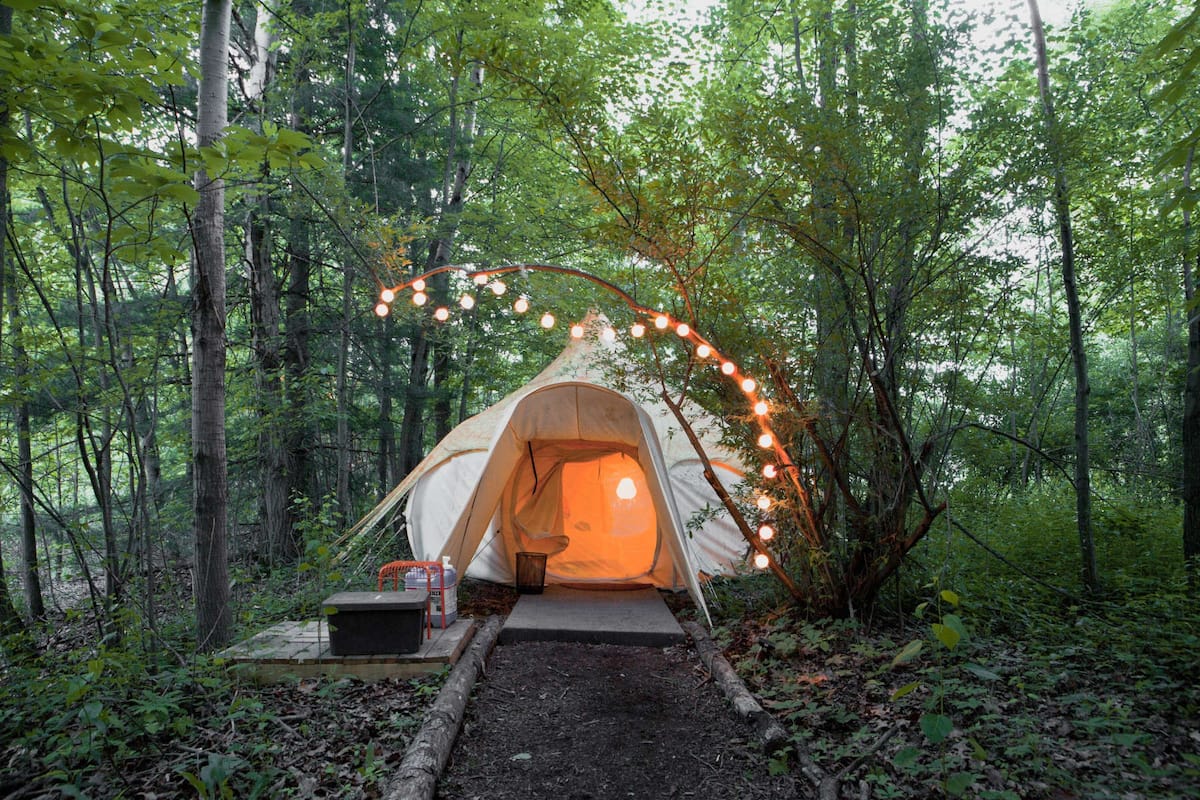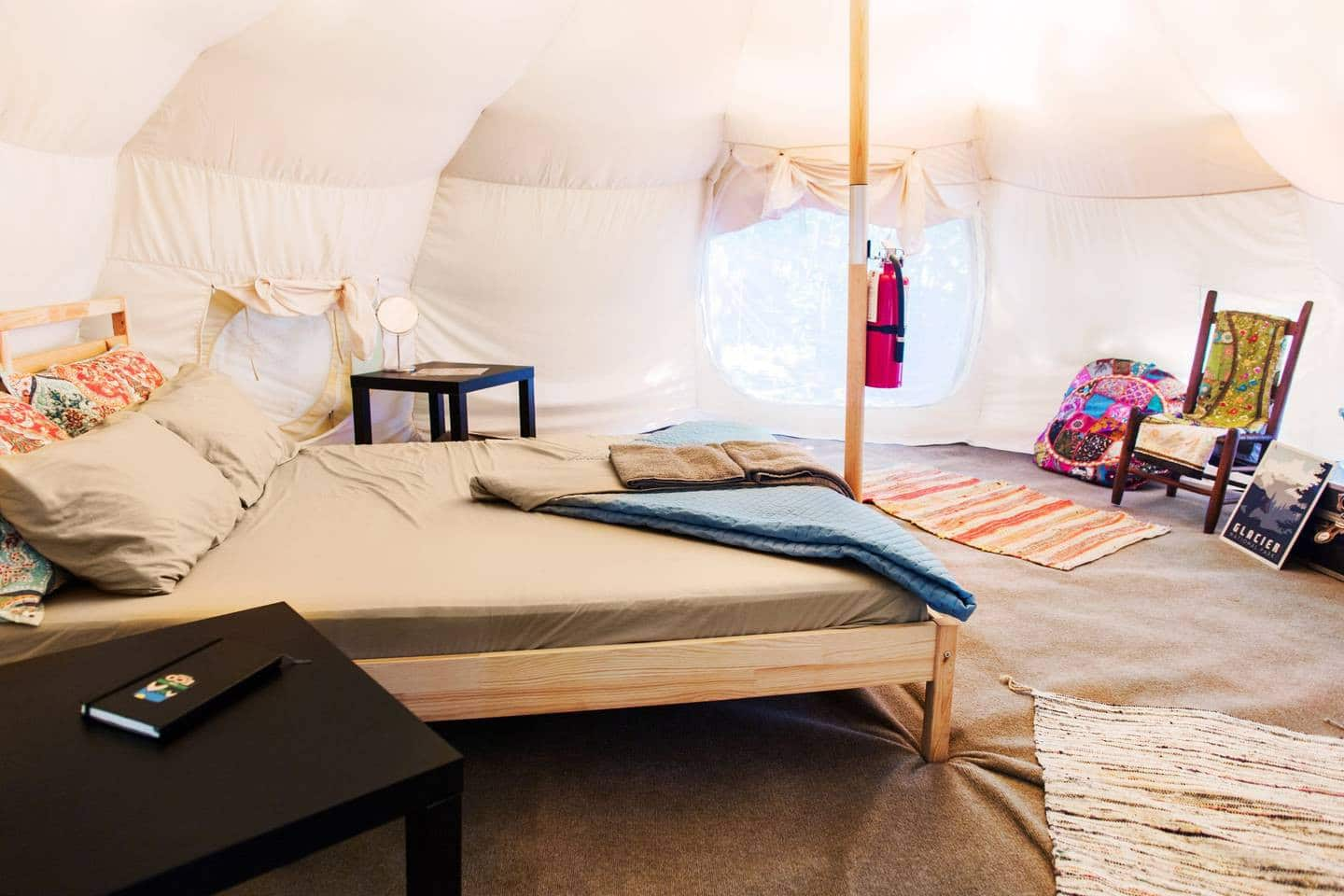 ---
16) The Cabin at Maple View
Location: Urbana
Price: $94+ USD per night
https://www.airbnb.com/rooms/30691136
This cute cabin is perfect for an epic nature retreat. Tucked back into 80 acres of woodlands, there are miles of hiking trails for you to enjoy. There is one bedroom, but the living room has a full-sized futon that can sleep two additional guests.
The cabin has a full kitchen, which includes a coffee machine and a small dining room table. If you'd rather do your cooking outside, there's a fire pit and a grill to do so. And, there is plenty of outdoor seating.
View Photos, Read Reviews & Check Availability
Guest Review: "This place was magical, A well-crafted cabin that has that great cedar smell. The cabin has its own tranquil wooded paradise perfect for those seeking to let go of the day to day stresses and simply enjoy nature. It is a great change of pace and adventure. Also your hosts Jared and Rita are very nice and accommodating."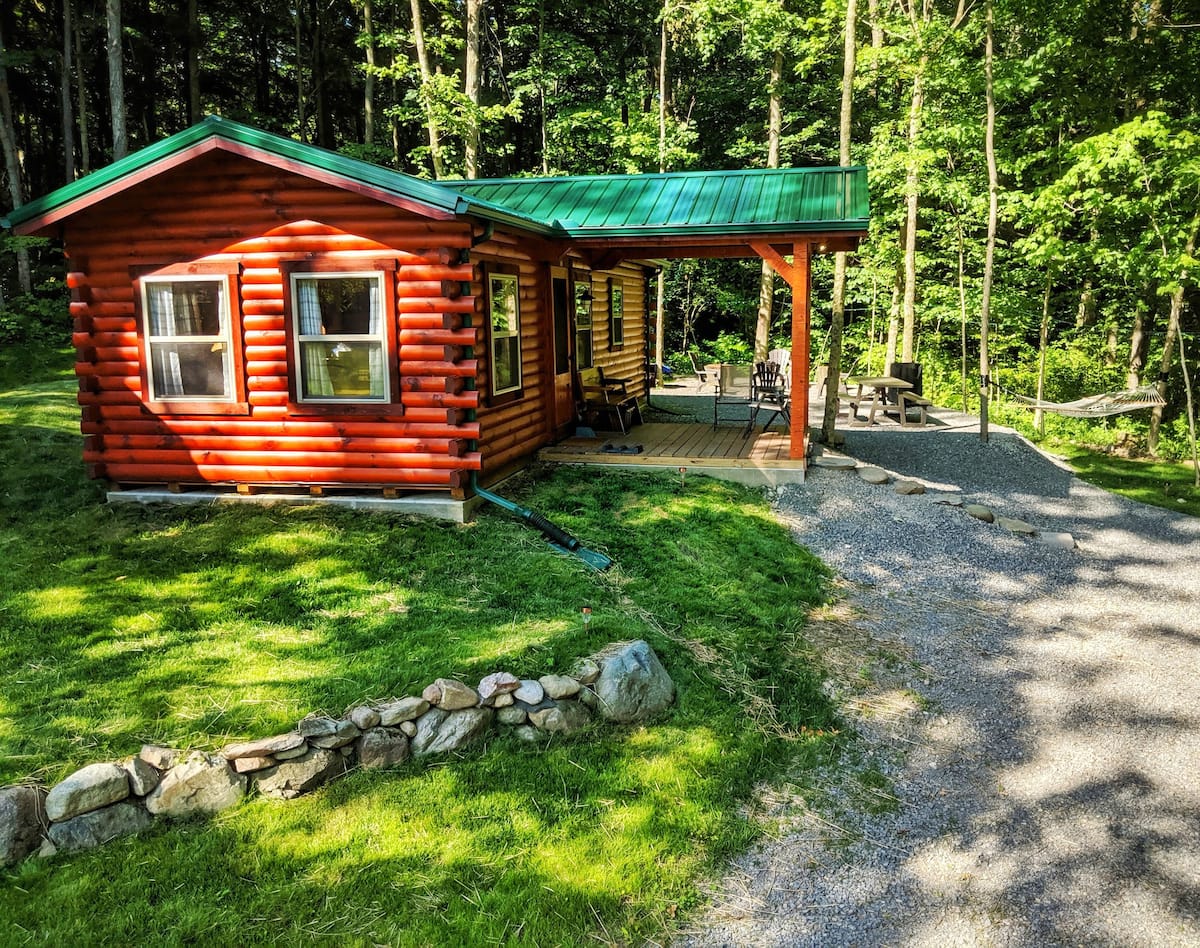 ---
17) Cozy Barn Near Denison & County Parks
Location: Granville
Price: $90+ USD per night
https://www.airbnb.com/rooms/33809778
Enjoy a unique barn stay in a peaceful outdoor setting. This charming little unit is perfect for two guests seeking a quiet country retreat. You'll sleep very soundly on two twin beds, which have plush mattress toppers. Your host provides you with free slippers, which you can take with you after your stay.
The kitchenette has a microwave, refrigerator/freezer, and dishware. It's perfect for preparing light meals. There is also a coffee maker stocked with coffee, creamer, and sugar. Light snacks, like granola bars, fruit, and instant oatmeal are also there for you to enjoy.
When you're not exploring Granville, you can hang out in the living quarter watching the 43-inch smart TV. Or, catch a sunset on the front porch.
View Photos, Read Reviews & Check Availability
Guest Review: "10/10 would recommend. The barn is breathtakingly beautiful, cozy, and clean. My mom and me truly enjoyed our stay – we didn't want to leave! Sarah is a wonderful hostess and a quick and helpful communicator. Can't wait to come back!"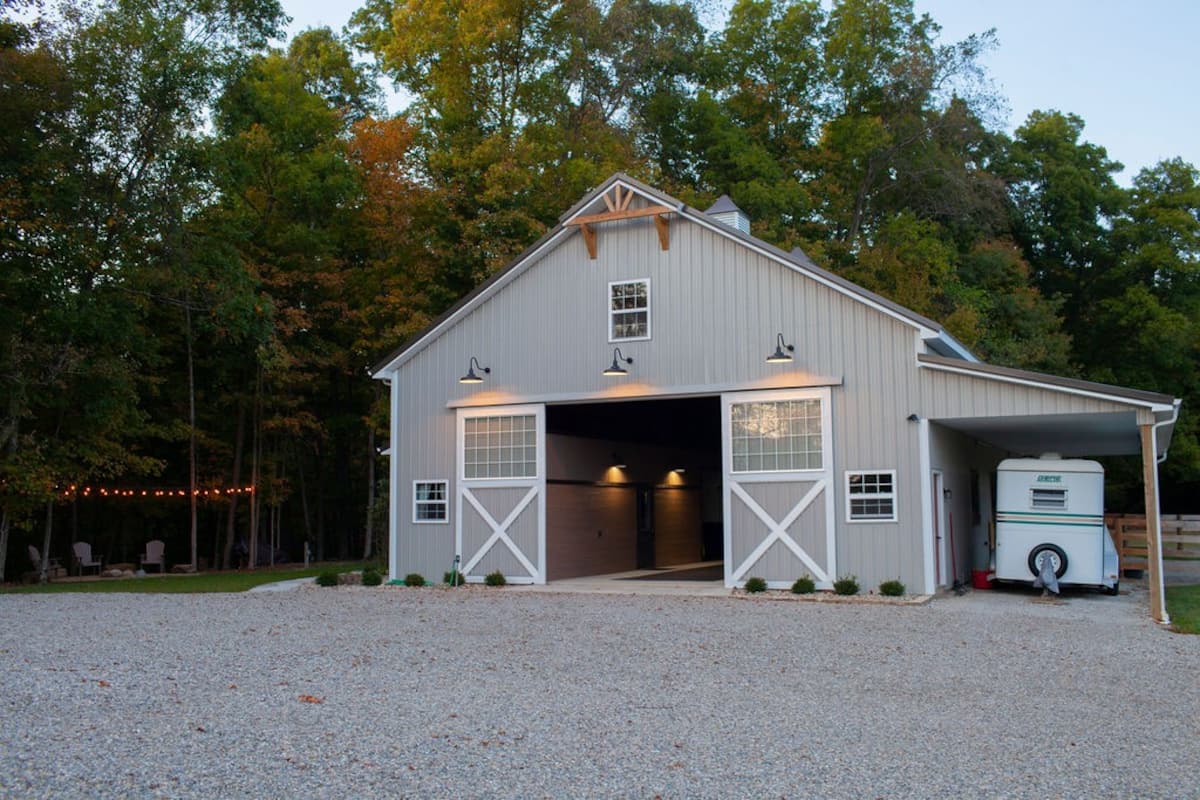 ---
18) Mohican Farmhouse, Pond, and Animals
Location: Perrysville
Price: $225+ USD per night
https://www.airbnb.com/rooms/14704383
You won't find a more peaceful and picturesque Ohio farmhouse than this country getaway. The house is rather large, which makes it perfect for groups of friends or even family reunions. It offers a true farm setting, complete with animals, like chickens, sheep, goats, llamas, and more. The large wrap-around covered porch makes for the perfect social setting; as does the private fishing pond and acres of pastures.
With a fully equipped kitchen, cozy family room, and plenty of space to run around, you'll have everything you could possibly need. This is definitely the kind of place where memories are made.
View Photos, Read Reviews & Check Availability
Guest Review: "Such a nice, cozy weekend getaway for our family (including dogs), and we loved having the entire farm to ourselves. My kids couldn't get enough of the animals, especially the kittens. Close to hiking trails and canoe liveries. Also, great communication with Shane. We would love to come back with family or friends!"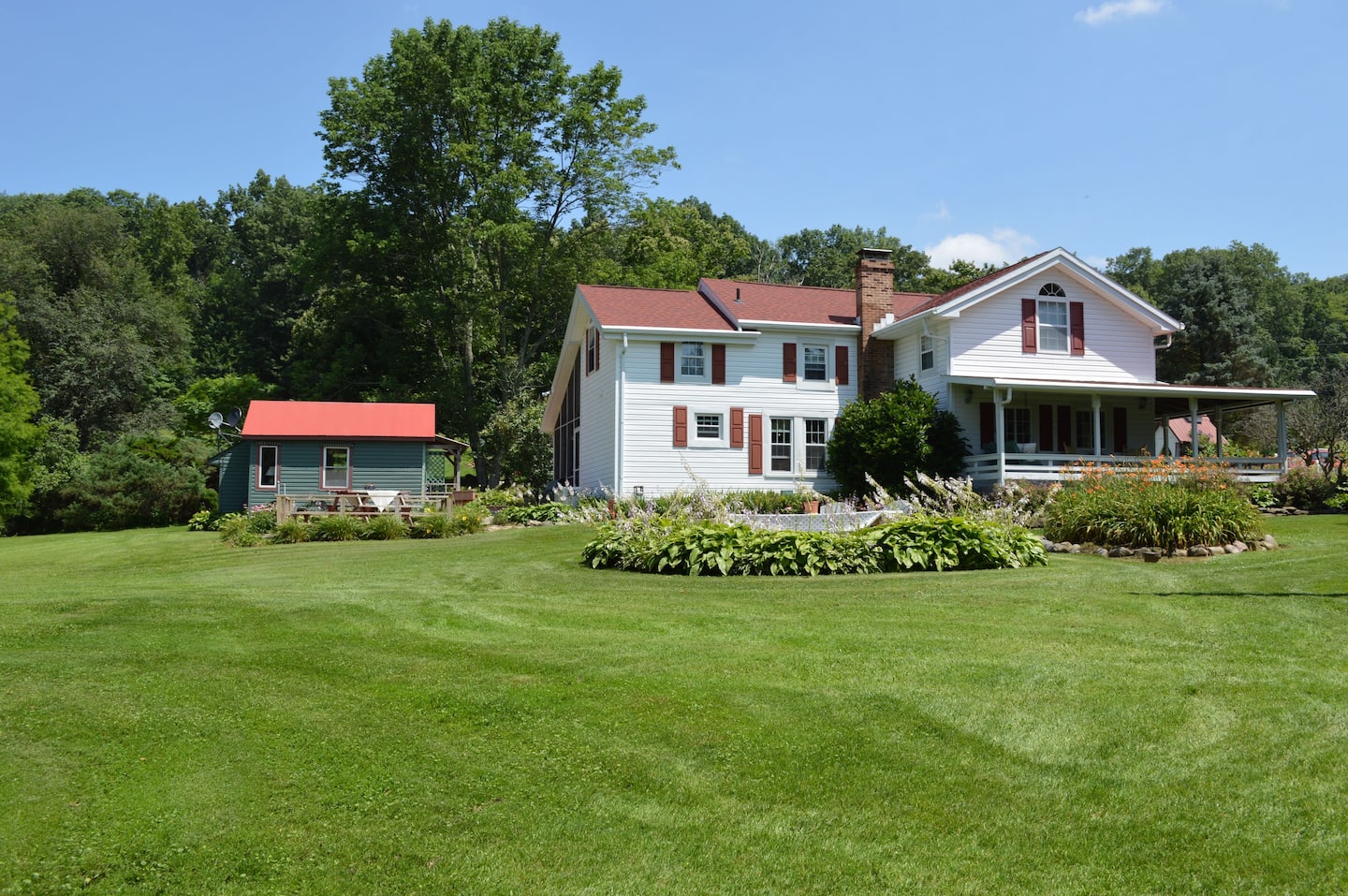 ---
19) Woodford Cabin
Location: Logan
Price: $395+ USD per night
https://bourbonridgeretreat.com
For a luxury glamping trip, this Hocking Hills cabin with a pool checks all of the boxes. Each room includes state-of-the-art amenities. The Master Suite has a king-size bed and an adjoining bathroom with a spacious shower and seven showerheads.
In the living quarters, the stone fireplace and plush leather sofas and chairs set the mood for relaxation. As does the theater room, which features two-tiered seating and a high-definition, LCD screen.
Last but not least, outside of the cabin, the private, heated pool is the ideal space for enjoying the gorgeous scenery of Hocking Hills.
Hiking at Hocking Hills State Park
---
20) Acadia Cliffs Treehouse Cabin
Location: Cutler
Price: $165+ USD per night
https://www.airbnb.com/rooms/19950056
If you're looking for tree houses to rent in Ohio, this option is the total package. Situated on 20 acres of property inside the Acadia Cliffs Wildlife Preserve, you'll feel totally removed from the outside world.
The cabin features a fully equipped kitchen, a king-size bed, and a dining/living room area. There is also a full bathroom indoor as well as an outdoor shower. The wide second-floor balcony has Amish rocking chairs, making it the perfect place to enjoy your morning cup of coffee.
At night, you can hang out around the fire pit making smores and stargazing. Whether you're planning a romantic forest retreat or a friend trip, this treehouse cabin makes for an epic getaway.
View Photos, Read Reviews & Check Availability
Guest Review: "We had a fantastic time! The treehouse was beautiful and very private. Perfect for a romantic weekend getaway!"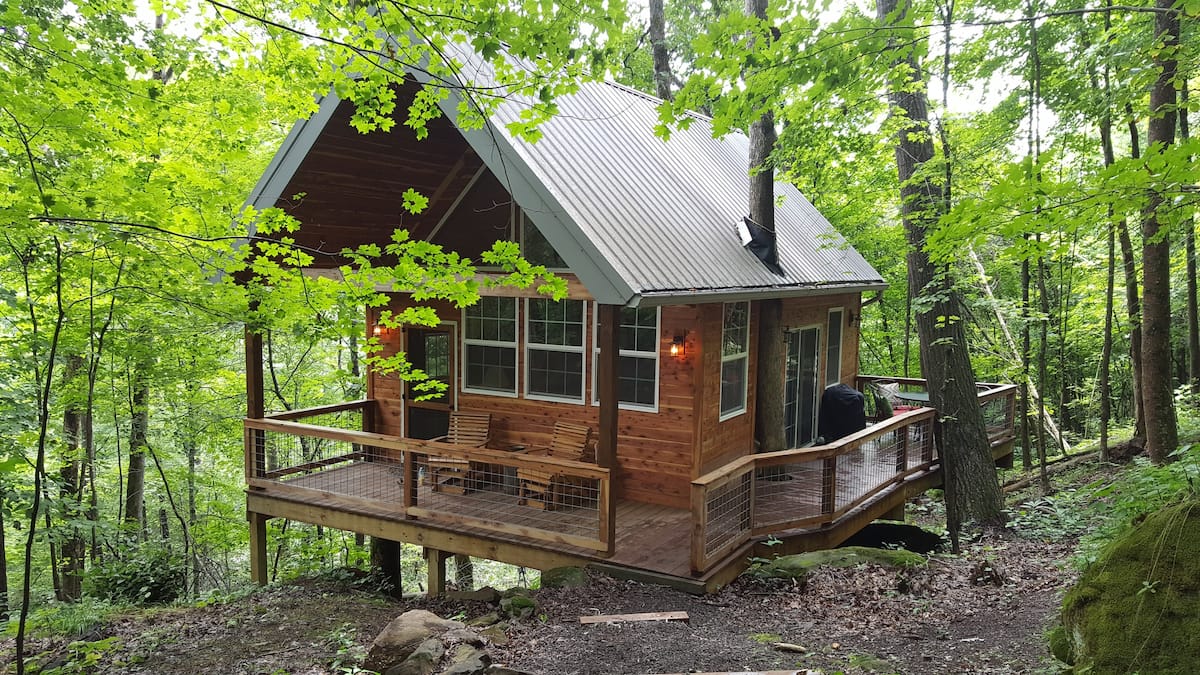 ---
Am I Missing Any Ohio Glamping Sites?
Seeing as Ohio is a large state with lots of opportunities for camping, it's possible that I have missed some glamping sites. If you can think of any that deserve to be on this list, shoot me a message and I'll see what I can do about adding them to this article.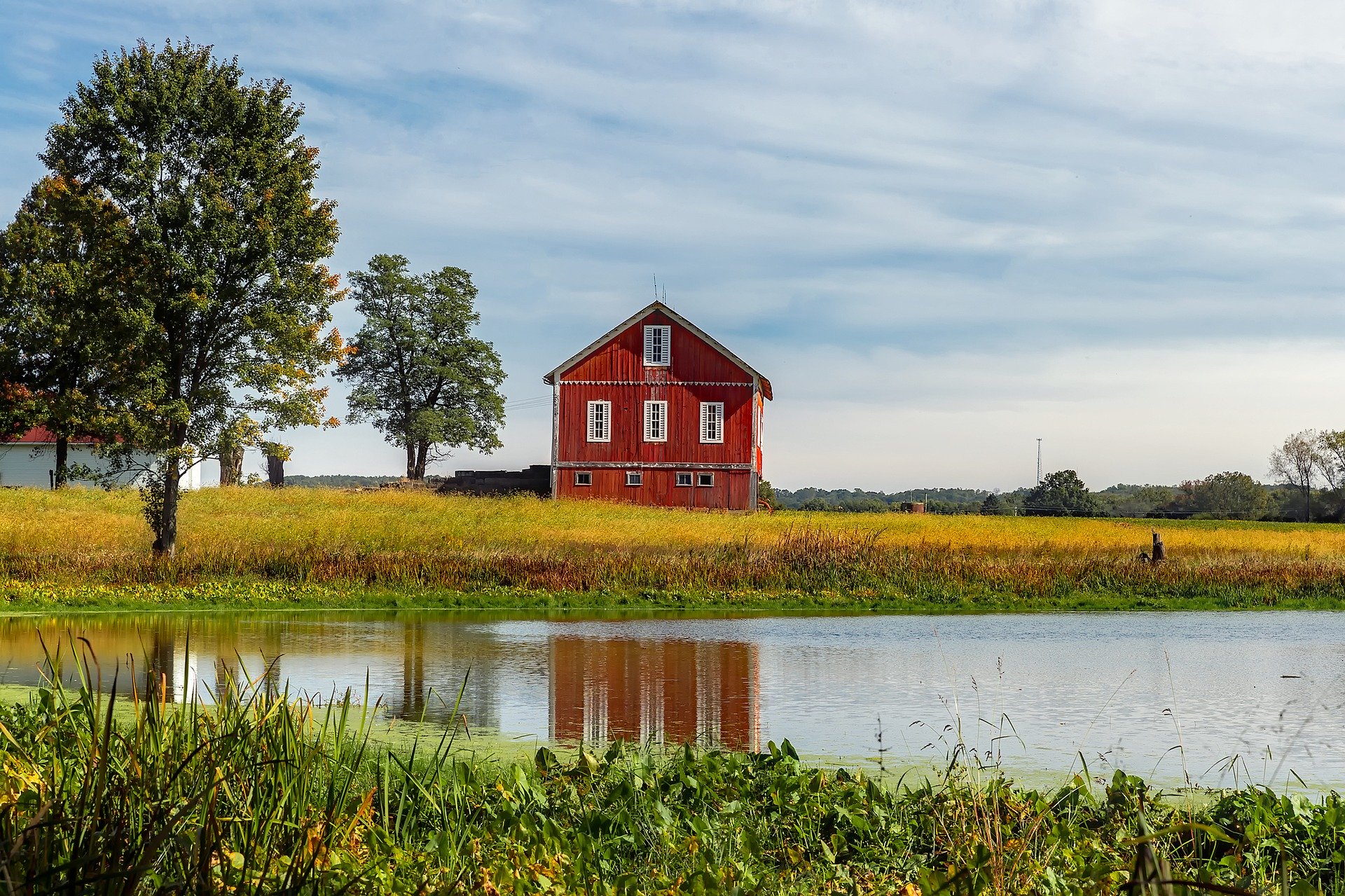 ---
Planning a trip to the USA?
Now that you've discovered the best glamping sites in Ohio, have a look at some of these other awesome travel-related posts.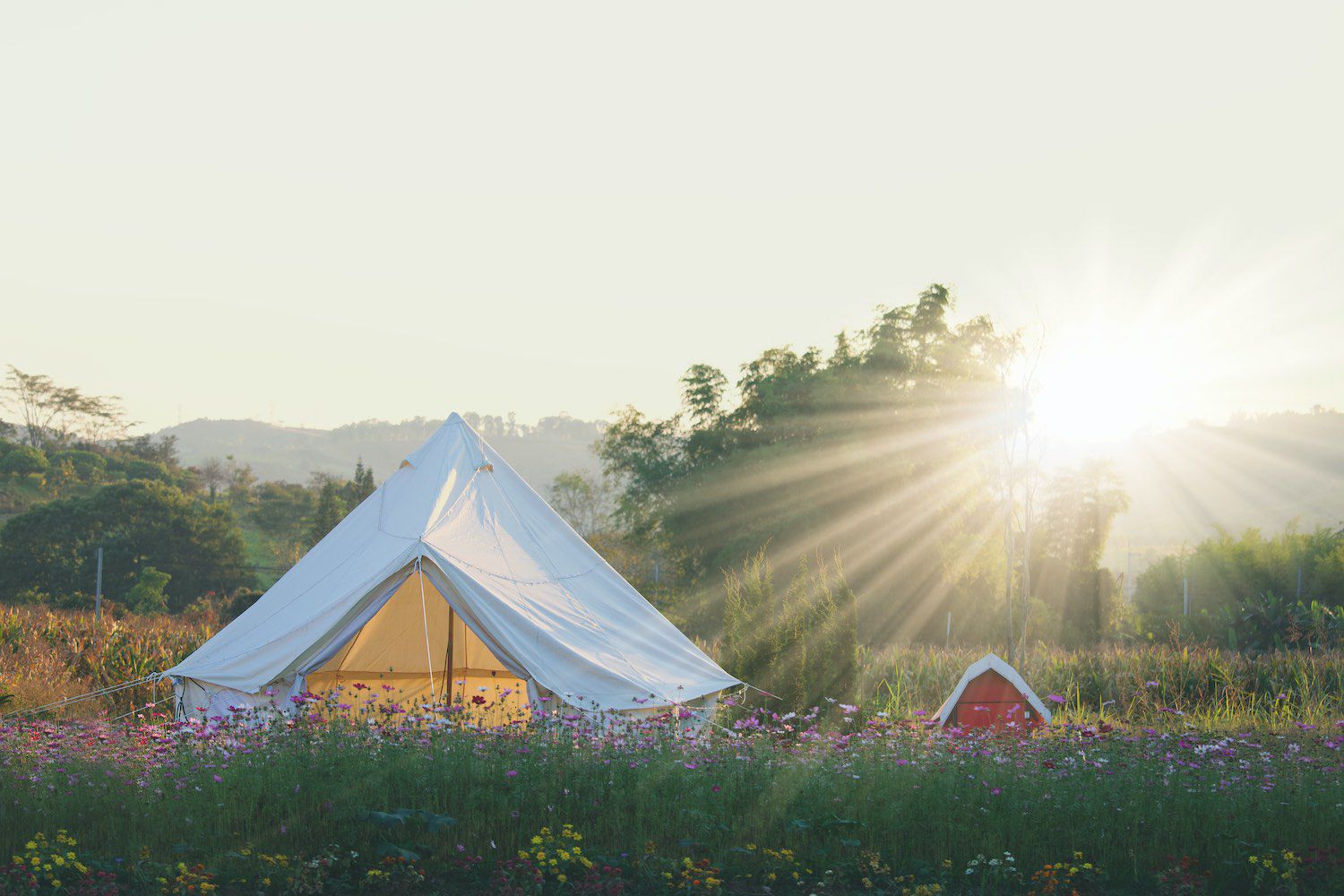 ---
Ohio is all about enjoying the great outdoors, which makes it an ideal state for glamping. If you're looking to seek solitude in nature, there are plenty of rural spots for peace and quiet.
Or, perhaps you're traveling to one of the state's larger cities to check out one of Ohio's epic music festivals. Whatever the reason for your visit, glamping is always a great idea. From classic tents, yurts, and campers to lavish Ohio vacation rentals with private pools, this midwest state has a little bit of everything. You definitely won't be disappointed.
---
THANKS FOR READING ABOUT MY TOP PICKS FOR GLAMPING IN OHIO!
SHARE THE LIST WITH YOUR GLAMPING TRAVEL CREW!
https://www.jonesaroundtheworld.com/wp-content/uploads/2020/08/Glamping-Ohio-Cabins.jpg
800
1200
TravelTractionsJATW
https://www.jonesaroundtheworld.com/wp-content/uploads/2017/03/logotry-1-1-300x106.png
TravelTractionsJATW
2021-07-25 18:41:14
2021-07-27 19:13:53
TOP 20 Glamping Ohio Yurts & Cabins For Your Bucket List