Planning an upcoming getaway and searching for the coolest and best Glamping Michigan destinations? That's an excellent idea, as glamping is an awesome way to enjoy this wonderful state. Here, I've shortlisted 22 incredible places to go glamping in Michigan to help you find the perfect place!
Michigan is a state in the midwest that borders four of the five Great Lakes. It has a long freshwater coastline, acres of forests, and a fantastic four-season allure. Outdoor activities abound all year long, making this mitten-shaped state perfect for glamping!
Michigan offers all different sorts of accommodation for a Great Lakes getaway, but glamping has got to be one of the most fun and unique options. Experience the joys of a camping getaway in comfort. Everything is set up for you to camp without the setup and takedown.
It's the perfect choice for anyone wanting to get away from conventional hotels and realign with nature. This guide includes all the best glamping sites, from large tents to cabins to RVs and yurts in Michigan. Also, be sure to read my guides on Airbnbs in Michigan & Music Festivals in Michigan for more trip-planning through this amazing state!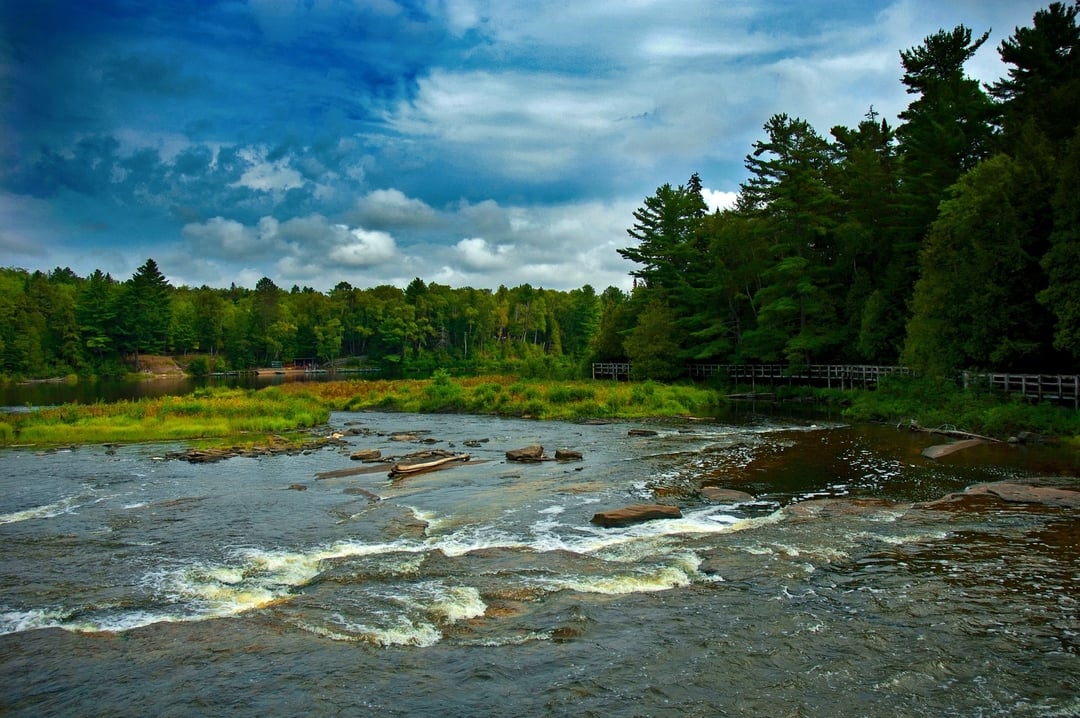 ---
Quick Breakdown of Michigan Glamping Spots
Michigan offers a fantastic mix of glamping spots suitable for all travelers. Here is a quick list of some spots you can expect on this list. To see all the other cool sites, keep reading.
Best Glamping Michigan Treehouse Rental – Enchanted Treehouse Glamping On Lake Michigan
Coolest Glamping near Michigan – Getaway Cabins
Best Camping Cabin in Michigan – Waterfront Cedar Cabin Complete with Sauna
Best Luxury Glamping in Michigan – Social Distancing Up North – Rippling Bluff
Best Yurt Rental in Michigan – Simple Lyfe Yurt
Best Treehouse Retreat in Michigan – Outpost Treehouse
Best Self-Catering Michigan Glamping – Grace's Glade
I've included photos of the glamp sites that made the cut throughout this list and some video guides. Be sure to check out some more of my USA travel content – it's linked at the end of the list!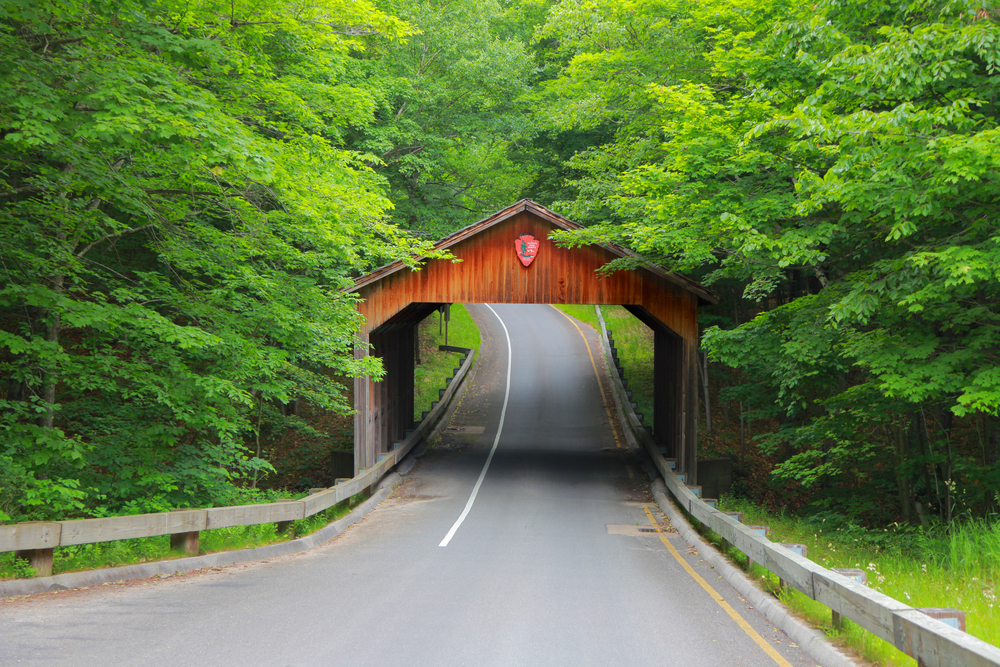 ---
The Best Areas in Michigan To Go Glamping
Before we jump into the list, let's take a quick look at the different areas of the state. This way, you can better decide where to base your glam camping in Michigan.
The Upper Peninsula: Also referred to as "the UP," this is the forested rural region of the state. It borders three of the Great Lakes and provides for an outdoorsy, nature-focused vacation. In some areas, you can even see the Northern Lights.
Northern Michigan: This is the upper section of Michigan's lower peninsula. It's bordered by Lake Michigan and full of scenic spots, including Sleeping Bear Sand Dunes. It's also home to Traverse City, which is Michigan's famed wine region and the Cherry Capital of the World.
West Michigan: This area is great if you want to glamp in peace but have the option of easy travel to the bigger cities, like Grand Rapids, Saugatuck, and Holland. The beautiful Silver Lake, with its many sand dunes and water activities, is also in this region.
Southwest Michigan: Spanning Lake Michigan's beautiful coastline, this is a great place to go for a lakeside vacation. And it's just across the border from Chicago, Illinois. The Warren Dunes State Park cabins are a popular option for travelers for glamping.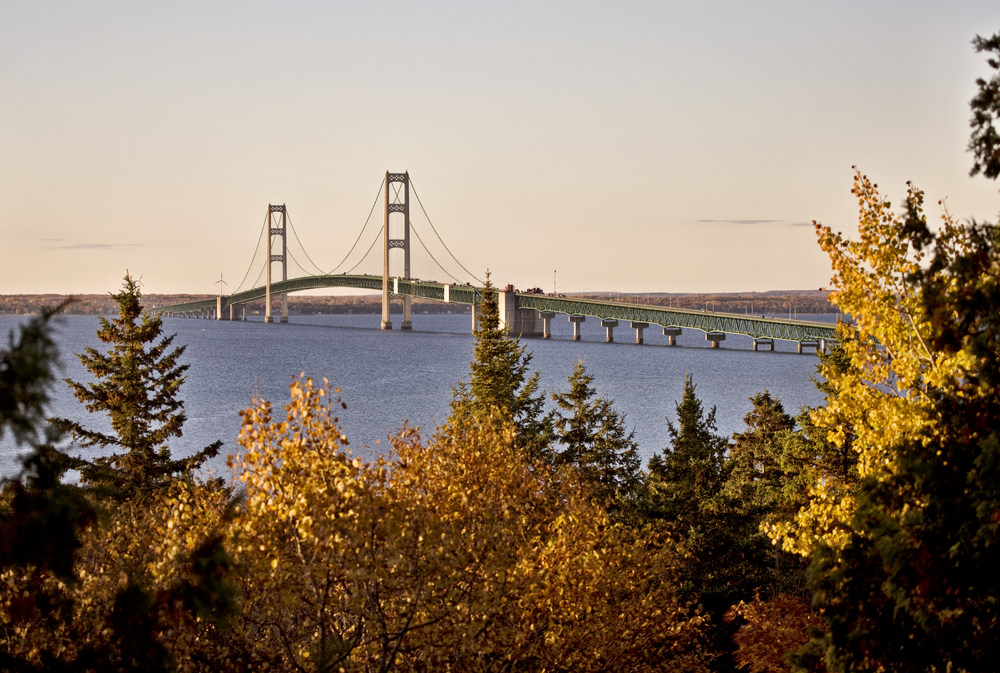 ---
Top 22 Destinations for Glamping in Michigan
And now the moment you've been waiting for. From oversized tents to treehouses to yurts and Michigan campgrounds with cabins, here are the 19 top spots to go glamping – Midwest style.
---
1) Enchanted Treehouse Glamping On Lake Michigan
Location: West Olive, Michigan
Price: $260+ per night
Welcome to the incredible Enchanted Treehouse, which sits on a sand dune overlooking the iconic Lake Michigan! While the pictures really don't do this place justice, this 3-bedroom vacation rental is a treehouse glamping getaway that the entire family will adore!
It comes fully equipped with everything you need for a trip (no matter what time of the year you plan on visiting), and you're guaranteed a peaceful and tranquil experience while you enjoy sunsets and scenic views of the lake from this abode.
This is truly one of the best treehouse rentals in Michigan and was even designed by an award-winning architect! It's often booked up in advance, so be sure to reserve your dates ASAP!
View Photos, Read Reviews & Check Availability
---
2) Getaway Grand Junction
Location: Lake Michigan, Grand Junction, Michigan
Price: $129+ per night
https://getaway.house/chicago/
With 41 cabins set amongst a spacious wooden location in Grand Junction, Getaway offers the perfect base to relax, recharge and explore South Haven on Lake Michigan. These premium tiny-home cabins (with one or two beds) are kitted out with everything you could wish for and come with the quality guarantee the Getaway brand has become famous for.
Including cozy full-size beds, AC and heating, hot showers, cooking equipment, and the beautiful outside additions of a fire pit (which they even include a tasty s'mores kit for just $5) – you won't be left wanting for anything during your stay!
Less than a two-hour drive from Lansing, you can easily escape the city and enjoy that tiny-home life well away from the urban sprawl!
View Photos, Read Reviews & Check Availability
---
3) Michigan Sleeper State Park Tentrr
Location: Caseville, Michigan
Price: $159+ per night
https://www.tentrr.com/explore/Michigan/Michigan-Sleeper-State-Park-Huron-Beachside-Site-G-Single-Camp
In the heart of Michigan's Sleeper State Park, this gorgeous glamping site, with water views straight from the bed, will steal your heart! Set seconds from Lake Huron, you're morning cup of coffee will taste better with this view!
Well equipped due to being a Tentrr member, the canvas tent comes packed with amenities, such as a queen bed, camp table and benches, a grill, and a fire pit.
Head to the beach, explore the hiking trails, or take the short drive to Caseville, where you'll find plenty of restaurants and shops. With running water and bathrooms located close by in the park, this glamping experience provides enough comfort to make the most of the beach, trails, and starry night skies!
View Photos, Read Reviews & Check Availability
---
4) Rippling Bluff Yurt Glamping
Location: Kalkaska
Price: $135 avg./night
Sleeps: 2 (1 bed/1 BR/shared bathroom)
Enjoy your own private slice of heaven in northern Michigan. Perched along Big Cannon Creek, this is glamping at its absolute best. Hammocks are strung near the river and outdoor activities, like fishing, hiking, and canoeing, are always available. You'll have access to camping comforts, like a regular-sized bed, a gas grill, a cooler, and indoor/outdoor seating.
All of your cooking essentials will also be supplied, including cast iron skillets, plates, silverware, and a wash bin. An outside shower and port-a-john are just steps from your main tent.
View Photos, Read Reviews & Check Availability
---
5) Newly Built Glamping Cabin in the Michigan Woods
Location: Manton, Michigan
Price: $145 avg. USD per night
Sleeps: 4 people (2 beds/1 BR/1 bath)
The perfect place to pack a bag, go north and unplug. Enjoy the space itself by curling up next to the fire or enjoying any number of the activities within reach of the cabin: hunting, fishing, snowshoeing, canoeing, kayaking, golfing, hiking, or going into town for some lively food, drinks, and various local festivals!
The possibilities are truly endless. Complete with comforting touches such as a fully equipped kitchen, modern bathroom, big beds, and heat/AC/washer/dryer, you'll have a hard time leaving this vacation location behind!
View Photos, Read Reviews & Check Availability
---
6) Waterfront Cedar Cabin Complete with Sauna
Location: Negaunee, Michigan
Price: $300 avg./night
Sleeps: 10 people (4 beds/3 BR/1 bath)
Spend your day in the canoeing on the lake, getting sun on the private beach, and cap it off with a night next to the fire on the spacious and secluded deck. In the colder months, you can enjoy the sauna (yes, it has a sauna!) which provides floor-to-ceiling views of the surrounding nature.
This 20-year old cabin has noticeable attention to detail, with quality touches made to last from the fully furnished basement all the way up to the queen bed in the loft. Located right on the water on a piece of private land, you'll have year-round access to activities like hiking, fishing, skiing, and more.
View Photos, Read Reviews & Check Availability
---
7) Simple Lyfe Yurt Michigan Glamping Airbnb
Location: Baldwin
Price: $138+ USD per night
https://www.airbnb.com/rooms/29833247
This secluded yurt rental in Michigan is perfect for an epic camping trip. It's spacious and comfortable with two queen-sized beds, two single beds, and a couch. The floorplan is entirely open, but each sleeping area has a curtain for privacy. The kitchen is stocked with all of your cooking essentials and there's also an outdoor BBQ grill and a large fire pit with seating.
Thanks to the indoor fireplace and AC, you'll be cozy and comfortable no matter the season. There is also a separate, fully functional bathhouse just steps away from the yurt.
View Photos, Read Reviews & Check Availability
---
8) Outpost Treehouse Glamping Rental
Location: East Leroy
Price: $127+ USD per night
https://www.airbnb.com/rooms/19717732
If you're looking to do some treehouse camping in Michigan, you can't go wrong with this little gem in East Leroy. Surrounded by a white pine forest, you'll be in a remote rural setting, but only a short distance to the "city life." With 15 windows and an elevated wrap-around deck, you'll be in the perfect location for relaxation and wildlife viewing. This treehouse retreat in Michigan has everything you need for a glamping escape.
You'll feel right at home with a private bathroom, queen-sized bed, small refrigerator, seating area, and coffee maker. Although there are no actual cooking facilities inside, there is a fire pit and a propane gas grill outside. As an added bonus, a light breakfast is provided by your host each morning.
If you're looking for a fun stay, I'd recommend reading this guide on Treehouse Rentals in Michigan for more amazing stays for your bucket list! There really are some amazing options in the state!
View Photos, Read Reviews & Check Availability
---
9) Dunes Harbor Family Camp
Location: Silver Lake
Price: $60+ USD per night
If you're looking for campgrounds with cabins in Michigan, it doesn't get much nicer than the Dunes Harbor Family Camp. Located one mile from the Sand Dune ORV, this site is perfect for exploring the dunes. And it's just a five-minute drive from Silver Lake.
These Michigan dunes cabins come with two rooms and can sleep 5 to 6 people. One room has a queen-sized bed while the other has two bunk beds – perfect if you're traveling with kids or a group of friends. There is also a living area and a covered porch. Bathroom facilities can be found close by.
View Photos, Read Reviews & Check Availability
Dunes Harbor Family Camping 2020
---
10) Grace's Glade Glamping
Location: Cadillac
Price: $100+ USD per night
https://www.airbnb.com/rooms/18736209
This private glamping site is just minutes away from Cadillac. Furnished with a queen bed, a bathroom, a full kitchen, and power plugs, the tent is spacious and comfortable. The covered front and back porch includes a seating area, the perfect place to watch the sunrise, or the occasional deer that wanders by. There is also a large fire pit with an abundant supply of firewood. Last but not least, the site is located on a working farm with pine forests, ponds, pasture fields, and a flowing stream. The whole 150 acres is yours to explore.
View Photos, Read Reviews & Check Availability
---
11) Dreamy Secluded Luxury Camping in Traverse City
Location: Traverse City
Price: $389+ USD per night
https://www.airbnb.com/rooms/43870214
For luxury camping in Michigan, this artsy cabin checks all the boxes. The property sits in a quiet wooded area above Lake Leelanau. It's just a short distance from the famous Sleeping Bear Dunes and several charming wineries. Your queen size bed has a skylight over it, so you can gaze at the night sky as you fall asleep. The kitchen is fully equipped and includes staple food items like oats, quinoa, nut milk, condiments, and local coffee beans.
There is also a comfortable living area with a couch that unfolds to a queen-size bed. The outdoor seating area is secluded and cozy. It has a fire ring, a hammock, a picnic table, and a grill. The insulate cedar outhouse and outdoor shower are just steps from the front door.
View Photos, Read Reviews & Check Availability
---
12) Creekside Glamp Camp…a Room With a View
Location: Niles
Price: $125+ USD per night
https://www.airbnb.com/rooms/35644926
This funky vintage-themed glamp camp makes for a one-of-a-kind getaway. With a TV, a microwave, a small refrigerator, and a coffee machine, you won't miss out on all the comforts of home. There is a separate bathroom and rain shower next to your main bedroom with a flush toilet and running hot water.
Located along a creek, large sliding doors open to a picturesque view, which you can enjoy right from your full-size bed. Kayaking and river floating are popular activities, and guests are welcome to bring their own fishing gear and fish right from the property.
View Photos, Read Reviews & Check Availability
---
13) Red Arrow Cabins
Location: Sawyer
Price: $109+ USD per night
Set in southwest Michigan, these rustic cabins are perfect for a relaxing getaway in nature. If you're looking for a Warren Dunes cabin, you'll be just minutes from the state park and several wineries and beaches. There are several cabins to choose from that can sleep between four to six guests. They all feature local antique furnishings, bathrooms with a shower, covered porches, a fire pit, and picnic tables, and a kitchenette.
View Photos, Read Reviews & Check Availability
Visit Michigan USA - Discover all the Best Things to do on a Michigan Holiday
---
14) Michigan Glamping Gateway to the North
Location: Newaygo
Price: $80+ USD per night
https://www.airbnb.com/rooms/28307719
Nestled in the middle of a forest, this secluded tent is perfect for a glamping getaway. With a queen bed, outside LED lights, and the screened-in porch, you'll be able to enjoy the outdoors in comfort. You'll also have your own fire pit (stocked with firewood) and chairs.
During the colder months (October – April) a small wood stove is installed in the tent to combat the cold. A port-a-potty is located near the tent, and shower facilities are available at a campsite 5 miles away. While the glamping spot may be pleasant enough, outdoor activities, like fishing and hiking, are just steps from your door.
View Photos, Read Reviews & Check Availability
---
15) Glamping on the Farm
Location: Traverse City
Price: $97+ USD per night
https://www.airbnb.com/rooms/13995805
This quiet glamping spot is just 10 miles from downtown Traverse City. You'll be close to all of the excitement and tourist attractions of downtown but far enough away to have campfires and quiet nights. The camper is great for families. It has one queen-size bed but can sleep up to four additional guests. Your host provides breakfast items. For your other meals, you can use the fully-equipped kitchen.
There is also a fire pit outside your RV with wood provided. A public hiking trail is just across the street from the property, and there are four bicycles for guests to use free of charge.
View Photos, Read Reviews & Check Availability
---
16) Glamping Galore
Location: Alanson
Price: 85+ USD per night
https://www.airbnb.com/rooms/19848798
This one-bedroom is in a great location between two wonderful Michigan cities. Petoskey can be reached in 20 minutes by car, and Mackinaw City can be reached in 25 minutes. It includes a fully equipped kitchen. The refrigerator will be stocked with staples when you arrive, like bread, butter, eggs, condiments, coffee, tea, and ice. There is a full bathroom and a living room with a fold-out couch. The outdoor deck is perfect for sunny days, and the firepit is ideal for chilly nights.
View Photos, Read Reviews & Check Availability
---
17) Yurt at AuTrain Lake. Glamping Pictured Rocks
Location: Au Train
Price: $155+ USD per night
https://www.airbnb.com/rooms/37803809
Geographically, this is one of the farthest north yurts in upper Michigan you can find. Located just across the street from Au Train Lake, you'll enjoy full beach access. Rent a canoe, kayak, or boat for the day and enjoy lake life's splendor. The unit has a queen canopy bed and a cot stored underneath for an additional guest. The yurt includes plenty of modern amenities, like a cable TV, small refrigerator, microwave, and Keurig coffee machine. If you want to cook over an open fire, there is a charcoal grill and bonfire pit. The bathroom is just a short walk away.
View Photos, Read Reviews & Check Availability
---
18) Woodland North Glamping
Location: Benzonia
Price: $90+ USD per night
https://www.airbnb.com/rooms/24780144
If you're looking to do some glamping in Michigan's rural northwest, this site is just the ticket. You'll be surrounded by 60 acres of forest. There are lakes and rivers nearby for water activities and miles of scenic hiking trails. Your small cozy cabin has a queen-sized bed, a small seating area, and plenty of windows to let in sunlight. For the evenings, there's a fire ring with two comfy chairs and a table. A bathhouse is just a few steps from your cabin. It has a shower, a flushable toilet, and towels.
View Photos, Read Reviews & Check Availability
---
19) Nature and the Comfort at the Outpost Tent
Location: Sawyer
Price: $85+ USD per night
https://www.airbnb.com/rooms/7611567
Set on a quiet 5-acre property, this glamping site is perfect for nature lovers. It provides no-frills, simple living – with a twist. You'll have some added camping comforts, like a queen-size bed, solar shower, portable outdoor toilet, and a propane grill with basic cooking essentials.
You'll also have your own fire pit where you can cook up some farm-fresh eggs – supplied to you for free when the resident chickens are feeling generous. There are multiple trails you can explore from your tent, and the site is within walking distance to downtown Sawyer – perfect for a night out. The beautiful Lake Michigan and the Warren Dunes are just a 5-minute drive from the site.
View Photos, Read Reviews & Check Availability
---
20) Tiki Hut Yurt – Bula
Location: St. Ignace
Price: $80+ USD per night
https://www.airbnb.com/rooms/36933903
This yurt in Michigan is in a great location on the Upper Peninsula. It's in a wooden area near a trail that's just ¼ mile from downtown St. Ignace. It's also close to the Mackinac Island ferry terminal. The yurts are part of a campground, and you'll have full access to the restrooms, showers, and laundry facilities on the campsite. Your private space has a simple setup, with a queen-sized bed, a fan and heater, and lights. There is also a fire pit and chairs outside your door – perfect for listening to the nighttime wildlife. This yurt makes camping in Michigan easy.
View Photos, Read Reviews & Check Availability
---
21) Wild Cherry RV Resort
Location: Lake Leelanau
Price: $99+ USD per night
https://www.wildcherryresort.com/
Campgrounds in Michigan with cabins offer the best of both worlds for glampers. Enjoy a peaceful night's sleep in a cozy cabin, complete with a queen-sized bed, a set of bunk beds, and a dining room table. If you want to cook 'camp style,' you'll have a gas grill and a personal fire pit to do so. Relax and take in the beauty of the wooden surroundings from the comfort of your front porch or your hammock. These camping cabins in Michigan also offer campsite amenities, like portable bathrooms, tent showers, running water, and WiFi.
---
22) Lulabelle Glamor Tent
Location: Fennville
Price: 120+ USD per night
https://www.airbnb.com/rooms/26253109
Nestled in an orchard field next to a lush forest, this glamping site is off the grid. But don't worry, it's still close to the nearby cities of Saugatuck and Holland, as well as the gorgeous beaches of Lake Michigan. Inside the tent, you can relax on your double bed while peering out onto the night sky through the stargazer roof.
There is also a seating area and a small wood stove that can be used to heat the tent and boil water. A separate, open-sided shade tent is just steps from the main tent. It has a simple kitchen setup. You'll also have your own private compostable toilet – located in a small privacy tent. The solar shower is shared with other campers.
View Photos, Read Reviews & Check Availability
---
Am I Missing Any Glamping Sites for Camping in Michigan?
Michigan is all about immersing yourself in nature. The Great Lakes wrap around the state's exterior, while forests and woodlands fill the interior. It's the perfect landscape for glamping. There are quite a few spots, and it's possible that I might have missed some. If there are any that you'd recommend, make sure to reach out to me, and I'll see what I can do about updating this article.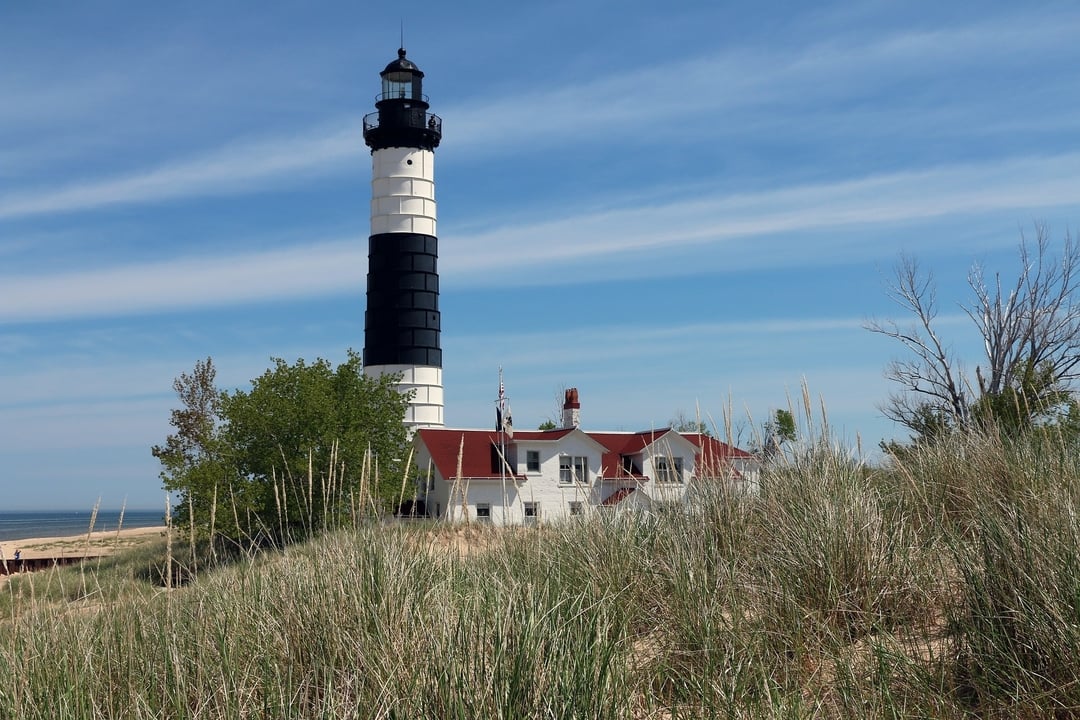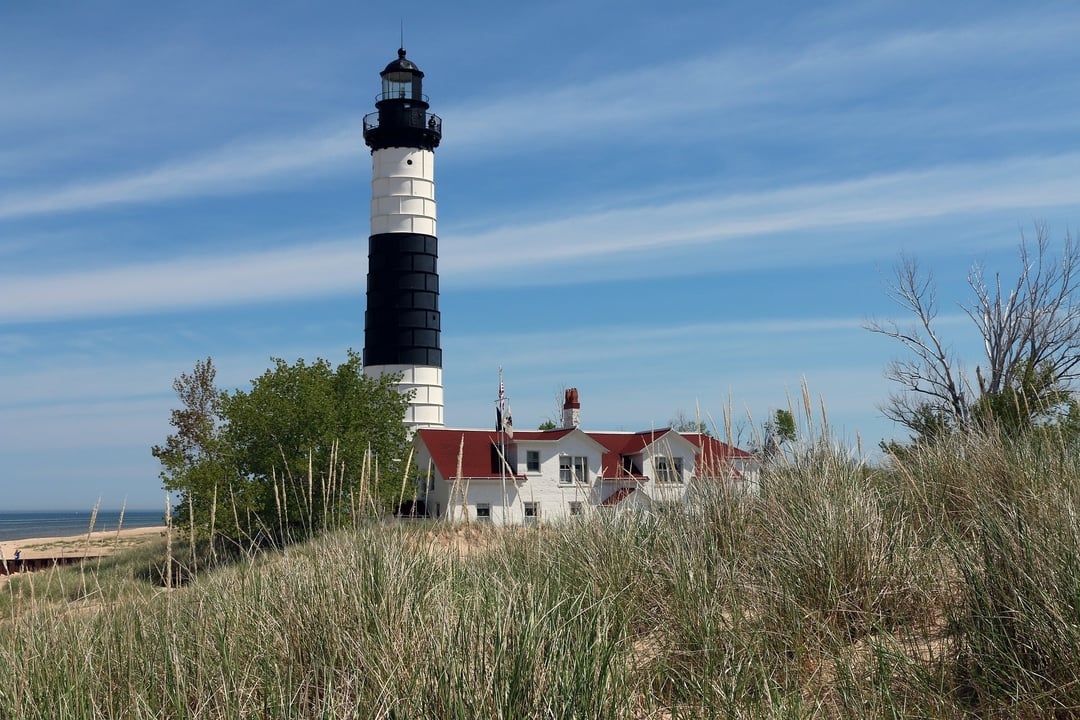 ---
Other Recommended Posts Beyond Glamping Sites in Michigan
Need some more travel inspiration? Make sure to check out these awesome posts and keep exploring the USA!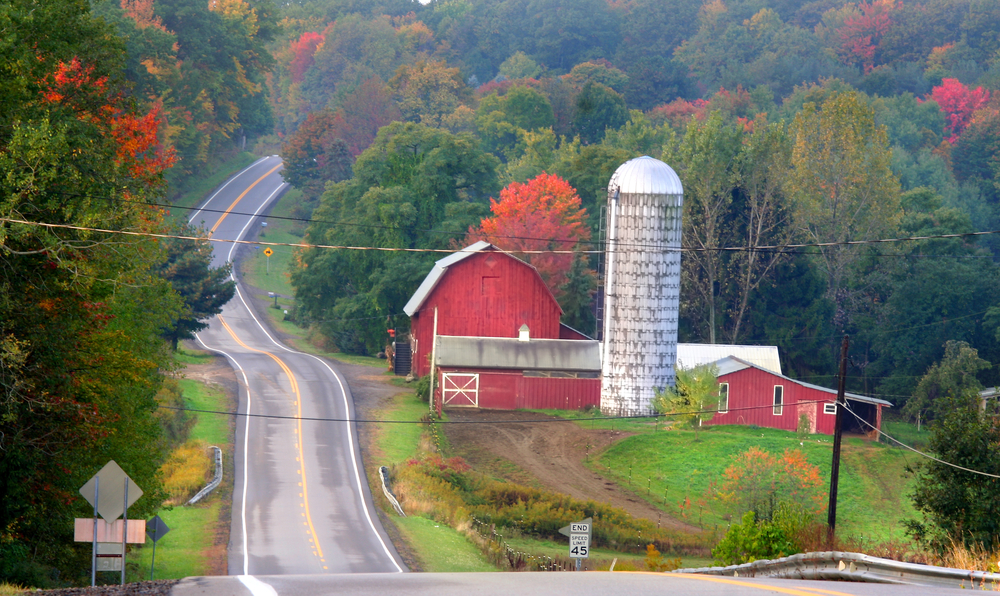 ---
Glamping in Michigan: Final Thoughts
These glamping sites in Michigan are all about convenience and comfort. Whether you're traveling for a family vacation, a couples retreat, or to check out one of Michigan's awesome music festivals; these sites will add an extra element of fun to your trip. I've made sure to include all different types of glamping styles – from luxury to simple. There are also prices that can accommodate all budgets. There's truly something for everyone. For outdoor living made easy, glamping is the way to go!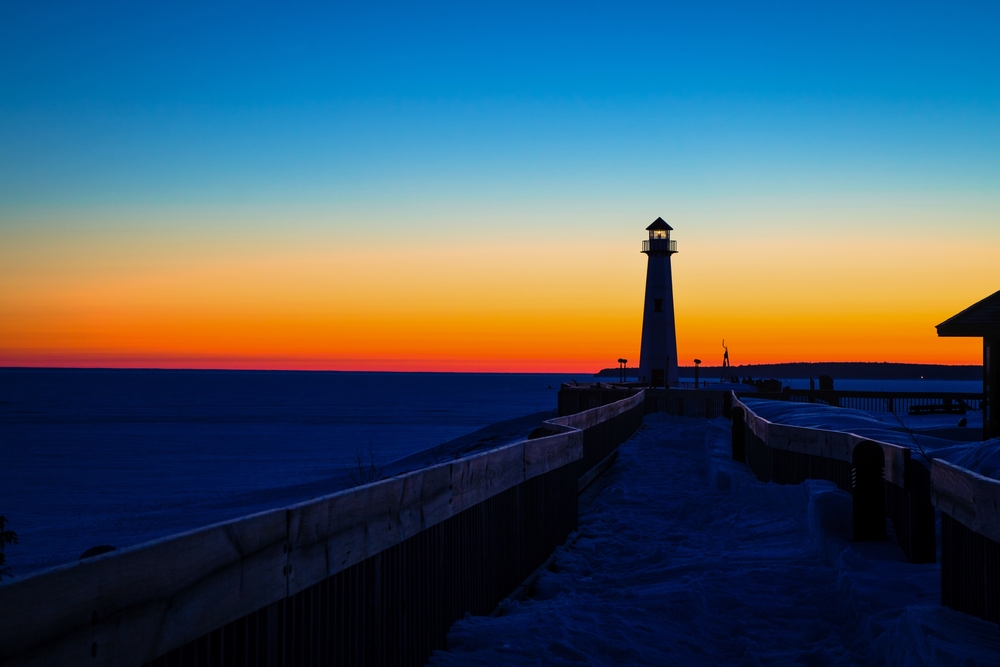 ---
THANKS FOR READING ABOUT MY TOP PICKS FOR GLAMPING IN MICHIGAN!
SHARE THIS LIST WITH YOUR TRAVEL GLAMPING CREW!
https://www.jonesaroundtheworld.com/wp-content/uploads/2020/08/Best-Glamping-Michigan.jpg
540
720
TravelTractionsJATW
https://www.jonesaroundtheworld.com/wp-content/uploads/2017/03/logotry-1-1-300x106.png
TravelTractionsJATW
2022-04-30 19:37:36
2022-05-19 19:33:18
TOP 22 Glamping Michigan Sites For Your Bucket List