Planning a trip to New Hampshire? I've put together the ultimate list of the best Airbnb New Hampshire rentals that are sure to wow you…
Forming an important part of the New England region of the United States, New Hampshire is an outdoor oasis, with landscapes spanning beaches, mountains, lakes and woods.
The state of 1.3 million is dotted with charming small towns and laidback cities, home to friendly locals that love their state and can't wait for you to fall in love with it too.
In winter, New Hampshire is a snowy dream that draws in visitors from all over the country to its mountain resorts and broad array of winter sports. In summer, the state transforms into a lush green paradise, with coastal hotspots brimming with eager beachgoers.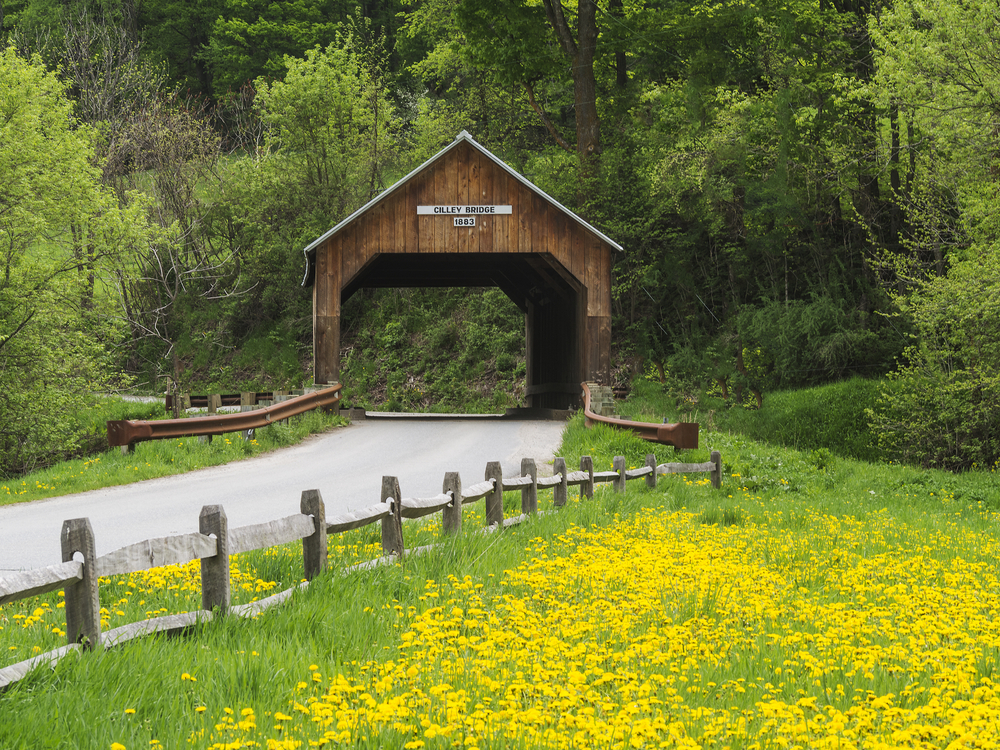 ---
Airbnb New Hampshire: The Best Vacation Rentals
Do you have specific requirements for your New Hampshire Airbnb? I've narrowed down the best Airbnb's in New Hampshire to suit a range of budgets, styles and sizes below. If you don't find what you're looking for, keep scrolling and I'm sure you will!
I have included a range of New Hampshire video guides throughout this list, so be sure to check those out. I've also linked the rest of my New England content at the end of the list for further ideas of places to visit in this part of the United States. I recommend checking out THE 15 BEST NEW ENGLAND GLAMPING LOCATIONS FOR A NORTHEASTERN GETAWAY.
Note: Due to the closure of the Airbnb Associates program, some of the properties listed have been changed to other booking platforms (which can have lower rates and less cleaning/service fees!
---
18 Best Vacation Rentals & Airbnbs in New Hampshire
"The Granite State" is a place you must experience for yourself, and the first place to start in the planning phase is choosing a fantastic place to stay. These New Hampshire Airbnb's are the most popular and highly-rated stays in this special part of the world.
---
1) Peace and Serenity Await You at this Lakeside Cottage on Beautiful Newfound Lake
Location: Bristol
Price: $200+ USD per night
This cozy little home may be rustic, but it's warm, welcoming and guests love it! Located on Newfound Lake in Bristol, New Hampshire, the two bedroom cottage will take you back to your childhood, where the best family vacations were simple and enjoyable, and nestled right on the lake. The cottage is spacious and private, with the lake just a few minutes stroll away and the mountains not far too. There's a number of national parks and ski resorts a short journey away, so whether you're visiting in summer or winter – this is the perfect getaway!
View Photos, Read Reviews & Check Availability
Guest Review: "We found the best of both worlds. The quaint, yet spacious cottage is set back from the lake giving privacy. The lakefront area is a short walk from the cottage. It has a patio, dock, and swimming platform. We rented a boat at a nearby marina and was able to dock it at the cottage for lunch. It was also a great spot to launch our kayaks and canoe. The owners were very easy to work with. This cottage was the perfect place for a family vacation." – Christine
---
2) Amazing Waterfront Estate; over 2.5 private acres with over 260 Ft of shoreline
Location: Belknap County
Price: $2750+ USD per night
https://www.vrbo.com/7862686ha
This sprawling seven bedroom home is located on 2.5 private lakefront acres and spans over 8000 square feet. The beautiful home is modern and large, with open and airy interiors spread over three fantastic levels. Highlights include high end amenities, a large al fresco dining area, an indoor elevators and a large private shoreline all to yourselves! This huge family or group escape is perfect to visit in summer or winter, with kayaking, boating and swimming on the lake in the warmer months and skating on the frozen lake and skiing locally in the winter.
View Photos, Read Reviews & Check Availability
Guest Review: "We feel very fortunate to have discovered this gorgeous home for our son's wedding weekend. Not only is it meticulously maintained, the decor is carefully curated to compliment the serene vista! It was extremely relaxing in the midst of busy wedding activities. The cleanliness of the property enabled our family to enjoy a safe environment despite this ongoing pandemic . Our entire family enjoyed private suites, reading and chatting in the many sitting areas and covered porch along with kayaking, swimming and relaxing in the hot tub. There was plenty of space to enjoy breakfast and the multiple kitchens would be so appreciated by larger groups who might require their own cooking space. The kitchens and barbecue areas are a chef's dream. Everything is provided and I do mean everything! Our hostess Gosia has excellent follow through and responds quickly to all inquiries. Both check-in and check-out were seamless. We would love to stay here again! It is just perfect! Thank you Gosia!" – Patty
---
3) Wonderlust Loft in the Mountains
Location: North Conway
Price: $95+ USD per night
https://www.vrbo.com/7458849ha
Save some cash and visit New Hampshire in comfort at this mountain loft in North Conway. Perfect for a solo stay or a cozy couples escape in the mountains, the studio loft features newly renovated interiors, queen bed, bathroom and full kitchen, and is located five minutes from downtown North Conway. Enjoy the fresh air of the New Hampshire outdoors, with White Mountain National Forest just minutes away, local ski resorts, and so much more.
View Photos, Read Reviews & Check Availability
Guest Review: 'Wanderlust is a little gem of a place to stay when visiting NH White Mountains area for any number of days. The location is convenient to town, yet quietly located on a side street. The loft is immaculate and user-friendly with a kitchenette and an extremely comfortable bed! Retreating to the Wanderlust after hiking was a great way to end each day. We would highly recommend and would love to return." – Mary
---
4) Rustic Log Cabin #7 – Streamside
The Best Overall New Hampshire Airbnb
Location: Lisbon
Airbnb Plus: No
Superhost: Yes
Price: $175+ USD per night
https://www.airbnb.com/rooms/25292344
This magical studio log cabin impressed me so much that I had to crown it as "the best overall New Hampshire Airbnb". The five-star rated abode is located in Lisbon, close to Echo Lake and Franconia Notch National Park, and is ideal for a romantic getaway for two. Set on 16 acres, the cabin features a wood-burning fireplace, full kitchen, bathroom and private fire pit.
View Photos, Read Reviews & Check Availability
Guest review: "The perfect getaway from the city and lived up to every expectation we had in our minds of a cozy, mountain cabin in scenic surroundings. The setting of your property is awesome, wooded and surrounding a running creek with hiking trails out your back door…and the fireplace was perfection. The layout of the cabin was much more comfortable than we expected and the extra touches of easily accessible extra firewood and coffee, books etc made the stay easy. We are already looking for a time to come back!" – Kia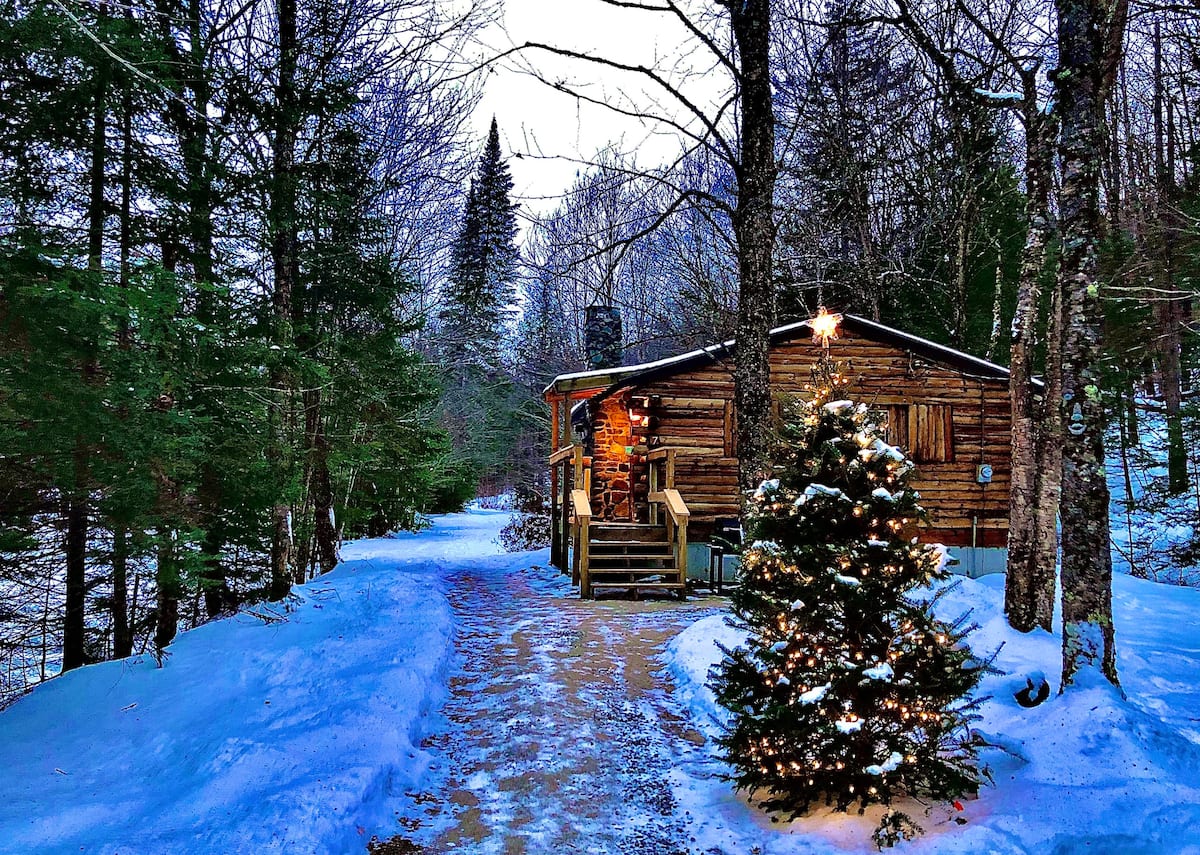 ---
5) Skytop Contemporary
The Best Luxury New Hampshire Airbnb
Location: Ipswich
Airbnb Plus: No
Superhost: Yes
Price: $700+ USD per night
https://www.airbnb.com/rooms/23978561
This ultra modern three bedroom home is easily the best luxury New Hampshire Airbnb, and has something for the entire family to swoon over. The sprawling home is sparkling clean, architecturally designed and futuristic in its design. The brand new home boasts plenty of living areas, a spacious deck with a grill and a location close to two beautiful beaches. The coastal haven of Ipswich is great for golfing, hiking and breathing in that fresh New Hampshire air.
View Photos, Read Reviews & Check Availability
Guest review: "This is a spectacular architect designed home with complete attention to detail. The views in the back are amazing at night, at every angle, especially up top. It's almost like an adult tree house, with all the amenities. AAA host, AAA amenities, and AAA home. Highly recommended if you're ever in the mood to see what the marshes of Ipswich are all about." – Joyce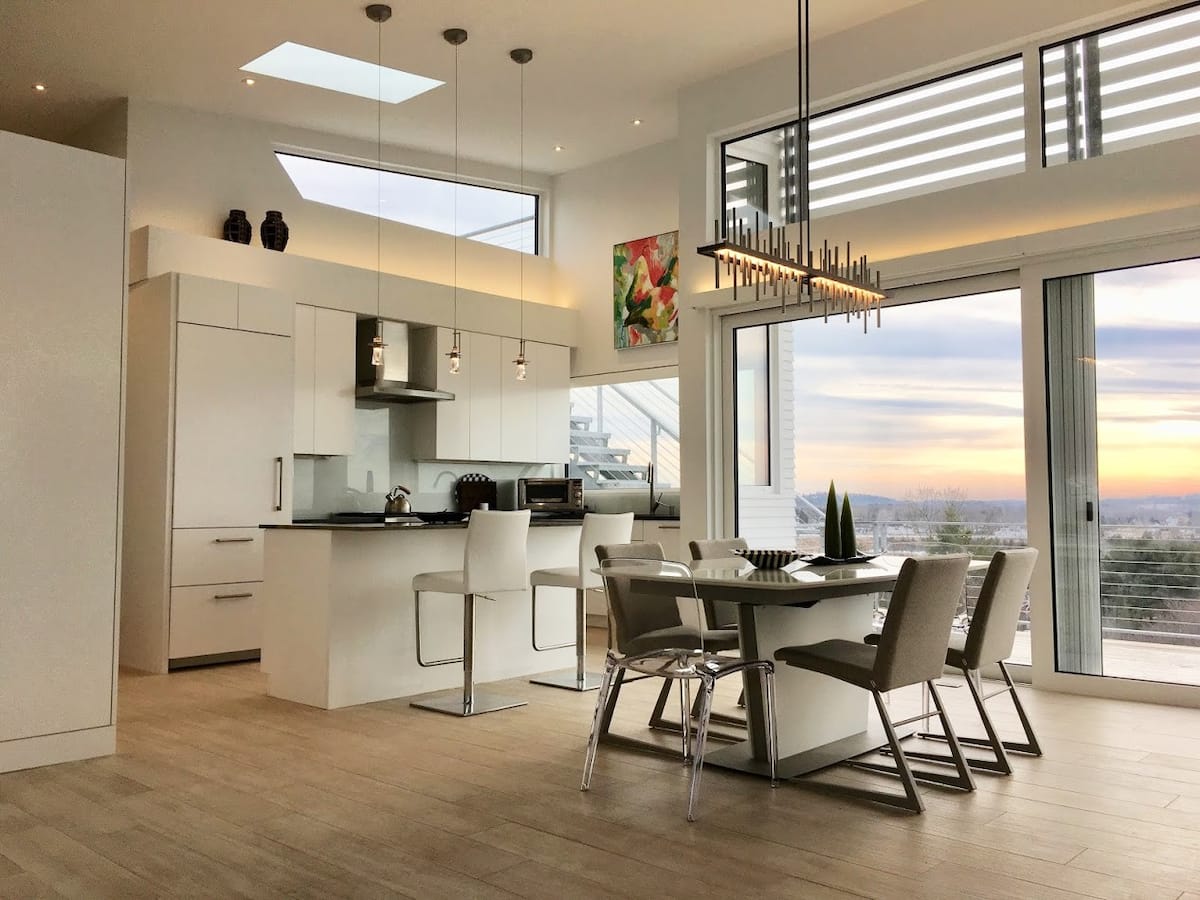 ---
6) "The Porch" Your cozy home away from home!
The Best Cheap New Hampshire Airbnb
Location: New Ipswich
Airbnb Plus: No
Superhost: Yes
Price: $70+ USD per night
https://www.airbnb.com/rooms/40944950
"The Porch" is a picture perfect private guesthouse that offers the best cheap New Hampshire Airbnb getaway. This cute and cozy cabin features a queen sized bed, modern interiors and a large outdoor area. Fully equipped with all you could possibly need for a fantastic stay, this abode is located in the countryside in a small village. The capital, Concord, is 60 minutes drive away.
View Photos, Read Reviews & Check Availability
Guest review: ""The Porch" was a very comfortable stay, located close to great hiking spots and not so far off the beaten trail that it became inconvenient to access food/groceries/etc. The home had everything you could need – including disposable plates/cups, a microwave, toaster, and fridge. This enabled us to warm up some simple things in the toaster so we always had snacks and food on hand! The bed was also extremely comfortable and the entire home was beyond clean. This was exactly the relaxing retreat my partner and I were looking for away from the city and it exceeded all our expectations." – Victoria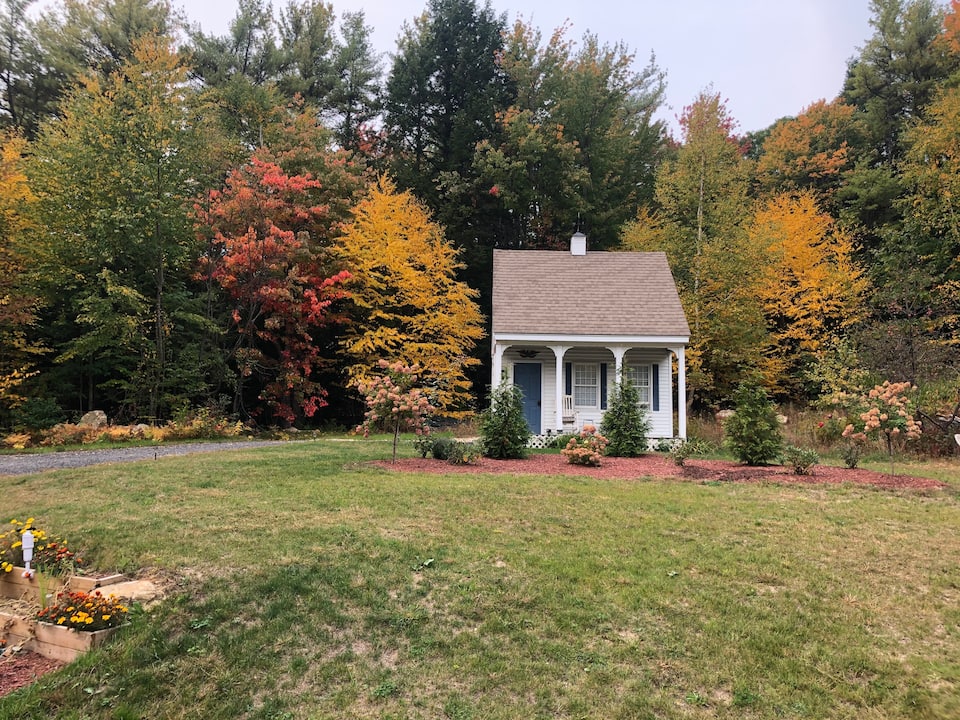 ---
7) Luxurious Two-Story Treehouse | Fire Pit| Peaceful
The Best Unique New Hampshire Airbnb
Location: Newbury
Airbnb Plus: No
Superhost: Yes
Price: $350+ USD per night
https://www.airbnb.com/rooms/45052498
If you're down for a stay at the best unique New Hampshire Airbnb, you can't look past this incredible two-bedroom treehouse in Newbury. The two-bedroom abode is a magical escape, with modern interiors and amenities to ensure your stay is as comfortable as possible. Highlights include the sprawling wrap around deck with seating and a grill and its cute "Hobbit door" that only adds to the fun. This beautiful treehouse is located just five minutes from Lake Sunapee.
View Photos, Read Reviews & Check Availability
Guest review: "We had the perfect vacation at the treehouse – I cannot recommend highly enough! The space, the property and the area were just stunning. We were in awe of the treehouse and its story; it was just so charming. We were so sad to leave and are definitely hoping to make it back!!" – Maggie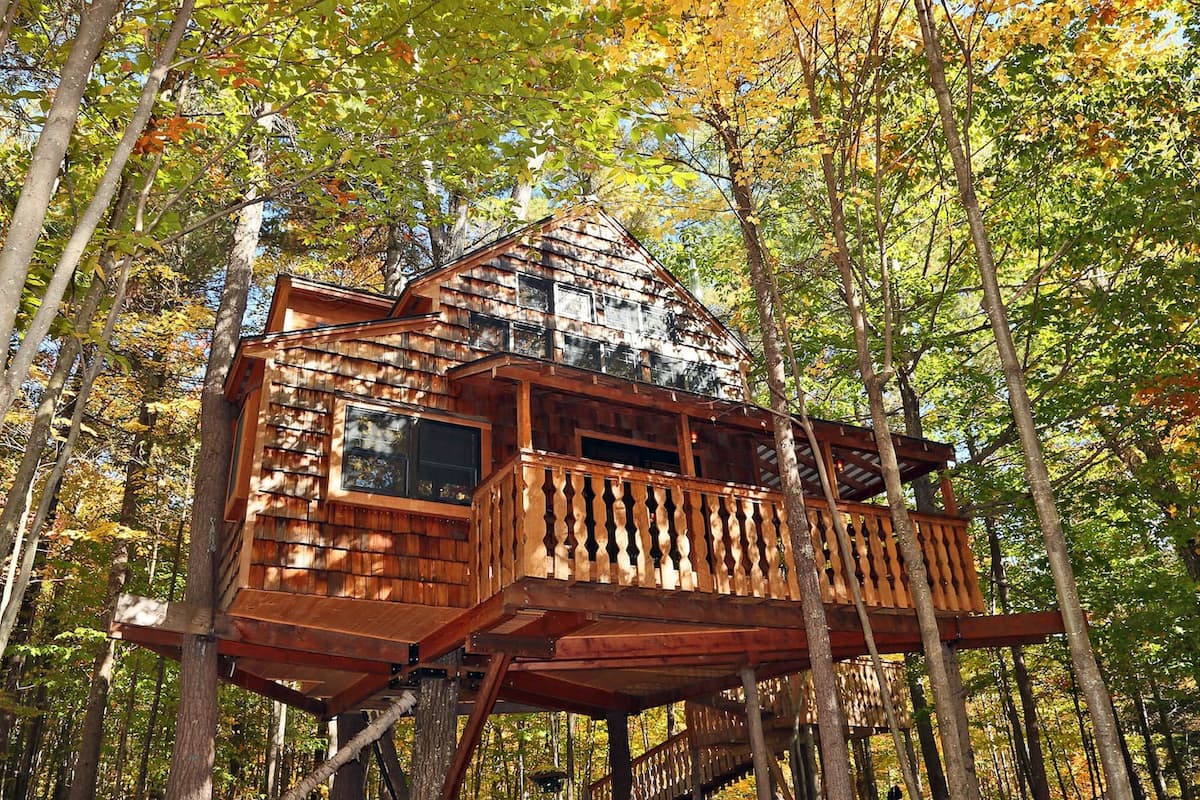 ---
8) Indoor pool with beautiful mountain views
"The Best New Hampshire Family Airbnb"
Location: Madison
Airbnb Plus: No
Superhost: Yes
Price: $500+ USD per night
https://www.airbnb.com/rooms/44736943
Impress the entire family with a stay at this outstanding four-bedroom home in Madison, New Hampshire. Located in the mountains, the family home features an incredible 35-foot indoor swimming pool, a sauna, fire pit, volleyball court and is also pet friendly! Bring the entire family along – including the pooch – and enjoy this cozy locale that is near to five sandy beaches.
View Photos, Read Reviews & Check Availability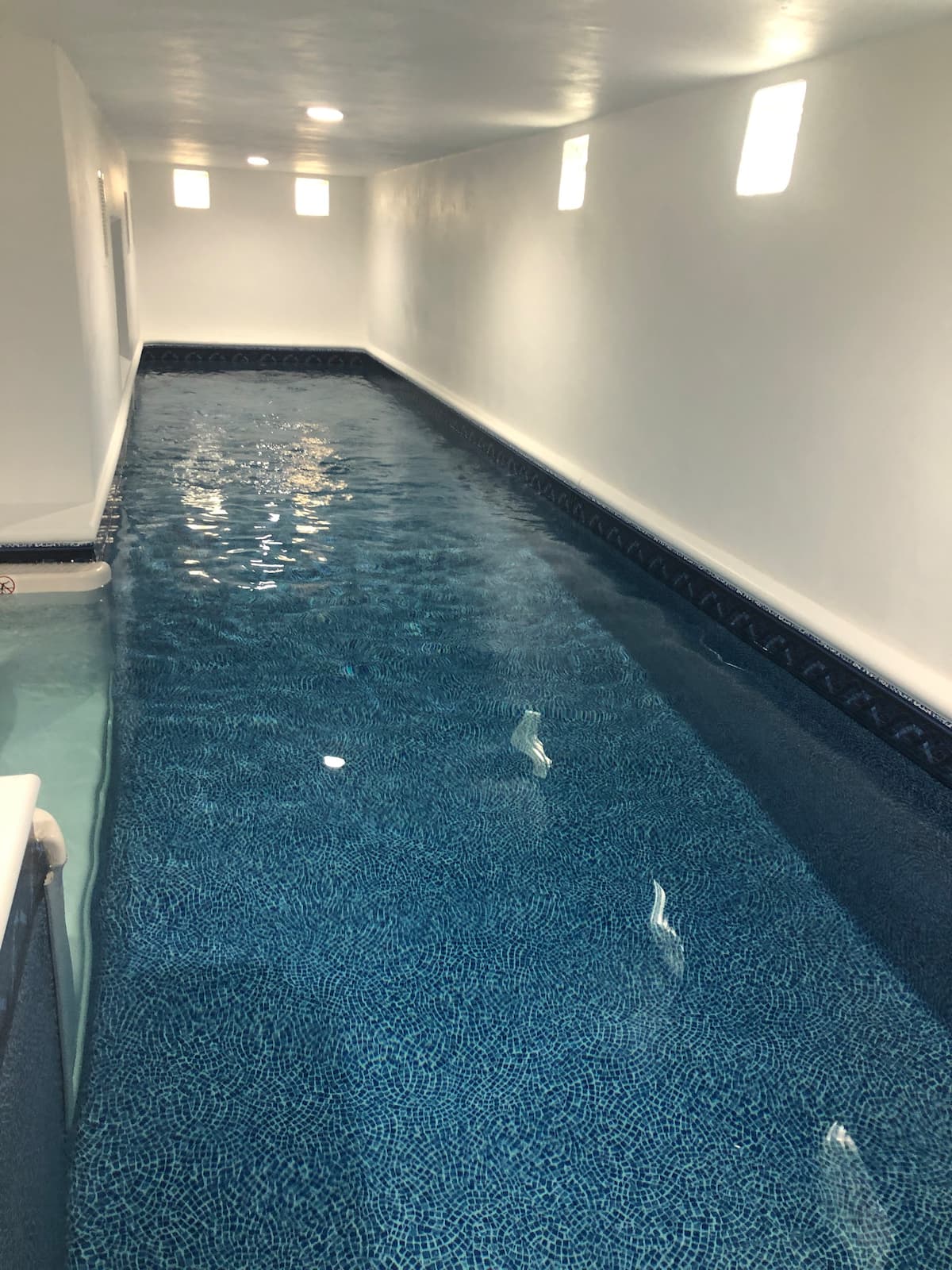 ---
9) Mountain Chic New Hampshire Family Getaway~
Location: NorthConway
Airbnb Plus: No
Superhost: Yes
Price: $200+ USD per night
https://www.airbnb.com/rooms/38821414
This modern three bedroom family cabin in Conway, New Hampshire, is a boho-inspired abode with a whole lot of heart. The spacious pad near Echo Lake State Park has fully-equipped interiors, heating and cooling and a variety of bed sizes to suit the entire family. For an additional fee you can also bring your pet! Spend your days tubing or kayaking on the Saco River or dining and drinking at the local craft breweries and restaurants.
View Photos, Read Reviews & Check Availability
Guest review: "Courtney & Jacob's place is super cute & stylish. It is an IDEAL location- tucked away in the woods but also only a few minutes to downtown! Although there are huge windows (beautiful!) and a minimalist vibe, the space was very warm and cozy. Check in was super easy. A couple of noteworthy things: the bedrooms are very chic & adorable- there are no dressers or closets in them. The two bedrooms are separated by a wall, and it's easy to hear between them. This did not affect our stay personally. Again- incredible location & beautiful space!" – Amy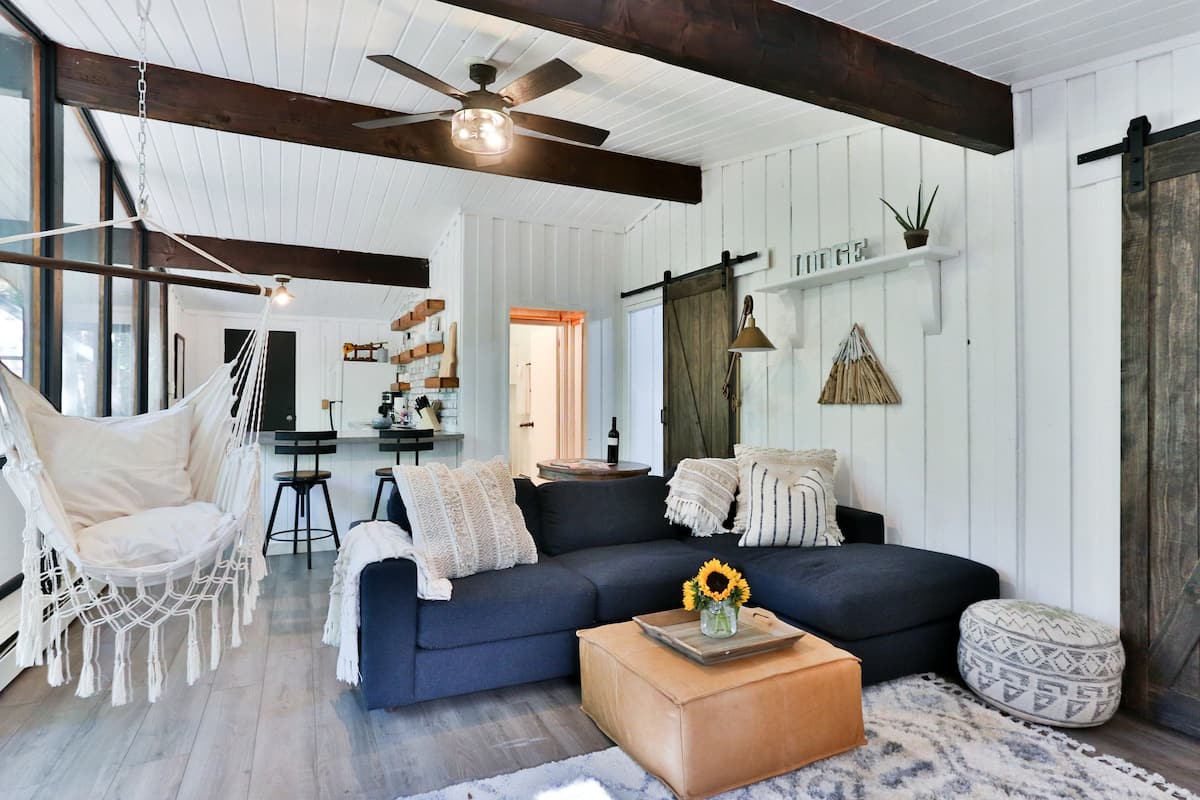 ---
10) New Cabin, Hot Tub, Wooded, River, Fire Place
Location: Jackson
Airbnb Plus: No
Superhost: Yes
Price: $150+ USD per night
https://www.airbnb.com/rooms/40971373
In New Hampshire's snowy winter, there's no better place to snuggle up than this brand new three-bedroom cabin in the woods of Jackson. This rustic modern cabin features gas fireplaces to stay warm, cozy beds and a private hot tub. Your location in the White Mountains National Forest couldn't be more magical, and is just minutes drive to many natural wonders including Glenn Falls, Wildcat Mountain and Mount Washington.
Guest review: "Excellent location, beautiful home…. charming really. Thoughtfully appointed down to the tiniest details. The beds were SO comfortable with plenty of room for our party of 8 to relax, spread out and enjoy. I hope to return some day." – Tamatha
View Photos, Read Reviews & Check Availability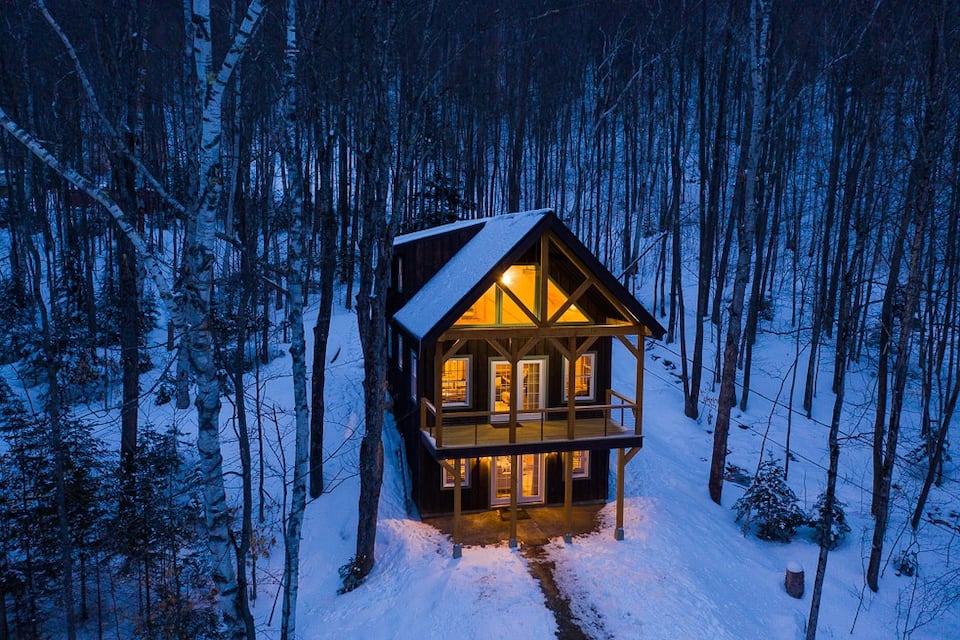 ---
11) Surfside Sanctuary, Jenness Beach, Rye, NH
Location: Rye
Airbnb Plus: No
Superhost: Yes
Price: $600+ USD per night
https://www.airbnb.com/rooms/43179691
The small seaside New Hampshire town of Rye is a beautiful place to head for a beach vacation, and this four bedroom beach house will thrill the entire family. Located right on the sand, the charming home is spacious, stylish and well-equipped, and guests are singing its praises! There's a front porch, outdoor patio on the sand and outdoor lounges. This is a slice of luxury on the New Hampshire coast.
Guest review: "What a beautiful spot! We visited here the end of October. The house was very clean and well put together. The weather was perfect. We really enjoyed watching the sunrise and surfers. It's exactly what we wanted and more. There is a very nice restaurant right across the street. It was the perfect getaway without having to do much except relax, eat, and enjoy the sound of the ocean waves. You won't regret your stay here!" – Amanda
View Photos, Read Reviews & Check Availability
New Hampshire Seacoast Travel Guide - Portsmouth, Dover, Hampton Beach
---
12) Deer Valley Retreat, Lovely Log Cabin
Location: Bradford
Airbnb Plus: No
Superhost: Yes
Price: $100+ USD per night
https://www.airbnb.com/rooms/19429320
With over one hundred guests and counting giving this two bedroom cabin a perfect five-star score, its safe to say this is one of New Hampshire's most popular Airbnb's. Nestled near Lake Sunapee, the rustic cabin has tons of character throughout its spacious interiors. If you're visiting in winter, you'll love its central heating and the indoor fireplace, as well as the three private acres it is located on. The quiet town of Bradford is considered "The Gateway to the Sunapee Region".
Guest review: "The cabin was a perfect surprise trip planned for my husband's 40th birthday! Alecia is wonderful! She was quick to reply to any questions and so welcoming when we arrived. She even left us a homemade coffee cake to celebrate my husbands birthday. The cabin is spotless and so warm and welcoming. Her kindness shows in every corner! We will definitely be planning another getaway soon. Thank you so much!!" – Karla
View Photos, Read Reviews & Check Availability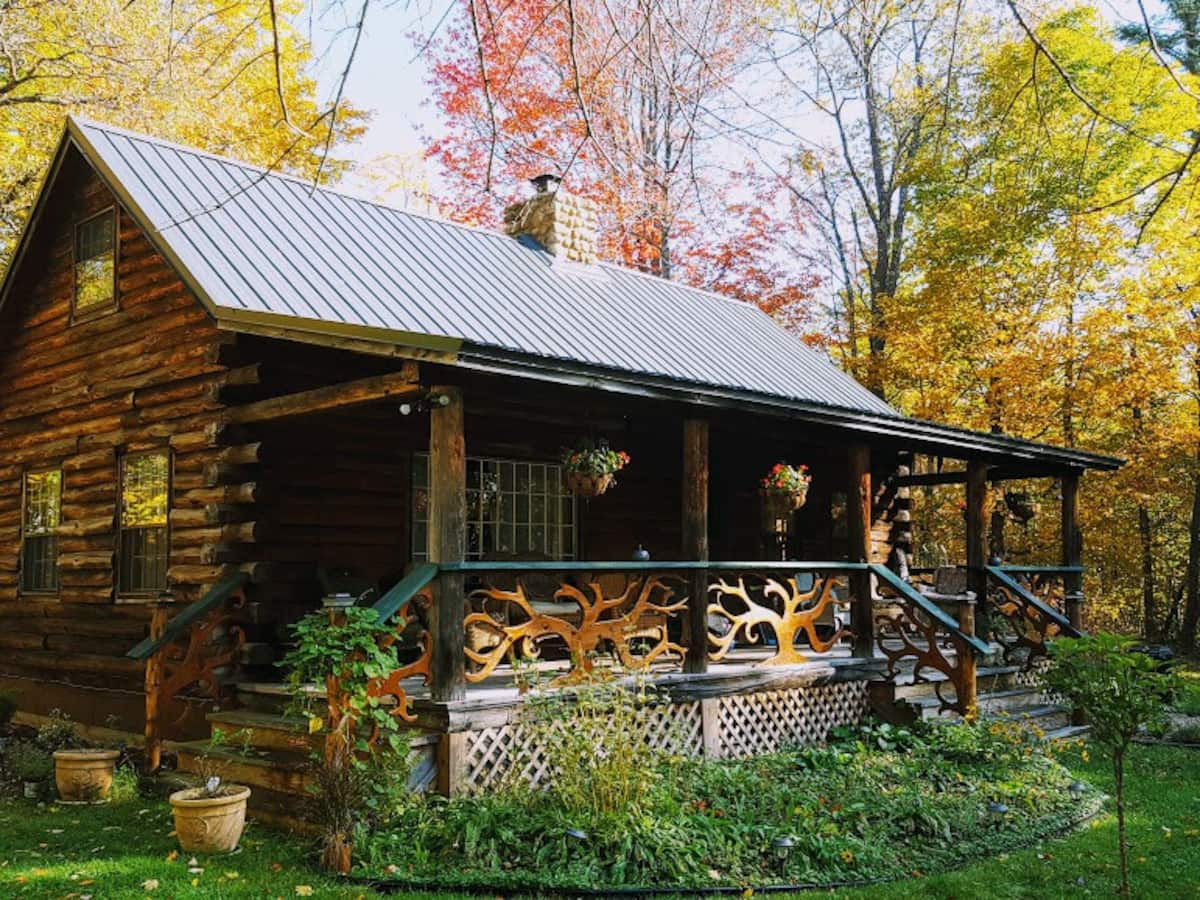 ---
13) Gorgeous, cozy mountain top cottage
Location: Goffstown
Airbnb Plus: No
Superhost: Yes
Price: $150+ USD per night
https://www.airbnb.com/rooms/602844
Another day, another beautiful New Hampshire mountain getaway! This two bedroom cottage is located on the side of Mount Uncanoouc, and boasts epic views as you would expect. The renovated home is chic and stylish, and there are hiking trails that begin right at your door. You'll love exploring the charming local towns and their small-town antique stores.
Guest review: "We adored every detail of this beautiful summit getaway. Sadly we only stayed one night but the entire place was absolute heaven. Shannon has put so much thought into the little details which make this place a truly memorable experience for a stay in New Hampshire. Waking up to that view was indescribable. Shannon's communication was exceptional and precise, by far the best we've received booking via Air BnB. She even left us a beautifully thoughtful welcome gift. The sheets and beds were soft and dreamy and the bath tub beyond compare. We would absolutely recommend this to everyone who would listen. Five stars for sure. Thanks for having us Shannon!" – Beth
View Photos, Read Reviews & Check Availability
New Hampshire Travel Guide - White Mountains & Lake Winnipesaukee
---
14) The Lil' Red Caboose :)
Location: Lincoln
Airbnb Plus: No
Superhost: Yes
Price: $125+ USD per night
https://www.airbnb.com/rooms/7846081
One of the most unique New Hampshire Airbnb rentals, the "Lil Red Caboose" is something truly special. The historic train has been transformed into a neat and well-equipped one bedroom pad, with a living room, full bathroom and kitchen. The caboose is located in a quiet neighborhood in Lincoln, which boasts beautiful mountain views.
Guest review: "Randy made our stay so comfortable and easy. Randy was so thoughtful to have an extra couple of phone chargers available, delicious tea, and a warm shower – much needed after a weekend of chilly camping/hiking the White Mountains. If I find myself passing through New Hampshire, I would definitely stay here again! No complaints :)" – Sophie
View Photos, Read Reviews & Check Availability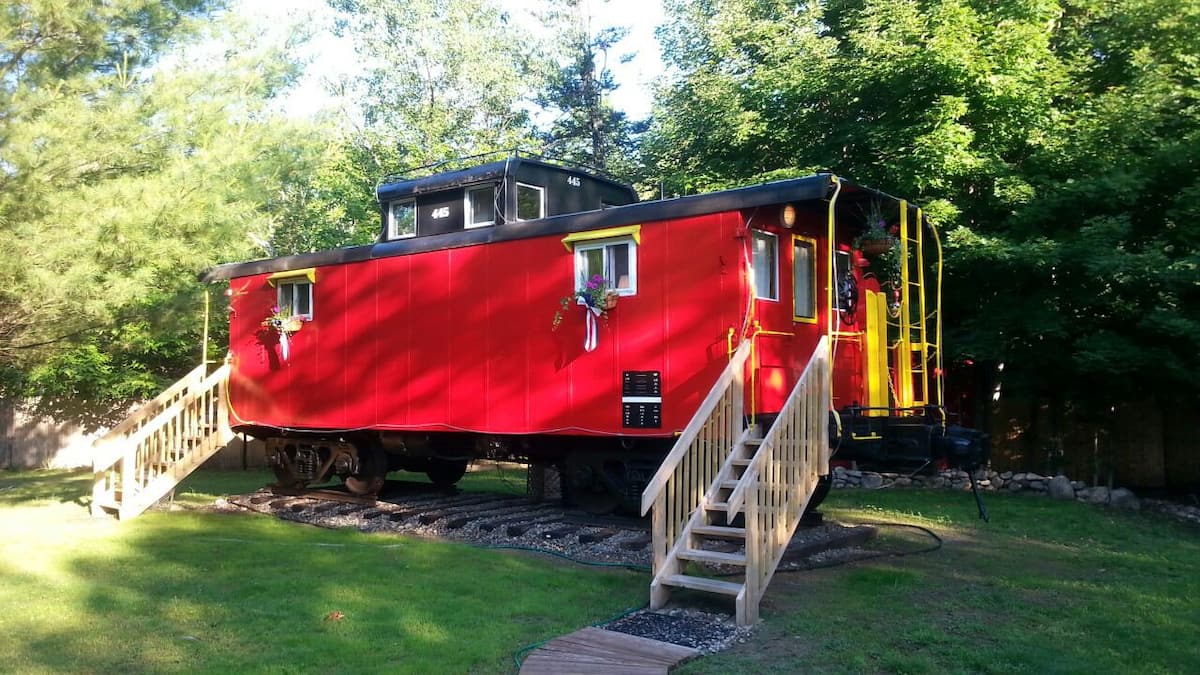 ---
15) The Word Barn, Exeter, NH
Location: Exeter
Airbnb Plus: No
Superhost: Yes
Price: $130+ USD per night
https://www.airbnb.com/rooms/32913430
The pretty town of Exeter, New Hampshire, is considered one of the best places to live in the state – and its also a fantastic place to visit! This barn is located just five minute from downtown Exeter, and has been transformed into an open plan studio apartment with elegant furnishings and original vaulted ceilings. The barn is located on 100 acres of private conservation land with woods, trails and even orchards.
Guest review: "That bed is potentially the most comfortable I've ever slept on in my entire life. Check in was a breeze, there were farm fresh eggs waiting for me in the fridge. This was a great experience, I'd stay here again and highly recommend." – Dan
View Photos, Read Reviews & Check Availability
---
16) The Loft at North House
Location: NorthWoodstock
Airbnb Plus: No
Superhost: Yes
Price: $80+ USD per night
https://www.airbnb.com/rooms/42902378
This budget-friendly one bedroom apartment in North Woodstock, New Hampshire, is brand new and ready to impress! The renovated barn loft apartment has a fully-equipped bedroom and kitchen, as well as a great private deck. The loft is located just a mile from town and 15 minutes from top skiing at Loon Mountain.
Guest review: "Jim and Christine provided us with the perfect stay. The loft is in a perfect location for traveling around. The loft was clean and so cozy, above and beyond with thoughtful touches. Jim and Christine also had great recommendations for getting around in the area. Would definitely come again!" – Hannah
View Photos, Read Reviews & Check Availability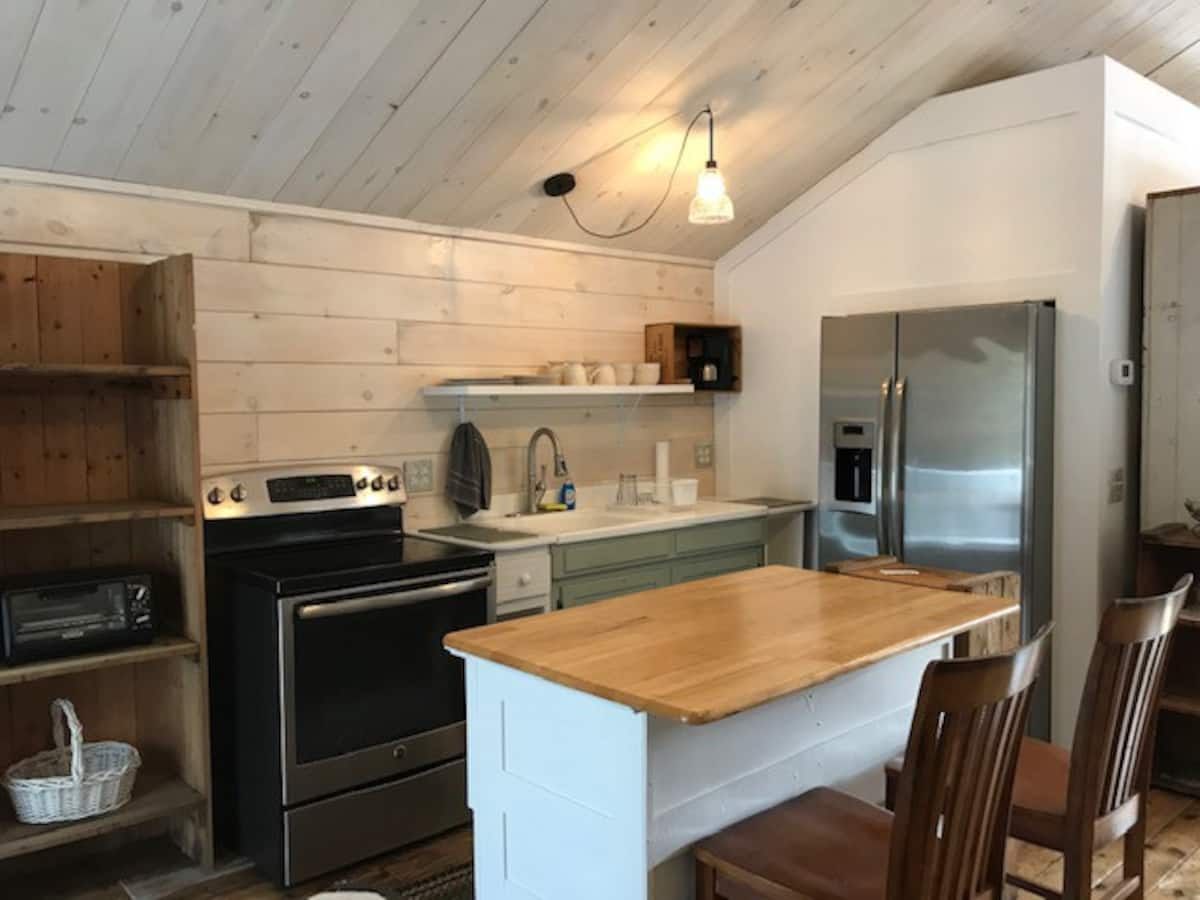 ---
17) 22 Peaks at a Glance in Sanbornton NH- Custom Home
Location: Sanbornton
Airbnb Plus: No
Superhost: Yes
Price: $350+ USD per night
https://www.airbnb.com/rooms/41593748
This five-star rated two-bedroom chalet is located in the small town of Sanbornton and is one of the state's best luxury Airbnb's. The custom-built chalet boasts a gourmet kitchen, a jacuzzi in the master bedroom, a laundry, underfloor heating, and lots of space outdoors that's all yours. This charming New England town is a historic haven that's just 25 minutes drive to the capital, Concord.
Guest review: "Amazing host and place. I would highly recommend this place. Very nice kitchen and awesome view. The host is very helpful and informative. He was kind enough to get us wine and also stocked the fridge with eggs, butter, blue berries, & etc. The beds were very comfortable. The bathrooms were clean and had all the toiletries. The backyard fire pit and grill also added to our experience. Can't wait to return to this home. Thank you Paul & Mary!" – Thang
View Photos, Read Reviews & Check Availability
12 Best Tourist Attractions in New Hampshire USA
---
18) Renovated Lakefront Vacation Home
Location: Meredith
Airbnb Plus: No
Superhost: Yes
Price: $350+ USD per night
https://www.airbnb.com/rooms/36416312
Enjoy a relaxing lakeside vacation and book your stay at this top-notch three bedroom family home in Meredith, New Hampshire. Located right on Winnipesaukee and just minutes from the town of Meredith, the spacious double story home features open and airy interiors and a large deck with grill. You'll also have your own dock. The dog-friendly escape is a popular resort town that's humming in summer.
Guest review: "With our fair share of AirBNBs under our belts my friends, husband and I all agreed this was our best yet! Clean, gorgeous home led to many conversations about our future lake homes… But until then, we know exactly where to go for lakeside getaways. Great hospitality, great accommodations – a much needed and much-appreciated getaway!" – Colin
View Photos, Read Reviews & Check Availability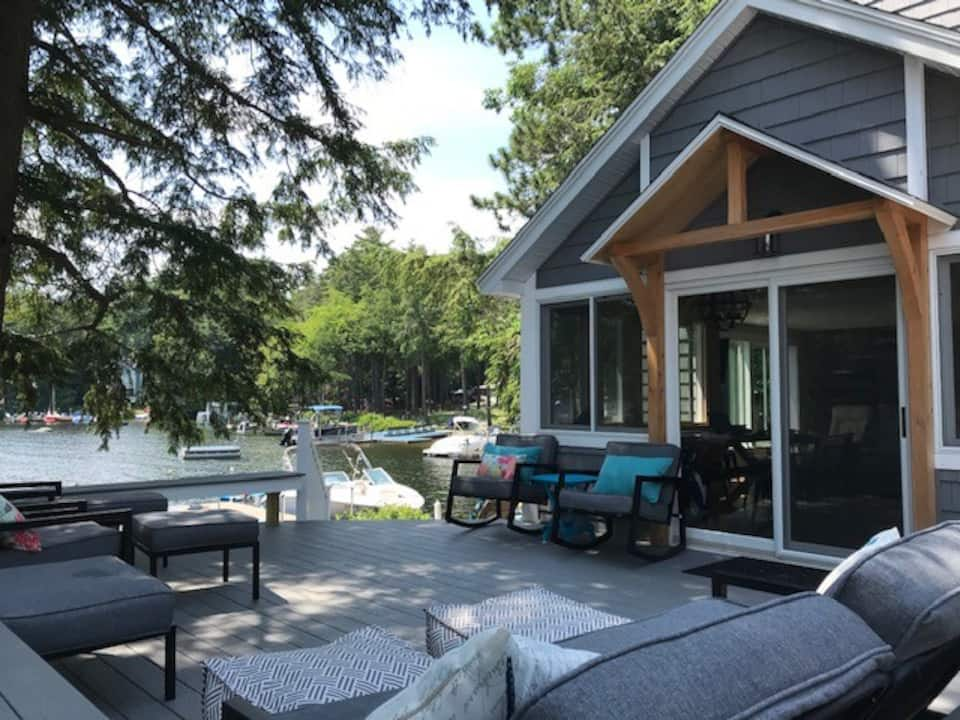 ---
New Hampshire Airbnb Experiences
There's no better way to explore the stunning landscape of New Hampshire than to have an expert guide show you. From island birdwatching to mountain snowshoeing to city adventuring, these are the best New Hampshire Airbnb Experiences.
---
Snowshoeing in the White Mountains.
"Snowshoeing in the beautiful white mountains of New Hampshire. On our excursion you will get An opportunity to see the top of Mt. Willard, stand on the top of its impressive cliffs and overlook Crawford notch. Perhaps no other spot in the white mountains affords so grand a view with so little effort."
Location: Carroll
https://www.airbnb.com/experiences/526373
Price: From $35 USD per person (3 hours)
Review: "Ten out of ten!!! I would recommend to anyone. I have every intention of doing this hike again in a nee season. Dan's gear and knowledge were superb. Dan made easy conversation with all in the group and made the whole experience so enjoyable. I felt very lucky to get to experience this." – Katie
View Photos, Read Reviews & Check Availability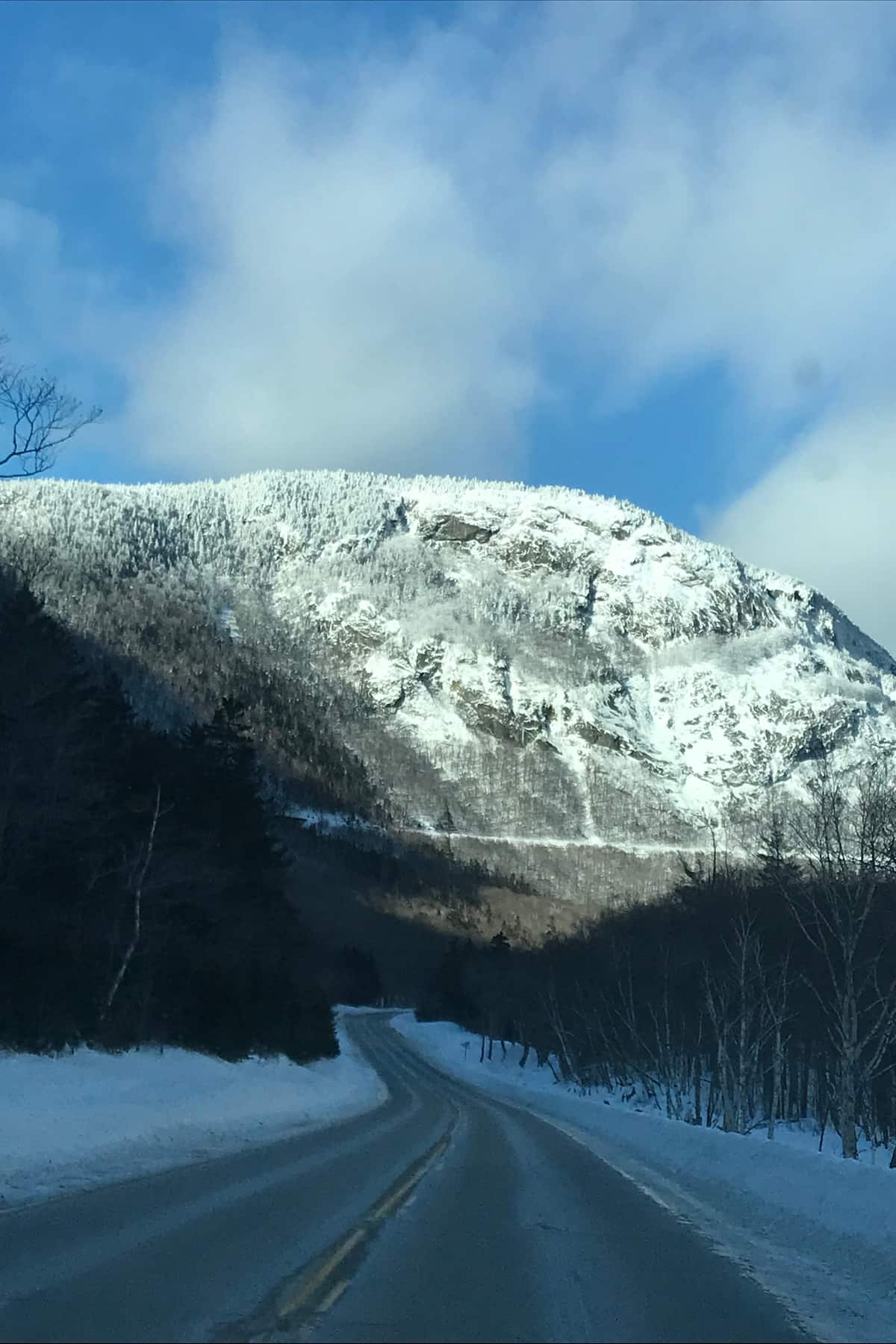 ---
Your local guide to Portsmouth NH
"Portsmouth NH was originally explored by brave sailors and ship merchants. They became the locals who established this town long ago. Over the past few decades, Portsmouth has matured to a fine historical charm that warrants an insiders' tour of where to go and what to do. "
Location: Portsmouth
https://www.airbnb.com/experiences/8282
Price: From $20 USD per person (1 hour)
Review: "Neil definitely has a handle on what to see and do in the Portsmouth area. We found some great places thanks to his guidance and the map he provided with all sorts of notations of places to stop by. He's especially well versed on night-life options if you're interested in seeing the city after-hours." – Christine
View Photos, Read Reviews & Check Availability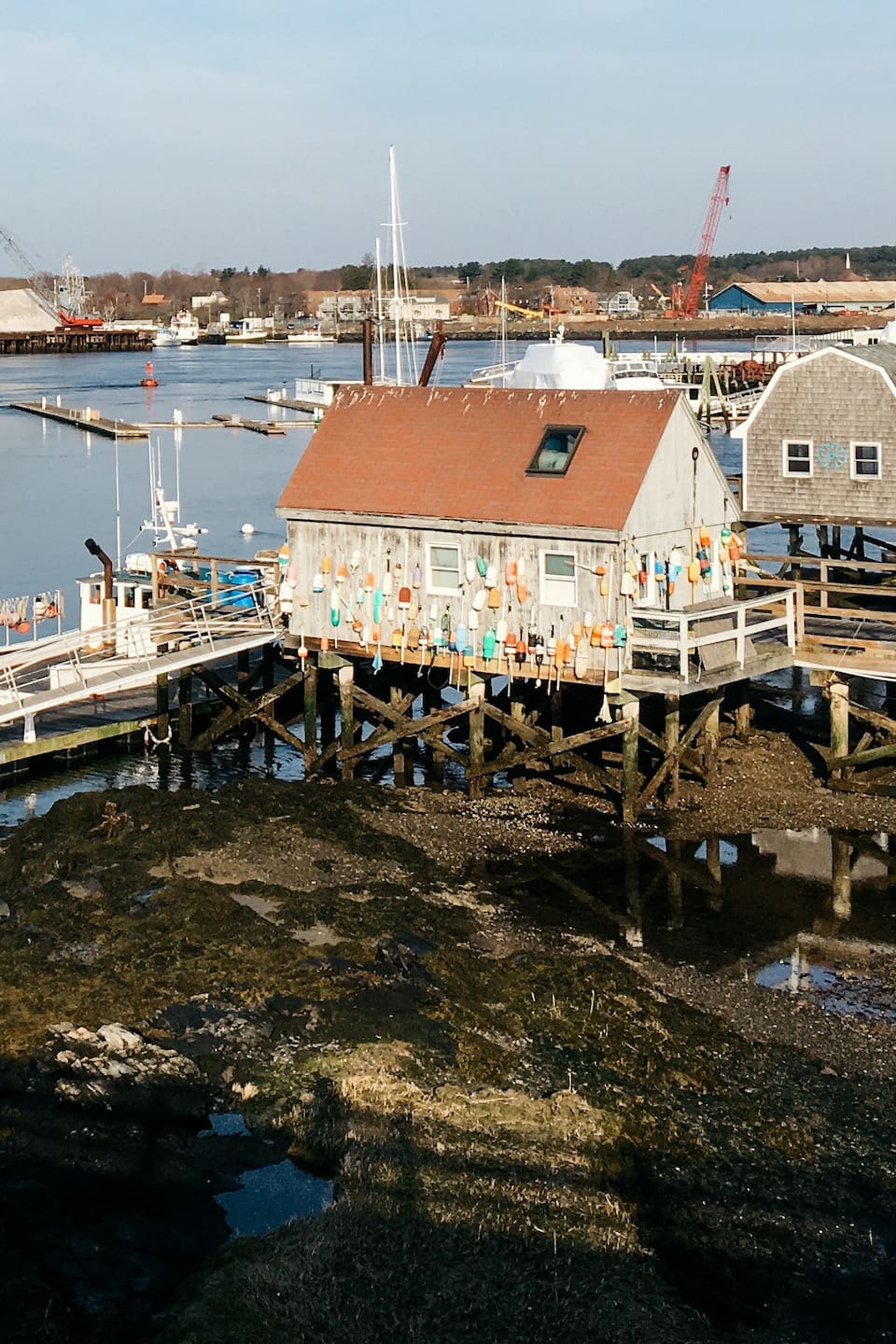 ---
Plum Island Birdwatching
"We will be birdwatching at the famous Parker River NWR on Plum Island for exciting migrant and coastal birds. I will lead you to birding hotspots and view points for locating, observing, and identifying the refuge's diverse bird."
Location: Newburyport
https://www.airbnb.com/experiences/150587
Price: From $80 USD per person (2 hours)
Review: "Steve was so friendly and fun to hang out with. He not only shared his knowledge – he showed us how to be better at it as well. We saw birds we have not seen before and he was really good at finding them. If you love birdwatching or want to become better at it, you should book this experience. Steve also talked to us from his (and our) educator point of view and had tips for including it in our classrooms. We also talked to him about future meet ups and other opportunities that would work for all of us." – Kerry
View Photos, Read Reviews & Check Availability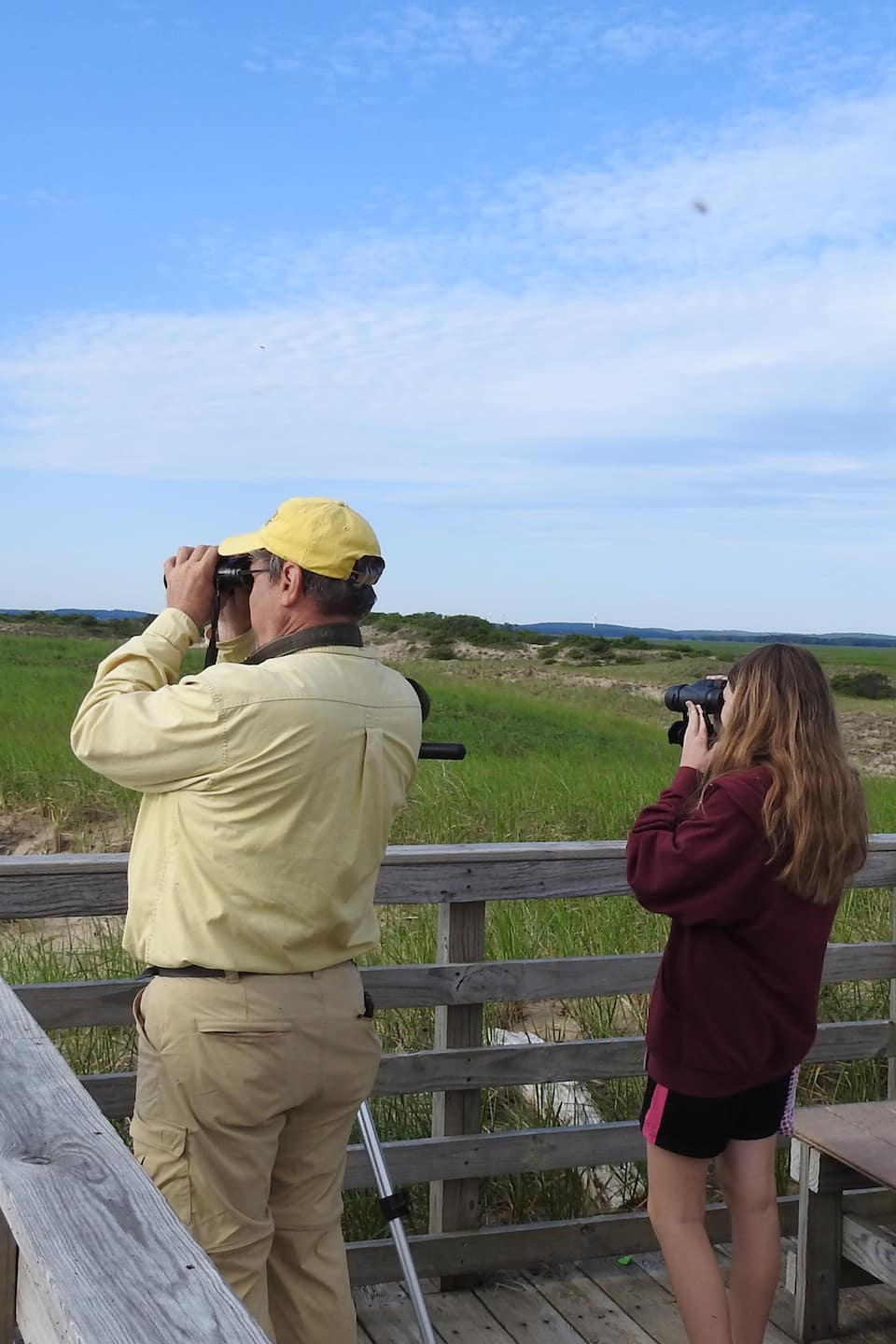 ---
Did I miss any top New Hampshire Airbnb rentals?
There are so many New Hampshire Airbnb rentals that I couldn't possibly include every single one on my shortlist. However, if you have stayed at a top-quality New Hampshire Airbnb that you think deserves to be added to the list – reach out. Send through the link to me via email and I'll check it out to see if it has the goods!
---
Heading to New England?
This part of the United States is heaven if you love the outdoors. From Connecticut to Maine, Vermont to Cape Cod, below is my current New England content to inspire more exploration of this stunning region. I've also included a range of some of my other favorite articles that may interest you!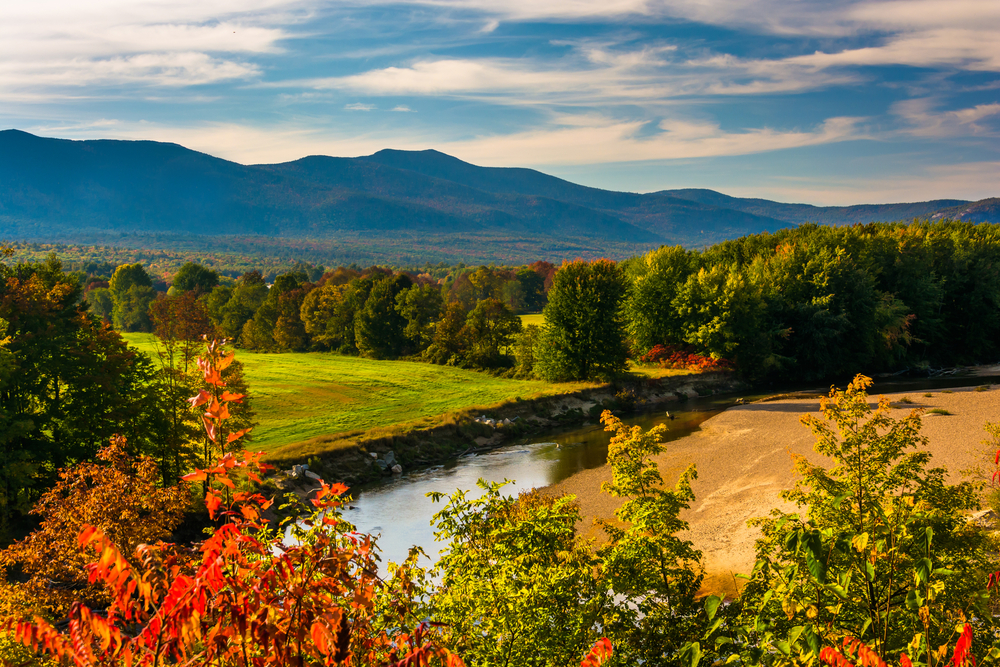 ---
Final thoughts on Airbnb New Hampshire
I love New England Airbnb's, as they are so cozy, warm and welcoming. And New Hampshire is no exception! I tried to include a range of New Hampshire Airbnb rentals throughout this list that span beaches, lakes, mountains and woods. That way, you can find the perfect fit for the New Hampshire landscape that you're looking for!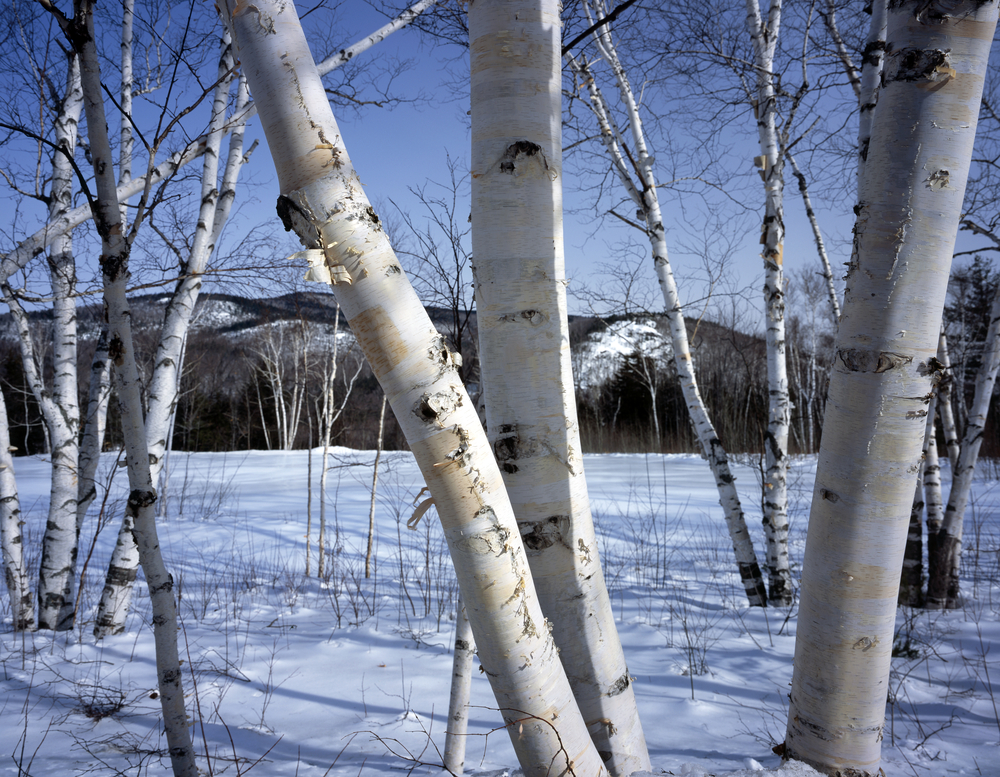 ---
Thanks for reading about the best New Hampshire Airbnbs!
Share this list with your New England travel crew!
https://www.jonesaroundtheworld.com/wp-content/uploads/2020/12/Unique-New-Hampshire-Airbnb.jpg
900
1200
Guest Contributor
https://www.jonesaroundtheworld.com/wp-content/uploads/2017/03/logotry-1-1-300x106.png
Guest Contributor
2020-12-02 21:40:58
2021-05-03 20:07:23
18 Best Airbnb New Hampshire Stays: Cabins, Treehouses & Beach Houses