Planning a trip to Boston? Well, first things first. You need a great place to stay. I've compiled the ultimate list of the 13 best vacation rentals and Airbnbs in Boston. Trust me. It's wicked awesome.
The capital city of the U.S state of Massachusetts, Boston is hands down one of the coolest, most diverse, and historic cities in the entire country. Home to around 700,000 straight-talking, sports-mad locals, Boston is the heart of Irish America – and they're damn proud of it. And many of them have one of the most recognizable, wicked awesome accents in the world.
A visit to Boston promises a unique experience you could only get in "Beantown". Whether you're watching Major League Baseball at Fenway Park, taking a trip out to world-famous Harvard (or "Hah-vad" to Bostonians) to rub shoulders with Ivy Leaguers, watching or running in the Boston Marathon or slinging back pints with locals, Boston is a one of a kind city.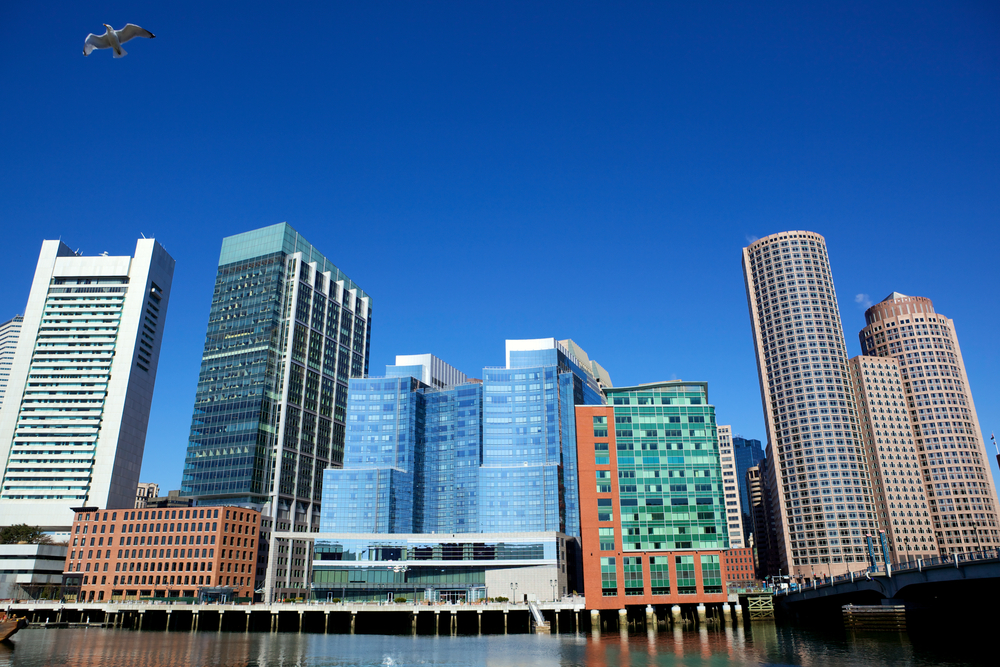 ---
Quick Breakdown Of The Best Airbnb Boston Vacation Rentals
Boston has so much to see and do, I totally don't blame you for just wanting to get there and hit the ground running. If time is tight, no worries. Before I get into my big list, I've shortlisted below my "Quick Top 5" of the best Boston Airbnbs.
From city pads to Harvard homes, cheap digs to luxury residences, solo traveler lodgings to the best of the best. It's all below – just book via my links. You're sure to find the best Airbnb in Boston, MA for you.
To help you along with your trip planning, I've added a range of fascinating and educational videos about Boston throughout this Airbnb list.
These videos are great resources to give you even more inspiration for what you want to see and experience during your trip to Boston. Also, be sure to check out my guide Top 20 Boston Music Festivals To Experience Before You Die, and this awesome list of Things To Do in Boston!
Note: Due to the closure of the Airbnb Associates program, some of the properties listed have been changed to other booking platforms (which can have lower rates and less cleaning/service fees!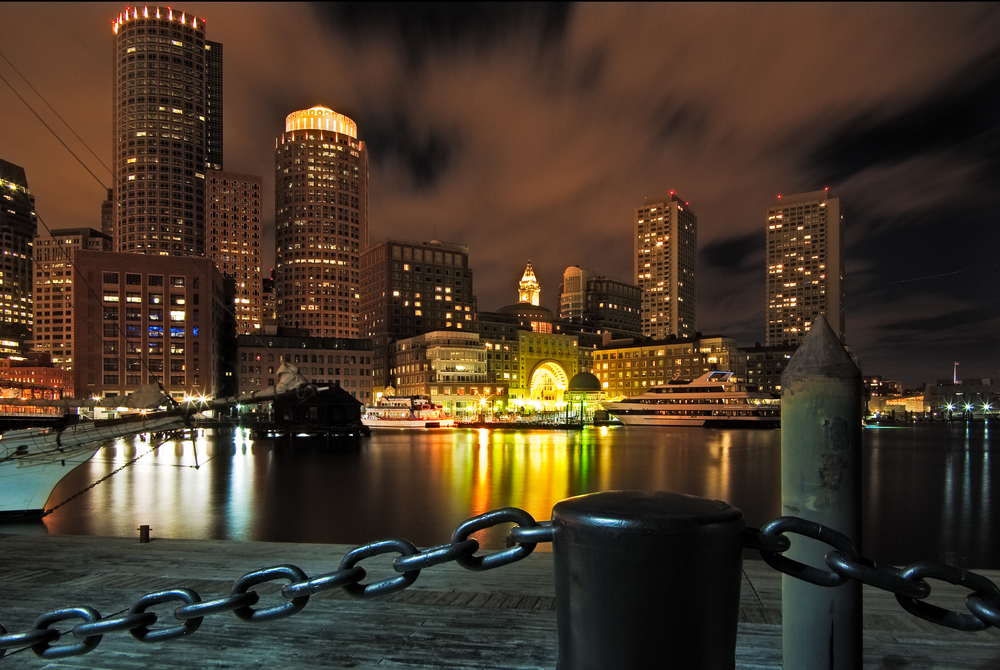 ---
Top 13 Vacation Rentals & Airbnbs in Boston, Massachusetts
A top-notch Airbnb is a must when visiting Boston, and with hundreds on offer, it can be virtually impossible to wade through the options.
Luckily, I've shortlisted the 13 best Airbnbs in Boston to streamline your trip planning. They cover a range of neighborhoods, regions, price points, and travel styles, and I guarantee your dream Boston Airbnb is on the list. Let's dive right into the best Airbnbs Boston has to offer.
---
1) Super Prime Boston Location with New Luxury Renovation
The Best Overall Vacation Rental in Boston
Location: Beacon Hill
Price: $200+ USD per night
https://www.vrbo.com/7593252ha
Located in the beautiful Beacon Hill neighborhood, this stunning one bedroom apartment has been fully renovated recently. The historic apartment offers amazing views from the bedroom, a luxury king size bed with high end Manchester, a brand new stylish bathroom and the best furnishings and decor throughout. The historic neighborhood of Beacon Hill is easily the best in Boston, home to stunning architecture, Boston Common and lots of shops, bars, restaurants and leafy roads.
View Photos, Read Reviews & Check Availability
Guest Review: "My family and I had a fabulous stay in Boston at this VRBO. The location was absolutely perfect in a quiet, quaint neighborhood where we loved walking around and exploring. It was just one block away from Tatte bakery and cafe, where we had breakfast every morning after we discovered it. I loved the hard-wood floors and the super comfy bed! We had arrived really late on our first night and it was super easy to get in with the wonderful directions. Everything was so charming and I could tell the owner put a lot of thought into the details. I loved the smell of the sheets and the lavender body wash in the shower. We LOVED Boston! Can't wait to come back some day!" – Amy
---
2) Large 4/5 bedroom ,2 bath close to Harvard, MIT, Tufts, close to red line,C/A
The Best Cambridge Rental in Boston
Location: Cambridge
Price: $300+ USD per night
Home to Harvard, MIT and some of the most highly esteemed educational institutions in Boston, Cambridge is a leafy area with many historic landmarks. This large and spacious four bedroom home is close to all of these hotspots, and features two renovated bathrooms, large communal areas, heating and cooling, an enclosed front porch and a basement laundry. The nearest train station is just five minutes walk away, with Harvard and MIT just 1-3 stops away!
View Photos, Read Reviews & Check Availability
Guest Review: "This home perfectly fit our needs for a group of colleagues traveling for a business trip. Comfortable, spacious, lovely property and good location. Management was friendly, helpful, and attentive in our communication." – Lori
---
3) Luxury Beacon Hill 1050 Sf Condo With Private Patio/Garden And Private Entrance
The Best Vacation Rental in Boston for Couples
Location: Beacon Hill
Price: $150+ USD per night
Heading to Boston with your beloved and searching for the best couples vacation rental? This spacious one bedroom condo is nestled in the most highly sought-after neighborhood in the city. The roomy pad offers charming interiors and a fantastic private garden with patio. Many shops are just a block away, and Boston Common has a short walk away as well. Fenway Park is also just over a mile away, for those heading to Boston for a game.
View Photos, Read Reviews & Check Availability
Guest Review: "The property offers neighborhood charm while at the same time providing big city access. Brimmer Street is a quiet residential street a single block away from the shops and restaurants of Charles Street. Within walking distance are the Boston Commons, the esplanade along the Charles River, and a lot more. The apartment is roomy, well-appointed, with all necessary conveniences. Sean, the owner, is both very friendly and very responsive. I plan to rent the property again in 2018."
---
4) Newly-Renovated, Stunning Cambridge 2BR
Location: Cambridge
Superhost: Yes
Price: $120+ USD per night
https://www.airbnb.com/rooms/22602459
Stay in this Airbnb near Harvard University and enjoy this two-bedroom abode in Cambridge, Massachusetts. It has been renovated into an on-trend rustic modern apartment, with timber floorboards and fittings. Even better than this Boston Airbnb itself is its location in a vibrant hub of Cambridge.
It is above a funky tavern which is a great place to get a drink, a bite, or to listen to nightly live music. You'll be in close proximity to Harvard Square, as well as other Boston hotspots such as Back Bay, Charlestown, Somerville, Chinatown, Bay Village, and Dorchester.
View Photos, Read Reviews & Check Availability
Guest review: "We had a wonderful stay in Patrick's apartment. Sparkling clean, incredibly comfortable, and well-appointed, it is a great landing pad for people who need to be at the nearby universities in Cambridge and it's close to good restaurants, etc at Inman Sq and the edges of Somerville. The kitchen is fantastic and the outdoor area is charming. Communication with Patrick was super easy and he was accommodating when some of us had to delay our flight into Boston. I'd recommend this apartment to anyone… unless I'm planning to be in Cambridge at that time, in which case I'd really prefer that you left it free for me!" – Katherine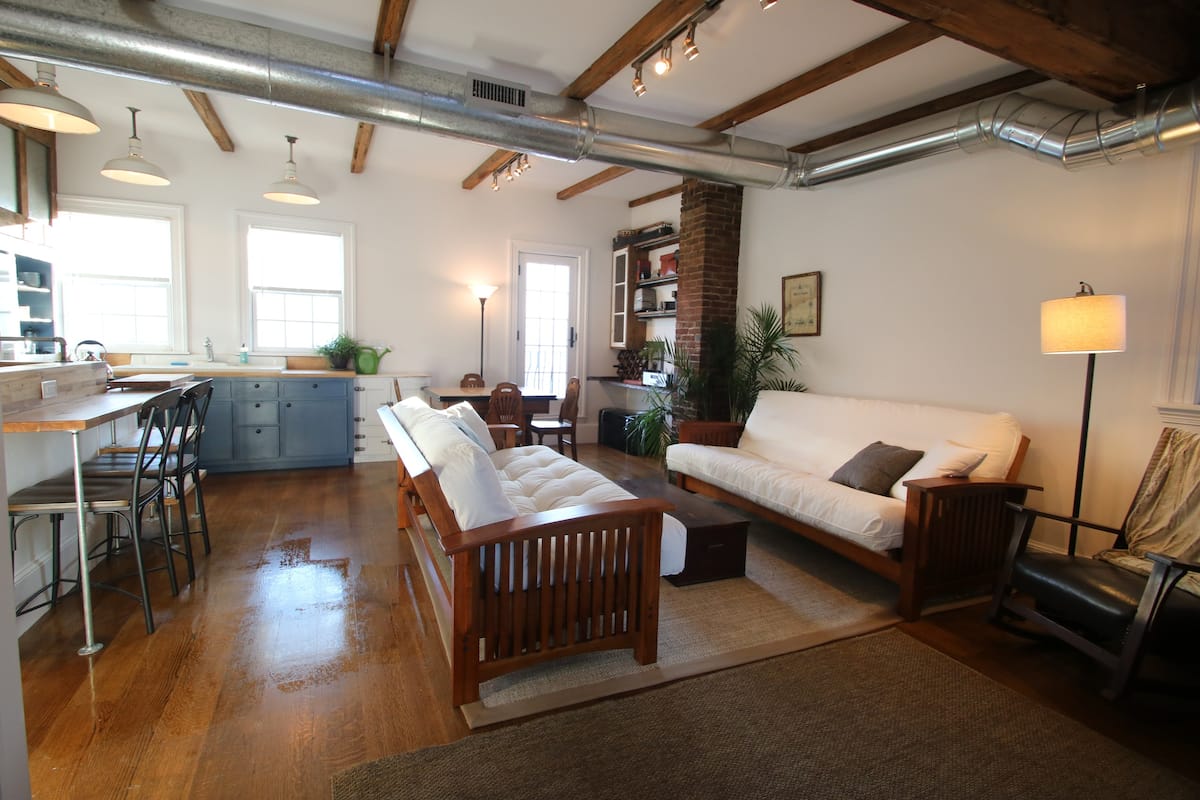 ---
5) Luxury 1BR APT w/ parking by MIT/Harvard/BU/Fenway
Location: Cambridgeport
Superhost: Yes
Price: $60+ USD per night
https://www.airbnb.com/rooms/34944649
Within easy walking distance of major Boston attraction Harvard Square, this one-bedroom Cambridge apartment is a sparkling clean renovated dream, with crisp whites offset by the gold decor and all the mod cons. If you're staying in winter, you'll love the heated flooring!
Walk to Harvard Square, MIT, Fenway Park, Central Square, and the Charles River. Not to mention being right near the annual Boston Marathon route. The neighborhood of Cambridgeport crosses over with Boston, so is arguably the best location in the entire city. 10/10 for value for money!
View Photos, Read Reviews & Check Availability
Guest review: "Toby & Quinn's place was fantastic! Modern, everything brand new, in a safe location and close to everything! I was taking some classes at Harvard and did exploring in Boston and it was a very quick Uber ride to get to both. I had two stays and had to go out of town between, so they let me store my big suitcase in the building for the weekend so I didn't have to carry it with me. Highly recommended!" – Tanya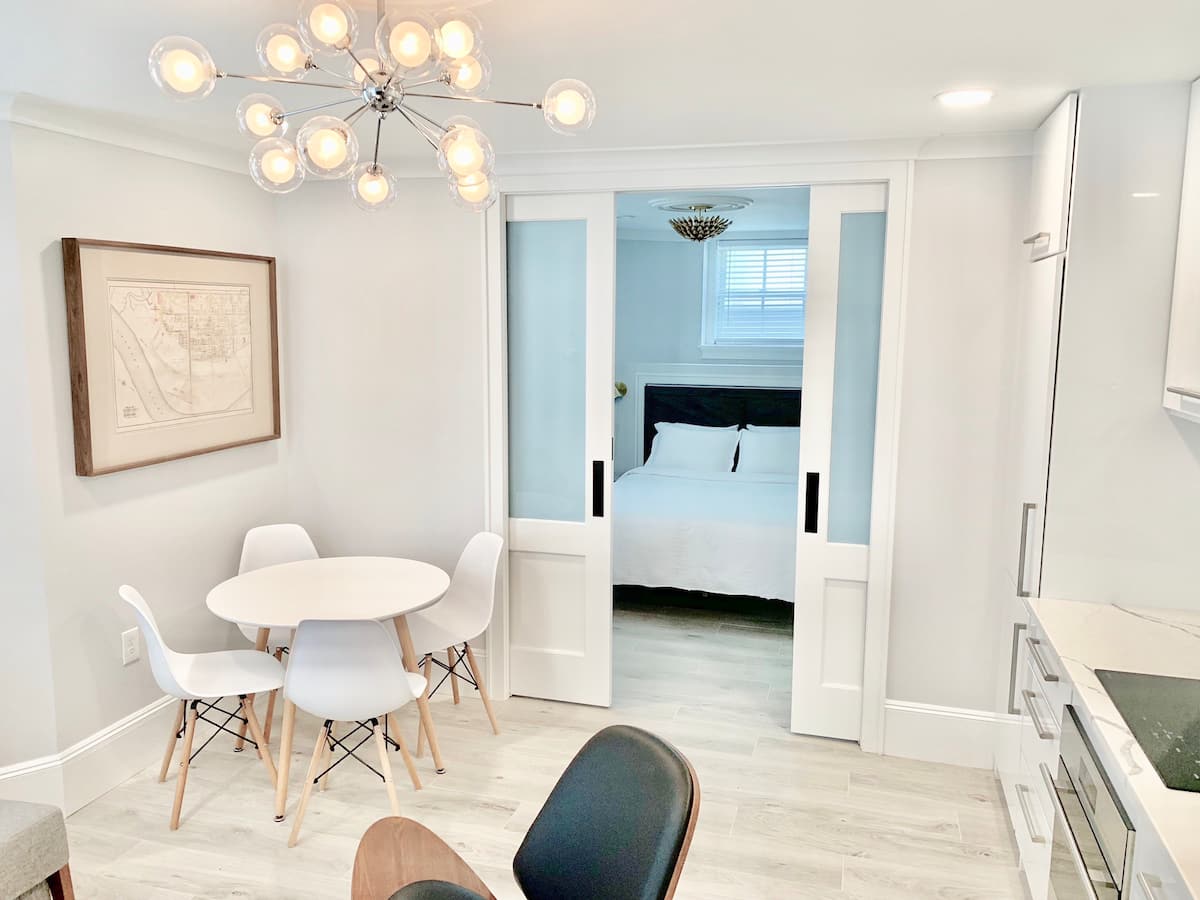 ---
6) Renovated Charming Church Union Square w/ parking
Location: Somerville
Superhost: Yes
Price: $150+ USD per night
https://www.airbnb.com/rooms/22745802
Traveling in Boston is always a fun getaway. There're always lots of friendly locals up for a chat or a round of drinks. This beautiful single bedroom Somerville apartment is ideal for you and your partner. The first-floor space is actually a converted church and has retained its unique church windows and other original features.
This Boston haven is in a safe and diverse district between Boston and Cambridge, Somerville, which is full of nice cafes, restaurants, and public spaces, and there are a plethora of public transport options in close proximity. Easily head into Boston or over to Cambridge to visit the famous Harvard University.
View Photos, Read Reviews & Check Availability
Guest review: "This renovated church apartment is the perfect place to stay during your trip to the Boston area. The apartment is quite spacious and conveniently located in Somerville. Lidia was a great host and communicator. I would highly recommend this place!" – Melissa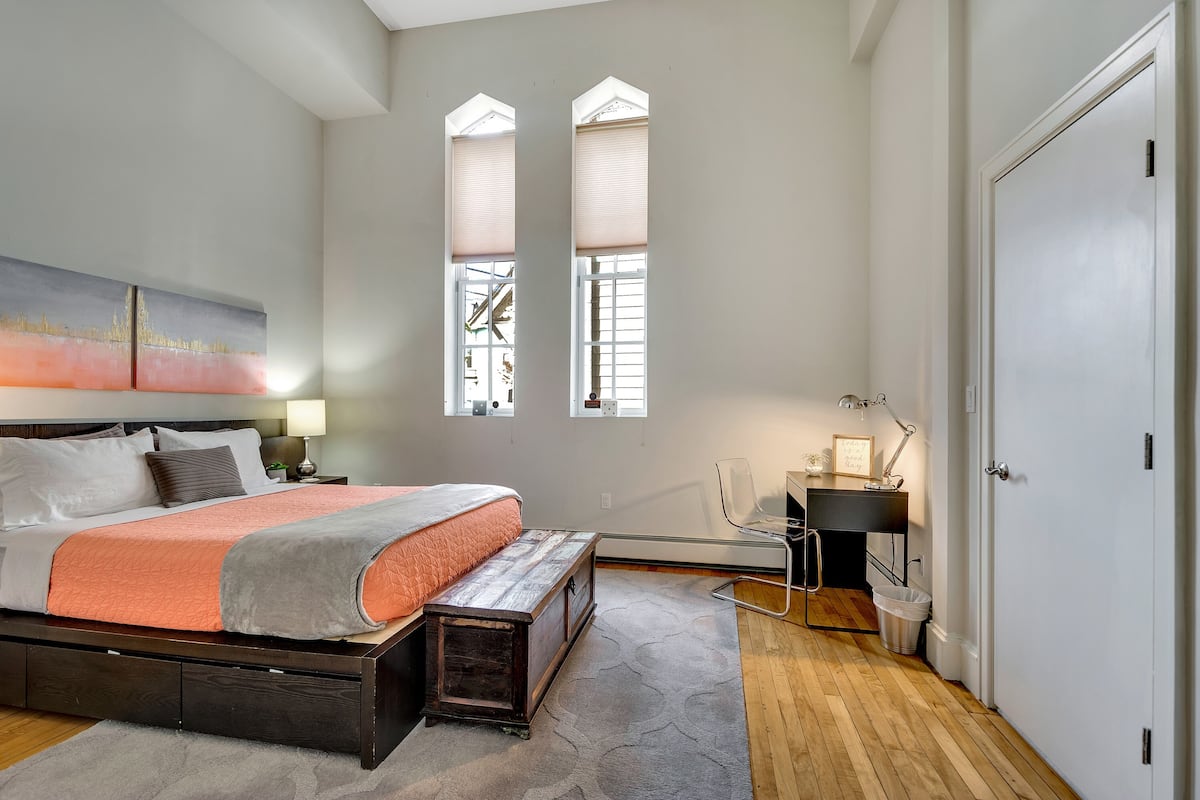 ---
7) Luxury 4BR | 2.5BA Back Bay Duplex
The Best Luxury Airbnb Boston
Location: Back Bay
Superhost: No
Price: $500+ USD per night
https://www.airbnb.com/rooms/15397125
Elegant and plush, this sprawling four-bedroom Boston duplex is the best luxury Boston Airbnb! If you're heading to the fascinating city and want to treat yourself and your family a little bit, look no further than this 2000 square foot renovated home. It features a designer chef's kitchen, 2.5 bathrooms (one with a jacuzzi), and premium cable and Internet. This gorgeous spot promises to be one of the best Airbnb experiences in Boston.
It is located within a traditional brownstone in Boston's historic Bay neighborhood, which is just blocks from many city landmarks and attractions. Stroll along the Charles River Esplanade, Newbury Street, or head over to Fenway Park. This is one of the coolest neighborhoods in Boston.
View Photos, Read Reviews & Check Availability
Guest review: "This was our first stay at an Airbnb and it was fantastic! Jason was attentive and responsive, and the place was exactly as advertised. The rooms were charming and clean, and the beds were comfortable. The space was perfect for our family visit to Boston, with plenty of extra room for our college girls to sleepover. The location was spot-on! We walked everywhere within 10 to 15 mins. Would def stay here again and recommend it to friends! Oh, the restaurant tips from Larry were hilarious and very much welcomed!" – Maira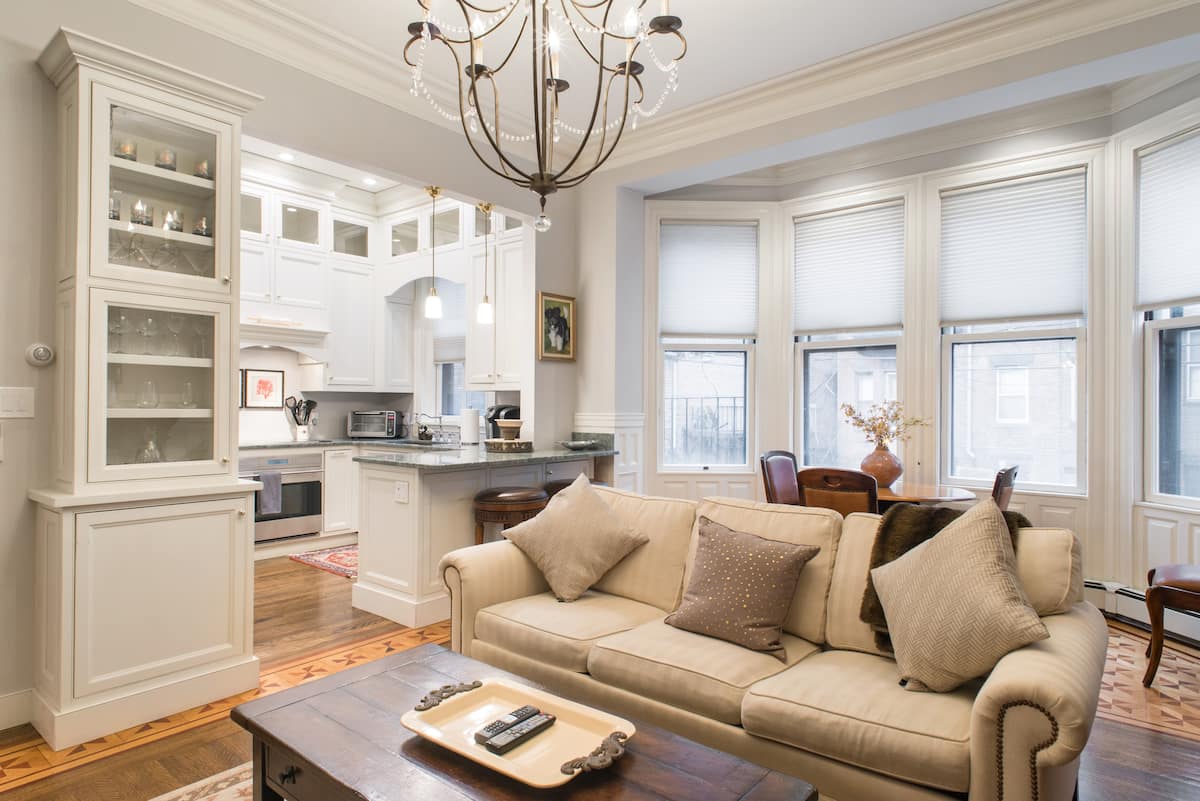 ---
8) Bright and Cozy Boston Studio near Subway416
The Best Cheap Airbnb Boston
Location: Allston
Superhost: Yes
Price: $50+ USD per night
https://www.airbnb.com/rooms/38127591
It's totally possible to visit "Beantown" on the cheap, and this studio apartment is the best cheap Airbnb near Fenway Park. This small and cozy space is immaculately clean and comfortable and is located in the up-and-coming Greater Boston area of Allston.
From here, you'll be right by Fenway and Kenmore, and near most major thoroughfares into Boston. Or just stick around the Allston area and enjoy its many cool cafes, restaurants, and bars.
View Photos, Read Reviews & Check Availability
Guest review: "Highly recommended. The apartment was spotlessly clean and comfortable. Great location, easy to get to other parts of the city. Lots of dining options in the neighborhood and the hosts' recommendations are very helpful. Would definitely stay here again." – Nicola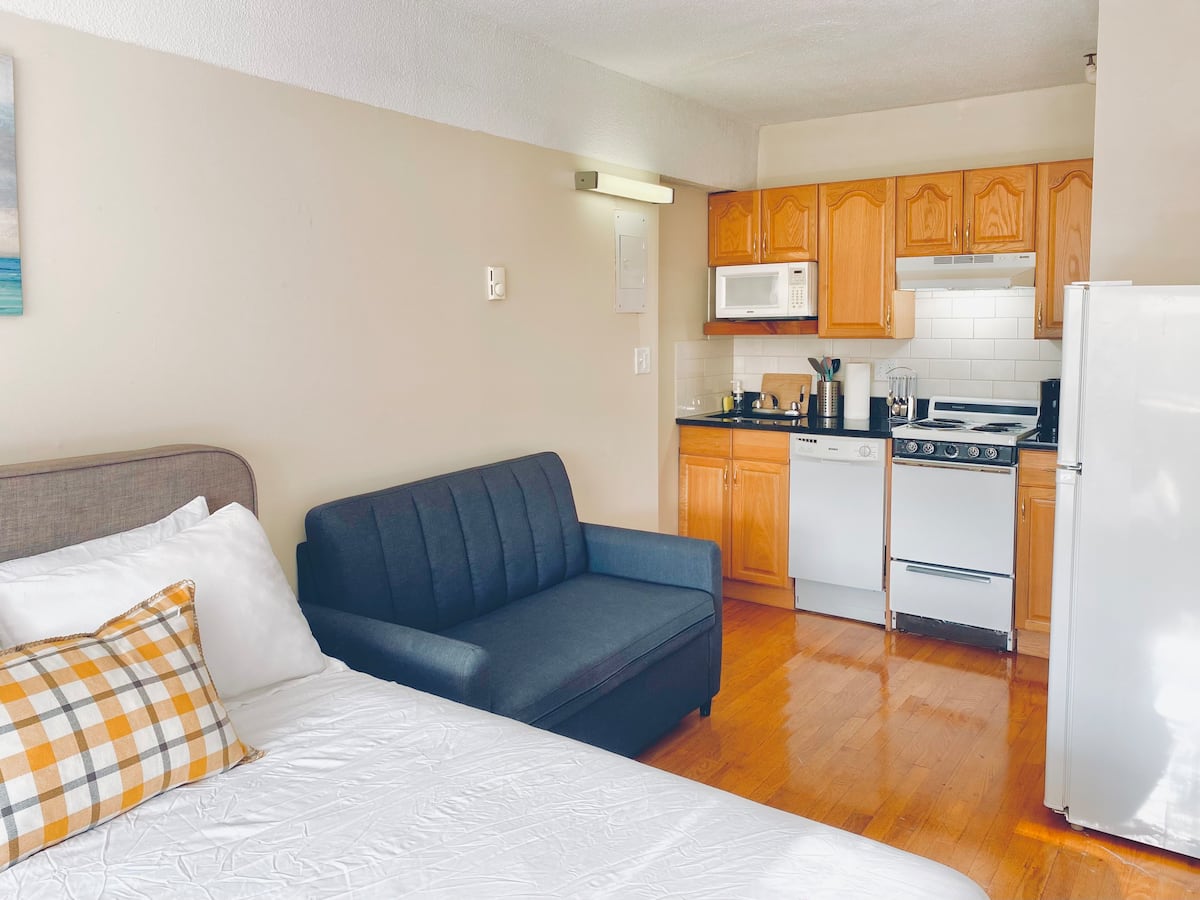 ---
9) Second Oldest Home in Beacon Hill
Location: Beacon Hill
Superhost: Yes
Price: $130+ USD per night
https://www.airbnb.com/rooms/11202183
This gorgeous Airbnb in Boston, Beacon Hill is nestled in one of the city's most quiet and friendly neighborhoods. It has the title of the second oldest home in Boston – and is next door to the oldest! Built in 1789, this historical home has many original features, as well as being updated with handy mod cons.
Beacon Hill is one of Boston's biggest visitor areas and one of the city's most beautiful districts – with traditional brick row housing, antique lanterns, and narrow laneways. You'll be 10 minutes from Boston Public Garden, 15 minutes from hotspot Newbury St and will have a litany of fascinating museums and galleries right nearby.
View Photos, Read Reviews & Check Availability
Guest review: "Norah's B&B was exactly what we were looking for. The location couldn't be better! It is within walking distance of some of the most beautiful locations in Boston and is only a 15-20 minute drive to the airport. There were a few logistical errors with our airline and Norah was more than accommodating in giving us flexibility with arriving and departing. If you need somewhere to stay in Boston look no further than Norah's place." – Jonathan
---
10) Getaway in Historic Charlestown
Location: Charlestown
Superhost: Yes
Price: $170+ USD per night
https://www.airbnb.com/rooms/619142
Tucked away on the first floor of a large home in, this private one-bedroom apartment is cozy, cute, and light-filled. The newly renovated space has a living room, bedroom, kitchen, and bathroom.
Historical Charlestown is a fascinating part of Boston, and this apartment is walking distance to the Bunker Hill Monument and ferry services that run to Salem, Provincetown and so many other Massachusetts visitor hotspots. Boston landmarks like Harvard Square and Fenway Park can all be reached easily. There are many great restaurants and cafes right nearby too.
View Photos, Read Reviews & Check Availability
Guest review: "Lovely home in a beautiful safe neighborhood of Charlestown. Joe provided everything, including breakfast (yummy bagels, eggs, orange juice, and even a nice bottle of red wine). The bed was very comfortable. Short walk to bus or trains and local shops and restaurants. For a bar with a nice atmosphere try the Warren Tavern, and Sweet Rice for a delicious Thai or Japanese feed. Joe was a great host and even took us downtown to pick up a car." – Adrian
Boston Vacation Travel Guide | Expedia
---
11) Spacious Strawberry Hill Suite (West Cambridge)
Location: Strawberry Hill
Superhost: Yes
Price: $70+ USD per night
https://www.airbnb.com/rooms/13546773
Strawberry Hill is the smallest neighborhood in Boston, and it's as nice as it sounds! Just 2 miles from Cambridge landmark Harvard Square, this one-bedroom guest suite has been partly renovated and is modern, open plan, and airy.
This neighborhood offers the best of both worlds. 10 minutes walk away is Fresh Pond – a place to hit the walking and biking trails in a tranquil natural setting. The local subway stop heads right into Downtown Boston and to many of the city's best areas.
View Photos, Read Reviews & Check Availability
Guest review: "Jessica's place is perfect for exploring Harvard and Boston. A five-minute walk to the bus, which takes you to Harvard Square. Or two stops and you're at the supermarket. Jessica and her dad Bob are so friendly and welcoming, we felt at home there. Jessica was extremely helpful when our flight was canceled and we had to arrive a day later. The apartment has everything you need, it was really great having USB ports, toiletries, and access to Netflix/Amazon Prime. One day we hope to go back!" – Geraldine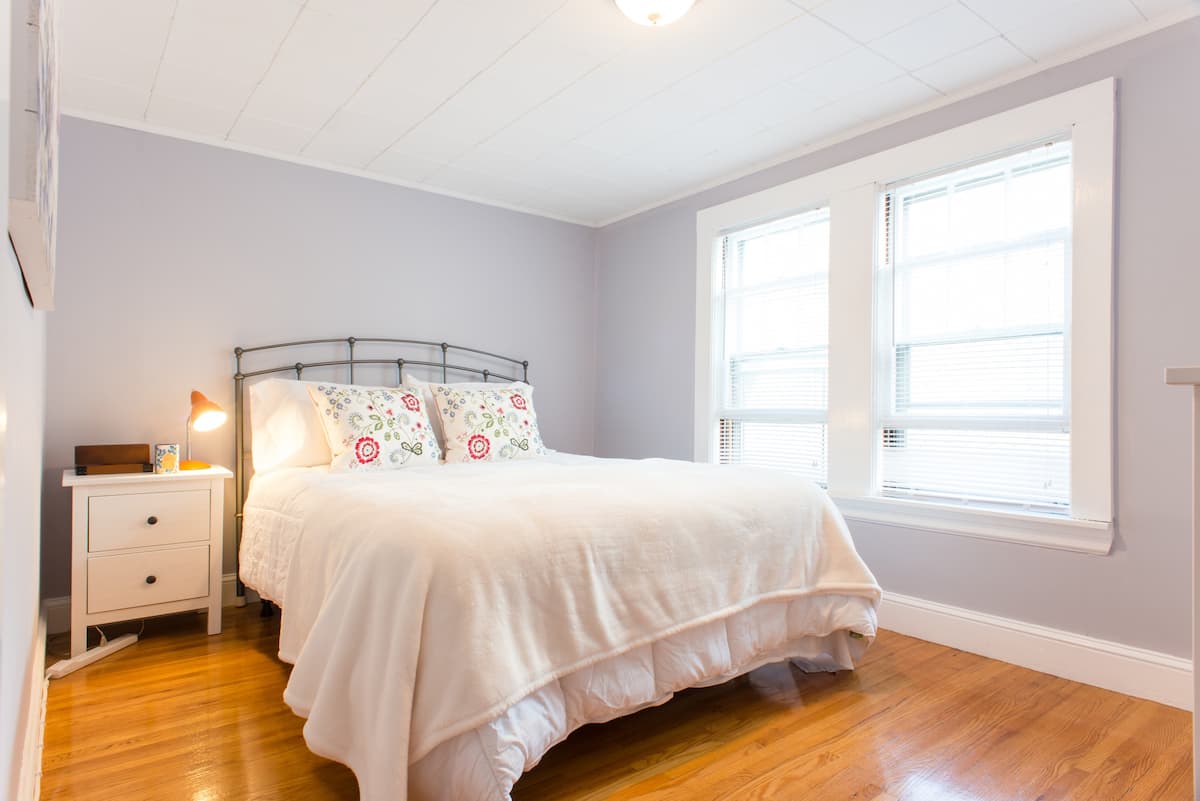 ---
12

) Newly Renovated Harborside Charmer – Near Airport
Location: Jeffries Hill
Superhost: Yes
Price: $130+ USD per night
https://www.airbnb.com/rooms/18488956
Nestled on the ground floor of a large family home, this one-bedroom guest suite is cute, colorful, and entirely private, including its own private entrance and staircase. The Jeffries Hill neighborhood is one of the leafiest and friendliest residential areas of Boston, and the suite is just a block from the harbor where you can see all the way to Downtown.
From this Airbnb in Boston USA, you can wander the streets filled with historic homes. Or jump on the subway (10 minutes walk away) and get off just one stop away (at Aquarium) to explore some of the city's central landmarks.
View Photos, Read Reviews & Check Availability
Guest review: "A great, cozy place to stay with very comfortable mattress. The owner is thoughtful and ensures that the guests are prepared – you have a travel card for Metro and Boston guides readily available. Perfect for solo travelers or couples!" – Ashvin
---
13) BOSTON LUXURY FOR LESS!!! NEAR BCEC
Location: Telegraph Hill
Superhost: Yes
Price: $200+ USD per night
https://www.airbnb.com/rooms/257588
Experience luxury for less at this elegant two-bedroom penthouse in Boston Airbnb in harborside, Telegraph Hill. The 1400 square foot space has many contemporary, high-end features, including an indoor fireplace, an ultra-modern kitchen, a large porch with a grill, and a fantastic indoor spa bath.
Wander along the nearby beach or explore the cool cafes and bars made famous by the Boston-made Good Will Hunting – just ask the Superhost which! This Airbnb near downtown Boston is just a bus ride away directly into town. Or opt to walk over to the hip neighborhood of Seaport – Boston's newest cool hub.
View Photos, Read Reviews & Check Availability
Guest review: "Stayed 3 nights at Meris appt. very clean, well-appointed house. Photos are very true to the actual home. comfortable beds, so good, after a busy days sightseeing. Bus stops out front. Everything you could want! Meri was a fantastic host, replies promptly to messages. She was very helpful with suggestions of things to see, places to eat. We would highly recommend Meris place to anyone wanting to see Boston." – Leonie
10 BEST Things To Do In Boston | What To Do In Boston
---
Tours & Experiences in Boston you Need to Check Out
Baseball Mecca Fenway Park, Ivy League leader Harvard and the historical Freedom Trail are just a few of Boston's many tourist landmarks and attractions. Tick these Boston bucket list items off your to-do list when you hit the city, and book your place on these best selling Boston tours and experiences.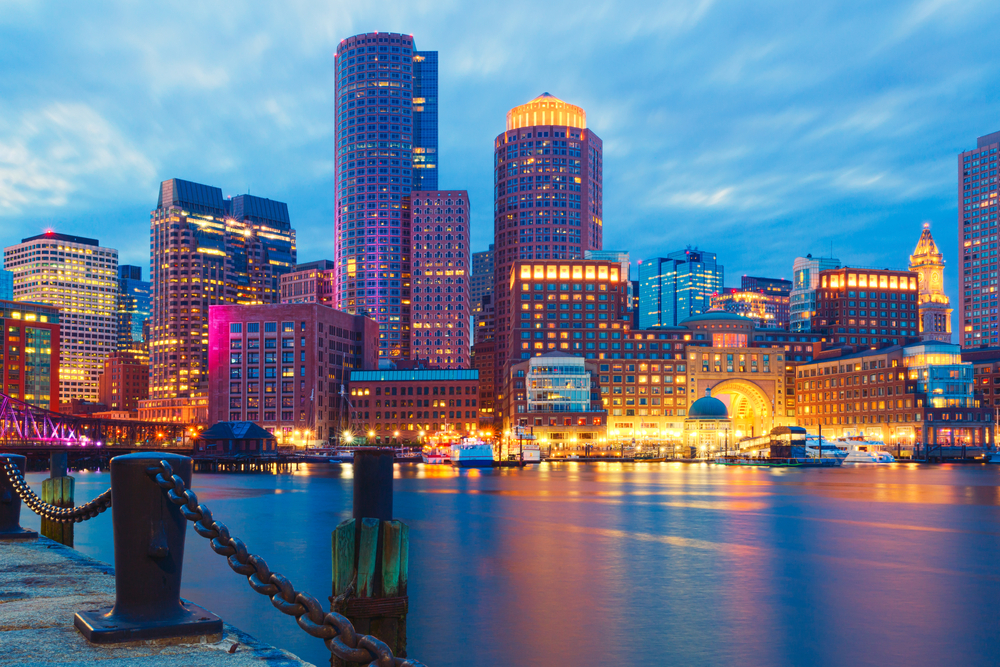 ---
Boston: Sightseeing Trolley Tour
"Journey around Boston during a 90-minute sightseeing trolley tour as you discover the wonders of this historic city. Experience the birthplace of American Independence and view iconic places like Faneuil Hall and Boston's Public Garden."
https://www.getyourguide.com/activity/boston-l260/boston-sightseeing-trolley-tour-t393768
Price: From $47.25USD
Review: "We had a great time on the Old Town Trolley during our vacation to Boston. We were able to see everything we wanted. The drivers were all wonderful, funny and informative. The kids learned a lot, plus it was nice to relax a bit in between of touring.
View Photos, Read Reviews & Check Availability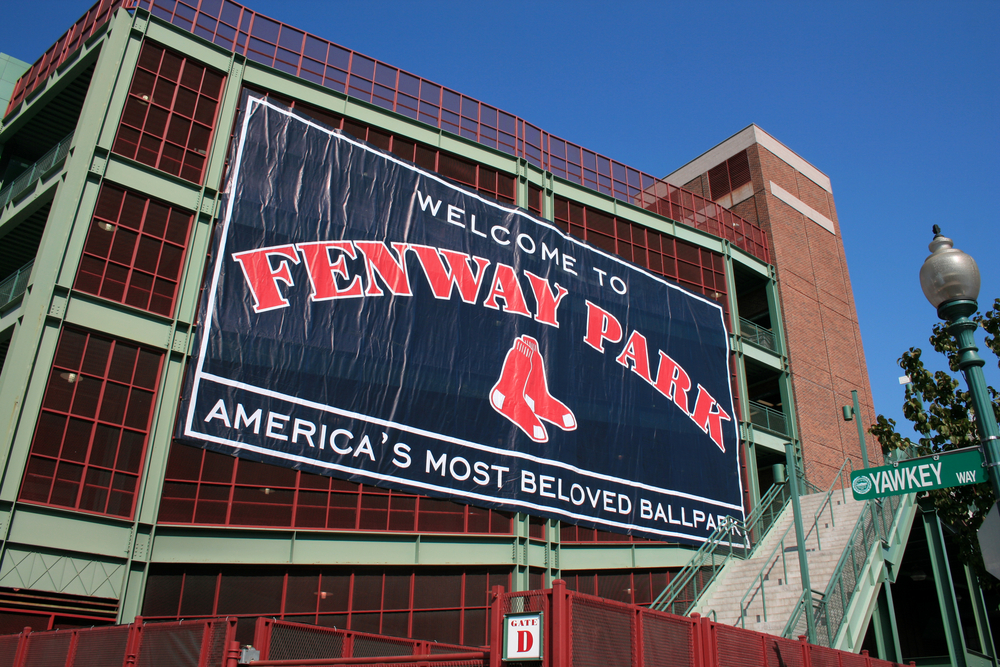 ---
Boston: 1.5-Hour Ghosts and Gravestones Tour
"Discover Boston's eerie history on this 1.5-hour tour of the city's ghostly locations. Ride the Trolley of the Doomed to burial grounds nearly 400 years old, listen to the scary ghost stories of the graveyard, and look out for a ghostly encounter."
https://www.getyourguide.com/activity/boston-l260/15-hour-ghosts-and-gravestones-tour-of-boston-t15345
Price: From $41.95 USD
Review: "If you want to learn the history and the reasons that generated certain events, it is best to do it on a very fun tour where you also learn about the origin, the reason for certain events. The guide was very knowledgeable and funny with his tales of the illustrious dead and ghosts. I loved.
View Photos, Read Reviews & Check Availability
What's Inside Harvard University? | Harvard Campus Tour
---
Historic Pub Crawl Tour along the Freedom Trail
"Discover Boston in the most exciting way possible – a walking history tour combined with a good, old fashioned pub crawl. Visit local pubs in the historic Downtown, learn about the birthplace of a city and a country and how it all started in a bar!"
https://www.getyourguide.com/boston-l260/historic-pub-crawl-tour-along-the-freedom-trail-t163452/
Price: From $60 USD
Review: "Five of us signed up and we were joined by 6 others so it was a nice sized group. Chris was our guide and he was totally charming and engaging. He gave us the history peppered with humor and kept our interest the entire time. Oh, and there were drinks, too! A great way to spend the afternoon!" – Margaret
View Photos, Read Reviews & Check Availability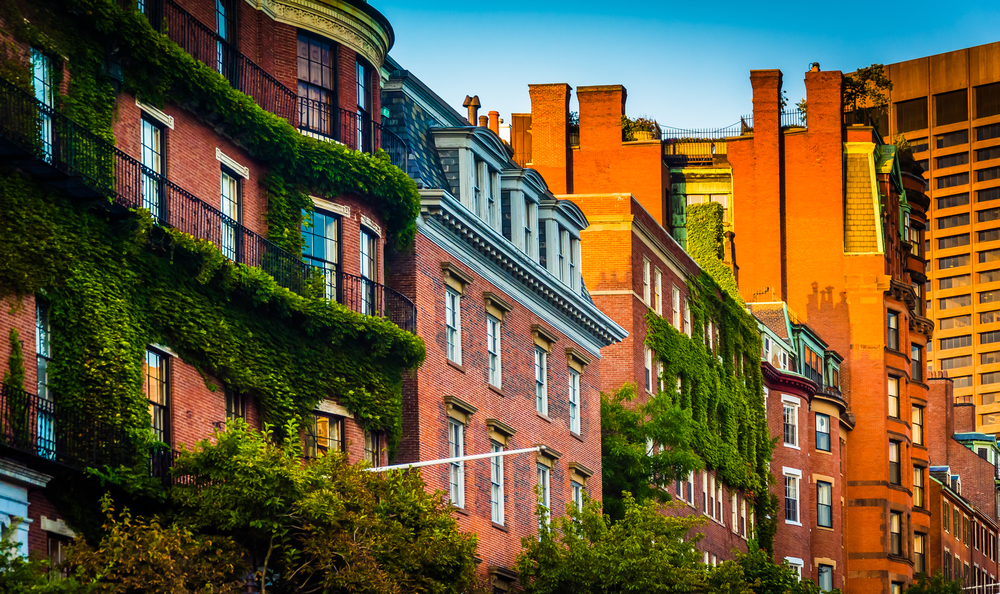 ---
Did I Miss any Top Boston Airbnbs?
I went through the range of Airbnbs in Boston with a fine-tooth comb, but there are always new and exciting offerings popping up every day on the platform! Have you stayed in a first-class or unique Airbnb? Or are you the host of one you think deserves a little attention?
Feel free to get in touch with me via my social media channels or my email, and I'll see if I can get you on my list of the best Airbnbs in Boston.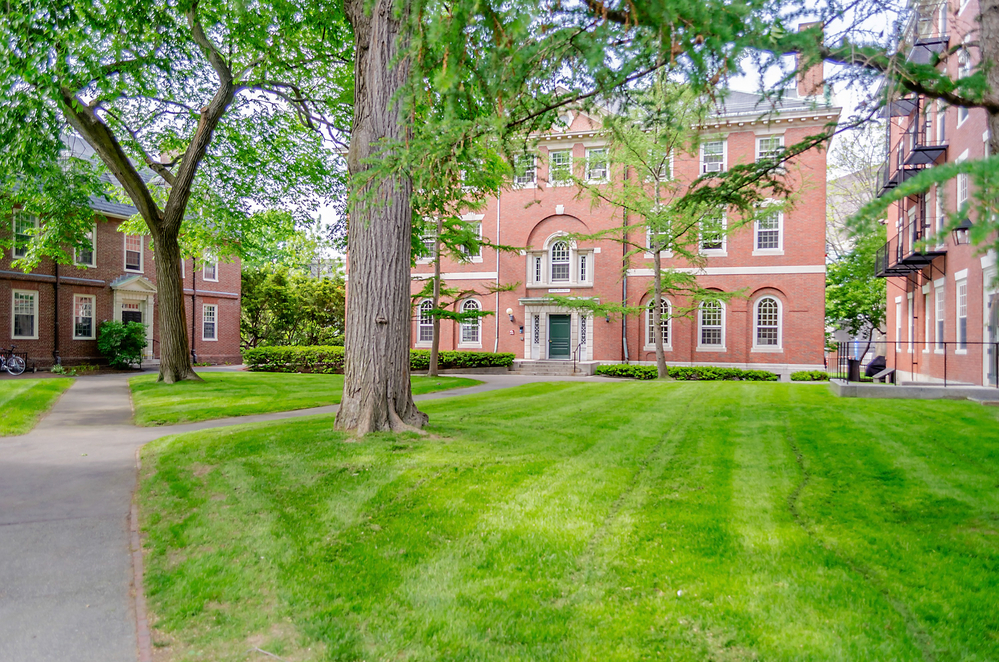 ---
Planning a trip to Boston or the U.S.A?
Boston has so much on offer for tourists, it's just a charming American city to enjoy everything from sports to food and so much more. And if you're doing a big trip to the U.S and visiting a number of States, don't miss Massachusetts in general.
I have a ton of U.S.A content on my blog to help you with your U.S travel planning. City guides, music festivals, Airbnb lists, and personal blogs on the many cities I've been lucky enough to visit – they're all there! These U.S travel blogs shouldn't be missed….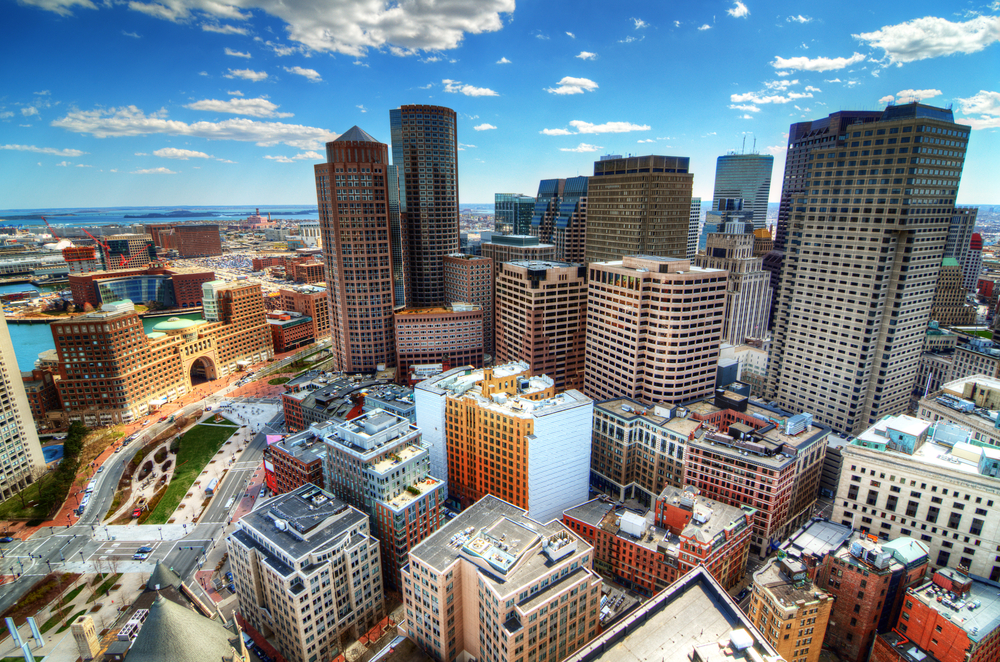 ---
Final thoughts on Airbnbs in Boston
Boston is a fun, friendly and eternally fascinating city, and a trip here is always well spent. Be sure to ditch the diet when you visit Boston – there's just too much clam chowder, lobster rolls and Boston cream pie to indulge in and enjoy. Whether you're into food, sport, sightseeing, history, drinking and partying or learning – Boston is the place to enjoy it all. Have an amazing visit to Boston!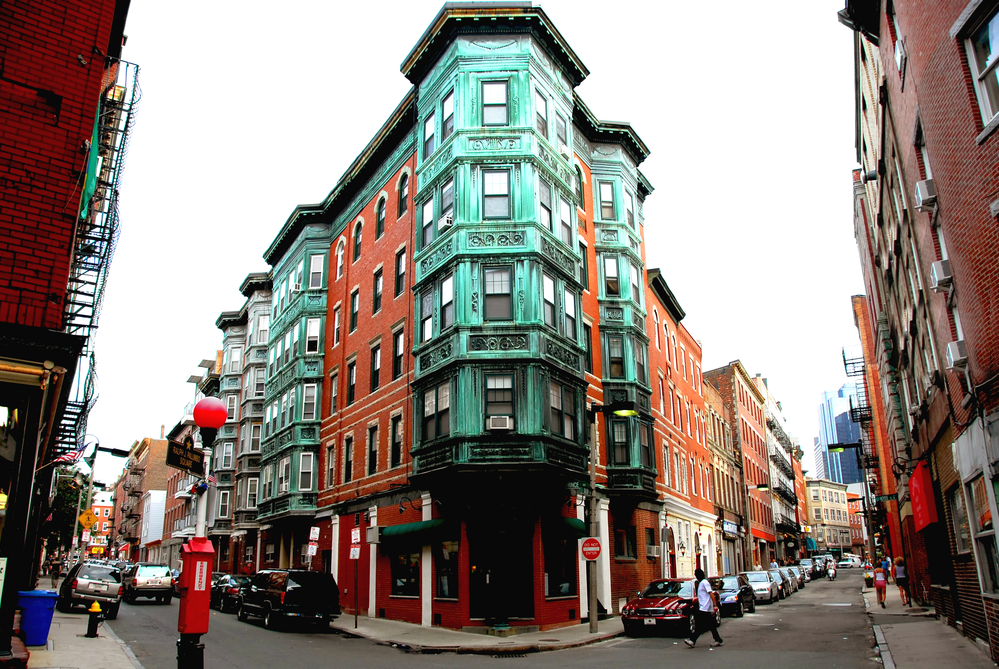 ---
THANKS FOR READING ABOUT THE BEST BOSTON AIRBNBS!
SHARE THIS LIST OF AIRBNBS IN BOSTON WITH YOUR TRAVEL CREW!!
https://www.jonesaroundtheworld.com/wp-content/uploads/2020/02/Best-Airbnbs-In-Boston.jpg
669
999
Guest Contributor
https://www.jonesaroundtheworld.com/wp-content/uploads/2017/03/logotry-1-1-300x106.png
Guest Contributor
2020-11-21 21:36:15
2021-04-26 19:49:50
The 13 Coolest & Best Airbnbs in Boston for a Wicked Awesome Trip