Looking for some awesome beach quotes for that next Instagram post? Well, you've come to the right place, because I've compiled the ultimate list of unique and fun beach quotes, captions, sayings, and phrases that are guaranteed to evoke emotion!
Sometimes a great quote can speak the words we just can't find. The beach casts a spell over everyone who sets foot on it. Sun, sea and sand are a powerful cure-all for so many of life's obstacles!
My list of the best 77 beach quotes, lyrics and movie lines that sum up just why the sea is so important to all of us. If you're looking for the best of beach fun quotes and sayings, here they are. I hope you're close to the coast, because you'll want to make your way to the ocean ASAP.
---
The Best Short Beach Quotes
1) "The sea, once it casts its spell, holds one in its net of wonder forever." – Jacques Cousteau
2) "The ocean stirs the heart, inspires the imagination and brings eternal joy to the soul." – Robert Wyland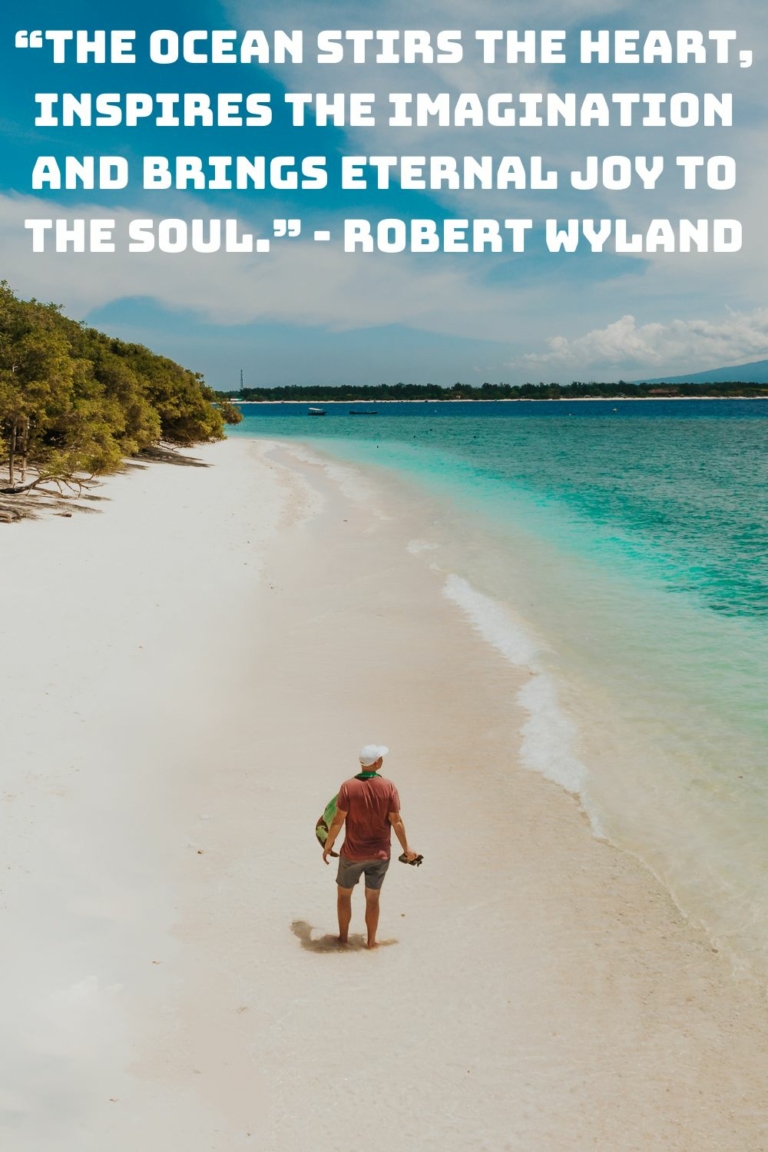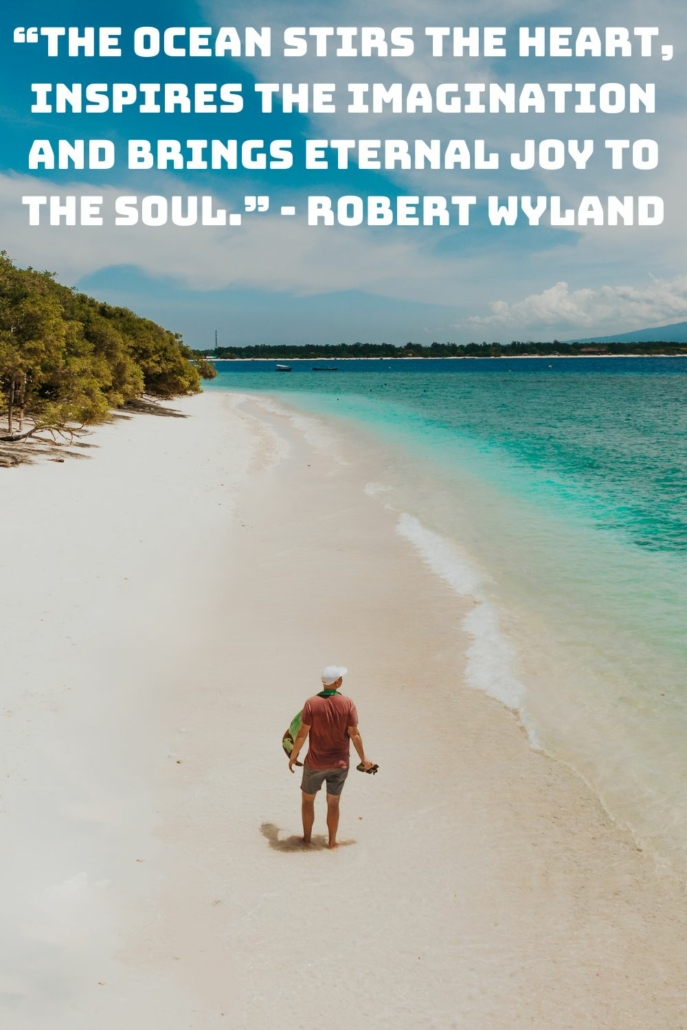 3) "I love the beach. I love the sea. All my life I live within – in front of the sea." – Rafael Nadal
4) "If there's a heaven for me, I'm sure it has a beach attached to it." – Jimmy Buffett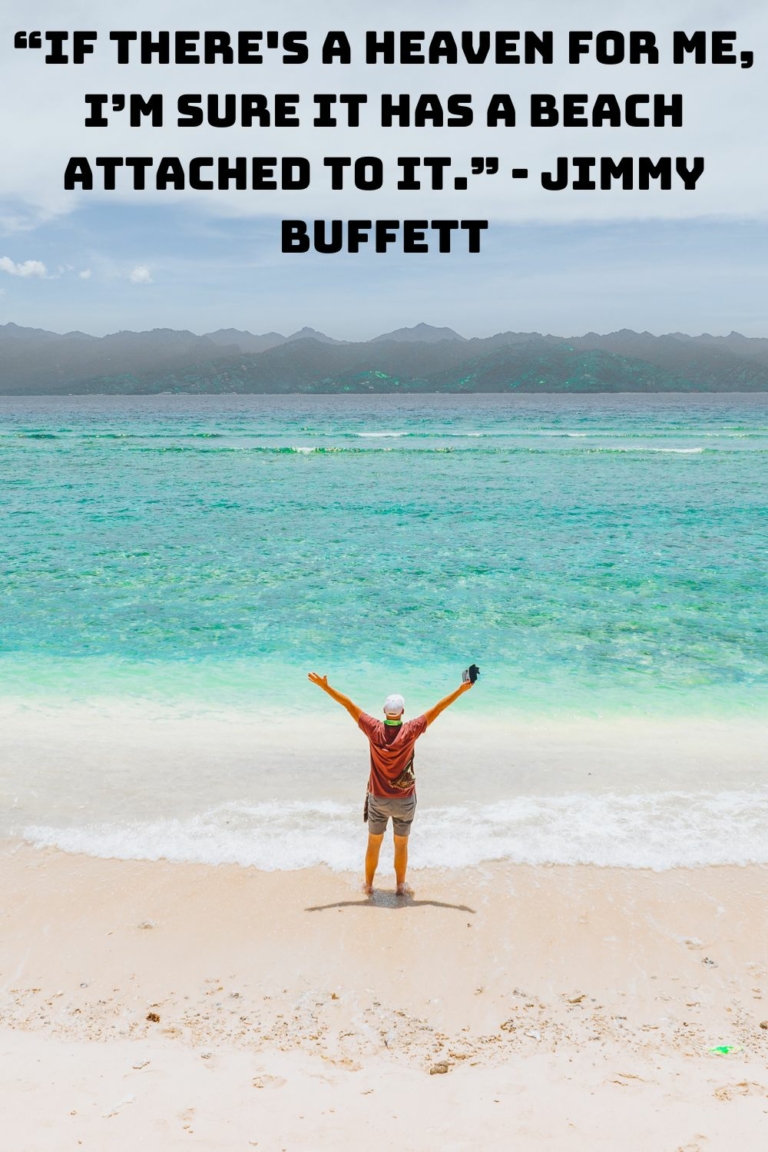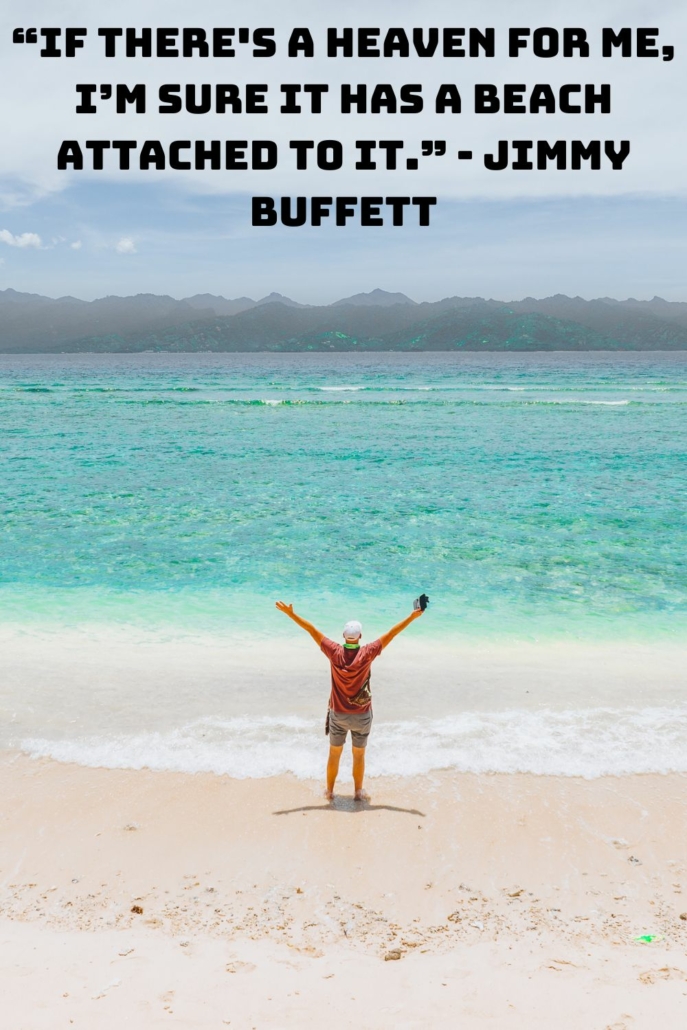 5) "Summer means happy times and good sunshine. It means going to the beach." – Brian Wilson
6) "Time wasted at the beach is time well spent." – Unknown
7) "Sky above, sand below, peace within." – Unknown
And don't forget a cocktail in hand…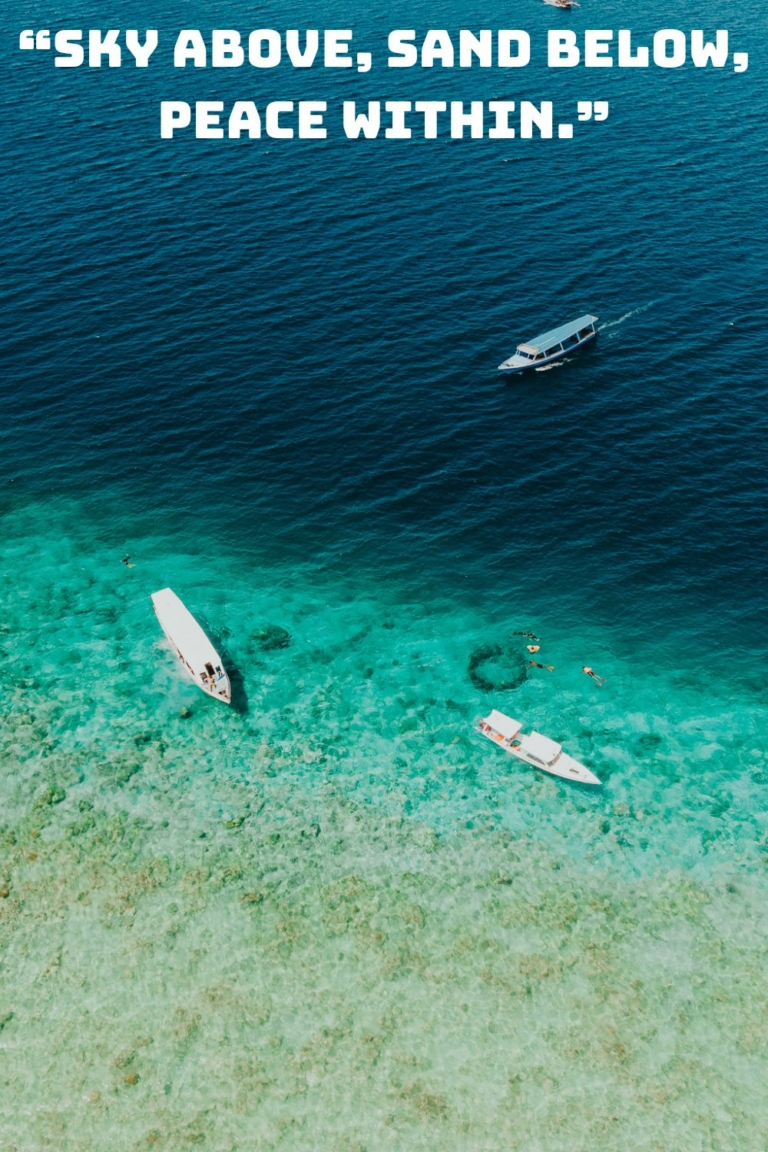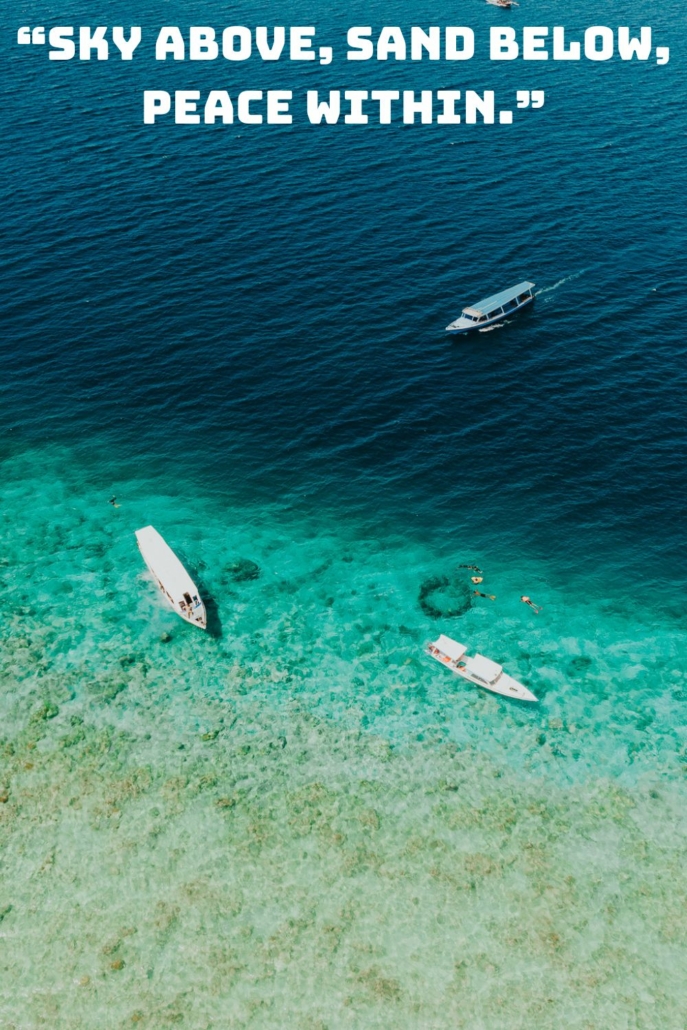 8) "An ocean breeze puts a mind at ease." – Unknown
9) "All you need is a good dose of vitamin sea." – Unknown
10) "May you always have a shell in your pocket and sand in your shoes." – Unknown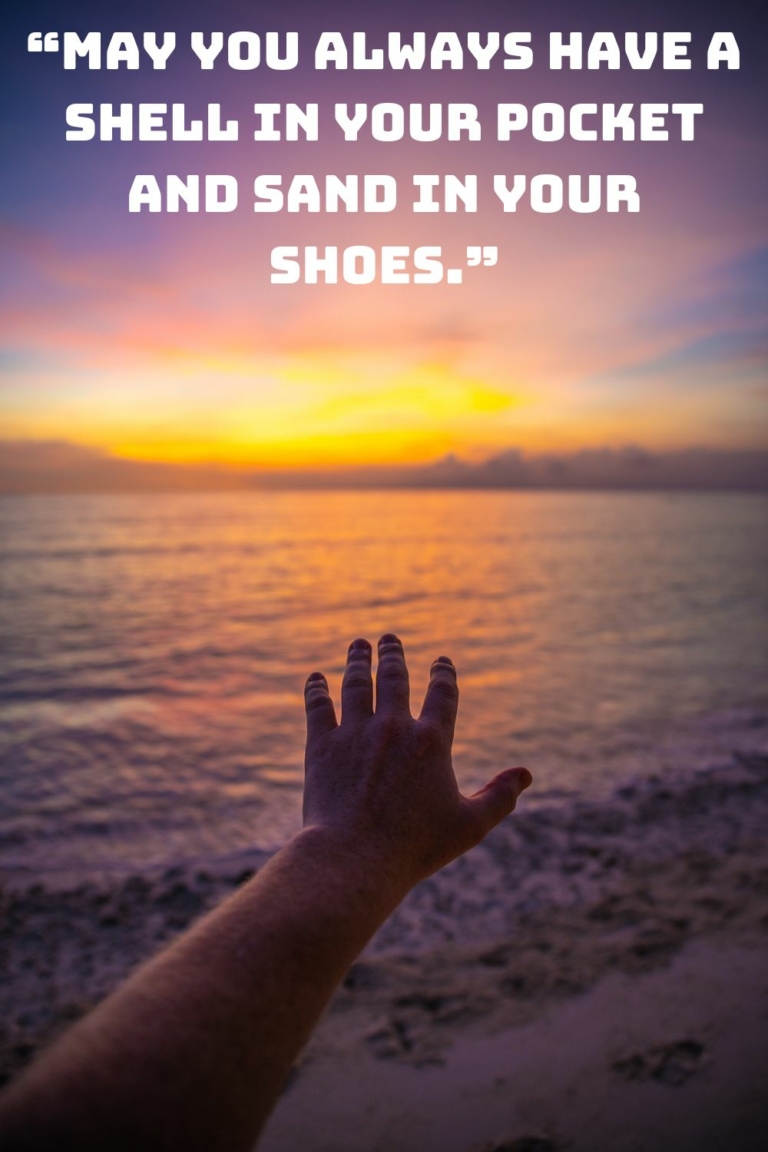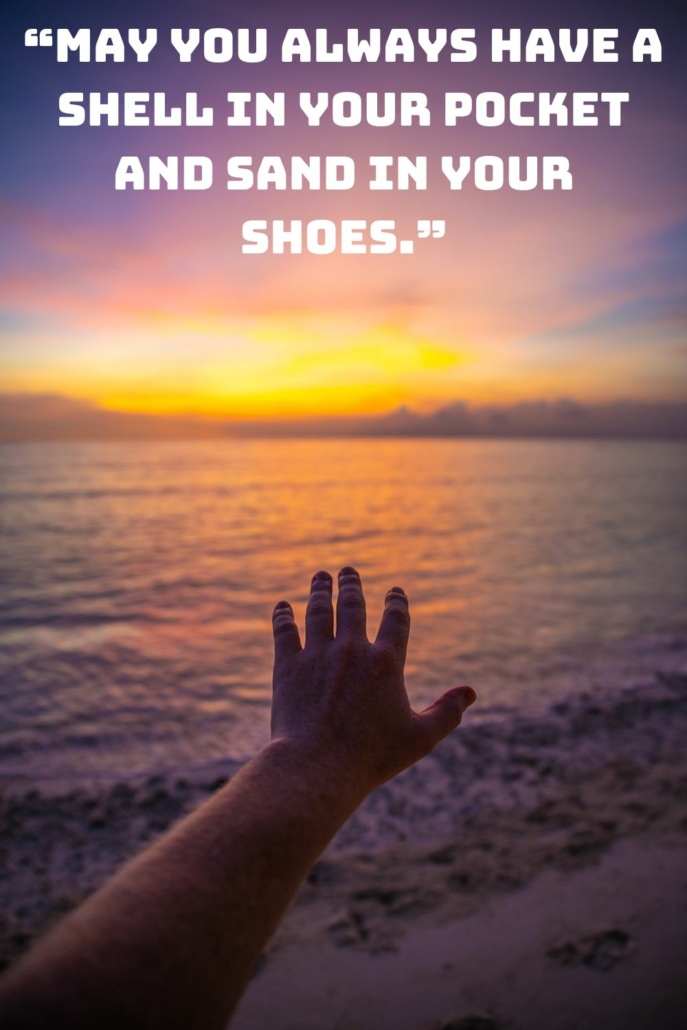 ---
The Best Funny Beach Quotes
These punny and funny quotes about the beach are giggle-worthy snapshots into why we all love being by the sea.
11) "Advice from the Ocean: Be shore of yourself. Come out of your shell. Take time to coast. Avoid pier pressure. Sea life's beauty. Don't get so tide down on work that you miss out on life's beautiful waves." – Unknown
I'll add, insult anyone who says any different!
12) "The beach is a great place to relieve the soul-crushing stress you build up in the traffic going to the beach." – Unknown
13) "How to have a beach body: 1. Have a body 2. Go to the beach." – Unknown
14) "The beach is cheaper than therapy." – Unknown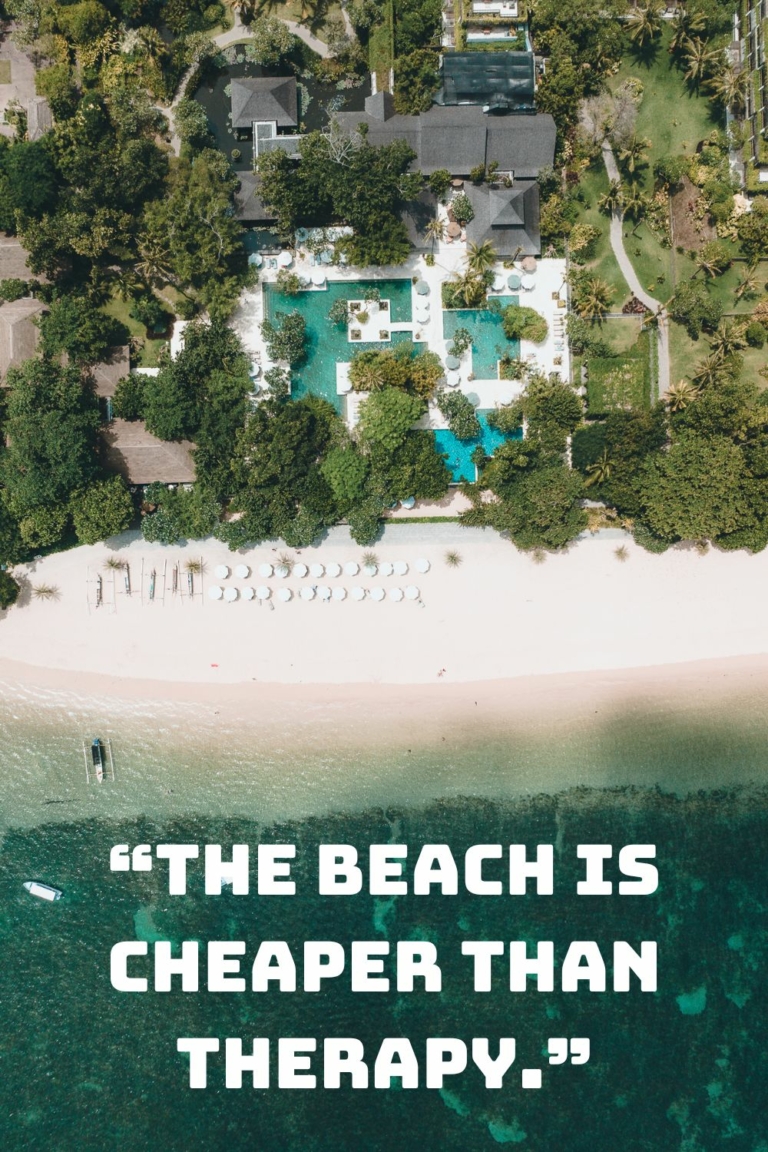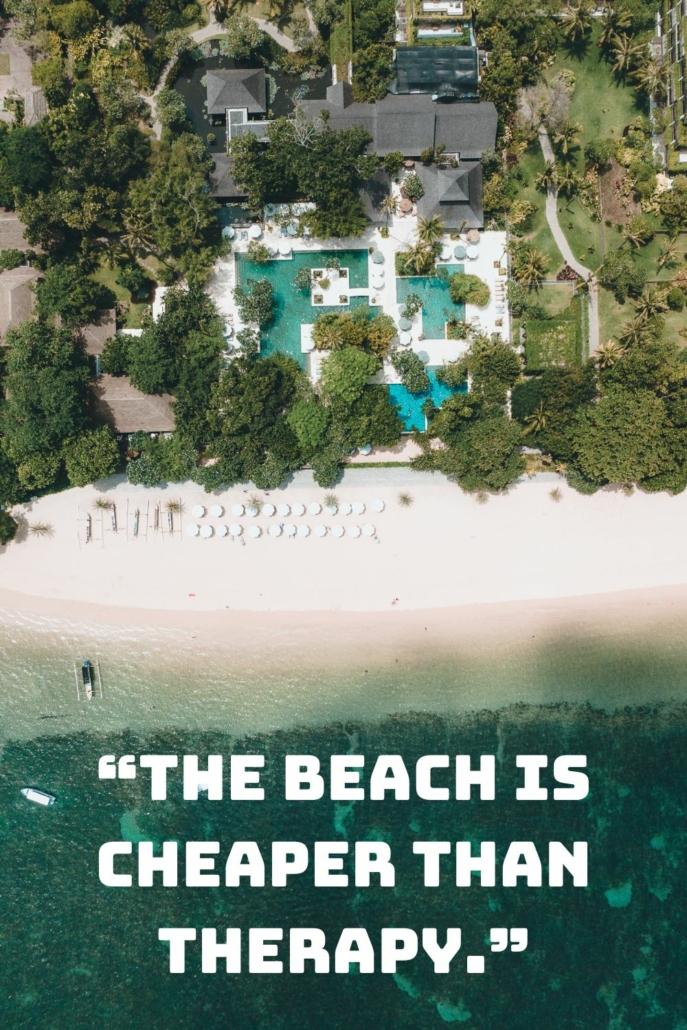 15) "If you need me, call me on my shell." – Unknown
You used to call me on my shell phone… you used to, you used to…
16) "Please excuse my resting beach face." – Unknown
17) "No one likes a shady beach." – Unknown
18) "That little sun of a beach." – Unknown
19) "Love the beach. Can I be any more Pacific?" – Unknown
20) "You either love the beach, or you're wrong" – Unknown
---
The Best Inspirational Beach Quotes
21) "Why do we love the sea? It is because it has some potent power to make us think things we like to think." – Robert Henri
What do you think about when you're wandering along the beach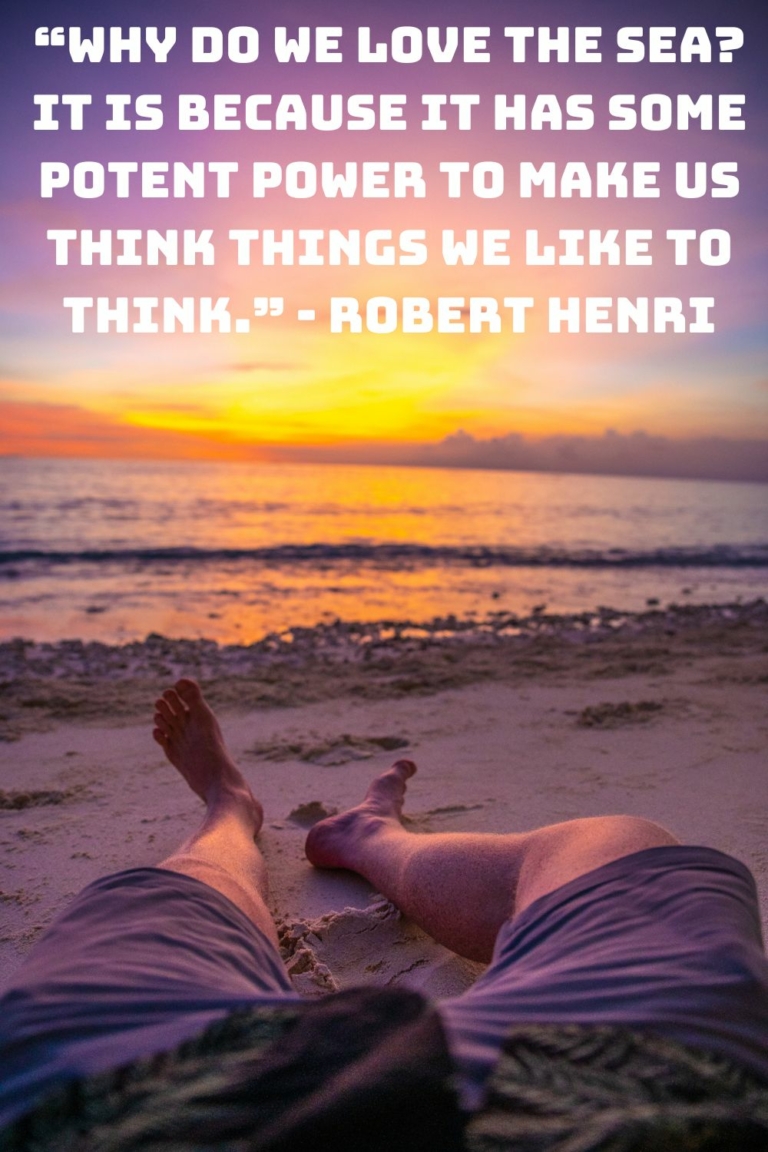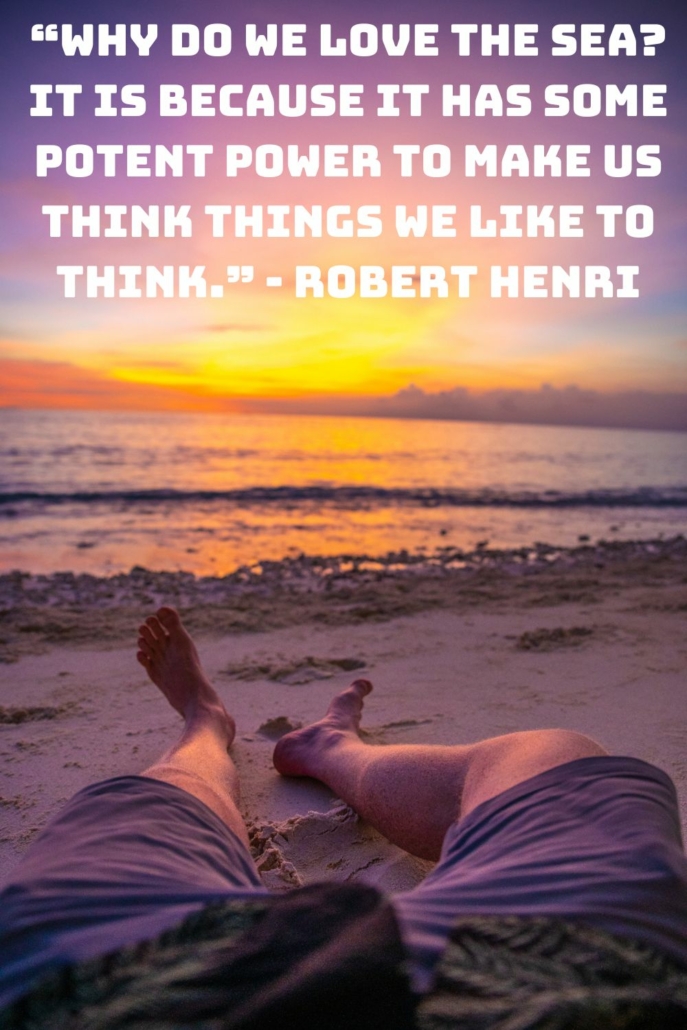 22) "When anxious, uneasy and bad thoughts come, I go to the sea, and the sea drowns them out with its great wide sounds, cleanses me with its noise, and imposes a rhythm upon everything in me that is bewildered and confused." – Rainer Maria Rilke
23) "Because there's nothing more beautiful than the way the ocean refuses to stop kissing the shoreline, no matter how many times it's sent away." – Sarah Kay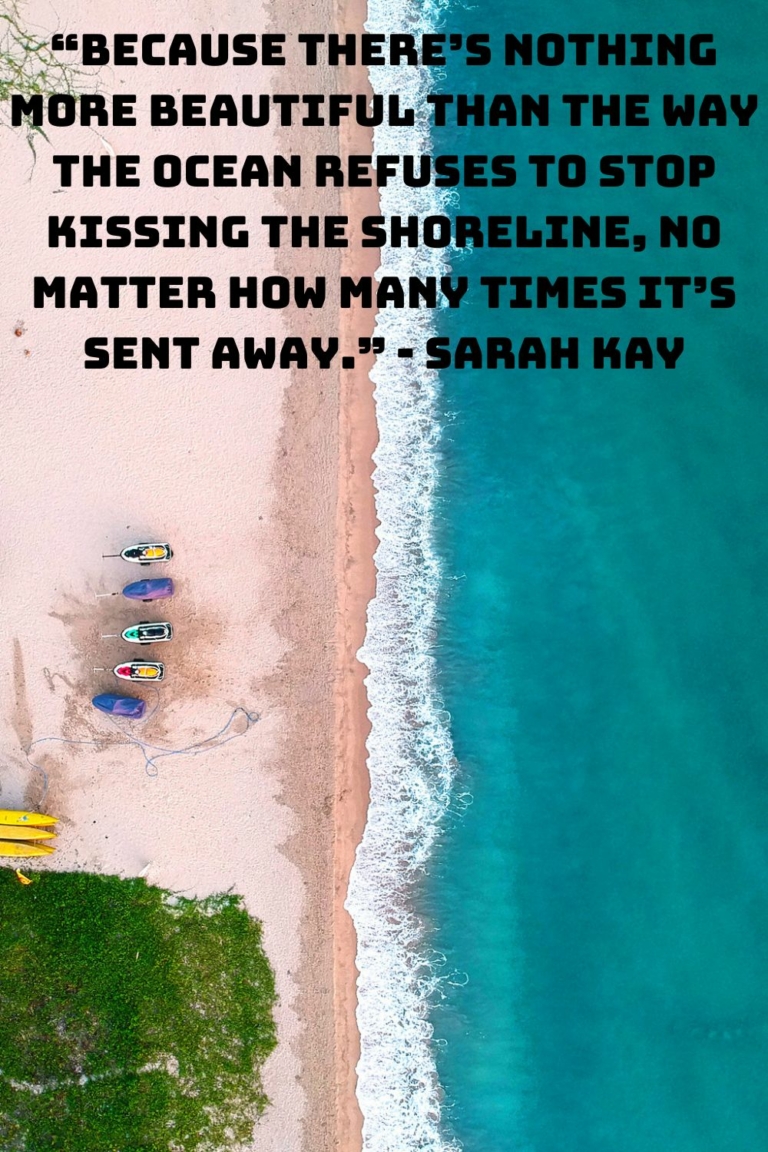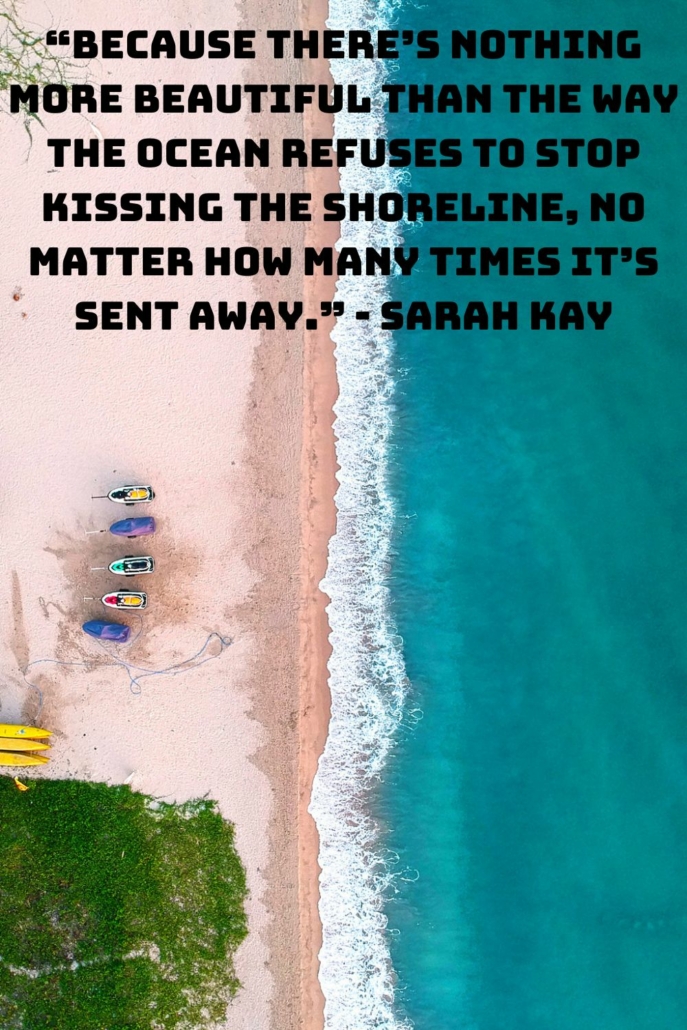 24) "At the beach, life is different. Time doesn't move hour to hour but mood to moment. We live by the currents, plan by the tides and follow the sun." – Sandy Gingras
25) "There was a magic about the sea. People were drawn to it. People wanted to love by it, swim in it, play in it, look at it. It was a living thing that was as unpredictable as a great stage actor: it could be calm and welcoming, opening its arms to embrace its audience one moment, but then could explode with its stormy tempers, flinging people around, wanting them out, attacking coastlines, breaking down islands." – Cecelia Ahern
What beach does this quote describe for you? A Thai island paradise? A Hawaiian surging hotspot? An African escape?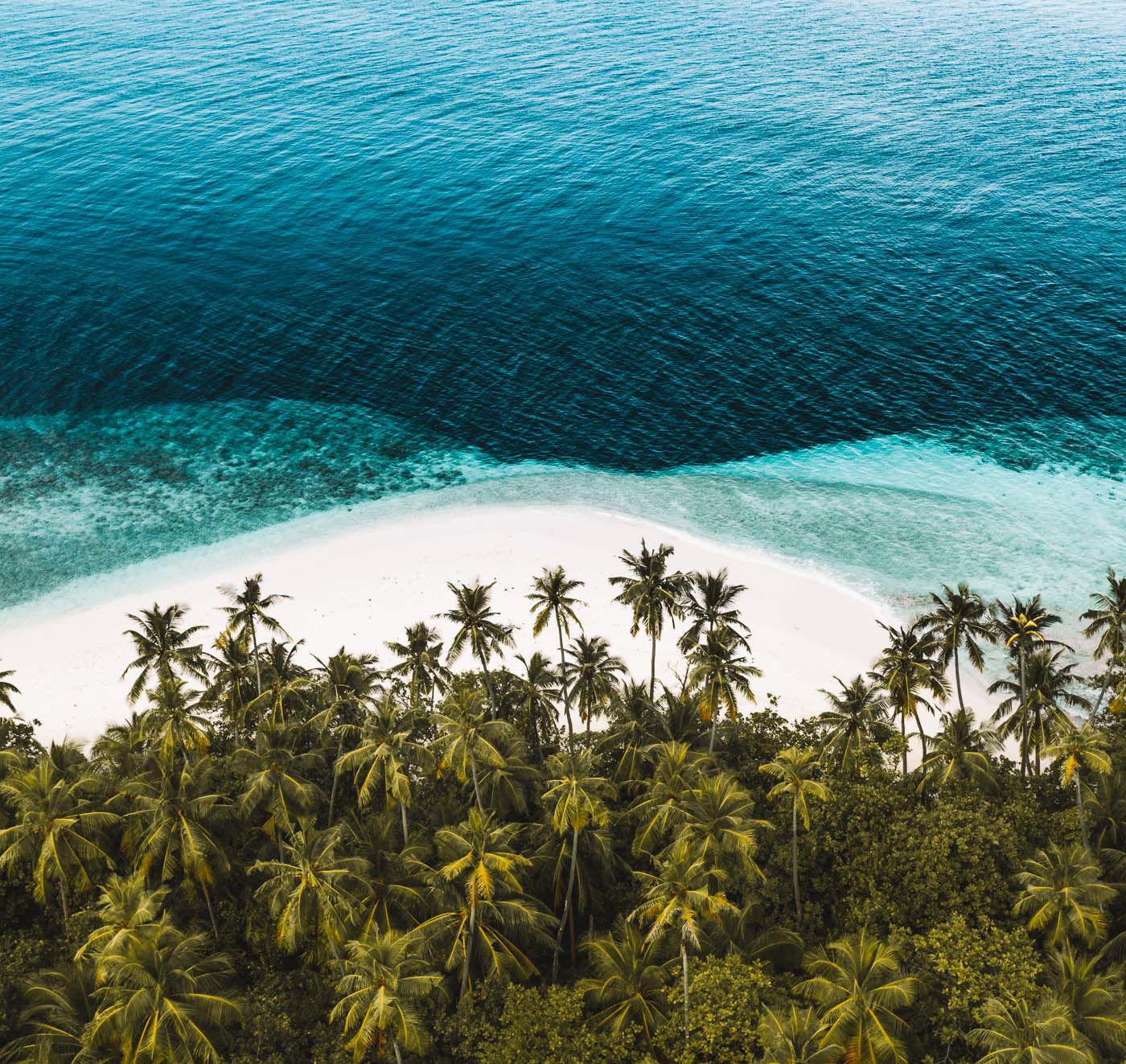 26) "Beaches are territories of dreams. They are our favorite refuges; they are a protectorate for the soul during spring, summer, autumn, and winter. They shed our tears, and they hear our pain." – Unknown
27) "In every outthrust headland, in every curving beach, in every grain of sand there is the story of the earth." – Rachel Carson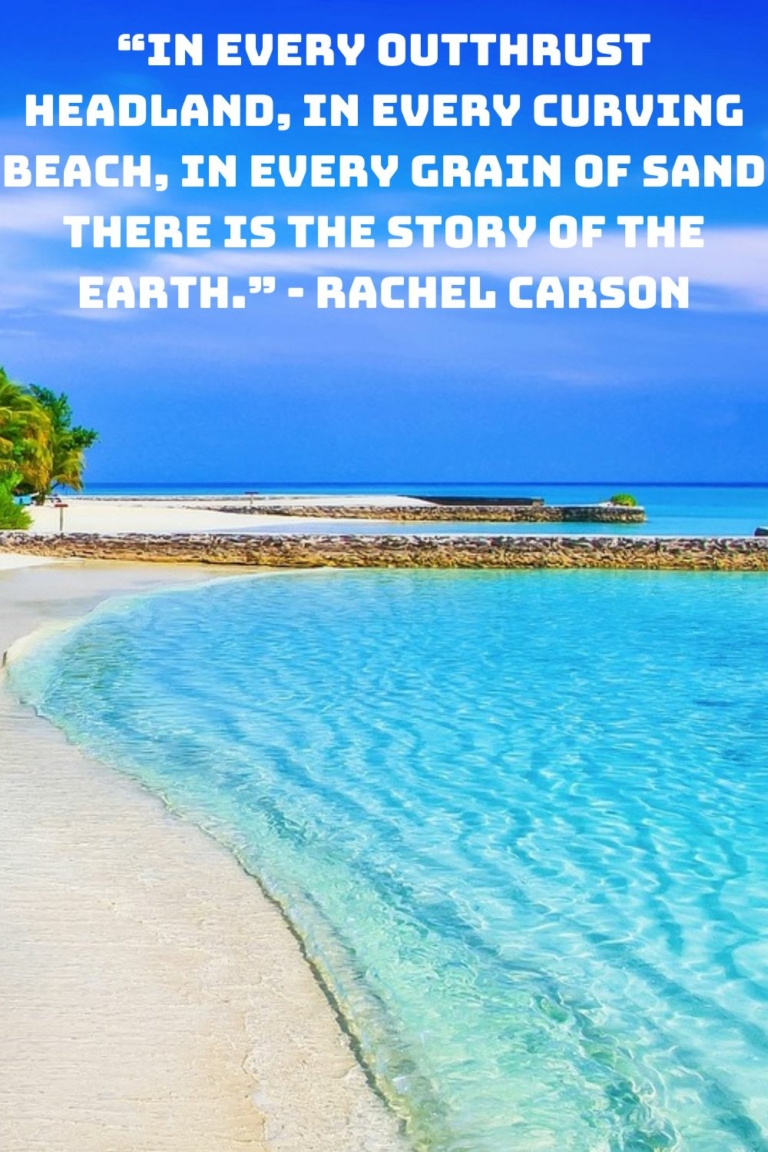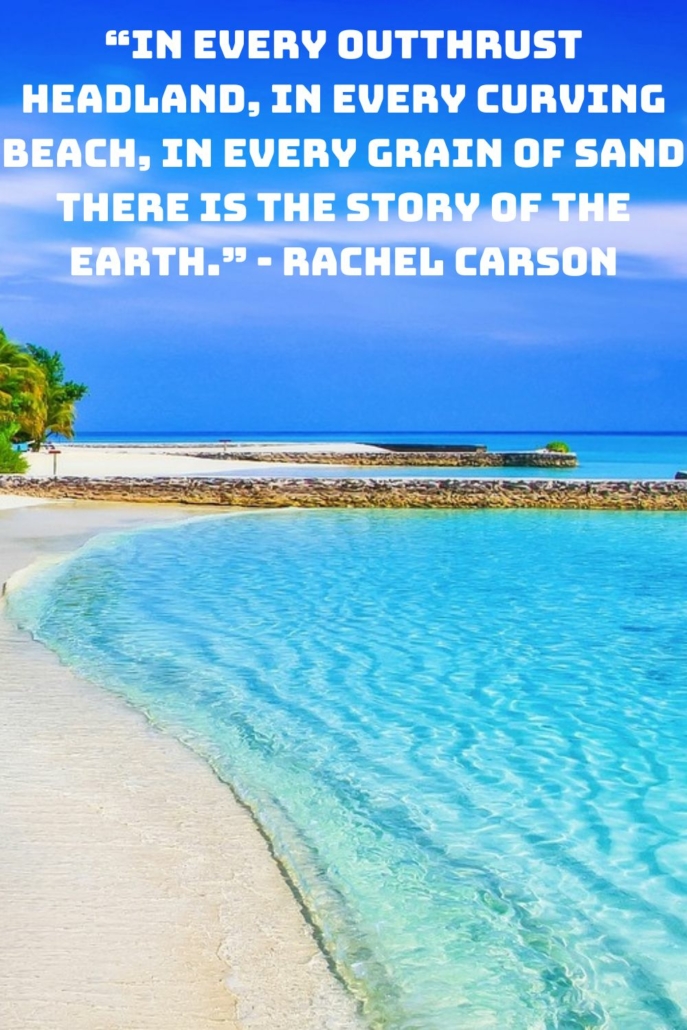 28) "The ocean makes me feel really small and it makes me put my whole life into perspective." – Beyoncé
I can only assume Beyoncé owns a few private beaches of her own…
29) "We are tied to the ocean. And when we go back to the sea, whether it be to sail or to watch – we are going back to whence we came." – John F. Kennedy
30) "One day, all your worries will set like the sun does and deserved happiness will come gushing like waves at the beach. All you need to make sure is that your trips to the beach never end." – Jasleen Kaur Gumber
I guarantee my trips to the beach will never end – I just need a suitcase of SPF and I'm there. #gingerproblems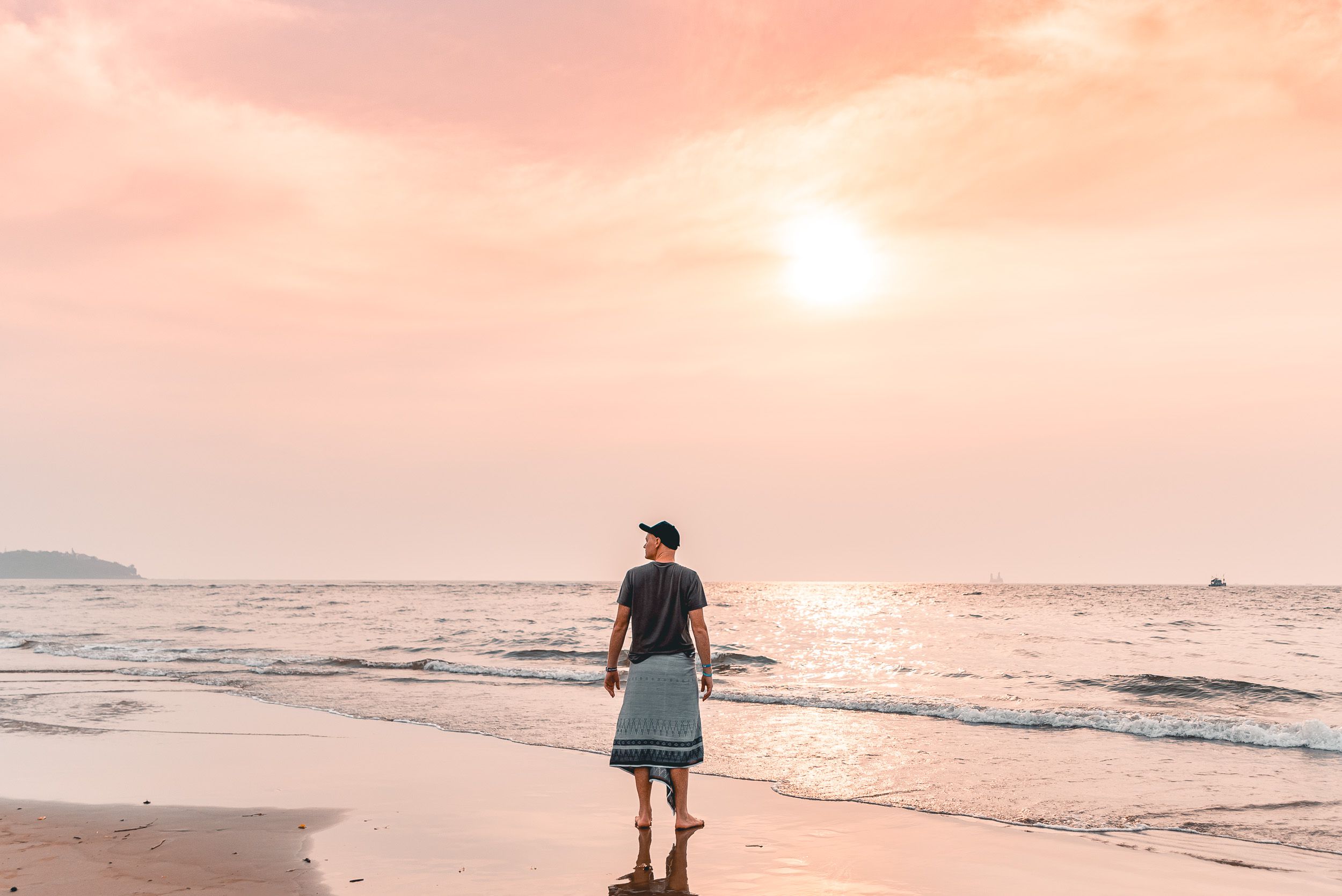 ---
Beach Quotes for Instagram Captions
31) "I followed my heart, and it led me to the beach." – Unknown
32) "An ocean breeze puts a mind at ease." – Unknown
And a crate of beach beer makes it all crystal clear?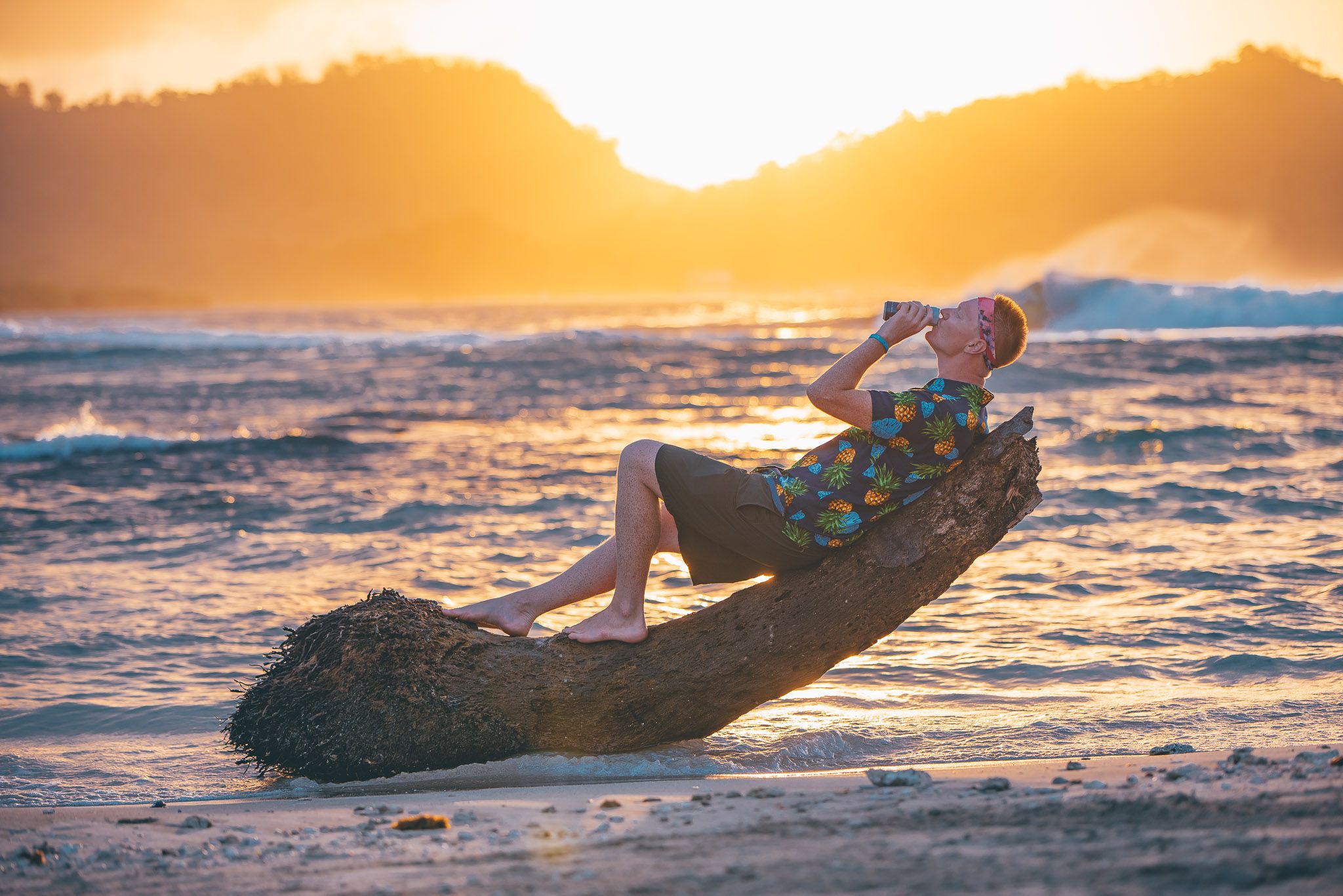 33) "Every day should be a beach day." – Unknown
34) "Time wasted at the beach is time well spent." – Unknown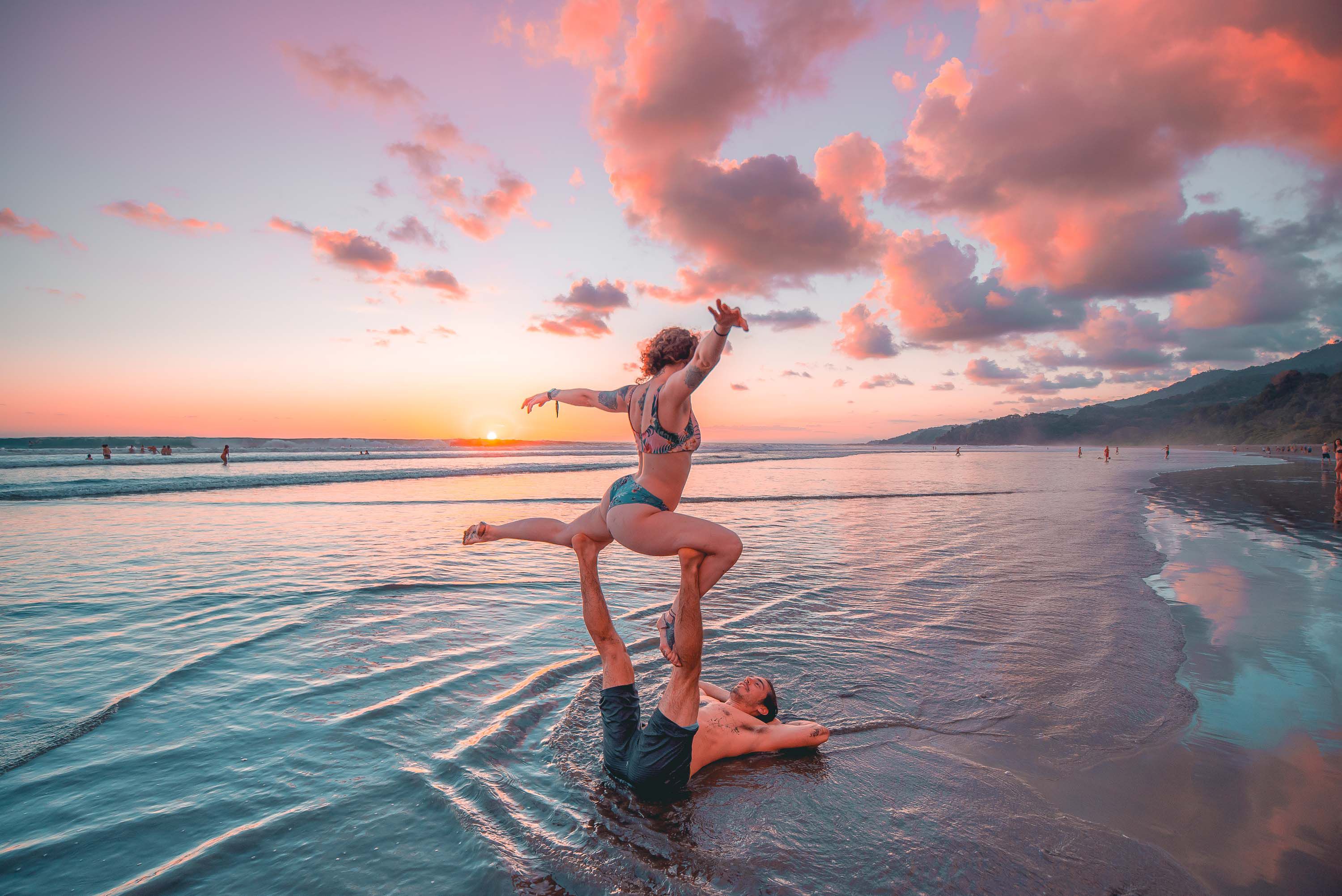 35) "We dream in colors borrowed from the sea." – Unknown
36) "Don't grow up too quickly, lest you forget how much you love the beach." – Michelle Held
37) "The cure for anything is salt water – sweat, tears, or the sea." – Isak Dinesen
… and a salted Margarita glass at the ready, of course.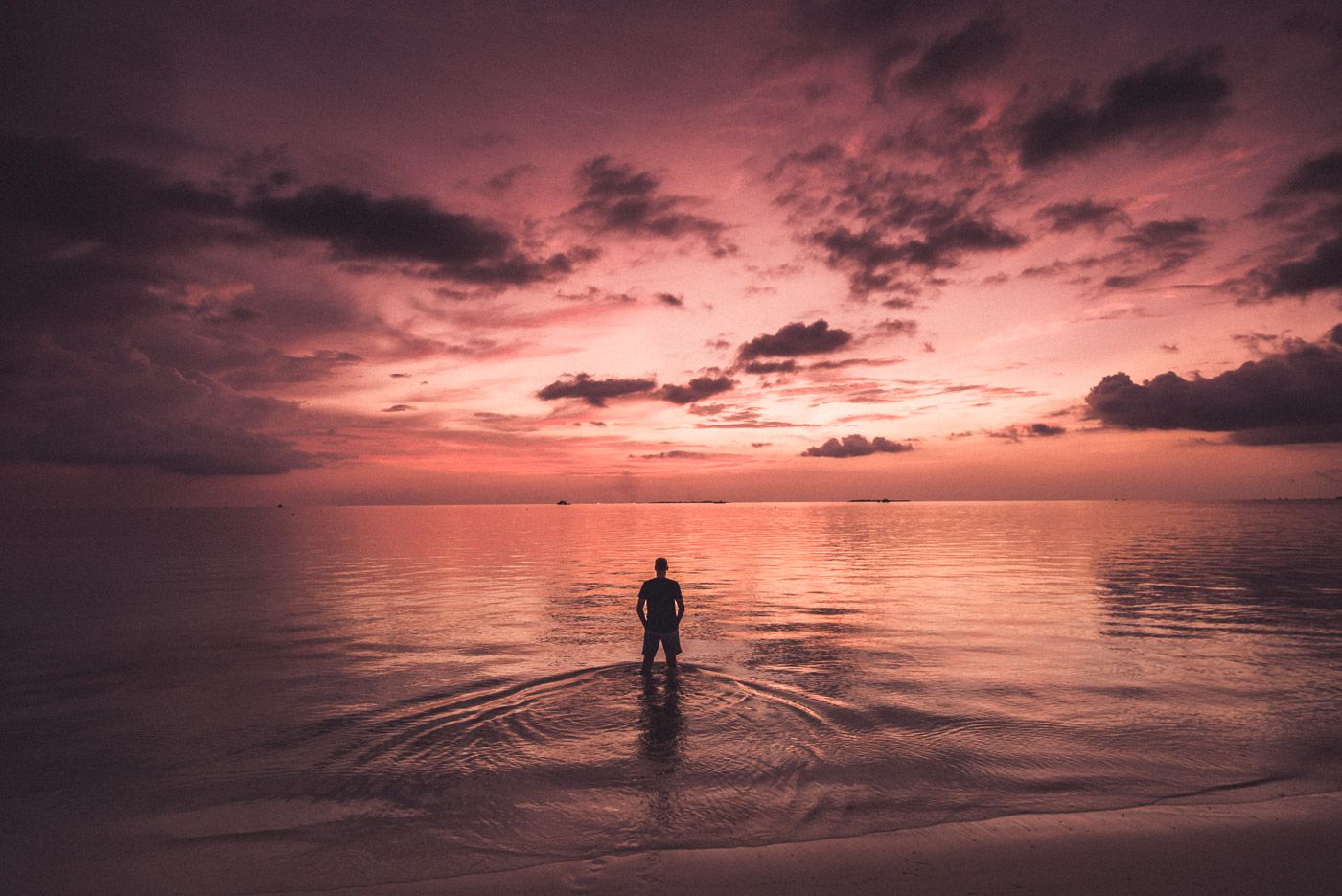 38) "Eternity begins and ends with the ocean's tides." – Unknown
39) "Get outside. Watch the sunrise. Watch the sunset. How does that make you feel? Does it make you feel big or tiny? Because there's something good about feeling both." – Amy Grant
40) "The tans will fade but memories will last forever." – Unknown
Which beach have your fondest memories been made at?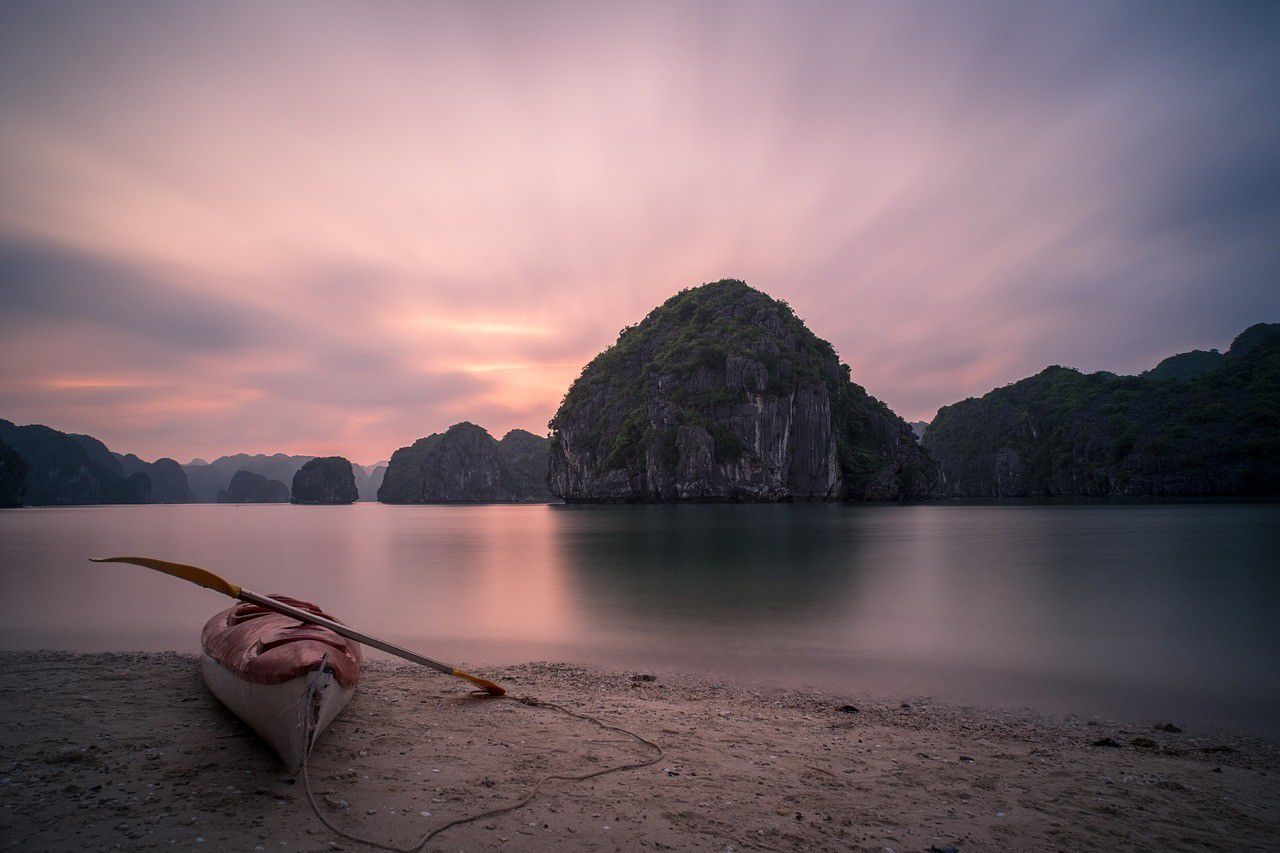 ---
Sunset Beach Quotes
There's nothing like a beach sunset to inspire and enchant. These beach sunset quotes summarise perfectly why watching the sun disappear over the horizon is so special.
41) "Every sunset brings the promise of a new dawn." – Ralph Waldo Emerson
42) "The sky takes on shades of orange during sunrise and sunset, the color that gives you hope that the sun will set only to rise again." – Ram Charan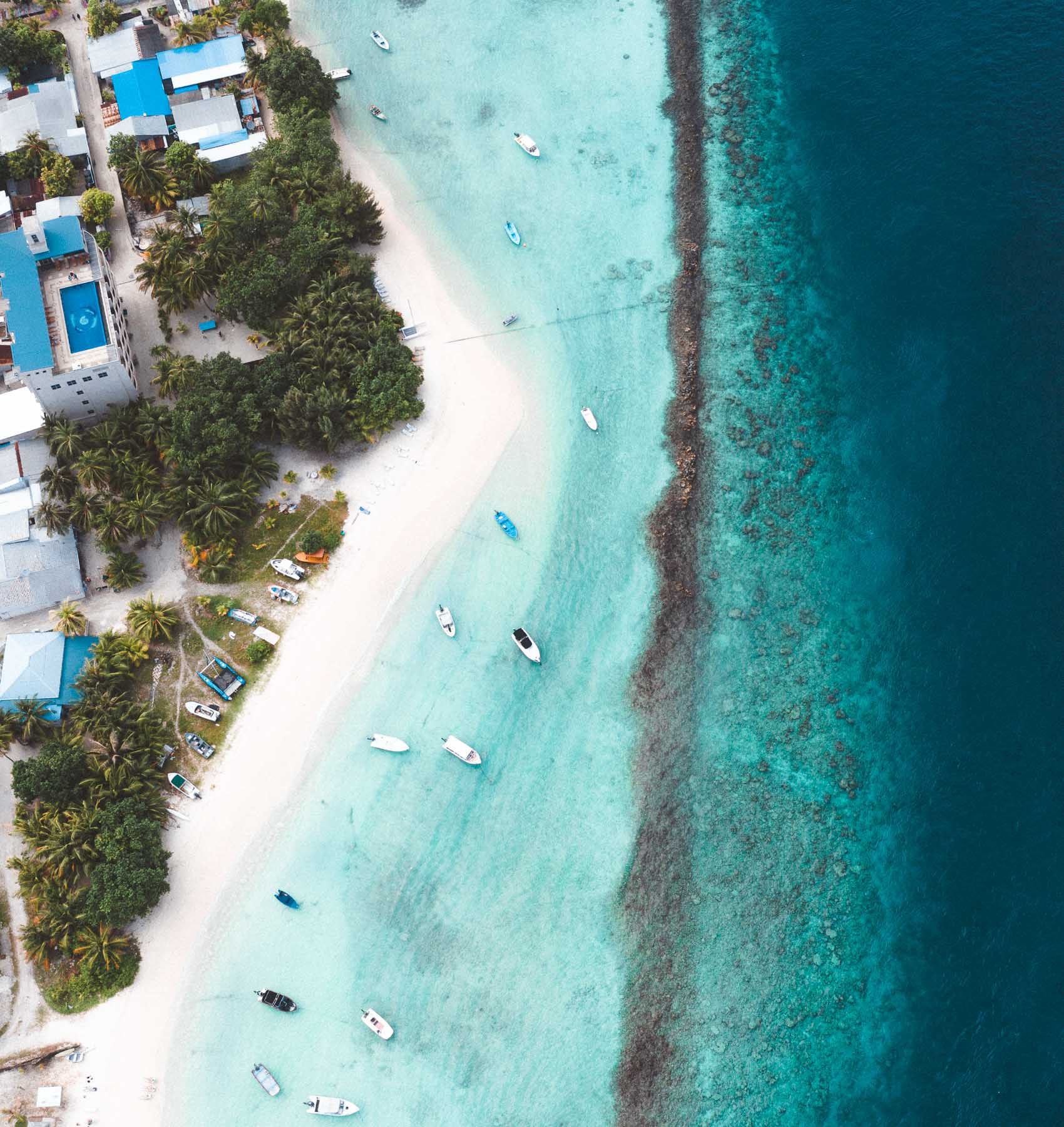 43) "When I admire the wonders of a sunset or the beauty of the moon, my soul expands in the worship of the creator." – Mahatma Gandhi
44) "If you are in a beautiful place where you can enjoy the sunrise and sunset, then you are living like a lord." – Natan Phillips
45) "I'm always up for a riot, but now and again, you've gotta put your feet up and enjoy the sunset." – Pete Doherty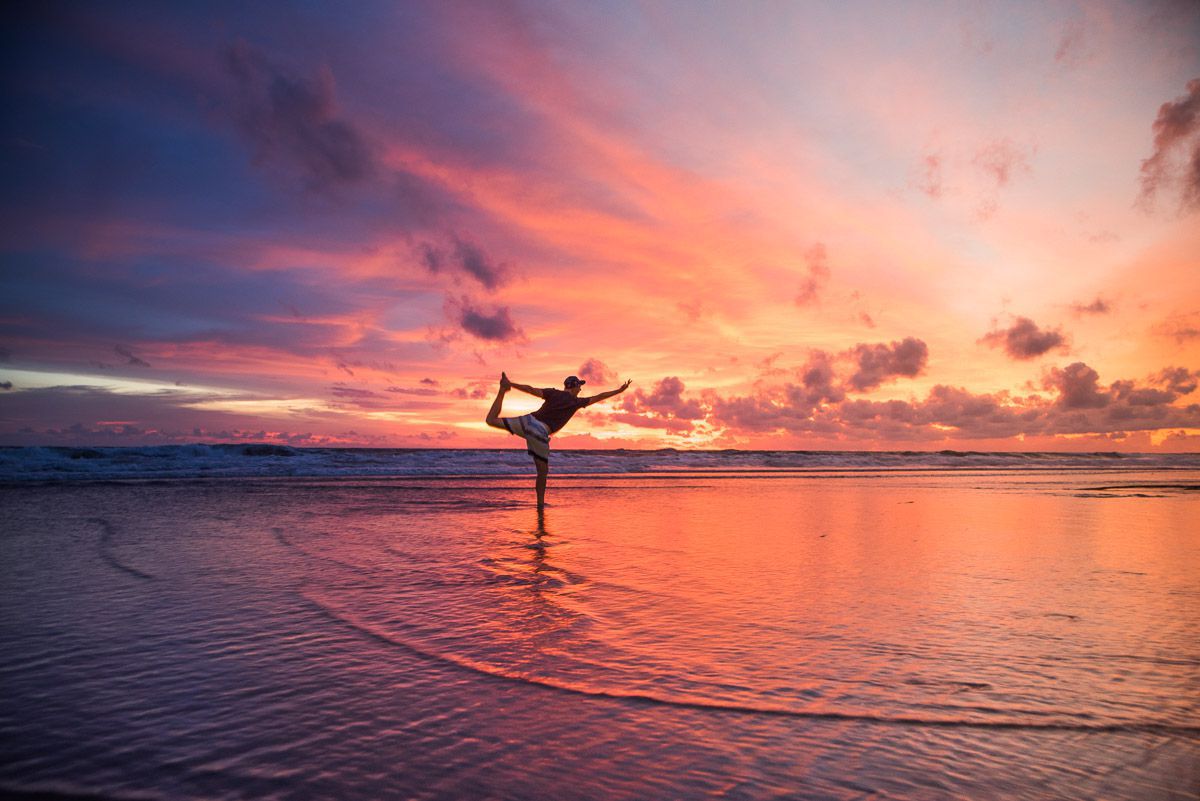 46) "To go out with the setting sun on an empty beach is to truly embrace your solitude." – Jeanne Moreau
Which beach would you happily spend solo time at?
47) "My favorite color is sunset." – Mattie Steepness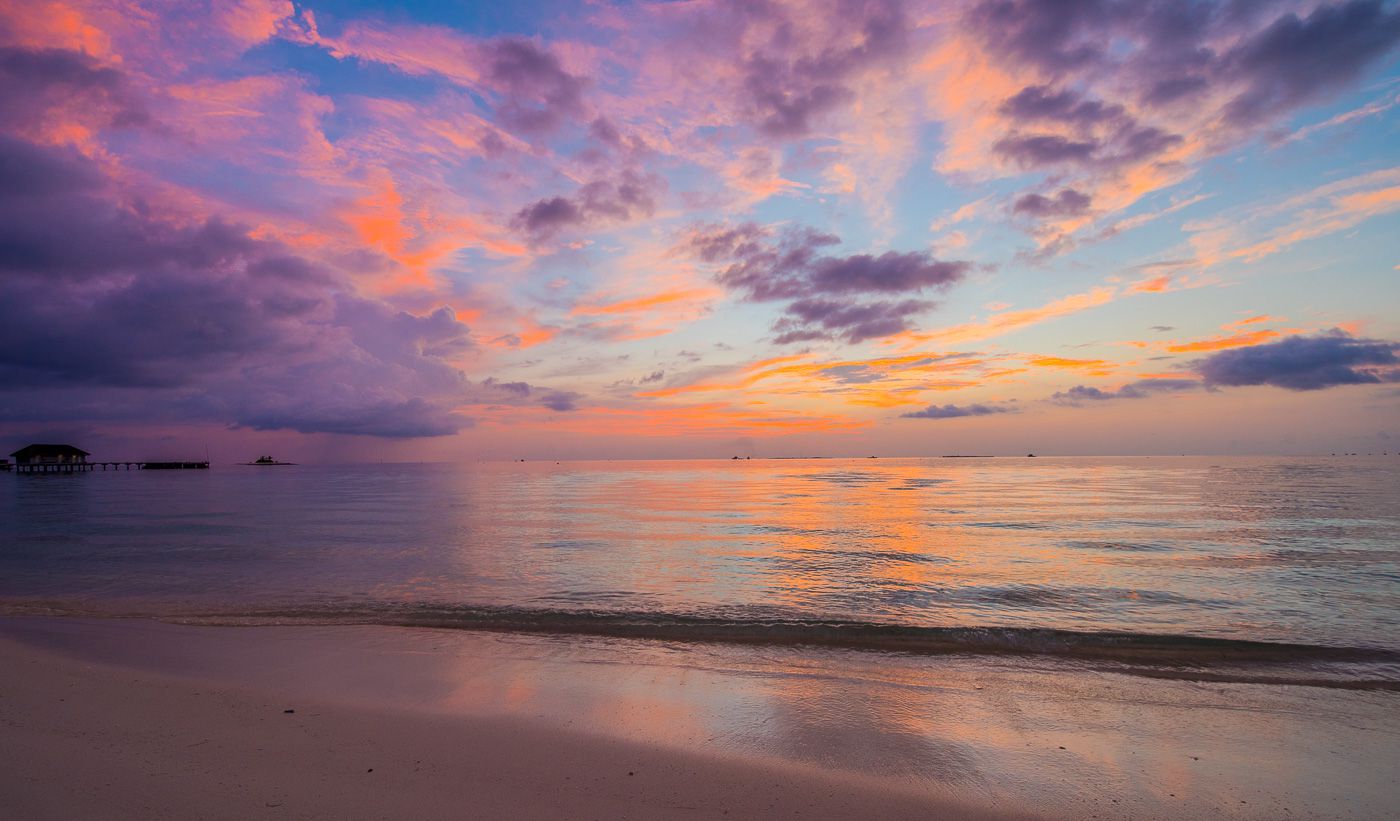 48) "Every sunset is an opportunity to reset." – Richie Norton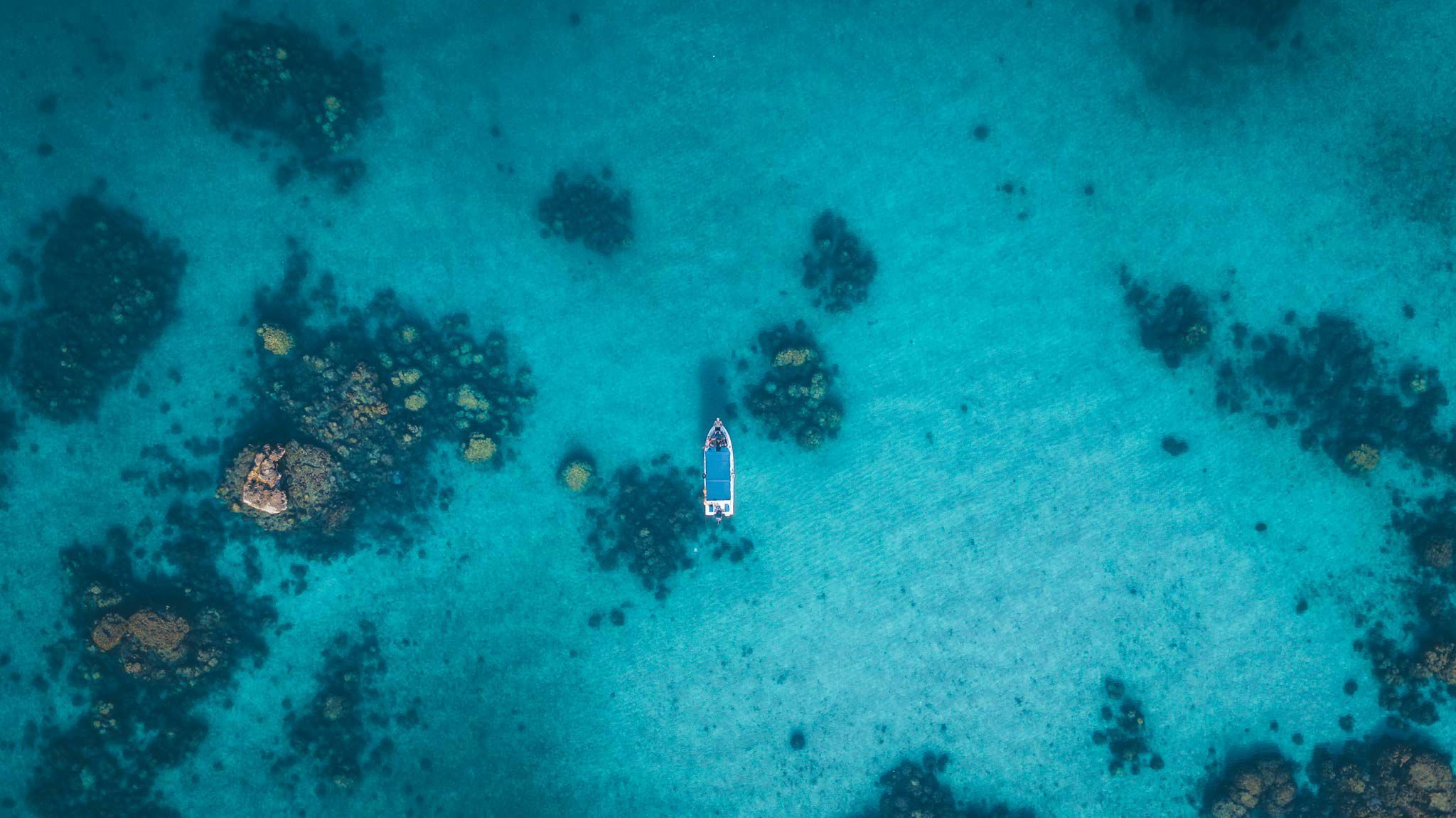 48) "Sunset is the opening music of the night." – Mehmet Murat Ildan
49) "Sunset is so marvelous that even the sun itself watches it every day in the reflections of the infinite oceans!" – Mehmet Murat Ildan
50) "One day, all your worries will set like the sun does and deserved happiness will come gushing like waves at the beach do. All you need to make sure is that your trips to beach never end." – Jasleen Kaur Gumber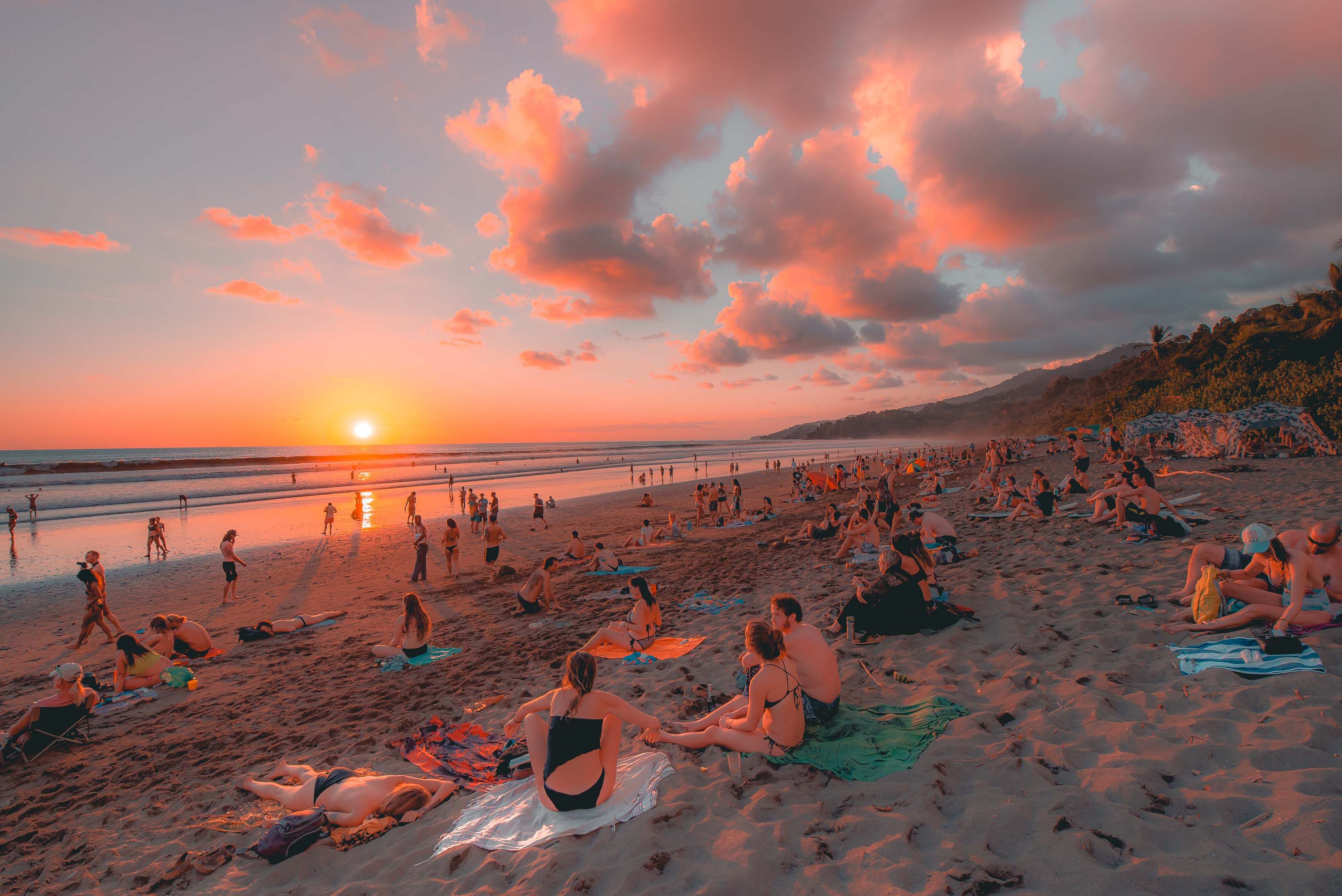 ---
Short Beach Captions For Instagram
51) Salty hair, ocean air
52) Sea you at the beach
53) Daily agenda: Sun and beach fun
54) Sunshine is the best medicine
55) Seas the day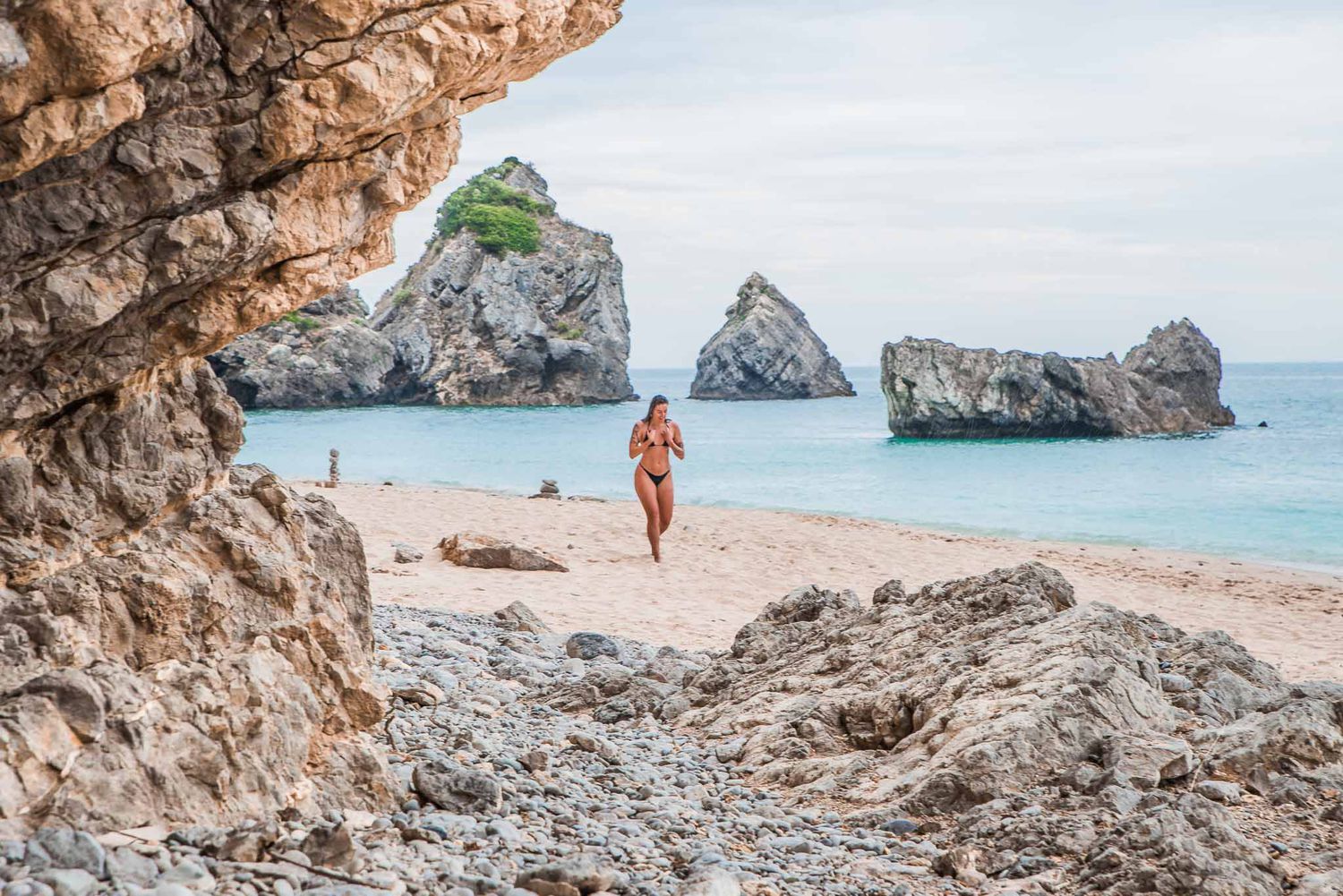 56) My dreams are made of sun and sand
57) The beach is my happy place
58) All I need is a good dose of vitamin sea

59) High tides and good vibes
60) You can find me where the sand meets the water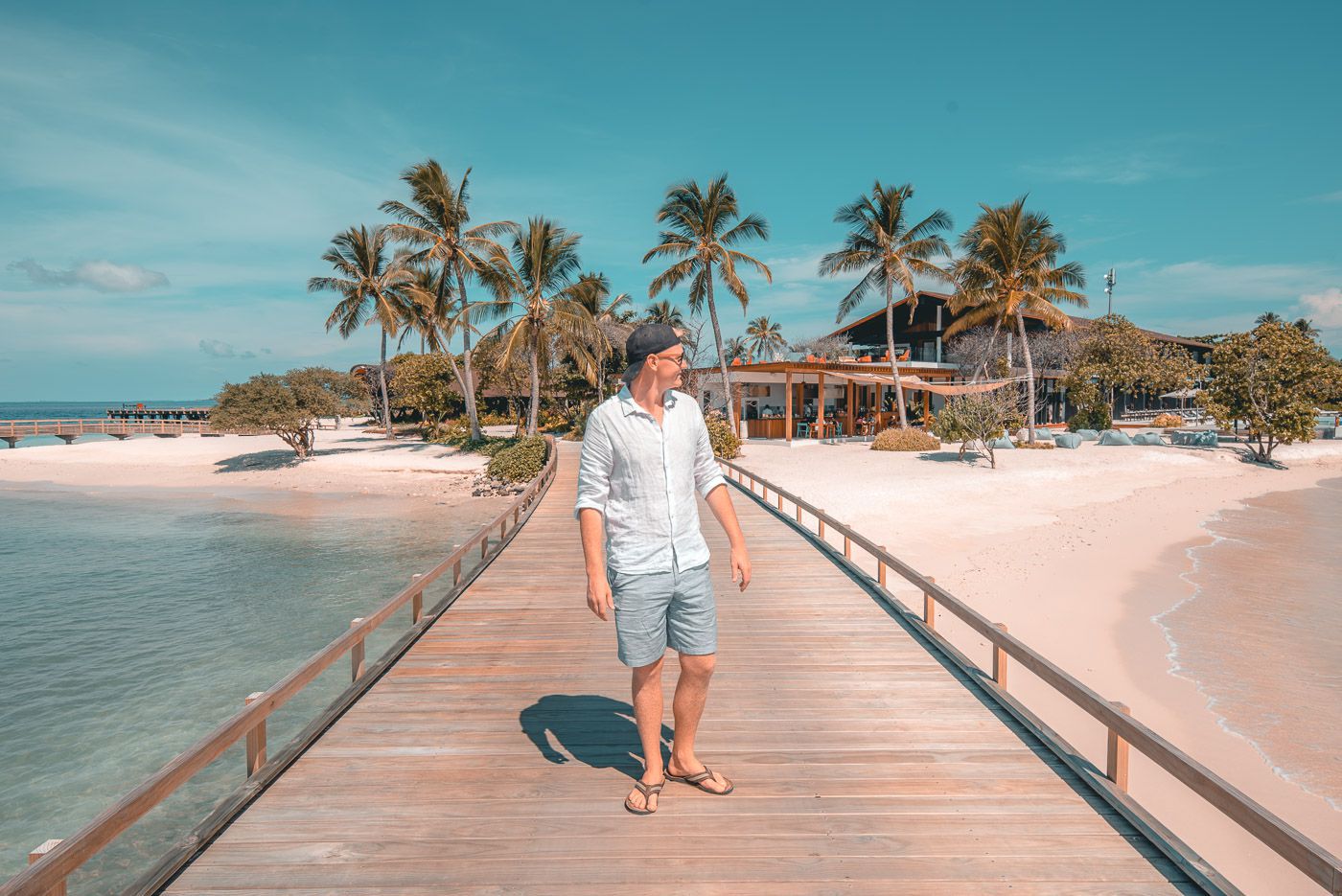 ---
Celebrity Quotes About The Beach
The stars love the beach just as much as us common folk. These interesting and funny sea quotes express how much being close to the ocean means to them.
61) "My dream is to have a house on the beach, even just a little shack somewhere so I can wake up, have coffee, look at dolphins, be quiet and breathe the air." – Christina Applegate
62) "The beach is definitely where I feel most at home. It's my oxygen. I forget how much I need it sometimes when I'm away working." – Behati Prinsloo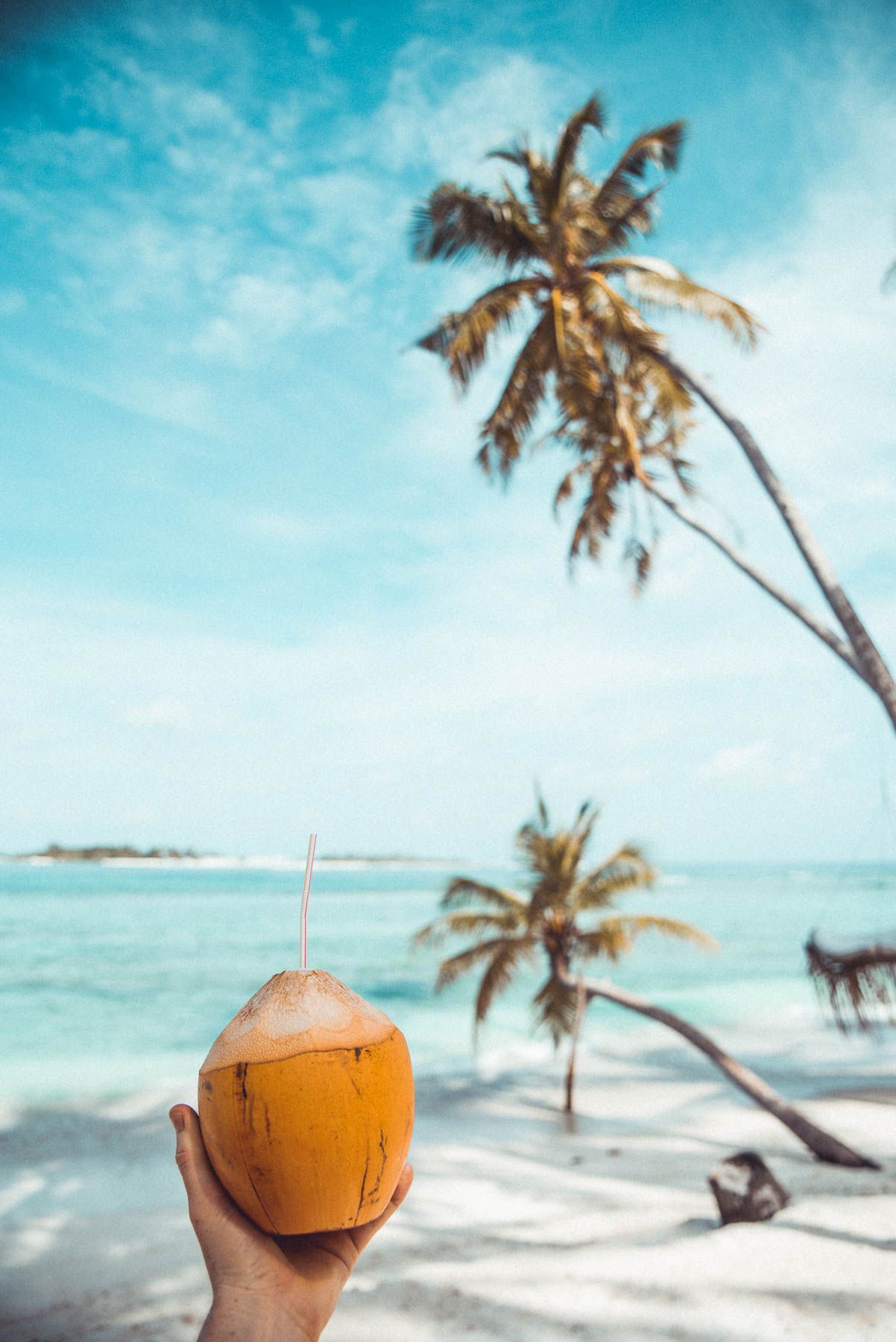 63) "It's like, imagine the ripples on top of an ocean. And I'm in a rowboat, reactively dealing with the waves and water coming into my boat. What I need to do is dive into the deeper solace, the calmness beneath the surface." – Dr Oz
64) "The ocean makes me feel really small and it makes me put my whole life into perspective." – Beyoncé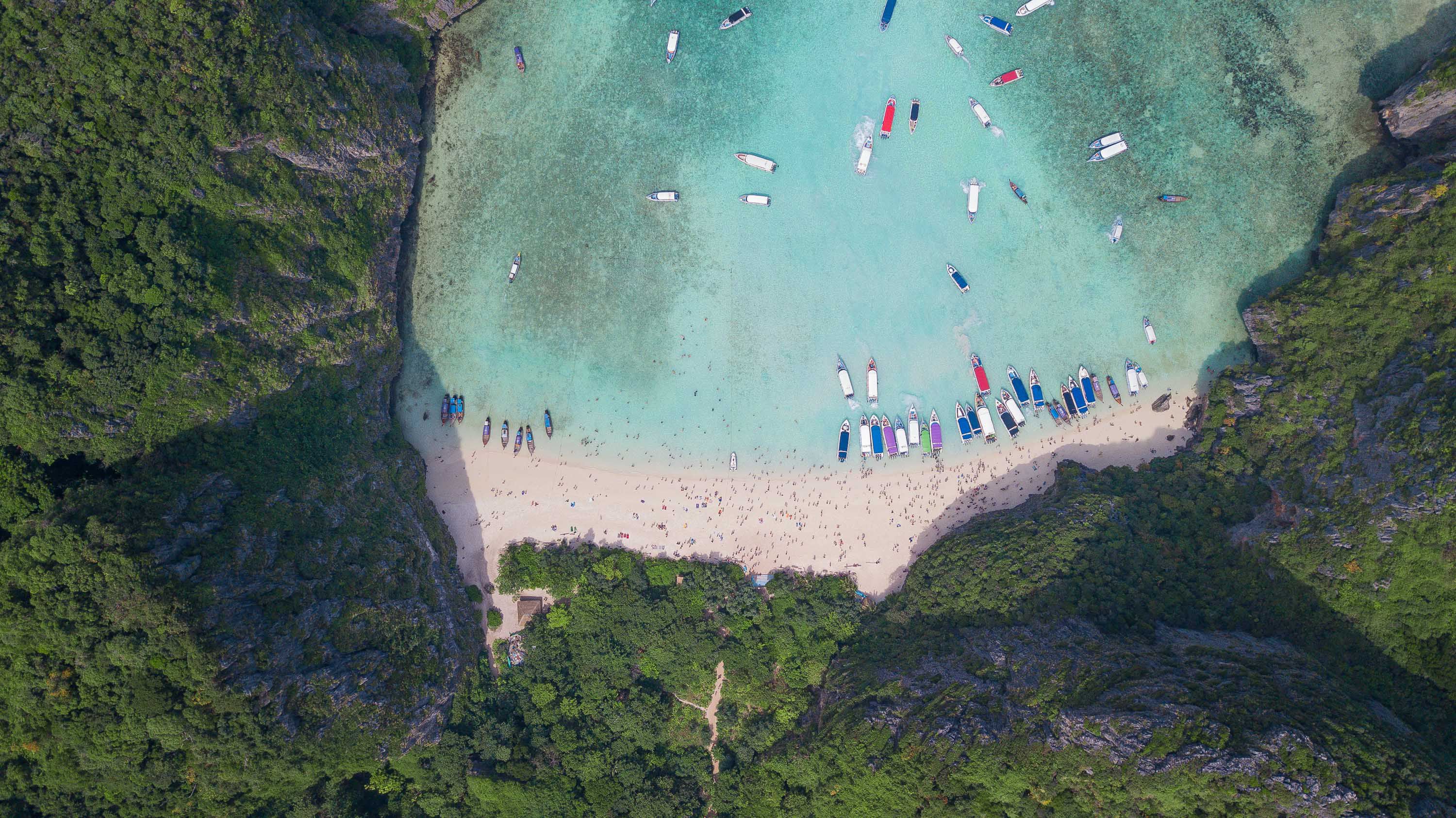 65) "Even castles made from sand fall to the ocean." – Jimi Hendrix
66) "Life is a beach, I'm just playing in the sand." – Lil Wayne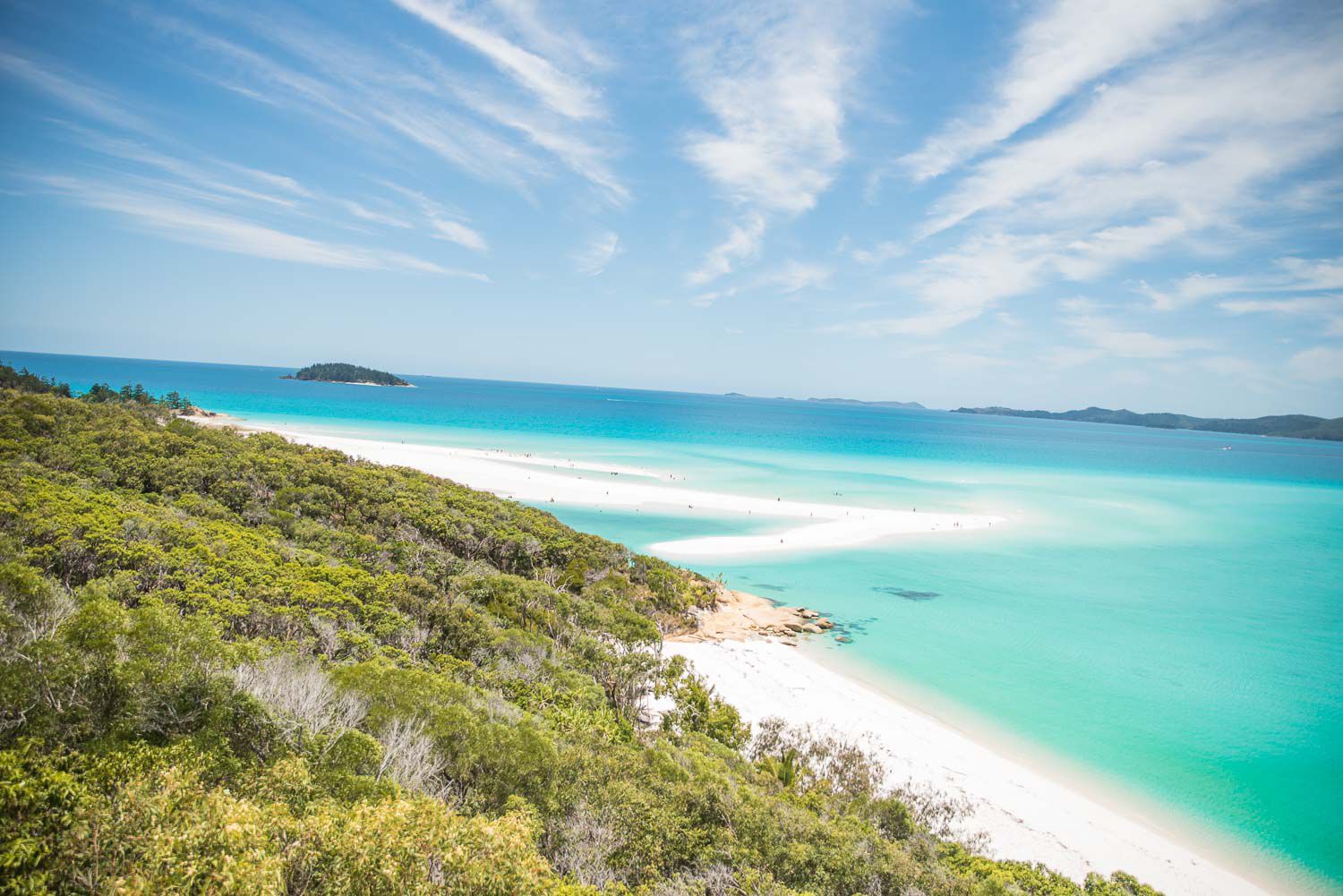 67) "To myself I am only a child playing on the beach, while vast oceans of truth lie undiscovered before me." – Isaac Newton
68) "Where does a wise man kick a pebble? On the beach. Where does a wise man hide a leaf? In the forest." – G.K. Chesterton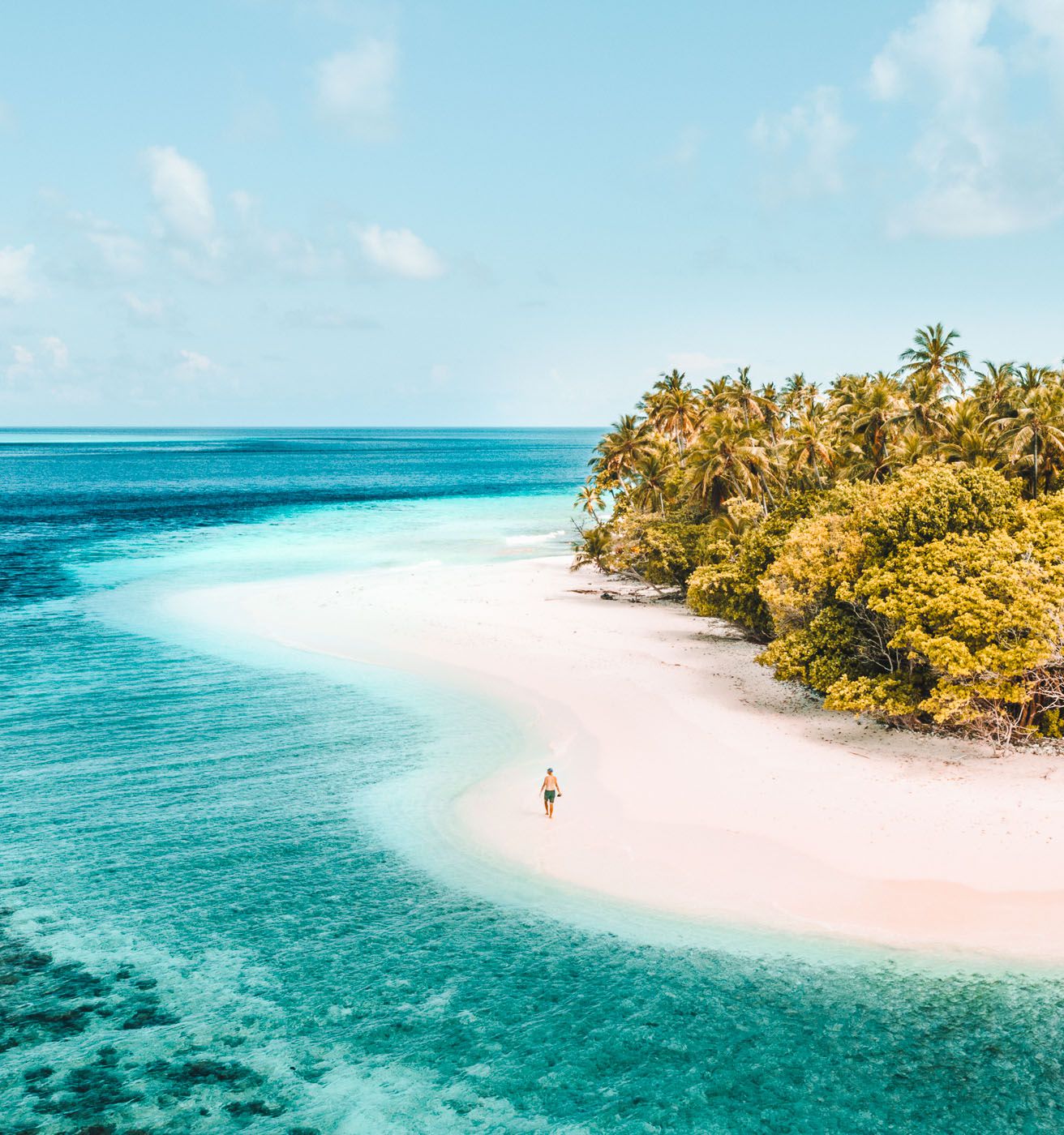 69) "Live in the sunshine, swim the sea, drink the wild air." Ralph Waldo Emerson
70) "We are tied to the ocean. And when we go back to the sea, whether it is to sail or to watch we are going back from whence we came…" – John F. Kennedy

---
Beach Quotes from Song Lyrics
The beach is a source of inspiration for songwriters all over the world. These beach quotes from songs will be the soundtrack of your summer.
71) "Off the Florida Keys, there's a place called Kokomo / That's where you want to go to get away from it all / Bodies in the sand, tropical drink melting in your hand / We'll be falling in love to the rhythm of a steel drum band…Down in Kokomo." – Kokomo, The Beach Boys
There are few movies or soundtracks that encapsulate beach life like Cocktail… young/sane Tom Cruise was epic…
72) "I can see us holding hands, walking on the beach, our toes in the sand. I can see us on the countryside, sittin' on the grass laying side by side." Justin Timberlake in My Love
73) "Hark, now hear the sailors cry / smell the sea, and feel the sky / let your soul & spirit fly, into the mystic." – Into the Mystic, Van Morrison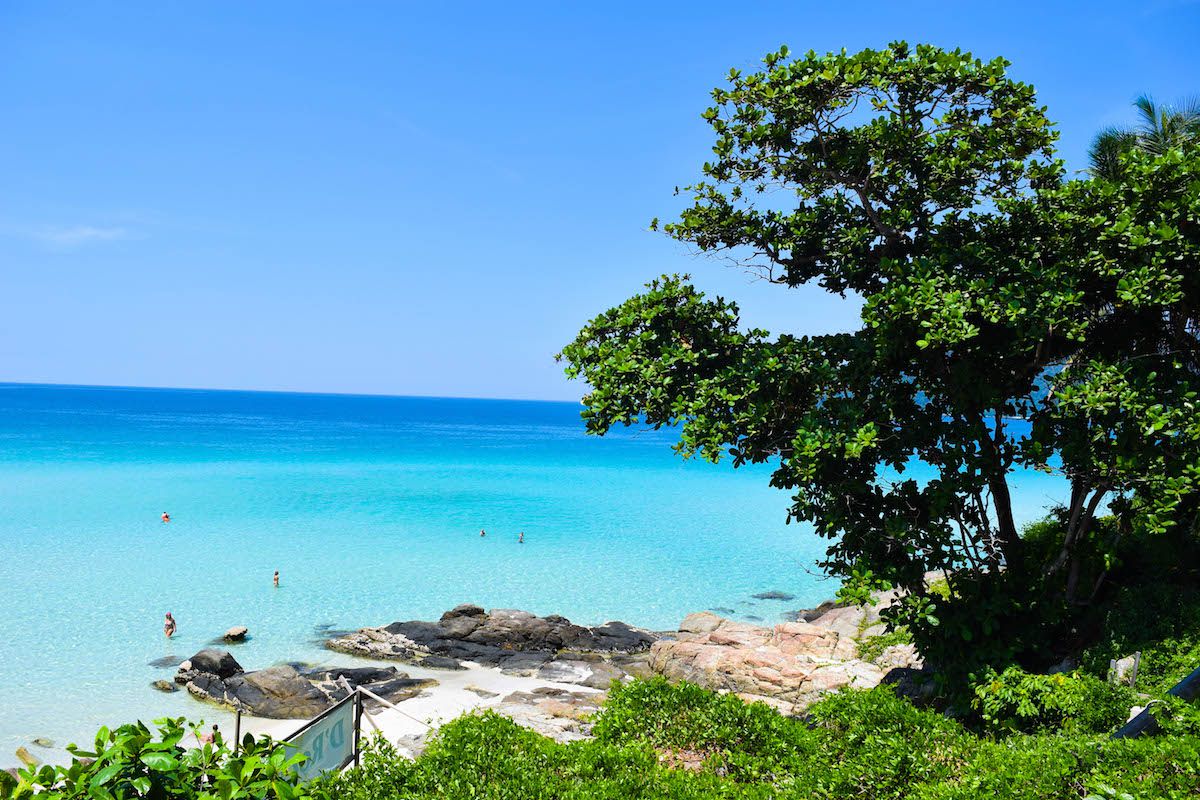 74) "Even castles made of sand fall to the ocean." – Castles Made Of Sand, Jimi Hendrix
75) "Got my toes in the water, ass in the sand, not a worry in the world." – Toes, Zac Brown Band
76) You don't have to stray / The oceans away / Waves roll in my thoughts / Hold tight the ring / The sea will rise / Please stand by the shore / I will be, I will be there once more." – Oceans, Pearl Jam
77) "I wanna go to the beach / I don't care if it's decadent / I don't know where my spirit went / But that's alright." – I Want to Go to the Beach, Iggy Pop

78) "She swam by me she got a cramp / He ran by me got my suit damp / I saved her life she nearly drowned / He showed off splashing around / Summer sun somethings begun, but oh oh the summer nights." – Summer Nights, John Travolta and Olivia Newton John
79) "I keep on hoping we'll eat cake by the ocean." – Cake By The Ocean, DNCE
80) "If everybody had an ocean / Across the U. S.A / Then everybody'd be surfin' / Like Californi-a." – The Beach Boys
What band is more synonymous with the beach life than The Beach Boys? An entire lifetime of songs dedicated to beach vibes.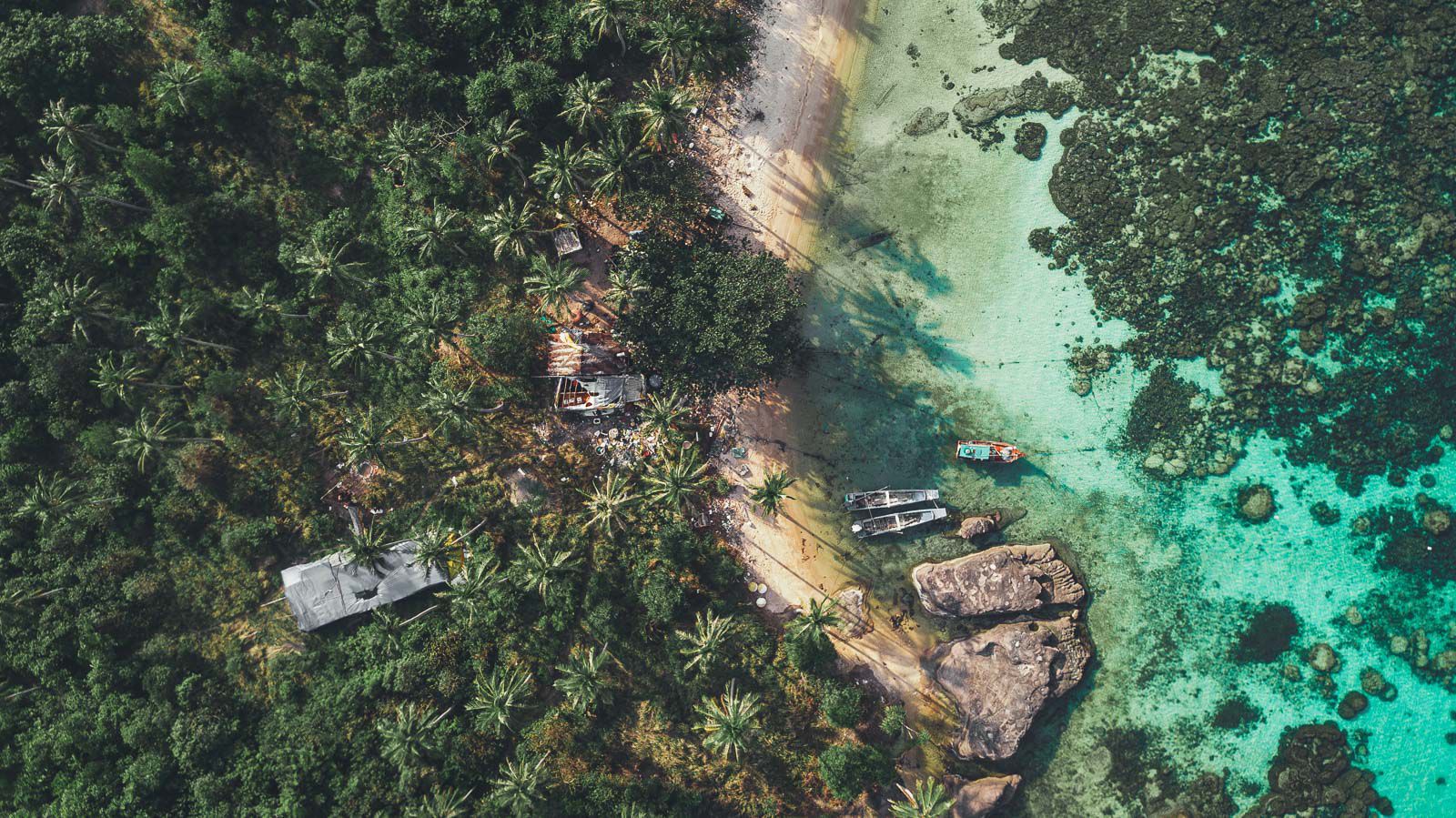 81) "We would shout and swim about the coral that lies beneath the waves / (Lies beneath the ocean waves) / Oh what joy for every girl and boy / Knowing they're happy and they're safe / (Happy and they're safe)" – Octopus's Garden, The Beatles
82) "There must be something in the water / Sippin' gin and juice / Laying underneath the palm trees…" – California Girls, Katy Perry
83) "And it's like snow at the beach. Weird but f**king beautiful" – Taylor Swift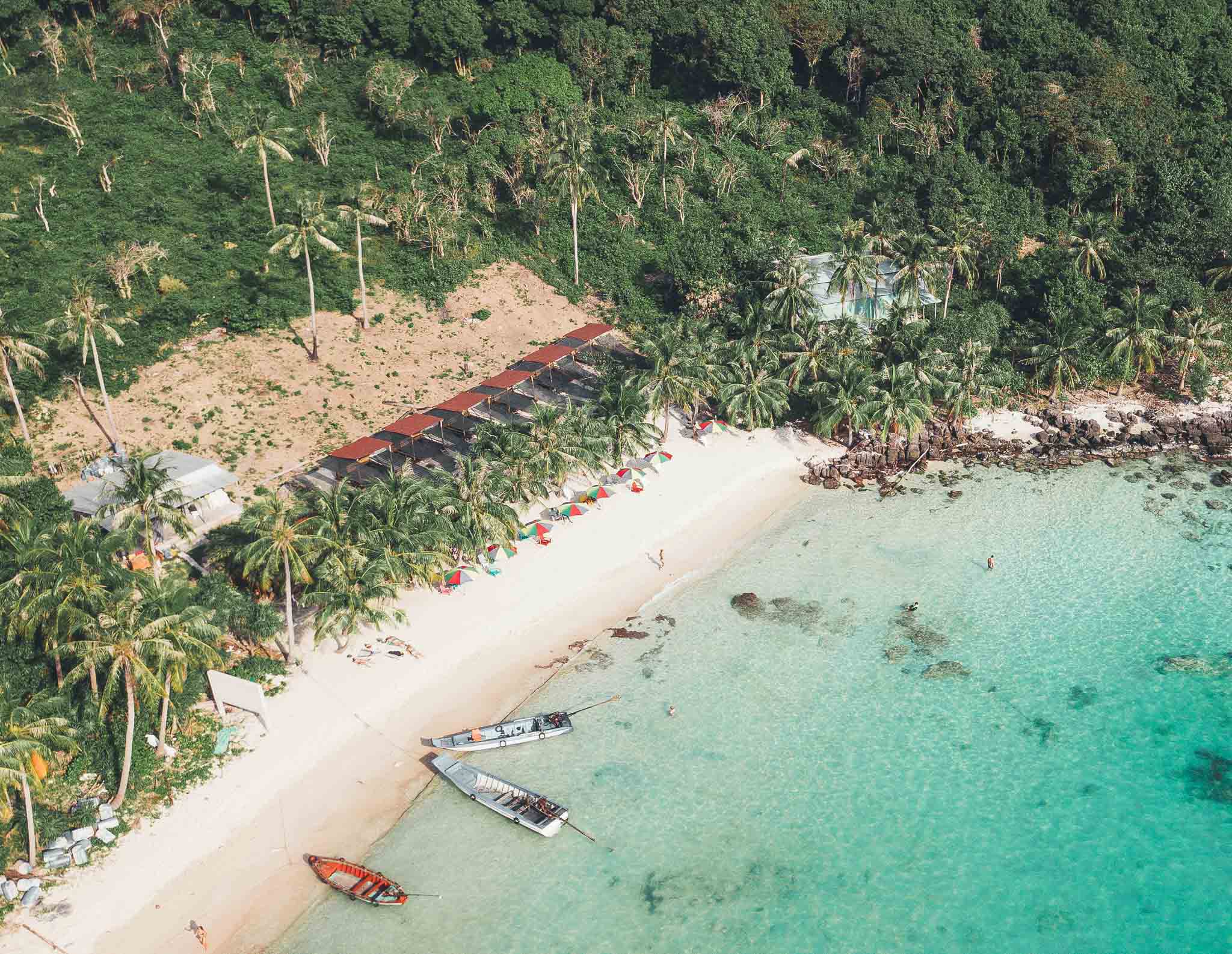 84) "Uh, let's go to the beach-each. Let's go get a wave. They say what they gonna say" – Nikki Minaj
85) "Nibbling on sponge cake, watching the sun bake / All of those tourists covered with oil / Strumming my six string, on my front porch swing / Smell those shrimp, they're beginning to boil." – Margaritaville, Jimmy Buffett
86) "I'm sittin' on the dock of the bay / Watchin' the tide, roll away / I'm sittin' on the dock of the bay / Wastin' time." – The Dock of the Bay, Otis Redding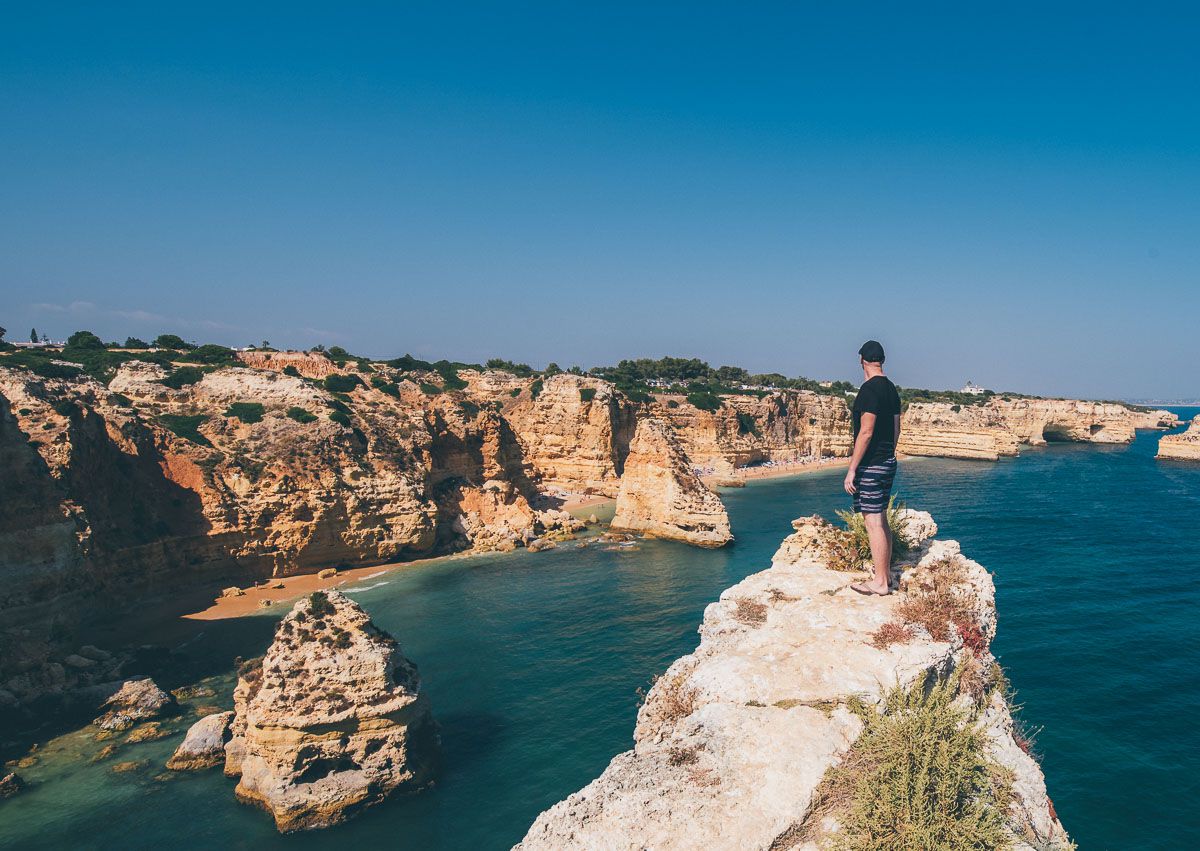 ---
Funny Beach Quotes from Movies
The beach is the perfect setting for a film, and has inspired some memorable movie lines. These beach movie quotes will populate your playlist with some must-watch cinematic experiences.
87) "Surfing's the source man… swear to God." – Point Break
88) "You're gonna need a bigger boat." – Jaws
89) "Trust me, it's paradise. This is where the hungry come to feed. For mine is a generation that circles the globe and searches for something we haven't tried before. So never refuse an invitation, never resist the unfamiliar, never fail to be polite and never outstay the welcome. Just keep your mind open and suck in the experience. And if it hurts, you know what? It's probably worth it." – The Beach
I wonder how many people were inspired by The Beach to run away to an island paradise? You can visit the island Leo and friends call home in Thailand for yourself! It's called Phi Phi Island.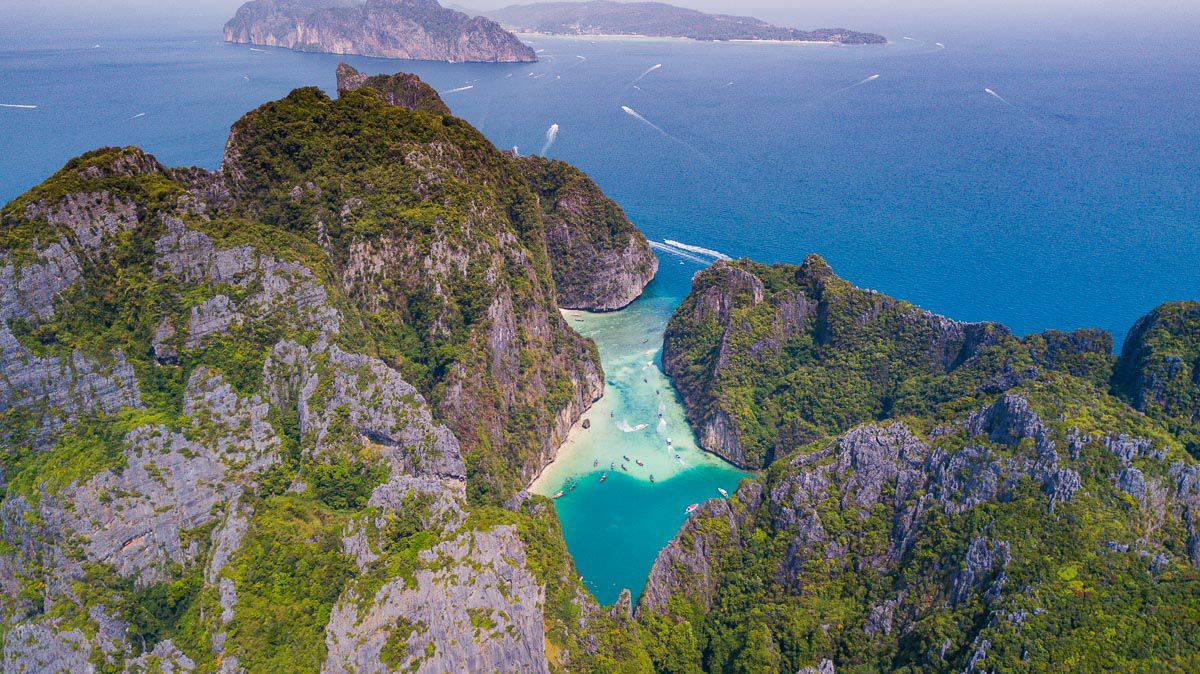 90) "Whether you like to surf, or sail, or surf a sailboat… Hawaii, even in the winter, is truly a land of an endless summer." – The Endless Summer
91) "I saw him beat up a guy with a starfish." – Forgetting Sarah Marshall
92) "Best of all, though, one week of the year, you'd get to leave the hospital and go here. Plum Island. Every day of that week, you may walk on the beach. You may swim in the ocean for up to one hour." – The Silence of the Lambs
Even Hannibal Lector needed a beach escape from time to time…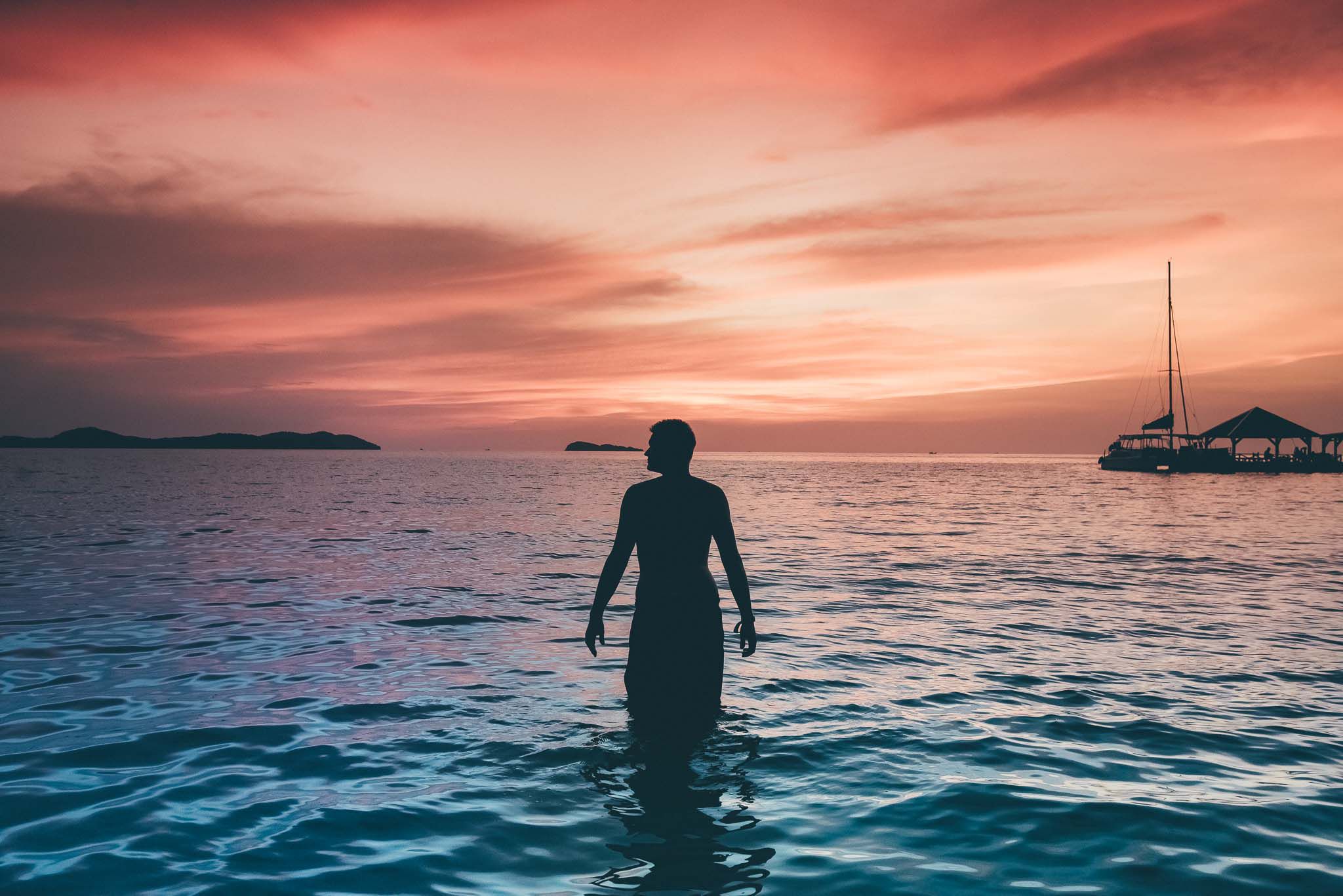 93) "These waves are for the big boys." – Blue Crush
94) "And I know what I have to do now. I got to keep breathing. Because tomorrow, the sun will rise. Who knows what the tide could bring?" – Castaway
95) "What happened to the Danny Zuko I met at the beach?" – Grease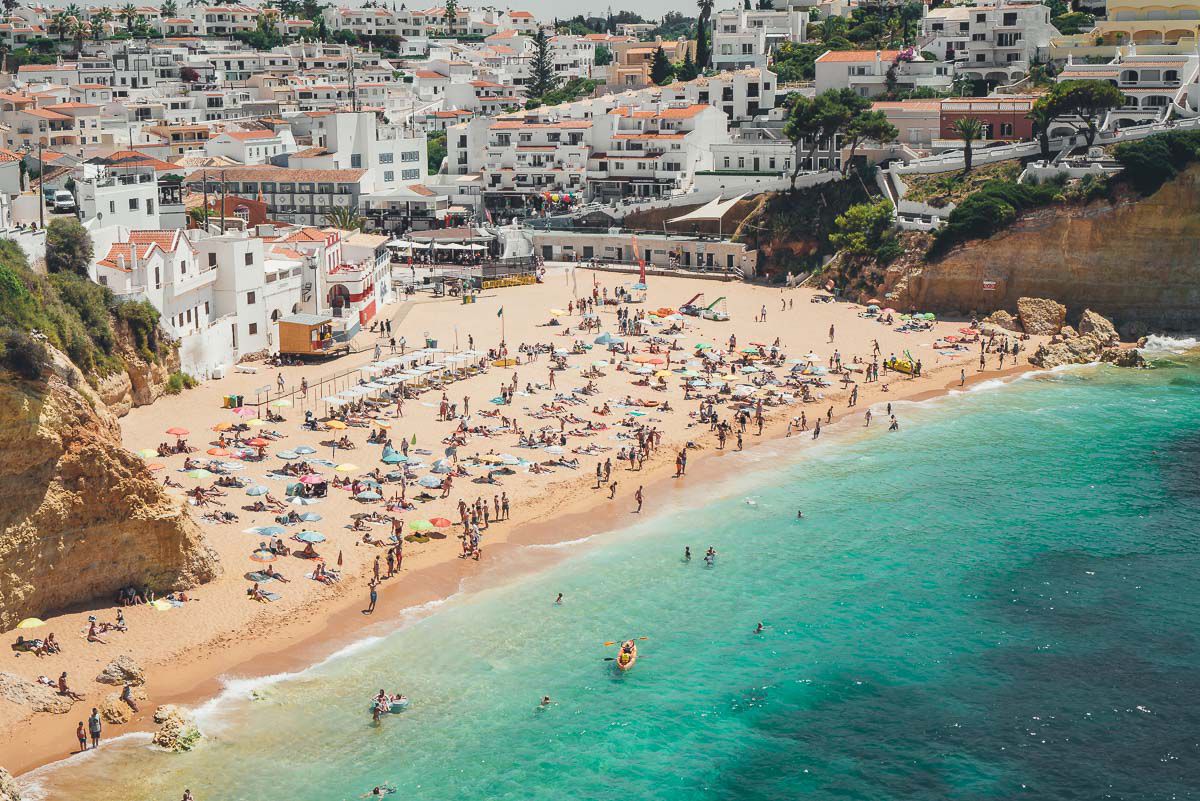 96) "Mexico. Little place right on the Pacific. You know what the Mexicans say about the Pacific? They say it has no memory. That's where I'd like to finish out my life, Red. A warm place with no memory. Open a little hotel right on the beach. Buy some worthless old boat and fix it up like new. Take my guests out charter fishing." – The Shawshank Redemption
Did you know that the Mexican coastal paradise Andy spoke of escaping to in The Shawshank Redemption is a real place where people flocked to after the film's release? It's called Zihuatanejo, and it's a couple of hours from Acapulco.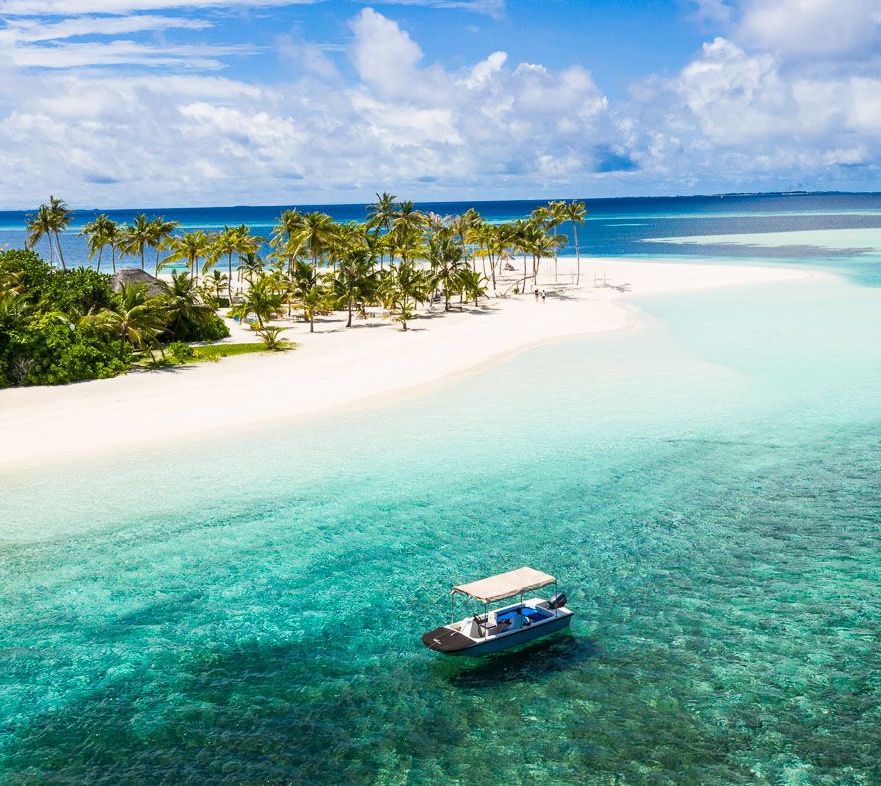 97) "Do you know what's there, waiting beyond that beach? Immortality! Take it, it's yours!" – Troy
98) "Beautiful beach, a sunny day and good friends. What more can a man ask for?" – Cocoon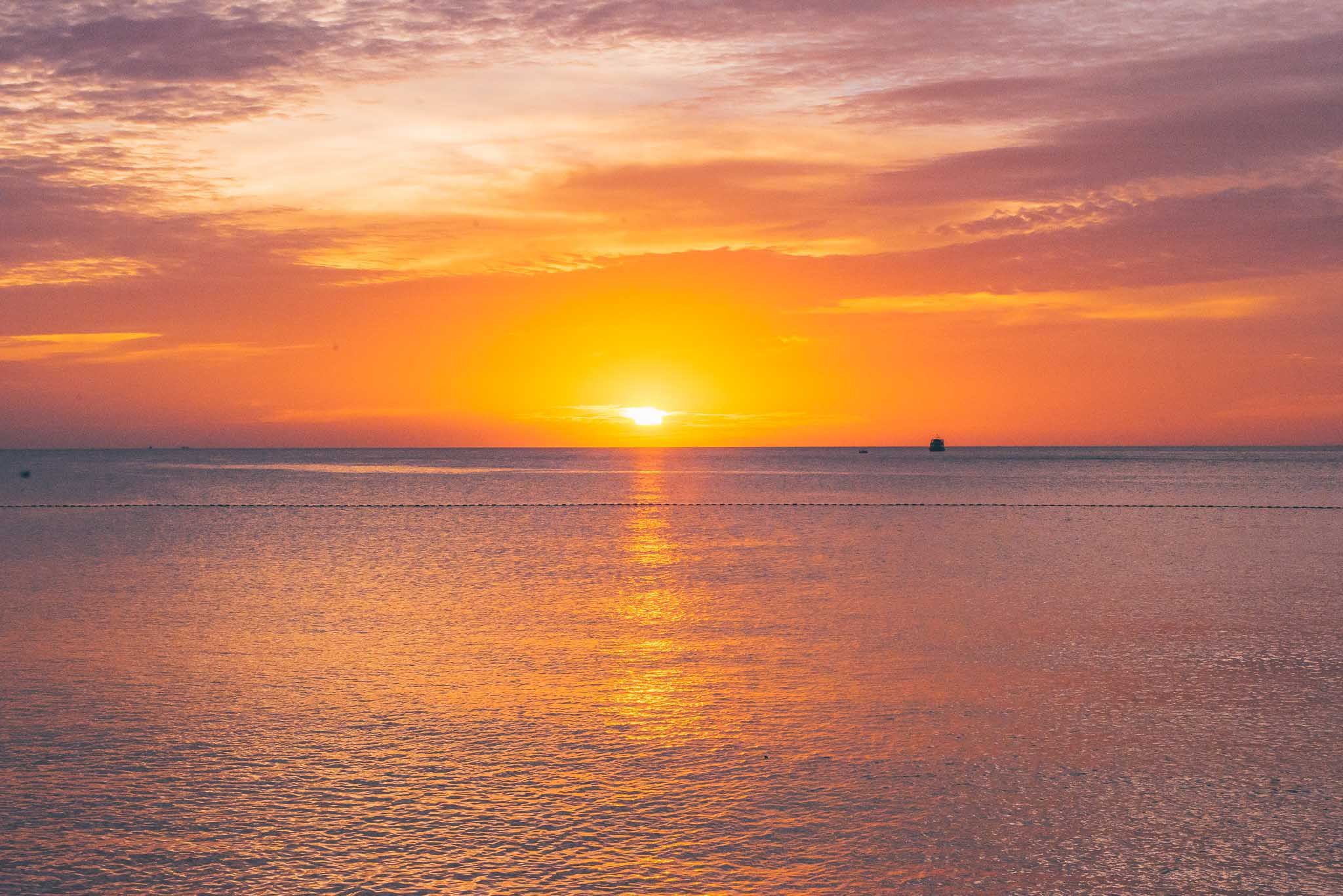 99) "I belong on a beach. A nice, quiet beach. I wanna hear the water. That's it." – Whiplash
100) "This is a family beach, not Chippendales." – Big Momma's House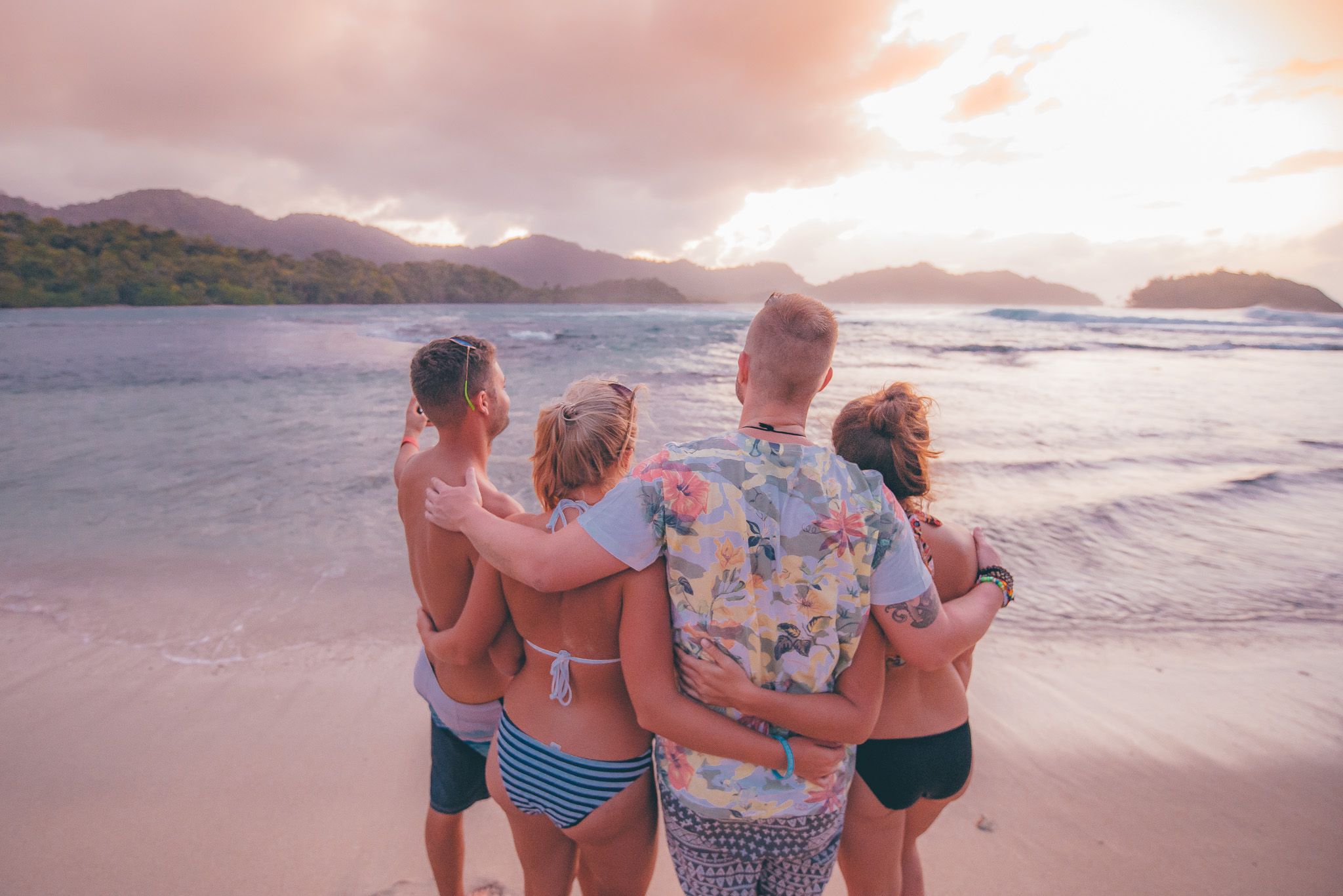 ---
More Fun Beach Quotes
101) "At night, when the sky is full of stars and the sea is still you get the wonderful sensation that you are floating in space." – Natalie Wood
102) "On the beach, you can live in bliss." – Dennis Wilson
If a beach boy doesn't love the beach, what chance do any of us have?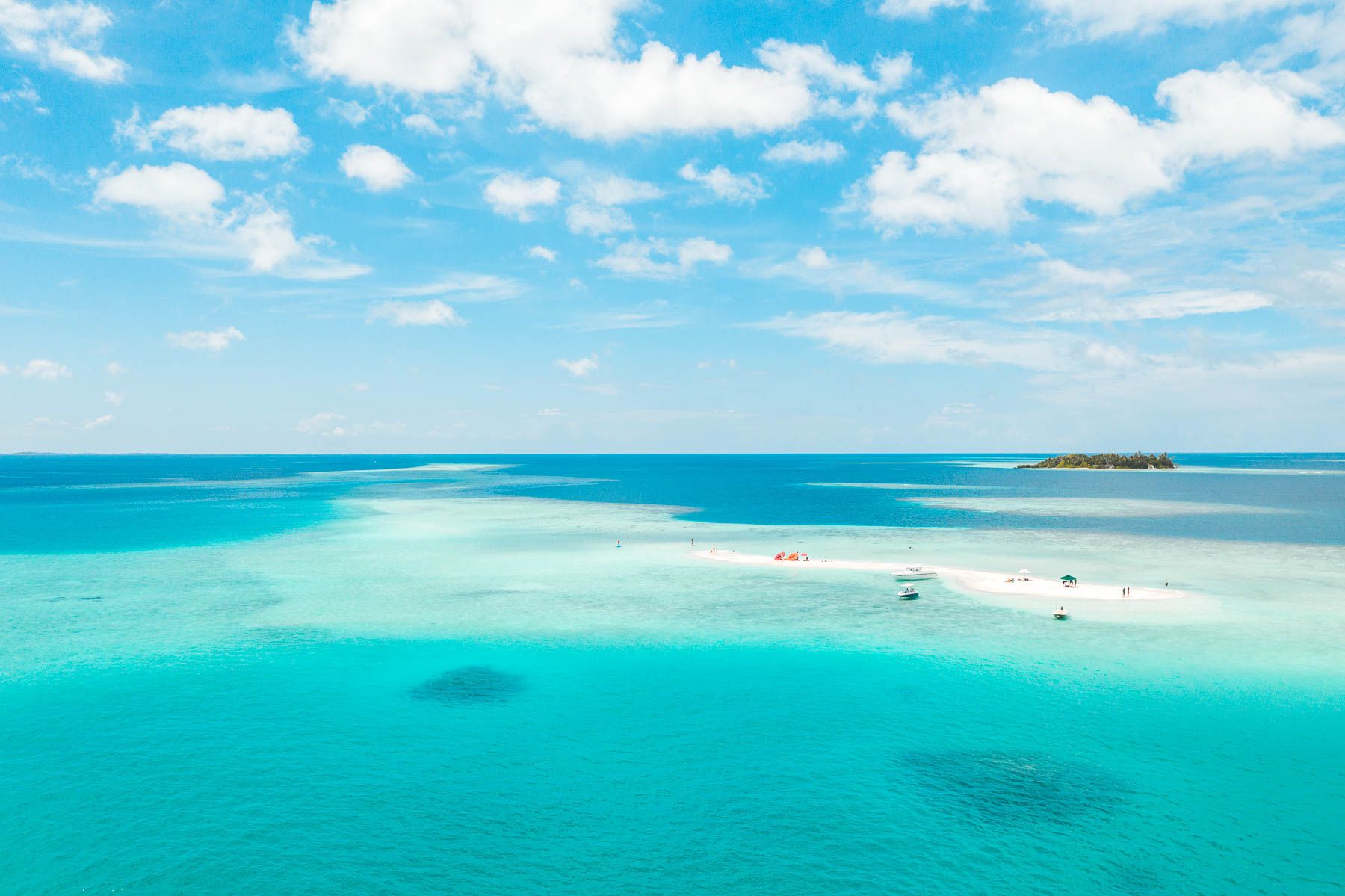 103) "A beach is not only a sweep of sand, but shells of sea creatures, the sea glass, the seaweed, the incongruous objects washed up by the ocean." – Henry Grunwald
104) "We devoting full time to floating." – Sebastian, The Little Mermaid
105) "Sometimes ideas are coming so fast that I have to stop doing one song to get another. But I don't forget the first one. If it works, it will always be there. It's like the truth: it will find you and lift you up. And if it ain't right, it will dissolve like sand on the beach." Prince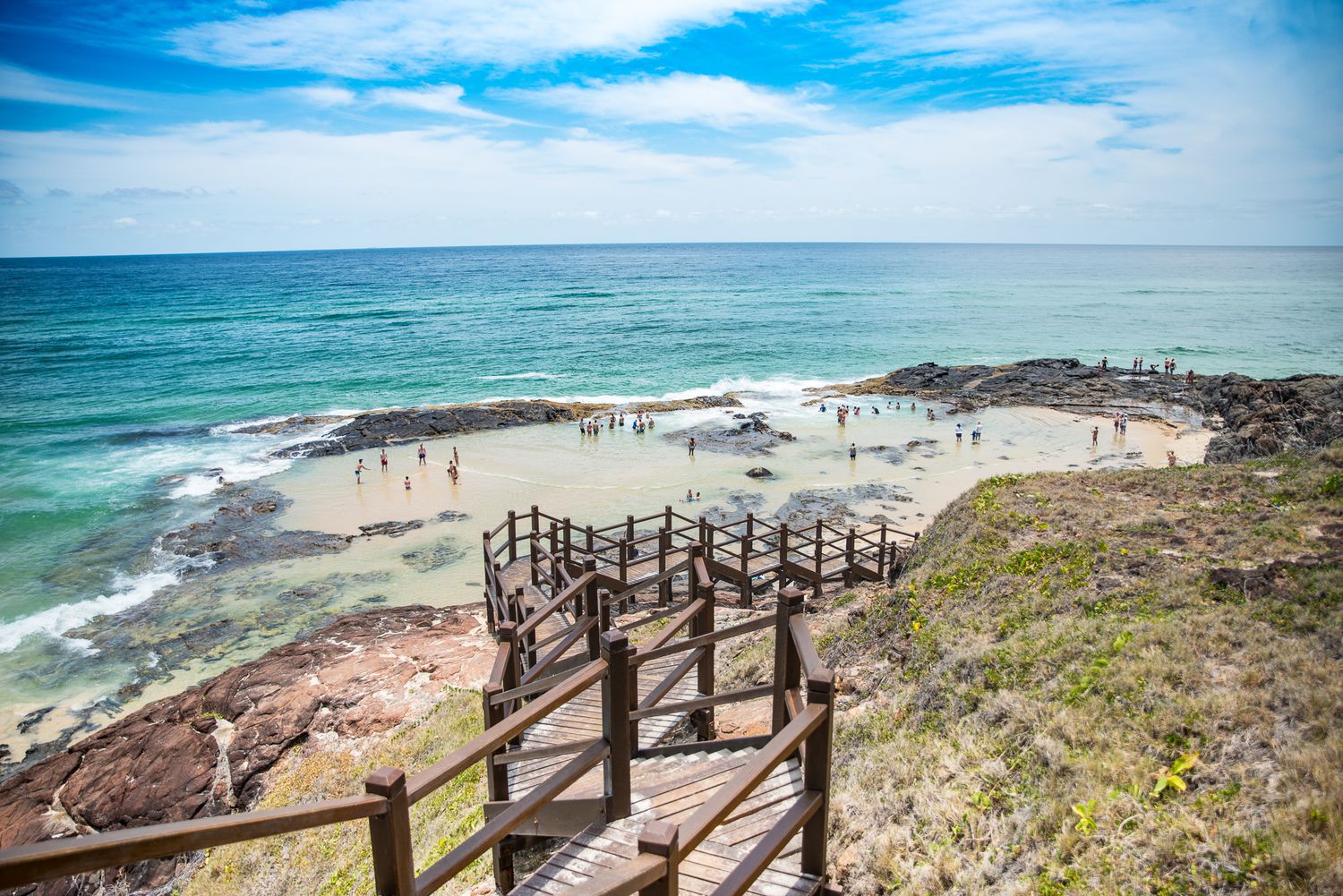 ---
More Instagram Captions About The Beach
Short and sweet, these quotes sum up why the beach is so special in just a few words.
106) "Sky above, sand below, peace within." – Unknown
107) "B.E.A.C.H.: Best Escape Anyone Can Have." – Unknown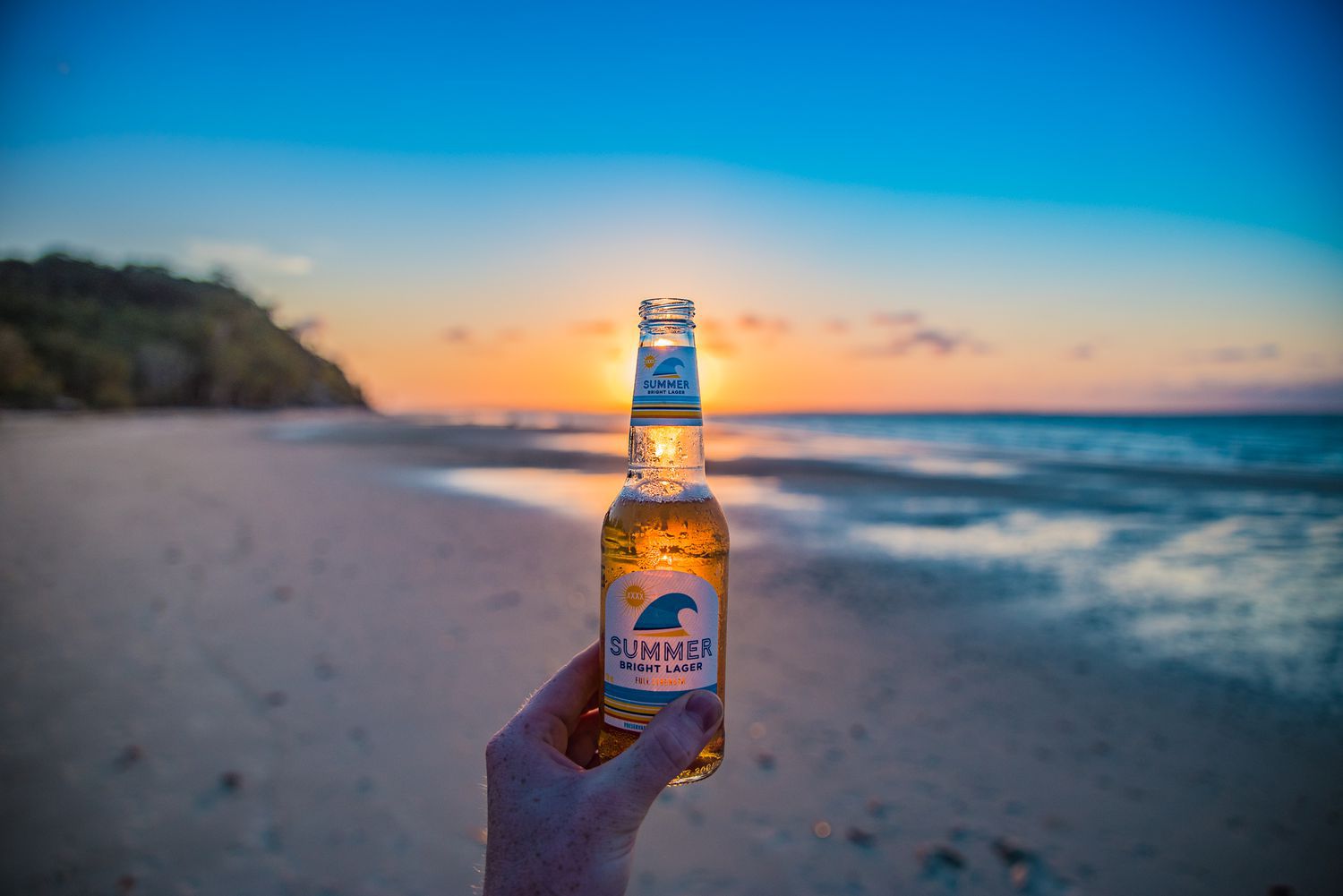 108) "Good vibes and high tides."
109) "Fresh to depth." – Unknown
110) "Shake your palm palms." – Unknown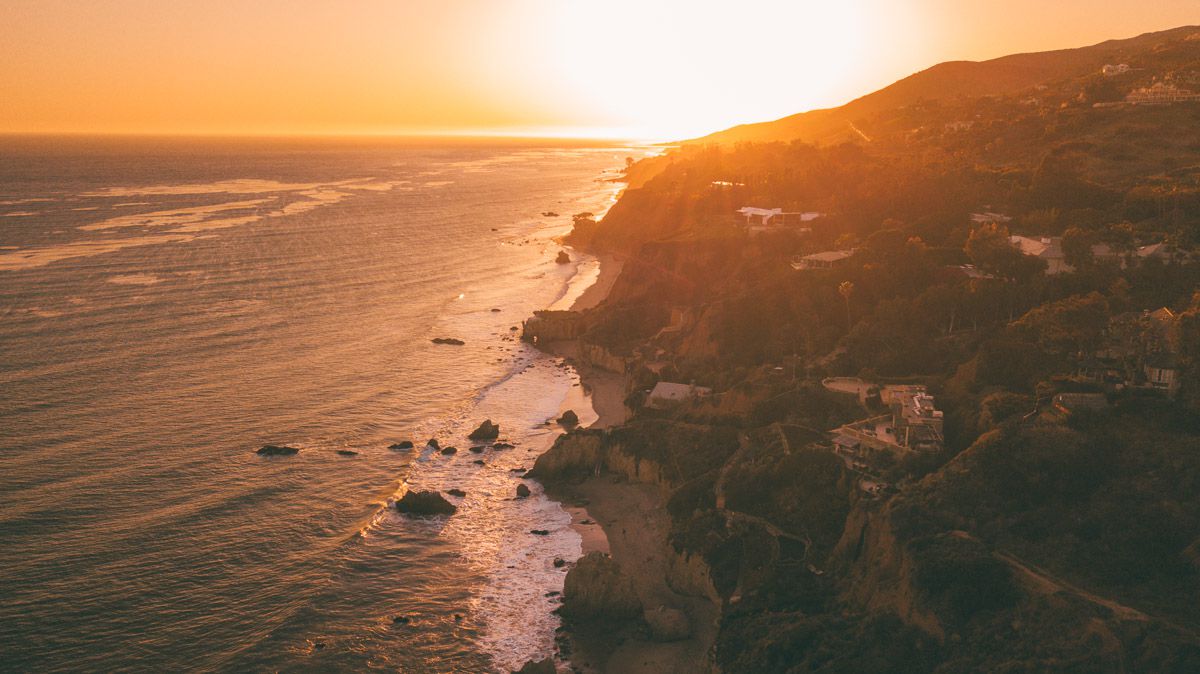 111) "Sandy toes. Sunkissed nose." – Unknown
112) How to get a beach body: Step 1: Have a body. Step 2: Go to the beach.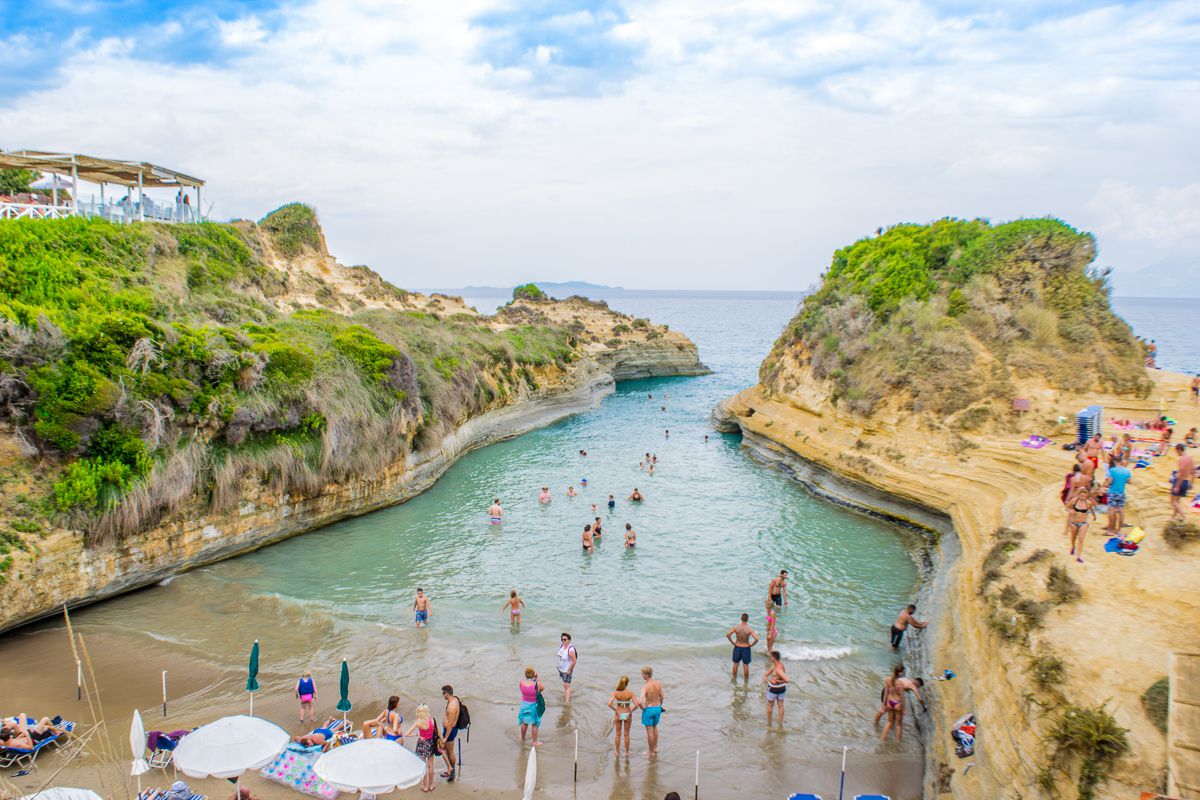 113) "Happiness comes in waves"
114) Beach + Friends + Food = Perfection.

115) "I still believe in paradise. But now at least I know it's not some place you can look for. Because it's not where you go. It's how you feel for a moment in your life when you're a part of something. And if you find that moment, it lasts forever." – The Beach, Leonardo DiCaprio
116) "Beach Rules: Soak up the sun. Ride the waves. Breathe the salty air. Feel the breeze. Build sandcastles. Rest, relax, reflect. Collect seashells. Bare-feet required."- Unknown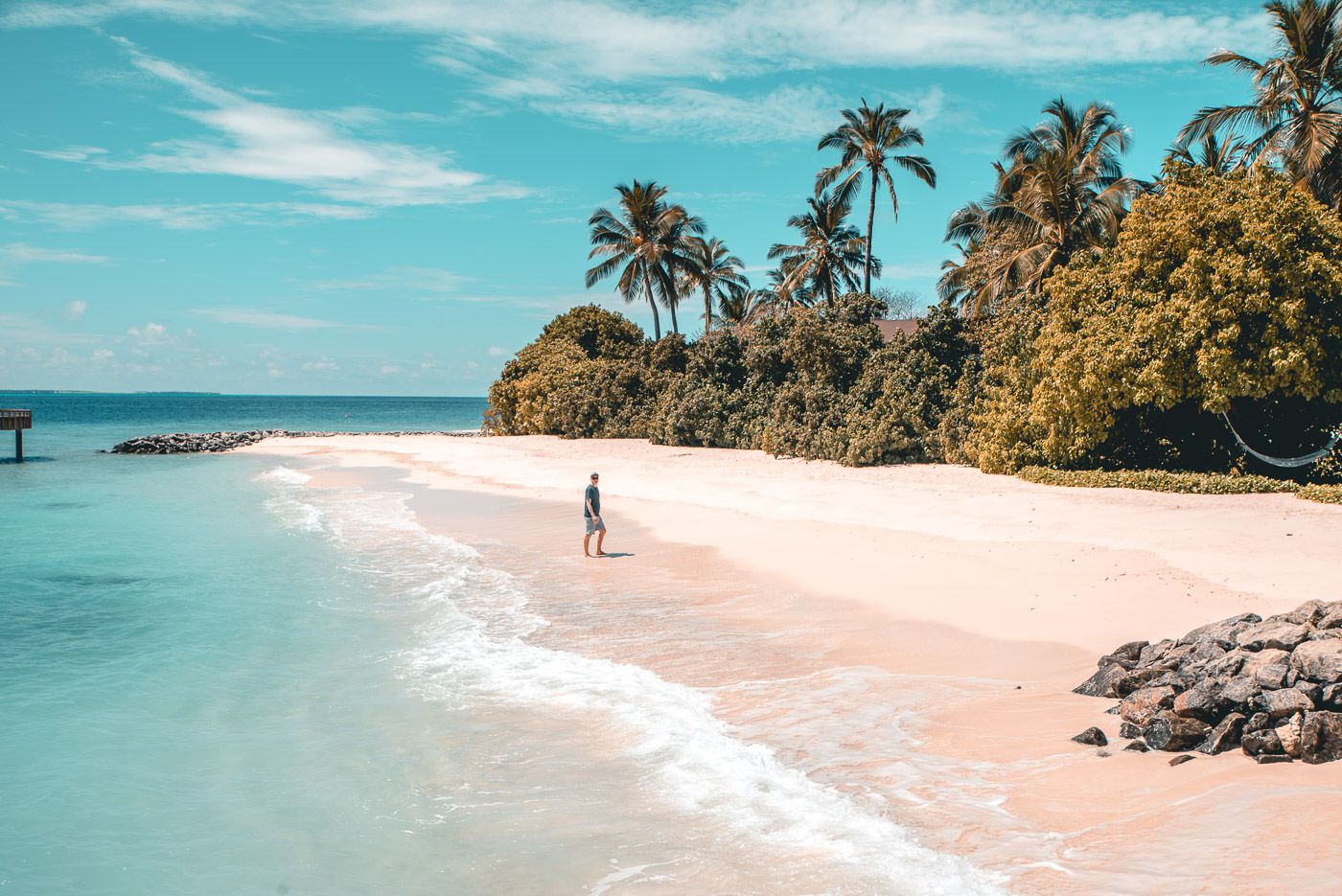 117) "To go out with the setting sun on an empty beach is to truly embrace your solitude." – Jeanne Moreau
118) "My life is like a stroll upon the beach, as near to the ocean's edge as I can go." – Henry David Thoreau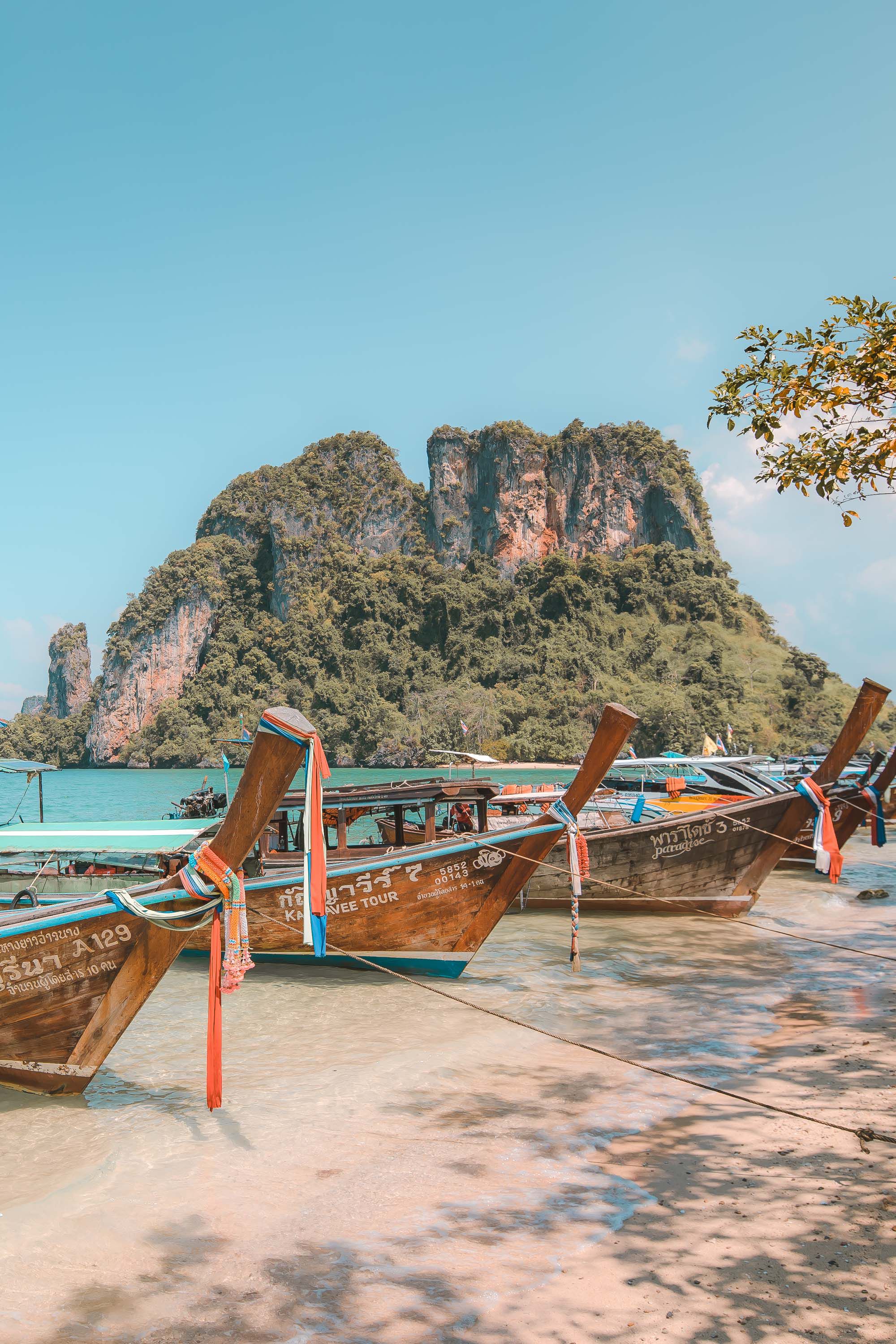 119) "We walk up the beach under the stars. And when we are tired of walking, we lie flat on the sand under a bowl of stars. We feel stretched, expanded to take in their compass. They pour into us until we are filled with stars, up to the brim." – Anne Morrow Lindbergh
120) "Wild and free, just like the sea"

---
Am I Missing Any Popular Beach Quotes or Perfect Beach Instagram Captions?
This list really could have gone on for quite some time, as the beach is obviously a popular place to write about, sing about, and visit! If you think there is a specific beach quote or fun Instagram caption idea that discusses the beach, please do let me know! I'd love to keep this post about beach quotes as up-to-date as possible!
Beach Quotes - Inspirational Sayings with Beach and Ocean Waves [HD]
---
Looking for more Quotes or Travel Inspiration?
My travel blog is filled with tons of articles like destination guides, things to do, places to visit, music festivals, accommodation guides, and so much more! I'd love for you to take a look through a few of my favorite articles below, and feel free to reach out with any questions you have!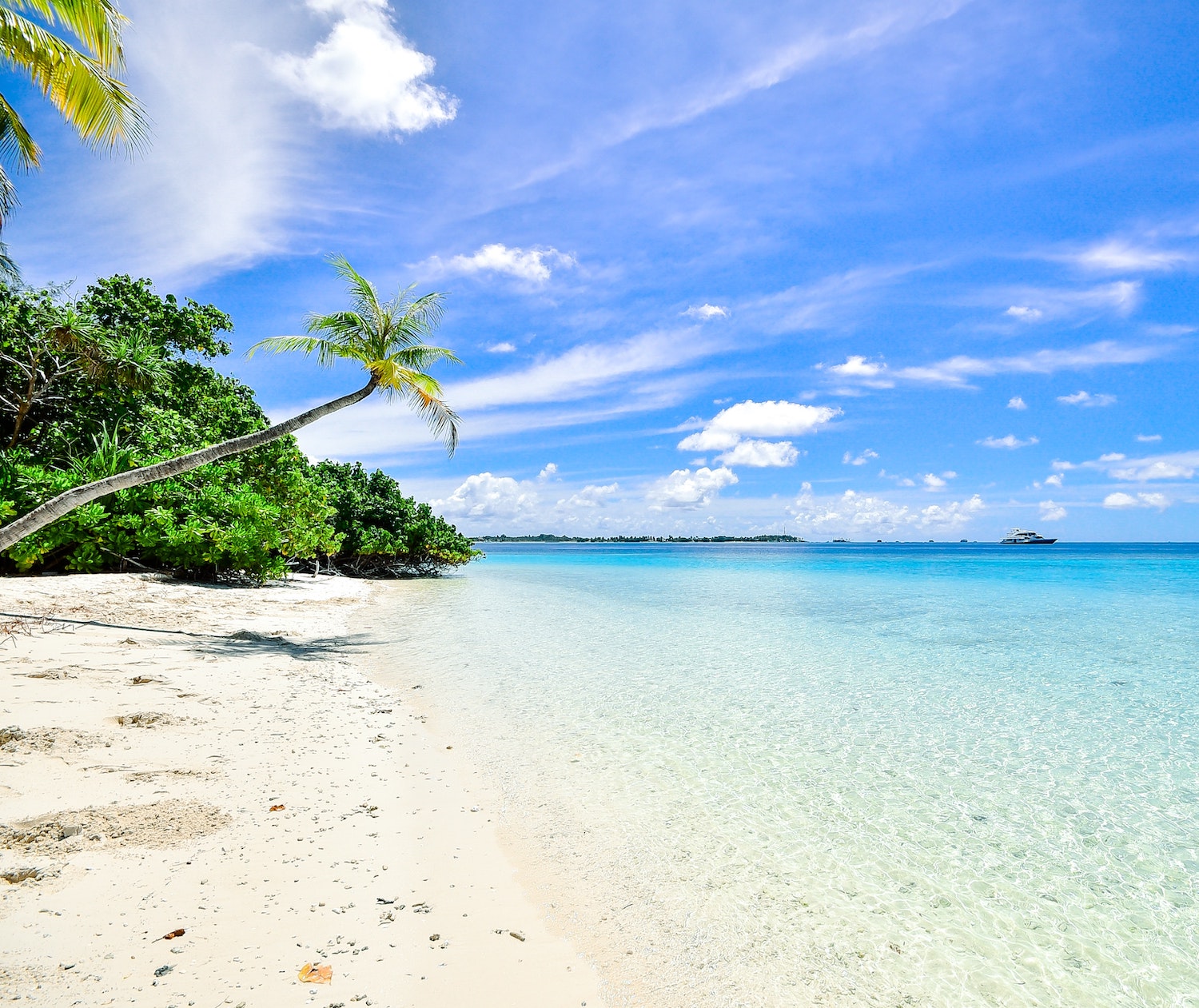 ---
THANKS FOR READING THESE BEACH QUOTES, FUNNY & INSPIRATIONAL ALIKE!
SHARE THE BEACH QUOTES 2023 LOVE WITH YOUR TRAVEL SQUAD!
https://www.jonesaroundtheworld.com/wp-content/uploads/2019/10/Beach-Quotes-.jpg
1261
1500
Dave
https://www.jonesaroundtheworld.com/wp-content/uploads/2017/03/logotry-1-1-300x106.png
Dave
2023-02-09 23:04:46
2023-02-11 22:48:23
100+ Beach Quotes & Captions: Short, Funny, Inspirational