Looking to spend 10 days in Italy and wondering where to start….? Well, you've come to the right place because I've put together the ultimate 10-day Italy itinerary you'll need to plan your dream vacation! I'll go through my detailed day-to-day recommendations, amazing restautants to check out, quality day-trips to book, accommodation options, and will answer some pretty important questions about traveling around Italy!
I actually lived and worked in Italy for over two years (read my story for more info), and I've become quite knowledgeable about this undeniably unique country! With its important historical significance, delicious cuisine, stunning cities, epic coastlines, world-class wine, and vibrant culture – it's safe to say that Italy is a bucket-list destination that has a little something for everyone.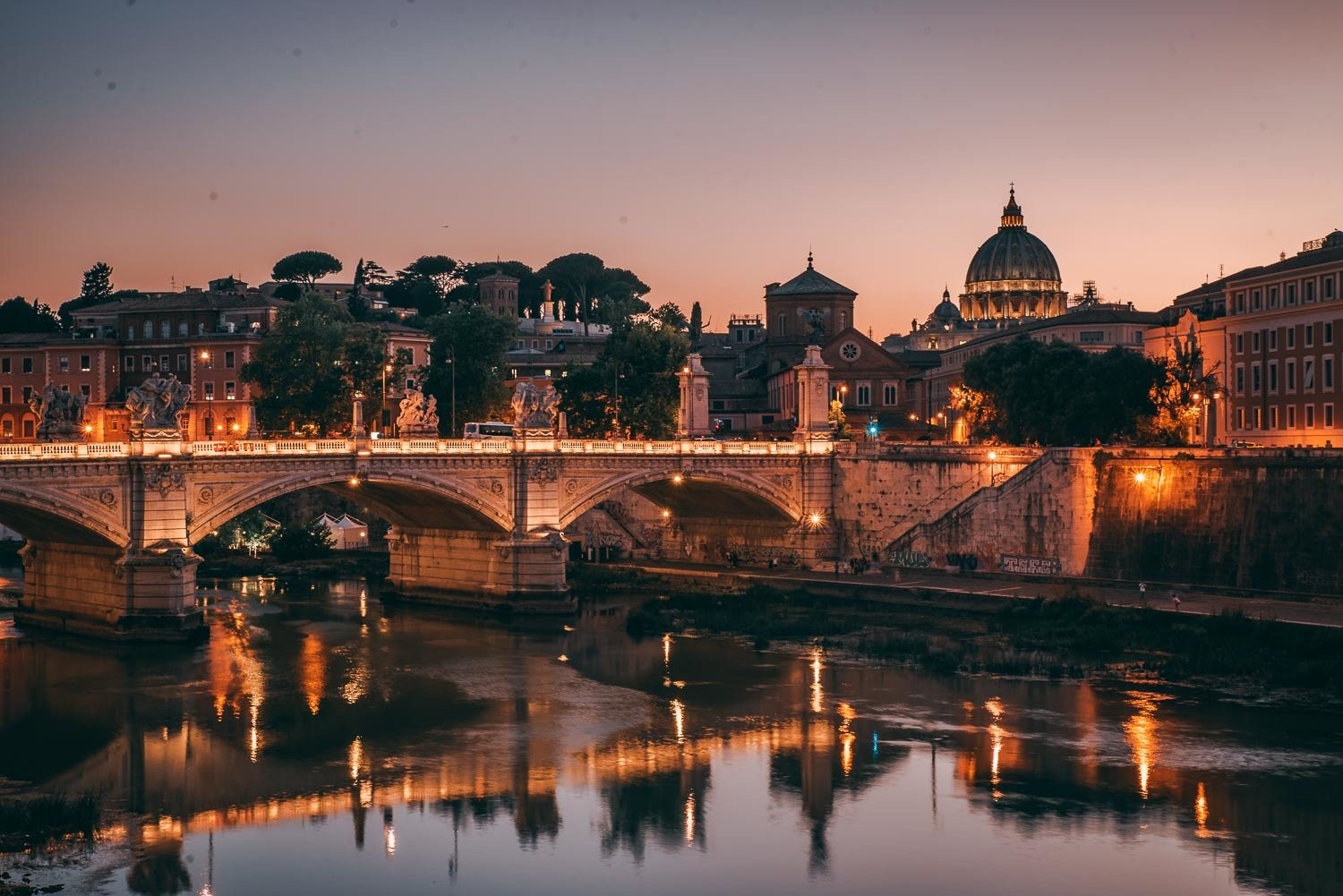 While there are countless different ways to enjoy a 10-day vacation in Italy, I would say this would be the best for first-timers to the country! At the bottom of this article though, I'll include several different substitutions, places to add, destinations you could skip, etc.
But before we start discussing some of my favorite places in the country, and everything there is to do, I want to answer some important questions that will help you plan your trip!
---
What is the best month to go to Italy?
What is the cheapest month to travel to Italy? How many days do you need in Italy?
These are all excellent questions, and a great starting point for this Italy itinerary trip planner! I'd have to agree with Santorini Dave, who says that "the best time to visit Italy is in the spring (April to June) or fall (September and October) when there is nice weather, moderate temperatures, fewer tourists, and lower prices."
July & August are super crowded all around Italy, prices for everything are much more expensive, and it's also really hot and humid (which can make sight-seeing a dreadful experience).
I actually love recommending visit Italy during the winter period as well, because it's a lot less flooded with tourists, there will be no waiting for any museums or attractions, and can make for a more enjoyable holiday.
In regards to timing, if you're flying over to Europe from the U.S, I actually think a week is a bare minimum, but having 10-days or more would be best. If you're already located in Europe, it's super easy to just hop over on a budget airline to spend a weekend in Rome!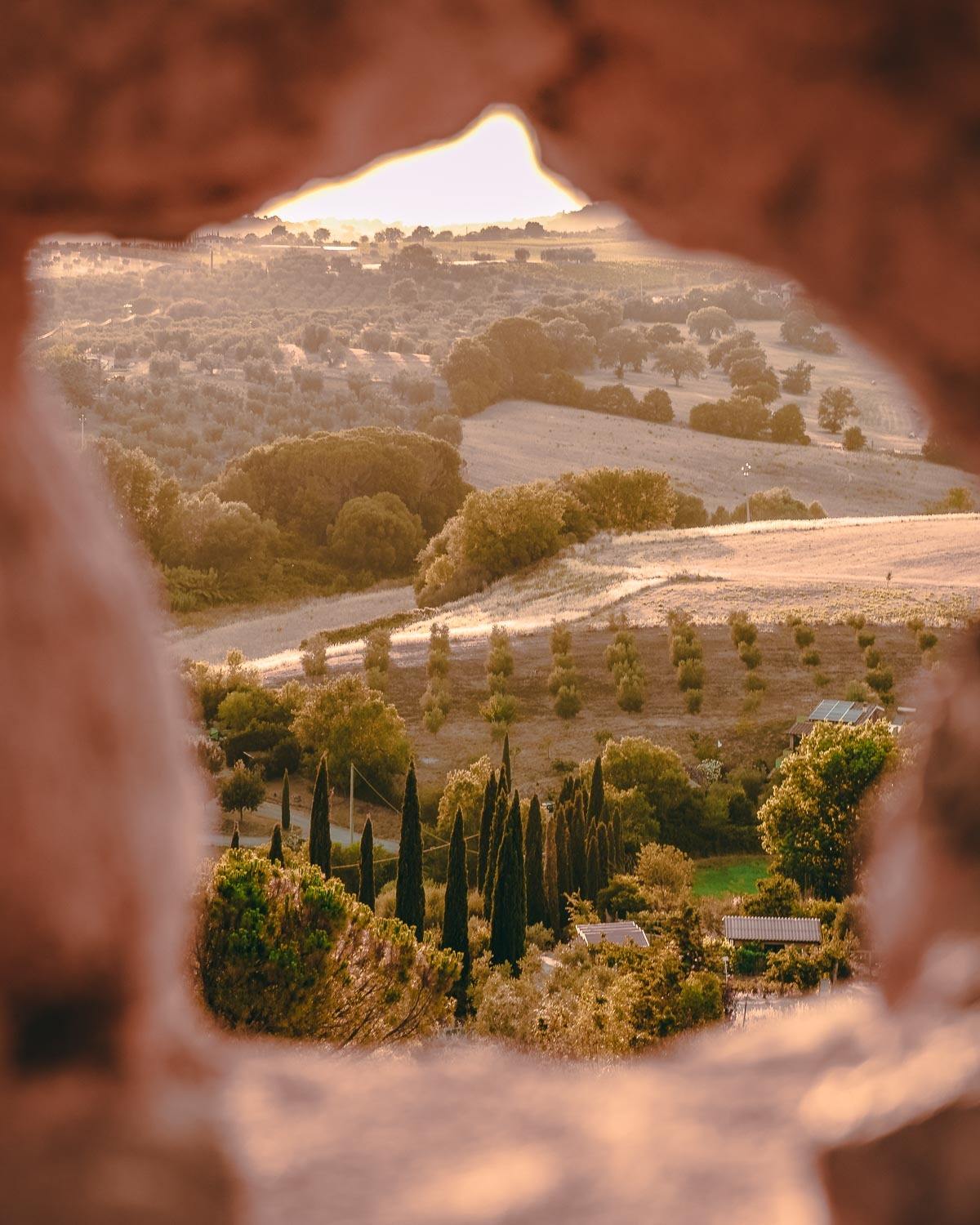 ---
How do you get around Italy?
Is it cheaper to rent a car or take the train in Italy? Should you rent a car in Italy? Is driving in Italy dangerous?
From my personal experience, I wouldn't recommend renting a car in Italy for the entire trip! While it can be really fun to rent car in Tuscany to go wine-tasting at different vineyeards, or to embark on an overnight trip somewhere from Rome or Milan, having the responsibility of a car the entire 10-days in Italy will be troublesome.
Here are my main reasons why you shouldn't rent a car in Italy:
There are speed traps on the highways, and they don't even have to pull you over to issue you an expensive speeding fine.
Gas is pretty damn expensive in Italy! You'll end up spending hundreds of euros on petrol getting around all these places when it'd be a lot easier to just book a train ticket.
It's super confusing where you're even allowed to drive! Rental cars are not allowed to drive in certain parts of Rome or Florence, and you will most likely get a ticket for driving where you're not supposed to! This happened to me, and I'm still upset about it, lol.
Parking in Italy can be a nightmare! You'll end up wasting so much time trying to find parking, and paying for expensive overnight parking!
The train system works great in Italy (most of the time). The high-speed network can you get places extremely fast, the online booking system works well, and it's just a less-stressful way to explore the country.
With all that being said, I think renting a car in Italy can be fun for one or two days! It really just depends on what you want to see/ how you want to spend your 10-day vacation! I never found driving in Italy to be dangerous (contrary to popular belief), but I also think it can be a bigger headache than it should be.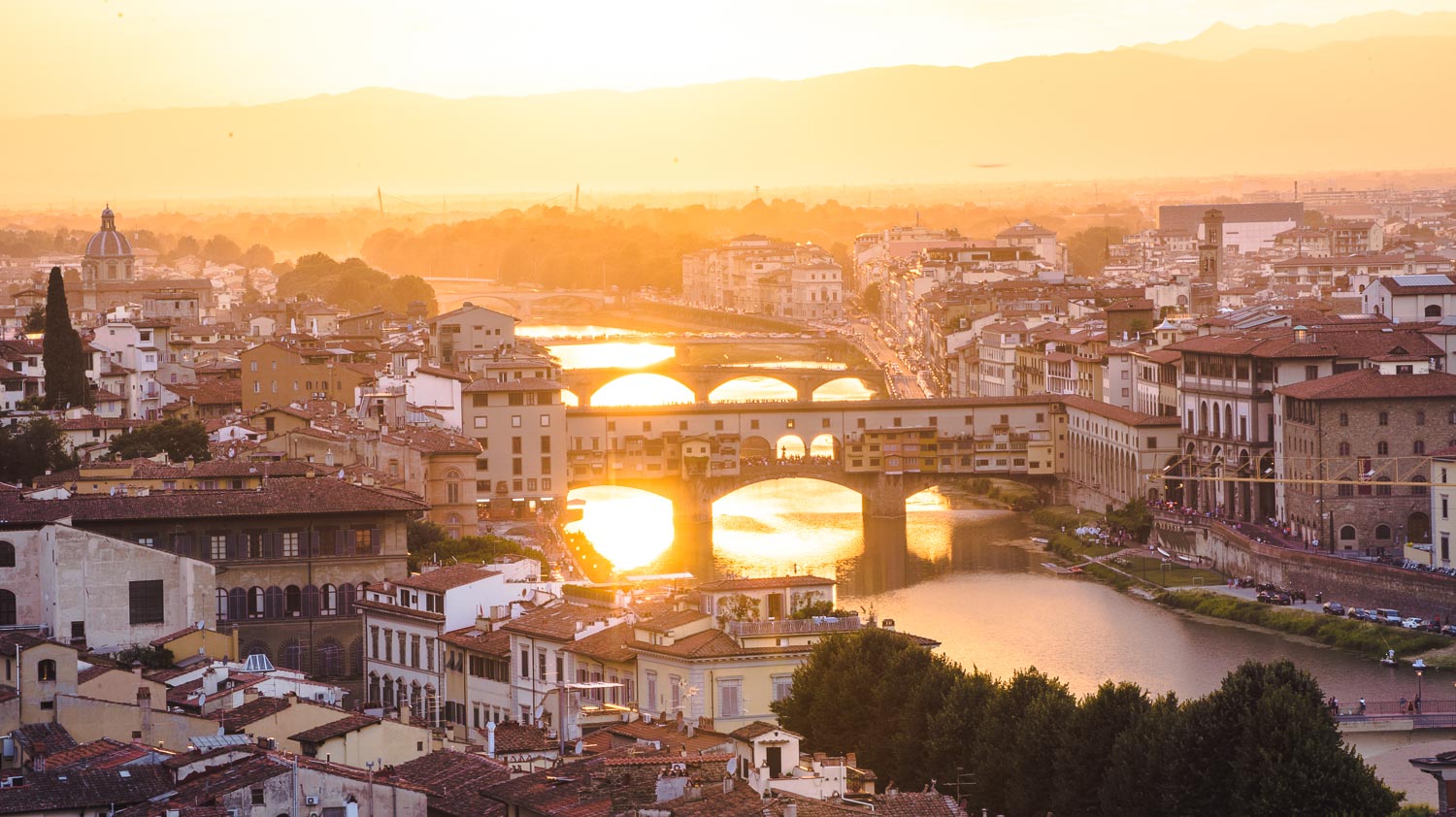 ---
The Ultimate 10 Days in Italy Itinerary
The way I've set up this 10-day itinerary is arriving into Rome, and departing from Milan! That can easily be reversed though, and you can begin in Milan and end in Rome. It really just depends on flight prices, and if you're able to manage to get the multi-airport ticket (which typically isn't too complicated). If for some reason, like you found an epic round-trip ticket to Rome, you can always book a high-speed train ticket from Milan to Rome, which completes the 360-mile (579-km) journey in 2 hours and 55 minutes!
While I've gone over my full-recommend day-to-day itinerary, here's just a quick overview of the recommended route so you can start planning, booking accommodation, and locking down your vacations!
Rome (3 Nights)
Florence (3 Nights)
Venice (2 Nights)
Milan (2 Nights)
As you can see, this itinerary will focus on four of Italy's biggest tourist destinations, which is why I think it's perfect for first-timers to the country! Don't worry though, because I've got tons of epic tips + insider information to show you some hidden gems as well! (fernandez-vega.com)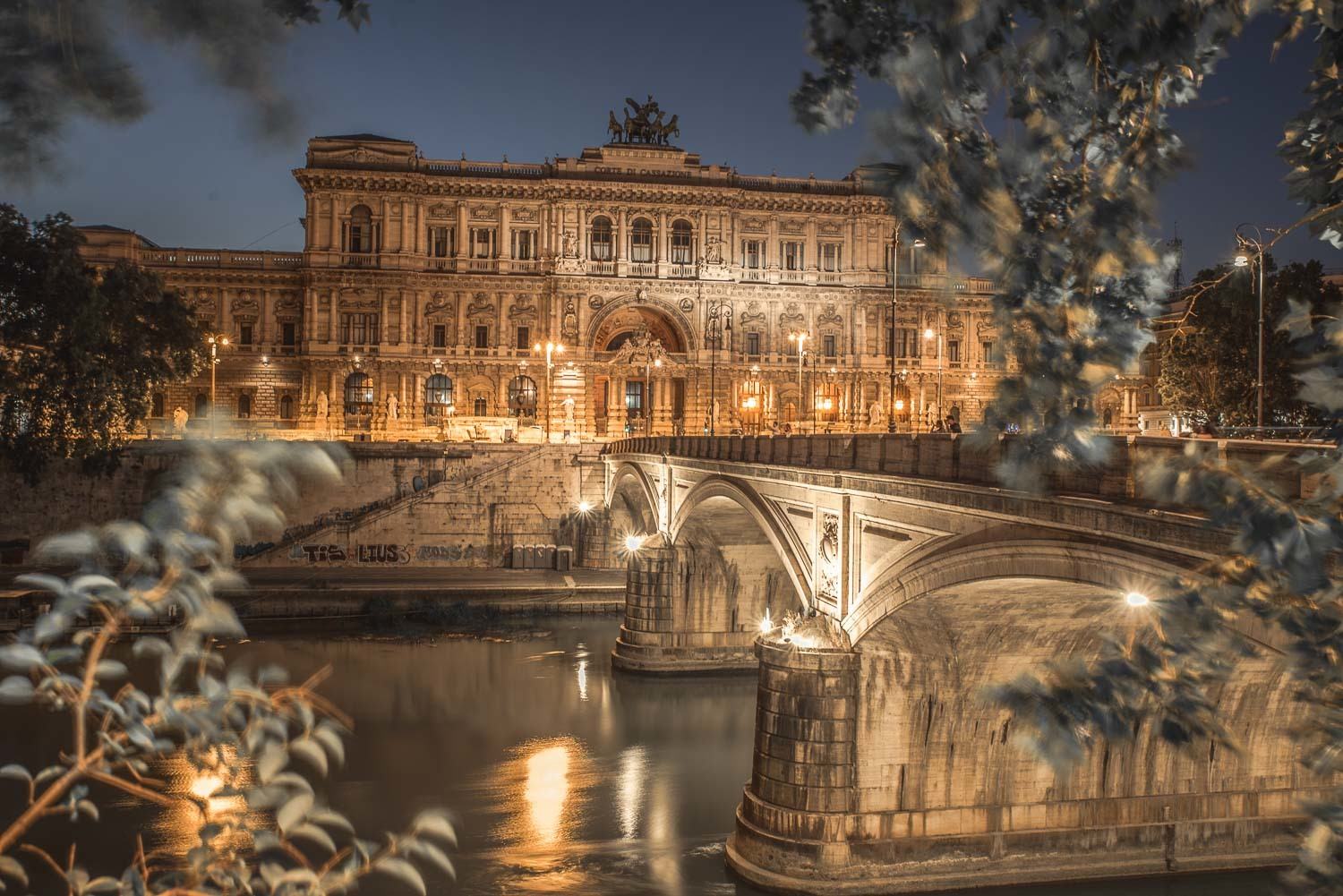 ---
Best Places to Stay on This 10-Day Italy Itinerary
Depending on the time of year you're planning on traveling, I would probably be looking to book all the accommodation well in advance! Hotels do get booked up quite quickly, and you want to make sure you're staying at decent places. I've put all my accommodation recommendations below for all the stops on this 10 days in Italy itinerary!
Renting an AirBNB: Starting off, I've become a HUGE fan of utilziing Airbnb while traveling around Europe! There's just something so nice about renting an apartment over a hotel, and I think it can provide for a more local experience. There are some truly top-notch Airbnb's all over Italy, and if use this link you'll get $40+ Off Your First AIRBNB stay for each new account. If you're traveling with friends or a significant other, you can each sign up for a new Airbnb account and keep getting that awesome discount #TravelHack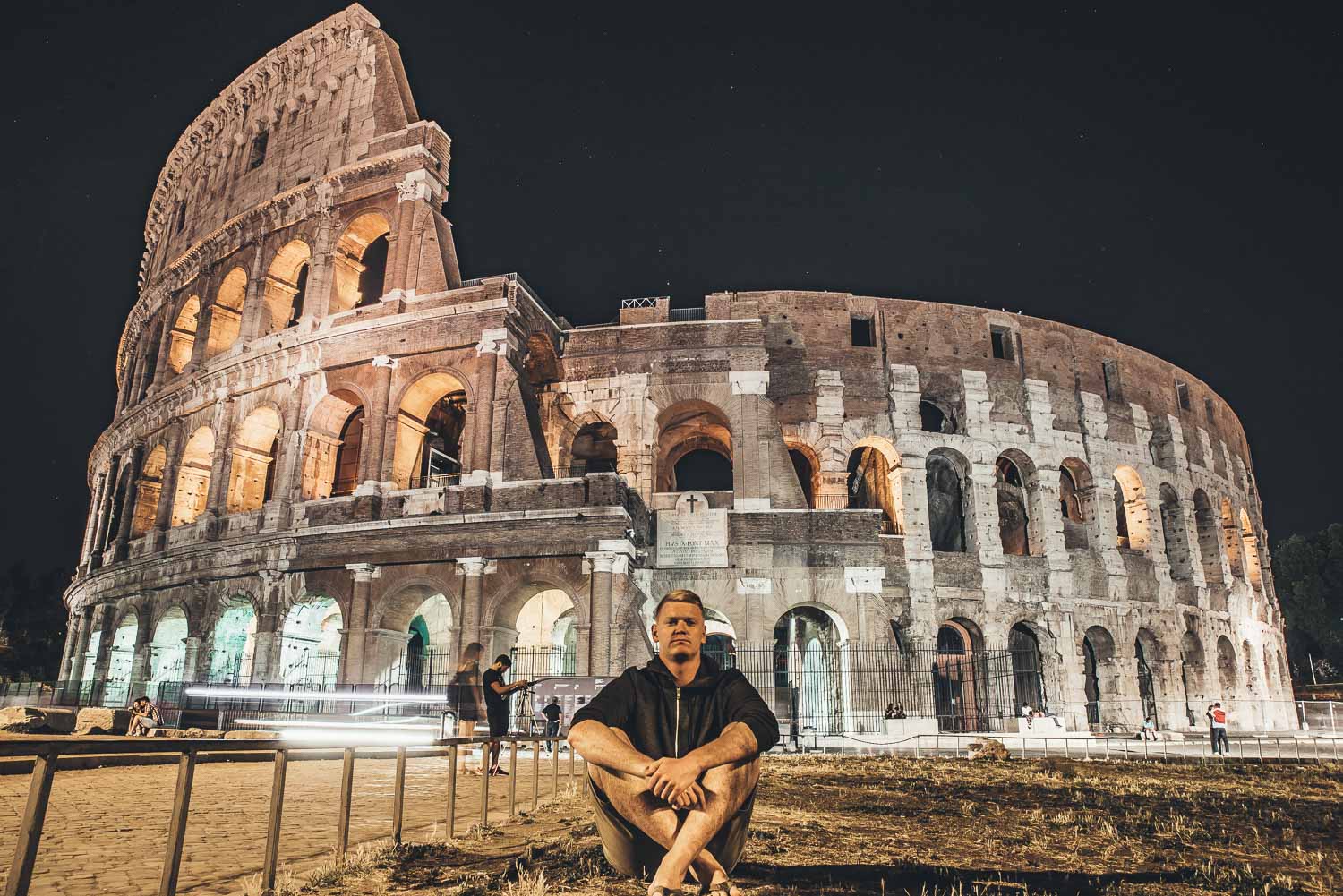 ---
Best Places to Stay in Rome
When it comes to accommodation in Rome, I think the most important thing is to stay relatively close to Termini train station! It's connected to both of the major metro lines in the city, there are tons of bus routes that start & end at Termini, and it'll also be a lot easier to get from the airport, as well as get to the station for your train up to Florence.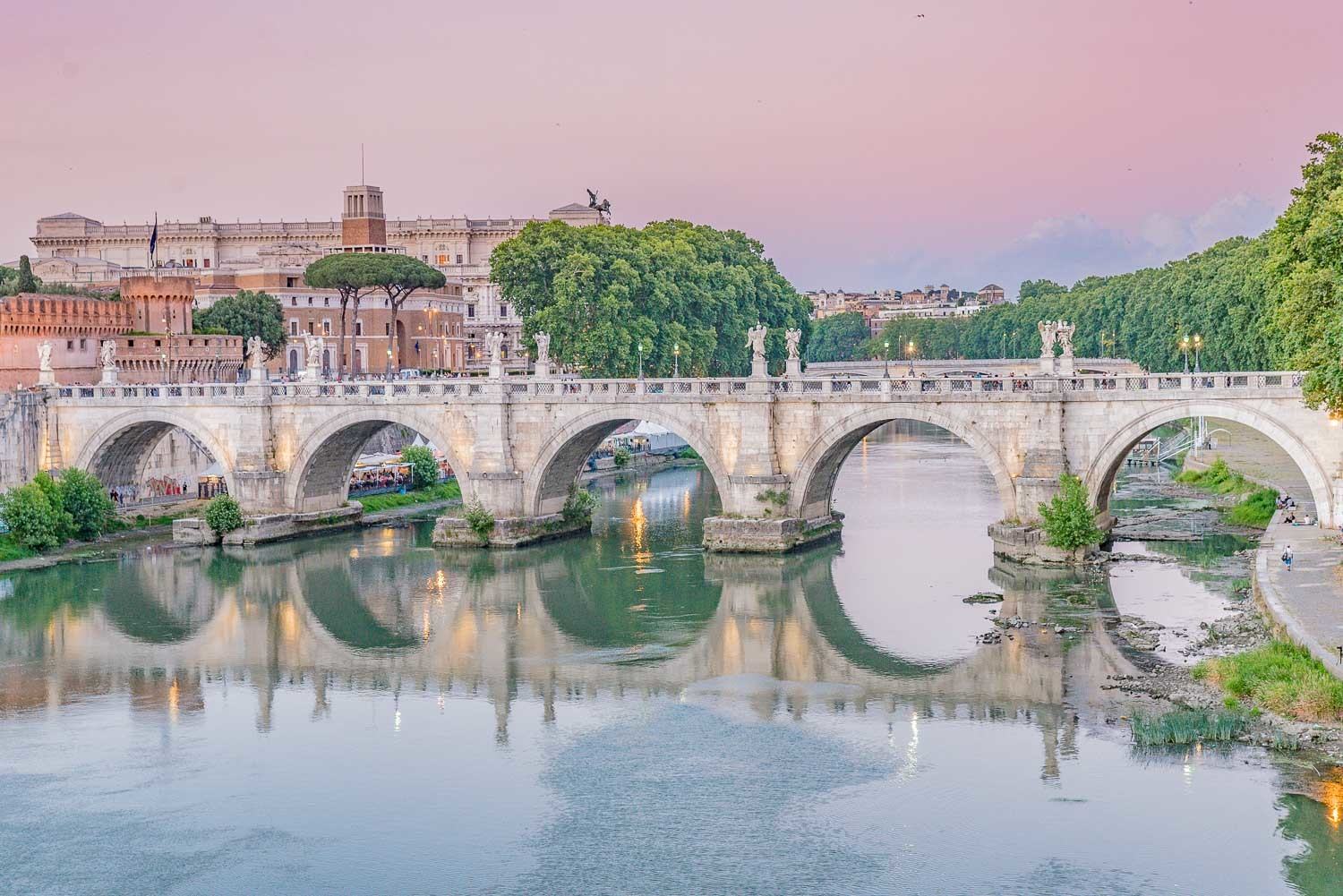 ---
Best Places to Stay in Florence
Spectacular Private Terrace – BOOK THIS AIRBNB. The view you get of the Duomo is spectacular, and will be a perfect way to finish your day by having a glass of wine on your terrace! Excellent reviews from over 400 happy guests!
Hotel Davanzati: Comfortable rooms, excellent location, and welcoming staff make this one of the best-valued hotels in Florence! Booking a room here won't break the bank, but you'll pleasantly surprised at the luxurious amenities, and top-notch service. A delicious breakfast is included, so you can fuel up on morning carbs before hitting the town to explore Florenc all day!
PLUS Florence: There's honestly no doubt about it – this is the best hostel in Florence! I've stayed here on several occasions now, and it's got everything you need for a comfy stay for backpackers and budget travelers. It also has an really awesome atmosphere, beautiful terrace views, and fun pool parties.
Four Seasons Hotel Firenze: If you're looking for the ultimate luxury resort in Florence, then you've got to stay at the jaw-dropping Four Seasons! Offering a wide range of luxury rooms and suites, the Four Season is composed of two buildings: the 15th-century Palazzo della Gherardesca, and the 16th-century convent, La Villa, and these have over 4.5 4.5 hectares of peaceful gardens in between them. While it will definitely provide a super comfortable stay, it's also one of the most expensive properties in the city!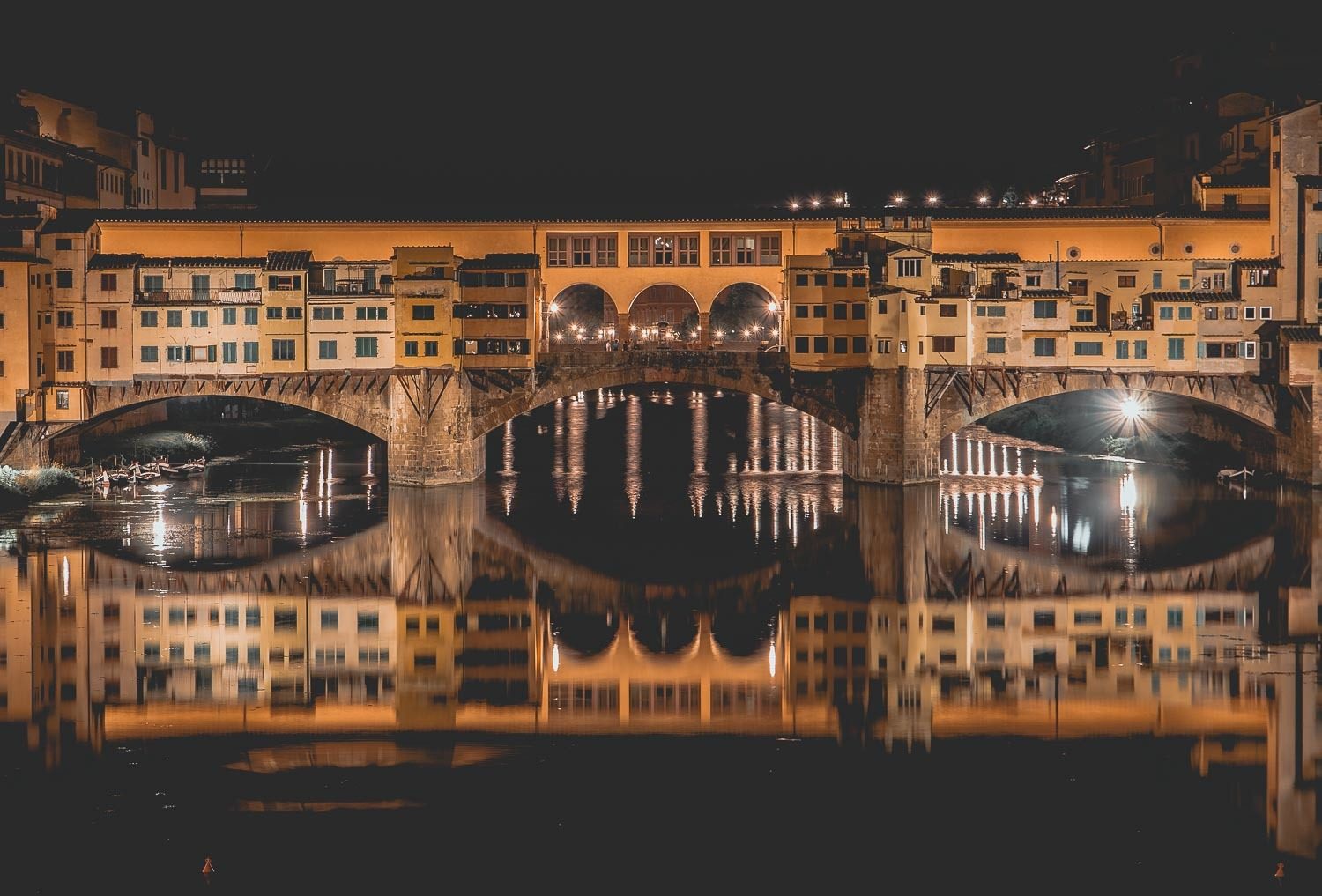 ---
Best Places to Stay in Venice
Since there are no taxis/ public transportation in Venice, it's imperative to stay close to the main train station! Half the fun of Venice is walking around the canals and exploring the city on feet, so it's best to just stay close to the station, which will make your arrival/ departure much easier!
Luxury Palazzo Costa Vendramin – This would be my top pick for an Airbnb in Venice! It's only 3-bridges away from the station, has excellent reviews, and isn't too expensive!
Ca 'Corte Bonazza – While this isn't too close to the station, it would be an amazing pick for your time in Venice!
Hotel Il Moro di Venezia: Located just footsteps away from Venice Santa Lucia Station, this well-reviewed and priced hotel will be a great home-base for your two-day stay in the city! Delicious free breakfast included to save some cash, comfortable and clean rooms, and helpful staff to assist with all your Venice travel questions!
Ostello Domus Civica: With private twin rooms & affordable dorm beds available and a great location near the train station, this is a top pick for budget travelers in Venice! While it may have basic rooms, it's perfect for exploring Venice with Piazzale Roma, Ca' Pesaro and the Ponte della Costituzione within a ten-minute walk.
Santa Croce Boutique Hotel: This 5-Star Hotel will provide an outstanding level of luxury for the fraction of the price (in comparison to the other luxury properties in Venice). You'll love the location, value, and service!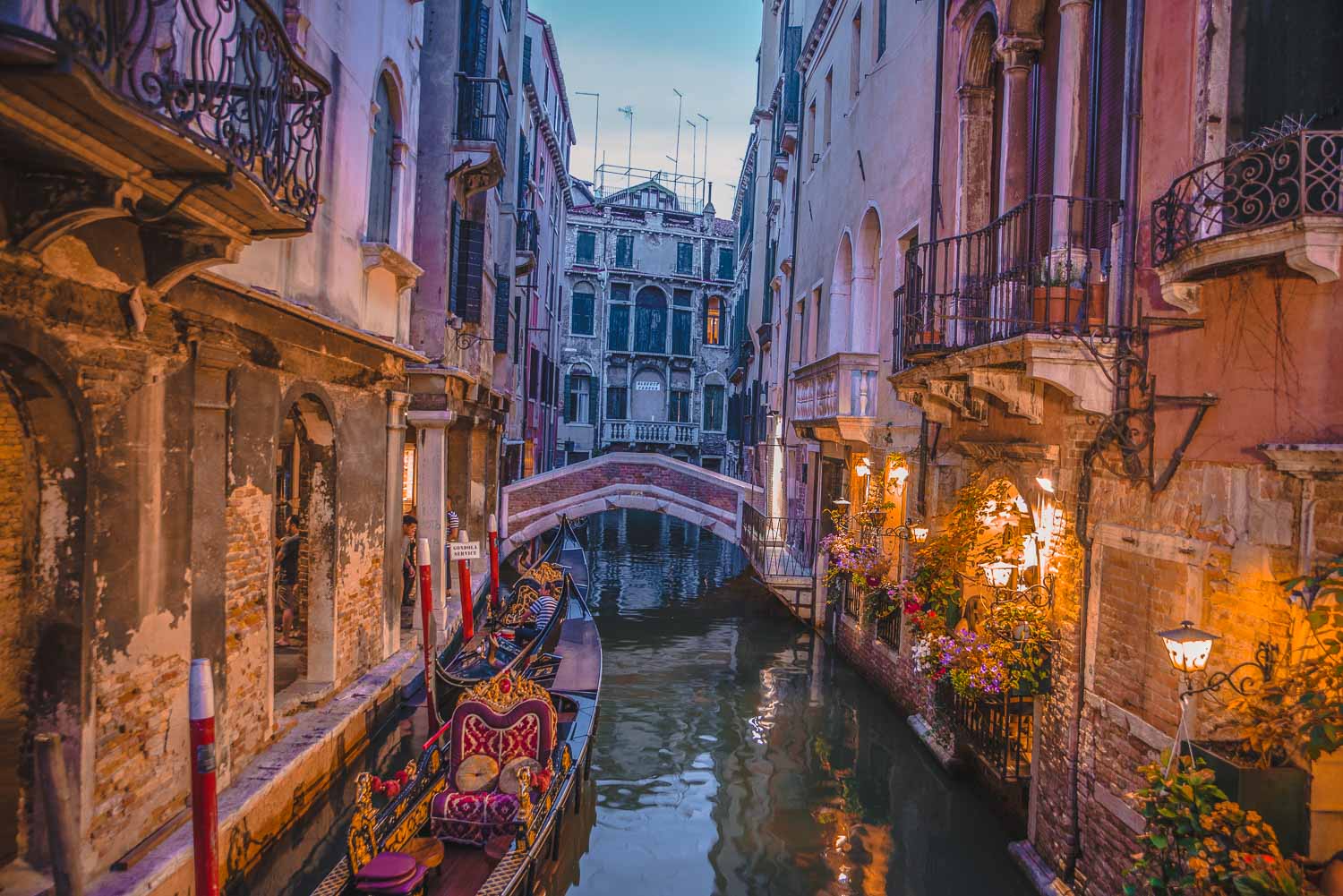 ---
Best Places to Stay in Milan
MILAN CENTER: PREGIOUS APARTMENT: Beautiful apartment right in the center of it all. It's affordable, and will be a great base for your time in Milan!
The Westin Palace: I love staying at Westin properties whenever I get the chance! They're known for their "heavenly beds", immaculate rooms, and outstanding health-focused services! The Milan Palace features a red marble façade, and a rooftop terrace with stunning city views!
Windsor Hotel Milano: This 4-Star property is simply elegant, perfectly located, and will provide a super comfortable stay for your time in Milan! It's well connected to public transportation, has a fantastic restaurant inside, and the staff are super friendly and can help with any Milan travel questions!
Milano Ostello: For backpackers in MIlan, this is exactly where you want to stay! It's well located in a safe area, the rooms are clean, and the staff is helpful! The rooms are separated by gender, the prices are the best in the city for quality hostels, and it's close to a subway station.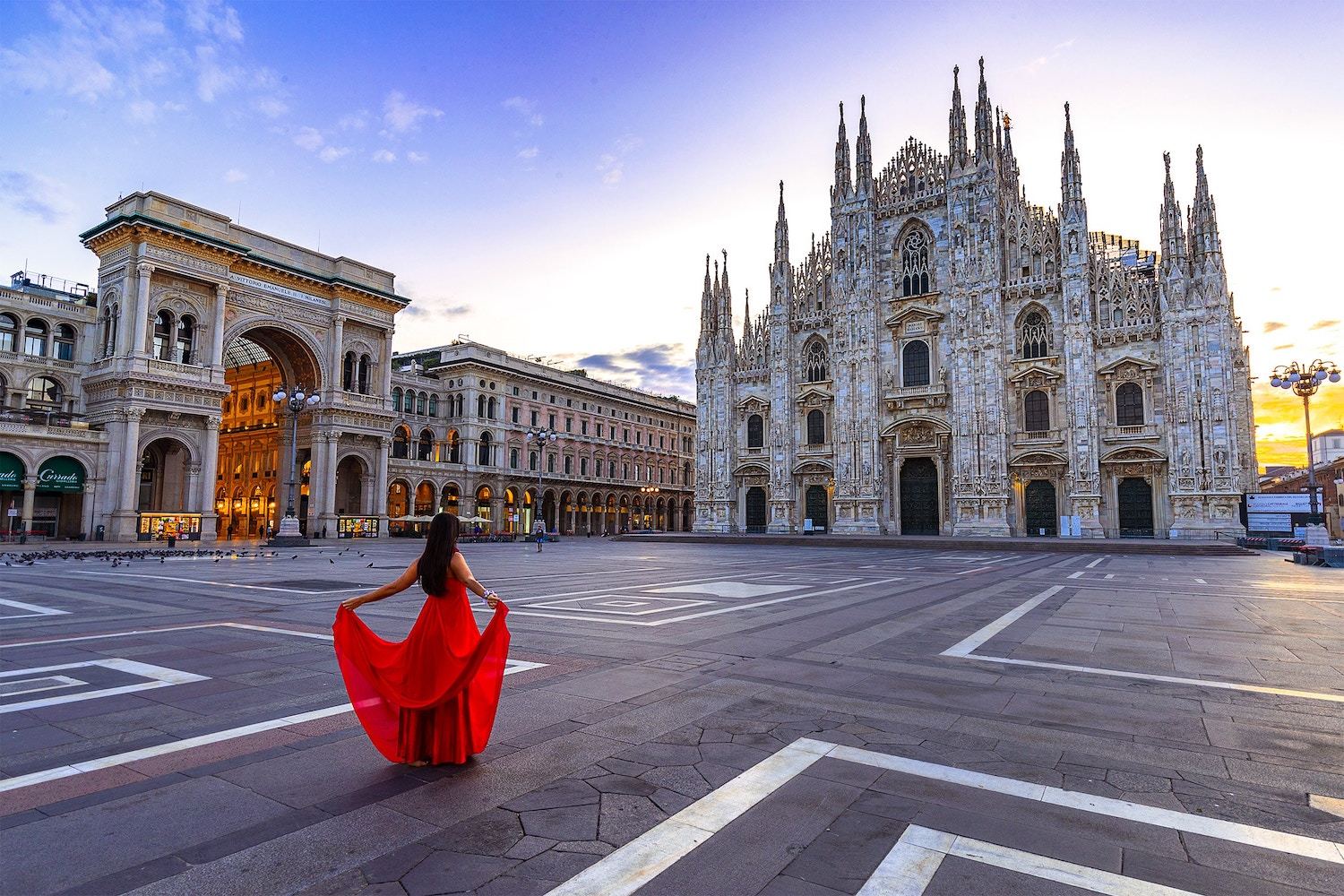 ---
Arrival at the Rome Fiumicino Airport | Italy Itinerary Trip Planer
The international airport in Rome is located about an hour's drive outside the city, but is also well connected via train and bus as well. There really are a bunch of different options for how to get into the city center, and it just depends on your budget/ travel style.
"Book a Train From Fiumicino Aeroporto to Roma Termini" – This is always my preferred way to get to Rome! It only takes about 30 minutes, and tickets should only cost 8 Euro. You can easily book it at the train station, but it's actually cheaper if you book it online several days in advance. The website is easy to use, and you can browse train times and departures. Just make sure you book a direct train, as it'll be the easiest.

Private Arrival Transfer: Rome Fiumicino Airport to Hotel: If you're traveling with a group and have a lot of luggage, this Viator deal is going to be your best bet! It's budget-friendly, and they'll drop you off at your hotel (which can come in handy if you decide to stay at a Rome hotel that isn't close to

Fiumicino Airport: Bus to/from Rome City Center Termini

: If you're looking for the cheapest option, then booking a bus ticket is it! Tickets are cheap, and you can book them at the airport for the same price. I only really recommend this option if you're on a super tight budget, and don't want to spend any more money than you need. The journey will take about an hour but can take much longer if there's traffic (which is quite common in Rome).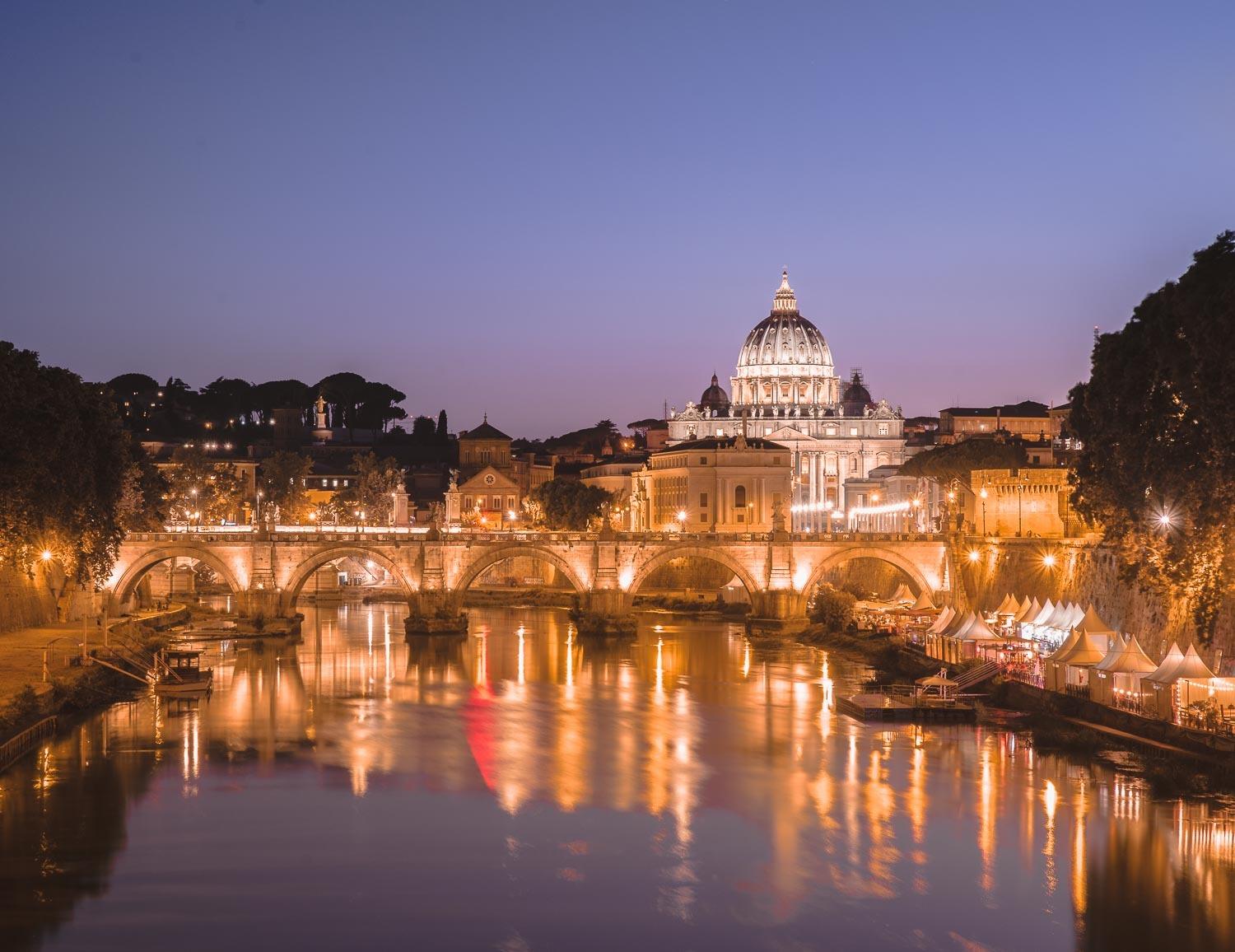 ---
Italy Itinerary Day 1: Welcome to Rome
How many days in Rome are enough?
The truth is, you could spend all 10 days of your Italian vacation in Rome, and still wouldn't even scratch the surface! It's one of the most fascinating cities you'll ever visit, and I guarantee you'll fall in love with!
Rome is one of my favorite cities in the world, and there's a big part of me that thinks I'll find myself living there again someday in the future!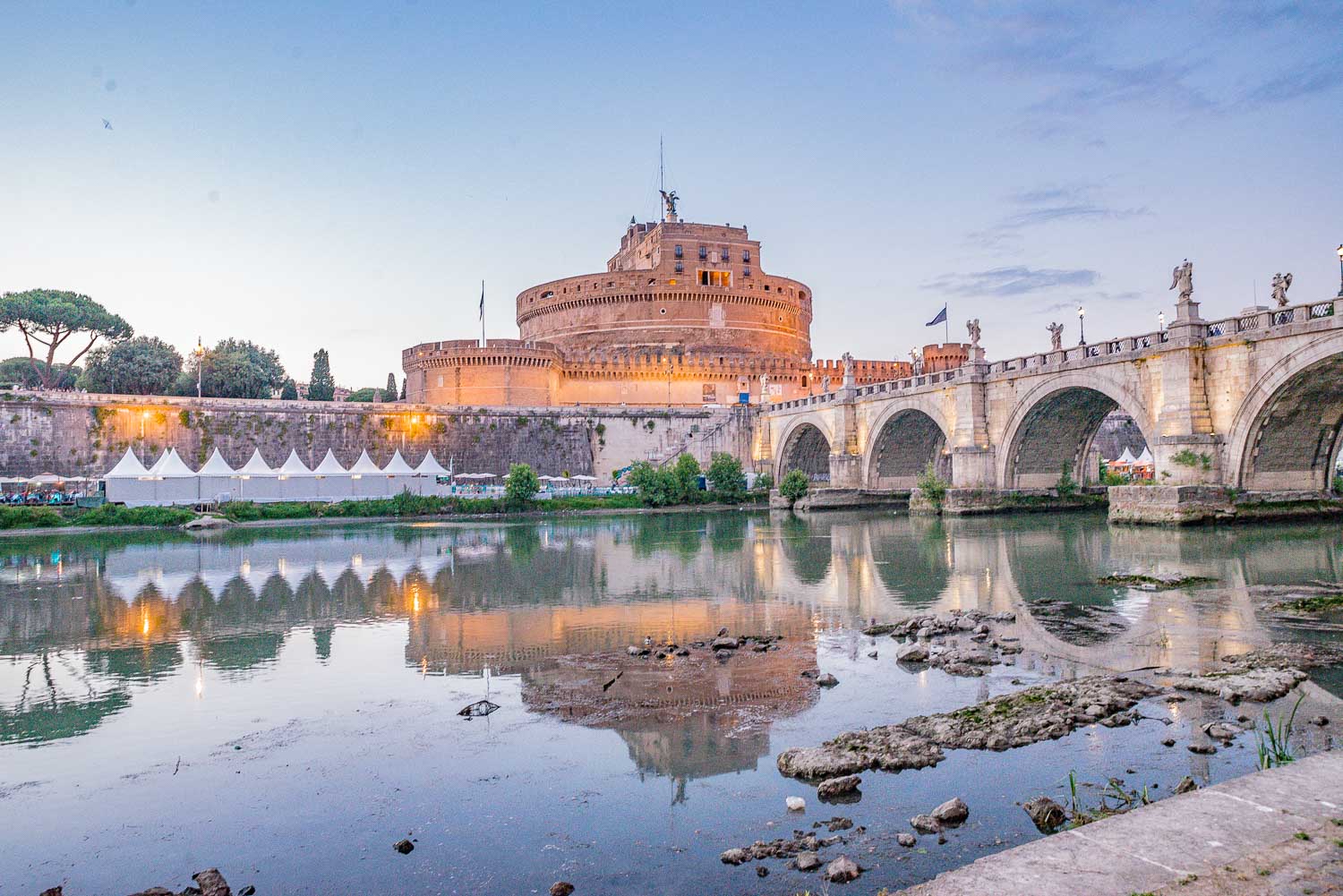 ---
Here are some fun things to do for your first day on this 10-Day Italy Itinerary
Hopefully, you got plenty of sleep on the plane and aren't experiencing too much jetlag, because you're going to want to soak up as much of these Rome attractions!
Drink a Bottle of Wine at the Trevi Fountain at night
Visit the Spanish Steps
Take a stroll in Villa Borghese
Walkthrough Piazza Popolo
Visit Piazza Navona
Grab a Drink in Campo di Fiori
Walk along the Tiber River at Dusk
Photograph Castello d'Angelo
Visit Victor Emmanuel II Monument (The Wedding Cake)
Try the Gelato at Ciampini
I've already written quite a bit about a lot of these things, so check out my articles "How to Spend the Perfect Weekend in Rome" and "10 Things to do in Rome" for a bit more information!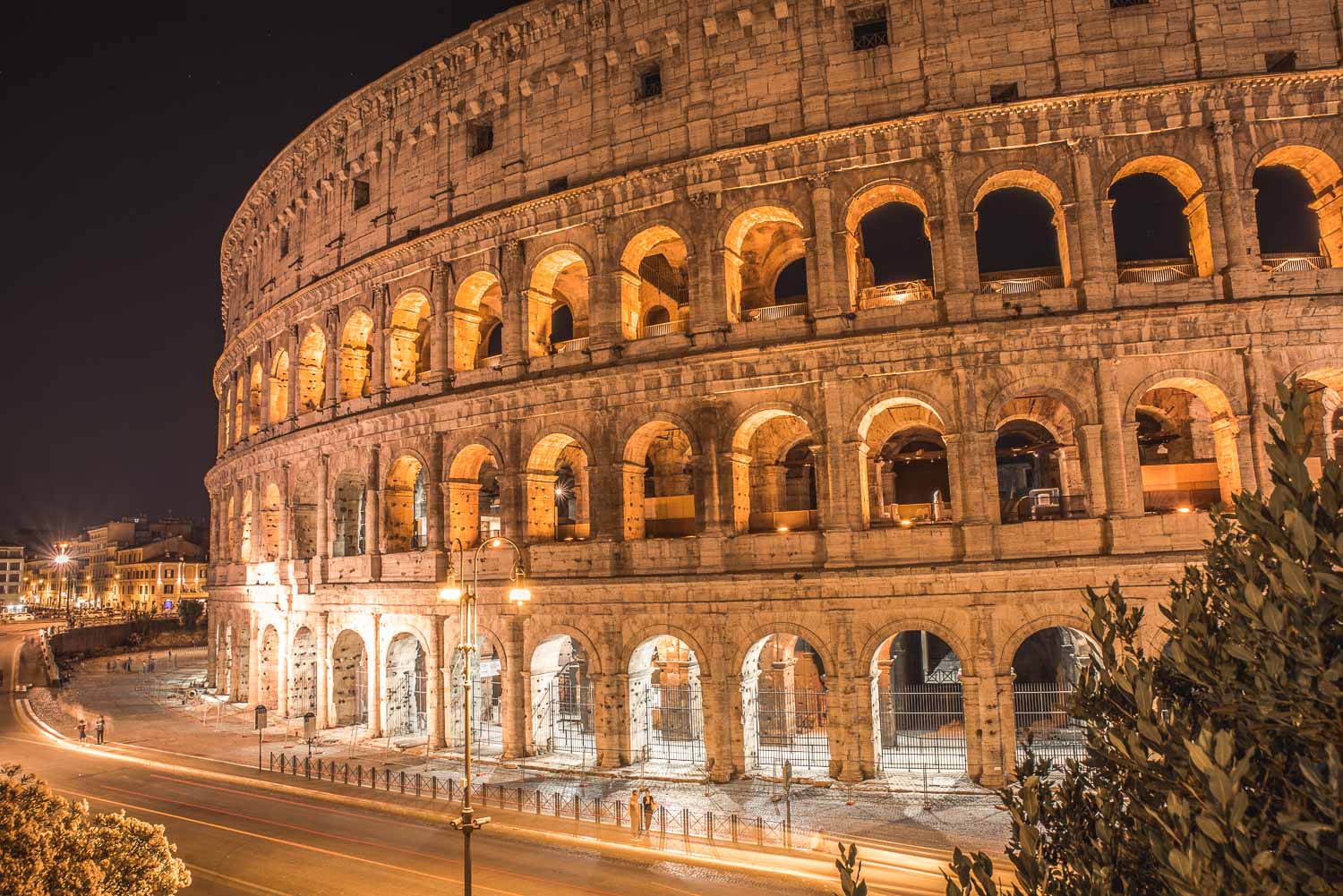 ---
Italy Itinerary Day 2: Exploring the Vatican & Pantheon Dinner
Now you may not know this, but Vatican City is actually the smallest country in the world! It's an absolute must for any first timer's visit to Italy, and you will honestly be amazed as you step foot into St. Peter's Square!
If you don't make reservations or purchase skip-the-line tickets, I'd recommend you arrive really early in the morning, or else you might find yourself waiting in line for quite a while! There are tons of incredible tours you can choose for people who want to learn all about the history, fun facts, and religious significance!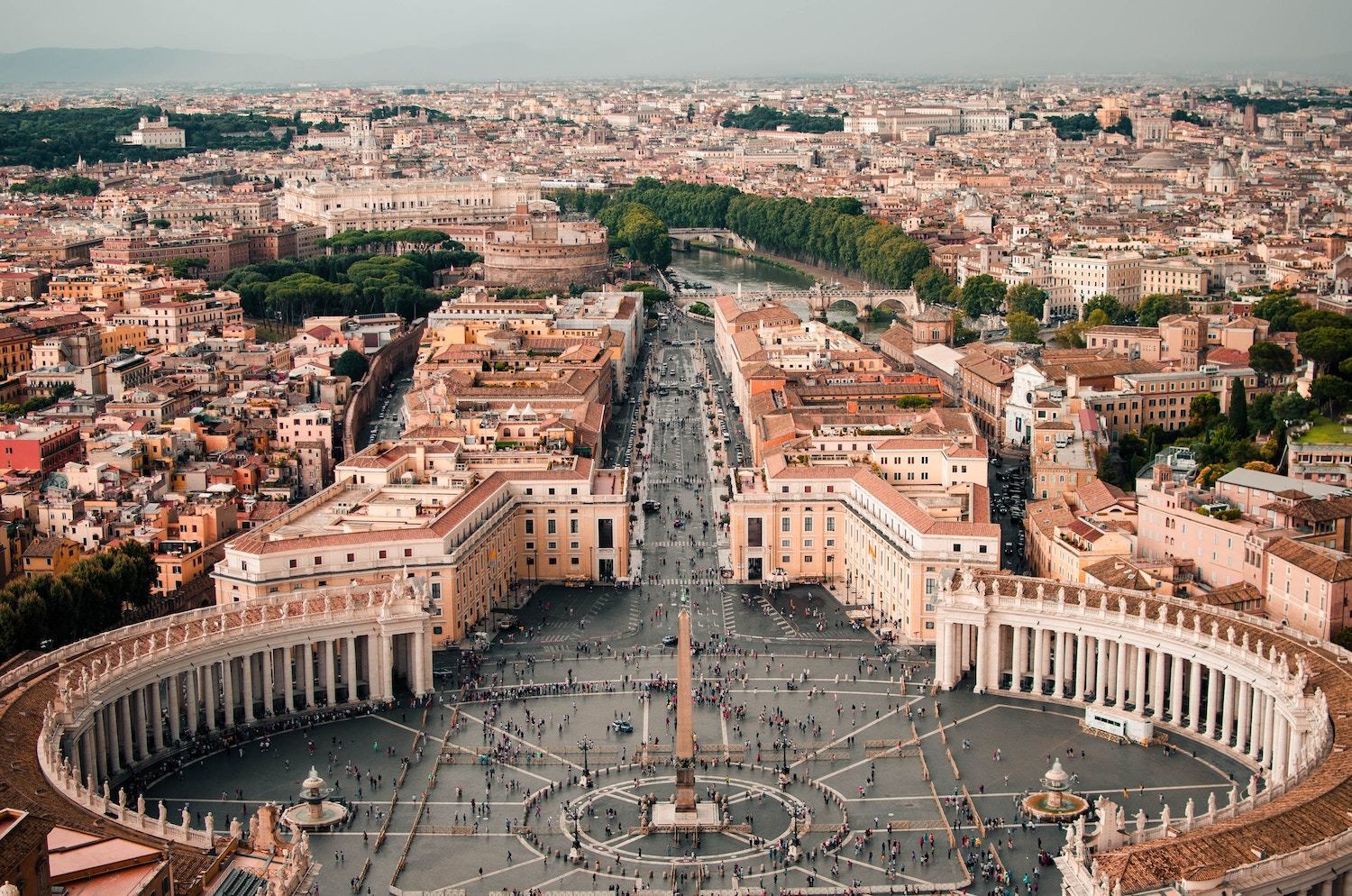 ---
Dinner at the Pantheon & Drinks in Campo Di Fiori
After a day of exploring the Vatican, I'd recommend walking back to the city center, enjoy some of the views of the river, and relax at the hotel for a bit.
I don't want to pack this day with too much info, but I'd recommend heading over to the Pantheon for dinner! It's my personal favorite landmark in Rome, and I used to walk by it every night when I lived there!
There are several really awesome yet touristy restaurants in the "Piazza della Rotonda", and it's one of my favorite things to recommend people visiting Rome! Sometimes there are opera singers who will perform, and the Italian vibes are remarkable!
After a lovely dinner experience on one of the restaurants that have terrace dining overlooking the Pantheon, make the short walk over to one of the main nightlife areas in Rome, Campo di Fiori! There are tons of different bars to choose from, but you could always just buy a few Peroni's at one of the nearby markets, and drink beer in the square!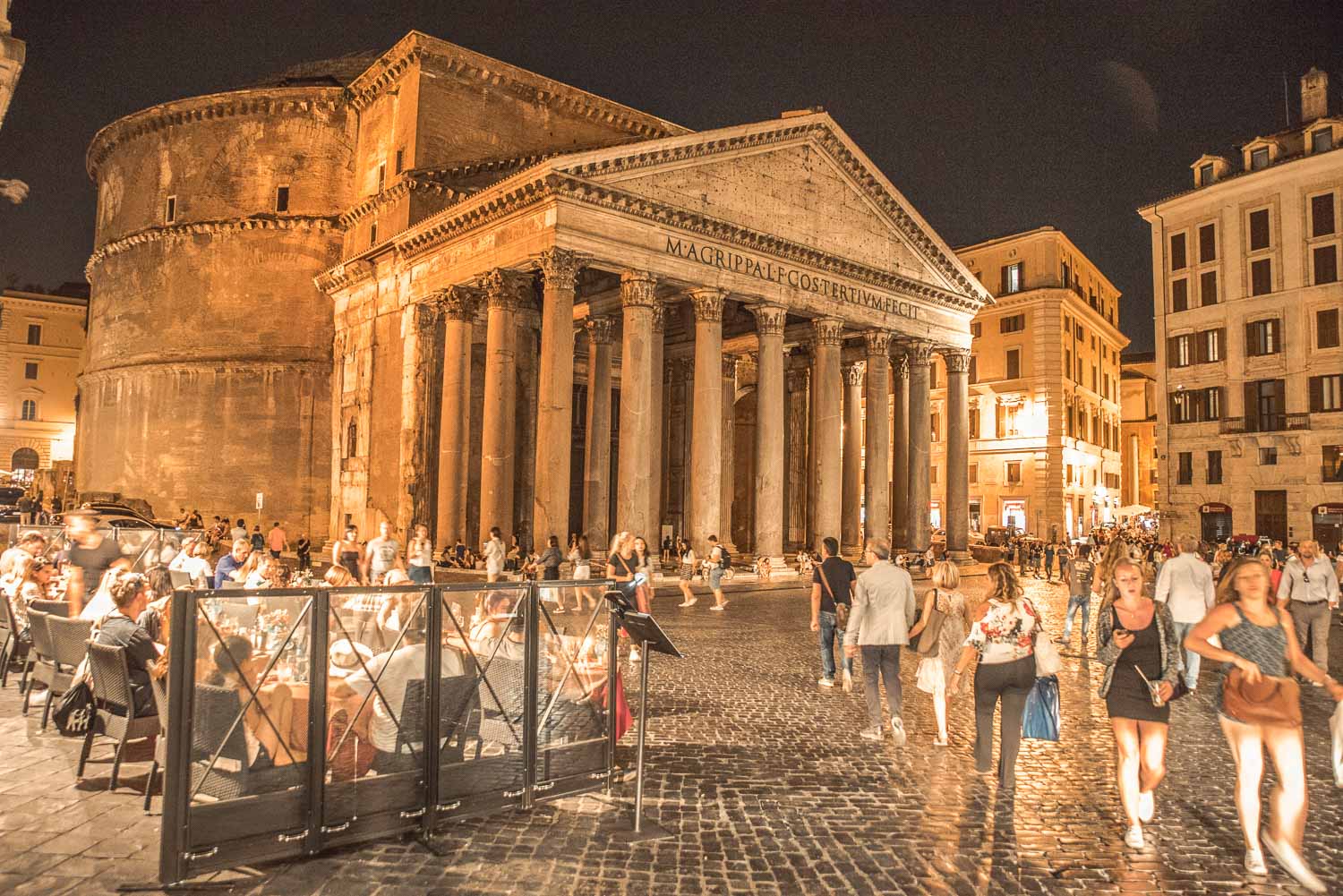 ---
Italy Itinerary Day 3: Colosseum & Roman Forum
For your last day in Rome, YOU must book a tour through the Colosseum and Roman Forum! The Colosseum needs no introduction, as it's one of the most famous and recognizable landmarks in the entire world. Even if you're not a big history buff, I'd recommend taking a tour because the history is absolutely fascinating, and will surely impress just about everyone! It can get extremely busy during the busy summer season, so check out a few of these tours that include priority access.
Colosseum, Roman Forum, Palatine Hill Priority Tickets: "Get into the Colosseum, Palatine Hill, and Roman Forum in central Rome through the fast track entrance with a combined package. Enjoy a hassle-free experience at your own pace. Marvel at the remains of some of the greatest monuments of the Roman Republic."
Skip-the-Line Colosseum and Arena Floor Guided Tour: "Get privileged access to the Colosseum by skipping the long ticket line and spend more time inside Rome's most famous monument. Listen to your expert English-speaking guide and discover the rich history of the landmark itself and ancient Rome. Standing since the 1st century, surviving earthquakes and stone robbers, the landmark could hold over 50,000 spectators who watched gladiator contests and other spectacles. Visit the usually inaccessible arena floor of this monument, which is listed as one of the New Seven Wonders of the World."
Travel Tip: If you are traveling during summer, try to go as early as possible to avoid walking around during the hot Roman heat!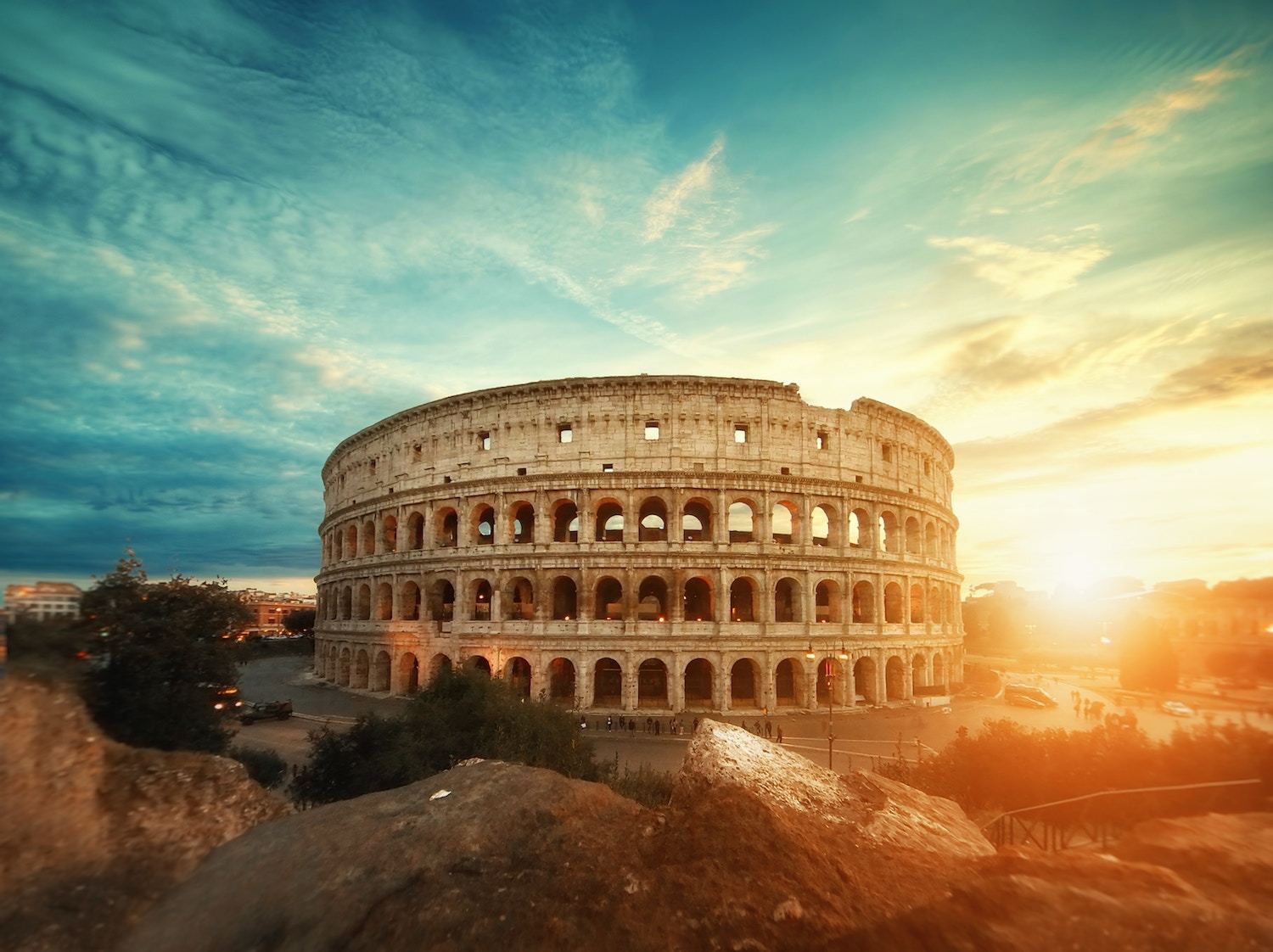 ---
Italy Itinerary Day 4: Train to Florence & Piazzale Michaelangelo
I hope you've enjoyed your time in Rome, but your Italian vacation continues in one of the most charming cities in all of Europe! Florence is the city I've lived in the longest (outside of the U.S), and will always be a home to me!
The best and easiest way to get from Rome to Florence is by train. The journey only takes about 85-minutes, and it's really cheap! Just make sure you book-in-advance, as tickets are MUCH cheaper!
Book a train ticket from Roma Termini – Florence Santa Maria Novella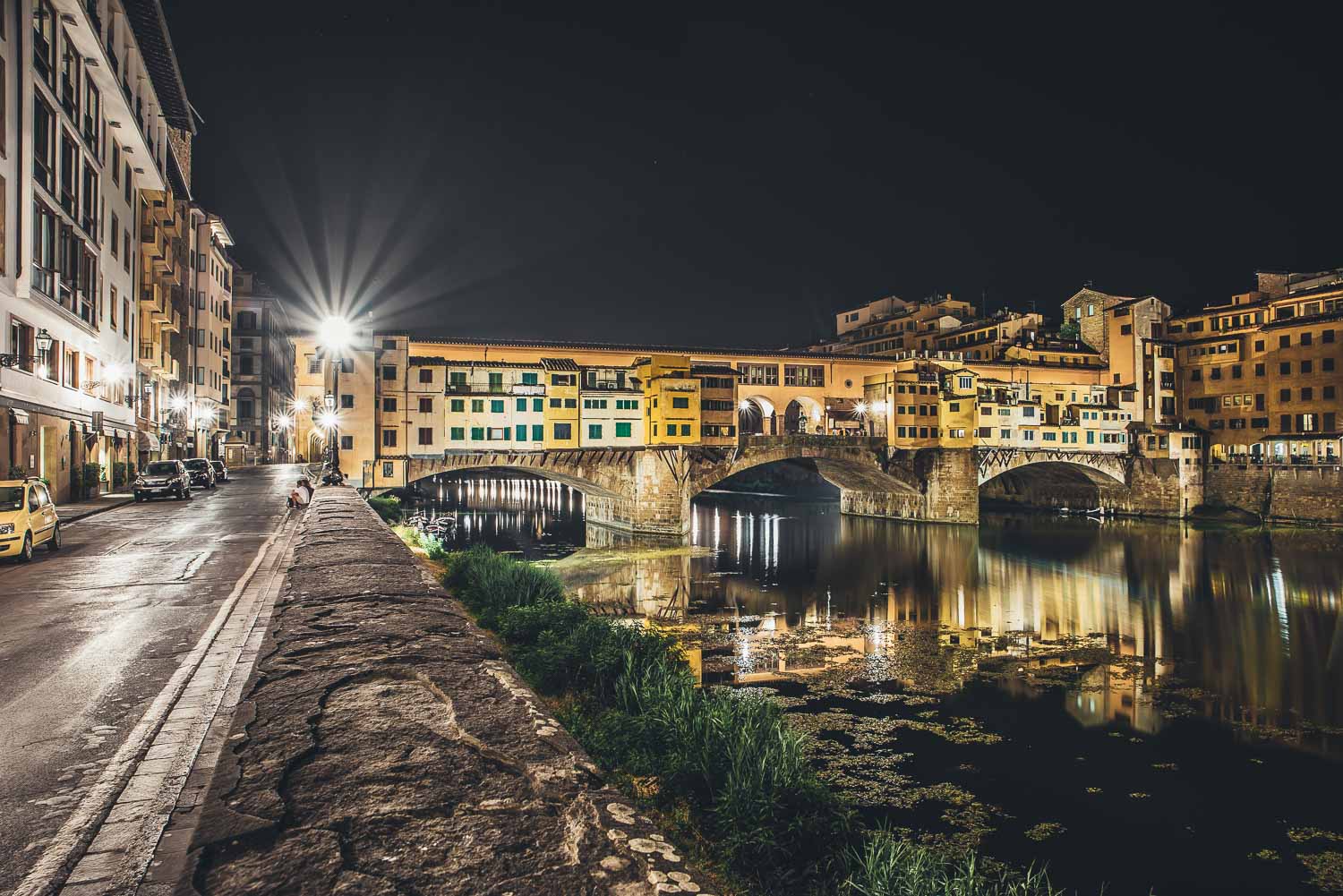 ---
Now, for your first day in Florence, just get checked into your hostel, explore a bit of the city, and then head up to Piazzale Michaelangelo for the sunset! It's probably my favorite thing to do in Florence!
The area is always really lively with people having picnics, enjoying bottles of wine, and listening to live musicians (who are pretty much always playing every night).
Piazzale Michaelangelo provides the best panoramic views of the city, and it'll give you a much better appreciation for the city you'll be exploring over the next couple of days! ""It may be a classic tourist stop, but it never fails to capture the heart and imagination of those who follow the path to the very top."
Florence Travel Tip: Head to a grocery store before making the walk up to Piazzale Michaelangelo, and buy some bread, cheese, cured meats, wine, and some cups! It's truly a Florence must-do!!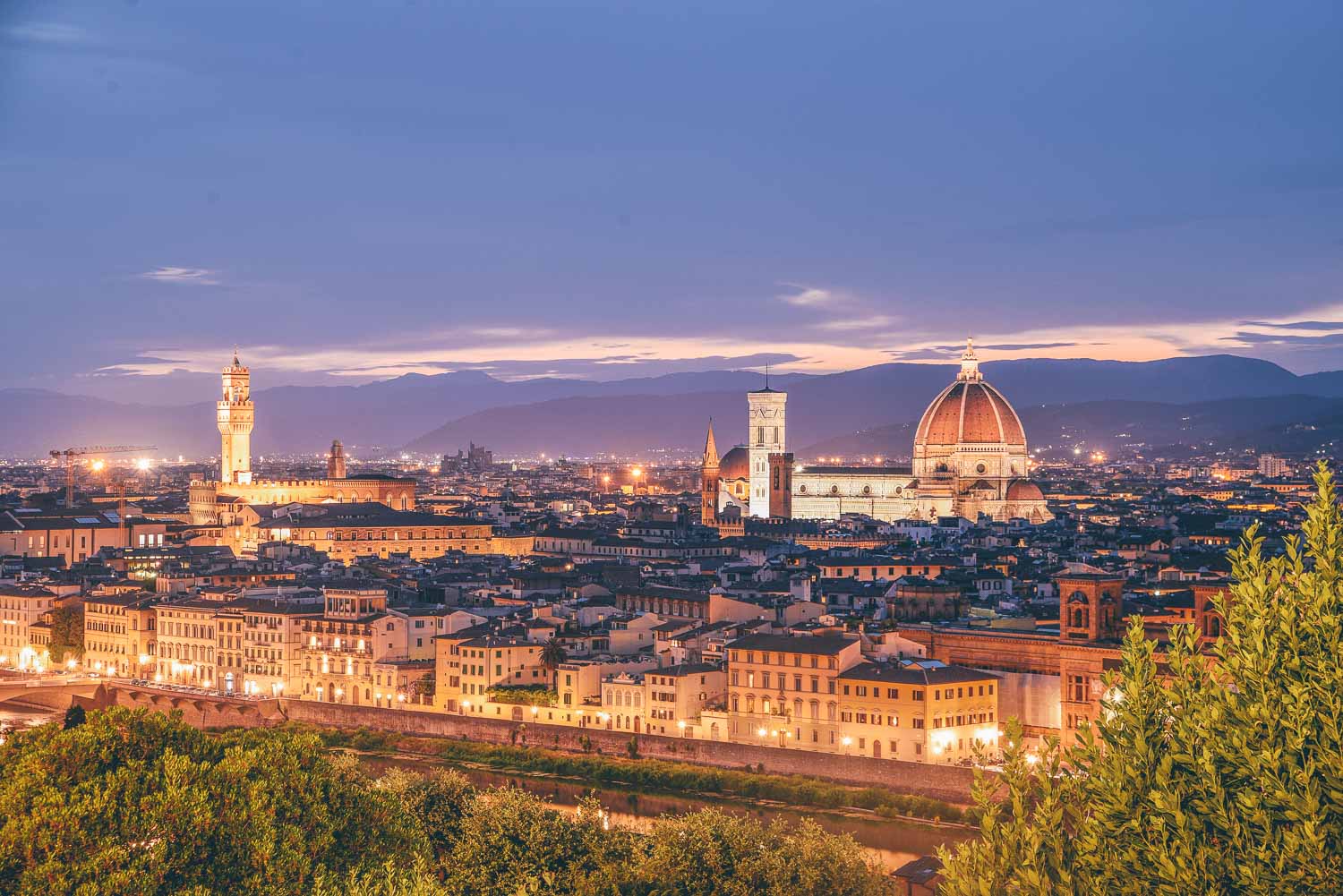 ---
Italy Itinerary Day 5: Exploring Florence Museums, Pizza & Bars
This will be your only full day to explore Florence, but luckily that's all you REALLY need. Florence is a relatively small city, and you can actually walk around all the major highlights in one day quite easily.
The Best Things To Do in Florence, Italy
Visit the famous Duomo and climb the 463 steps to the top!
Explore the world-famous Uffizi Gallery
Admire Michelangelo's David sculpture at the Accademia Gallery!
Walk across the Ponte Vecchio
Explore the Pitti Palace & The Boboli Gardens
Take some photos in the Piazza della Signoria

Check out the Basilica of Santa Croce in Florence

Shop through the Lorenzo Leather Market
I've written a bit about Florence as well, so go read through my articles "10 Amazing Things to do in Florence" and "5 Must-Try Places to Eat in Florence"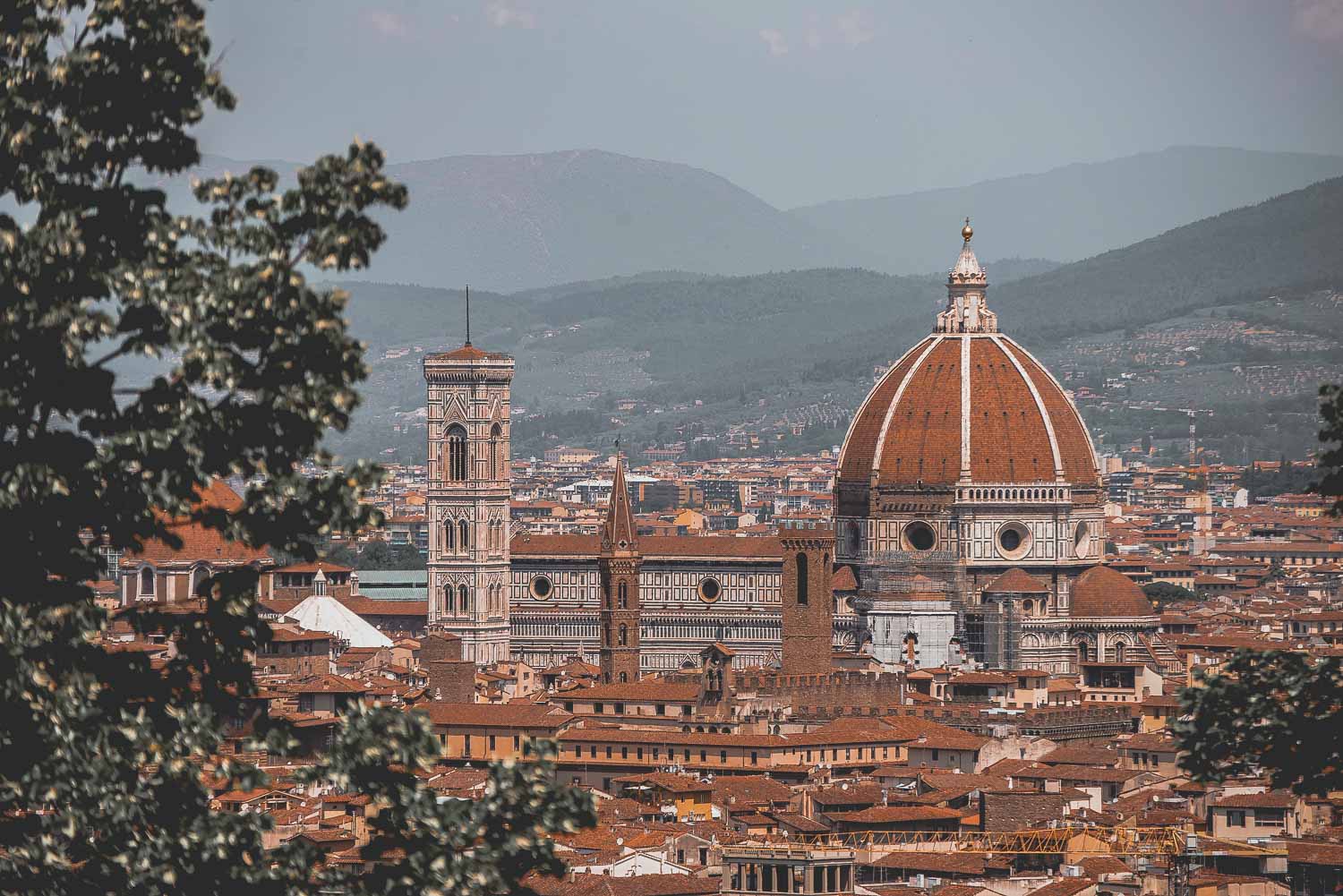 ---
Italy Itinerary Day 6: Tuscany Day Trip
While I'm sure by now you've fallen in love with Florence, taking a day-trip to explore the Tuscan countryside is definitely a must! The entire region of Tuscany is absolutely stunning, with its medieval towns, rolling green hills, and incredible wine tasting opportunities – and Florence is the perfect jumping-off point to explore a lot of different places!
Some Day Trips from Florence To Consider
Pisa
Siena
Livorno
San Gimignano
Volterra
Chianti
Lucca
Arezzo
Porto Ercole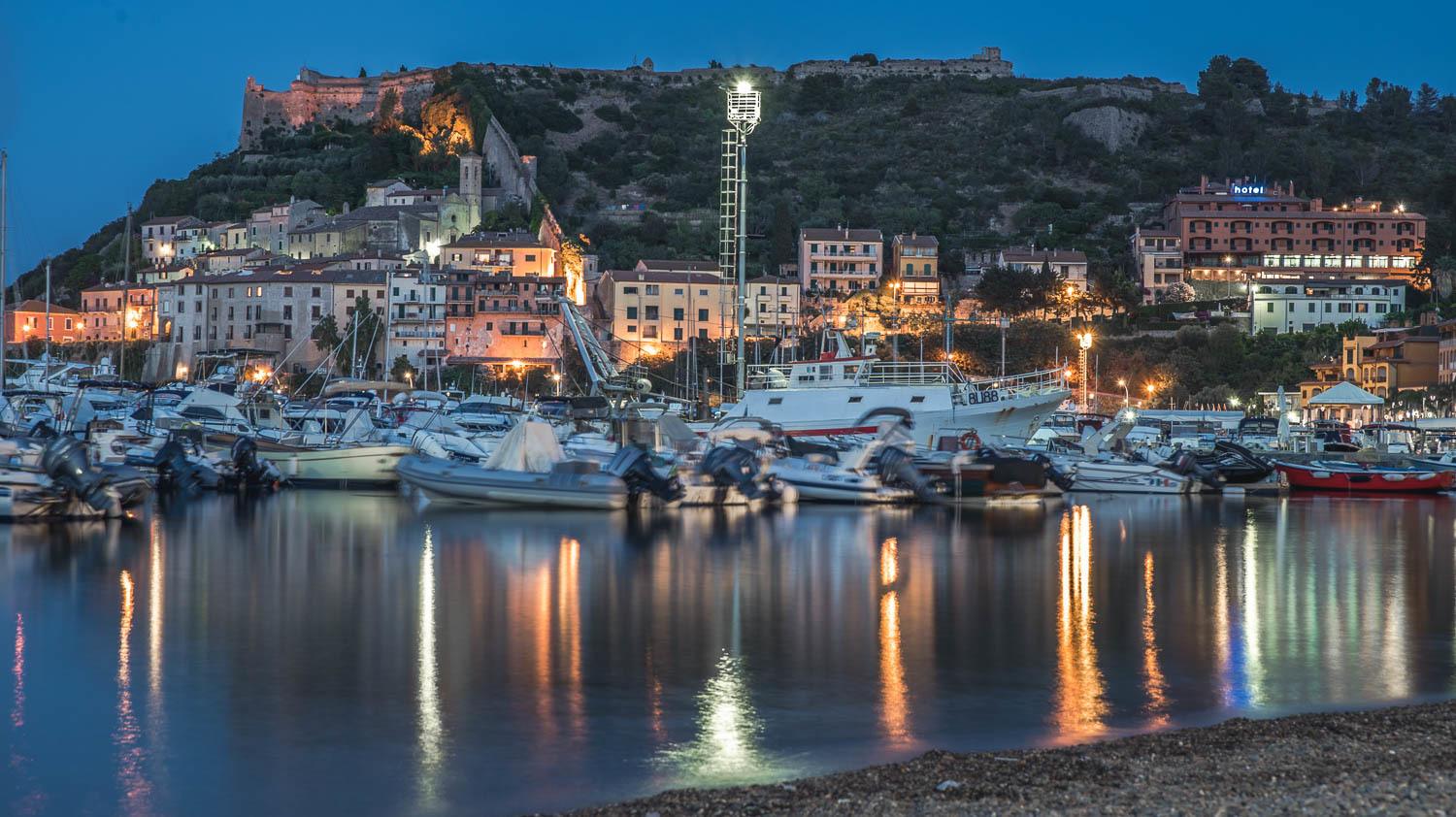 ---
You could quite easily rent a car for the day and drive to the nearby cities, or you can book one of the many tour companies that offer day trips from Florence! Here are a couple solid options:
San Gimignano, Siena & Chianti Day Trip: "Enjoy a full-day tour of Tuscany's villages and wine regions from Florence and travel into the heart of the beautiful Tuscan countryside. Visit the town of San Gimignano, the wine territory of Chianti, and the medieval town of Siena."

Tuscan 1 Day: Siena, San Gimignano, Monteriggioni, Chianti: "Enjoy an unforgettable day in Tuscany! Visit the charming medieval towns of Siena, San Gimignano and Monteriggioni and discover the beauty of the Chianti countryside landscape. This tour features delicious local wines."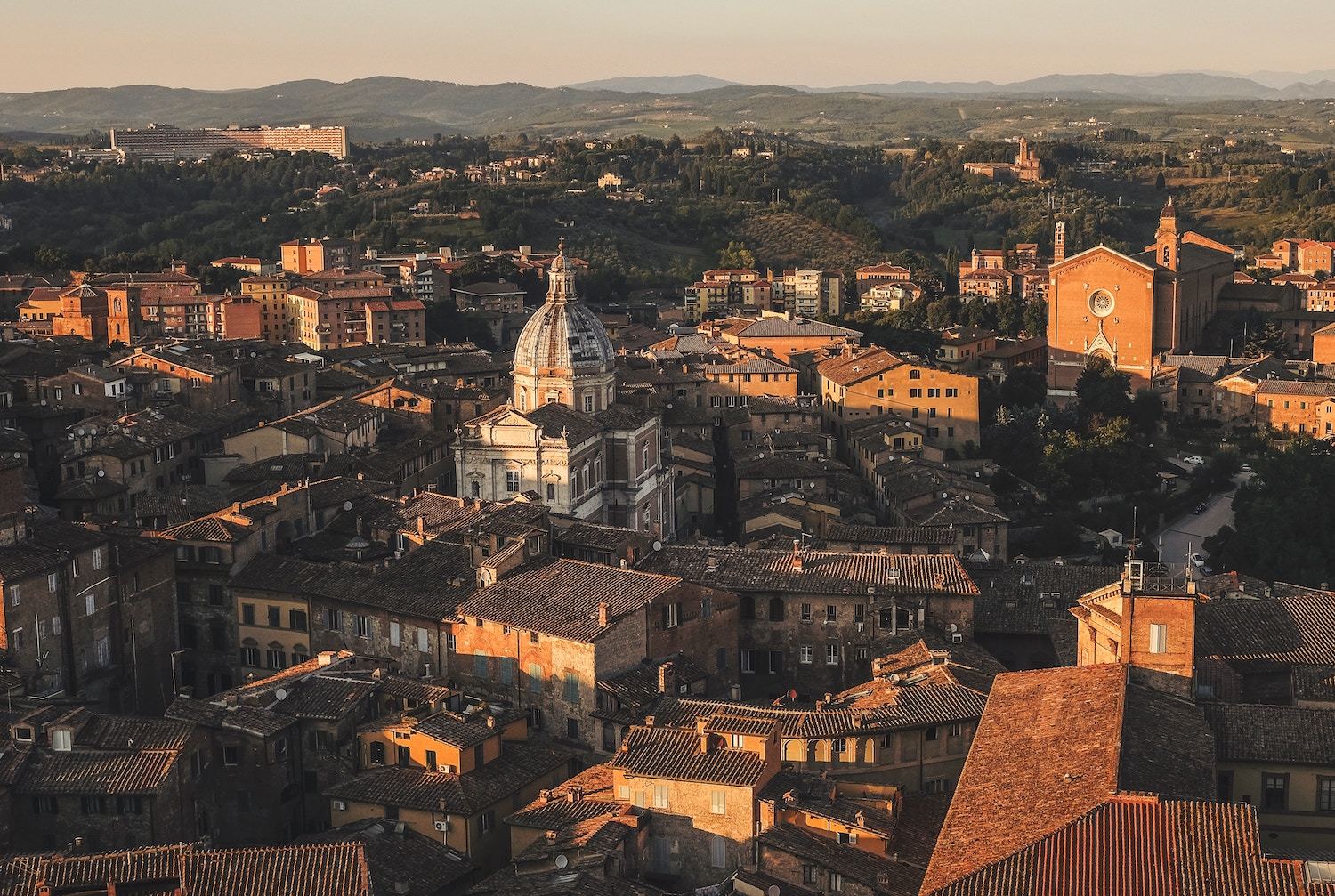 ---
Italy Itinerary Day 7: Venice Canals & Gondola Rides
Wake up bright and early, head to the train station, and get on board, because it's time to head to the "City of Canals"! Venice is truly a dream destination, and will
Florence to Venice Train Time: 2 hours
BOOK YOUR FLORENCE TO VENICE TRAIN JOURNEY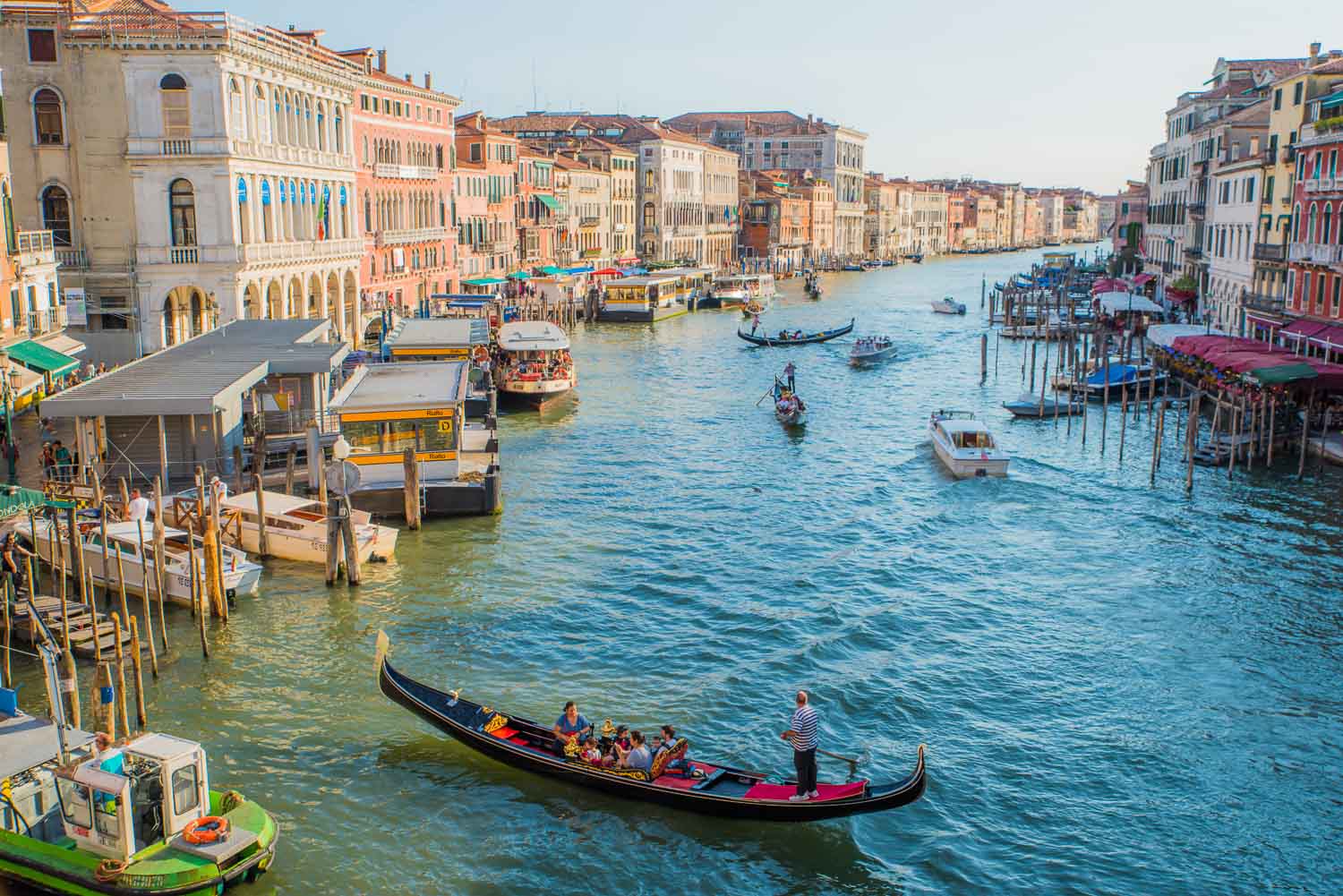 ---
The Best Things To Do in Venice
Venice is a city that just visiting alone is an adventure of its own! You'll love getting lost among the canals, watching gondolas navigate through the tiny alleys, and will be left mesmerized by this romantic destination.
While it's not the easiest city to navigate, you should have no problem hitting up all the major Venice attractions if you get an early start to the day!
Visit St. Mark's Square & Basilica
Explore Doge's Palace
Check out the view from Rialto Bridge
Browse and shop through all the Venice Carnival theme shops
Visit the Grand Canal
Take a Gondola Ride
Visit the Bridge of Sighs
Explore the Gallerie dell'Accademia

Ride a Vaporetto through the Grand Canal

Photograph the stunning "Chiesa di Santa Maria Assunta"
Stazione di Venezia Santa Lucia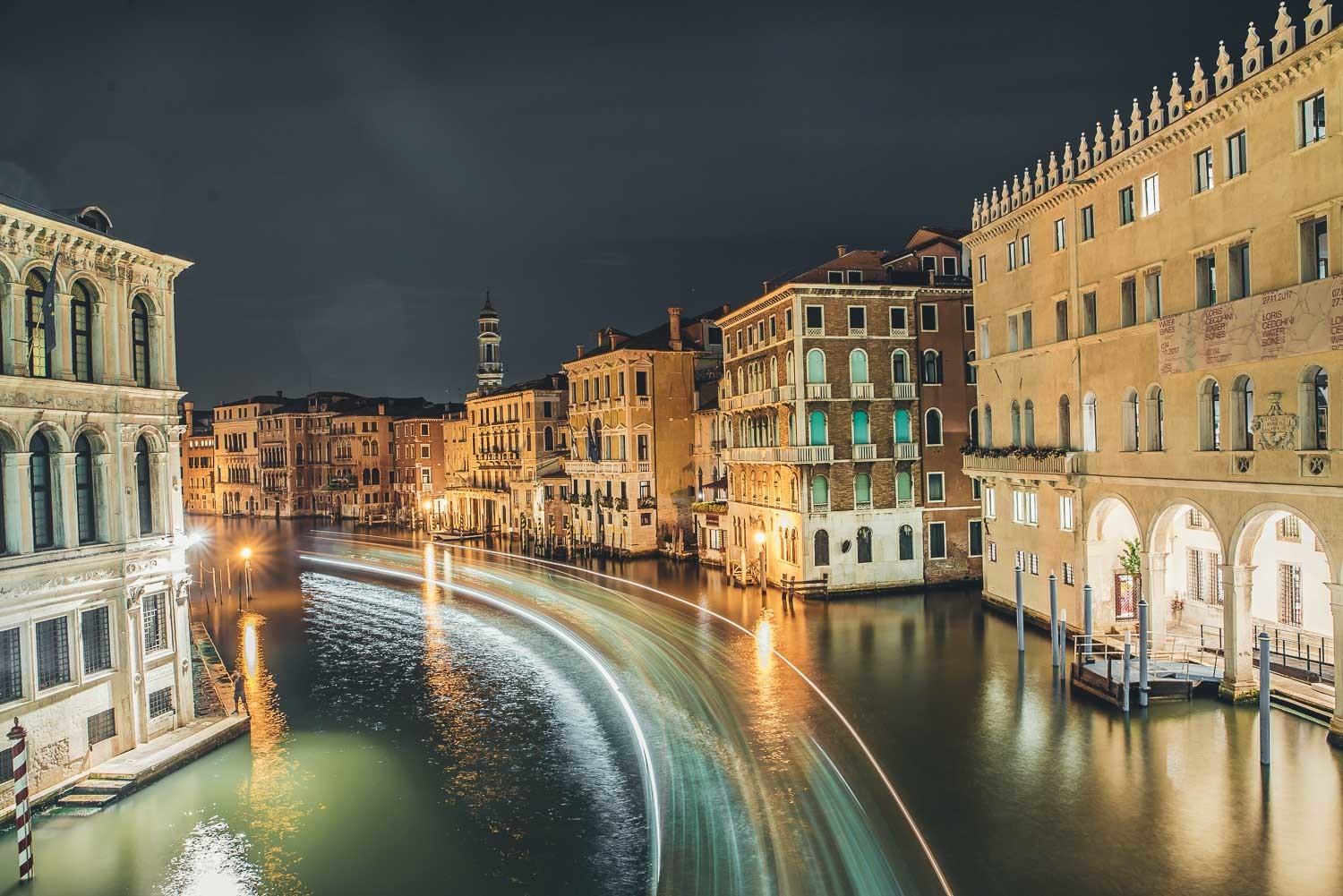 ---
If you're traveling during peak season, then I'd recommend purchasing a skip-the-line ticket for Venice! It's a crowded city, and you don't want to wait in line for a couple hours!
Doge's Palace Priority Admission Ticket: "Head straight inside the Doge's Palace in Venice with your priority admission ticket and avoid waiting in line. Explore the site that was the head of a thousand-year republic and marvel at its art and architecture. Walk across the iconic Bridge of Sighs."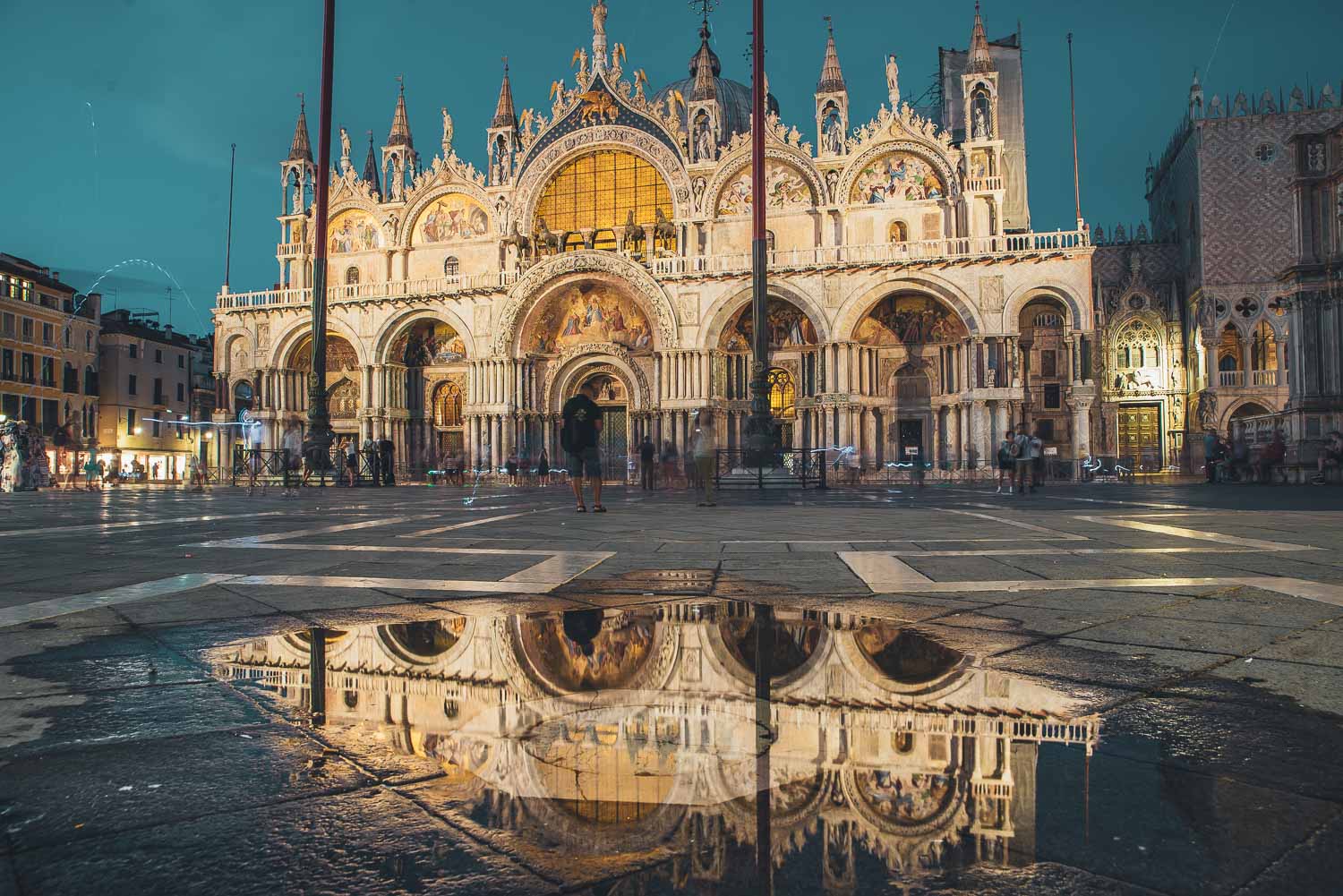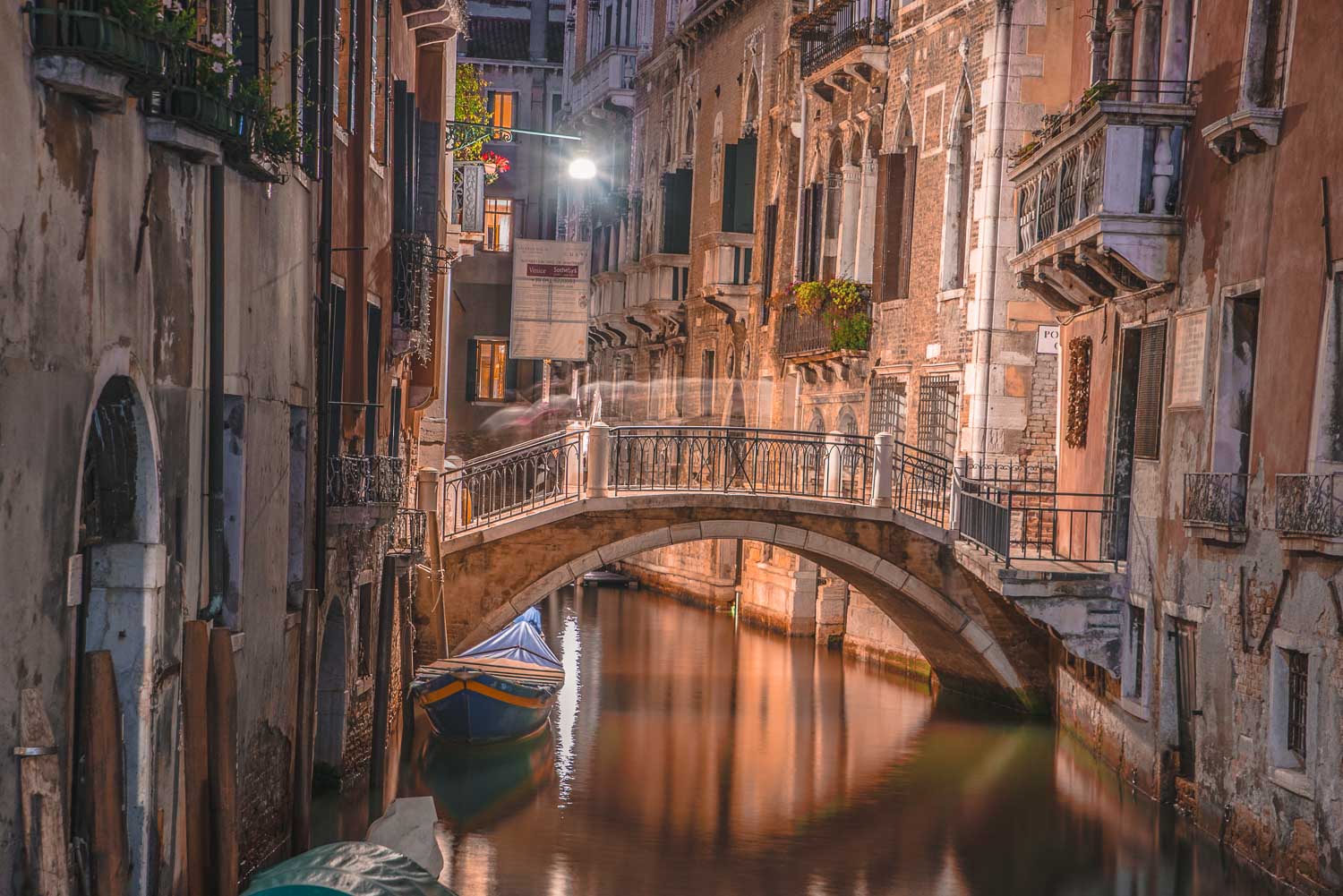 ---
Italy Itinerary Day 8: Murano & Burano Island Day Trip
Located just a short boat road away from Venice are a bunch of different islands that are colorful, funky, and definitely worth the visit! Famous for photography, glass blowing, museums, and architecture – a visit to Murano & Burano will certainly impress!
Check out this guide called SELF-GUIDED TOUR TO MURANO AND BURANO for a detailed run-down of how to do this trip without a guid, or book yourself on this highly-reviewed island hopping tour!
Glimpse of Murano, Torcello & Burano Islands: "Take a short journey to all 3 islands and spend 45 minutes on each. Watch master glass blowers at work at a glass factory in Murano. Enjoy free time in Torcello. See the chocolate-box painted houses on Burano"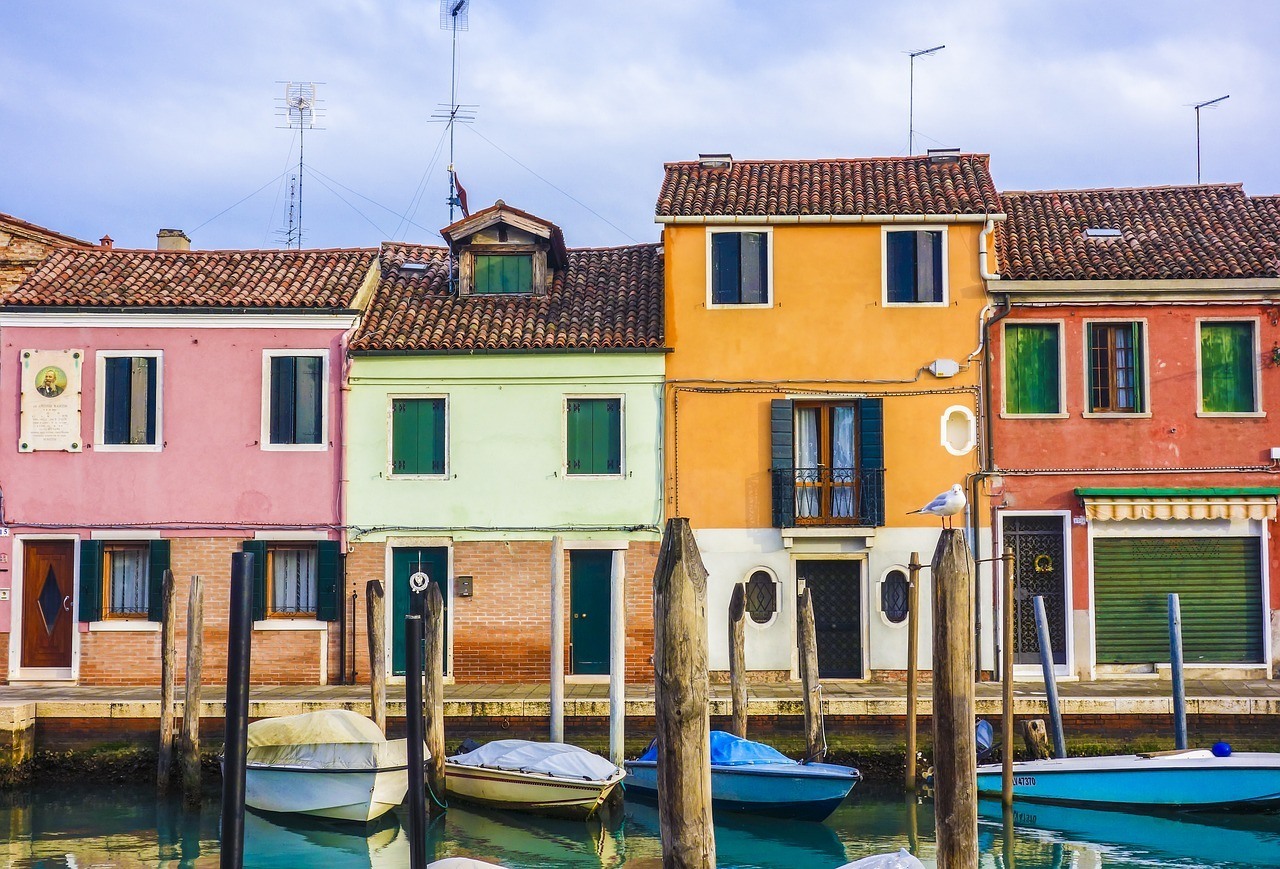 ---
Check out this fun Youtube for some more travel information and inspiration! The towns are absolutely gorgeous, and you've got to spend a day exploring and photographing their beauty!
The beautiful MURANO and BURANO
---
Italy ItineraryDay 9: Marvelous Milan in One Day
Enjoy an early breakfast at the hotel, make the short walk to the Stazione di Venezia Santa Lucia, and hop on board your final train ride in Italy!
Venice to Milan Train Time: 2h 10 minutes
BOOK YOUR VENICE TO MILAN TRAIN JOURNEY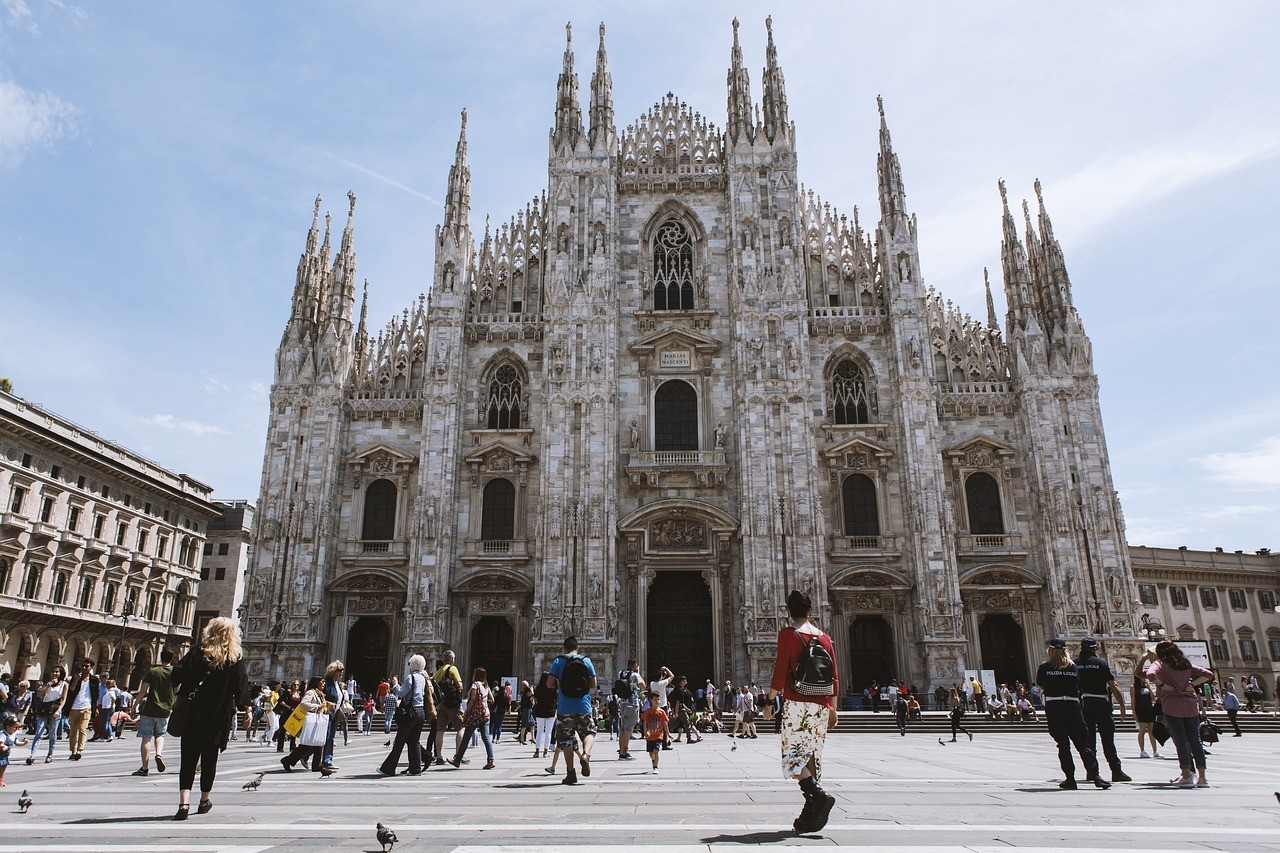 ---
Best Things to do in Milan
Visit the Milan Cathedral in the Piazza del Duomo
Church of Santa Maria delle Grazie
Do some shopping in the Grand Galleria Vittorio Emanuele II
Explore the Castello Sforzesco for a couple hour
Feast on Gelato
Browse the artwork in the Pinacoteca di Brera
Enjoy the Roman design of the Sant Ambrogio
Get lost in the Leonardo da Vinci National Museum of Science and Technology
La Scala Opera
Take an Italian Food Tour or Cooking Class
Walk down the Naviglio Grande
---
If you're traveling during a busy season, I'd recommend booking a skip-the-line ticket for the popular Milan Cathedral! It can get super busy, and you don't want to waste any time waiting in lines!
Fast-Track Milan Cathedral and Terraces Guided Tour: "Take a complete tour of the Milan Cathedral, with skip-the-line entrance and access to the terraces. Marvel at this stunning Gothic building, and explore the archaeological area under the cathedral. Afterwards, discover the Duomo Museum on your own."
11 FREE/CHEAP Things To Do In MILAN | Italy On A Budget Travel Guide 🇮🇹
---
Italy Itinerary Day 10: Lake Como Day Trip
Last, but certainly not least, if you've got the time I'd definitely recommend a day-trip out to the wonderful Lake Como! It's one of Northern Italy's best attractions and is famous for its stunning scenery with the backdrop of the foothills of the Alps!
It'd be a great idea to rent a car and make the 90 minute drive to Lake Como yourself, or you can book one of the many day-trips to Lake Como from Milan! I'd personally recommend this one as it's a best-seller, comes highly reviewed, and is pretty budget-friendly!
Lake Como, Bellagio and Varenna: Full-Day Tour from Milan: "Enjoy a memorable full-day trip by luxury coach to Lake Como, world famous for its beautiful villas and gardens. You'll have a chance to admire the 3 branches of the lake, each with different landscapes. Stop in the town of Como for a walking tour of the city center and a visit to the neoclassical Villa Olmo and its lovely Italian garden. Next, take a relaxing cruise on the lake by private boat, and enjoy the spectacular views. Visit the colorful villages of Bellagio and Varenna. Take a walk along narrow cobblestoned streets and enjoy the charming surroundings."
🍷 Visit North Italy in 2023: Lake Como in 4K | How To Spend A Day in Como
---
How Much Does a 10 Day Trip to Italy Cost…?
Now, this really just depends on your travel style! Each of the train journeys will cost you around 25-50 euro depending on when you book them, accommodation can be anywhere between 20-200 euro per night, and meals will cost between 7-30 euro depending on where you at!
There are tons of ways to keep costs down while traveling around Italy! For starters, focus on walking around the cities while you're sightseeing! I've found that taxi and uber rides can get pretty ridiculous, so I'd recommend booking accommodation near the train stations, and keeping transportation costs to a minium.
Also, be sure to shop around a bit for tours and see what you think is the best fit for your budget! Many times, you can find day-trip itinerary you'd like and be able to do it on your own for a lot cheaper!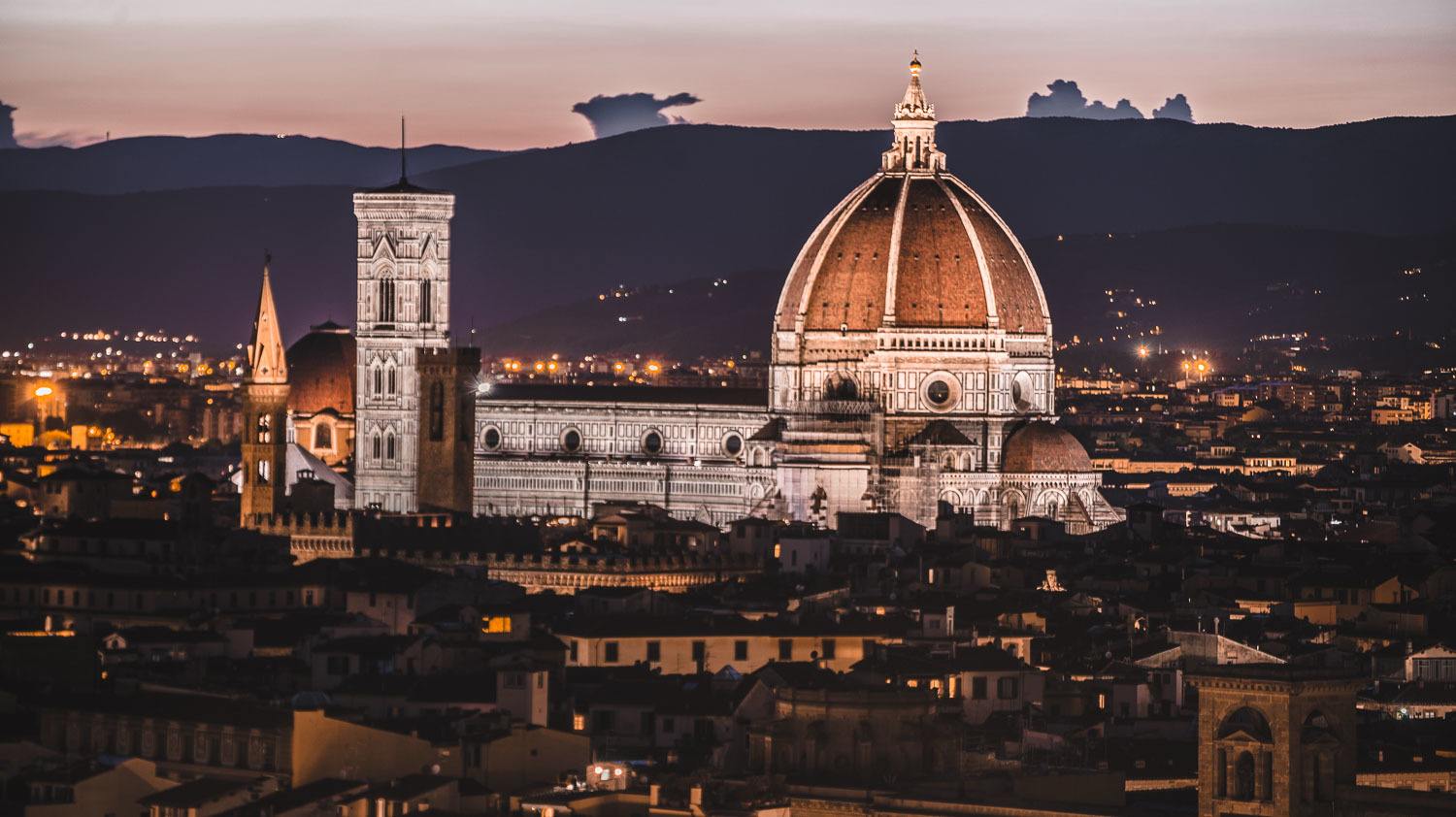 ---
10 Days in Italy Itinerary Substitutions
So I think that this 10-Day Italy Itinerary is ideal for first-time visitors to the country, and for people who want to see all the major destinations! While it does move relatively quickly and is jam-packed every day – I do think it'll be an amazing vacation that you'll never forget!
Here are a few other popular destinations in the country that you could look into adding into your Italian itinerary!
Cinque Terre: Translated into "five towns", this popular seaside destination is the most popular destination along the Italian Riviera! Famous for it's colorful towns built along the coast, the fantastic hiking trail connecting them, and the unbelievably tasty Pesto! You could easily skip Venice & Milan, to add Genoa & Cinque Terre to your itinerary!
Amalfi Coast: Definitely one of my favorite areas in the entire world, the Amalfi Coast is truly paradise. Soak up the sun on one of the stunning Positano beach, take a sailing trip around the island of Capri, and explore the remains of Pompei! While it gets very busy and rather expensive during peak season, it definitely deserves a place on your Italian bucket list. To do this itinerary, I'd simply do Rome, Naples, and the Amalfi Coast for 10 days in ITaly.
The Dolomites: If mountains and adventure is more your fortay, then spend the majority of your time in the Italian Alps! With its rugged mountain ranges, scenic lakes, and unbeatables hiking trails – you'll truly be blown away by the views up here. To add the Dolomites to your Italy itinerary, I'd fly into Milan, and then go to Lake Como, Dolomites, Venice, and back to Milan.
---
Am I Missing Anything from my 10-Day Italy Itinerary?
If you've been to Italy recently and think I need to add any specific tours, hotels, activities, cities, or restaurants- please feel free to reach out to me and let me know!
I think I put together an epic itinerary for 10 days in Italy, but I'd love to keep this as up-to-date as possible! I'm actually planning a return trip myself, and can't wait to explore more of one of my favorite countries in Europe!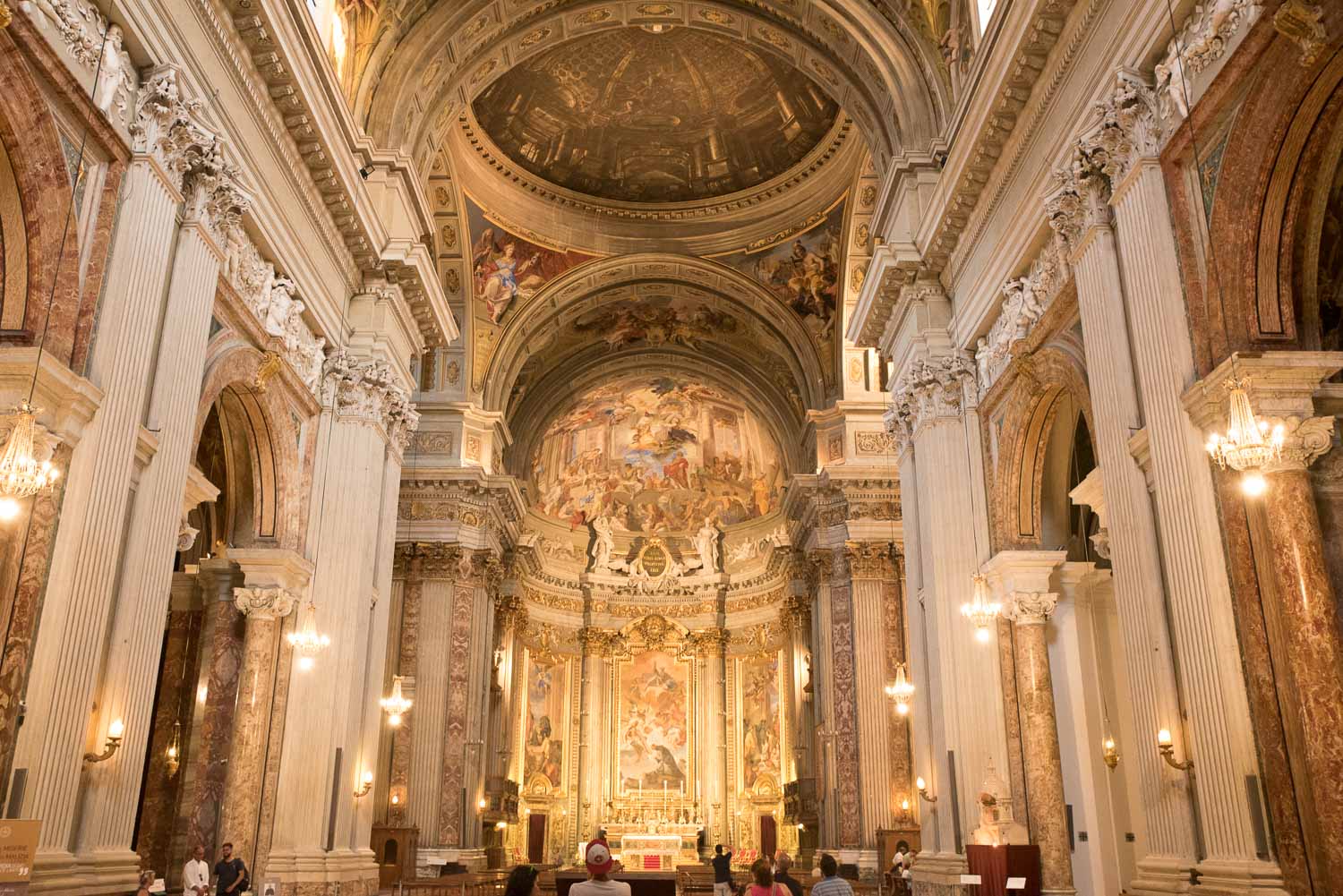 ---
Planning a trip to Italy/ Europe…?
My website is filled with helpful articles, destination guides, and lots of travel inspiration! Check out a few of my favorite articles below, and let the travel planning commence!
How to plan your first trip to Italy – What you need to know
---
Thanks for reading my 10 Days in Italy Itinerary
Buon Viaggio! Share this Italian Trip Itinerary with your significant other!
https://www.jonesaroundtheworld.com/wp-content/uploads/2019/08/Piazzale-Michaelangelo-Sunset-Italy-Itinerary-10-Days.jpg
1001
1500
Dave
https://www.jonesaroundtheworld.com/wp-content/uploads/2017/03/logotry-1-1-300x106.png
Dave
2019-08-16 04:36:18
2023-08-31 13:20:09
The Best 10-Day Italy Itinerary For First Timers