Benvenuti a Firenze! One of Europe's shining crown jewels, this Tuscan treasure is home to some of the most storied streets and magnificent museums the whole world over and you can fit a lot into you visit in 2 days in Florence. From the Renaissance, to the Medici family, to the infamous statue of David, one is hard pressed to not fall in love with Florence. Having spent time living and working there myself, it really does hold a special place in my heart.
There is something almost palpable about the magic this city instills, evident from the first steps you take through the city center. As you meander your way through labyrinthine alleyways, passing by a plethora of artisanal shops and cafes, the streets suddenly open into sprawling squares boasting the likes of the massive Duomo or ancient Palazzo Vecchio.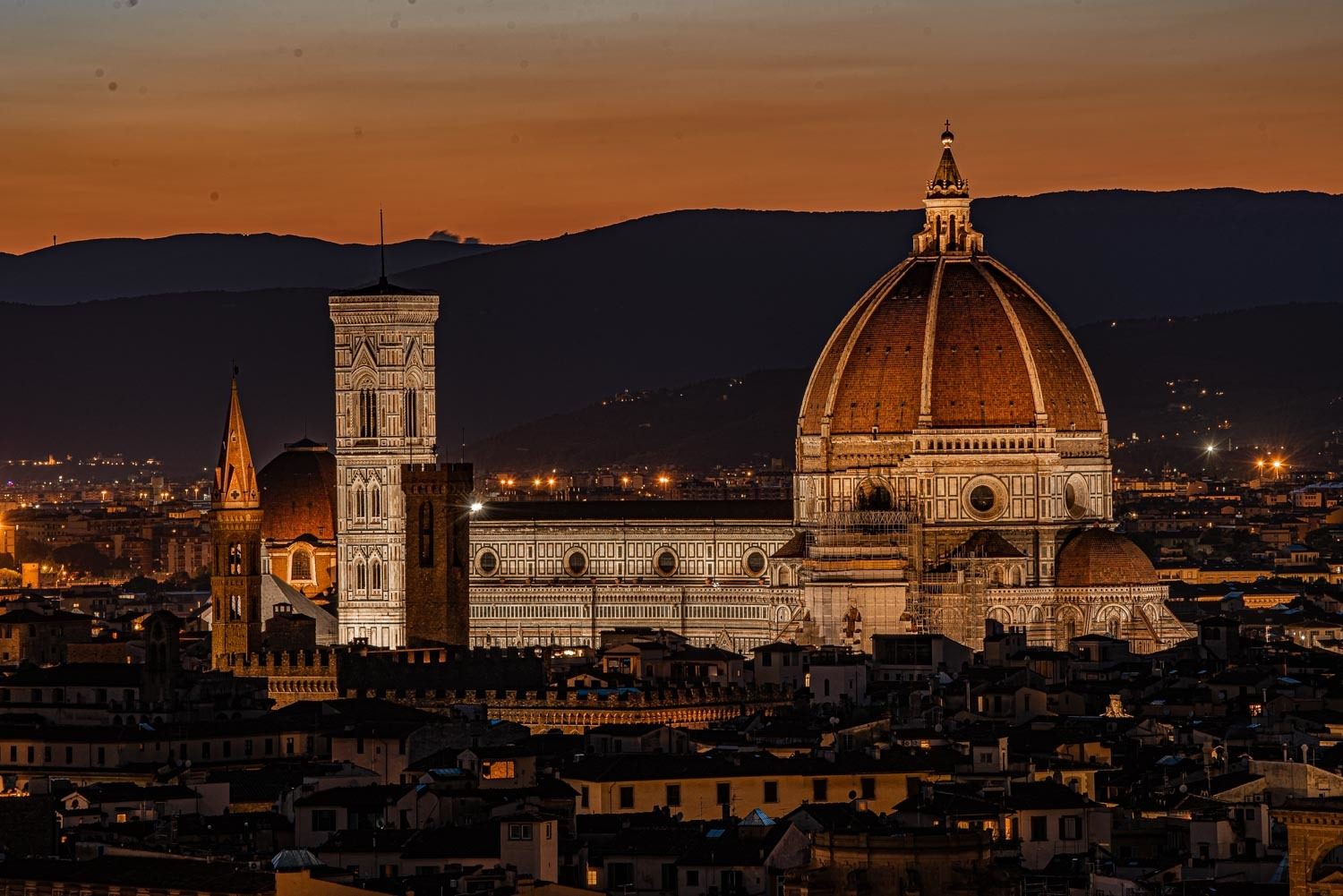 ---
I would spend an entire month or more in Florence if I could, but as is the case for most of us, a quick weekend trip may be all we can squeeze in. A two-day itinerary such as this one is a great tool for seeing the main sites and sampling some of the most mouthwatering local fare while making sure to best utilize the limited time you have.
I'll start off this ultimate two days in Florence guide with some suggestions on when to visit and where to stay. The first of two days of this itinerary and travel guide will cover places to visit on foot, all easily reachable from the centro storico (historic center). This includes some of the city's most impressive sites, squares, churches, and viewpoints. The second day will cover a couple of my favorite museums (including seeing masterpieces such as Michelangelo's David and Botticelli's Birth of Venus). Finally, I'll list what I'm sure many of you are here for – where to eat and go out at night! While the beauty and energy of Florence and its people themselves are what draw me back to the city, let's be honest – we're here to eat. You'll leave this guide hungry, but with some top spots in mind for your first Florentine feast.
Without further ado, let's get into it! Here's when to visit, where to stay, what to do, where to eat, and where to go out in Florence, Italy, in two days' time.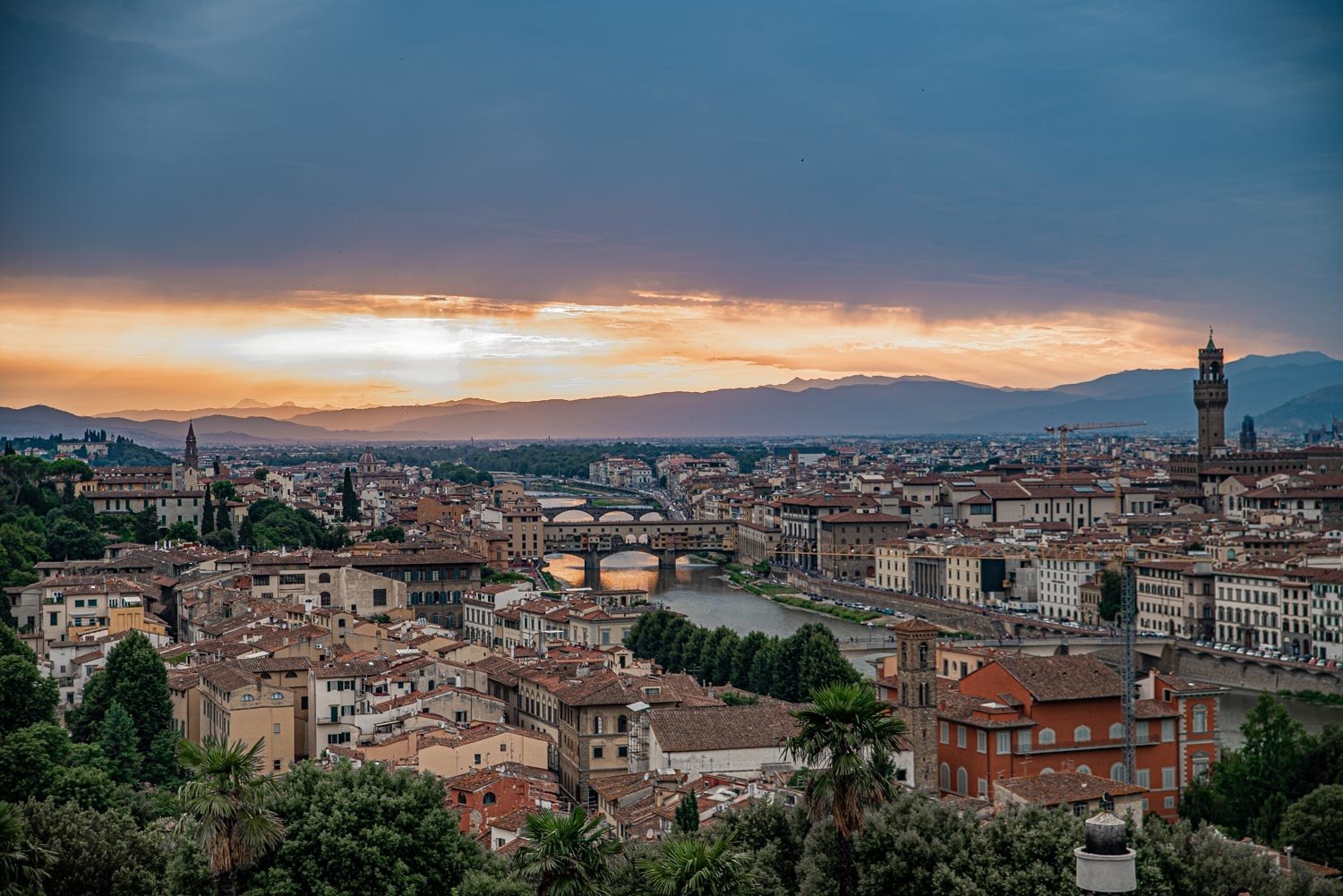 ---
BEST TIME TO VISIT FLORENCE
I recommend visiting either in the late springtime (April) or early fall (September/October). Either of these travel dates should help you avoid the majority of the larger summer tourist crowds, which make simply crossing the city center a trek itself due to group sizes and the sheer volume of visitors that Florence attracts in the summer months. Additionally, should you happen to visit during Easter (Pasqua in Italian), you'll be able to enjoy some spectacular displays for the holiday, namely at il Duomo.
Should you find yourself traveling during the summer or winter months, not to worry! Florence is beautiful year-round. Be warned, however, that the winters are actually quite cold, and the summer is very hot and humid.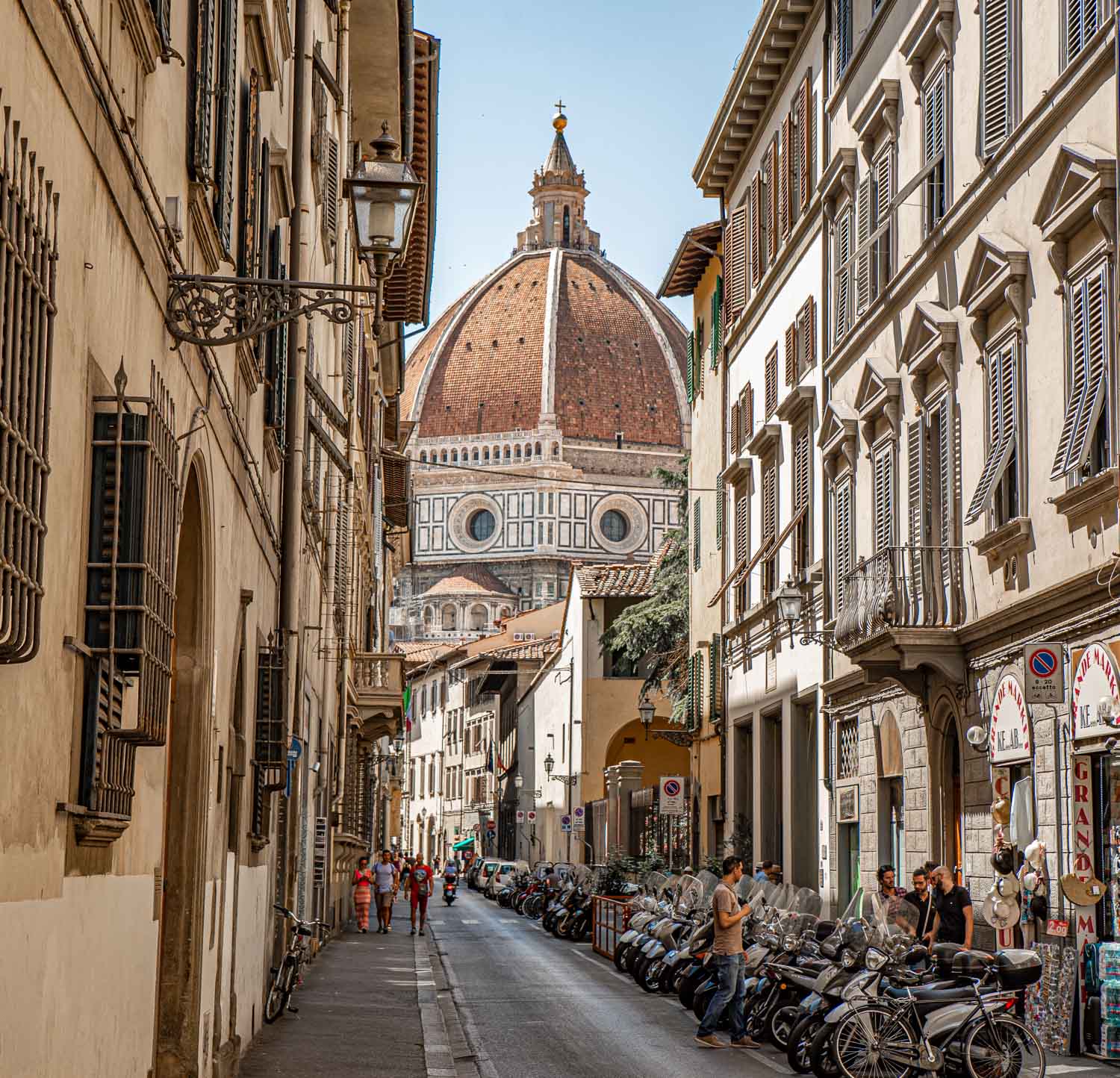 ---
WHERE TO STAY FOR 2 DAYS IN FLORENCE
There are various ways to go about booking your Airbnb, hotel, or hostel in Florence, but if you're on a limited schedule (two days, for example), I highly recommend securing accommodation located in the centro storico in order to maximize your experience. Should you have a more relaxed schedule, booking a countryside bed and breakfast could be an idyllic option. For the purposes of this ultimate two-day Florentine guide, I'll provide three options for staying in or near the city center.
Below are options for a great Airbnb, affordable yet luxurious hotel, as well as a budget-friendly hostel for backpackers.
This charming loft is ideal for couples or solo travelers with a moderate budget and overlooks one of the most impressive buildings in the world: Il Duomo. For me, the terrace alone is worth the price – the bed and charming kitchen are a nice added bonus, however! With AC and WiFi as well, this cozy accommodation is perfect for a two day stay.
View Photos, Read Reviews, and Check Availability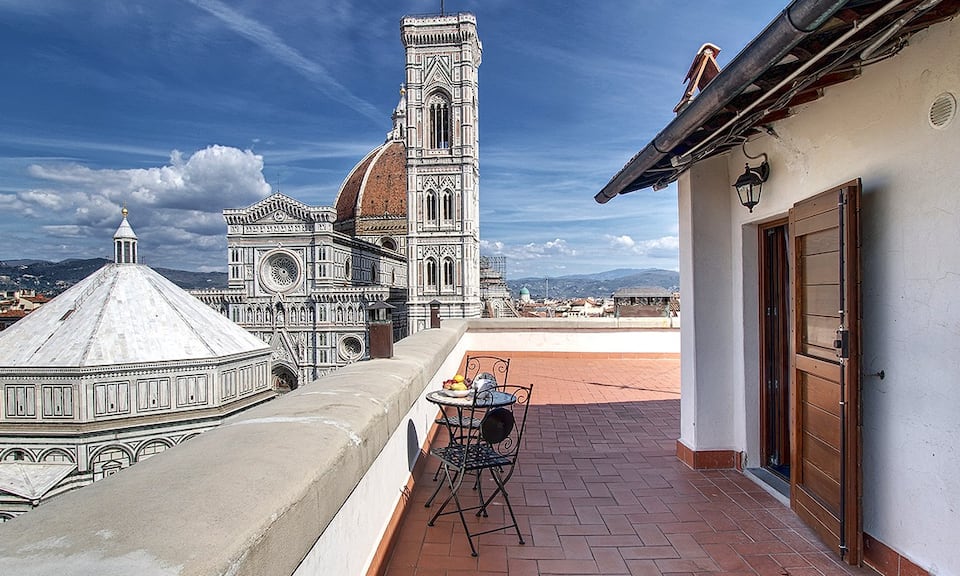 This 3-star hotel is located just one street away from il Duomo, allowing you to reach essentially any other restaurant, museum, square, and site in this itinerary on foot. There are higher-end options such as The Four Seasons or Westin Excelsior Florence which you can't beat if you've got the budget, but places like Hotel Beniviene are perfect for style, comfort, and saving a few euros to spend on experiences and eating out.
While a bit higher priced than some may be used to for a hostel, Plus comes with amenities such as a pool, restaurant, and bar, and options for tours and other activities from a friendly and knowledgeable staff. Located near to Santa Maria Novella train station, the hostel is also walking distance (albeit a bit further than the above options) to anything you could want to see in the city center.
---
The Ultimate 2-Day Florence Itinerary
Buongiorno, benvenuti, i andiamo! Hope you're ready to explore the best Florence has to offer in 48 magical hours.
---
FLORENCE ITINERARY DAY 1: WAKE UP AND WALK THE CITY
It's my firm belief that the best way to get a feel for a new city is by doing three things on your first day: explore and get lost, see the sunset from the highest and/or most scenic point possible, and spend the night eating and drinking like a local until you run out of steam. In Florence, fortunately, these activities involve some of the most amazing views, food, and architecture in the world!
Start your day by hitting the nearest café for some caffeine and fuel to start your day. Florentines pride themselves on quality – food, language, style, art, culture, and also… coffee! You'll be hard pressed to find a poor-quality espresso in the centro storico. However, I prefer mine with a view. I recommend going to Il Rinascente in Piazza della Repubblica. It's a department store, but hidden on the top floor is a bar/café with a rooftop offering a sweeping 360 degree view of Florence's phenomenal skyline. It may be a bit pricier than ground floor finds, but the views make this stop more than worth it. If more convenient, you can use this as a pitstop during today's journey around Firenze's finest attractions.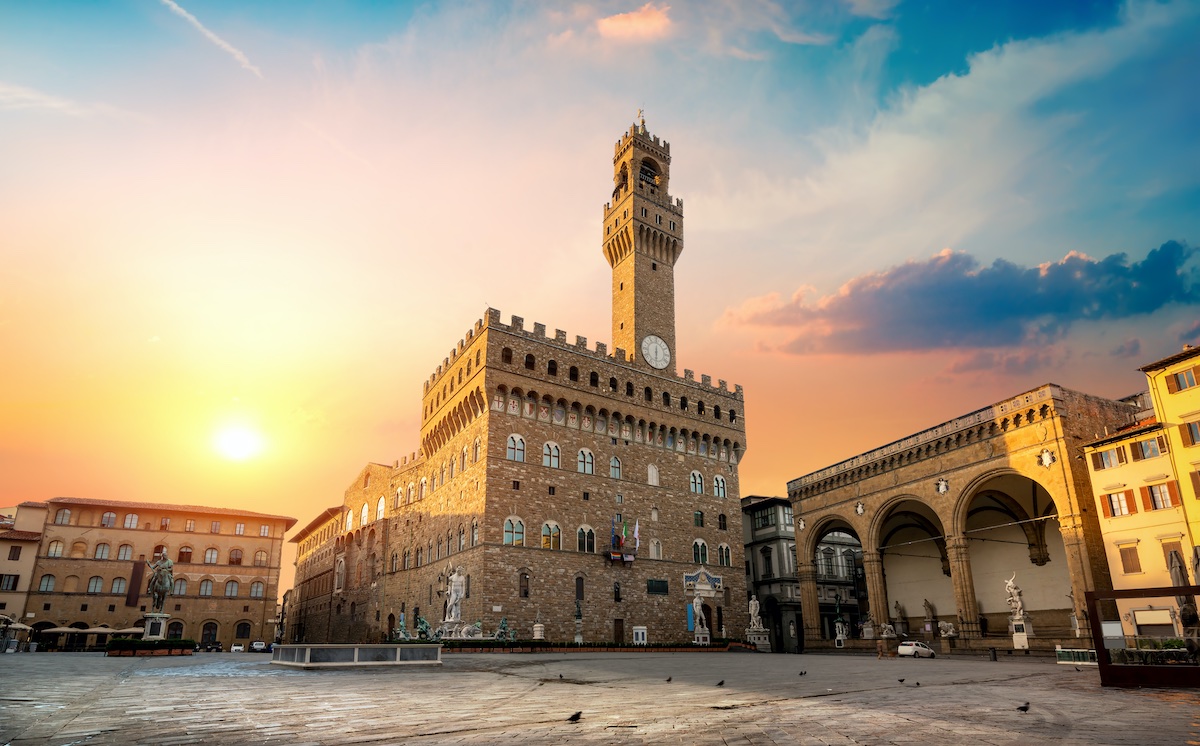 ---
HIT THE DUOMO
Let's get straight to it. The Florence Cathedral (Cattedrale di Santa Maria del Fiore), colloquially known as "il Duomo," dominates the city's skyline and is one of the prime attractions for a quick trip to Tuscany. Construction began in 1296, was completed in 1436, and the dome was designed by founding father of Renaissance architecture Filippo Brunelleschi. It's difficult to describe the feeling of rounding the corner and being floored for the first time by the view of this truly massive and magnificent marble structure. Additionally, the dome remains the largest brick dome ever constructed!
If you'd like to climb the 436 steps to the top of the dome, or perhaps climb the slightly less daunting belltower adjacent to the church itself, it will be necessary to reserve a place and buy your tickets here. It is possible to view the inside of the cathedral without a ticket or waiting in line for the dome, but if you've got the time, why not climb one of the world's most impressive structures? I highly recommend it!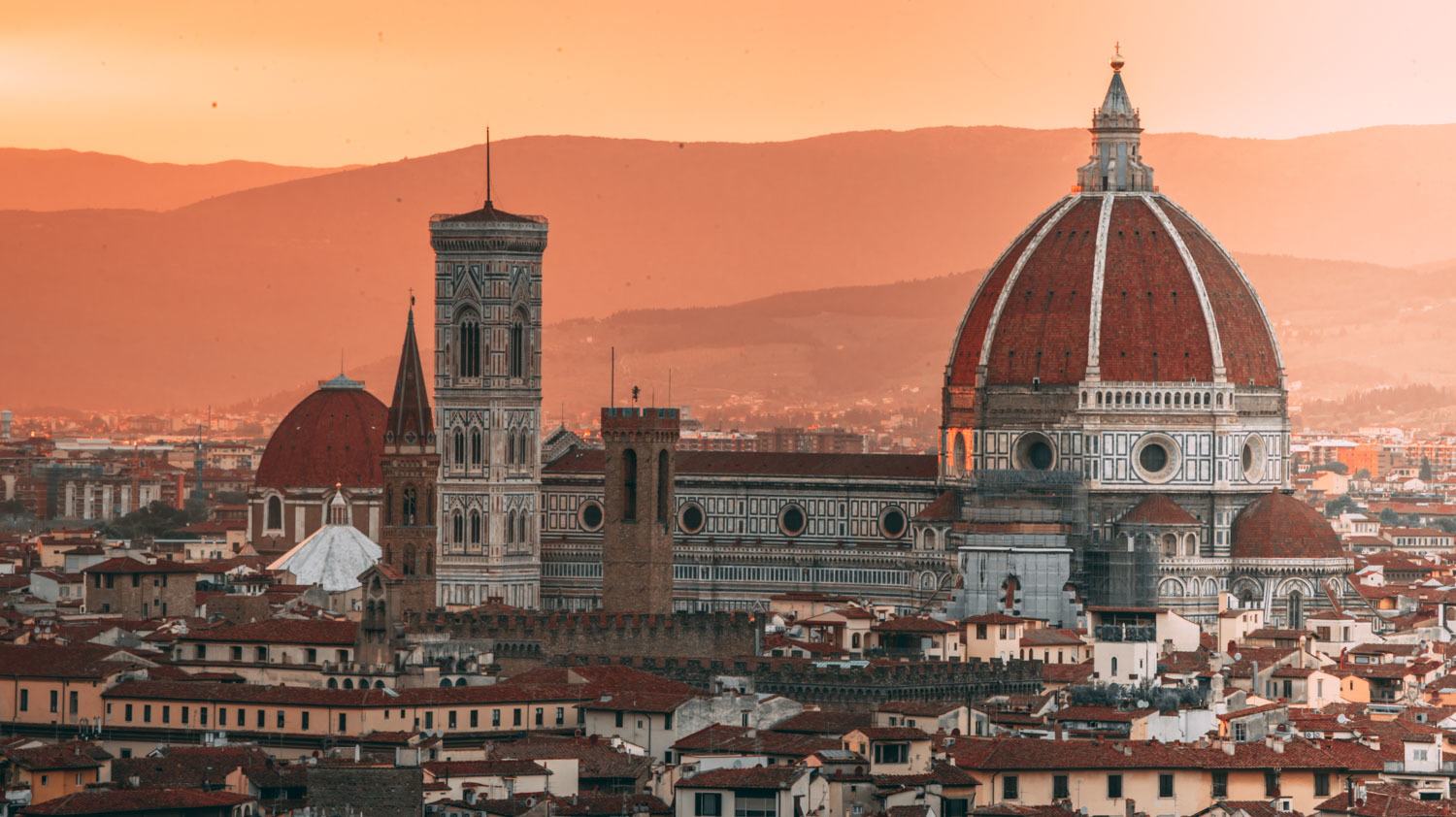 ---
PIAZZA DELLA REPUBBLICA
On your way from the Duomo to the famous Ponte Vecchio, you'll pass through Piazza della Repubblica. It was the original site of the city's Roman forum, would later be converted into Florence's old ghetto, and now plays host to a carousel, jovial street musicians, and a variety of cafés, shops, and restaurants. If you have the time, as suggested above I would recommend checking out the café on top of Il Rinascente department store. You really can't beat the view (and it's a lesser-known stop/viewpoint!).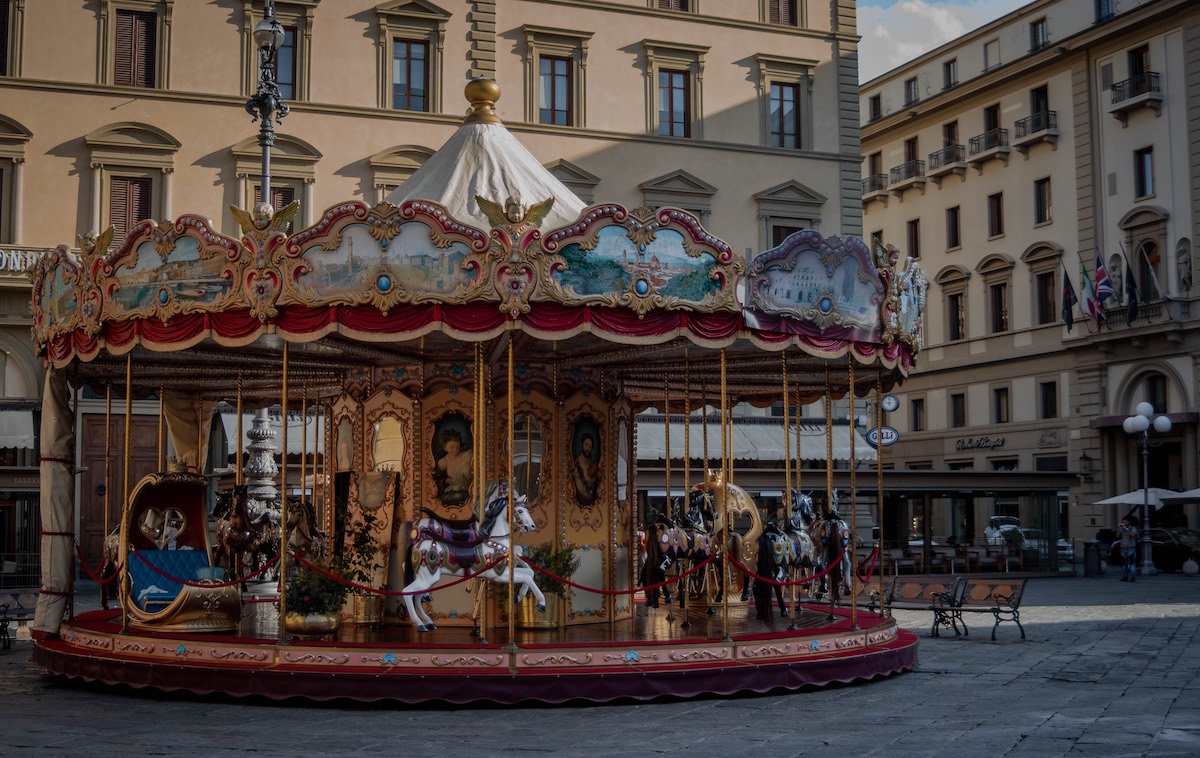 ---
PIAZZA DELLA SIGNORIA & PALAZZO VECCHIO
Winding closer toward the Arno River, you'll now make your way to Piazza della Signoria and the city's 13th century palace and old city hall, Palazzo Vecchio. This building can be toured or simply climbed as well (there's a theme here – lots of history, lots of stairs!), but given a two-day time crunch, I would recommend making today about seeing a variety of sites. Day 2 will include more prolonged and historic museum visits.
A few sites to note in this square (aside from the impressive Palazzo Vecchio) are sure to catch your eye. You'll find an impressive fountain dedicated to Neptune, a replica of Michelangelo's David (you'll see the real one tomorrow at the Galleria dell'Accademia), and lastly, Loggia dei Lanzi. This final attraction houses some impressive statue and is a great place to pause and take in the beauty of the city and bustle of this large square.
At this point as a suggestion for a quick bite, one of my favorite sandwich shops in the entire world is just down the street! Take a visit to All'Antico Vinaio on Via dei Neri for panino and be sure to order prosciutto crudo with sheep's cheese. If you're into it, I highly recommend the truffle sauce as well.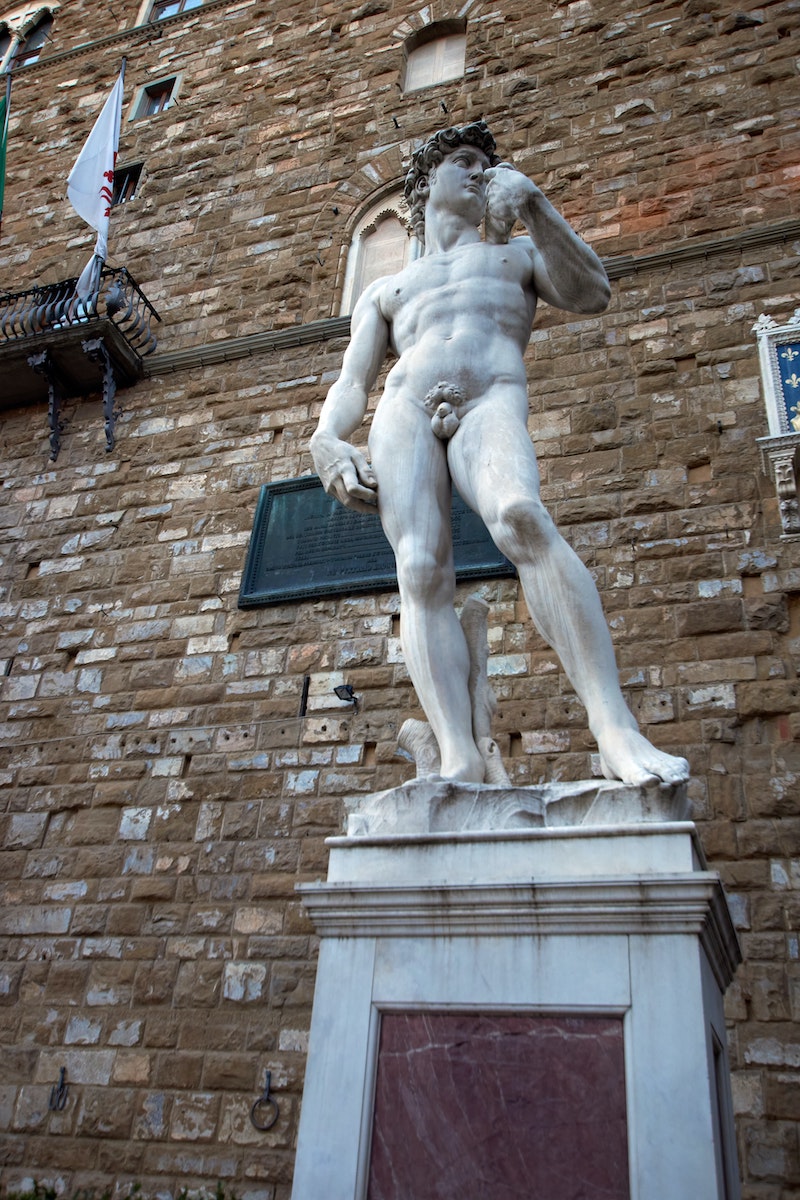 ---
PONTE VECCHIO
It's now time to venture to the other side of the Arno River while crossing one of the most impressive bridges in Europe! There are a few notable pedestrian and car bridges connecting the centro storico to Oltranrno on the other side of the river, but by far the most impressive is the Ponte Vecchio.
Once occupied by butchers, tanners, and farmers, jewelry shops now line the sides of this picturesque bridge. Stroll across, stop for gelato or coffee if you need it (you deserve it!), and head straight until you reach the Palazzo Pitti.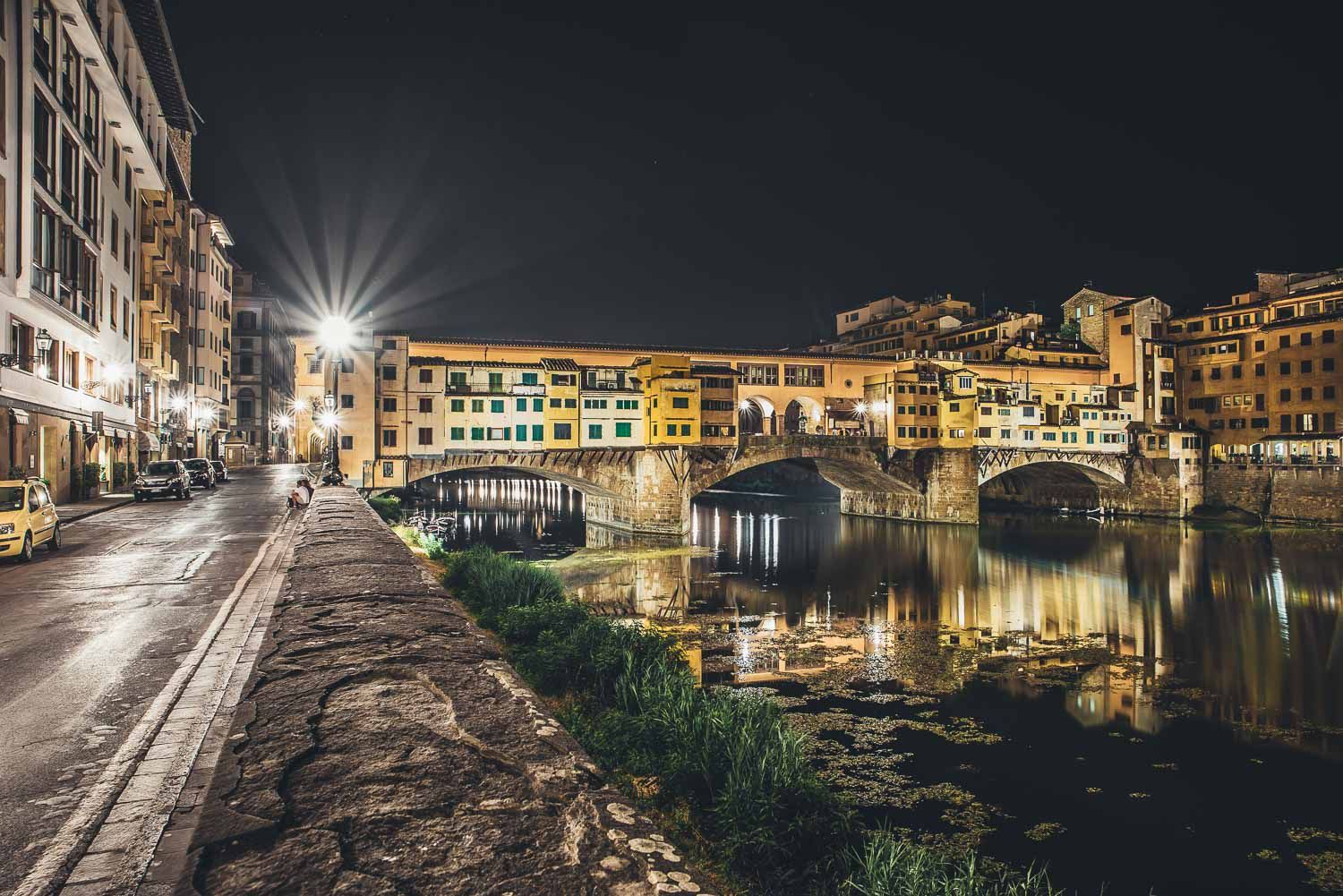 ---
PALAZZO PITTI & BOBOLI GARDENS
This opulent structure and its connecting gardens were bought by the Medici family in 1549, and were originally built in 1458 for Florentine banker Luca Pitti. Napoleon once resided here, using it has a center of power in the 18th century, and it is now one of the most impressive and sprawling museum complexes in the world. At this point, I would recommend having tickets purchased ahead of time by going here, or if you want to save your museum mindset for Day 2, simply purchase a ticket on site to stroll the Boboli Gardens. They're quite impressive themselves!
---
A FLORENTINE SUNSET AT PONTE SANTA TRINITA
There are two places that cannot be missed for sunset in Florence. The more famous is Piazzale Michelangelo, which we'll visit tomorrow. The other, while not a secret, is still lesser-known. Ponte Santa Trinita is a Renaissance-era bridge located just down the river from the Ponte Vecchio, and thus offers fantastic views of the more famous bridge. On the other side toward the west, you'll be treated with a perfect view of the setting Tuscan sun.
Equipping yourself with the proper sunset provisions is also necessary – there is a great gelato shop (Gelateria Santa Trinita) just down the river to your right. Another, one of my all-time favorites (La Carraia), is situated on the corner of the next bridge down (Ponte all Carraia). You could also hit a shop for a bottle of wine (ask them to open it and also for bicchier plastica – plastic cups!). Keep in mind it's just about dinner time, but there's nothing like enjoying quality wine or a snack while watching the sun set on your first full day in Florence.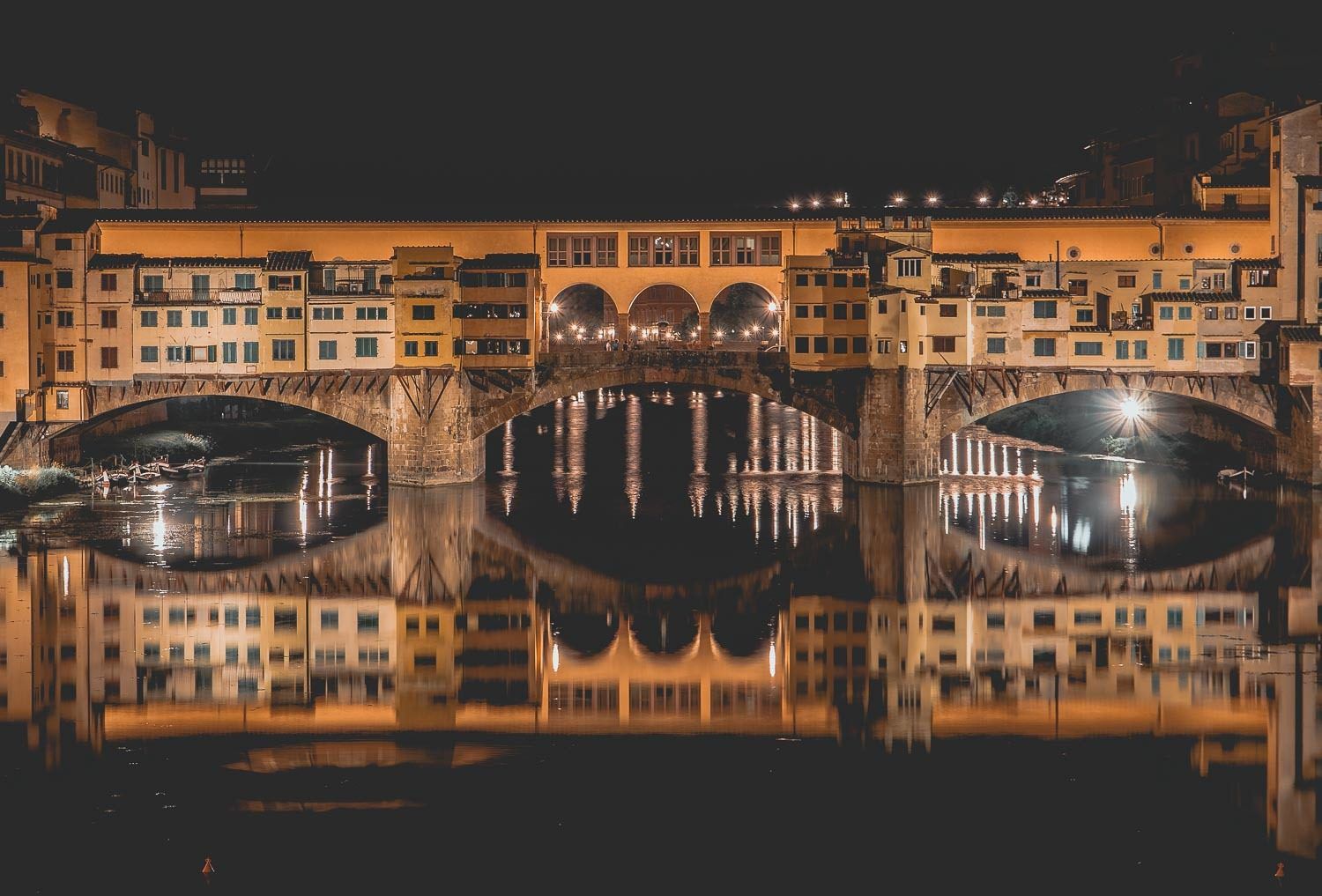 ---
FLORENCE'S BEST TRUFFLE GNOCCHI
This. Is. What. We're. Here. For.
Time to eat! At the bottom of this guide, you can find a list of my favorite restaurants in Florence. However, for your first night I highly recommend a meal at Osteria Santo Spirito. It's conveniently located near your sunset stop listed above, and the truffle gnocchi is one of the most delectable dishes I've eaten in my entire life. You'll need to make a reservation as the place is always busy, and if you do end up waiting a bit for your table to clear, just know that it's more than worth it!
Also included at the bottom of this two-day itinerary for Florence are nightlife options. Take a look and enjoy!
Florence Foodie guide - Where to eat in Florence Italy!
---
FLORENCE ITINERARY DAY 2: THE DAVID, THE UFFIZI, & PIAZZALE MICHELANGELO
Depending on the type of traveler you are, you can sleep in late or hit the streets at sunrise! It's day two of your quick trip to Florence, and you can make today as busy or relaxing as you like. For me, after seeing the sites and covering a lot of ground yesterday, day two should be an slower pace but still include some must-see places. In Florence, this means the Galleria dell'Accademia to see Michelangelo's David, the Galleria della Uffizi for such famous works as Botticelli's "Birth of Venus," and finally, Florence's most famed sunset spot: Piazzale Michelangelo.
---
START YOUR MORNING WITH THE DAVID
Michelangelo's 17 foot-tall David is perhaps one of the most famous statues in the world and is truly a masterpiece of Renaissance sculpting. Created between 1501 and 1504 from a single block of unwanted marble, this one is the real deal. You'll find various replicas around Florence that are impressive in their own right, but you really do need to see the real thing to get a feeling for just how enormous it is. Once situated outside Palazzo Vecchio, the original David was moved in 1873 and now resides permanently at the Galleria dell'Accademia. Purchase tickets here.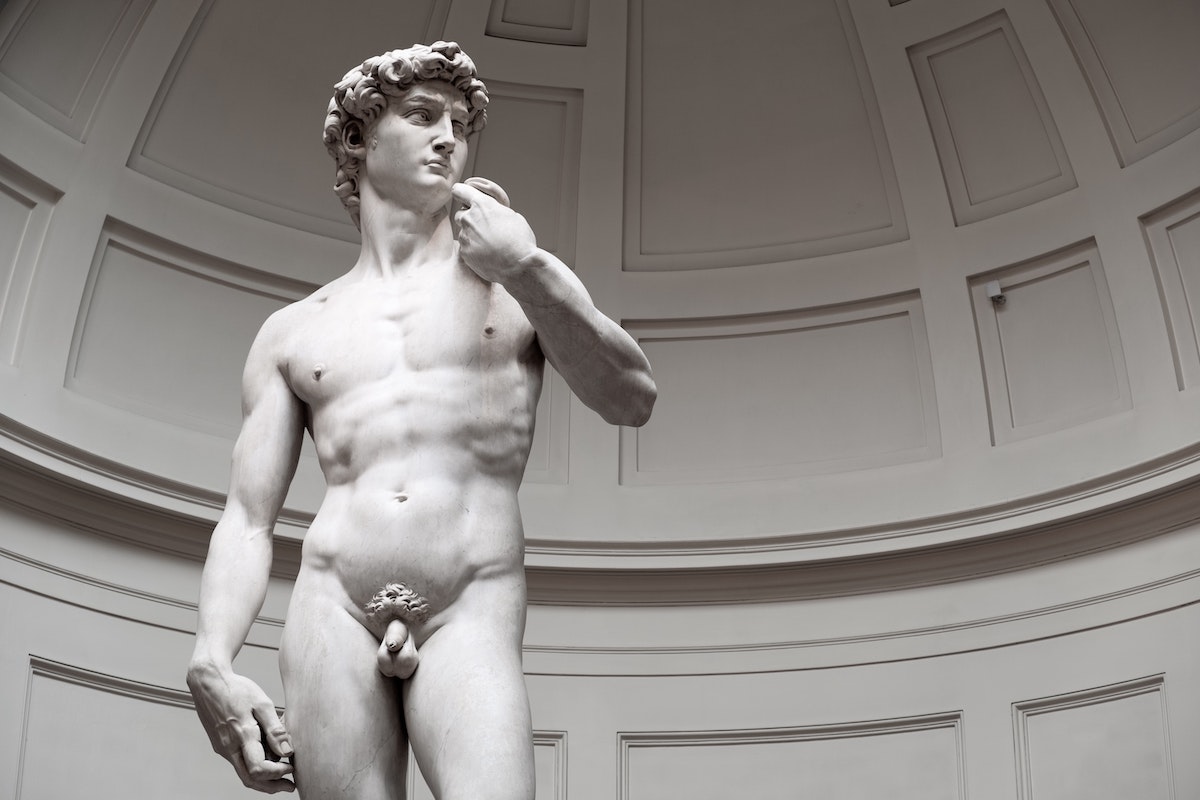 ---
OFF THE BEATEN PATH FOR AN AMAZING LUNCH
One of my go-to's during my time living in Florence is located just a bit out of the city center, and therefore may not be as well-known as some other places. Whenever I visit the city, I make sure to have at least one lunch from the menu of the day at Trattoria il Contadino. You can customize your culinary experience to include various starters and main courses, and pair it with a healthy serving of house wine. Take your time, enjoy the food, and relax before heading off to your next world-famous museum!
---
THE UFFIZI GALLERY
The Uffizi is awe-inspiring from an architectural standpoint alone and given the fact that it houses the most impressive collection of Renaissance era paintings and sculptures in the world, it's absolutely a must-see when visiting the Tuscan capital.
The collection here is as large as it is breathtaking, and due to that you'll need at least a couple of hours if not more to properly experience the profound quality of the gallery. You'll also be treated with views from the hallway windows of Piazza della Signoria as well as the Arno. In fact, you may even get a chance to glance at the secret passageway that the Mecidi's famously used to travel above the rest of the city from Palazzo Vecchio, through the Uffizi, and all the way to the Palazzo Pitti.
For the Uffizi it will be necessary to get tickets ahead of time as there are always long times to get in and it's one of the country's most popular museums. I recommend booking early in order to lock down your desired time slot and plan for 2-3 hours to explore the entire place at your leisure. Purchase tickets here.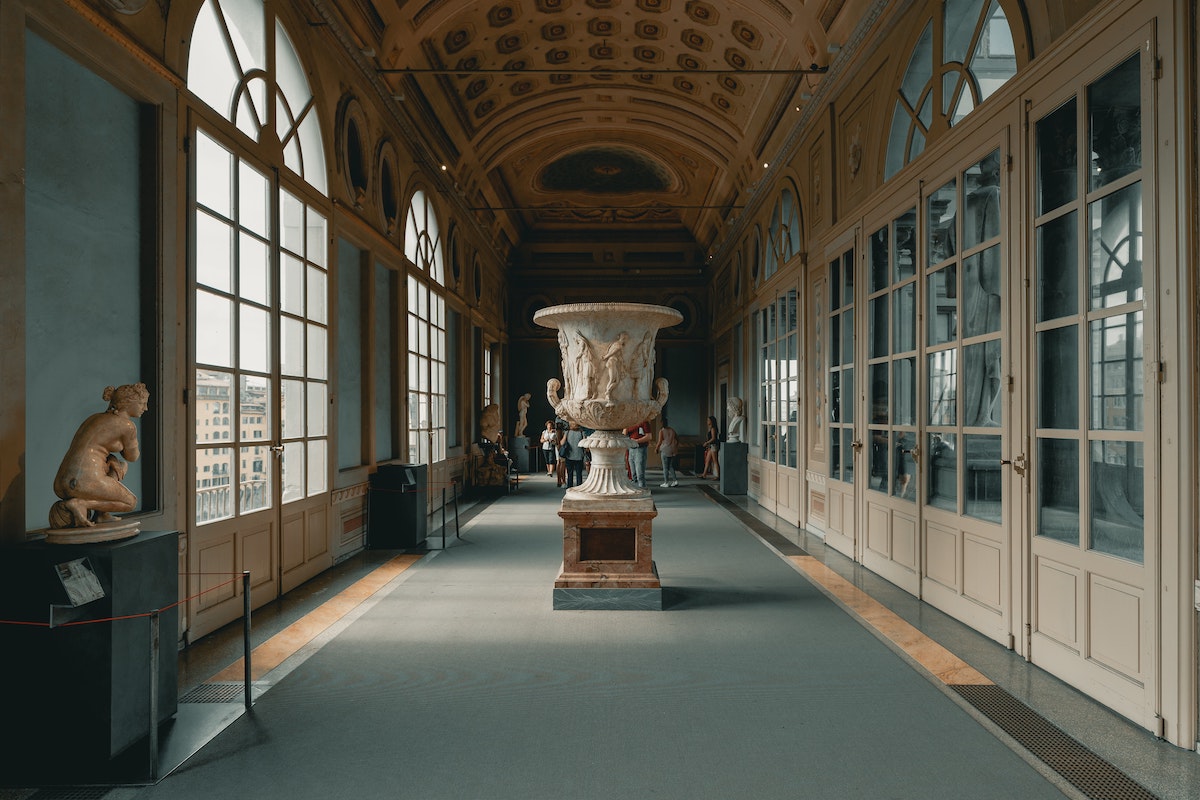 ---
SUNSET AT PIAZZALE MICHELANGELO
At this point we've explored, perhaps gotten lost, and sampled a bit of Florence's phenomenal food. It's time to grab a bottle of vino, bread, and cheese, and head up to Piazzale Michelangelo for the sunset! It's safe to say that across all of my travels, this is my favorite sunset view hands down.
The square itself it quite large, however the action is all on the staircase facing the west at sunset. Plant yourself amongst other tourists and locals while enjoying the music that is so often played by buskers in front of the crowd. It's a view that you surely won't be forgetting anytime soon!
If you arrive prior to sunset or would like to explore a bit more, there is a basilica (Basilica de San Miniato al Monte) just up the hill from Piazzale Michelangelo. If you're lucky, the monks there will be singing in the crypt below, which is open to the public. Be warned though, no food, drink, or noise is permitted. You can respectfully enter and enjoy the impressive yet austere beauty of the church service.
Above all, though, take the time to set your phone down, tip your glass up, and take in the view of the sun setting across the fairytale Florentine skyline. After the magic in the air starts to dissipate, it's once again time to head to one of the city's best restaurants and later out for drinks and dancing if you so desire! Read below for a few of my Florentine favorites.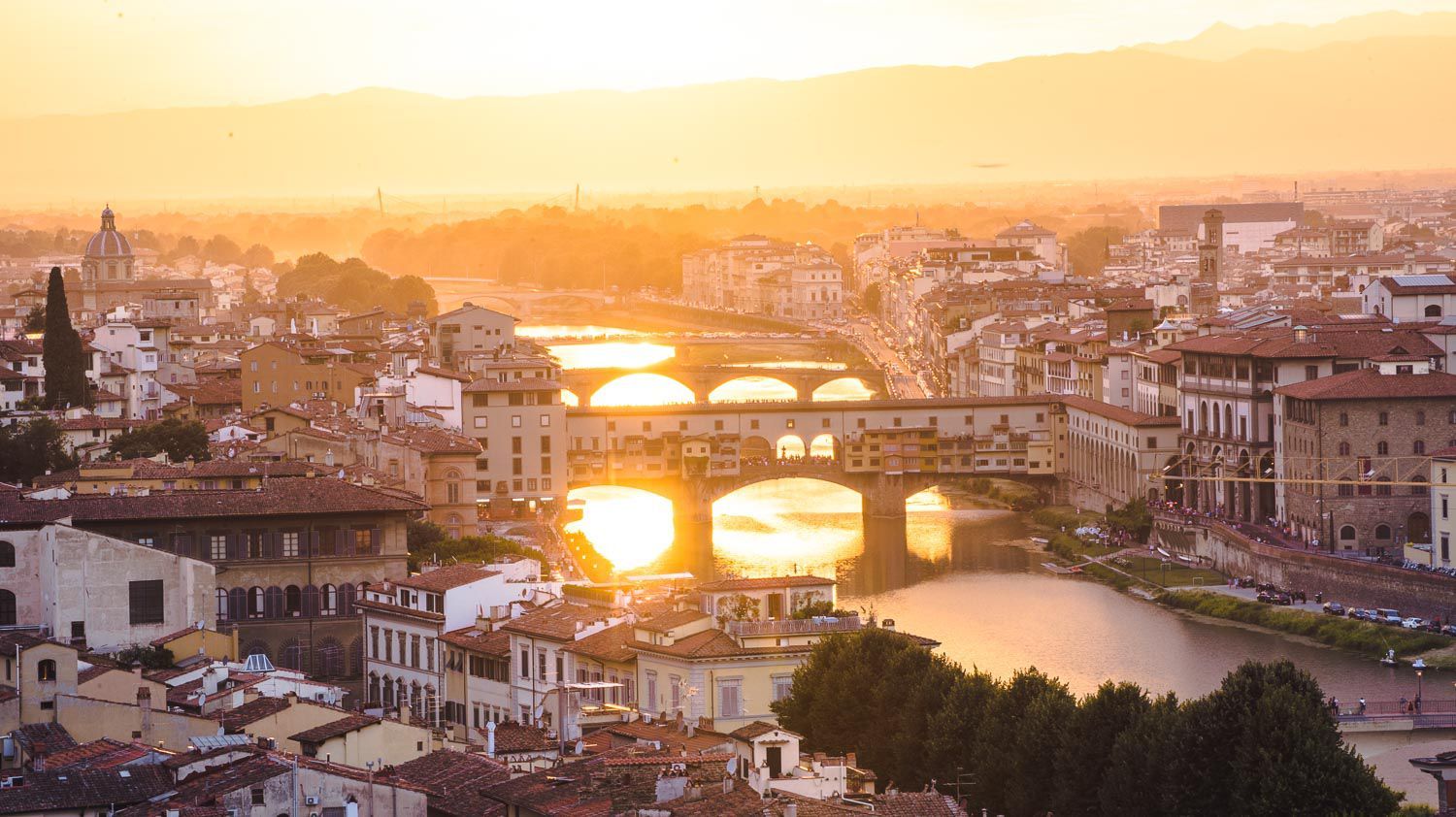 ---
BEST PLACES TO EAT IN FLORENCE
Below are some of my favorite places I've eaten in Florence. They're divided into lists for dine-in spots for either lunch or dinner, casual eats like pizza and panini, gelato, and finally, aperitivo. Aperitivo, if you didn't know, is the wonderful and welcoming social practice of going for a cocktail and finger food prior to heading to dinner later in the night. The Florentines know food, and you'll need to pace yourself in order to enjoy it all!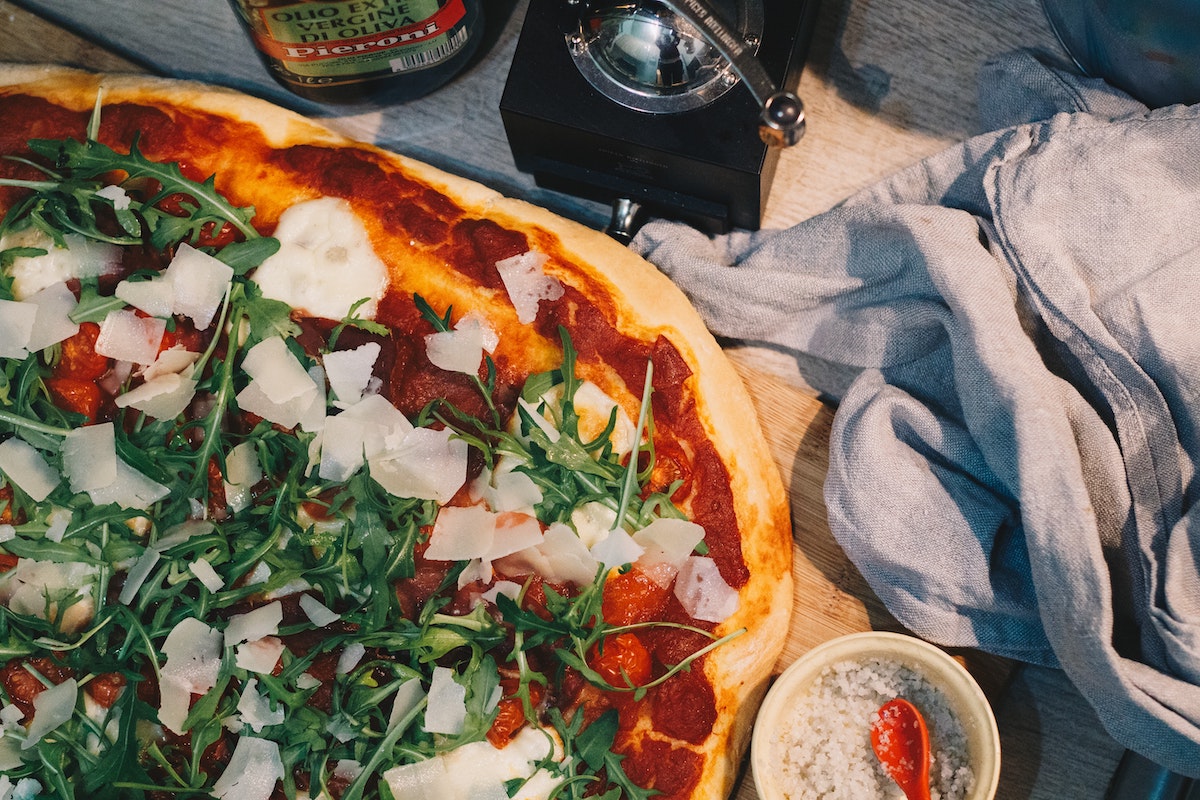 WHERE TO EAT LUNCH OR DINNER IN FLORENCE
TOP FOODS TO EAT IN FLORENCE | ITALY FOOD GUIDE
---
PIZZA AND PANINI IN FLORENCE
Why This Sandwich Shop Is Florence's Most Legendary Street Eat | Legendary Eats
---
BEST GELATO IN FLORENCE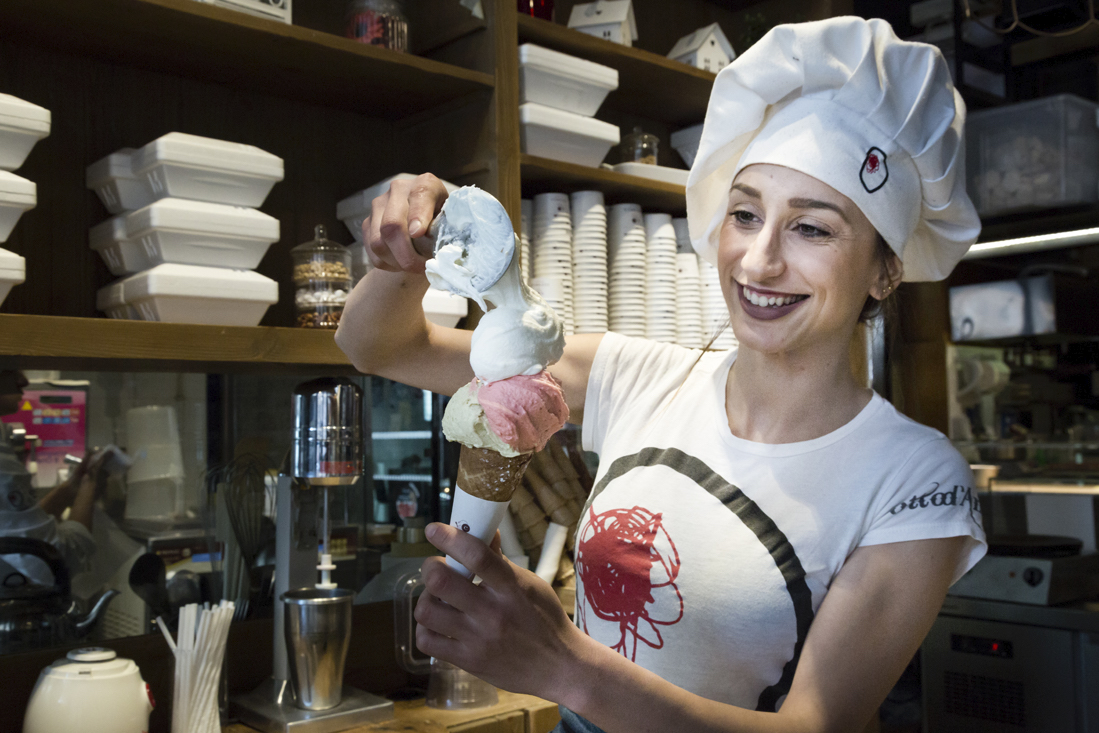 ---
WHERE TO HAVE APERITIVO IN FLORENCE
---
BEST NIGHTLIFE RECOMMENDATIONS FOR 2 DAYS IN FLORENCE
Nightlife in Florence is buzzing most nights (especially weekends), and you might be surprised to find out that there are no open container laws! However, you of course do need to be respectful of noise and throwing away cans/bottles while drinking on the street.
As far as a timeline goes, most people will head out on the town after dinner (11PM or so), and depending on the venue, can be out drinking and dancing until well past 4AM. Check out this quick list of some spots for drinks and dancing below, and enjoy!
---
COOLEST BARS IN FLORENCE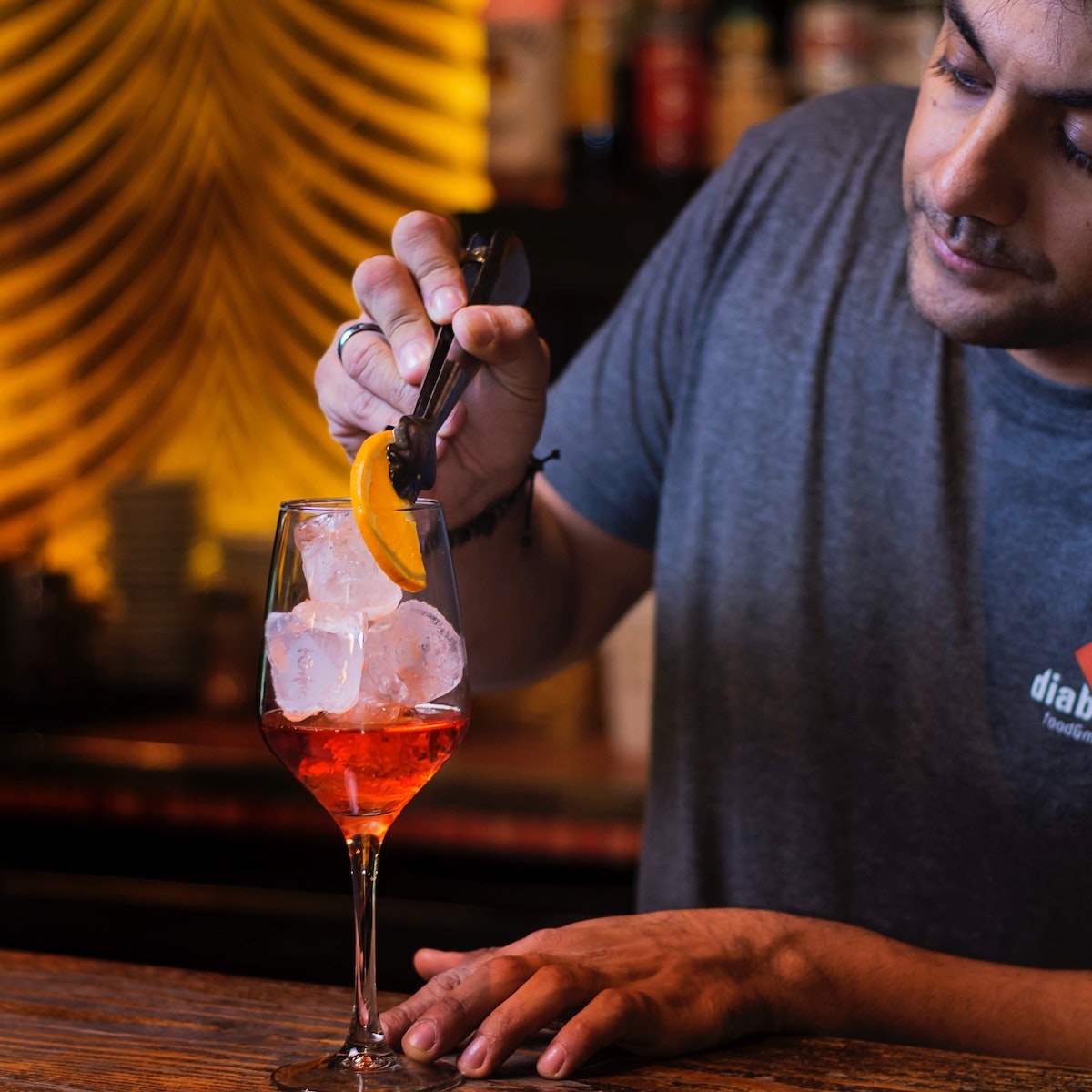 ---
BEST NIGHTCLUBS IN FLORENCE
MACEO PLEX @ TENAX Firenze 04.02.2017 by LUCA DEA
---
AM I MISSING ANYTHING FROM THIS 2 DAYS IN FLORENCE ITINERARY?
While this guide for 48 hours in Florence is full of fantastic suggestions and jam packed with activities, 2 days are certainly enough time to see the best that this Tuscan treasure has to offer. If I'm missing anything in this guide, please shoot me an email and let me know!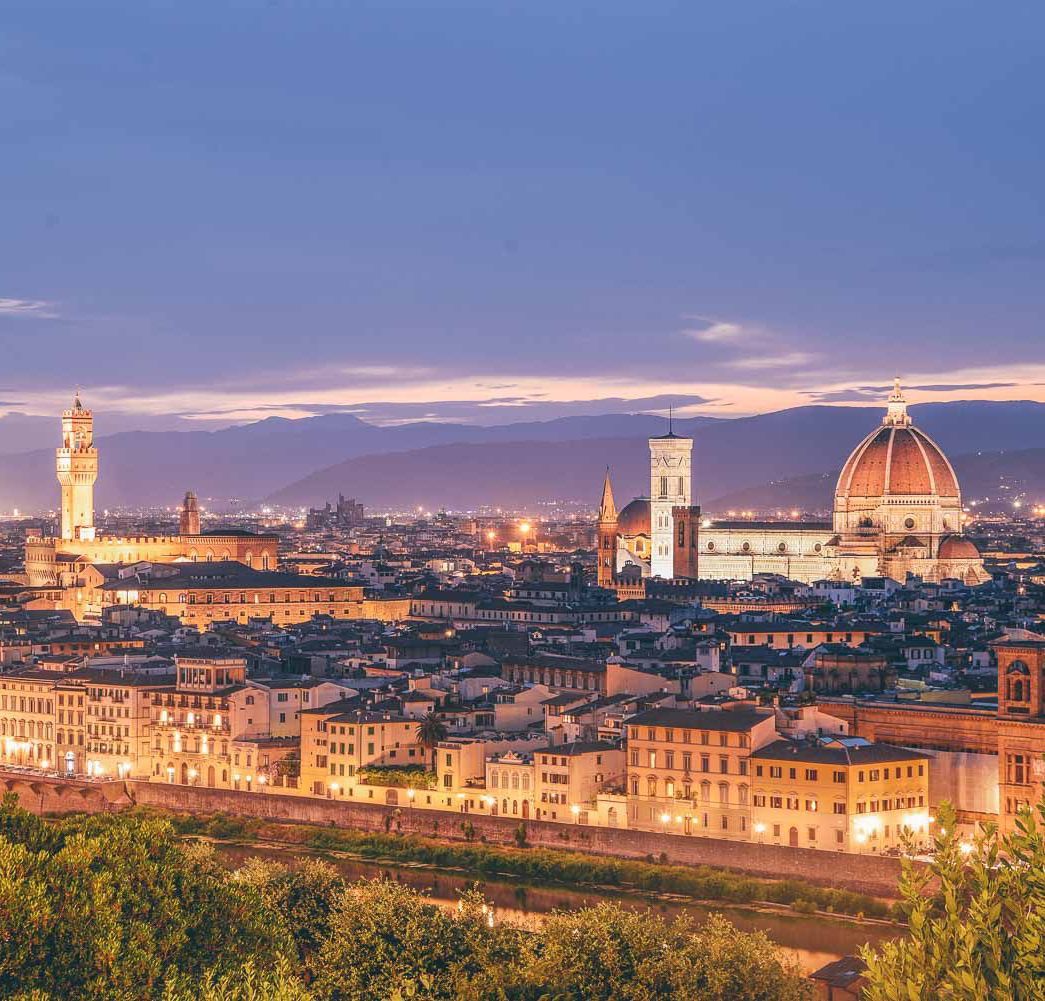 ---
PLANNING A TRIP TO FLORENCE & ITALY?
Here are some of my favorite articles of Italy. Having lived there for some time in the past, it holds a special place in my heart and I'm always happy to provide tips and tricks on how to make the most of your time.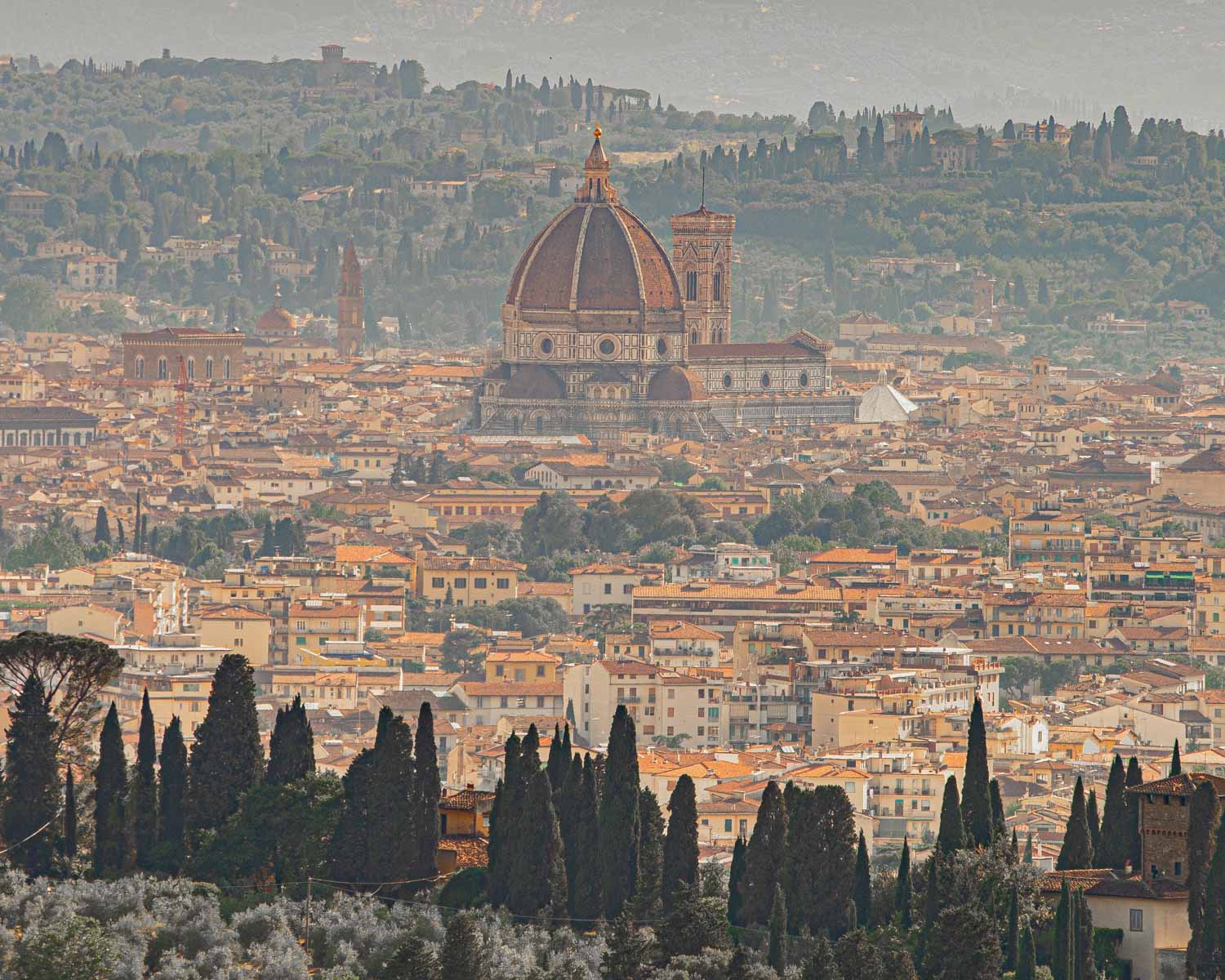 ---
Thanks for reading my 2 days in Florence itinerary.
Please share this itinerary with your friends!
https://www.jonesaroundtheworld.com/wp-content/uploads/2021/02/il-duomo-what-to-do-in-florence.jpg
842
1500
Dave
https://www.jonesaroundtheworld.com/wp-content/uploads/2017/03/logotry-1-1-300x106.png
Dave
2021-02-25 19:10:16
2021-05-27 00:20:57
The Ultimate 2 Days in Florence Itinerary & Travel Guide