Thirsting for a weekend getaway in wildlife and looking for a perfect Glamping New Hampshire getaway? Say no more! We've decided to simplify your search and put together a list of the best glamping sites in New Hampshire to help you recharge your mind and body.
Enjoy pristine lakes, picturesque surroundings, crisp mountain air, and various outdoor activities, such as hiking, fishing, and mountain biking, before hitting the comfy bed in a glamping tent or cabin. With endless outdoor opportunities like hundreds of trails, 93 state parks, and more than 800 lakes, New Hampshire offers plenty of luxurious nature-filled retreats. Whether you are looking for dreamy treehouses, cozy yurts, luxury cabins, or canvas tents, this state will make you fall in love with its glamping destinations.
So, whether you're continuing a road trip after Glamping in Maine or looking for an alternative to the best Airbnbs in New Hampshire, read on to discover our handpicked list of where to go glamping in New Hampshire!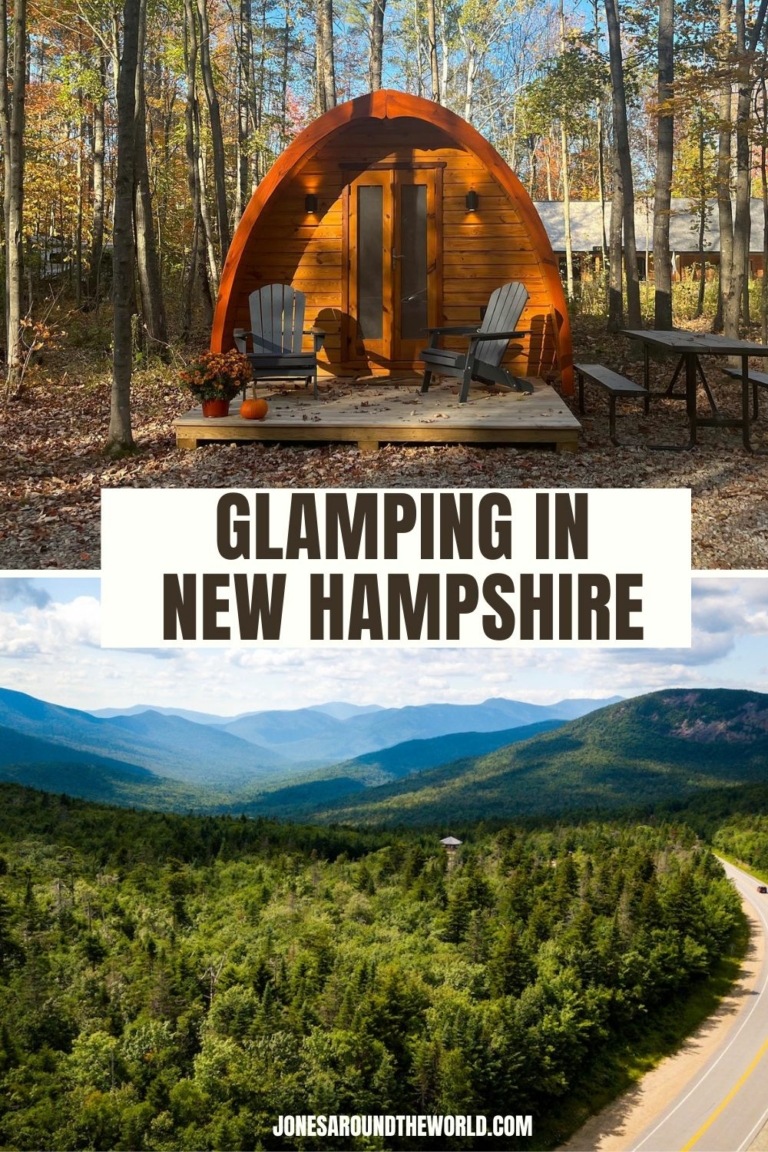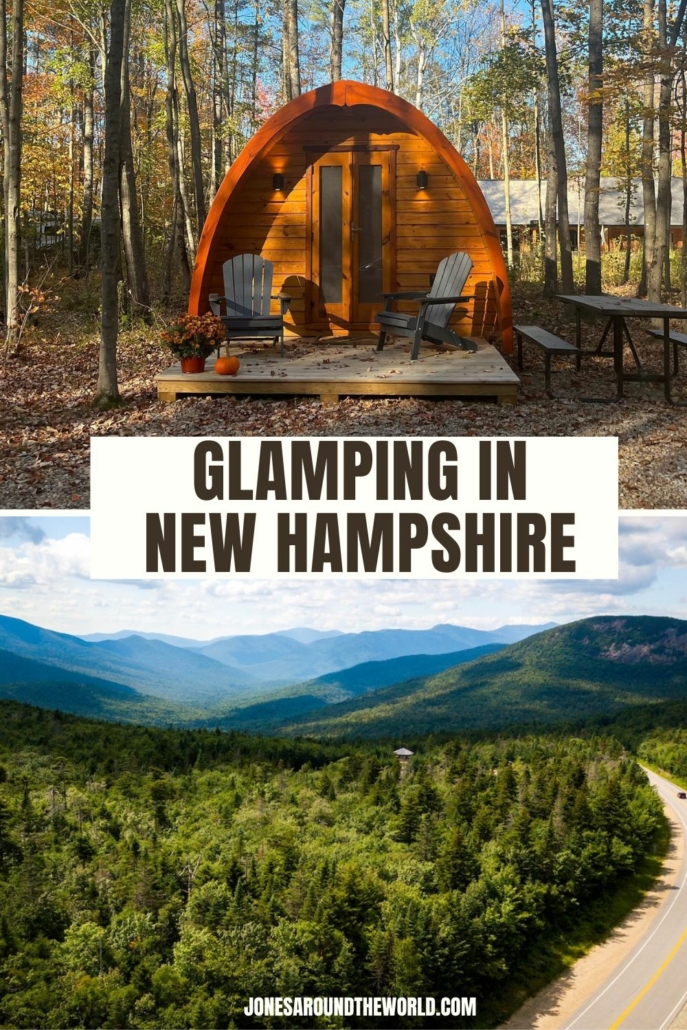 ---
Glamping New Hampshire Breakdown
Yeah, New Hampshire is abundant with fantastic glamping spots, and we know how hard it might be to make a choice! That's why we created a shortlist of the Top 5 New Hampshire glamping locations, which you can easily book by our links. But be quick — these places are the real icing on the cake and usually book out far ahead!
Best Luxury Glamping in New Hampshire – Huttopia White Mountains
Best Romantic Glamping in New Hampshire – Getaway House
Overall Best Glamping in New Hampshire – Hub North
Best Treehouse Glamping in New Hampshire – Cozy 4-season Treehouse
Most Unique Glamping in New Hampshire – Plein Air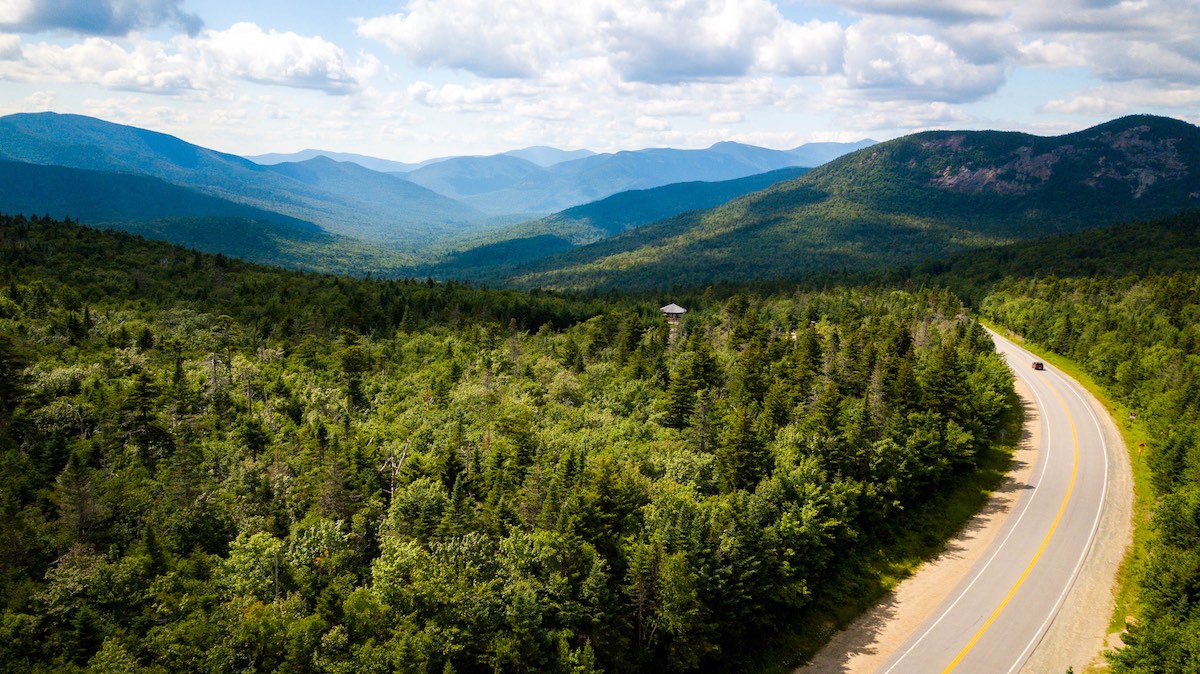 ---
15 Best Places To Go Glamping in New Hampshire
Alright, here we go! Check out our list of the best New Hampshire Glamping sites and get ready to enjoy nature without the bugs or humidity. This state knows how to surprise even the most experienced glamping lovers.
---
1) Trailside Stays – Tiny House in the Woods
Where: Dorchester, New Hampshire
Price: $180+ per night
Accommodates: 1-4 guests
Dive deeper into the authentic nature experience that this elegant little cabin offers. Nestled alongside the ski and mountain bike trails at Green Woodlands, Trailside Stays features all the comforts you'll need but in micro size, making it even cuter and more romantic. Ideal for hiking, biking, and switching off from everyday life, this spot has all the chances to become your go-to glamping destination.
Perfect for a small family or coupled-up friends, this charming tiny house is complete with two high-quality queen-size beds. It also has a kitchenette, large picture windows to enjoy the scenery, bathroom with a shower, heating, and air conditioning. Outside, you will find an awesome fire pit, where you can grill up a mouth-watering dinner.
View Photos, Read Reviews & Check Availability
---
2) Safari Tent at Lumen Nature Retreat
Where: White Mountains, New Hampshire
Price: $339+ per night
Accommodates: 4 Guests
https://www.stayatlumen.com/safari-tents
Top 3 reasons to stay at Lumen Nature Retreat's Safari Tent – hotel-level amenities, stunning White Mountains views and waterfront views, and the best location to wine & dine and experience activities and go exploring. Inside the Safari Tent, guests will feel right at home with its luxury beds with fresh linens, a portable charging station, a mini library, and complimentary tea and coffee. Outside of the tent, you can enjoy a unique outdoor experience with a firepit and grill, and Adirondack chairs overlooking the brook.
On a clear night, you can lay on the hammock and enjoy nature's show of the starry skies. You also have access to the 24/7 climate-controlled bathhouse or you can book a private sauna experience for a relaxing "me time". There are numerous things to do in the area, such as hiking at Flume George, having a picnic and taking a swim at Echo Lake, and savoring delectable food and drinks while listening to live music at Lumen. It's the perfect place to get away and reconnect with the things that matter.
View Photos, Read Reviews & Check Availability
Lumen Nature Retreat : A Luxury Glamping Stay in New Hampshire
---
3) Cozy Glamping Yurt
Where: Chatham, New Hampshire
Price: $225+ per night
Accommodates: 6 Guests
http://toadhillnh.com/cozy-yurt-in-the-peaceful-woods
At Toad Hill, you can fully immerse yourself in the great outdoors and indulge in a thrilling adventure while staying in a comfortable yurt. This luxurious home, made of locally-sourced wood in New Hampshire, is off-grid and designed to provide a warm and inviting atmosphere during winter and a refreshing coolness in summer. It's an ideal spot to disconnect from the busy city life and relish the calming beauty of nature.
Explore the White Mountains – go for a hike, check out Langdon Brook Waterfall, and create outdoor memories with fellow campers. Whether you seek outdoor recreation, relaxation, shopping, or dining, the nearby towns in Maine and New Hampshire offer something for everyone.
View Photos, Read Reviews & Check Availability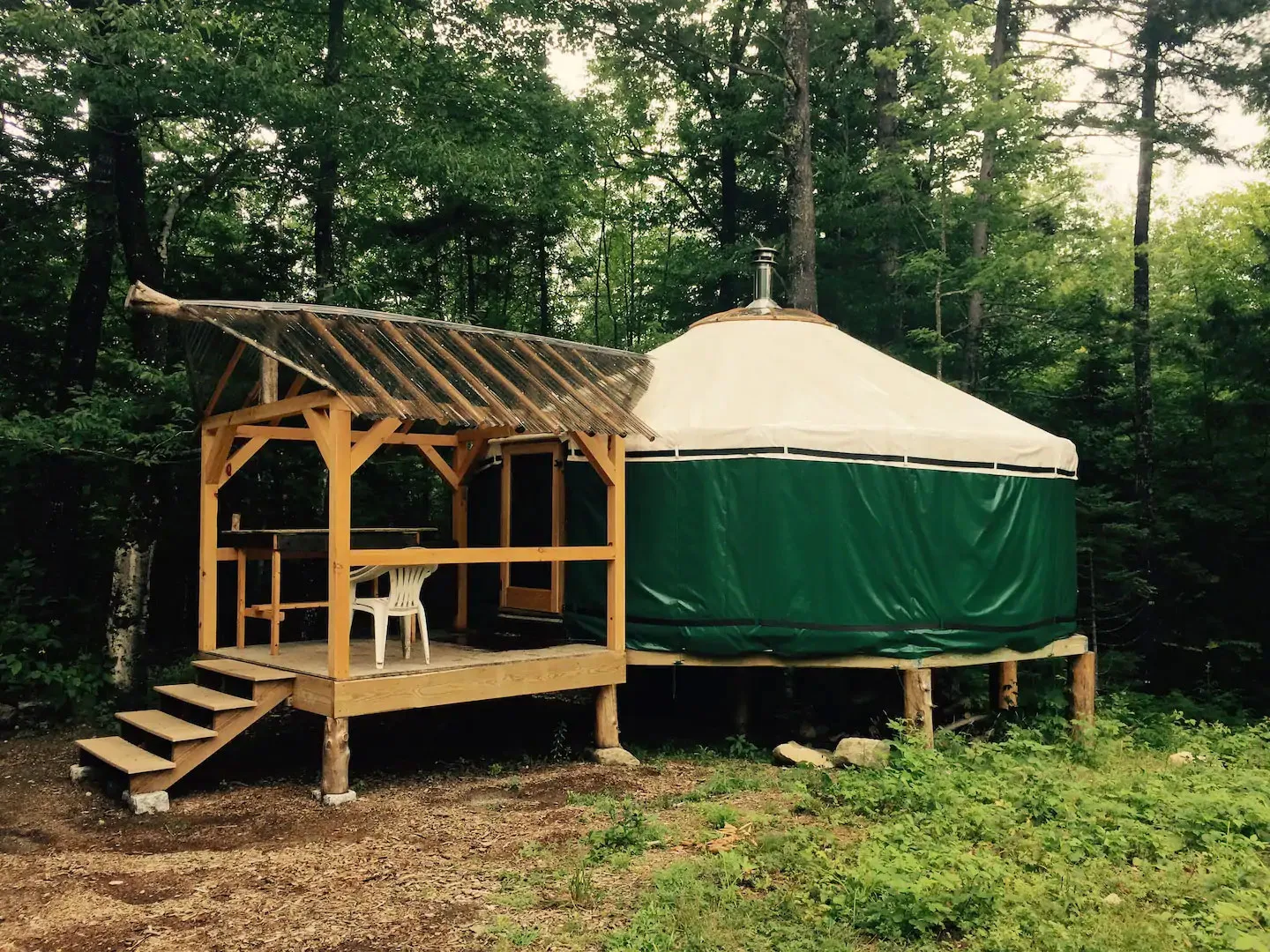 ---
4) Alpine Garden Glamping Pods
Where: Mount Washington Valley, New Hampshire
Price: $215+ per night
Accommodates: 2 Guests
https://www.alpinegardenglamping.com/
https://www.facebook.com/alpinegardenglamping/
Alpine Garden is situated in the beautiful White Mountains of Northern New Hampshire and provides an exceptional and unforgettable getaway experience. The resort boasts a selection of unique hobbit-style homes, cozy cabins, and charming treehouses, all of which are handcrafted. Among our favorite accommodations is Lovepod Site #3, a distinctive and extraordinary hobbit home that features a luxurious open-concept studio and bedroom living area.
This delightful space has been equipped with various amenities to offer you and your special someone maximum comfort during your stay. These amenities include a heating and cooling system, a Nespresso maker, a mini fridge, and a wet bar. You can also take a refreshing dip in the heated pool, enjoy the taste of delicious natural wine and cider, and unwind in front of a cozy fire. Come and experience this charming space for yourself!
View Photos, Read Reviews & Check Availability
---
5) Getaway House
Where: Epsom, New Hampshire
Price: $159 + per night
Accommodates: 1-4 guests
Does the idea of being curled up in a small house and looking into the woods through the wall-sized windows seem lovely to you? Then the Getaway House may pique your interest! This glamping retreat can easily put some distance between you and your bustling daily life.
Located in Epsom, New Hampshire, an hour and a half drive from Boston, this spot is within walking distance of multiple scenic trails in Hart Town. Bear Brook State Park, which is near at hand, also offers beautiful places to swim and stroll with your beloved ones.
With a choice of one and two-bedroom cabins, you will become smitten with their minimalist interior design. These brightly lit wooden cabins make you feel like you are outside in the woods, not in a house. The kitchen area is filled with essentials, such as plates, bowls, cups, cutlery, a mini-fridge, and a tea kettle. The comfy bed is located next to the wall-sized window overlooking the forest. As for the bathroom, it's stocked with scented body wash, organic shampoo, and conditioner. Overall, this place is a paradise, created to reconnect with nature and yourself.
View Photos, Read Reviews & Check Availability
---
6) Camp Ogontz
Where: Lyman, New Hampshire
Price: $105 + per night
Accommodates: 1-6 guests
https://www.ogontzwhitemountains.com/allinclusiveresort
Camp Ogontz is a resort offering you everything needed for an unforgettable nature-filled weekend getaway. It features a variety of accommodation options, from open-air cabins with shared baths and facilities to fully-equipped cabins with private baths, kitchens, and laundries.
This top-notch glamping site has a private swimming area on the lake, kayaks, canoes, a kids' area for your kids to have fun, breathtaking hiking trails to explore the surroundings, tennis, and volleyball courts, and much more! On top of that, you can forget about cooking while enjoying your vacation at Camp Ogontz since it has a charming rustic Dining Hall facility, which serves three full meals every day.
---
7) Hub North
Where: Gorham, New Hampshire
Price: $98 + per night
Accommodates: 1-10 guests
Use Hub North as an ideal base camp for your White Mountains exploration and a back-to-nature weekend getaway. Nestled amongst the wildlife, this glamping paradise offers plenty of activities, such as hiking, snowshoeing, year-round biking, Alpine skiing, and cross-country skiing.
Each of the tents is equipped with a king or queen-sized bed, linens, extra blankets, and towels. The bathroom is nearby with private stalls, flush toilets, sinks, and showers. Just imagine: you wake up to the songs of the birds and sip a morning coffee while sunbathing near a cozy fire pit right on your doorstep. There are all sorts of unexpected wonders ahead of you, and the day promises to be full of adventures. What a life!
---
8) Snug Life Camping
Where: Wilton, New Hampshire
Price: $80 + per night
Accommodates: 1-4 guests
https://snug-life-camping.business.site/
https://www.tentrr.com/explore/New-Hampshire/SnugLife-Camping
This beautiful tent is situated on an eye-catching riverfront property where luxury meets nature-filled comfort. The Snug Life is a secluded campsite, ideal for a romantic or family getaway. With a front porch overlooking the Souhegan River, this glamping site is your home base for an adventure-filled vacation.
The tent is complete with a bunk bed with two queen air mattresses, matching tables with storage, and a wood-burning stove to keep you warm on a cold night. Outdoors, it's even snugger than inside — a fire pit with removable cooking grill grates, a picnic table with a sitting area, and a prep station create a lovely and cozy atmosphere. There, you can enjoy a delicious dinner while sipping wine and talking about this and that. What's more, Snug Life is pet-friendly, meaning you can take your little friend with you.
View Photos, Read Reviews & Check Availability
---
9) Twin Mountain / Mt. Washington KOA Holiday
Where: Twin Mountain, New Hampshire
Price: $101 + per night
Accommodates: 1-6 guests
https://koa.com/campgrounds/twin-mountain/
Well, you can't beat the price for the location of this glamping spot! Tucked away in the heart of New Hampshire's picturesque White Mountains, the Twin Mountain/Mount Washington KOA is a must-visit campground, ideal for a so-needed relaxation. With hiking trails, fishing, and biking opportunities nearby, this spot is where you will make unforgettable memories.
As for the lodging, the Twin Mountain/Mount Washington KOA offers cozy cabins, glamping tents, cottages, RV sites, and lodges. Most of its shelters accommodate more than five people, making them perfect for a big family retreat. Plus, your kids will be amazed — the campground has a small pool, bounce house, large playground, lawn games, tram rides, food, and ice cream trucks. What a chance to leave your little one with other kids and spend time with your beloved one.
---
10) Huttopia White Mountains
Where: White Mountains, New Hampshire
Price: $85 + per night
Accommodates: 1-6 guests
https://www.booking.com/hotel/us/huttopia-white-mountains.en-gb.html
As you might have guessed, Huttopia White Mountains is located in the pretty-as-a-picture White Mountains of New Hampshire. It's a hidden paradise with clear lakes and rivers, a zigzagging creek, and crystal-clear mountain air. Wake up and go for adventures, or stay at home and make the best out of swimming in Iona Lake and eating at the on-site bistro. Yay, it's definitely a trip to remember!
Located less than a 2.5-hour drive from downtown Boston, Huttopia White Mountains offers three levels of comfort: the traditional camping pitched tents, comfortable glamping tents, and luxury cabins. Outside, you will find picnic tables and cozy fire pits where you can grill something up.
Skim through their website for all the different options available and choose the one you love the most!
Huttopia White Mountains | Glamping in New Hampshire
---
11) Unique Yurt in the Wilderness
Where: Chatham, New Hampshire
Price: $95 + per night
Accommodates: 1-6 guests
Get lost amongst the wilderness and find your inner adventurer in this secluded off-grid yurt. This handcrafted shelter offers a blend of simplicity and a high level of comfort. Located close to beautiful Langdon Brook, it's completely surrounded by National Forest, making it possible for you to finally reconnect with nature. With close access to snowshoe and hiking trails, this spot is a go-to glamping retreat, where you can experience a back-to-nature adventure with a bang.
The yurt is outfitted with one futon and a full air mattress, a wood-burning stove, a composting toilet, a breakfast nook with chairs, and other amenities, including a teapot and tea strainer with two mugs. If you want to entertain yourself while sipping wine, there are different board games, books, and puzzles. Outside, you will find a fire pit and gas grill to toast marshmallows or the best-in-class barbeque.
View Photos, Read Reviews & Check Availability
---
12) Treetop Sanctuary
Where: Dunbarton, New Hampshire
Price: $228 + per night
Accommodates: 1-4 guests
https://www.airbnb.com/rooms/10494516
How about a personal treetop oasis nestled 30 feet above the forest floor? With a suspended path through the trees, this brilliant glamping sanctuary is perfect for a back-to-nature experience. This is very much like luxury camping, only up in the trees, which is even better!
The dreamy house has all the necessary amenities, such as a fridge, wood stove, cups, plates, and even a composting toilet. If you want to spend your day actively, hike to Kimball Pond just down the road or use multiple picturesque trails nearby. Backed up with plenty of five-star reviews, this treehouse is a go-to place to unwind and recharge. So yeah, hurry up — it gets booked up pretty quickly!
---
13) Cozy 4-season Treehouse Glamping
Where: Sanbornton, New Hampshire
Price: $285 + per night
Accommodates: 1-4 guests
This tree home with farmhouse feels and exquisite décor is an ideal New Hampshire glamping spot. It has a kitchenette, a full bathroom, a large toaster oven, a traditional coffee maker, and a teapot. In other words, it was created to make you feel at home while being in the middle of nature. Isn't it amazing?
Outdoors, there is a large space with a cozy fire pit where you can gather with your family over a glass of wine or a cup of hot cocoa. A lounge space under the treehouse with chairs is a perfect hang-out spot to reconnect with yourself while reading your favorite book… or party hard with friends?
This treehouse is just a few minutes walk from a private beach, where you can try canoeing or kayaking. Within a short drive, there are the White Mountains with picturesque trails where you can spend the whole day. Overall, you know where to head if you get sick of the city hustle and bustle.
View Photos, Read Reviews & Check Availability
---
14) Plein Air
Where: Plymouth, New Hampshire
Price: $175 + per night
Accommodates: 2 guests
Would you believe it if someone told you that a canvas tent is better and more romantic than a hotel room? No? Say no more and look at Plein Air. This luxury, eco-friendly tent in New Hampshire is nestled in beautiful woods and surrounded by birdsongs. Feel the fresh breeze and smell the morning dew while having the time of your life at this wonderful glamping place.
The tent is outfitted with a comfy queen bed with cotton bedding, a wood stove, handcrafted dishes, soft towels, pots and pans with a cookstove, and a hot outside shower with a composting toilet. Ideal for a romantic weekend getaway, this place was created to get lost in the wilderness with your beloved one and liven up your relationship with passion. So, is a canvas tent more romantic than a hotel room?
---
15) The G-Frame at New Glampshire
Where: Sanbornton, New Hampshire
Price: $150 + per night
Accommodates: 2 guests
https://www.airbnb.com/rooms/33213716
https://www.instagram.com/new.glampshire/
Stylish, cozy, modern, well-equipped — it's all about our next New Hampshire glamping destination. The G-Frame at New Glampshire is a comfy cabin for two, ideal for sparking some romance. Its large windows bring the light in and create the feeling of being in the middle of nature while staying inside.
Inside, you will find a loft bedroom with a king-sized memory foam mattress and breathtaking views from the windows, a Coleman butane stove, a kitchenette with utensils, cups, pots, and a private bathroom. Outside, there is a small wood-burning sauna for complete relaxation after a long day of hiking, snowshoeing, or cross-country skiing.
---
Am I Missing Any New Hampshire Glamping Spots?
This list is curated with love and passion for the outdoors and camping. We hope you can narrow down one for your next vacation and have already started packing your bag! Happy Glamping!
If you know of any other incredible places for Glamping in New Hampshire, please do reach out so I can keep this guide as up to date as possible!
---
Looking for more Glamping Getaways?
My travel blog is filled with dozens of incredible guides and articles about the best glamping destinations in North America (and the world)! Check out a few of my favorites here and let me know if you've got any questions!
---
Thanks so much for reading my New Hampshire Glamping Guide!
Share the Glamping New Hampshire love with your travel crew!
https://www.jonesaroundtheworld.com/wp-content/uploads/2022/05/Glamping-in-White-Mountains-New-Hampshire.jpg
1084
1600
Dave
https://www.jonesaroundtheworld.com/wp-content/uploads/2017/03/logotry-1-1-300x106.png
Dave
2023-04-27 21:19:14
2023-04-29 17:08:58
15 Best Glamping New Hampshire Sites For Your Bucket List