If you are planning a trip and considering glamping in Vermont, the forces of travel have brought you to the right place! Vermont is such an underrated destination with , so I've this guide especially for travelers on their next trip to Vermont looking for a unique outdoor adventure.
Vermont is a breathtaking state in the northeast of the United States of America with many tourist attractions to see, and glamping is a great way to do that. The area boasts picturesque views of peaceful mountains and world-famous foliage during the day, and offers star-gazing blankets of Astro diamonds at night.
Glamping in VT is a way to experience the relaxation and wonder of nature, with more comfort and luxury than regular camping. Be it in a tent, yurt, treehouse, cabin, or even trailer, glamping is an elevated camping experience for all.
---
Quick Breakdown of Glamping Vermont
Before we spill all the juicy details, here's a quick look at the highlights of this list! Feel free to take a peak at these, but be sure keep scrolling as there really are a ton of amazing options to choose from!
Overall Best Glamping in Vermont – Craftsbury Farmhouse Glamping Tent
Best Secluded Cabin Vermont Glamping – Chalet in The Woods
Best Yurt Glamping in Vermont – Vermont Retreat Yurt, a Four-Season Escape
Most Popular Glamping VT Airbnb – Tanglebloom Tiny Cabin
Best Treehouse Glamping Vermont – Lovely Treehouse in the Woods
Best Affordable Glamping Vermont Experience – Vermont Canvas Cabin in Heaven – Wells
These are just my personal highlights though – be sure to keep reading on to learn about all the other best glamping getaways in Vermont!
---
15 Best Places To Go Glamping in Vermont
Let's jump into the carefully curated list of Vermont accommodation sites for you to choose from. I've included photos and videos for you to get a good look at your options. Keep reading, and be sure to book today as many of these places book up months in advance!
---
1) Craftsbury Farmhouse Glamping Tent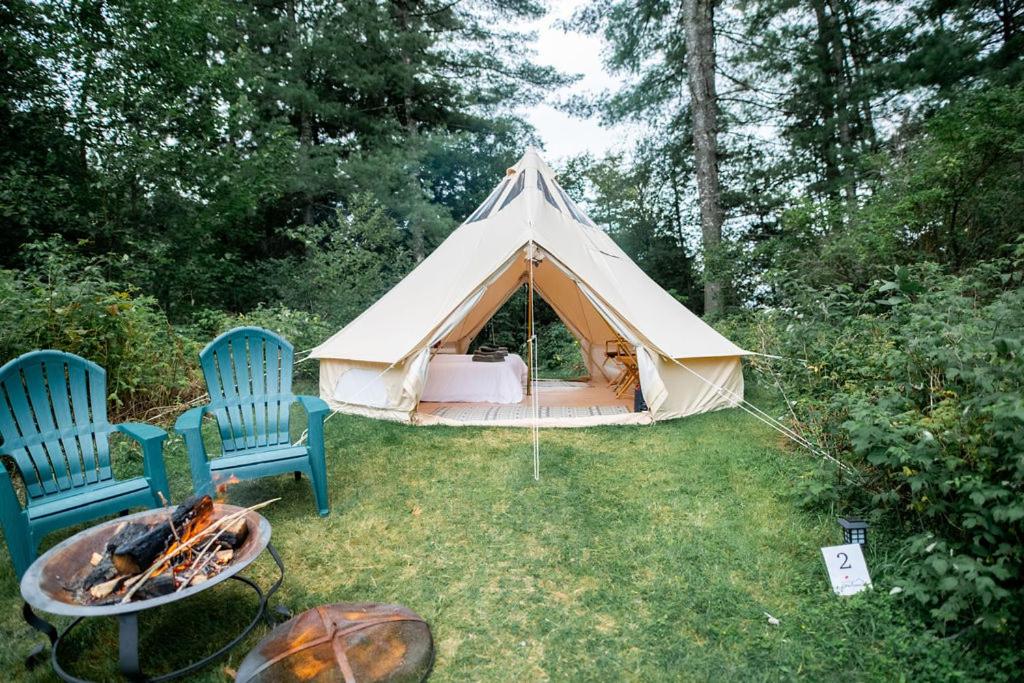 Location: Craftsbury, Vermont
Price: $120+ per night
https://craftsburyfarmhouse.com/
https://www.booking.com/hotel/us/craftsbury-farmhouse.html
This glamping site in Vermont is beautiful and unique. Your hosts offer weatherproof tents that give you comfort and reliability. Situated on the rolling hills of Craftsbury, VT, enjoy a meal in the on-site restaurant with fresh air and stunning views.
You will have access to a spa, a yoga class under a tipi at dusk, and a hot tub to elevate your Vermont glamping experience. Listen to your favorite podcast while looking out onto Whetstone Brook from the deck. Enjoy this private glamping room hosted by Jessie, Katie, and Lindsey.
View Photos, Read Reviews and Check Availability
Guest Review: "This is an amazing getaway! We loved everything about it. Having the blackbird bistro nearby was a lovely perk. Next time I will definitely schedule a massage by the nearby brook. The shared bathroom was very clean and well equipped."
---
2) Whitingham Cozy Glamping Tent
Location: Whitingham, Vermont
Price: $118+ per night
https://www.airbnb.com/rooms/50769197
This site is one of the highly-rated glamping tents in VT and is a great option. The glamping tent is placed on 30 acres of private land in Vermont. Up to four glampers can experience this spacious tent with two transformed Disco-beds. Guests will have access to a sun shower and a portable toilet.
Guests may use the wood-burning stove, refrigerator, microwave, and power outlet inside the tent. Outside the tent, guests can find a gas grill, a fire pit, a picnic table for scenic dining, and a shared wood fire hot tub. The on-site kayaks to use on the nearby body of water are also available to guests for an additional fee. This self-catering glamping tent offers beauty in Vermont in style and comfort.
View Photos, Read Reviews and Check Availability
Guest Review: "This airbnb was absolutely perfect. We went in early October, and it was like a fall fairytale. The views were absolutely stunning. Pictures won't do it justice. We wanted a quiet and peaceful off the grid experience and it didn't disappoint."
---
3) Vermont Retreat Glamping Yurt, a Four-Season Escape
Location: Putney, Vermont
Price: $180+ per night
https://www.airbnb.com/rooms/37914702
Whether you want to rest or awaken romance, this yurt in Vermont situated on a six-acre farmstead may be what you are looking for. This Vermont retreat is fully equipped with a kitchen, wood stove, deck, Wi-Fi, and electricity to heat water.
Everything in this space has been carefully chosen to give you the whole glamping experience. Comfortable living room chairs will help you relax and a soft bedroom mattress is fitted with fresh linen sheets. Take a refreshing shower outdoors or read a book on the deck as you admire the local birdlife.
Take advantage of being surrounded by nature. In this yurt, guests are close to swimming facilities, ski resorts, and local trails. To help you explore, a notable local area guide is available. The facilities are known for being thoroughly cleaned and exceeding expectations.
View Photos, Read Reviews and Check Availability
Guest Review: "We had a wonderful stay at the yurt. Kathleen is the ultimate hostess: provided everything we needed, very helpful and friendly. The yurt is spotless and very homey. We have already recommended it to friends and family."
Amazing Glamping Getaway in this Vermont Yurt
---
4) Secluded & Pet-Friendly Chalet Glamping in the woods
Location: Wilmington, Vermont
Price: $161+ per night
For those looking for the ultimate cabin glamping experience, then look no further then this secluded vacation rental that will satisfy that glamping itch! Complete with a cozy firepit, jetted tub, and lovely deck to sit on a relax in nature – this Vermont glamping cabin getaway is truly luxurious while still remaining quite affordable!
It's a two-bedroom rental that can host 4 so ideal for a group of friends or small families looking for a fun weekend retreat! Mt. Snow is only four miles away, so this one is quite popular in the winter months!
View Photos, Read Reviews and Check Availability
---
5) Treehouse Glamping in Vermont
Location: Hardwick, Vermont
Price: $258+ per night
https://www.airbnb.com/rooms/27627590
This absolutely charming treehouse rental would make your childhood dreams come true! It's well designed, and has a luxury feeling to it, but the real star is the breathaking woods surrounding the property! It's a secluded glamping getaway perfect for those who truly love immersing themselves in nature and looking to recharge their batteries.
There is plenty to do in the area like hiking, skiiing, practicing photography, or touring the nearby local breweries – or feel free just spend all day in the treehouse as you listen to the peaceful sounds of the nearby creek.
The interior design will truly amaze you, the beds are extremely comfortable, and it's backed by a Superhost that will go above and beyond to ensure a 5-star Vermont glamping experience!
---
6) Tanglebloom Tiny Cabin
Location: Brookline, Vermont
Price: $258+ per night
https://www.airbnb.com/rooms/17072599
Tanglebloom Tiny Cabin is Vermont's most wishlisted Airbnb. This cozy cabin has a minimalist design to give guests a glamorous outdoor experience. The place has a handcrafted open-air effect and is nestled in Vermont's Tanglebloom Flower Farm. This elevated glamping experience also offers a brand new wood-fired hot tub.
The screened 'walls' let in the breeze and keeps the bugs out on a summer night. The covered porch is best enjoyed with a warm cup of coffee, wine under a golden sunset, or with a book.
This cabin is made for optimum relaxation. The glamor and comfort of this tiny cabin placed in the middle of the rural parts of Vermont can give you a quiet rest away from the hustle and bustle of city life. Just note that this cabin doesn't include electricity and Wi-Fi.
View Photos, Read Reviews and Check Availability
Guest Review: "To say the cabin was magical would be an understatement!! The view was breathtaking. The cabin was cozy and unique, clean and every necessity was provided for."
---
7) Saint Johnsbury – Luxury Treehouse Next to Dog Mountain
Location: Saint Johnsbury, Vermont
Price: $291+ per night
https://www.airbnb.com/rooms/35162322
This treehouse was handcrafted and built in the evergreens of Spaulding Mountain, just five miles from the Stephen Huneck Gallery/Dog Mountain. It was made by the husband and wife, using vintage pieces to create this beautiful love nest.
Designer finishes, Pendleton blankets, and soft linen are all found in this treetop gem. This treehouse is perfect for lovers or someone on a solo trip to unwind in the natural allure of Vermont. Enjoy sunrises from this glamping site and see Alerin Farm cattle pastures.
This glamping VT site gives guests access to private ski trails, mountain views, and an on-site fire pit. It is also a place made with the intention of relaxation and has no TV or Wi-Fi. Grab your favorite book and take the rare peaceful time to enjoy it.
View Photos, Read Reviews and Check Availability
Guest Reviews: "A delightful and unique place for a retreat! Every aspect of the treehouse is meticulously considered and intentionally designed. The accommodation is accessible to a plethora of nearby amenities and is perfectly equipped for those who never want to step a foot off the property."
---
8) Vermont Canvas Cabin in Heaven – Wells
Location: Wells, Vermont
Price: $95+ per night.
https://www.airbnb.com/rooms/28105938
It's hard not to fall in love with this cozy glamping tent. Situated at Vermont's Harmony Homestead Farm, this pick offers comfort, beauty, and peace and is close to Killington, Manchester, and Lake George.
The Canvas Cabin sleeps two people and sits on a sustainable farm that offers guests a shared separate kitchen cabin, main bath, and common living area. Enjoy a comfortable sleep in the queen bed with a 360-degree view of nature.
Guests can use the campfire area, hiking trails, octagonal outdoor solar shower, and separate kitchen amenities. Explore the garden area and meet the animal dwellers of the site on a sunset stroll through these rolling hills.
View Photos, Read Reviews and Check Availability
Guest Review: "Everything about this place is amazing! We stayed for two nights but would definitely recommend staying 3 nights to really take it all in. Breakfasts in the morning were wonderful, as well as the cats and dogs that stop by to say good morning :). If you are an animal lover, you'll appreciate all the fluffy friends around! The views are amazing!"
---
9) Cozy Mountain Yurt on Organic Farm – Monkton
Location: Monkton, Vermont
Price: $85+ per night
https://www.airbnb.com/rooms/41955965
This accommodation can provide up to four guests with the unique experience of this rustic yurt in the mountains. A stay here is cozy and glamorous because it faces the east to give you a spectacular sunrise view.
This space is tucked into a wooded hillside and is excellent for any introspection or creativity you need. The yurt is spacious and warm and linen is provided, but bring extra blankets in winter to be safe.
Whether you want a private and serene getaway or are planning a more significant event, this yurt is a glamping option not to be missed. Couples or solo travelers on a retreat have access to a separate indoor kitchen, farm tours, floral workshops, and personalized catered meals.
View Photos, Read Reviews and Check Availability
Guest Review: "Glamping to the next level! Yurt was super cozy, the wood stove was great and kept us warm all night! Not a far drive to Burlington and Stowe for some day adventures."
---
10) Cozy Screen House on a Waterfall – Starksboro
Location: Starksboro, Vermont
Price: $148+ per night
https://www.airbnb.com/rooms/8079712
This glamping experience is for those looking for fun and adventure. This is a fully weatherized screen house in Starksboro, Vermont. Up to three guests can enjoy hot showers, a grill, and an outdoor kitchen.
This site is on the grounds of the historic Starksboro Millhouse. Encounter a breathtaking view of the beautiful starry night or take a refreshing dip in the nearby river. The area is very quiet, and guests can enjoy the natural jacuzzi.
This entire space is available for glamping from May to October and has all camping gear ready for you. It can work as a romantic getaway trip for two or a cozy stay for one. Be sure to take a moment to admire the deck, bridge, and waterfall, which can be lit up.
View Photos, Read Reviews and Check Availability
Guest Review: "Wow…we were absolutely awestruck by this experience! The natural waterfall/running water landscape is so inspiring with the never ending supply of a one of a kind combination of energy and serenity…not only in visual beauty, but also the powerful , yet peaceful music that only water running over rocks can make."
---
11) The Sugar Maple Treehouse – Hancock
Location: Hancock, Vermont
Price: $168+
https://www.airbnb.com/rooms/32190915
Hancock, Vermont, presents this luxurious treehouse for your next Vermont glamping experience. This area is between Killington and Sugarbush, and Green Mountain wilderness surrounds this site where maple trees stand tall. It's a fantastic experience during the colorful foliage season.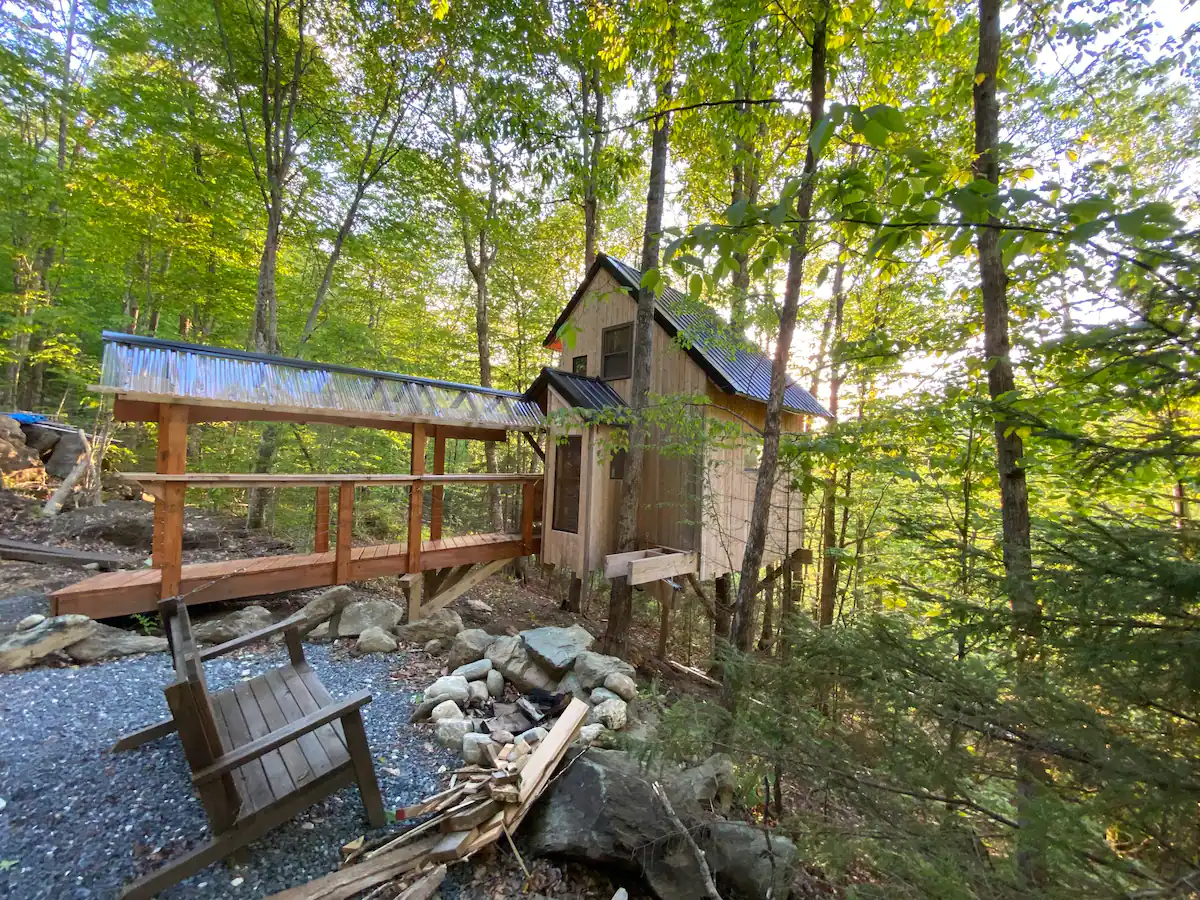 You will have to stroll along a path and over a beaver creek bridge to access the treehouse, so be sure to bring appropriate footwear. Enjoy a seasonal heated outdoor shower, electric heaters, and insulation in the treehouse during your stay. You can also get a bonus smart TV and internet inside this treehouse.
You may also bring your pets for a small refundable deposit fee to make this trip extra special. The cozy bed and in-house therapist will be sure to have you staying comfortably in this Vermont glamping site.
View Photos, Read Reviews and Check Availability
Guest Review: "We had an unforgettable stay here. The area was very peaceful and the treehouse offered a cozy stay on the hillside. You can tell how much effort and love has been put into this place and Derek was an amazing host."
---
12) 16′ Lotus Belle Canvas Tent Along the Lamoille River
Location: Johnson, Vermont
Price: $99+ per night
https://www.airbnb.com/rooms/44307589
Glamping in this tent is a dream! Listen to the refreshing sounds of the nearby waterfall as you gaze at views of the Green Mountains and the farm across the river. This is great for a romantic getaway or just a solo retreat to rejuvenate.
This tent offers a king-sized bed, a fire pit with grilling accessories, and access to a private beach and swimming hole on the river. It is a short hike to Dogs Head Falls. The area has good cell coverage from Verizon and AT&T all over the property. Johnson Village is close by and full of restaurants and convenience stores.
This Vermont glamping treasure is located near The Alchemist Brewery, Moss Glen Falls, Boyden Family Winery, Vermont Ski and Snowboard Museum, and Jay's Peak Resort.
View Photos, Read Reviews and Check Availability
Guest Review: "Amazing location – mountain view, proximity of the river – all to yourself! The tent is cozy with all the essentials you may need! We'll be back!"
---
13) Scandinavian Cabin in the Woods
Location: Royalton, Vermont
Price: $222+per night
https://www.airbnb.com/rooms/49789520
Glamping in VT does not get better than this cabin tucked into the Royalton woods. It has a clean design with excellent natural light; this is glamping at its best. This newly built cabin has lots of space with open views and a modern kitchen that feels like it's out of a magazine.
The terrazzo floor has heating and there are comfortable lounge chairs for reading. Every meal is a moment to enjoy the view from this dining area, and coffee and tea are offered by the host. The bathroom has a spacious rain shower and the comfortable bedroom is perfect for rest and luxury.
The cabin is near many ski resorts, a river safe for swimming, and fun hiking trails. The available Wi-Fi is perfect for business meetings or watching movies. This place does not have a TV but provides a Sonos music system.
View Photos, Read Reviews and Check Availability
Guest Review: "The cabin is a wonderful place to escape to the woods and recharge your batteries. It's comfortable and beautifully decorated, with several luxury touches including a rain shower and induction stove."
---
14) Songbird Sangha Yurt
Location: New Haven, Vermont
Price: $95+ per night
https://www.airbnb.com/rooms/5362651
Songbird Sangha was intentionally built to give a serene retreat from the world's chaos. It is snugly situated in a beautiful forest for privacy and quiet. The skydome placed above your comfortable queen-sized bed makes for the most magical star-gazing you could ever dream of.
The yurt is large and spacious—a pleasant surprise for most guests. Guests have access to a full kitchen and full bath with a classic clawfoot tub and shower. The living room has a ten-foot window that shows a view of the forest, and the automatic wood pellet stove warms the property during chilly nights.
There are seasonal wildflowers that you can pick and a medicine wheel where you can send and receive blessings. Your stay is made even sweeter by a complimentary campfire and marshmallows set out under the twinkling fairy lights for a magical time in the Vermont forest.
View Photos, Read Reviews and Check Availability
Guest Review: "Not only was the yurt beautifully laid out, very comfortable, serene, and had everything you need, the property it is on is so beautiful and had such a relaxing feel. We loved visiting the animals on the property as well. "
---
15) The Harlow at Parker Hill Farm
Location: Springfield, Vermont
Price: $180+ per night
https://www.airbnb.com/rooms/48581564
This cabin is located on a farm and has a pond where you can sit back and relax. Guests can relax to the sounds of singing blackbirds, mooing cattle, and ducks.
This site is intimate and well hosted, with a delicious breakfast available. Their farm pastures are great for sunset strolls where you can watch alpacas grazing in the golden light.
Experience all these rare features of nature along with the comforts of a soft bed, Wi-Fi, hot showers, and flushing toilets. Glamping at its full effect is what The Harrow offers, a stay that will leave you rested and restored.
View Photos, Read Reviews and Check Availability
Guest Review: "This intimately quaint farm/glampground is everything you could wish for and more! Delicious breakfast, adorable alpacas, peaceful pond, beautiful tents – an amazing and relaxing place. The owners are such caring and thoughtful people. I can't wait to come back!"
---
Am I Missing any Glamping in Vermont Spots?
For those that may have already had the pleasure of glamping in VT, I need your help. If you think there is a glamping spot in Vermont that I missed that deserves to be on this list, don't hesitate to reach out on my socials or via email. It's always great to hear from you and learn something new!
---
More Reading Recommendations on Glamping and Vermont:
---
THANK YOU FOR READING THESE TOP PICKS FOR GLAMPING IN VERMONT!
DON'T FORGET TO SHARE THIS LIST OF LUXURY GLAMPING IN VERMONT WITH YOUR FAMILY AND FRIENDS!
https://www.jonesaroundtheworld.com/wp-content/uploads/2022/04/Chestbury-Farmhouse-Glamping-in-Vermont.webp
800
1200
TravelTractionsJATW
https://www.jonesaroundtheworld.com/wp-content/uploads/2017/03/logotry-1-1-300x106.png
TravelTractionsJATW
2023-01-13 22:34:58
2023-01-15 04:42:09
15 Incredible Places To Go Glamping in Vermont