On the hunt for a luxury retreat in the wild? Here are the top sites for glamping in Arkansas. Did I just use 'luxury' and 'wild' in the same sentence? Yes, I sure did, and it's very much possible with these refined glamping stays!
Arkansas is home to countless public and private parks offering luxurious camp lodgings. Its neighbors Missouri and Tennessee are also popular glamping spots. If you're glamping across the US, check out my list of the most incredible Tennessee glamping sites.
Arkansas is known for its landscape — comprising forests, nature preserves, lakes, hot springs, and caverns. Its terrain encompasses two mountain ranges — the Ozarks and Ouachitas, with glamping in the Ozarks a much-loved activity amongst locals and tourists.
But, the state also boasts numerous other sites where you can glamp under the stars. From glamping in Hot Springs, Arkansas, to Eureka Springs Treehouses, here are all the sites for a camp out in the "Natural State" (yes, that's actually what Arkansas is known as).
---
Quick Breakdown of Glamping Arkansas
Before we dive into the full list, here's a quick overview what's in this article, and could be good to look into! But be sure to keep reading as this article does go over some truly amazing accommodation !
Best Hot Springs, Arkansas Tent Camping – "The Nest" of Hot Springs, a Romantic Luxury Getaway
Best Ozark Glamping Cabin – Canyon View – Luxurious Treehouse Cabin With Stunning Views
Best for Hot Springs, Arkansas Glamping – Beautiful Lakota Luxury Tipi
Best Yurts in Arkansas – Stonewind Retreat
Best for Glamping in Northwest Arkansas – Iris Hill Glamping — "Ted" Pod
Best Treehouse Glamping in Arkansas – Private Tree House on 40 Acres on Lake Catherine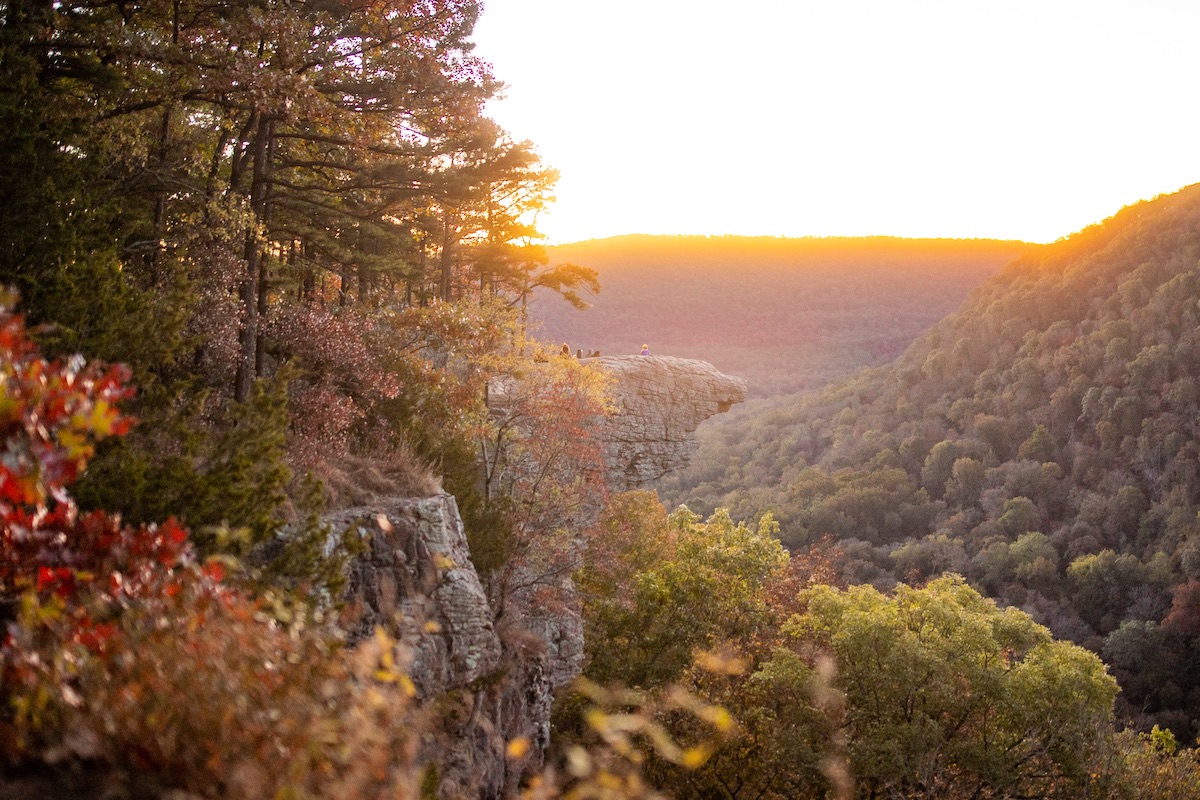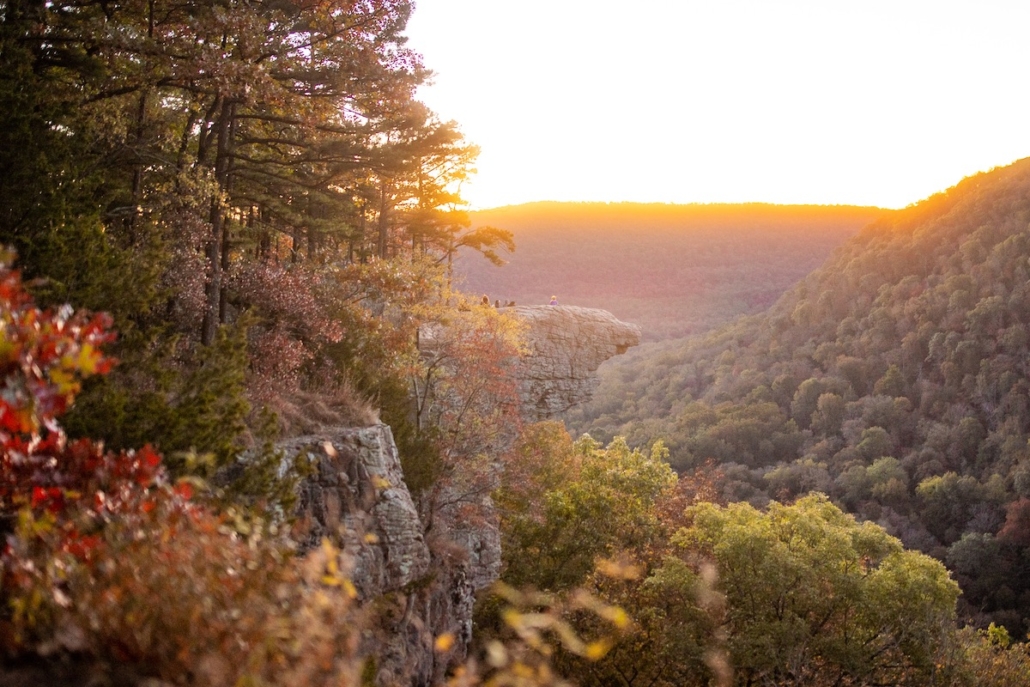 ---
The Best Places To Go Glamping in Arkansas
While the thought of pitching a simple tent in the wild with limited gear and resources may sound like fun to some, traditional camping isn't for everyone. It can be uncomfortable for people content with the finer things in life or too difficult for families with kids.
Glamping provides an adventurous opportunity for those wanting a more refined camping experience.
---
1) "The Nest" of Hot Springs — A Romantic Luxury Glamping Getaway
Location: Hot Springs, Arkansas
Price: $391+ USD per night
Staying at "The Nest" is like living in a floating forest cabin — tranquil, magical, and secluded. Built at a height using stilts, this treetop cabin provides refreshing views of the valley and a lake in the distance.
Let your eyes feast on the surrounding foliage from the deck and a large hot tub. The tub can fit up to seven people and has a wide ledge as a seat for your champagne glasses and nibbles. An outdoor shower lies hidden between the pine trees, serving as a pretty spot to cleanse yourself.
Don't worry about temperatures dropping below average. Easily control the African tent with the pre-installed Nest thermostat. For a good night's sleep, the king-sized bed is a slice of heaven, and with a TV in front, you can enjoy a movie before dozing off.
The Industrial-styled tent is up to date with advanced tech, offering a modern stay. Employ the Alexa video speaker to play your favorite playlist, and let your devices charge overnight using the power outlets in the nightstands. All this, with fast Wifi keeping you connected, so you're not entirely out of touch with the outside world either.
View Photos, Read Reviews & Check Availability
Romantic African Tent ...The Nest of Hot Springs
---
2) Canyon View Luxurious Treehouse Cabin Glamping
Location: Jasper, Arkansas
Price: $321+ USD per night
There are plenty of luxury cabins in Arkansas. Canyon View is just one of many with rustic interiors, high-end facilities, and all the furnishings for a pleasant camp-style stay. Take in the glorious views of the stunning Ozark mountains from this treehouse cabin.
The surrounding scenery, as well as the cabin and its many facilities, will allow you to enjoy a harmonious stay in the forest. Rest your eyes in the hammock on the balcony, or cuddle around the outdoor gas fire table to share fun ghost stories. When the night comes around, sprawl out on the massive king-sized bed.
The 16-inch rain shower head will be calling your name in the morning to loosen up some tensed muscles. But if chilling in the bath is more your style, the bathroom also has a massive jetted air tub. Although the cabin is big enough to accommodate a big family or group of friends (up to eight people), it, unfortunately, only has one bathroom.
View Photos, Read Reviews & Check Availability
---
3) Beautiful Lakota Luxury Tipi Glamping
Location: Whittington Township, Arkansas
Price: $245+ USD per night
https://www.vrbo.com/7832739ha
Glamping puts the glamour in camping, but who said it can't still be authentic? If you're looking for a camping experience representing Native American culture, then staying in a Tipi is the way to go.
Tipis are a force to be reckoned with. Historically used by the Plains Indians, tipis (or teepees) are conical tents usually made of long, wooden poles and a covering of cloth. In the past, the cover would be an animal skin like buffalo hide which kept the habitants warm in winter.
Glamping in a tipi at Lakota Luxury comes very close to staying in an actual Indian Camp. Your eyes won't tire of taking in all the Native American-inspired decor and artwork from the interior to the exterior.
Looming emerald trees and the fresh air of the Ouachita mountains will greet you as soon as you step out of your tipi. After a day of exploring the Hot Springs National Park, collapse on the log-frame bed for a peaceful night's sleep with the AC keeping you cool on those hot summer nights.
View Photos, Read Reviews & Check Availability
We Stayed in a Luxury Glamping Tipi! FULL TOUR + Exploring Hot Springs!
---
4) Stonewind Retreat Glamping Yurts
Location: Chester, Arkansas
Price: $169+ USD per night
https://www.stonewindretreat.com/
https://www.facebook.com/StoneWindRetreat/
StoneWind Retreat offers a unique glamping experience of staying in a traditional-style yurt — a tent or a circular structure built like a tent, covered with skins or felt. StoneWind's yurts are permanent circular buildings with a modern twist so you can experience glamping in a yurt.
Relax, unwind, and enjoy taking calm walks to explore the surrounding hills and ravines. The massage on-site further amplifies the relaxation, and glorious views of the Ozark Mountains are a breath of fresh air. With a hot tub on every deck, you'll be soaking in paradise.
There are plenty of fun learning experiences too, free your mind with a 3-hour meditative class or a Qigong traditional Chinese medicine course.
Luxurious amenities are at your fingertips, making this an excellent option for a honeymoon or romantic getaway. Ever wanted to elope? StoneWind is one of the top places for eloping in Arkansas, providing indoor and outdoor venues and three female ministers. Marry your loved one here in a spontaneous ceremony, making memories for a lifetime.
View Photos, Read Reviews & Check Availability
Yurts at Stonewind Retreat
---
5) Iris Hill Glamping in Arkansas — "Ted" Pod
Location: Cedar Township, Arkansas
Price: $99+ USD per night
https://www.vrbo.com/4933346ha
Iris Hill's "Ted" pods offer a unique, cute retreat, perfect for couples wanting to get back to nature. Get the best of both worlds with a cozy night's sleep in a warm cabin and breathing in the crisp woods in the early hours of dawn. Iris Hill's 'Ted' pods mean all the forces of the wild surround you, but with a plush queen-sized bed, you don't have to sleep on the hard floor.
Enjoy deep slumbers to the whispers of the trees on the queen-sized bed, or spend the night gazing at the moonlight accompanied by a never-ending sea of stars. With Eureka Springs just five minutes away, you can spend your days painting the town red.
If you're looking for an adventure activity, why not soar through the Ozark Mountains and trees on an action-packed zipline. But if you're looking for something more laidback, spend the day shopping at the many boutiques, jewelry shops, and art galleries. Or, head to the town's spa for a rejuvenating massage.
View Photos, Read Reviews & Check Availability
Eureka Springs Arkansas GLAMPING | The Glampods at Iris Hill
---
6) Glamping at Its Finest! Private Tree House on 40 Acres on Lake Catherine
Location: Lake Hamilton Township, Arkansas
Price: $200+ USD per night
Relax, unwind, and enjoy fine glamping with your family at this 40-acre property offering ample privacy. Tucked away in the forest, you'll have a wonderful time exploring creeks, hiking trails, and reading a book on a bench with only the company of chirping birds and rustling leaves.
Thanks to Lake Catherine, you'll also have the opportunity for kayaking, paddle boarding, and swimming. It's one of the best lakes in Arkansas for a family vacation.
Little "quiet spots", hammocks, and a porch swing are dotted all over the property, where you can take a nap or simply rest your eyes listening to the friendly forest creatures. Many animals can be seen around the treehouse, from deers, squirrels, and chipmunks to bald eagles circling the open sky above.
Traveling with kids? No worries. Board games and a Blu-ray player with movies are sure to keep them away from their smartphones.
View Photos, Read Reviews & Check Availability
---
7) Lake Shore Cabins
Location: Eureka Springs, Arkansas
Price: $199+ USD per night
https://bigcedar.com/accommodations/camping-glamping/
For glamping in Eureka Springs, Lake Shore Cabins offer a fine glamping adventure on Beaver Lake. Indulge in lakeside picnics, soak in hot tubs, bask in the sun, or treat yourself to a massage while your kids venture out to the large lakefront deck for a swimming session.
With plenty of in-house services and nearby adventures, Lake Shore Cabins is a fun and happening resort for couples, family trips, or a getaway with friends. The resort has various accommodations, and all of them include a Jacuzzi tub and a fireplace to keep you warm.
Got a boat? Bring it with you. When you're not resting in your log cabin or lighting up the BBQ Grill, walk the trail to the waterfront and engage in some fun-filled water activities. Besides swimming, you can enjoy boating, fishing, skiing, and diving.
Water sports aside, you can also engage in on-ground activities like eagle watching, wildlife viewing, or hiking the many surrounding trails.
View Photos, Read Reviews & Check Availability
Lake Shore Cabins Beaver Lake, Arkansas
---
8) Famous Fay Jones Designed Cottage on Greers Ferry Lake
Location: Eden Isle, Arkansas
Price: $332+ USD per night
https://www.booking.com/hotel/us/famous-fay-jones-designed-cottage-on-greers-ferry-lake-porch-propane-torches.lt.html
Famous Fay Jones Cottage maximizes glamour with impressive interiors and floor-to-ceiling windows where you can spend hours staring at the surrounding greenery. E. Fay Jones, the architect, embedded nature and a woodsy aesthetic in the design and decor of this one-of-a-kind forest home.
One look at this structure is enough to make you want to spend many nights here. Outside, you'll find yourself at the foothills of the majestic Ozarks mountain range. But the cabin's inside is a forest on its own, so good luck with convincing yourself to leave.
Natural stone completely takes over the lower level, while the upper level is swimming in redwood and natural light — a refreshing escape from the city life. Retire early to sleep on the queen-sized bed and rise early for a bewitching sunrise from the 30-foot deck. If glamping in Ozarks, Arkansas is on your mind, then this Cottage offers precisely that.
View Photos, Read Reviews & Check Availability
---
9) The Original Treehouse Cottages
Location: Eureka Springs, Arkansas
Price: $199+ USD per night
https://www.treehousecottages.com/
Magnify the fun and romance of Eureka Springs glamping with a stay at The Original Treehouse Cottages. The lodging boasts seven charming cottages on two different locations set only a mile apart. Choose from a house on a wooded hillside in town or one of the "Hidden Forest" cabins nestled in a 35-acre pine forest to isolate yourself completely in the wild.
Each treehouse cottage can house two adults, perfect for a romantic weekend. Relax with your better half in the heart-shaped Jacuzzi while enjoying the serene forest view and humming to romantic music.
But, if you're traveling with kids, no worries. The Original Treehouse also has the "Hillside Haven," a two-story level cottage. It can accommodate two adults and two children, making it a spectacular option for a family holiday. Your kids can splash around in the hot tub on the private deck while you cook up a storm using the electric grill.
View Photos, Read Reviews & Check Availability
Top 13 Things to Do in Eureka Springs, Arkansas
---
10) The Stargazer Cabin
Location: Marshall, Arkansas=
Price: $107+ per night
https://www.airbnb.com/rooms/34259636
One of the best parts about glamping is staring up the stars, and this beautiful Stargazer Cabin offers just that! With crystal clear skies with breathtaking views of the Milky Way Galaxy, you'll absolutely love sitting out on the deck or around the fire pit, and simply enjoy the view.
It's affordable, fun, and will be a secluded glamping getaway that is backed glowing reviews! It's a studio cabin, but can accommodate up to six guests!
---
11) Enchanted Treehouse Glamping Arkansas
Location: Eureka Springs, Arkansas
Price: $189-$239 per night
https://www.enchantedtreehouses.com/
https://www.facebook.com/EnchantedTreehouseCottages/
Located on 52 acres of private land and built within walking a short walk from the historic downtown of Eureka Springs, this treehouse glamping resort is home to 4 unique treehouses that are named after different fairy tales. Each treehouse is incredibly cool, and all have modern amenities including a cozy fireplace, a stocked kitchenette, and even a hot tub (for a romantic or relaxing glamping getaway).
One of my personal favorites for Glamping Arkansas getaways is their Hansel & Gretel rustic treehouse! Or you could book your stay at their lovely Victorian treehouse called Anastasia where you will find fine fairtytale antiques, as well as a comfy king-sized bed with luxury linens!
Spend the Night in a Tree in Northwest Arkansas? | Eureka Springs Treehouses in Eureka Springs, AR
---
12) Glamping GeoDome with Indoor Jetted Tub and Hilltop Views
Location: Eureka Springs, Arkansas
Price: $150+ per night
https://www.airbnb.com/rooms/648913477943796142
"Adventure meets luxury with this one of a kind climate controlled glamping excursion. All the best of nature combined with the luxury of an upscale hotel room. Gaze up at the stars or out at the rolling Eureka forestry from the comfort of your 100% climate controlled dome. Soak in the jetted tub cookout on the deck and drink cocktails from the built in hammock."
For the best dome glamping in Arkansas, look no further than this fun and affordable Airbnb getaway! While there is no wi-fi or much cell reception, this offers the perfect place to unplug and disconnect from the stress of daily life and connect with nature.
Offering stunning views of Eureka Springs, you will fall in love with this stay and it will inevitably have you book another future visit! There's one bedroom and no kids or pets are allowed, making it another ideal romantic Arkansas glamping experience!
---
Am I Missing Any Glamping Arkansas Accommodations?
I tried to include various kinds of glamping options in Arkansas in this article. While everyone loves a cabin in the woods, I tried to spice this list up with unique lodging options like glamping in a yurt, pod, or teepee. But in case I missed any unique or spectacular glamping sites, please reach out to me so I can update this list.
---
Looking for more unique Glamping Getaways ?
My website has tons of guides for unique and fun glamping getaways around the world! Check outs some of my favorite for more travel inspiration below, and feel free to reach out with any questions!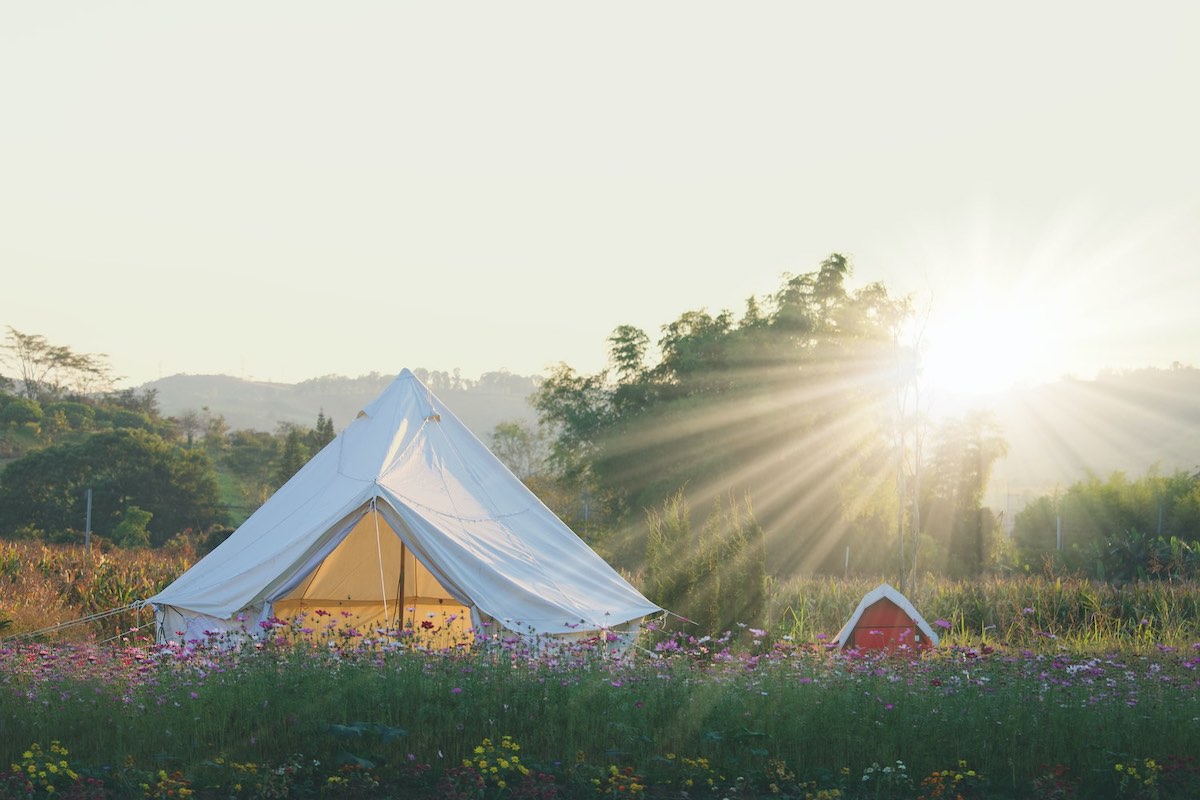 ---
THANKS FOR READING ABOUT MY TOP PICKS FOR THE BEST GLAMPING IN ARKANSAS!
SHARE THESE GLAMPING SPOTS WITH YOUR FRIENDS & FAMILY!
https://www.jonesaroundtheworld.com/wp-content/uploads/2022/02/The-Nest-of-Hot-Springs-—-A-Romantic-Luxury-Glamping-Getaway.webp
683
1024
TravelTractionsJATW
https://www.jonesaroundtheworld.com/wp-content/uploads/2017/03/logotry-1-1-300x106.png
TravelTractionsJATW
2023-01-13 20:10:18
2023-02-26 00:12:52
TOP 12 Glamping Arkansas Sites For Your Bucket List