Planning an upcoming trip and searching for some of the best day trips from Barcelona for a magical Spanish extravaganza? Well, look no further, as I've put together the ultimate selection of Barcelona day trips guaranteed to satisfy just about everyone!
Barcelona truly is a city with a million and one things to do, see, and experience. If you've got the time, however, I highly recommend going off the beaten path and seeing what else the city and surrounding areas offer.
Whether you're on an extended stay, looking to travel a bit differently, or simply want to see what to do on a free weekend as a Barcelona resident, this article is for you. From a day spent sailing the Mediterranean to hiking around lush national parks and inactive volcanoes, you're not short of epic outdoor activities nearby Barcelona.
Heck, there are even some stunning medieval villages that showcase the cultural and natural attractions of Catalonia. It's safe to say that when you're not partying it up at an unforgettable Barcelona music festival, there's no end to your options for day trips from Barna! Below are some of my favorites, complete with travel tips and what to expect.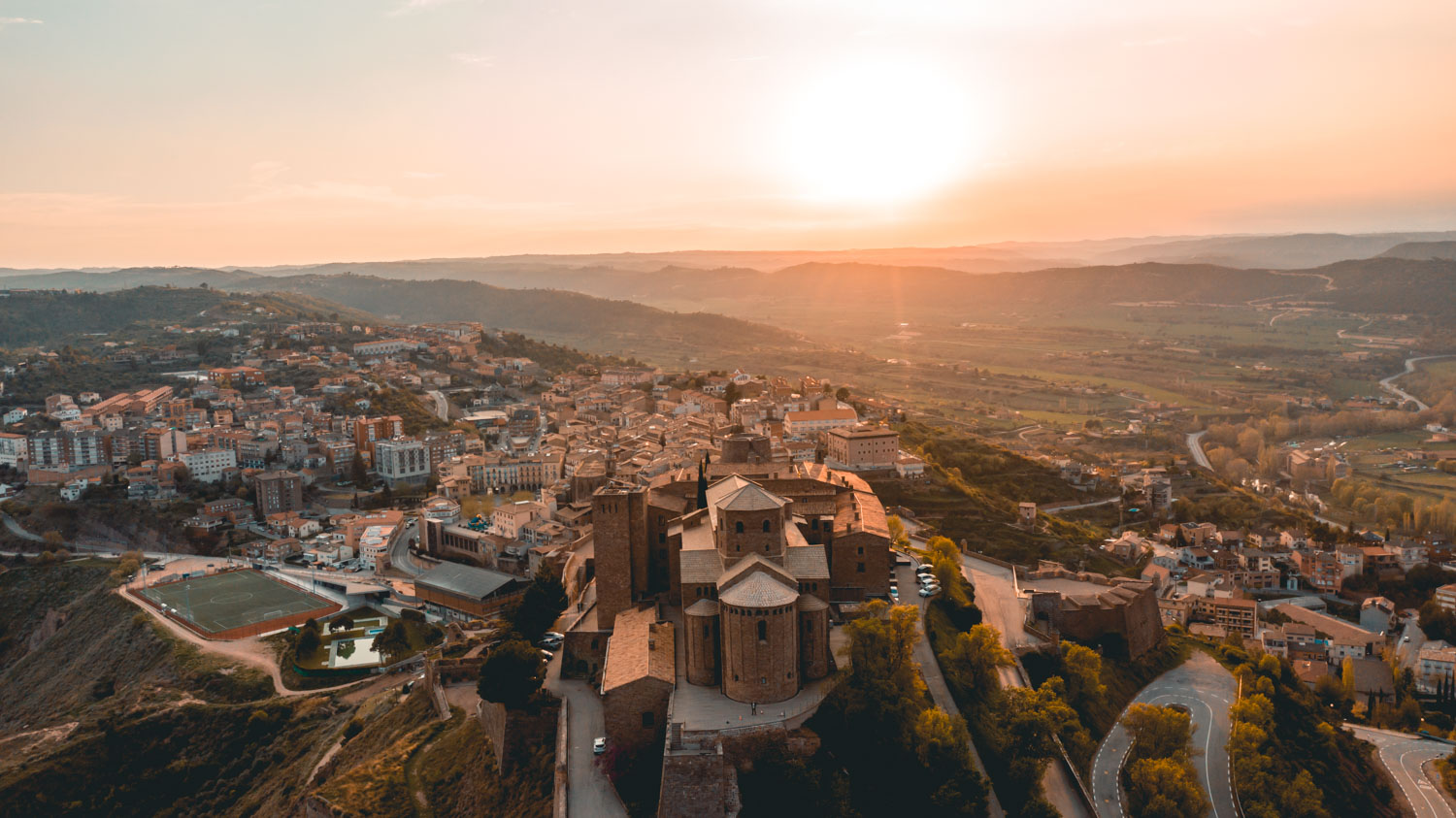 ---
The Best Things to Do Outside Barcelona | 20 Epic Day Trips
It's with great pleasure that I present my list of Barcelona's 20 best days trips! Take a look, let me know what you think, and get out there and explore! And also, be sure to read my detailed 2 Days in Barcelona Itinerary & Travel Guide for more trip-planning inspiration!
---
1) Montserrat Day Trip From Barcelona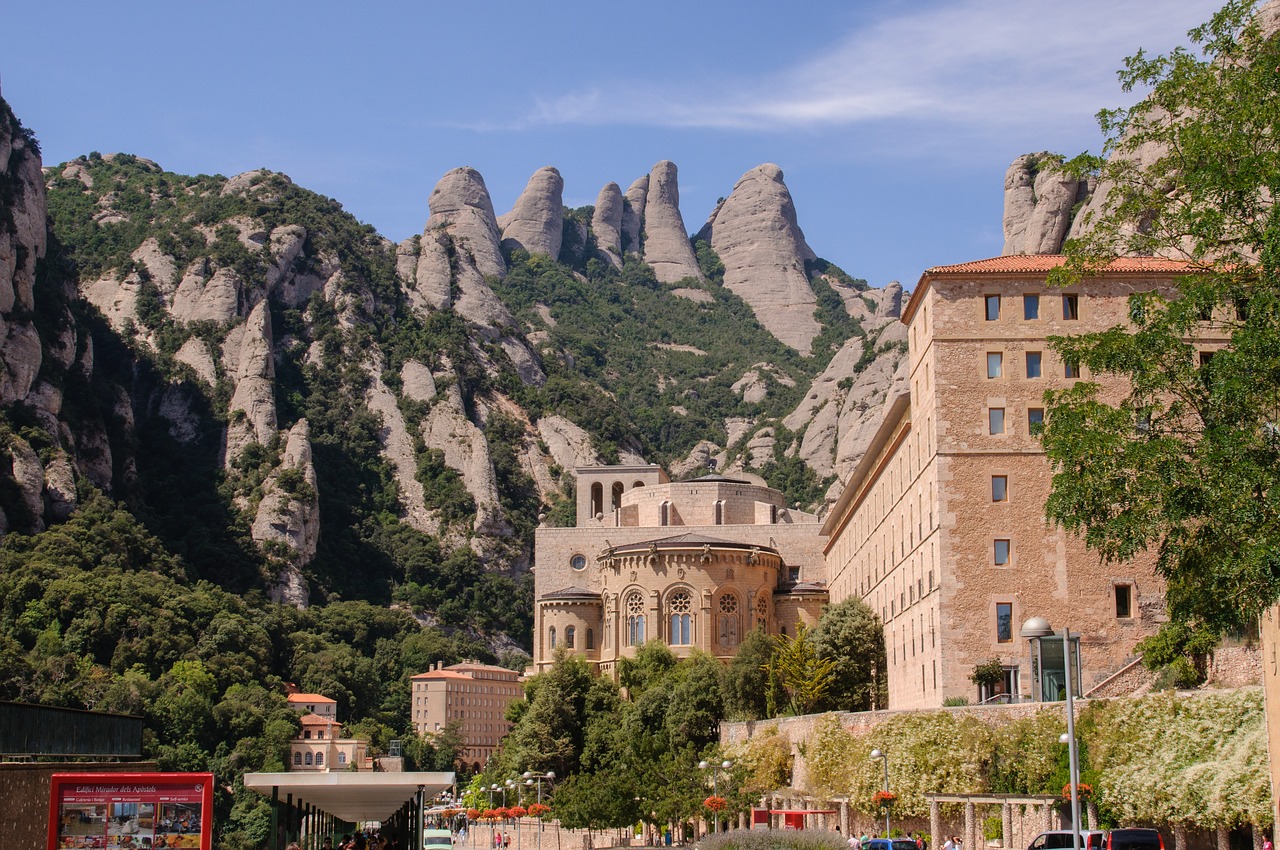 Perhaps the most well-known excursion (and for a good reason) is a Barcelona day trip to Montserrat, a spectacular Benedictine monk mountain retreat located about an hour northwest of the city by car or bus. Not only is the Montserrat Monastery of significant religious importance, but the mountain's natural beauty and unique rock formations are simply breathtaking.
Montserrat (meaning "serrated mountain" in Catalan) was Spain's first recognized national park full of hiking trails, wildlife, and unique vegetation. The highest peak is Sant Jeroni, which stands at 4,055 feet (1,236 meters) above sea level.
The trails are easily accessible by foot or funicular, and I definitely recommend taking the "Aeri" (cable car) from the base station to the mountain's main plaza for an incredible view. There, you'll find a museum, cafeteria, hotel, and an impressive Gothic Basilica which houses the famous Black Madonna.
Overall though, this is a nature destination, so dress comfortably and pack a lunch!
Pro tip: Arrive EARLY! Make your departure first thing in the morning. I would try to arrive in Montserrat no later than 11 am. This gives you the full day to explore before the final cable car and train departures, and you can even see the famous Montserrat Boys' Choir sing at 1:00 pm.
How to get there: Montserrat is easily accessible by car or bus, and many companies offer some stellar tours. I recommend this Montserrat excursion, a small group tour with wine tasting at the monastery. If you're into blazing your own trail, I would highly recommend taking the R5 train from Plaça Espanya. It's fast and easy, and you can plan your day without the constraints of group travel. Check out this great site for detailed instructions on arriving in Montserrat from Barcelona by train.
How to get to Montserrat Mountain | Daytrip from Barcelona
---
2) Cardona Castle Day Trip From Barcelona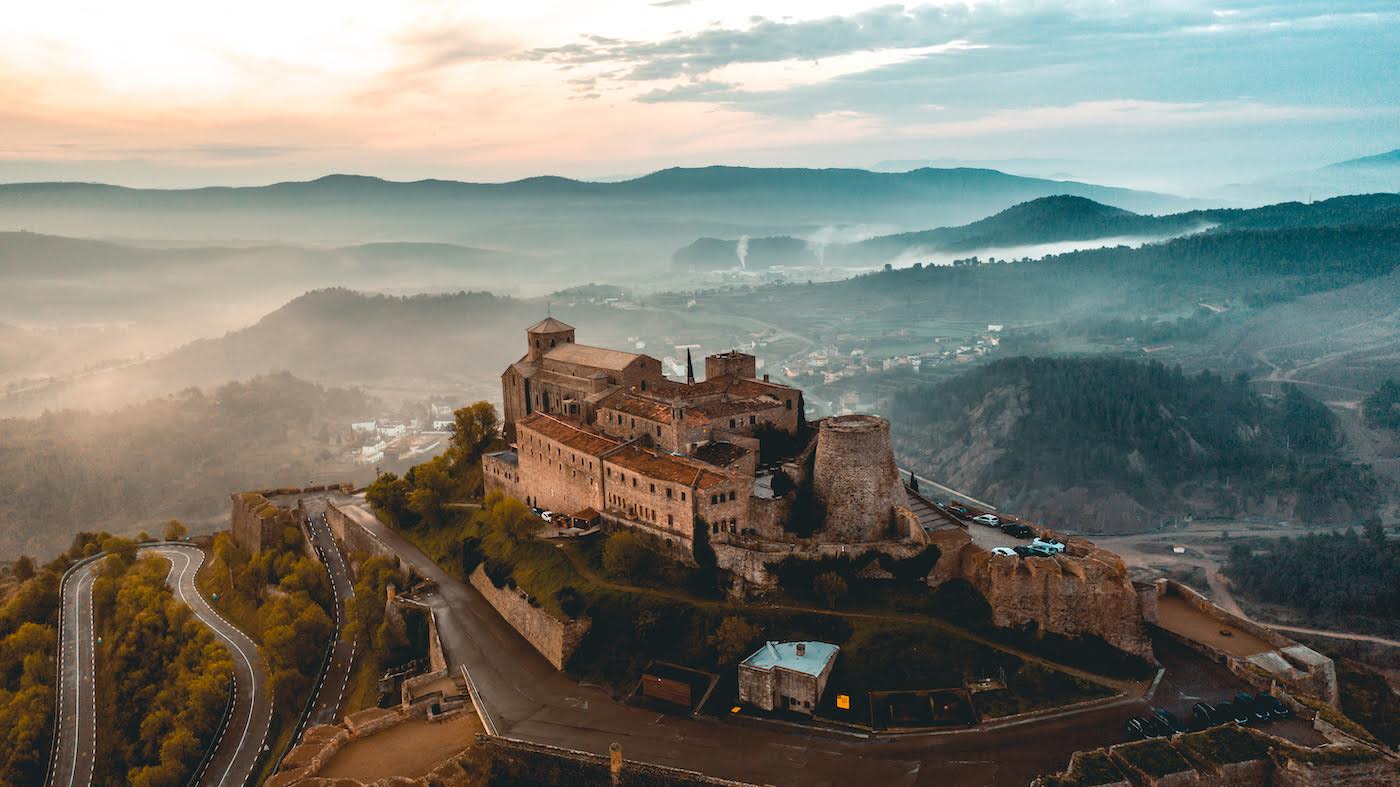 Located about an hour's drive from the "Barcelona city centre" (center for my American mates) is a small town called Cardona. While the destination may not be all that exciting, Cardona Castle sits atop the highest hill in the region and is absolutely worth visiting!
I spent the night here in this castle during my road trip through Northern Spain, and I couldn't believe they converted this castle into a hotel!
Cardona castle was built in 886 AD and is now a recognized UNESCO world heritage site. The views of the surrounding area are truly stunning, and if you've got more than a day trip, I'd recommend booking a night to sleep in this castle!
The hotel chain is PARADOR (owned by the Spanish government), and they've got a few castle hotels throughout Spain. One night will only cost around €84 ($90), and the food served here in the majestic dining hall restaurant is delicious! Read Reviews & Check Availability.
Even if you don't spend an evening here, visiting Cardona Castle was one of my highlights from my recent trip to Spain, and I would highly recommend it to anyone visiting Barcelona soon!
Cardona Castle - Barcelona Spain
---
3) Sitges Day Trip From Barcelona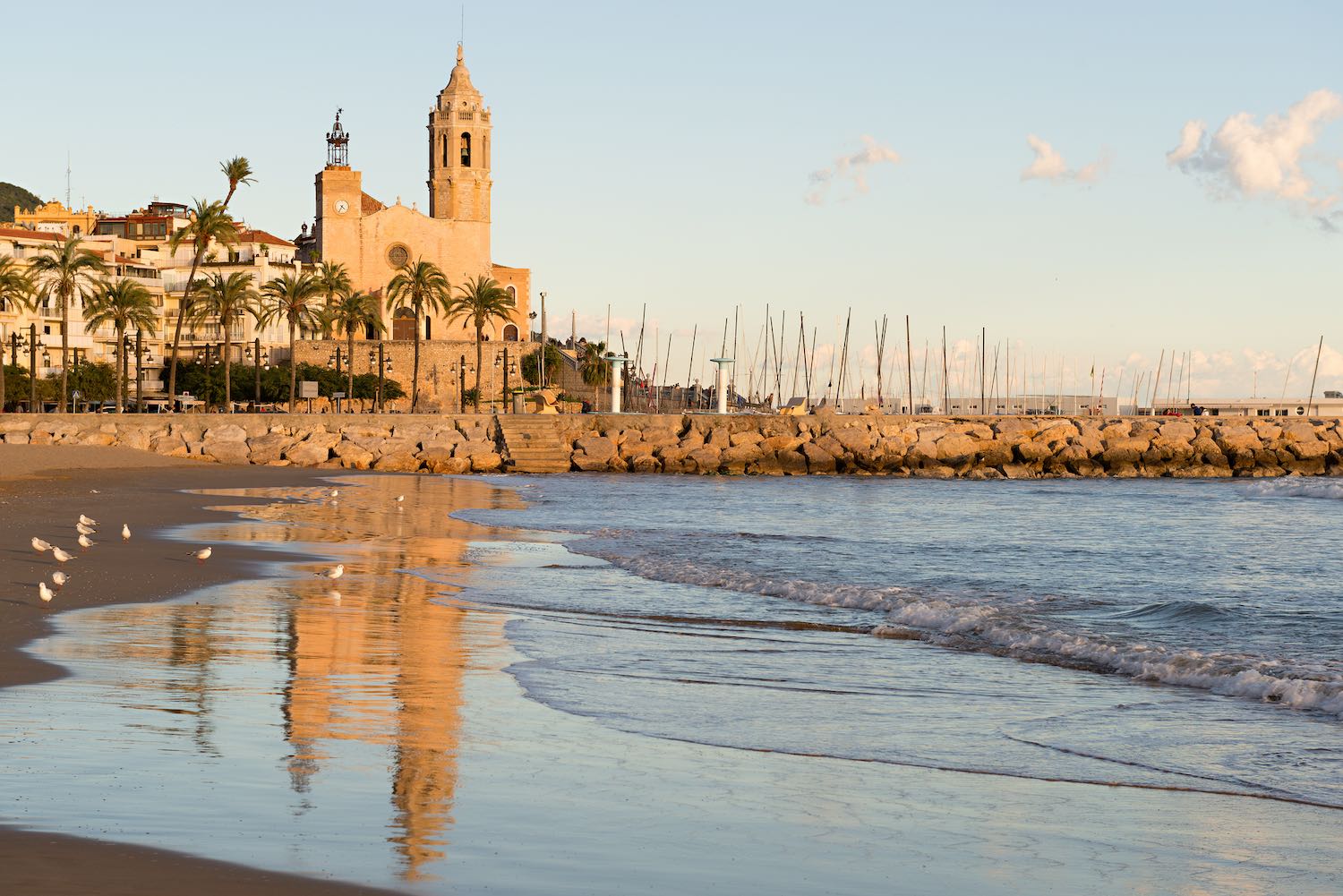 Located just 45 minutes from Barcelona (so you could make it a half-day trip) is the sunny seaside city of Sitges. Easily accessible from Barcelona by train or car, Sitges is world-renowned for its beautiful beaches, its October film festival, and one of the most raucous Carnaval celebrations in all of Europe, which happens in February.
It's also perhaps one of the most LGBTQI+ friendly cities in Spain, has a quaint yet culturally rich vibe, and boasts an abundance of restaurant and nightlife options. All this adds to Sitges being a phenomenal choice for a vacation — or even just a day trip from Barcelona!
Stroll along the seafront, soak up the Spanish sun, and try some local cuisine. You won't regret it!
My favorite thing to do here: Hit the beach! It's a breath of fresh air from the crowded beaches of Barcelona, and you can't beat the view.
How to get there: Take the C2 train from Barcelona (the final destination will be Vilanova I la Geltrú or St. Vincenç), departing from Franca, Passeig de Gràcia, or Estaciò Sants. A return ticket costs €7.20 ($8) and can be purchased at the station or through the official RENFE site. I recommend checking the final train times through RENFE and looking at this site for detailed info on how to arrive at Sitges from Barcelona by train. Or you can join this Sitges full-day tour for a stress-free option.
Alternative option: Castelldefels is another great choice on the same train route from Barcelona. It has a wider beach than Barcelona or Sitges and is absolutely perfect for any day-trippers interested in kite surfing.
Sitges Day Trip From Barcelona | Spain Travel Guide
---
4) Codorníu – Barcelona Day Tour
Beach day trips may not be everyone's cup of tea. So if you fancy yourself a cava connoisseur, you're in for a real treat. A lovely option for an alcohol-infused day trip is to visit the Codorníu Winery. It's the oldest cava producer in Spain and, by volume, the second largest.
Cava is to Catalonia as Prosecco is to Italy or Champagne is to France. Cavas Codorníu is a modernist masterpiece — the grounds and architecture are more than enough of a reason to visit this Catalan jewel. But let's be real — you're here for the high-quality cava!
Located less than one hour from Barcelona by car, I recommend visiting this boutique winery for any foodies and wine enthusiasts. The tours offered by the winery really range. Enjoy basic and affordable public tours and tastings or luxurious meals, aperitifs, and private samplings of the finest sparkling wine that the country has to offer.
Pro tip: Pair this Codorníu day trip with a visit to Montserrat, making for a full day of Catalan culture. I'd recommend ending this day with a great meal and well-deserved sleep.
Why I love this day trip: The cava, obviously! But I do have to mention that the tour guides here have an absolute wealth of knowledge and make for an engaging experience as you make your way down to the musty and mysterious cellars of the entire operation. You'll leave this experience with some knowledge, a souvenir bottle of cava or two, and likely a little tipsy.
How to get there: If possible, I recommend a private tour as it will make the experience seamless. However, I've recently become aware that TMB (Barcelona Metropolitan Transportation) offers a cheap €4 ($4.31) trip each way and a convenient bus service to Codorníu and the nearby town of Sant Sadurní.
CAVAS CODORNÍU (Sant Sadurní d'Anoia-Spain)
---
5) El Penedès Wine Region Day Tours From Barcelona
Wine and food enthusiasts rejoice! Traveling south of Barcelona and past Sitges, you'll find yourself in one of the oldest wine-producing regions in Europe.
Over 300 wineries occupy the region of El Penedès, and while it's perhaps lesser known than the northern La Rioja region, this area produces the finest sparkling wine in all of Spain. From wonderful wine tasting and elegant gastronomic adventures to simply touring some of the modernist architecture of various local wineries, El Penedès is perfect for a one-day jaunt from Barcelona.
How to get there: Take the R4 train from Barcelona 24.8 miles (40 km) south to Vilafranca del Penedès or Sant Sadurní d'Anoia. You can also book a private tour to make your day venturing through wineries as stress-free as can be.
Wine Tasting & Vineyard Touring in Barcelona's Penedès Wine Region
---
6) Girona Day Trip From Barcelona
Medieval Girona, as little as 38 minutes from Barcelona on the RENFE train, is a wonderful addition to any travel itinerary. You may recognize the Girona Cathedral as the Sept of Baelor from Game of Thrones!
Much of the show was shot here, and once you wander around the 9th-century Roman wall or the winding streets of the Jewish quarter (one of the best preserved in all of Europe), it's easy to see why! If you're looking for a leisurely day spent strolling serpentine Spanish streets, a day trip from Barcelona to Girona is for you.
Take in the city, walk by the river, and have yourself some tapas or a menu del día. There are several guided tours of Girona, each offering a unique flavor of the city, from a fun-filled Game of Thrones experience to a wet and wild (swimming is on the agenda) city walking tour. The choice really is yours.
Pro tip: If you happen to be here in early May, you can't miss the flower festival! Entire streets become elaborate art installations. With the pervasive and exhilarating aroma of fresh flowers all around the city, it truly makes for a magical memory.
How to get there: The high-speed AVE train is run by RENFE and will take you from Barcelona Sants Station to Girona in roughly 38 minutes. Depending on the time of day, tickets are between €11.25 ($12.12) and €31.70 ($34.15) each way. You can also take the cheaper regional train for less than €10 ($10.77) each way. Check times on the RENFE website (linked to earlier in the post), but you may need to buy the regional trains at the kiosks inside the station as they're sometimes unavailable online.
Alternative/additional option: Add Besalú, a charming medieval town tucked away in the hillside, to your day touring Girona. I recommend renting a car for easy travel between the two. It's certainly off the beaten path, which grants it the mystique that lesser-known European villages seem to hold. Touring the cobblestone streets, walking along the river, seeing the ancient Roman ruins, and exploring the surprisingly quality museums and restaurants of the area make for a great afternoon.
Exploring Beautiful GIRONA (Day Trip From Barcelona)
---
7) Figueres From Barcelona Day Trip By Train
Salvador Dalí is perhaps the most famous figure in modern Spanish history if not one of the most famous in the art world as a whole. The surrealist pioneer's birthplace is Figueres, located roughly 2 hours by train from Barcelona.
The main attraction here is a masterpiece of what is now a museum dedicated to the life and works of Dalí, which truly is one of the strangest and most intriguing places I've ever experienced. In fact, Salvador Dalí himself is buried here in the crypt! This is a must-see for any art fan.
I recommend taking no less than 2 hours to explore the various famous paintings and life-size art installations that are sure to captivate your creative side. To be honest, you could spend all day here, but if you do, you'll miss out on all the magical things this quirky town has to offer! Attached to the museum is also a wonderful exhibit showcasing the elaborately expensive jewelry that Salvador Dalí designed — I definitely recommend popping in.
Figueres is a sleepy town aside from the museum and is perfect for a day trip. You could also plan a whole vacation around Figueres, the Dalí museum, and other nearby Costa Brava attractions such as Cadaqués (an absolute gem which I'll explain further down) and Port Lligat (where you can actually tour Dalí's house and really get a feel for who the man was).
How to arrive: Take the train or perhaps a guided tour. Important to note is that there are two railway stations in Figueres. The older one, simply called Figueres, is located in the historic center of town and is about a 15-minute walk from the museum. Tickets will cost €12 ($12.93) to €16 ($17.24) each way on the slower regional train. The newer station, Figueres-Vilafant, is located about 1.2 miles (2 km) from the Figueres town center. The high-speed AVE trains run this route, and tickets are around €20 ($21.54) to €40 ($43) each way. However, be warned that you'll need to get a taxi to and from this station.
Figueres, Spain: Art of Salvador Dalí - Rick Steves' Europe Travel Guide - Travel Bite
---
8) Costa Brava Day Trip From Barcelona (The Whole Region)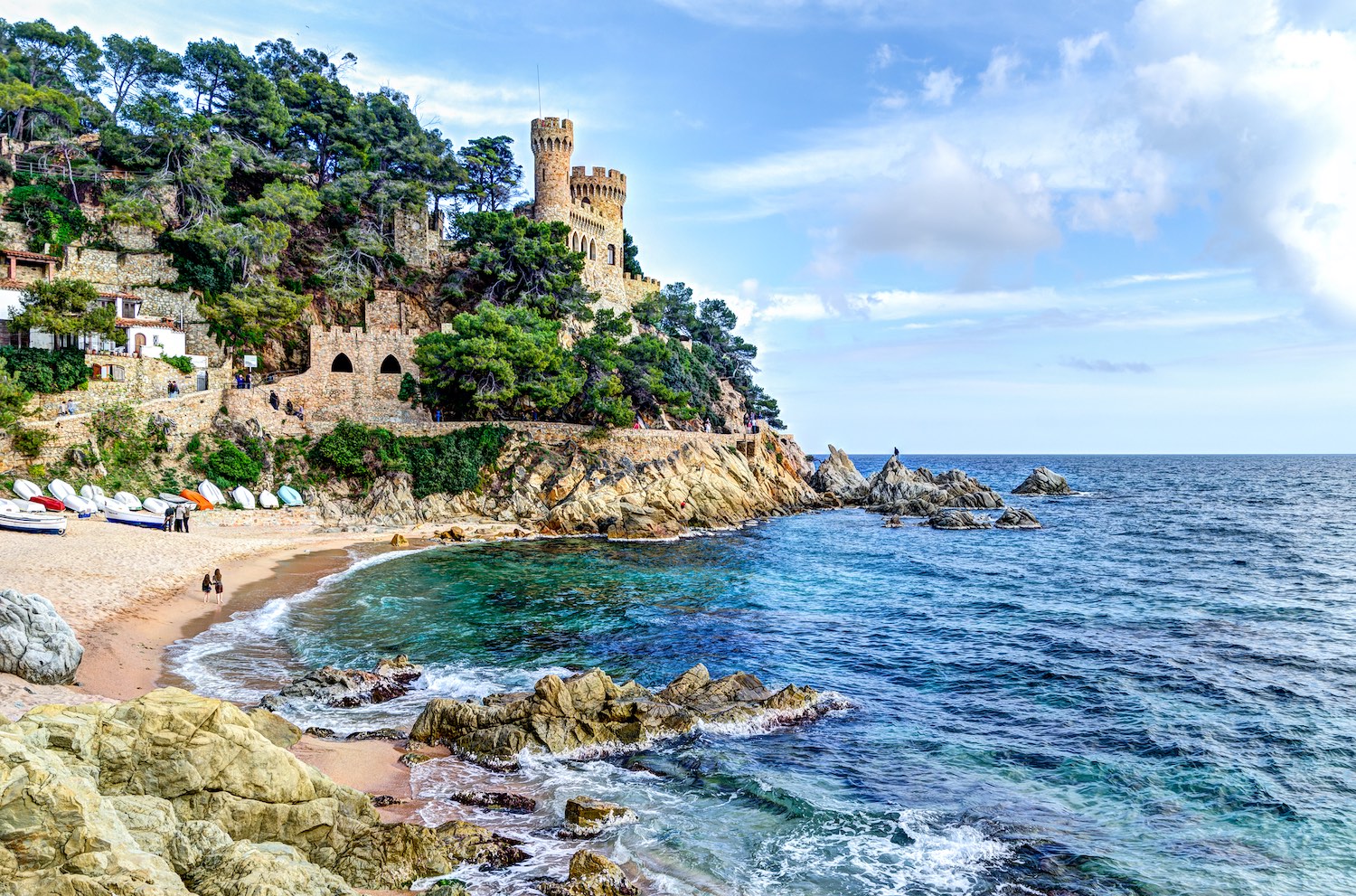 In my opinion, Costa Brava has the most beautiful sandy beaches within a comfortable train or driving distance from Barcelona. Geographically, Costa Brava spans from the town of Blanes all the way north to the French border.
The "Brave Coast" is home to some of Spain's most captivating coastlines and some of its most glorious gastronomic experiences. I could write an entire article on each quaint fishing village and my favorite places in this stretch of rugged and lush sunny shores, but for this guide's sake, I'll list a few notable must-sees below.
Think of this as a list-within-a-list. Listception!
Quick note: Figueres, mentioned above, is a fantastic addition to any Costa Brava excursion! Inland Girona and Besalú are also doable as they're in the same region, although my inclination is to focus on the beaches when I go to Costa Brava.
My favorite Costa Brava getaways and day trips from Barcelona:
Cadaqués — Tucked into a bay in the Cap de Creus peninsula, Cadaqués is perhaps the prettiest little town in the country. Whitewashed buildings stretch across a deep blue coastline, and the French influence here lends to a fantastic mix of cuisine and culture. Nearby (within walking distance, in fact) is Port Lligat. There you can find Salvador Dalí's house, which has been turned into a striking and surreal museum.

How to get there: Cadaqués doesn't have a train station, so you'll need to either drive or take the Alsa bus from Barcelona.
Tossa de Mar — Located 62 miles (100 km) from both Barcelona and the French border, Tossa is a not-so-hidden gem (as the growing tourist crowds in summer would tell you). Less frequented than nearby noisy Lloret, Tossa has everything from an ancient walled Old Town to spectacular beaches and inlets, and oftentimes music festivals in the summer! This town, to keep it short, is flat-out beautiful. Take a tour of nearby caves and make a stop at Cala Giverola. If you've got the time, go for a hike or join a Tossa scuba diving experience.

How to get there: Like many Costa Brava locations, you'll have to either drive or take the Alsa bus from Barcelona's Estaciò Nord.
Sant Pol de Mar — A great choice for experiencing the more picturesque and less populated beaches outside of Barcelona. I would recommend hitting a Xiringuito (beach bar) for a caña (small beer) or tinto de verano ("summer wine" similar to sangria) alongside tapas. Or, if you've got a bigger appetite, seek out a paella.

How to get there: It's accessible by taking the R1 train from Barcelona.
Port de La Selva — A bit quieter than other Costa Brava locations due to its inaccessibility by train, Port de la Selva is a relaxing fishing village perfect for those seeking nature, a romantic getaway, or simply experiencing something beautiful and different. Hire a boat to visit nearby hidden calas, and don't miss the view from the Monasterio de Sant Pere de Rodes.

How to get there: Port de La Selva is accessible by a two-hour ride on the Alsa bus from Barcelona.
Lloret del Mar — the liveliest of all Costa Brava destinations, Lloret is a bit overrun with tourists. However, that's due to the wild nightlife and stunning beaches. This is the spot for you if you like lively destinations with sandy shores.

How to get there: Take the Alsa bus from Barcelona's Estaciò Nord.
Alternatively, see all this amazing scenery and enjoy quality beach time on a fully guided Costa Brava day tour from Barna.
Costa Brava - The spectacular, rugged coast of Spain
---
9) Tarragona Day Trip From Barcelona
Traveling an hour south by car or train will land you in Tarragona, a port city famous for its ancient Roman ruins (most notable, the Amfiteatre de Tarragona). The Roman Amphitheatre is definitely the draw for this day trip, and I can safely say it's worth the journey!
Spend your day exploring tombs, an ancient chariot track, and other relics of a bygone era. Oh, and the beach isn't too shabby, either!
How to get there: Take the train! The AVE high-speed train will get you there in about half an hour and cost roughly €20 ($21.54). The slower regional train will be cheaper, though.
DAY TRIP TO TARRAGONA, SPAIN 🌊
---
10) Barcelona to PortAventura Day Trip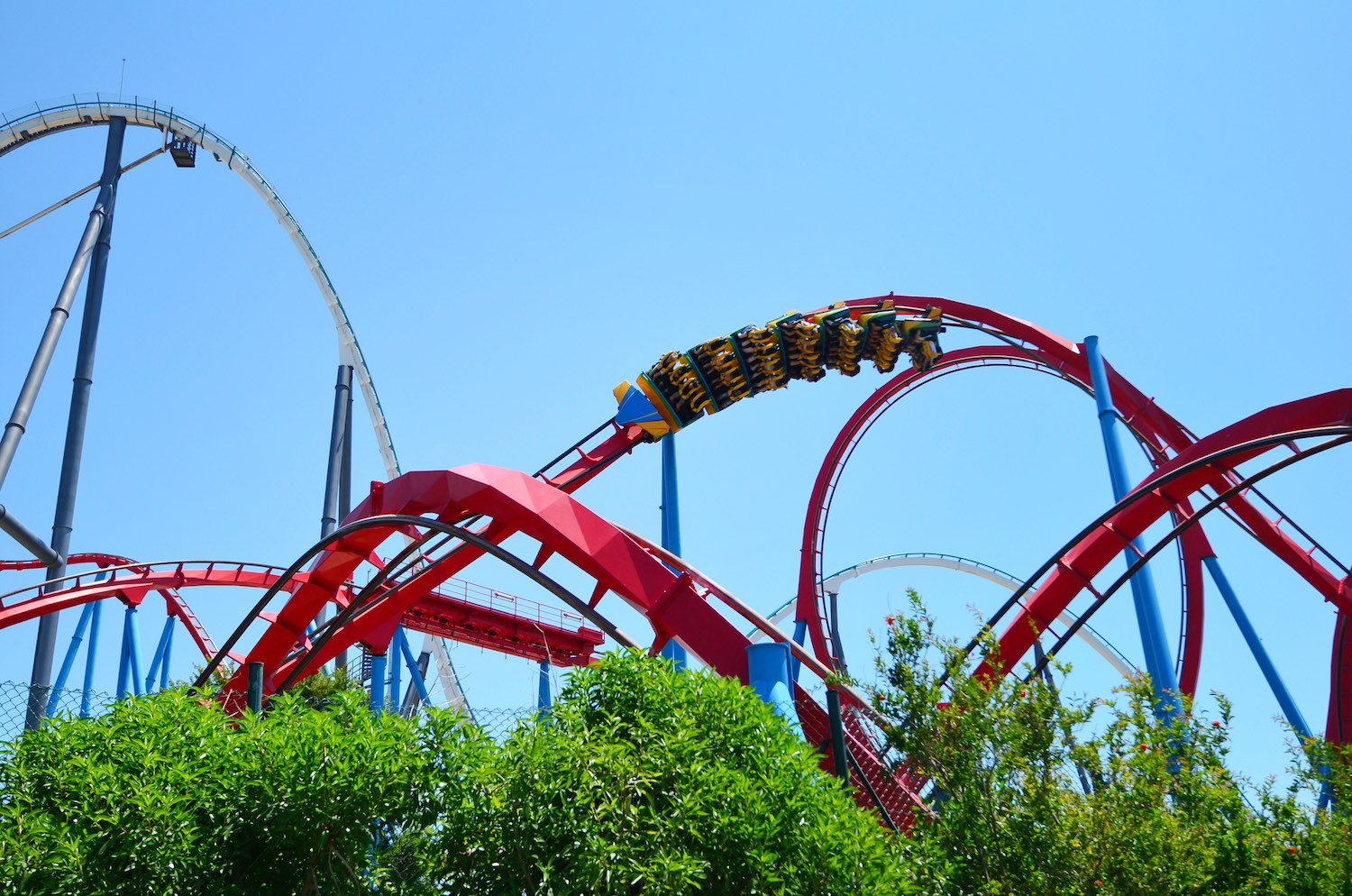 PortAventura is a massive theme park and resort located in Salou, a town on Spain's Costa Daurada, just over an hour south of Barcelona by train or car. It's easily accessible by car or train, making it a convenient day trip from the hustle and bustle of Barcelona.
I wouldn't call spending the day riding rollercoasters relaxing (Ferrari Land boasts the Red Force — Europe's tallest and fastest roller coaster), but if theme parks are your thing, then this is the perfect adventure for you! Great for families and thrill-seekers alike.
How to get there: Check out the park's official website, which has detailed instructions on arriving and getting tickets. Or get this PortAventura entrance ticket and transfer package.
Day Trip to PortAventura World | BARCELONA TRAVEL VLOG
---
11) Barcelona Day Tours By Hot Air Balloon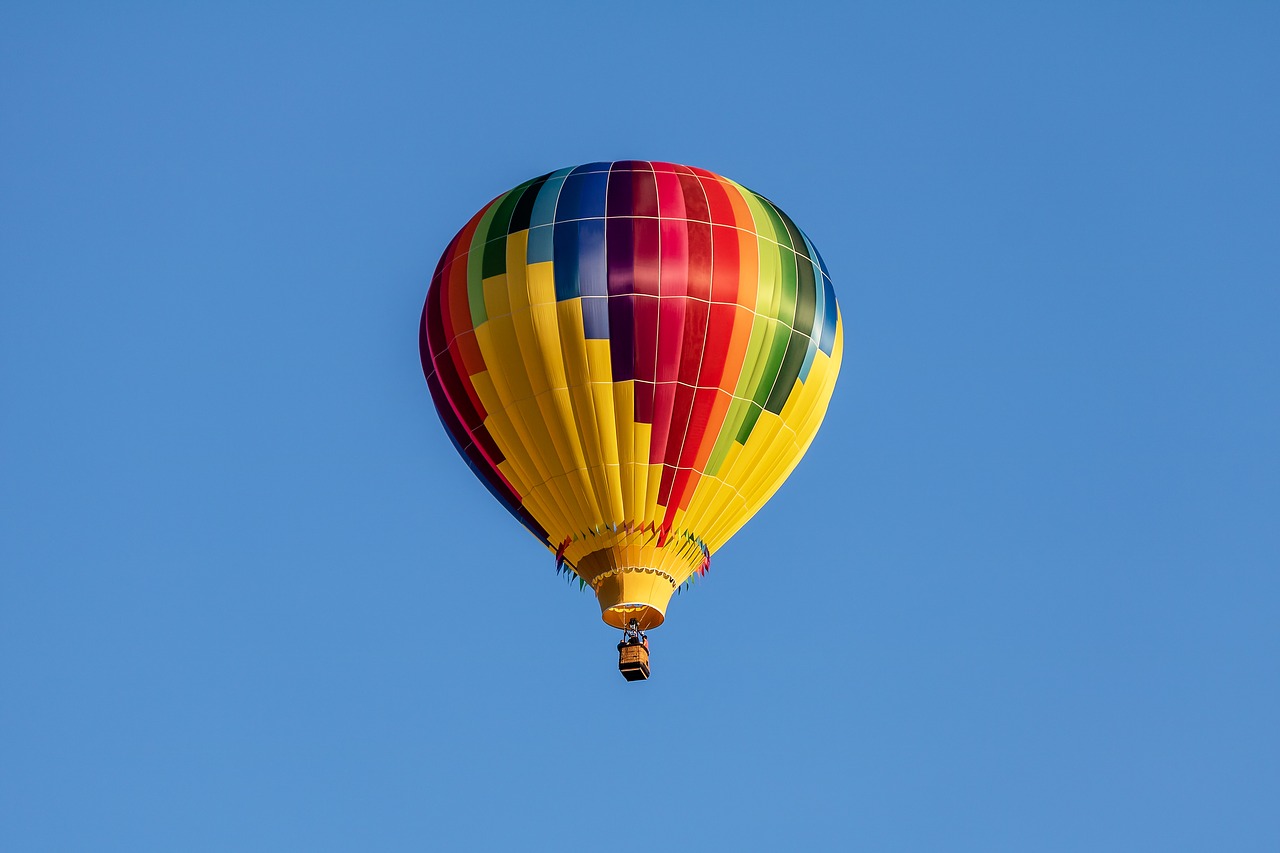 Full disclosure, I have a mild (maybe moderate, more like serious) fear of heights. That being said, one of the COOLEST day trips I've ever done was taking an early morning hot air balloon ride just outside of Barcelona.
We spent over an hour soaring high above the Montseny Natural Park. I could even see the Barcelona skyline and the Pyrenees Mountains in the distance! The most surprising thing for me was how smooth the whole experience was. We floated up to roughly 3,280 feet (one km) from the ground, and the basket hardly swayed in the wind.
I recommend booking a tour through Ballooning. They take care of everything! The rides are intimate, typically between two and eight passengers accompanied by a seasoned pilot. With pick-up and drop-off from central Barcelona available, this is a really breezy trip.
Hot Air Ballooning in Barcelona
---
12) Skydiving Barcelona Day Trips
Another option for thrill-seeking day trippers is skydiving. If you think Barcelona and its coastline are breathtaking from the ground, wait till you see them from 13,123 feet (4,000 meters) up!
Empuriabrava, just two hours from Barcelona by car, is located in the Golf de Roses in Costa Brava. Aside from its beautiful beaches and sunny shores, it's also known for skydiving. Companies like Skydive Empuriabrava offer one-of-a-kind skydiving experiences starting as low as €250 ($269).
You'll climb a few thousand meters up in a small airplane, then freefall from 4,921 feet (1,500 meters) for around five minutes. As your adrenaline is pumping, you get a literal bird's eye view of one of the world's most visually stunning coastal areas!
Best Places to Skydive: Empuriabrava, Spain 2018
---
13) Helicopter Tour
Experience the magic of Barcelona from the sky! Ranging in duration from 6-40 minutes and priced from €79-€455 ($85-$490) per person depending on the tour. You can charter a helicopter to take you for an enthralling aerial experience across the city's most famous monuments or head as far as Montserrat should your desire and wallet allow it.
How many people can say they've flown in a helicopter across one of the world's most enchanting locations? Check out this Barcelona Helicopter and sailing package, and don't forget your camera! You'll absolutely want to document this daring adventure.
Barcelona Helicopter Ride
---
14) Day Trip From Barcelona to Andorra: The Pyrenees Paradise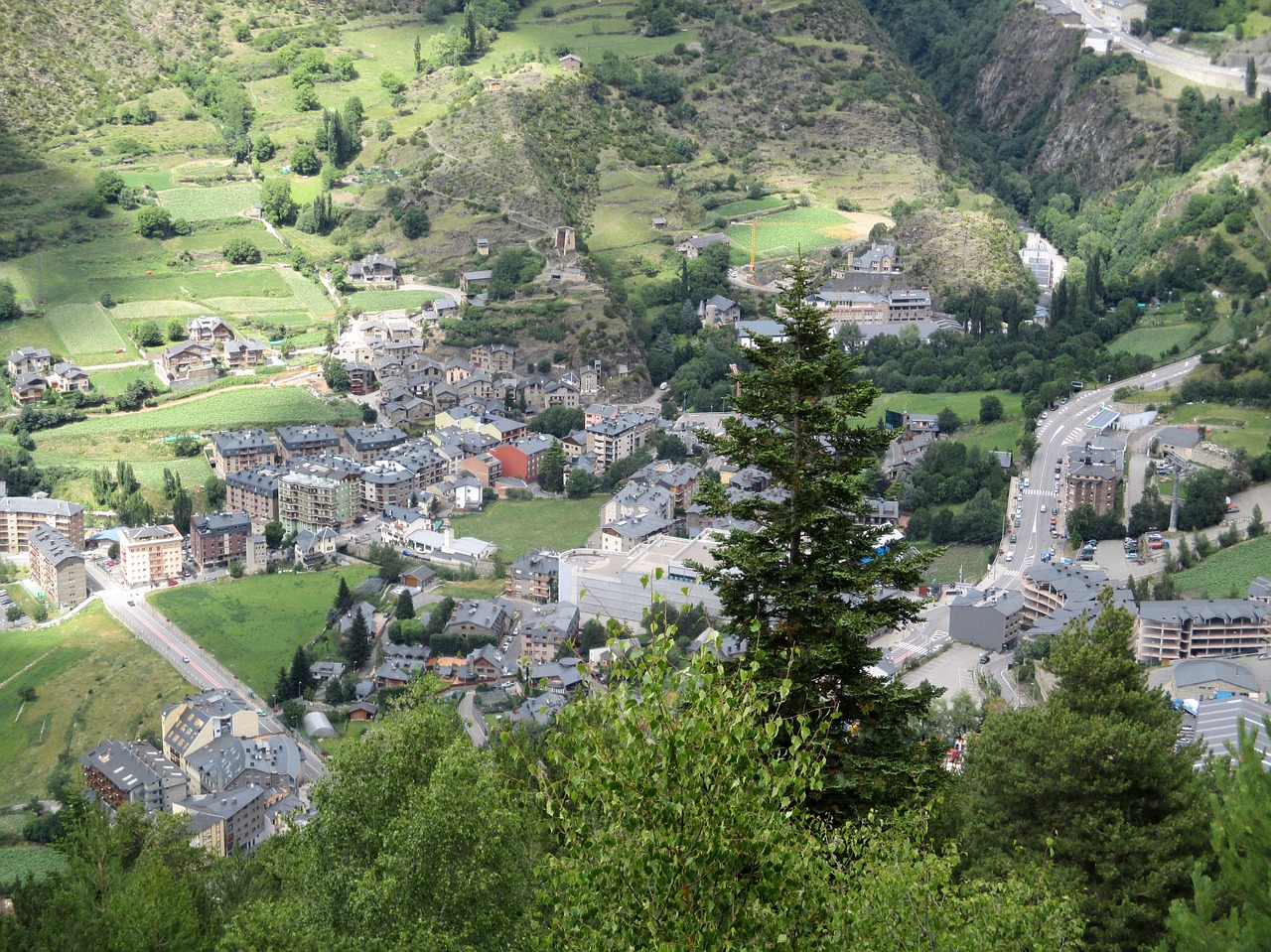 Andorra is a magical and mountainous independent principality tucked between Spain and France in the Pyrenees Mountains. It's most well-known for the best skiing in the Iberian Peninsula, as well as its duty-free shopping due to its tax haven status.
While there are numerous outdoor activities, spectacular sweeping views, and duty-free shopping all year round, I recommend a trip in the winter.
The biggest draw here is the ski resorts, and for good reason. Compared to resorts in the United States, or the nearby Alps, a day on the slopes in Andorra is CHEAP. The country is otherwise lovely visually, but winter sports are the primary reason to visit.
I would recommend a weekend if possible, companies like Estiber have very cheap all-inclusive packages. Still, if you're itching for a quick day trip to ski or snowboard, it is absolutely possible (albeit rushed) from Barcelona if you depart before sunrise!
Renting a car can be less than €28 ($30) per day, and your board or ski rental will be about the same price, believe it or not. The trip will take about three hours each way. You'll want to head straight to the ski station to maximize your time, which is located in Arinsal.
Pro tip: You can rent ski or snowboard gear and boots for cheap, but you'll want to pack your own pants, coat, hat, etc. These can be bought for cheap at Decathlon in Barcelona if necessary.
Alternative option: Don't fancy a long drive to play in the powder? Take a day trip to the closer La Molina ski resort in the Catalan Pyrenees. It's about an hour closer, and Living Tours offers some fantastic tour packages, including transportation.
Andorra on a day trip from Barcelona
---
15) Better Beaches & Other Places to Visit Near Barcelona By Train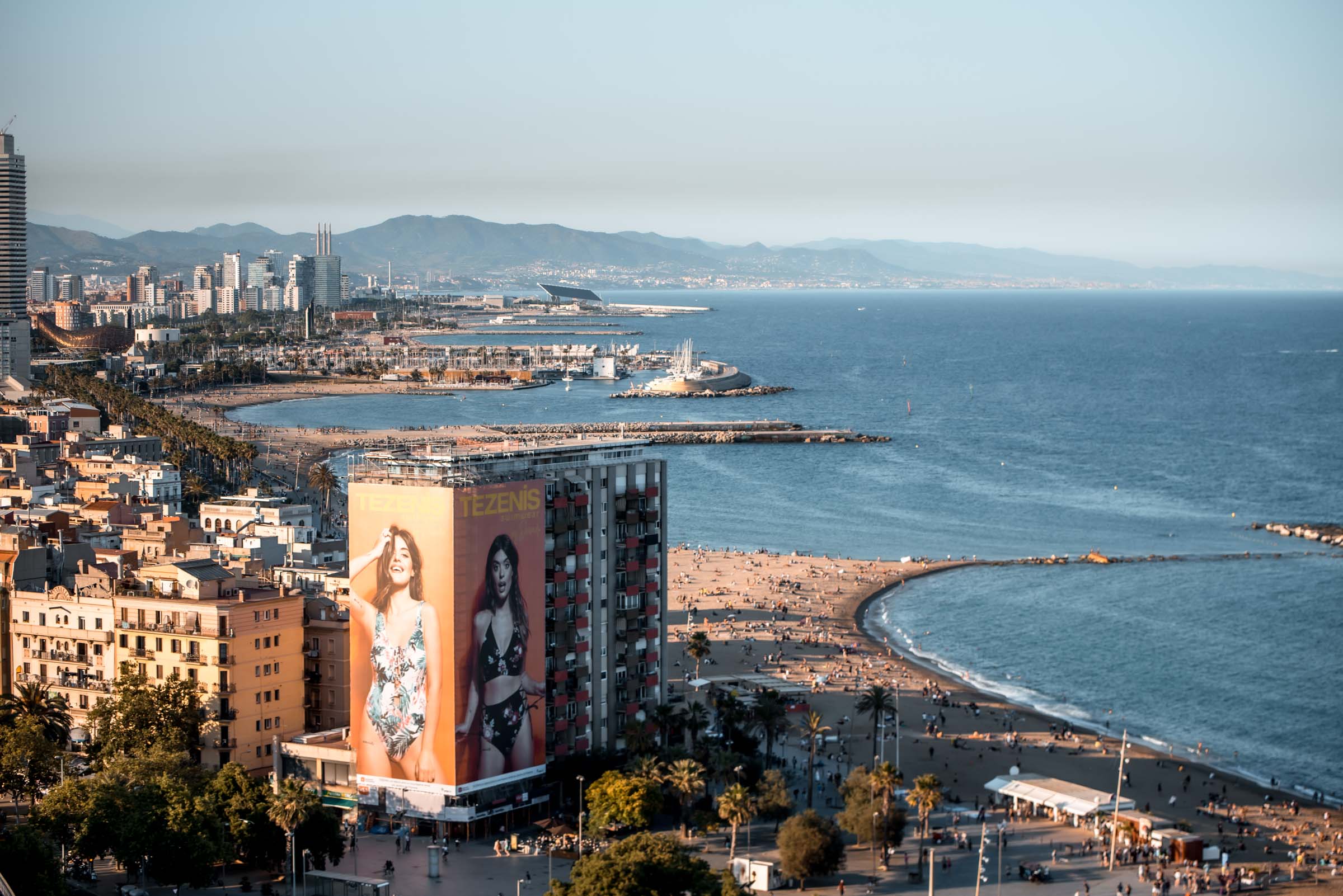 Let's face it. The beaches in central Barcelona can get way too packed with tourists during the peak summer months. It can be a total damper on a sunny day by the sea if there's nowhere to lay your towel and the roaming vendors won't stop bugging you. In case you didn't know, though, there are a million other beaches to check out both north and south of the city!
One of my favorite trips on the cheap is to take a bicycle, rentals can be found for €10 ($10.77) per day at most bicycle rental shops, Or you can take the R1 train (go here to check timetables) up the coast. By bicycle, you can reach the less populated beaches of Montgat or Masnou in about one hour. By train, you can use your Zone 1 metro card to go as far as Montgat Nord. From Masnou and beyond, you'll need to purchase separate train tickets.
Pro tip: Enjoy some cava and calamari at a Xiringuito (beach bar). You'll find a few dotted around the beaches and near the train stations in the warmer months of the year. Another option is an affordable paella with a view at Restaurant Palomares in Vilassar de Mar. Further up the coast, you'll find Mataró Paella, which is also perfect for paella by the sea.
Barcelona's Little-Known Beaches | Things To Do in BARCELONA
---
16) Spend a Day at Sea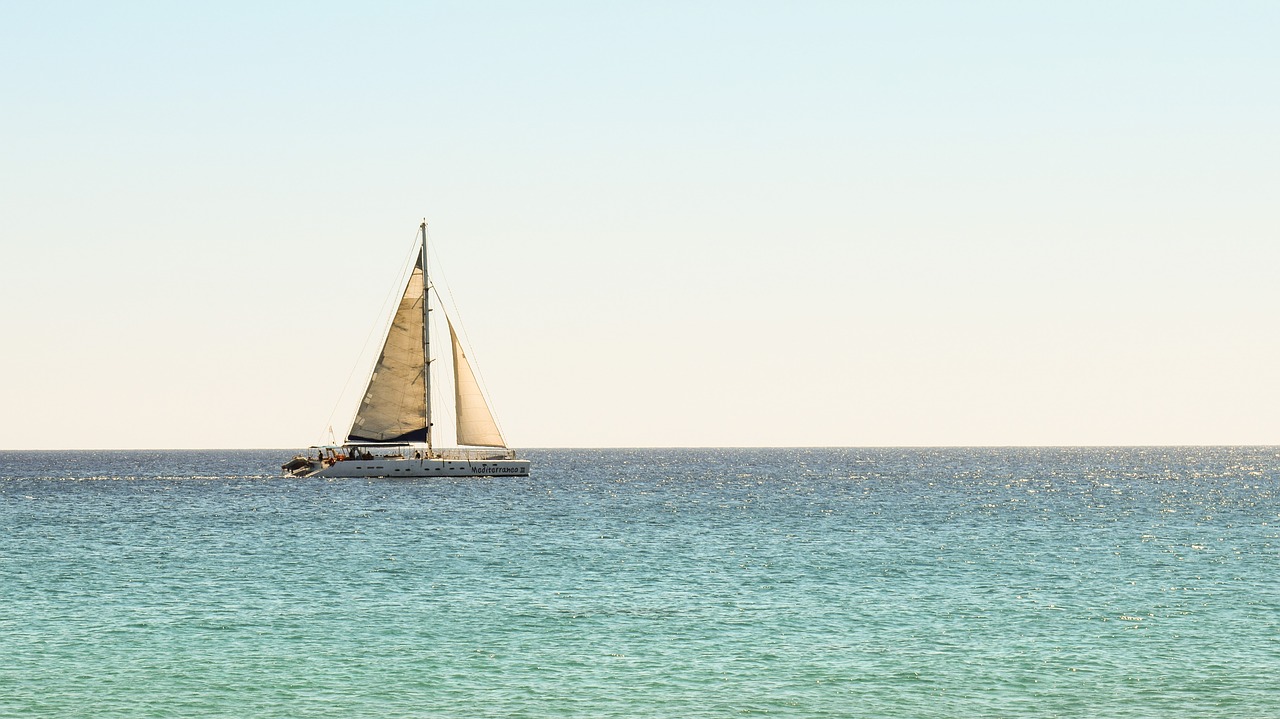 Everyone could use a little more vitamin sea in their lives, right? Being a vibrant port city, Barcelona is certainly not short of options for boat tours and day trips. Its iconic skyline is one that many people haven't seen first-hand from a few hundred meters out on the water. Believe me. It's breathtaking!
From hour-long sunset cruises to daylong private finishing tours with dinner and a bottle of cava, you can find the Barcelona boat tour that suits you best.
Pro tip: The city is pretty, but the coast has the most. The most what? Spectacular views that is! Check out the top Costa Brava boat trips here. Depending on how much time you have to spend on your maritime adventure, I recommend choosing one of these to see a more varied landscape and a few hidden calas (inlets).
Catamaran Orsom 2018 full video
---
17) Visit Montseny Natural Park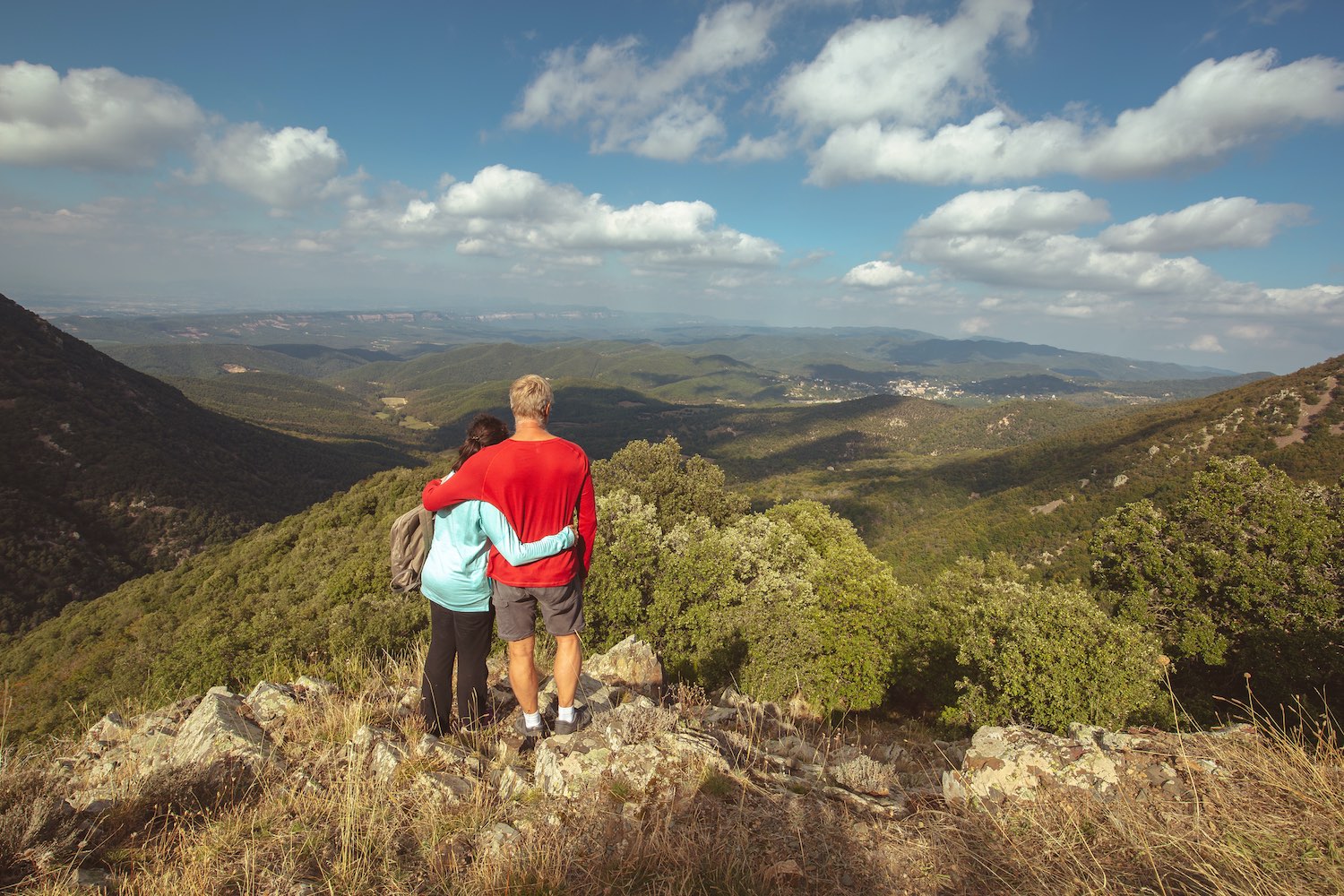 Parc Natural de Montseny is located roughly 31 miles (50 km) north of Barcelona. It was designated as a UNESCO-protected biosphere reserve in 1978 and later declared a natural park by the Catalan government in 1987.
It's easy to get to by train or car, making it the perfect day trip for nature-minded travelers looking for fresh air activities outside of Barcelona. There are a wide array of trails and sites to visit (including Roman ruins), making this a great day trip for anyone from families. It's even a great spot for inexperienced hikers and those looking for more intermediate to engaging trekking options.
For those looking to summit the Montseny Massif mountain range, I suggest planning your day around hiking to either Les Agudes Peak for the best view of the Pyrenees. Or venture up Matagalls Peak for what most would call the prettiest hike in the region. Turó de l'Home (1707m) is the highest in the range but is easily accessible by car; the journey and view are better at the previously mentioned two peaks, though.
Pro tip: The climate can drastically change from starting your hike to reaching a higher altitude. Dress in layers, wear appropriate footwear, and pack snacks and water!
How to get there: If possible, get a group of friends together and rent a car on the cheap! Tourisme Montseny also has a detailed page on how to arrive by various means of public and private transportation. Check it out here.
Matagalls, summit of the Montseny Natural Park, near Barcelona
---
18) Explore La Garrotxa Volcanic Zone Natural Park
La Garrotxa Natural Park, located about two hours from Barcelona, is a volcanic zone in northeastern Spain. There are about 40 inactive volcanoes in the area, and the last eruption was over 11,000 years ago.
If you're up for easy to moderate walking trails and appreciate a bit of geology with your hikes, La Garrotxa is for you! The name translates to "rough, uneven land." The lush green pastureland that now covers the park and surrounding towns rests on ancient lava fields and conical remnants of inactive volcanoes.
The best place to start your day here is Olot, most easily accessible by car. From here, there are various walking paths to the park's most interesting sites.
Pro Tip: If you've got some time to kill, consider going to Castellfollit de La Roca. It's a stunning little town rising high about the canopy thanks to the basalt cliff it sits atop. It's only 11 minutes from Olot, so it's not a huge mission to visit.
Parc Natural de la Zona Volcànica de la Garrotxa
---
19) Discover Carretera De Las Aigües
High above Barcelona in the hills of the Collserola mountain range are various hiking and biking trails, one of the most well-known being the Carretera de les Aigües. If you're looking for a place to visit outside Barcelona without really leaving, this is the perfect excursion.
The trail gets its name from the pipes that used to run along it and provide the city with fresh water. It's nearly 6.2 miles (10 km) long and is a flat trail aside from some more intermediate-level offshoots to higher viewpoints.
It's a fairly simple path and easy to reach by public transport. While that may make for busier trails if you don't arrive early in the morning, the sweeping views of Barcelona and out to the Mediterranean make this the perfect morning or afternoon excursion.
How to get there: You can reach the trailhead by taking the S1 or S3 train (Rodalies de Catalunya) from Plaça Catalunya to Peu de Funicular. From there, take the Funicular de Vallvidrera to Carretera de les Aigües. For a longer hike, take the train to the La Floresta station and start from there.
La Carretera de les Aigües - Documental [Subtitulado]
---
20) Mont Rebei, Spain Day Trips From Barcelona
For such a small region, Catalunya is such a rich and diverse landscape; it's almost unbelievable. Roughly three hours inland from Barcelona, this is a shining example of the area's natural beauty and is a stellar option for a weekend in nature. If you're short on time, however, a day trip is absolutely doable!
From kayaking to boat tours to hiking the precarious trails high above the famous gorge, this place is a nature lover's delight. Wear comfortable hiking or athletic footwear and arrive first thing in the morning to give yourself the entire day to hike and explore the area. There are multiple trails of varying intensity, length, and height (some trails zig-zag along man-made walkways on the side of the 1,640-foot (500-meter) high gorge).
How to get there: The area is most easily accessed by car, with the best place to enter near Puente de Montañana. Moovit has a detailed page on getting to Mont-Rebei here.
Spain's MUST SEE Hidden Gem | Hiking Congost de Mont-rebei Catalonia | Full Time Travel Vlog 11
---
Am I Missing Any Fun Day Trips in Barcelona?
Spain truly is one of the best countries in the world, and it's filled with hidden gems everywhere, especially near Barcelona. So while it may be difficult to escape the thriving Catalan capital city, I think it's worth venturing out for a day and seeing a different side of what makes Barcelona so special!
With Spain's efficient high-speed train network and affordable car rental prices, there really are a TON of fun options for Barcelona day trips, overnight visits, and weekend getaways. So if you think this list is missing anything important, please do let me know! I'd love to keep my list of day trips from Barcelona as up-to-date as possible with incredible destinations and activities.
With that being said, I think spending your entire time in Barcelona is just as good of an option, as it is my favorite city in the world!
5 Great Day Trips from Barcelona | Spain Day Trips
---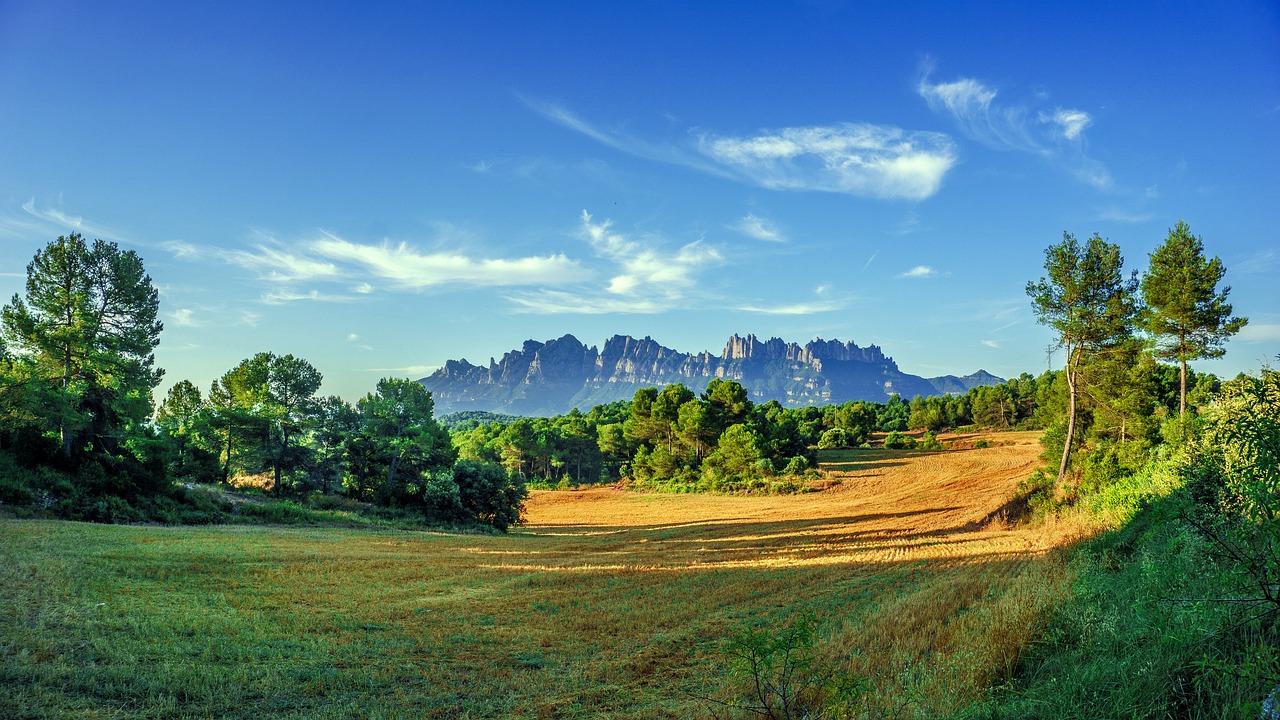 ---
Planning a Trip to Barcelona, Spain & Europe?
My website is filled with hundreds of amazing destination guides, fun things to do, and helpful itineraries that I guarantee will be useful for your upcoming Europe trip! I'd love for you to look at a few more, and let me know what you think!
---
THANKS FOR READING ABOUT WHAT TO SEE NEAR BARCELONA!
SHARE THESE BARCELONA DAY TRIPS WITH YOUR SPAIN TRAVEL CREW!
https://www.jonesaroundtheworld.com/wp-content/uploads/2020/03/Cardona-Caste-Barcelona-Day-Trips.jpg
787
1400
Dave
https://www.jonesaroundtheworld.com/wp-content/uploads/2017/03/logotry-1-1-300x106.png
Dave
2020-05-27 01:03:09
2023-06-14 06:34:03
The 20 Best Day Trips From Barcelona | Top Places to Visit