Planning an outdoor adventure and looking for the best Glamping Wisconsin getaways? Look no further, because we've put together the ultimate list of luxury camping options in the state.
Gorgeous Wisconsin is perfectly situated for those who are wanting to appreciate the outdoors. With coastlines on two Great lakes and plenty of forests and farms, this is the state to head to for an incredible city escape.
Along with stunning scenery, Wisconsin is known for its friendly faces. So when you're not far away from civilization, the folks you come across are sure to make your trip that little bit better.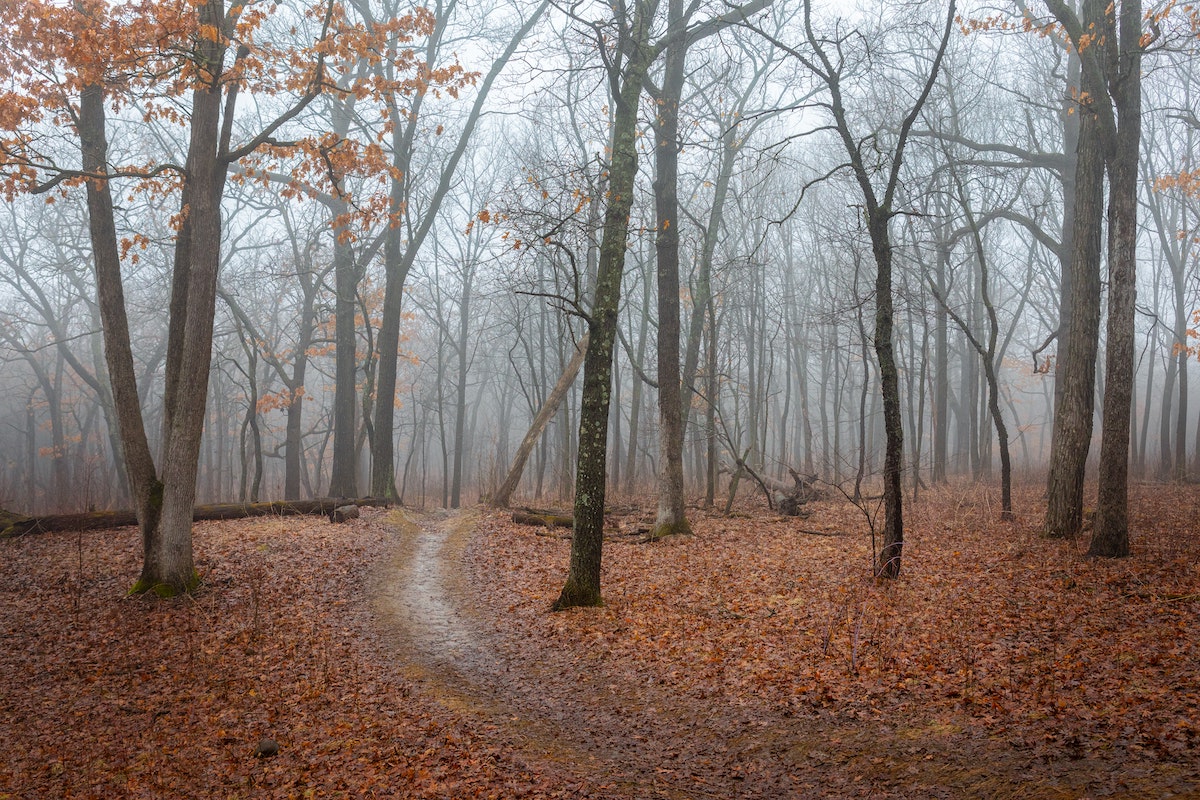 ---
Quick Breakdown of Glamping Wisconsin Sites
If you're a little short on time or know exactly what you're looking for, this little list is all you need. Below are the top 5 glamping rentals in Wisconsin for any traveler.
Best Yurt Rental in Wisconsin – Perry Pines Yurt
Best Cheap Glamping in Wisconsin – POV Resort Campgrounds Luxury Tent #1 (Yurt)
Best Glamping for Families in Wisconsin – Eden Ranch & Preserve Glamping
Best Cabin Camping in Wisconsin – Walnut Creek Cabin, modern + rustic luxury getaway
The Best Glamping Yurts in Wisconsin – Turtle Yurts – Yurt 4
In this post, I've included a couple of fun YouTube videos that touch on what makes Wisconsin such a great state. Take a look at a few of them to see what you can get up to on your vacation!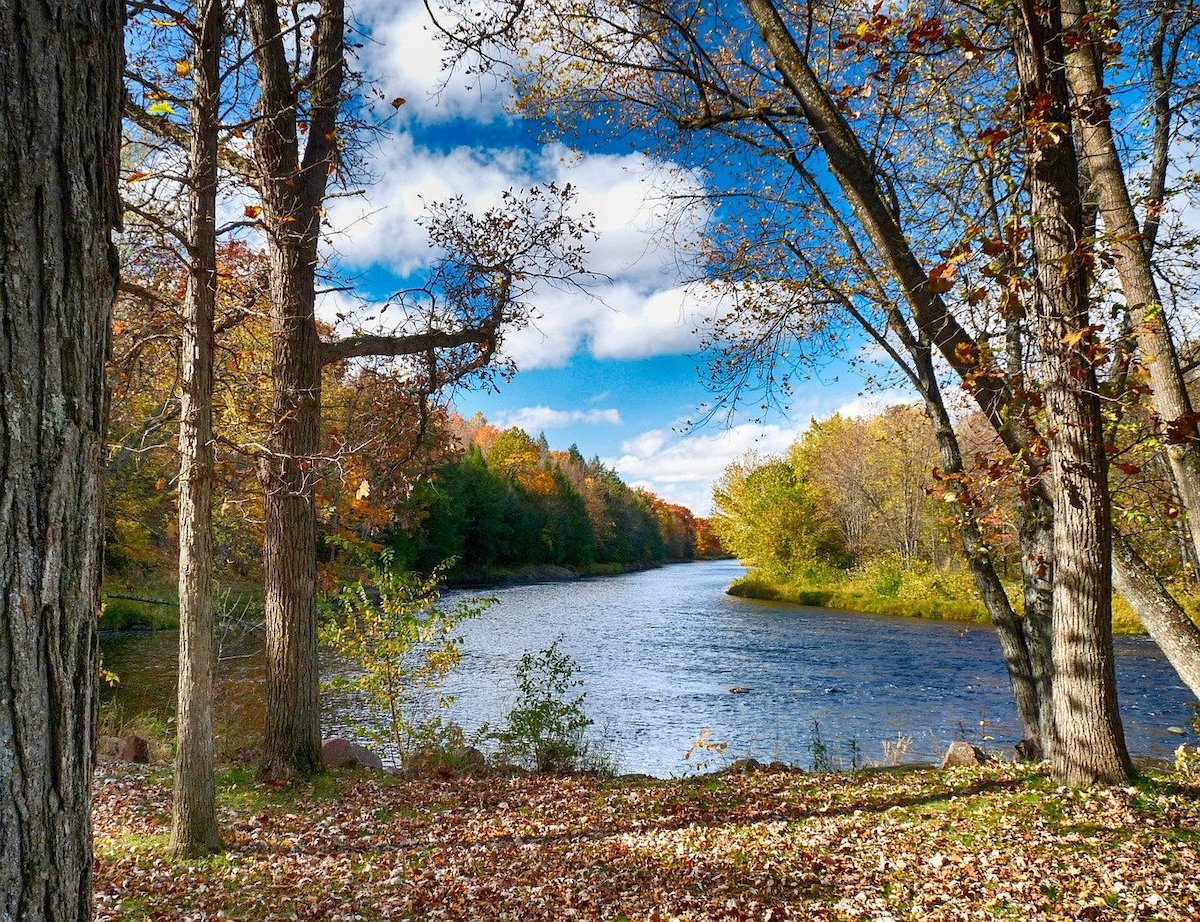 ---
Top 15 Places To Go Glamping in Wisconsin
There are plenty of wonderful places to stay in Wisconsin, making a vacation to the badger state even better. But since this area has such beautiful natural scenery, the outdoors is the big draw for most travelers and explorers. If you're extending a vacation after experiencing one of Chicago's music festivals, this is a great place to come unwind.
Since nature is where you want to be, staying outside just brings you a little closer to the dream. But because it gets very cold here, being cozy and warm during the winter is important. Worry not, as I've found glamping spots that all come equipped with a fireplace, inside or out. They even provide firewood.
Whatever season you visit in, you're sure to go home recharged after staying in one of these incredible glamping spots. Just be sure to step out from the comfortable confines every now and then to explore the beautiful nature that makes Wisconsin so special.
---
1) Perry Pines Yurt Glamping
Location: Cable, Wisconsin
Price: $225 avg. per night
Sleeps: 4 (1 bed/1 bedroom/1 bath)
Perfect for a solo or couple retreat, this yurt looks onto the beautiful Perry Lake in Cable at the Point of View Lake Resort. The changing seasons don't dint the experience, as it is set up to be cozy in the winter, and cool in the summer.
The full kitchen allows you to cook your own tasty meals, and there's even a wood-burning pizza stove, to make things interesting. Enjoy your meals in front of the fire pit, or on the balcony. Wherever you choose to get comfortable, the view will be wonderful.
View Photos, Read Reviews & Check Availability
Guest Review: "What a fantastic experience! This yurt provides the perfect escape for those looking for a quiet, private, retreat. It strikes the perfect balance of a cozy, outdoors, retreat, with all the comforts of a modern home. If you're lucky enough to be viewing this property with availability, look no further. And don't question booking in the winter either. It was perfect. Fresh snow, nice holiday touches by the owners, a cozy fire inside (and outside if you wish!). We'd love to come back some day!"
---
2) Hawaiian Luxury Glamping Tent – POV Resort Campgrounds
Location: Phelps
Price: $111 avg. per night
Sleeps: 4 (2 beds/1 bedroom/1 bath)
https://www.vrbo.com/7586264ha
Spend your days relaxing at this resort campground, surrounded by tall trees and lush greenery. You can canoe out onto the lake, or keep your feet on the ground and go hiking in the woods.
When you return to your campsite, get the grill started for a classic camping meal. And since there's a fire pit too, you can have s'mores for dessert. There's enough space for 4 in these tents, so you can bring the kids along for the adventure.
View Photos, Read Reviews & Check Availability
Guest Review: "Perfect campsite for kids, families, and couples needing an adult getaway somewhere that you can pack light for. Prices are amazing considering the amount of amenities this place offers!"
---
3) Eagle Yurt at Wilderness Wind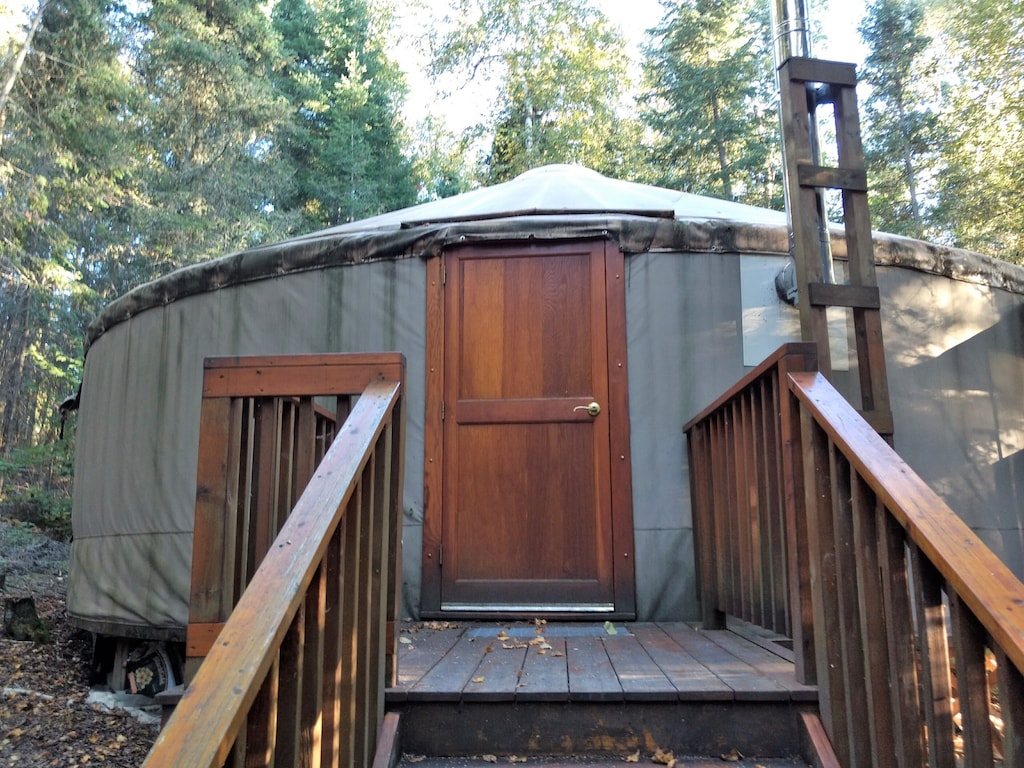 Location: Phelps
Price: $175 avg. per night
Sleeps: 9 (4 beds/3 bedroom/1 bath)
Tucked away amongst the trees and adjacent to Armstrong Lake, this rustic and spacious yurt has two separate bedrooms with queen beds as well as a loft with twin and queen mattresses. Enough space for the whole family!
The deck provides views of the lake which is just steps away, and the warming rays of the sunrise or sunset through the lush and towering trees. With ample room to relax and recharge, this glamping getaway is a great option for kids, couples, and groups of friends alike.
View Photos, Read Reviews & Check Availability
Guest Review: "We enjoyed staying in the yurt. Jay was a great host and very accommodating and always available! We enjoyed the lake: swimming, canoeing and kayaking. Ely has a lot of great hikes. A bonfire under the stars every night!!"
---
4) Yurt Cabin Vacation
Location: Cambridge
Price: $139+ USD per night
https://www.airbnb.com/rooms/17787896
If you're looking for the ideal nature getaway, you could not do better than this stunning yurt. Located beside a peaceful lake, spend your mornings sipping coffee on your own private deck. And with canoes available for use, you can spend all day on the water. Just be sure to bring your photography gear!
When you're not on the lake, spend your time hiking one of the many trails with your dogs, who are more than welcome here. Then head home, start the fire, and get cozy in your raised yurt.
View Photos, Read Reviews & Check Availability
Guest Review: "What an amazing experience! It way exceeded our already high expectations. Best escape from the city to unplug and be one with nature. We had a fantastic time. Hoping to make it a yearly trip! Thank you Wil and Robin!"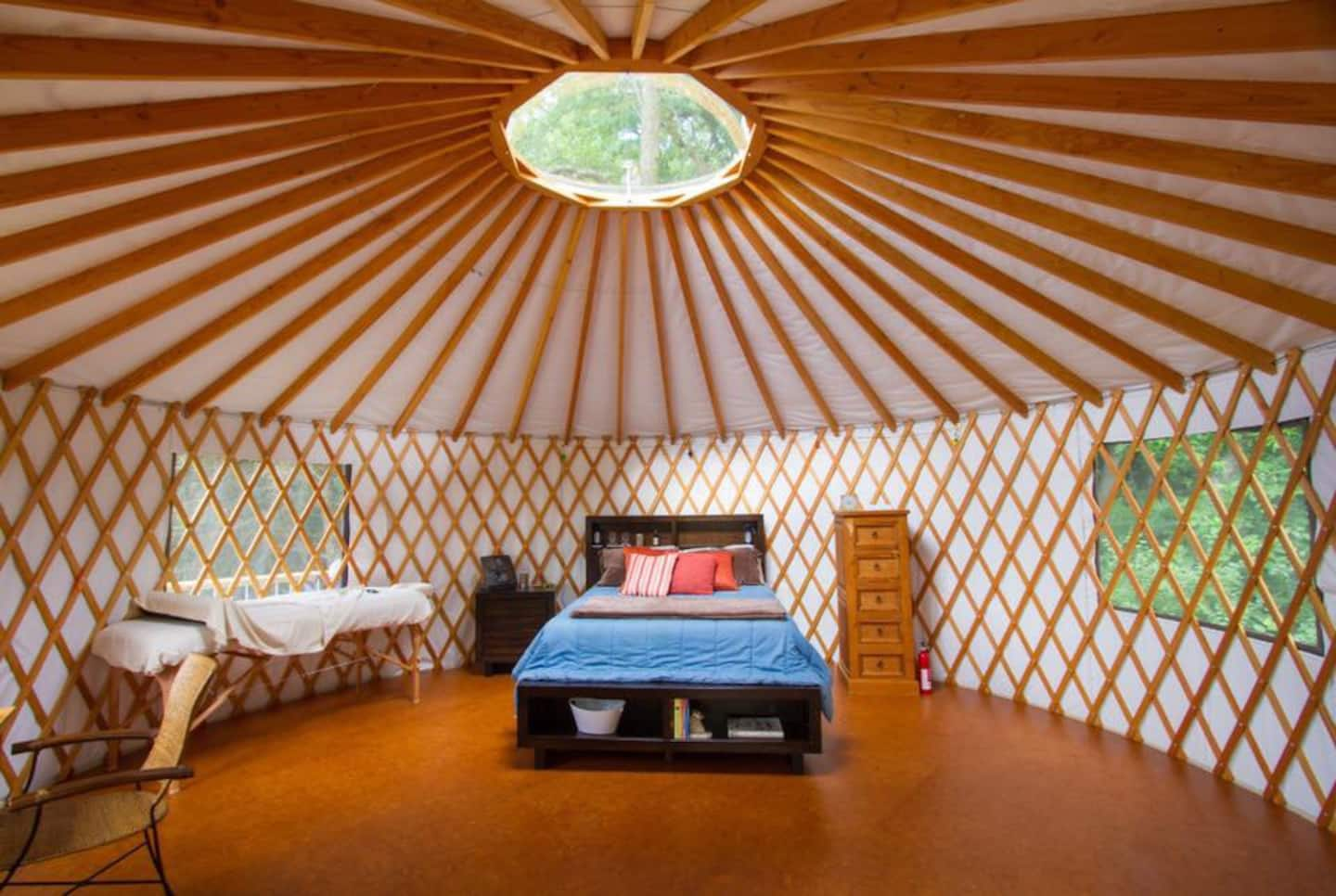 ---
5) Walnut Creek Cabin Glamping
Location: Ferryville
Price: $219+ USD per night
https://www.airbnb.com/rooms/42621564
If you're planning a family or friend trip, cabin camping in Wisconsin is the way to go. This luxurious log cabin is what dreams are made of, and it sleeps up to 6 people.
Sit in the hot tub while admiring the rolling hills and serene landscape. And in the evening, cook up a delicious meal in the full kitchen before cozying up in front of the fireplace. There is even a TV if you're wanting entertainment other than the stars. Either way, quality family or friend time is sure to be had.
View Photos, Read Reviews & Check Availability
Guest Review: "Unbelievable cabin! Cozy, clean, and so very comfortable. We love the hot tub with the amazing view. Great place for a quiet get away. We will be back! Amazing host!"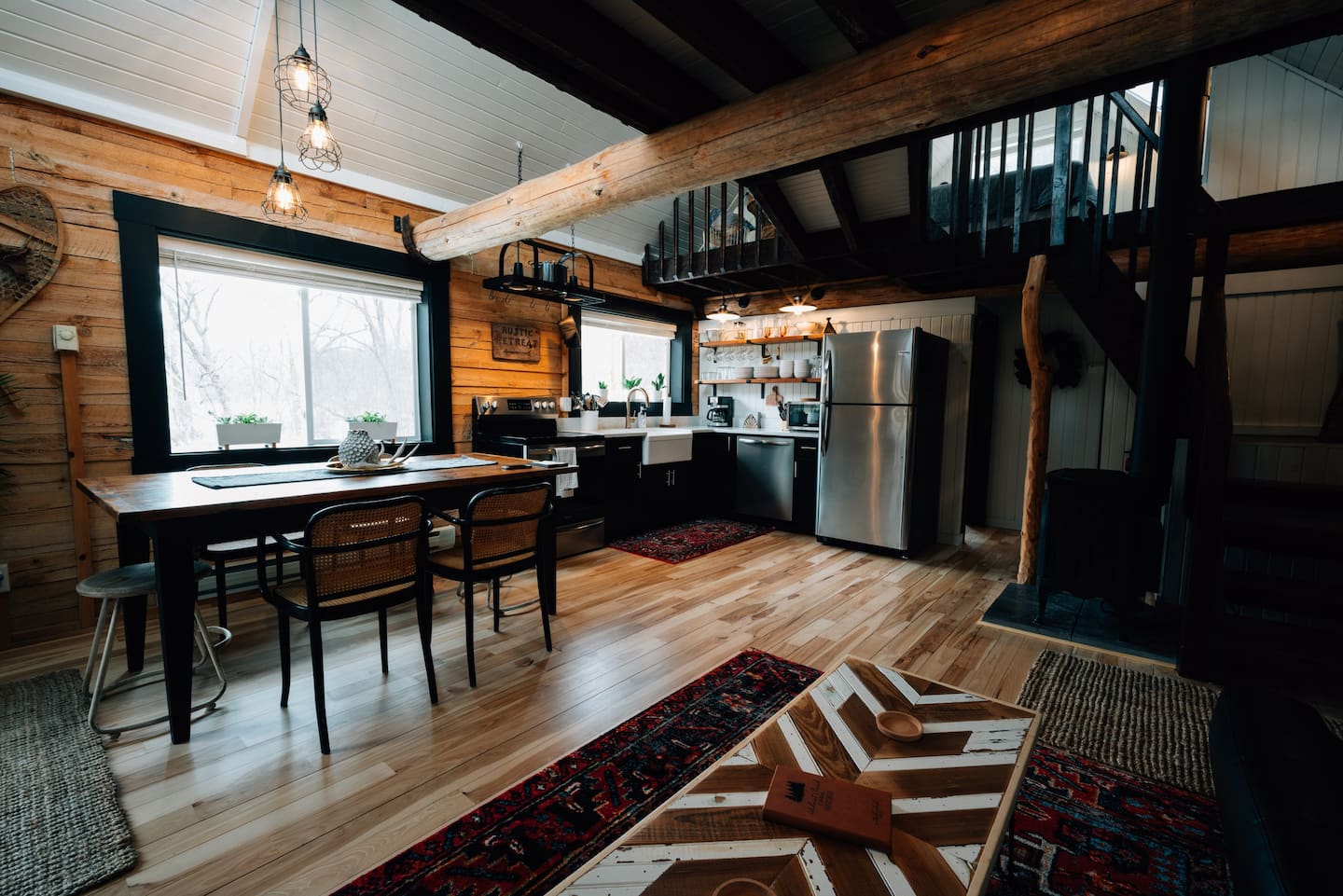 ---
6) Bayfield Rustic Yurt Rental —Evergreen
Location: Bayfield
Price: $70+ USD per night
https://www.airbnb.com/rooms/14484463
If you're prepared for a bit of a hike, this yurt is wonderful. The views and peace and quiet are more than worth the uphill walk, and you'll find yourselves all alone amongst the trees.
When yurt camping in Wisconsin, you can expect to be cozy and comfortable. And in this spacious spot, you can enjoy the indoor picnic table and the wood stove for warmth. Since it fits up to 6 people, this is an ideal stay for a family who are looking to log off from technology and spend quality time together.
View Photos, Read Reviews & Check Availability
Guest Review: "Wonderful experience! Beautiful view!! Very clean and peaceful. Would definitely stay again!"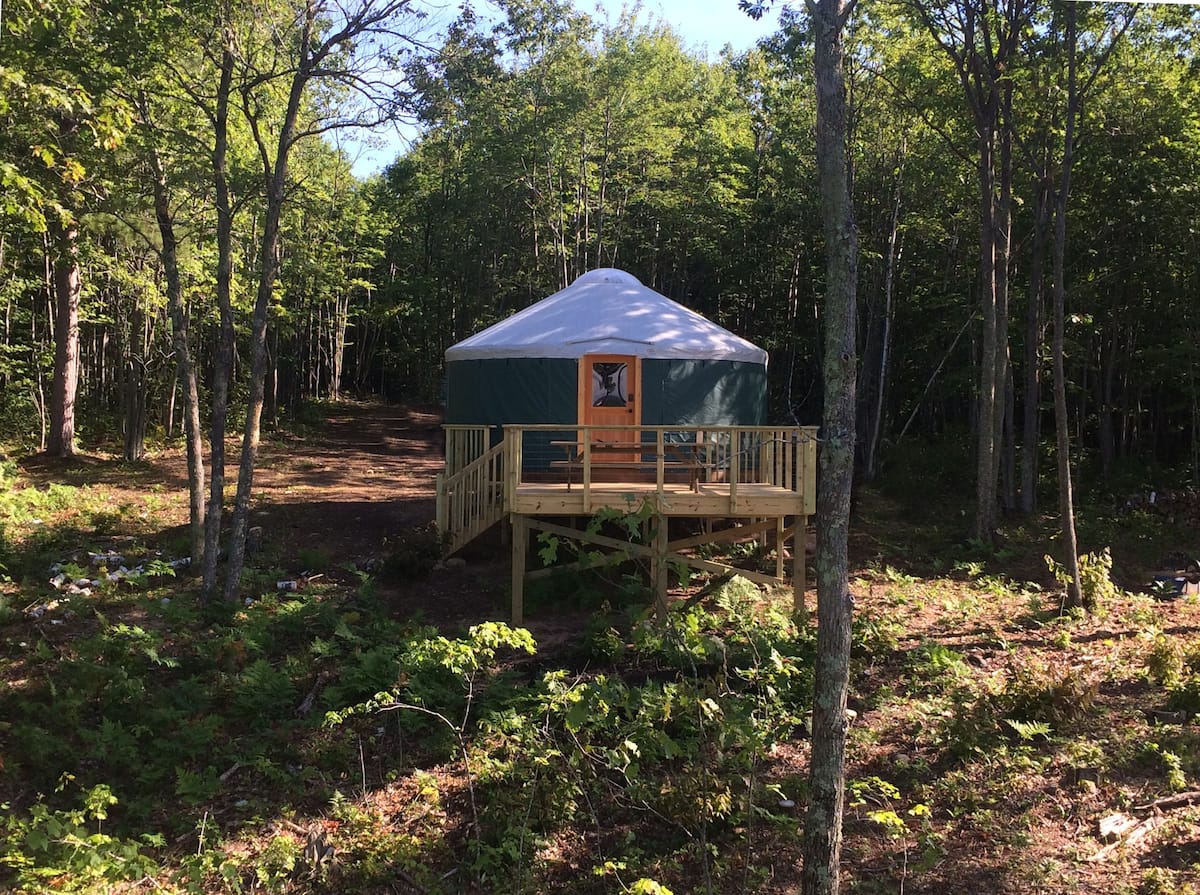 ---
7) Cable Rustic Yurt Glamping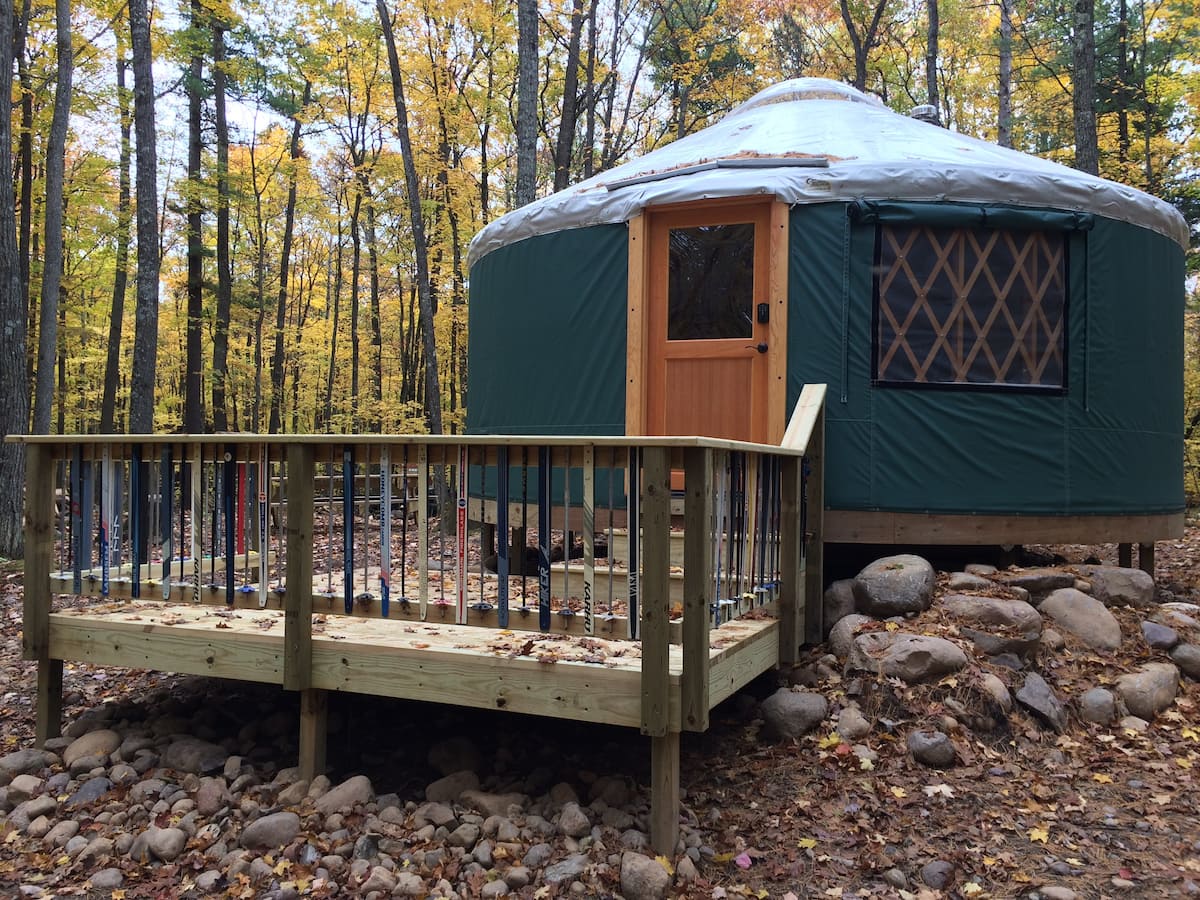 Location: Cable
Price: $65+ USD per night
https://www.airbnb.com/rooms/13217021
If you're looking for a secluded getaway, it doesn't get better than this yurt in the forest. It's the perfect base for plenty of walking and biking trails, and will have you feeling refreshed and unplugged.
With a wood-burning fireplace making the inside super cozy during the chilly autumn and winter months, all you need to do is step inside and light the fire for warmth. Which, when you're spending a decent time exploring outside, is a wonderful thing to come home to.
View Photos, Read Reviews & Check Availability
Guest Review: "This yurt is heavenly–it feels you have the entire forest to yourself. It's clean, private and stocked with only the essentials. Thank you, we will be back!"
---
8) Turtle Yurts in Wisconsin
Location: Bayfield
Price: $114+ USD per night
https://www.facebook.com/TurtleYurt/
https://www.airbnb.com/rooms/39278822
Tucked away amongst the trees, this pretty yurt has everything you could need. Ideal for a romantic getaway, the queen-sized bed lies under a skylight, through which you can watch the clear night sky.
After a day of exploring the area, you can barbeque over the fire pit outside. This yurt also has a full bathroom inside, so you don't need to step out into the cold if you don't want to.
View Photos, Read Reviews & Check Availability
Guest Review: "Turtle yurts were awesome to stay in. Very clean and comfortable. Bed was comfortable. Quiet and peaceful. Beautiful surroundings tucked on the woods with wineries and apple orchards close by. Wonderful time!"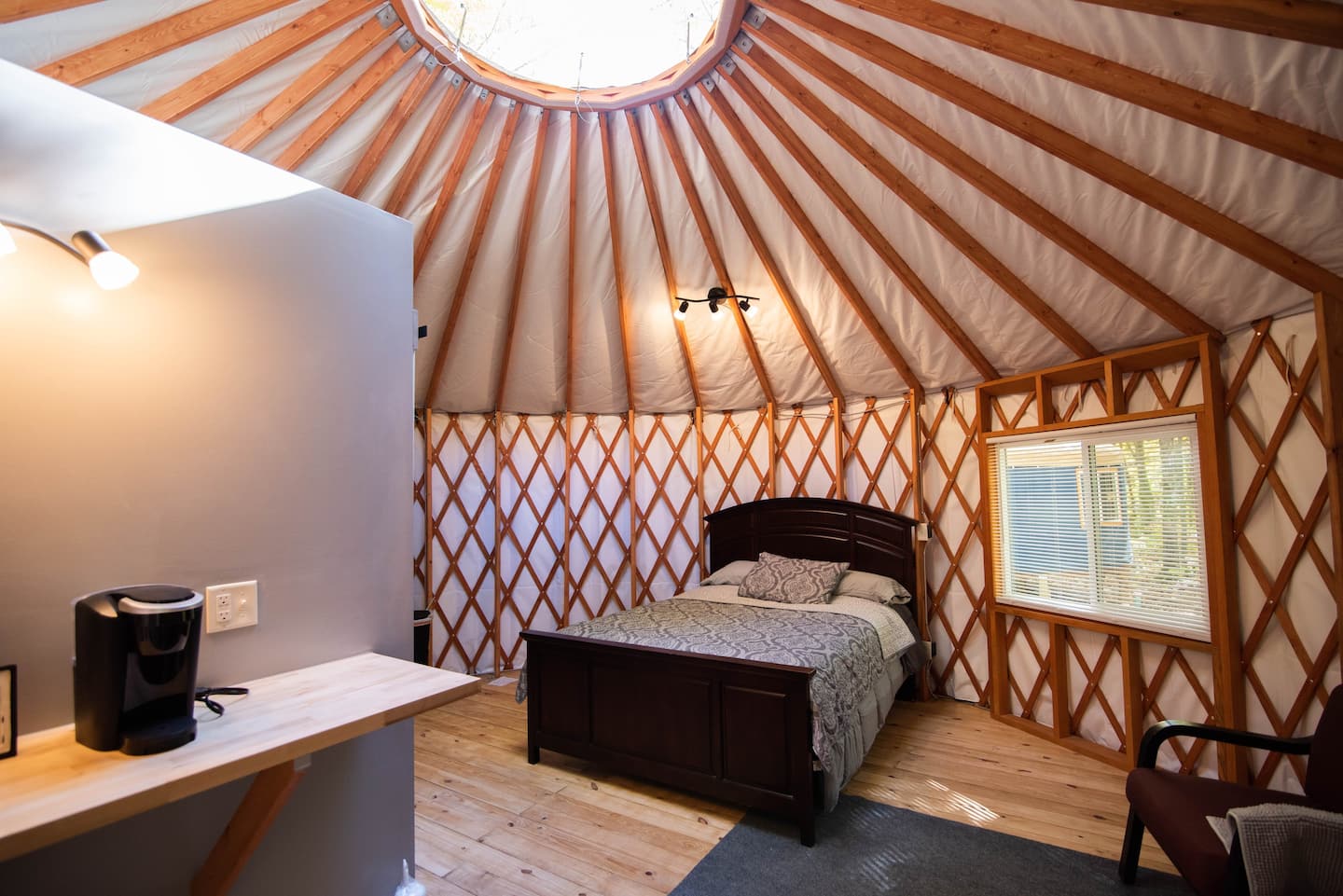 ---
9) Big R's Retreat – Secluded Trailer Glamping
Location: Hill Point
Price: $120+ USD per night
https://www.airbnb.com/rooms/43777531
This impressively spacious camper is ideal for a couples retreat. Views of green (or white, depending on the season) rolling hills can be enjoyed from within, or from around the fire pit. There's plenty of wildlife to spot, and no people to disturb the peace.
The large attached deck has an awning so that it's shaded from sun and rain. And with central heating and air conditioning, it really is perfect for all seasons and weather.
View Photos, Read Reviews & Check Availability
Guest Review: "Amazing place! The RV is very spacious, comfortable and spotless. The location is excellent. Unbelievable view and very close to scenic drives and state parks."
---
10) The Stargazer-Tree Tent
Location: Lyndon Station
Price: $45+ USD per night
https://www.airbnb.com/rooms/25010798
Ideal for a budget-friendly weekend getaway for a couple or solo traveler, this interesting tent will definitely make for a memorable stay. The tent hovers above a picnic table where you can enjoy your meals. There's even a comfy bed within this little home in the clouds.
Down on the ground, there is a gas grill and fire pit for chilly nights. There are also flush toilets and a shower just a short walk away. It's a classic camping in Wisconsin experience.
View Photos, Read Reviews & Check Availability
Guest Review: "Great location and perfect balance of amenities and outdoor experience for those looking for nature AND a hot shower!"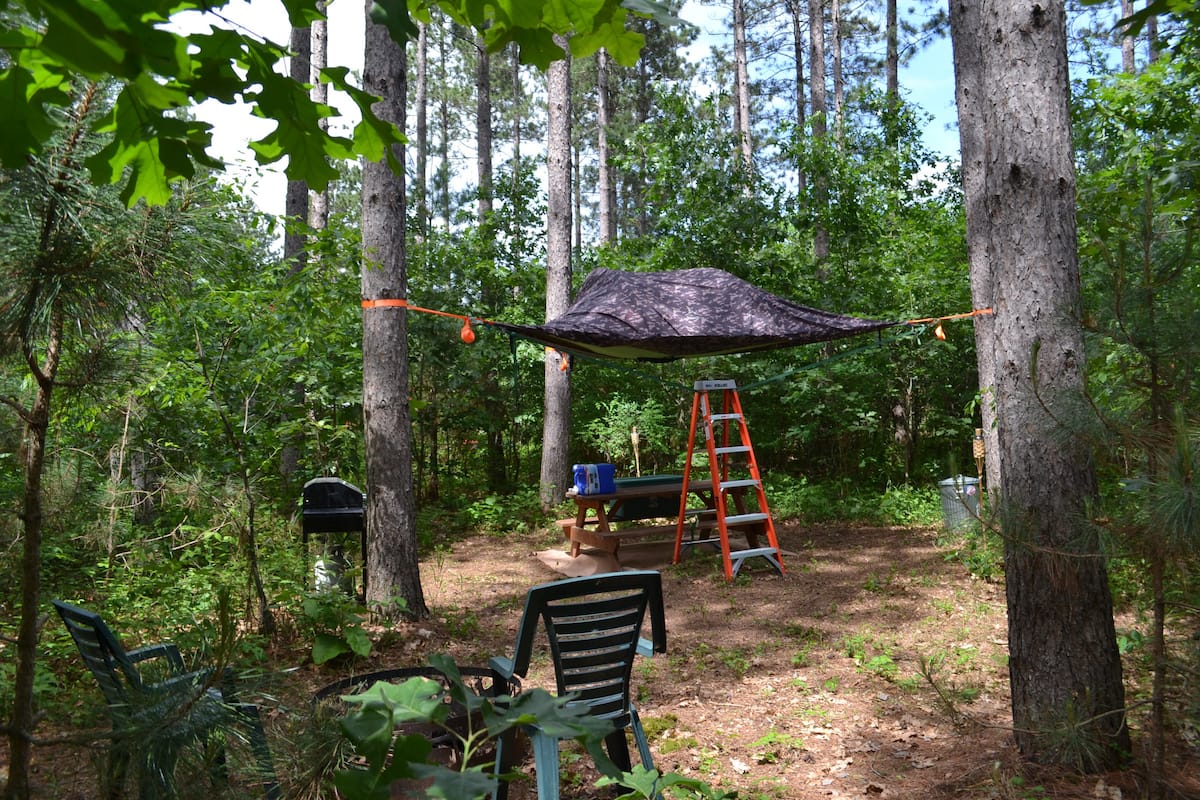 ---
11) Edenwood Ranch & Preserve
Location: Wautoma
Price: $200+ USD per night
https://edenwoodranch.com/glamping-wisconsin/
https://www.facebook.com/edenwoodranch/
If you are wanting to get the full wildlife in the wilderness experience, check out this ranch. You can try your hand at hunting and game drives, and wake up to the sounds of animals also doing their morning routines.
The tents are luxurious and large, with everything you could want tucked away inside. You don't even need to leave the living space for the restroom, as it's within the confines of the tent.
Guest Review: "This is a great place to just chill and have a great R&R weekend. Take photos of all the animals or just walk around, it gets two thumbs up."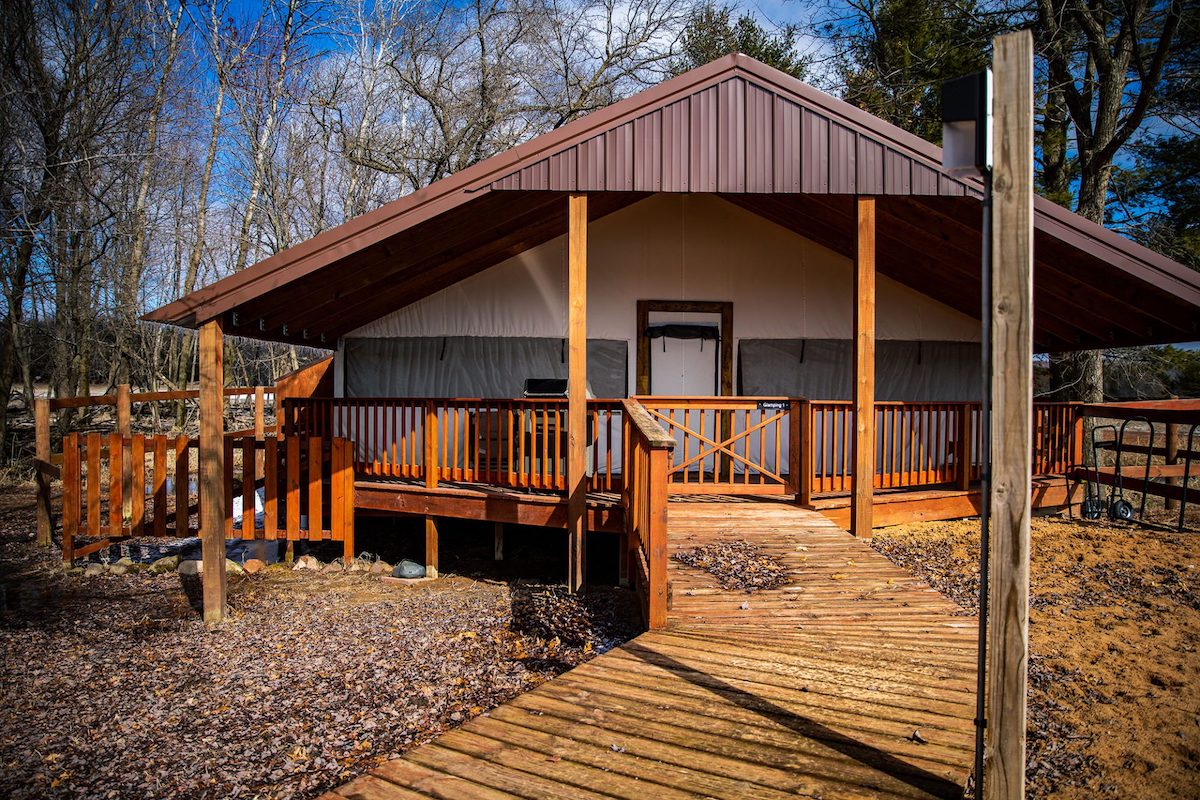 ---
12) Camper at Autumn Farm Sanctuary
Location: Cedarburg
Price: $100+ USD per night
https://www.airbnb.com/rooms/20524500
If you're looking for a camping experience with all the comforts at home, a camper is the way to go. This one is located on a vibrant non-profit farm sanctuary, which takes in sick and neglected animals. So your stay is doing good, plus you can interact with all the cuties.
The two queen beds are situated at either side of the camper, with see-through tent walls. So you can look out at the greenery while in bed. There are also two sofa beds for the kids, and plenty of outdoor seating so you can all enjoy the fire.
View Photos, Read Reviews & Check Availability
Guest Review: "Good location close to Cedarburg, very friendly hosts, fun seeing the animals and nice little camping experience!"
---
13) Refined Tiger Cat Cottage, Rich Aesthetic
Location: Hayward
Price: $225+ USD per night
https://www.airbnb.com/rooms/19363709
This warm cabin on the lake is a wonderful stay, throughout the year. In the summer months, spend your days fishing, swimming, and canoeing. In winter, enjoy the multiple fireplaces throughout the cottage.
Cabin camping Wisconsin rentals are very popular, and for good reason. Looking out at the lake through huge windows, while sipping a hot cup of coffee on the sofa, is a special experience. This cabin also has a large tub with a view and a gas fireplace beside it. If you want luxury camping in Wisconsin, this spot is ideal.
View Photos, Read Reviews & Check Availability
Guest Review: "Wow! We loved it. I'm so glad we went in the winter. We loved sitting in the great room, with the fireplace crackling, looking out the gigantic windows to the frozen beautiful lake. We are so hoping to make it back. Winter wonderland!"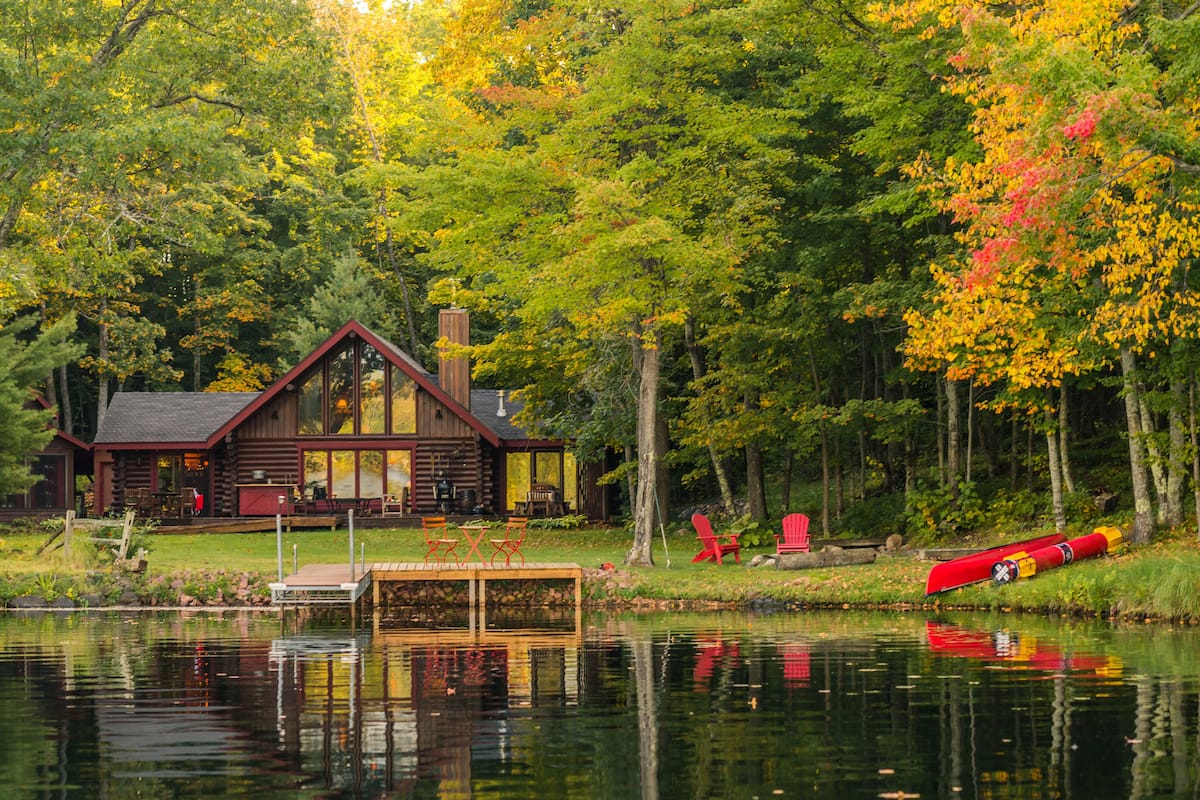 ---
14) Twisting Twig Gardens and Orchard Rustic Yurt
Location: Bayfield
Price: $105+ USD per night
https://www.airbnb.com/rooms/21551464
If you're looking for a place to disconnect and recharge, this yurt will fit the bill perfectly. Situated on an organic farm and flanked by an apple orchard, this sweet retreat is ideal for a couple or a small family.
This Wisconsin yurt has a little indoor fireplace to ensure that you're warm throughout the year. Plus there's a full kitchen for you to cook in, along with a dining table. When you're ready for a great night's sleep, climb up to the loft and admire the stars through the skylight.
View Photos, Read Reviews & Check Availability
Guest Review: "I had a great stay in the yurt! Perfect location to easily and quickly get to any beautiful spot in the area. It was very private and peaceful."
---
15) Sittin Pretty Tiny House nestled in Amish Paradise
Location: Viroque
Price: $89+ USD per night
https://www.airbnb.com/rooms/42813403
This lovely little tiny house might not be a classic glamping experience, but that doesn't make it any less awesome. This light-filled spot is filled with windows through which you can look out at the trees and neighboring farms.
With a queen bed in the loft, you can watch the sunrise while still under the covers. The sunsets can be watched in front of the firepit, in the wooden rocking chairs. Dogs are allowed here and will love it, especially as it's close to some fantastic hiking trails.
View Photos, Read Reviews & Check Availability
Guest Review: "The sitting pretty tiny home was exactly what we needed to get away from the city life. Extremely clean, and just the right amount of space for the two of us, and the pup! We loved the location, it was a quick drive to access the local trout streams, state parks, and wineries. The sunset view was breath-taking each night."
---
Best Day Trips/Tours in Wisconsin
While spending your day chilling at your campsite or campgrounds with cabins in Wisconsin is wonderful all on its own, it's always a good idea to add a little more adventure. There are plenty of hiking trails and lakes to swim at in the area, so you're sure to never run out of entertainment.
But when you're running low, or want to do something a little more structured, a tour is always a great choice. That way you can join other travelers, and experience the best this state has to offer!
---
Milwaukee Scavenger Hunt Adventure
"Discover Milwaukee on an interactive walking tour of the city. Let your smartphone be your guide as you discover the hidden gems of this city known for its German heritage, squeaky cheese curds, and a fantastic brewing tradition."
https://www.getyourguide.com/activity/milwaukee-l1427/milwaukee-scavenger-hunt-adventure-t196760
Price: $44+ USD
---
Wild Edible Plants and Mushrooms
"We will meet at a local coffee shop and then drive to take a hike at a nearby trail that many do not know of. We will hike for 2 hours and gather plants and mushrooms that are out when you visit, and I'll you about their biology and what can be done with them. Any questions you have I will either answer on the trail or follow up afterwards."
https://www.airbnb.com/experiences/267784
Price: $30+ USD
---
Vineyard Tour and Wine Tasting
"Join us for an exclusive vineyard and orchard tour of Wild Hills Winery. During the tour, guests will sample several of our artisanal wines, some of which aren't available yet to customers. The tour ends on our ridge top overlooking a breathtaking view of the Wisconsin River Valley. Guests will feast on a cheese and charcuterie board, drink wine, and learn about the Driftless area from a local expert."
https://www.airbnb.com/experiences/510999
Price: $65+ USD
Discover Wisconsin: Wisconsin's State Parks – Where Nature Meets Wow
---
Am I Missing Any Great Glamping Spots in Wisconsin?
While I try to add all of the most awesome places to my list, sometimes one or two slip through the cracks. If there's a place that you love that wasn't featured here, let me know via email or social media, and I'll try to add it in!
---
Other Recommended Reading
If you're planning a midwestern U.S. vacation, or you're wanting to check out America's top festivals, I've got you. Here are a few guides to the top Airbnb's and festivals, to keep you having fun all year long.
---
Final Thoughts on Tents, Cabins & Yurts in Wisconsin
Wisconsin is such a beautiful state, it's no wonder that you're planning to be close to the outdoors by glamping. And with Airbnb, camping doesn't necessarily mean being cold and at least a little bit uncomfortable.
You can get back in touch with nature with your loved ones or simply by yourself, but still sleep the night away in a luxurious bed. Plus, the thoughtful little touches from people who genuinely want you to have a wonderful stay are something that will make your vacation in Wisconsin truly memorable.
22 of the Best Things to do in Door County, Wisconsin
---
THANKS FOR READING ABOUT MY TOP PICKS FOR WISCONSIN YURTS, CABINS & TENTS!
SHARE THE GLAMPING LOVE WITH YOUR WISCONSIN TRAVEL CREW!
https://www.jonesaroundtheworld.com/wp-content/uploads/2020/11/Wisconsin-Jump-River.jpg
922
1200
TravelTractionsJATW
https://www.jonesaroundtheworld.com/wp-content/uploads/2017/03/logotry-1-1-300x106.png
TravelTractionsJATW
2023-01-13 21:48:49
2023-05-02 17:29:42
Glamping in Wisconsin: 15 Best Yurts, Cabins & Luxe Tents