Planning a road trip to the dramatic California coastal region that is Big Sur? I've put together the best list of Big Sur glamping to experience it all in style…
Stretching for 70 glorious miles along California's central coast, Big Sur is one of the most rugged, dramatic and magnificent natural landscapes in the United States.
With mountain peaks overlooking crashing Pacific Ocean coastline, Big Sur is a road trip any visitor to California needs to prioritize. Laze on sandy beaches with turquoise water, drink leading local wine sources on rolling green hills or hike into the wild. Big Sur truly is a natural masterpiece.
---
Glamping and Big Sur go hand in hand, after all, who doesn't want to camp in luxury under the starry skies of one of America's most stunning locations?
I've looked far and wide, and have found the 10 best Big Sur glamping experiences you just have to have. From tents to yurts to tiny cabins – these glampsites will have you far from roughing it.
Send me a postcard?
---
Quick Breakdown Of Big Sur Glamping
Like any accommodation offering, glamping in Big Sur is available in a range of budgets, sizes and styles. And if time is of the essence and you're keen to book an expert recommended Big Sur glampsite, look no further than my top 5 below. Book via my links and secure your stay under the stars today!
I've included a range of photos and videos of Big Sur throughout this list, and I'd definitely recommend watching a few as they will give you not only a look at some of these standout glampsites, but also provide some great insider tips on what to see and do in Big Sur. Stay tuned for the end of the blog for a list of links to more of my California content. Definitely check out 37 California Music Festivals That'll Keep You Dancing All Year Long.
---
1) Ventana Big Sur
"The Overall Best Big Sur Glamping"
Location: Near Monterey
https://www.ventanabigsur.com/glamping/overview
Price: $300+ USD per night
Ventana Big Sur is the absolute peak of glamping in Big Sur, and the five star resort has now added luxury glamping to its impressive list of visitor accommodation offerings. Their range of safari tent styles are plush, stylish and so comfortable, and a stay in one includes access to all the resort amenities, including the swimming pool and on-site restaurants. Stay in a "Redwood Glampsite", with easy car access, or venture deeper into the wilds of Big Sur and stay in a "Canyon Glampsite" – remote luxury tents accessible only by foot. And their central location just off the main Big Sur highway makes exploring the region so easy and breezy.
Guest review: "Incredible location. Convenient to main highway, Big Sur beach nearby shops, restaurants and gas station. Extremely clean campsite and great space for tent camping. Nice, clean bathrooms. So peaceful and right in the redwoods with a flowing stream. Definitely going back." – Garin
---
2) Treebones Resort
"The Best Luxury Big Sur Glamping"
Location: South Big Sur
Price: $300+ USD per night
https://www.treebonesresort.com
Treebones Resort isn't just the best luxury glamping destination in Big Sur, but it also has the best range of glamping options on offer. The gorgeous resort, where guests can enjoy a pool, massage services, breakfast and even yoga, has glamping options to suit any budget. From basic campsites with incredible views to plush ocean view yurts to sprawling luxury tents with a private fire pit and deck, Treebones is the place to completely unwind in style in one of California's most rugged and beautiful locations.
Guest review: "This was my first visit to Treebones. I will be back. We stayed in yurt number 8. Incredible view. Loved every minute of it. Went running nearby. Great place to disconnect from the world. Food in the restaurant was very good. Massage therapist was good."
---
3) Beautiful Glamping Tent in Marina Ca #4
"The Best Cheap Big Sur Glamping"
Location: Marina
Price: $100+ USD per night
https://www.airbnb.com/rooms/34340920
Glamping in Big Sur is still quite a niche offering and therefore not super cheap on average, but this tent offers an affordable glamping experience for Airbnb users. The stylish and comfortable tent is located in Marina Dunes RV Resort, just minutes walk to the beach. You'll enjoy a private yard with fireplace and BBQ, an on-site clubhouse and many local outdoor activities. Marina is a great California town and a beautiful gateway to Big Sur. Monterey is in close proximity, as is Salinas.
Guest review: "Love this place! You can walk to the beach, there is a very good restaurant nearby and the place is very clean. I will definitely be staying here again." – Sarah
View Photos, Read Reviews & Check Availability
---
4) Peaceful Mountain Hideaway in Carmel Valley
"The Best Big Sur Glamping For Couples"
Location: Carmel Valley
Price: $200+ USD per night
https://www.airbnb.com/rooms/3654807
Escape with your other half and spend some quality time in California's majestic Big Sur region at this gorgeous one bedroom tiny house. A step up from tent glamping, the popular Airbnb is on a sprawling woodsy property with incredible views. The rustic yet stylish interiors include all you could possibly need, and outside there's a deck and a private bathhouse. This is a romantic retreat deep in the stunning Carmel Valley, just a short drive to the beach, leading vineyards and wineries, hiking trails and Big Sur towns like Carmel and Monterey.
Guest review: "A little slice of heaven….what a great space to get away from the hustle and bustle of the city. If you're looking for a place to completely disconnect, absolute quiet then stay at Jen & Rob's place." – Jarrod
View Photos, Read Reviews & Check Availability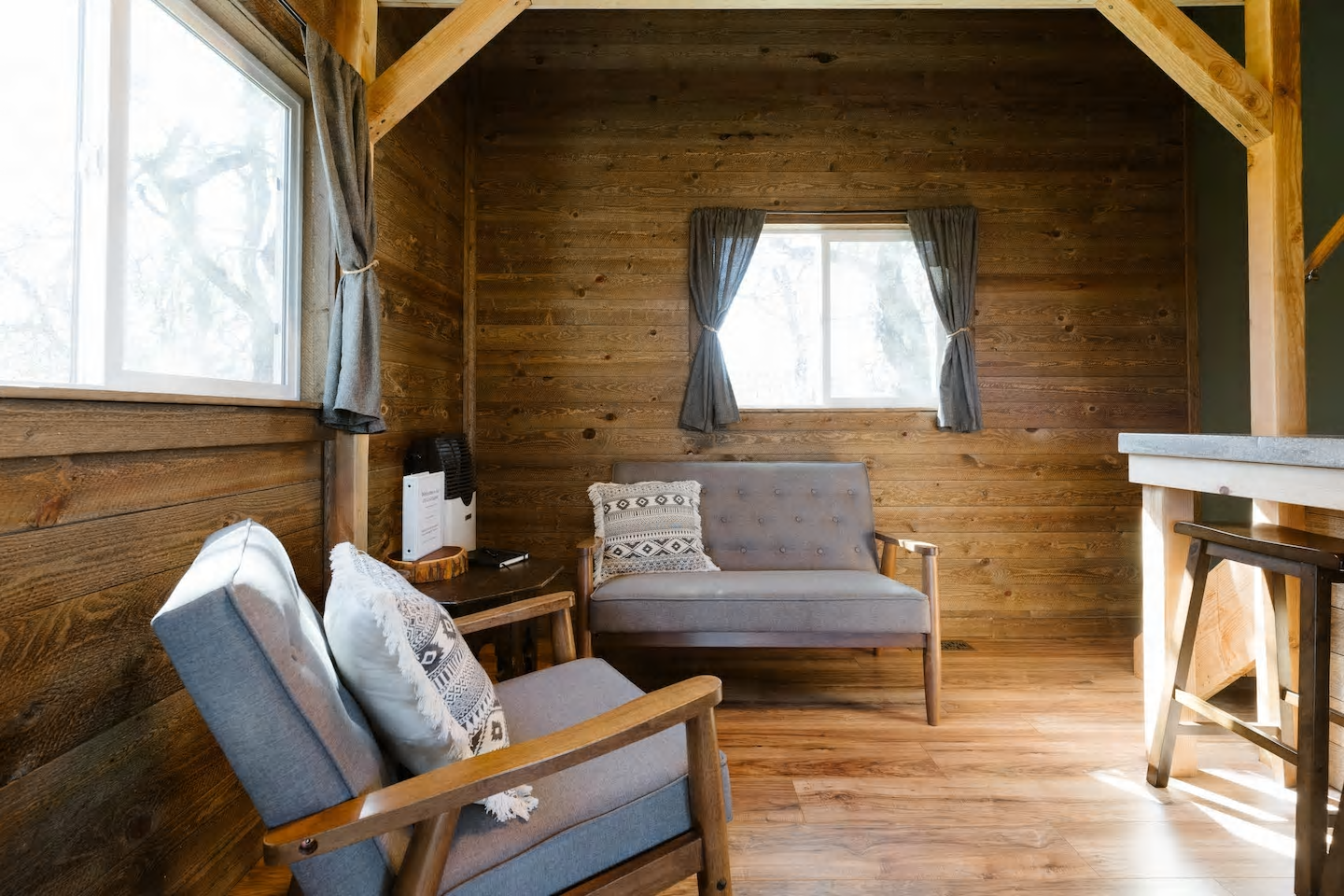 ---
5) Fernwood Resort Big Sur
"The Best Resort Style Big Sur Glamping"
Location: Big Sur
Price: $175+ USD per night
https://www.fernwoodbigsur.com/adventure-tents.html
If you're looking for a Big Sur glamping experience with a few quality inclusions thrown in, consider a stay at Fernwood Big Sur. The resort boasts a range of accommodation options, including luxury canvas tents with heating and their own private picnic table and fire pit. Fernwood Resort is the perfect all-rounder if you don't want to veer too far on your relaxing stay. There's bathhouses on site, a tavern to dine at, a general store with cafe and a range of local hikes to head out on. The location is also super central to the entire Big Sur region, and just off the main highway.
Guest review: "Our stay at Fernwood was fantastic! We stayed in one of the cabins which was the perfect size for our group of 4 but will definitely work for a group of 6 as well. We ended up reserving the "waterfall cabin" which was secluded and just steps away from the start of a few local hiking trails." – Connor
---
6) Luxury Tent
Location: Carmel-by-the-Sea
Price: $150+ USD per night
https://www.airbnb.com/rooms/34204815
Big Sur glamping Airbnbs are popping up left, right and centre, and this particular tent in eco-friendly Saddle Mountain Ranch is a top notch choice. The bright and friendly canvas tent has cozy bedding and a private outdoor area with a fire pit and BBQ. The campground has all the amenities you could need, including a heated pool, hiking trails and a kids playground. The ranch is located just off Carmel Valley Road in the artsy beachfront town of Carmel-by-the-Sea.
Guest review: "Our stay at the tent was a very nice experience! Would recommend it if you want some comfort but still enjoy being close to nature! The heated blanket was a savior during the night!" – Eva
View Photos, Read Reviews & Check Availability
---
7) Yurt on the farm
Location: Salinas
Price: $150+ USD per night
https://www.airbnb.com/rooms/16788711
Located just outside the Big Sur town of Salinas, this charming yurt is one of the most popular Airbnb glamping stays. The brand new yurt features a luxury bed, full kitchen, huge deck, an outdoor fire pit and unbeatable views of the surrounding vineyards. There's a croquet course and hiking trails just a stone's throw away. Stock up on s'mores and glamping essentials in the towns of Monterey and Carmel, just 40 minutes away.
Guest review: "Off the beaten path, this hillside sanctuary offers stunning vineyard views and amazing night time sounds of the wild. Excellent kitchen and other facilities make this a perfect place to escape the world in cozy glamour. Do bring plenty of food and beverages; once you are here you won't want to venture out." – Thomas
View Photos, Read Reviews & Check Availability
---
8) Saddle Mountain Ranch, RV and Campground
Location: Carmel-By-The-Sea
Price: $125+ USD per night
Saddle Mountain Ranch is a local icon in Big Sur, and they've now added luxury tents to their existing accommodation options, which includes RV sites, basic campsites and cabins. Just a few minutes off Highway 1 on a rambling forested property with hiking trails, the woodsy destination's glampsites have luxe bedding, a BBQ, outdoor seating and a fire pit. Carmel-By-The-Sea is just five minutes away and Monterey 10 minutes. An affordable Big Sur glamping experience you just have to have.
Guest review: "Friendly and extremely customer focused camp host. Excellent amenities. Includes tent camping sites, RV hook ups, yurt sites and luxury cabins. Can't wait for our group to come back and hang out here again. Beautiful area in Carmel Valley. Definitely recommend to anyone who enjoys the outdoors." – Jaymie
---
9) Ripplewood Resort
Location: Big Sur
Price: $200+ USD per night
Ripplewood Resort in Big Sur takes the everyday camping experience to the next level. The rustic property – located just off Highway 1 – features a large number of cabins with their own patio and fire pit. Regardless of which cabin you book, you're promised an exceptional view. There's a pool and the Big Sur river winding past, as well as an on-site cafe, grocery store and gas station. There's really no reason to leave at all, but if you do there's a range of waterfalls, hikes and coastal lookouts to enjoy in close proximity.
Guest review: "The breakfast was good, the cabins great. I wrote a much longer review but I accidentally deleted it…Stay by the creek if you can. Eat breakfast outside, and try the au gratin potatoes." – Drew
---
10) Gazebo Tent
Location: Carmel-by-the-Sea
Price: $150+ USD per night
https://www.airbnb.com/rooms/34225826
Carmel-by-the-Sea is one of the Big Sur region's most captivating towns, with a profoundly artistic reputation and jawdropping coastal views. Soak up the vibe of Carmel from this glamping tent, another top offering from Saddle Mountain Ranch. The luxury tent has a cozy bed with an electric blanket and a fine pit with BBQ. It also has valley views to die for. The ranch has a pool and other great features.
Guest review: "This is such a cool place. It's a campsite but inside the cabin it's like a hotel room. We had a wonderful time and the surroundings are gorgeous. The staff is very helpful and kind. There are great amenities, hot water comes on in a few seconds, bathrooms are very clean. The place is charming. Perfect for hikes and nice nature walks. I highly recommend the place!" – Miklos
View Photos, Read Reviews & Check Availability
---
Big Sur Tours & Experiences To Check Out
Big Sur is an outdoor activity hotspot with an awe-inspiring backdrop. Whether you're eager to taste local vineyard offerings or dying to dip your toes in the Pacific Ocean, these Big Sur tours and experiences are lead by expert locals with a passion for showing off their beautiful corner of the world to the masses. Book via my links!
---
Carmel, Monterey and Big Sur Full-Day Private Tour
"Discover the natural beauty of California at your own pace on a private 10-hour scenic tour of Carmel, Monterey and Big Sur from San Francisco. Journey along the 17-Mile Drive, see the Big Sur Bixby Creek Bridge, go to Point Lobos State Reserve and more."
https://www.getyourguide.com/san-francisco-l61/carmel-monterey-big-sur-private-tour-t43104/
Price: From $700 USD (10 hours)
Review: "Our entire day was exceptional. From being picked up right on time to the flexible, friendly and accommodating nature of our guide (Fred), we couldn't have asked for anything more. We loved that he showed us special neighborhoods, non-touristy spots for views, and even a bakery that was off the beaten path. He also helped us plan the rest of our trip with recommendations for what to see when, how to get there and where to eat. The PCH was beautiful and we felt very safe and cared for the entire way! We had some extra time, and we're surprised with a quick visit to Cupertino! Thanks for making it a great day, Fred!" – Tiffany, United States
View Photos, Read Reviews & Check Availability
---
Coastal Monterey guided eBike Tour
"On our electric fat-bikes, we wind our way along the rugged coastline and through thick cypress groves, stopping at all the amazing viewpoints. We'll share about our area's unique ocean wildlife and iconic landmarks…the Lone Cypress, Point Pinos Lighthouse, Lover's Point, Asilomar Beach, 17-Mile Drive."
https://www.airbnb.com/experiences/145115
Price: From $70 per person (3 hours)
Review: "My husband and 3 sons and I did a guided electric bike tour along the coast from Monterey to Carmel. It was a highlight of our trip up the coast. Bikes were easy to use, guide was great, knowledgeable and easy going. So much fun and highly recommended." – Emily
View Photos, Read Reviews & Check Availability
---
Sunset Catamaran Sailing Cruise
"The sunset cruise is an epic tie to be on the water in Monterey. Watch the sunset over the Pacific Ocean and the Monterey Peninsula as you enjoy complimentary wine and appetizers that include pita bread, hummus, salami, cheese, and grapes. First, we will enjoy a short harbor tour to see otters, sea lions, and seals. After exiting the harbor, we will set sail and enjoy a world class Monterey Bay sunset. Keep your eyes out for dolphins and whales! Although we cannot guarantee sightings, this longer trip allows more time to see some wildlife. We are excited to sail with you soon! -Capt. Paul"
https://www.airbnb.com/experiences/223438
Price: From $100 (1.5 hours)
Review: "An INCREDIBLE experience! No one else in my group showed so I had the whole cruise to myself. It was an absolutely magical trip, and one that I will NEVER forget! Extremely knowledgeable and friendly staff and smooth sailing. If you don't do this, you're an idiot." – Andy
View Photos, Read Reviews & Check Availability
---
Did I leave out any epic Big Sur glamping spots?
New and exciting glamping sites are popping up across the Big Sur region all the time, so if you have stayed at – or host – a top quality Big Sur glampsite and think it deserves a place on my list – reach out! You can find me on Facebook, Instagram and at my email!
---
Planning a trip to California?
You're in luck! I'm a born and bred Californian, so the Golden State is my jam and my blog reflects that! I have a ton of California content on my site, that spans the sunny locales of SoCal to the snowy peaks of NorCal. And if you need any insider tips on what to see and do on your vacation to California – feel free to reach out to me!
---
Final thoughts on glamping in Big Sur…
All I have to say is… I think I need to book a trip to glamp in Big Sur! I was so impressed by these top quality glampsites and I know you will be too. If you happen to stay at any of the 10 that made my list, let me know how it was and what the highlight of your coastal getaway was!
---
Thanks for reading about the best glamping in Big Sur!
Share this list with your road trip crew and start planning that sojourn under the stars.
https://www.jonesaroundtheworld.com/wp-content/uploads/2020/04/Glamping-In-Big-Sur.jpg.optimal.jpg
662
1000
Guest Contributor
https://www.jonesaroundtheworld.com/wp-content/uploads/2017/03/logotry-1-1-300x106.png
Guest Contributor
2020-04-20 18:31:17
2020-04-20 18:31:17
The 10 Best Destinations For Glamping In Big Sur, California | Big Sur Glamping Guide