Looking for the BEST Airbnb Savannah, GA rentals? Well, look no further, as I've put together the ultimate Savannah Airbnb guide filled with the city's best vacation rentals!
If you love going to new and unique places, then you definitely have to put Savannah at the top of your bucket list! The city's charm comes from the oak trees that dot the squares, cobblestoned blocks with striking antebellum mansions, historic churches, beautiful parks, and many more. It's romantic yet sinister, old but still charming. The city is simply never boring, and it never disappoints. Savannah is just different, and there's no better way to experience than staying in a wonderful Airbnb Savannah rental!
Savannah was founded in 1733 by General James Oglethorpe, making it the oldest city in Georgia, and therefore has a long, rich, and colorful history. Savannah is known for its rich history, scrumptious food, sweet Southern style, and more! However, the thing people notice most when they come here is the serene setting.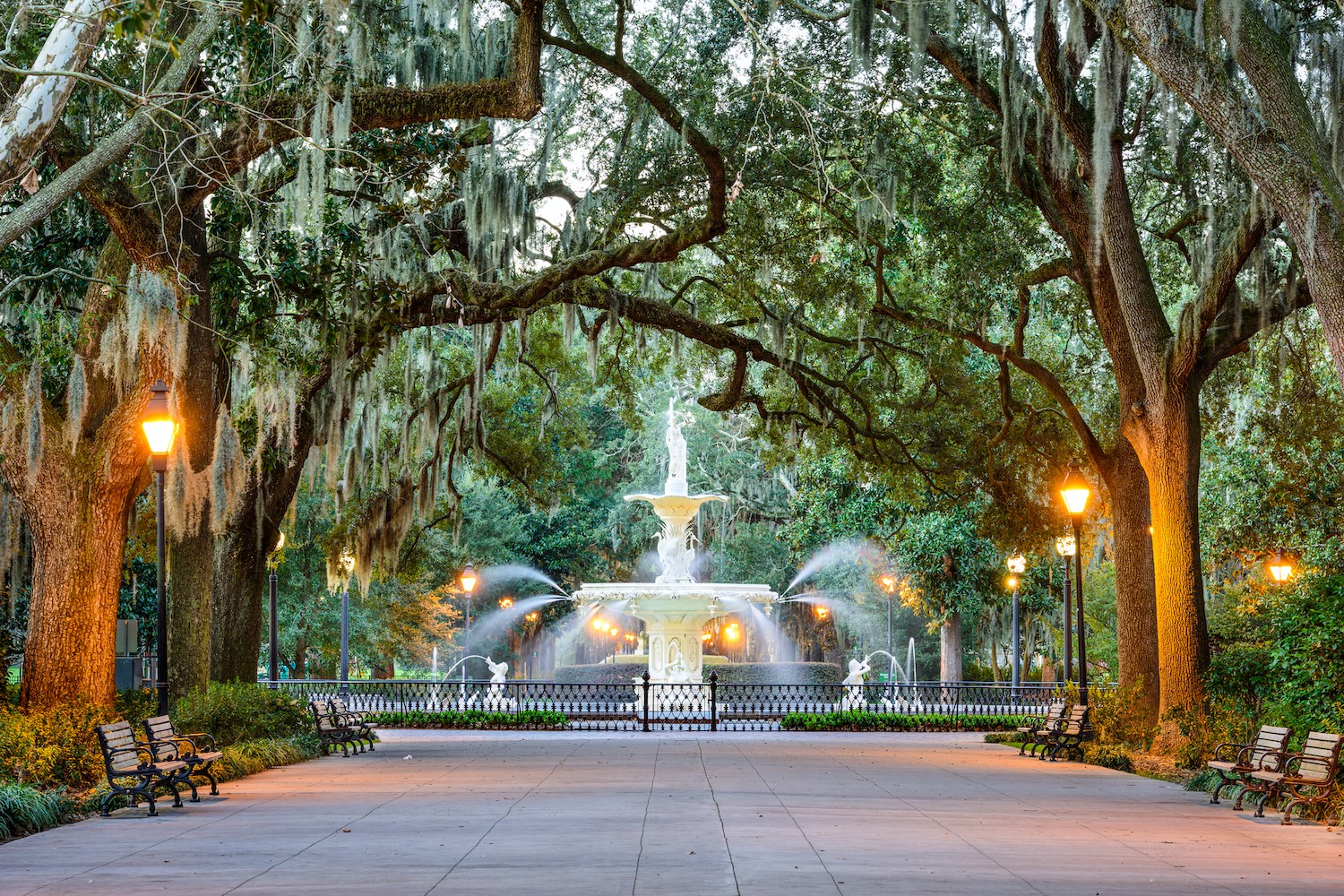 Fun fact: The movie Forrest Gump's famous scene where he sits on the bench and talks about his life and delivers the very famous phrase "Life is like a box of chocolates", is filmed in Savannah. Also, you definitely have to read the Midnight in the Garden of Good and Evil by John Berendt before you come to Savannah, the book will definitely add impact to your visit to the city!
I have listed 18 Airbnb properties to choose for your accommodation that will complete your Savannah trip. You don't have to look further because I have it here! Check it out.
---
QUICK BREAKDOWN OF SAVANNAH GA VACATION RENTALS
Before we jump to a long list of Airbnb properties that you could choose from, I have here my top 5 breakdown of all the "best" vacation rentals you might want to check in Savannah. From the best of the best to the cheapest and the most unique accommodation you can find, I have it all here! So, let's go check it out:
I've also added tons of fun and captivating travel videos on Savannah & Georgia, so be sure to watch a few of them to get tons of ideas on what to do there while you're visiting and staying at one of these amazing Airbnb rentals! Also, be sure to check out my guides on Glamping in Georgia, Airbnb Athens Georgia, Airbnb Myrtle Beach for more trip ideas in the future!
Note: Due to the closure if the Airbnb Associates program, some of the properties listed have been changed to other booking platforms (which can have lower rates and less cleaning/service fees!
---
1) Manor on Jones w/ 2 Parking Spaces
The Overall Best Savannah GA Rental
Price: $250+ USD per night
Settle into like a local with a stay in one of the city's famous manor homes. Located right in the heart of town, this stunning two bed/two bed was built way back in the 1800's, and features elegant yet homely interiors, A/C, modern amenities and exceptional views of the city. You'll love how close the manor is to some of Savannah's most famous sights, including Forsyth Park, Madison Square and Bull Street.
Guest Review: "My husband and I enjoyed staying here for our 10 year wedding anniversary. It's set in a perfect location on one of America's most beautiful streets. Decoration was exceptional!! We loved all the details, it provided and luxurious homey feel. Would definitely book again in the future." – Kelly
View Photos, Read Reviews & Check Availability
---
2) Wedding Cake Mansion on Monterey Sq. for Family Reunions, Retreats, Weddings
The Best Luxury Rental in Savannah, Georgia
Price: $1000+ USD per night
This luxurious "Wedding Cake Mansion" is one of the most famous homes in all of Savannah, and has features in a number of famous films shot in the city, including 'Midnight in the Garden of Good and Evil'. The eight bedroom sprawling home features enough space to sleep up to 20 and is located in the gorgeous Monterey Square historic district. Built in 1869, the home's interiors are palatial and elegant, and outside features an Italian marble fountain in the courtyard. This is also a fantastic location for a wedding or big reunion.
Guest Review: "Loved our stay! House is absolute luxury! Perfect for our large group of girls. The beds were so comfortable and I especially loved how the bedding smelled like fresh laundry. Felt right at home and knew I was sleeping in a clean bed. Would highly recommend." – Keri
View Photos, Read Reviews & Check Availability
---
3) Amazing Historic Home In The Heart Of LandMark District. Steps to Forsyth Park.
The Best Rentals in Savannah, Georgia For Groups
Price: $500+ USD per night
Built in 1870 and spanning 5000 square feet, this regal seven bedroom home is the place to host a group getaway – and will surely have something to impress everyone! A stone's throw away from Savannah's famous Forsyth Park on the upmarket Gaston Street, the historic home has been entirely restored and features period furniture, large communal areas, an open kitchen, balconies, a courtyard, a private carriage house and so much more. This is the best neighborhood to stay in to reach some of the best landmarks, restaurants, bars and gardens in Savannah on foot.
Guest Review: "Beautiful 19th century property. The house was in a great location near Forsythe Park and easily accommodated our party of 13 adults. We would certainly rent this property again if another Savannah trip is planned." – Robert
View Photos, Read Reviews & Check Availability
---
4) Stayloom's Breathtaking Luxe Carriage House with Pool
Airbnb Plus: No
Superhost: Yes
https://www.airbnb.com/rooms/37908345
Price: $99+ per night
Built from the ground up with your comfort at top of mind, this luxury carriage house is truly jaw-dropping! Featuring pine floors, exposed wooden beams, designer lighting, glass stair railings, and sunny skylights. The carriage house has a shared backyard and pool, and offers 2 elegant rooms with luxury decor and beddings, and marble bathrooms. Guests who enjoy cooking will especially love the chef's kitchen! The 3-floor house comes equipped with WiFi, washer/dryer and iron, towels and toiletries. Located in the historic Victorian District, in a safe and family-friendly neighborhood, it's close to Forsyth Park and the city's best bars and eateries.
Guest review: "The carriage house is beautiful, stylish, and immaculately clean, just like in the photos. We slept so well in the extremely comfy beds! Great amenities as advertised — excellent showers, good internet, Netflix, fully functional kitchen, etc. It's about a 15-20 minute walk to the center of the historic district, which was fine for us but you could also very easily use Uber if you preferred. We had a lovely weekend in Savannah and enjoyed coming home to a beautiful space each night." – Lauren
View Photos, Read Reviews & Check Availability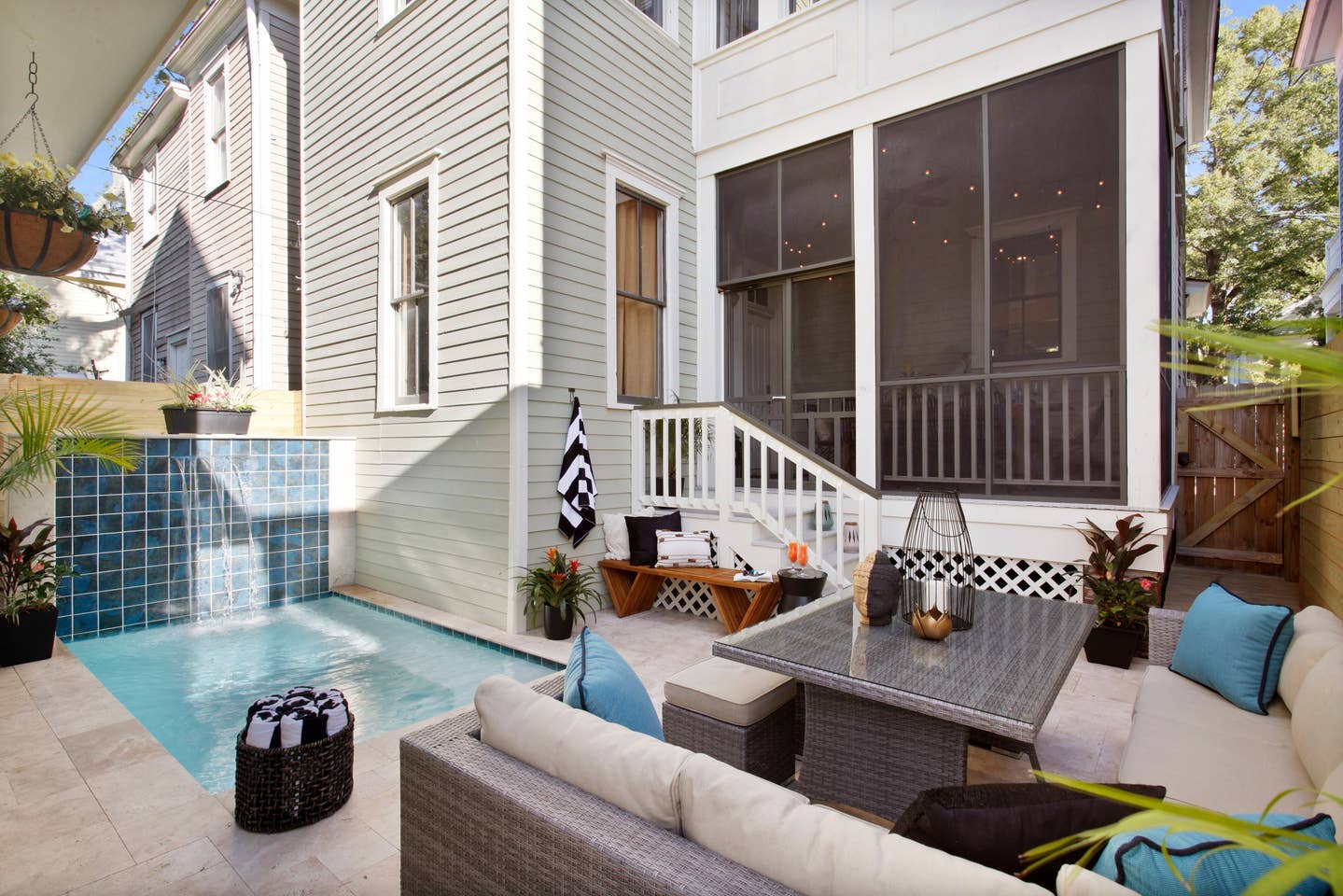 ---
5) Ellis Square Place – City Market Central -King Bed
Airbnb Plus: Yes
Superhost: Yes
https://www.airbnb.com/rooms/plus/16438425
Price: $145+ per night
"Luxury travel is about the experience, not just the appearance", but in Ellis Square Space, you get both. Just steps away from Ellis Square and City Market, this Deep South loft style flat is the "Best Luxury Airbnb Savannah"! The interiors of the flat are traditional and elegantly done, with modern appliances and a keypad entry. One highlight of this 100-year old warehouse space are the tall windows that let natural light in, making the flat airy and bright. The bedroom is comfortable, with a king bed that guests especially love and an en-suite bath with a jetted bathtub. Turn left from your front door and you are in the thick of the nightlife of Congress Street, turn right and you walk right into the boutiques on Broughton Street.
Guest review: "This place is amazing!!! The flat was so clean! Even the towels and linens smelled good. Everything was as described. The location is central to everything. The decor was so amazing, it made me want to go home and redecorate! Janet was amazing. She was accessible and responsive. She stayed in constant communication to see how we were or what else we needed. We will definitely be back!" – Lisa
View Photos, Read Reviews & Check Availability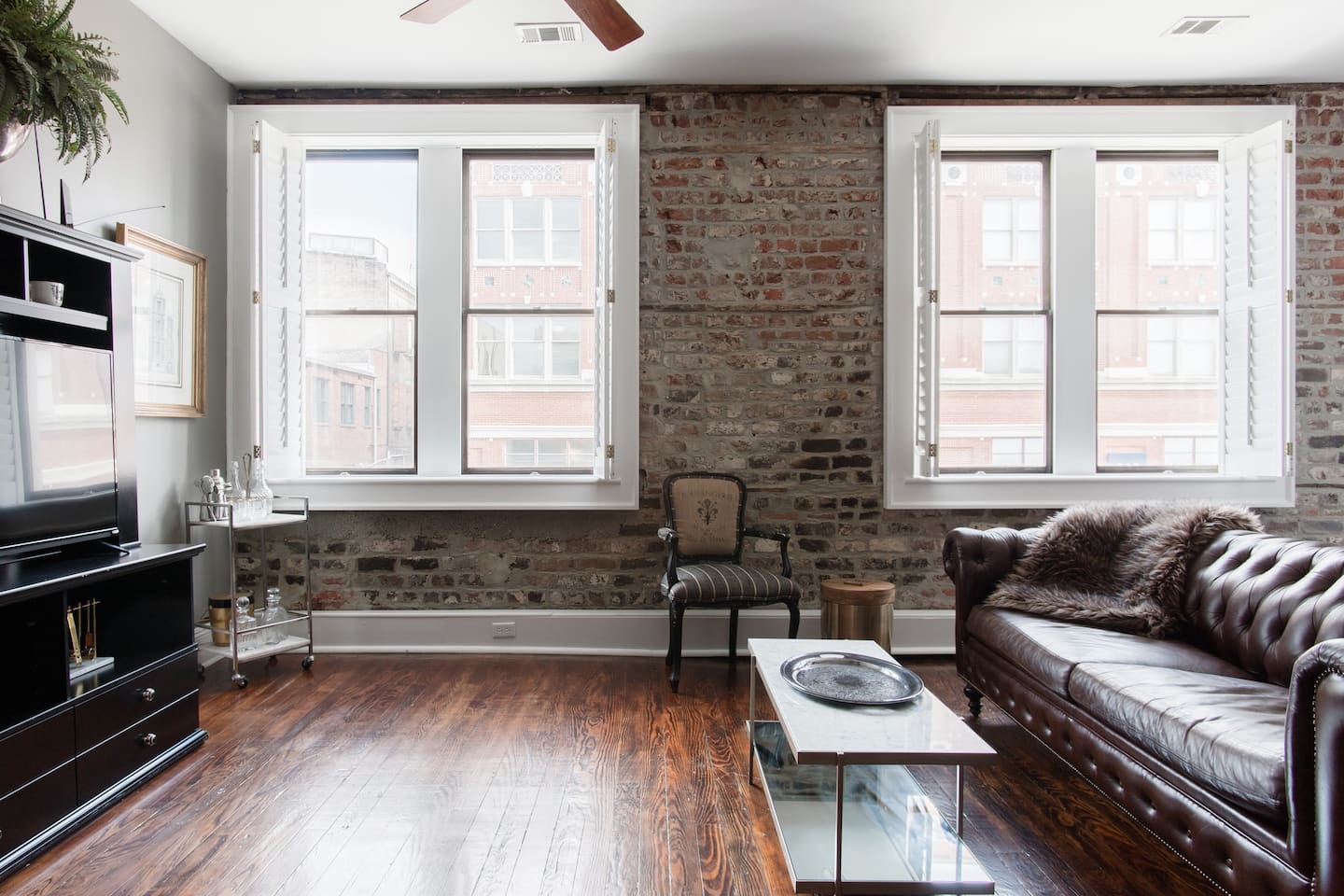 ---
6) Stayloom's Roomy, Restored Victorian Luxury Home
Airbnb Plus: Yes
Superhost: Yes
https://www.airbnb.com/rooms/plus/27466922
Price: $175+ per night
Whether you're traveling for a family reunion or a bachelor blowout, renting an Airbnb has its own perks, like the ability to cook if you want. Stay at "The Best Savannah Airbnb for Groups", a Victorian luxury home built in 1898 and remodeled to bring your group together. All the 4 rooms in the house showcase the architectural details from the original home that gives an undeniably homey atmosphere, with touches such as fireplace, high thread count linens and mattress, and unique decors and furnishings. The brick patio is a good spot for a relaxing afternoon chill. Located in the historic Victorian District, not too far from the attractions of the city.
Guest review: "Jay's place was perfect for my sisters bachelorette party. Space for all 12 of us to sleep comfortably and plenty of bathrooms. Everything was clean and ready for our stay. Easy check in and check out. Would highly recommend his place for anyone traveling in a group" – Kate
View Photos, Read Reviews & Check Availability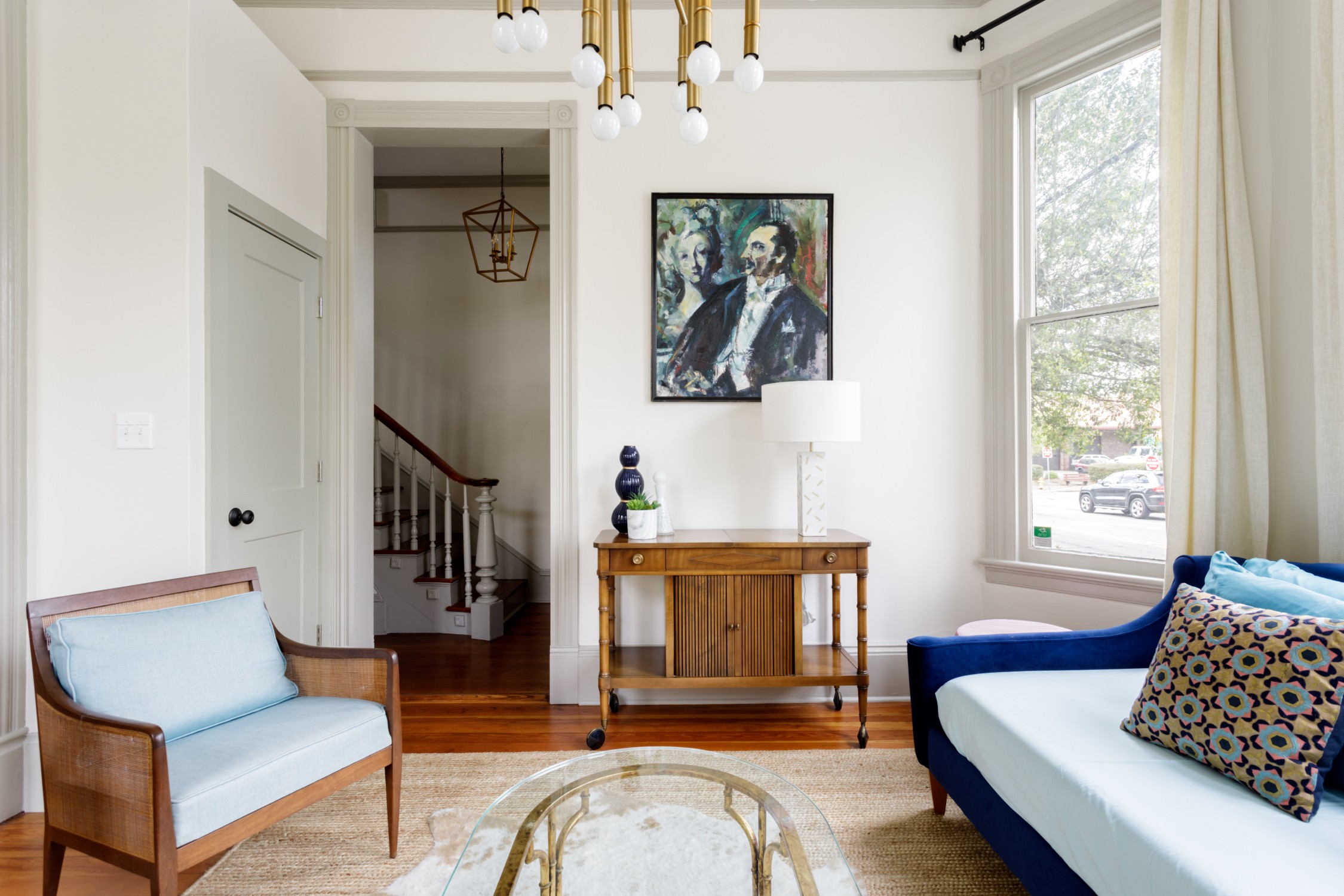 ---
7) YaYa's Cottage in Funky Thunderbolt Shrimping Village
The Best Cheap Savannah Airbnb
Airbnb Plus: Yes
Superhost: Yes
https://www.airbnb.com/rooms/plus/17888670
Price: $74+ per night
The world is full of affordable places to visit and also plenty of affordable Airbnbs that offer great value for money services to stay at! You can find one in Savannah – YaYa's cottage for only $70+ a night. This 3 bedroom cottage features a funky yet comfortable accommodation. There is a smart TV and DVD player in the living room, modern appliances complete the kitchen, and comfortable beds provide guests a good rest. There is a fully equipped private bathroom with soaking tub and shower and free toiletries.
Guests can enjoy glimpses of the river from the front porch swing and have picnics on the patio at the back of the house. Popular points of interest near the cottage that guests can check out: Wilmington River, marina, and seafood restaurants. You can also drive to Tybee Island which is only 15 minutes away from the cottage.
Guest review: "Laurie was the perfect host. This was exactly what I wanted to revisit Georgia, not just Savannah. Staying on Thunderbolt gives you the space to enjoy the weather and sights of this cute little Shrimp town. Love the history and the community. Walking distance to food and Adult beverage. The place made me feel so at home. Minutes from everything! Communication was great." – Pamela
View Photos, Read Reviews & Check Availability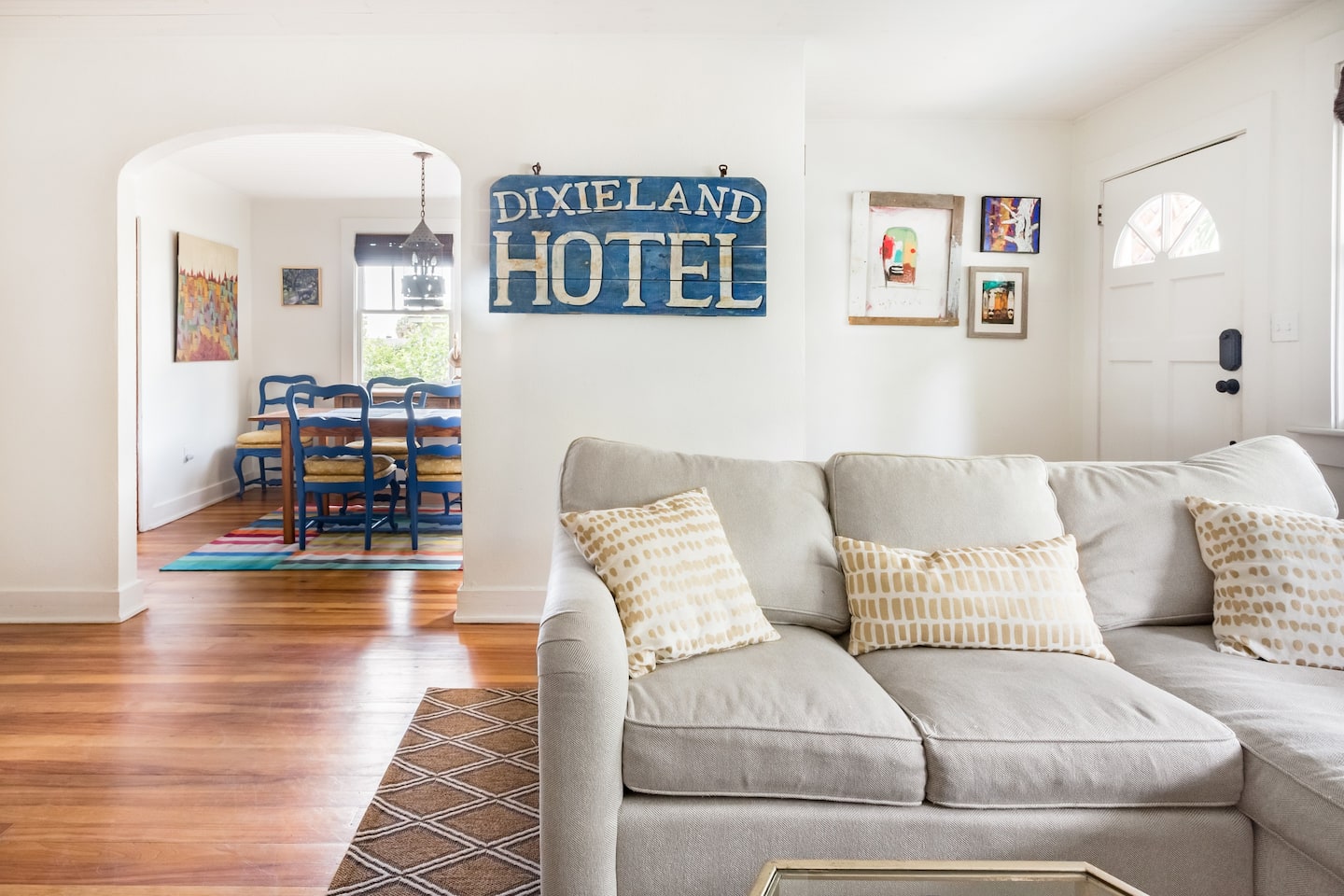 ---
8) Diamond Oaks Treehouse Skylight Suite
The Best Unique Savannah, GA Airbnb
Airbnb Plus: No
Superhost: Yes
https://www.airbnb.com/rooms/358111
Price: $135+ per night
You've got to experience and see "The Best Unique Airbnb Savannah", nestled in a historic fishing village you can find the Diamond Oaks Treehouse. This one-bedroom Airbnb has WiFi, smart TV, a reading nook, and a clawfoot bath. But the best part of the Diamond Oaks Treehouse is its skylights and views of the stars, whimsical oaks and priority access to an open-air treehouse. The room has a queen-size bed, decorated with vintage collections of fixtures, books, and many more. One big attraction of the home is the treehouse! Guests can also access and use bikes to explore the city. You'll know this is a good stay because the home was featured in several magazines like Savannah Magazine, South Magazine, Glamour, and This Old House.
Guest review: "Such an adorable place! We stayed in the skylight suite and enjoyed every minute of it. From the cute little touches like the record player to the awesome treehouse with the hammock and bed, everything was so well thought out. We will definitely be back!" – Shay
View Photos, Read Reviews & Check Availability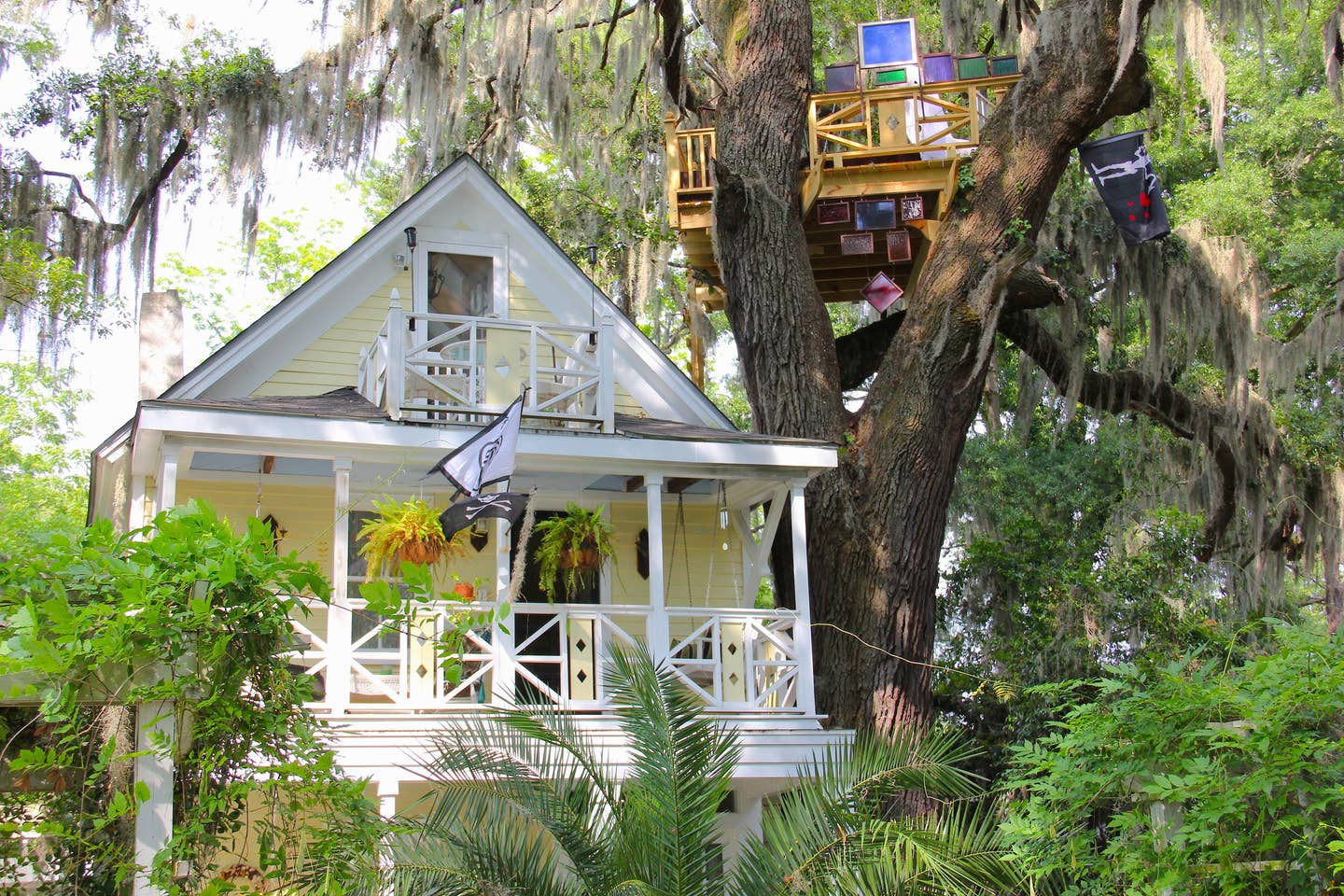 ---
9) Cabin Apartment in 1914 Carriage House Revision
Airbnb Plus: Yes
Superhost: Yes
https://www.airbnb.com/rooms/plus/528948
Price: $104+ per night
This cabin apartment is your private retreat in the city. The interior of the apartment is timeless, from the wrought iron bed frame and clawfoot tub to the brick fireplace in the open space living area. Designed with an open layout, the apartment gives the illusion of more space and the convenience to freely move around. Floor-to-ceiling windows let natural light in and allow guests to enjoy the view of the garden. The apartment features a working space, a full kitchen plus french press and complimentary breakfast treats, smart TV with Netflix app, and a private patio. Honeymooners will especially love this place!
Guest review: "The Carriage House was the perfect home base during our trip to Savannah. Richard was far and away one of the best Airbnb hosts we've stayed with. He went above and beyond in every facet of the trip in order to be accommodating and thoughtful. From providing in-unit amenities, activity and restaurant tips, parking support, bicycles for spinning around, and many other small gestures, Richard made our four-day visit a delight. Geographically, the house is in the heart of Savannah, with food, drink, and sightseeing accessible in every direction (walking!). We'd return to this property time and again and fully recommend it to other travelers." – Lauren
View Photos, Read Reviews & Check Availability
What to Do in Savannah, Ga. | 36 Hours Travel Videos | The New York Times
---
10) Modern Getaway in 1891 Victorian Off Forsyth
Airbnb Plus: Yes
Superhost: Yes
https://www.airbnb.com/rooms/plus/20959793
Price: $99+ per night
Offering a minimalist, elegant and functional accommodation, this 1891 Victorian house is located in the neighborhood of Forsyth Park. The newly renovated apartment features an exposed brick indoor fireplace, green velvet couch, a small kitchen, and a rocking chair on the porch. A walk-in bathroom with rain shower with accent patterned tiles is also a beautiful feature of the apartment. Guests can sit and relax on the rocking chair by the front porch while sipping a cup of hot coffee. Savannah city centre is only a 15-minute scenic walk from this beautiful Victorian home.
Guest review: "Loved staying here! The host went above and beyond to meet our needs on our stay. Would definitely stay here again! It was close driving distance to shops and food downtown and some options were close enough to walk. Be prepared this unit is on the third floor so does have quite a bit of stairs to get to the top, but all the natural light inside is worth it!" – Kirsty
View Photos, Read Reviews & Check Availability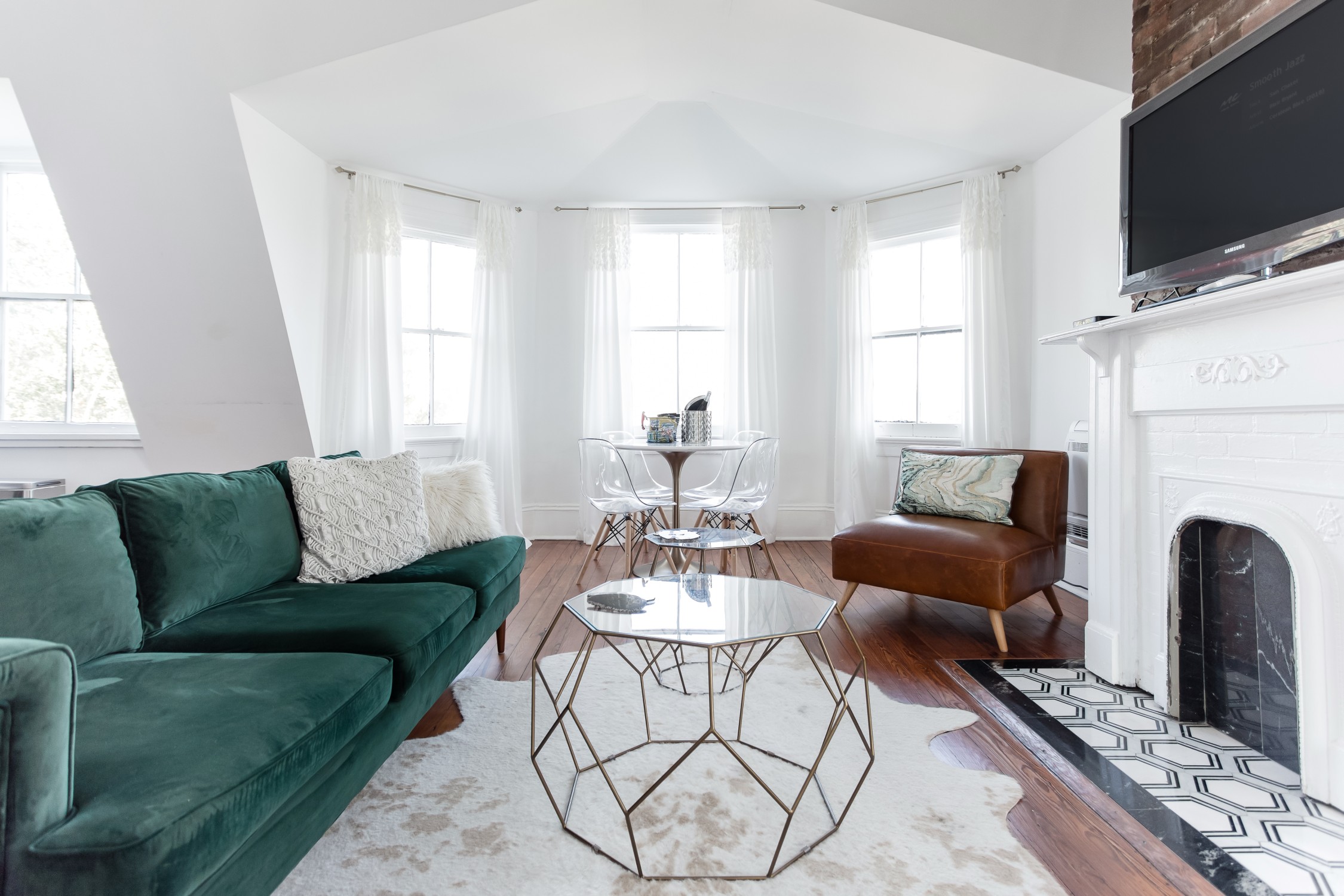 ---
11) Elegant Victorian Restoration Steps from Forsyth Park
Airbnb Plus: Yes
Superhost: Yes
https://www.airbnb.com/rooms/plus/24731566
Price: $99+ per night
This restored 1891 Victorian condo is an example of the Southern architecture that Savannah is famous for. Almost everything in this condo is new, except for the original fireplace in every area of the unit – the living area, the kitchen, and the bedroom. Elegant and luxurious decor and furniture complete the design of the space. The 2 bedrooms have a king bed and a four-poster queen bed with high-quality linens and mattress and seating area. Enjoy the complimentary wine and snacks from the hosts. It's a beautiful place, you'll never want to leave once you check-in!
Guest review: "My friends and I had a great stay here, we enjoyed every moment. The house is very beautiful and stylish. Sarah and Michael were so helpful and accommodating, we got in early and they allowed us to park and leave our bags inside the house so our belongings were safe. I couldn't have asked for a better place to stay for a little girls getaway trip!" – Caitlin
View Photos, Read Reviews & Check Availability
Visit Savannah - 5 Love & Hates of Savannah, Georgia
---
12) Bright and Sophisticated Home in Historic District
Airbnb Plus: Yes
Superhost: Yes
https://www.airbnb.com/rooms/plus/21837927
Price: $109+ per night
Located in a safe residential neighborhood right off Crawford Square, this bright and sophisticated 2-bedroom home is your retreat in Savannah. Many of the impressive features of the house – bright accent walls, quirky decors, and plush furnitures. Both bedrooms have en-suite bathrooms, room darkening shades, and cable TV. Guests can unwind and relax in the living room while the outdoor space is a good spot to end the night while sipping the complimentary wine provided by the hosts. Also, the home is close to everything: churches, the squares, restaurants and shops!
Guest review: "I LOVE It!!!! It looks just like the pictures. Even though the festival was canceled it was still fun and you really just a few blocks away from downtown. Sarah and Mike always respond to my questions and my concerns in a timely manner. We are definitely staying here next year for Savannah." – Michelle
View Photos, Read Reviews & Check Availability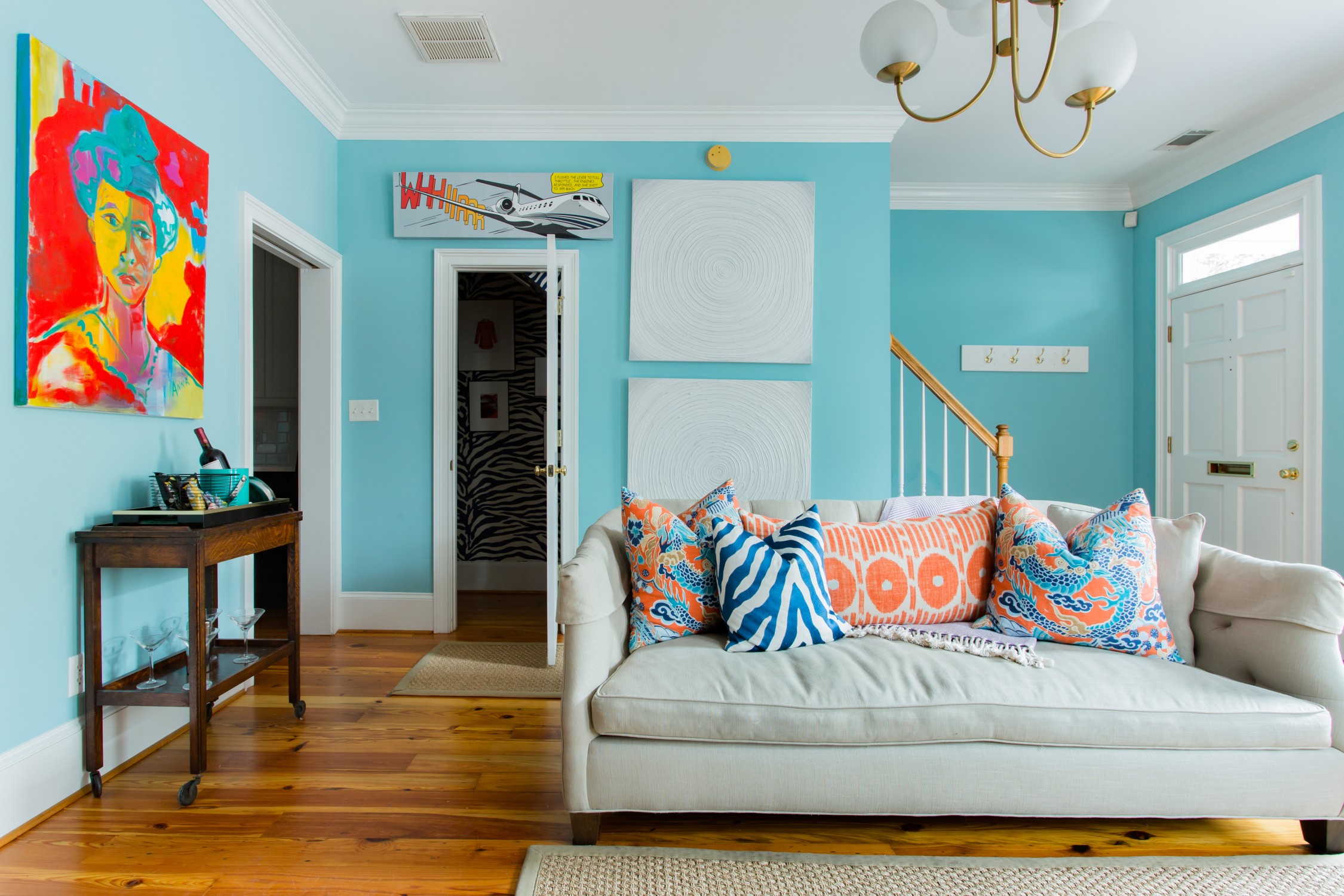 ---
13) Downtown Riverfront Condo With Industrial Accents
Airbnb Plus: Yes
Superhost: Yes
https://www.airbnb.com/rooms/plus/27057499
Price: $119+ per night
Located in a building from around 1840, this two bedroom condo has exposed brickwork, plank wood floors, exposed ceiling beams with an industrial look. The large windows let natural light in giving the home a bright ambiance, while the leather and dark brown colors of the furnitures gives the space an elegant and sophisticated look. The home is equipped with a living area, a TV, and a washer and dryer. Guests can walk along the Savannah River or stroll the neighborhood. Forsyth Park, The Cathedral of St. John the Baptist, and other attractions are only minutes away from the condo. You'll love it here!
Guest review: "Amazing Place!! We loved our stay here! Mike and Sarah were very helpful! One of the smoke alarms had a dead battery upon our arrival (because smoke alarms always have the worst timing) but Mike came over and fixed it very quickly and the rest of our stay was perfect! The place is stunning and in the perfect location for everything! It was super clean, the beds were comfy, and so was the living room furniture. We will be staying here again I'm sure!!" – Briana
View Photos, Read Reviews & Check Availability
10 best things to do in Savannah, Georgia
---
14) Savor the Romance of a Colorful, Historic Carriage House
Airbnb Plus: Yes
Superhost: Yes
https://www.airbnb.com/rooms/plus/26333047
Price: $99+ per night
This historic carriage house offers an adorable and romantic abode in the center of Savannah. Guests will be welcomed by the teal walls and coral armchair, and unique decors in the living room. The fun colors continue on the kitchen where you can see the accent furniture – an orange refrigerator and aqua blue microwave. Feel like a royalty in the king bed with a high-quality mattress, and then enjoy a warm bath in the soaking tub. Guests can also enjoy a BBQ night at the outdoor space of the property. You should check this Airbnb!
Guest review: "This location provided the perfect weekend getaway for my family and I. Everything was within walking distance, most importantly Forsyth Park for my son. The place was very clean, the decor was awesome, and it had all the amenities you could ask for in a stay. Sarah was very quick with responses while making booking and check-in/check-out as easy as possible. We would definitely stay here again!" – John
View Photos, Read Reviews & Check Availability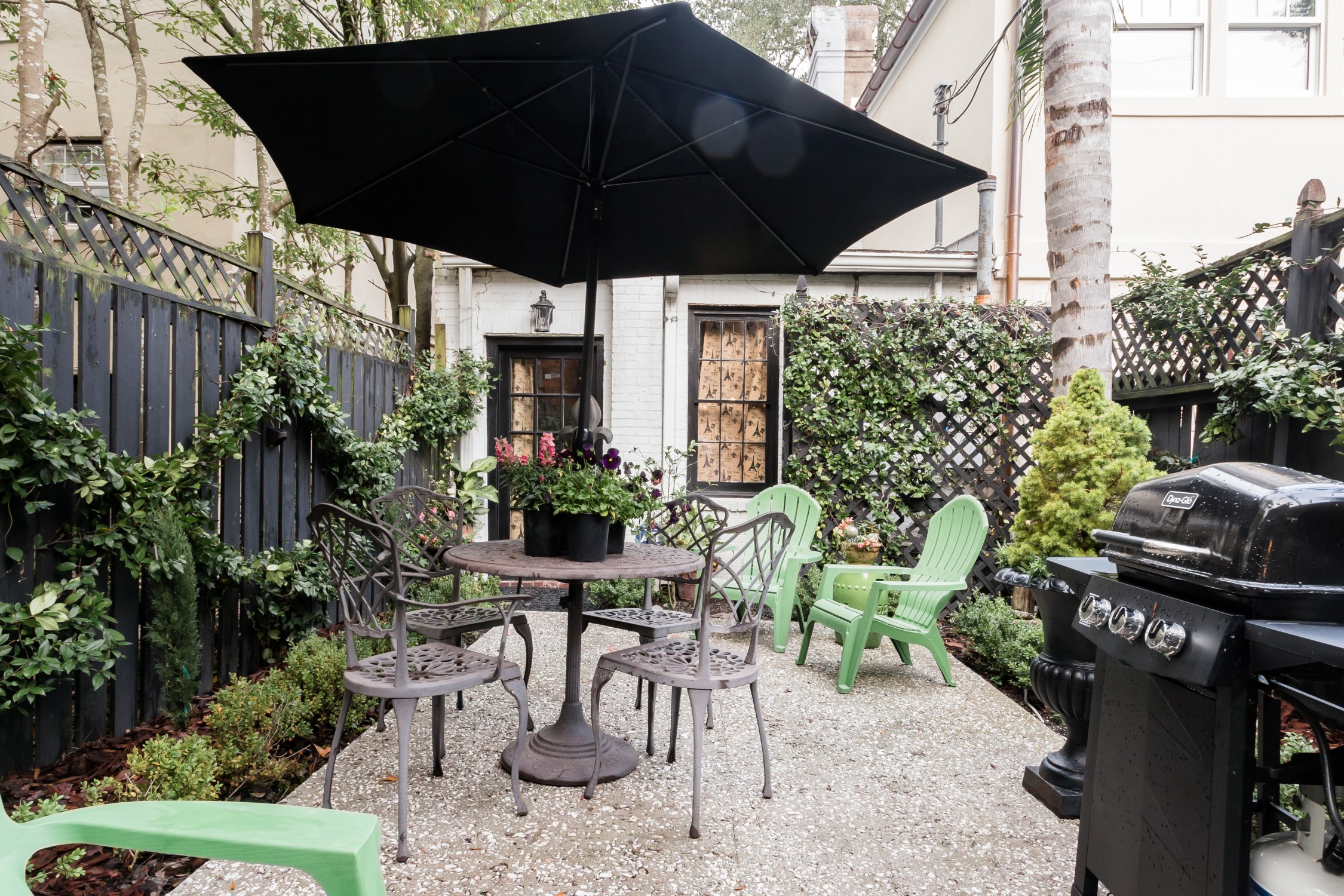 ---
15)
Garden Unit in 1850's Townhome, Steps from Forsyth Park
Airbnb Plus: Yes
Superhost: Yes
https://www.airbnb.com/rooms/plus/22600110
Price: $135+ per night
Situated in historic Chatam Square, this garden unit in a 1850's townhome features a brickwood wall and floors and an outdoor courtyard. Razzia Louis Vutton posters are lined up by the wall in the dining room, while the royal blue armchairs complete the eclectic mood in the living room. The full kitchen is furnished with steel appliances, cupboards are painted blue and the gold cabinet handles are an elegant addition to the interior. A cable TV, washer and dryer, hair dryer, and keypad entry adds comfort for the guests staying in this beautiful Airbnb. The townhome is close to the Forsyth Park and museums and historic sites, as well as restaurants, grocery stores, and shops.
Guest review: "Not to pile on to other reviews – but this is a MUST STAY! Super convenient location – just a short 10 minute walk into downtown. Enjoy the walk as you stroll through the gorgeous various squares and take in the beautiful architecture. Right near the popular Forsyth Park for morning walks / runs. Check-in and checkout were super easy. 5 stars!" – Derek
View Photos, Read Reviews & Check Availability
24 Hours in SAVANNAH, USA | Little Grey Box
---
16) Seclusion and Privacy in Broughton Street Penthouse
Airbnb Plus: Yes
Superhost: Yes
https://www.airbnb.com/rooms/plus/8114396
Price: $85+ per night
This rooftop condo in Broughton Street features an open layout living and kitchen area, industrial interior, and a splash of vintage decor here and there. Guests can enjoy a view of the Savannah and Talmadge bridge from the rooms. A dual coffee maker is available for your coffee fix and the double headed shower will surely relax your sore muscles after a long day of touring the city. You can visit museums, bars and coffee shops, and other local attractions in the city. The best local recommendations you shouldn't miss are: The Ordinary Pub, Alligator Soul, and Alley Cat Lounge.
Guest review: "Fantastic Airbnb, definitely memorable and made our stay in Savannah that much better! Sarah and her husband went above and beyond with their communications and recommendations making it super easy to enjoy Savannah! And the place is beautiful and comfortable and the location is fantastic. Easy recommendation and would definitely return." – Adam
View Photos, Read Reviews & Check Availability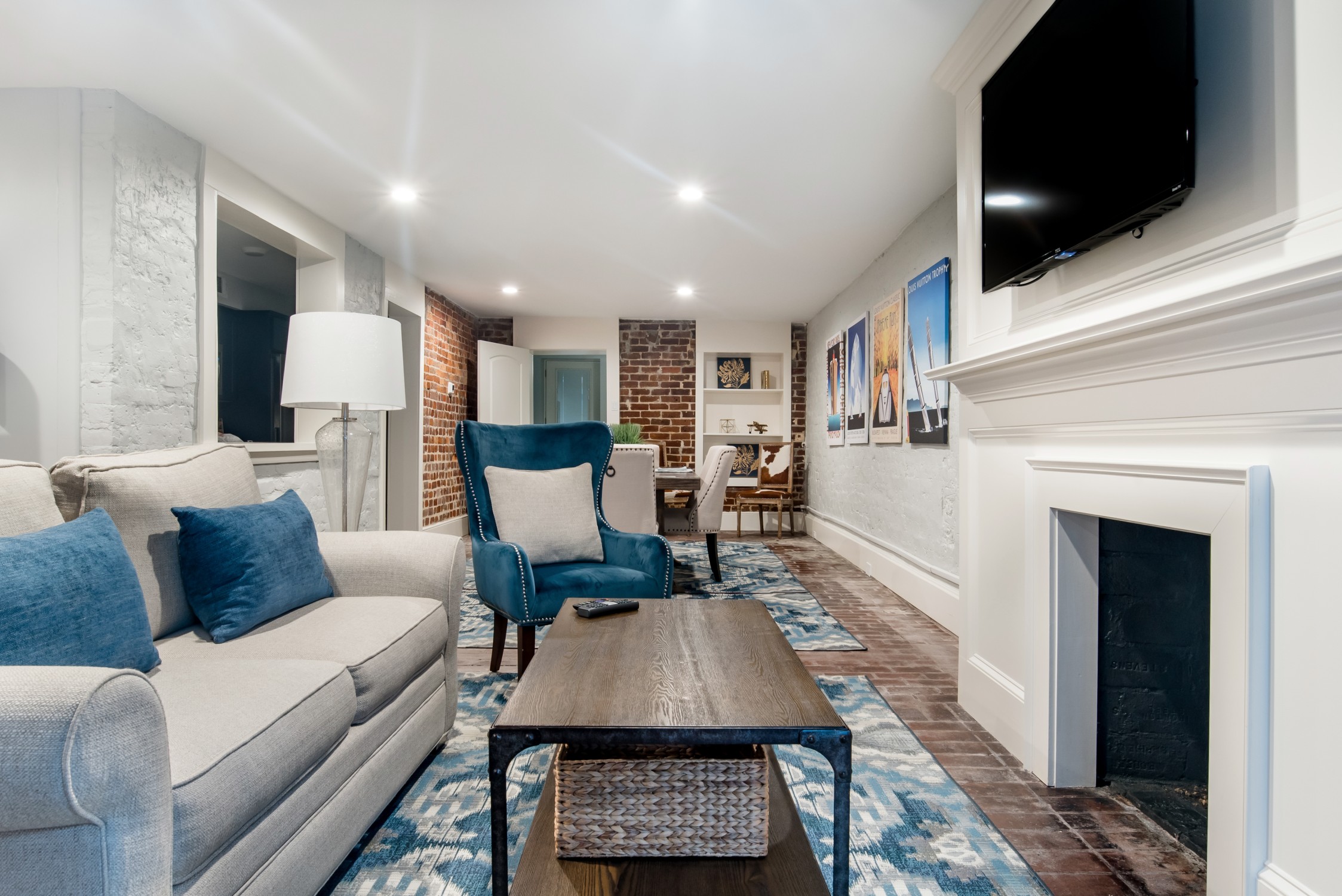 ---
17) Downtown Garden Home in Federal-Style Rowhouse With Parking
Airbnb Plus: Yes
Superhost: Yes
https://www.airbnb.com/rooms/plus/30064236
Price: $95+ per night
Close to everything, from the squares to the churches, parks, shops and restaurants. This garden home is your "home away from home" in Savannah. Offering an open space kitchen, dining and living area with minimalist and clean interior. You immediately feel comfortable and relaxed upon entering. The unit is complete with a full kitchen, living area with smart TV and good sound system, washer and dryer, and even a hammock by the patio area. The bedroom features Brooklinen percale sheets on Tuft & Needle memory foam mattress. What more could you ask for?
Guest review: "Fabulous Apartment! So close to everything, walked everywhere! The apartment is full of modern features such as Nest, (Hidden by Airbnb) Home, keyless entry, automatic night lights etc. The Brooklinen bed linens were a lovely touch! I had such a short stay but would love to return and stay again! 5 stars!" – Lynda
View Photos, Read Reviews & Check Availability
Best Places To Eat In Savannah - What America Eats - Visit Savannah
---
18) Hotel Comfy. Ace Location. Instaworthy Decor
Airbnb Plus: Yes
Superhost: Yes
https://www.airbnb.com/rooms/plus/23041474
Price: $85+ per night
This mid-century modern home is one of the most chic and fun Airbnb you can find in Savannah. The apartment is decorated with colorful, vibrant pictures and artefacts. Complete with a TV, 2-door refrigerator, burner stove, and washer and dryer to make your stay comfortable. You will surely enjoy a smores night with the fire pit with plenty of seating in the backyard. Set in the midst of the Victorian District, the apartment is just a few blocks away from leafy Forsyth Park. Guests can easily walk to coffee shops, restaurants and other city attractions.
Guest review: "Everything was wonderful. This beautiful apartment really earned the badge plus. It felt like there were some very intentional little touches placed throughout to make it feel special. Can't wait to stay here again!" – Christian
View Photos, Read Reviews & Check Availability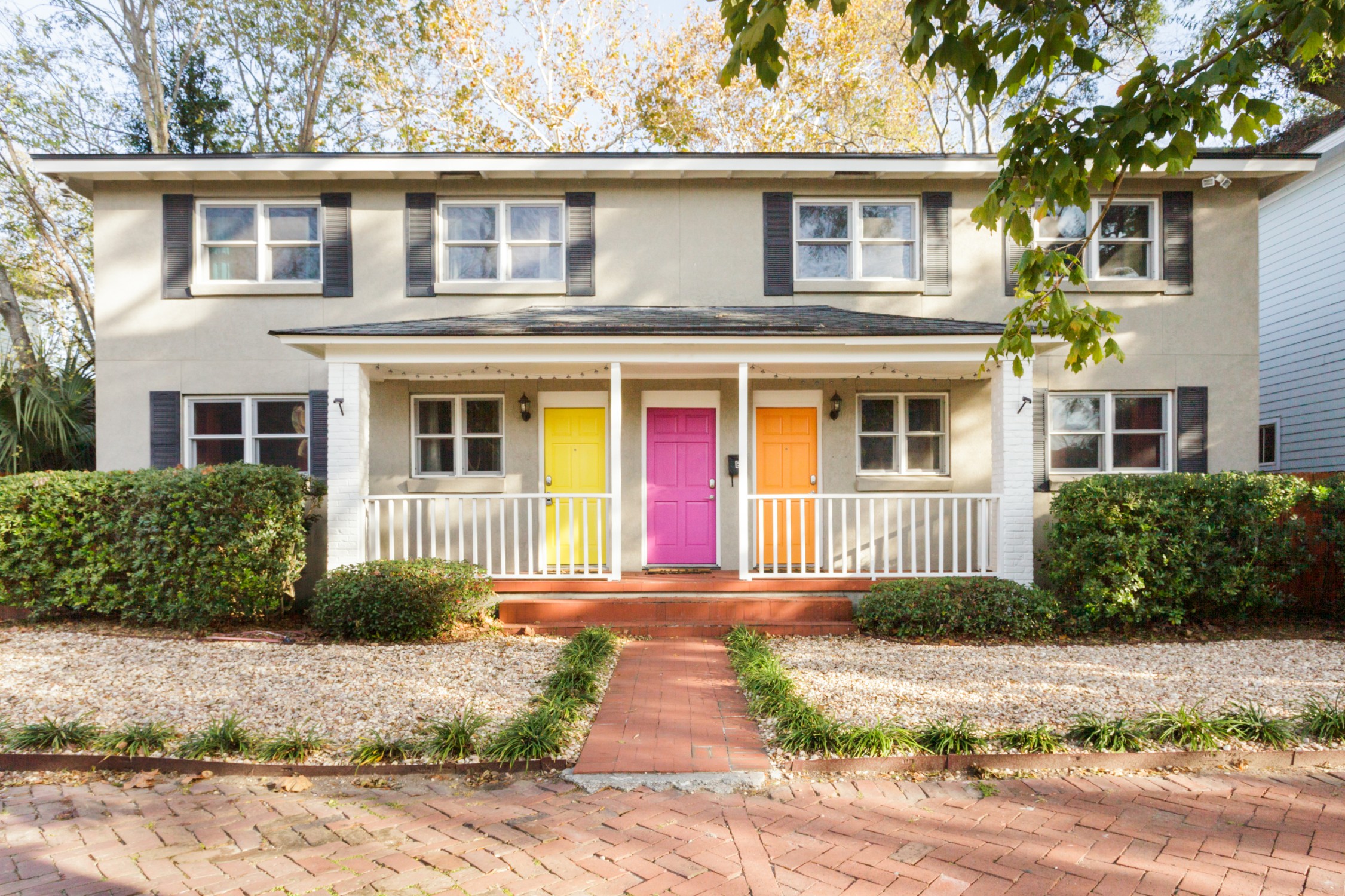 ---
19) Rosemary Suite in the Vintage Mirabelle Building
Airbnb Plus: Yes
Superhost: Yes
https://www.airbnb.com/rooms/plus/34831562
Price: $106+ per night
You'll love a quiet afternoon reading your favorite book or just people watching by the sunny bay window. Rosemary Suite is a Victorian home from 1888, renovated to provide a Savannah experience to every visitor. The original brick hearth stands out in the all white living area. The unit has a kitchenette with a small fridge, microwave oven, and a coffee maker; there's a cable TV in the living room and bedroom, and the bathroom has a walk-in shower. Guests can walk to downtown Savannah and experience the beautiful scenes of the city.
Guest review: "Stayed here for a weekend getaway and it was perfect. The location was great, it was walking distance from pretty much everything and we didn't have to drive anywhere! The bed was comfortable and the place was clean. Next time we visit Savannah we will definitely stay here again!" – Alyssa
View Photos, Read Reviews & Check Availability
Savannah Taste Experience Food Tour | Travel Channel
---
20) King Suite ✦ Top Floor ✦ Downtown Boutique Hotel ✦
Airbnb Plus: No
Superhost: Yes
https://www.airbnb.com/rooms/38752135
Price: $111+ per night
This boutique hotel – The Present offers a penthouse Airbnb that you'll love! The suite is set in a historical estate located in Crawford Square, Savannah. The penthouse has its own private entrance, decorated and styled with luxurious and designer furnishings. The suite features a king bed with plush velvet headboard and an open-concept bathroom. There's also an outdoor patio where guests can meet and hangout with other hotel guests. Guests can easily walk to restaurants, bars, fitness centers, and parks, and as so is to downtown Savannah and Savannah River. If you're looking for a quiet place, you should book the penthouse in The Present.
Guest review: "We LOVED staying at The Present! Communication to the hosts was so fast, and they answered all of our questions in minutes. Super clean and modern with historic touches, super fast WiFi, quiet location, and about a 15 minute walk from the historic district… We can't wait for our next trip!" – Jessie
View Photos, Read Reviews & Check Availability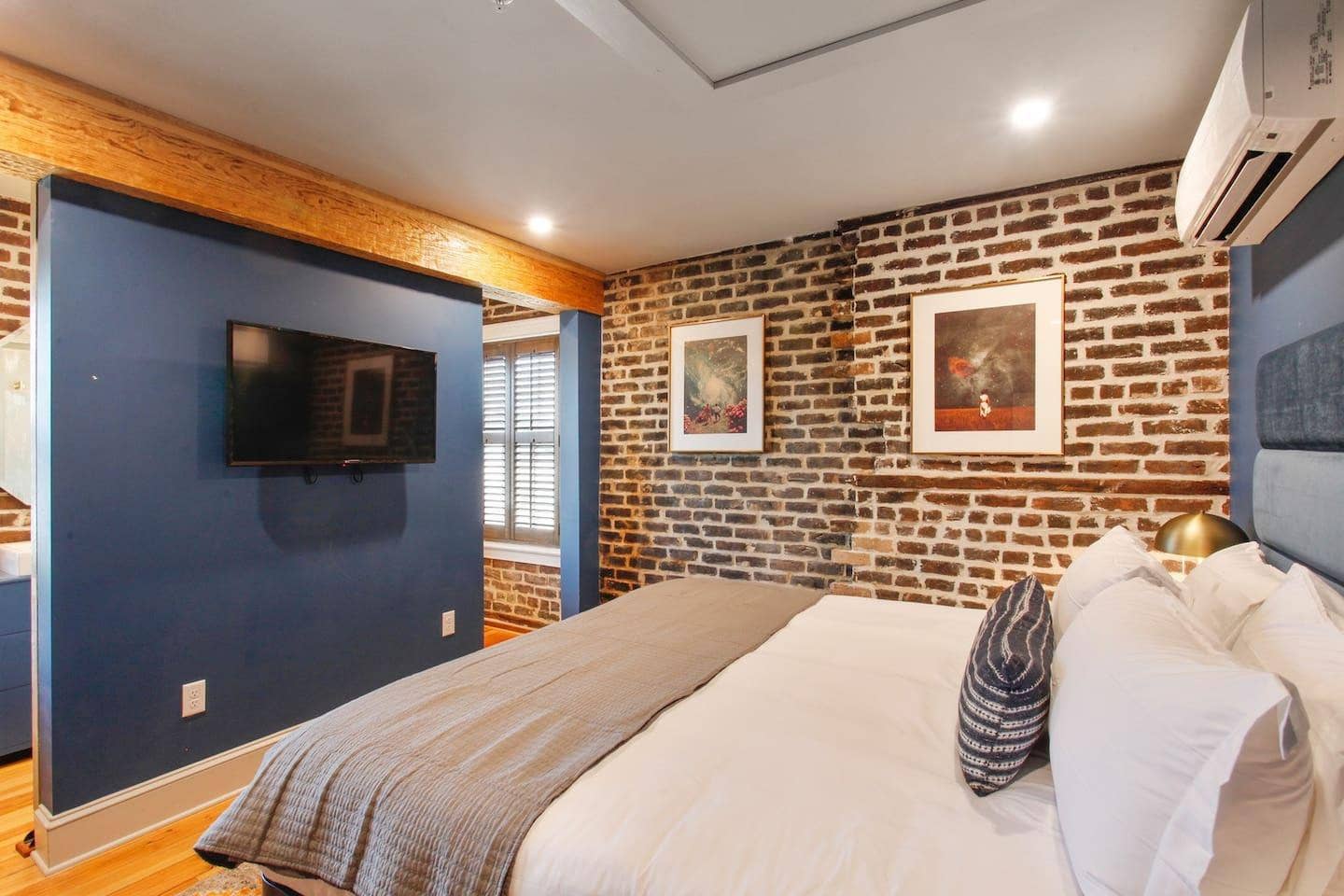 ---
21) Garden Suite at Forsyth Park-One Level, Courtyard, Parking
Airbnb Plus: Yes
Superhost: Yes
https://www.airbnb.com/rooms/plus/16083674
Price: $203+ per night
This mid-century home with 12-foot ceilings, heart pine floors and stylish and vintage furnishings is a beautiful experience you can have in Savannah. The house features a retro living area with a cable TV, enough seating, and vintage decors. The bedroom is a place where you can drift to sleep and wake up with an exciting new day in the city. While the chandelier in the kitchen adds to the charm of the area, the private deck and courtyard is such a relaxing place. Indeed, a beautiful and relaxing place to stay in Savannah.
Guest review: "This place was a very beautiful, relaxing place to stay. It was very clean, spacious, had excellent decor, and had everything that you would need while on vacation. It was located in a great location and was very close to Forsyth Park. We enjoyed our stay and are looking forward to visiting again." – Brittany
View Photos, Read Reviews & Check Availability
Top 10 Things to do in Savannah
---
Top-Rated Savannah Airbnb Experiences
Looking to add some fun activities during your time in Savannah? Check out these incredible and highly-recommended Airbnb Experiences in Savannah, Georgia!
---
Spanish Moss Savannah Haunted Pub Crawl
"After ordering drinks, learn about the hauntings of historic Tondee's Tavern, Factor's Walk, the old cotton warehouse that is today the Bayou Cafe (watch out for Jacob). Next, we will tackle some great Savannah mysteries and visit the famous OLD PINK HOUSE still haunted by James Habersham Sr. & Jr. Lastly, meet Charlie, the resident ghost of the East Bay Inn over craft cocktails from Tandem Coffee & Spirits."
https://www.airbnb.com/experiences/792596
Price: $20 per person (21+ Only)
Guest review: "Absolutely loved the tour. It was a beautiful night in Savannah and Nick's storytelling was entertaining, informative, and so much fun. He introduced us to places in Savannah I would not have known about or explored. An absolutely fun night."
View Photos, Read Reviews & Check Availability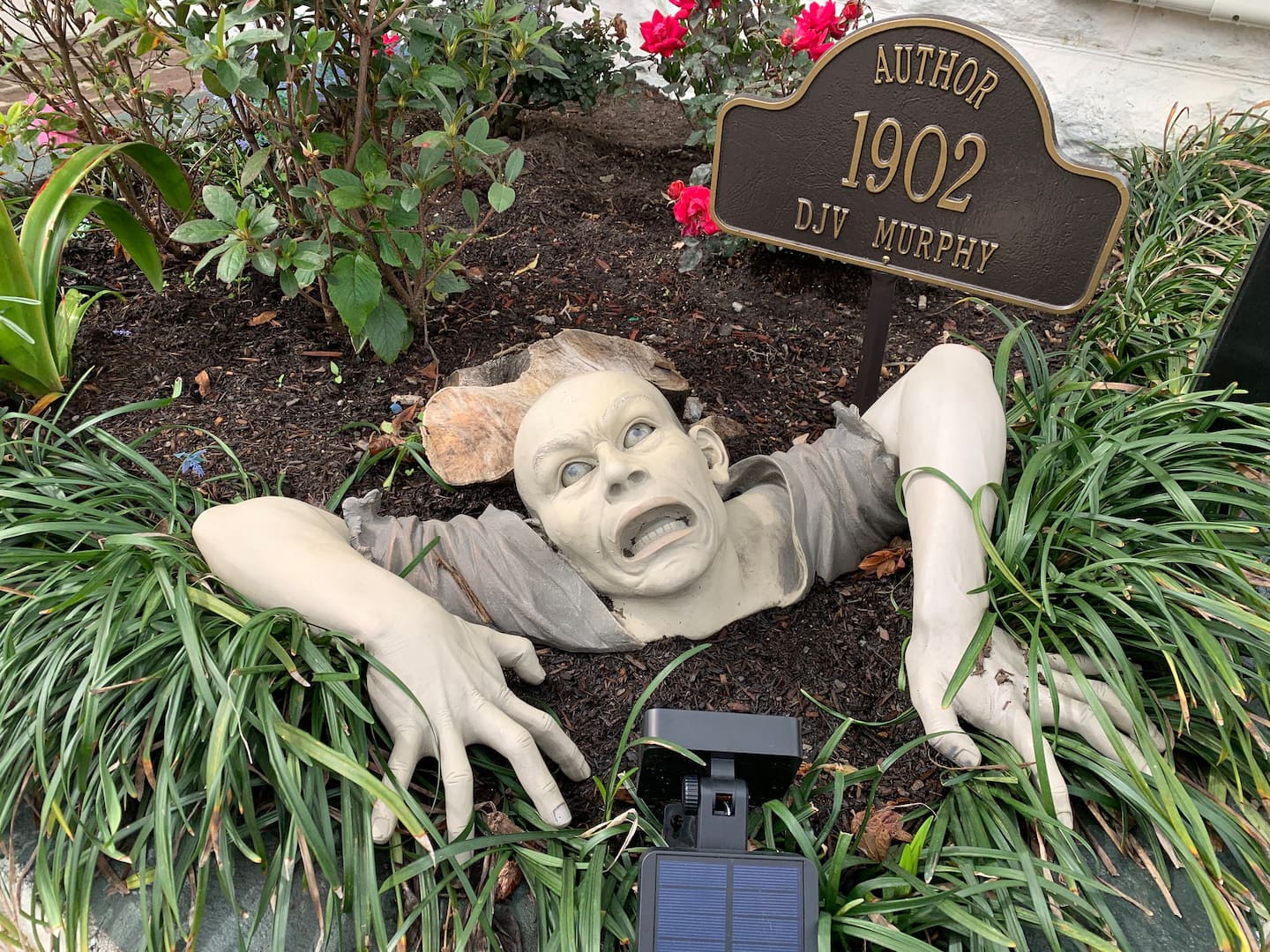 ---
Sailing in Savannah
"You can sit back and relax or learn how to sail and take control under the guidance of your knowledgeable and friendly captain. While I can't guarantee dolphins, gorgeous sunsets, or new friends, the odds are certainly in our favor. The wind will fill the sails and gently push us along as you get great views of the islands and marshes that make the Lowcountry so beautiful. This is truly a unique experience that will get you off the beaten path and give you a taste of Savannah from a local's perspective!"
https://www.airbnb.com/experiences/728960
Price: $75+ per person
Guest review: "This was an amazing experience. Andrew and Becca were so kind, great sailors, so welcoming and made it a day we would never forget! This is a must-do in Savannah!"
View Photos, Read Reviews & Check Availability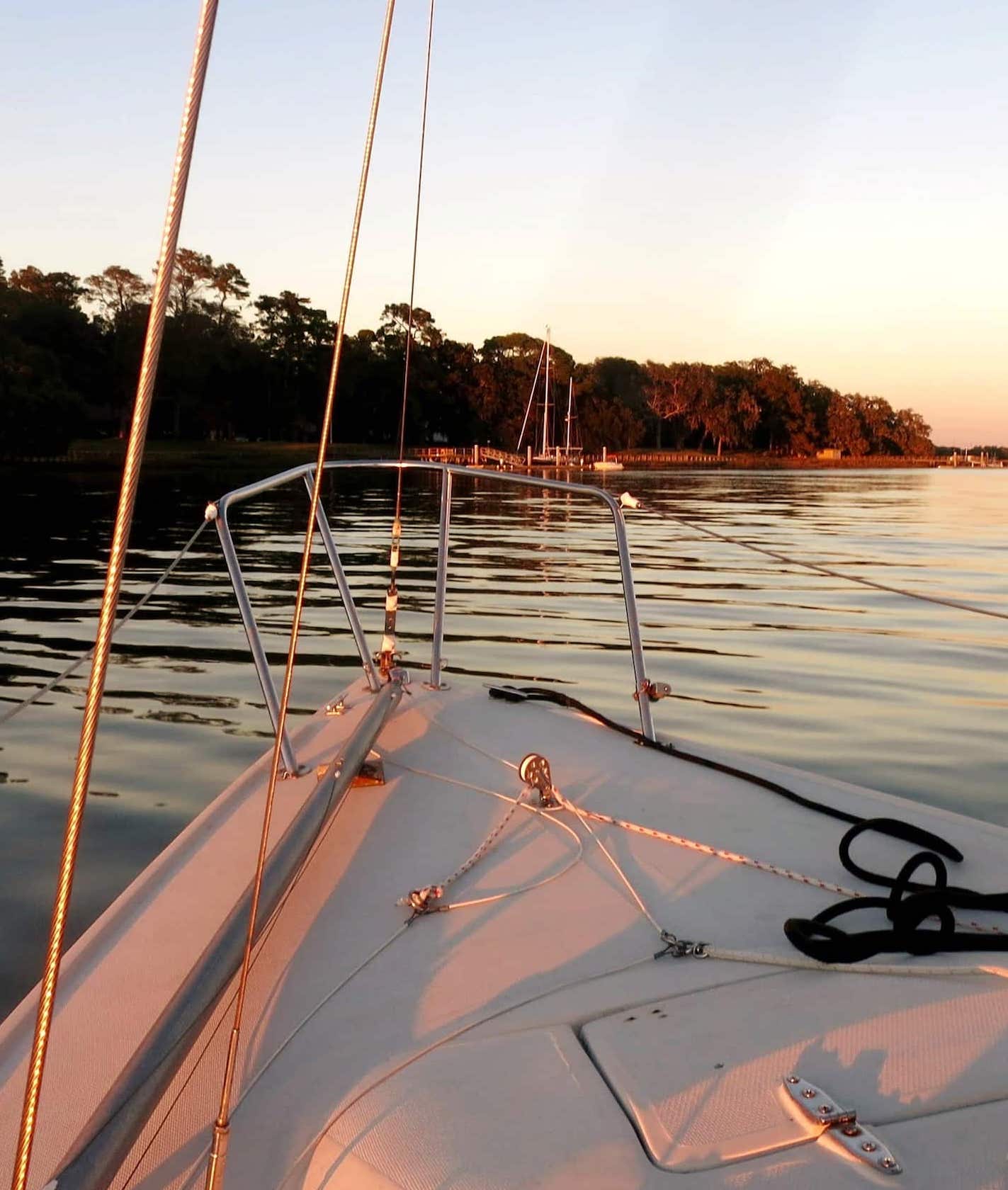 ---
SAVANNAH, GEORGIA TOURS & DAY TRIPS TO CONSIDER BOOKING
Hop-On Hop-Off Trolley Tour of Savannah Old Town
See the best of Savannah with a full-day ticket to the Old Town Trolley Tour. Hear humorous tales and learn fun facts from hometown conductor guides. Hop-off at 14 different stops to explore more than 100 city attractions.
https://www.getyourguide.com/savannah-l1098/savannah-old-town-trolley-hop-on-tour-1-day-ticket-t15350/
Price: $ 35+ (1-2 days)
Guest review: "Easy to use mobile tickets. Great directions to boarding site. Did the tour all the way through first then the second time got off and on at our spots of interest. Loved the city with it's grand houses, historic parks, and live oak trees with spanish moss. Our guides were very courteous and knowledgeable." – Dianne, United States
View Photos, Read Reviews & Check Availability
Savannah Tours Voted #1 | See The Best First With Old Town Trolley
---
Savannah: Famous and Secret East Side Food Tour
Chow down on award-winning food without having to wait in line like the rest of Savannah. You'll take a stroll through the more residential area of Savannah's Historic District learning both the secret spots and the secret tastes at famous spots.
https://www.getyourguide.com/savannah-l1098/savannah-famous-and-secret-east-side-food-tour-t88427/
Price: $ 56+ (3 hours)
Guest review: "Country was our guide and she did an excellent job. She injected a lot of humor along with information about Savannah. The six places we visited were excellent. I have been to Savannah many times and these restaurants were in some out of the way places that I would have never visited had it not been for the tour. There was a lot of food served, more than I usually eat for lunch, but all was delicious. Grab a friend or spouse and take the tour for an enjoyable experience." – Georgann, United States
View Photos, Read Reviews & Check Availability
---
Savannah: 2-Hour Paranormal Mystery Tour with Psychic
Take an out-of-the-ordinary tour and go in search of spirits. See what's waiting for you around every corner and in every square of Savannah. Pick up insights into the city's paranormal activity from a real psychic.
https://www.getyourguide.com/savannah-l1098/savannah-2-hour-paranormal-mystery-tour-with-psychic-t312338/
Price: $25 (2 hours)
Guest review: "Have an open mind, and just have fun with the tour. Lots of history being told. Even if you have no interest in the Paranormal/Ghost part of the tour. You still learn interesting facts about Savannah's history. My sister and I enjoyed the tour. Our guide Willow was organized and informative. The tour was not "Cheesy", it was meant to inform not entertain." – Anonymous, United States
View Photos, Read Reviews & Check Availability
A Haunted Tour of Savannah, Georgia | Travel Channel
---
Am I Missing Any Amazing Airbnb Savannah, Georgia Rentals?
While compiling this list, we really did find an incredible amount of amazing vacation properties available in Savannah! So if you think I'm missing a top Savannah Airbnb that should be included on this list, please do let me know! Or if you're a new Savannah Airbnb host and would like to be featured on this list, please get in touch! I'd love to take a look at your listing!
See Inside TLC Star Genevieve Gorder's Newly Renovated Savannah Airbnb
---
Looking for some travel inspiration?
Browse a couple more of my top articles on this awesome country! I've got a wide range of other great U.S.A blogs, city guides, music festival lists and AirBNB breakdowns to help you plan your dream American road trip.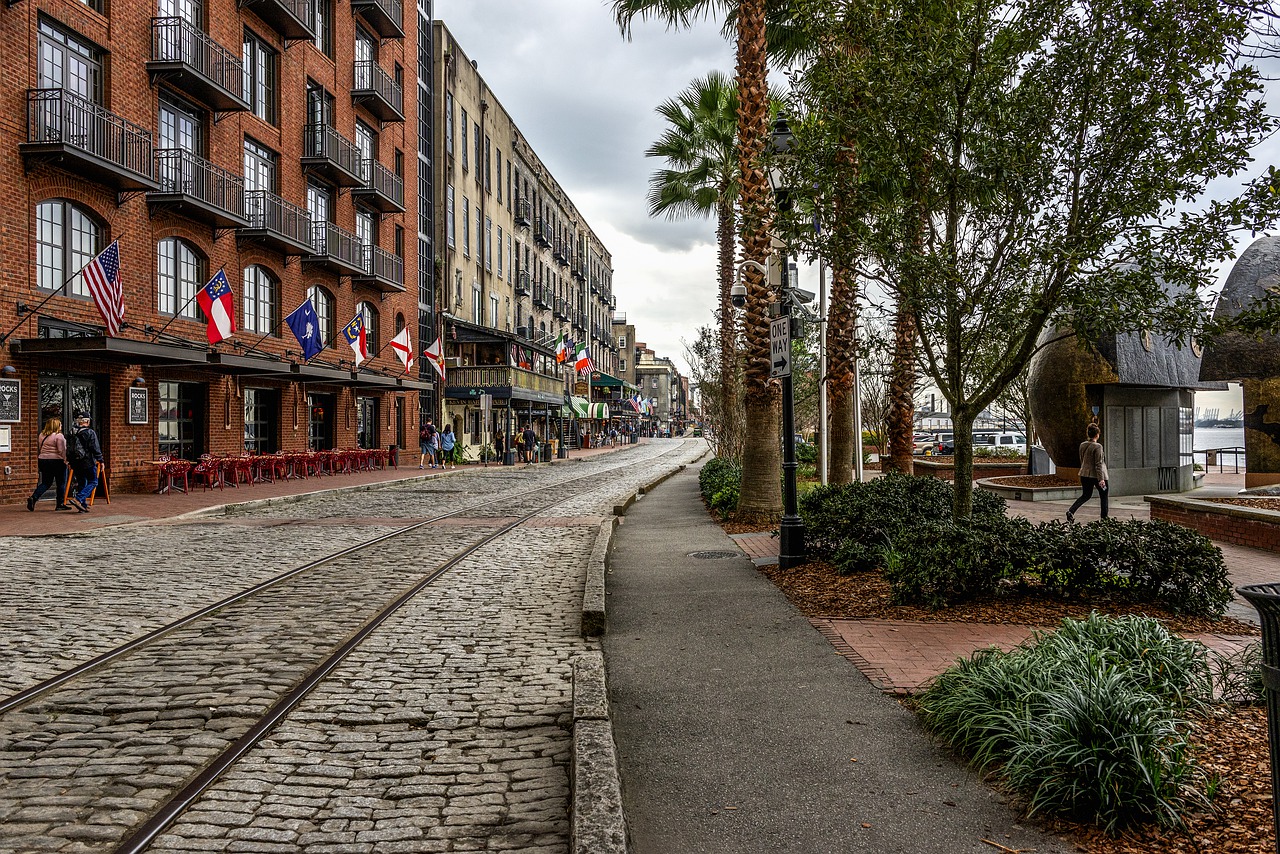 ---
Thanks for reading my Airbnb Savannah Guide!
Share these Airbnbs in Savannah with your Georgia travel crew!
https://www.jonesaroundtheworld.com/wp-content/uploads/2020/04/AIRBNBS-IN-SAVANNAH-GEORGIA.jpg
1000
1500
Dave
https://www.jonesaroundtheworld.com/wp-content/uploads/2017/03/logotry-1-1-300x106.png
Dave
2020-10-13 18:09:51
2021-04-17 19:24:46
The 21 Coolest & Best Airbnbs in Savannah, Georgia