Atlanta is a melting pot of cultures and influences, with deep roots in the past but a city that is always evolving and continuing to enthral visitors and locals alike – and this selection of music festivals in Atlanta really showcases it's diversity.
The Georgian capital is a serious hotspot for music lovers, with Atlanta music festivals dominating the social calendar year-round. The city founded Atlanta hip hop, a music subgenre initially dominated by Outkast – born and bred Atlantans themselves.
If you are searching for music festivals in Atlanta, the green city landscapes, down home local food and friendly locals – along with its exciting music scene – will cap off your experience without a doubt.
---
1) Imagine Music Festival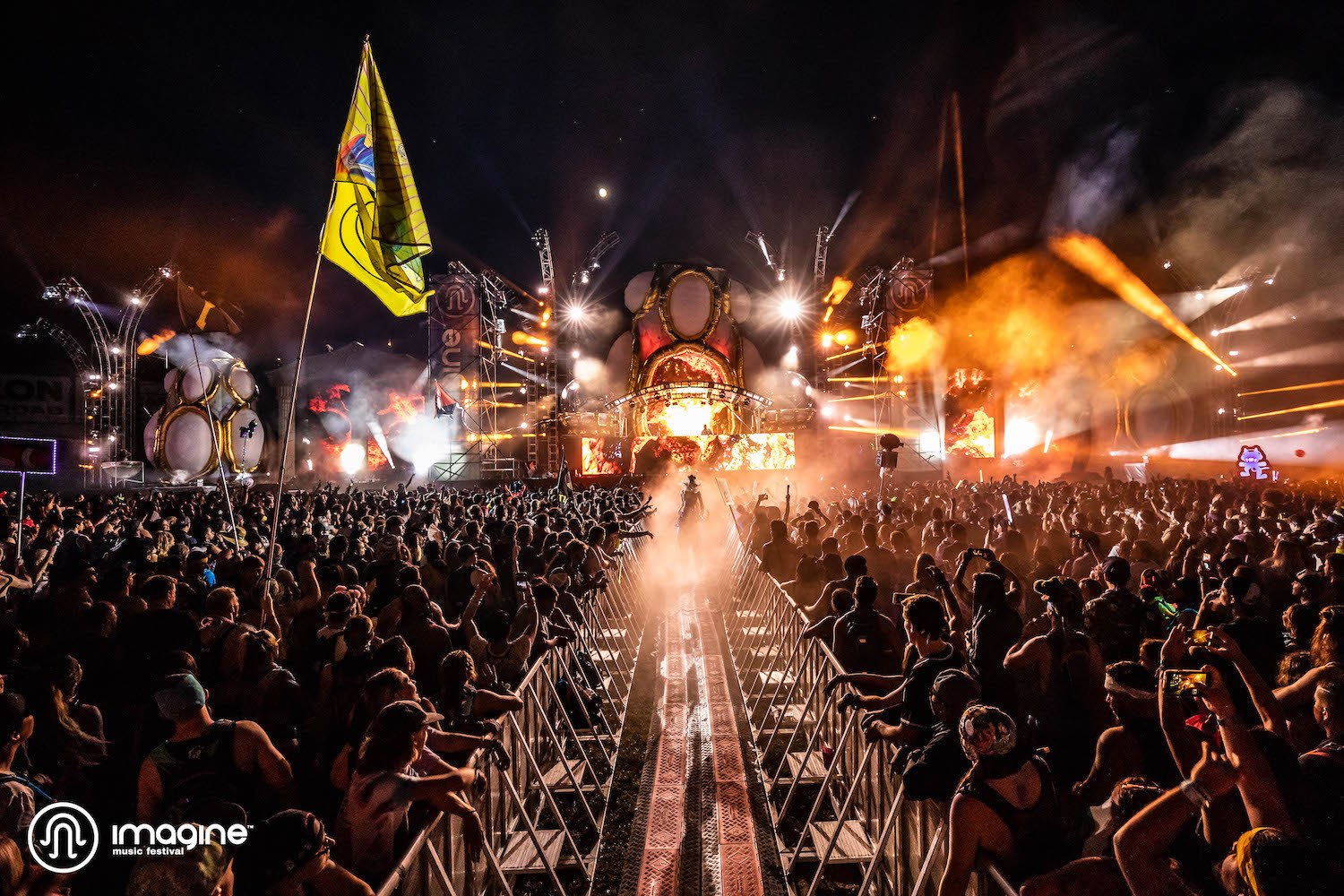 When: September 19-22, 2019
Where: Atlanta Motor Speedway, Atlanta
http://www.imaginefestival.com/
When it comes to music festivals in Atlanta, this is the ONE I'm personally dying to attend! Every one of my friends who have attended has said it's truly spectacular and is simply one of the BEST EDM events/raves in America. Defintiely add this one to your festival bucket list.
Going to great depths to ensure that this is the most immersive Imagine Festival yet, Iris Presents has announced that Imagine will be expanding to four days, which will be accompanied by full music programming on the Disco Inferno stage, early arrival camping, and an extra day of fun! Imagine has also unveiled the full lineup, in addition to several other big announcements, including a brand new stage- TechYes / Guerrilla 360 and a Saturday pool party.
2019 Line-up Includes: Diplo, Above & Beyond, Marshmello, Claude Von Stroke, and so many more!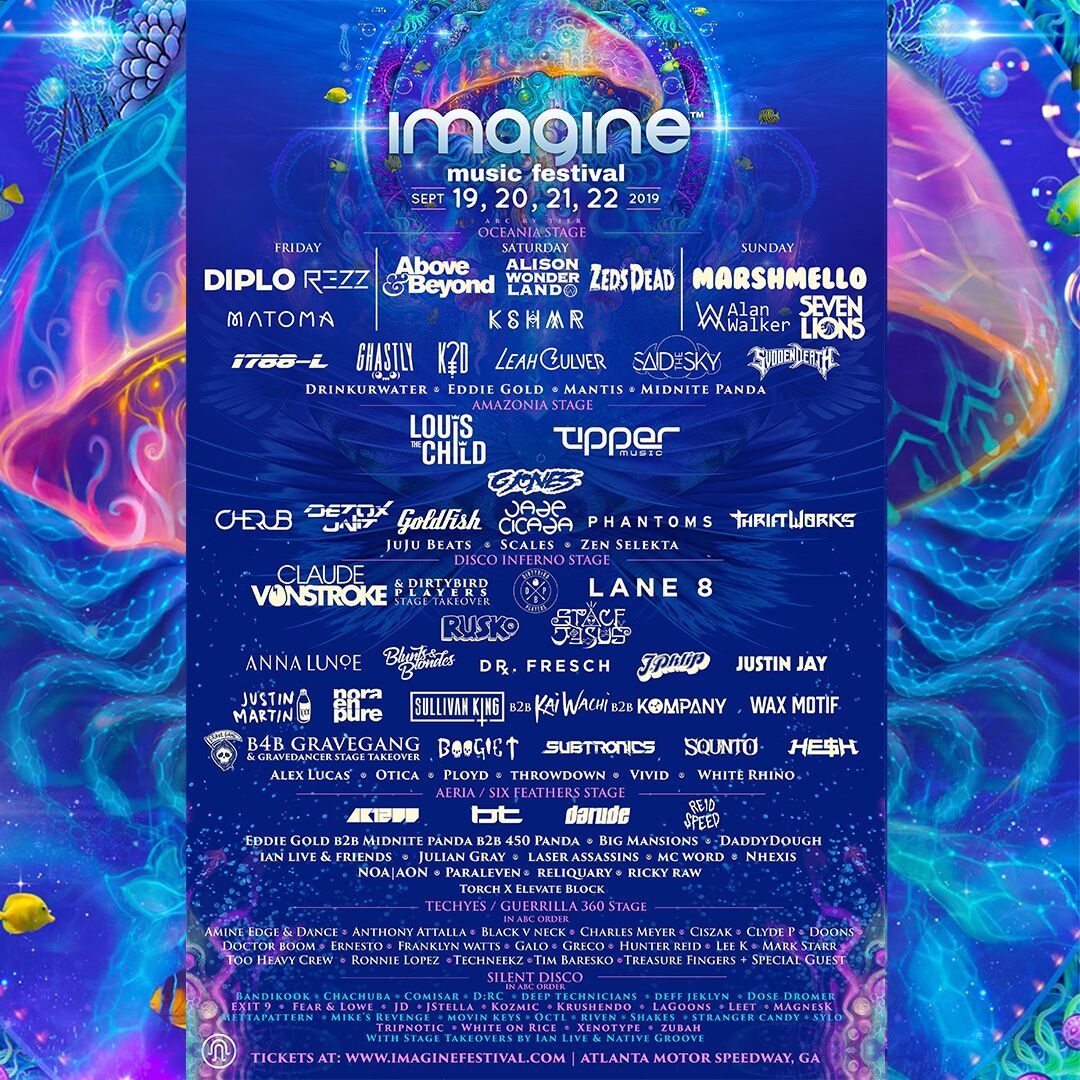 Imagine Music Festival 2018 (Official 4k Aftermovie)
---
2) Music Midtown
When: September
Where: Piedmont Park, Atlanta
"Set in Atlanta's beautiful green Piedmont Park with the city skyline providing a stunning backdrop. Take the pop-up ferris wheel in the middle of the park for a spin, and catch a great view of the festival sights and sounds from above. Kendrick Lamar, Imagine Dragons, Post Malone, Fall Out Boy, Khalid, Thirty Seconds to Mars, Gucci Mane, Janelle Monáe, Portugal. The Man, The Revivalists, Foster the People, Kacey Musgraves have all been in previous lineups. "
Music Midtown 2018: Weekend Recap
---
3) A3C Hip Hop Festival 2018
When: October
Where: GA Freight Depot, Atlanta
"Since its founding in 2005, Atlanta's A3C Festival has become one of the most important hip-hop events of the year. During the day, industry professionals mix it up at the A3C conference with panels, live interviews, and special speakers, while at night the three stages at the festival grounds are lit up with talent. "
Hip-Hop's Biggest Stage (A3C Festival & Conference)
---
4) Sweet Auburn Music Festival
When: October
Where: Auburn Avenue District, Atlanta
http://www.sweetauburnmusicfest.com/
"The Sweet Auburn Music Fest is bridging the gap between several music genres by including hip hop, gospel and R&B musicians in its two-day lineup. In addition to the numerous musical performances, the festival features delicious local food vendors and various shopping opportunities and serves as a family-friendly celebration of the Atlanta community that brings people together."
Sweet Auburn Music Fest 2017 - Sizzle Reel
---
5) SweetWater 420 Festival 2019

When: April
Where: Centennial Olympic Park, Atlanta
http://www.sweetwater420fest.com/
"Bring on the brews! This annual fest is sponsored by the Sweetwater Brewing Company in Atlanta and brings in a killer collection of artists from around the country to celebrate beer, food, and fun. A 3-day weekend festival celebrating all the heady things SweetWater is passionate about."
13th SweetWater 420 Fest at Atlanta's Centennial Olympic Park!
---
6) Fool's Gold Day Off
When: October
Where: Georgia Freight Depot, Atlanta
https://foolsgoldrecs.com/dayoff/
"This multi-city event is always the party of the year. The Brooklyn indie label, Fool's Gold Records, brings together the hottest names in hip hop, dance music and beyond. It doesn't belong to one scene—it's for everyone and everything. It's an annual summer staple you won't want to miss."
Fool's Gold DAY OFF ATL '17 [Official Recap]
---
7) Shaky Knees Music Festival
When: May
Where: Central Park, Atlanta
https://www.shakykneesfestival.com
"Drawing in nearly 40,000 attendees, Shaky Knees Festival brings a highly desired indie scene to the streets of downtown Atlanta, Georgia. In an era where most festival headliners feature a variation of EDM/DJ acts, Shaky Knees lives to show another side of modern day music.
With more than 60 bands each year Shaky Knees is a rock-lover's dream. Since its inception in 2013, Shaky Knees has featured a diverse lineup ranging from world-renowned acts to up-and-coming artists. Shaky Knees Music Festival returns to Atlanta's Central Park, May 3-5, 2019!"
Shaky Knees 2017 Recap Video
---
8) Atlanta Hip Hop Day
When: October
Where: Woodruff Park, Atlanta
https://www.atlantahiphopday.com/
"The Annual Atlanta Hip Hop Day Festival is a free family festival that pays tribute to the four elements of Hip Hop and Atlanta's contribution to Hip-Hop as a whole. The annual festival is held owntown Atlanta at Robert Woodruff Park. The four sides of the park are dedicated to the four elements of Hip Hop displaying B-Boy & B-Girl exhibits, Emcee Battles, Turntablism and Graffiti artists."
---
9) Atlanta Pride Festival
When: October
Where: Piedmont Park, Atlanta
"The Atlanta Pride Festival celebrates the lesbian, gay, bisexual and transgender community of Atlanta and the Southeast. The two-day event includes live performances, exhibits, civic and learning programs, the famous Pride Parade and the Pride Marketplace with over 200 vendors from the LGBT community."
Atlanta Pride Parade 2017
---
10) Shaky Beats Music Festival
When: May
Where: Central Park, Atlanta
https://www.shakybeatsfestival.com/
"Hosted at the center of the 1996 Olympics at Centennial Park in Atlanta,Georgia – Shaky Beats Festival was created as an EDM shoot off of its sister alt-rock festival 'Shaky Knees.' F eaturing dance music and top tier artists, Shaky Beats fills the prior void of Southern EDM festivals."
Shaky Beats 2018 Recap Video(4K Aftermovie)
---
11 ) Candler Park Fall Fest
When: September
Where: Candler Park, Atlanta
https://candlerpark.org/fall-fest/
"Hosted annually by the Candler Park neighborhood in Atlanta, Georgia, the Candler Park Fall Fest celebrates the glory of the autumn season. The two-day festival features more than 100 booths showcasing locals artists and craftsmen, live performances by local bands, local food vendors, family events and a 5k race, with the proceeds benefiting programs throughout the community."
Candler Park Fall Fest Francine Read Chain of Fools
---
12) Afropunk Festival
When: October
Where: Windsor Street Southwest, Atlanta
http://afropunkfest.com/atlanta/
"The AFROPUNK Festival started as an underground urban indie-rock/punk/hardcore scene, inspired a documentary, became an online community, grew into a live-performance series, and is now an international event chronicling what it calls "the other black experience…In a 2014 New York Times article, Cooper elaborated, "If you were to define AFROPUNK in one word, it's 'freedom.' People of color don't necessarily feel that in their day-to-day lives. AFROPUNK is a space that creates that, whether it's online or at the festival."
AFROPUNK Presents The Carnival of Consciousness 2017 - Atlanta Edition
---
13) Flashback Festival
When: May
Where: TBD, Atlanta
"Get ready to take it aaaaaaall the way back at Atlanta's Flashback Festival. The festival is an annual celebration of old school R&B, funk and soul music featuring the great artists who shaped the genres along with stellar contemporary performers. Past performers include Cameo, Charlie Wilson, Doug E. Fresh, Con Funk Shun, Bootsy Collins, The Bar-Kays and many others."
Kiss 104.1 Flashback Festival 2017
---
14) Funk Fest Atlanta
When: May
Where: Wolf Creek Amphitheatre, Atlanta
"Funk Fest rolls terrific music, culture and emotion into one spectacular experience. This combination loves a good road trip, so it's traveling all over the Southeastern United States to satisfy die-hard funk heads. The world-class lineup plays a medley of cool tunes that'll have you grooving and wishing that they will flake on the next city."
Welcome to Wolfcreek Funk Festival
---
15) Atlanta Jazz Festival
When: May
Where: Piedmont Park, Atlanta
"Recognized as one of the leading jazz festivals in the world, the Atlanta Jazz Festival celebrates the rich history of jazz and its place in Atlanta's history. The month-long festival features both internationally acclaimed jazz musicians as well as emerging artists playing at various venues throughout Atlanta. The festival culminates each Memorial Day weekend with an outdoor bonanza of show-stopping jazz performances at Piedmont Park."
2018 Atlanta Jazz Festival
---
Looking for more music festivals in the U.S…?
My site is filled with awesome articles about the best festivals, events, and parties around the United States. Check out a few of these below, and start planning your own trip!
37 California Music Festivals To Keep You Dancing All Year Long
The Top 10 Music Festivals in Washington To Experience Before You Die
The Best 14 Music Festivals in Oregon To Experience Before You Die
Top 10 Music Festivals in Colorado To Experience Before You DIe
The 13 Best Music Festivals in New York To Experience Before you Die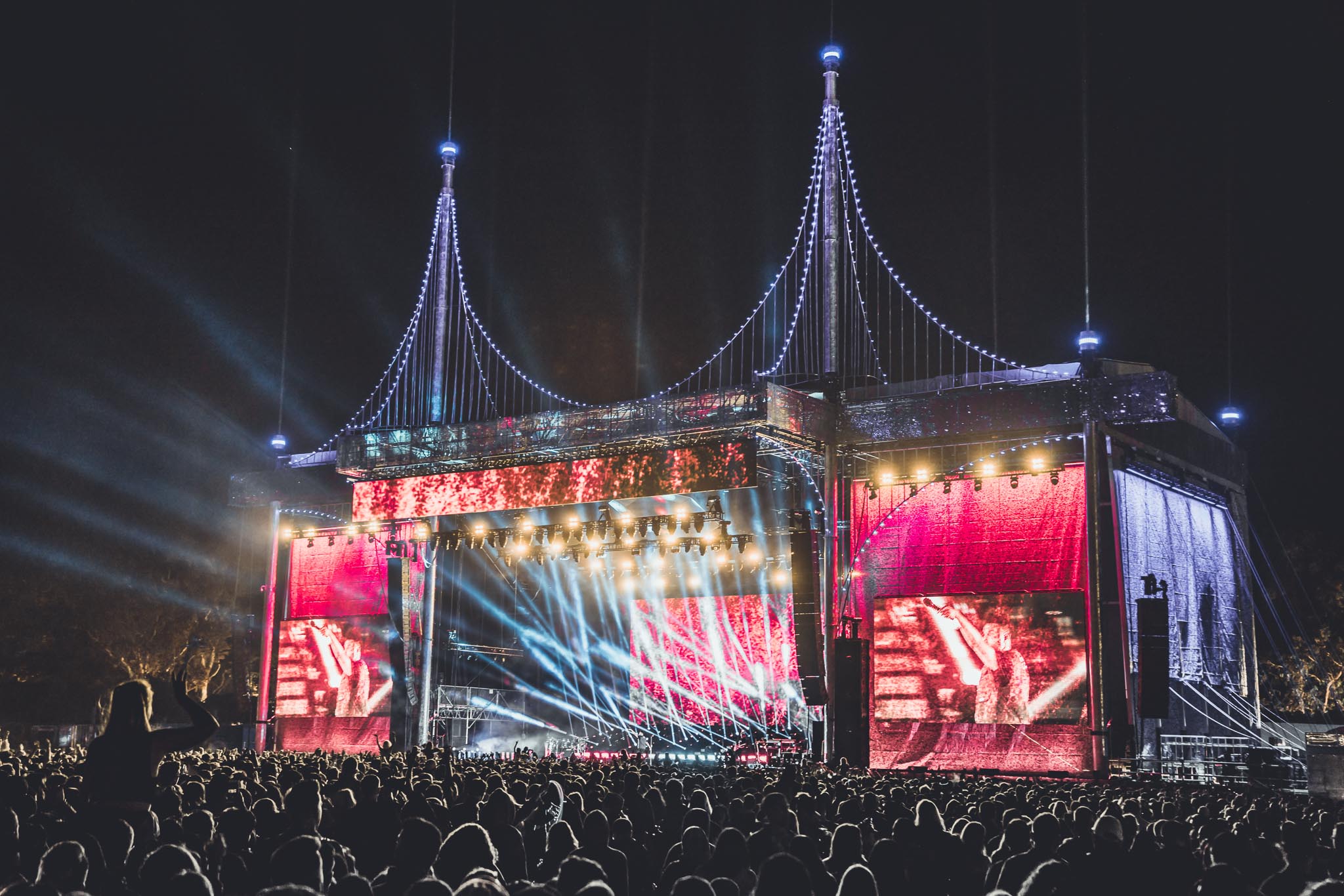 ---
Prepare For Your Next Music Festival Madness!
I've prepared a couple articles that will be perfect for you next festival weekend! Check out these posts below for some tips, fashion ideas, and more.
The Ultimate Music Festival Camping Packing List
30+ Burning Man Costumes, Clothing, Outfit Essentials
---
Thanks for reading my article about music festivals in Atlanta!
If you're not already, make sure you're following along on my Instagram and Facebook to follow my personal adventures around the world! Cheers!
SHARE THIS ARTICLE WITH YOUR ATLANTA FESTIVALS SQUAD!
https://www.jonesaroundtheworld.com/wp-content/uploads/2018/11/42465214_1620307161449518_1936543776730251264_o.jpg
1365
2048
Dave
https://www.jonesaroundtheworld.com/wp-content/uploads/2017/03/logotry-1-1-300x106.png
Dave
2019-07-09 08:07:40
2020-09-27 04:18:50
Top 15 Music Festivals in Atlanta, Georgia To Experience Before You Die