Are you planning to escape the concrete jungle for a weekend of glamping in the Adirondacks? Well, you have come to the right place. I've put together the ultimate guide to help you choose the best secluded cabins, tents, or yurt rentals suitable for a magnificent glamping vacation.
Apart from the Adirondacks National Park, the region also offers visitors access to some of the prettiest towns and lakes in the United States. Lake George and Lake Placid are quaint towns in the Adirondacks region, filled with locally-owned restaurants, pubs, and boutiques.
Located in Northern New York, the Adirondacks Mountains are just 4 hours away from Manhattan. The region is best known for its spectacular landscapes, such as expansive forests, lakes, mountain ranges, and outdoor recreational activities.
The Big Apple is widely known for its skyscrapers, yellow cabs, and New York music festivals. However, it also has a backcountry side that offers stunning and picturesque landscapes ready for exploration.
Listed below are the best accommodations for glamping in the Adirondacks. Also, be sure to read my guide on Glamping New York & Glamping New England for more epic stays in the area!
---
Quick Breakdown of Adirondack Glamping
Glamping in the Adirondacks region is an experience like no other. The area is geographically endowed with over 2,000 miles of hiking and biking trails and more than 3,000 bodies of water like lakes and rivers.
Here are 7 of the top glamping spots in the Adirondacks mountain range.
The Overall Best Adirondacks Glamping – Huttopia Adirondacks
The Best Luxury Adirondacks Glamping – Wintergreen Lake
The Cheapest Adirondacks Glamping – Adirondack Camping Yurt
The Best Family-Friendly Adirondacks Glamping – Clear Lake Lodge & Retreat
The Best Romantic Adirondacks Glamping – Magical Treehouse
Best Unique Adirondacks Glamping – Glamp Suzanne
---
The Best Places for Glamping Glamping In The Adirondacks
If you are a seasoned glamper looking for your next retreat in Upstate New York, look no further than the Adirondacks glamping rentals. Here are the 11 best glamping spots in the Adirondacks region.
---
1) Camp Orenda
Location: Johnsburg, NY
Price: From $265+ USD per night
https://camporenda.com/cabins/
Located on 40-acres of premium forest land, Camp Orenda is an ideal glamping spot for visitors who love being in the outback and simultaneously enjoy the finer things. The all-inclusive package covers food, refreshments, and outdoor activities like hiking, canoeing, or kayaking in the breathtaking crystal-clear lakes.
If you're seeking a luxurious escape into the Adirondacks landscape, Camp Orenda is the place. The camp offers a cozy stay in six cabins, fully equipped with a bed, fresh linen, a fireplace, and Wi-Fi access. The cabins share a heated outdoor shower and kitchen.
The camp is child and pet-friendly, making it suitable for the whole family. In addition to all the adventures one could go on, Camp Orenda is closely located to a series of pubs, restaurants, and markets.
View Photos, Read Reviews & Check Availability
---
2) Adirondack Safari
Location: Warrensburg, NY
Price: From $149+ USD per night (Monday – Thursday)
https://adirondack-safari-warrensburg.booked.net/
Adirondack Safari offers guests a deluxe glamping experience. The 45-tent camping ground is situated on the Schroon River. The site offers fully-furnished safari-style canvas tents equipped with comfy beds, zero gravity chairs, a charcoal grill, and a fire pit.
The Adirondacks Sarafi campgrounds offer unforgettable experience while glamping in Lake George. Visitors are treated to abundant natural beauty and adventurous activities like steamboat tours of the lake, sightseeing the islands, and historical real estate along the shore.
Some other activities that guests can enjoy include painting classes, board games, bingo, outdoor movie screenings. There's also live entertainment, and water activities like river tubing, kayaking, and fishing.
View Photos, Read Reviews & Check Availability
---
3) Adirondack Camping Yurt
Location: Lake Placid, NY
Price: $75+ USD per night
https://www.airbnb.com/rooms/45951610
Comfortably nestled in the Heart Lake Loj property, which forms part of the Adirondack Mountain Club, the yurt is located in a prime glamping location.
The Loj property can accommodate 3-8 guests with an assortment of beds, private rooms, lofts, and shared bathrooms. Bring along your travel towels and toiletries to ensure a nice relaxing bath after a long day of adventure.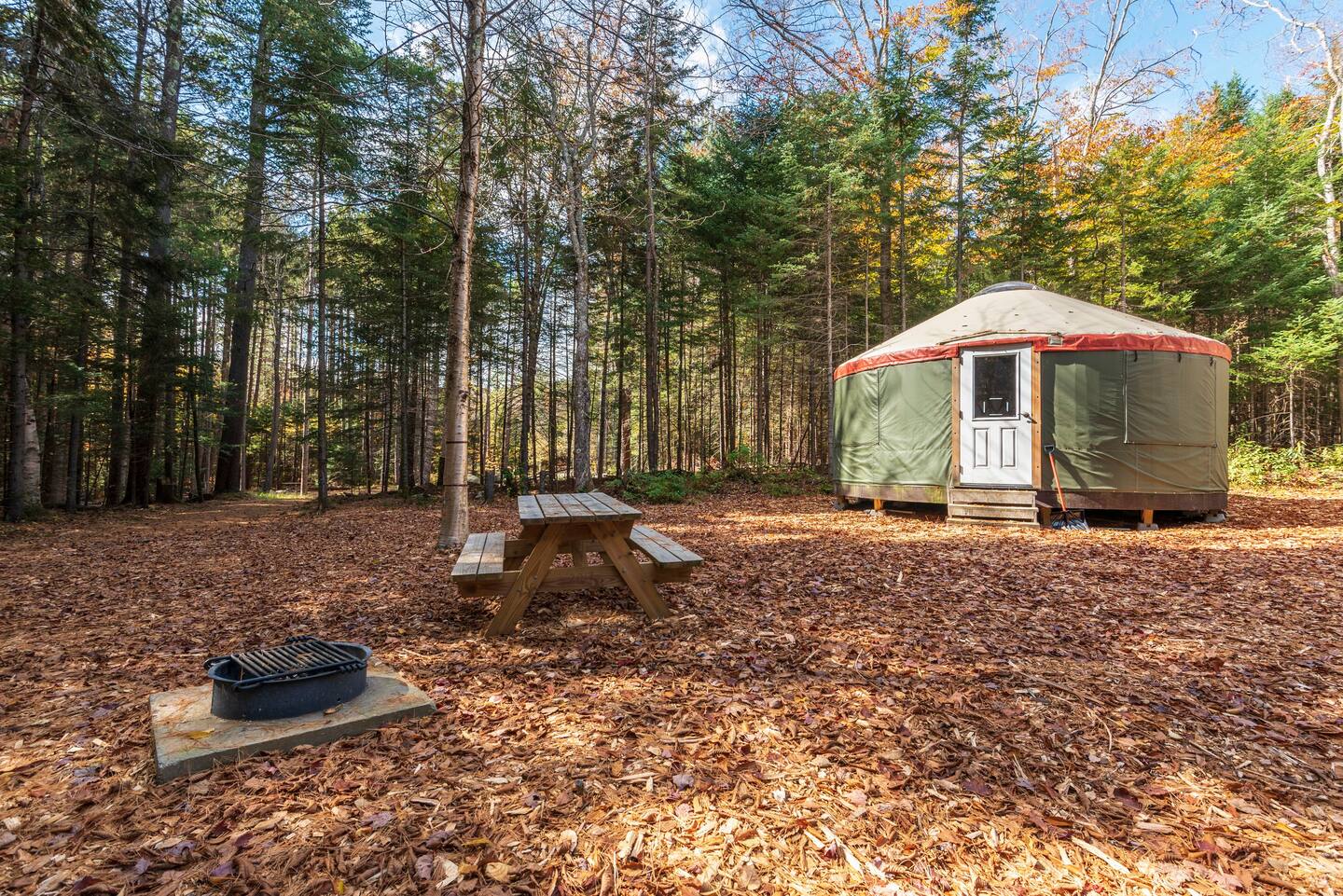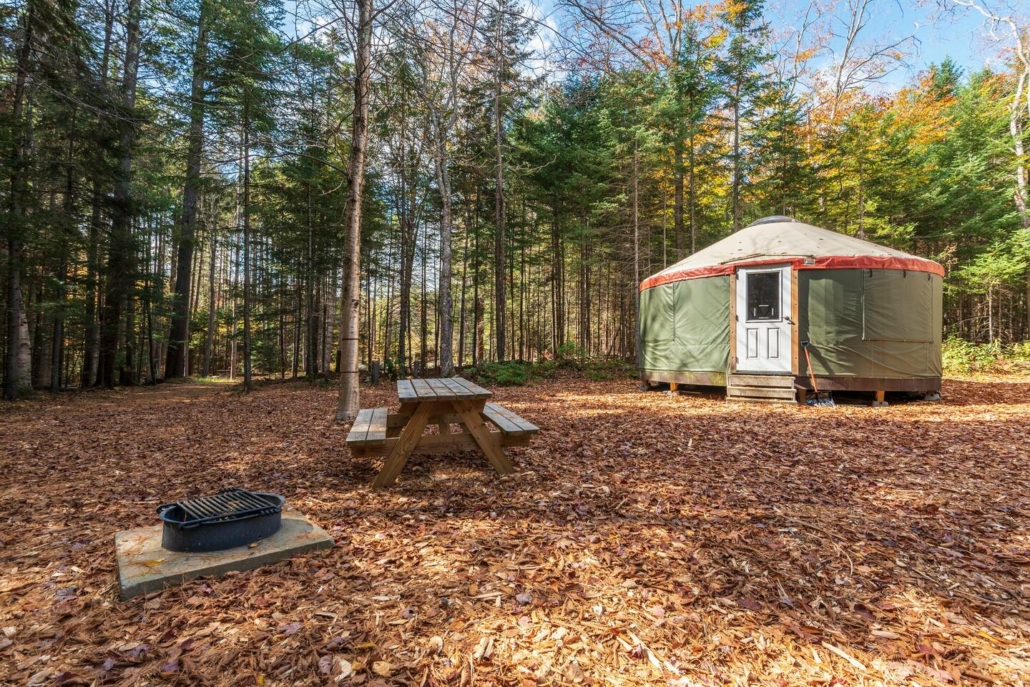 The Adirondacks Camping Yurt is spacious and equipped with two sets of twin bunk beds and a heating system for those cold winter days. You will also get an outdoor washroom, fire pit, and picnic table available for exclusive use.
Guests are welcome to engage in several activities like snowshoeing, skiing, hiking, swimming, and paddling on Heart Lake. Alternatively, guests can pick up a book from the Adirondack Library for some quiet and relaxation time.
For adventures outside of the club, visitors can take a 20-minute ride to the town of Lake Placid. Here they can enjoy a series of restaurants, shops, and a tour of the iconic Olympic Centre.
View Photos, Read Reviews & Check Availability
---
4) Clear Lake Lodge & Retreat
Location: Lake Clear, NY
Price: From $189+ USD per night
https://www.lakeclearlodge.com/lodging
"One of the last original Adirondack Lodges still open to the public. Family run for over 50 years. Explore, experience and discover."
Enjoy a relaxing all-season retreat at the Clear Lake Lodge. The 25-acre property offers scenic views of hiking trails in the woods and access to Lake Clear beach. You are also welcome to eat at one of the lodge's world-class restaurants. You can also work on those chef skills and make your dinner by joining a cooking demonstration and culinary class with Chef Cathy.
The lodge offers guests upscale Adirondacks chalets and exclusive access to biking, hiking, swimming, and paddling on the Lake Clear private beach.
The rustic brown-and-green accents give the chalets a unique traditional vibe. The antique furniture will give you a nostalgic feeling of visiting an old family relative for the holidays while not compromising on the glamping aspect.
The cabins come equipped with comfy beds, jacuzzis, and built-in fireplaces. One thing you will not forfeit when lodging at the Clear Lake Retreat is the experience of panoramic views of beautiful sunsets and pine trees.
View Photos, Read Review & Check Availability
The Lake Clear Lodge Experience
---
5) Huttopia Adirondacks
Location: Lake Luzerne, NY
Price: From $85+ USD per night
https://www.booking.com/hotel/us/huttopia-adirondacks.en-gb.html
Situated at the foothills of Kenyon Mountain, Huttopia Adirondacks is a forest campsite in Southern Adirondacks. The site is located in the Lake George region of Adirondacks Park. You'll enjoy exploring the 300-acres of forest woodland, the great amenities, and plenty of outdoor activities.
The wooden frame French-Canadian style canvas tents are equipped with a wood stove, kitchenette, and bedroom with complimentary linen. You will find a shared bathroom, firepit, and an outdoor lounge area outside the tent, perfect for stargazing.
Start your day with a hike in the surrounding forest, grab lunch and refreshments at the Huttopia Adirondacks bistro, and dive into the pool. Afterwards, you can attend a yoga class or a music performance and close the day off with a BBQ under the star-studded sky.
View Photos, Read Reviews & Check Availability
Glamping at Huttopia Adirondacks
---
6) Glamp Suzanne on Adirondack Farm
Location: North River, NY
Price: From $147+ USD per night
https://www.airbnb.com/rooms/7145640
Glamp Suzanne is a luxury cabin with a queen bed, kitchenette, lounge, and a newly-built bathroom separated for men and women. The tent is situated on a 40-acre private property scattered with a pond, meadows, forest, streams, and hiking trails.
Glamp Suzanne is a stone's throw away from the North River, where guests can enjoy river tubing, kayaking, and fishing.
Alternatively, you can enjoy more relaxing activities like sitting in the hot tub while sipping on a nice glass of wine or walking around the campsite and interacting with free-range chickens and ducks.
After a long day of adventure, you can fire up the grill or pizza oven and enjoy dinner under the stars.
View Photos, Read Reviews & Check Availability
---
7) Adirondack Luxury Chalet
Location: Warrensburg, NY
Price: From $333+ USD per night
https://www.airbnb.com/rooms/28927993/location
Nestled in the woodlands of upstate New York, this Warrensburg glamping cabin offers a combination of luxury and an authentic wildlife experience. The dark wood cabin is decked out with comfy beds, striking wooden furniture, and a Wi-Fi signal to keep you connected amidst the remote Adirondacks forest.
The site gives you access to many nearby amenities like biking, horse riding, and a tennis court to keep you busy. Kick Back at the fire pit and enjoy a bonfire and BBQ for the night after a long day. You can also enjoy luxury shopping and dining in Warrenburg, just minutes of driving from the camp.
Glamping in Lake George allows visitors to enjoy the wonders of nature while simultaneously basking in affluence.
View Photos, Read Reviews & Check Availability
---
8) Wintergreen Lake Glamping
Location: Hague, New York
Price: From $195+ USD per night
http://www.wintergreenlake.com/glamping-1
Tucked away in the Adirondacks Forest, Wintergreen Lake is a glamping, wedding, and event venue perfect for capturing life-changing moments. The camp has three glamping sites, and all tents come with a queen-sized bed, fresh linen, and lanterns. The tents are finished with neutral tones and simplistic decor.
Outside the tent, you can enjoy a delicious BBQ right off the grill while relaxing at the picnic table. Guests can also engage in Adirondack activities like canoeing, kayaking, fishing, and skiing.
The venue provides a wedding planner, event coordinator, bar, and catering services if you're planning on getting married soon. The glampsite is abundant with spectacular views and nature trails, perfect for a backcountry honeymoon.
View Photos, Read Reviews & Check Availability
---
9) Magical Treehouse Glamping Adirondacks
Location: Paul Smiths, NY
Price: From $280+ USD per night
https://www.airbnb.com/rooms/27830970
Hidden in the Adirondacks Mountain range, the Magical Treehouse is ideal for a romantic glamping getaway. This Lake Placid cabin offers couples a comfortable queen-sized bed, crisp linen, unique wooden furniture, and cooking utensils.
Guests can enjoy their meals stoved-cooked or on an open campfire using the firewood and firepit. The camp has a bathhouse and cookhouse, separate from the treehouse, and guests are welcome to use any cooking utensils to make their meals.
The camp is only five-miles away from Paul Smith's College VIC (Visitors Interpretive Centre), where guests can enjoy skiing, snowshoeing, or hiking. So bring your hiking boots and thickest winter jacket and enjoy all the fun things that the Adirondacks can offer.
View Photos, Read Reviews & Check Availability
---
10) Butternut Adirondack Cabin
Location: Johnsburg, NY
Price: From $140+ USD per night
https://www.airbnb.com/rooms/4648760
The newly renovated Butternut Adirondacks Cabin is fully equipped with a queen bed, kitchen, bathroom, a stone fireplace, and brand new furniture. Guests are welcome to bring their pets for an additional $75+ USD per pet, along with their fur buddy's favorite blankie or cover.
The cabin is located only minutes away from Lake George, giving guests access to skiing, hiking, rafting, and trout fishing activities. You can also shop around the town for souvenirs or grab lunch at one of the specialty restaurants.
The Butternut Adirondack Cabin provides Wi-Fi, a TV with standard cable, and a workstation. This makes it a perfect backcountry getaway, keeping you connected to your friends and family.
View Photos, Read Reviews & Check Availability
---
11) Farmstand Guest House on Hobby Farm
Location: North River, NY
Price: From $150+ USD per night
https://www.airbnb.com/rooms/1513087
This family-owned campground is filled with wildflower meadows, walking trails, historic cottages, and cabins. The 40-acre property is only five-miles away from the town of North Creek. This area is surrounded by hiking trails, kayaking companies, and whitewater rafting on the Hudson River.
For entertainment on the property, you can enjoy a glass of wine in the hot tub. You can find the tub in the Japanese-styled spa, complete with a soaking bath and Japanese decor —a perfect way to close off an adventure-filled day.
The Farmstand Guest House is a charming cabin with antique-style furniture and whimsical decor. The cottage comes fully equipped with a queen bed, an alcove living room, bathroom, and kitchen.
View Photos, Read Reviews & Check Availability
---
Am I Missing Any Adirondack Glamping Spots?
Have you gone glamping on Vancouver Island and stayed in some amazing places that I didn't include in my list? If so, please let me know. I'd love to add these to my list of Vancouver Island glamping spots.
---
Looking for more Glamping Getaways?
My travel blog is filled with dozens of incredible guides to the best glamping sites in North America (and the world)! Check out a few of my favorites below and let me know if you've got any questions!
---
THANK YOU FOR READING THIS LIST OF THE BEST GLAMPING SPOTS IN THE ADIRONDACKS!
SHARE THIS LIST OF GLAMPING ADIRONDACKS CABINS WITH YOUR FAMILY AND FRIENDS!
https://www.jonesaroundtheworld.com/wp-content/uploads/2022/04/Huttopia-Adirondacks-Glamping-Tent.jpg
854
1280
TravelTractionsJATW
https://www.jonesaroundtheworld.com/wp-content/uploads/2017/03/logotry-1-1-300x106.png
TravelTractionsJATW
2022-04-21 00:49:02
2022-04-21 00:49:42
11 Best Places For Glamping in the Adirondacks