If you're searching for luxury cabins in Minnesota, you're in for a treat. Minnesota is home to over 10,000 lakes and the largest great lake in the US, Lake Superior. These lakes are surrounded by spectacular woods – with cozy cabins scattered throughout.
No matter the weather, there's always something to do. Summer is ideal for kayaking, boating, fishing, and golfing. The transition into the Fall season is a worthy sight on its own. And the winter months are great for cozying up in a cabin or cross-country skiing.
Besides the state's natural beauty, notable spots like Guthrie Theater and the Science Museum of Minnesota are well worth visiting. There are also plenty of music festivals in Minnesota that you won't want to miss.
Below are some of the top luxury cabin rentals MN has to offer so you can enjoy the best of this state in comfort and style.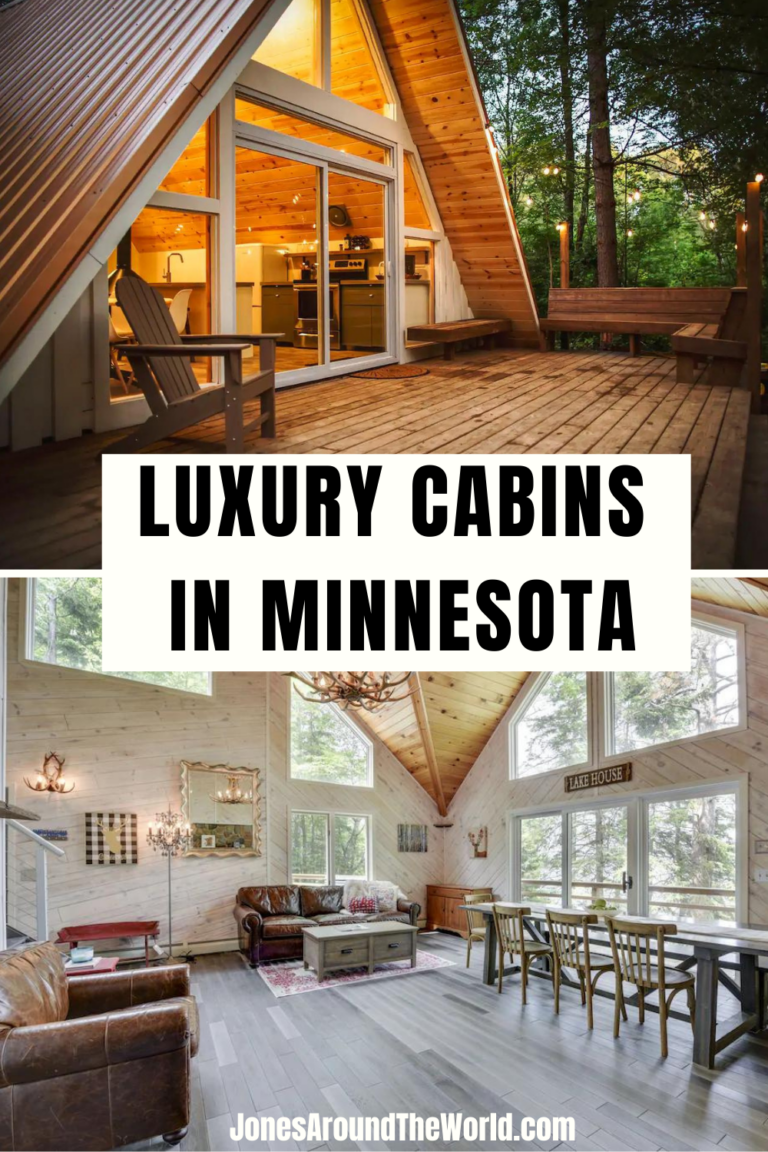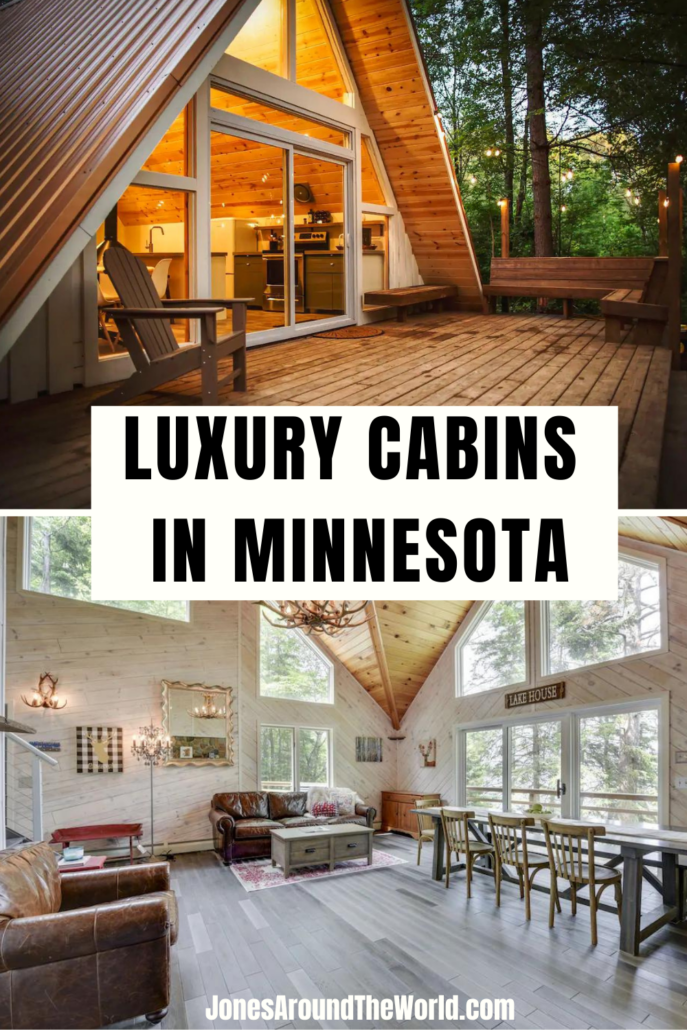 ---
1) Cedarwood Hollow – Lake Superior Beach Chalet Between Lutsen & Grand Marais
Where: Lake Superior, Lutsen, Minnesota
Price: $395+ USD per night
Cedarwood Hollow may appear like a humble old cabin on the outside, but the inside exudes modernity and luxury. This cabin, sitting on the shore of Lake Superior, is filled with warmth, space, and comfort. It's an excellent place for families heading north for a skiing holiday.
This luxury cabin rental in Minnesota is situated near numerous hiking and skiing trails, restaurants, and the historic Grand Marais (named America's Coolest Small Town). You'll get to explore the outdoors or wander about town, visiting galleries and shops.
After a long day out, you'll love the soak-in round tubs, perfect for warming up the limbs on a cold day. And for the days you'd prefer to stay inside, you'll love the comfy leather couch near the fireplace and the warm smell of cedar.
The cabins' large windows allow for spectacular views of the waters quietly approaching the shore. There's also a spacious outside seating area to enjoy your morning coffee with gorgeous views and tranquility.
View Photos, Read Reviews & Check Availability
---
2) Lutsen Lookout – Stunning Log Cabin Close to Lutsen Mountains, Skiing, Hiking, Golf, and Winery
Where: Lutsen, Minnesota
Price: $395+ USD per night
Whether going with family or friends, you're bound to have an unforgettable stay. The spectacular cabin provides unmatched views of nature. With its wall of windows, you'll get to enjoy ample sunlight no matter the weather.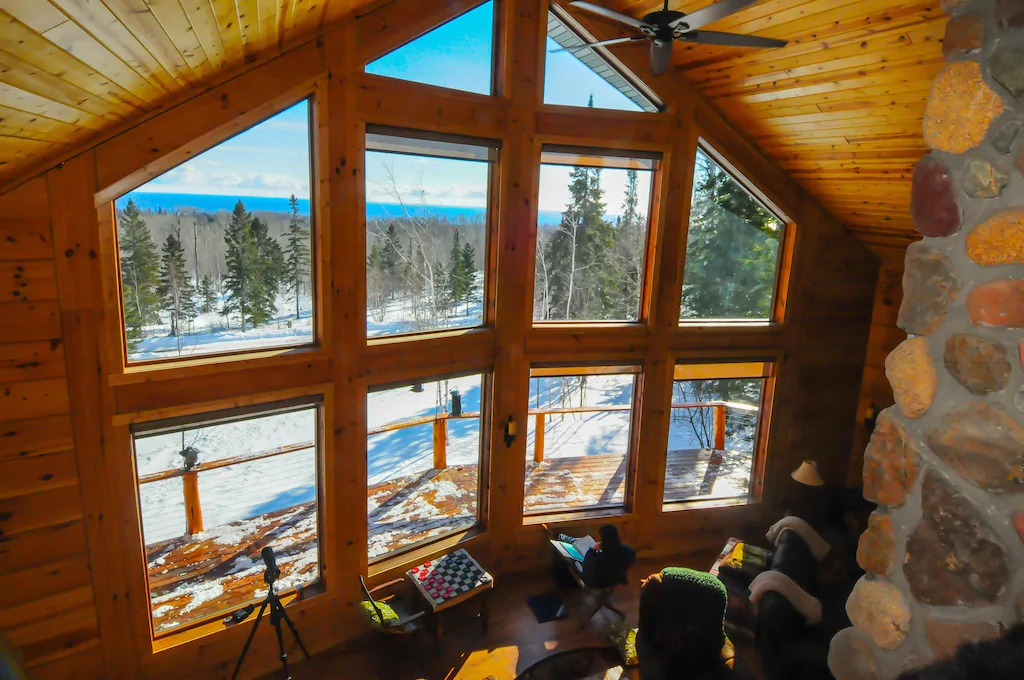 On sunnier days, you'll also enjoy having your morning coffee and meals on the spacious porch. If you're lucky, you may just spot some wildlife. You'll find everything from owls and eagles to wolves and black bears passing by the secluded area.
This cabin provides all the amenities you may need and more. There's a sauna and heated floors for warming up after a ski trip and Wi-Fi, board games, and a see-through fireplace to keep you cozy and entertained.
Being near Lutsen, Grand Marais, and Tofte town, you'll have easy access to shops, hiking and skiing trails, and exciting landmarks — like Split Rock lighthouse. The Superior National golf course and Lutsen mountains are only a 5 minute drive away.
View Photos, Read Reviews & Check Availability
---
3) Lazy Pines Luxury Cabin Rental
Where: Crosslake, Minnesota
Price: $250+ USD per night
Lazy Pines is so beautiful you might not want to leave. This cabin sits only a few steps away from the water, where a pontoon boat awaits to take you on as many sunset cruises as you wish.
Enjoy morning walks in the peaceful city of Crosslake or an array of water activities during the summer. In winter, you'll get to enjoy ice fishing, and all the thrilling snowsports Minnesota has to offer.
The fireplace is excellent at warming up the cozy space, making it perfect for lazing around with a good book on a cold night. With enough sleeping space for nine people, you'll get to bring the whole family to this homey, luxurious cabin.
The fire pit is excellent for bonding over tales and smores, with the calming waters only steps away. The screened-in porch is a lovely spot for family board games and taking in the serene views.
View Photos, Read Reviews & Check Availability
---
4) Beautiful Stone Cottage | Lakefront Cabin Getaway
Where: West Lake Sylvia, Southside, Minnesota
Price: $275+ USD per night
This quaint stone cottage is perfect for a more intimate getaway. Enjoy a white Christmas in this picturesque cottage or visit for a summer on the lake. This homey space is ideal for spending quality time with family, friends, or your significant other.
The cottage is only six feet from the water, providing stunning views and easy access for fishing, canoeing, and boating in warmer months. When the weather permits, you'll want to have all your meals on the porch overlooking the clear waters.
Powder Ridge is only a short drive away, where you can enjoy hours of skiing, snowboarding, and snow tubing. There are also multiple parks and hiking trails nearby for a peaceful exploration of nature.
Wrap up your adventure-filled days with meals in the open plan living area, or cozy up around the campfire to admire the stars. The six beds are sure to provide many comfortable nights of well-deserved rest.
View Photos, Read Reviews & Check Availability
---
5) Stunning 4 Season Lake Burntside Log Cabin
Where: Lake Burntside, Morse, Minnesota
Price: $200+ USD per night
If you're looking for a secluded place to disconnect from the world for a few days, you'll love this log cabin overlooking the lake. This spot is arguably one of the best log cabin rentals in Minnesota. The wall of windows allows plenty of sun to stream in and warm up the golden space.
The cabin has an expansive porch area where you can enjoy stunning views with your morning caffeine dose and a good book. Just below the porch, you'll find one of the highlights of this property; a barrel sauna.
The sauna is excellent for unwinding or warming up after a day on the snow or ice. The heated floors and fireplace will further ensure that you'll be warm during the winter months.
In summer, you'll get to enjoy the lake with the provided canoe, or bring your own boat along and enjoy some fishing. You'll get to catch fish like Whitefish, Lake Trout, and Walleye for a rewarding dinner or lunch. It's simply one of the best Luxury Cabins in Minnesota for those who don't want to spend too much.
View Photos, Read Reviews & Check Availability
---
6) Storybook Northwoods Log Cabin on Lake Superior
Where: Lake Superior, Lutsen
Price: $295+ USD per night
If you're seeking a peaceful escape, you'll undoubtedly enjoy settling down at this charming cabin on Lake Superior. The timeless decor, spa-like bathroom, and proximity to all the necessities make this the perfect holiday location.
Although this cabin is comparatively smaller than other options on this list, it does not lack luxury or amenities. The deep bathtub and heated bathroom floors are perfect for unwinding and warming up on cold winter days.
The gathering room makes for a warm and welcoming space for games, eating, and sharing stories and laughter
Painted Rock is conveniently situated in Cascade State Park. This means you'll enjoy hikes and snowmobiling routes that are only a few steps away from the cabin. You'll also find the Cascade Lodge & Restaurant nearby, where you can enjoy food, drinks, and live music.
View Photos, Read Reviews & Check Availability
---
7) Luxury Modern Cabin On Deer Lake! Hot tub. One of the cleanest lakes in MN
Where: Deer Lake, Minnesota
Price: $266+ USD per night
Bring the family or your ski crew along and enjoy this spacious and modern cabin in Minnesota. The cabin has four bedrooms and a loft, with enough sleeping space for ten people. It's beautifully decorated with quirky details and artworks from local artists.
The large windows allow plentiful light to enter the living space, where you'll find a large table perfect for board games or festive dinners. The spacious kitchen is well-equipped with all amenities – and the coffee machine is a lovely bonus. You'll also have access to Wi-Fi and flat-screen TVs for movie marathons.
Deer Lake, also referred to as the Lake of Changing colors, is just a few steps away. Once there, you'll get to take a swim or enjoy a bonfire by the shore. There's also a large fireplace in the living room and a hot tub to unwind after a day of outdoor adventure.
View Photos, Read Reviews & Check Availability
---
8) The Luxurious 'Captain's Quarters' Is A Gorgeous Retreat
Where: Kenwood, Duluth, Minnesota
Price: $329+ USD per night
Escape into the woods and settle down in an enchanting cabin filled with beauty and modern amenities. Art and architecture lovers will especially adore this property and its "old world" charm. It'll be hard to believe (but good to know) that this peaceful cabin is only ten minutes out of town.
This three-bedroom property is built to be warm and welcoming. The bedrooms are spacious and serene, and the bathrooms seem like they belong in a spa. The living area is complemented by an upstairs TV room and heated up by the spectacular fireplace.
The plants adorning almost every corner of this beautiful cabin bring a bit of nature and brightness indoors. Once you step outside, you'll love the fresh scent of flowers, shrubs, and trees surrounding the cabin.
There are plenty of hiking and cross-country skiing trails to enjoy — with some passing right by the cabin. You're bound to spot some wildlife — with deer frequenting the area in winter. You can also expect to see foxes, wolves, and chipmunks passing by.
View Photos, Read Reviews & Check Availability
---
9) Stylle Hytte Northern Cabin Retreat
Where: Brook Park, Minnesota
Price: $226+ USD per night
https://www.airbnb.com/rooms/51633955
Whether you're looking for a tranquil space to get some (super) remote work done or looking to escape work altogether, this A-frame cabin is the perfect fit. This secluded cabin in the woods has one bedroom, a loft, and a spacious open-plan living and dining area.
If you're planning on a winter getaway, the wood fireplace, heated floors, and barrel sauna will keep you toasty and content. There's also Wi-Fi for those needing to stay connected.
On warmer days, you'll love unwinding with a glass of wine on the spacious porch. Get a barbeque going on the propane grill, or get cooking in the fully fitted kitchen. After a lovely meal, take the peaceful path down to the river, where you may just spot a few squirrels or bunnies.
View Photos, Read Reviews & Check Availability
---
10) The North Shore Fisherman's Luxury Cabin
Where: Grand Marais, Minnesota
Price: $336+ USD per night
https://www.airbnb.com/rooms/11453588
Located in the center of town, this picture-perfect property is ideal for families. The historic fisherman's cabin, built around 1900, has been beautifully renovated. Although the interiors are more modern and minimalist, the cabin has maintained its character and charm.
This three-bedroom log cabin can accommodate a party of eight, with the kitchen and living area allowing for ample personal space. The large dining table is excellent for grand meals or some fun puzzles and board games.
The cabin has a backyard with garden furniture and a barbeque grill for sunny days, and you're welcome to bring your doggo along for a small fee.
The Grand Marais main road is only two blocks away, where you'll find many exciting shops and restaurants. The North House Folk School and Voyageur Brewing Company are also well worth a visit during your stay.
View Photos, Read Reviews & Check Availability
---
Am I Missing Any Luxury Cabins in Minnesota?
There are many magnificent cabins for rent in MN, and this list can hardly cover half of them. Have a look at the most unique Airbnb rentals to increase your options, and feel free to share your favorites.
Below are even more US luxury cabins worth adding to your cabin bucket list.
---
THANK YOU FOR READING THIS LIST OF THE BEST CABINS IN MINNESOTA!
SHARE THIS LIST OF LUXURY CABIN RENTALS IN MINNESOTA WITH YOUR CABIN CREW!
https://www.jonesaroundtheworld.com/wp-content/uploads/2022/04/Stylle-Hytte-Northern-Luxury-Cabin-Retreat-.webp
960
1440
TravelTractionsJATW
https://www.jonesaroundtheworld.com/wp-content/uploads/2017/03/logotry-1-1-300x106.png
TravelTractionsJATW
2022-04-22 18:48:16
2023-01-08 05:22:18
Top 10 Luxury Cabins in Minnesota To Rent in 2023