Planning a trip or weekend getaway and searching for the coolest and best luxury cabins in Arizona? Well, I've put together this guide to give you a quick overview of the most sought-after secluded mountain retreats that you'll absolutely love in this wondrous destination!
Arizona is best known for famous landmarks like the Grand Canyon, Flagstaff, and Ponderosa Pines in the southwest of the USA. You'll have to make time for Saguaro National Park and the Sonoran Desert for your first time in Arizona. Don't forget to add places like Coconino National Forest, Tonto, and the Apache National Forest to your itinerary, for an authentic feel of what Arizona is about
Whether you're doing a road trip through Arizona, seeking out the best landmarks, or attending a music festival, these elegant cabins will add that extra touch of opulence to your experience. Here are 12 luxury cabins in Arizona.
Also, be sure to read my guides on Luxury Cabins in Colorado & Luxury Cabins in Texas for more epic stays for future trips!
---
1) Stunning, Luxurious, Log Cabin Sanctuary
Where: Munds Park, Arkansas
Price: $749+ per night
Accommodates: 14 guests
This cabin stands out with its cozy lower living room featuring a wood-burning fireplace and the spacious deck equipped with a propane grill and outdoor heater. The fully enclosed backyard, adorned with artificial grass patches, is ideal for family games and outdoor fun. Inside, you'll find a gourmet kitchen with stainless steel appliances and granite countertops, along with comfortable bedrooms and bathrooms. The master suite on the first floor offers a private retreat with a king-sized bed, ensuite bathroom, and a walk-in closet.
Centrally located, this cabin serves as a convenient base for exploring the wonders of Northern Arizona. From the iconic Grand Canyon to the vibrant cities of Flagstaff, Sedona, and Phoenix, a range of tourist attractions and activities await you. Outdoor enthusiasts will appreciate the proximity to Lake O'Dell for fishing and water activities, as well as the nearby off-road and hiking trails for adventure.
View Photos, Read Reviews & Check Availability
---
2) Mountain Crest Vacation Retreat
Where: Flagstaff, Arizona
Price: $927+ USD per two-night stay
This mountain retreat covers around 3754 square feet of gorgeous land. The hardwood flooring leads you into an open and spacious lounge area that opens up to spectacular views. You won't have to strain your eyes to see Mount Elden from this prestigious neighborhood.
While you're at this Arizona cabin rental, you'll be provided with the basic amenities, providing a homely space with added luxury. There's a fully equipped kitchen with luxury appliances also that you can make your own coffee or prepare that casserole you've been dying to try. After making your tasty meals, you can choose between a casual dining area or a dining room table for more formal dinners.
Spend your night on the expansive porch, which makes a good place to read a book or unwind with the family. Head to the 800 square foot Master's bedroom and snuggle up in your king-sized bed to end off the day.
View Photos, Read Reviews & Check Availability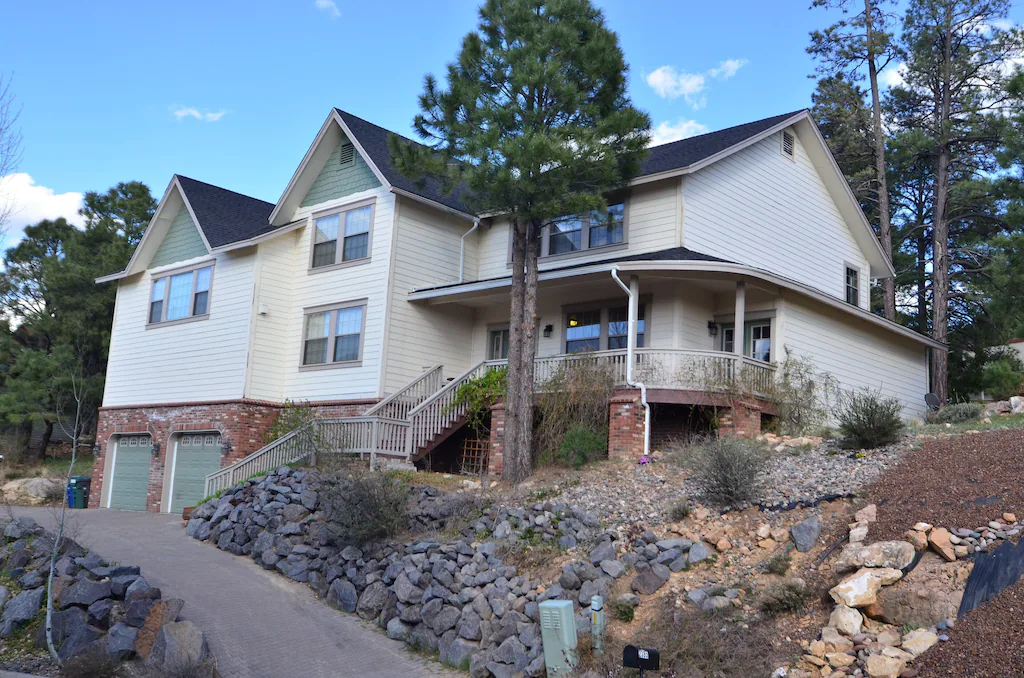 ---
3) Romantic Chalet in the Forest
Where: Gila County, Arizona
Price: $414+ USD per two-night stay
While you're looking for luxury cabin rentals in AZ, the one thing you need is a good view of the mountains. With this chalet, you're guaranteed an extraordinary glimpse of the Mogollon Rim as soon as you wake up.
Find yourself making a warm and tasty breakfast in the kitchen to a delicious dinner on the wood-burning stove. Enjoy your meal in front of the cathedral-like windows offering natural sunlight into the living room.
If you're looking for a secluded couples retreat, this is by far one of the better luxury cabin options. A private deck ideally looks out over the National Forest, offering shade and guaranteed privacy thanks to the tall pine trees that provide some exclusivity.
View Photos, Read Reviews & Check Availability
---
4) Hidden Hollow Luxury Log Cabin + Kids Treehouse
Where: Flagstaff, Arizona
Price: $1035+ USD per two-night stay
What's a good cabin without some entertainment for the kids? This hollow log cabin is perfect for adventure in the woods, especially if you've got winter plans in the snow. Here, you can enjoy mountain views of the snow-covered peaks straight from the wrap-around porch and balcony.
Besides the on-site treehouse, you and the kids can also take a hike through the forest trails or catch up on the game night in the family room. The Snow Bowl is just three minutes away, and the driveway is perfect for a little bit of sledding.
The property is suited to a maximum of six people and doesn't allow any pets. However, the two-and-a-half acres next to the National Forest make this completely worth it. This is a fabulous winter getaway for adventurous families with the heater indoors.
View Photos, Read Reviews & Check Availability
---
5) Acorn Lodge – Your Mountain Oasis
Where: Greer, Arizona
Price: $779+ USD per two-night stay
Rustic elegance and exclusivity come here to play. At this fantastic mountain oasis, you've got opportunities for exploration and thrilling crusades. There's something for everyone here, from hiking and skiing to bird-watching and fishing.
The White Mountains cabin ticks all the boxes for a luxury vacation. Here, you can wake up intertwined in Egyptian cotton sheets on a king-sized bed and head over to the kitchen to prepare your breakfast with top-of-the-range appliances.
Cuddle up in front of the fireplace and catch up on your latest novel or catch a movie on the 70-inch smart TV. If you'd like to get outside, you can observe deer, elk, antelope, and fox right on the property. Or, soak in the tub with a glass of champagne and your favorite tunes.
View Photos, Read Reviews & Check Availability
---
6) Moose Manor – Get Away to the Forest!
Where: Williams, Arizona
Price: $787+ USD per two-night stay
Situated between Flagstaff and Williams, this magnificently decorated cabin is fully furnished. A grand stone fireplace, soft earthy tones, and floor-to-ceiling windows allow the natural light to cascade into the living area.
At the Moose Manor, you can enjoy all the comforts of your home with a dash of added luxury. With a fully equipped kitchen to get you ready for the day. Kids can enjoy a playset out in the back or skiing near the Grand Canyon. There are also options like the Deer Farm, bike rides, quad bikes, or fishing, all only 10 minutes away from the cabin.
The cabin is close to Route 66, where you and the family can explore the historic downtown of Williams, Arizona, and the Grand Canyon Railway. The property also has high-speed internet and Wi-Fi access to update your social media and make your friends jealous.
View Photos, Read Reviews & Check Availability
---
7) Pinetop Luxury Cabin Retreat with Hot Tub
Where: Pinetop-Lakeside
Price: $1122+ USD per two-night stay
As far as pet-friendly accommodation in Arizona goes, this is a beautiful location to chill out in front of the fire or take a nap on the hammock with your furry friend. The cabin has recently been remodeled, so you can expect modernity and tons of space to take in the views.
Between the two balconies and three decks, you are spoilt for choice when deciding which vista you'd like to see. The Pinetop Cabin is equipped with many family activities to keep the younger ones entertained. You can choose between card games, chess, lighting the BBQ, or roasting marshmallows around the campfire pit.
There are places to go walking, horseback riding as well as cycling, and sledding right at your doorstep. If you're interested in fishing, hunting, or skiing, there are opportunities just a few more miles away.
View Photos, Read Reviews & Check Availability
---
8) Beautiful Mountain Retreat Nestled in the Ponderosa Pines of Munds Park
Where: Munds Park
Price: $676+ USD per two-night stay
This six-to-eight sleeper is spectacularly maintained, with bright light entering the cabin through the tree-lined outskirts. It is clean and comfortable, beautifully decorated with granite counters, maple cabinets, and real-wood floors.
This cabin is perfect for kids and is kitted with child-friendly interiors. Between the available booster seats and child-proofed gates and play areas, you won't have to worry about your kids too much. You and your family can enjoy a movie on the 50-inch smart TV or some outdoor play on the covered wrap-around deck.
The community in Munds Park is also ideally suited for families – with a playground, tennis courts, and other sporting areas like a basketball court, golf course, and fitness center. Just 20 miles from Sedona and 90 miles from Phoenix, it is a perfect stop off on a road trip through Arizona.
View Photos, Read Reviews & Check Availability
---
9) Luxury Secluded 4BR Cabin in Pines on 3 Acres – Flagstaff/ Grand Canyon
Where: Flagstaff, Arizona
Price: $751+ USD per two-night stay
Located about halfway between Flagstaff and Williams, this is a beautiful stopping point for your trip between Phoenix and the Grand Canyon. This cabin offers visitors a secluded retreat on the acres of Ponderosa Pines.
The luxury cabin is modern and fully furnished. The game room features a pool table for some friendly family competition and all of the essential amenities to make you feel at home.
If you'd like to get out, you can enjoy the views of pine trees from the deck or warm-up at the campfire while roasting marshmallows. Sit back and enjoy the star-gazing opportunity from the hammock while the propane fire pit keeps you snug.
View Photos, Read Reviews & Check Availability
---
10) White Mountain Cabin Retreat with Jacuzzi
Where: Pinetop-Lakeside
Price: $562+ USD per two-night stay
If you're looking for cabins to rent in Arizona with jacuzzis, this retreat is a stunning getaway (especially with your significant other). This cabin was built in 1955 in an ideal location, within close range to shopping centers and restaurants.
For skiers, the Sunrise Ski Resort is just 30 minutes away. Here, you can explore the lift rides, super slides, rock wall climbing, and so much more.
This cabin is adequately equipped, so all you have to bring is yourself and some food. With a fully stocked kitchen, a gas fireplace, jacuzzi, and a gazebo, this property covers all the bases to ensure that your romantic getaway in the mountains goes off without a hitch.
View Photos, Read Reviews & Check Availability
---
11) A-Frame Mountain View Cabin in a National Forest
Where: Flagstaff, Arizona
Price: $430+ USD per two-night stay
https://www.airbnb.com/rooms/2874724
Covering around one and a half acres of land on the border of the Coconino National Forest, this cabin may be small, but it packs a punch. Here, guests can enjoy mountain biking, grilling, or visiting the Petrified Forest.
There are many activities in the surrounding area; this cabin ticks all the boxes between Lake Powell, Sunset Crater, and Route 66. You can enjoy views of the forest and mountains from every room.
This location is an excellent spot for those looking to detox from screen time and get themselves off the grid as there is no internet, telephone, or satellite signal here. Grab yourself a cup of hot chocolate and enjoy some family bonding over board games.
View Photos, Read Reviews & Check Availability
---
12) Sunset Ridge Log Cabin With Hot Tub!
Where: Williams, Arizona
Price: $490+ USD per two-night stay
https://www.airbnb.com/rooms/40070749
Arizona's Airbnb cabin rental is modern, cozy, and custom-built to suit your mountain retreat needs. You can expect knotty pine cathedral ceilings and a floor-to-ceiling fireplace that adds a sense of warmth and indulgence.
The back deck is perfect for star-gazing and soaking in the hot tub while the sun sets. Make yourself at home with some smores around the campfire and dinner out on the deck. This cabin features comfortable sleeping space for around nine people. You can cozy up in the micro-plush blankets after freshening up with the complimentary bathroom products.
Spend the day exploring Route 66 just 15 minutes out. You can venture to the Polar Express or wander around the Bearizona Wildlife Park. End off your night with a few board games or movies.
View Photos, Read Reviews & Check Availability
---
13) Spectacular, GRAND, Mountain Cabin!
Where: Munds Park, Arkansas
Price: $550+ per night
Accommodates: 15 guests
Nestled in a secluded cul-de-sac, this stunning home offers serenity and privacy in a resort-like setting. With an open floor plan, oversized windows, and beautiful natural surroundings, it's the perfect place to unwind. Inside the cabin, you'll find spacious living areas, a modern kitchen with stainless steel appliances and granite countertops, and comfortable bedrooms. The master suite boasts a king bed, a luxurious bathroom with a walk-in shower and bathtub, and French doors opening to a wrap-around porch. Enjoy modern amenities such as a hot tub, high-speed internet, and a wood-burning fireplace.
Centrally located, this property serves as an ideal base for exploring Northern Arizona's top attractions. From the majestic Grand Canyon to the vibrant city of Sedona, and from the cultural hub of Flagstaff to the bustling metropolis of Phoenix, you'll have easy access to it all.
View Photos, Read Reviews & Check Availability
---
14) Grandma TJ's Luxury Mountain Getaway
Where: Heber, Arkansas
Price: $911+ per night
Accommodates: 20 guests
The cabin's interior boasts a magnificent great room adorned with floor-to-ceiling stone fireplace, wildlife mounts, and a large TV with Dish Satellite. Upstairs you will find a game room complete with a pool table, ping pong table, air hockey table, and arcade games. A big screen TV and comfortable leather lazy boy chairs create the perfect space to relax and have fun. The kids' bedroom is filled with three single beds, one king bed, and a variety of toys and games. Outdoors, a large covered patio provides group seating, and there are three propane BBQ grills for your use. The spacious grass play area, basketballs, outdoor games, and a kids' PlayHouse offer endless entertainment. Gather around the large fire pit with seating for 10 and enjoy the stocked firewood.
For outdoor enthusiasts, the cabin is ideally located near the national forest, offering access to miles of hiking, horseback riding, mountain biking, and ATV trails. Nearby lakes provide opportunities for fishing, canoeing, and boating. Horseback riding enthusiasts can arrange a visit to a nearby ranch or bring their own horses and utilize the fenced corral and tack barn on the property.
View Photos, Read Reviews & Check Availability
---
15) Secluded Cozy Cabin With National Forest Backyard
Where: Payson, Arizona
Price: $445+ USD per two-night stay
https://www.airbnb.com/rooms/52993351
Most cabins for rent in Arizona are secluded, and this one is no different – but what is different about this cabin is the 25-minute drive from Payson city center. This makes for a fantastic day trip. Once you arrive at the house, you can choose between three bedrooms on this 2100 square feet property.
The cabin features a wrap-around patio where you can laze about on hammocks and enjoy the exclusivity that this location provides. The National Forest is right around the corner, so you can easily explore the area, scouting a couple of waterfalls.
There is even a natural spring in the surrounding forest, so be sure to keep your camera ready for a few great shots of the hike.
View Photos, Read Re​​views & Check Availability
---
Thank You for Reading This List of My Favorite Cabin Rentals Arizona!
Share This List With Your Family and Friends to Start Planning Your Luxury Cabin Escape Right Away!
https://www.jonesaroundtheworld.com/wp-content/uploads/2021/12/Moose-Manor-Arizona-Luxury-Cabin-Rental.webp
683
1024
TravelTractionsJATW
https://www.jonesaroundtheworld.com/wp-content/uploads/2017/03/logotry-1-1-300x106.png
TravelTractionsJATW
2023-05-21 03:56:50
2023-05-23 22:12:32
15 Best Luxury Cabins in Arizona To Rent in 2023