You should try the drive from Phoenix to the Grand Canyon. The Canyon is a national and historical treasure and well worth seeing for its sheer majesty – it's about 4000 feet deep in places and 277 miles in length. But don't rush to get there.
How far is the Grand Canyon from Phoenix? It depends. You do have a few route options, so the distance from Phoenix to the Grand Canyon can be anywhere from 230 to 350 miles, depending on which turns you choose to take.
Those turns may also depend largely on which of these stops you want to make along the way. You could do the drive in 4 hours non-stop – but why miss all the good stuff? Each of these detours offers its charms, making a drive much more appealing over a couple of days.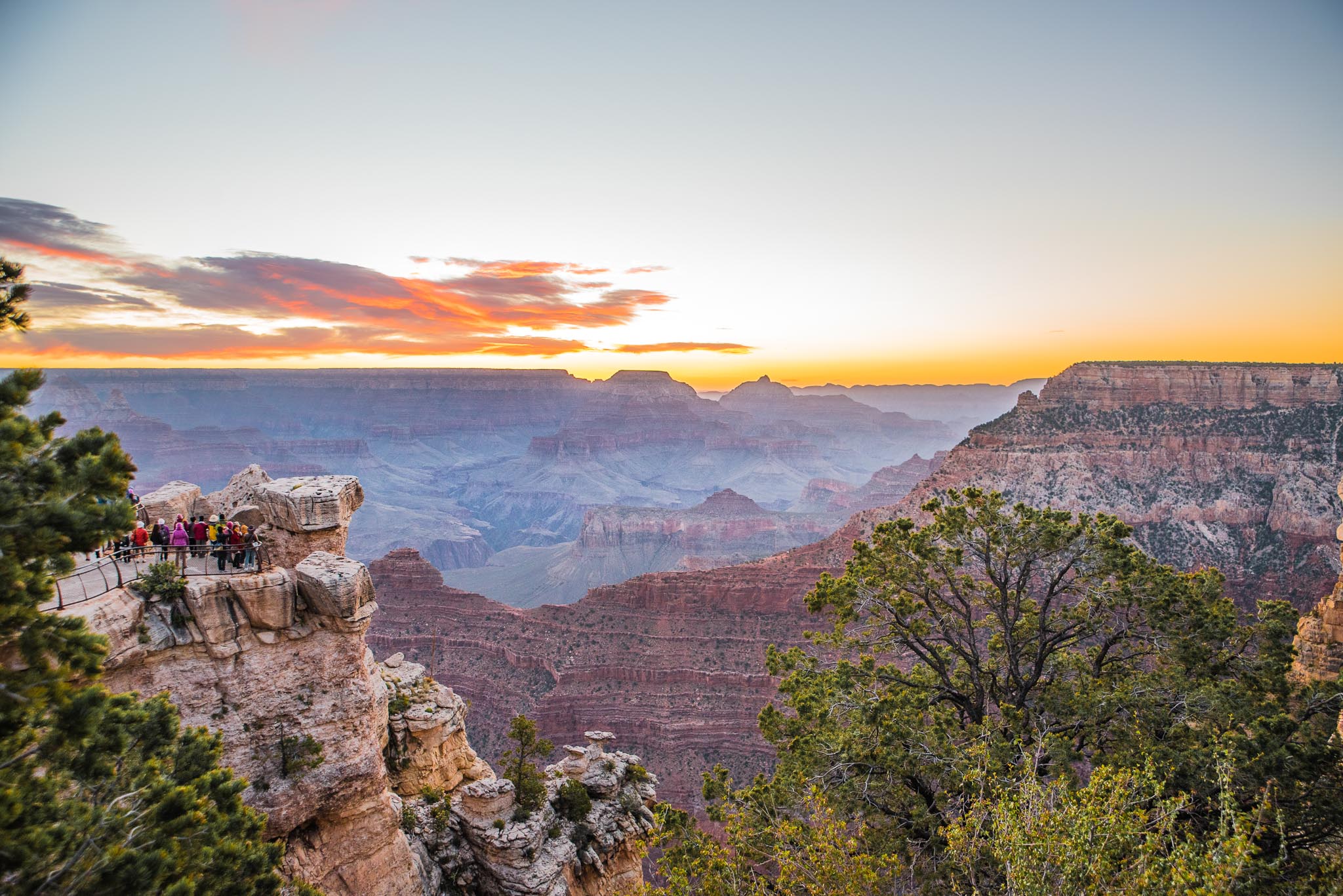 An Arizona road trip is something to savor. Drive time from Phoenix to Grand Canyon? As little as four hours, but I recommend two days. Hot tip: Beyond your Phoenix AZ to Grand Canyon National Park trip, take a look at this list of great Airbnbs in Arizona. If you prefer a (slightly) more rustic experience, consider Arizona's superb glamping options.
So let's take a look at the road trip to the Grand Canyon from Phoenix.
---
1) Tonto Natural Bridge State Park
About an hour from Phoenix is the town of Payson. The Tonto National bridge is just beyond this town. The bridge is thought to be the largest natural bridge in the world and is an arched bit of landscape that has been measured at up to 184 feet at its highest point above ground.
There are a few hikes and trails around the bridge and area. The main two-mile walk is trendy, but it is considered difficult. You'll want to do it if you're a keen hiker. If you're not, the bridge can still be viewed from a few spots around the state park area, which surrounds the bridge.
It's one of the locations that put you in an appropriate mood for what Arizona's natural vibe is like.
Where to stay in Payson: Ronnie's Resort.
What's an Arizona road trip without a stay in a bona fide resort complete with a casino? Don't be too intimidated. This is a casual, quiet, friendly place, run with a personal touch. This is where you go for a personable break, a dip in the pool, and even a relaxing drink out on the terrace in the desert air.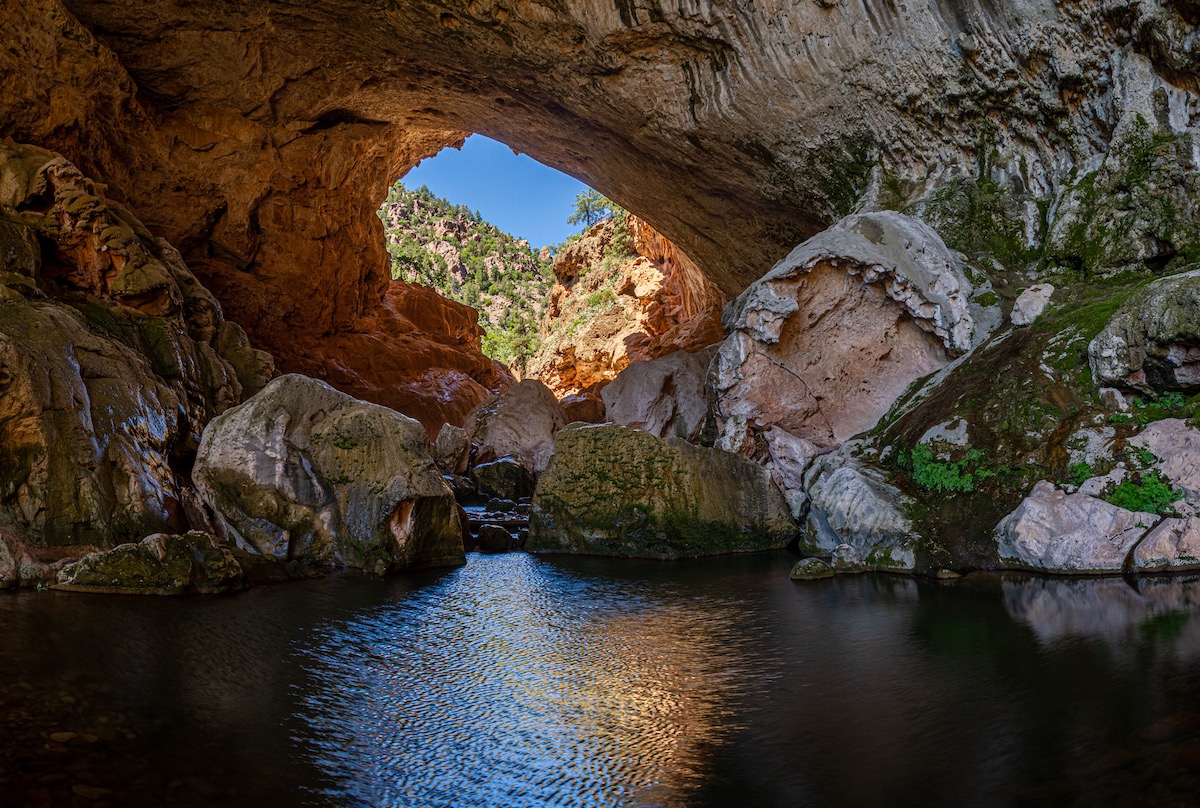 ---
2) Arcosanti
They say that Arcosanti appeals to sci-fi fans. It's an experimental city, conceived in the 1970s by architect Paolo Soleri. The idea was quite out-of-the-box; to create a town with designed living spaces, using futuristic designs that remind you of classic SF book art.
Bubbles and domes seem to spring up from the alien-like world (it's just the desert, but it IS Arizona). It's an ambitious and visionary idea with an eye to low energy footprints, minimalism, and a futuristic lifestyle.
Why not spend the afternoon looking around, and stay the evening for a taste of what the future looked like for Soleri? You can opt for a simple room or a sky suite. The desert does provide for some spectacular scenes as the day goes on.
Where to stay near Arcosanti: Crown King Cabins Bradshaw
If the futuristic approach of Arcosanti doesn't appeal, or if it's unavailable (space is limited), you can try these awesome cabins located a few miles down the road in Crown King. They're more contemporary, for sure, but the woodland setting and comfy settings more than make their own case.
Join Edgar Ramirez for a Tour of Arcosanti, An Architectural Wonder In the Arizona Desert | GQ
---
3) Black Canyon City
Black Canyon City is one of those places that would be in danger of being lost to time. When the modern freeway system was built, it became one of those small-town casualties, forever bypassed by the speed of progress.
In the way back – the late 1800s – it was a significant stop for stagecoaches passing through, and it became a junction town for hopeful prospectors. Today it somehow maintains a small but loyal community and following, and there's one particular aspect of the local cuisine that is considered a national treasure.
The Rock Springs Cafe's pies have been the subject of much debate for 90 years. The venue serves 21 types of pie, each with its unique fillings and toppings. It would be an absolute travesty to pass through this part of the country without trying several of them for a first-hand experience.
Where to stay near Black Canyon City: Rancho Manana Resort

Book a room at the nearby Rancho Manana Resort in Cave Creek for a bit of a self-spoil. It will be especially appealing to golfers, as a club is right next door. But others can hang out in the huge pool most of the day if they choose.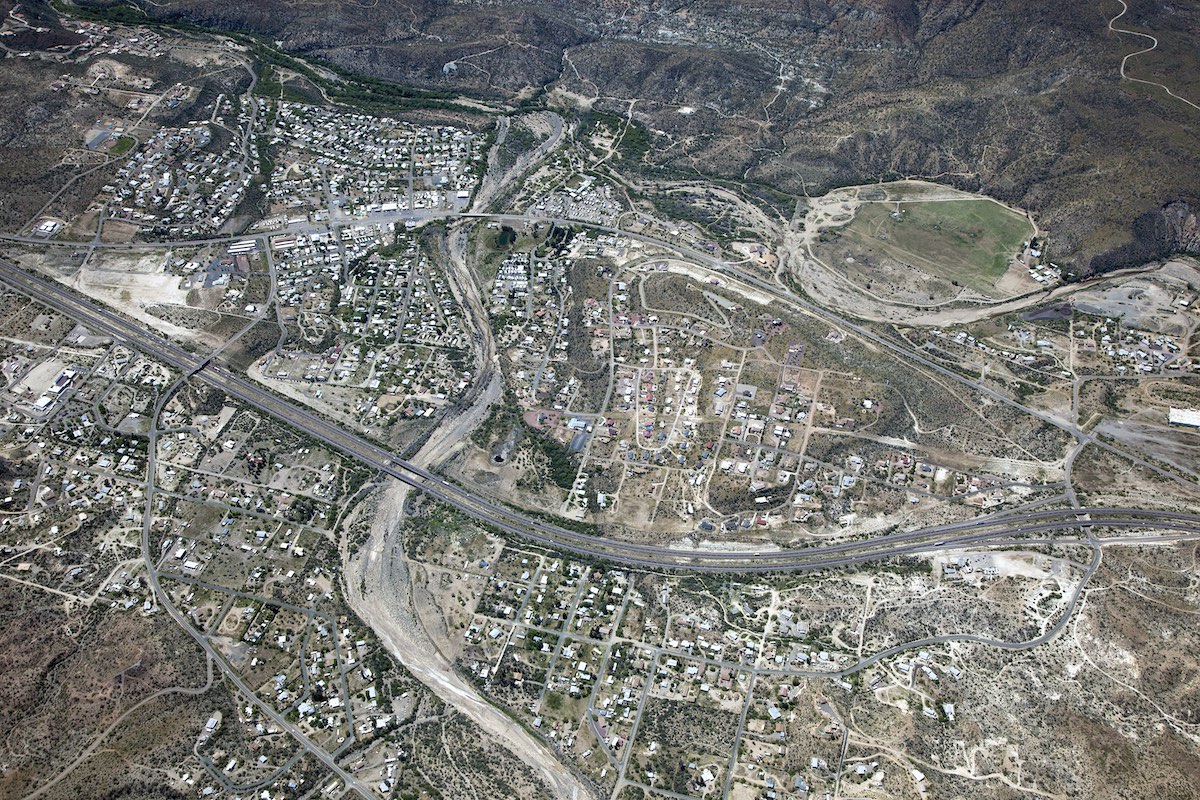 ---
4) Prescott
More of Arizona's incredible natural beauty is on offer here, with the Prescott National Forest pine trees at your disposal. It's estimated that there are over 400 miles of hiking trails to choose from here.
Prescott is a historic town that does a pretty good job of celebrating some of the unique things in its heritage. If you have a mental image of what the mythical west looked like in the 1800s, Prescott can probably give you some idea.
Whiskey Row is a street that features several old-style pubs or saloons. Many of the houses in downtown Prescott are Victorian era buildings that still retain a semblance of their original facade. The Sharlot Hall Museum and The Smoki Museum display records and artifacts of the region's early pioneers and Native American peoples.
This is an excellent stop if you're driving from Grand Canyon to Phoenix as well, and vice versa.
Where to stay in Prescott: The Motor Lodge

A superb, highly-rated boutique hotel right on the edge of downtown. It's a walking distance to many local attractions. The Lodge boasts sizable rooms, each with terraces, and the obligatory but ever-popular fire pits are all superb for recharging after a day of exploring the Arizona wilds.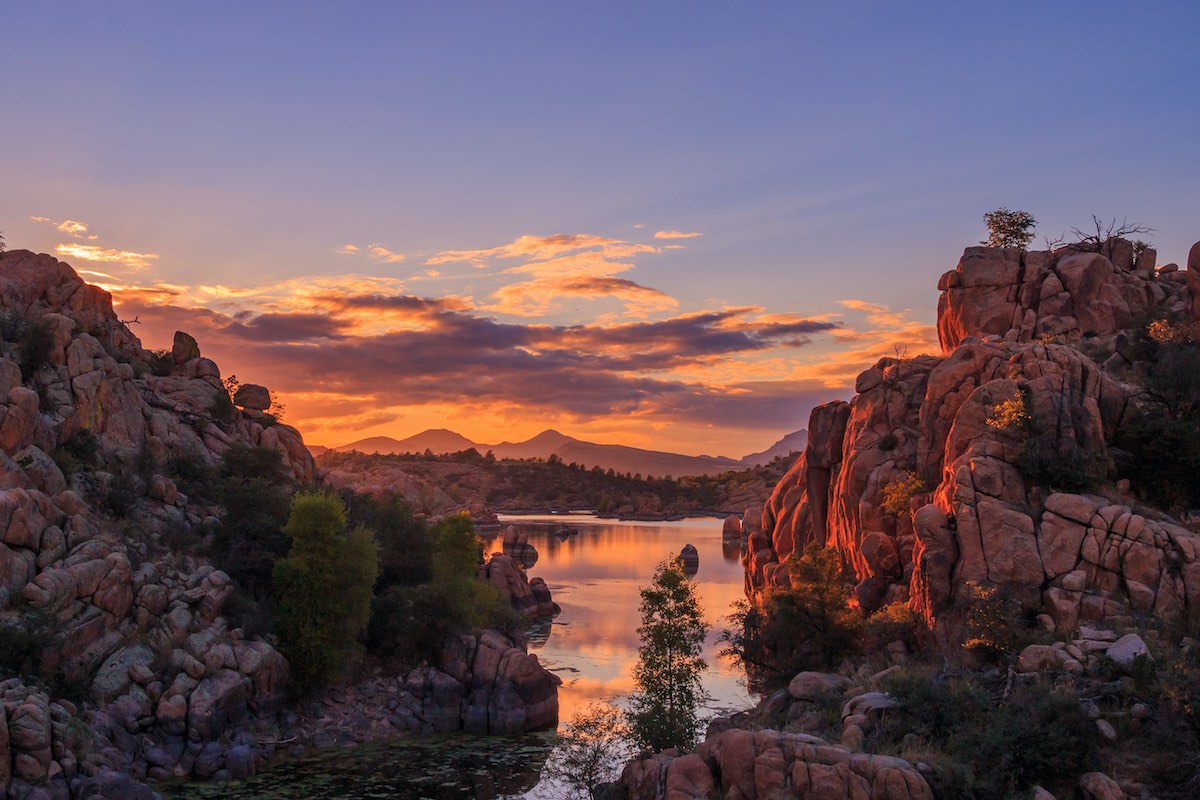 ---
5) Jerome
The Entire town of Jerome was declared a National Historic Landmark in the 1960s. It was once one of the most significant towns in the entire state. This was during the mining boom in the early 1900s. Gold, copper, and silver were mined and produced here.
Locals will tell you that this was once the site of the richest individually-owned mine in the world. When the mining industry shut down in the 1950s, Jerome became a vast ghost town. Today the city is partially restored as a historical relic, with a few modern additions.
Given its abundance of accommodation and hospitality venues, it's got a good wine and art community and seems to be a successful stop.
Where to stay in Jerome: The Clinkscale
Look past the unusual name, and you'll be blown away at the sense of style here. Each room looks incredibly welcoming, many with brick walls and deep, comfortable beds. The food in the attached restaurant has also drawn rave reviews, so it's got all your bases covered.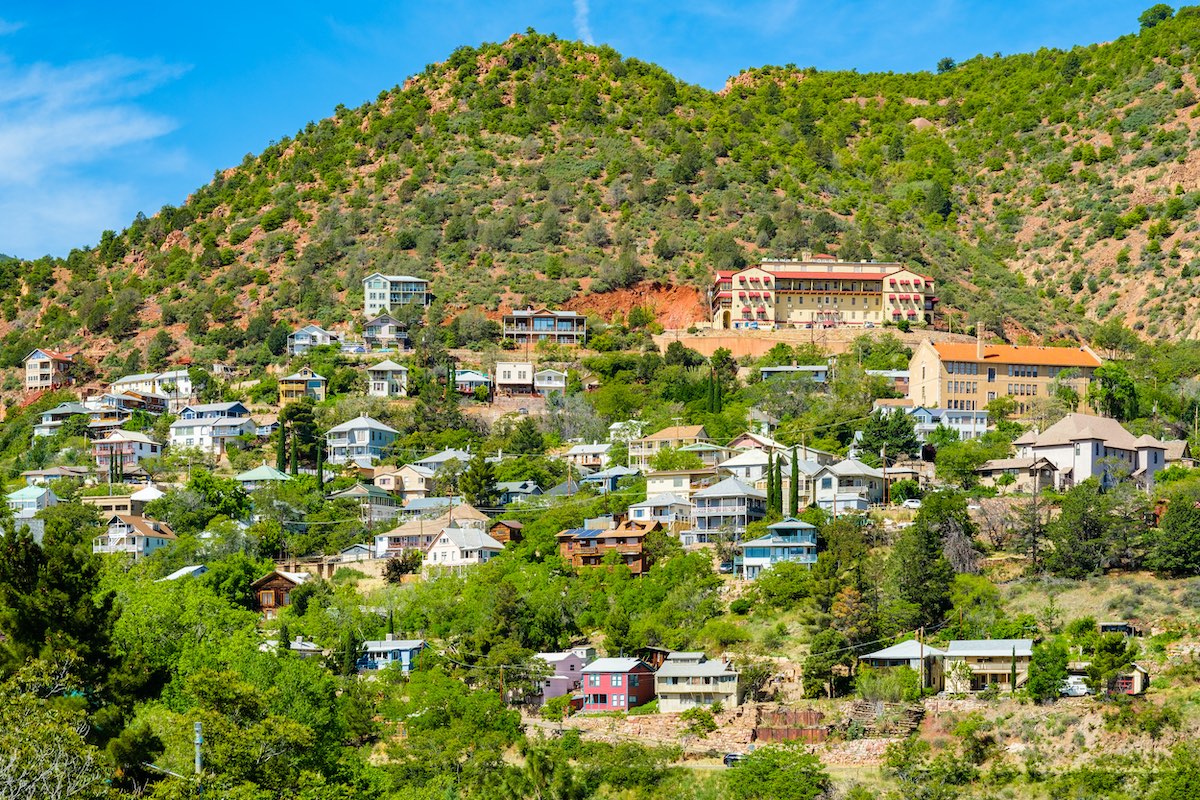 ---
6) Montezuma Castle National Monument
The Sinagua people were Native Americans who lived in this area, and the dwellings at Montezuma Castle are an excellent opportunity to see how they lived.
Montezuma Castle National Monument is situated 100 feet up on a sheer limestone cliff.The structure that was the homestead is a collection of around 20 rooms built into the cliff. It stands about five stories high and totals nearly 4000 square feet in area.
The entire cliff drops down into the Verde Valley. The river was probably a reliable water source, but the construction height suggests that the Sinagua did this to avoid annual floods. It is believed that the Sinagua lived here from around 1100 AD. There seems to be no confirmed record that they were still here by the late 1400s.
The condition of Montezuma Castle is remarkable, given the age of the dwelling. It is considered one of the best-preserved structures on the continent. Although you cannot physically visit the ruins, there are positions on the hike that you can take pictures from.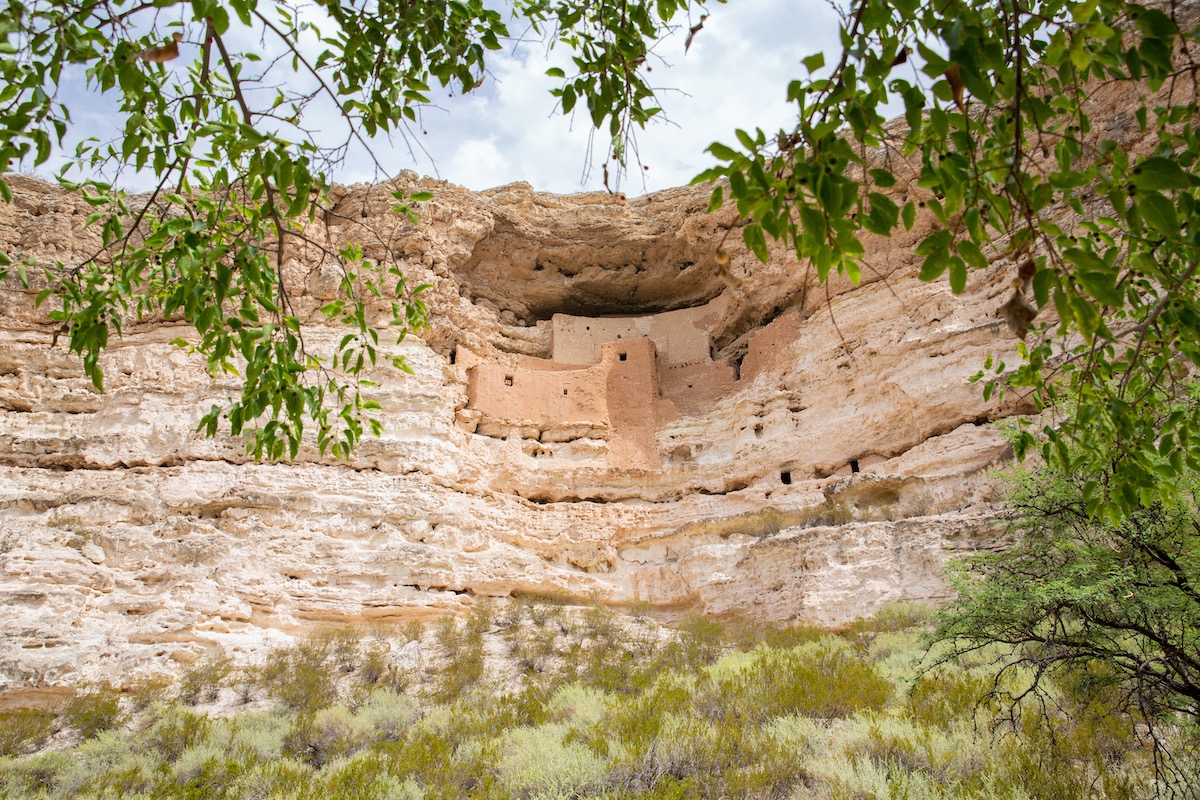 ---
7) Sedona
Sedona means a few different things to different people. Some say it's a global healing point, meaning that there's an energy here that seems to revitalize and inspire. Maybe it has to do with the red rocks and scenery of the surrounding landscape.
Whatever the case, Sedona does have a lot to offer, from the natural beauty and nature to more modern ideas like wine, recreational activities, and excellent accommodation options. It is probably another place you should consider staying over.
Yes, the shops and eateries do often lean towards the esoteric vibe. But that makes Sedona a wonderful place to embrace something beyond the hustle and bustle of urgent holidaying. You can take your time here, so settle up for a day or two to embrace the mystery of why Sedona has been so important to all who have settled here.
Where to stay in Sedona: Orchards Inn
If a great location for a fantastic sunrise is what you're after, it won't get better than this. Walk out on the terrace to witness the sunrise over the hills, which happen to be some of the area's more famous formations – Snoopy Rock, Cathedral Rock, Elephant Rock, and others.
You might also try one of the recommendations on this list of the best Airbnbs in Sedona.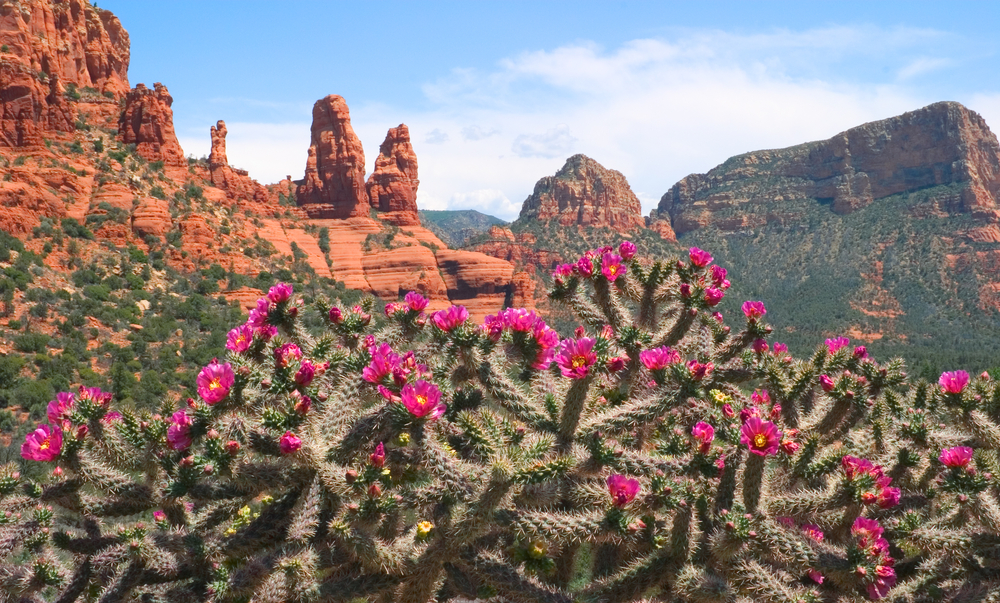 ---
8) Flagstaff
Depending on which time of the year you drive from Phoenix to the Grand Canyon, Flagstaff is your go-to for a ski or a hike up a dormant volcano. Regardless of which you do, the artisanal breweries offer a varied taste of the local beers. You might also be keen on trying the Lava Tube Caves, the amazing Meteor Crater, and Walnut Canyon.
Did you know that the dwarf planet Pluto was first discovered from the Lowell Observatory here in Flagstaff? You can visit the Observatory and enjoy the observation deck. If you want to know more, why not attend one of the talks or check out the fascinating exhibits.
There's plenty to do outdoors, too, with river excursions, walks, hikes, and even a few historical tours to tackle – if you're into history. Buffalo Park is a great casual walk, and you may even see some deer hanging out between the dogs and people.
Where to stay in Flagstaff: Residence Inn
This Marriott partner hotel is rated and considered superb by visitors. Its appeal is evident before you enter, with red brick walls dominating a pretty street corner in downtown Flagstaff. The breakfast is included (and also highly rated), and the location is dead central to anything you might want to see in the town itself.
Alternatively, one of these great Flagstaff Airbnbs might be right for you.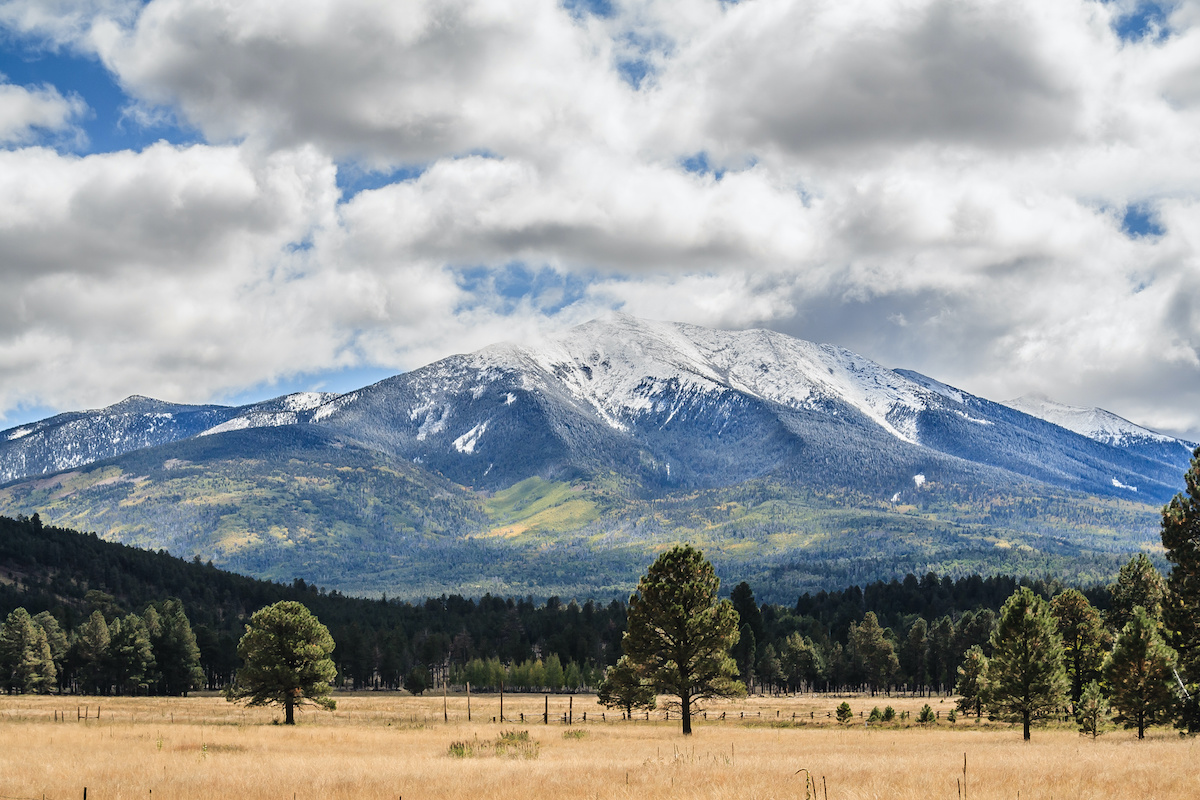 ---
9) Sunset Crater Volcano National Monument
When driving from Phoenix to the Grand Canyon, you will pass actual dormant volcanoes. There's an exciting story behind Sunset Crater and the founding of the National Monument site.
The story goes that a film crew had planned to detonate explosives on one side of the crater back in 1930. The movie Avalanche would then feature a real avalanche – spectacular scenes for a movie, probably.
The local people were not at all impressed with this idea and started a protest lobby. All of this led to the area being designated a historic site and a National Monument, never damaged by anything but Mother Nature herself.
Even hikers are not allowed to free climb to the top anymore, as this causes too much damage to the terrain. But there is a curated hike trail that you are allowed to follow to reach the top.
Hikers will enjoy it, but true volcano science enthusiasts will indeed be in their element. You can also simply check-in at the visitor's center if you like. Records show that the volcano last erupted in 1085.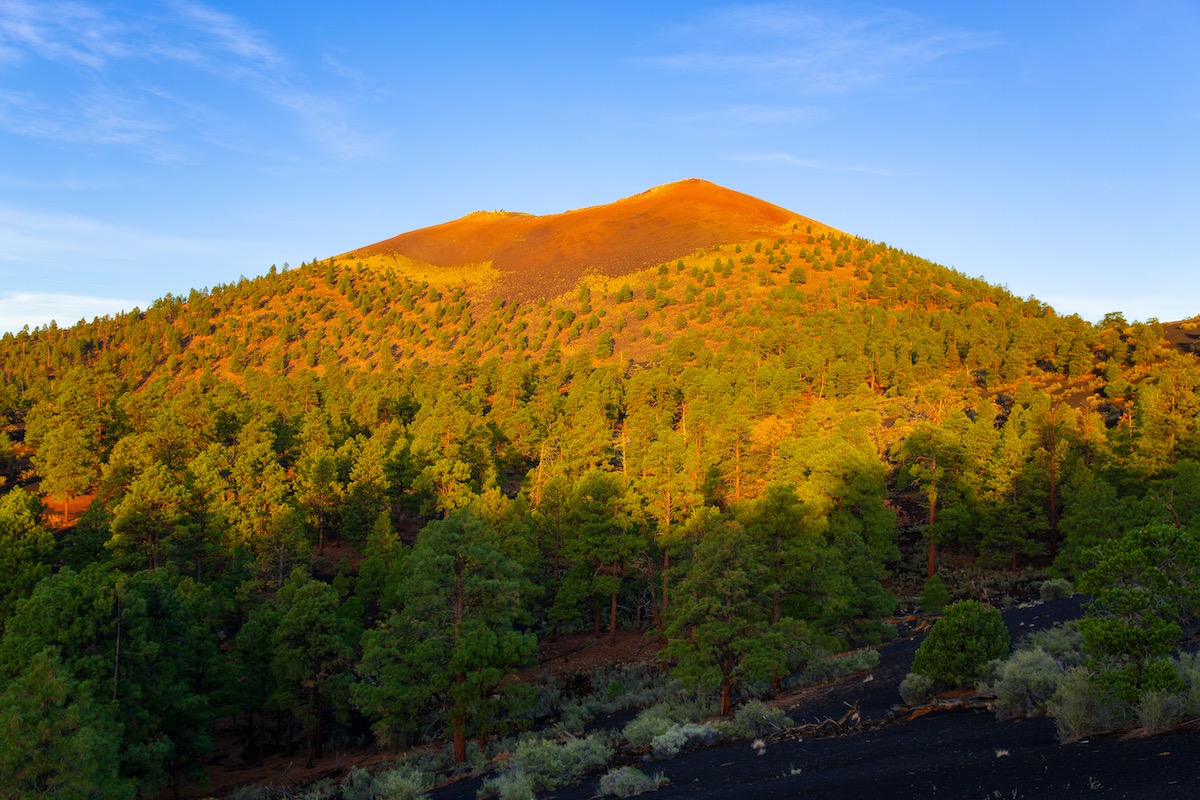 ---
Planning a trip to Arizona?
I've written quite a bit about this incredible state, so be sure to read some of my other guides for more trip ideas in surrounding destinations and music festivals!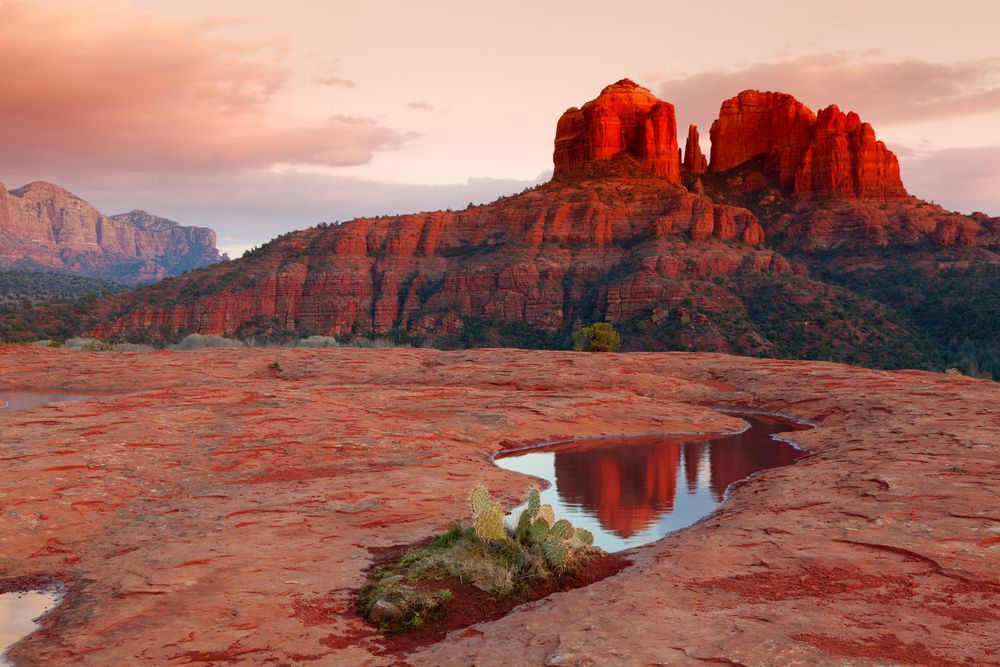 ---
https://www.jonesaroundtheworld.com/wp-content/uploads/2021/09/Phoenix-to-Grand-Canyon-Drive-.jpg
1367
2048
TravelTractionsJATW
https://www.jonesaroundtheworld.com/wp-content/uploads/2017/03/logotry-1-1-300x106.png
TravelTractionsJATW
2021-09-21 20:17:59
2021-09-21 20:18:16
Phoenix to Grand Canyon Drive | 9 Fun Road Trip Stops to Make