From scenic landscapes to dancing the Flamenco on cobbled streets – the most beautiful cities in Spain encapsulate the country's vibrant versatility.
Spain's beauty lies in its culture, traditions, architecture, and history. There is never a dull moment here. So, before planning your next trip to Spain, take a look at this guide and start mapping out which of the prettiest cities in Spain you are eager to visit.
Spain is known for its beautiful, romantic, and architecturally stunning cities. Each of these cities burst with a plethora of fun festivals, friendly people, and mouth-watering food. The cities in Spain offer something special for everyone. Here you will discover Spain's most beautiful cities and find out what gives them their compelling charm.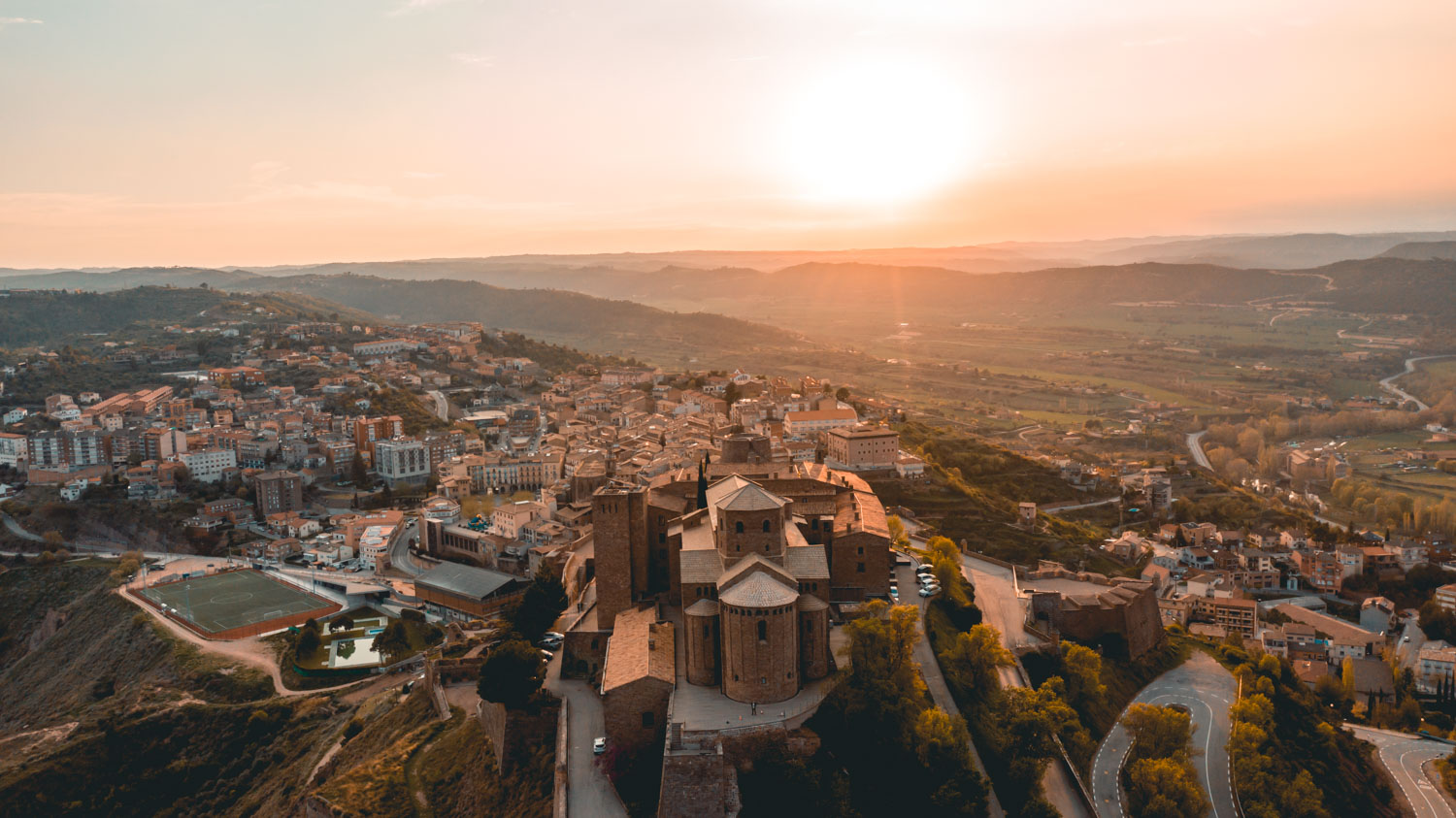 ---
1) Barcelona
Barcelona is one of the best Spanish cities to visit because it has so much to offer in terms of culture and traditions. One thing that Barcelona is famous for is its intricate architecture of Gaudi's Sagrada Familia.
This is one of the liveliest cities in Spain, with a string of year-round festivals, as well as a vibrant nightlife scene. This atmospheric city is also great for shopping, restaurants, and luxury hotels. In the summer, make sure you find yourself spending a couple of days down at one of Barcelona's very popular beaches.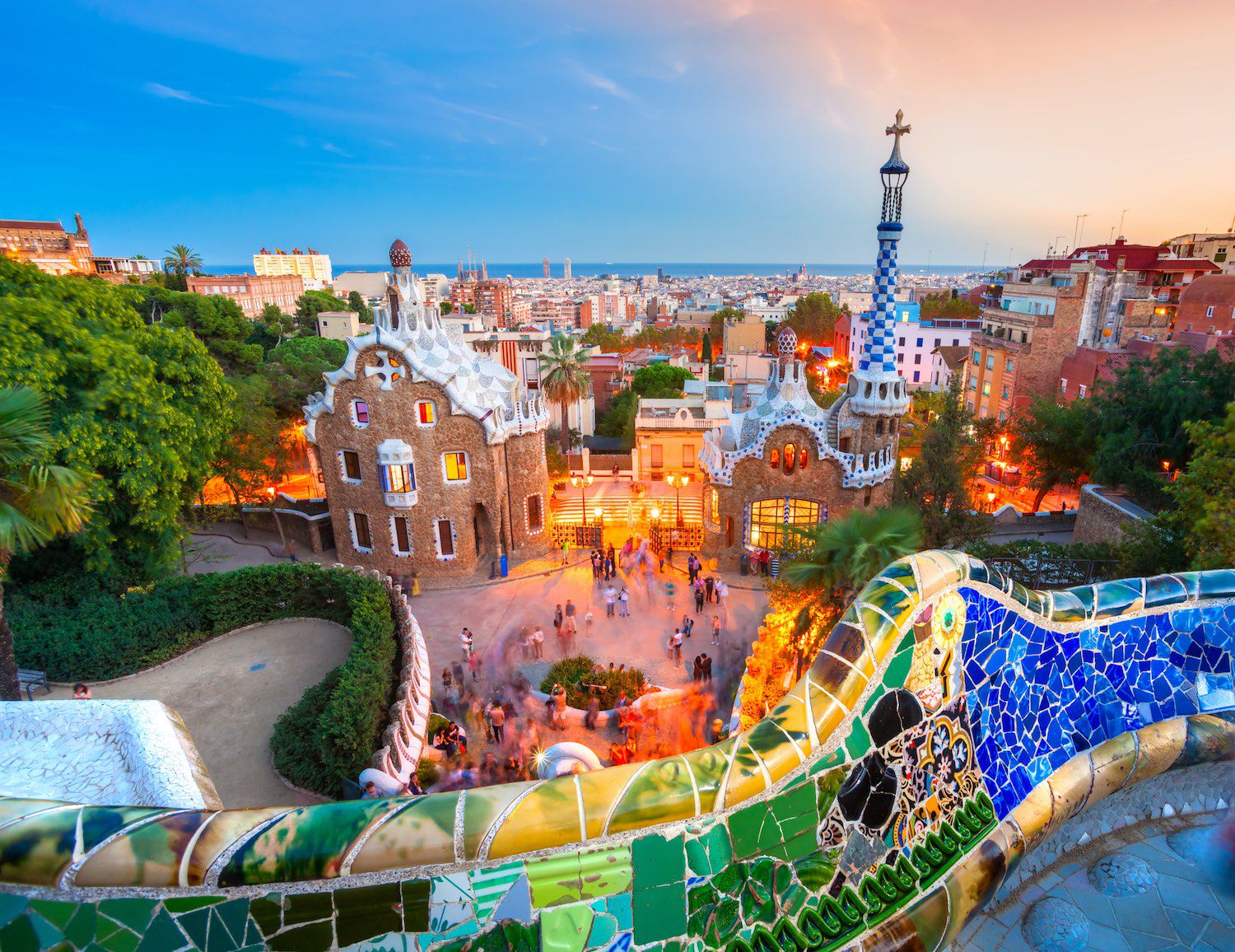 ---
2) Valencia
Spain's third-largest city is also home to a mix of modern and ancient architecture. The astonishing City of Arts and Sciences building is a very popular attraction. This is just one example of the futuristic architecture Valencia is known for.
This city in Spain is located on the southeastern coast, where the Turia River meets the Mediterranean Sea. Valencia is one of the top Spanish cities to visit with its perfect blend of culture, beach, and gastronomy. Not to mention the infamous Spanish dish, Paella, originating from the province of Valencia.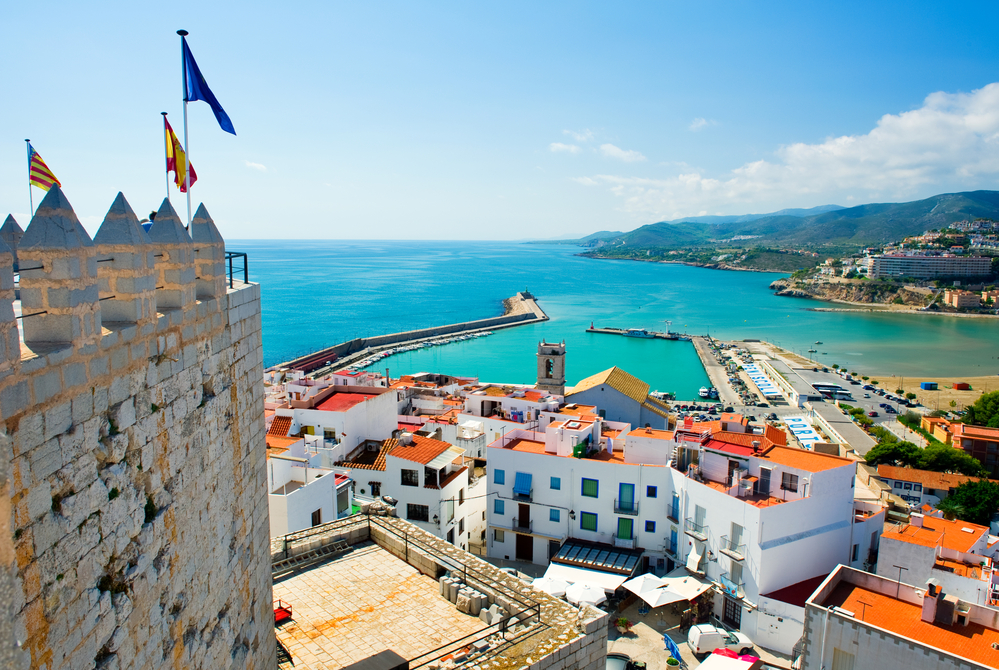 ---
3) Madrid
Madrid is the largest city in Spain, complete with modern and old architecture, parks, palaces, and museums. You can soak up so much culture and history here that it's easy to immerse yourself in Spain's cosmopolitan capital city.
The Spring and Fall seasons are the best time of year to visit the city. Known for being home to a fine collection of European art (including Goya and Velázquez), you can also enjoy the local tapas and shop until you drop along the Gran Via.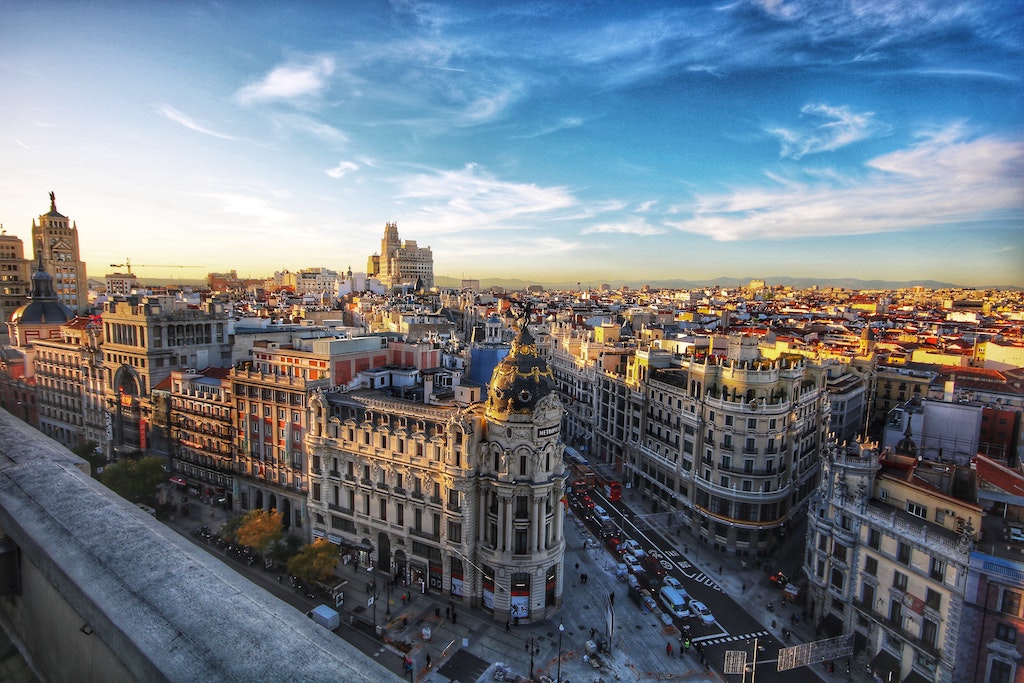 ---
4) Seville
Seville is known as the most romantic and one of the most beautiful Spanish cities in the country. It is perhaps the most romantic city because it is also the birthplace of Flamenco.
This popular Spanish city of Seville is also home to a gothic superb cathedral and tower, La Giralda, as well as the famous Royal Palaces with their gorgeous Mudejar architecture.
Seville also has some fine cuisine. The southern Spanish city has a large community of artists, writers, and composers giving it a free-spirited, bohemian feel.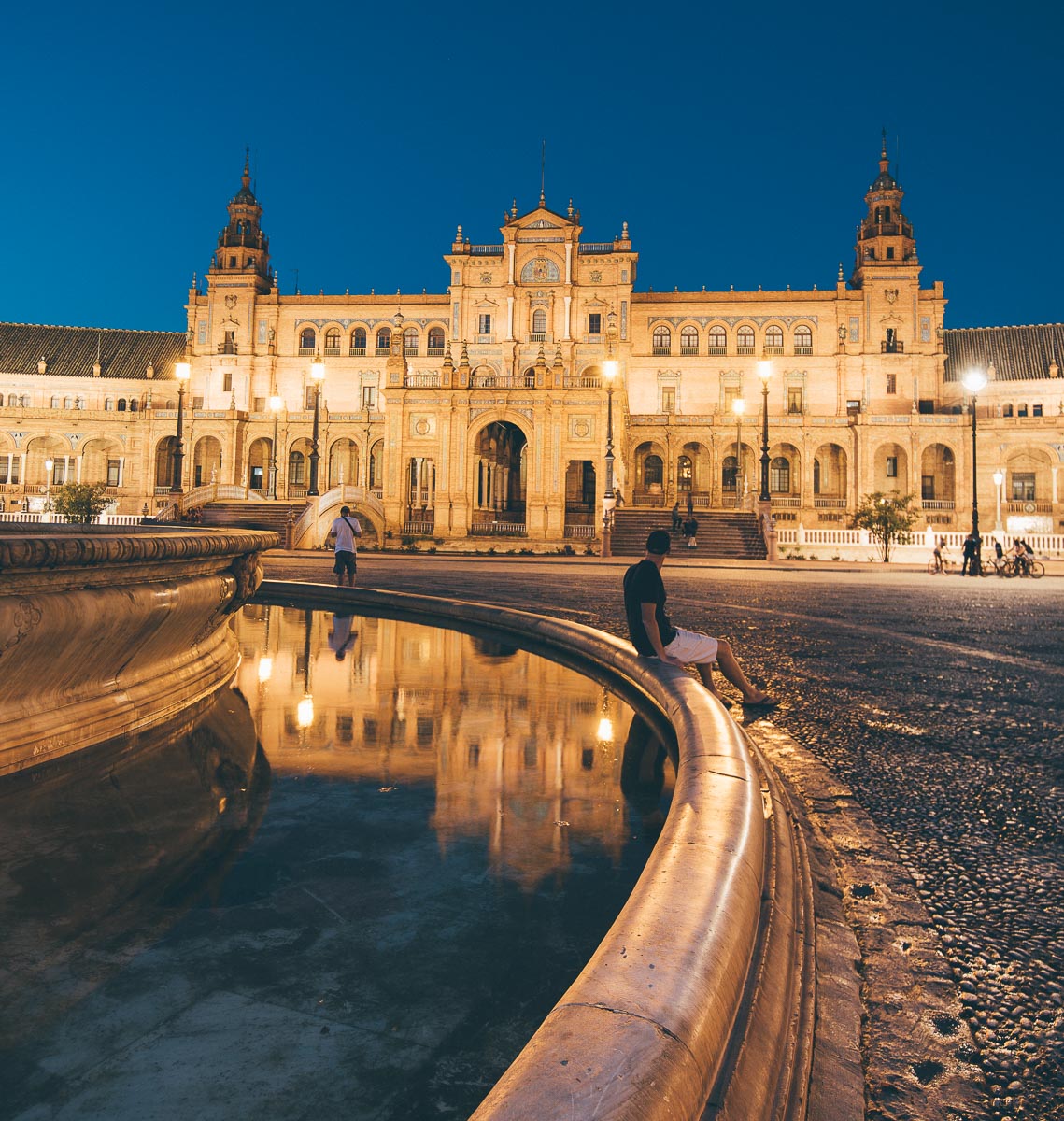 ---
5) San Sebastián
San Sebastian is one of the most alluring and seductive cities in Spain. This coastal city attracts millions of visitors from all over the world every year and it is not hard to understand why. San Sebastian's coastal location allows for the freshest seafood, close proximity to the French border, and incomparable views of the ocean.
Attractions in San Sebastian include beaches, ancient architecture, and the unique Basque language, the oldest language spoken in Europe. San Sebastián is also home to some of the best chefs in the country and has the first culinary university in Spain, the Basque Culinary Center.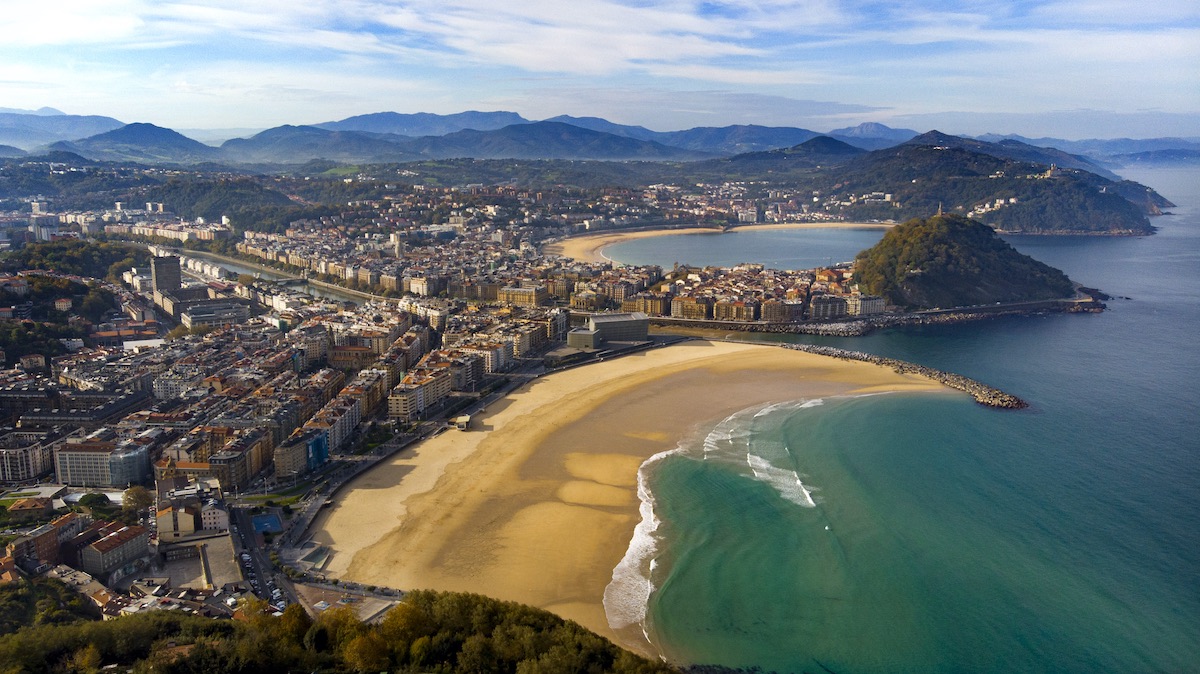 ---
6) Ronda
Ronda is a must-visit city in Spain, known for its picturesque beauty. Perched on the top of a 300 feet gorge, Ronda is known for offering stunning views and being home to a laid-back cafe culture.
Ronda is one of the few cities in Spain that has resisted gentrification, which makes visiting the town extra special. Here you can explore the ruins and appreciate the city's historical significance.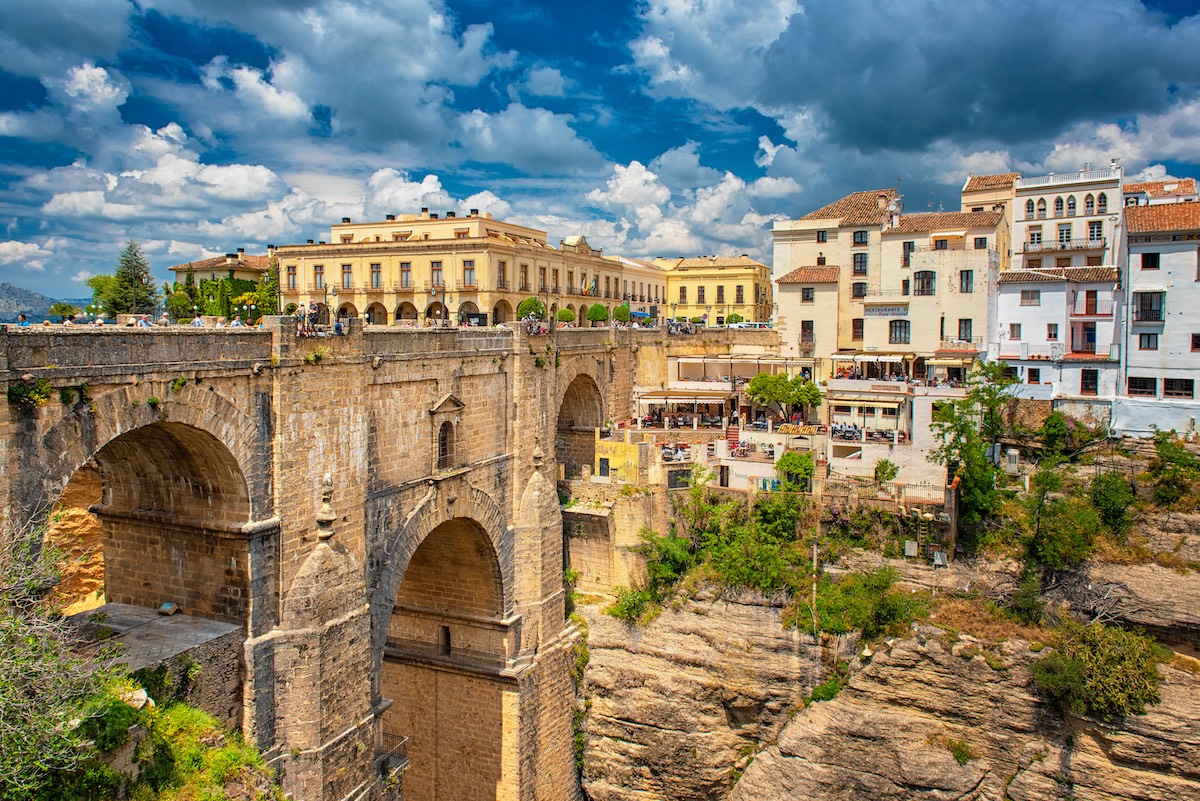 ---
7) Bilbao
In northern Spain, Bilbao stands out for its modern architecture and is famous for being the art hub of the country. Bilbao is one of the cool cities in Spain that is iconic for the Guggenheim Bilbao Museum. This colossal titanium structure houses some spectacular modern art.
Be sure to wander around the neighborhoods of Bilbao and dip in and out of the many bars to sample some tasty pintxos – the Bilbao equivalent of tapas.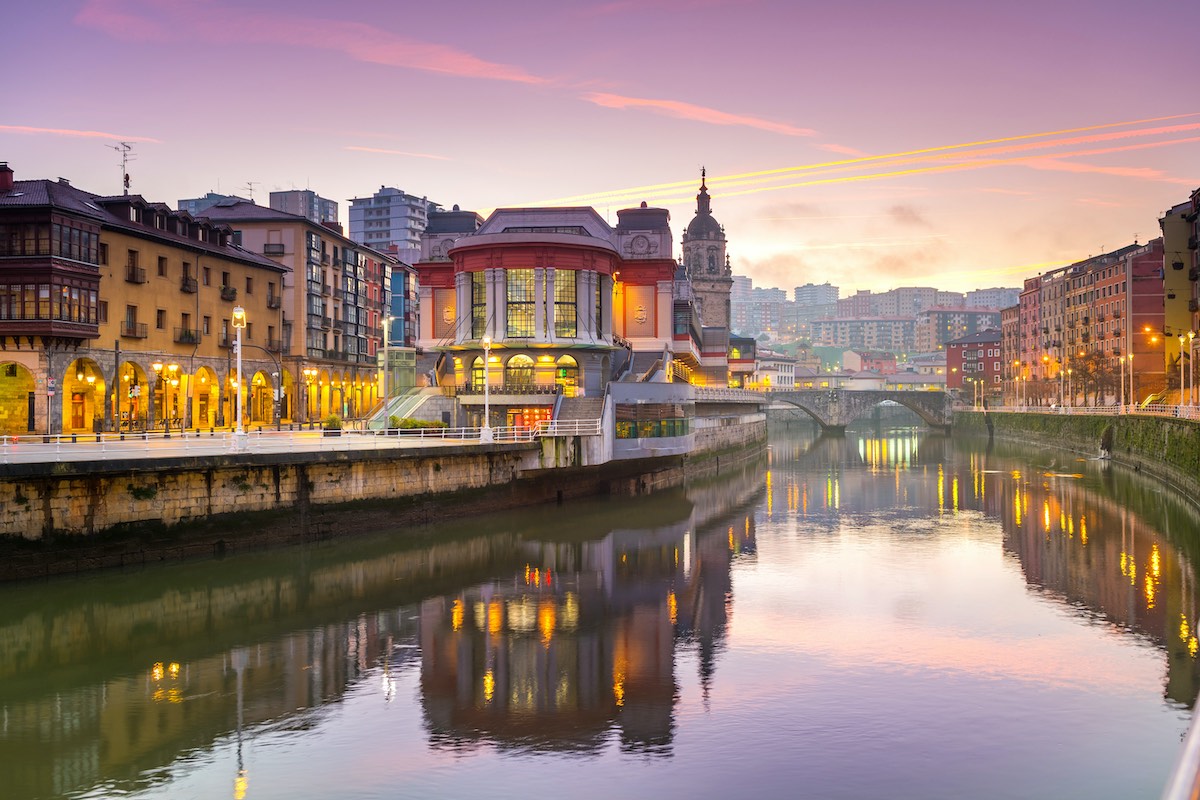 ---
8) Málaga
The twinkling lights of Málaga make this the prettiest city in Spain. This city has its hand on the pulse of modernity. Málaga is full of museums and terraces with spectacular views. Málaga has a rich historical heritage with the Cathedral, the Alcazaba, the Roman Theatre, the Gibralfaro Castle, and the more recent monument, Muelle Uno.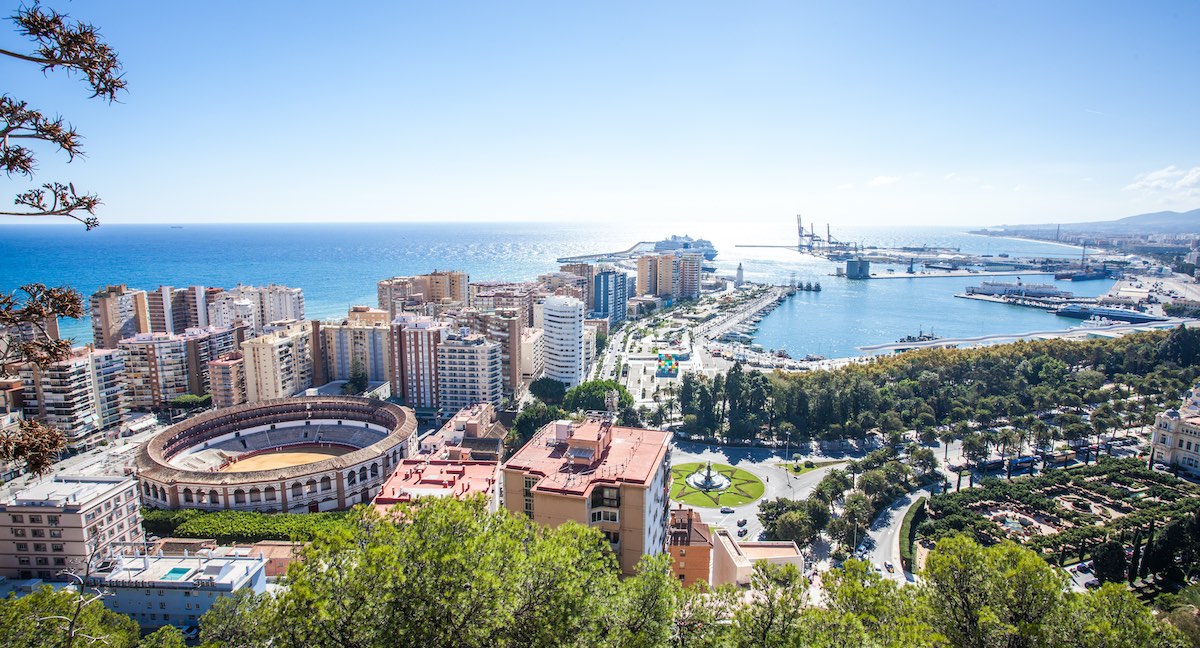 ---
9) Palma
Palma is a small city with a collection of art galleries, museums, and a handful of some lux swish boutique hotels. In addition to the city's modern charm, Palma has a mixture of medieval streets, Baroque churches, bustling plaza's and a majestic gothic cathedral.
Palma is a newly gentrified port area and is home to several great eateries, swanky bars, beach clubs, and of course an expansive choice of tapas bars. You can also soak up the bohemian vibe of the old town and the neighborhood of Santa Catalina.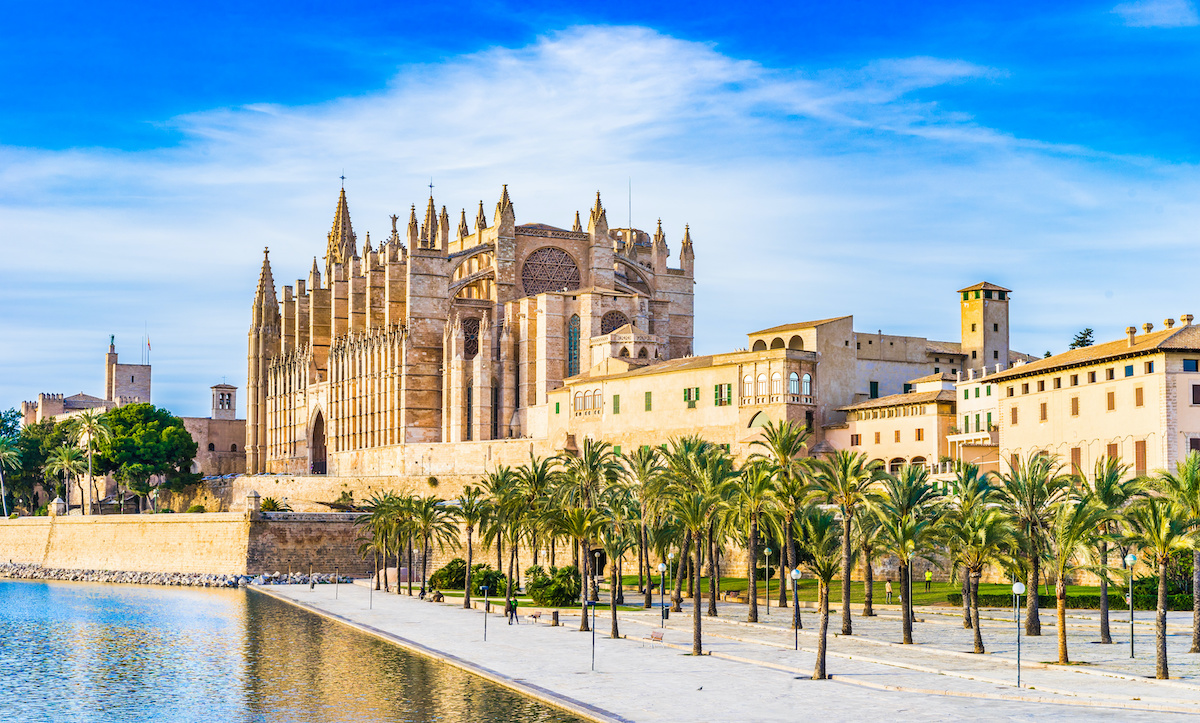 ---
10) Grenada
Granada is one of the best cities to visit in southern Spain, situated at the foot of Sierra Nevada. The city of Granada is famous for being the home to one of the great wonders of the world, the Alhambra Palace. The palace exhibits the country's most significant and well-known Islamic architecture. Alhambra is also a UNESCO World Heritage Site.
Beneath the Sierra Nevada mountains and only an hour from the Costa Tropical, you can combine a stay in the city with a beach excursion. Alternatively, you can enjoy a trip to the ski resort. Grenada is a city with a fable-like setting and vivacious nightlife.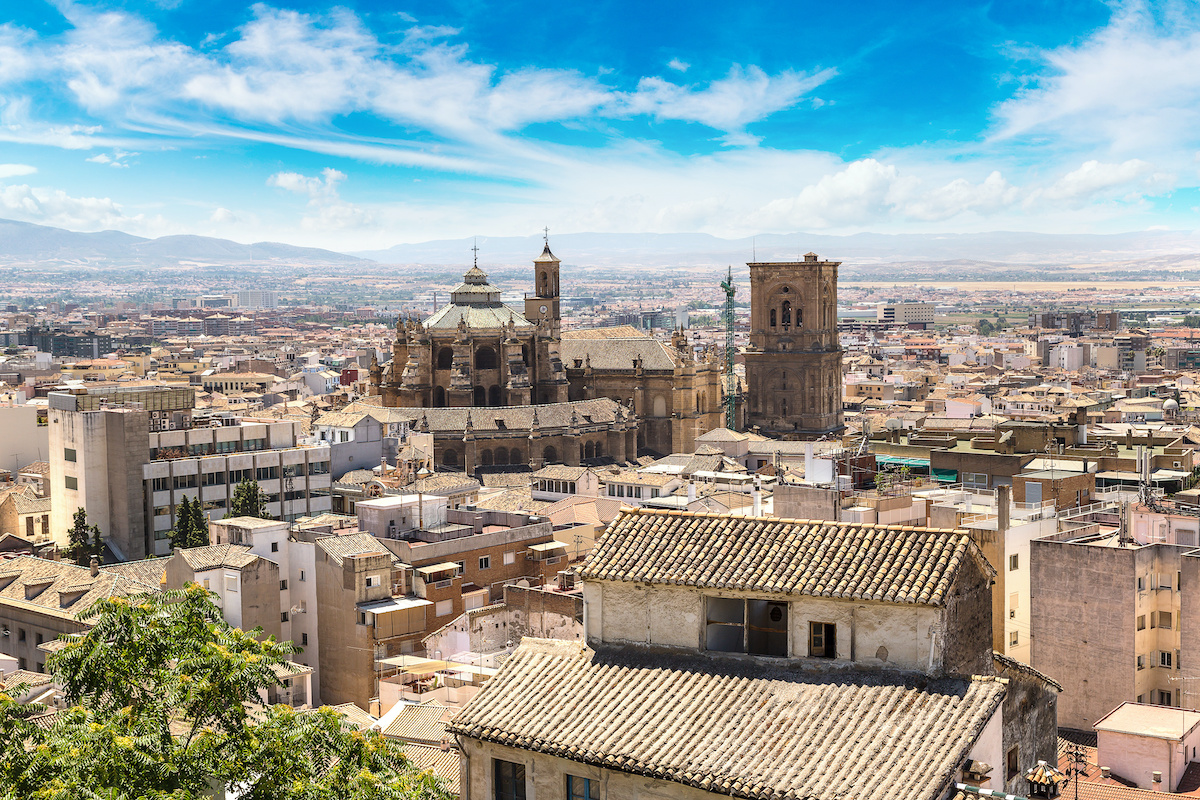 ---
11) Burgos
On the banks of the river Arlanza and Duero, Burgos is one of the most beautiful cities in Spain because of its historical essence. The Cathedral of Burgos is one of the most magnificent monuments found in the country and a UNESCO World Heritage Site.
Burgos is interestingly famous for its blood sausages, which can be sampled at any of the amazing eateries in and around the city.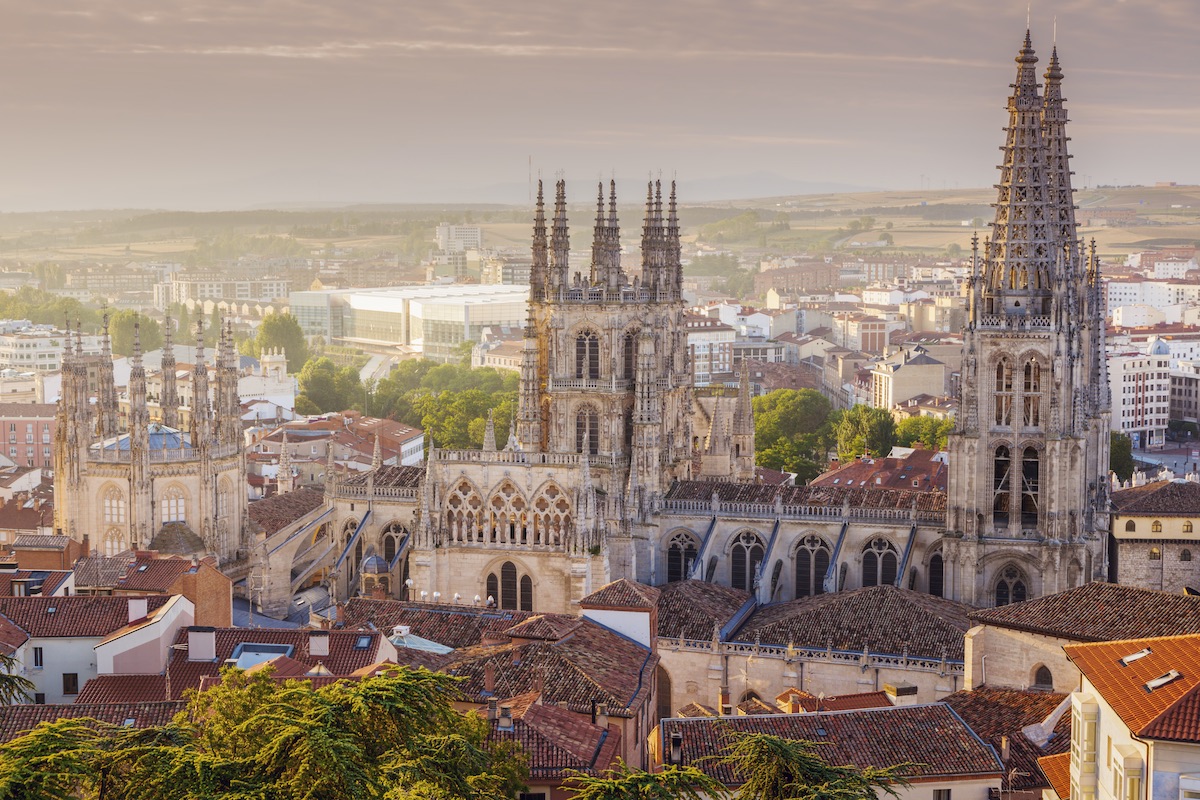 ---
12) Salamanca
Salamanca is considered a 'university town', so many tourists tend to overlook it. But it is undoubtedly one of the nicest cities in Spain. With its medieval charm, a mix of Plateresque and Renaissance styles, Salamanca has a youthful and happy energy. Here you can choose to enjoy a night out at one of the many great bars, cafés, and restaurants.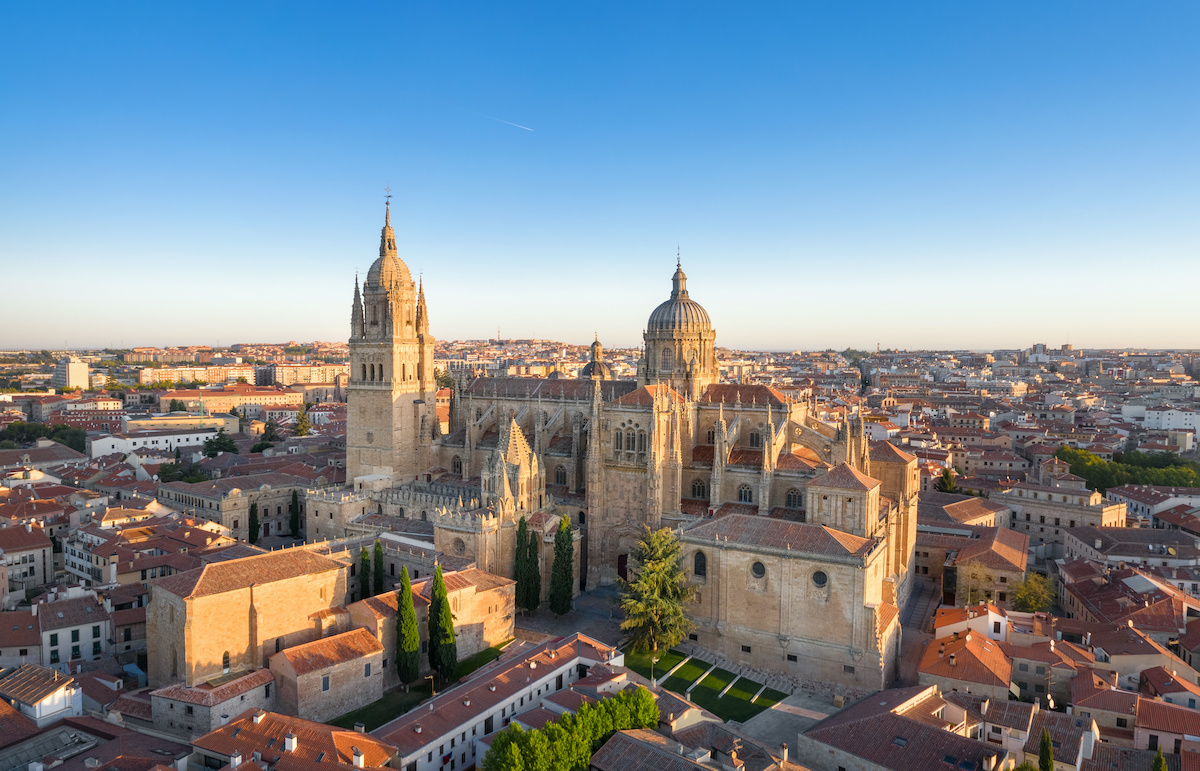 ---
13) Pamplona
In Pamplona, you might want to refrain from wearing the color red. This city is famous, mainly due to the wild and adrenaline-inducing San Fermin – the running with the bulls festival.
However, there is more to Pamplona. The city is filled with beautiful parks, big historic churches, and the Museum of Navarra, which showcases exquisite Roman artifacts and Renaissance paintings.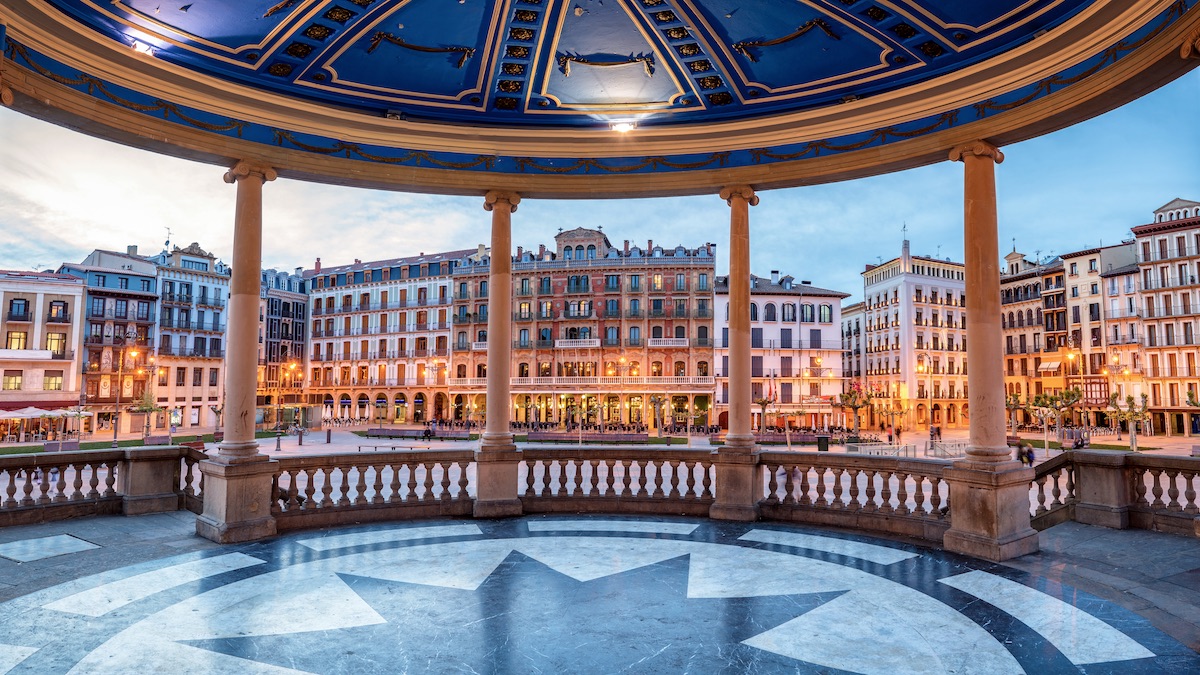 ---
14) Galera
Galera is a majestic city, infamous for three things: cheap tapas, friendly locals, and Flamenco. If you're in the mood to have a good time that lasts all night (and perhaps all weekend), Galera is a must.
With a population of less than 1,500 people, this unspoiled city is surrounded by nothing but vast natural landscapes and mountains. And although often overlooked, Galera is in essence, the beauty mark on the face of Spain.
---
15) Santiago de Compostela
Santiago de Compostela is the gorgeous capital of Galicia. This beautiful Spanish city has two of the most iconic monuments in Spain – the Cathedral and the Plaza del Obradoiro. The main square of Santiago de Compostela is dominated by the cathedral and is surrounded by Baroque statues.
There are also many other exquisite examples of architecture dotted throughout Santiago de Compostela. Be sure to take a stroll around this city and witness the glorious buildings, such as the San Martín Pinario Monastery, the baroque Benedictine monastery, and the Gelmírez Palace. These are some of the great examples of Romanesque civil architecture that exist in the city.
Santiago de Compostela has been declared as a UNESCO World Heritage Site because of its beautiful ancient city center.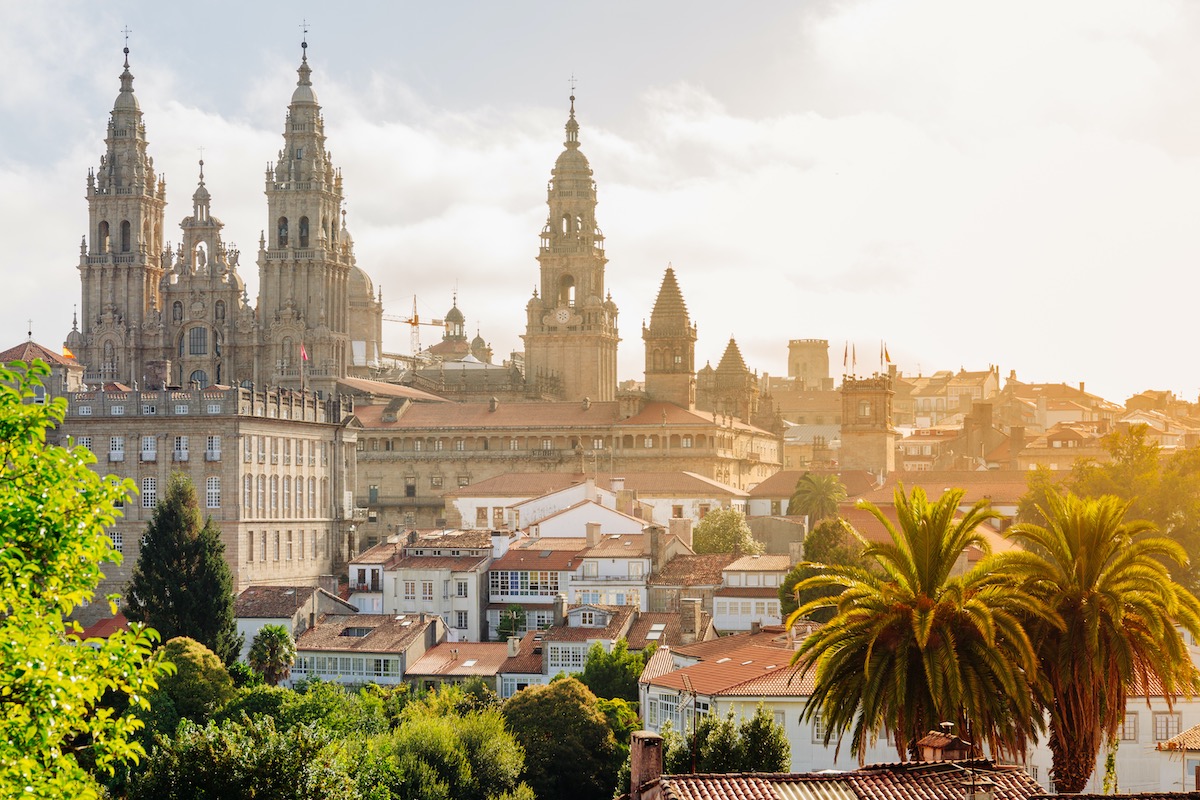 ---
16) Gijón
Gijón is the biggest city in the region of Asturias, with heaps of cultural attractions and popular golden, sandy beaches. The city has a deep-rooted industrial history, and it has become a popular destination for its cider production. Because of the many distilleries in the area, the locals call this city 'the big apple of Spain'.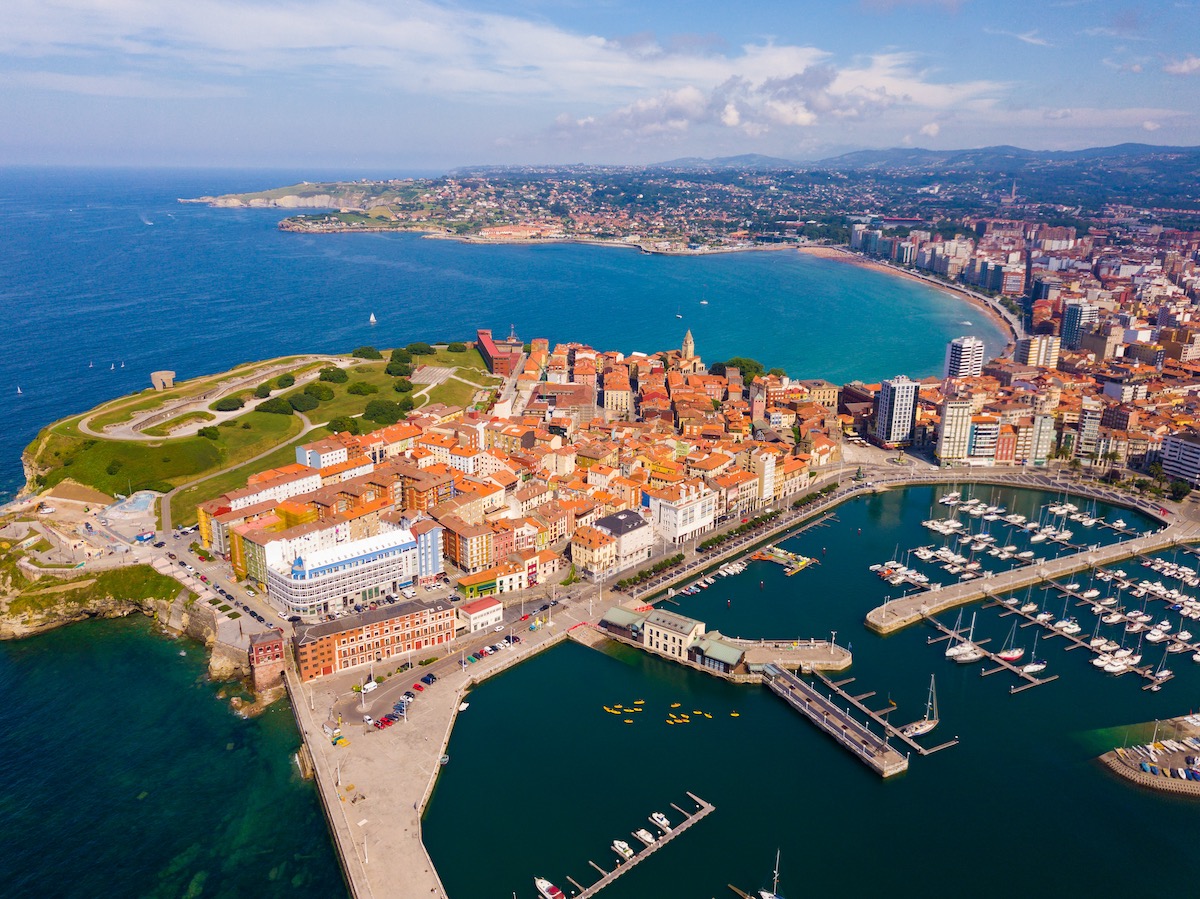 ---
17) Girona
Girona is located in Spain's northeastern Catalonia region. This beautiful part of the country is surrounded by history at every corner. From a distinct Roman foundation, to finally falling under the rule of Barcelona, the history of battles and fallen heroes can be seen at every museum and church.
Some of the most visited places in the city include the Girona Cathedral, The Museum of Jewish History, and the Arab Baths. Girona is a charming city with a very relaxed vibe.
However, because there is so much beauty to see here, be sure to plan your trip wisely so you see every spectacular aspect of this ancient, yet modern city.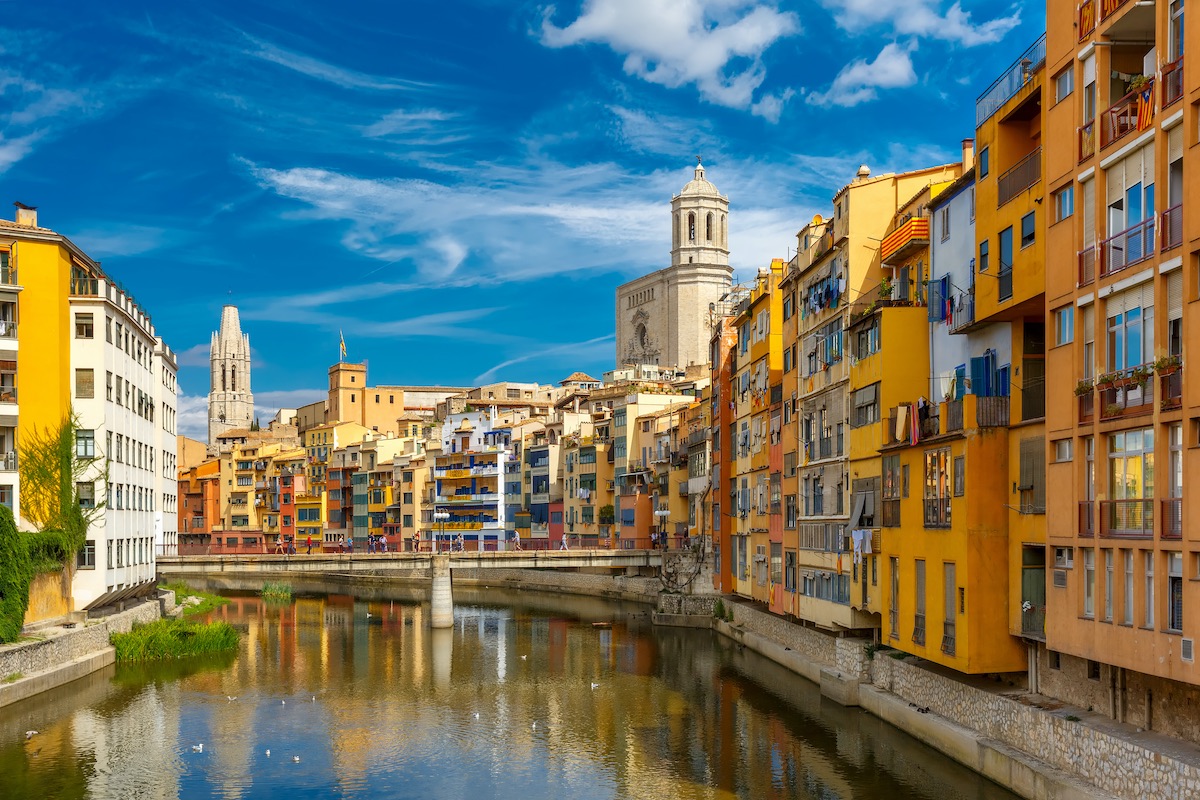 ---
18) Córdoba
If you're looking to find a city that has the perfect blend of cultures and emblematic buildings then spend a weekend in Córdoba. This city has a Cathedral Mosque, as well as other treasures such as the streets of the Jewish quarter, the Cordoban courtyards, and the impressive Roman Bridge over the Guadalquivir River.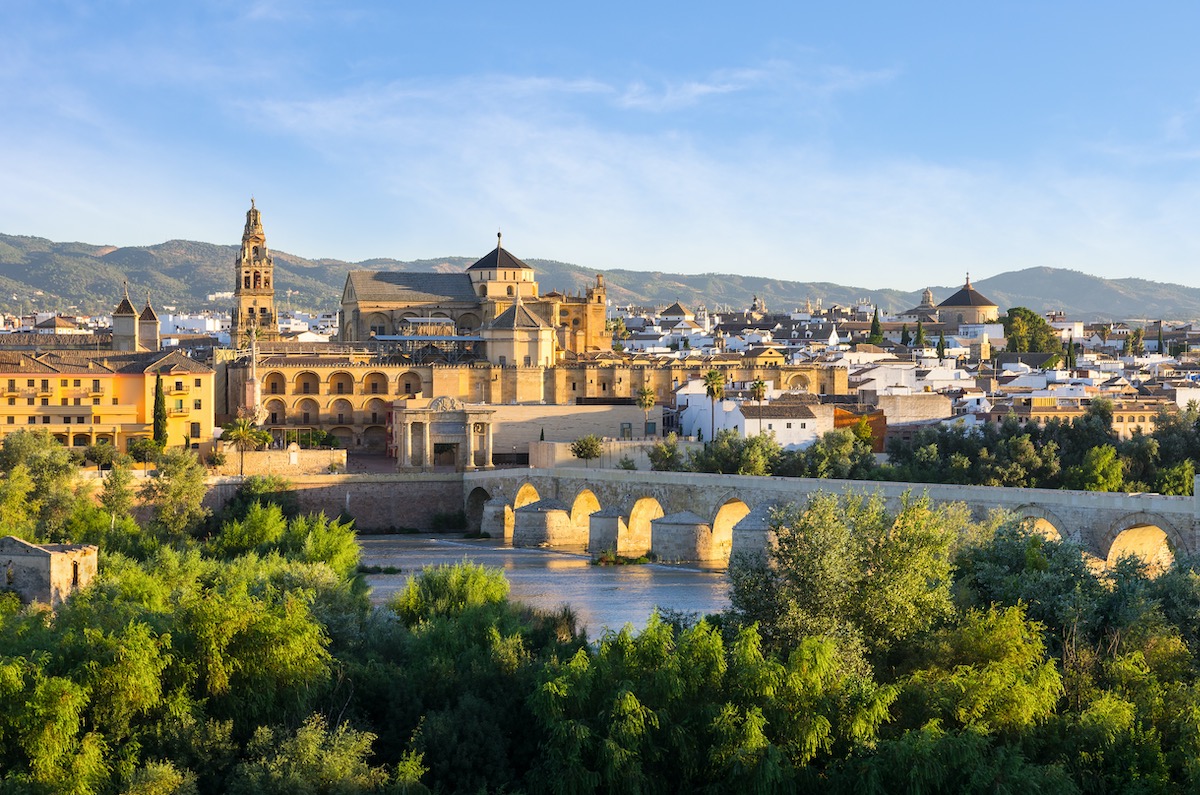 ---
19) Tarragona
Tarragona is a stunning port city in northeastern Spain's Catalonia region. It is one of the classically Mediterranean cities, where you can truly embrace the culture and laid-back spirit.
The history of Tarragona is entrenched in the ancient ruins and attractions such as Pont del Diable and Murallas de Tarragona.
Tarragona has an array of coastal restaurants that draw in tourists and locals alike because of the exceptionally flavorful and authentic Spanish cuisine.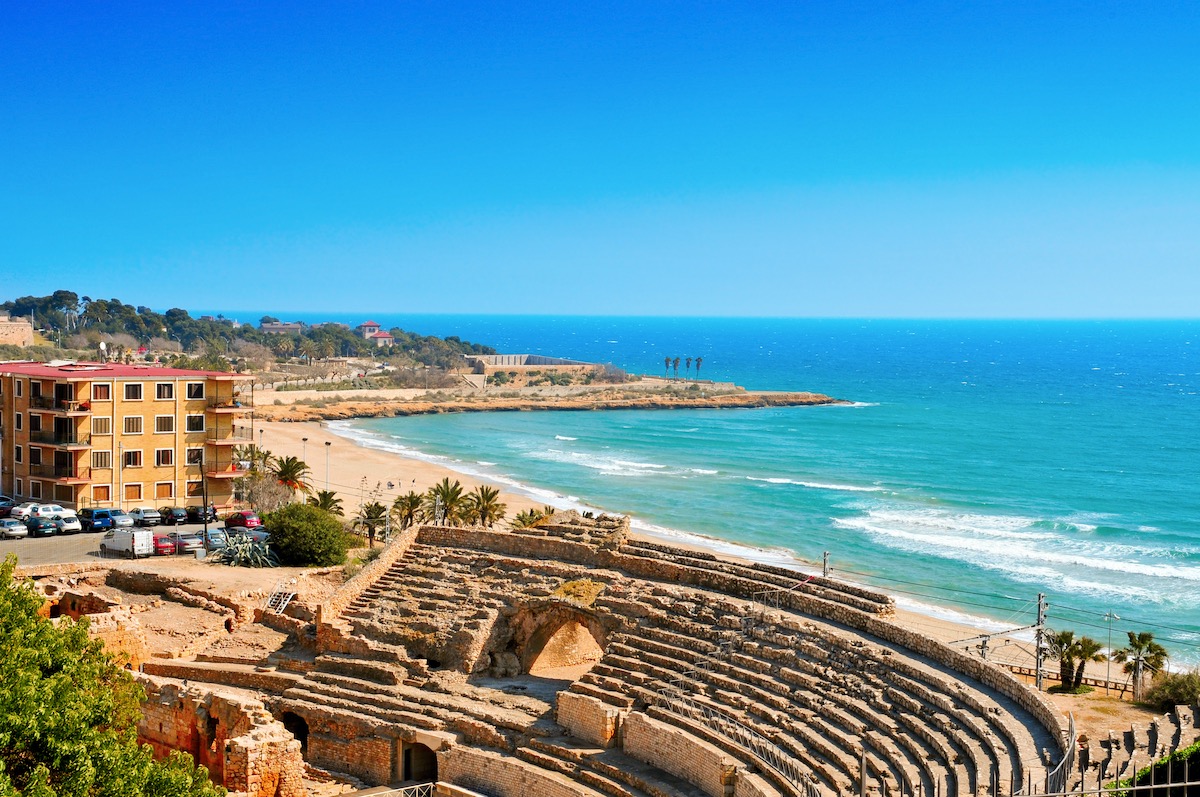 ---
20) León
This thriving city with bustling plaza's bars, restaurants, and cafes is a big attraction to León. The picturesque old town is one of the best Spanish neighborhoods for traditional tapas.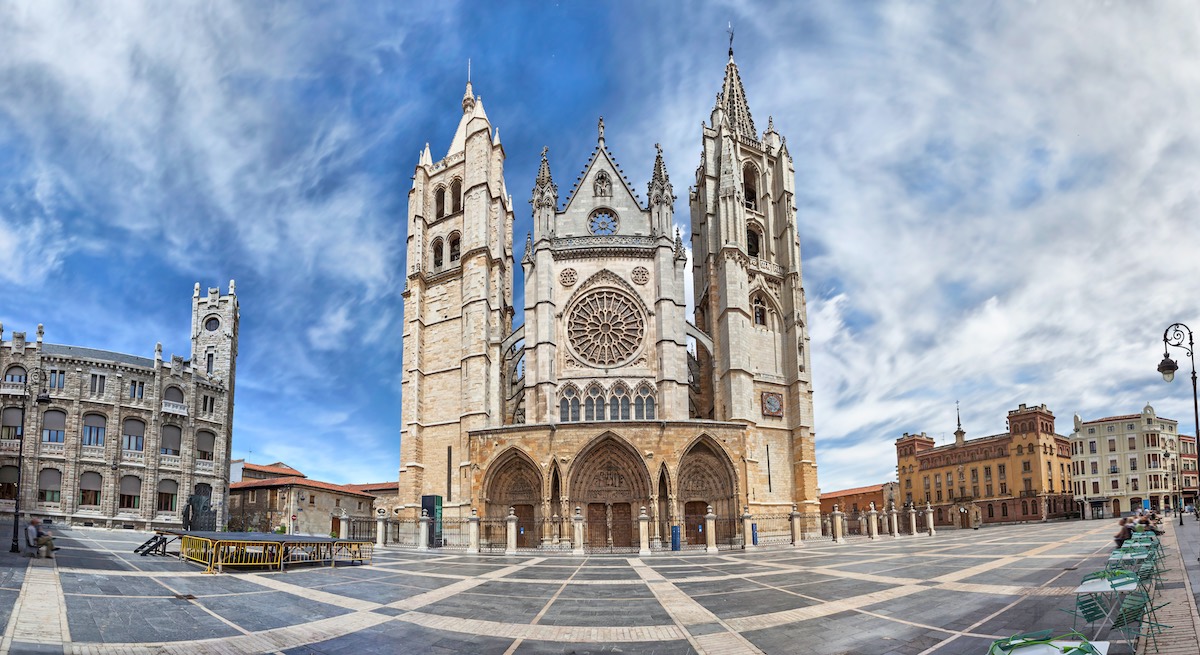 ---
21) Alicante
Alicante is a port city in Spain's southeastern Costa Blanca. Here you can relax, soak up the sun by day and enjoy the electricity of the dance scene by night.
This is a unique area in Spain, as the city is lovingly watched over by Castillo de Santa Barbara, a 16th-century fortress castle. Visiting Castillo de Santa Barbara is also a welcomed activity for tourists as it offers the best views of the most beautiful city in Spain.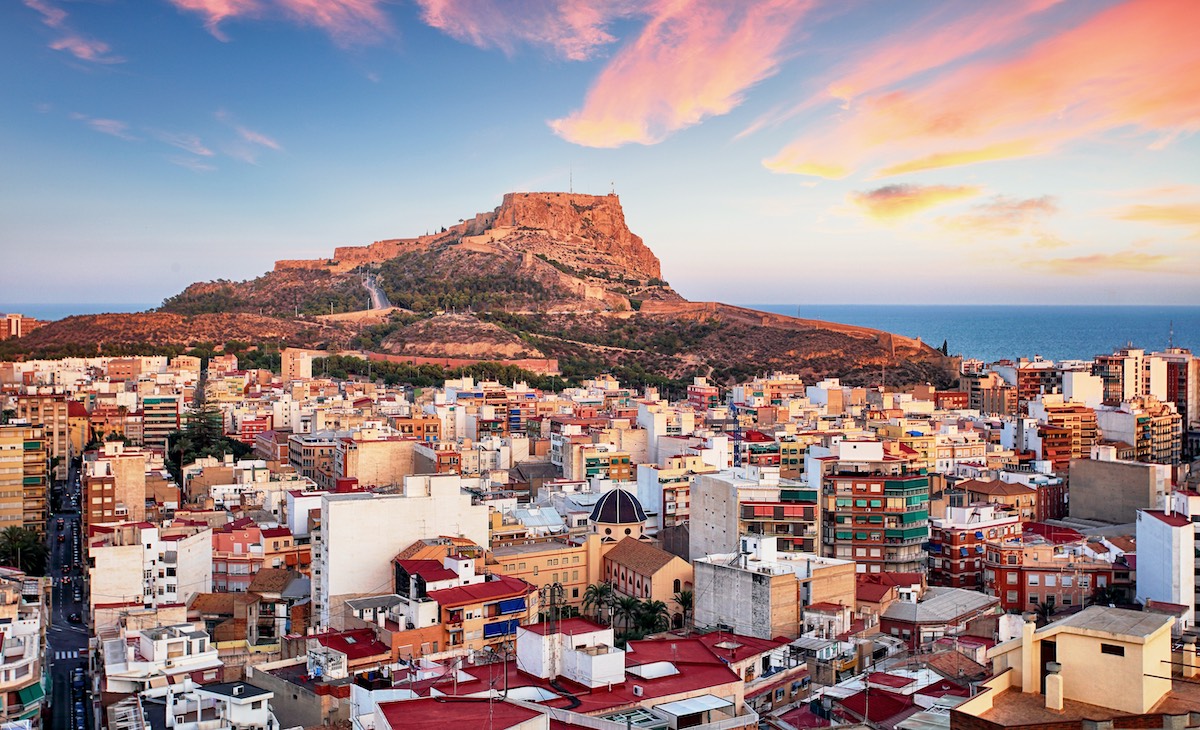 ---
22) Zaragoza
The capital of northeastern Spain's Aragon region is Zaragoza. With an enviable location on the Ebro River, this could easily make Zaragoza, the most beautiful city in Spain.
There is so much historic significance and many modern amenities throughout the city, with numerous tapas restaurants dotted throughout. Although Zaragoza is not a widely known city unlike the more famous cities in Spain, it's home to some unique and impressive architecture.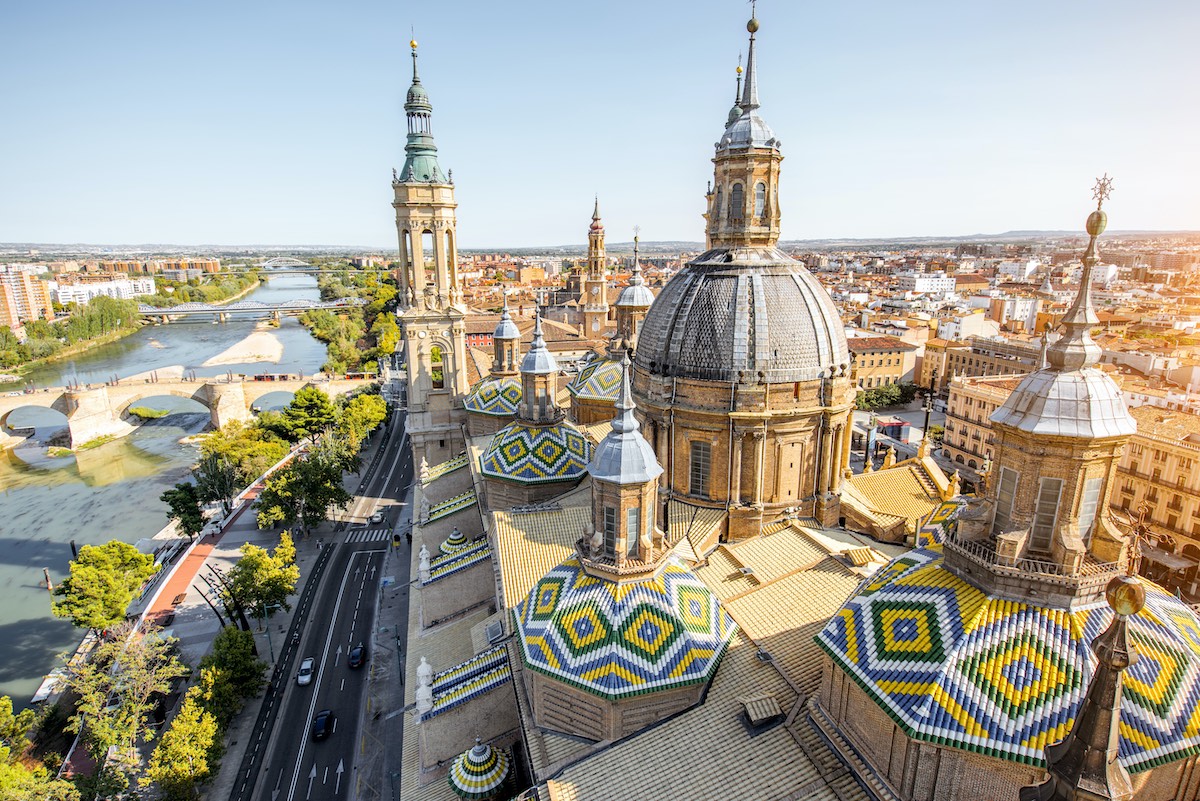 ---
23) Las Palmas
Las Palmas is something out of a movie. The city has settings of idyllic beach days combined with vibrant nights. In the colorful neighborhood of Vegueta, you will find the iconic Cathedral of Santa Ana.
Las Palmas is a chilled bohemian city with many colorful neighborhoods to take beautiful pictures of Spain.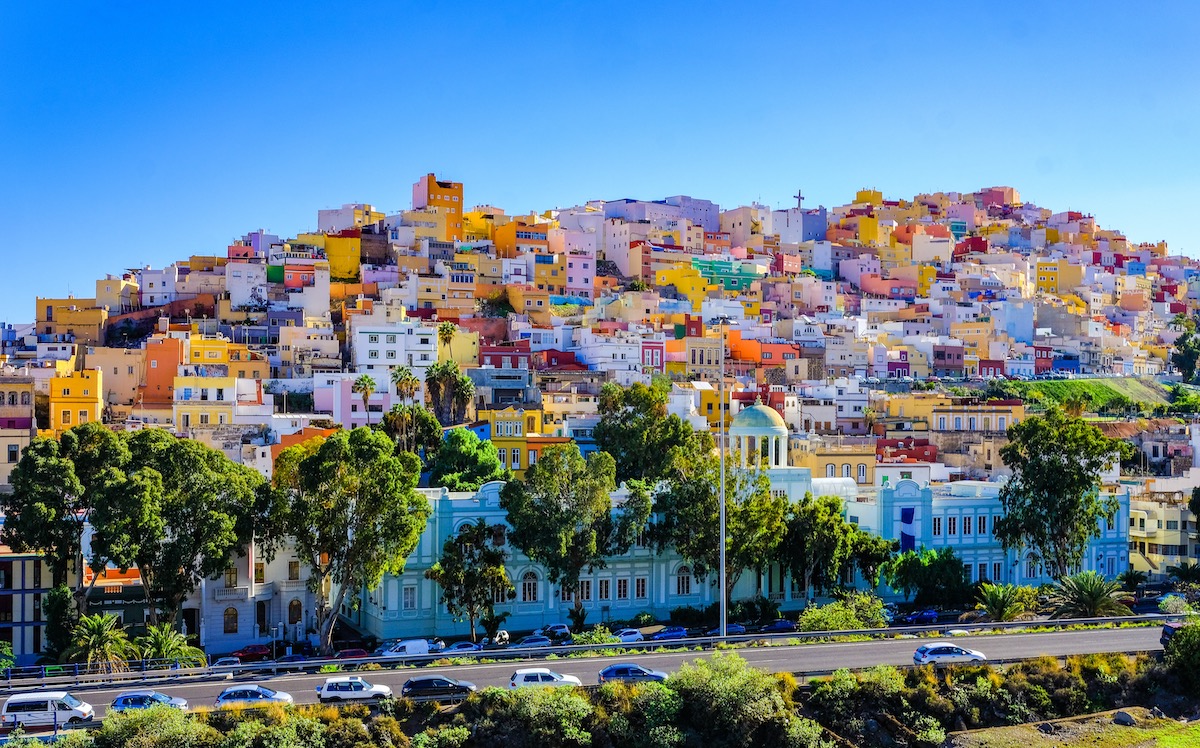 ---
24) Cadiz
Cadiz is known as a modern, urban island as the city is almost completely surrounded by water. Positioned elegantly on the waterfront is the 18th-century Cádiz Cathedral, which features domes, baroque and neoclassical style architecture.
Cadiz is also the oldest city in the west and offers the most beautiful sunsets from the beach of La Caleta.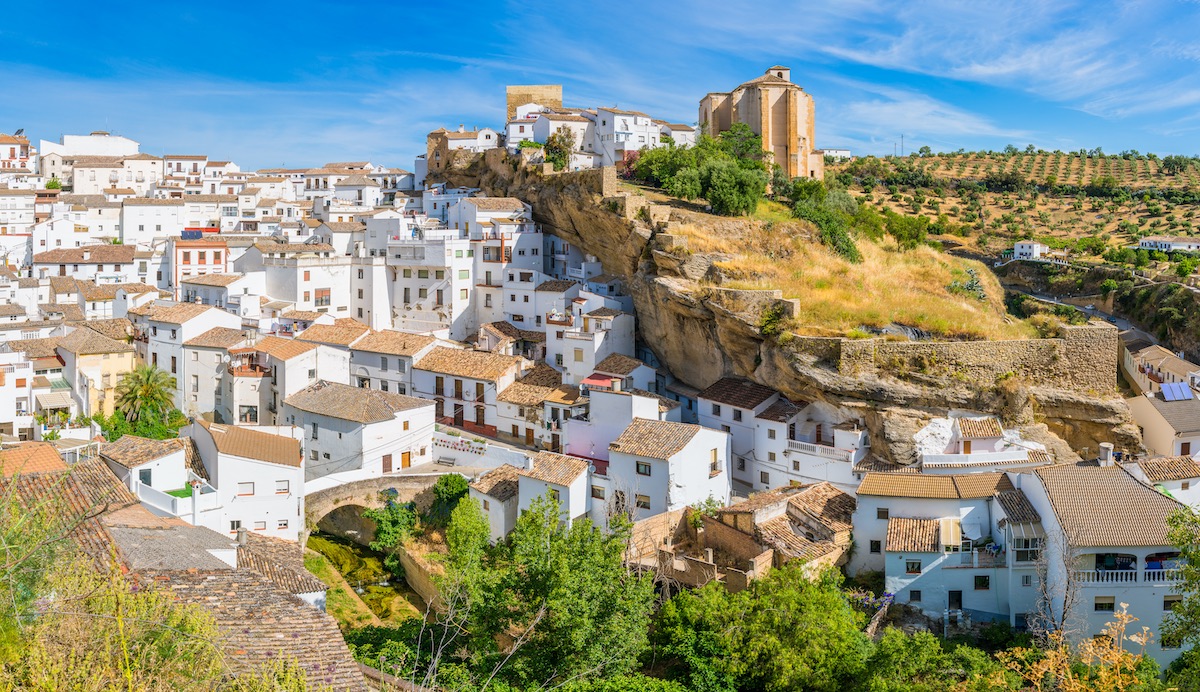 ---
25) Cardona
Last, but certainly not least, Cardona is only about an hour's drive from downtown Barcelona, and is absolutely stunning!
While the city itself may not be all too interesting, Cardona Castle sits atop the highest hill in the region, and is definitely worth a visit.
Cardona castle was built in 886 A.D and is now a recognized UNESCO world heritage site.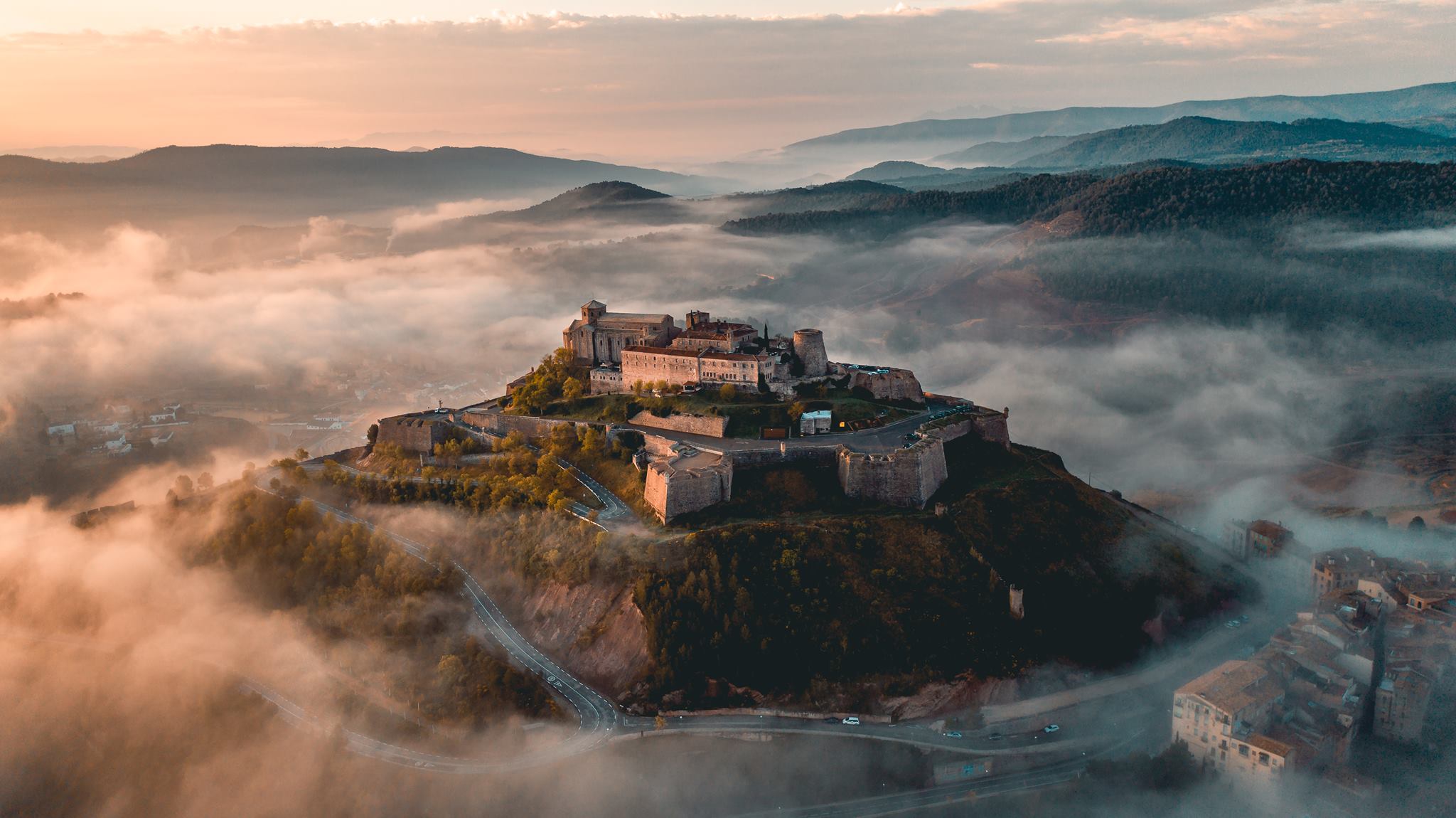 ---
Planning a trip to Spain?
Spain happens to be one of my favorite countries, and my travel blog has tons of helpful guides for things to do, festivals, where to stay, and amazing places to visit! Check out a few of my favorites below and feel free to reach out with any questions!
Thanks so much for reading about these amazing places to visit in Spain!
https://www.jonesaroundtheworld.com/wp-content/uploads/2021/09/Beautiful-Cities-in-Spain-To-Visit.jpg
843
1500
TravelTractionsJATW
https://www.jonesaroundtheworld.com/wp-content/uploads/2017/03/logotry-1-1-300x106.png
TravelTractionsJATW
2021-09-21 21:07:04
2021-09-21 21:11:01
Top 25 Beautiful Cities in Spain For Your Bucket List