So you're planning a trip to Granada and aren't sure what you can get up to during your time out there? Well, you've come to the right place, because I'm sure you'll be able to find some inspiration from my list of 25 incredible things to do in Granada, Andalusia, Spain!
While it's primarily known for the world-famous medieval fortress, the Alhambra, Granada has so much more to offer its visitors! Granada is filled with royal palaces, old Arabic quarters, vibrant markets, hiking trails around the Sierra Nevada mountains, delicious food, and so much more!

Whether you're visiting for a short weekend trip or staying for an entire month; this guide is perfect for all types of vacation. So without further ado, I hope you enjoy what I think are the…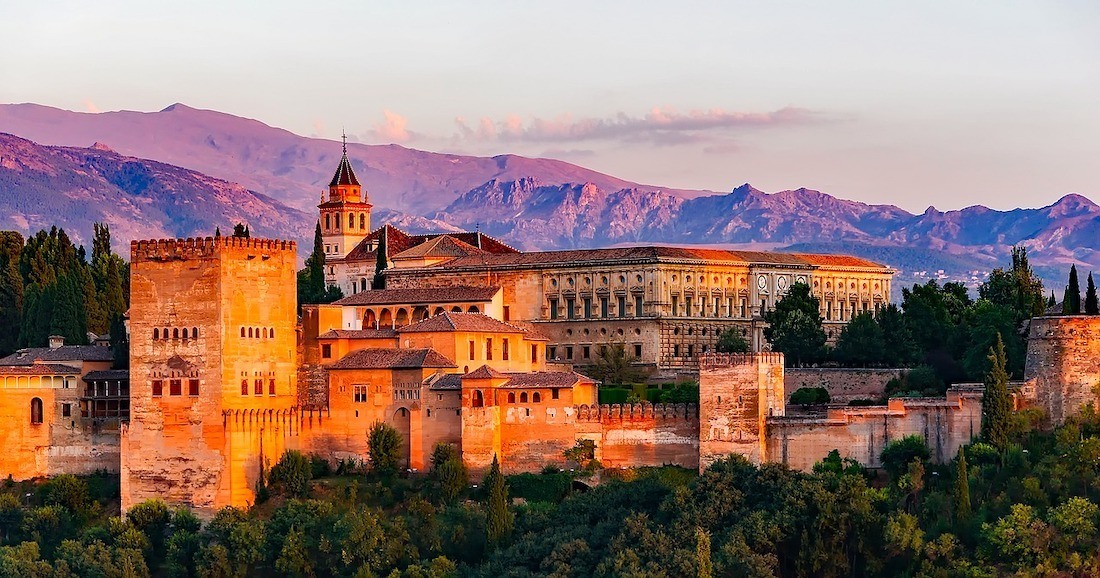 ---
1) Tour the World-famous Alhambra Palace Complex
The world-renown Alhambra Palace and Fortress Complex is located right in the city center, and it's easy to recognize from afar especially while it illuminates with a magical glow in the evenings! It's the main attraction in the city, and absolutely cannot be missed! Visually the Alhambra palace is a beautiful combination of medieval Islamic, Renaissance Christian, and modern architecture designs.
Granada Travel Tip: Book in advance – The Alhambra sells out fast! When I visited Granada, it was during their off-peak season and I still found it very difficult to book tickets for the Alhambra. Their official website advises that you book at least one month in advance due to restrictions on the number of visors they can accept per day. So keep this in mind.
Here are a few tours & tickets you can book in advance:
Alhambra and Generalife Skip-the-Line & Guided Tour: BESTSELLER :"Discover the unforgettable Muslim palatial city of Alhambra, a UNESCO World Heritage Site, which once was home to the sultans of the Nasrid Dynasty. Learn more about its rich history and elaborate, Moorish architecture from a professional guide as you walk around the uniquely well-preserved medieval citadel and explore both the Nasrid Palaces and the Generalife gardens."

Skip-the-Line Alhambra & Generalife Gardens Guided Tour: CERTIFIED. "Discover the impressive Alhambra Palace of Granada, the extraordinary Generalife Gardens and the Nasrid Palaces (if option selected) with an expert guide."
Alhambra: Design & Architecture Detailed Guide ( Granada, Spain - Tour)
---
2) Generalife Gardens and Palace.
Located on the hill Cerro de Sol, close to the Alhambra palace, is Generalife. The word Generalife meaning, garden of the architect is a series of large gardens, with each area holding a certain unique feature.
The main attraction of Generalife is The Patio where 'Arab sensuality becomes sparse yet spiritual'.
The gardens feature plants and water which interplay with lighting and sounds. Tickets for Generalife are typically included with your tour/ Alhambra tickets!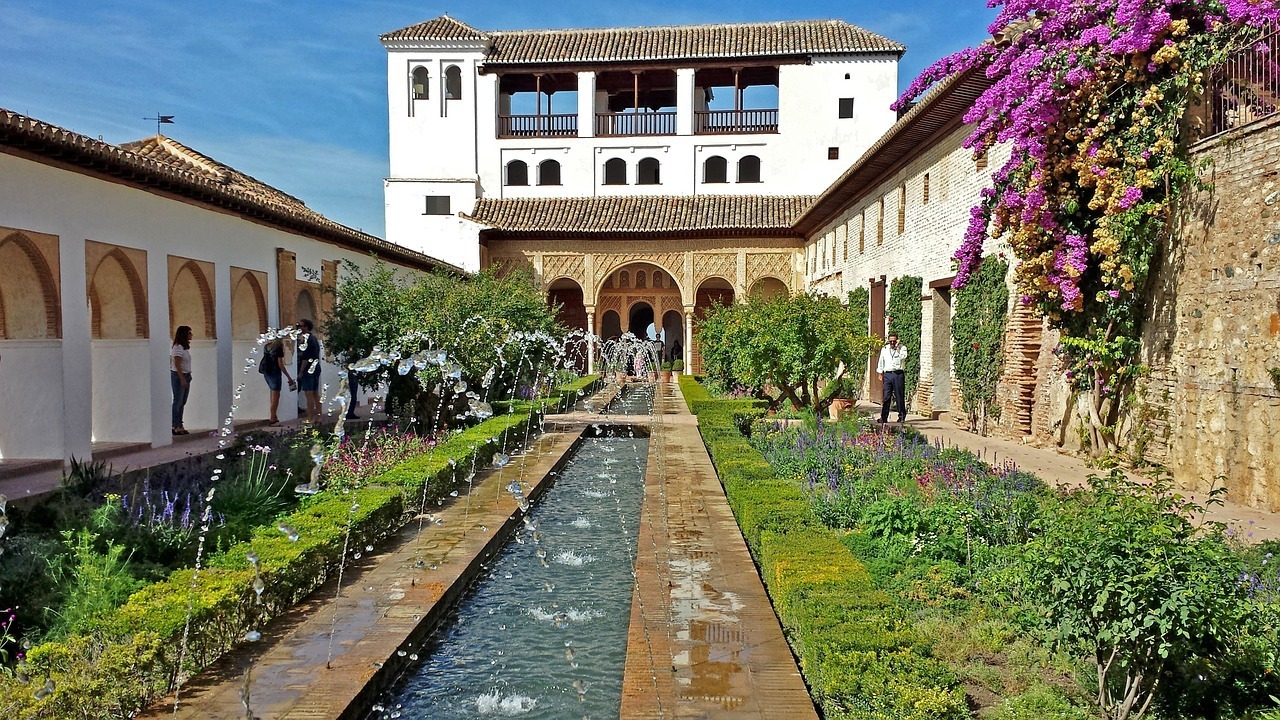 ---
3) Take Advantage of the FREE Tapas!
Granada is known for its incredible food scene, and even more so for its famous Tapas bars! With over 3,500 tapas bars within the city, you shouldn't have too much trouble finding a place to eat.
The great thing about Tapas is that they're free no matter what drink you order, and you get more free tapas every time you order new drinks. So if you're planning a night out; skip ordering dinner, just order a few rounds of drinks and reap up the benefits of your complimentary free food!
Tapas are a huge part of the cities social night scene, so there are a variety of different tapas bars to suit certain types of customer. If you're looking for a traditional tapas bar, then try Los Manueles located on Calle Reyes Católicos.
And if you want a more local and modern tapas experience, then Taberna los Pensadores, located on Calle Alhamar is a great option.
Also, be sure to check out this article, "The Top 10 Tapas Bars in Granada, Spain" for some more ideas of where to find some top-rated eateries!
"Tapas are one of the best-known examples of Spanish cuisine, and there's no better place to enjoy them than Granada. The tapas scene in Granada is one of the best in Spain. Served free with your drink more often than not, these bite-sized delights allow you to sample a variety of Spanish flavors without hurting your wallet. It's the perfect way to spend an evening out! Here are our top picks for tapas bars in Granada. Try one (or all 10!) and you'll see why we're obsessed."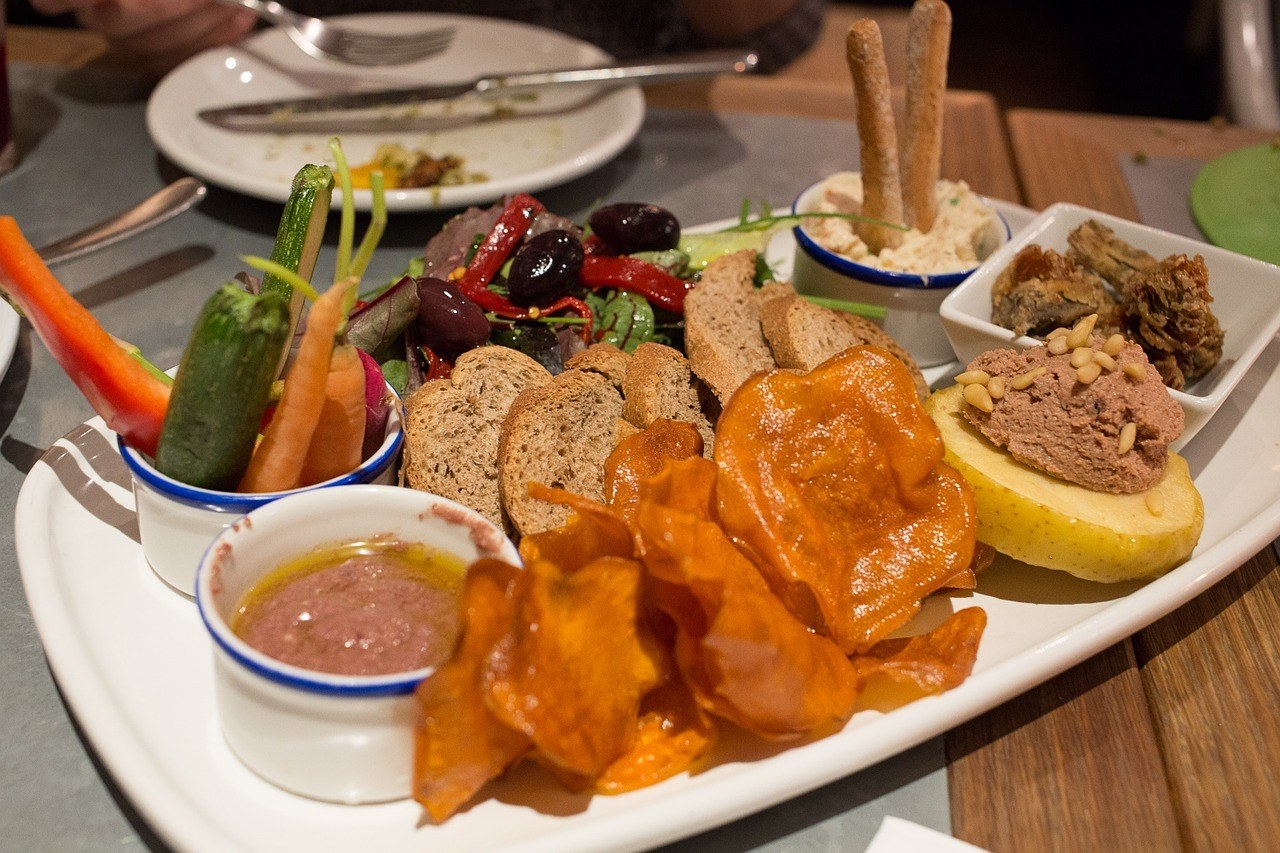 ---
4) Discover the Sierra Nevada with a Day Trip from Granada!
The Nevada National Park, situated just outside of Granada, is a vast and icy mountain range stretching for 850 square kilometers – making it one of Spain's largest national parks! So it would truly be a waste to make your way to Granada without taking a day out here hiking and exploring out in nature!
With waterfalls, streams, lagoons, snow tunnels and high mountain meadows; the a day tour is the perfect way to visit the breathtaking scenery with a local and experienced guide who can give you a brilliant introduction to the region, and answer any questions you may have.
While you could easily rent a car and explore it on your own, here are a couple recommended & best-selling day tours that would make for a perfect day trip!
4WD Safari of the Sierra Nevada National Park, Granada: Enjoy breathtaking views of the Sierra Nevada on a 6-hour jeep safari from Granada. Travel through picturesque villages and the forests of Andalucia, stopping for a drink in a panoramic restaurant in Sierra Nevada.
Sierra Nevada Trip from Granada: "Explore one of the most recognized sites in the Sierra Nevada National Park. Nicknamed the Sister of the Alps and the Himalayas, this region is unique for the murmur of streams, legendary lagoons, the myriad of waterfalls snow tunnels and high mountain meadows. A place where more than a hundred species of endemic flora and fauna inhabit. A region that has preserved the trenches and the front line from the Spanish civil war. An environment that still possesses cultural artifacts from customs now extinct."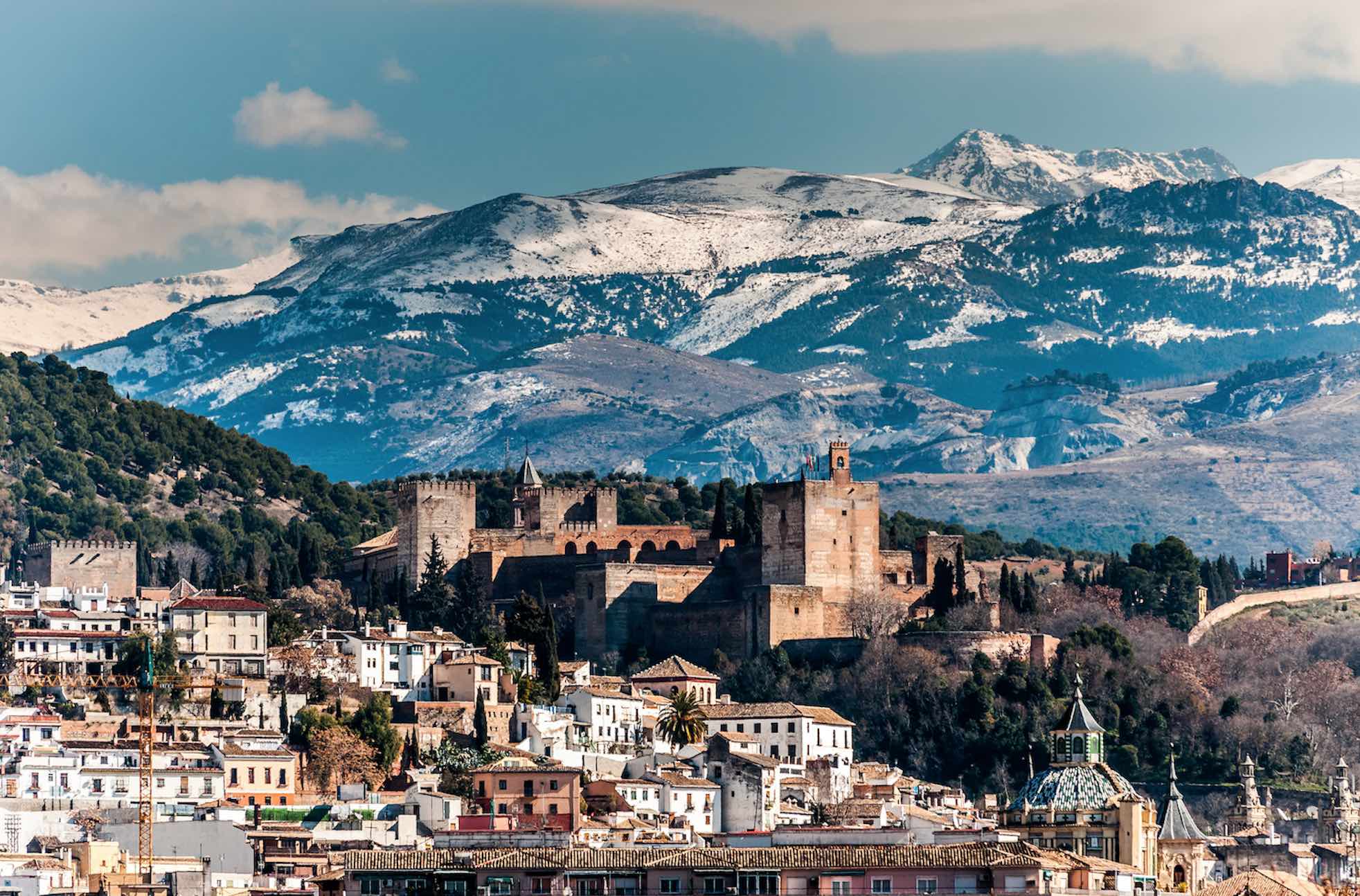 ---
5) Take to the Slopes at The Sierra Nevada Ski Station
Skiing and snowy mountains might not be the first thing you have in mind when you think of Southern Spain, but actually, it's exactly what you should consider when planning your trip to Granada! For Europes' most southerly ski resort (which also sits on the same latitude as Cyrpus), the Sierra Nevada Ski Station can offer one of the longest ski seasons in Europe!
It's also probably one of the only skiing holidays which can also offer you snowy slopes and also sunshine and ocean swimming on the same day. Located just 30 minutes from Granada city and an hour's drive from the Costa Tropica beaches – this resort is the perfect medium for a varied and exciting European holiday.
Check out this "Granada Sierra Nevada – Complete Ski Resort Guide Year 2019" for a bit more information on planning your skiing/snowboarding trip here!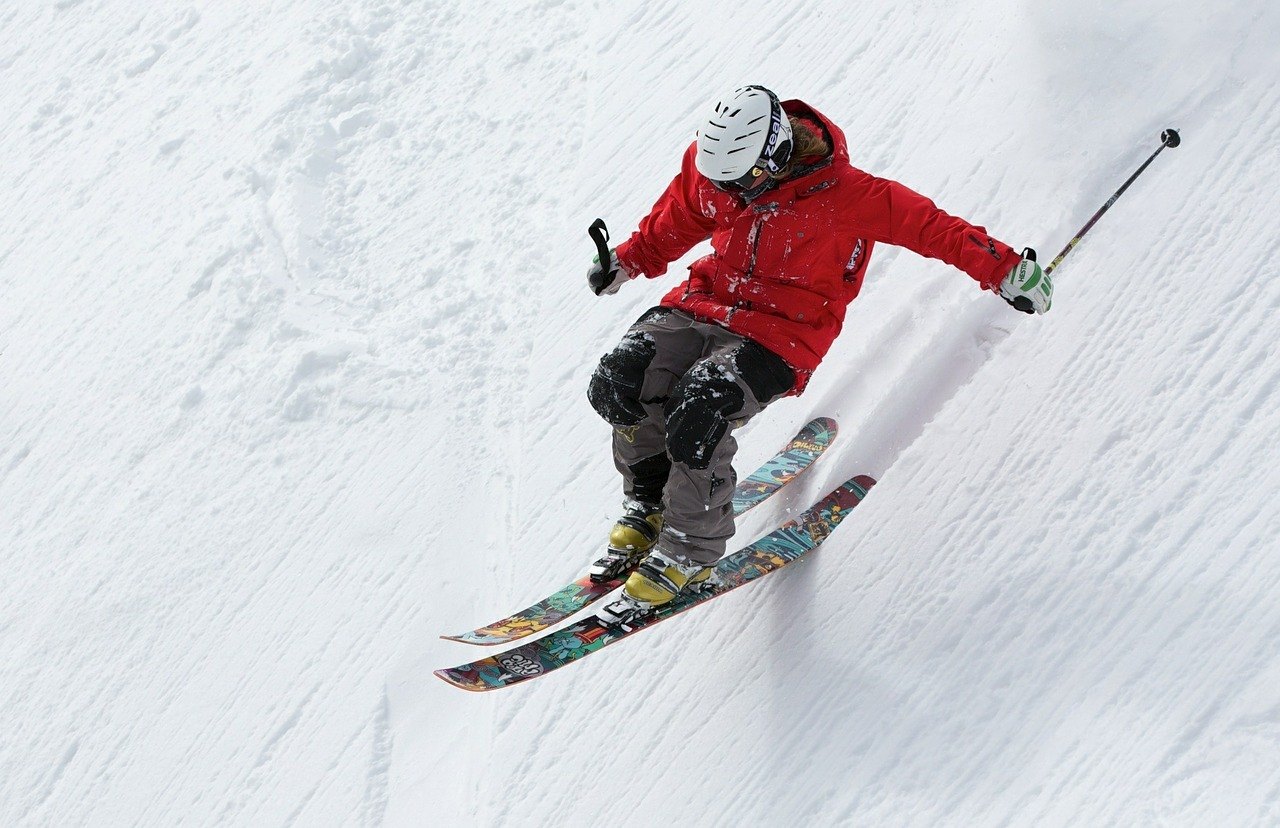 ---
6) Taste a Local Dish – Plato Alpujarreño
Plato Alpujarreño is an excellent and delicious example of good wilily local cuisine. It originates from the villages of Las Alpjarras, and it one of the most loved dishes by locals!
The Alpujarra dish is composed of blood sausage, pork loin, sausage, serrano ham, poor potatoes, and egg.
---
7) Granada Cathedral: For Stunning Renaissance Style Architecture
Granada Cathedral, or otherwise known as the Cathedral of the Incarnation, is a Roman Catholic church, and was built immediately after the conquest of Granada on the side of the Mosque. It is a beautiful example of Spanish Renaissance-style architecture and is the 4th largest cathedral in the world! For only 5 euros (price also includes an audioguide) It's worth checking out.
"Situated right in the center of Granada having its entrance at Gran Vía de Colón, this temple is considered to be the first Renaissance church in Spain. The building was built by the Main Mosque and was begun in 1505, following the plans from the architect Enrique Egas, but they were soon changed to others in Renaissance style by Diego de Siloé."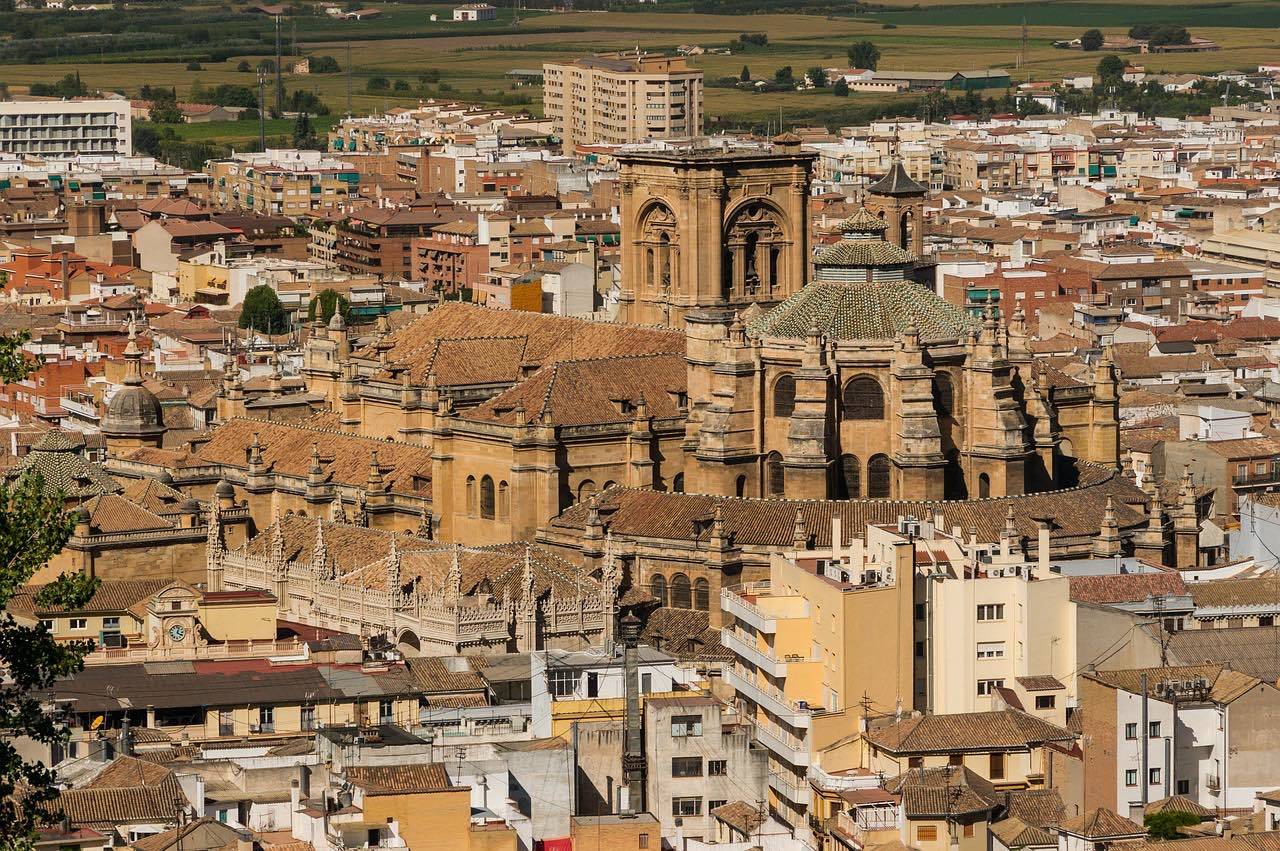 ---
8) Royal Chapel: View the Burial place of the Royal Catholic Monarchs
If you want to learn about the Catholic Monarchs of Granada, then you've got to visit the Royal Chapel! Built-in 1517, the Royal Chapel of Granada was originally part of a complex alongside the Granada Cathedral (mentioned above).
It was founded by the Catholic Monarchs and here you will find their burial place. The burial monument of the Kings rests Don Fernando de Aragón and Dona Isabel de Castilla, as well as Dona Juana I, Don Felipe and Infante Miguel.
---
9) Stroll through the Medieval Moorish Streets of Albayzin (Albaicín)
Free Things To Do in Granada
Known for being an autonomous community, Albayzin remains in its original Medieval Moorish narrow streets layout. Walking down the streets you can take a look at the traditional houses and feel the real authentic charm of the neighborhood.
It's known for its breathtaking views of the Alhambra Palace. But also contains quite a few attractions of its own such as the Church of San Salvador, the Church of San Nicolas and Carrera Del Darro (one of the oldest streets in Albaicín).
In the area, you can also find some popular tapas bars such as Taberna 22 and also the 11-century Arab Baths (also found on the Carrera del Darro).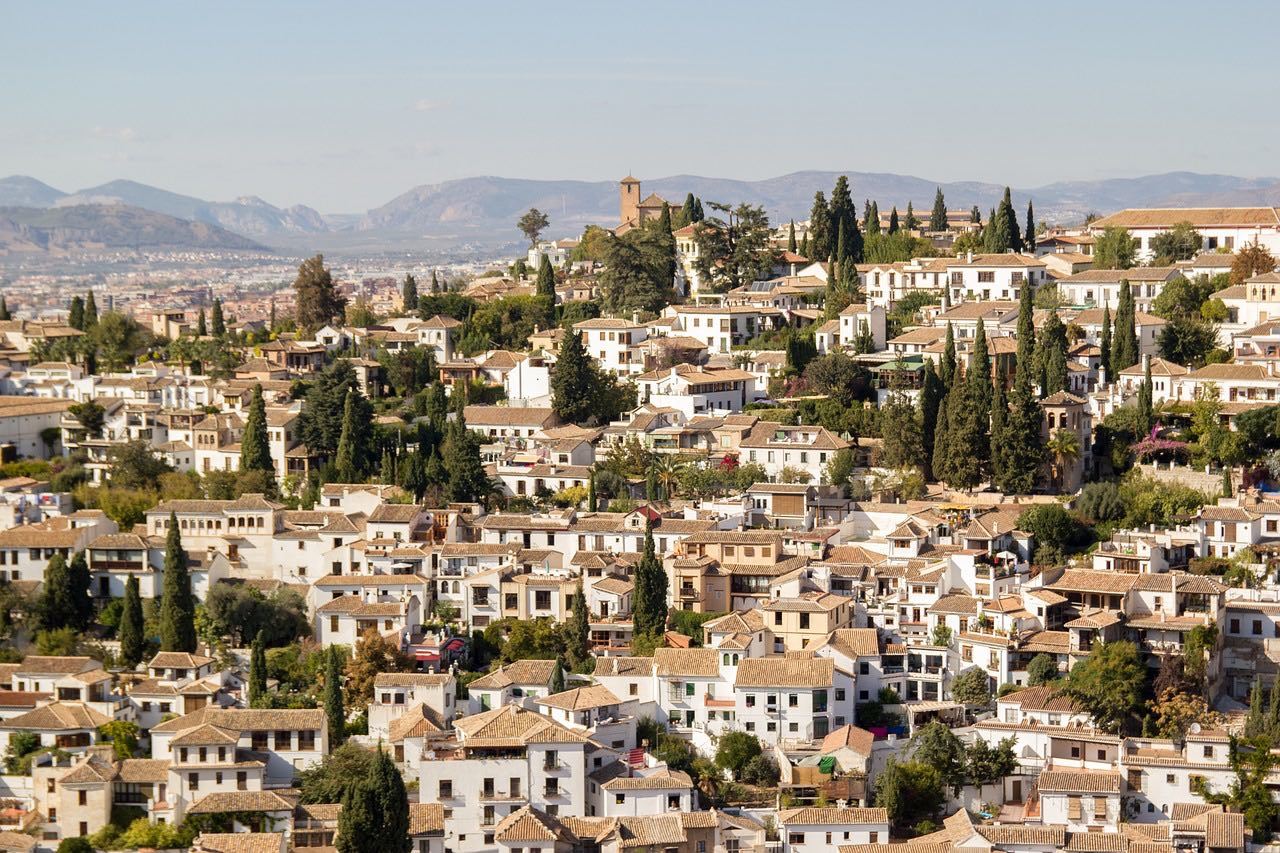 ---
10) La Alcaicería Market
Free Things To Do in Granada
Down the narrow streets of Calle Alcaicería, you will find a bustling market scene! With all kinds of interesting Arabic craftwork on sale such as painted ceramics, stained glass lamps, and wooden inlay items ! As well as various traditional and, modern items of clothing, small souvenirs and, fabric shops.
Open between 10 AM until 9 PM this place is lively all day long but takes on a different atmosphere by night time, so I recommend you take a look at both times of the day!
Important Tip: Although I found the area very safe to wander around (it's always busy), it is also known for its pickpocketing so take usual precautions and keep an eye on your stuff.
---
11) Corral del Carbon in Granada – The Oldest Arab Monument of Granada
Free Things to do in Granada
Located in Calle Mariana Pineda, in the heart of the city, you will find the Corral del Carbon, which dates back to the 14th-Century was originally a warehouse for merchandise and a lodging place for merchants. It's considered one of the best-preserved buildings of its type in Spain.
Entrance here is free, and although there isn't too much to it, it is also located very close to the (mentioned above) Alcaiceria area so it worth a quick stop by while exploring the markets.
---
12) Watch a Flamenco Show in the Sacromont Gypsey Caves!
Enjoy great music and a pure, authentic and energetic Flamenco show in the Sacromont Gypsey Caves. Sacrocmont is a neighborhood in Granada and is located on the hillside and in the valley of Valparaíso. It's located opposite the Alhambra and is easy to find from the city center.
Traditionally this neighborhood was known as a home for the Granada Gypsies who settled in Granada in 1492. It's considered one of the most beautiful areas of the city with numbers caves, the Abbey of Sacromonte and other buildings and moments such as The Arabic Case de Zafra and more.
Sacromonte: Flamenco Show at Cuevas Los Tarantos Tickets: "Discover authentic Spanish culture at a top-quality flamenco show in Sacromontes' Cuevas los Tarantos. This 75-minute show with well-known artists will provide you with traditional Spanish flamenco, in a unique cave home setting, and at a great price."
Granada 1-Hour Authentic Flamenco Show: The flamenco dance is filled with life and emotion. Experience a 1-hour performance of this unique art in Granada, one of the main locations where flamenco originated. Centuries-old flamenco has a rich history that unfolds with every stomp of the dancer's foot, strum of the musician's guitar and clap of the singer's hands. It is rooted in the gypsy culture of Andalusia, in the south of Spain. A group of flamenco artists will dance and sing as you sit back with a drink and enjoy the performance. Every night a singer, a guitarist and 2 dancers put on a memorable show.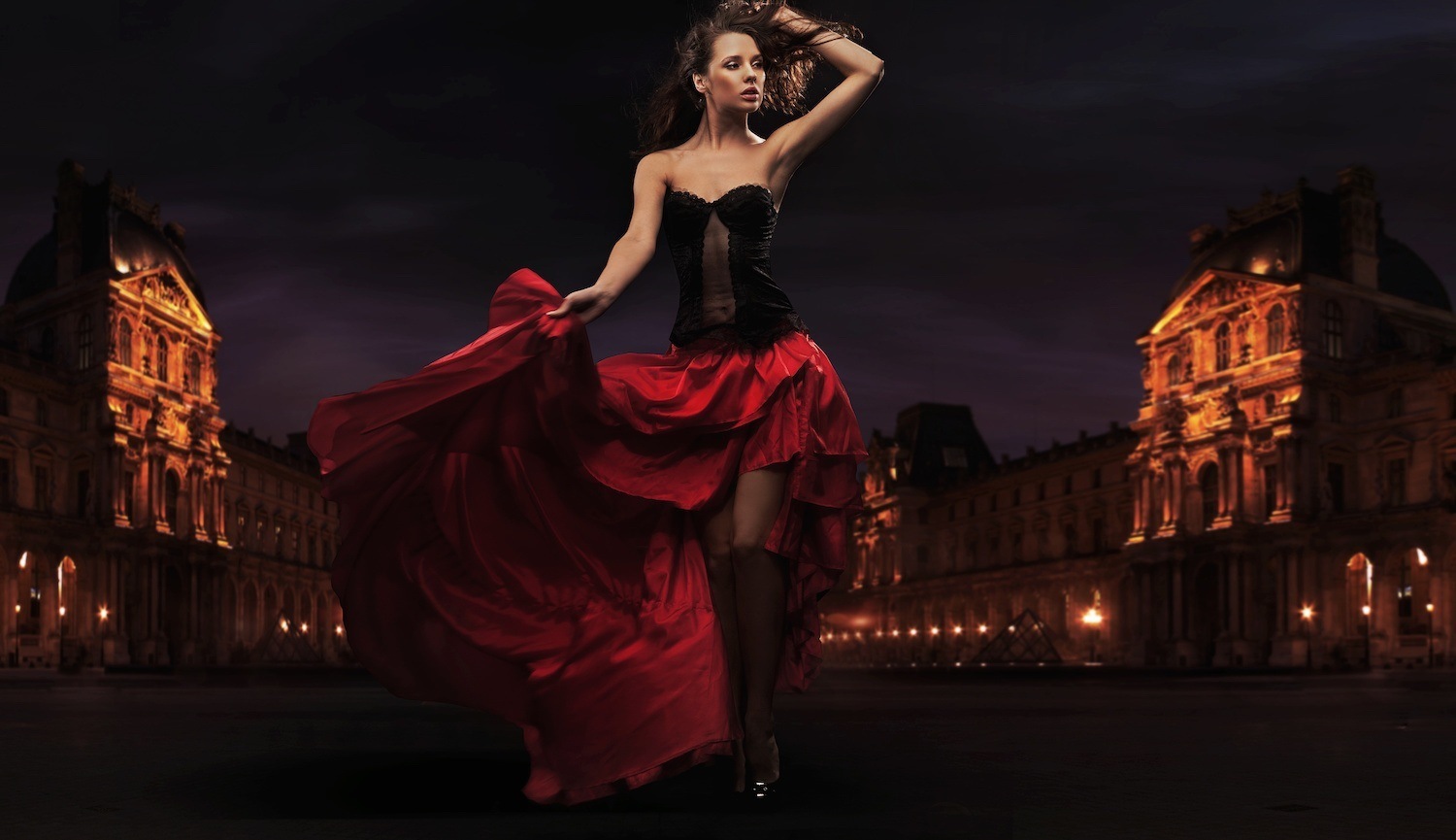 ---
13) Hit the Bars in El Centro
For the real heart of Granada nightlife, filled with tapas bars, energetic dance and, cold beer, El Centro is the place to go. El Son is a good bar to mention; with lively music until late in the downstairs disco and a lively bar atmosphere upstairs. For some great dance clubs; Miniclub and Papa Palo (down Calle de los Naranjos) are worth checking out.
---
14) Visit The Ancient Banuelo Arab Baths
Free Things to do in Granada
Dating back to the 11th-century, the Banuelos Arab baths is a free entry museum and shouldn't take more than 15 minutes to browse around. The interesting this about these ancient baths is that they're considered to be among some of the oldest and more complete maths in Spain. They've been incredibly well preserved and are worth checking out.
You can find then along the River Darro, opposite the Alhambra and closely located to the previously mentioned Albayzin neighborhood.
10 Things to do in Granada, Spain Travel Guide
---
15) Granada Charterhouse
To see one of the finest examples of Spanish Baroque architecture, you should take to the Granada Charterhouse!
Founded in 1506, the Carthusian Monastery will teach you a lot about the Monasterio de la Cartuja and the Albaicin Heritage. Prominent inside the charterhouse are also extensive collections of paintings and a complex and vibrantly designed interior.
For only 5 Euro entry, it's worth a view!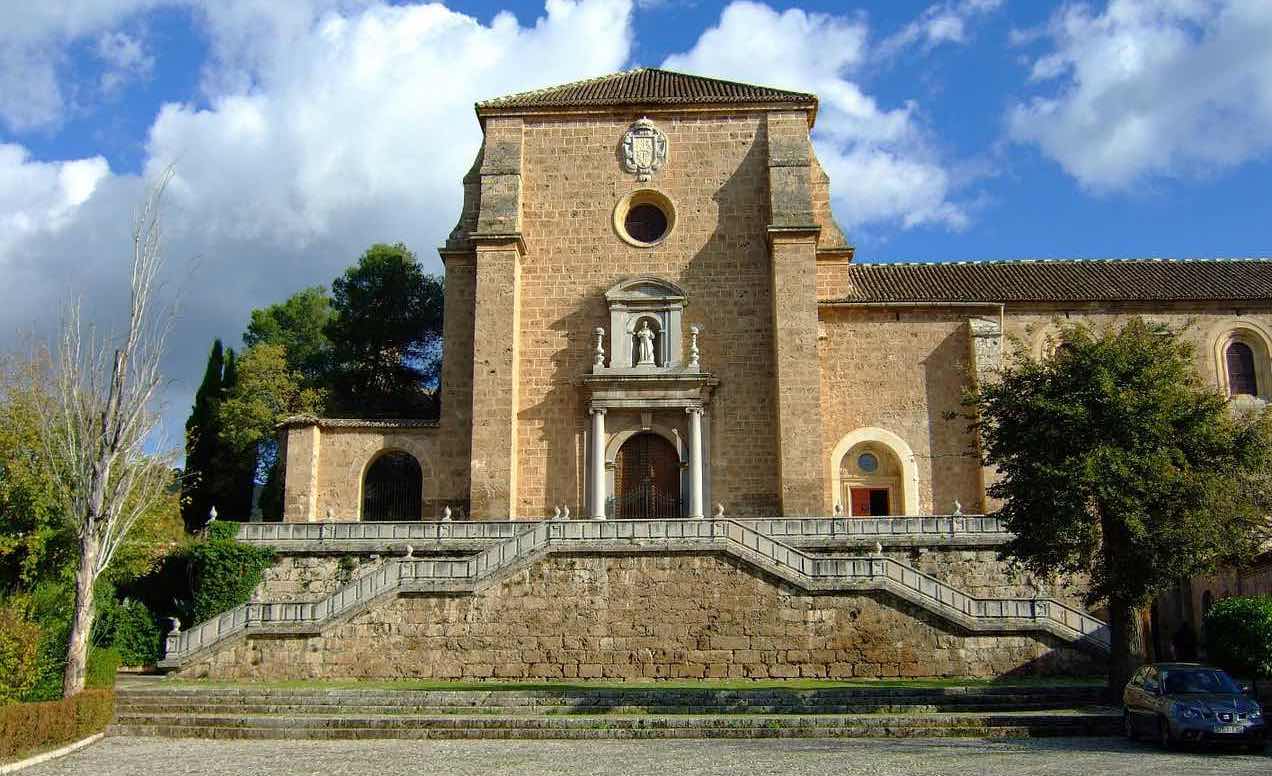 ---
16) Step back in Time by Walking along Carrera del Darro
The left bank of the River Darro is one of the most scenic walks and prettiest streets in Granada. Featuring cobblestone streets, various bars and restaurants and two stone bridges, which link to the Almanzora neighbourhood. The Carrera del Darro streets date back to the 17th-Century and present many beautiful buildings from the 16th-Century.
The roads, walls and, houses are all so well preserved and atmospheric, that walking down the street you will make you feel as though you have been taken back in time. The area is peaceful, relaxing and also gives a brilliant view of the mountainside.
This was one of my favorite streets during my Granada trip and I highly recommend you pay a visit.
Granada, Spain - Carrera del Darro romantic river walk
---
17) Los Cahorross Gorge Trail in Monachil
Located just 8kms outside of Granada city, Monachil is a small village with a population of around 7000. And just 2kms from the village center is the Loc Cahorros gorge, which is very popular amongst rock climbers. I discovered this incredible little natural paradise when I was lucky enough to be house-sitting for three weeks in Monachil village. So I got a good chance to visit the gorge often and even tried my hand at natural rock climbing with the locals!
The Los Cahorros trail features limestone cliffs that follow the Rio Monachil river. At various points throughout the trail, you come across a few different swinging bridges you can cross. The final one is the highest, with waterfalls and followed by a fun obstacle course-like trail with rock pools, narrow caves and rock faces you need to hang off as well as narrow walls you need to cling onto along the way.
The hike is popular amongst families and is relatively easy for most able-bodied people. It was by far the highlight of my time in Spain, and if there's one day trip you decide to do; I recommend you choose this one.
Busses from the city of Granada to Monachil village are available regularly throughout the day to get here by public transport! Check out the video below for a bit more inspiration and what to expect!
Los Cahorros Walking Trail Sierra Nevada, Monachil, Granada, Spain
---
18) Granada's Science Park!
Andalusia's First Interactive Museum
Also known as Parque de las Ciencias in Spanish, the Science Park is a perfect option for those traveling with kids! The museum is separated into different areas covering seven permanent exhibitions, and a variety of temporary exhibitions also. It is well laid out allowing you to plan your visit based on which areas you may wish to prioritize first!
A popular exhibition is the 'Journey into the human body' which is an interactive exhibition teaching about the origins of mankind and how the human body works. This section is great for children as they can get involved and have fun with the exhibition through different science games. The park itself is pretty huge and can easily take up to two days to see it all thoroughly. One day should be more than sufficient enough though.
Located within walking distance from the city center, the museum is easily accessible on foot.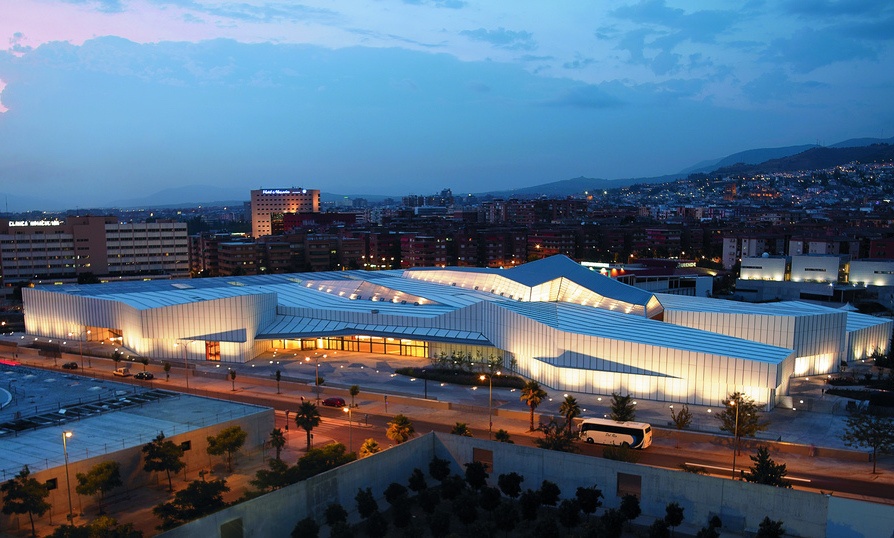 ---
19) Take to the Bars down Pedro Antonio de Alarcon (street)
For one of the busiest and cheapest streets in town, hit Pedro Antonio de Alarcon. Here you will find crowded bars, popular kebab houses, and the youthful student feels. For a great little bar with an awesome atmosphere, head into La Marisma for cheap beer and fun vibes.
Granada Spain is a city full of life! (Vlog 269) Granada day 1
---
20) View the Alhambra from the Plaza de San Nicolas
Free Things To Do in Granada
Plaza de San Nicolas is definitely worth the steep hill walk up to through Albaicin to the spectacular views of the Alhambra and the rest of Granada's hilly landscape!
The plaza itself is a historical site with a brilliant atmosphere. The best time to visit this area is at night time to view the Alhambra lit up. It's a popular spot for locals to come for dance, song and, music, with buskers regally make an appearances day and night. The Plaza de San Nicolas is also free to visit at all times of the day.
Next to the viewpoint is the Church of San Nicolás which is also worth a mention. This church itself gives the name to the Square and viewpoint, so it is worth taking a look at while you're there.
Bare in might that the hill walk itself could be considered moderate and difficult for those without a reasonably fit physical stamina.
MIRADOR DE SAN NICOLÁS Y ¡ OLÉ !
---
21) View the Beautiful Interiors in Monasterio Cartuja
To view some of the most remarkable Sacristy, intricate and captivating interiors, sculptures and artwork, the Monastery of Cartuja is a great example of a Baroque church in the city.
Everyone I know who has visited the Monastery of Cartuja has suggested that it is incredibly underrated, and should be considered a must-visit while in Granada! While it will cost you 5 euro to enter, it is well worth the price and I'd recommend to pay a little extra for the audio guide as it gives you much more information about the church's history and origins.
---
22) Visit Nasrid Palace as Part of your Alhambra Experience!
A stunning example of Islamic design; for luxuriously Moorish-style courtyards, pristine reception halls & royal quarters right in the centre of the Alhambra, Nasrid Palace definitely won't disappoint.
There are no words to describe how incredibly stunning the architecture of the palace are. With such detailed decorative features, ancient art work and architecture that will leave you in awe.
The Nasrid Palace was a personal highlight of my trip to Granada and in my opinion it's something everyone must see when visiting the Alhambra. You wont regret paying the extra costs for this incredible experience.
Tip: Like with the Alhambra, book in ADVANCE. I recommend booking 2 months in advance if possible. This books out fast!
GRANADA in 5 minutes | Travel Guide | TOP Highlights
---
23) Visit Calahonda Beach in Motril
One of the best beaches along the Costa Tropical coast. Located in Motril, the beach is 1400 metres long, set in an urban environment and usually a decent swimming beach with moderate waves.
Along the beach are cafes, public showers and kayak hire options. It's a pretty popular beach with a abundance of lifeguards and is also only a short drive from the Sierra Nevada national park and ski resort!
Calahonda Beach Xiaomi Mi Drone Flight
---
24) Hike the Capileira – Alpujarra – Capileira Loop from Calle Cubo
An intermediate hiking tour requiring good levels of Fitness. The Capileira – Alpujarra – Capileira Loop covers 8.27 kms and highlights many scenic areas such as steep twisting streets, the gorge, various springs and mountain ranges along the track.
Capileira is the highest of the three villages, at 1,436m and offers spectactice views of Sierra Nevada for as far as you can look. If you're big on hiking and like the outdoors, I recommend this trail.
---
25) Try traditional Granada cuisine; Tortilla de Sacromonte!
If you're visiting Granada, you absolutely have to try some of the traditional dishes of Granada cuisine, and Tortilla de Sacromonte is a perfect example of this. I recommend Restaurante Bar Oliver, they served the most devious Torillia I've ever tried!
---
Am I Missing Any Epic Things to do in Granada, Spain?
Well, that's the end of my 25 Things you can do in Granada article! I hope that you found this helpful and that it has given you lots of ideas for how you can most enjoy your time in Spain.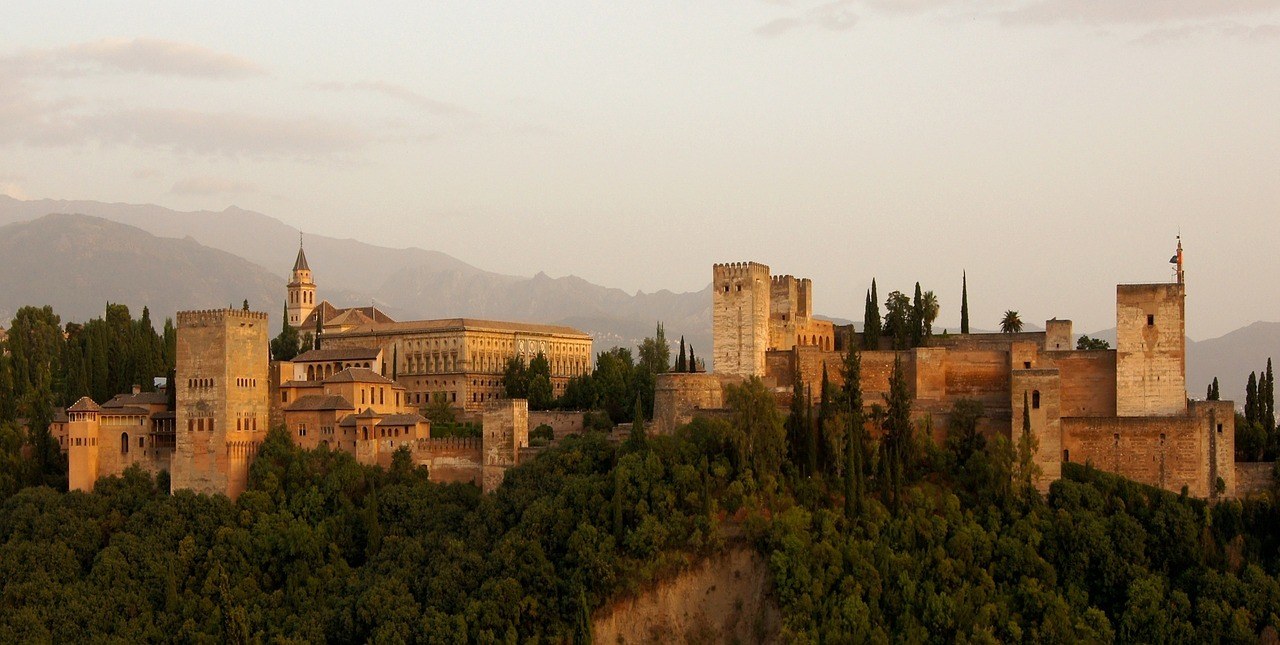 ---
Planning a trip to Spain & Europe…?
I've spent a lot of time living and working in different parts of Europe, and my website is filled with helpful travel itineries, things to do, destination guides, festival roundups, and much more! Check out a few of my favorite articles below, and as always, please do email me if you've got any questions about anything you've read! I love helping people plan their travel as much as possible!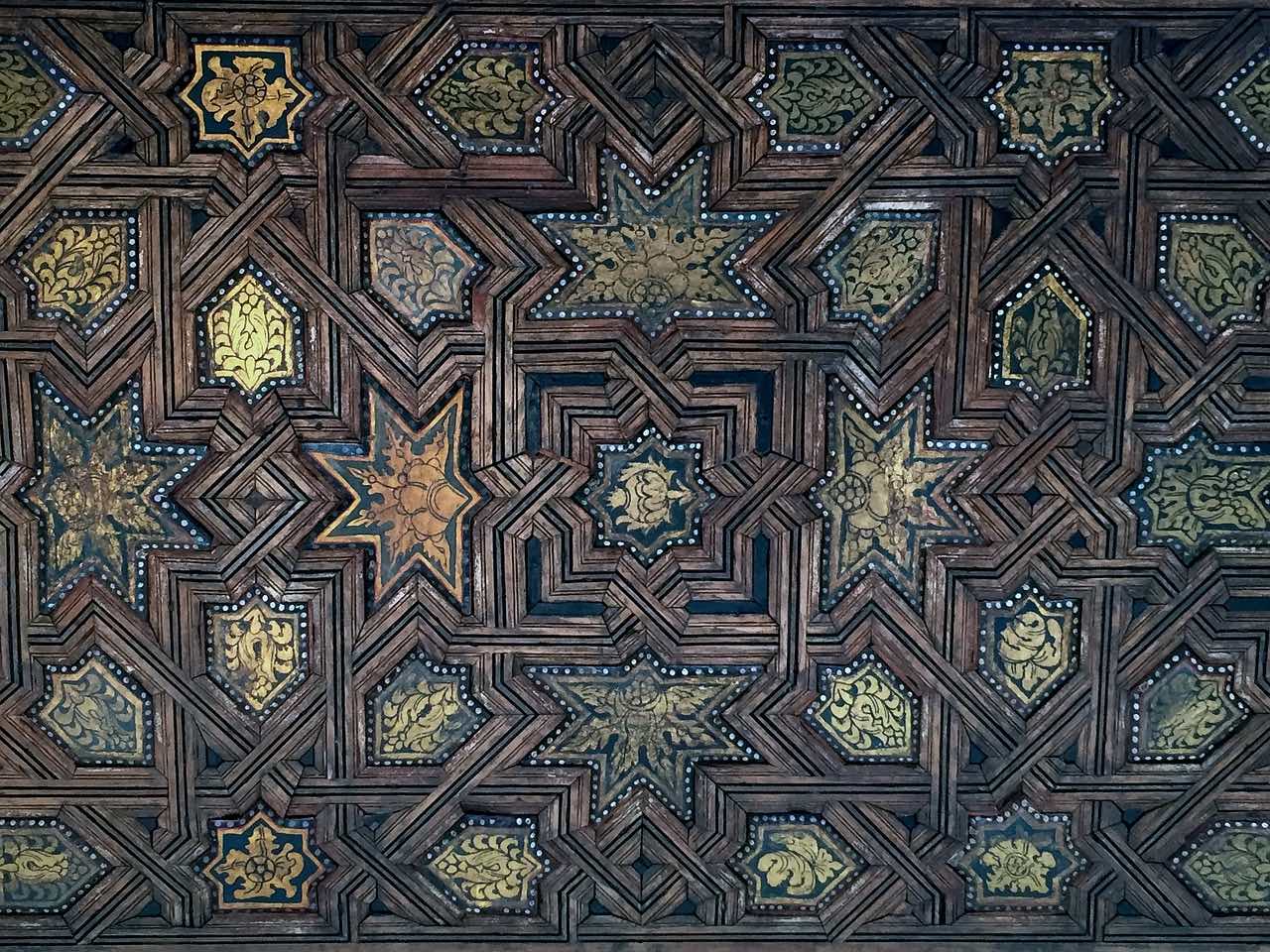 ---
Thanks for reading about these things to do in Granada!
Share what to do in Granada with your travel squad!
https://www.jonesaroundtheworld.com/wp-content/uploads/2019/08/Granada-Spain-Best-Things-To-Do-1-2.jpg
1294
1964
Dave
https://www.jonesaroundtheworld.com/wp-content/uploads/2017/03/logotry-1-1-300x106.png
Dave
2019-08-03 21:23:31
2020-09-17 21:02:25
25 Things to do in Granada Spain