Heading down to the awesome state of Arizona and looking for the best Airbnb Phoenix vacation rentals? You asked. I answered. This is the ultimate guide to the only Airbnbs in Phoenix you need to know!
Known to locals as "The Valley Of The Sun" or simply "The Valley", the city of Phoenix is the fifth biggest city – population-wise – in the U.S. But it doesn't get nearly as much attention as it deserves!
The desert city is the capital of the great state of Arizona and has the best variety of landscapes you could ever hope to stumble across. There's the bright lights of the city and its million-and-one things to do. There's towering mountains and deep valleys. Historical Native American reservations and affluent resort getaways. Oh – and a shitload of golf courses. And of course, some of the coolest vacation rentals in Arizona!
One of the best things about visiting Phoenix is that space is readily available for a super affordable price. Properties are large, breezy and amazing value for money. And solid air conditioning is standard – because it stays damn hot down here most of the year !
In addition to having room to breathe, you can take a daytrip from Phoenix to so many other cool cities, towns and famous landmarks. Scottsdale, Mesa and Tempe are mere minutes away and Tucson is 90 minutes. Even the Grand Canyon is just 3.5 hours away.
The best of the great outdoors is at your fingertips in Phoenix, but first you'll need first-class accommodation to rest your head…So I've pulled together my list of the 18 best Phoenix Airbnbs and vacation rentals to ensure an awesome Arizona getaway!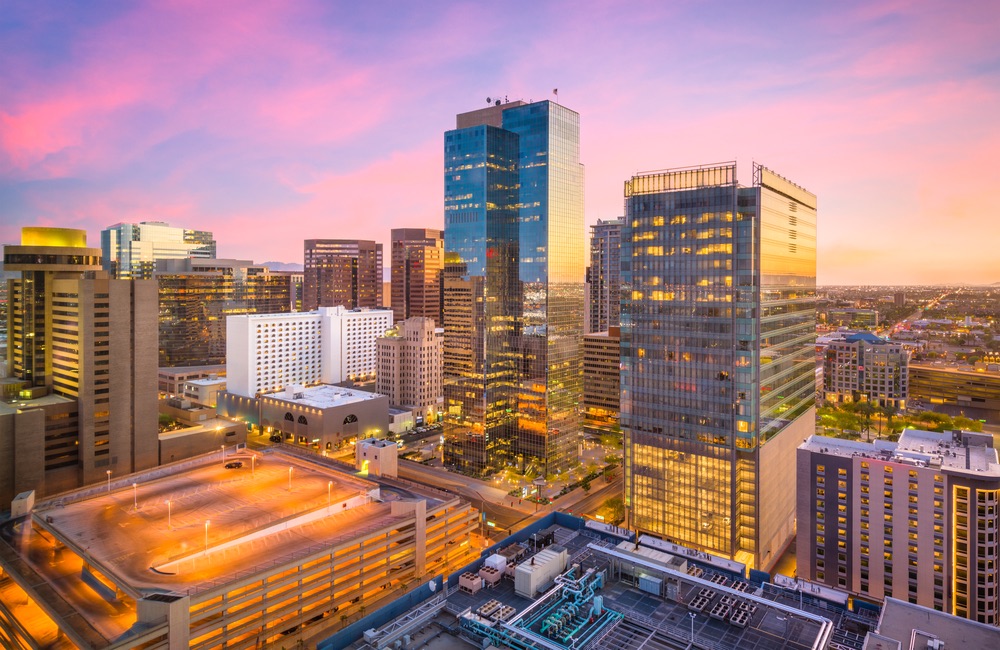 ---
Quick Breakdown of the Best Airbnb Phoenix Rentals
Need the best Phoenix Airbnv recommendation quickly? My "Quick Top 6" below lists out my personal choices for the best Airbnb stays in Phoenix. Whether your budget is on the low or high end of the scale, whether you're flying solo or as a couple – and of course the best overall Airbnb – it's all there. Simply click below and secure your stay!
I've included a variety of excellent Phoenix video guides to give you some added inspiration for your own trip. Be sure to check out some of my other U.S blogs, which I've linked at the end of this list, starting with 22 Photos That Will Inspire You To Road Trip Through Arizona and The 25 Best Music Festivals in Arizona To Experience Before You Die!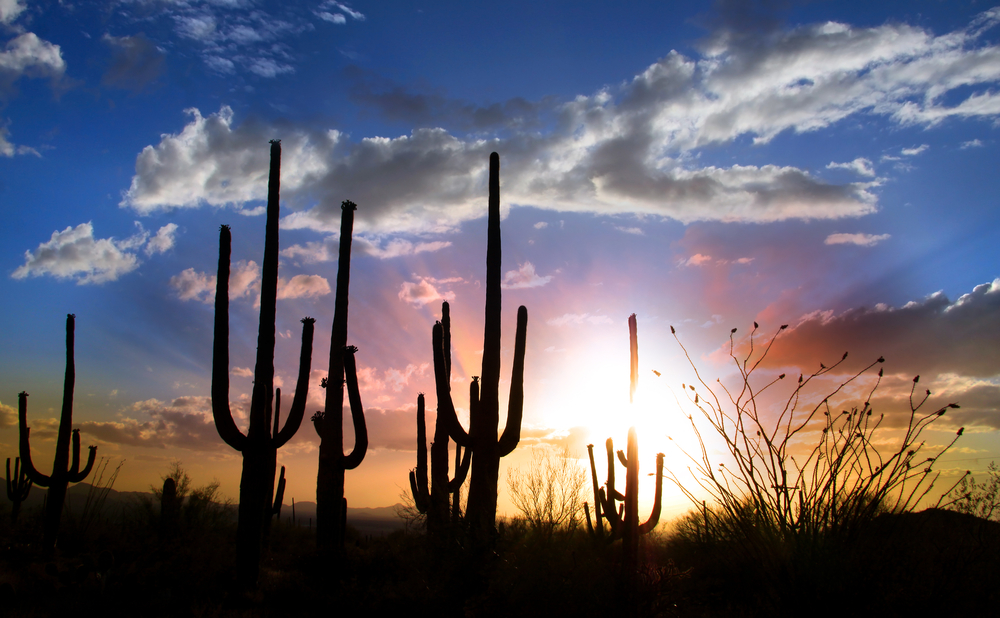 ---
1) Downtown Phoenix Rental – Prime Location & Close to Everything
Location: Roosevelt
Price: $84 avg. per night
Sleeps: 2 (1 beds/1 bedroom/1 bath)
With nearly 50 reviews and a perfect 5-star rating, this 100-year old completely renovated bungalow takes the top spot overall best vacation rental in Phoenix! It couldn't be better located, just a short distance from downtown or any number of museums, restaurants, a light rail stop, or the freeway for easy access upon arrival to Phoenix. High speed internet, a chic kitchen, and modern appliances and amenities will make you feel right at home. Relax on the porch or the backyard seating area in between exploring all Phoenix has to offer right at your fingertips. This cute and cozy accommodation is perfect for a few days spent exploring the Valley of the Sun.
Guest review: "What a wonderful experience we had at this home in the historic Roosevelt District. Jeff, the owner, was very responsive to any questions we had and Teresa next door was very helpful. Everything was clean and looked just like the pictures. We loved our time here!!"
---
2) Unique Airbnb Airstream in Downtown Phoenix
Location: Roosevelt (Downtown Phoenix)
Price: $114 avg. per night
Sleeps: 3 (1 bed/1 bedroom/1 bath)
Being the 5th largest city in the Unites States in terms of population, Phoenix can be a bit overwhelming. Thankfully, there are unique and chic stays like this one located in the heart of the historic Roosevelt Row next to Downtown Phoenix! This totally remodeled classic Airstream has tasteful touches throughout – it's indescribably idyllic and completely comfy! Relax in the courtyard in a hammock, make use of the BBQ, or read a book in bed. Just outside the property you'll find Portland Street, packed with some of the coolest bars, restaurants, venues, and shops in the city. You can't go wrong booking this rental, and in my opinion it's the most unique place to stay in Phoenix!
Guest review: "This is such a unique VRBO in a wonderful neighborhood! The Airstream was well provisioned with everything we needed, and it felt so private yet in the heart of everything. Beautiful neighborhood for an evening stroll, & the private yard was an oasis. Less than 2 miles from a great golf course, too. Thank you for a lovely stay!"
---
3) The Palacio at the Biltmore Estates – 19,000 sq. ft. Mansion Airbnb
Location: Camelback East (Biltmore Estates)
Price: $2000 avg. per night
Sleeps: 24 (8 beds/8 bedroom/12 bath)
Ideal for large groups looking to life the lush life, the absolutely MASSIVE 19,000 square foot stay will truly have you feeling like a celebrity for the duration of your vacation. It sleeps up to 24 across 7 king beds and 1 queen, but you're sure to spend most of your time laying out by palatial pool or enjoying any number of cushy common areas. The property itself is located on the notoriously lux Biltmore Estates, and is perfect for getting together for a golf weekend, family reunions, birthdays, anniversaries, or simply spending more than usual on a top tier trip. Take a look for yourself and imagine living the high life in this high end estate for a few days. This is one vacation you won't be forgetting any time soon.
Guest review: "Amazing home w/ everything you could desire and more! Our large family vacation together was extraordinary, in part due to the beautiful home we stayed in. Pool, hot tub, theater, extremely large kitchen, privacy (situated on 2 acres and backs up to a beautiful golf course), nice decor and very clean. We hope to return to this home again in the future!!! You'll absolutely love it, we're sure!"
---
4) Boho Farm Carriage House in Heart of Downtown Phoenix
Location: Roosevelt Row, Downtown Phoenix
Airbnb Plus: Yes
Superhost: Yes
Price: $120+ USD per night
https://www.airbnb.com/rooms/15874816
Right in the heart of Downtown Phoenix's coolest district, this one bedroom carriage house is treehouse-inspired and boho chic. It has a terrace, and there's a garden, chicken coop, orchard and outdoor seating areas on the property. This is a gorgeous, rustic little retreat that is just a few blocks from the city centre, public transport, shops, restaurants and charming farmers markets. Over 100 thrilled guests have given this refreshing abode a perfect score and a rave review. What else could you need?
Guest review: "We loved our stay here, and wish it could've been longer. Set within a beautiful garden space and stocked with fresh eggs and other supplies, the Carriage House is airy, comfy and stylish – we quickly felt at home and were able to wind down and relax after a hectic road tour. Caroline and her family were welcoming, friendly and helpful, giving us plenty of local tips for cafes, eateries and markets – we recommend Lola Coffee, a great cafe just minutes away! (Phoenix Art Museum is also worth visiting – an easy 20-minute walk.) The neighbourhood is safe and quiet, and Caroline's garden is a wonderful space to sit and relax in (you can watch the chooks and spend time with the cats). The Carriage House was a real find, and has been one of our favourite Airbnb experiences. Thanks again!" – Ron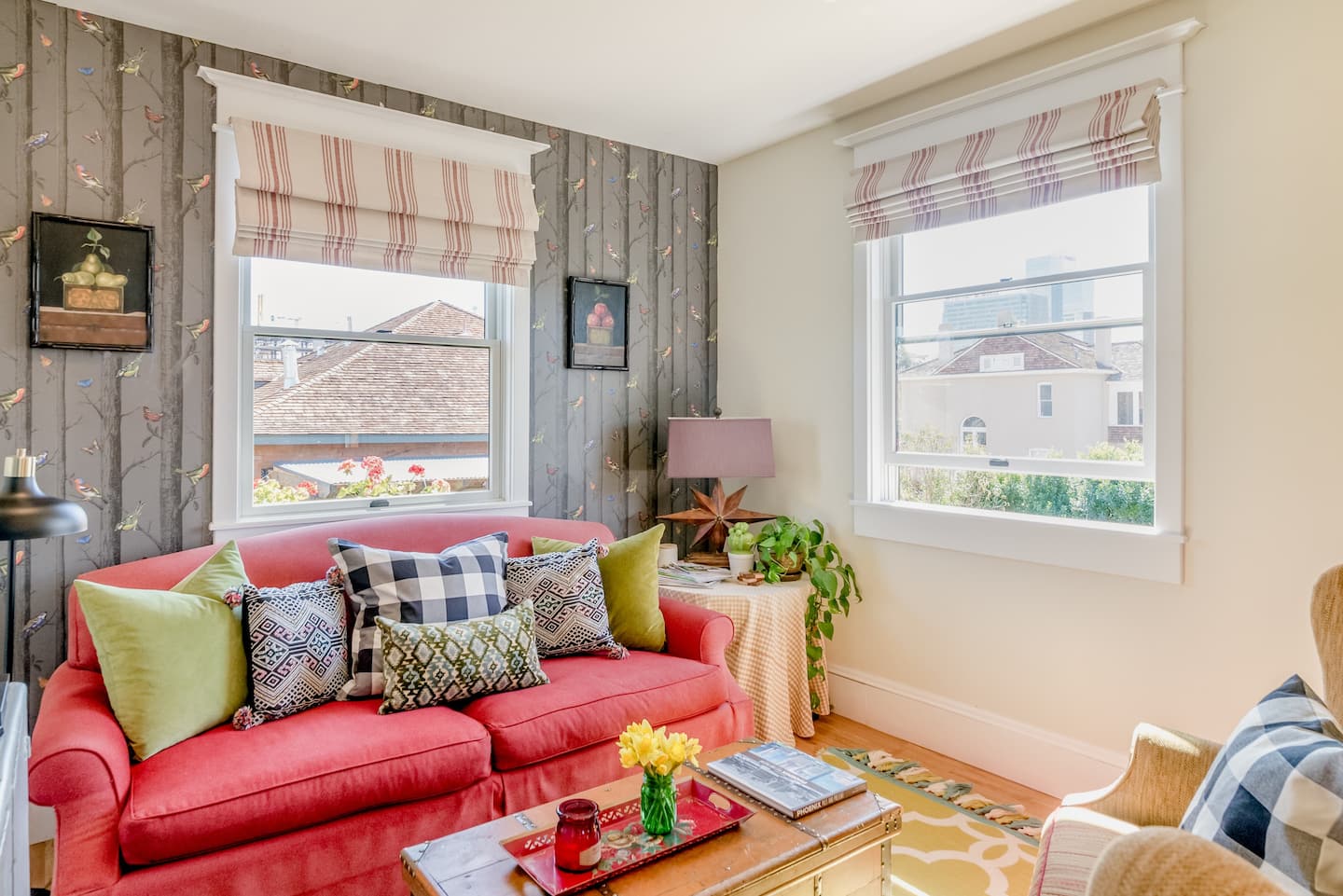 ---
5) Bask in the Sun at a Sexy Modern Midtown Condo
Location: Midtown
Airbnb Plus: Yes
Superhost: Yes
Price: $130+ USD per night
https://www.airbnb.com/rooms/16337360
Phoenix may not be one of the main U.S cities you think of when you picture the perfect couples escape, but it should be on your list! This one bedroom Midtown condo is the best Phoenix Airbnb for a couple, and you'll feel like you're in a tranquil oasis in the desert. The light and airy apartment has air conditioned interiors, a spacious terrace and is in a complex with a gym and a resort-style pool with sun loungers. (https://pestkill.org/) This pad has well and truly earned its Airbnb Plus status and its near-perfect guest score, and it's also just minutes to the bright lights of downtown Phoenix.
Guest review: "This apartment was the perfect home base for our trip to Phoenix. It was centrally located with major highways, grocery stores, restaurants, and retail only a short drive away. The complex's clubhouse is also just a short walk, and it was great to be able to take advantage of relaxing by the pool/hot tub and even getting a workout in at the great gym while on vacation. Communication with Rob was extremely easy and our stay overall was excellent – it is easy to see why this property has become a "plus" listing." – Allison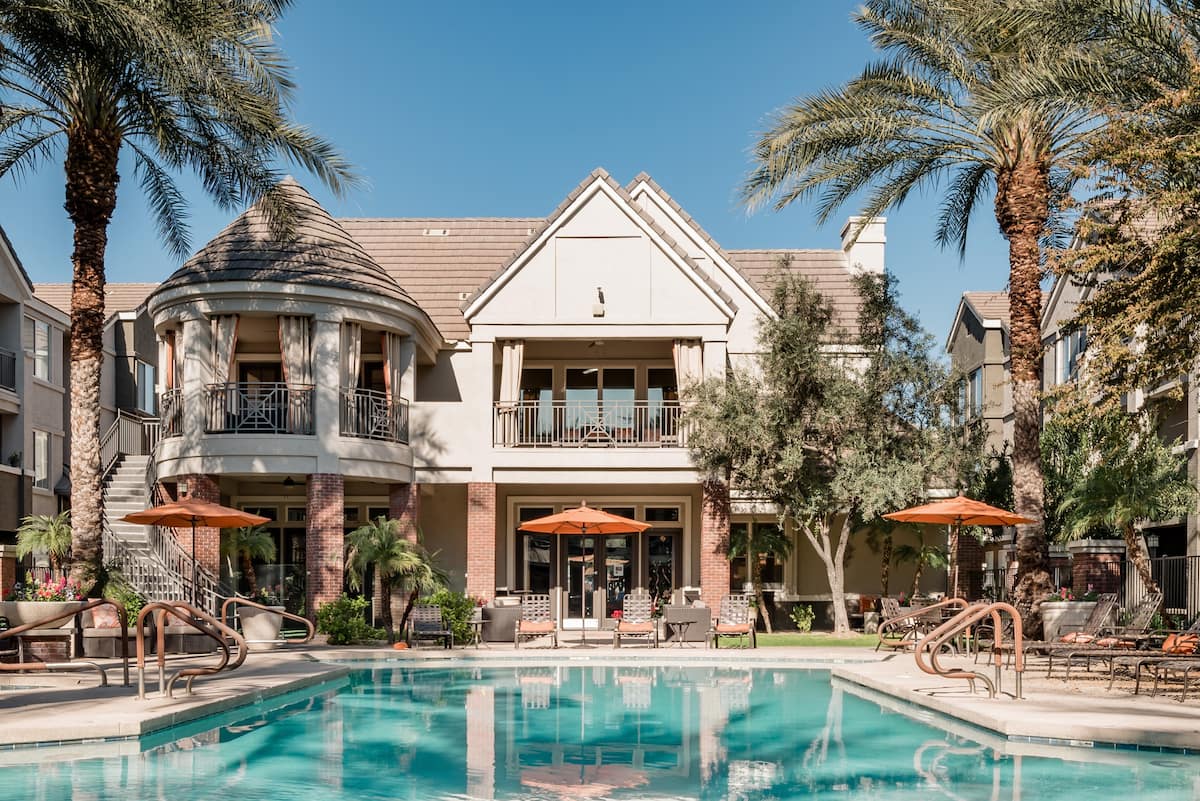 ---
6) Bright Downtown Studio in Historic Willo Neighborhood
Location: Willo
Airbnb Plus: Yes
Superhost: Yes
Price: $70+ USD per night
https://www.airbnb.com/rooms/28437865
Traveling alone to Phoenix for business or pleasure? There's no need to feel lonesome at this bright and cheery studio guesthouse in one of central Phoenix's most historic neighborhoods. The contemporary abode is open and sunny, and you'll enjoy full access to the large backyard. The Willo neighborhood has a range of lovely cafes and restaurants, and the local rail service will take you anywhere in Phoenix you want to go. A great Airbnb experience for a low price. Traveling solo never looked so good!
Guest review: "Joel & Leah's space is absolutely perfect. It's so cozy, has so many cute touches, & just the right amount of amenities. I honestly wish my trip had been longer, so I could've spent more time in the Airbnb to just relax! It's an attractive neighborhood, & is an excellent location for walking; plus it's close to light-rail or there's the option for inexpensive Uber rides. I would 100% stay here again." – Marianne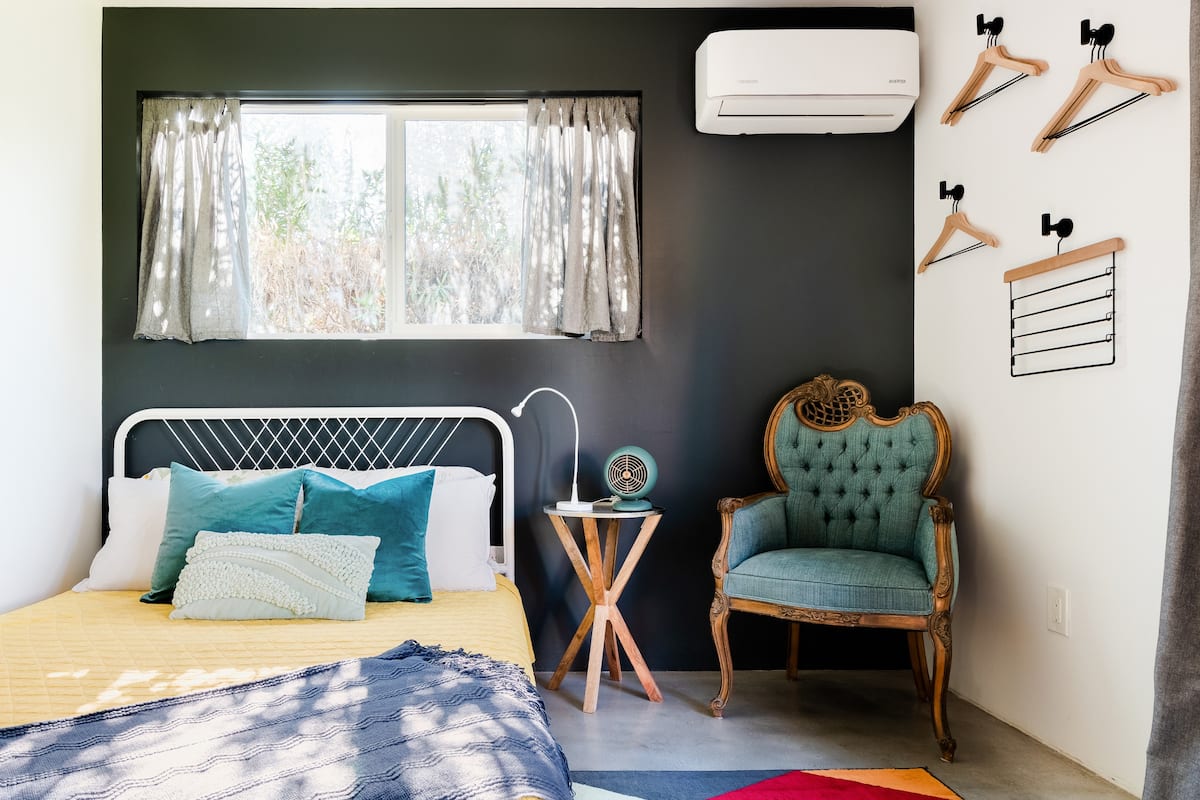 ---
7) Massive Villa with Sport Court, Hot Tub + Pool
Location: Cave Creek
Airbnb Plus: No
Superhost: Yes
Price: $850+ USD per night
https://www.airbnb.com/rooms/33162765
This palatial five-bedroom villa is truly something to behold. So far achieving a perfect 5-star guest rating, the huge home in Cave Creek has a swimming pool, hot tub, outdoor shower, tennis court, putting green, large patio, cabana with BBQ, massive backyard and a detached guesthouse – and so much more. Not to mention the stunning interiors! You can even have add-on concierge, transportation, catering, babysitting and spa services for a fee. The town of Cave Creek offers a bountiful natural landscape to explore, and it's just a 40 minutes drive to Downtown Phoenix. Not only is this Luxury Airbnb Phoenix worth mentioning here, I'd argue it's one of the coolest Airbnbs in Arizona!
Guest review: "Our family enjoyed a Pre-Thanksgiving reunion and I truly have to say that the villa was very impressive. It is a very personal, private, secluded area to enjoy a getaway from the norm. It was very enjoyable watching the family play basketball, miniature golf, shoot pool, and relax in the hot tub. The most enjoyment was the woman all gathered in the kitchen sharing recipes and creating fantastic meals for the family. There was enough space to accommodate the family. Almost forgot to mention the outdoor fireplace with the big screen tv. We grabbed blankets, watched tv and at times acted a little silly performing and singing. The Massive Villa is definitely on our list to revisit. We will never stay in another hotel again. Thanks Becca for creating this awesome AirBNB." – Eva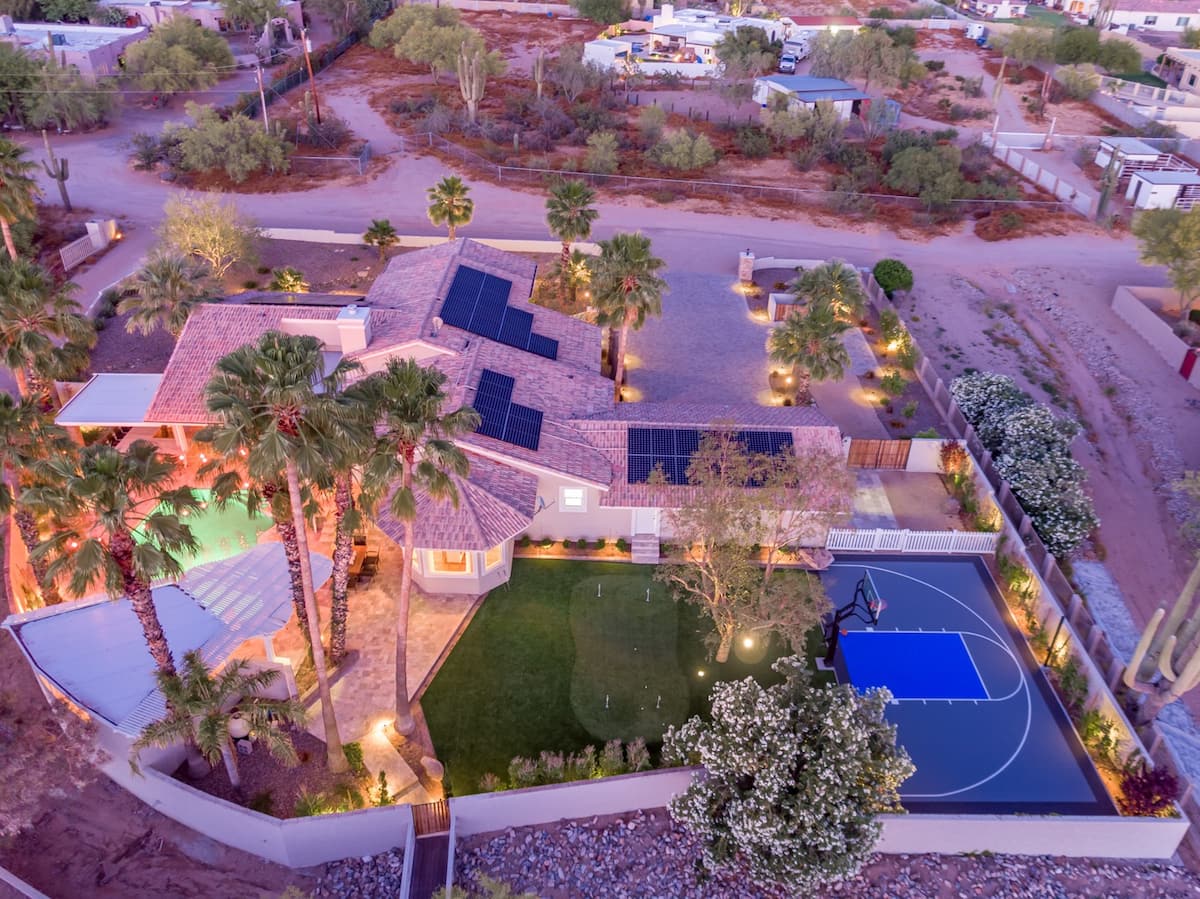 ---
8) Oasis in the Red Rocks – Airnb in Phoenix Near Airport
Location: Red Rox Condominium
Airbnb Plus: No
Superhost: Yes
Price: $50+ USD per night
https://www.airbnb.com/rooms/20795972
One of the best things about visiting Phoenix is the value for money. Homes are larger than other cities, more spread out and there's a real sense of space. Plus they are super affordable. This modern one bedroom ground floor apartment is located in a gated community with two pools, a jacuzzi, a cabana, a gym, courtyard, BBQs and a putting green. There's a plethora of walking trails, parks, golf courses and the Phoenix Zoo locally, and it's just 7 miles to Downtown Phoenix and 4 miles to Arizona State University. Scottsdale and Tempe are also close by. For as little as $50 per night, you'll be in paradise.
Guest review: "A great large place! The place includes access to a pool, gym, laundry and fully equipped kitchen! A perfect space to relax and enjoy Phoenix! Camille was a lovely host who was reachable at any time and very flexible with check in to accommodate our early flight. Would recommend it to anyone!" – Demi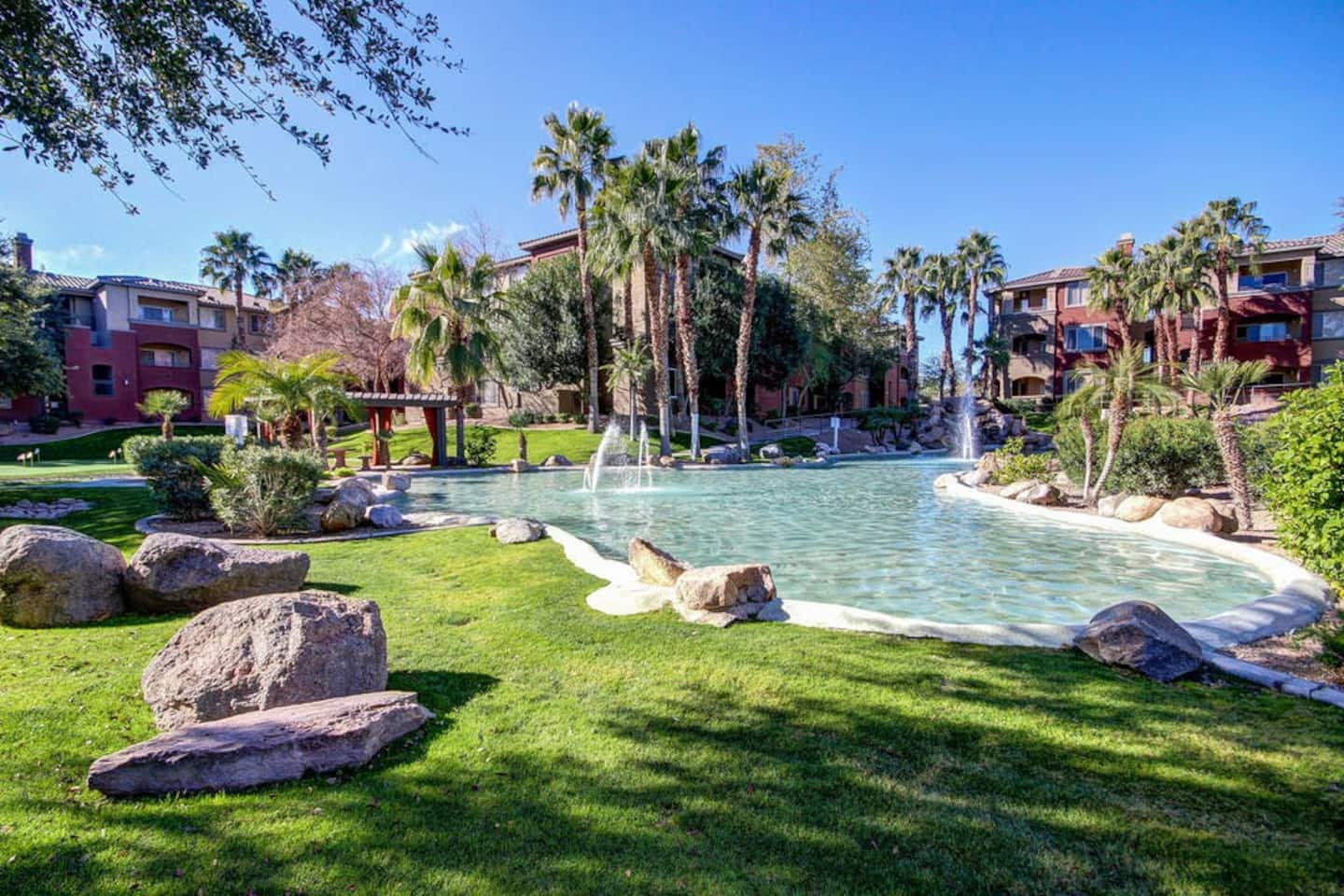 ---
9) Midtown Guest House with Rooftop Deck
Location: Indian Park
Airbnb Plus: Yes
Superhost: Yes
Price: $100+ USD per night
https://www.airbnb.com/rooms/18950268
Light, bright and spacious, this one-bedroom Phoenix guesthouse is an Airbnb Plus offering that oozes desert vibes. It features a king size bed, fun furnishings and decor, a patio and a rooftop deck. The local neighborhood has a range of cool wine bars, cafes, diners and pubs, and there's a light rail station a few minutes walk away that services the greater Phoenix area. It's a 10-minute drive from the guesthouse to the heart of Downtown Phoenix, or a breezy 20 minute train trip.
Guest review: "This Airbnb was very clean and stylish. The furniture was comfy, the amenities were all there, and the rooftop patio was just adorable – great for chatting over a cup of coffee in the morning. It was a very pleasant stay and I would definitely recommend this place!" – Grace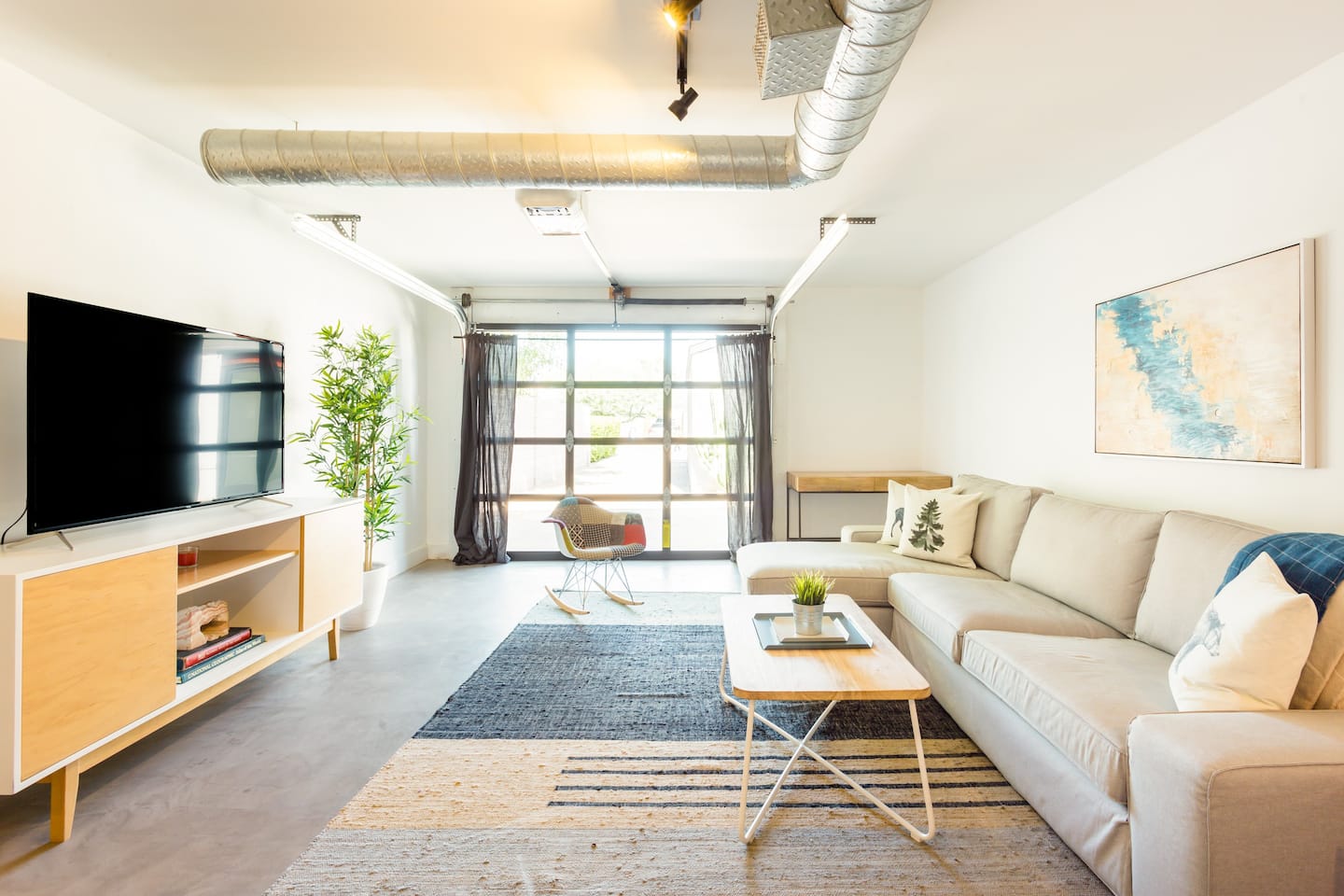 ---
10) Explore Melrose on 7th from an Inviting, Offbeat Bungalow
Location: Melrose District
Airbnb Plus: Yes
Superhost: Yes
Price: $130+ USD per night
https://www.airbnb.com/rooms/29370724
I love the bright pops of color and fun vibe of so many Phoenix Airbnb rentals, and this spacious three bedroom bungalow is no exception. With bright feature walls and eye-catching furniture and decor, the home is a breath of fresh air that's an Airbnb Plus fan favourite in the city.
The Melrose District is Phoenix's premier LGBTQI hotspot, and is crammed with vintage stores and trendy bars and restaurants. You'll be in a friendly, residential area that is walking distance to the neighborhoods many offerings, and just 10 minutes drive into Downtown Phoenix. Just check out the pictures and I'd bet you agree it's a super cool/ unique Airbnb Arizona rental!
Guest review: "Staying here has been my best Airbnb experience so far. They provided more than I could have possibly expected or asked for. The location was in a very convenient part of town as advertised and all of the beds were extremely comfortable. Communication was clear and non-intrusive. I have no complaints or suggestions. If this house meets your needs you will be satisfied." – Patrick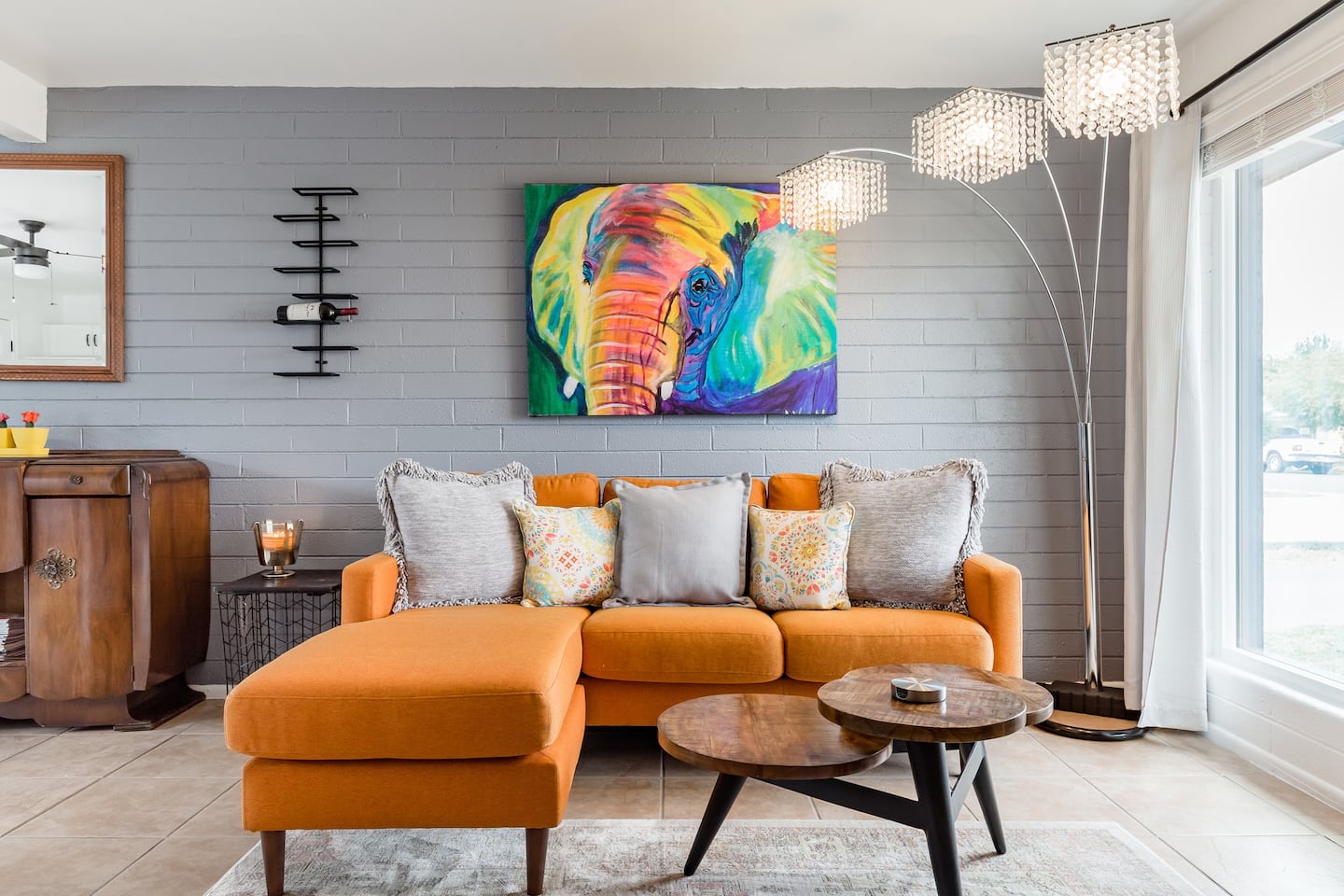 ---
11) Cowboy Bunkhouse in North Scottsdale
Location: North Scottsdale
Airbnb Plus: Yes
Superhost: Yes
Price: $120+ USD per night
https://www.airbnb.com/rooms/21694824
The city of Scottsdale, Arizona is just 20 short minutes from Downtown Phoenix, and many visitors to the city opt to stay here instead. It's also a great excuse to check-in at the spa resorts and world-class golf courses the small city is renowned for. But this AirBNB blows all that out of the water. The two-bedroom AirBNB Plus guesthouse might just be the coolest and best Airbnb in Arizona! The western-inspired pad is so eclectic, so cool and so country, with vintage cowboy decor, a Mexican tile fireplace and a spacious patio. You'll feel like John Wayne bunkering down in "the bunkhouse", and its location makes it super easy to explore Scottsdale, Cave Creek, Phoenix and many other historic Old West locations in this pocket of Arizona.
Guest review: "What an amazing experience! Our family of four loved everything about the bunkhouse. Sara and Cliff were so thoughtful and attentive and went out of their way to spend time with us and give the backstory about all the authentic items in the bunkhouse. My husband was like a kid soaking up the history and stories. The beds were super comfortable, plenty of space and felt cozy. Every detail has been taken care of for you. This has been our favorite Airbnb experience and we will be back. My sister, who lives in the area, says this will be her go-to for folks who travel to town as well. Enjoy!!" – Lissa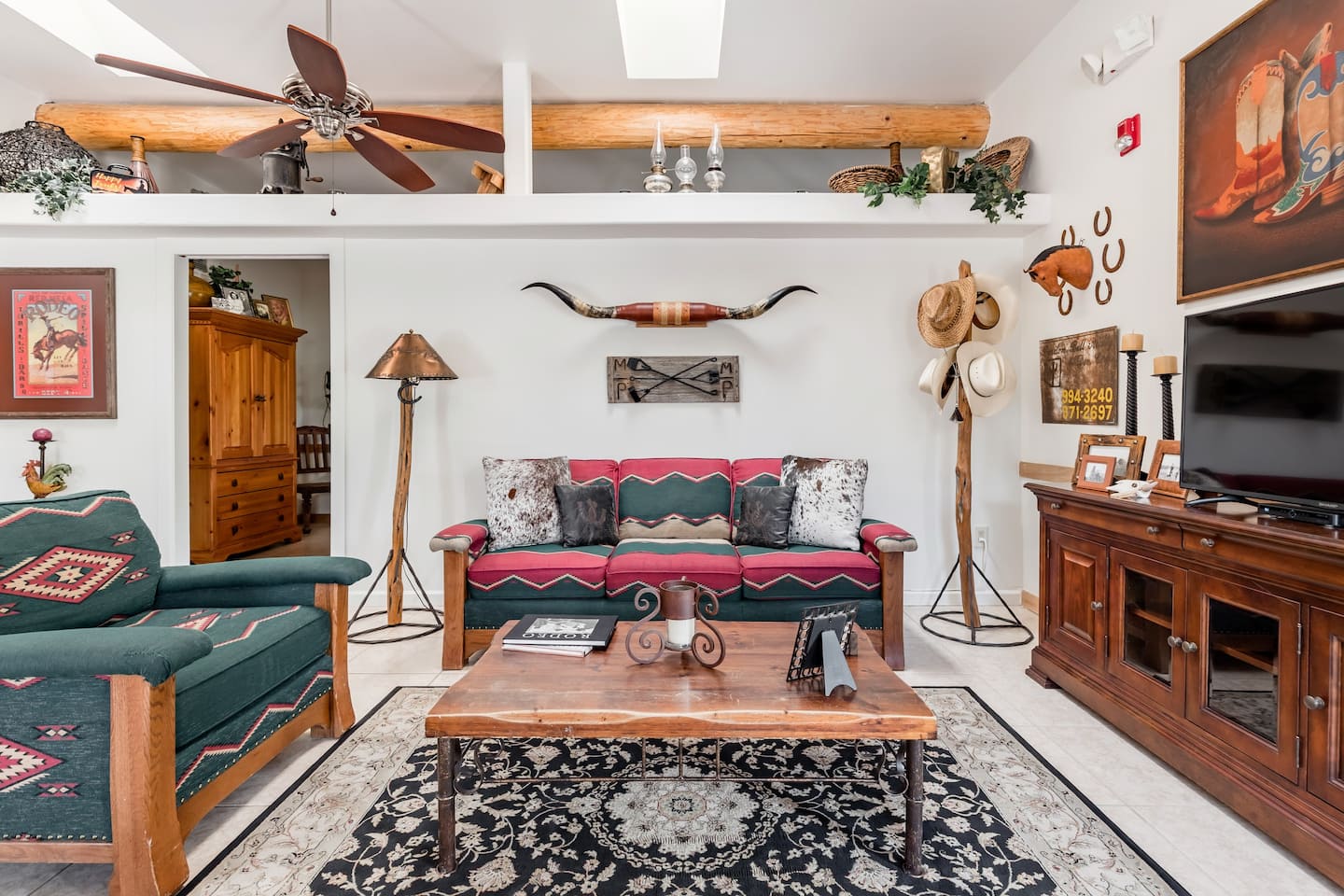 ---
12) Walk-Shops & Dining-Heated Resort Pool-Amazing Gym & Parking
Location: Scottsdale
Airbnb Plus: Yes
Superhost: Yes
Price: $100+ USD per night
https://www.airbnb.com/rooms/29705669
Sunny Scottsdale is warm year-round, full of friendly locals and just a short drive to the heart of Phoenix, and this two-bedroom apartment is one of the Arizona hub's best Airbnbs. Located within a resort complex with a pool, gym and hot tub, this pretty Airbnb Plus apartment is equipped with all the conveniences you could need for a stellar Phoenix trip. There's a whole host of shops, restaurants, bars, spas, golf courses, public parks, tranquil walking trails and hiking hotspots just a stone's throw away, or jump in the car and be in Downtown Phoenix in as little as 20 minutes. Two cities for the price of one!
Guest review: "Great spot less than 5 min to shopping and restaurants! Had reserved a secure parking spot, easy check-in/out using smart locks, a very clean and comfortable place to stay, and had a kitchen with all the dishes and glassware you need. Host was very responsive and communicated everything ahead of time. Highly recommend!" – Chris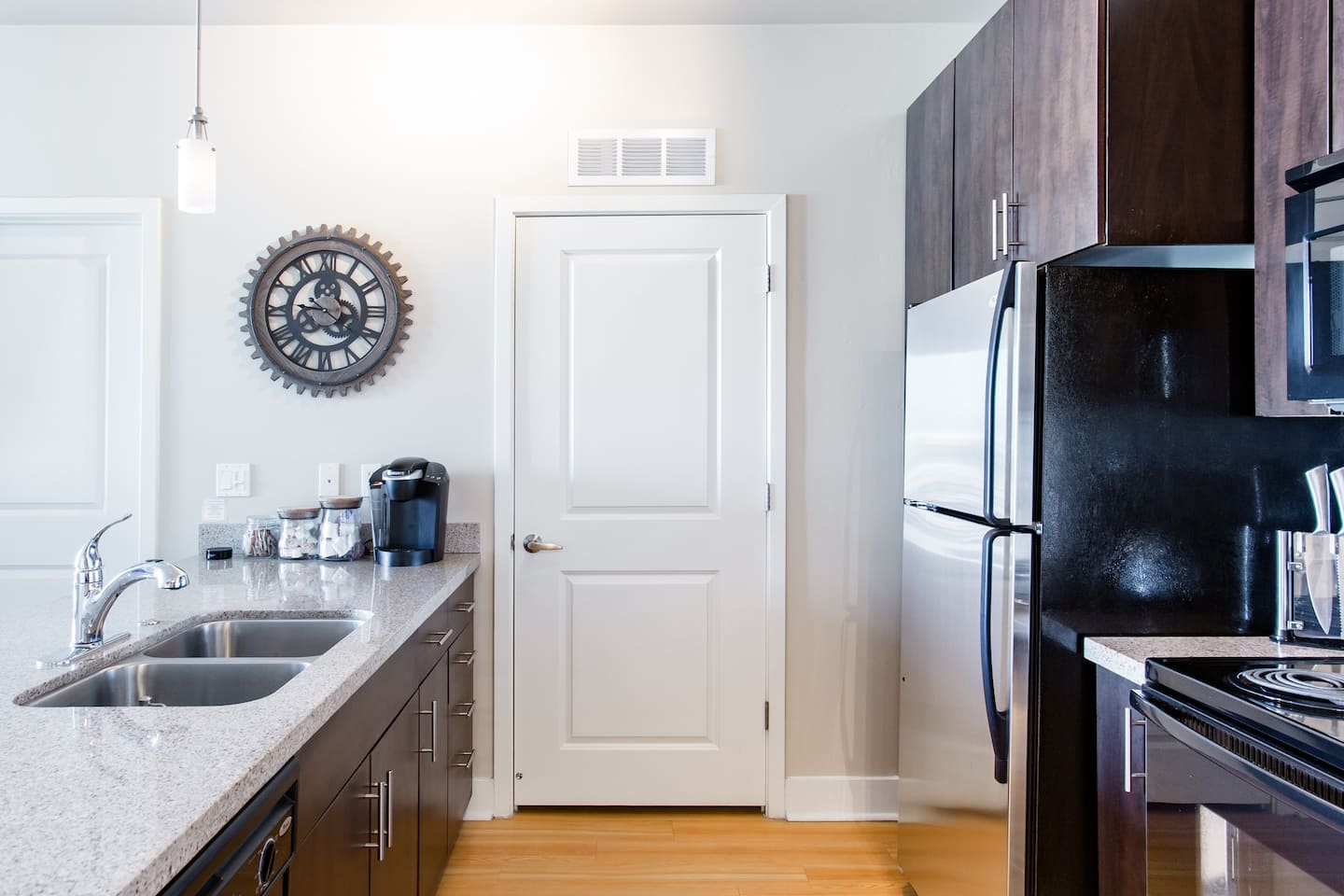 ---
13) Roosevelt Row Modern Custom Home
Location: Roosevelt Row, Downtown Phoenix
Airbnb Plus: No
Superhost: Yes
Price: $80+ USD per night
https://www.airbnb.com/rooms/24699701
The perfect example of the popular rustic modern interior design trend, this cozy one-bedroom Airbnb Phoenix bungalow has it all in just 420 square feet. The minimalist custom-designer home manages to maximize its small space to create a breezy, fashionable space that guests love. There's even a private backyard with an outdoor shower for a slice of luxury on a hot Phoenix day. The hip Roosevelt Row (RoRo) neighborhood of Downtown Phoenix is brimming with cool cafes, restaurants, bars, bike share kiosks and there's an efficient light rail network to explore further afield.
Guest review: "Loved everything about this place. Especially the easy entry. I am really enjoying staying in places where you just key yourself in. It's so easy. Design-wise, this space is so compact yet thorough and well designed, that I found myself making notes, taking pictures, and fantasizing about redesigning my own outbuilding into a stylish guest-house soon. Really top-notch design concept. Finally, the backyard space is extra special and I loved how the sliding doors went across the whole back wall of the guest-house. Just lovely." – Violet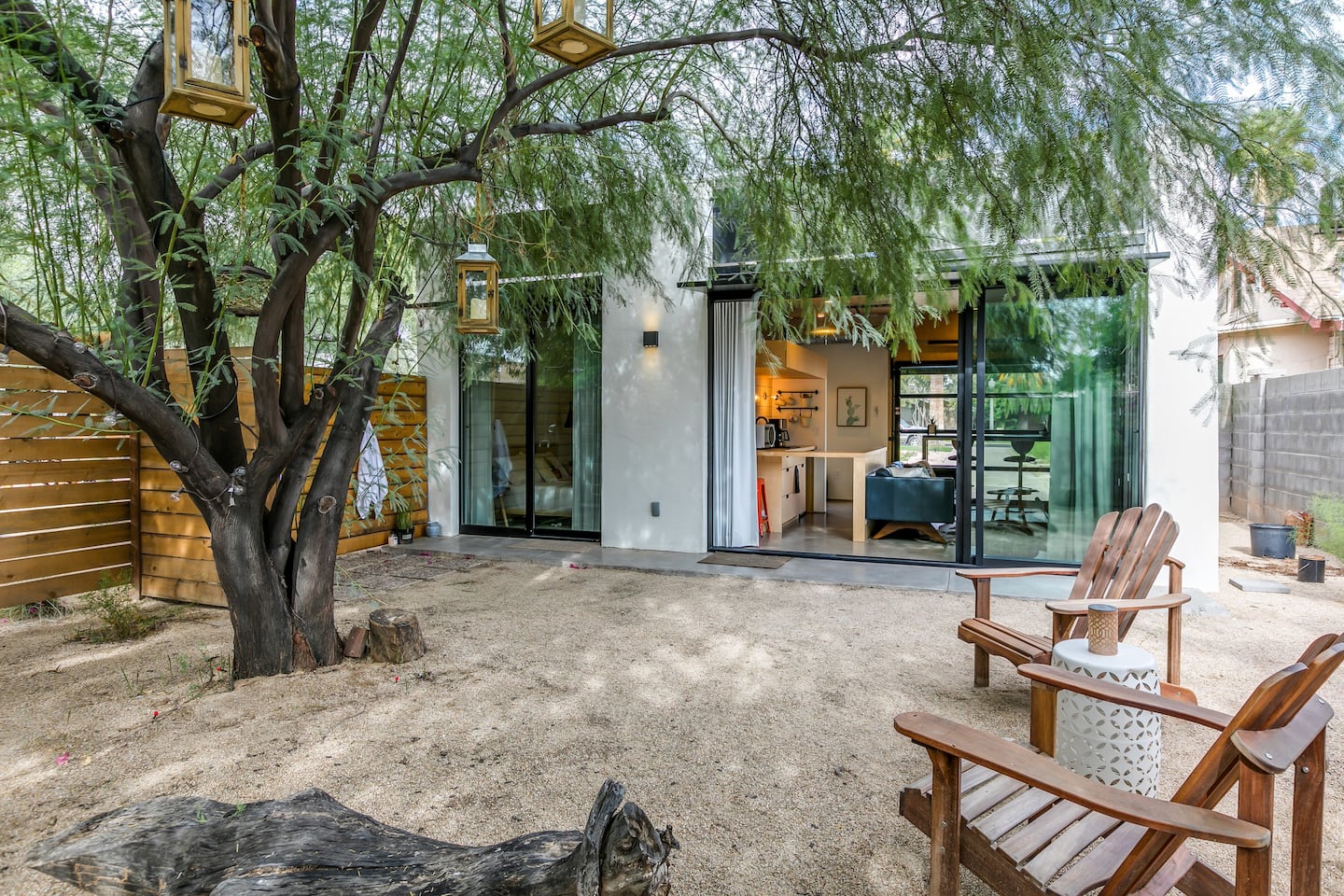 ---
14) Design-Conscious Retreat with Sunny Patio
Location: Biltmore
Airbnb Plus: Yes
Superhost: Yes
Price: $280+ USD per night
https://www.airbnb.com/rooms/5095136
If you're searching for a stylish, family-friendly Airbnb in Phoenix in a safe and friendly neighborhood, you can't go past this four-bedroom home. Immaculate, airy and chic, this large retreat boasts a backyard with fruit trees and a large back patio with grill.
This quiet and private property is located in the upmarket Biltmore neighborhood, which is the place to be for luxury shopping and fine dining. This AirBNB Plus offering is just a 12 minute drive to Downtown Phoenix and the same to "Golfer's Paradise", Scottsdale.
Guest review: "Beautiful house! Quiet location! The house decor was to die for and reminded me of a cozy little cabin. Everything was perfect and Derek was very easy to be in contact with. 10/10 recommend, thanks for letting me stay :)" – Idara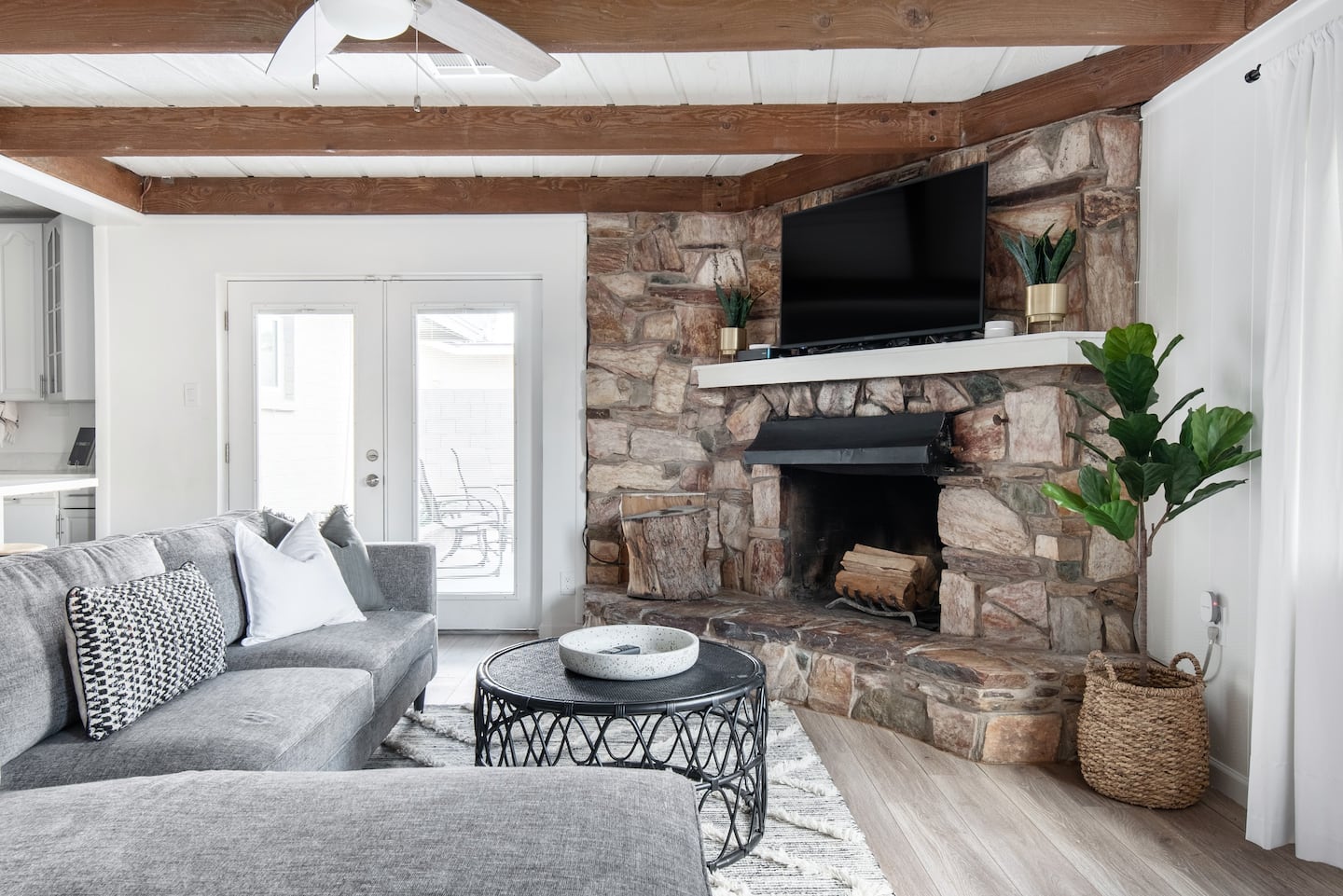 ---
15) Live the Airstream Dream with Private Garden
Location: Phoenix Homesteads
Airbnb Plus: Yes
Superhost: Yes
Price: $70+ USD per night
https://www.airbnb.com/rooms/14858366
Staying in a vintage Airstream is a truly American experience, and what better place to do so than the heart of the Old West? This modern and clean one bedroom Phoenix Airbnb Plus Airstream is recently renovated, and you'll enjoy your own porch space and sun loungers to soak up that hot Arizona sun from. It's parked up in the vibrant Phoenix Homesteads neighborhood, just a short journey from the best eats, drinks, bars and shops in the city. Great value for money!
Guest review: "Lovely stay at the silver savoy. Mary is such a great host. So friendly, thoughtful and welcoming. She gave clear instructions on how to care for the space, made great recommendations for food and things to do. Her dog Charlie is so friendly and nice as well. Definitely recommend everyone to experience a night in an airstream!" – Boris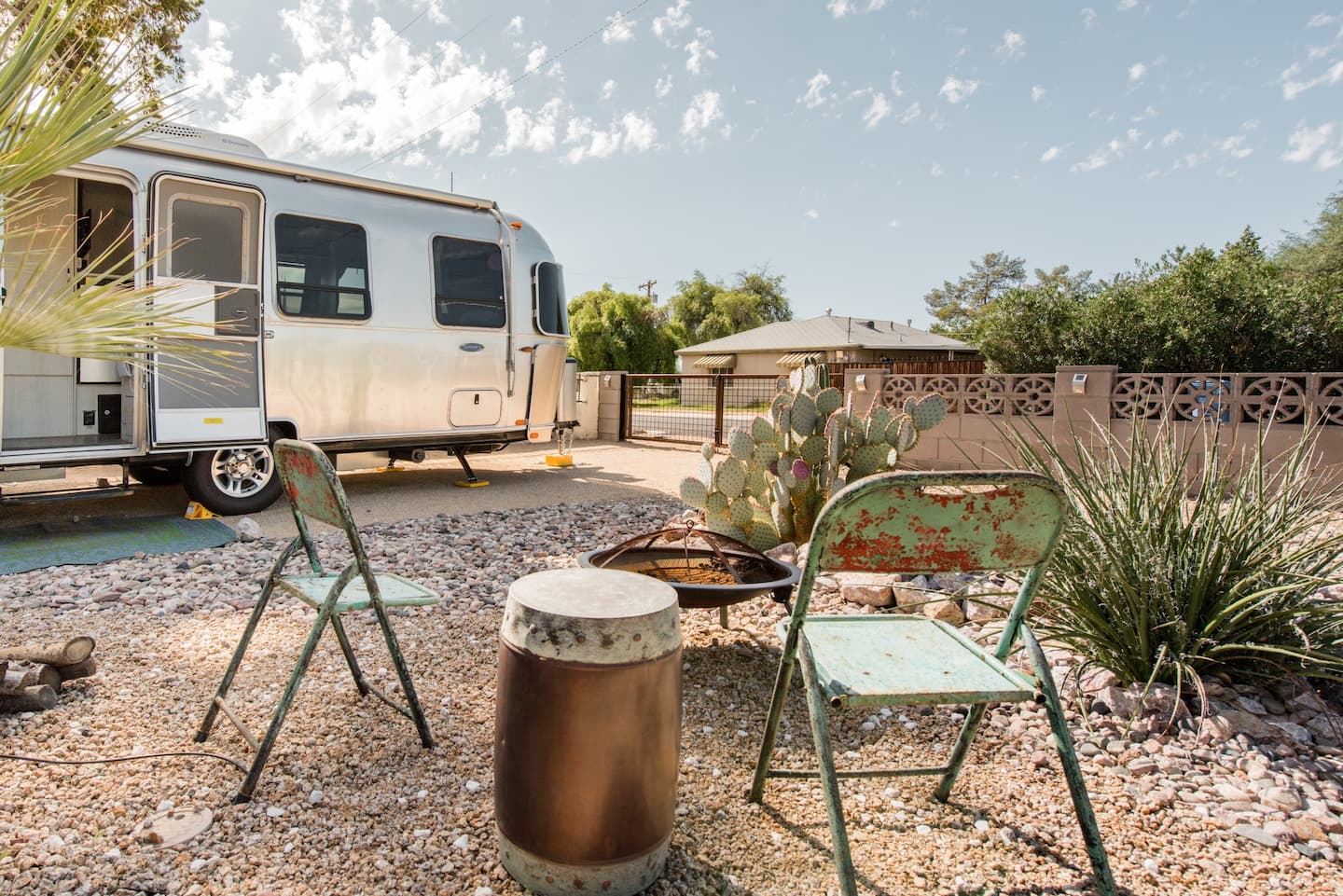 ---
16) An Authentic Adobe Retreat Surrounded by Nature
Location: Paradise Valley
Airbnb Plus: Yes
Superhost: Yes
Price: $100+ USD per night
https://www.airbnb.com/rooms/33272758
Unplug, unwind and regenerate in one of Arizona's most breathtaking areas at this colorful and eclectic one-bedroom guest suite in Paradise Valley. The bohemian-inspired space is artistic and calming, surrounded by nature and by the majestic Phoenix Mountain Preserve. This Phoenix Airbnv Plus desert oasis is just a 10-15 minute drive to both Downtown Phoenix and Scottsdale, but exclusive Paradise Valley feels rural enough that you can truly switch off here. There's a variety of upmarket shops, golf courses and dining establishments locally.
Guest review: "Magical. Love the area. Rejuvenating. Special in many ways. Perfect spot for a retreat for the spirit. We will be back. Kim was amazing. All the good things!" – Teresa Joy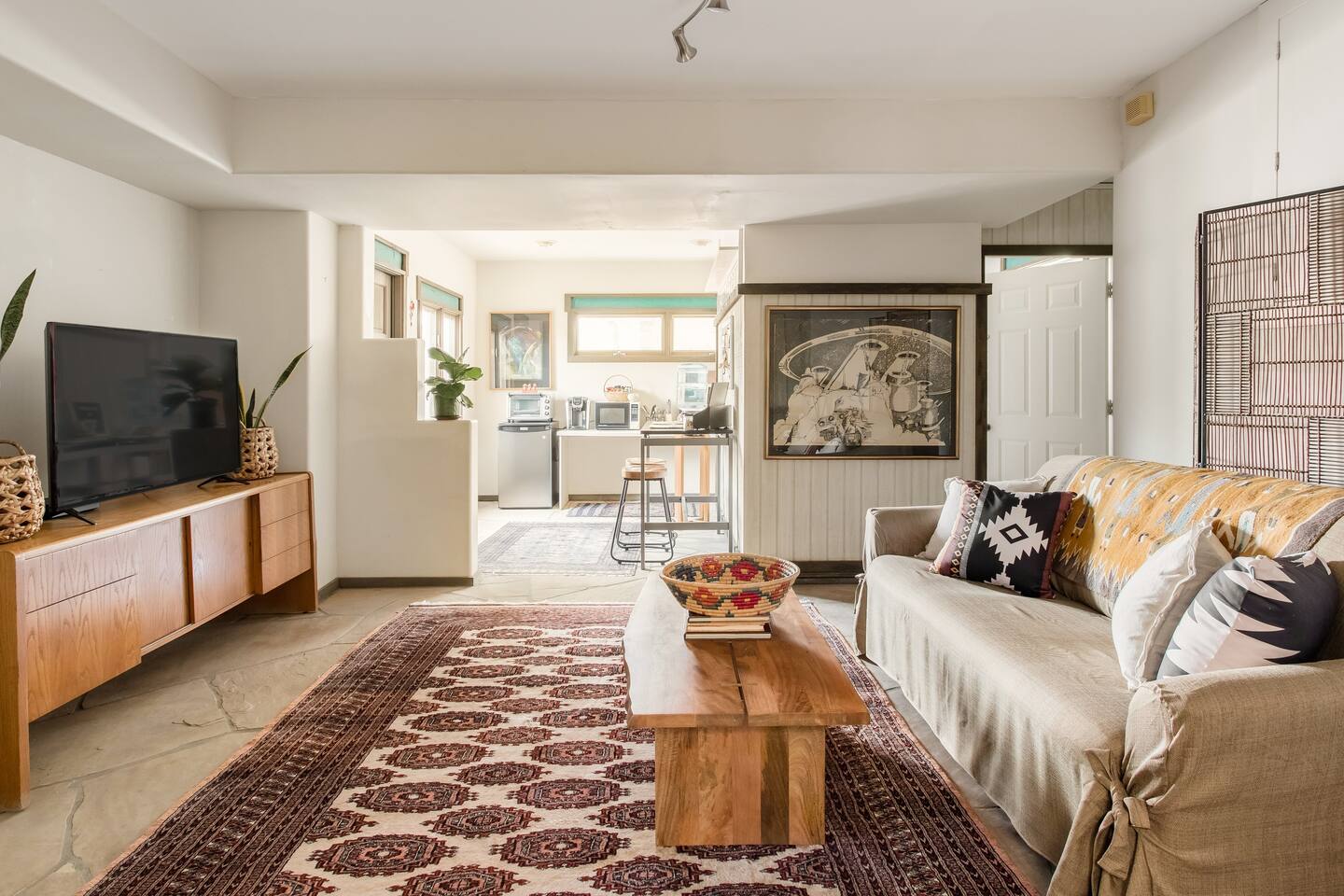 ---
17) Go Hiking from a Cave Creek Horse Ranch
Location: Cave Creek
Airbnb Plus: Yes
Superhost: Yes
Price: $110+ USD per night
https://www.airbnb.com/rooms/15218964
Rural Cave Creek is the perfect base for nature lovers visiting Phoenix, and this rustic one bedroom guest suite sits on a two acre horse ranch so you're guaranteed a unique experience! Walk, hike, horse ride or simply laze in your hammock and enjoy the sunsets this stunning pocket of the Sonoran Desert offers. The AirBNB Plus guesthouse is air conditioned, crisp and clean, and it's a pretty 40 minute drive into the heart of Phoenix and to Scottsdale as well. Almost 200 AirBNB guests have given this property a perfect 5/5 rating – and I'm guessing you'll be the next to!
Guest review: "Our stay was a dream! Kris is such a delight and her place is GORGEOUS! 10/10 would stay there again and again and again." – Megan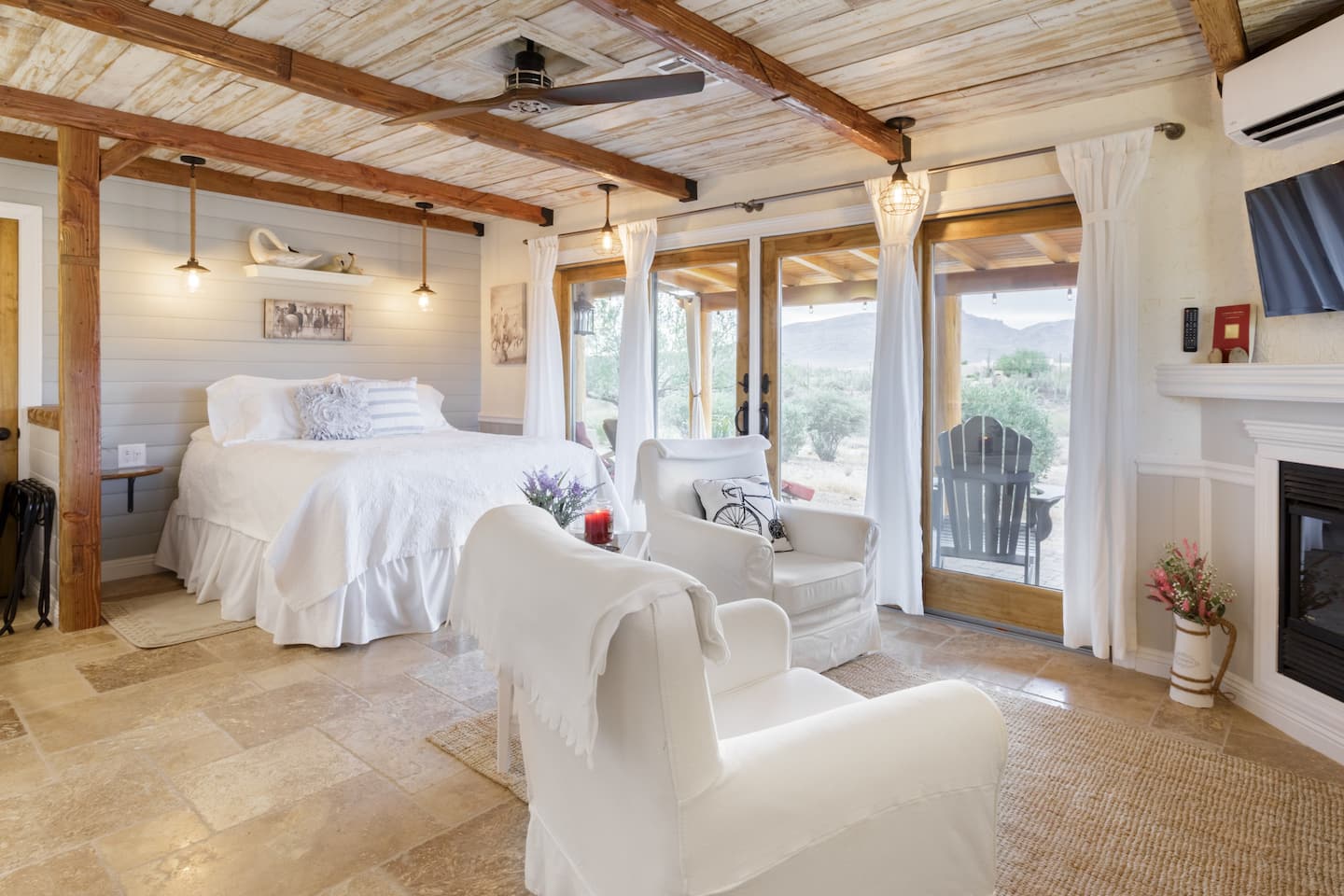 ---
18) Explore Downtown Phoenix from Chic Bungalow
Location: Kenwood, Downtown Phoenix
Airbnb Plus: Yes
Superhost: Yes
Price: $100+ USD per night
https://www.airbnb.com/rooms/31933756
Surrounded by epic restaurants and bars in the heart of vibrant Downtown Phoenix, this spacious two bedroom Airbnb Plus house is super stylish, well-equipped and highly sought-after. The completely renovated home has plush furniture, well-thought-out decor and a designer backyard. Many major Phoenix landmarks and attractions are right nearby, including Chase Field, Phoenix Convention Centre, Talking Stick Arena and Sky Harbor Airport.
Guest review: "Best Airbnb I have EVER stayed in (and I travel lots and lots!) it was clean, spacious, SO adorable, and for the price?! There's nowhere even slightly comparable you could stay for this cute, this clean, this up to date, and this roomy! Location rocks because it's close to so many things! I loved having two parking spaces, and honestly I felt safe and comfy. Best. Stay. Ever." – Hannah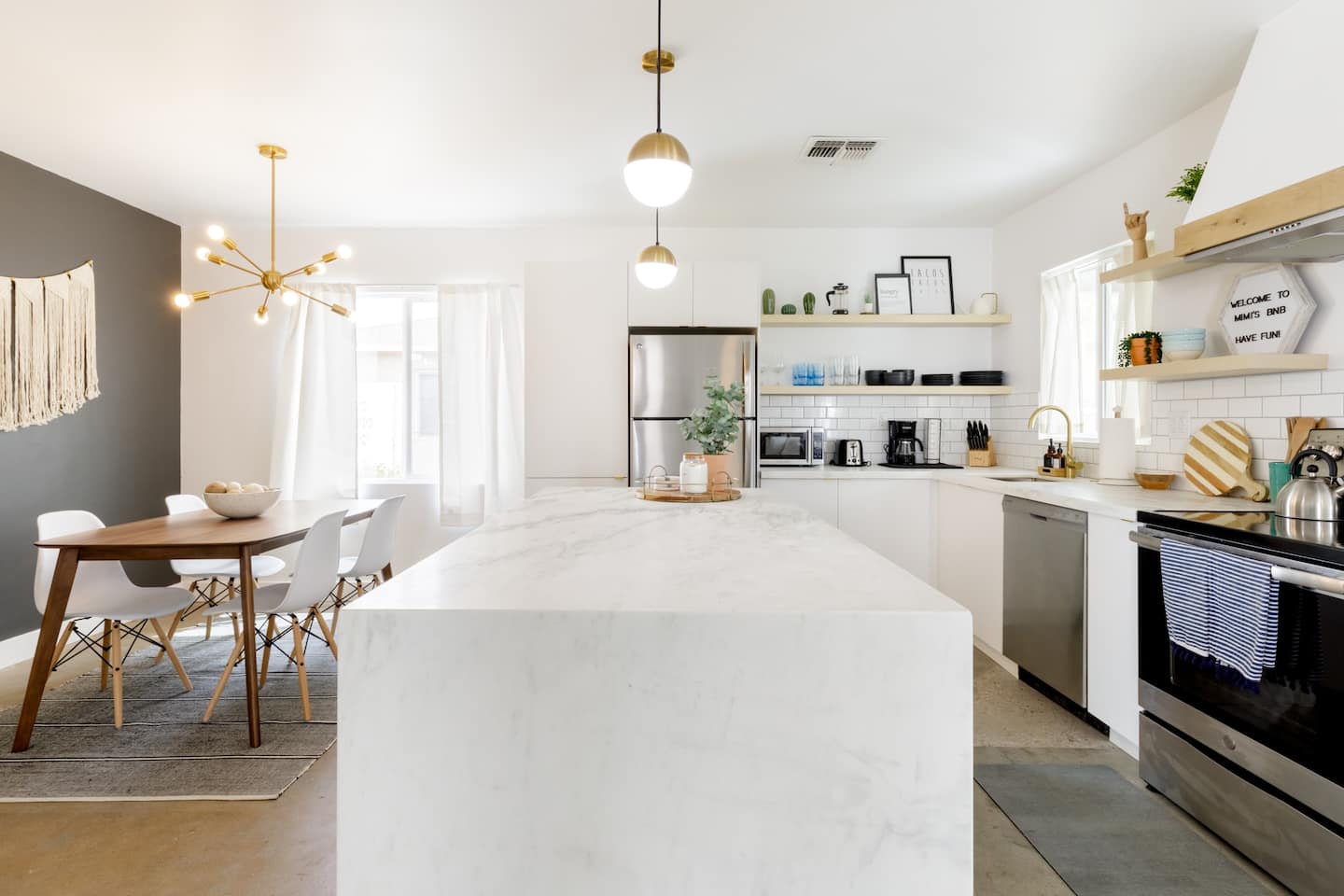 ---
Phoenix Tours & Experiences To Uplevel Your Trip
Not only is Phoenix an awesome city to experience on its own, but there's also a bunch of cool day trips you can take from the Arizona capital. Did you know Phoenix is the perfect city to head to the Grand Canyon from? Or to discover nearby Scottsdale and the exceptional wine of Sedona? These are the best tours in Phoenix. Save time and secure your stay by clicking my links and booking.
---
Downtown Phoenix Instagram crawl
"We'll take a walking tour of Roosevelt Row -which USA Today has called "one of the Top 10 Best City Arts Districts"- & visit some of the best Instagrammable spots in Phoenix. The Phoenix Arts District is teeming with beautiful street art, colorful urban nooks, & charming mid-century architectural details… a wonderful place to shoot spontaneous IG street photography."
https://www.airbnb.com/experiences/694807
Price: From $45 per person
Review: "Kevin provides a really cool experience while introducing you to a funky part of town. The pictures he takes are fabulous and really help make the experience feel like value for the dollar"
View Photos, Read Reviews & Check Availability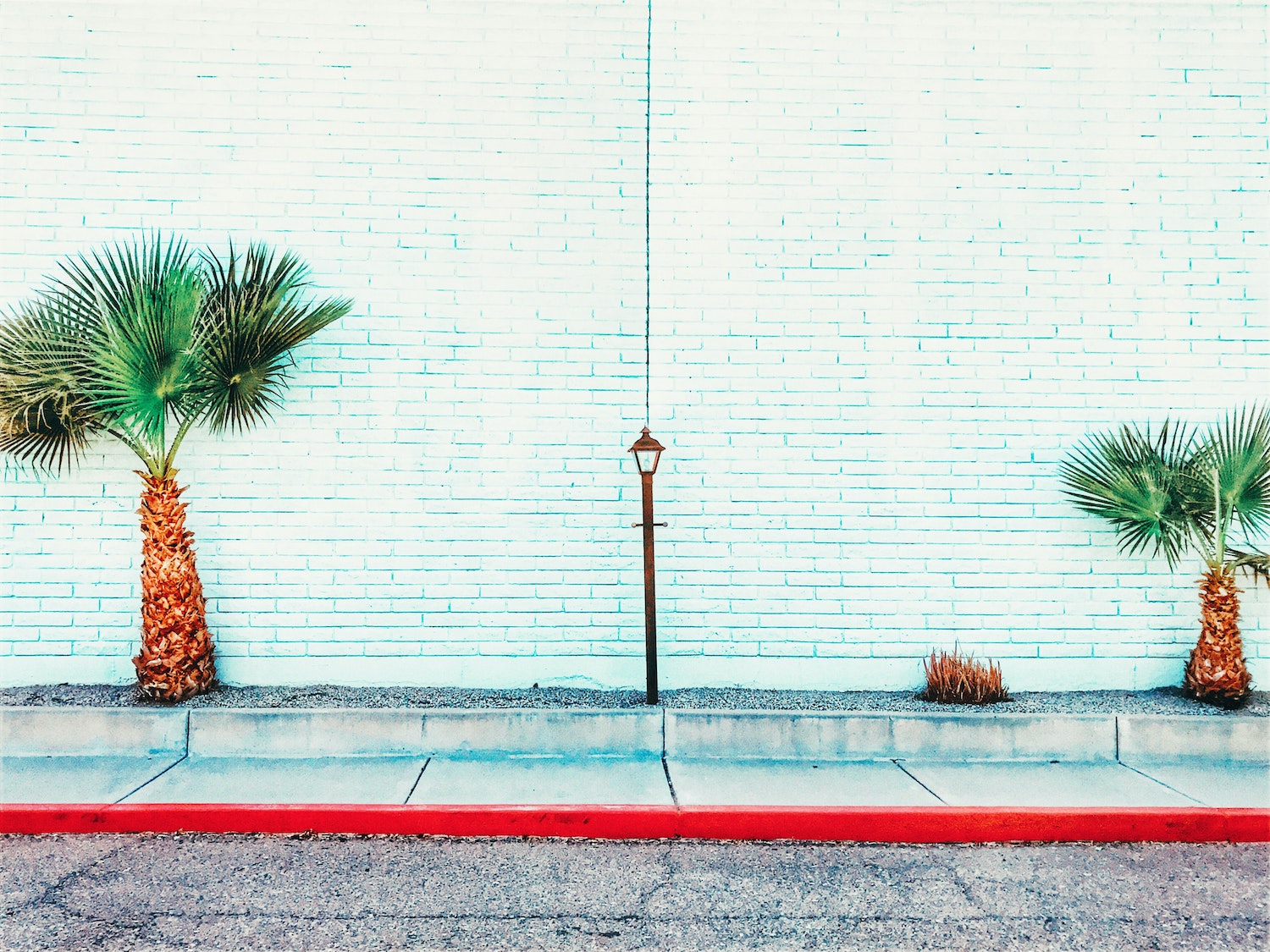 ---
Grand Canyon Day Tour from Phoenix, Scottsdale & Tempe
"See the amazing ancient landscapes of the Arizona desert on this spectacular Grand Canyon Tour. Spend the day exploring this true natural wonder along with a cruise along Route 66."
https://www.getyourguide.com/sedona-l954/grand-canyon-day-tour-t16108/
Price: From $260 USD (13 hours)
Review: "Daniel was our tour guide. He was absolutely wonderful. Very knowledgeable and courteous. He really cares about what he is doing and takes care of the people he is taking up to the Grand Canyon! My boyfriend and I got engaged on the South Rim and he found the perfect spot and took pictures for us. He went above and beyond and we are grateful. Thank you Cam and Anna" – Cameron, United States
View Photos, Read Reviews & Check Availability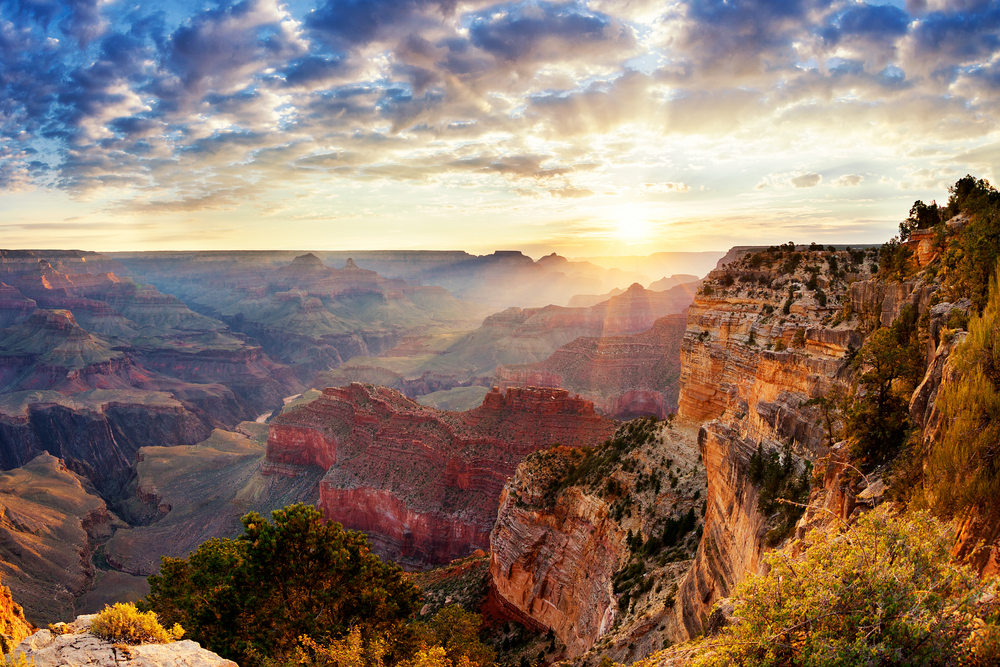 ---
Phoenix & Scottsdale City Highlights Tour
"The Phoenix City Highlights tour is a half day tour that showcases the fastest growing county in the United States. The land area is larger than London, Paris and Tokyo combined, and has a tremendous diversity of culture, scenery and history to explore."
https://www.getyourguide.com/phoenix-l981/phoenix-scottsdale-city-highlights-tour-t16784/
Price: From $130 USD (6 hours)
Review: "Learned many interesting facts. Memo, our driver/guide was great! Lots of facts. Learned many things about desert flora and trees. Interesting facts about the cities." – Gretchen, United States
View Photos, Read Reviews & Check Availability
---
Sedona and Wine Tasting Small Group Tour
"When in Phoenix, indulge in an awe-inspiring day-trip to the red rock country of Sedona. Enjoy amazing sights, shopping, and fine-dining there. Then finish the day with a wine tasting in lovely Verde Valley."
https://www.getyourguide.com/sedona-l954/sedona-day-tour-and-wine-tasting-from-phoenixscottsdale-t12825/
Price: From $250 USD (10 hours)
Review: "Steve was amazing and we loved every second of the trip!" – Shelley, United States
View Photos, Read Reviews & Check Availability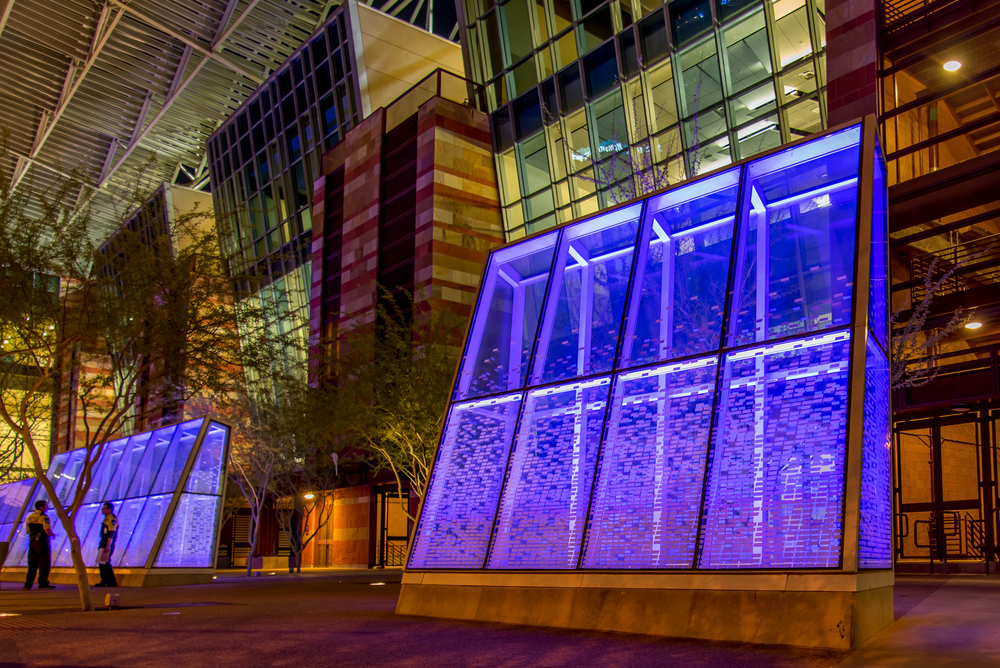 ---
Did I miss any top Airbnb Phoenix Arizona rentals?
I do my best to bring my readers the best of the best AirBNB recommendations, but sometimes a new one pops up that deserves some attention! Have you stayed in a top Phoenix AirBNB or are you the host of great AirBNB in Phoenix? Don't hesitate in reaching out to me via email or my social media channels, and I'll see what I can do to get your recommendation on my list!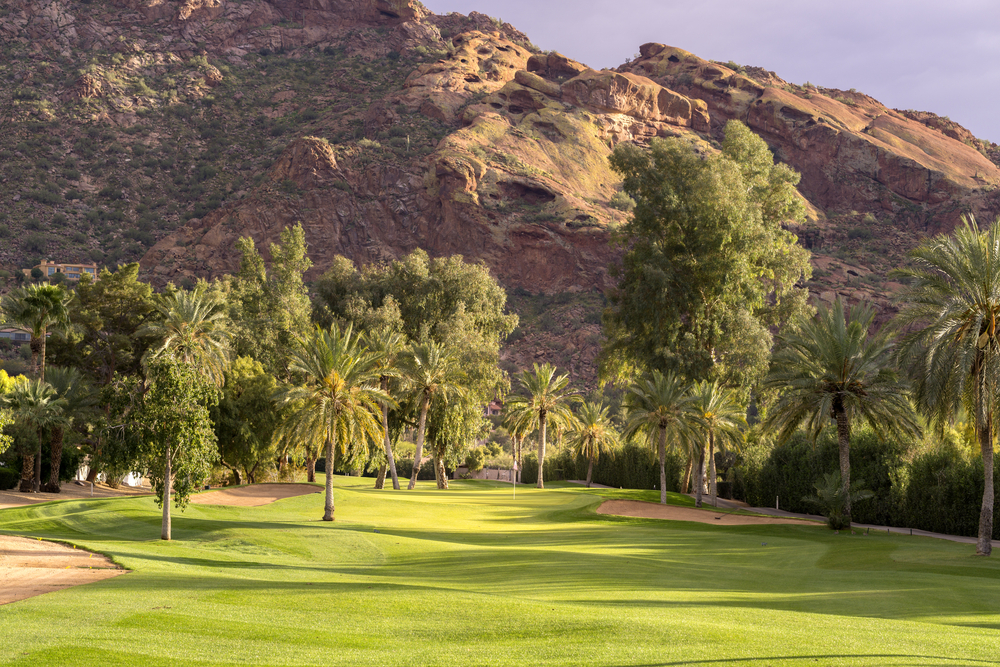 ---
Planning a trip to Phoenix, Arizona or the U.S.A?
I love posting U.S travel content, and I have a growing list of Phoenix blogs that will definitely come in handy during your trip planning stages! Planning a trip to some other great U.S cities as well? Check out these American travel blogs for more travel inspiration!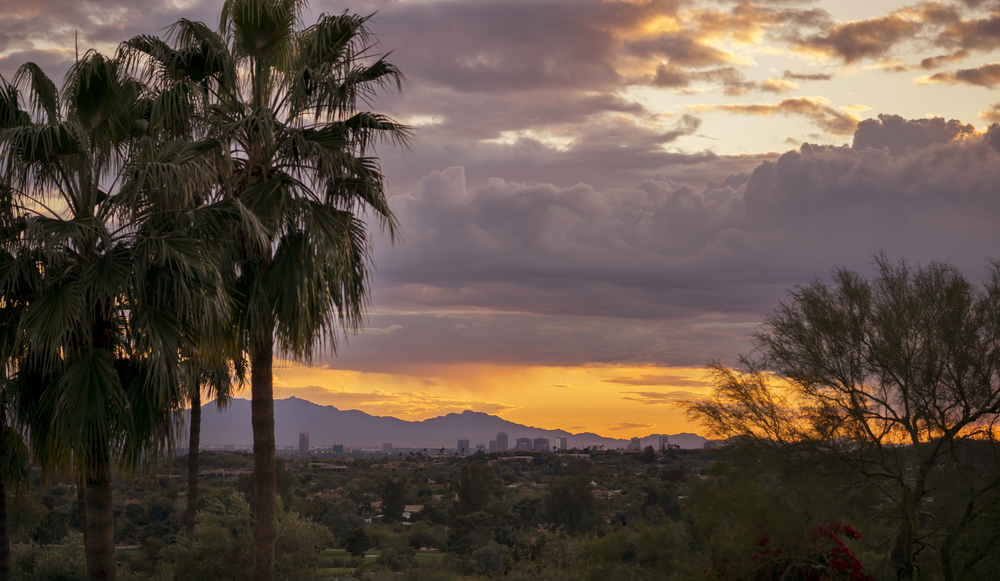 ---
Final thoughts on Airbnb Phoenix
Phoenix is an incredible city break, but it gets seriously hot in the Arizona capital. Luckily, most of these Phoenix Airbnb listings are equipped with great air conditioning to keep you cool and comfortable during your stay. Whether your jam is a vibrant cityscape or a picturesque desert, Phoenix has it in spades! Enjoy your trip!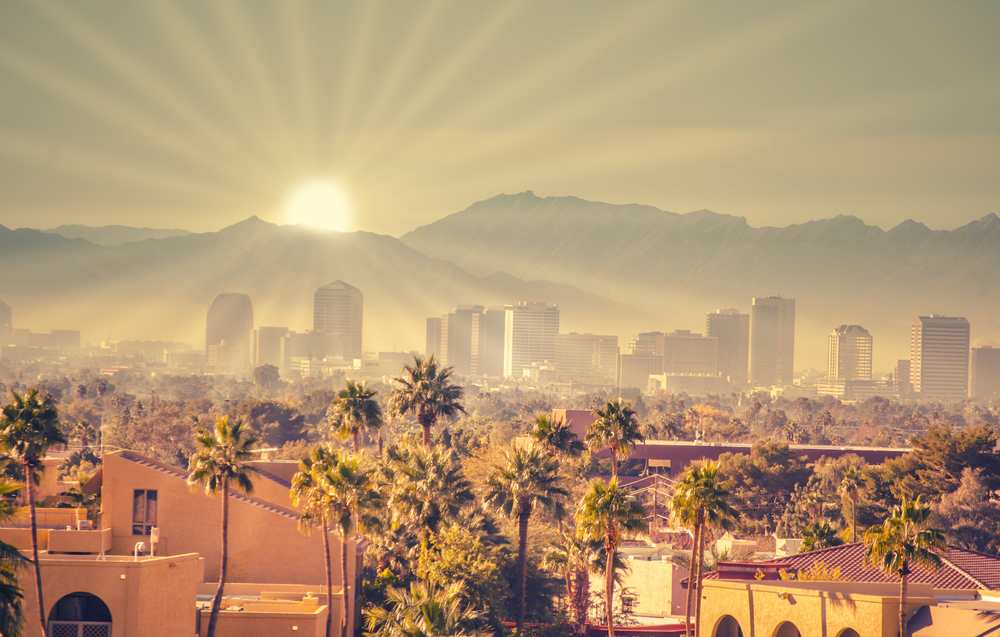 ---
Thanks for reading my Airbnb Phoenix Arizona Travel Guide!
Share these Airbnb Phoenix rentals with your travel crew and start planning your big trip to find the best Airbnb in Arizona!