Looking for the coolest and best luxury cabins in Texas for your next vacation getaway? Then you've come to the right place. This post will cover ten premium secluded and romantic cabin rentals in Texas where you can expect beautiful decor and unique locations for your upcoming vacation!
When people think of Texas, they tend to think of great food, country vibes, and epic Texas music festivals. But Texas is also home to some incredible natural landscapes that you should see at least once in your lifetime.
Be it a cabin in the woods, a private lodge, or a cottage next to a pretty lake; there are some genuinely stunning vacation cabins in Texas for you to choose from. Without further ado, here are the best luxury cabins for rent in Texas. Also, be sure to read my guides on Glamping in Texas and Treehouse Cabins in Texas for other unique trip ideas!
Whether you're looking for a romantic getaway with a private hot tub, or luxury log cabins with a private pool for your family – this list has you covered to help you find the perfect place to rent!
---
1) Luxurious Wright Cabin
Where: Royse City, Texas
Price: $248 + USD per night
The Wright Cabin was designed as an homage to the famous architect Frank Lloyd Wright. But you don't need to know who that is to appreciate this stunning vacation rental. This would be an ideal place to rent for a romantic trip, photoshoot, or for a small family (as it can only accommodate 4 guests).
It's designed as a studio with the bedroom, kitchen, and living area in one open space, not to mention the beautiful fireplace at the heart of the home. Friends can also rent this space, however, as there's a sleeper couch with enough room for two.
The cabin's decor is absolutely gorgeous, with plenty of natural light and new, fancy finishes. There's also a jacuzzi tub on the deck, perfect for indulging in a glass (or bottle) of wine.
The kitchenette isn't fully equipped, but don't worry. You'll get to use the charcoal grill outside to barbecue some delicious dinners. Your hosts will also stock the fridge with muffins, snacks, juice, and coffee for guests to enjoy.
If you're looking for some local activities to enjoy, you can check out the nearby Lake Tawakoni or Lake Ray Hubbard. The latter is one of the largest lakes in north Texas and would be a romantic spot for an afternoon picnic if you're venturing outside the cabin for the day.
View Photos, Read Reviews & Check Availability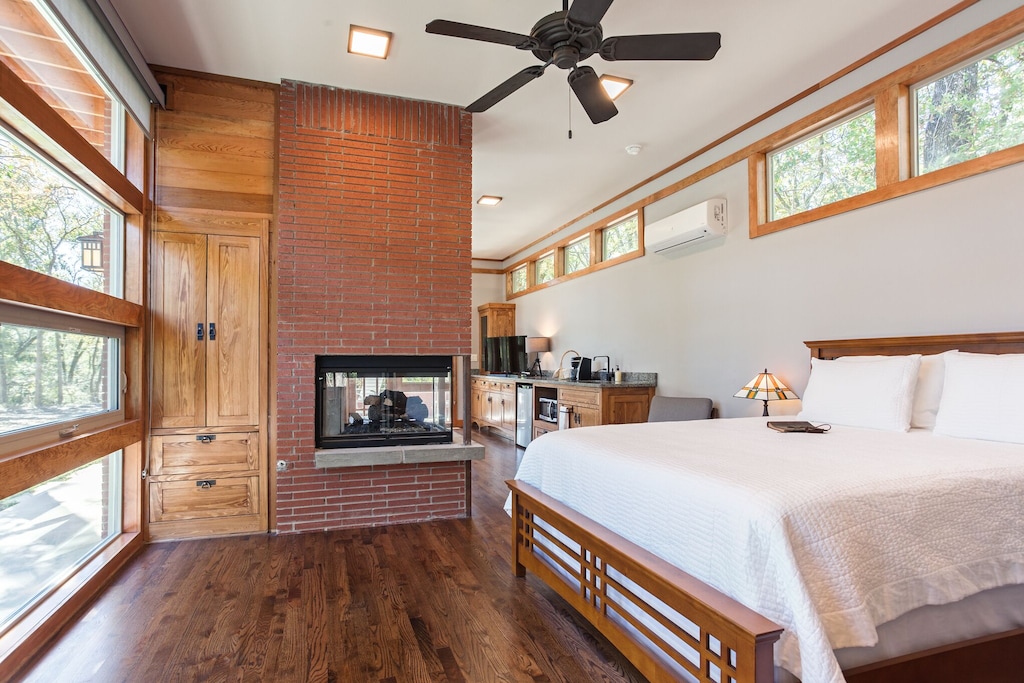 ---
2) Heth House Modern Victorian Cabin
Where: Royse City, Texas
Price: $298 + USD per night
Tucked away in Hunt County, less than an hour from Dallas, the Victorian Heth House cabin is a spacious two-bedroom cabin-style home with a massive garden. The decor is fresh and homey with tons of natural light, and there's a charming wrap-around wooden porch where you can relax and get into vacation mode.
On a chilly winter night, walk straight out of the cabin to your personal fire pit to roast some marshmallows and cozy up next to the flames. There's even a stone fireplace inside for you to enjoy.
The Heth House cabin is mere steps away from the beautiful Bearpen Creek, and the forest trees reflecting off the water are bound to take your breath away. What could be more peaceful than sitting creekside with friends and family?
If you're looking for fun activities nearby, try the Stone River Golf Club. It's just five miles from Heth House in Royse City, Texas. You can hit some balls on the 18-hole course and enjoy a fantastic lunch at the country club restaurant before heading back to your cabin.
It's easily one of the top luxury cabins in Texas, as it does get booked up weeks/months in advance, so be sure to plan in advance!
View Photos, Read Reviews & Check Availability
---
3) 3-Bedroom Lake Whitney Luxury Cabin
Price: $371 + per night
Where: Morgan, Texas
Spanning a whopping 4500 square feet, this stunning vacation rental offers 3-bedrooms, 3-bathrooms, and a remarkable view of Lake Whitney! Currently boasting a perfect 5-STAR rating on VRBO, guests have absolutely adored their time here at this secluded and luxurious cabin retreat!
Complete with a beautiful private pool, fully equipped kitchen, large living room, and plenty of space – it'd be a fantastic cabin to rent for a family or group of friends!
This beautiful cabin rental comes with all the modern amenities you could possibly need, and would be the perfect spot to feel that home away from home!
View Photos, Read Reviews & Check Availability
---
4) Hideaway at Hawkins Lakefront Cabin in the Trees
Where: Hawkins, Texas
Price: $131+ USD per night
The Hideaway at Hawkins in East Texas is an incredible lakefront cabin just steps from Lake Hawkins. This cabin would be perfect for a summer by the lake, especially if you like boating and fishing. The cabin is air-conditioned for those sweltering days, but you could also stay here during the colder months and cozy up by the fire pit.
Inside the cabin, the rustic decor makes for a warm, welcoming atmosphere, and you'll find all the amenities you need. Rustle up some breakfast in your fully-equipped kitchen or enjoy a barbecue on the deck with the gas grill available for guests.
With the lake in view, you may have a hard time staying indoors. There's a cute little boardwalk over the water where you can sit or read a book, and the sunset from here will undoubtedly look amazing. Hideaway at Hawkins offers a peaceful escape from your routine life just down the road from Lake Hawkins County Park.
View Photos, Read Reviews & Check Availability
---
5) The Coyle Cabin
Where: Houston, Texas
Price: $204 + USD per night
https://www.booking.com/hotel/us/the-coyle-cabin.en-gb.html
The Coyle Cabin in Houston, Texas, would be an excellent place for a family vacation or a trip with a group of friends. The two-bedroom home sleeps five people, and it's close to tons of exciting spots in town. You'll be within walking distance from the Blaffer Gallery Art Museum and Schroeder Park, and there are plenty of restaurants and cafes around the corner.
The cabin-style house boasts tasteful decor with new finishings, making for a modern and classy place to call your home away from home. The bedrooms are more than generous in size, and there's a fully-equipped kitchen, dining room, and living room where you can entertain.
Lounge on the sofa for a movie night in front of the flat-screen TV or gather your friends for a delicious barbecue dinner in the outdoor dining area.
View Photos, Read Reviews & Check Availability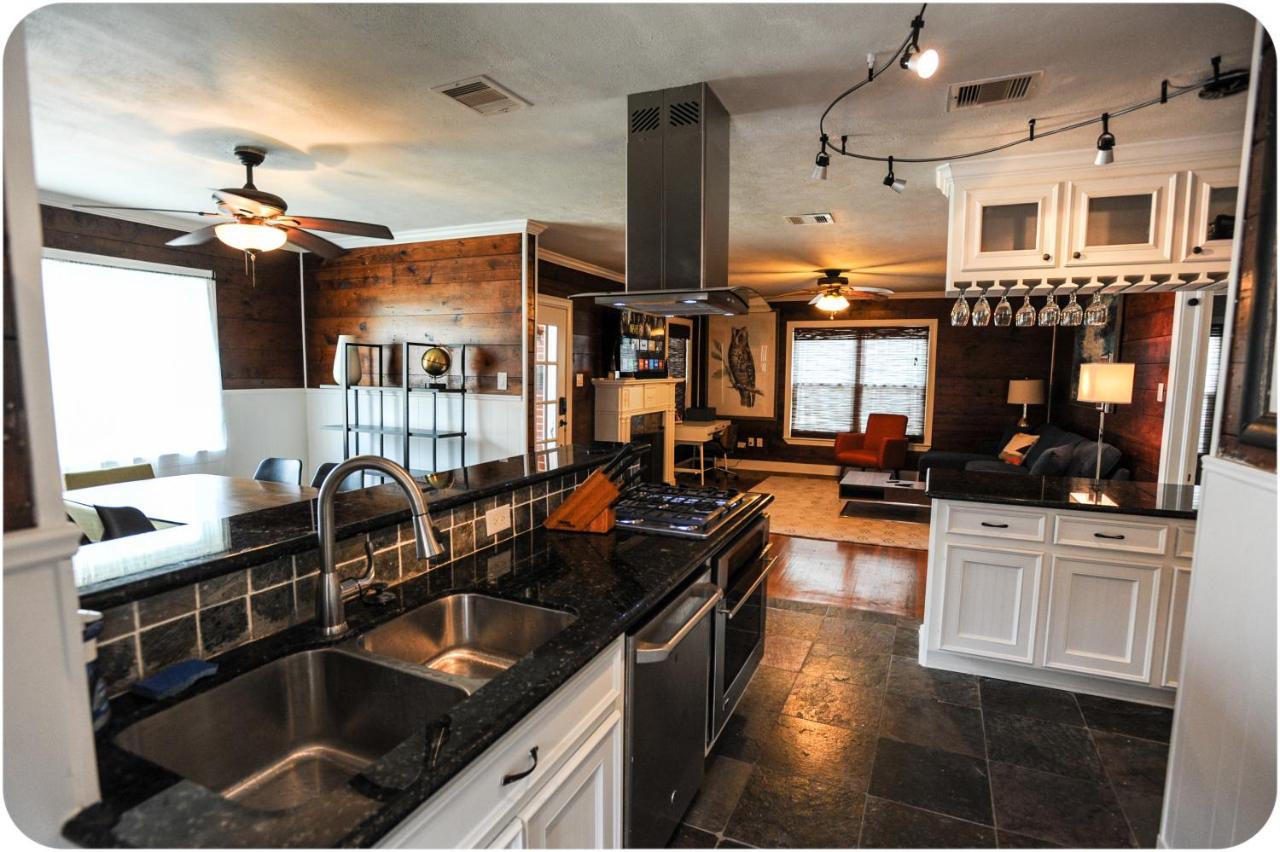 ---
6) Luxury Cabin at Stony Ridge
Where: Wimberley, Texas
Price: $274 + USD per night
https://www.booking.com/hotel/us/luxury-cabins-stony-ridge-emerald.en-gb.html
Nestled in Wimberley in the heart of Texas Hill Country, this breathtaking Texas cabin rental exudes high-end cabin living. The entire house is made with warm wooden materials, from the hardwood floors to the exposed wood beams. The cabin is super friendly and inviting, yet incredibly roomy thanks to the vaulted ceilings and enormous windows.
If the sophisticated and rustic design hasn't sold you on this property yet, perhaps the hot tub will. Yep, there's a jacuzzi tub on the wrap-around deck perfect for a relaxing getaway for two. Not only that, but you can see panoramic views of the awe-inspiring hill country fields right from your window.
This property has its own private nature trail for guests that leads to an outdoor shower. Early risers will adore taking in the sunrise from the forest trail before taking a shower surrounded by trees. If you're looking for a tranquil escape from the city, Stony Ridge is the spot for you.
View Photos, Read Reviews & Check Availability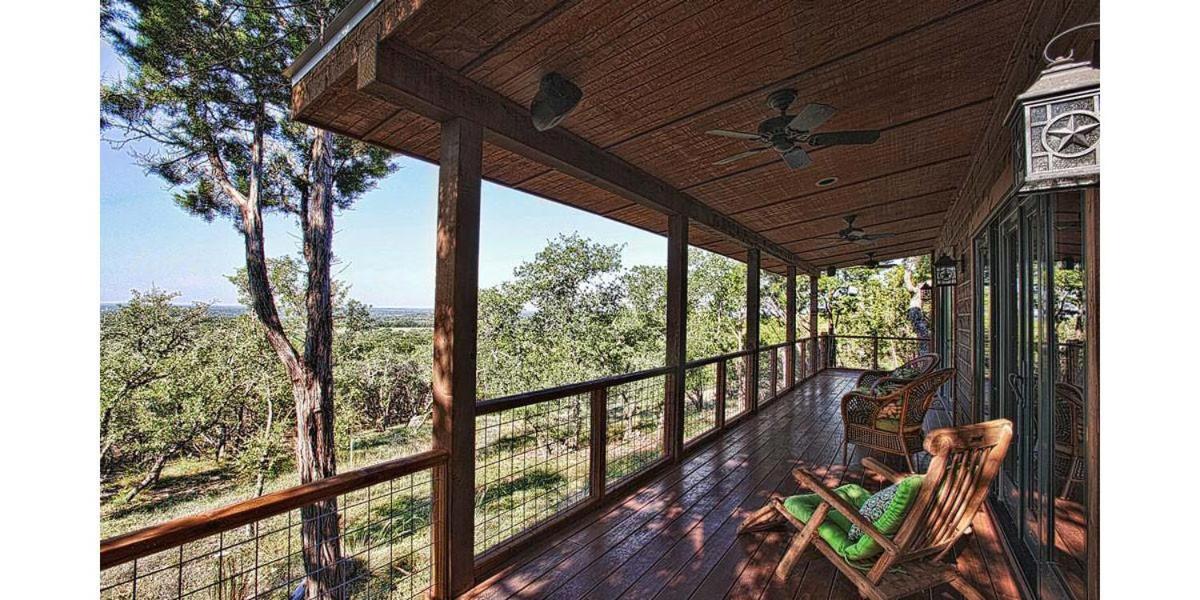 ---
7) 5-Star Private Cabin
Where: Hopkins County, Texas
Price: $254 + USD per night
This magnificent private cabin in Hopkins County is located on a 450-acre game ranch with over 200 acres of woods. The wood cabin has a sensational view of the ranch's fishing pond from the back balcony, where you can enjoy the sunset every evening.
If you're traveling with friends, this is a fantastic spot to entertain thanks to the kitchen and bar, not to mention the spacious shared spaces and living room. There's a billiards table on the top floor and a hot tub on the deck for those chilly Texas nights.
If you're a fan of nature and animals, you'll fall in love with this ranch cabin. There are stags and zebras on the ranch, and you'll even see the stags wandering into the pond to cool off during the day. Chill out on the rocking chairs on the deck and soak in the unique tranquility of this Hopkins County cabin.
View Photos, Read Reviews & Check Availability
---
8) Beaver Run – Amazing Luxury & Secluded Cabin
Where: Wills Point, Texas
Price: $229 + USD per night
https://www.vrbo.com/4201930ha
What a cabin! This property is located on 130 secluded acres in Wills Point, just a few miles from Lake Tawakoni. What's cool about this cabin is that it's made of pine and cedar trees from the surrounding forest. There are glossy wooden floors, wooden furnishings, and gorgeous vaulted ceilings to make the space feel light and airy.
There are windows running all the way up to the second floor bringing in tons of natural light, not to mention the magnificent wrap-around deck where you can take in the natural surroundings. The entire cabin has a chic yet homey design, and there's a jacuzzi tub on the patio for you to relax in.
Take a walk around the surrounding forest for a peaceful morning stroll. Believe it or not, some of the oak trees outside the cabin are over 100 years old! Visitors are often greeted by deer and beavers, making this a nature lover's paradise. There are also plenty of hiking trails on the property, ideal for a little fresh air while you're on vacation.
View Photos, Read Reviews & Check Availability
---
9) Lake Tawakoni Waterfront Cottage
Where: Quinlan, Texas
Price: $143 + USD per night
There are plenty of texas cabins for rent, but not many come with free kayaks. That's right, guests of this beautiful cottage get access to two complimentary kayaks as well as a couple of life jackets.
The lake is practically on your doorstep, and there's a stunning boardwalk with your own private pier where you can tie the boats up. This would also be an excellent place to watch the sunset, read a book in the afternoon, or even take a dive into the lake for a refreshing morning swim.
This cabin is good for families with kids; there is a room with two bunk beds where the young ones can stay, and they'll love messing about by the lake. The deck on the property is also really big and adorned with fairy lights, making it a wonderful spot to lay back and relax under the trees.
On cold nights, head out to the fire pit on the property. It's right in front of the lake, and the view at night will take your breath away. If you somehow get bored, however, the glittering nightlife in Dallas is just an hour away from this amazing cabin cottage.
View Photos, Read Reviews & Check Availability
---
10) Boca de la Roca Mountain Lodge
Where: Terlingua, Texas
Price: $369 + USD per night
https://www.airbnb.com/rooms/47213834/
When it comes to luxury cabins to rent in Texas, this high-end home in the desert takes the cake. In Terlingua, Texas, you'll find the impeccable Boca de la Roca Mountain Lodge, a desert escape that offers exceptional views of Big Bend. For those who don't know, Big Bend National Park is a major tourist attraction in Texas and includes the entire Chisos mountain range.
The cabin you'll be staying in is located on 81 acres of private desert land, which means no neighbors, no highways, and no noise. If you're looking to reboot and recharge away from the hustle and bustle of everyday life, Boca de la Roca is definitely the place for you.
The cabin is right at the base of a 4700-foot mountain, so you'll be ideally located for some incredible scenery. Not only that but the cabin is designed to offer breathtaking views of the night sky.
Inside, you'll find beautiful furnishings and a laid-back vibe any traveler would love. However, keep in mind that the hosts only rent this Airbnb to guests who are 30 years and older. If you're under 30, don't worry. There are tons of other glamorous Airbnbs in Texas.
View Photos, Read Reviews & Check Availability
---
11) Fiddler's Creekside Cabin
Where: Dripping Springs, Texas
Price: $320 + USD per night
https://www.airbnb.com/rooms/13451638
A private creekside paradise in Dripping Springs, Fiddler's Creekside Cabin is a beautiful spot for any vacation and one of the best cabins in Texas. In fact, there are actually two cabins on the property: one main cabin and one games cabin with a billiards table inside!
There are multiple cabin decks where you can enjoy some privacy while hidden in the trees, or you can take a nap in the hammock overlooking the gorgeous Flat Creek.
The cabin has all the amenities and tidbits you could need. These include a gas grill, fresh, organic coffee, spices to cook with, a stone fireplace, and beautiful rustic furnishings. There's even a stone palapa outside, which overlooks the creek that looks breathtaking at sunrise or sunset.
You can walk straight down to the creek to float around on a tube or enjoy some fishing. You'll also be able to spot tons of wildlife, and the creek is fantastic for those who like to bird-watch.
Too lazy to go into town for groceries? No problem. There's a quaint garden on the property, and the hosts invite all guests to help themselves to peaches, herbs, and veggies. You couldn't ask for more than this delightful cabin in the woods.
View Photos, Read Reviews & Check Availability
---
12) Lake LBJ Luxury Log Cabin with Private Pool!
Where: Burnet, Texas
Price: $650 + USD per night
https://www.airbnb.com/rooms/31145900
Last, but certainly not least, this beautiful log cabin is absolutely divine in every way! Secluded and private perfect for large groups as it can accommodate up to 16 guests!
Located in a serene setting in the beautiful Texas Hill Country, this luxurious cabin rental simply has it all. Guests love the outdoor deck with resort style pool, grill, picnic table, and lounging area and with the close proximity to Lake LBJ you have no endless shortage of things to do!
It's ideal for larger family vacations or family reunions, or even a group of friends looking for an unforgettable getaway! Just take a look through some photos and reviews, and you'll be booking this perfect spot now!
---
13) The Blacksmith Quarters on Barons Creek
Where: Fredericksburg, Texas
Price: $3,888+ per night
Accommodates: 22 guests
https://www.visitfredericksburgtx.com/listing/the-blacksmith-quarters-on-barons-creek/1297/
This stunning compound of cottages is located in the heart of town, just one block from the Nimitz museum, and offers a one-of-a-kind group getaway experience. What makes this property special is its commitment to preserving the history and heritage of Fredericksburg. Each of the eight one-bedroom cottages is named after a member of the Ransleben family, and is built to reflect the different time periods and styles of construction throughout the town's history. The original Ransleben-Moellering home, built in the 1800s, has also been restored to perfection and is available for rent.
The property also includes fireplaces and fully equipped kitchens. For entertainment, there's TV's with satellite/cable, DVD players, and Blu-ray players. Additionally, you can relax in the spa whirlpool and enjoy the pool and spa facilities. Tourist attractions nearby include the Nimitz museum, which honors the men and women who served during World War II, as well as Main Street, where you'll find a variety of shops, restaurants, and galleries. Fun things to do in the area include exploring the stunning landscaping of the property, designed by award-winning landscape architect Rene J.L. Fransen of New Orleans, and taking a dip in one of the private hot tubs available in most of the cottages.
View Photos, Read Reviews & Check Availability
---
14) Lost Moose Lodge
Where: Burnet County, Texas
Price: $1,500+ per night
Accommodates: 24 guests
Lost Moose Lodge is a fantastic vacation rental that offers spacious and comfortable accommodations for up to 24 guests. This 6 bedroom/5 bathroom house is pet-friendly and boasts a large living space, pool, and patio area, making it a great choice for families and groups of friends. One of the best things about this lodge is its secluded location, which provides a peaceful and relaxing atmosphere. One of the highlights of the Lost Moose Lodge is its ample space, which can easily accommodate a large group. The lodge also features a fully equipped kitchen and a pool table for indoor entertainment. Outside, guests can enjoy a fire pit and charcoal barbecue grill. The property also offers a pool and hot tub, making it a great place to relax and unwind.
Lost Moose Lodge is conveniently located near Lake LBJ and Log Country Cove's commons area, which provides access to a range of recreational activities such as boat rentals, golf cart rentals, kayaks, canoes, paddle boards, mini-golf, water trampoline, rope swing, sand volleyball, and more. With its secluded location, ample space, and great amenities, Lost Moose Lodge is an excellent choice for a group vacation.
View Photos, Read Reviews & Check Availability
---
15) Trinity River Cabin
Where: Henderson County, Texas
Price: $535+ per night
Accommodates: 11 guests
https://www.vrbo.com/9716886ha
Escape to a little slice of paradise with this bright and spacious vacation rental. This property sits on 20 acres of land, offering plenty of opportunities for outdoor activities. The property also offers a jon boat with an electric motor and fishing poles, allowing guests to take advantage of the nearby river and pond. The four-bedroom, two-bathroom house features a modern interior and multiple living spaces, including a sunroom and a lofted lounge.
One of the main highlights of this vacation rental is the private hot tub, perfect for unwinding after a day of outdoor adventure. In addition to the outdoor amenities, the property offers plenty of indoor entertainment options, including Smart TVs, board games, and books. For those looking to explore the surrounding area, there are many options for outdoor recreation nearby, such as Cedar Creek Reservoir and Purtis Creek State Park. Golfers will appreciate the proximity to Pinnacle Golf Club and Cedar Creek Country Club. The town of Mabank offers local dining and shopping, and wine enthusiasts can visit the nearby Triple N Ranch Winery.
View Photos, Read Reviews & Check Availability
---
Thanks for reading about these Luxury Cabins in Texas!
Share the Texas love with your Cabin crew!
https://www.jonesaroundtheworld.com/wp-content/uploads/2021/07/Wright-House-Luxury-Cabin-Rental-in-Texas.jpg
682
1024
TravelTractionsJATW
https://www.jonesaroundtheworld.com/wp-content/uploads/2017/03/logotry-1-1-300x106.png
TravelTractionsJATW
2023-04-23 21:56:44
2023-04-24 23:05:10
Top 15 Luxury Cabins in Texas, USA