The number of luxury cabins in Asheville is quite astounding. It seems like a region built for cabin holidays, in close proximity to beautiful hills, mountains, forests, and a fine sense of southern hospitality.
Asheville is in the Blue Ridge Mountains of western North Carolina. It's got a vibrant arts and music festival scene, a surprisingly noble sense of architecture, and the rivers Nantahala and Tuskegee within range. Geographically, the national forests, rivers, and parklands provide a wonderful natural world to discover.
One of Asheville's most famous landmarks is Biltmore House. It used to be the home of the famous Vanderbilt family. Today, it's a National Historic Landmark and officially America's Largest Home.
Overall, North Carolina is a popular holiday state. Perhaps, this is why it's called the "Land of the Sky." And a wide selection of cabins in North Carolina is the way to experience it. Also, be sure to check out these guides to the Best Treehouses in Asheville NC & Best Glamping in North Carolina for a different type of trip in the future!
---
1) Dancing Bear Den Luxury Cabin
Where: Asheville, NC
Price: $715+ per night
Accommodates: 14 guests
This beautiful property offers a serene mountain getaway with breathtaking views of sunrises and sunsets over the mountains. With bedrooms on three living levels, it boasts tall ceilings, fireplaces, warm wood walls, and hardwood floors, creating a cozy and inviting atmosphere. A Coffee and Tea Bar conveniently connects the kitchen and great room, providing a perfect spot for a morning pick-me-up. Kids will love The Cub Cave, a whimsically decorated play area with board games and a children's library.
Outside, two levels of wooden decks offer stunning views of the Blue Ridge Mountains. Unwind in the outdoor hot tub and soak in the natural beauty that surrounds you. Nature lovers will be thrilled with the abundance of hiking trails, waterfalls, and lookout points nearby. The Asheville area is a haven for outdoor activities, including biking, hiking, whitewater rafting, rock climbing, kayaking, and zip-lining. After a day of adventure, the hot tub awaits you, providing the perfect setting to relax and recharge.
View Photos, Read Reviews & Check Availability
---
2) The Skybox Luxury Cabin
Where: Wolf Laurel, NC
Price: $971+ per night
Accommodates: 14 guests
Just 30 minutes from Asheville, this charming cabin offers the perfect blend of relaxation. Step outside the front door and hit the slopes for a thrilling skiing experience. Afterward, unwind in the hot tub on the bottom deck or gather around one of the two fireplaces for a cozy evening.
The game room is equipped with air hockey, foosball, and an arcade table with over 400 games, providing endless entertainment for all ages. Family-friendly amenities include a crib, high chair, and baby gates, while dogs are also welcome for a small fee. Stay connected with high-speed WiFi and enjoy your favorite shows on Roku Smart TVs. When you're ready to explore, take advantage of the nearby hiking trails, go white water rafting, or try zip-lining for an adrenaline rush.
View Photos, Read Reviews & Check Availability
---
3) High-End Mountain Retreat with Incredible Views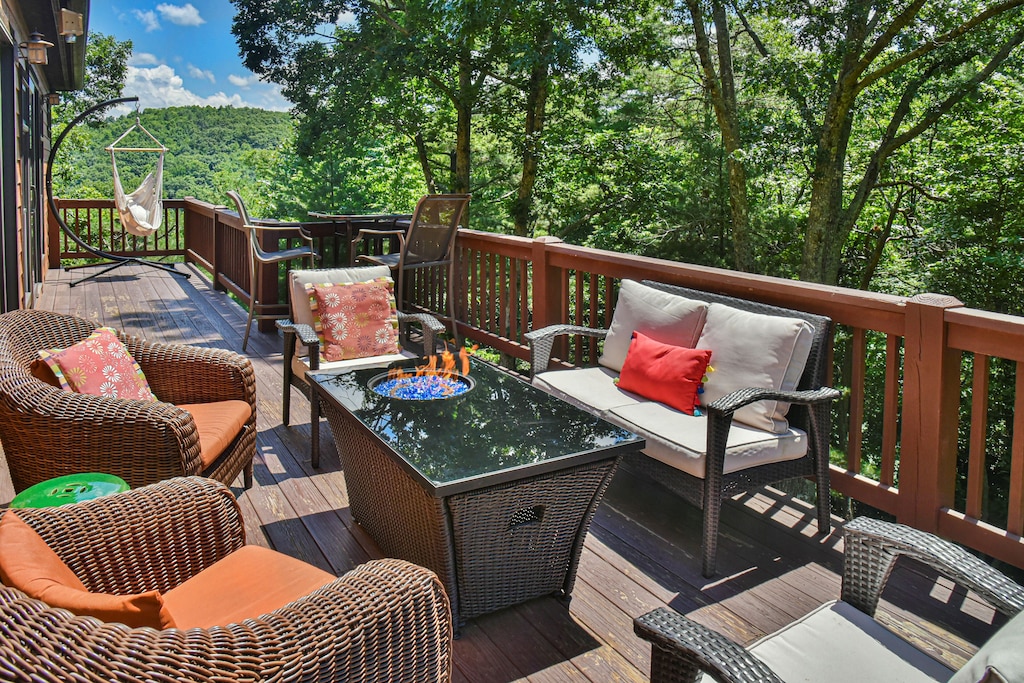 Where: Asheville
Price: $500+ USD per night
This cabin is surrounded by trees, and boasts huge decks on the upper and lower levels, a jacuzzi, two fireplaces, and a large open-plan living space. It manages to feel cozy yet high-end. Well, it's in the name of the listing, so you have been clued in at the outset.
If the tall ceilings and beautifully decorated interior doesn't convince you, look down from the top deck. There's a wonderful outdoor fire pit area, where you can also enjoy your lunch and dinner if you choose.
The basement is the rec area, with a pool, air hockey, and a big TV and couches. But it's the main area's fireplace and big windows that sum it all up – relax, be comfortable, and just enjoy the wonderful mountain views and air. This property is of superb value as far as luxury cabin rentals in NC go.
View Photos, Read Reviews & Check Availability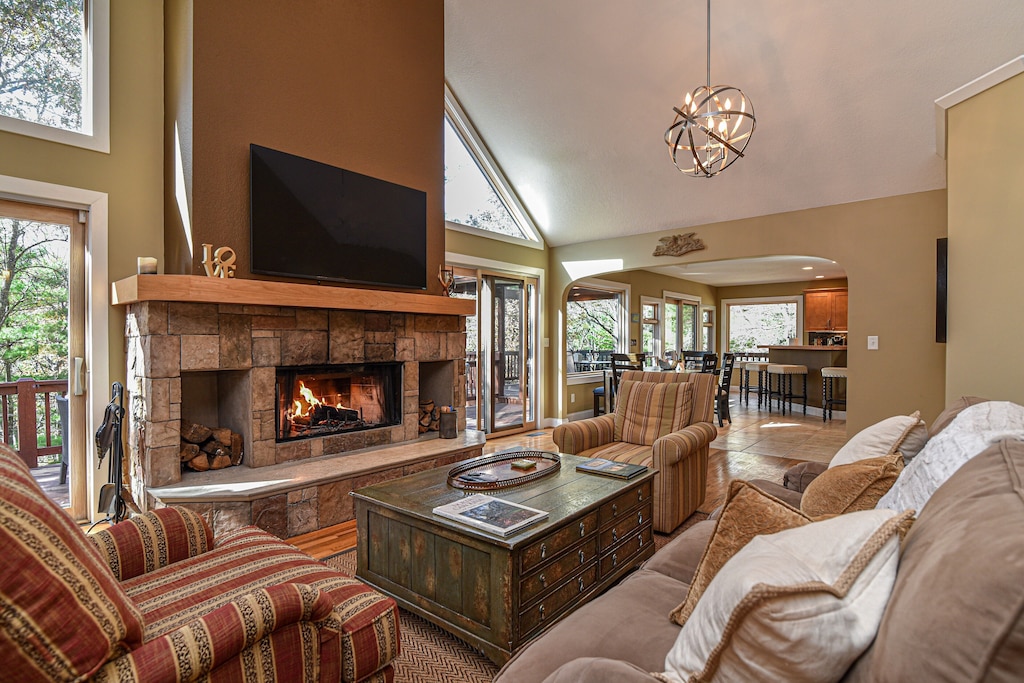 ---
4) Hidden Cove on the doorstep of Downtown Asheville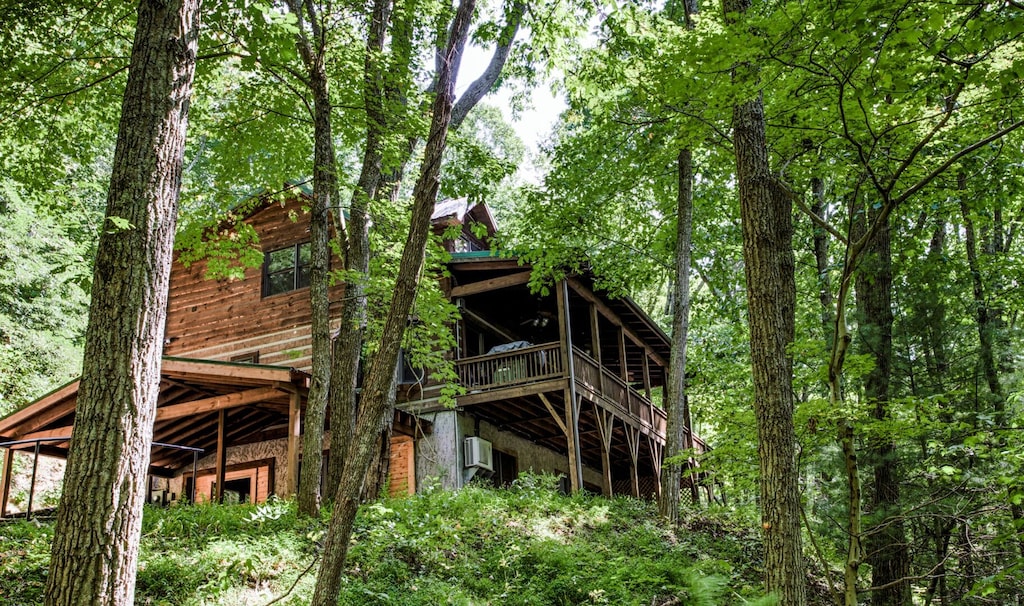 Where: Asheville
Price: $862+ USD per night
Many Asheville, NC cabins have interesting and unique settings. The Hidden Cove cabin is just ten minutes from downtown Asheville. It's cozily nestled in Chunn's Cove, surrounded by forest, and expertly designed to offer an ultra-warm homey feeling.
Good thing, too, because you can bring 10 people to share this wonderful cabin. One of the highlights is definitely the kitchen, designed for social gatherings and chatting. But you can also just congregate on the wraparound deck. This is where the hot tub can be found. Kids will enjoy the kindly supplied Xbox One, too.
View Photos, Read Reviews & Check Availability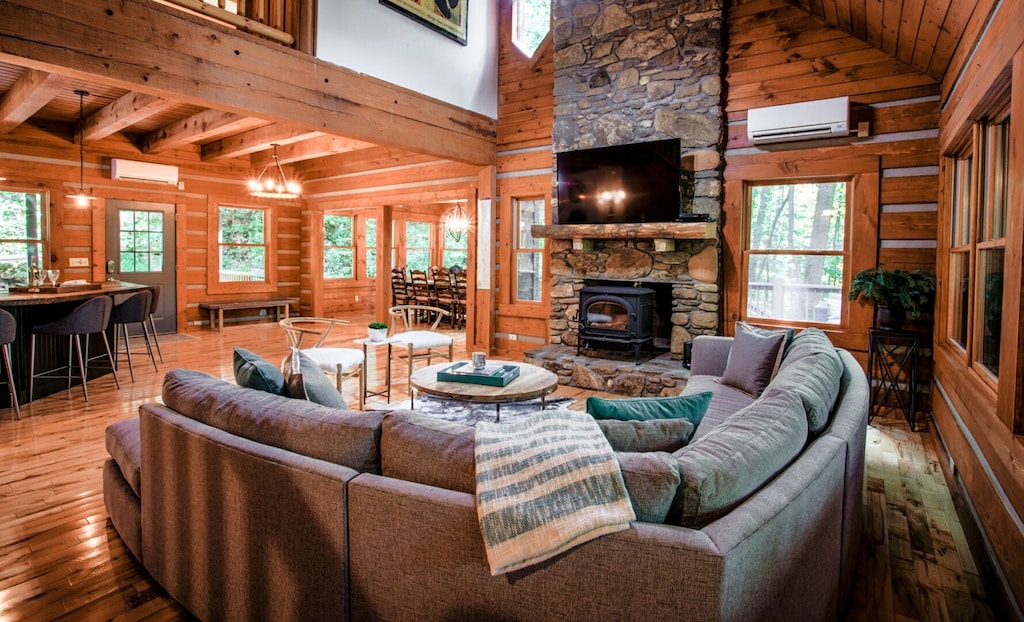 ---
5) Private New log Cabin, All En-Suite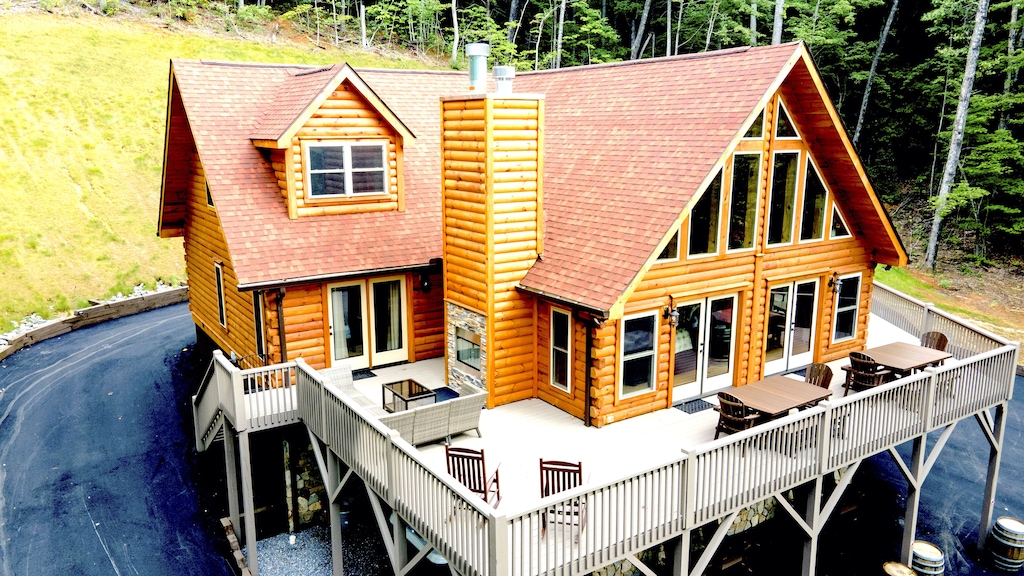 Where: Black Mountain
Price: $582+ USD per night
If you're not too bothered about driving out of Asheville – about 15 miles or so – you'll be rewarded with this absolutely stunning mansion posing as a cabin. To start with, every one of the six bedrooms has an en-suite arrangement. In total, the home sleeps up to 17 people, spread over 5000 square feet of luxury.
The area is gated, so you're guaranteed an extra serving of privacy here. The building is placed within its own cul-de-sac, so your entire party can literally park around the house. The positioning also provides tree views all around, with not a neighbor in sight.
View Photos, Read Reviews & Check Availability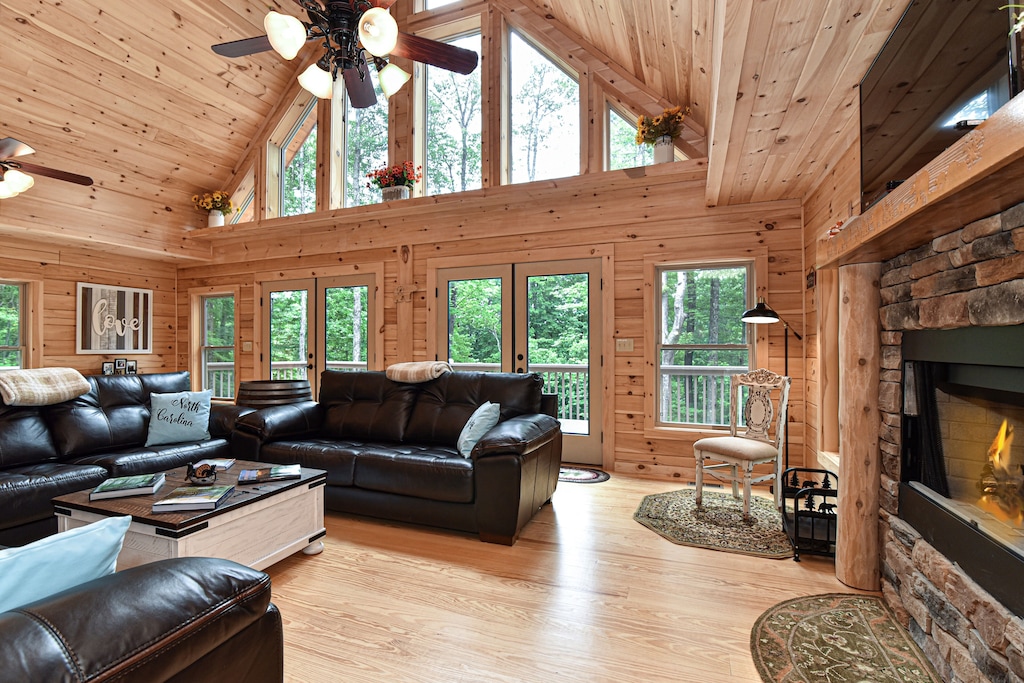 ---
6) Blue Moon Lodge: Reconnect with Family and Friends!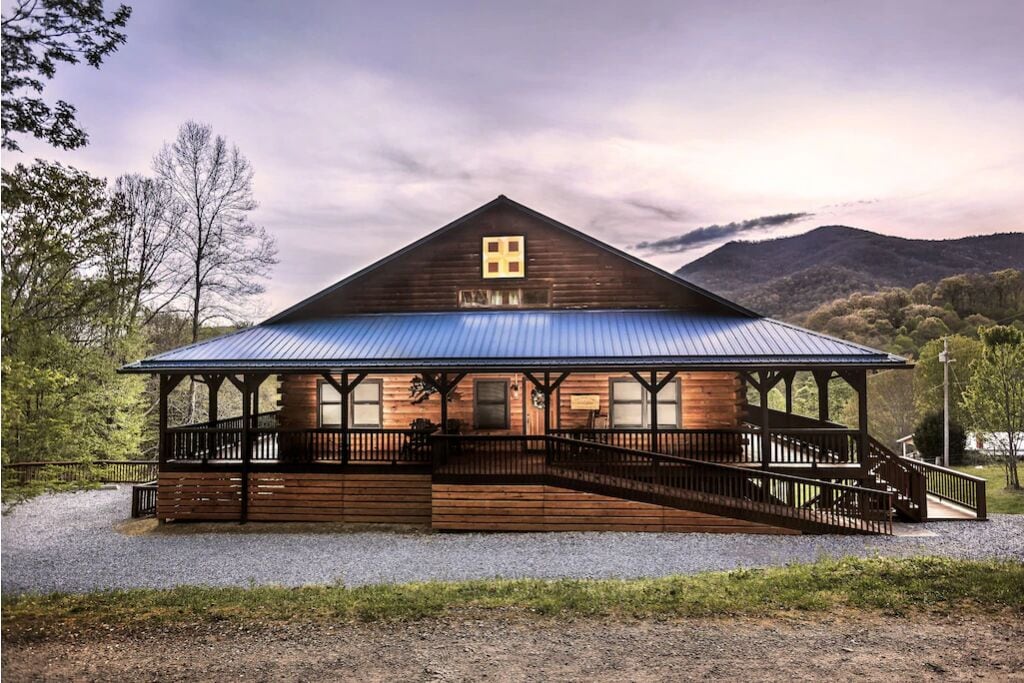 Where: Clyde
Price: $595+ USD per night
The Hidden Valley community secrets this gem of a lodge. A little over 30 miles from Asheville by road (but closer as the crow flies), this 4000+ square foot home looks gorgeous in the late afternoon light. In addition to its interior, it boasts an impressive 4000 square feet of deck and porch!
The key plus point for this lodge is the sheer amount of people it can accommodate. Bring your family, and your extended family, too! This two-story mansion sleeps 26 people in 15 beds and six rooms. Certainly one of the bigger NC mountain cabin rentals, as far as hosted bodies go.
View Photos, Read Reviews & Check Availability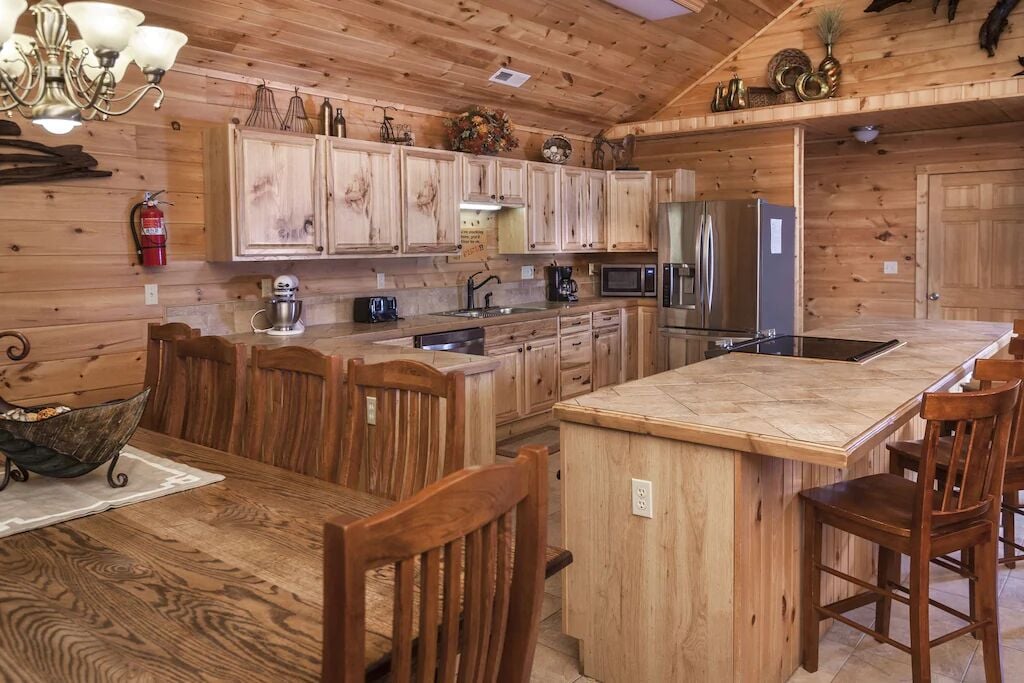 ---
7) #1 VIEWS IN BLACK MT. | LOG ESTATE | PETS | PRIVATE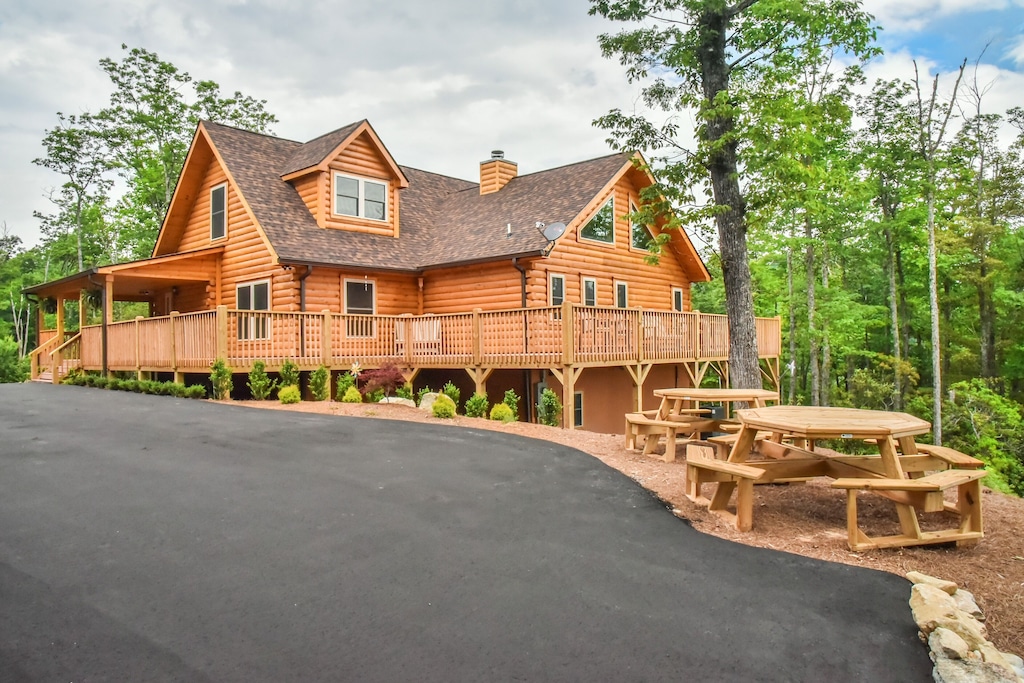 Where: Black Mountain
Price: $586+ USD per night
Lots of Asheville, NC cabin rentals offer awesome mountain settings. Upon a hill, this luxury cabin serves 360 degree mountain views, plus plenty of hiking trails. Visit the nearby waterfalls, or just trek through the trees on the surrounding hills.
There are plenty of options for sitting out on the deck, to catch a sunrise or gaze at the sunset. You could also spend the day in the hot tub. Look forward to dinner across a table that actually seats up to 16 people.
And that bed in the main room looks ultra-comfy for a late lie-in. Or just break away to the games room for a crack at the arcade machine, the ping pong table, or the foosball (which seems to be standard for North Carolina cabins.)
View Photos, Read Reviews & Check Availability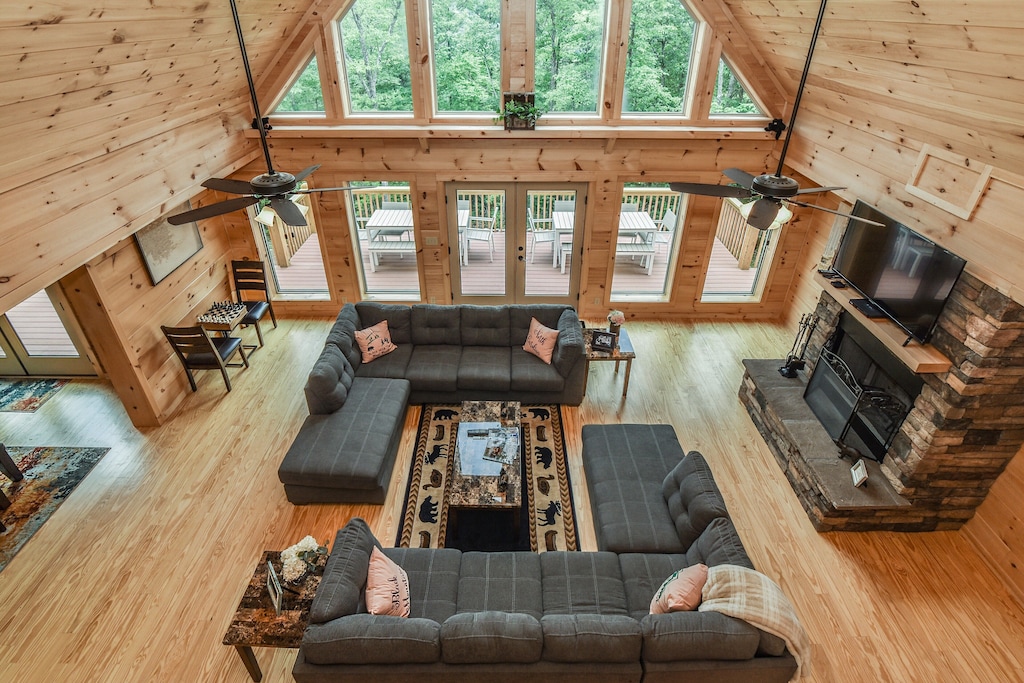 ---
8) Magnificent views, stone patio with kitchen, hot tub! Includes Biltmore!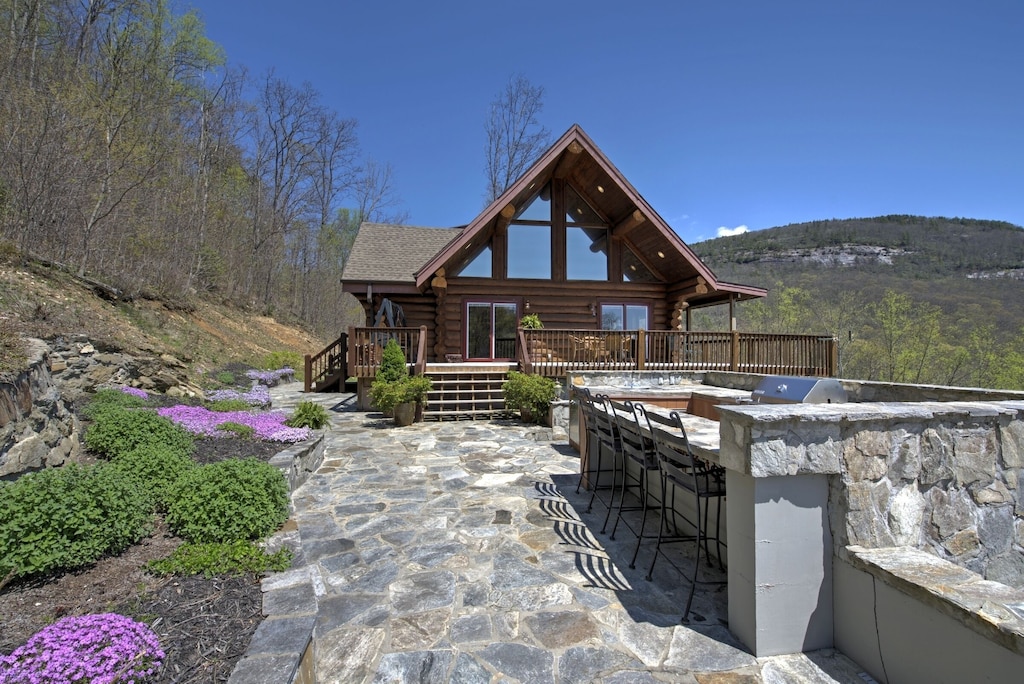 Where: Hendersonville
Price: $742+ USD per night
Some Asheville cottages are just fun and unusual. Hendersonville is about 40 minutes south of Asheville, known for craft beverages, awesome hills with views, and cabins like these. There's a delightful outdoor BBQ area attached to this cabin that provides an immaculate overland view of the area.
The home is called Villa di Orsi, and the decor reflects the bear theme in quite a novel way. Of note are the sculptures of bears dotted throughout. And the best one is the bear on its back, holding up the coffee table in the living space.
Beyond that, simply sink in the six-person tub on the deck (or in your private jet tub in the main room). Spend your evenings looking out over the valley – the views are indeed breathtaking.
View Photos, Read Reviews & Check Availability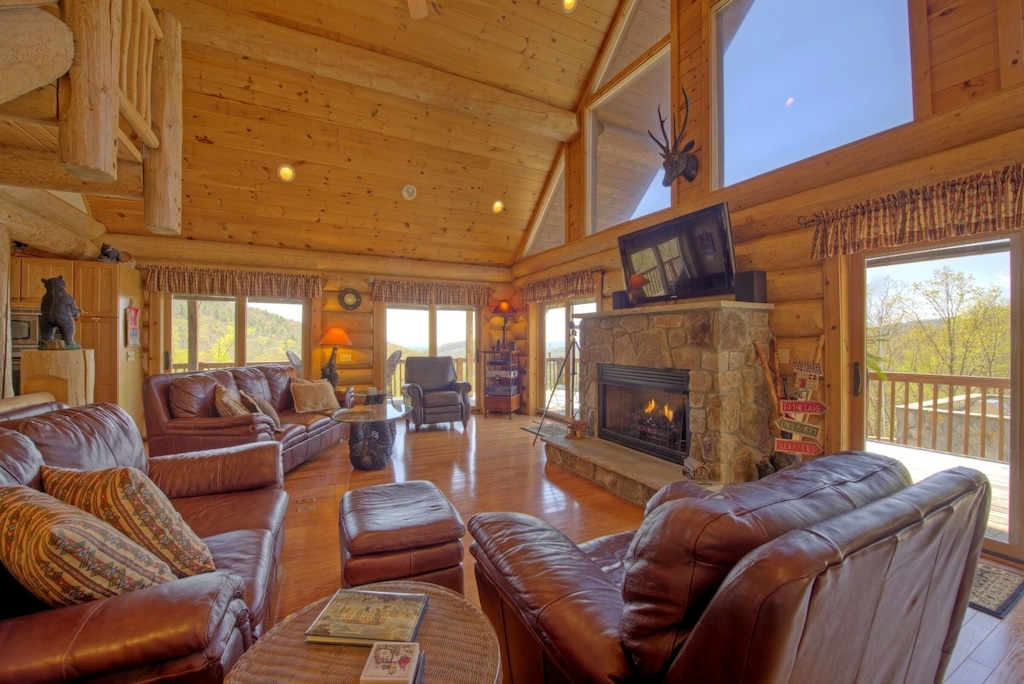 ---
9) Big Sky Lodge | Luxury Hot Tub & Long-range Views of Lake Lure!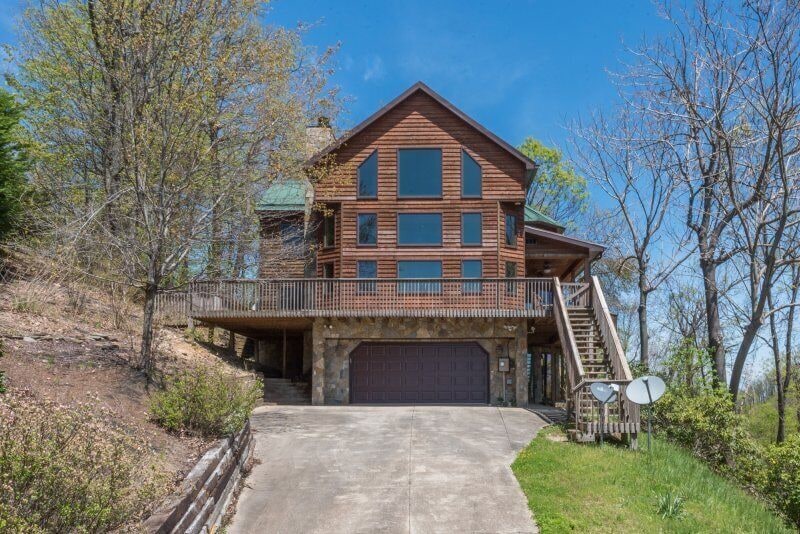 Where: Old Fort
Price: $540+ USD per night
The first thing you'll notice as you come up the driveway is the enormous wall of windows. That bodes well for a sunny, or at least bright, home full of warmth and charm. In fact, it all just lights up a huge living space that you actually don't have to leave for your entire stay.
The cabin is packed with cozy couches, a huge TV, pool table, social kitchen, and more.
If for some reason, you do want to leave to check out the local attractions, you could drive to Asheville, just 30 mins away. But you could also try the boats, dinner cruises, and other fun activities at Lake Lure, also just 30 minutes away.
View Photos, Read Reviews & Check Availability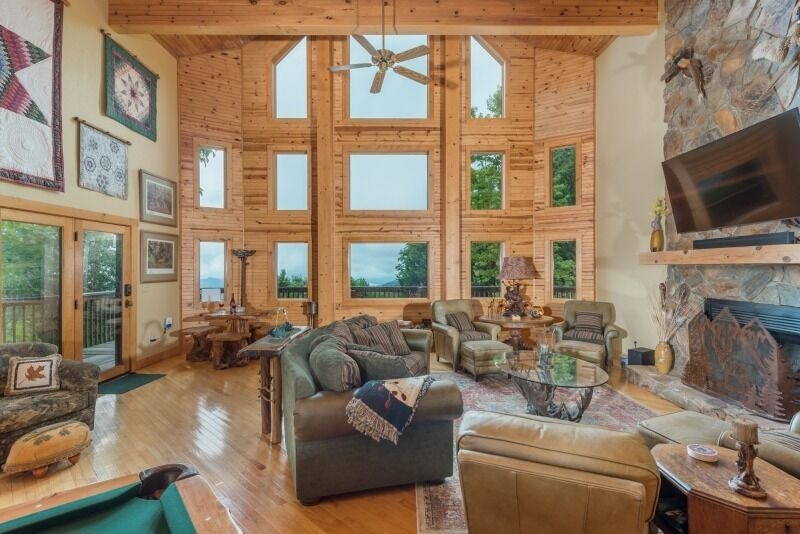 ---
10) Log Cabin Motor Court – Cabin 21/Black Bear Lodge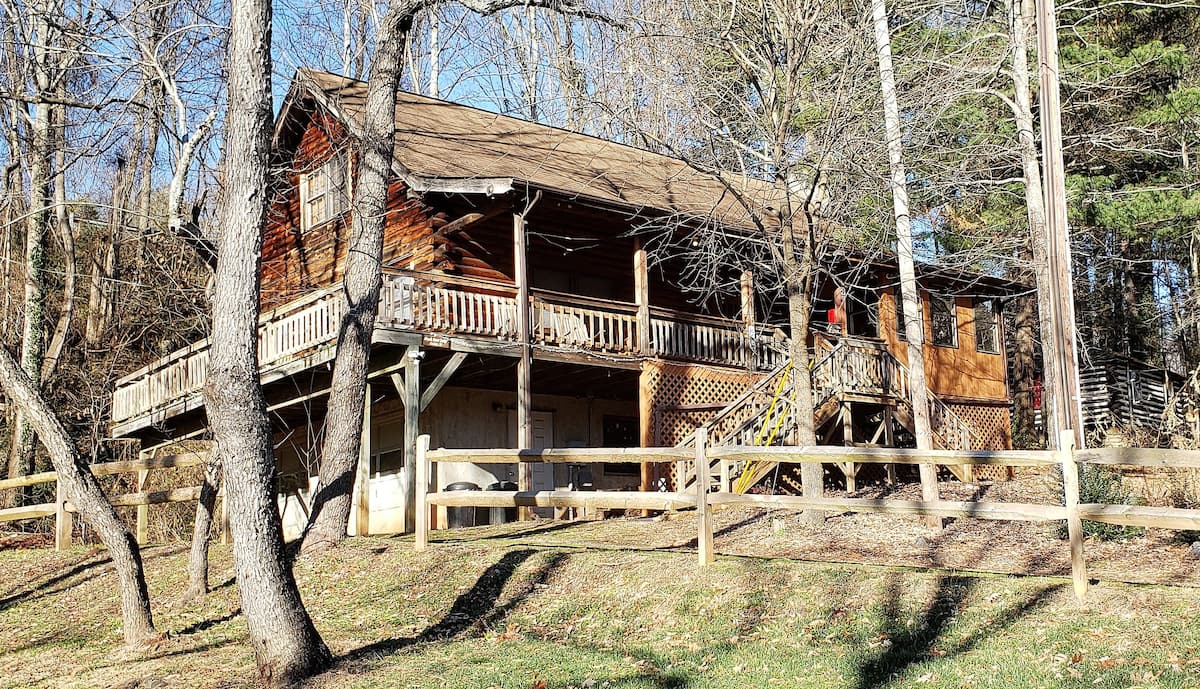 Where: Asheville
Price: $314+ USD per night
https://www.airbnb.com/rooms/1282834
Get a sense of the rustic and aged appeal of cabins in NC. This cabin's colors and wooden finishes offer a sense of "handmade", even though it subtly oozes the luxurious touch of a careful design. It's in the posters of the bed and the amazing paneling of the wooden walls.
Opting for coziness over opulence, this one makes for a great romantic option and will undoubtedly be perfect for visitors looking for calm and beauty. Also, the price compares favorably over many other similar luxurious Asheville cabin rentals on Airbnb.
View Photos, Read Reviews & Check Availability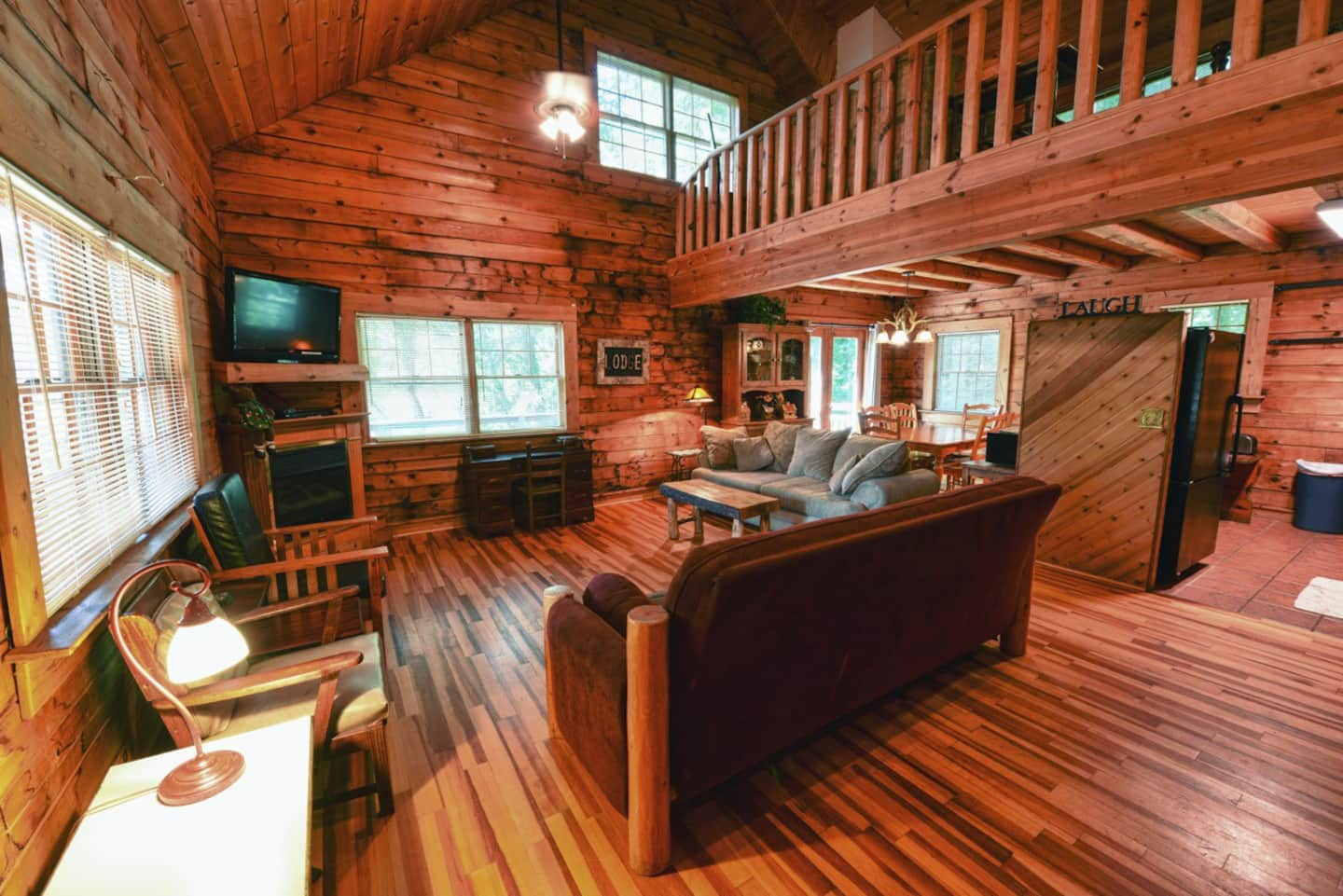 ---
11) Modern Round House with Incredible Mountain Views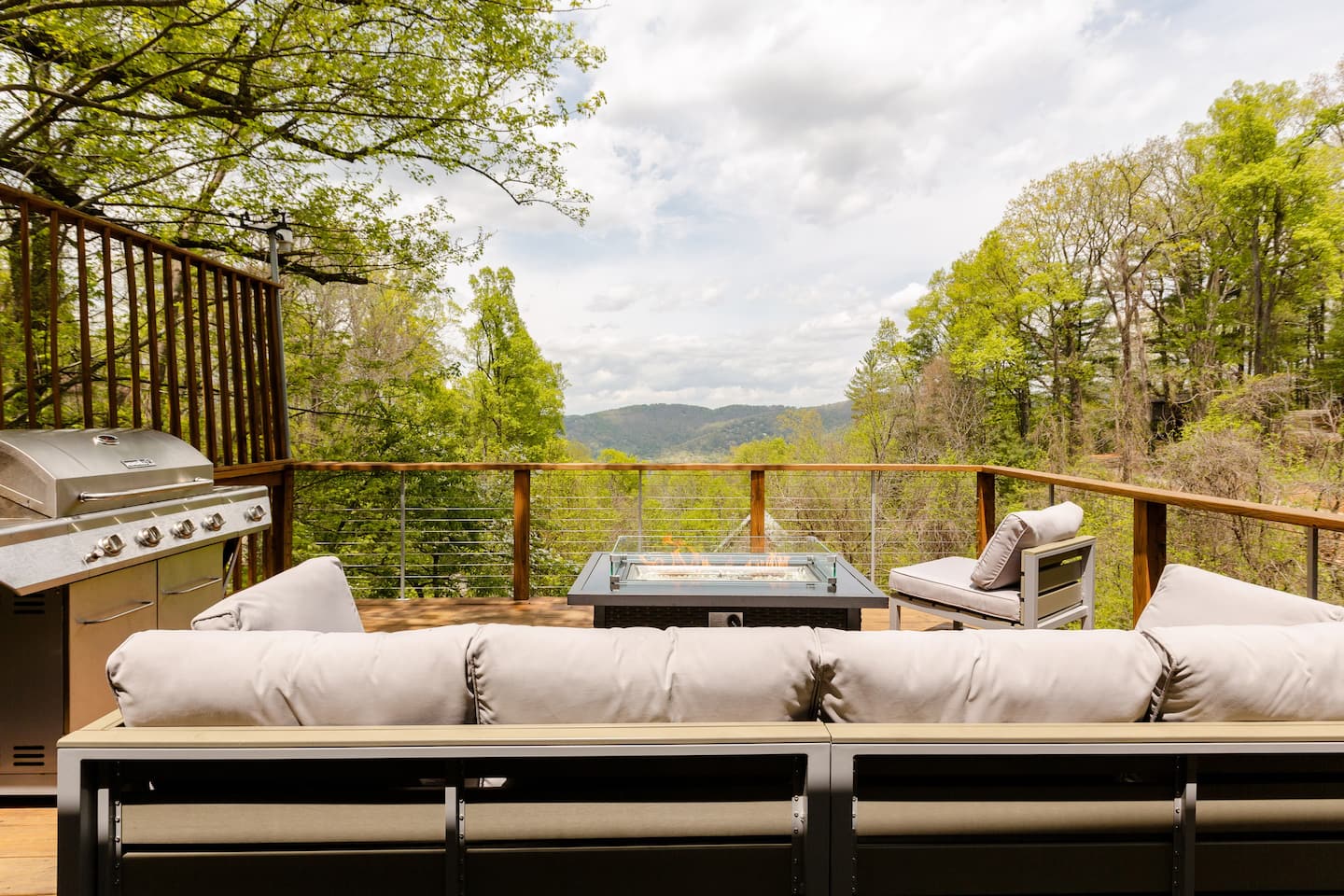 Where: Asheville
Price: $339+ USD per night
https://www.airbnb.com/rooms/29791163
The novel design of this house wraps windows around a curve, offering immaculate views of the woods and hills. There's also a lovely and stylish propane gas-powered fire table out on the deck that you'll be keen to try out as soon as the evening chill comes in.
You may be lucky, or unlucky, enough to spot a black bear trying to open your car doors (keep them locked). It makes this particular stay one of the more exciting cabin rentals in North Carolina. But for the most part, you'll want to enjoy the superb kitchen and living space's soft, white couch – which looks good enough to sink into.
View Photos, Read Reviews & Check Availability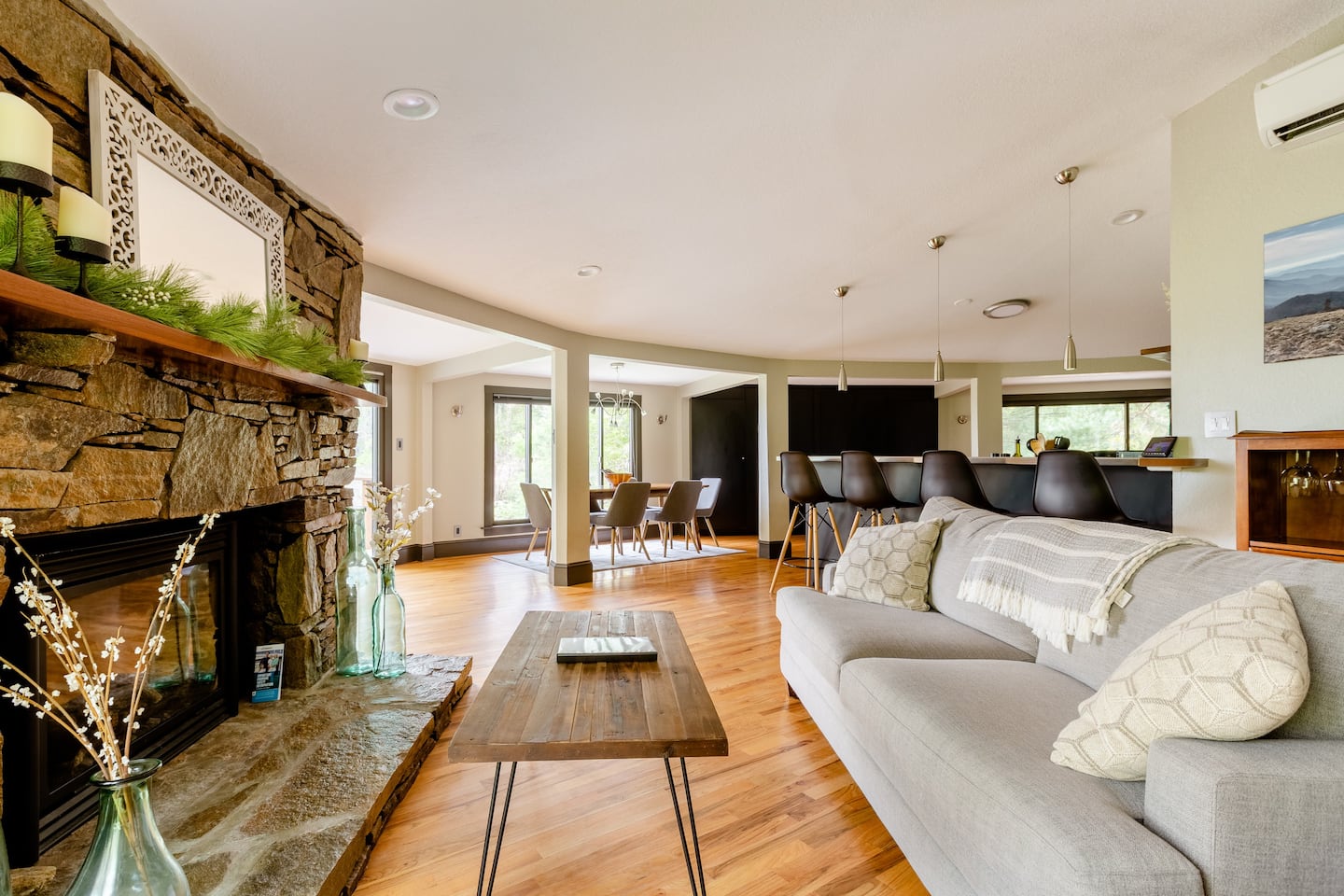 ---
12) Luxury Mountain Cabin Near Asheville, Lake Lure & Hendersonville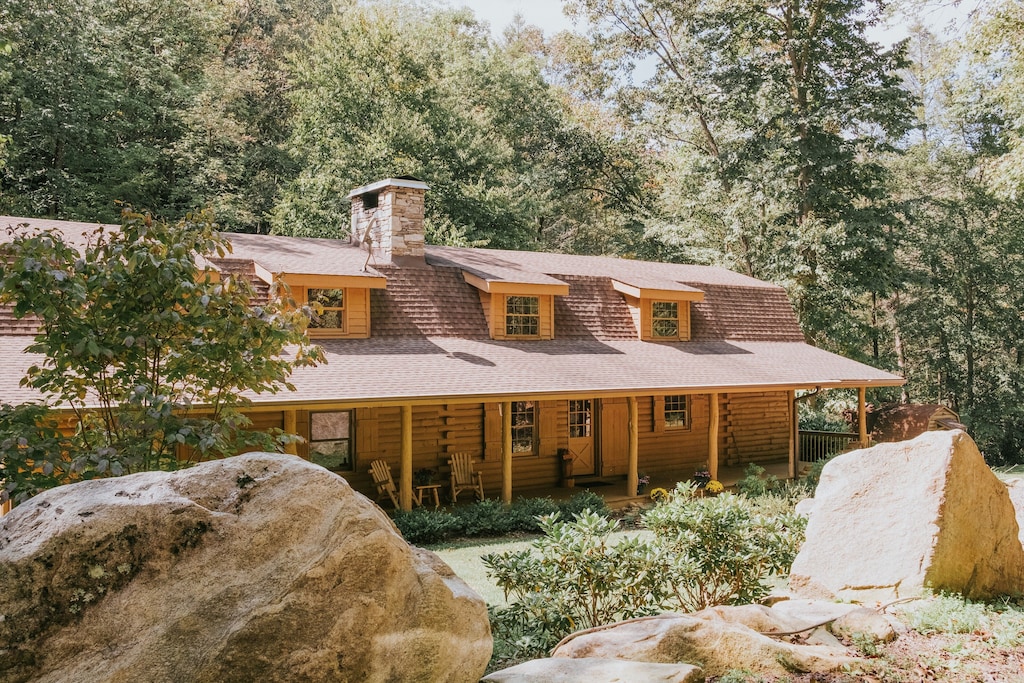 Where: Hendersonville
Price: $875 + USD per night
There are lots of activities to do outdoors at most North Carolina cabin rentals. But this cabin is especially exciting, including taking advantage of a trout pond for your fishing fix. Less labor-intensive activities include soaking in the outdoor hot tub with mountain views or taking a dip in the swimming hole nearby.
Most will vote for the hot tub, which overlooks the babbling stream just behind the cabin. Indoors, the luxury leather armchairs facing the three fireplaces are tempting, as are the couches encircling the TV.
View Photos, Read Reviews & Check Availability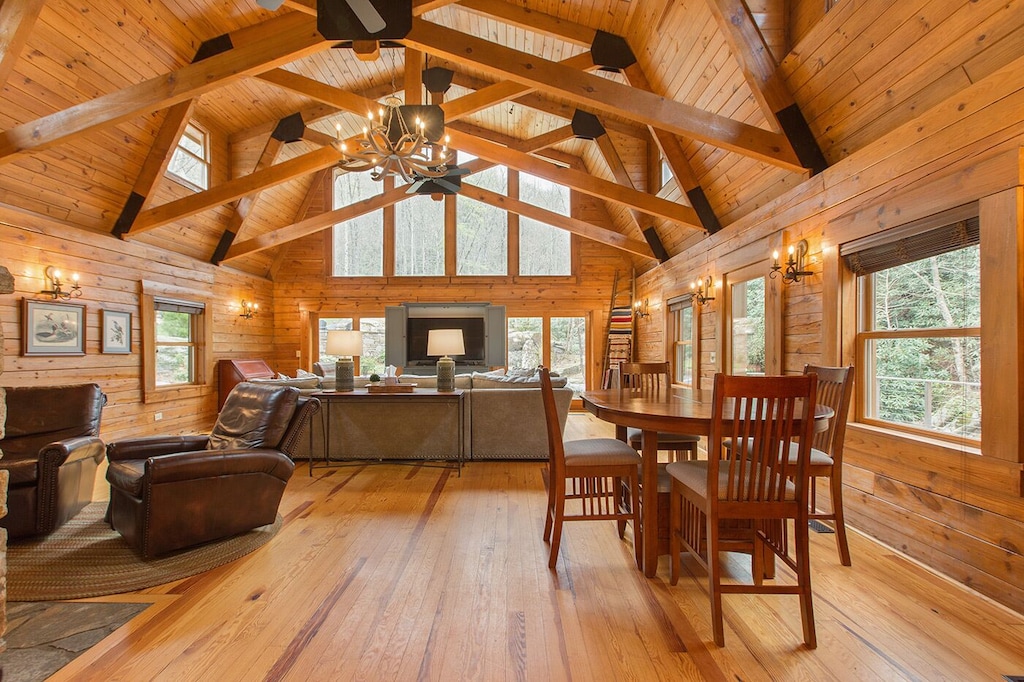 ---
13) Custom A-frame home on 20 acres with two miles of trails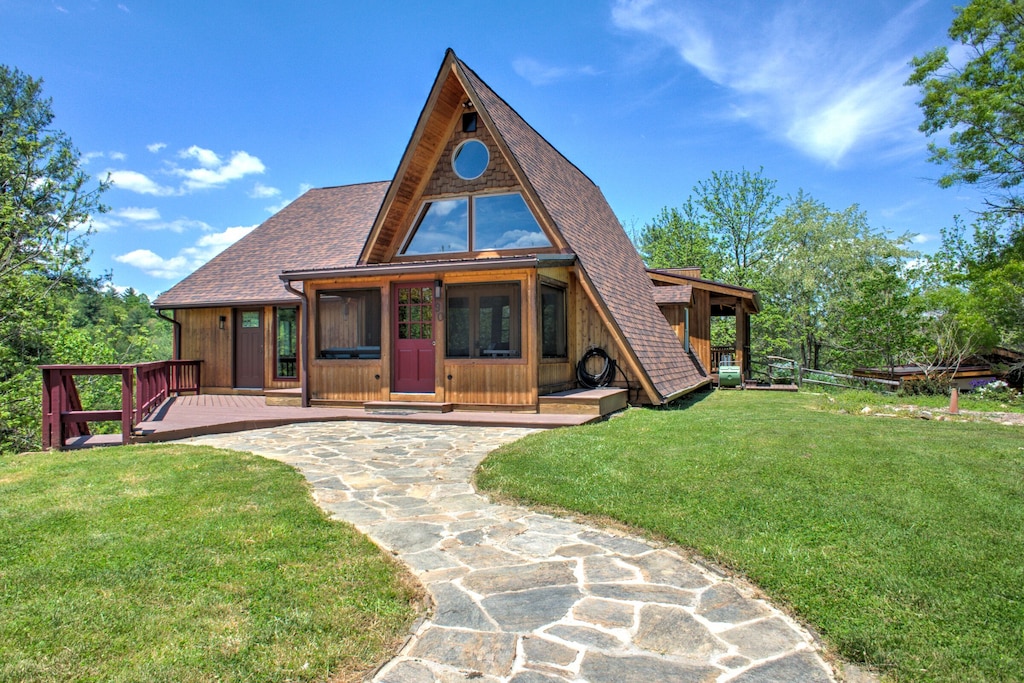 Where: Flat Creek
Price: $975+ USD per night
Flat Creek is less than 20 minutes north of Asheville. This beautiful A-frame is named "Trail Time." As expected, its key draw is the access to several trails around the wilderness of the hills and forest.
The cute exterior indicates a similar feel inside, with a bent to rustic convenience and modern comfort. This includes quirky colors on the walls, odd shapes of couches and sofas, and wonderfully abstract art pieces.
But this doesn't detract from the luxury elements like the hot tub, superbly lit kitchen, and extraordinarily view-rich decks.
View Photos, Read Reviews & Check Availability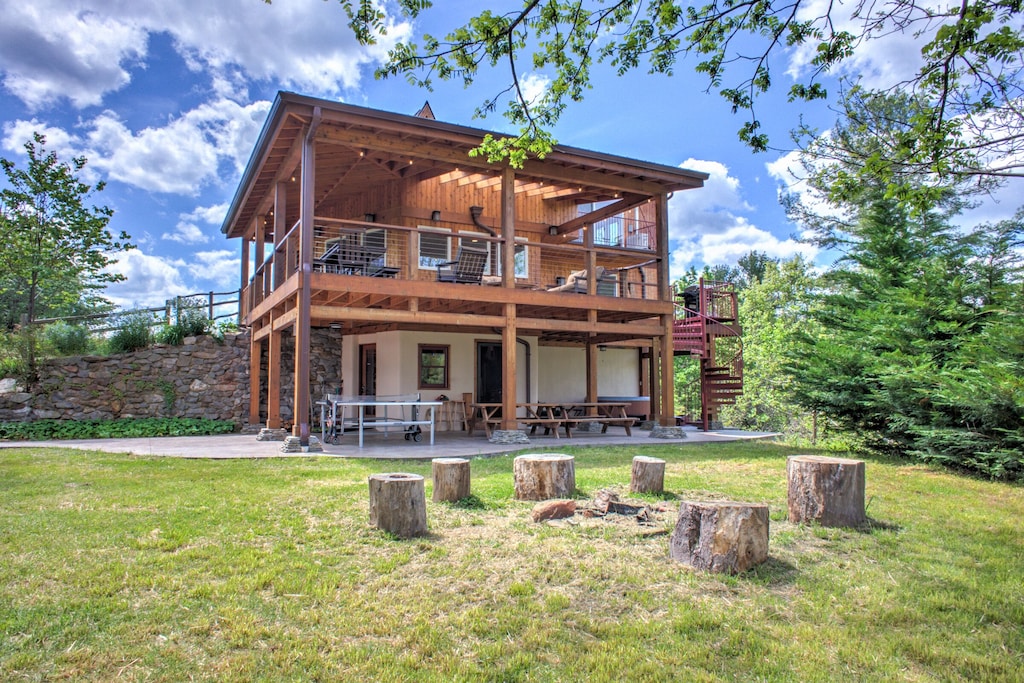 ---
14) Hot tub, Mountaintop Views and Two Decks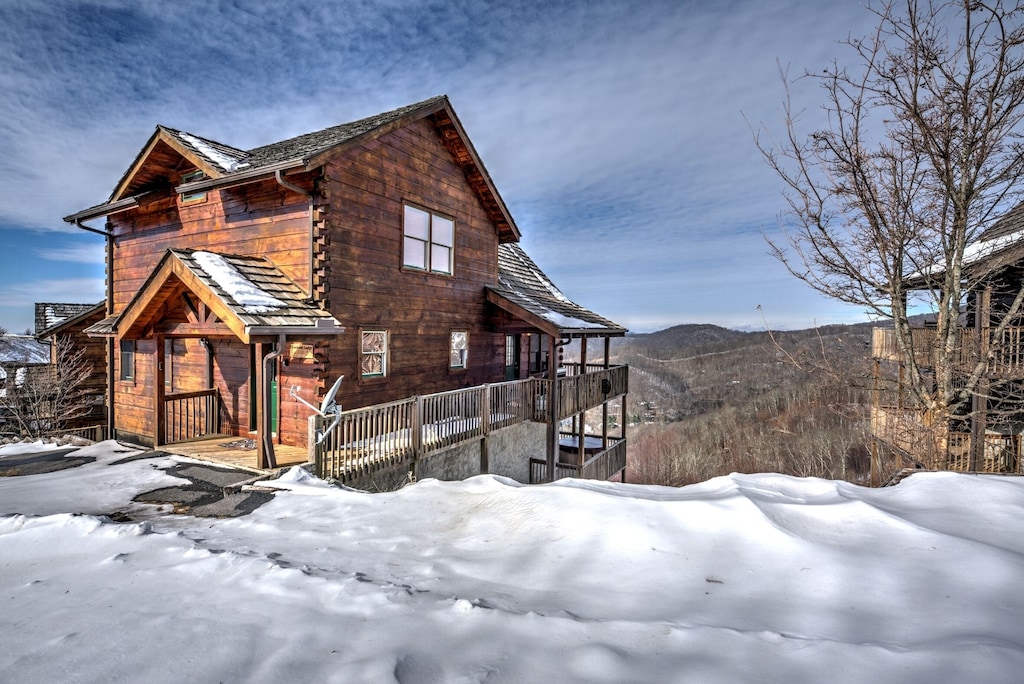 Where: Wolf Laurel
Price: $496+ USD per night
A 40-minute drive north of Asheville lies Wolf Laurel. It's a gated community known for its tranquil natural beauty, mountains, and resort-style living, including a golf course. It's also where you can find some of the best cabins near Asheville, NC.
The hot tub here has those immense mountain views. The cabin is elevated at 4000 feet, part of a picturesque row of similarly styled cabins. By the way, they look positively mythic in the snowy wintertime.
The snug, cozy bedrooms contrast well with the huge A-frame living space with its multiple high-wall windows. And the fireplaces will no doubt be put to good use in the evening mountain air. This is one of the best cabin rentals near Asheville, NC, for sure.
View Photos, Read Reviews & Check Availability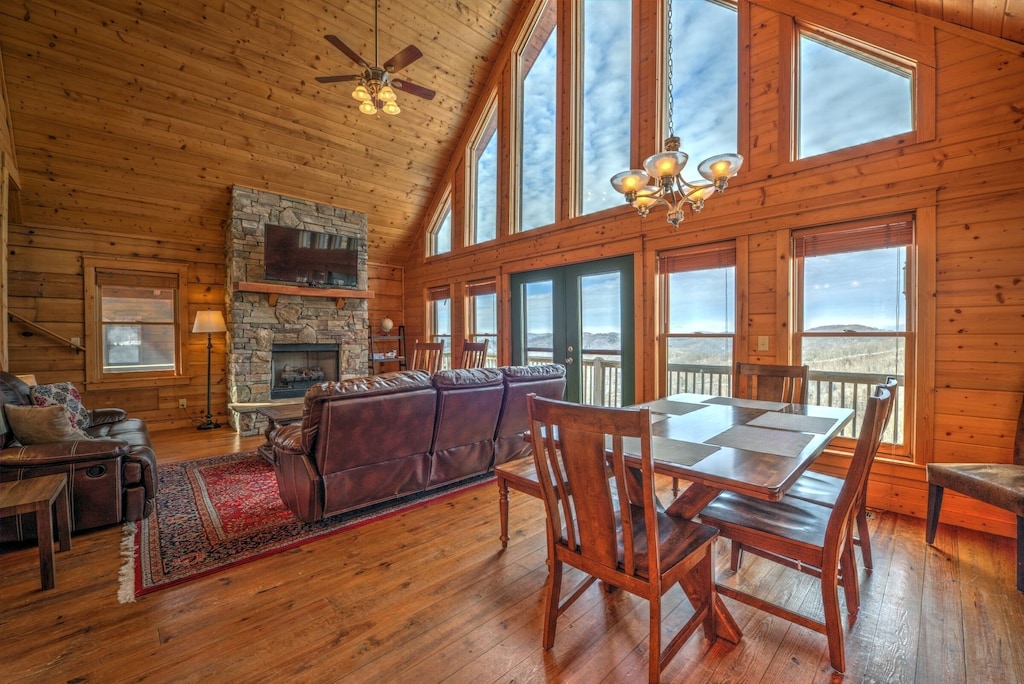 ---
15) Asheville Lodge – Sleeps 11-21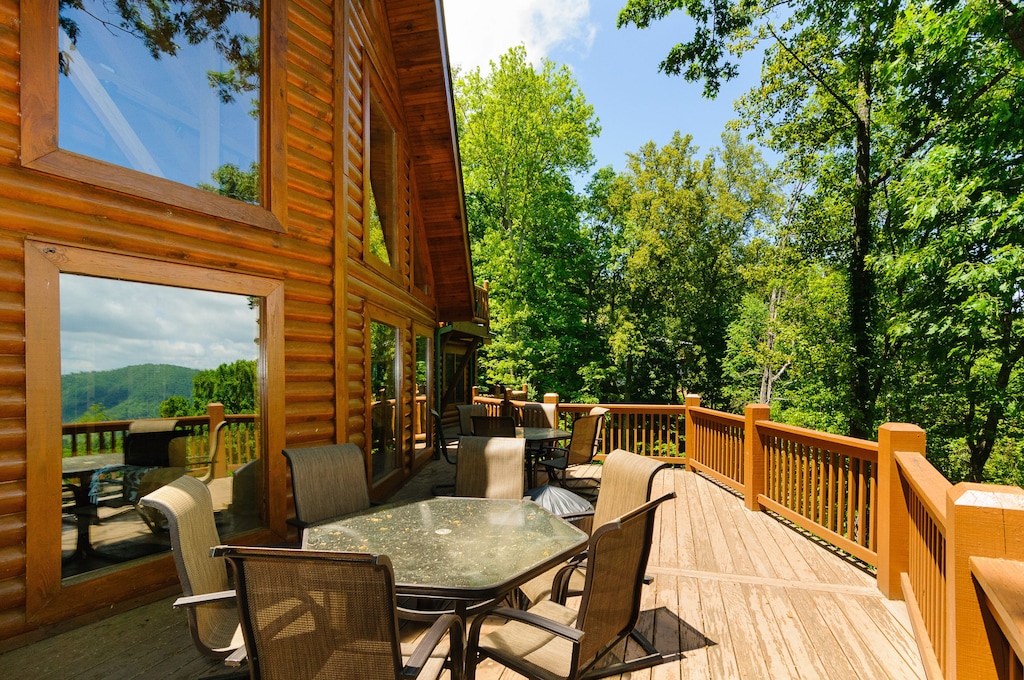 Where: Asheville
Price: $725+ USD per night
Some NC cabin rentals are just amazing when it comes to size, and cabins in the mountains are always the best kind. Three stories of space can provide any one of your parties with a private corner for a bit of peace and quiet. Even better when the others venture over to the Blue Ridge Parkway for a day of activities.
In the evening, the lengthy deck will have you watching the stars and the warmth from the fire pit will add to the romantic atmosphere. It's kind of what the best Asheville cabins do well.
Sink into the big leather armchairs in the A-Frame living space for after-dinner movies, or spend a few hours in the games room at the cards table or foosball.
View Photos, Read Reviews & Check Availability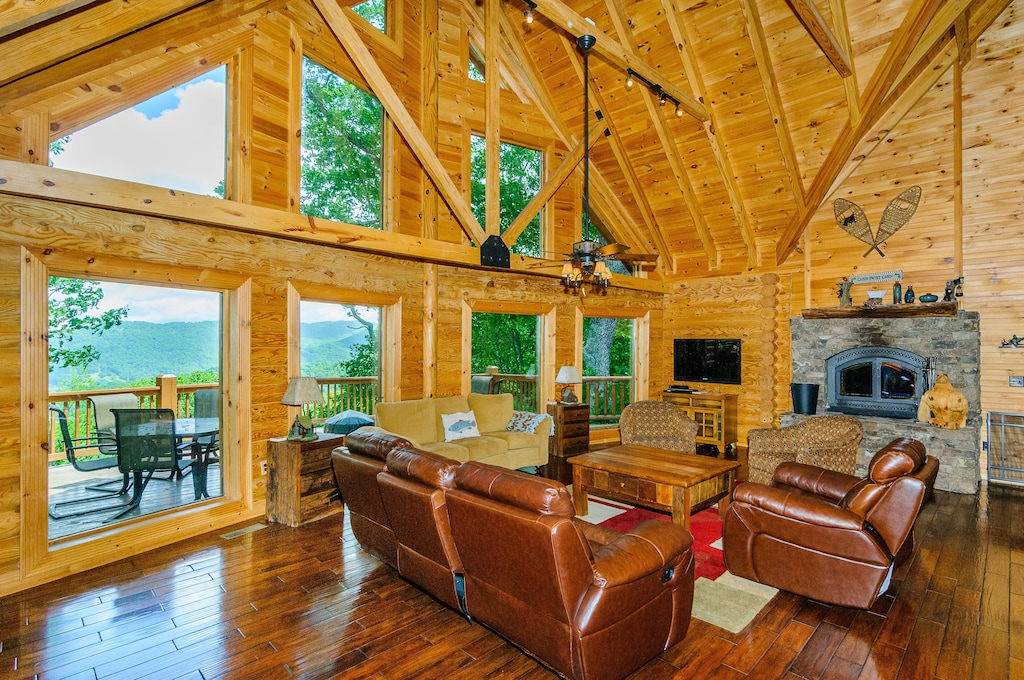 ---
Thanks so much for reading my guide! Hope you've found your ideal stay for your upcoming visit!
https://www.jonesaroundtheworld.com/wp-content/uploads/2021/07/Luxury-Cabin-Rental-Asheville-NC.jpg
682
1024
TravelTractionsJATW
https://www.jonesaroundtheworld.com/wp-content/uploads/2017/03/logotry-1-1-300x106.png
TravelTractionsJATW
2023-05-21 01:06:58
2023-05-23 22:27:06
15 Luxury Cabins in Asheville, NC | Top Forest & Mountain Rentals