Glamping in Cornwall is one of the most inspiring ways to take a break in a nature-filled environment. With beautiful beaches, picturesque coastlines, peaceful moorland, and countryside, this destination is created to keep you amused during the day and carefree during the sunsets.
Cornwall Glamping is all about unique pods, shepherd's huts, family-friendly safari tents, yurts, and minimalist domes.
Don't miss a chance to have the time of your life, not another ordinary vacation. To help you with your searches, we put together the best glamping spots in Cornwall where you can relax your mind and body. Scroll down to find a spot where you will create unforgettable memories.
Also, make sure to save and read my guides on Glamping in England, Glamping Scotland, Glamping Ireland, and Glamping Wales for more breahtaking glamping getaways in the area!
---
Quick Breakdown Of Cornwall Glamping
But before delving deeper into the wonderful world of glamping in Cornwall, check out a shortlist of our favorite properties! This overview of top-notch places has all the chances to steal your heart. Book a stay today via our link and bask in pure indulgence.
Best Romantic Glamping in Cornwall – The Field Room
Most Unique Glamping in Cornwall – Panoramic Silverbullet
Best Yurt Glamping in Cornwall – Looe Yurts
Best Cabin Glamping in Cornwall – Demelza
Best Dome Glamping in Cornwall – Ekopod
Best Luxury Cornwall Glamping – The Rock Retreat
Coolest Cornwall Glamping Site – Acorn Camping & Glamping | Hobbit Huts
Be sure to keep reading though as ALL of these are worth bookmarking for future trips and weekend getaways!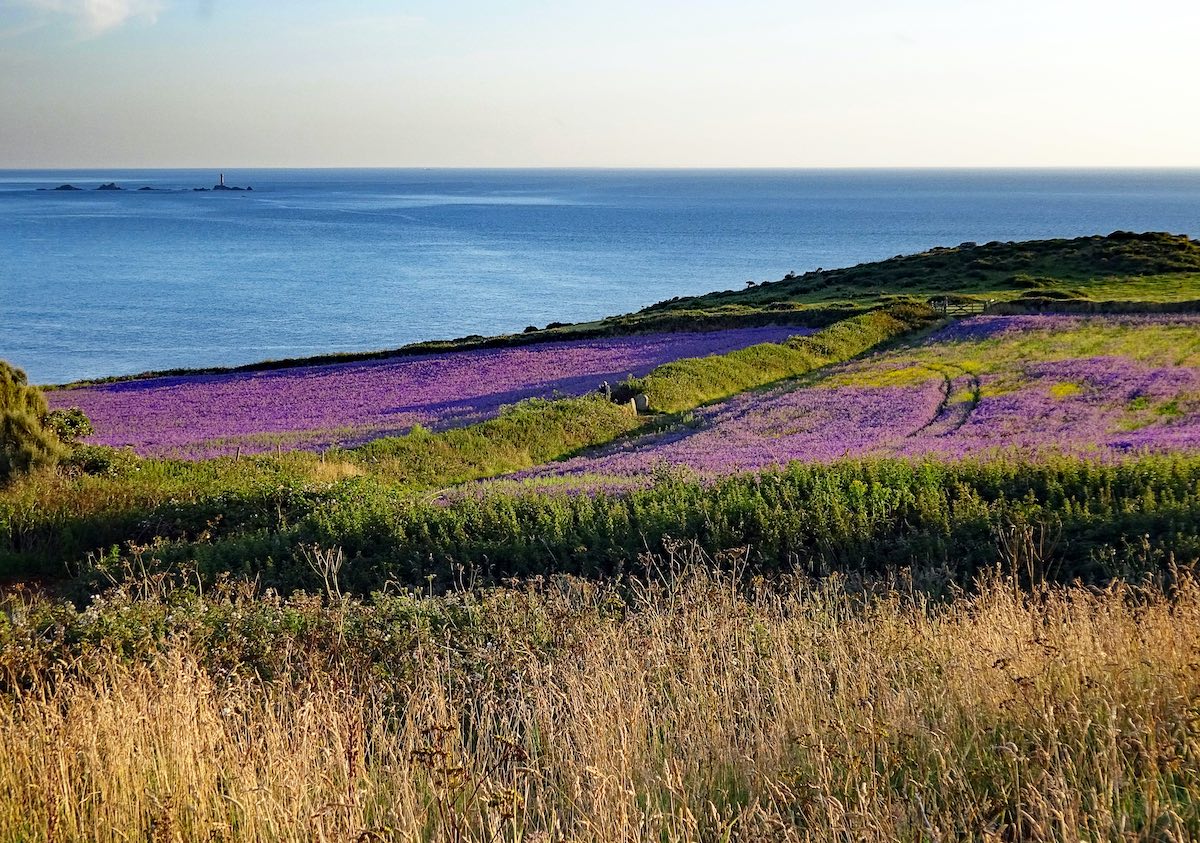 ---
TOP 12 Glamping Cornwall Sites
Okey-dokey, let's move on to the most exciting part and discover the coolest glamping spots in Cornwall. Get ready to be blown away by what this destination is about to offer you!
---
1) The Rock Retreat Glamping
Where: At The Point at Polzeath Roserrow, St Minver, Cornwall
Price: $240+ per night (at least 7 nights)
Accommodates: 4 guests
https://rockretreat.co.uk/glamping-accommodation/
Enjoy the Luxury of Glamping in North Cornwall – Uber Posh Camping!
The Rock Retreat is a new level of luxury glamping that makes you forget about uncomfortable hard floors and damp sleeping bags. Its perfectly positioned location above Polzeath is within walking distance of North Cornwall's best beaches, which allows you to sunbathe and swim anytime you want.
Each fully furnished luxury Safari tent is complete with a double king-size bed, fine cotton bedding, rugs, and unique handmade furniture to make your stay as comfy as possible. Tents also have private cooking facilities, including a fridge, kettle, double ring hob, and kitchen prep area, making it easy for you to cook delicious meals for yourself and your beloved ones.
Ideal for a carefree family vacation, the Rock Retreat area has incredible on-site facilities. For instance, you can go to the gym in the morning or play golf after lunch. If you want to relax and forget about cooking, the local restaurant can make your day by offering various meals for all tastes.
The Rock Retreat at The Point, Polzeath, Cornwall
---
2) The Field Room Glamping
Where: 3.4 miles SE of Helston, Cornwall
Price: $120+ per night
Accommodates: 2 guests
https://www.classic.co.uk/cottage-availability-4953.html
When you choose the Field Room for your glamping vacation in Cornwall, you let nature take care of all your worries. Featuring a rustic yet stylish interior, this shepherd's hut is located in the unspoiled Cornish countryside, allowing you to embrace the energizing natural landscapes.
After stepping inside, you set your eyes on an utterly elegant charm, warm woody tones, and polished furniture. The owner used upcycled materials to create this paradise. The house is complete with a king-size bed, velvet cushions, and luxury quilted bedding.
After waking up, you can sip your morning coffee while enjoying tranquil views and the area's rolling hills out of your window. Then, you can prep a delicious breakfast in the kitchen equipped with all the necessities, such as a double ring gas hob, kettle, toaster, and fridge. Don't worry about the bathroom—the shower is located to the right of the hut.
Overall, this place is ideal for reconnecting with yourself and nature, let alone the surrounding area, full of opportunities to spend your day actively. For example, you can check out the beautiful, wooded Helford River and Frenchman's Creek or Poldhu, boasting a sandy bay full of locals, surfers, and wildlife watchers.
---
3) Acorn Camping & Glamping | Hobbit Huts
Where: Rock Cottage, Prideaux, St Blazey, Par, Cornwall
Price: $72+ per night per 2 people
Accommodates: 3-8 guests
https://acorncampingandglamping.co.uk/hobbit-huts/
Acorn Camping and Glamping is set in the heart of Luxulyan Valley, Cornwall, and features magical Hobbit homes and Flora tents. The Hobbit huts are nestled in their own niche in wonderful, nature-filled surroundings.
Equipped with three benches, two tables, two stoves, a lantern, and a camping pack, they offer an opportunity to relax with your soul and body. Outside, you will find a cooking area, shower, and washbasin with hot water and a toilet. When the sun goes down, you can sip wine while toasting up something delicious near a fire pit.
As for the Flora tents, these shelters can accommodate up to eight people and feature individual decked areas for cooking and relaxing, complete with tables and chairs. Flora tents are perfect for your romantic getaway, family gatherings, and any sort of life celebration. So, what are you waiting for? Book this paradise via our link and have the time of your life!
---
4) Treganhoe Farm
Where: Penzance, Cornwall
Price: $277+ per night
Accommodates: 6 guests
https://www.treganhoefarm.co.uk/glamping
"Set within stunning, unique and relaxing Cornish Countryside you will feel so far away from anything – yet we are located only 1 mile from the A30."
The Treganhoe location is hard to beat. This beautiful spot with stunning views of the Penwith peninsula is ideal for glamping in Cornwall. Overall, Treganhoe is a mixed farm that works closely with the Cornwall Wildlife Trust.
What does it actually feel like to live on the farm? Well, imagine waking up early in the morning in a nature-filled environment, feeding the chickens, sheep, and pigs (if you want to, of course!), going to the beach, surfing, and then enjoying some home-cooked food or locally produced meat or fish. This soothing atmosphere in the middle of nowhere is all you need to recharge and unwind.
The glamping tents accommodate up to six people and are complete with bed linen, towels, candles, matches, washing-up liquid, and other essential items. During your stay, be ready to enjoy super delicious homemade pizza from the pizza oven cooked by the farmers. Everyone will have an opportunity to get together and enjoy the cozy evening near the fire pit.
---
5) Panoramic Silverbullet Glamping with Hot Tub
Where: 8.3 miles NW of Looe, Cornwall
Price: $80+ per night
Accommodates: 2 guests
https://www.classic.co.uk/holiday-cottage/desc-4646.html
If you are looking for the most unique glamping spot in Cornwall, Panoramic Silverbullet may pique your interest. This airstream with an outdoor hot tub is perfect for a retro retreat. With all of its gleaming aluminum glory, it has been fully refitted to provide the highest level of comfort and style.
After stepping in, you will be amazed by the kitchen, complete with induction hob, fridge, and combination microwave, the sitting area with cozy wood burner and TV, and the bedroom with a king-size bed, specially created for an unforgettable romantic getaway.
Outside, you will find a BBQ zone to enjoy mouth-watering meals while watching the sunset. When all the food is eaten, it's time for wine and bubbly hot tub relaxation. Panoramic Silverbullet can help your switch off the pressure of the outside world and reconnect with yourself.
---
6) Wildwood Hideaway Glamping
Where: 5.1 miles SE of Rock, Cornwall
Price: $78+ per night
Accommodates: 2 guests
https://www.classic.co.uk/holiday-cottage/desc-4383.html
"Take the little winding path that zig-zags its way through the trees to where Wildwood Hideaway is waiting to welcome you to the peace and tranquility of the woodland."
Wildwood Hideaway is all about the so-needed back-to-nature experience with added comfort and style. Located amongst the trees with far-reaching views, this glamping spot offers super fresh air, amazing birdsongs, and starry nights, let alone a charming cabin with all the necessary amenities.
It's been built with attention to detail: the kitchen is equipped with an oven, hob, fridge, and beautiful cupboards; the shower room has a walk-in shower cubicle and hot-and-cold running water on demand; the bedroom features a comfortable bed with luxurious linens.
In general, Wildwood Hideaway was created to help you see the beauty of life. You can lounge in the hammock, open a good book you wanted to read for so long, and listen to nature's sounds while enjoying the countryside views. Also, you can take a short drive to Wadebridge, full of shops, cafes, and tea rooms.
---
7) Looe Yurts Glamping
Where: St Martin, Looe, Cornwall
Price: $135+ per night
Accommodates: 4 guests
https://www.booking.com/hotel/gb/looe-yurts.en-gb.html
If you're a yurt lover, this glamping spot has all the chances to steal your heart. With astonishing views across the gorgeous Cornish countryside, Looe Yurts is located 250 meters from the South West Coast Path. It offers three yurts, each beautifully furnished to provide you with the highest level of comfort. This kind of glamping rocks!
The two Deluxe Yurts are complete with a king-size bed and a double futon, meaning you can easily travel with your kids or friends. The Large Yurt can accommodate two adults and one child. Each shelter has wood burners, solar lighting, and sky domes to enjoy the starry sky. In the purpose-built amenity building, you will find a lockable bathroom with a shower, basin, and flushing toilet.
Outside, you can relax in your decking area, which is complete with chairs and a table. The communal kitchen has a small hob, convection oven, sinks, fridges, a freezer, and microwave. Overall, it's a great place to relax, reconnect with nature, and have an amazing glamping experience in Cornwall.
---
8) Demelza Glamping
Where: 3.7 miles NE of Lostwithiel, Cornwall
Price: $80+ per night
Accommodates: 2 guests
https://www.classic.co.uk/holiday-cottage/desc-4750.html
Take your beloved one to this romantic retreat for two and enjoy life at a much slower pace. Demelza is the epitome of a back-to-nature glamping experience with a touch of luxury and style. Located in the Cornish countryside surrounded by rolling landscape, this pod has everything needed for a relaxing weekend getaway.
Inside, it features a kitchen with enough equipment (an electric oven, two-ring hob, fridge, and microwave) to prep a delicious brunch or dinner, a lovely L-shaped sofa offering great views from panoramic doors, a super stylish shower room, and a comfy double bed.
When stepping out, you will find a large terraced area ideal for romantic dinners and sweet talks. A dip in a hot tub will bring you even more pleasure, and a glass of wine near the fire pit will be a glorious end to a glorious evening.
Demelza is amazing, but there are also so many beautiful things waiting to be explored outside your front door. You can visit nearby Polperro and Fowey villages, head to Charlestown or Lostwithiel, also known as the "antiques capital of Cornwall". If you love cycling, Lanhydrock and Cardinham Woods will amaze you with their number of cycling trails.
---
9) Wildflower Wood at Beersheba Farm
Where: St Ives, Cornwall
Price: $144+ per night
Accommodates: 4-5 guests
https://beersheba.co.uk/glamping/
Back to Nature Stays in a Special Woodland
This woodland glamping in Cornwall nourishes your soul and lets you reconnect with beautiful nature. Overlooking the golden sands of St. Ives Bay, Wildflower Wood at Beersheba Farm offers five Landpods. Each Landpod is well-spaced and has its own cooking, dining, firepit area, and private bathroom facilities. The shelters accommodate four to five people, meaning you can easily travel with your kids or friends.
Inside, you will find two comfortable double beds, duvets, pillows, upholstered bench seating, off-grid LED lighting, and USB charging points. To get the best glamping experience, roll back or lift up roofs to reveal the sunrise, sunset, or starry sky through the leafy canopy.
Wildflower Wood also offers two new hybrid electric bikes, available for glampsite guests to hire. This will spice up your weekend getaway and add a bit of an adventurous vibe. If you are looking for some activities, check out Blue flag beach within 1.5 miles. It offers surfing, kayaking, SUPping, fishing, and other watersports. Don't miss a chance to walk through the South West Coast Path and St Michael's Way linking Marazion to Lelant.
---
10) Wylde Valley Camping
Where: Week St Mary, Bude, Cornwall
Price: $138+ per night
Accommodates: 6 guests
https://www.wyldevalleycamping.co.uk/
"THIS IS CAMPING, AS IT SHOULD BE"
Forget about the uncomfortable traditional camping, tent pitching, and back pain afterward. ​​Wylde Valley glamping is a new level of camping where the unbeatable beauty of nature is mixed with a high level of comfort.
North Cornwall is a breathtaking area with epic walks, a mighty ocean, wild moors, and picturesque surroundings. Yes, it's an ideal spot for your glamping experience!
Featuring three sizes of bell tent accommodation, this Cornwall glampsite is all about creating unforgettable (and comfy!) memories. Each bell tent is set up on an individual wooden patio with its own outdoor fire pit, solar lighting, two deck chairs, and a table. You can enjoy your breakfast and sip your morning coffee while breathing in the fresh air and sunbathing simultaneously (what a life!).
Inside, the tents are complete with a waterproof groundsheet and matting, mattresses on single or double bed frames, duvets, bedside tables, and solar lighting. They can sleep from two to six people, meaning Wylde Valley is perfect for a romantic getaway, a family vacation, or a huge birthday celebration.
---
11) Glamping Domes at Ekopod
Where: St Clether, Launceston, Cornwall
Price: $96+ per night
Accommodates: 2-8 guests
https://www.ekopod.co.uk/glamping-for-couples/
Ekopod is a unique glamping site in Cornwall that offers gorgeous geodomes and safari tents, each nestled in its private area. If you need a great glampsite to reconnect with nature and forget about all your worries, this setting is an ideal choice.
All the Ekopod units offer unforgettable romantic getaway opportunities where you and your beloved can enjoy each other. They feature sophisticated designs and are complete with king-size beds and goose-down duvets.
Each pod has a modern kitchen with enough equipment to prep the most delicious meal and soft furnishings to relax after a day out. At the end of the day, enjoy romantic evenings on your private terrace by the log burner, fire pit, and BBQs. Since there is no electricity or wifi, your pod is lit by candles and fairy lights to create the most amorous atmosphere and help you dive deeper into the magic moment of now.
---
12) Foxy Loxy at Roe Wood Glamping
Where: Fowey, South Cornwall
Price: $79+ per night
Accommodates: 2 guests
https://www.classic.co.uk/holiday-cottage/desc-4327.html
This glamping place is all about a rustic, back-to-nature experience mixed with chic style. Foxy Loxy has amazing beaches, clifftop walks, and the waterside towns of the Cornish south coast, all nearby. As for the shelter, this sleek timber cabin features a living area with floor-to-ceiling sliding glass doors, which offers a bright and spacious inside and nature-filled views.
It also has a well-equipped kitchen with an oven, hob, microwave, and fridge, a king-sized bed with soft linens, a snug sofa, and a luxury shower room with shower, toilet, and wash-basin.
Outside, you will find a hot tub to switch off from the pressures of daily life and the fire pit to toast something up while sipping wine and enjoying the sunset. From the moment you arrive, you realize this place is created to unwind and enjoy every second.
By the way, Foxy Loxy is located near the village of Lanlivery, where its lovely pub offers wonderful local fare. The nearest beach is Par Sands, with its shallow waters and plenty of sunbathing opportunities. Overall, this glamping site is a one-of-a-king paradise for two you must visit.
---
Am I Missing Any Incredible Glamping Cornwall Sites?
This list could really have gone on much longer, as there are tons of epic glamping destinations across Cornwall!
I'd love to hear from you if there is another glamping pod, bell tent, treehouse, yurt, or anything else you think should be added to my list of the best glamping in Cornwall! I'd love to keep my list as up to date as possible
---
Looking For More European Travel?
My blog has tons of helpful articles and itineraries for traveling around Europe, as well as plenty of awesome glamping guides! I'd love for you to take a look through a few of mine below and save the for future inspiration!
---
Thanks for reading my Glamping Cornwall guide!
Share this article with your Cornwall Glamping Friends & Family!
https://www.jonesaroundtheworld.com/wp-content/uploads/2022/08/Wylde-Valley-Camping-Glamping-Cornwall.jpg
800
1200
Dave
https://www.jonesaroundtheworld.com/wp-content/uploads/2017/03/logotry-1-1-300x106.png
Dave
2022-08-05 00:56:15
2022-08-05 01:03:11
12 Best Places To Go Glamping in Cornwall