Planning a trip or weekend retreat and looking for the best and most beautiful Glamping England getaways? Well, look no further, as I've put together this unbeatable guide to help you find the perfect place to reconnect and relax in nature.
In England, there really is no shortage of fabulous glamping sites! From luxury bell tents, magical treehouses, cozy yurts to quirky tipis and glamping pods with hot tubs, enjoying the great outdoors in England has never been easier!
In this article I have outlined what I think are the Top 15 England Glamping accommodation sites that need to be on your bucket list! Also, be sure to read and save my guides on Glamping Scotland, Glamping Ireland, and Glamping Wales for more incredible glamping getaways in the area!
---
Quick Breakdown for Glamping in England
England is packed with some seriously awesome glamping sites. Before you check out the full list, we've compiled a short list of the best glamping spots in England split into different categories. Check it out!
These are just a few of the categories! SO be sure to keep reading to discover all of the different amazing options around the country!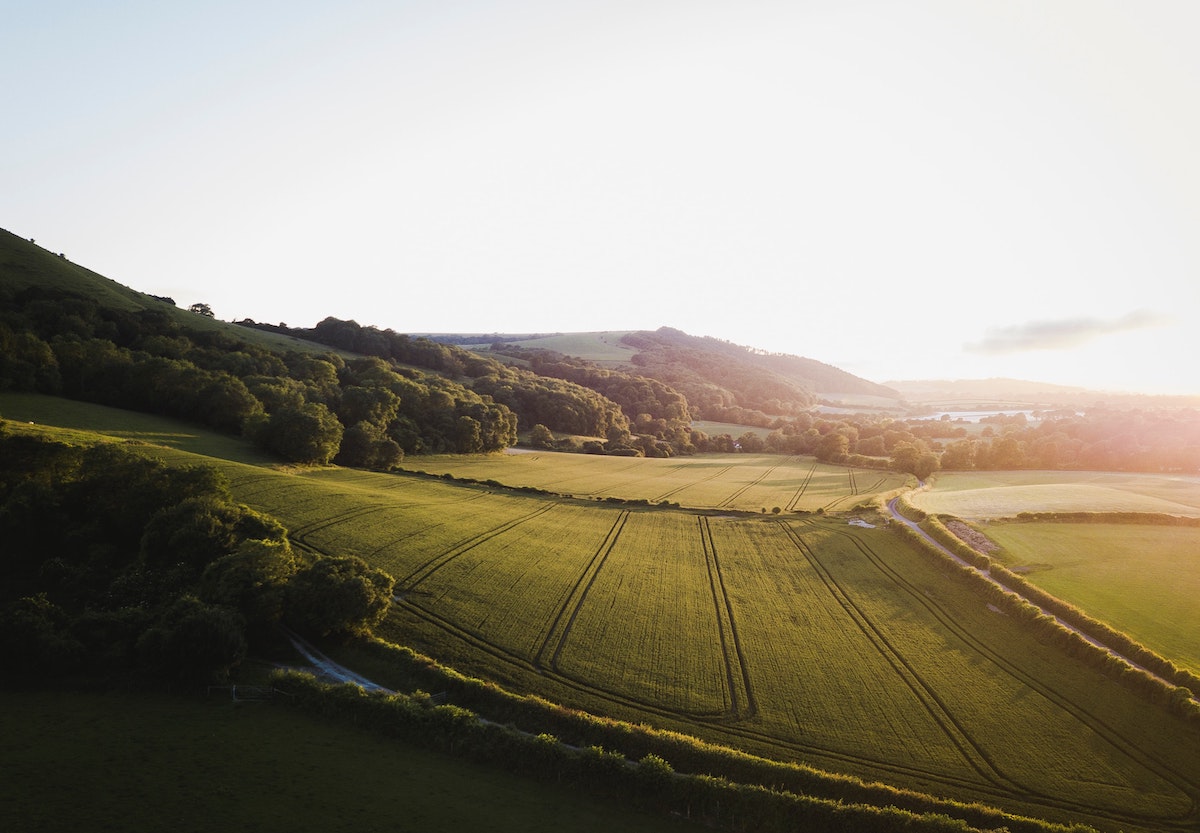 ---
Top 15 Places To Go Glamping in England
Without further ado, here is our list of the best glamping spots in England ranging from tipis and yurts to huts, lodges, and pods.
---
1) Abbeyfield Horsebox Glamping
Location: Northumberland
Price: $150+ per night
https://www.abbeyfieldglamping.com/
Located in Mitford Valley, Abbeyfield Horsebox is an intelligently converted cottage on wheels with 5 acres of outdoor space to enjoy. It's an ideal place to stay for couples and families on vacation in Northumberland.
With spectacular views of the ancient Borough Woods, the property is fitted with handmade furnishings, a cozy living area with a wood-fired stove, an en-suite rain shower, and a picturesque outdoor dining and decking area.
The sleeping area at Abbeyfield Horsebox boasts a double bed with luxury bedding and an additional sleeping place that can be used for children. Guests will also have access to a kitchenette with near copper fittings and an outdoor fire-pit for cooking. Explore the 5-acre wildflower meadow where you have an opportunity to spot wildlife including rabbits and foxes. Guests can also take the footpath which leads into the cute riverside town of Morpeth.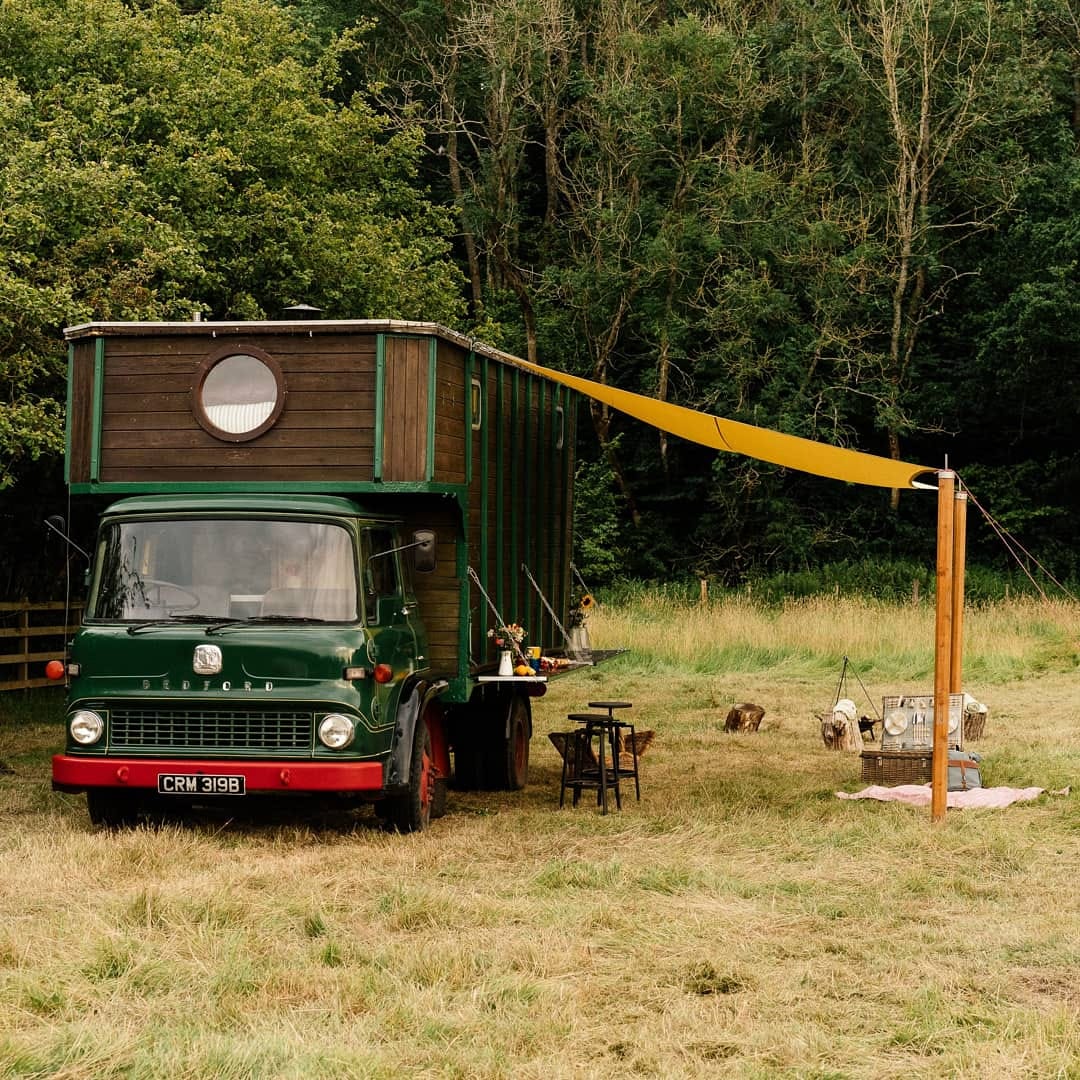 Sleeping in a HORSEBOX - Abbeyfield Horsebox Glamping [2021] - COVIDMOON // Travel Vlog
---
2) Lusty Glaze Beach Glamping
Location: Newquay
Price: $210+ per night
If your idea of having a good time includes sleeping on a private beach on the lovely North Cornwall coastline and waking up to the sounds of the waves rolling in., book your stay at the Lusty Glaze Beach glamping resort that actually used to serve as a wedding venue.
Make your way down the 133-step staircase which is the only main accessway to the beach. You will be staying in a luxury bell tent with a double bed and private wetroom facilities. There is no struggle to pitch a tent, as everything is already set up for you.
Guests will be pleased to hear that this luxurious beach glamping site in England has its own bar and restaurant where you can enjoy the freshest seafood and artisan cocktails. You won't stay bored here. Whether you wish to enjoy magnificent water views, book surfing lessons, or join a yoga class on the beach, there are plenty of activities to keep you occupied throughout the day. Newquay town with its restaurants and shops to explore is just a 10-minute walk away. In the opposite direction, you can walk all the way to the lovely Porth Beach. Lusty Glaze Beach truly is beach camping with style!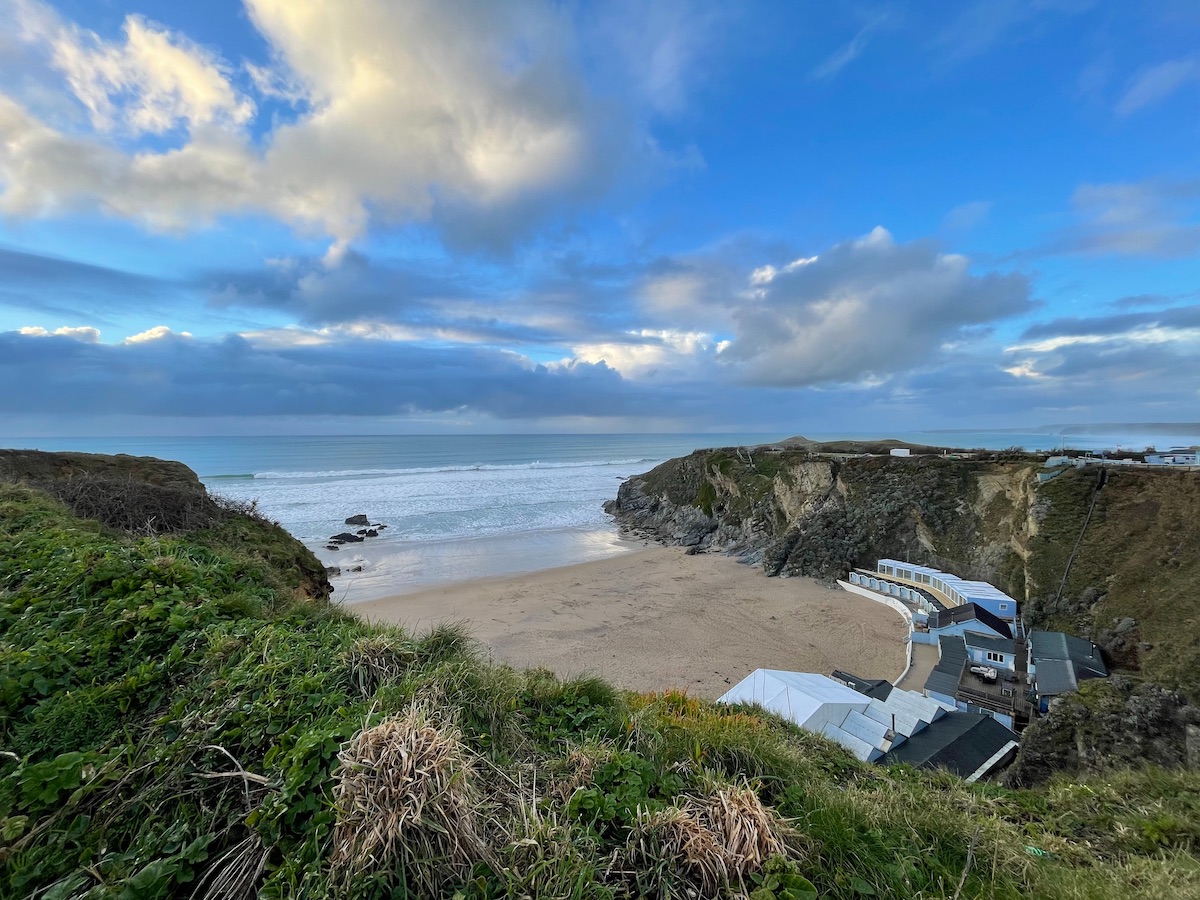 ---
3) Somerset Yurts
Location: Taunton, Somerset
Price: $210+ per night
https://www.somersetyurts.co.uk
"Nestled in the picturesque countryside of the West Country, Somerset Yurts is one of the original glamping sites in the UK. Whether you're looking for a romantic getaway, a family holiday, or a fun-filled weekend with friends, Somerset Yurts has something for everyone.
The Yurts, Dome and Safari lodges are spread across 3 acres of this working farm giving you plenty of space to explore and relax. The Safari Lodges are self-contained with their own small kitchen and bathroom, the Yurts and Dome have access to the shared facilities block with proper flushing loos and power showers.
There is plenty to do in the local area including walking and cycling in the nearby Quantock Hills and Exmoor National Park. You can also explore the quaint towns and villages that dot the area, each with their own unique charm and character. Whether you're a seasoned camper or a novice adventurer, Somerset Yurts offers an unforgettable experience that will leave you rested, rejuvenated, and reconnected with nature. Somerset Yurts isn't just about glamping – it's about reconnecting with the natural world and the people you love. Immerse yourself in the beauty of the countryside, take a deep breath of fresh air, and let your soul recharge.
---
4) Hesleyside Huts Glamping
Location: Hexham, Northumberland
Price: $210+ per night
Luxury Glamping in the Northumberland National Park
Welcome to Hesleyside Huts, a luxury glamping retreat set on the grounds of an 18th-century mansion in the heart of the Northumberland National Park. You will instantly fall in love with the breathtaking 4,000-acre Hesleyside Estate.
It's a cozy retreat from the busy modern world. Here, life is slow-paced and guests can reconnect with nature and enjoy a simpler way of life. The property itself offers a range of luxurious shepherds huts and cabins, each designed by the owner, Anna.
Stay in the Holly Hut, a double-height hut inspired by those cute New England pioneer chapels. This hut is made from reclaimed timber and boasts a mezzanine level with a king-size bed and ample ground floor space. Visitors can also book accommodation at Heather, a lovely hut decorated with oak shelves, wooden ladder storage, and oak shutters. Families with kids will want to stay at the new Bramble hut which features a king-size four-poster bed and a separate bunk room that can accommodate 2 additional adults/children. Bramble also has its own private balcony with magnificent nature views.
Hesleyside Huts - Glamping Pods Aerial Film
---
5) The Nest Glamping
Location: Lincolnshire
Price: $230+ per night
https://www.thenestglamping.co.uk/
The owners, Archie and Emma did an amazing job with this luxury glamping estate. Whether you wish to swim in the lake, spot wildlife, enjoy hot tub dips, or attend private outdoor film screenings, the Nest offers a range of memorable activities to enjoy on your weekend getaway in Lincolnshire. Situated on a farm on the edges of rural Lincolnshire, the estate offers a seductively secluded location. On the other hand, the city of London is just a 3-hour drive away.
Guests can stay at one of the three safari lodges (Pinkfoot, Cuckoo, and Teal), each offering magnificent views of the lake. With free-standing egg-shaped bathtubs, massive beds with pillows and duvets from The White Company, and chalet-esque log-burning stoves, the lodges look spectacular.
Each Lodge sleeps 6 people! Is there anything to do in the area? Visit the nearby town of Stamford where you can explore cafes, indie shops, and boutiques. Guests can also join Archie and Emma on a dusk safari and see foxes, badgers, and deer. You can enjoy other lake activities like kayaking and fishing. Return to your lodge in the evening and enjoy pre-booked Seafood Sundowners.
---
6) Hill Top Huts | Glamping Pods
Location: Teesdale
Price: $70+ per night
https://www.hilltophuts.co.uk/
https://www.hipcamp.com/en-US/land/england-durham-hill-top-huts-06yhdwvv
Travelers on a budget searching for cool glamping sites in England should look no further than Hill Top Huts in Teesdale. These reasonably priced pods are set on the grounds of a renowned walkers' pub. It's actually one of the most popular places to stay for hikers who wish to explore both Teesdale and Pennine Ways. You can also climb the Westernhope Moor and see the iconic High Force Waterfall. Other attractions like Barnard Castle and Bowes Museum are just a super-short drive away.
Hill Top Huts offer 12 pods total. Each hut is nicely decorated and comes with a kettle, lights, comfortable fixed beds, and plug sockets. Nothing too fancy, but beats the hell out of pitching tents and inflating air beds. The names of the huts (Dales Pony, Highland, and Beef Shorthorn) pay a tribute to the animals living in the area.
---
7) Parkhall Glamping Pods
Location: Derbyshire
Price: $240+ per night
Glamp in style! Combine the height of luxury and the peacefulness of nature.
Perched on the edge of the Nottinghamshire village of Mapperley, Parkhall Pods is without a doubt, one of the finest glamping spots on this list. Even before these five luxurious glamping pods on stilts with whopping country views opened their doors, the locals were queuing up to book their stay here. It's a high-spec living space with a great quality finish. These strikingly modern pods have everything that you need for an ultra-luxury weekend getaway in nature.
Inside each pod, you will find floor-to-ceiling glass frontage, Scandinavian-style white-washed cladding walls, a comfortable living space with a large TV, a fully-equipped kitchen, and a shower room. Step outside to find your private hot tub with massage jets, as well as a metal campfire pit. One would think that this magical place is owned by some major company. But, the truth is that Parkhall Pods is run by Gill and Julian, the couple who built it. Looking for things to do in the area? Cycle the scenic Nutbrook Trail, enjoy nature at Shipley Country Park, or mingle with the locals at the Old Black Horse.
Park Hall Pods - Luxury Glamping for 3 Days
---
8) Honeydown Glamping
Location: Devon
Price: $150+ per night
A Woodland Escape in the Heart of Devon
Situated on a 300-acre sheep farm, Honeydown looks absolutely stunning. The property offers a collection of handcrafted wooden houses, also known as "Truffles". Each pod is fitted with everything needed for a peaceful weekend getaway in Devon, England. The Truffles offer an indoor hammock, comfortable double bed, wood-burning stove, games, and books. Outside, guests will find an additional hammock, as well as a cooking area with Aquaforno cooking systems (BBQ and pizza oven, and a gas hob). The area is home to plenty of flora and fauna ranging from deer and woodpeckers to buzzards and wild orchids.
Guests will find ancient hedge banks, ponds, and a gentle stream with rope swings hanging from trees at the site. We should also mention that some of the best South West cycle and walking routes will be at your doorstep including the world-famous Tarka Trail. Hatherleigh town center where you will find pubs, farm shops, and supermarkets is a short walk away. The surrounding area is also home to a bunch of cute Devon towns and villages with traditional pubs and markets just waiting to be explored.
---
9) Moat Island Glamping
Location: Norfolk
Price: $200+ per night
Situated in Haveringland Hall Estate in Norfolk, Moat Island Glamping features a natural swimming pond and five spacious Lotus Belle tents (each tent sleeps up to 4 people). Two tents are known as Stargazers, as they boast clear ceiling panels which allow guests to lie in bed stargazing under the skies of Norfolk. These fully-furnished tents also boast fully furnished beds & wood-burning stoves. Outside, you will have access to your private fire pit area with seating, a fire bowl, and a cooking tripod.
The property's swimming pond and jetty allow you to enjoy a peaceful sunset swim. Keep in mind that the swimming zone is two meters deep. If you wish to prepare food, the site offers a camp kitchen fitted with a range cooker, a fridge freezer, and a wood pellet pizza oven. Want to get back to civilization and discover local tourist attractions? Norwich, Norfolk is just a short drive away.
Moat Island Glamping, Norfolk
---
10) The Orchard Retreat
Location: Devon
Price: $130+ per night
https://www.theorchardretreat.co.uk/
Yurts. Cottages. Countryside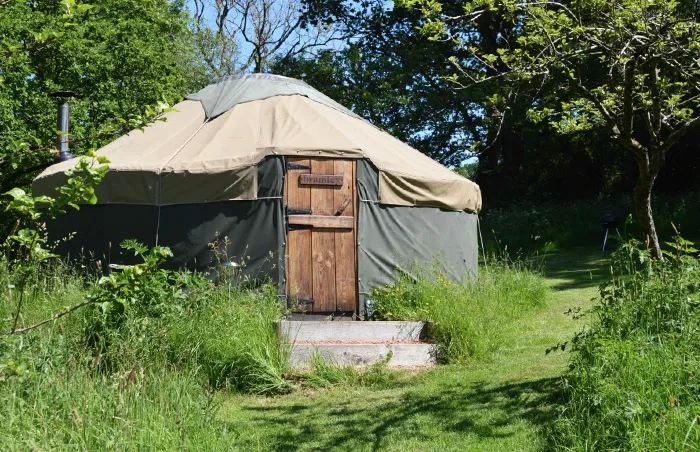 An award-winning family-run holiday site, the Orchard Retreat sits on 15 acres of picturesque Devon countryside. Opened in 2014, this fabulous glamping site in England offers 2-holiday cottages which are located in the main courtyard, as well as 3 lovely yurts (Russet, Pippin, and Bramley) with private bathrooms. You should know that the property doesn't have a mobile signal and electricity. If you wish to get away from it all and have a peaceful vacation, this off-the-grid site may just be what you are looking for.
However, you won't stay bored here. Guests will have an opportunity to explore 15 acres of meadows, woodland, streams, and orchard and enjoy refreshing drinks and hearty cuisine at the nearby local village pub, The Ring of Bells. You can also use the tubhouse or pay a visit to the nearby Facilities Lodge where you can enjoy a game of badminton or table tennis on the lawn. Want to do some yoga while staying at the Orchard Retreat? Book their next-door neighbor, Claire, who happens to be a licensed yoga instructor. Guests can also rent a hand-built cob pizza from the property for just $15 and make their own pizza.
The Orchard Retreat - Glamping in the Summer
---
11) Mallinson's Woodland Retreat (Crafty Camping)
Location: Dorset
Price: $200+ per night
Luxury Treehouses & Woodland Glamping
Mallinson's Woodland Retreat is an award-winning glamping site located near West Dorset's Jurassic Coast. Their Woodsman's Treehouse won the RIBA South West award. It was also named the 'Small Project of the Year' and got mentioned in the popular George Clarke's Amazing Spaces and Grand Designs House of the Year. Guests can choose from award-winning luxury treehouses, hand-crafted yurts, tipis, and shepherd's huts. Each unit is a self-contained place with its own facilities (king-sized beds, reindeer-hide throws, and woodland showers) for two people.
On-site glamping facilities at Mallinson's Woodland Retreat include sauna yurt, games, a craft library, and a pizza oven. It is also important to mention that Crafty Camping is an adults-only glamping property. There is plenty to do and see in the area. Guests can enjoy the local wildlife of the woodland or pay a visit to the nearby Jurassic Coast 'World Heritage Site'.
---
12) Home Farm Glamping
Location: Hertfordshire
Price: $170+ per night
https://www.homefarmglamping.com/
If you are looking for a glamping spot in England that is located just an hour's drive from London, book your stay at the Home Farm in Hertfordshire. Set on 150 acres of private woodland, fields, and lakes, this small collection of yurts and bell tents with comfy beds with fluffy bedding and dedicated bathroom facilities is an ideal place to unplug from the daily routine of urban life. All of the tents have their own outdoor seating area with a fire pit and barbecue. As for the yurts, each comes with a large port-hole window and a traditional crown skylight.
In addition to the six structures, Home Farm features a bunch of cool facilities and amenities. Whether you wish to sign up for a flower crown workshop, try yoga in the meadow, enjoy wild fitness, or go for facials and massages offered in the beauty tent, there are plenty of activities to enjoy at this retreat. Guests can also pre-book freshly-prepared food, join dance classes, and explore nearby fields and lakes. You will find loos and hot showers on-site, as well as a communal kitchen area with a cooker and fridge-freezer.
---
13) Camp Mela – Indian Summer Tipis – Norfolk
Location: Norfolk
Price: $180+ per night
https://www.campmelanorfolk.co.uk/
Wholesome. Slow. Stylish.
Located in the North Norfolk countryside, Camp Mela (Indian Summer Tipis) is an ideal place to slow down and escape the daily city routine. The historic market town of Reepham with its pubs, restaurants, cafes and independent shops will be right at your doorstep. The property is set in the midst of a 2-acre meadow on the beautiful Salle Moor Farm and offers 5 traditional hand-built tipis. Each tipi features wooden floors and comfy beds with a proper mattress, feather duvets, and Egyptian cotton linen.
Step outside to find your own private fire bowl barbecue where you can prepare meals. The property also has a central fire pit and grill, a shared compost loo, shower, and a kitchen cabin with a communal alfresco dining area. Foodies love staying at Camp Mela. Salle Moor Market Garden where you can purchase delicious organic vegetables and salads is right next door, while All Day Brewing Company offers homemade sourdough pizzas and other vegan and veggie dishes. Looking for things to do? Explore the Marriott's Way cycle path, see local wildlife including deer, owls, and kingfishers, or pay a visit to the medieval city of Norwich.
---
14) Woolley Grange Hotel Glamping Suites
Location: Wiltshire
Price: $200+ per night
https://www.woolleygrangehotel.co.uk/
Located in the heart of the Wiltshire countryside, Woolley Grange is a perfect spot to enjoy glamping on the weekends. Woolley Grange is actually a beautiful hotel that besides rooms and apartments offers glamping suites. This means that you can have a cool glamping experience while enjoying all the benefits of staying in a swanky hotel.
With a large master bedroom, twin bedroom, bathroom, lounge with a woodburning stove, and a private terrace with outdoor seating, each glamping suite is nicely furnished and has everything needed for a relaxing stay in Wiltshire. Guests will have access to the hotel's indoor and outdoor pool, spa facilities, on-site pizzeria, and OFSTED-registered childcare. We should also mention that the on-site Hideout Pizza Café serves the most delicious continental breakfast.
Woolley Grange Hotel, Luxury Family Hotels
---
15) Kits Coty Glamping
Location: Aylesford
Price: $150+ per night
https://kitscotyglamping.co.uk/
Spend a few nights at Kits Coty Glamping, a luxury 5-star award-winning glamping accommodation in the heart of Kent. Located right between Maidstone and Chatham and just a short drive from London, this property is actually one of the top glamping sites in the South East of England with awards such as Glamping Business of the Year and Unsung Hero Award for customer service by Tourism South East. Guests can stay in quirky-themed Shepherd's Hut or in the property's tented facilities.
Step inside your shepherd's hut that is fitted with everything from a luxury bathroom cabin with two wetrooms to full-sized beds with Egyptian cotton bed linen and a woodburning stove. The outdoor area with picnic tables, firepit, and barbecue is also something worth writing about. If you wish to mingle with other guests in the evening, feel free to visit the covered communal kitchen. For supplies, guests can drive to the nearby village of Aylesford. Tourist attractions like Leeds Castle and Chatham Dockyard are also easily reachable by car.
Kits Coty Glamping SiteTour 2020
---
16) Wingbury Farm Glamping Pods
Location: Wingrave
Price: $210+ per night
https://wingburyfarmglamping.co.uk/
Last on our list of the best glamping sites in England is the famous Wingbury Farm Glamping. Located in the heart of the picturesque Buckinghamshire countryside, this family-run farm offers 3 luxury en-suite ponds with breathtaking sunset views. Each pond accommodates up to 4 guests, making it a perfect place to stay for both couples on vacation, families, and small groups of friends. The pods are stylish and fitted with all the necessary amenities including a seated dining area, double bed, well-equipped en-suite bathroom, and a fully fitted kitchen with fridge freezer, electric hob, and electric fan oven. The outdoor area is a great place to unwind and reconnect with nature. It has a large deck with seating and your private brick BBQ and steel fire pit.
However, the star attraction of this place is the Scandinavian wood-fired hot tub for 4 people where you can enjoy a refreshing drink and take in the panoramic views of the surrounding area. To spot wildlife, we recommend paying a visit to the nearby Whipsnade Zoo which is one of the main family attractions in the region.
---
Am I Missing Any Incredible Glamping England Destinations?
This list could honestly go and on including dozens more amazing glamping destinations across England!
I'd love to hear from you if there is a specific glamping pod, bell tent, luxury treehouse, yurt, or whatever else you think should be added to my list of the best glamping in England! I'd love to keep my list as up to date as possible
---
Looking For More European Travel?
My website has tons of helpful guides and information for traveling around Europe, as well as plenty of fun glamping guides! I'd love for you to take a look through a few of mine below and let me know what you think!
---
Thanks for reading my Glamping England guide!
Share this article with your English Glamping Friends & Family!
https://www.jonesaroundtheworld.com/wp-content/uploads/2022/08/The-Nest-Glamping-England-UK.jpg
800
1200
Dave
https://www.jonesaroundtheworld.com/wp-content/uploads/2017/03/logotry-1-1-300x106.png
Dave
2022-08-04 23:58:49
2023-06-06 00:46:53
15 Best Places To Go Glamping in England in 2023