If you're planning an adventure in the Scandinavian region, stay at the best glamping sites in Sweden. Set in a gorgeous setting, they allow you to get closer to nature without sacrificing modern comforts.
Glamping has become a popular trend lately, especially for those who want to spend a magical winter in Sweden and witness the magnificent Northern Lights. Of course, Sweden can be a great destination at any time of the year. And regardless of when you plan to visit, you are guaranteed a great time at these beautiful glamping sites.
With more and more sites offering the option for glamping, you'll find numerous choices when looking for the best glamping sites in Sweden. To help you with your choices, refer below for our recommendations.
Also, be sure to check my guide on Glamping Finland & Glamping Norway for more nordic adventures!
---
Quick Breakdown of the Best Glamping in Sweden
If you don't want to scroll through our entire list, refer to our quick breakdown to give you an idea of which property to book if you need something luxurious, romantic, family-friendly, or unique.
Overall Best Glamping in Sweden – Ice Hotel
Best Luxury Glamping in Sweden – Surflogiet Gotland
Coolest Glamping Site in Sweden – Aurora Hut on the Torne River
Best Family Glamping Site in Sweden – 3-Bedroom Accommodation in Visby
Most Romantic Glamping Site in Sweden – Gyllene Brunnen
Most Unique Glamping Site in Sweden – Cozy Houseboat in the Heart of Central Gothenburg
---
The 15 Best Glamping Sites in Sweden
So, here are all the glamping sites in Sweden that we believe can offer you the best glamping experience.
---
1) Gyllene Brunnen
Where: Fjärdhundra, Uppsala
Price: $120+ per night
https://www.glamping.gyllenebrunnen.se/
https://www.facebook.com/100063772321199
Surrounded by idyllic meadows, Gyllene Brunnen is the perfect choice if you want to get away from the hustle and bustle and reconnect with nature. Popular for weddings and honeymoons, we believe it is the most romantic glamping site in Sweden.
When staying at Gyllene Brunnen, you'll sleep in a luxurious canvas tent furnished with comfy mattresses, woolen throws, and a wood burner. Perhaps, the most romantic feature of the glamping site is the simmering outdoor hot tub and shower, allowing for a relaxing glamping getaway. Of course, the breathtaking views of nature in the surrounding makes the experience even more romantic.
---
2) Surflogiet Gotland
Where: Eskelhem Toftavägen 374 622 66. Gotlands Tofta, SE
Price: $260+ per night
https://www.surflogiet.com/thelodge
https://www.facebook.com/surflogietgotland/
When it comes to luxury glamping in Sweden, Surflogiet Gotland definitely tops the list. It's located on the charming island of Gotland and nestled by the beach, attracting surfers and avid yogis. Offering a luxurious experience, this beachside glamping site allows you to relax and bond with the people you love while also taking up fun adventures.
Depending on the number of people in your group, you can choose from a 2-person tent or the more spacious tent that can sleep a maximum of four guests. These canvas tents feature Instagram-worth designs with comfy beds, wicker puffs, woven throws, and beautiful houseplants. Those into surfing can avail of the daily surf sessions, while those who are here for pure relaxation can take advantage of the beachside sauna.
Different Days - Surflogiet
---
3) Kolarbyn Eco-Lodge
Where: Skinnskatteberg, Västmanland
Price: $235+ per night
https://kolarbyn.se/en/hem-english/
https://www.facebook.com/Kolarbyn/
"You spend the night at Kolarbyn Eco Lodge, also called Sweden's most primitive hotel. There will be no electricity, no showers, nothing fancy at all, just natural mysteriousness. And that is precisely why you are going to love this place."
If you prefer an off-grid experience while still enjoying a bit of luxury when camping in a rugged setting, stay in Kolarbyn Eco Lodge. Located two hours from Stockholm, Kolarbyn offers a hobbit-inspired glamping experience, where you will sleep at moss-covered eco huts with no electricity or shower. In addition, staying in Kolarbyn means you will have to cook your food over an open fire and fetch water yourself, allowing for a more adventurous experience.
But as with any glamping site in Sweden, you can expect some creature comforts when staying in Kolarbyn Eco Lodge. For instance, you can indulge in a relaxing soak at the wood-fired sauna after a long hike. You will also have access to a communal cabin with a fireplace for a more comfortable experience.
On site they also offer survival courses, horse-riding, hiking, and wildlife adventures – it's a unique and bucket-list Sweden glamping getaway!
Glamping in a TINY SWEDISH FOREST HUT! + Cooking Traditional Swedish Kolbulle 🍳
---
4) Ice Hotel
Where: Jukkasjärvi, Kiruna
Price: $700+ per night
https://www.facebook.com/icehotel.sweden/
INSIDE THE WORLD'S FIRST AND MOST FAMOUS ICE HOTEL!
A popular Swedish landmark, the Ice Hotel is our choice for the overall best glamping site in Sweden. It is very first Ice Hotel which was established over 30 years ago out of the ice from Lapland, and can be visited no matter the time of the year!
As a famous landmark in Sweden, thousands of visitors worldwide would visit Sweden each year to see the Ice hotel. Those who want to experience what it feels like to sleep on one can book the Ice Room, a standard room for two with a bed made of ice.
Sweden: The year-round Ice Hotel in the arctic circle - BBC Travel Show
---
5) Beautiful Glamping Cottage by the Lake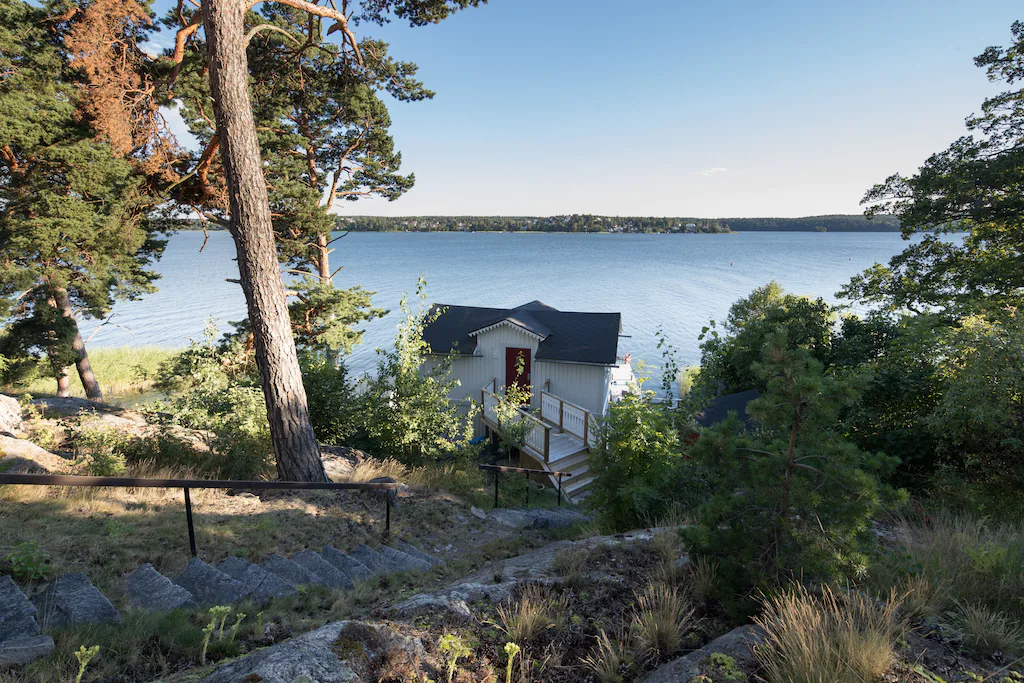 Where: Ekerö, Stockholm County
Price: $141+ per night
https://www.vrbo.com/11035628ha
Sweden is famous for its scenic lakes, and lakeside cottages are some of the most popular glamping sites in the country. So, if your idea of a Swedish holiday is staying by the lake, you'll have plenty of choices, and this beautiful Lofthus in Ekero is the best among them. With enough space for two guests, it's an ideal option for couples on a romantic getaway.
You'll have everything you need in this lovely cottage. Aside from the basic amenities, you'll have access to a private deck or patio, where you can lounge around and enjoy a good drink as you soak up the relaxing lake views.
View Photos, Read Reviews & Check Availability
---
6) 3-Bedroom Secluded & Luxury Rental in Visby
Where: Visby, Gotland County
Price: $272+ per night
https://www.vrbo.com/2555560ha
For families going on a holiday to Sweden, stay in this 3-bedroom accommodation in Visby. With enough space to accommodate a family of five, it's ideal for spending quality time with family while glamping in Sweden. In addition, the cabin is in a gorgeous area in Visby, the perfect base for exploring Högklint Naturreservat, a nature reserve that adventurous families can explore on a hike. It is also close to the sandy beach of Toftas and the Visby Golf Club.
The cottage offers a higher degree of luxury, which is what you would expect from glamping. For example, the space is cozy and comfortable, with modern facilities and amenities.
View Photos, Read Reviews & Check Availability
---
7) Cozy Houseboat in the Heart of Central Gothenburg
Where: Nordstaden, Gothenburg
Price: $218+ per night
https://www.vrbo.com/11173641ha
If you're looking for a unique glamping site in Sweden, check out this Cozy Houseboat in the heart of Central Gothenburg. It's beside the Gothenburg Opera house, within walking distance of almost everything Gothenburg has to offer.
Offering a unique experience, it offers the comforts of home. You will have access to a small kitchen with a refrigerator, stovetop, electric kettle, kitchenware, utensils, and dishwasher. There's also a living room with a sofa and TV.
View Photos, Read Reviews & Check Availability
---
8) Sunny Swedish Cottage in Forest
Where: Åsensbruk, Västra Götaland County
Price: $104+ per night
https://www.vrbo.com/5209118ha
This sunny Swedish cottage surrounded by lush forest is the perfect hideaway for anyone who wants to be at one with nature while enjoying a more luxurious camping experience. It has two bedrooms to sleep up to five guests, ideal for family holidays and getaways with friends.
Take advantage of the on-site amenities, including a kayak. Or better yet, drive to the nearby Håverud Aqueduct, one of the most popular attractions in Dalsland. Come home to your lovely cottage and relax in the living room, prepare delicious meals in the kitchen, or unwind in the garden.
---
9) Aurora Camp Kurravaara
Where: Kiruna, Norrbotten County
Price: $150+ per night
https://www.booking.com/hotel/se/aurora-camp-kurravaara.html
Sleep in a glass house surrounded by nature at Aurora Camp Kurravaara, one of Sweden's most stunning glamping sites. Sitting by the Torne River, the tastefully decorated glass house opens to the relaxing river views. Those traveling in groups can stay in the riverside cottage, which can sleep up to six guests.
Aside from relaxing at the sauna and furnished terrace, Aurora Camp also offers an array of activities, such as hiking and cycling. If you come in winter, you can take up snowshoeing, skiing, husky dog safaris, and even a chance to see the Northern Lights!
View Photos, Read Reviews & Check Availability
Aurora Camp Kurravaara - Kiruna - Sweden
---
10) Sweden Glamping Tent in a Forest with Lake View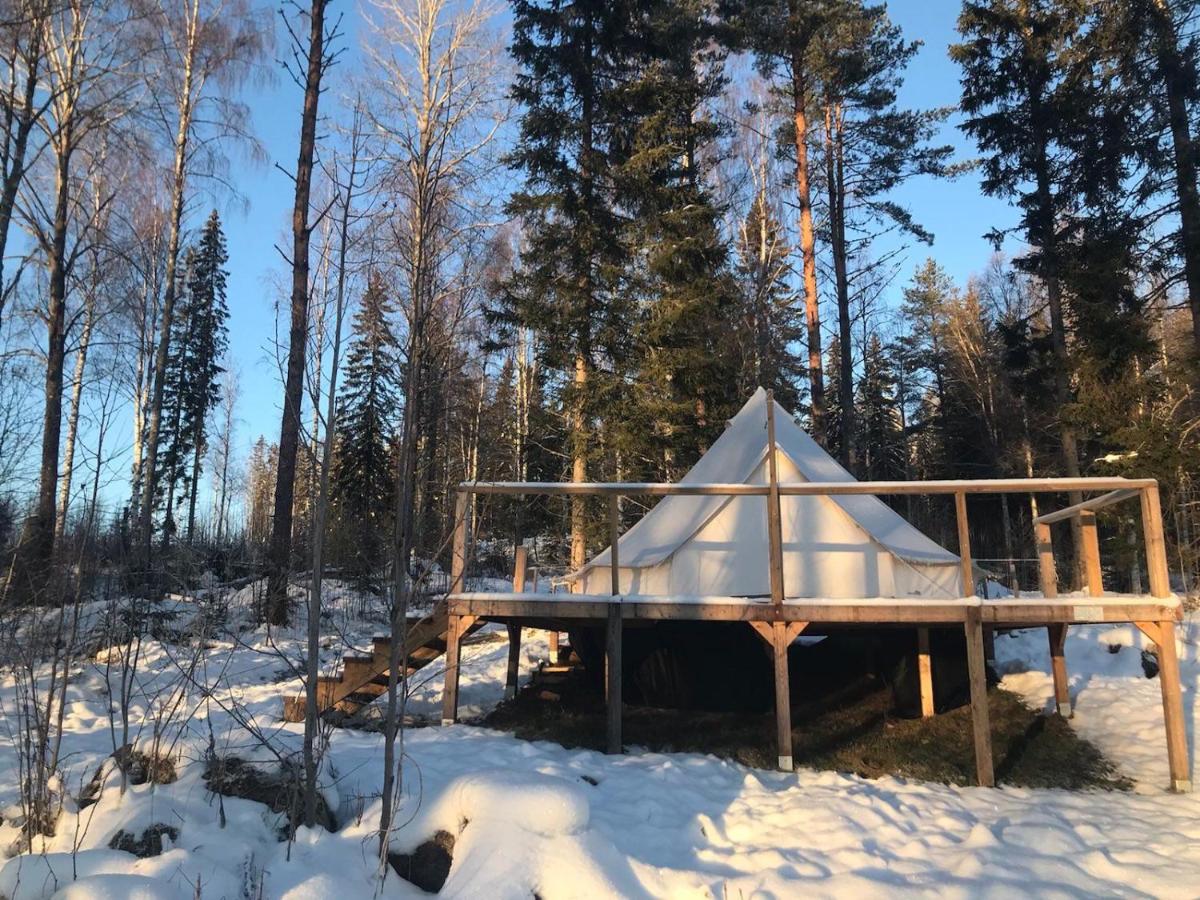 Where: Bjuråker, Gävleborg County
Price: $99+ per night
https://www.booking.com/hotel/se/frisbo-lodge-and-camp-bjuraker11.html
Spend the night in a gorgeous glamping tent perched in the middle of a forest surrounded by a breathtaking lake view. It's in the village of Bjuråker, in the region of Gavleborg. As one of the best glamping sites in Sweden, you will enjoy luxurious amenities like a sauna, a balcony with lake views, and barbecue facilities.
Enjoy a range of outdoor activities during your stay. You can hike to the forest, enjoy water sports at the lake, or soak up the stunning lake views from your balcony. The tent has enough space to sleep up to six guests, making it an ideal choice for glamping with family or friends.
View Photos, Read Reviews & Check Availability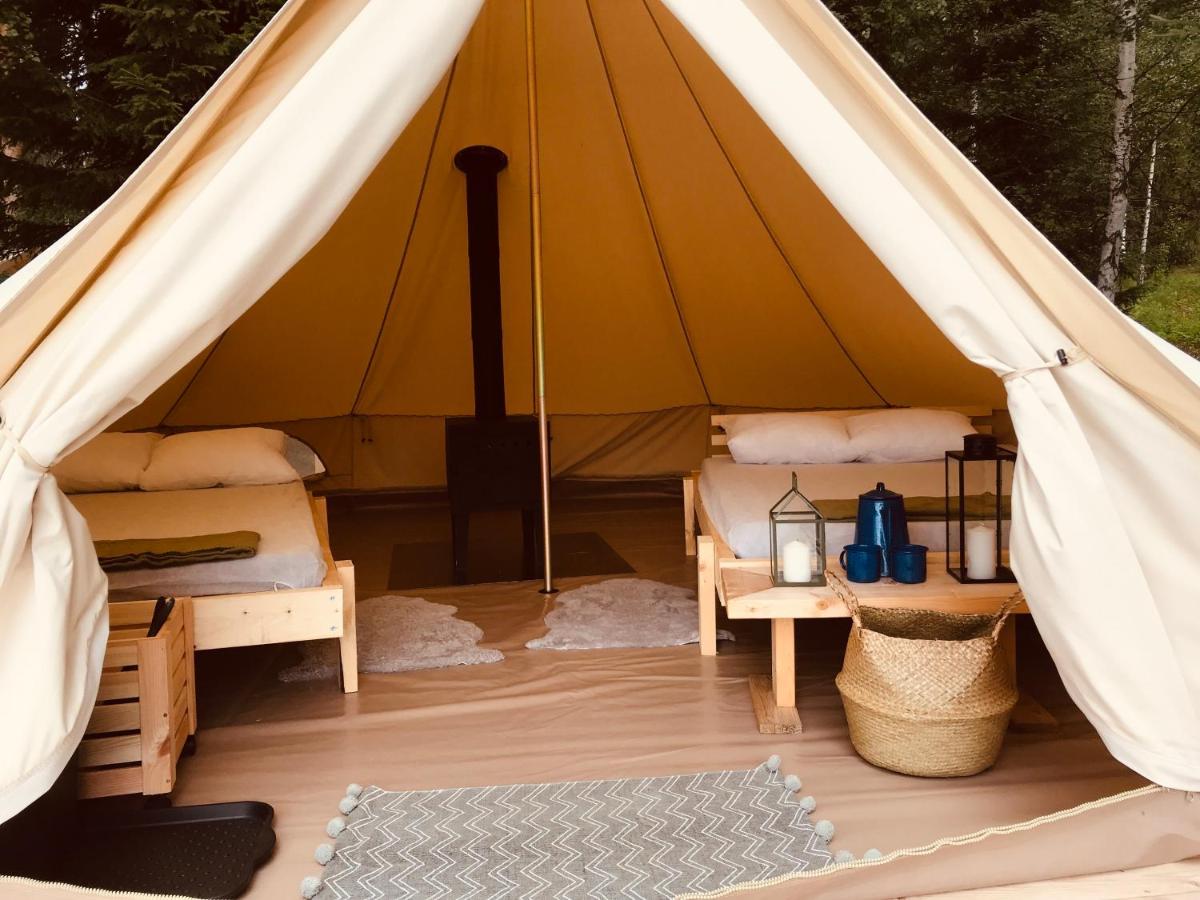 ---
11) Norrängens Alpacka
Where: Sala, Västmanland
Price: $249+ per night
https://www.booking.com/hotel/se/norrangens-alpacka.html
Leave the city behind and stay in Sweden's largest Alpaca farm, offering a truly unique glamping experience. You will sleep in one of the modern guest rooms at a cottage, featuring underfloor heating, a comfortable seating area, flat-screen TV, and a well-equipped kitchen.
Explore the surrounding garden, where you'll find a beautiful pond with a sundeck and a gazebo, perfect for relaxing. There's also a barbecue house, including a wood-fired hot tub and sauna. Other amenities include table tennis, billiard tables, and bicycle rental facilities. Best of all, you can avail yourself of the complimentary guided tour of the farm.
View Photos, Read Reviews & Check Availability
---
12) Lapland Glamping Yurts
Where: Boden N, Norrbottens län
Price: $153+ per night
https://www.airbnb.com/rooms/32301350
Set in the beautiful backdrop of a lush forest and scenic lake, these handcrafted Mongolian yurts offer a glamping experience you will never forget. The yurt can sleep up to four guests, making it an ideal choice for families. Whether you come here in summer or winter, you are guaranteed a great time, given the various amenities and fun activities this glamping site can offer.
If you love the outdoors, you can explore the lush forest on a hike, jump on a trampoline with the kids, enjoy canoeing or swimming at the lake, or play basketball at the basketball court onsite. After a fun-filled day, enjoy the calmness and serenity of the night as you cozy up in the tent's comfy bed.
---
13) Kärrbäck's Bubble Dome
Where: Heby V, Uppsala län
Price: $107+ per night
https://www.airbnb.com/rooms/51093330
Kärrbäck's Bubble Dome offers unforgettable glamping in Sweden. The gorgeous dome can sleep two guests, which makes it an ideal choice for couples and solo travelers. Beautifully located in lush greenery with amazing views, you will wake up and sleep to the sounds of nature.
Enjoy the views through the glass walls and marvel at the midnight sun or the northern lights. Aside from the stunning views, you will enjoy the amenities on offer in this glamping property, such as solar-powered electricity, a cooler with freezer elements, and a fresh toilet outside the dome. Best of all, there's a lovely terrace with comfy chairs, perfect for relaxing and enjoying the views.
---
14) Glamping Dome with Room for Two
Where: Värmdö, Stockholms län
Price: $342+ per night
https://www.airbnb.com/rooms/678223705810426068
Located a stone's throw from Stockholm, this glamping dome is one of the unique glamping sites in Sweden. It's fitted with a comfy bed to sleep two guests and is close to the beach, making it an ideal choice for a romantic beach getaway. Other amenities include a wood-fired stove and barbecue area.
The relaxing sound of the waves will lull you to sleep, and you'll wake up to the soothing sounds of nature. Spend your day cycling, hiking, or kayaking. Relax on the patio and soak up the wonderful views.
---
15) Glamping Aurora Hut on the Torne River
Where: Kiruna N, Norrbottens län
Price: $324+ per night
https://www.airbnb.com/rooms/42115956
We believe this Aurora Hut on the Torne River is among the coolest glamping sites in Sweden. These purpose-built, tent-like structures with floor-to-ceiling windows have been carefully crafted to give you an extra special arctic nature experience.
Perfect for viewing the Northern Lights in winter and experiencing the midnight sun in summer, these year-round accommodations offer a once-in-a-lifetime glamping holiday experience. These glass huts are equipped with regulated internal heating, offering a truly comfortable stay.
---
Am I Missing Any Amazing Glamping Sweden Sites
Sweden is one of the most incredible countries in the world for a glamping getaway (especially during the winter season for witnessing the Northern Lights). So if you've visited Sweden recently and stayed at a worthwhile glamping experience – an igloo, yurt, secluded cabin, treehouse, or luxury tent camping – be sure to reach out and let me know!
---
Looking For More Incredible Glamping Getaways
My travel blog has a speciality in the glamping niche, and I have tons of incredible content that would be perfect for future glamping trip inspiration! Take a look through some of my favorites below:
---
Thanks for reading my Sweden Glamping guide!
Share this article with your travel glamping crew!
https://www.jonesaroundtheworld.com/wp-content/uploads/2023/01/Glamping-Sweden-Hut.webp
960
1440
Dave
https://www.jonesaroundtheworld.com/wp-content/uploads/2017/03/logotry-1-1-300x106.png
Dave
2023-01-29 01:29:50
2023-02-25 19:38:20
Top 15 Glamping Sweden Sites For Your Bucket List