If you're looking to experience glamping in Europe, you'll definitely want to consider glamping in Spain! With its rich history, culture, incredible wines and cuisines, and breathtaking architecture, there's always something to explore or try in this country.
Not only are there countless exciting activities and landmarks in Spain, but there are also a diverse range of stunning terrains and climates. From the cool, luscious green forests in northern Spain to the warm and ever-sunny coast in the South, Spain has something for everyone.
There's truly no better way to take in the spectacularly temperate Spanish climate than to set up in a luxury tent away from the city – where the stars are in full view.
With glamping, you'll get to enjoy the beautiful surroundings without having to compromise on comfort or convenience. Below is a list, with a few YouTube videos, of the best Spain glamping spots to help you plan your trip to this beautiful country.
You'll get to experience everything from clear domes that allow you to fall asleep under the stars to family- and group-friendly yurts at bustling camping sites in Spain.
These are the top glamping Spain spots worth considering for an unbeatable holiday.
---
Top 5 Spanish Glamping Destinations
Spain has a variety of unique and accommodating glamping sites scattered across the country. Each region has its own exciting sights, culture, and cuisines worth trying, and the Spanish residents are bound to make you feel right at home.
It is clear that immense care and attention to detail are put into all the spots listed below, but these are the top locations.
Best luxury glamping spot: Luxury Glamping Experience With Stunning Views
The best family-friendly glamping location: Glamping Illa de Arousa
Best for budget-friendly glamping: Glamping Illa de Arousa
Most unique glamping location: Hotel Zielo Las Beatas
Best romantic Spain glamping spot: Glamping, shop. nature of a haunted place
Not sure which cities in Spain you'd like to visit? Have a look at this guide to the top 25 beautiful cities in Spain.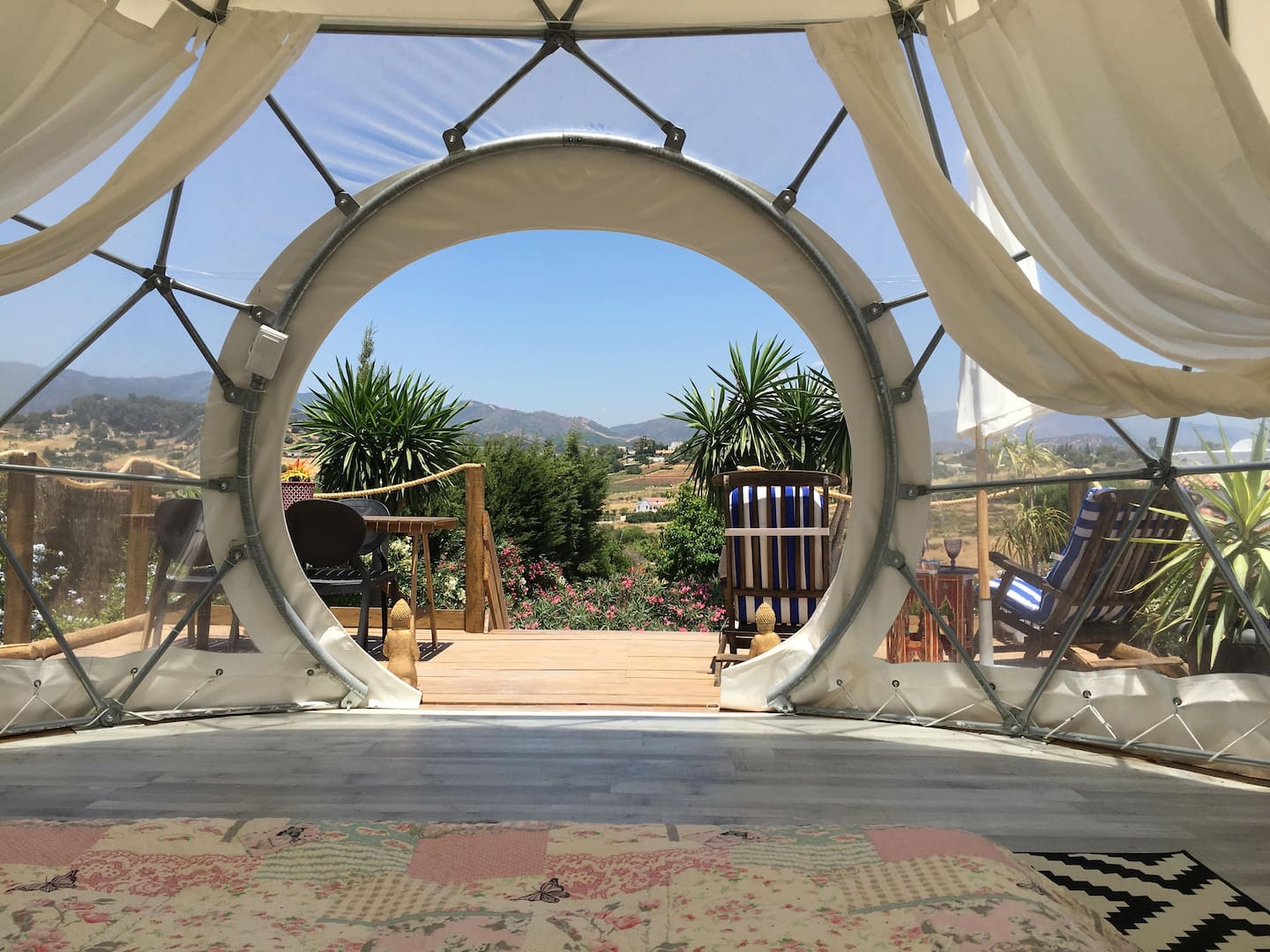 ---
The Best Places To Go Glamping in Spain
If you're looking for the best camping in Spain, this list covers some of the most spectacular sites. The list includes destinations ranging from magical treehouses to seaside Yurt getaways to consider for camping holidays in Spain.
---
1) Luxury Glamping Experience With Stunning Views
Location: Estepona, Málaga
Price: $144+ USD per night
https://www.airbnb.com/rooms/26805453
If you're looking for a small paradise in the Spanish countryside, this spot is the perfect destination. This spacious dome is kitted out with a separate kitchen and bathroom and a beautiful deck where you can take in spectacular views of the hills. The king-size bed is dressed with luxurious linens to ensure you get the best sleep on your getaway.
Animal lovers will especially enjoy waking up to the sound of the resident chickens, pigs, and ducks. One can also expect to be greeted by two friendly doggos and the most accommodating hosts who are happy to recommend food spots and activities worth trying.
The hosts have done everything to ensure that this spot is the perfect escape from daily life. While only a short walk or drive away from the beach and the town of Estepona, this location is a peaceful and private destination perfect for a romantic getaway.
View Photos, Read Reviews & Check Availability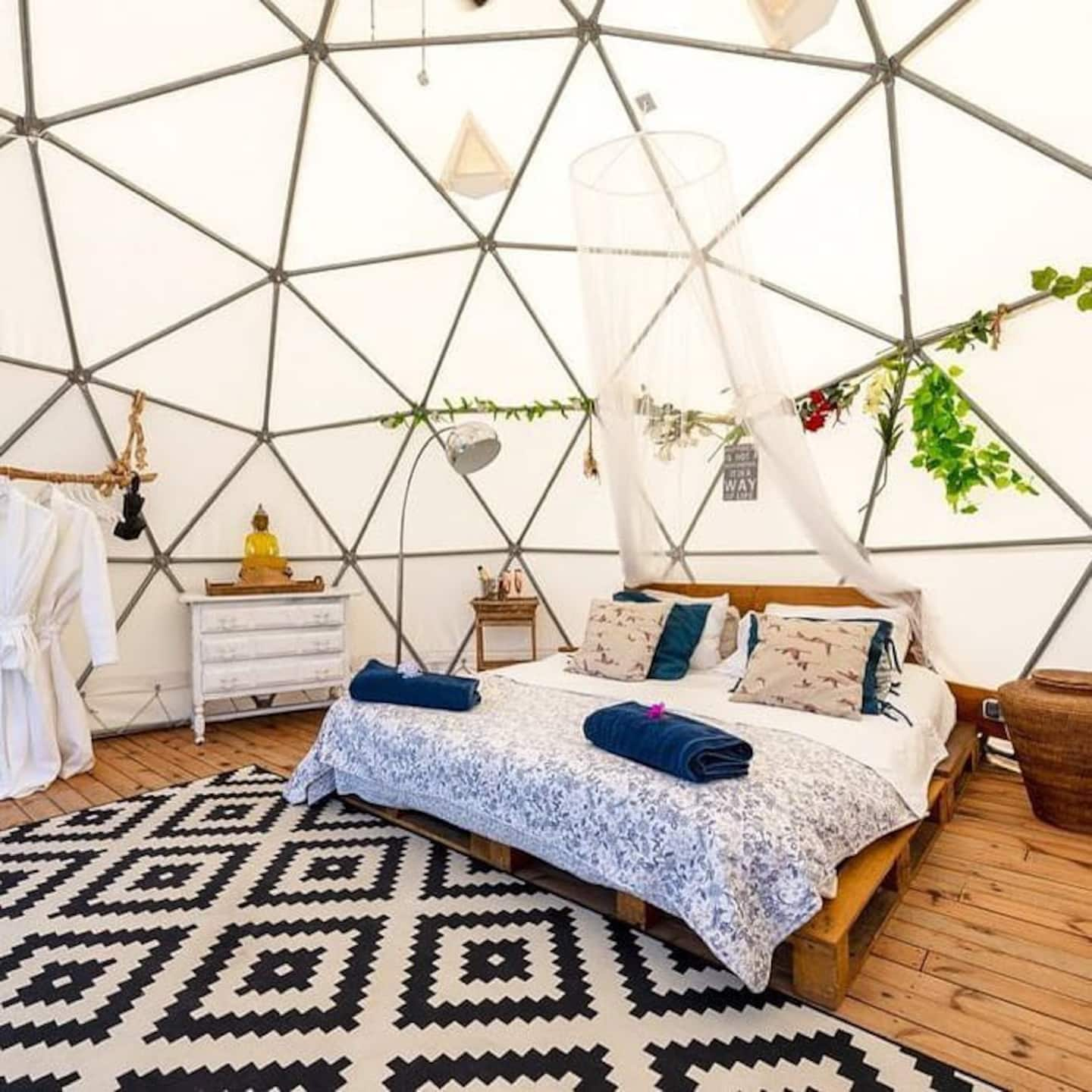 my european summer| galicia & portugal summer travel vlog
---
2) Glamping Illa de Arousa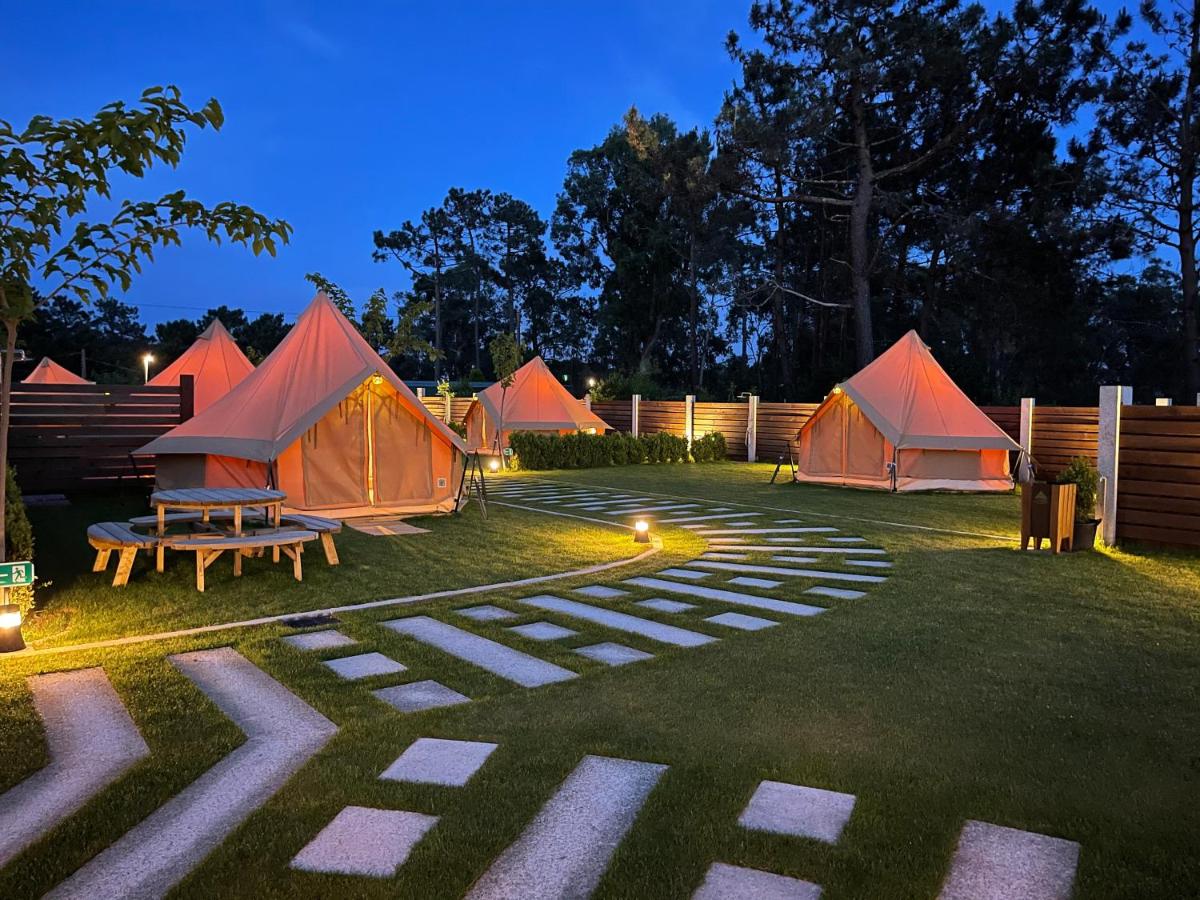 Location: Illa de Arosa, Galicia
Price: $89+ USD per night
https://www.booking.com/hotel/es/glamping-illa-de-arousa.en-gb.html
This glamping site on the Island of Arouca, in the Galicia region, is the ultimate spot for a couples getaway or a fun family holiday. The Island is only a few minutes' drive from mainland Spain and only a 2-minute walk from the beach.
You'll get to fall asleep and wake up to the sound of the waves in a serenely beautiful tent fully kitted out with comfy linens. Above that, you have the option of having your breakfast brought to you in a basket so you can take your time waking up in bed or have a picnic in the garden.
The camping site has a children's playground so even the little ones can have a good time, and you can enjoy activities such as hiking and cycling in the surroundings. You also won't want to skip a sunset walk along the beach during your stay.
Spots fill up pretty fast, so be sure to book well in advance.
View Photos, Read Reviews & Check Availability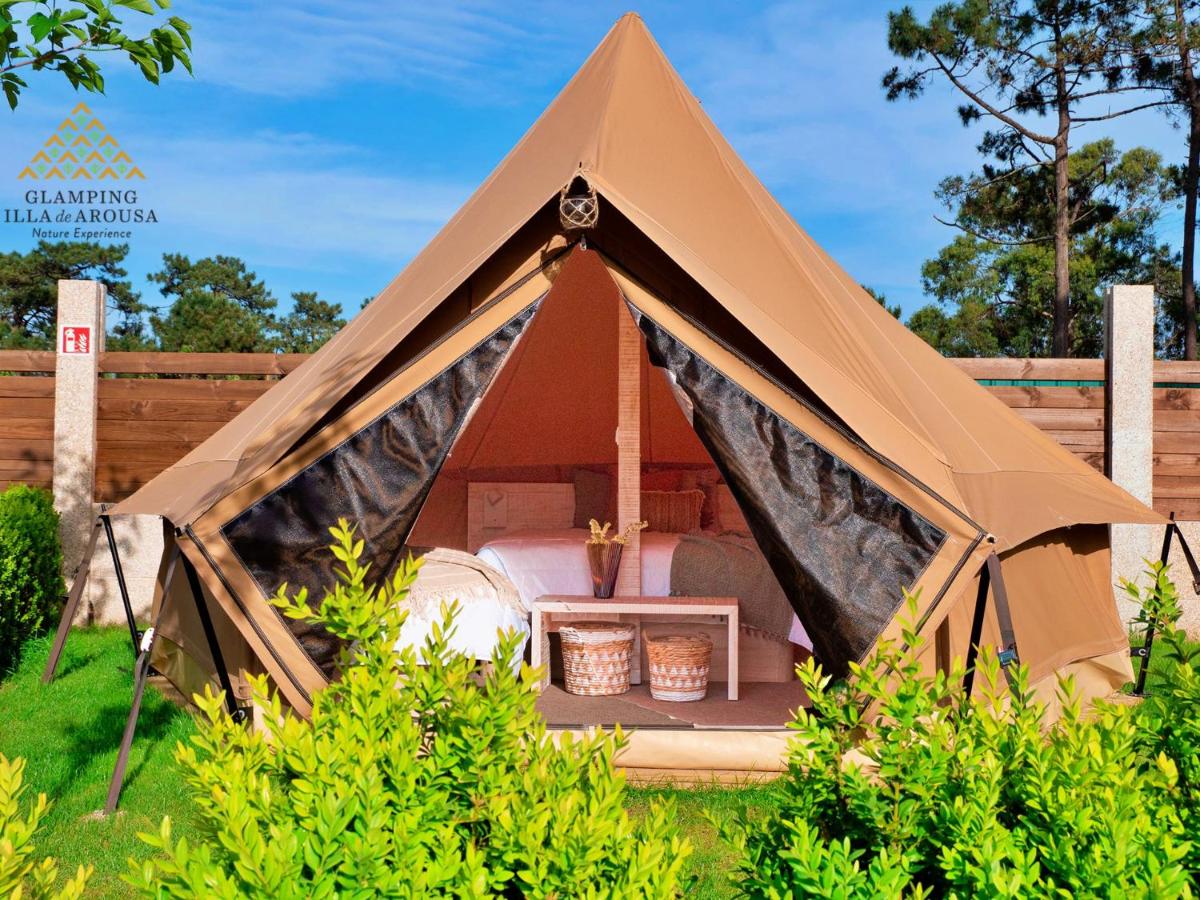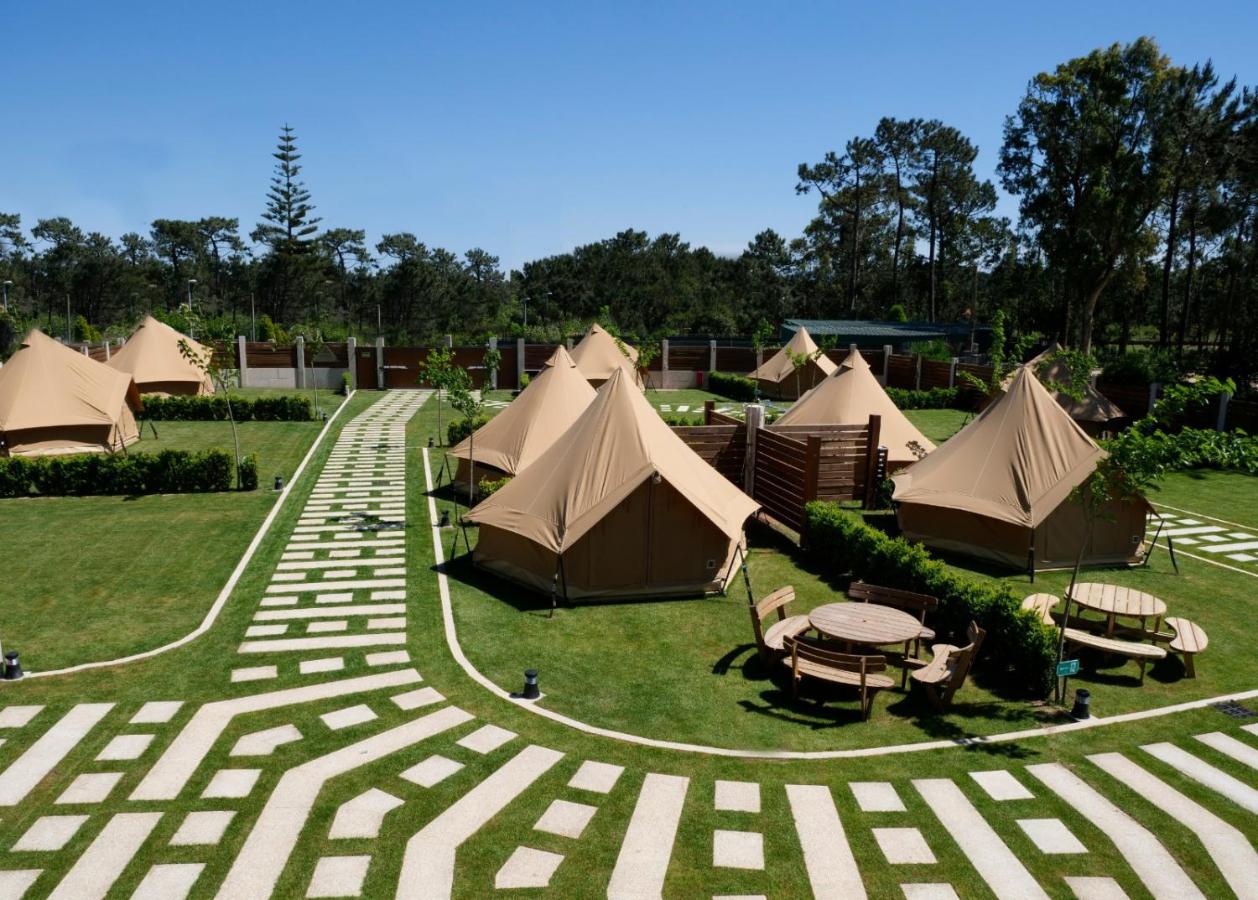 ---
3) Airstream 'Glamping' in Andalucia, Spain!
Location: Alozaina, Andalusia
Price: $132+ USD per night
https://www.airbnb.com/rooms/434469
This tranquil site tucked into the Malaga mountains is the perfect spot to unwind and disconnect from the world. The site includes a deck, grill, all kitchen amenities, and a small pool to unwind in while absorbing the Spanish sun and views.
Take a day trip to spectacular Ronda to reunite with civilization and explore. After all the exploring or relaxing, there's no better way to top off the day than with an outdoor shower under the stars.
The camping site is a short drive from the town of Alozaina, where one can stock up on groceries or enjoy a tasty Spanish lunch or dinner.
View Photos, Read Reviews & Check Availability
---
4) Cabañitas Del Bosque Treehouse Glamping
Location: Outes, Galicia
Price: $108+ USD per night
https://cabanitasdelbosque.com/quienes-somos/en
Destress and reconnect with nature in one of the unique Cabaniñas do bosque treehouses. It'll feel like you're living in a fairytale while staying in one of these cabins. The treehouses are all nestled in a quiet forest near hiking trails and a supermarket.
You'll love waking up to the sound of birds chirping at your window and the feel of living among the greenery. These treehouses offer spectacular views paired with a serene ambiance and all the amenities you may need.
The rich breakfast arrives in a basket filled with an assortment of treats to enjoy while taking in the breathtaking surroundings.
View Photos, Read Reviews & Check Availability
---
5) Glamping, shop. nature of a haunted place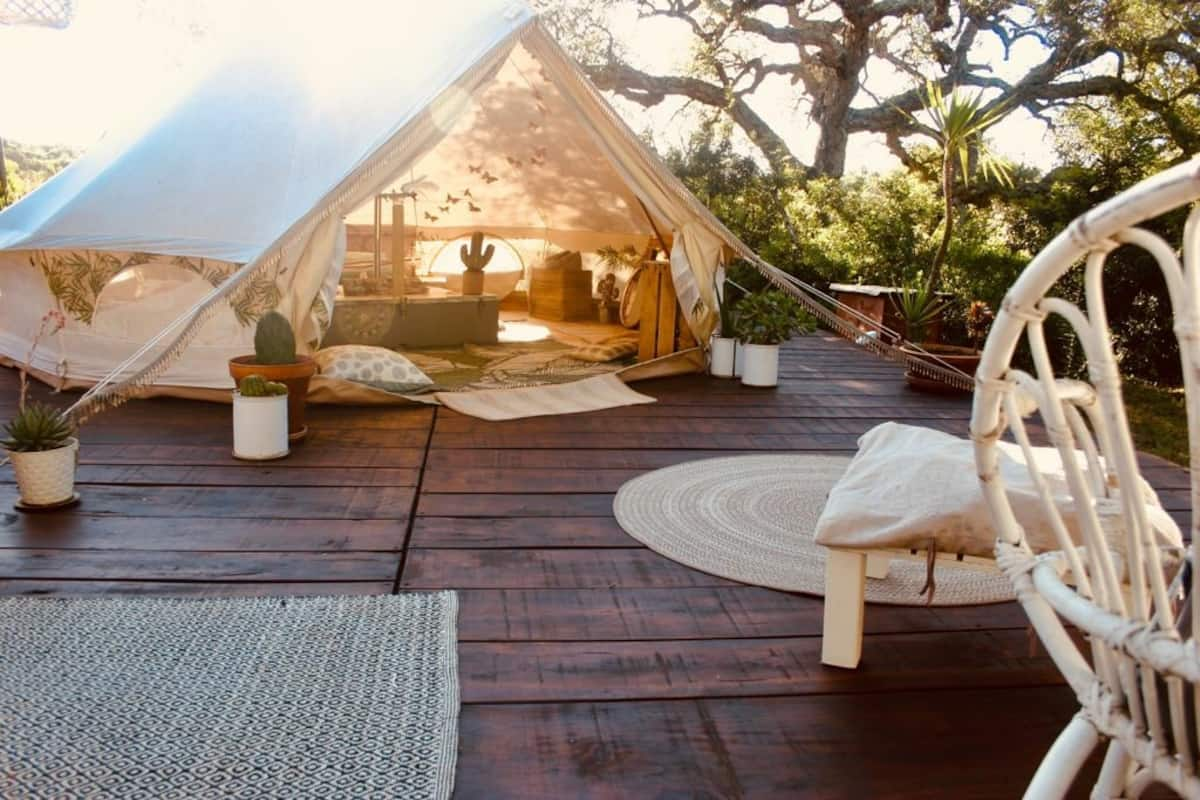 Location: Pago del Humo, Andalucía
Price: $89+ USD per night
https://www.airbnb.com/rooms/31164305
This bohemian-themed mini paradise is the ultimate glamping location. This destination is perfect for those looking for a camping site that is super comfortable yet immersed in nature.
This glamping tent is ideal for a serene, romantic getaway in nature. You're bound to appreciate the attention to detail in this spacious tent fitted with fairy lights, rugs, cushions, and the comfiest bed. The tent has a separate bathroom and a kitchen set up with all the amenities you'll need to prepare your meals.
The eco-conscious spot also relies on solar energy and water from a well.
View Photos, Read Reviews & Check Availability
---
6) Dreamsea Surf Camp
Location: Ruilobuca, Cantabria
Price: $408+ USD
https://dreamseasurfcamp.com/spain/booking/#glamping_tents
Many claim to have had the best time of their life on their stay at Dreamsea Surf Camp. You're likely to wish you could stay forever in this little paradise.
The campsite not only offers luxury glamping tents – both private and shared – but they also offer daily yoga and surfing sessions, accompanied by three meals a day.
Above that, you can expect to be entertained with music performances and more. Sustainability is greatly emphasized at this campsite, with beach clean-ups and recycling as their top priority. Above that, the incredible meals are freshly prepared from local, healthy ingredients.
The energy at this surf camp is unmatched, with the team putting in tons of effort to create a warm, welcoming space to relax and have fun. You're bound to meet plenty of like-minded people and make some friends at one of the many bonding events.
While this surf camp is located in Cantabria, there are three other Dreamsea campsites scattered across Spain. This spot is the ultimate destination for an all-inclusive retreat.
View Photos, Read Reviews & Check Availability
DREAMSEA SURF CAMP | Spain • Cantabria
---
7) Camping Torre de la Mora
Location: Tamarit, Catalonia
Price: $89+ USD for two nights
https://www.booking.com/hotel/es/camping-torre-de-la-mora.en-gb.html
This site offers bungalows, mobile homes, and tents in various accommodating sizes. Each accommodation is set up with a kitchenette.
There's always something to do at Torre de la Mora. Take a dip in the large on-site pool, relax on a sunbed beside the pool, or take a two-minute walk down to Playa de la Mora beach. There's a bar and restaurant at the pool where you can order drinks and food all day – so you won't have to leave the poolside.
Above that, the campsite offers Wi-Fi, a supermarket, and laundry facilities. Visitors can also keep active on the basketball court or football field – and those not keen on running can enjoy some table tennis. Furthermore, there's an on-site gym, so you won't have to skip out on your cardio or leg day.
The nearby town of Tarragona offers a range of activities and sights, and the Port Aventura Theme Park is a 30-minute drive away.
View Photos, Read Reviews & Check Availability
---
8) Veragua Leisure Glamping & Apartments in La Vera
Location: La Vera, Cáceres
Price: $68+ USD per night
https://www.booking.com/hotel/es/veragua-ocio.en-gb.html
Enjoy an idyllic escape overlooking the mountains and countryside with plenty of open space for a walk or for children to play freely. The staff will also welcome your dog with open arms if you choose to bring them along.
There are both tents and apartments on offer, situated in well-kept gardens. There's a pool for cooling down on hot summer days, along with air conditioning, heating, and Wi-Fi.
Shops and restaurants are only 3km away, and the surroundings are great for hiking and canyoning. The Sierra de Gredos Nature Reserve is a short 20-minute drive away and offers hiking trails, snow-capped mountains, rivers, and small waterfalls.
Overall you're in for a comfortable, tranquil stay with breathtaking scenery all around.
View Photos, Read Reviews & Check Availability
---
9) Hotel Zielo Las Beatas Glamping Bubble
Location: Villahermosa, Ciudad Real
Price: $263+ USD per night
https://www.booking.com/hotel/es/finca-las-beatas.es.html
Zielo las Beatas is an experience worth trying at least once in your life. Perfect for a romantic getaway, you'll get to fall asleep below the stars in a transparent, panoramic bubble – kitted with an electronic telescope.
While the domes are set in nature, you'll get the hotel experience in these bubbles. With a king-size bed, air conditioning, heating, a shower with a view of the sky, and a private garden, you'll be able to fully unwind in nature with a touch of luxury.
Breakfast is brought to the bubble in a wicker basket – with fresh warm pastries straight from the oven. The bubble may get a bit hot during the summer months as the sun moves across, but you'll get to cool down in the large pool or visit the nearby wineries, museums, or theatres in Valdepeñas.
View Photos, Read Reviews & Check Availability
---
Am I Missing Any Spectacular Spain Glamping Destinations?
There are bound to be some hidden glamping treasures in Spain, and I'd love to know about them so I can update my list. Let me know if there are any bucket list-worthy camping Spain sites I should know about!
---
Must-read Articles Before your Holiday in Spain
There's plenty to try and explore in this beautiful country. Beyond the sangria, paella, and flamenco dancers, there's an array of incredible wineries and sidrerías, tapas bars, and Romanesque architecture that'll leave you breathless.
When it comes to campsites, Spain has an array of spots worth adding to your bucket list. Have a look at these articles to learn a bit about this memorable country while planning your Spanish camping holiday.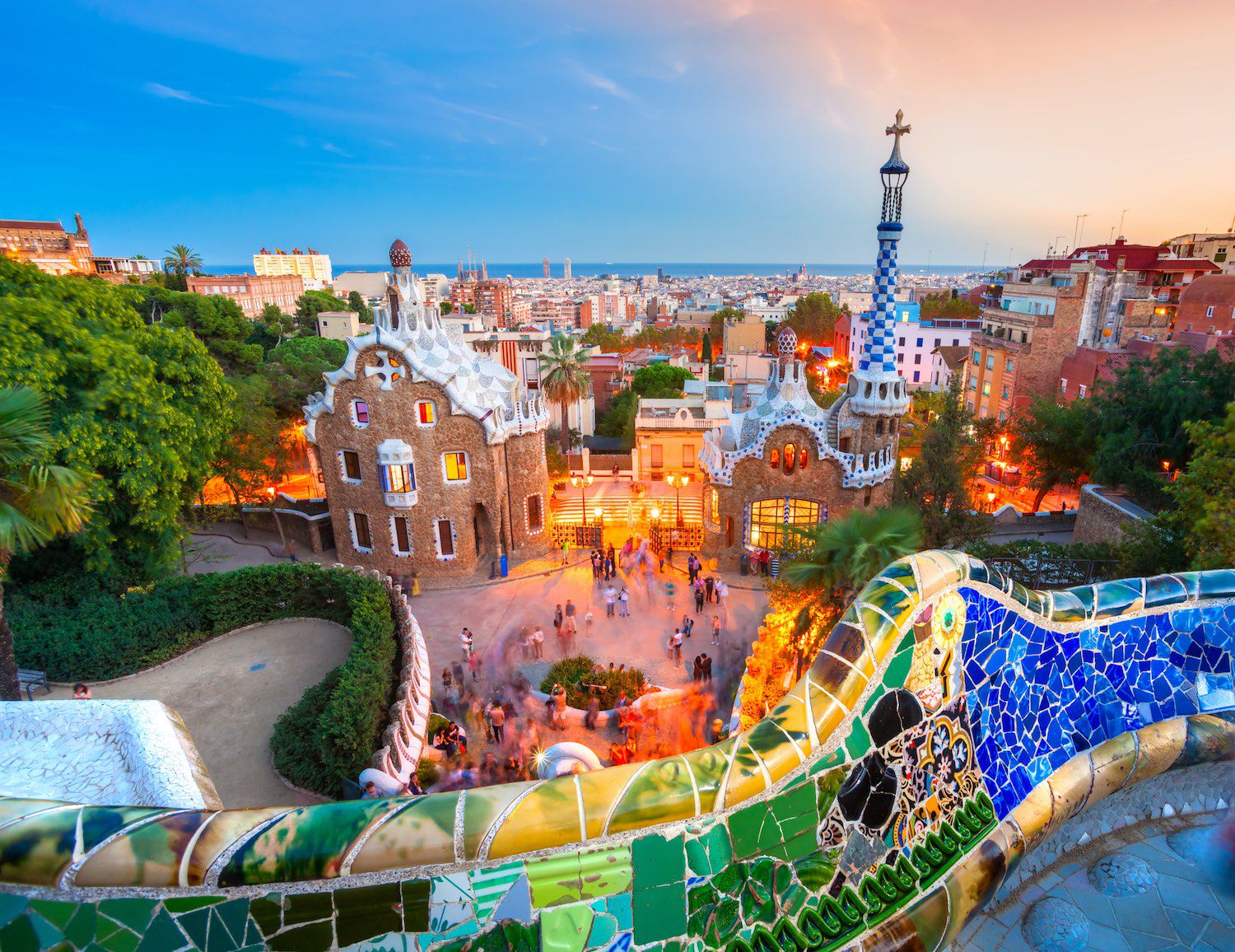 ---
Final Thoughts on Luxury Spain Camping
Whether looking for a humble and stylish tent in nature, or a fun, activity-filled camping site, you'll find it in Spain. Camping in Spain is not only worth it for the stunning natural environment and beachside campsites, but you'll also get to experience some of the best cuisines.
If you're looking to spend a part of your holiday in the city or prefer the comforts of a hotel, have a look at these top Airbnb's across Spain.
---
THANKS FOR READING ABOUT MY TOP PICKS FOR GLAMPING IN SPAIN!
SHARE THIS LIST WITH YOUR GLAMPING CREW!
https://www.jonesaroundtheworld.com/wp-content/uploads/2022/02/Spain-Glamping-Illa-de-Arousa.jpg
900
1200
TravelTractionsJATW
https://www.jonesaroundtheworld.com/wp-content/uploads/2017/03/logotry-1-1-300x106.png
TravelTractionsJATW
2022-02-28 19:59:01
2022-02-28 19:59:01
9 Incredible Places To Go Glamping in Spain