Planning a trip or weekend getaway and searching for the BEST Vrbo & Airbnb Richmond Virginia vacation rentals?
This time is the best time to go and discover one of America's oldest cities – Richmond, Virginia's vibrant capital city. It is known for its history, fine dining, arts, gardens, antiques, and a good selection of activities like outdoor recreation, theme parks and NASCAR. This city has become a must-see destination for those adventure-loving travelers and all kinds of lovers – nature lovers, fine arts lovers, literature lovers and more.
Come and find out why many travelers fall in love with Richmond! So, whenever you're ready, pack up your car, check-in to your choice of vacation rental and explore what this vibrant and historic city has to offer. Check out my list of the best Vrbo & Airbnb properties you can book in Richmond.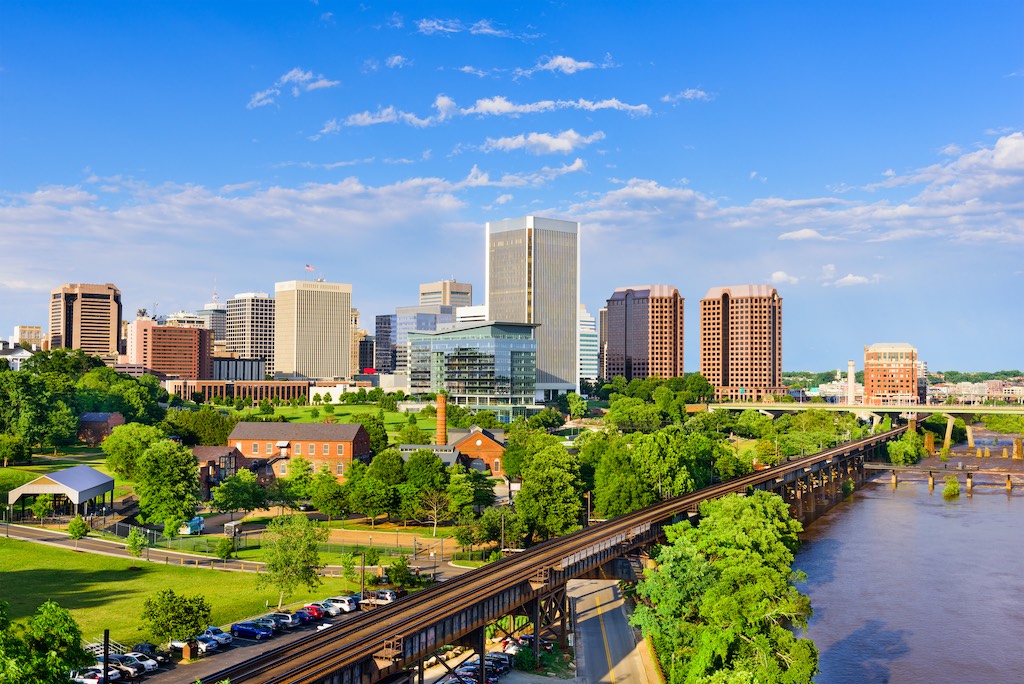 ---
Vrbo & Airbnb Richmond Virginia: The Best Vacation Rentals
Considering where to stay in Richmond? Take a look at my list of Vrbo & Airbnb properties you can book when you come for your weekend getaway. I also have included my top 5 "Best Richmond Vacation Rentals" that offer excellent amenities according to your needs. From the most luxurious to group accommodation to the cheapest and most unique listings – I have it here! Check it out:
Also be sure to read my guide on Airbnb Virginia Beach, Glamping in Virginia, and Airbnb Charlottesville for more trip ideas!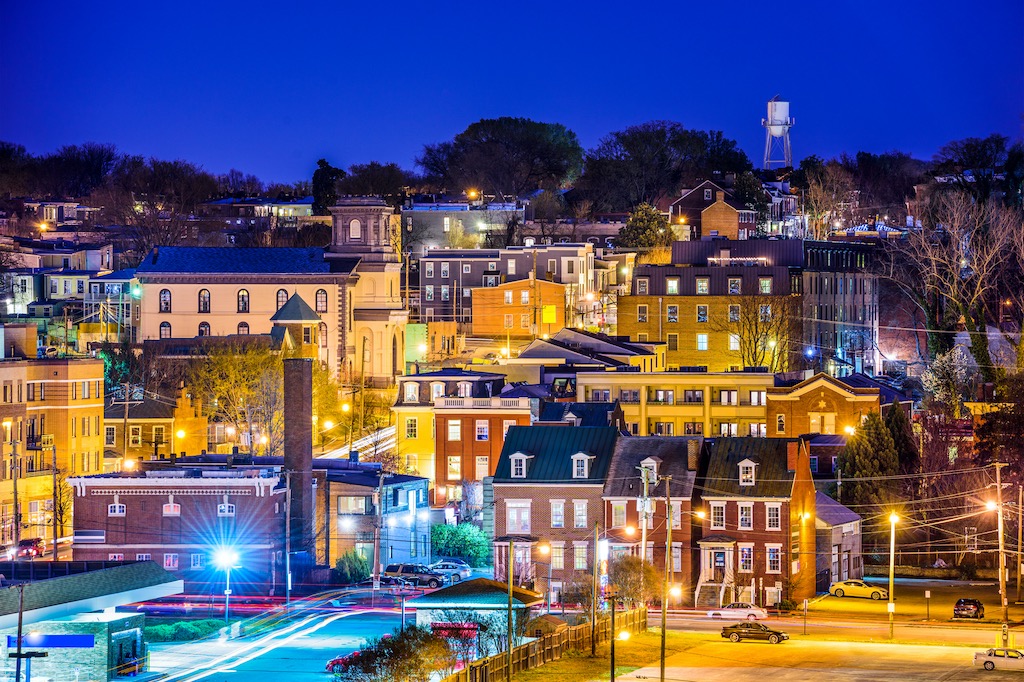 ---
1) Elegant 2BR/2BA in the heart of Downtown
The Overall Best Vacation Rental in Richmond, Virginia
Location: Richmond City Center
Price: $99 avg. per night
Sleeps: 4 (2 BR/2 BA)
This place has a 5-star rating at a truly unbeatable price point given the location, quality, and comfort provided by the listing itself! This is my pick for Richmond's best overall vacation rental and it's easy to see why. Check in is a breeze as commented on by a number of guest reviews, and once inside the apartment itself you're greeted with a wonderful view of downtown Richmond. The unit is well-lit and has everything from a modern kitchen fully equipped with new appliances, to hardwood floors and stylish art pieces throughout the condo. You'll love the proximity to nearly everything you could need or want to visit in the city, and you can even make use of the building's pool, hot tub, and gym!
Guest review: "My husband said that this was probably the nicest rental we've ever had and I agree! We were in town for a concert at The National, so finding a spot within walking distance was crucial. We've also had some issues with parking in the past, so the fact that Lizzy's' place included garage parking was such a huge relief to us.
The apartment is gorgeous! It's bright, open, incredibly clean, and has this laid-back luxury vibe. Every detail and creature comfort was included, including coffee, extra blankets, fluffy soft towels, and toiletries. We were really appreciative that the owners were thoughtful enough to provide a large binder of information about where to eat and what to do in Richmond with maps, menus, and recommendations of their favorite places.
Lizzy provided thorough directions for check-in and check-out and everything went very smooth. I wish all of our experiences with property rentals were like this! If we find ourselves in Richmond again, we will certainly stay here again. Thank you!!!"
View Photos, Read Reviews & Check Availability
---
2) Southern Mansion: Block From Cafe, Brewpub, Donuts
The Best Richmond Vacation Rental For Groups
Location: Manchester
Price: $158 avg. per night
Sleeps: 10 (4 BR/2.5 BA)
Vintage southern charm meets chic modern living at this 3200 sq. ft. brick mansion located in Manchester, just across the river from downtown Richmond! The up and coming neighborhood itself features an array of restaurants and bars, and should you want to cook for your family or large group, the house features a fully remodeled kitchen complete with modern appliances and granite countertops. The property will comfortable sleep 10, and each of the 4 large bedrooms is styler with stunning retro furniture and fashionable finishing touches. You'll be hard pressed to find a better property for this many people at such an affordable price!
Guest review: "We were a traveling family of five and spent two nights in the Southern Mansion. That wasn't enough; we loved this place. The furnishings were simple and yet inspiring and the home itself was so spacious. Each room seemed meticulously thought out, with little touches that just seemed right.
You pick up your key and home instructions at a nearby coffee shop which could not be easier. The home itself is on an "evolving" street next door to an apartment building with its share of foot traffic but generally it was quiet during our stay.
The floor plan is well laid out with all four bedrooms upstairs and a second hidden stairway towards the back of the house. Beds were very comfortable and bathrooms were supplied with plush towels and bath soap.The kitchen was well furnished with everything you could think of. We only cooked one night but were happy to find that all of our needs were met.
All and all, a beautiful home that we were happy to have found."
View Photos, Read Reviews & Check Availability
---
3) Beautiful cabin in the Virginia countryside – 5 acres for a relaxing getaway.
The Best Unique Vacation Rental in Richmond, Virginia
Location: Cold Harbor, Mechanicsville
Price: $183 avg. per night
Sleeps: 6 (3 BR/2 BA)
https://www.vrbo.com/4632864ha
Escape to the countryside with my pick for Richmond's best unique vacation rental! This Swiss chalet-styled cabin is located a short drive from downtown Richmond, and is ideal for travelers wanting the best of the city life while having the privacy and seclusion of a rustic-yet-regal retreat. This is the place for unplugging, relaxing, and recharging in a luxurious listing while being surrounding by nature. Hiking, historical sites, wineries, downtown Richmond, and even Virginia Beach are all within reach for day trips and activities to keep your vacation moving. Don't want to venture out? No problem. You'll love the fire pit, spacious common areas including the vaulted loft, spiral staircase, comfortable bedrooms, and hardwood and exposed brick interior throughout the property. Your group is going to love it!
Guest review: "What a beautiful property! We had a wonderful time in "Switzerland"- the cabin was spacious and comfortable, and had everything we needed. There were many nice little touches in the home to make it welcoming- even a complimentary bottle of wine! It was very clean and well-maintained. Brenda was a responsive and friendly host. Would definitely like to stay here again in the future!"
View Photos, Read Reviews & Check Availability
---
4) Modern Guest House in Forest Hill
Location: Richmond, Virginia
Airbnb Plus: No
Superhost: Yes
https://www.airbnb.com/rooms/22655149
Price: $117+ per night
One of my favorite vacation rentals in Richmond is this guest house! The hosts treat guests to a convenient location with this clean and modern, well-equipped studio. Guests can walk to the best neighborhood restaurants, and shops. It is a quick drive, about 10-15 minutes to Richmond downtown, parks and trails. The cottage is charming and stylish and features a minimalist style living. The open space layout of the living room and the dining makes the space feel bigger. It features a one bedroom with a queen sized bed, a spacious bathroom, and a kitchenette. Other amenities that guests can enjoy include Roku TV, WiFi, bathroom essentials, and surround sound to connect via Bluetooth. The seating area is a lovely space to enjoy a quiet afternoon
View Photos, Read Reviews & Check Availability
Guest review: "Hard to believe that this was our first Airbnb stay. But we could not have asked for a better experience. Brittaney's guesthouse was private, cozy (in a good way, not a cramped way), beautifully decorated, and had some really great art, magazines, games, and awesome coffee. It looked just like the pictures. And, most importantly, it was sparkling clean with plenty of parking, including just outside the guesthouse for easy loading/unloading. It's a weird time to be traveling. But Brittaney made my wife, our pup, and me feel welcome, safe, and comfortable. We'll definitely recommend the guesthouse to any friends or family who come through RVA. Thanks Brittaney!" – Andrew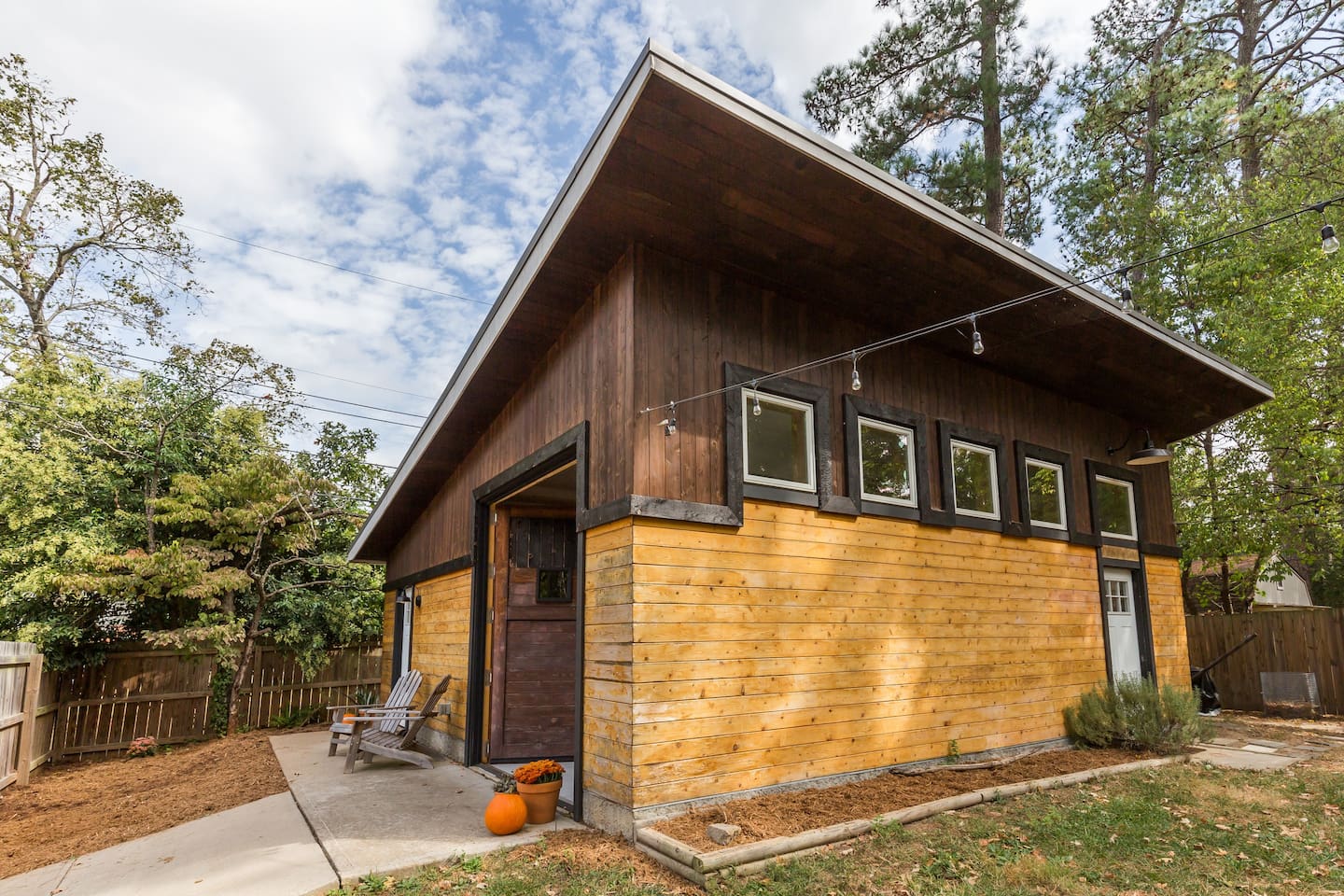 ---
5) Luxurious Mid Century Time Capsule with Hot Tub & Garden
The Best Luxury Airbnb in Richmond, Virginia
Location: Richmond, Virginia
Airbnb Plus: Yes
Superhost: Yes
https://www.airbnb.com/rooms/plus/30106164
Price: $114+ per night
While it is located about 20 minutes from the city, you'll find what I think is the "The Best Luxury Airbnb Richmond VA" that's worth checking out. This mid-century home is nestled in an acre of land in Stratford Hills with plenty of options for restaurants, grocery stores, breweries, amenities and shops. The location also offers an endless list of outdoor activities including canoeing, kayaking, stand-up paddleboarding, tubing, fishing, biking, and picnics. Inside, you'll find art and original designer period pieces that will instantly relax you and take you to another era. The rooms have large windows that let natural light in, comfortable beds, and cozy beddings. The living room, full kitchen, and common area are thoughtfully designed to ensure guest comfortability. The 22 jet tub is another luxurious addition to the many amenities that guests can enjoy during their stay.
View Photos, Read Reviews & Check Availability
Guest review: "We had a five star experience at "wildwood" and couldn't have asked for a better host in Blair. As described, this home is a mid century modern gem. The garden and grounds were so much more magical than we imagined. We can't wait to come back!" – Jared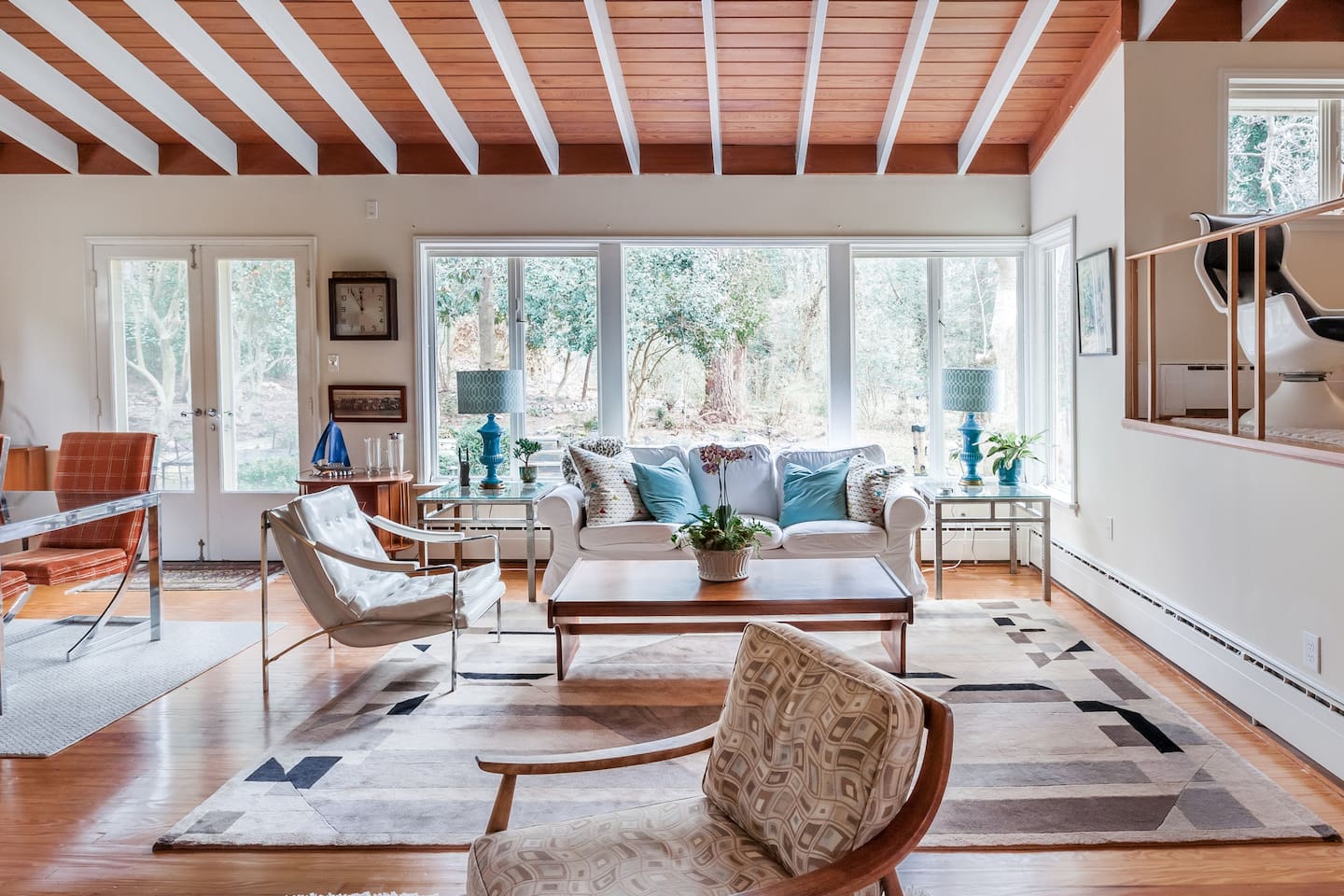 ---
6) Executive 4,000+ sqft 7 bdrm home
Location: Richmond, Virginia
Airbnb Plus: No
Superhost: Yes
https://www.airbnb.com/rooms/30252026
Price: $495+ per night
This 4,000 square feet property gives your family or group a comfortable and fun experience. Rooms feature a remote controlled lighting, ceiling fans, closets & room-darkening curtains. The kitchen is well equipped with modern appliances and plenty of space to work; the den offers a wet bar, 75″ smart TV with Verizon cable, gas fireplace; a washer and dryer is also available for guests to use. Need more space? The patio and backyard offers plenty of room for cornhole or other outdoor games, and outdoor dining. Plenty of off-street parking is available for guests who are traveling by car. It's in a quiet, safe suburban area, only 15 minutes from downtown Richmond.
View Photos, Read Reviews & Check Availability
Guest review: "This is an amazing house with plenty of bedrooms for large families. We were lucky enough to secure this spot for a couple months while on Authorized Departure from our post overseas, and it truly was a home away from home, with an host/owner/neighbor that made sure we had everything we needed, even a charging block during a power outage in the neighborhood from a fallen tree. Kevin will make sure you are taken care of and that any little issue that might pop up is handled immediately to minimize inconvenience. We would highly recommend his place for future stays, especially among larger families or groups." – Chuck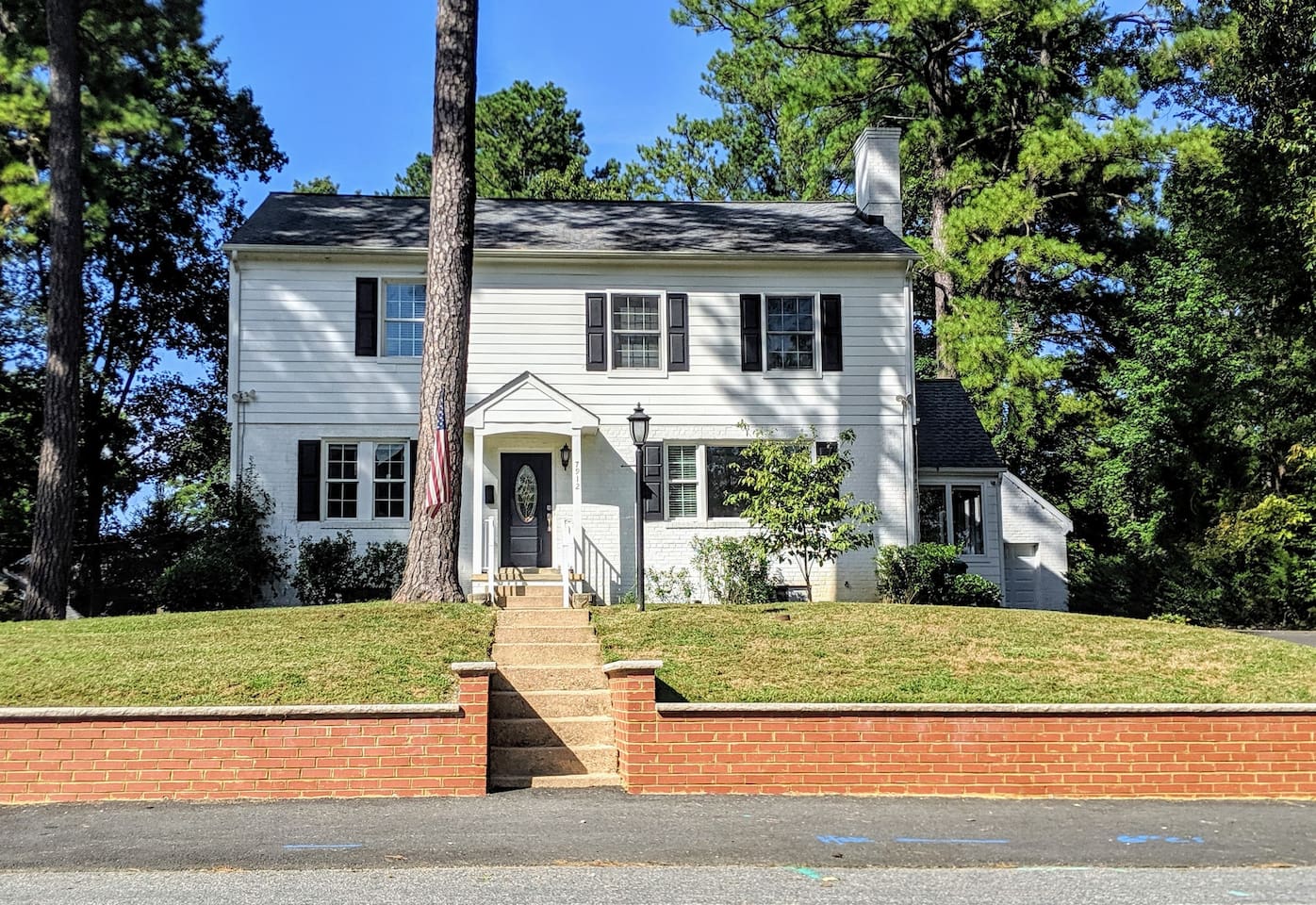 ---
7) Renovated Historic Fan Apartment near Scott's Addition
The Best Cheap Airbnb Richmond, Virginia
Location: Richmond, Virginia
Airbnb Plus: Yes
Superhost: Yes
https://www.airbnb.com/rooms/plus/28244637
Price: $67+ per night
This beautiful yet affordable option is my choice for "The Best Cheap Airbnb in Richmond". It is all about making your stay relaxing and comfortable. The suite features an expansive open-plan layout, wood flooring, furnishings, and decor, neutral tones, and an outdoor sitting area overlooking the enclosed courtyard. Amenities like the soaking bath create a spa-like experience. The kitchen is fully equipped with an addition of a dishwasher; the living room has a big couch and a TV, and the bedroom is made to be your oasis after a long day of activities. It is close to downtown making it conveniently accessible for guests to explore the city's restaurants, bars, and sights. If you want to save on accommodation without compromising comfortability, this apartment is your best option!
View Photos, Read Reviews & Check Availability
Guest review: "An absolutely amazing stay and wonderful hosts! Before we checked in we were provided with a great guide to the city and that we would be fully capable of navigating any potential difficulties with check-in. The space itself was amazing, stylish, and exactly what we were looking for in a weekend retreat. Everything we could possibly need was provided and they stayed in contact in the event we did need anything. Absolutely would recommend, great space, great location, great amenities, great hosts!" – Spencer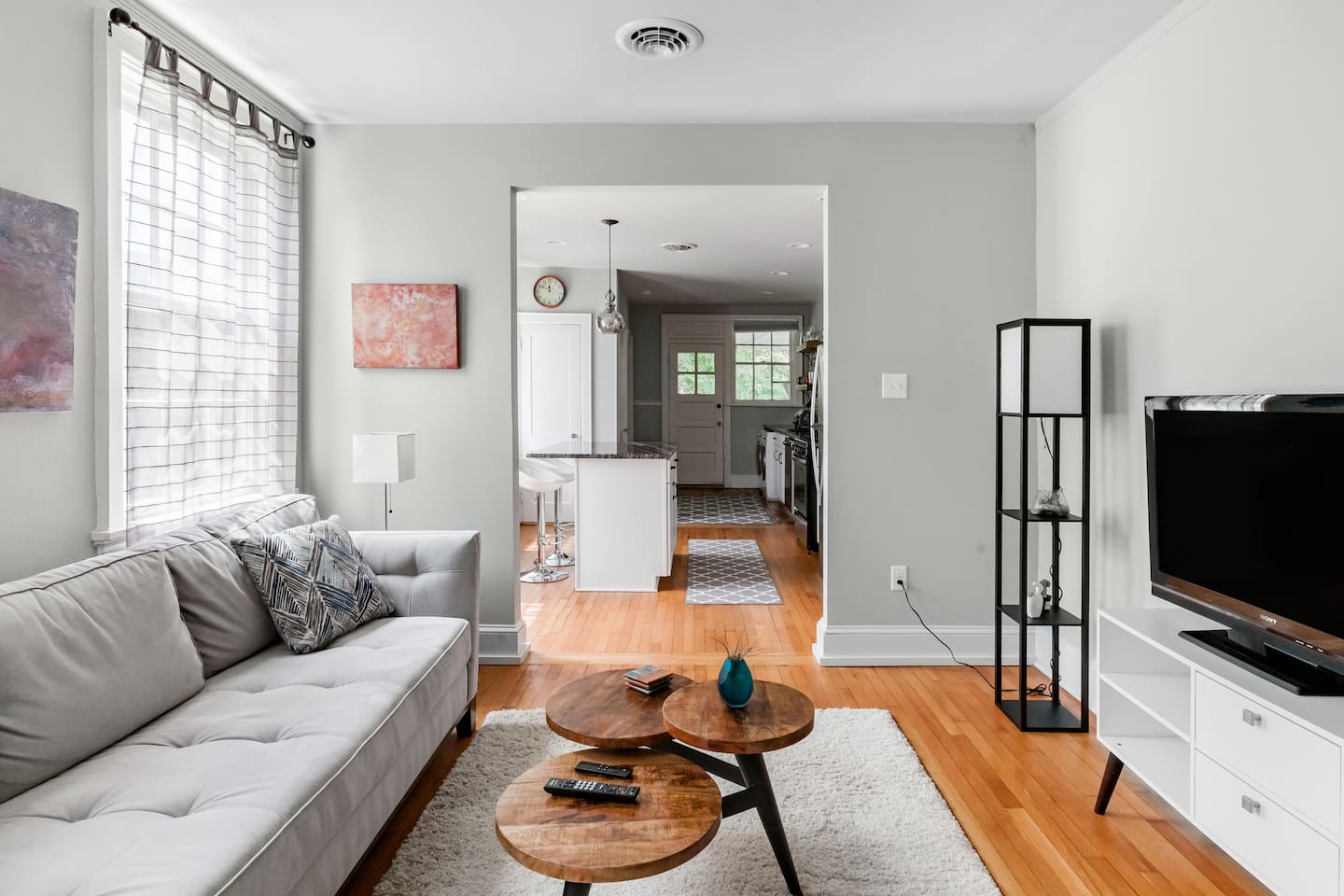 ---
8) Trailside Treehouse – Riverside in Richmond, VA
Location: Richmond, Virginia
Airbnb Plus: No
Superhost: Yes
https://www.airbnb.com/rooms/20724950
Price: $267+ per night
This trailside treehouse will fulfill your childhood dream of camping with a unique twist – in a treehouse! This 2-bedroom treehouse offers a fun and magical experience. Wake up with a view of the trees and the sound of the river flowing. Glamp in comfort – a queen bed, bunkbed, sleeping cots are set up for guests. Roast a BBQ in the firepit or take out food from the nearby restaurants and dine out on the picnic tables. Guests have full access to the indoor lounge area, which features a pull-out sofa, TV, large beanbag chair, full bathroom, and kitchenette. The kids will surely enjoy the trapeze, climbing rope, disc swing, and other fun playground equipment in the treehouse. The Trailhouse Treehouse is the ultimate unique experience!
View Photos, Read Reviews & Check Availability
Guest review: "It's like stepping into Neverland! A nostalgic "glamping" experience filled with endless opportunities to create magical memories! We stayed with our 4 kiddos ages 5-11, and we all could've spent days exploring all the special touches available in the treehouse. We enjoyed board games, books, outdoor games, the campfire, hiking the trail off the property, and the hospitality of Carrie and her entire family, including Huckleberry! The indoor "lounge" area was a welcome bonus when we needed to cool down and/or clean up after our adventures. Can't say enough good things about our experience!" – Brian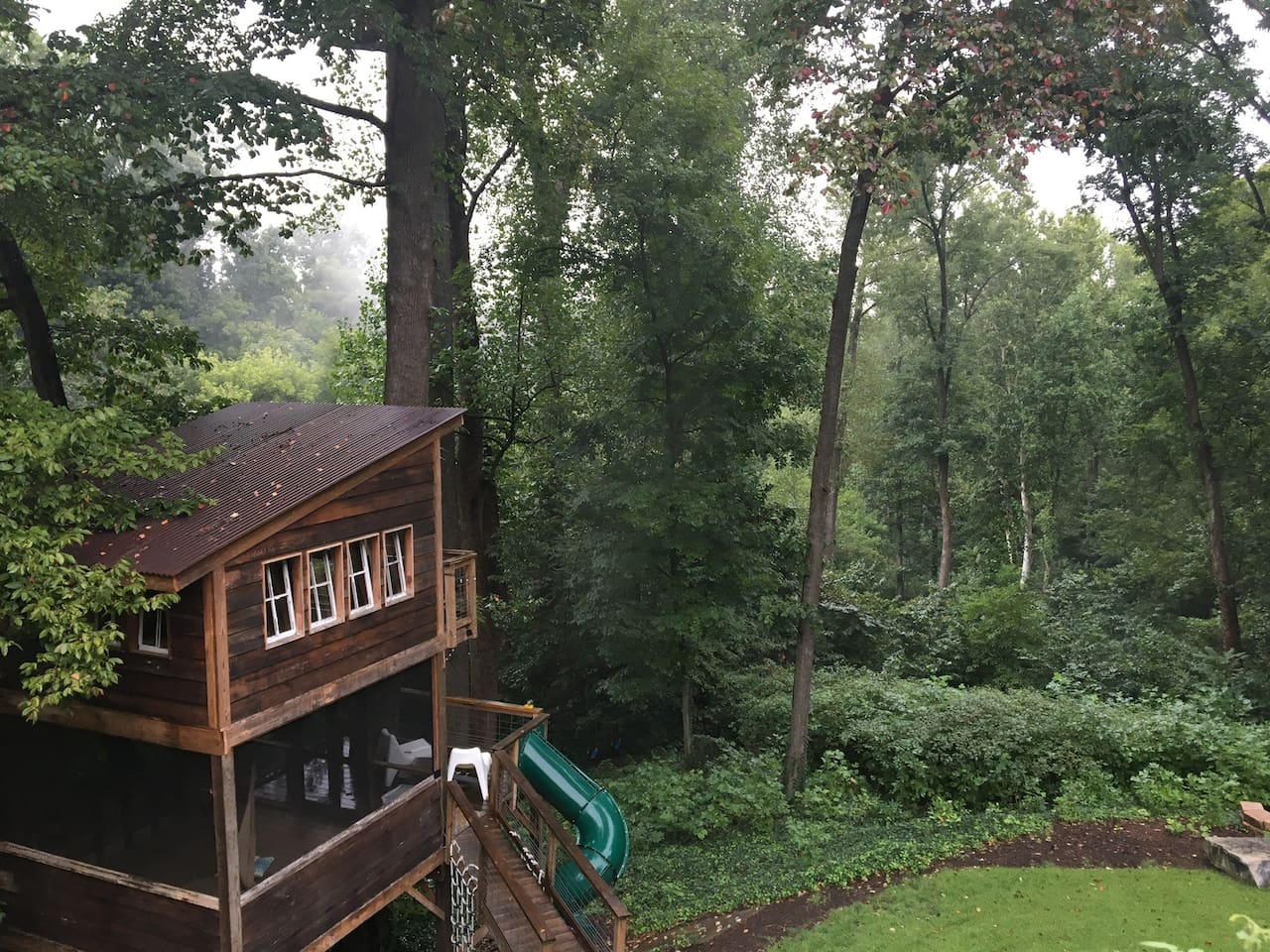 ---
9) Revitalized Industrial Space Adjacent to Monument Avenue
Location: Richmond, Virginia
Airbnb Plus: Yes
Superhost: Yes
https://www.airbnb.com/rooms/plus/26814274
Price: $132+ per night
A stay in Newtowne West neighborhood puts you in the center of everything in Richmond; within walking distance to restaurants, brewhouses, and boutiques at Scotts Addition and Fan Carytown. Guests can explore the area and return to a cool, ambient and comfortable home. This 2 bedroom condominium has massive windows and soaring ceilings, industrial-style elements that makes the place spectacular. Everything that a guest can need to have a comfortable stay is there: living room with indoor fireplace, cable TV; a full kitchen with espresso machine and dishwasher, and an amazing bed for a good night's sleep. Other thoughtful amenities include the complimentary snacks and a pouch of lavender tucked in the pillow cases, a washer and dryer, and great communication from the host. I'm very sure you'll love this place too!
View Photos, Read Reviews & Check Availability
Guest review: "We returned to Jill's space and was pleasantly surprised to see it was styled slightly differently! (different bedspread, different throw on the couch, different hand towels). Those small changes made a big difference to make the place feel fresh. Thank you!" – Keisha Dawn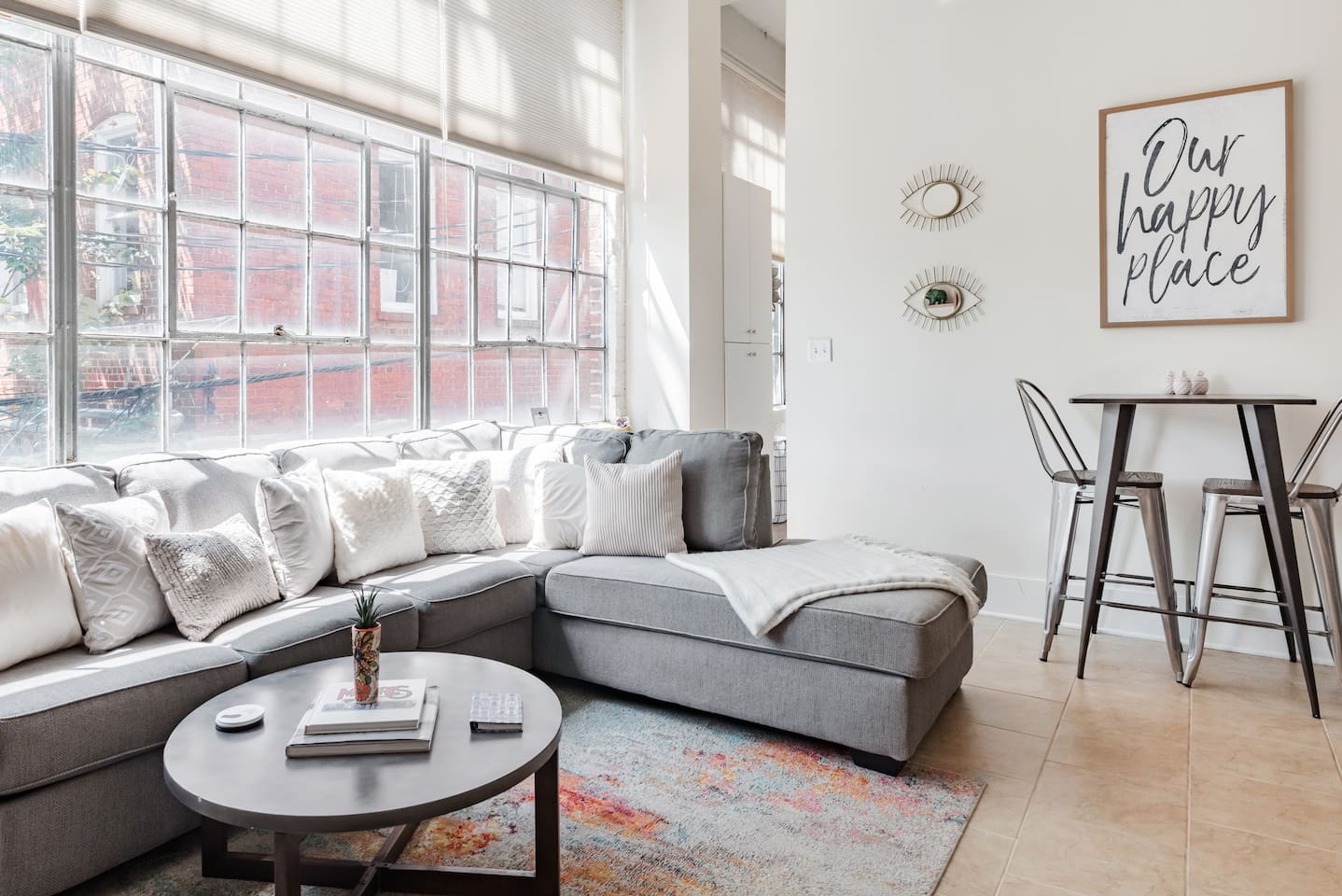 ---
10) Modern/ Historic 1910s House in The Fan District
Location: Richmond, Virginia
Airbnb Plus: Yes
Superhost: Yes
https://www.airbnb.com/rooms/plus/2657424
Price: $343+ per night
This 1920's historic house in The Fan District is your best bet for an "old charm meets modern convenience". The spacious home has been renovated to blend contemporary design and traditional architecture where you can notice the bold feature walls and expressive artwork throughout the house. It offers three bedrooms, a living room with an indoor fireplace, a game console, and a smart TV; a clean and modern full kitchen with access to the terrace; a backyard with BBQ grill and outdoor dining table and chairs. The patio is a great spot to read or drink your favorite coffee or a sip of wine. It is located in a quiet neighborhood within walking distance to shops and restaurants, and activities like trails along the river.
View Photos, Read Reviews & Check Availability
Guest review: "Tim was a great host and we loved our time in Richmond! The house is full of charm, well decorated, and the front porch was a lovely spot to read and sip a cocktail! We had one very minor issue while we were there and Tim was super accessible and helpful when we needed to get it figured out. Would definitely recommend this rental, this location in The Fan, and also Tim as a great host." – Katie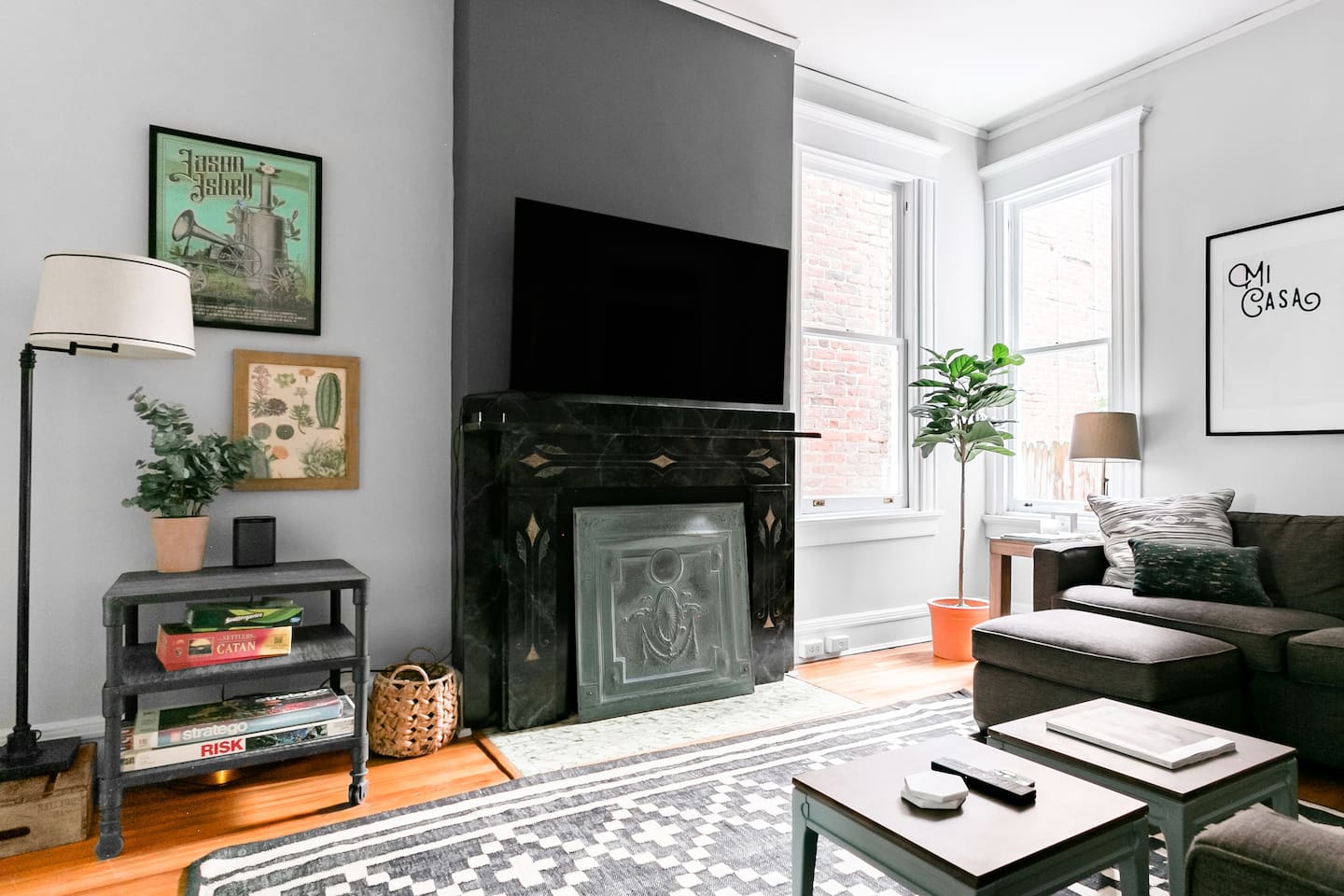 ---
11) Elegant, Remodeled Family House in Historic Ginter Park
Location: Richmond, Virginia
Airbnb Plus: Yes
Superhost: Yes
https://www.airbnb.com/rooms/plus/30854773
Price: $203+ per night
This 3-bedroom family home is located in the historic, tree-lined Ginter Park neighborhood, where you can walk to Scott's Addition and visit Richmond's hottest new eateries, breweries, bars, and activities. The house is designed with a colorful animal motif in the decor. It features a living room, a modern family kitchen with upscale appliances and a cute breakfast bar; and all bedrooms have comfortable queen beds with relaxing ambiance. Unwind in the sunroom out back and enjoy a view of the private garden. Other amenities that guests can access in the house include an electronic guidebook, WiFi access, extra blankets, and the laundry room. This is a great house for a family of 6 traveling to Richmond.
View Photos, Read Reviews & Check Availability
Guest review: "Carolyn's lovely home was the perfect place to stay while visiting our daughter in Richmond. From the lights left onto welcome us, to the sparkling clean bathrooms, and to the cozy sunroom, everything was just perfect. Traveling with our older teens can be somewhat claustrophobic but we all had plenty of space to spread out when we wanted. I had to work a few hours each day and my kids had to do some zoom classes and we had plenty of space and great WiFi. We hope to be frequent guests in the future." – Rosemary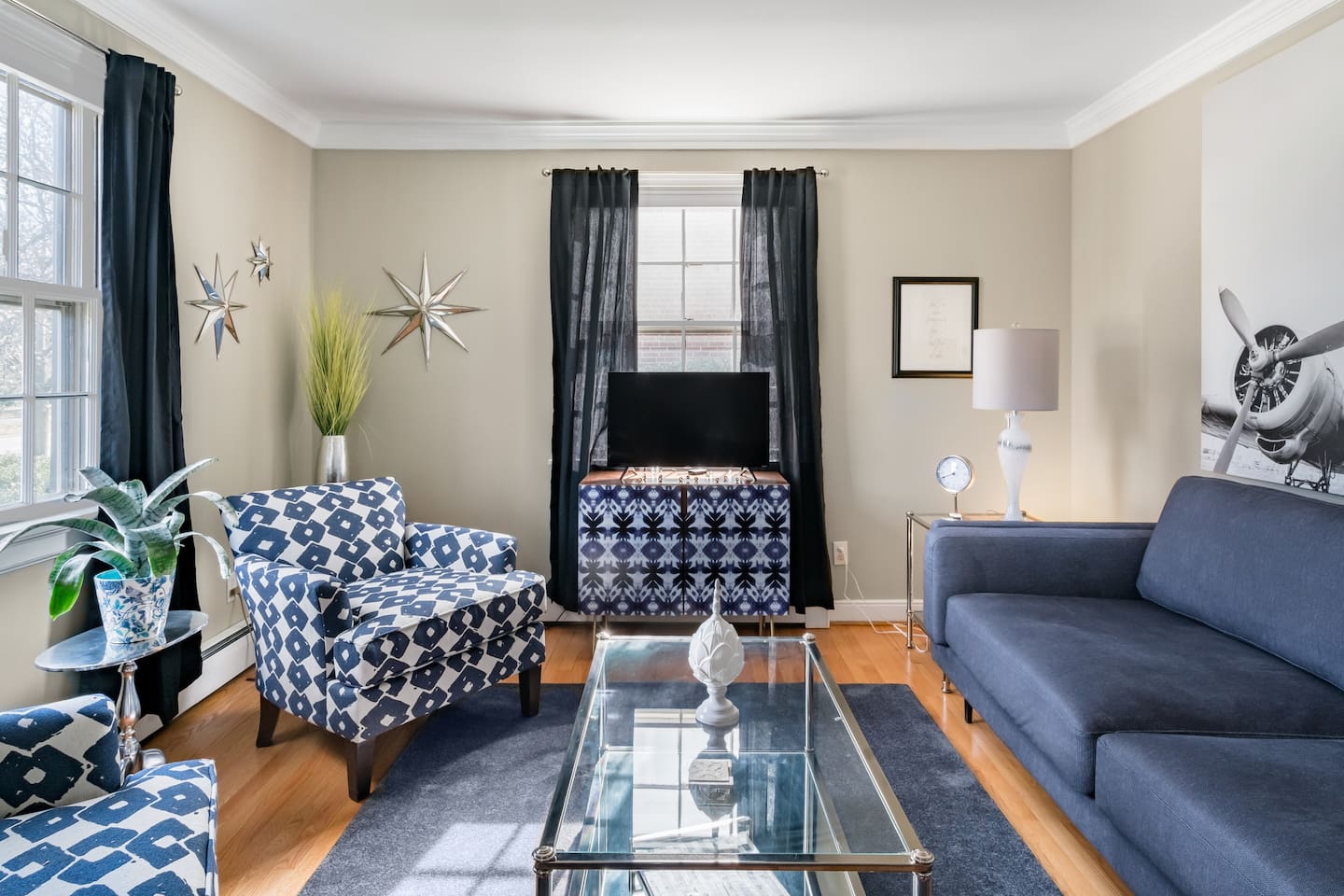 ---
12) Historic Jackson Ward Spot
Location: Richmond, Virginia
Airbnb Plus: No
Superhost: Yes
https://www.airbnb.com/rooms/29901217
Price: $89+ per night
This row home in the heart of Jackson Ward provides a modern and elegant accommodation for a very affordable price. Everything in the house speaks of elegance, the brick walls add to the character of this 2-bedroom home. It features a family room, kitchen and dining area, laundry room, and front porch. You'll definitely love a bubble bath in the clawfoot bath! Also, there is designated parking for visitors with cars. All this for $89+! And this is a favorite among visitors, you'll know because of the number of good reviews they have. Check it out!
View Photos, Read Reviews & Check Availability
Guest review: "This place was so beautiful, kind of wanted to just move in. Michael was helpful and accommodating, and Katarina was friendly and helpful as well. Just a great experience all around. I was in town because my dog needed surgery, and they were both thoughtful and helpful, making my stay as stress-free as it could be, and because I couldn't leave my dog's side while he recovered, it was great to spend all of my time in such a lovely and clean space. I hope I get to come back under different circumstances! :)" – Scout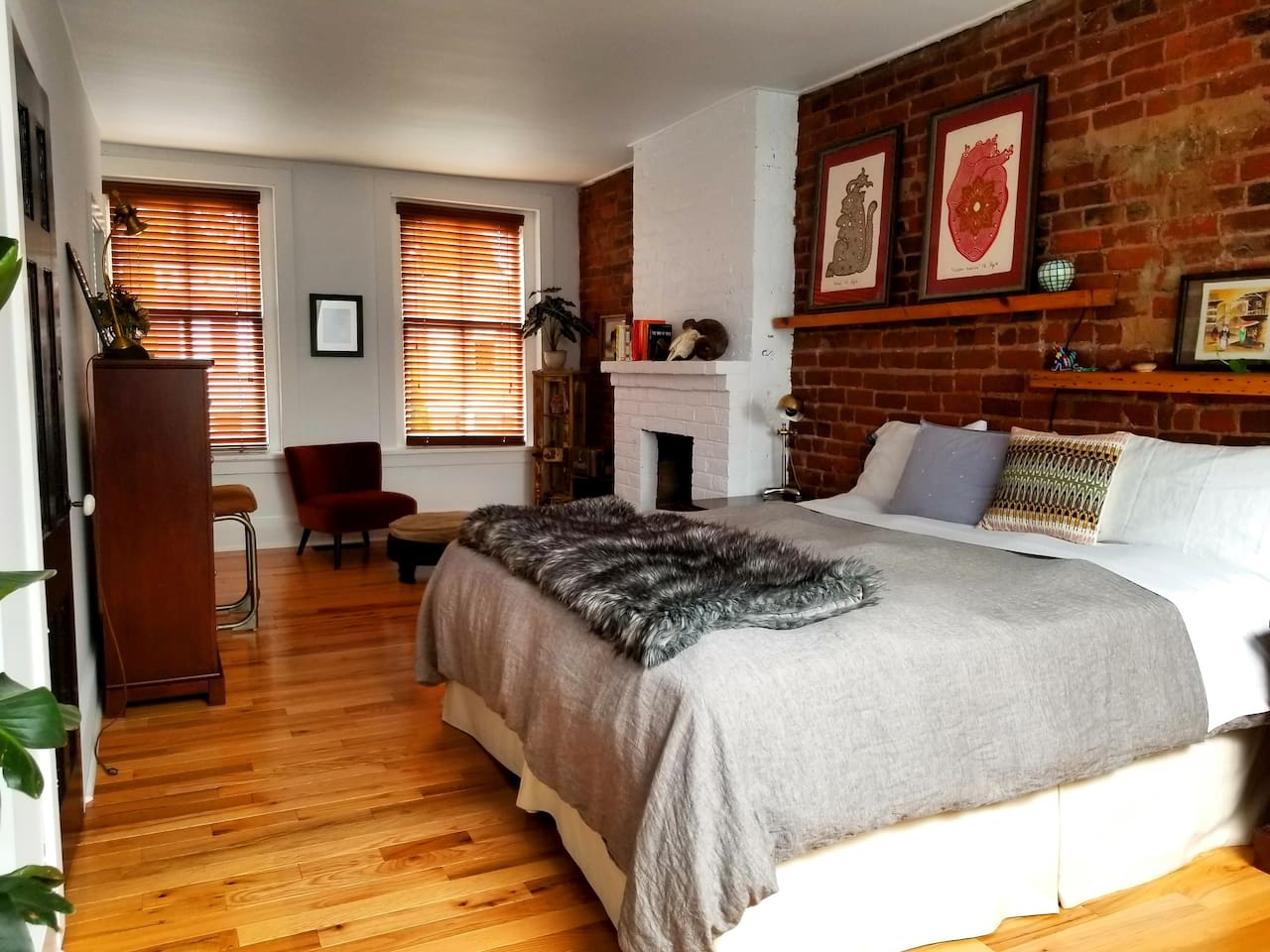 ---
13) Private 2 Bedroom House near Fan
Location: Richmond, Virginia
Airbnb Plus: No
Superhost: Yes
https://www.airbnb.com/rooms/35062736
Price: $100+ per night
This newly renovated home is another Airbnb accommodation that places guests in some of the city's most beautiful parks and lakes, and a short walk to great dining and nightlife. This is perfect for guests that are in the city for business, work, or relaxing. The 2-bedroom house features a spacious living area with TV and the full kitchen is minimalist in design but very homey. On the second floor, there are 2 bedrooms and 1.5 bathrooms. An off-street parking is also available for guests. It's stylish, clean and convenient.
View Photos, Read Reviews & Check Availability
Guest review: "Kc's place could not have been cuter. Thoughtful details throughout and wonderful communication. It was perfect for our family and we will certainly keep this place in mind for future trips to Richmond. Thank you Kc!" – Lindsey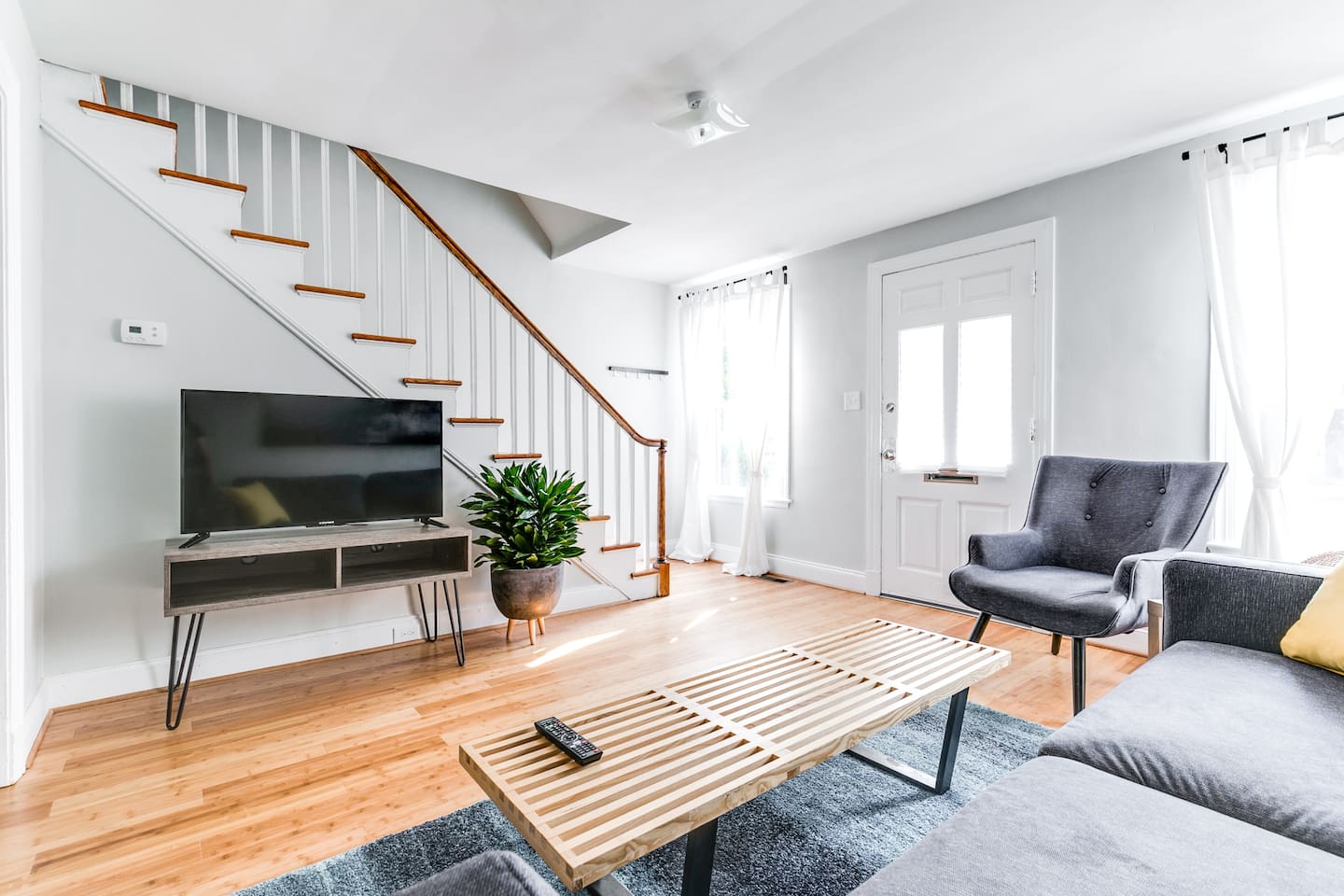 ---
14) Chic Downtown Apt with Rooftop Deck & Parking
Location: Richmond, Virginia
Airbnb Plus: No
Superhost: Yes
https://www.airbnb.com/rooms/36789276
Price: $107+ per night
Located in the heart of Richmond, VA, you are merely one block from the Jefferson Hotel, Linden Row Inn, and Stella's Grocery, and many more. The 1800's brownstone apartment has a good view of the city! Lounge on your own private rooftop deck, or hangout in the living room while watching TV, cook your own meals in the full kitchen, and rest in the high-quality bed. After a long day, you can enjoy a warm bath. This is going to be an absolutely lovely stay here!
View Photos, Read Reviews & Check Availability
Guest review: "Natalie's space was modern, clean, and had great amenities! It was nice and private. Unlike many postings; the space was true to its listing photos. Close to many restaurants in the area! Parking was easy to find, convenient, and amply available. Natalie was a great host who was communicative and provided easy check-in instructions. Thank you for being an amazing host! Highly recommended and would stay again. Upon arrival we ran into an issue and Natalie immediately remedied the issue. Prompt responses and fast action." – Jay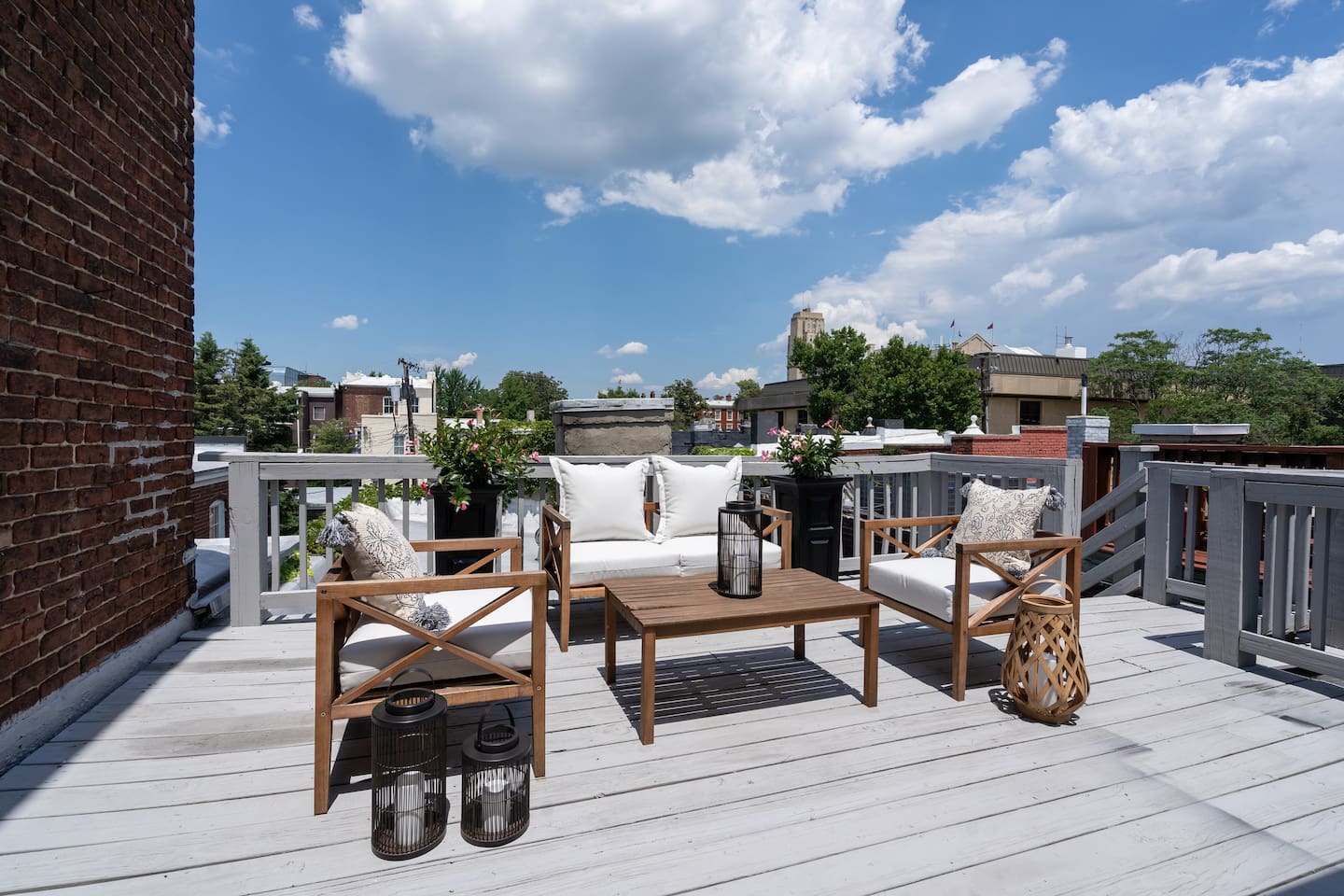 ---
15) ✦✦ Museum District Apartment – Clean & Updated ✦✦
Location: Richmond, Virgina
Airbnb Plus: No
Superhost: Yes
https://www.airbnb.com/rooms/36176501
Price: $80+ per night
Looking for a place for 2, in a quiet neighborhood but in the heart of the city? Then this newly updated apartment is perfect for you. Located in the highly sought after Museum District of Richmond, it is minutes from museums, breweries, restaurants, and more. The space features a gorgeous bedroom, a luxurious kitchen with granite countertops and gas cooking, a fully renovated bathroom with walk-in shower. Other amenities that guests can access are a smart TV with apps, private washer & dryer, high speed wireless internet, iron and ironing board, A/C & Heat, hair dryer, and many more. It has everythings you need, even more for only $80+ a night. What more could you ask for?
View Photos, Read Reviews & Check Availability
Guest review: "Tyler's place is in a perfect location between Scott's Addition and Cary Town. Easily within walking distance of anything you would want to get to or need in the area. The apartment was very clean with some very nice touches. The only negative for us was that the bed was too firm for our liking (felt like a firm memory foam), but that is very objective. Overall we loved the location and ease of access to everything. Didn't have any problems during our stay and would stay there again in a heartbeat." – Christopher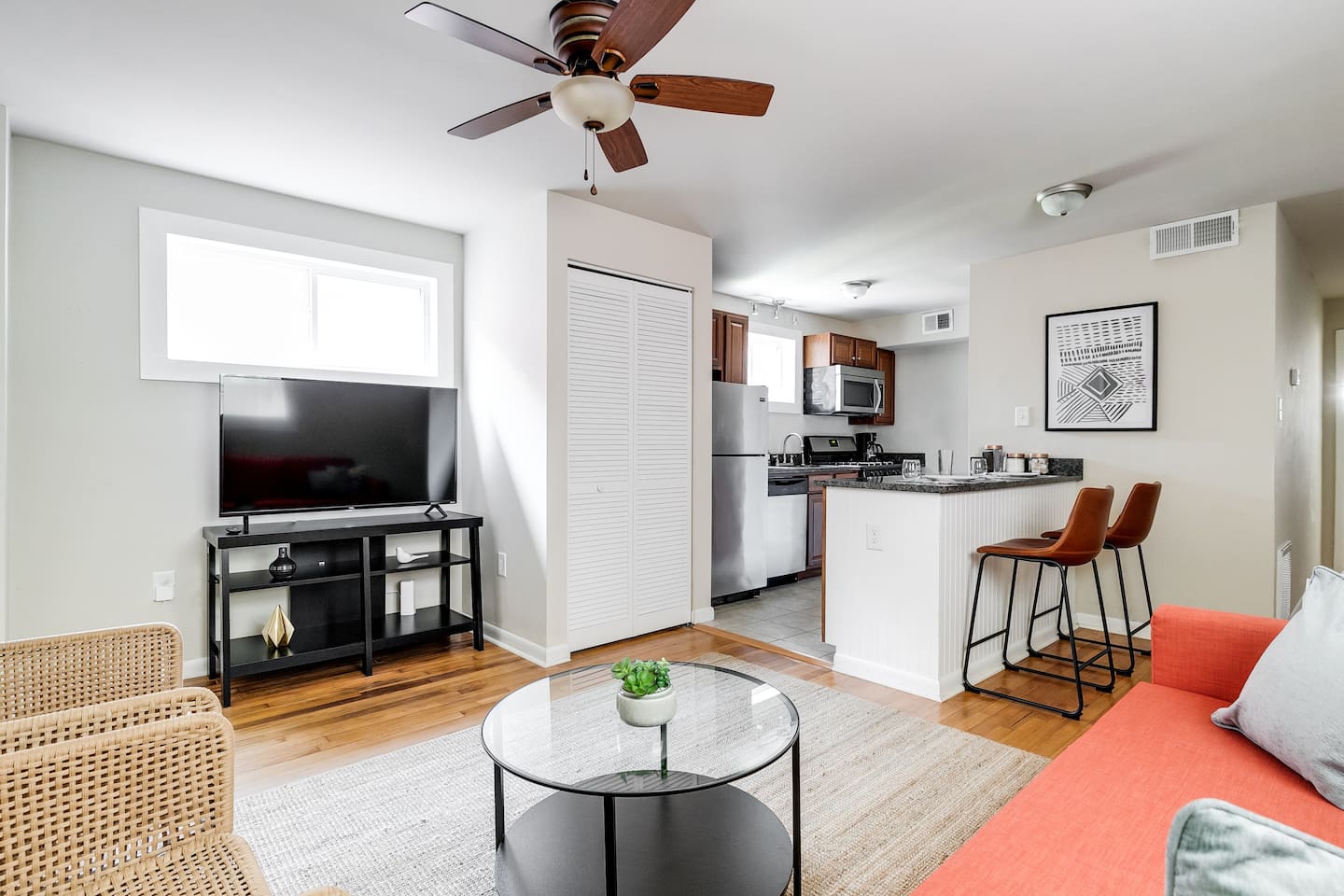 ---
16) Gem in the Heart of the Fan #3!
Location: Richmond, Virginia
Airbnb Plus: No
Superhost: Yes
https://www.airbnb.com/rooms/32674703
Price: $125+ per night
Jill, the host for this gem in the heart of Fan, is passionate about providing a comfortable and relaxing space for visitors in Richmond. This 2-bedroom condominium is one of the other listings that she offers. It features a living area, a full kitchen, 2 bedrooms with a very comfy bed, a front porch, and a backyard with outdoor dining. They also provide plenty of blankets, extra pillow, extra shampoos, conditioner and lotion. It's close to plenty of restaurants and bars. A great stay in Richmond, indeed!
View Photos, Read Reviews & Check Availability
Guest review: "Top three points 1. Location convenient to restaurants and places of interest 2. Outdoor space to enjoy beautiful weather 3. Bedsheets were super soft! Overall, we had a great stay. Jill was super helpful with local tips and treats that made our weekend so much more relaxing. Thank you Jill! I would highly recommend her little treasure on Grace :)" – Julie
Discovering Richmond, Virginia: Travel Journal
---
17) Pristine Studio ** PATIO** Near Sites/Dining/Hwy
Location: Richmond, Virginia
Airbnb Plus: No
Superhost: Yes
https://www.airbnb.com/rooms/35568330
Price: $88+ per night
A stay at Zen Den is a beautiful experience in Richmond. This studio unit is perfect for guests who are visiting either for business or work, for a retreat, or a couple's getaway. It is very private and allows you to have a quiet time. The suite offers an open-space layout; upon entering you will see the bed, living area, and kitchenette. Large windows let natural light in making the room bright and relaxing. Guests will have the space on their own – they have private entrance, off-street parking, kitchenette, and bathroom. They are also free to use the fire pit. Recharge in Zen Den!
View Photos, Read Reviews & Check Availability
Guest review: "This place is gorgeous and the environment was stellar. Pristine clean and ultra stylish, your stay will leave you inspired, relaxed and satisfied. Everything you want to see is within 10 minutes from this location. On top of it, Chris is an amazing host – very helpful prompt and thoughtful but not at all overly involved. Just book it why don't you?" – Andy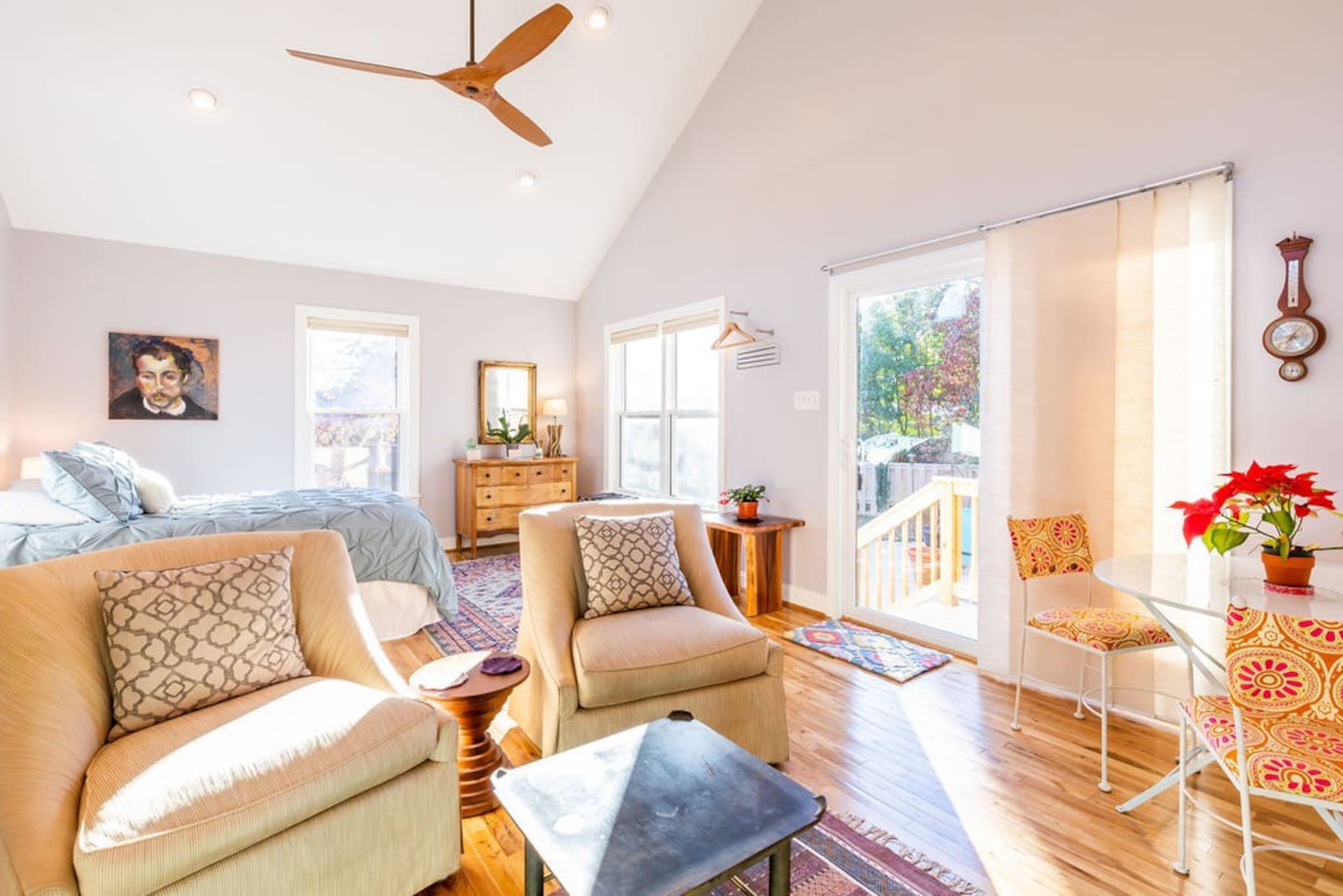 ---
18) Historic Museum District Apt with Modern Style
Location: Richmond, Virginia
Airbnb Plus: No
Superhost: Yes
https://www.airbnb.com/rooms/24606811
Price: $107+ per night
A characterful 2-bedroom apartment in a quiet neighborhood of Museum District, a space where the old meets new. Enjoy a fun afternoon with family or friends in the front porch or the backyard or explore the town – it is an easy walk to local breweries, restaurants, museums, shopping, and more. It features a spacious living room, modern kitchen and dining area, comfortable beds, and beautiful views of the neighborhood. For guests traveling by car, a designated parking space is provided for. Additional features of the home include a lock box, sound machines, extra pillows and blankets, bluetooth speaker, and even a stroller for kids.
View Photos, Read Reviews & Check Availability
Guest review: "Coming from a local Richmonder, you can't beat this location. The Museum District is the most charming neighborhood, and this block is walking distance from so many of my favorites – the VMFA, Black Hand Coffee, Belmont Pizza, Chioccas, Garnetts, and all the best breweries in Scott's Addition. The host Mark was great and always got back to me quickly. The apartment was stocked with everything we needed and more. My favorite part was probably the outdoor space – the front porch is cozy and has a ceiling fan for cooling down during our hot summer stay, and the backyard was huge, quiet and private. The neighbors were also very friendly and even offered to let us borrow the grill. Couldn't have asked for a better stay, thanks again Mark!" – Meghann
---
Am I Missing Any of the Best Airbnb Richmond Virginia Rentals?
Have you recently stayed in an exceptional Richmond Airbnb that you want to shout out? Or are you the manager or host of a high-quality Airbnb in Richmond, Virgiia that you think deserves some attention. Reach out to me via my email or social media channels, and I'll check out your listing to see if I can add it to my list.
---
Looking for more amazing Airbnb Rentals & Travel Inspiration?
My site is filled with fun and helpful articles just like this, and I'd love for you to check out a few more of my favorite posts!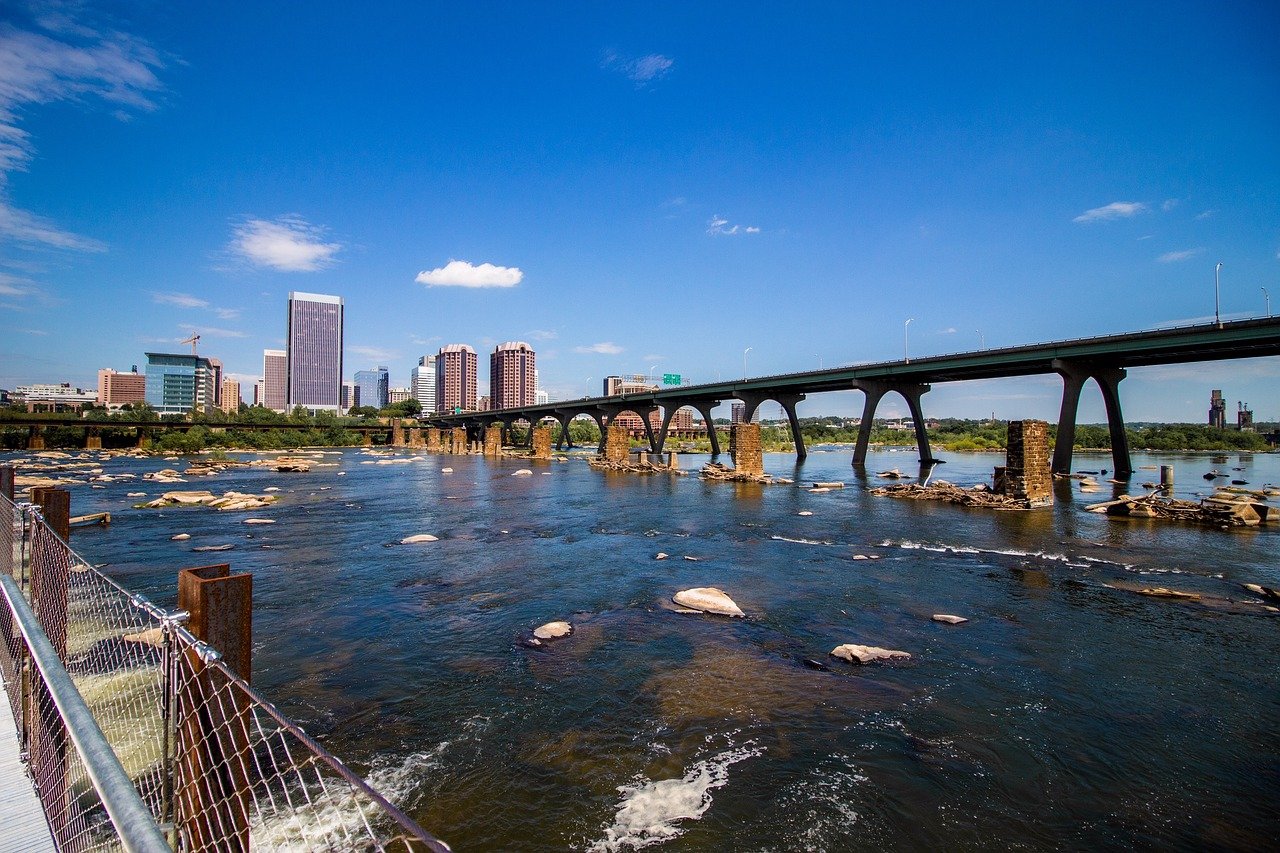 ---
Thanks for read my Airbnb Richmond Virginia Guide
Share these Airbnbs in Richmond with your Virginia travel crew!
https://www.jonesaroundtheworld.com/wp-content/uploads/2020/10/Airbnb-Richmond-Virginia.jpg
684
1024
Dave
https://www.jonesaroundtheworld.com/wp-content/uploads/2017/03/logotry-1-1-300x106.png
Dave
2020-10-27 17:54:20
2021-05-07 00:07:28
The 18 Coolest & Best Airbnb Richmond, Virginia Vacation Rentals