Planning an upcoming getaway and looking for the best Airbnb in Austin, Texas? Well, let me start off by saying that's an excellent decision, because the state capital of Texas, vibrant Austin is easily my favorite city in the Lone Star State. This Airbnb Austin guide is filled with stunningly cool, unique, and luxury rentals that are guaranteed to be a highlight of your visit!
It's super cool, laid-back and friendly and there's simply so much to do. The official slogan of "Keep Austin Weird" is embraced by locals who are proud as hell of their city!
Renowned for its live music scene that showcases some of the best American blues, rock and country artists, Austin, Texas is always moving with the times. And is becoming more and more hip by the second.
Foodies love the variety of culinary delights this destination offers, and you can pick up some unique finds in the many eclectic stores that dot the city. Its vibe stays youthful thanks to the historical University of Texas flagship campus being located in the heart of the city, and beautiful public gardens and parks break up the cityscape. Austin has it all.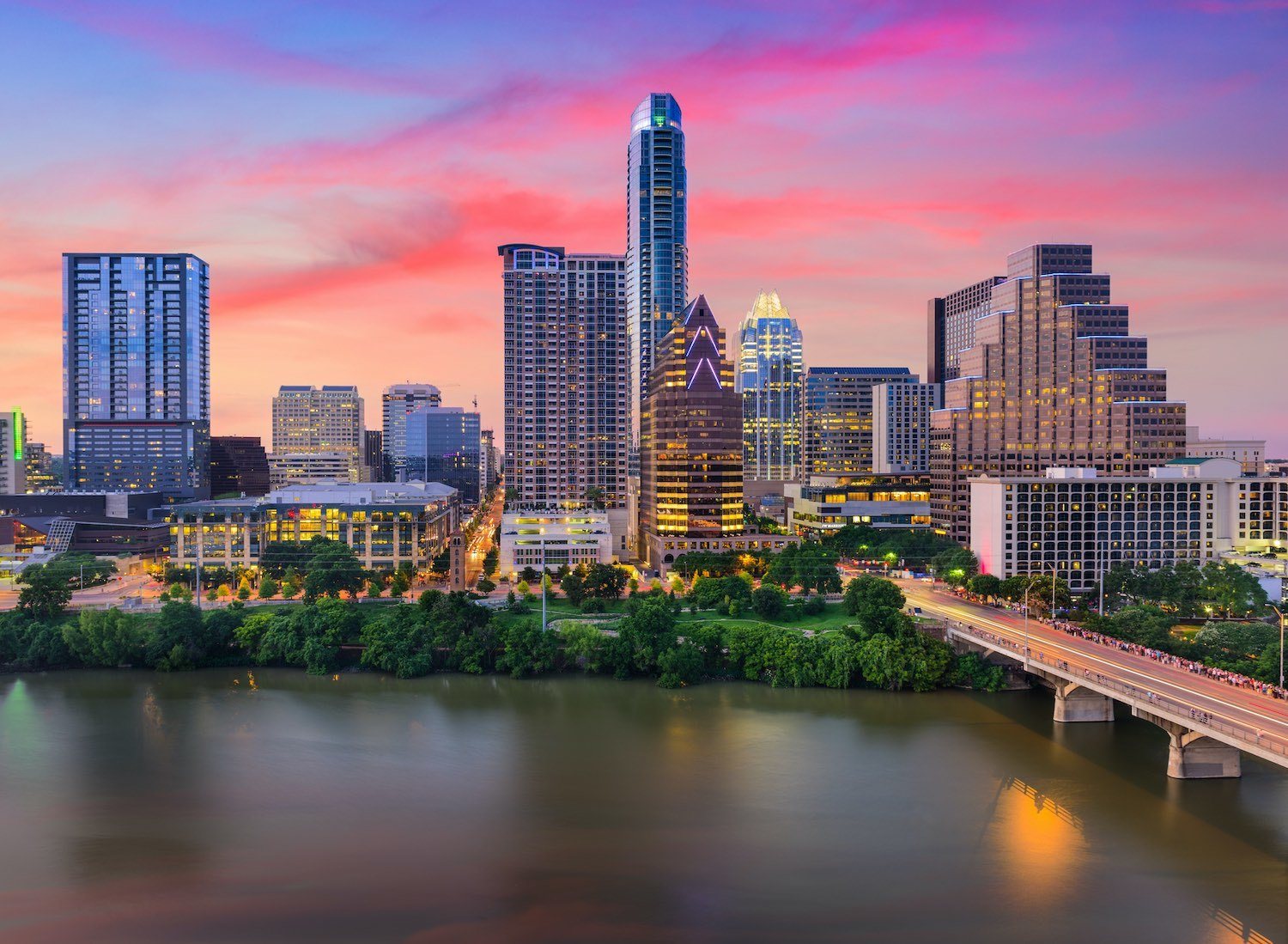 ---
On top of being a buzzing city, Austin is located at the gateway of the "Texas Hill Country" and has so many amazing natural wonders on its doorstep.
Have I sold you on Austin yet? Good. Now we need to find you the perfect Austin Airbnb to call home for the duration of your visit. I've compiled the best list of Airbnb's in Austin to suit every travel style and budget. A stay at any of these epic dwellings promises a generous helping of Southern charm and Southern hospitality, with a sprinkling of memories that will last a lifetime.
---
Quick Breakdown of the Best Austin Vacation Rentals
Don't have time to peruse lists of Austin Airbnb's to find your perfect Texas home away from home? No worries! I've shortlisted the best 5 Airbnbs in Austin to meet your own unique travel needs. Whether you're looking for luxury or modesty, a group pad or a unique destination, you'll find it below – trust me. Click through to book your Austin Airbnb today!
Also, be sure to read my guides on Airbnb San Antonio, Best Airbnbs in Texas and Glamping in Texas for more future trip inspiration! And if you're in Austin for awhile, take a read through this awesome guide for Day Trips from Austin!
Note: Due to the closure if the Airbnb Associates program, some of the properties listed have been changed to other booking platforms (which can have lower rates and less cleaning/service fees!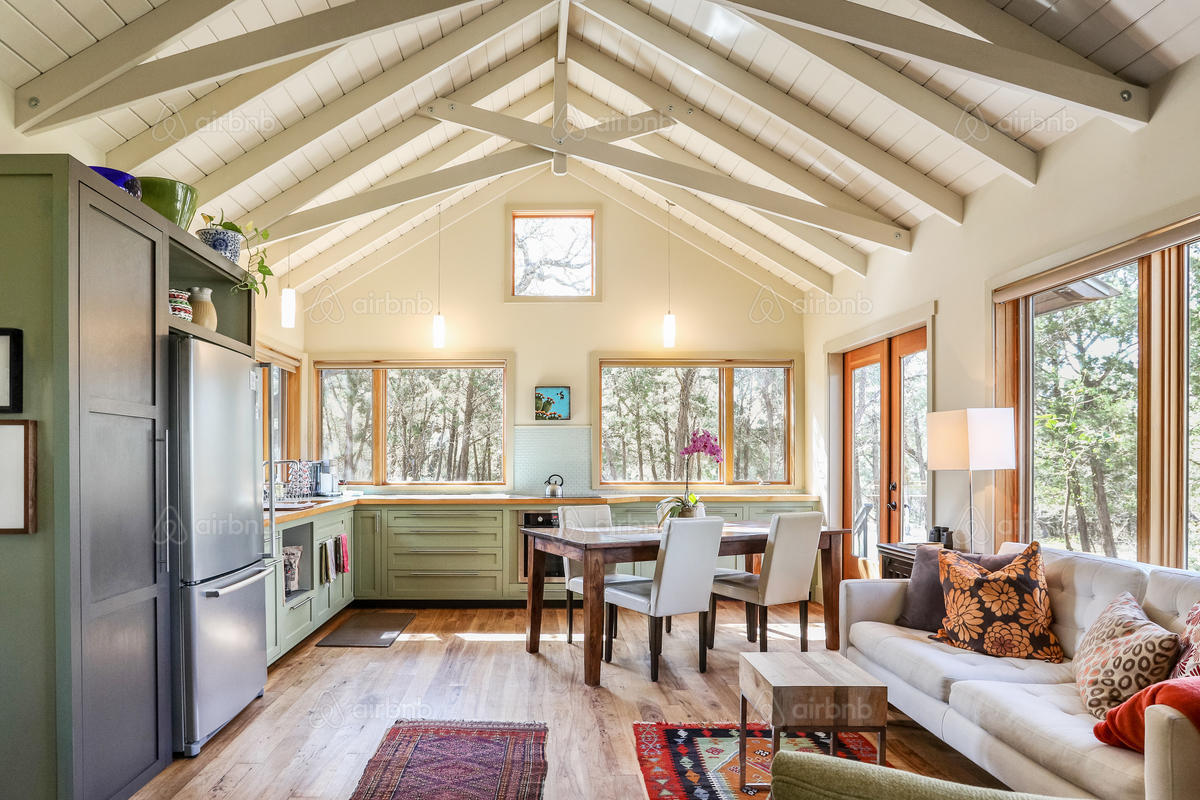 ---
1) Executive Rental in the Heart of Downtown
Overall Best Vacation Rental in Austin
Location: Downtown Austin
Price: $100+ USD per night
https://www.vrbo.com/4625365ha
Austin is a fun and fascinating city that offers so much to see, do and experience, and downtown Austin is the perfect place to have it all on your doorstep. This modern and stylish two bedroom condo in the heart of the city is bright and airy, with high end interiors and little touches to make you feel right at home. You'll be staying in Austin's Entertainment District, one of the best areas in town. Happening 6th Street is a short stroll away, and the University of Texas at Austin is just over a mile away. There's a front desk concierge to help you with anything you need.
View Photos, Read Reviews & Check Availability
Guest Review: "I lived here for two months for a job in Austin. Not knowing the city well, Mike was extremely helpful in making sure my needs were met and that I was enjoying my stay. For whatever issues came up, he was responsive and quick. The biggest thing was the internet went out for two days. It was rectified quickly. The condo is beautifully decorated with fine finishings and the bed is the most comfortable I've ever slept in. There is also a second bedroom that I never used, but also well done with lots of storage if needed. The community in the building was quiet. The front desk concierge more than helpful and kind." – Alexa
---
2) Modern Brentwood Guest House – Minutes to Burnet Road Restaurants & UT
Best Cheap Vacation Rental in Austin
Location: Brentwood
Price: $100+ USD per night
Save your Austin accommodation pennies for beer and BBQ and book your stay at Austin's best cheap vacation rental. This two bedroom cottage guesthouse is spacious, contemporary and stylish, with highlights such as newly renovated interiors, two bathrooms, central A/C, gourmet kitchen and porch with grill. This fantastic budget-friendly pad is located in a central residential neighbourhood, just a few miles from the University of Texas at Austin, Sixth Street and the Texas State Capitol.
View Photos, Read Reviews & Check Availability
Guest Review: "This is a modern upgraded cottage in back of the main house in an ordinary working-class Austin neighborhood. Location is ideal for anything we wanted to do in Austin (whether north, south, east or west) and the street was very quiet and peaceful. Everything seemed new and well maintained; the air conditioning was A MUST and worked perfectly. The owners thoughtfully added many extra touches that a visitor would appreciate: guide books on the bookcase, DVD's in the entertainment center, instructions for everything in a binder, local beer in the refrigerator, a pitcher of cold, filtered water waiting for us, and lists of recommended restaurants in the neighborhood, too." LR
---
3) Treehouse vibe in the city–KAYAK & SUP HERE YEAR!! swim, hike, river float.
Best Unique Vacation Rental in Austin Airbnb
Location: Barton Heights
Price: $1500+ USD per night
https://www.vrbo.com/4346845ha
This incredible five-star treehouse-inspired home in Austin is one of the most unique stays in town, with eight bedrooms spread over 3000 square feet. The epic home is just seven minutes from downtown Austin, and features open loft-inspired interiors, a stone and wood kitchen, a large al fresco deck, backwards, air-conditioning and so much more. Kayak or paddle board on the nearby lake, splash about at the spring-fed pool, dine, drink and dance at local restaurants and bars, or have a picnic in the nearby Botanical Gardens. Costa Rica in Austin, it has been described at!
View Photos, Read Reviews & Check Availability
Guest Review: "We had the best stay in Austin! The property was beautiful, clean, and close to everything. Lisa made our stay even more seamless with easy check in/out, excellent recommendations and always making sure everything was working properly. We highly recommend this property as well as the wine tour with Chef Mike and his wife Lori. We enjoyed it thoroughly!" – Melissa
---
4) Renovated 1940s Bungalow in the Heart of Central East Austin
Location: East Austin
Airbnb Plus: Yes
Superhost: Yes
Price: $80+ USD per night
https://www.airbnb.com/rooms/4278536
This warm and friendly rustic bungalow has my vote for the best Austin Airbnb for its many great features, affordable price, high guest ratings and top-notch location. Over 100 visitors to Austin have given this two-bedroom Southern gem rave reviews – and rightfully so!
The bungalow is a craftsman's dream, designed and created by the best local woodworkers and decorated with custom furniture. There's high-speed Internet, spacious rooms, a traditional claw foot tub and a private outside deck.
Nestled in the suburbs of friendly East Austin, this one-off home is half a mile from the University of Texas and just two miles from the awesome nightlife of Downtown Austin. Unmissable!
Guest review: "We loved our stay in this beautiful bungalow! It was warm, interesting, welcoming, comfortable, and had everything we needed (including hair gel for my husband and good coffee)! We were so happy with the location. It was within walking distance to a coffee shop, Acton Academy (the reason we were in the area), and a great sports bar/restaurant! We hope to visit again and stay in this great place." – Jana
View Photos, Read Reviews & Check Availability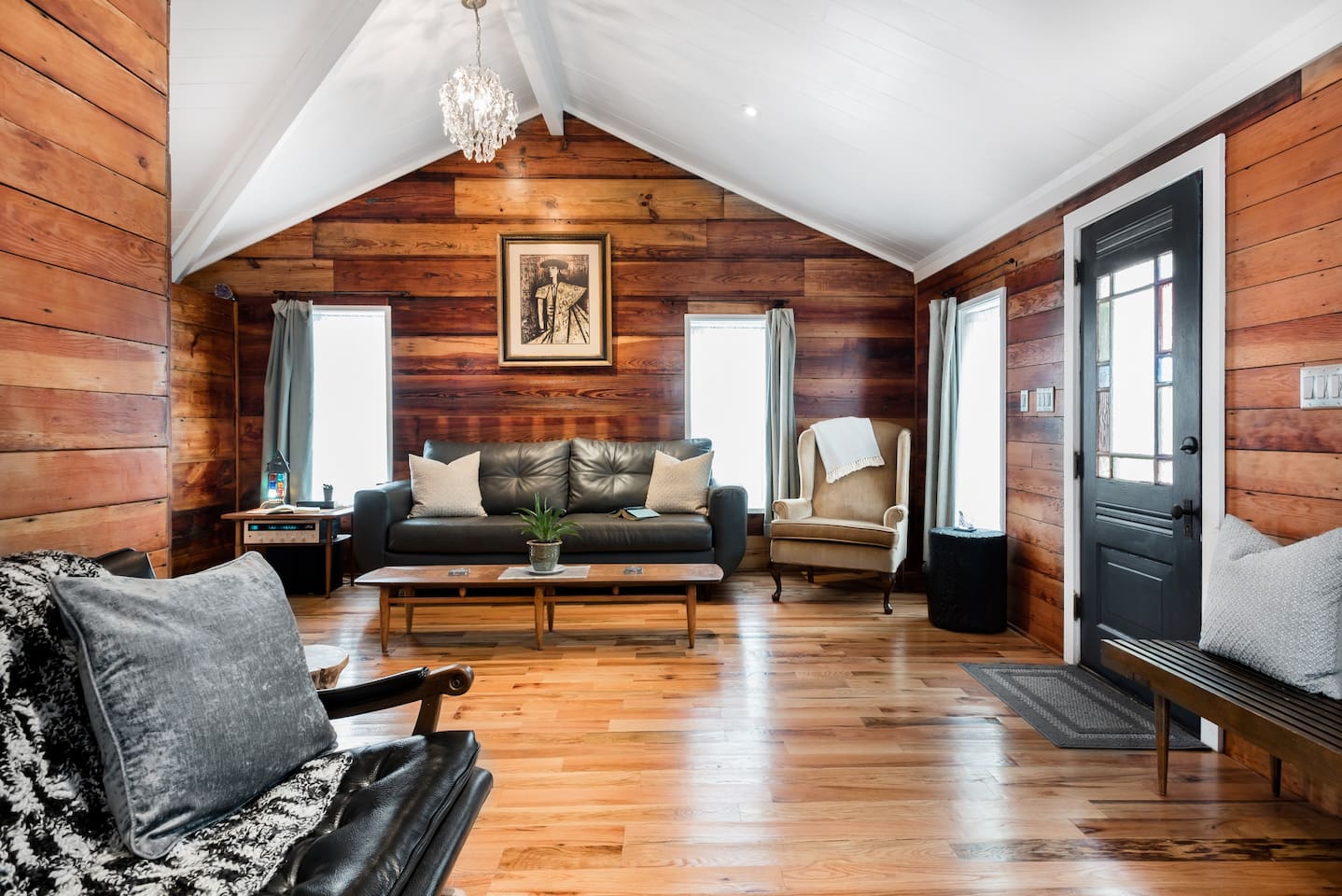 ---
5) EAST AUSTIN ATOMIC RANCH SHIPPING CONTAINER HOUSE
Location: East Side Downtown
Airbnb Plus: No
Superhost: Yes
Price: $30+ USD per night
https://www.airbnb.com/rooms/38701979
Sticking to a tight budget on your adventure to Austin but still want to book a top Airbnb to retire to after a long day of exploring this Texan city? Don't go past this epic shipping container house on the East Side of Downtown Austin.
It's my pick for the best cheap Airbnb in Austin, and for as little as $30 per night, you will enjoy this custom-built two-bedroom house that sleeps four. A unique, fun and clever addition to the ever-growing "tiny house" movement, this shipping container is brand new, modern and stylish and don't worry – there's an air-conditioner in the loft for those hot Austin days!
You'll love the close proximity to the super cool Downtown Austin district and its endless variety of bars, clubs, cafes, restaurants and stores. For cheap accommodation in Austin, this is the one!
Guest review: "What a treat! It was our first time visiting ATX and the tiny house was a perfect fit for our short stay. Lu explained everything in detail about the home and was easy to reach if needed. The pictures displayed on the profile is exactly what you get. Very new, clean and comfort! Downtown is just a quick 10-15 min drive from the home. We got to see a lot and can't wait to come back to visit again!" – Alexis
View Photos, Read Reviews & Check Availability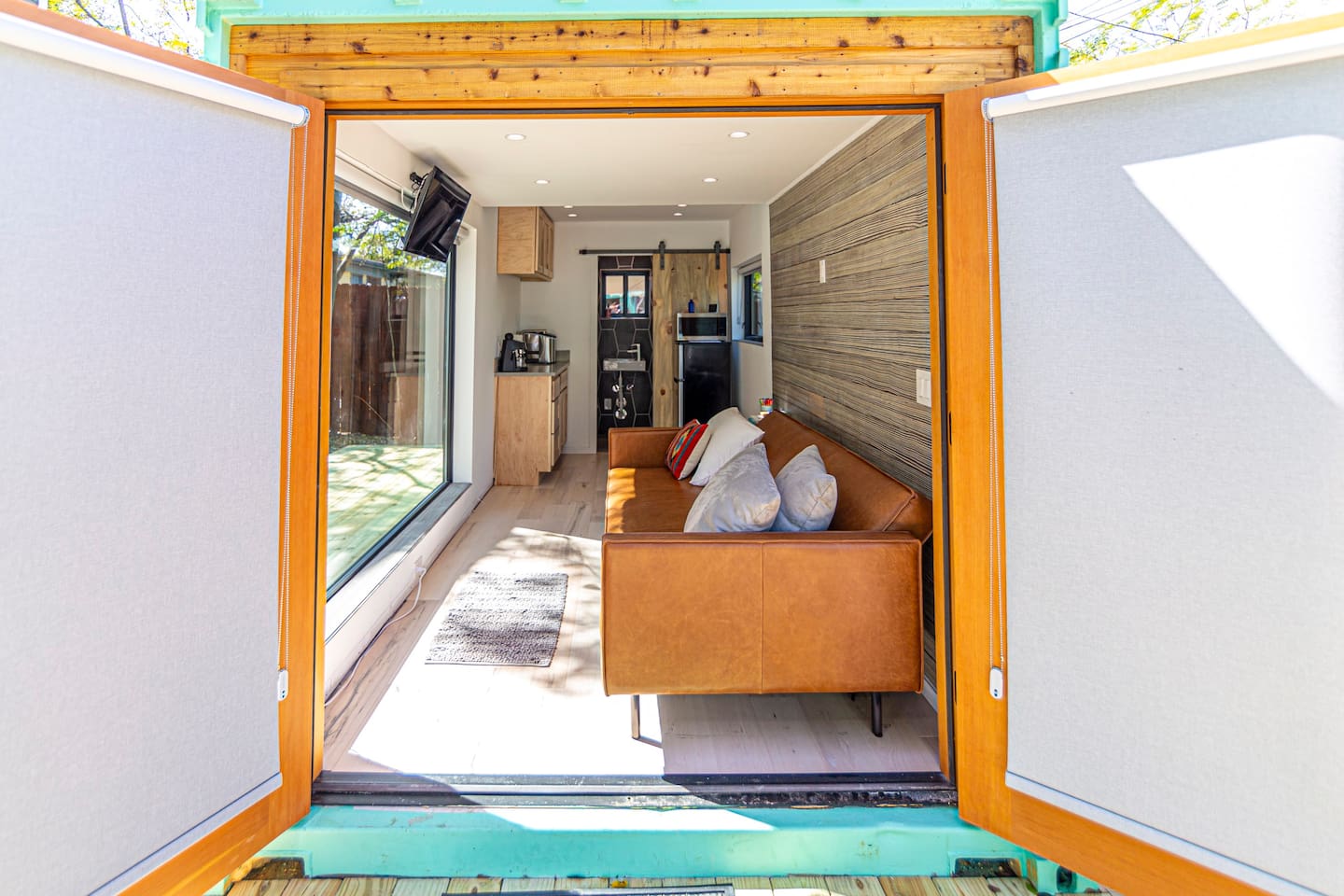 ---
6) Tiny House in the Heart of the East Side
Location: East Side
Airbnb Plus: Yes
Superhost: Yes
Price: $80+ USD per night
https://www.airbnb.com/rooms/4974255
One glance at the Airbnb's on offer in Austin and you'll be astounded by the sheer number of "tiny houses" the city has on offer. Small spaces are a hot commodity nowadays for their sustainability and low cost, and Texans love them. Maybe everything isn't bigger in Texas! I've chosen one such tiny house as the best unique Airbnb, Austin.
This one bedroom minimalist guesthouse is actually very spacious and comfortable, and is fitted with an air-conditioner for steamy Southern summers. It boasts stunning turquoise cabinetry and stylish design elements, and with pre-approval and for a small extra cost, is dog friendly.
Take advantage of the host's free guest bikes and explore the buzzing East Side of Austin, with its artsy and unique offerings. Cafes, bars, restaurants, breweries and food trucks are a stone's throw away. Join the tiny house movement on your next trip to Austin!
Guest review: "The tiny house in Anna & Chad's backyard made a great base for our stay in Austin over New Years Eve! The neighborhood is quiet and lovely with bars, coffee shops, and restaurants nearby (though we were glad to have a car to get around) and it gave us a genuine Austin experience. The tiny house had everything we needed and Anna & Chad had even provided some oatmeal, cereal, and granola bars for our breakfasts. We honestly loved staying here and would definitely recommend this place for any trip to Austin!" – Ashlea
View Photos, Read Reviews & Check Availability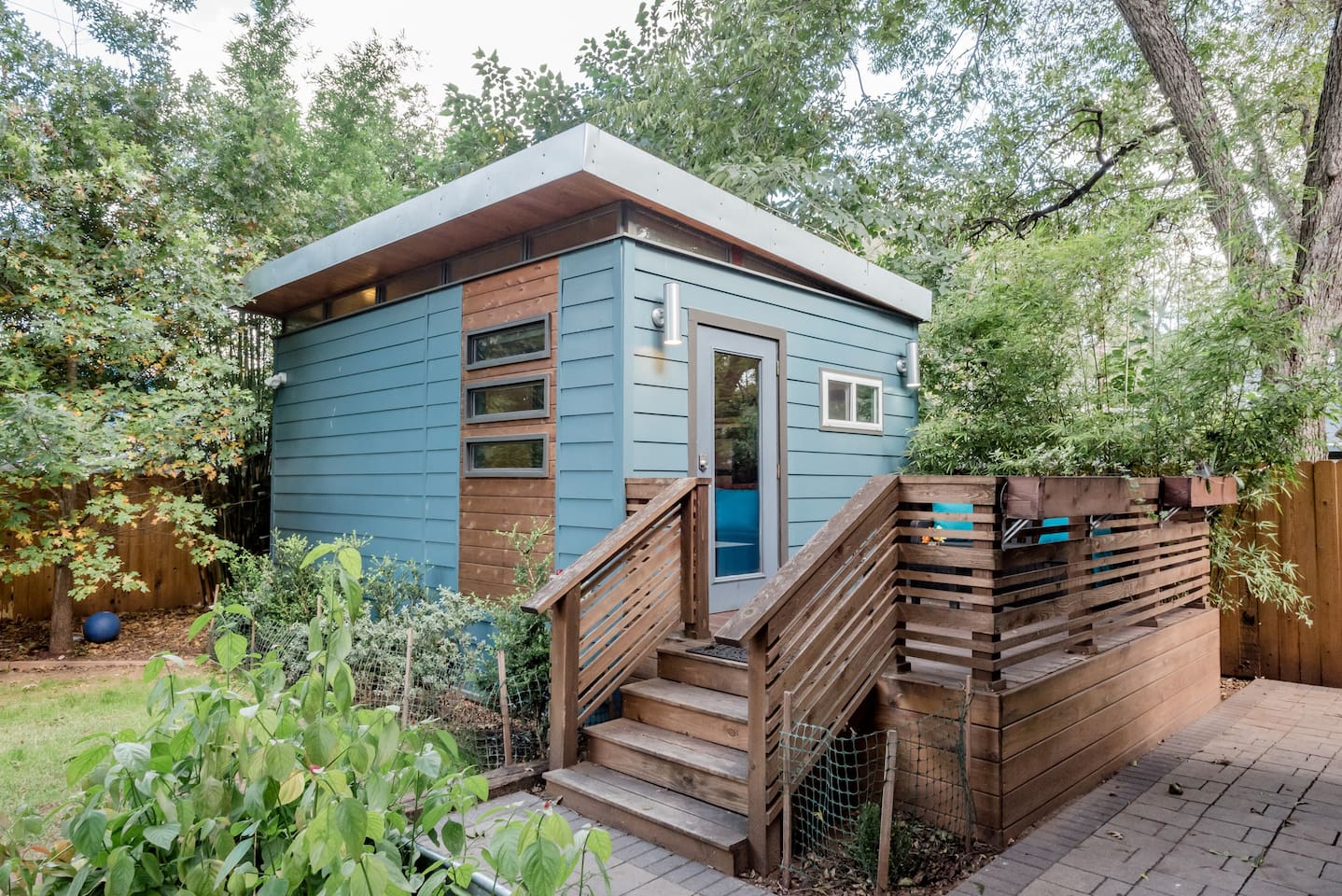 ---
7) Take in a Dip in the Heated Pool at a Luxury SoCo Retreat
The Best Luxury Airbnb, Austin, TX
Location: Travis Heights
Airbnb Plus: Yes
Superhost: Yes
Price: $175+ USD per night
https://www.airbnb.com/rooms/5094445
Treat yourself during your visit to Austin – you deserve it! This verified two-bedroom home is my choice for the best luxury Austin Airbnb as well as the best Airbnb in Austin with a pool. And it is still an affordable oasis in one of the areas most upmarket neighborhoods. This fashionable home is breezy and light-filled and boasts a designer swimming pool surrounded by tropical plants, a deck and an outside daybed for lazing poolside in the Texas sun.
It's a little slice of paradise in this fantastic city. The home is nestled in the sought-after central area of Travis Heights and is just a minute's walk to Austin's iconic South Congress Avenue, a number of parks and rustic walking trails. Bliss!
Guest review: "The location is perfect. South Congress is a short walk or ride. Downtown is not much further. The house is quiet and has plenty of space. The heated pool is great for relaxing. We would definitely stay here again if we return to Austin." – Bobby
View Photos, Read Reviews & Check Availability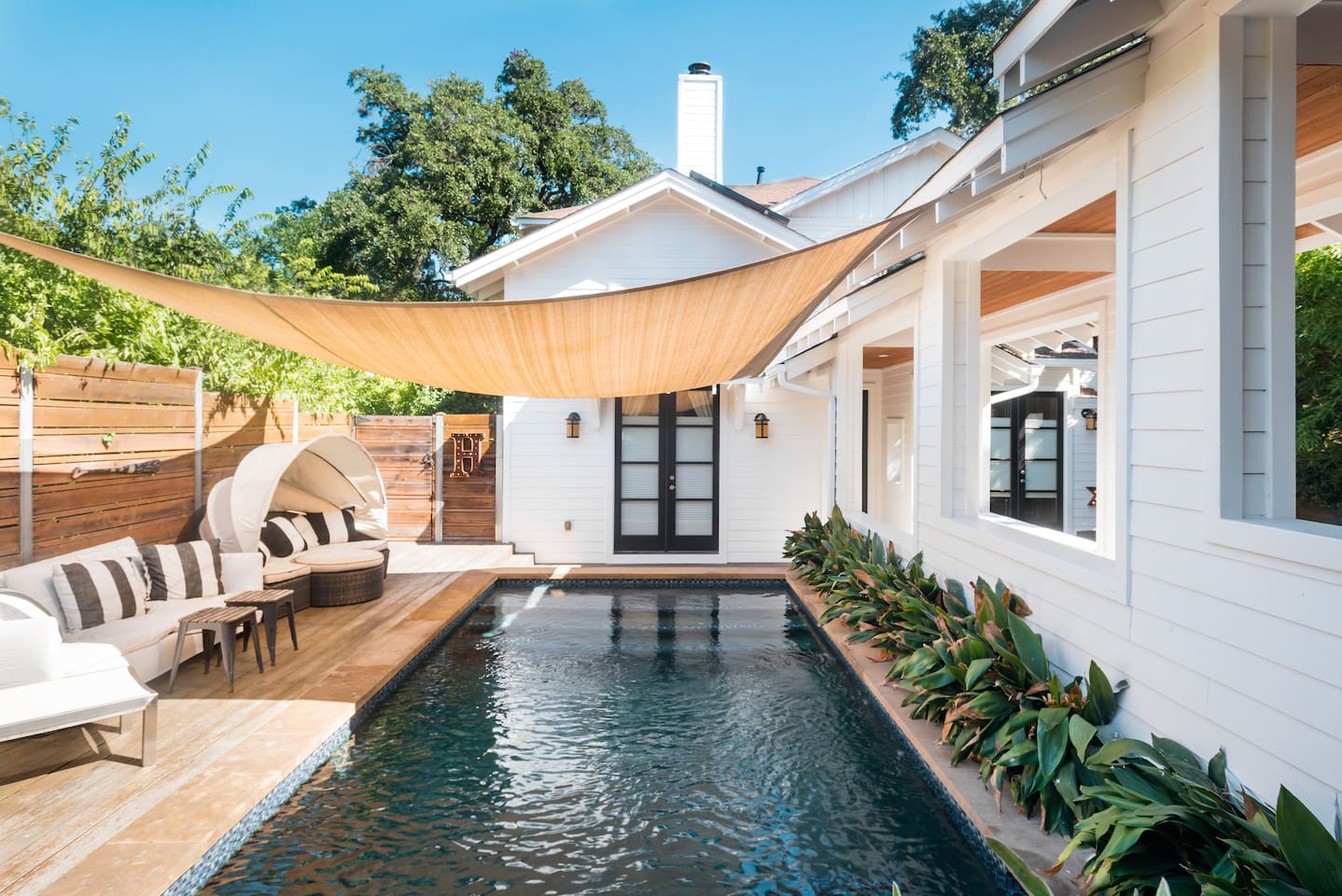 ---
8) CENTRAL & CHARMING ~ 3 Bedr ~ Sapphire House ~
The Best Austin Airbnb for Families & Groups
Location: Chestnut
Airbnb Plus: No
Superhost: Yes
Price: $100+ USD per night
https://www.airbnb.com/rooms/905360
Austin is a brilliant destination for families or groups, and its chilled-out vibe and unique cultural identity attracts a lot of visitors each year. If you're heading to Austin with your crew, your fam, or even your wedding party, you'll need a spacious Airbnb in Austin that's in a great location.
This charming three-bedroom bungalow has my vote for the best Airbnb in Austin for groups. Comfortably sleeping five, the newly renovated "Sapphire House" spans 1100 sq ft and is tucked away in the ultra-hip heart of East Austin.
Check out the area's live music scene, craft breweries and gourmet food hotspots before retiring to this airy abode with furniture hand-picked by HGTV's "Property Brothers". All this and more for as little as $100 per night – what a deal!
Guest review: "Olivia's space was fantastic. It offered more than enough room for a group of five. The house is walking distance to coffee shops, taco stands, restaurants and terrific watering holes. Downtown is a short Uber or Lyft ride away which made navigating the city a breeze. Would definitely recommend! Communication with the host great as well, check in and check out instructions were simple to follow. Thanks again!" – Kyle
View Photos, Read Reviews & Check Availability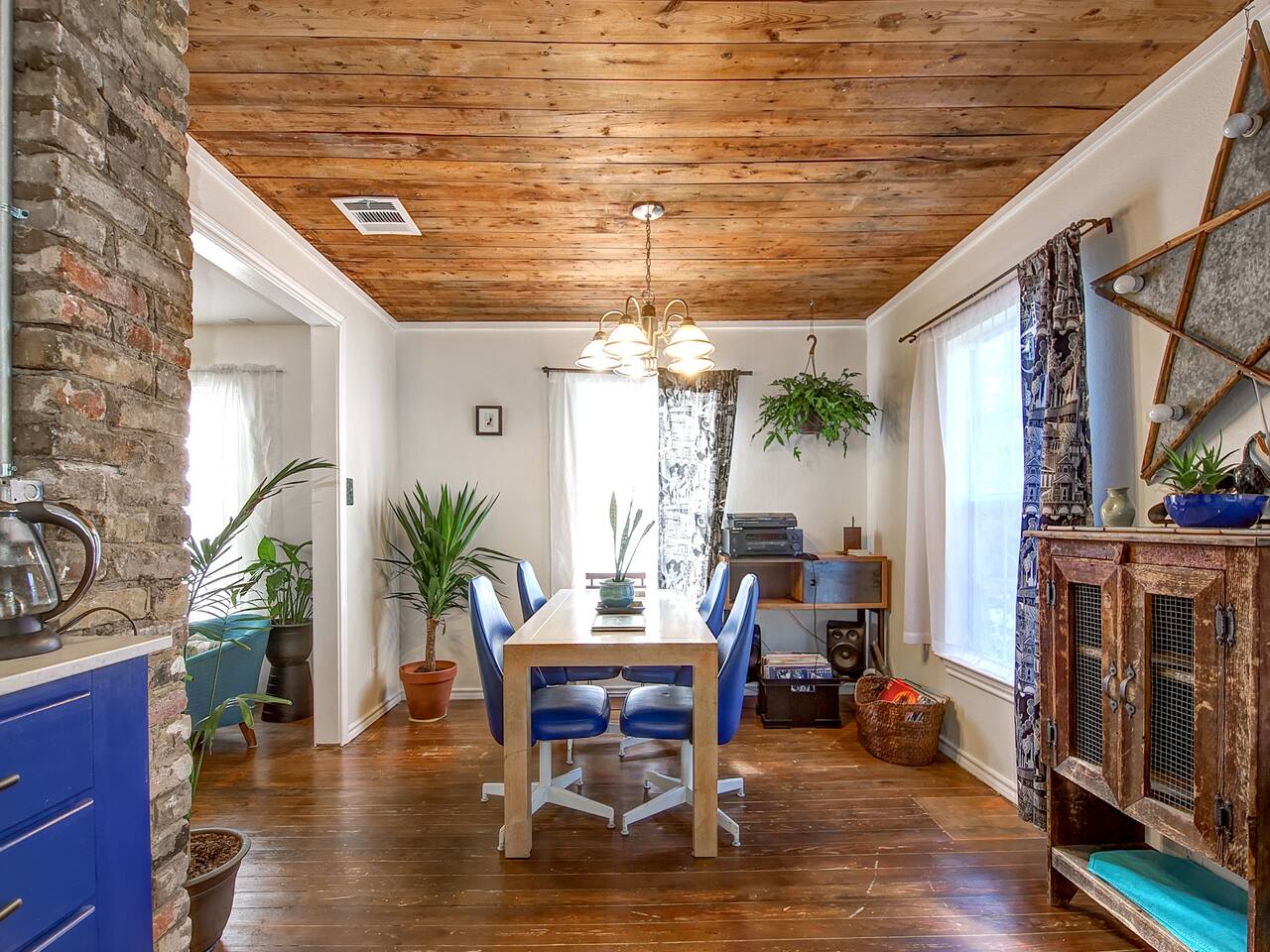 ---
9) Extraordinary East Austin Retreat
Cute Airbnb in Austin
Location: East Austin
Airbnb Plus: Yes
Superhost: Yes
Price: $70+ USD per night
https://www.airbnb.com/rooms/23468465
Live like an artistic Austin local and book your stay at this sweet two-bedroom retreat in the coolest part of town – East Austin! This space is warm, light-filled, with timber flooring and design elements that create a truly natural aesthetic. There's an upstairs loft, a deck walkout and an outdoor swing bench for unwinding in the heart of Austin.
The fantastic host takes the Airbnb one step further and donates part of each booking to important community organizations within Austin, such as the East Austin Black History Project and Save Our Springs Alliance. Have a fantastic Airbnb experience with the best of Austin on your doorstep, while contributing to the growth of this great city. Win-win!
Guest review: "Great place! Very cozy and welcoming. Stayed for one week. Lovely neighborhood, close to all the great places on the east side. Rented bicycles, can totally recommend to do that. Austin is very bike friendly! Julie and Pete were easy to communicate with if we had questions." – Emma
View Photos, Read Reviews & Check Availability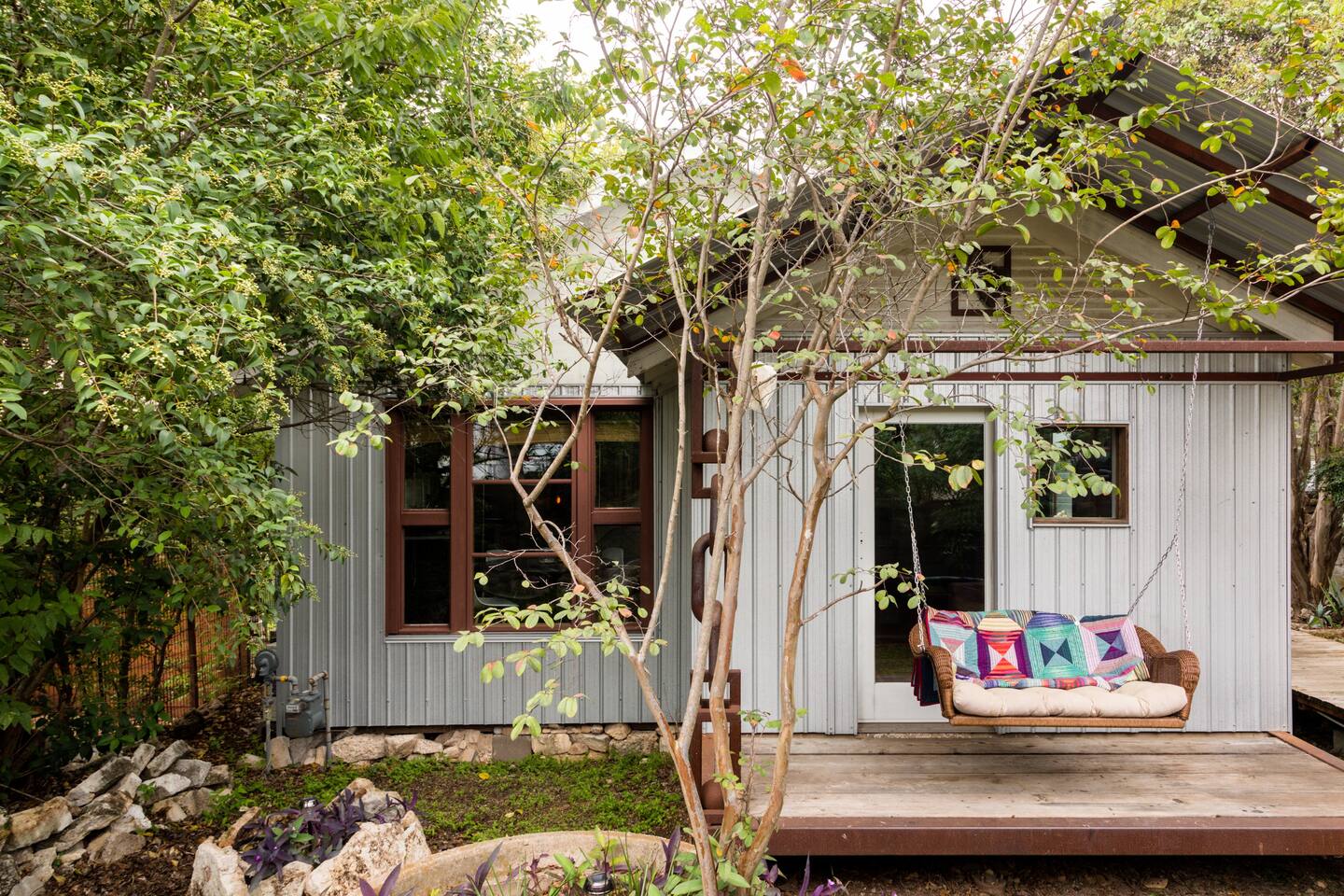 ---
10) Sweet East Side Bungalow- Awesome for Groups!
Coolest Airbnb in Austin
Location: East Austin
Airbnb Plus: Yes
Superhost: Yes
Price: $70+ USD per night
https://www.airbnb.com/rooms/23860926
This three bedroom Austin bungalow is value for money personified. Ideal digs for a group or family, this home is deceivingly cozy from the exterior but step inside and you'll find a spacious, flowing and beautifully presented home. This vintage space is the perfect blend of natural wood design inspiration and hip decor, and features a huge chef's kitchen, dining room, covered patio, and a large yard with a fire pit, lights and seating. If all that isn't enough, this cool Airbnb in Austin is located in a cosmopolitan area, which is heaving with trendy cafes, restaurants, bars, clubs and stores.
Guest review: "Had to get away for a day so came up to Austin. The place is just what we needed. Great design and decorating. Kids loved the little fire pit in the back yard. Coffee shop one corner and a coffee/bar with food trucks in the other corner. Can't beat it. Easy access to Main Street. Ran into the host twice and was very helpful with ideas on things to do. Will definitely be coming back." – David
View Photos, Read Reviews & Check Availability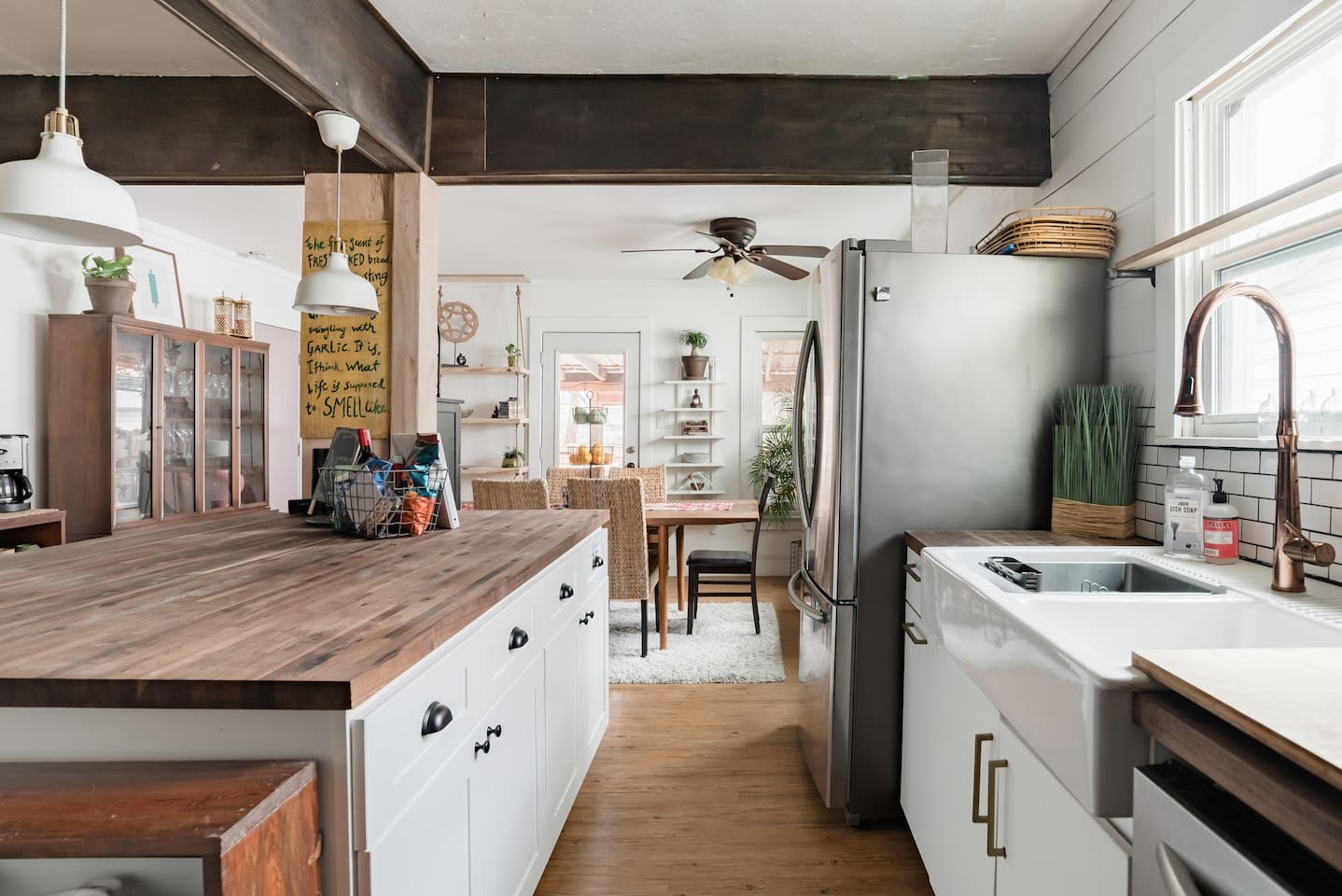 ---
11) AIRSTREAM Dream – East Downtown Oasis
Location: Central East Austin
Airbnb Plus: No
Superhost: Yes
Price: $50+ USD per night
https://www.airbnb.com/rooms/20194856
Take your trip to the Lone Star State to another level and spend a unique stay in a vintage Airstream that personifies the real America. This retro slice of history measures 29 foot and features a living room, two beds, two air-conditioners, a kitchen, a bathroom with shower and storage space. It is located in its own private yard. Step into the past and have an Airbnb experience to remember for years to come.
The hosts even offer free bike rental to explore Austin on two wheels. "The Airstream Dream" is parked up in Central Austin, ideally situated to enjoy the many eateries, live music venues and shopping experiences this awesome city has in spades! And for as little as $50 per night, who's complaining?
Guest review: "Such a fabulous stay!! The airstream was impeccably appointed, and a really comfortable space. The layout is more spacious that you may imagine. We thoroughly enjoyed our stay. Location was great and was within walking distance to lots of good things to explore and places to eat. Check in and communication was also quick and easy. Definitely recommend!!" – Mali
View Photos, Read Reviews & Check Availability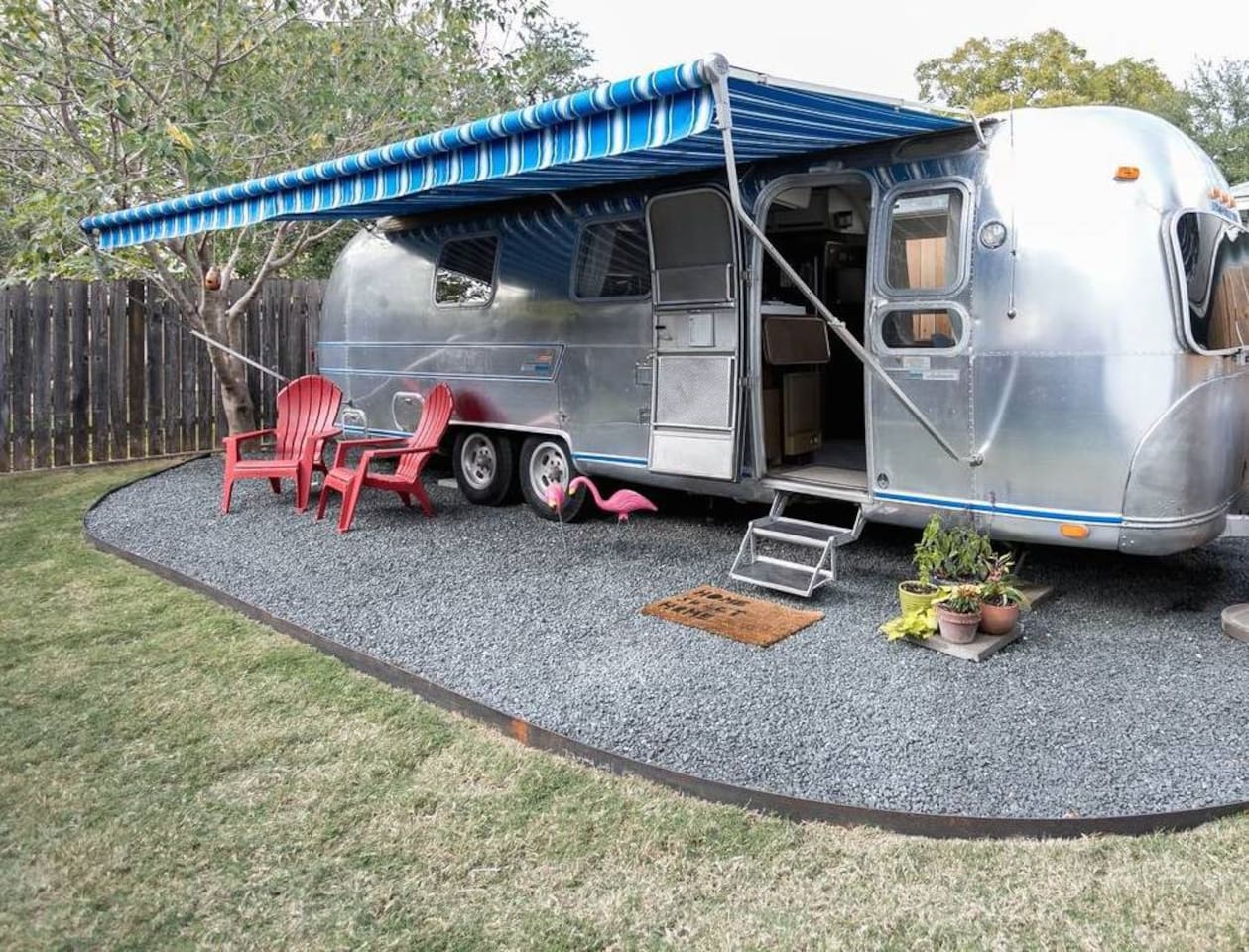 ---
12) Loco For SoCo
Location: Travis Heights
Airbnb Plus: Yes
Superhost: Yes
Price: $200+ USD per night
https://www.airbnb.com/rooms/26326034
Boho, eclectic, quirky and oh so cool, this three-bedroom Austin Airbnb is a mish-mash of different design elements that all just seem to work perfectly together. Immaculately presented, this pristine home has a resident pig to keep you company during your stay – he lives in the yard!
Even better than the Airbnb itself is its location. Just 20 feet away is what is arguably Austin's most iconic street – South Congress Avenue. From there, bar hop, explore local cafes and restaurants, take in a slice of Austin's famous live music scene or shop up a storm. You'll totally go Loco for SoCo!
Guest review: "Great locations only 20 yards from South Congress, immaculately clean accommodation, great host… this place has everything you'd need for an easy faultless stay. Would 100% recommend LoCo for SoCo!" – Scott
View Photos, Read Reviews & Check Availability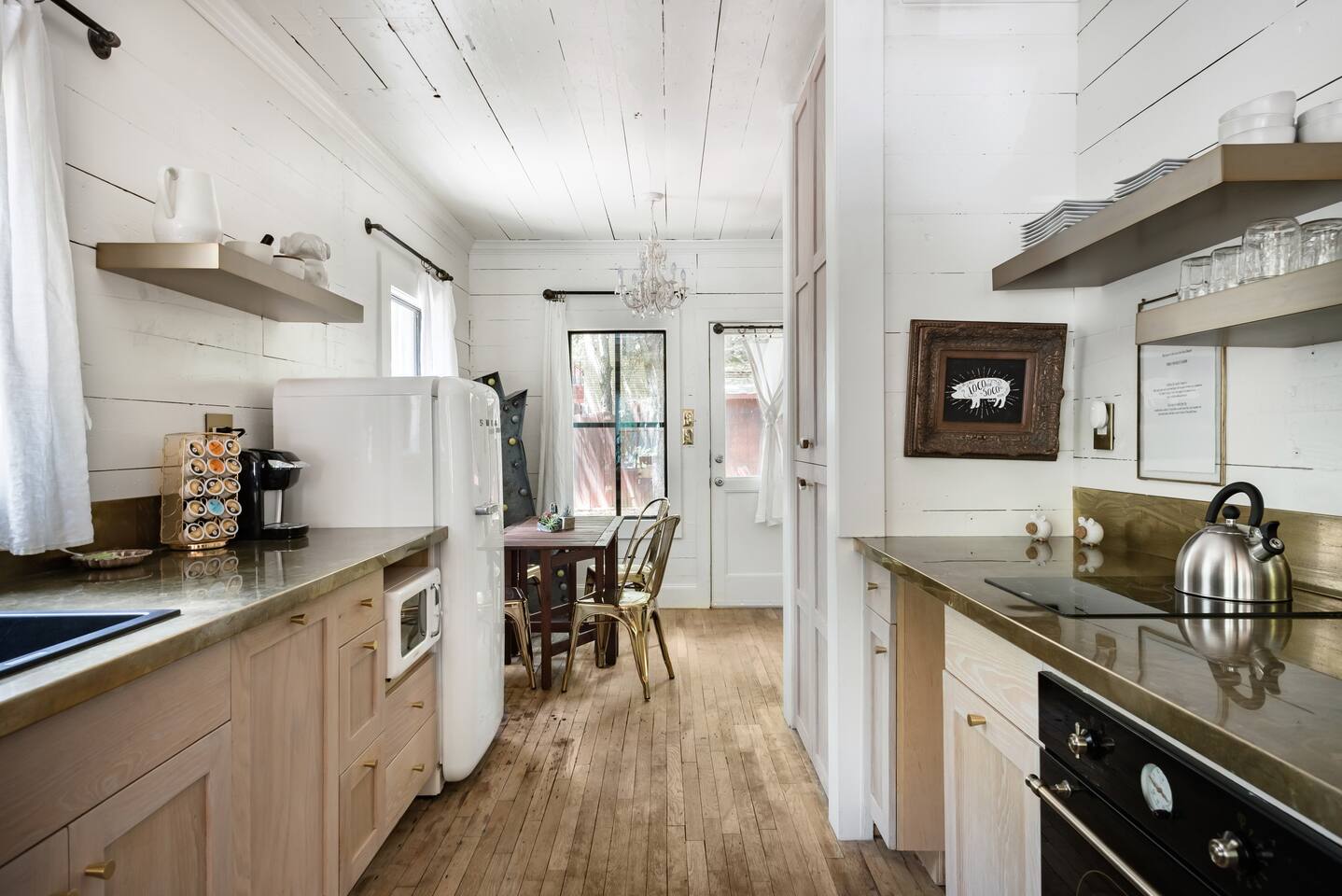 ---
13) Wow, Glass-Walled Design Bungalow near University of Texas
Location: Windsor Park
Airbnb Plus: Yes
Superhost: Yes
Price: $120+ USD per night
https://www.airbnb.com/rooms/5262010
This epic two-bedroom Austin bungalow is best described as the perfect balance of ultra-modern architecture and design and vintage charm. Either way, it fits in well in contemporary Austin, where the past is still heavily incorporated into many home designs.
This is a 1950's renovated bungalow, and has a huge fenced-in yard for dining al fresco on balmy Austin nights. It is in a great location, in the neighborhood of Windsor Park, which the host describes as a "'Keep Austin Weird' neighborhood – kinda anything goes!".
The local area has something to suit everyone. Lots of natural settings, parks, pools and walking trails, as well as a great variety of pubs, bars, restaurants, theatres. Some great Texas BBQ is just a stone's throw away, so get on it!
Guest review: "The house is stunning – and Michael is a wonderful host! I had to book accommodation for two corporate groups travelling to Austin for SXSW, and Michael went waaay above and beyond the call to help meet our needs. He answered a million questions that I had during the booking process, and worked with our corporate processes professionally and patiently. On top of all that, he went out of his way to ensure that we were all comfortable and had everything we needed for our stay. There were so many thoughtful touches in the house that were such a treat after our long trip to Austin from Australia – everyone was absolutely delighted. The house is stunning – Michael has exceptional taste and an amazing eye for detail. We couldn't have asked for a better experience – thank you so much Michael!" – Sue
View Photos, Read Reviews & Check Availability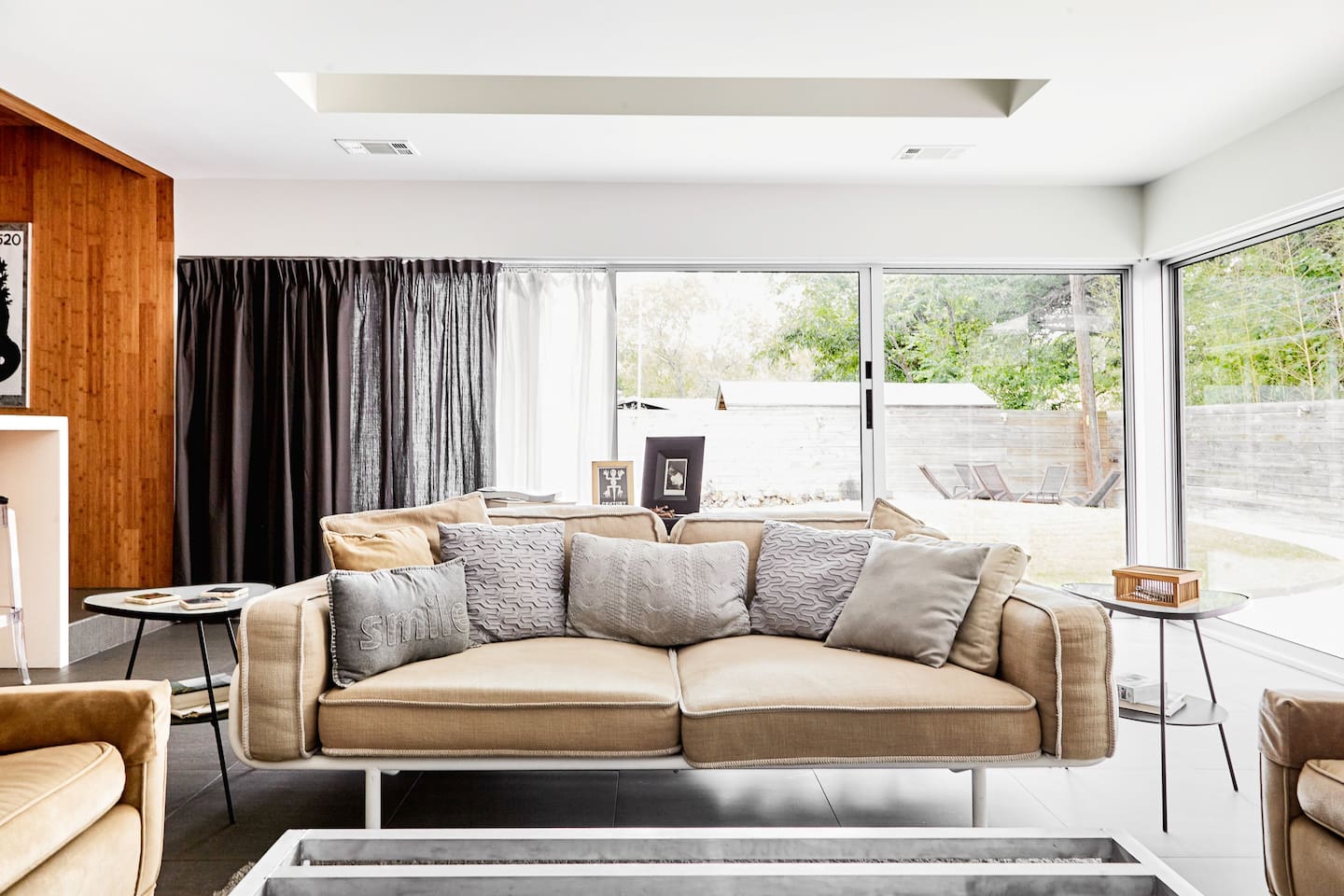 ---
14) Chic East Downtown Condo. Six Blocks to City Core. Pool.
Location: East Downtown
Airbnb Plus: Yes
Superhost: Yes
Price: $40+ USD per night
https://www.airbnb.com/rooms/26718562
For such a low price, it's hard to believe the value for money this fantastic Austin condo offers. Verified by Airbnb and with a terrific Superhost who is eager to make your visit to the Texas capital as memorable as possible, this centrally located two-bedroom vacation rental is modern, open plan and spotless.
The complex has a pool and sun loungers that Airbnb guests have complete access to – a must in the Texas heat! This gorgeous condo aims to be as eco-friendly as possible and is nicknamed "The Green Suite".
From your top-rated lodgings in the center of downtown Austin, you'll have all of this culturally rich city at your fingertips. Walk or bike your way around, enjoying the sheer number of eateries, bars, music venues and unique stores at your disposal.
Guest review: "Amazing place! The location is just unbeatable, you are in the heart of the city but still no noise at night, quiet and peaceful. Literally minutes from gorgeous restaurants and great bars, stores etc. The place itself was very clean, comfortable and modern. The balcony, overlooking the pool, was definitely a bonus and a must for us – for a glass of wine after a long day exploring this gorgeous city. Communication was great and the host went above and beyond to satisfy all of our needs. Would highly recommend and can't wait to be back!" – Vanya
View Photos, Read Reviews & Check Availability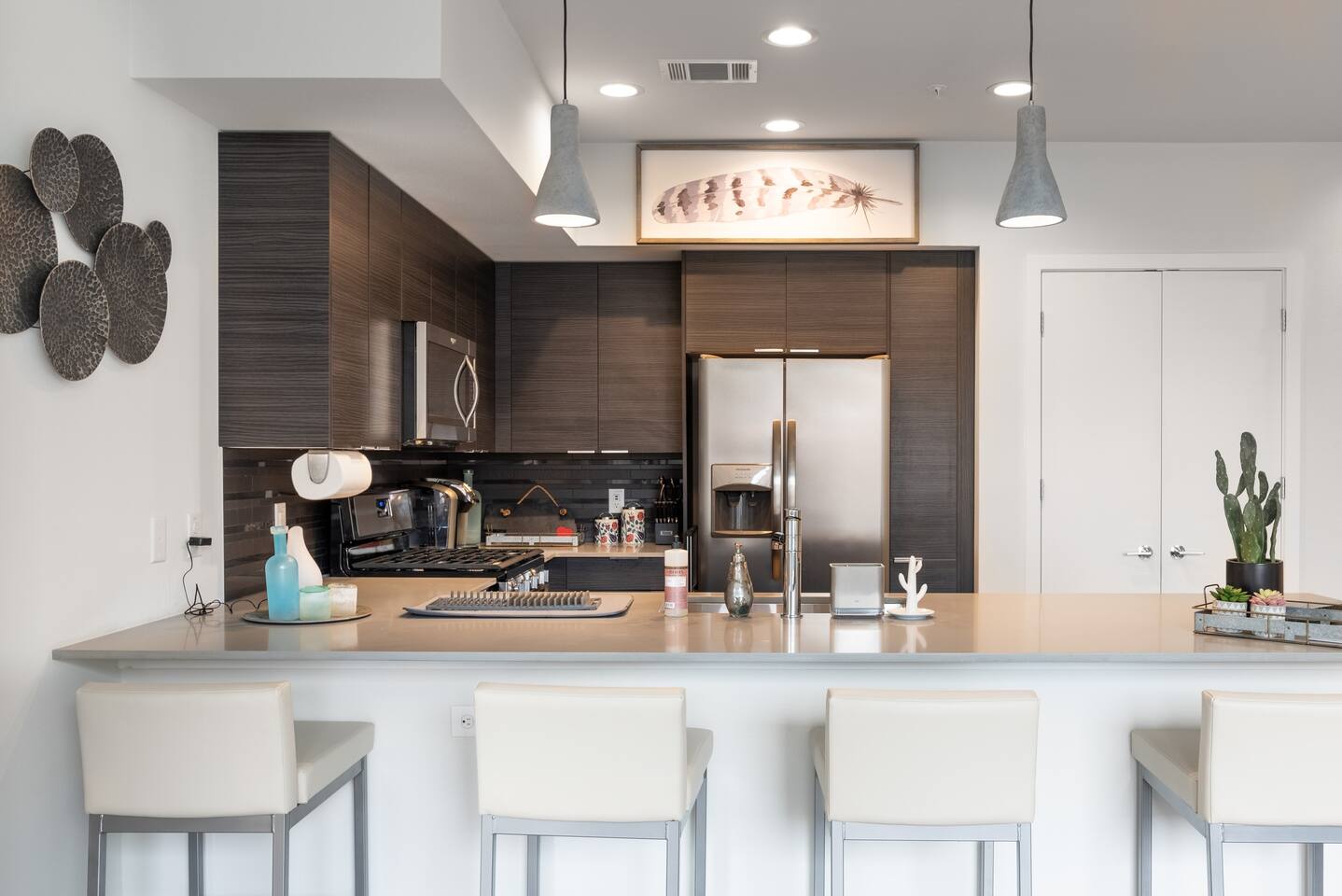 ---
15) Garden Cottage in East Austin
Location: Windsor Park
Airbnb Plus: No
Superhost: Yes
Price: $50+ USD per night
https://www.airbnb.com/rooms/2528473
Do you want your Texas vacation to be as natural, slow-going and relaxed as possible? Then book your stay at this Austin cottage without delay! Located on a half-acre lot just 15 minutes from Downtown Austin, this amazing garden oasis is the retreat you never knew you needed.
This quirky little guesthouse in residential Windsor Park is super affordable and has achieved near-perfect ratings from over 600 Airbnb guests and counting! If you love animals, you'll find it hard to leave the many furry residents of this block at the end of your stay.
There's cats, dogs, pigs and chickens all over the property and the host encourages you to spend time with your four-legged neighbors! However, it goes without saying that those allergic to animals probably shouldn't stay here. Looking for a long term Airbnb in Austin? This place is perfect to keep costs low, as they are open to long term bookings.
Guest review: "For anyone visiting Austin for the first time and is happy to rent a car…this is the perfect place to stay. So quirky and unique…and conveniently situated enough out of the city if you are looking to visit surrounding towns, but close enough to the city if you want a few nights out experiencing the night life. Such a great family and entertaining pets! Our favorite was the dog and goats! We would love to live here permanently :)" – Daniel
View Photos, Read Reviews & Check Availability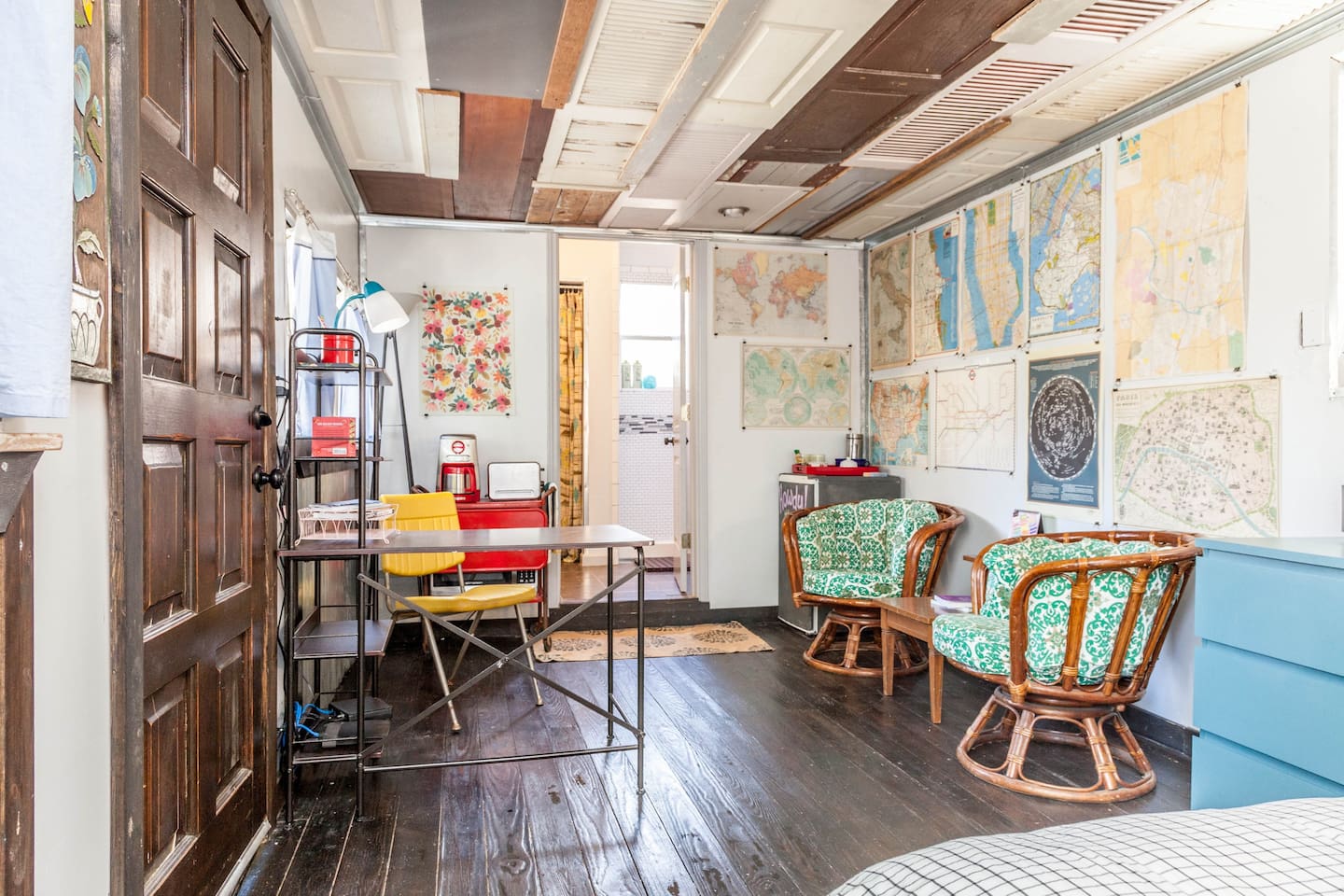 ---
16) Studio Hideaway with Secluded Patio in Austin
Location: Travis Heights
Airbnb Plus: Yes
Superhost: Yes
Price: $120+ USD per night
https://www.airbnb.com/rooms/705858
Warm, welcoming and impeccably designed and decorated, this verified one bed Travis Heights apartment is as cool as the vibrant area it is nestled in. It has its own private patio and is surrounded by landscaped gardens.
The host has thought of everything, including supplying the best Turkish bathrobes for a touch of luxury during your stay! What else, you ask? The iconic South Congress district is just four blocks away, packed with outstanding eating and shopping opportunities. Cool off at the local pool or unwind at the area's parks, gardens and walking trails.
Guest review: "We stayed for 3 nights and couldn't fault Bills Carriage House in anyway. The bed was amazing, the house was super clean and spacious. Well located, plenty of cheap eats within walking distance. Will definitely stay there again whenever we go back to Austin." – Leanne
View Photos, Read Reviews & Check Availability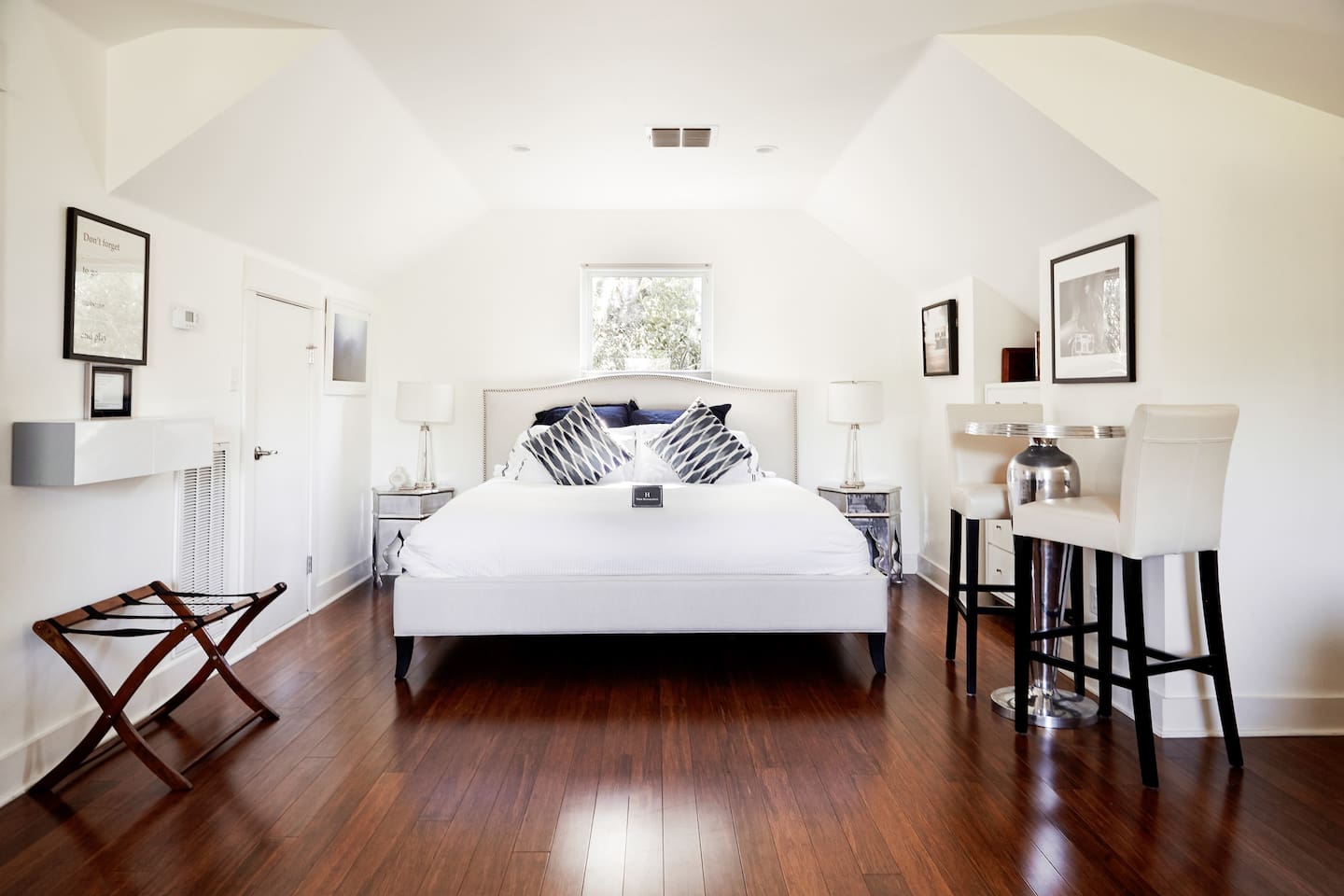 ---
17) 2 Bedroom Private Pool on Lake Travis
Location: Comanche Trail
Airbnb Plus: No
Superhost: Yes
Price: $150+ USD per night
https://www.airbnb.com/rooms/3230604
Fancy getting outta Austin and indulging in a bit of self-care in a tranquil space not far from the capital? You've come to the right place. Surrounded by rustic Texas countryside and with an earthy, woodsy design, this two bedroom 1000 sq ft home also has a private pool!
You'll have the completely self-contained first floor of this family home all to yourself, and the hosts are on call to help you with anything you need.
Head to Lake Travis (just across the road!) and use the two kayaks the hosts supply to guests! This serene retreat is just a 20-minute drive to Downtown Austin, and you can rent a car, or just call a Lyft or Uber. There's no public transport out this way, but 250 Airbnb guests (and counting) don't mind and neither will you!
Guest review: "This place is amazing! Very clean and the pool is a great spot to relax. You can walk down the street to a park on the lake too. Great host with quick responses to any questions. Will stay again in the future." – Alexander
View Photos, Read Reviews & Check Availability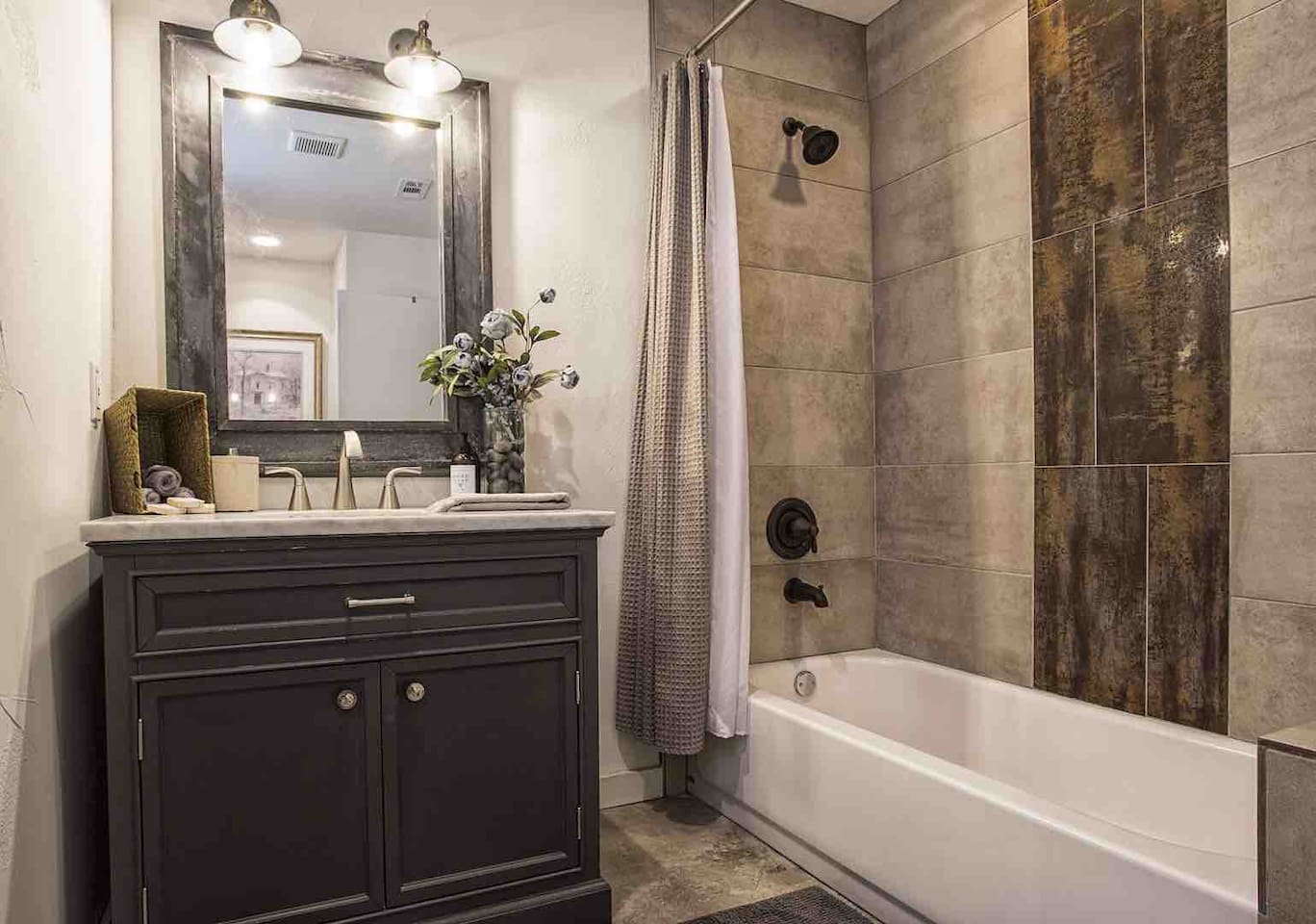 ---
18) Peaceful Oasis with Pool
Location: Round Rock
Airbnb Plus: No
Superhost: Yes
Price: $10+ USD per night
https://www.airbnb.com/rooms/15254330
No. I didn't leave a 0 off the price above. For as little as $10 per night (depending on the season and popularity of course), you can indeed rent a spacious three-bedroom Airbnb with a pool just 25 minutes from Downtown Austin! I know right! This multi-level family vacation home is located in the nearby town of Round Rock and has been updated into a spacious and stylish must-see.
There's a huge yard with a pool, but this home isn't for big groups or loud parties. Nestled in a quiet and friendly residential neighborhood, this home is solely for those looking for a serene and relaxing escape. Round Rock has its own variety of charming places to grab a bite and outlet stores, plus heading into nearby Austin is a breeze!
Guest review: "The house was exactly as it appeared in the photos. There was only my partner and I and it was perfect for our trip as we only used the bottom floor of the house. Check in was easy and we had fast responses from Tami and Dave. We were looking for a place that was close to Austin but not in the city and we found exactly that. We went into Round Rock daily for coffee and absolutely fell in love with the town!" – Christina
View Photos, Read Reviews & Check Availability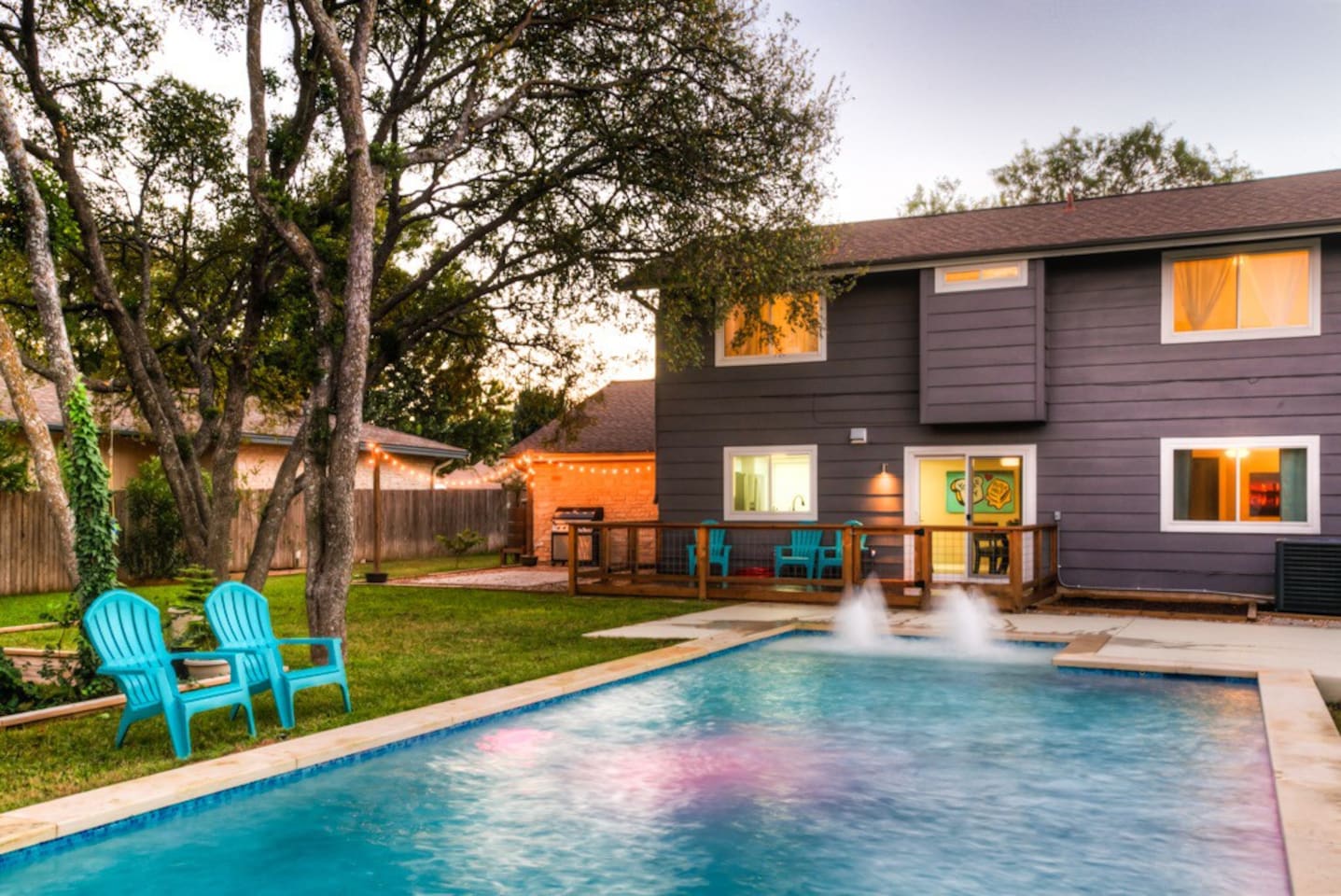 ---
19) Sweet East Austin Suite
Location: East Austin
Airbnb Plus: Yes
Superhost: Yes
Price: $80+ USD per night
https://www.airbnb.com/rooms/2336368
Tucked away in fun East Austin, this one-bedroom suite sure is sweet! Beautifully cared for and presented, this snug apartment is located independently from the hosts in the main home in a friendly and laid back neighborhood. This is the perfect place for a vacation.
But that doesn't mean you don't get to play with their pet pigs, chickens and ducks! There's a coffee shop on the corner and general stores, local breweries and restaurants within walking distance. Downtown Austin is just a short drive away, and Uber and Lyft will take you there without any hassle.
Guest review: "Everything about this stay was excellent. Mari and Danny's place is perfectly put together with everything you need for your stay (including breakfast oats and welcome beers – legends). We loved our stay here. They've even got resident pigs, ducks and chickens. The hosts were super lovely and helpful." – Teneille
View Photos, Read Reviews & Check Availability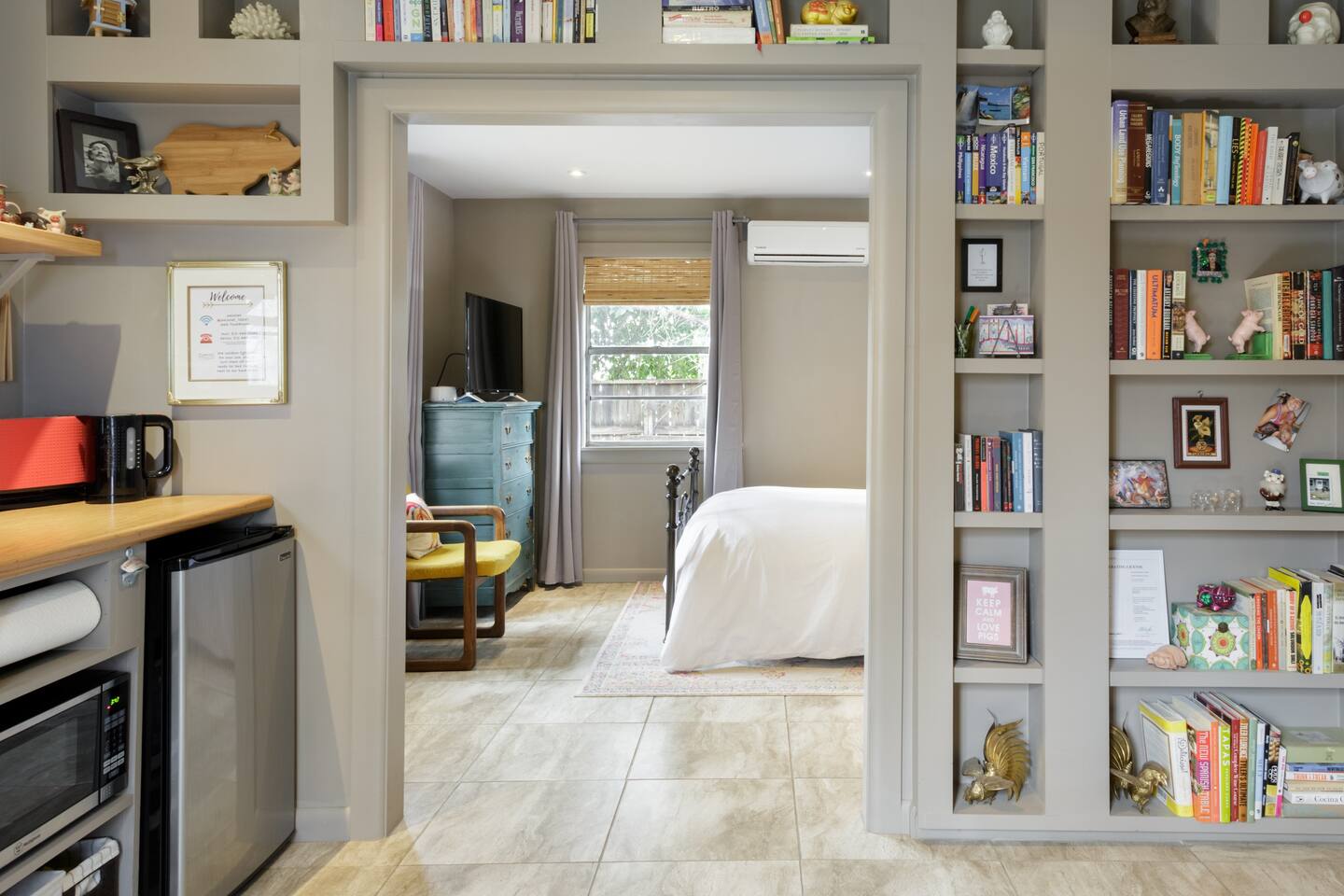 ---
20) East Austin Gem near Lady Bird Lake Trail
Location: East Austin
Airbnb Plus: Yes
Superhost: Yes
Price: $120+ USD per night
https://www.airbnb.com/rooms/18737178
At the precipice of Austin's bright city lights and rustic natural wonders, you can't go past this lovely little East Austin bungalow and its many offerings. With eye-catching art prints, vibrant feature walls and crisp white interiors, this charming abode is truly enchanting and minutes of Downtown Austin, the walking trails of Lady Bird Lake and historic Rainey Street.
Eat your way around the foodie hotspot of East Austin, enjoy live music at the many bars and venues of Downtown or sit by the lake and watch the world go by. The choice is yours.
Guest review: "We absolutely loved staying here. We took a road trip with both our dogs to celebrate me and my husband's wedding anniversary. Pam and Mitch were extremely welcoming and were very helpful when needed. The space was ideal for our two dogs and the location was very convenient. We were able to hop onto the Lady Bird Lake trail easily. Would definitely recommend to those traveling with their pups!" – Minna
View Photos, Read Reviews & Check Availability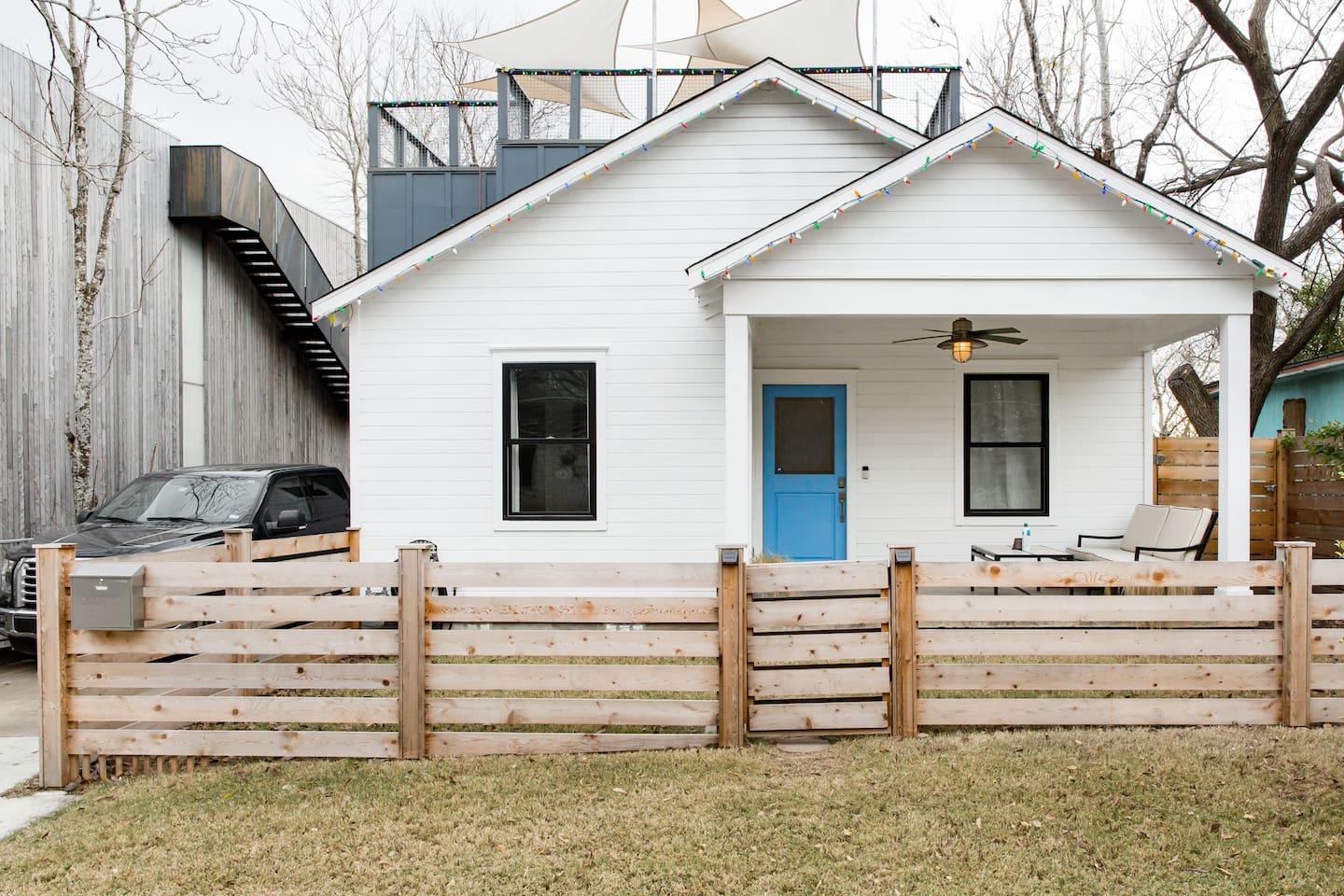 ---
Tours & Day Trips from Austin to Consider
If you have time between enjoying local craft beers and listening to smooth tunes in the musical heartland of Texas, you'll want to get the most out of your visit! From expert-lead guided city tours to sojourns to historic Austin ranches, my recommendations for the best Austin tours and experiences will take your trip to the next level.
And if you're planning a longer stay in the area be sure to check out some of the best Dallas Airbnbs.
---
Austin: Best of Austin Small-Group Guided Tour
"Experience the best of Austin with a local guide on this bucket list tour. Enjoy a 2-hour adventure for an overview of the major landmarks, parks, and hidden gems. Take a guided Capitol tour, before stopping at Austin's favorite food trucks."
https://www.getyourguide.com/austin-l32477/austin-best-of-austin-small-group-guided-tour-t268542/
Price: From $50 USD (2 hours)
Review: "Matt was an exceptional guide on the Small Group Tour. He was knowledge with a great sense of humor. Highly recommend Austin Detours!" – Loreen, United States
View Photos, Read Reviews & Check Availability
Top 10 Things to Do in Austin, Texas in 2019
---
Texas Hill Country and LBJ Ranch Tour with Hotel Pickup
"Discover the wineries and rolling hills of Texas Hill Country on a full-day tour with hotel pickup from Downtown Austin or San Antonio. Explore the famous LBJ Ranch, stroll around historic Fredericksburg, and experience the magic and music of Luckenbach."
https://www.getyourguide.com/fredericksburg-wine-country-l92510/texas-hill-country-and-lbj-ranch-tour-with-hotel-pickup-t261397/
Price: From $160 USD (8 hours)
Review: "The trip to LBJ country was very interesting and Luckenbach was fun and relaxing." – Anonymous, United States
View Photos, Read Reviews & Check Availability
---
Downtown Austin Adventure: 3-Hour Smartphone Scavenger Hunt
"See the vibrant city of Austin in an entirely new and exciting way in this 3-hour, Amazing Race-style scavenger hunt. Let your smartphone be your guide as you race to Capitol building, through 6th street and along the scenic riverfront."
https://www.getyourguide.com/texas-l717/amazing-scavenger-hunt-adventure-in-austin-texas-t37520/
Price: From $65 USD (2.5 hours)
Review: "It was a very hot day but really nice that the hunt takes you into various air-conditioned venues along the route. Plenty of places to stop and eat or get something to drink. We spent 4 hours on the adventure." – Denise, United States
View Photos, Read Reviews & Check Availability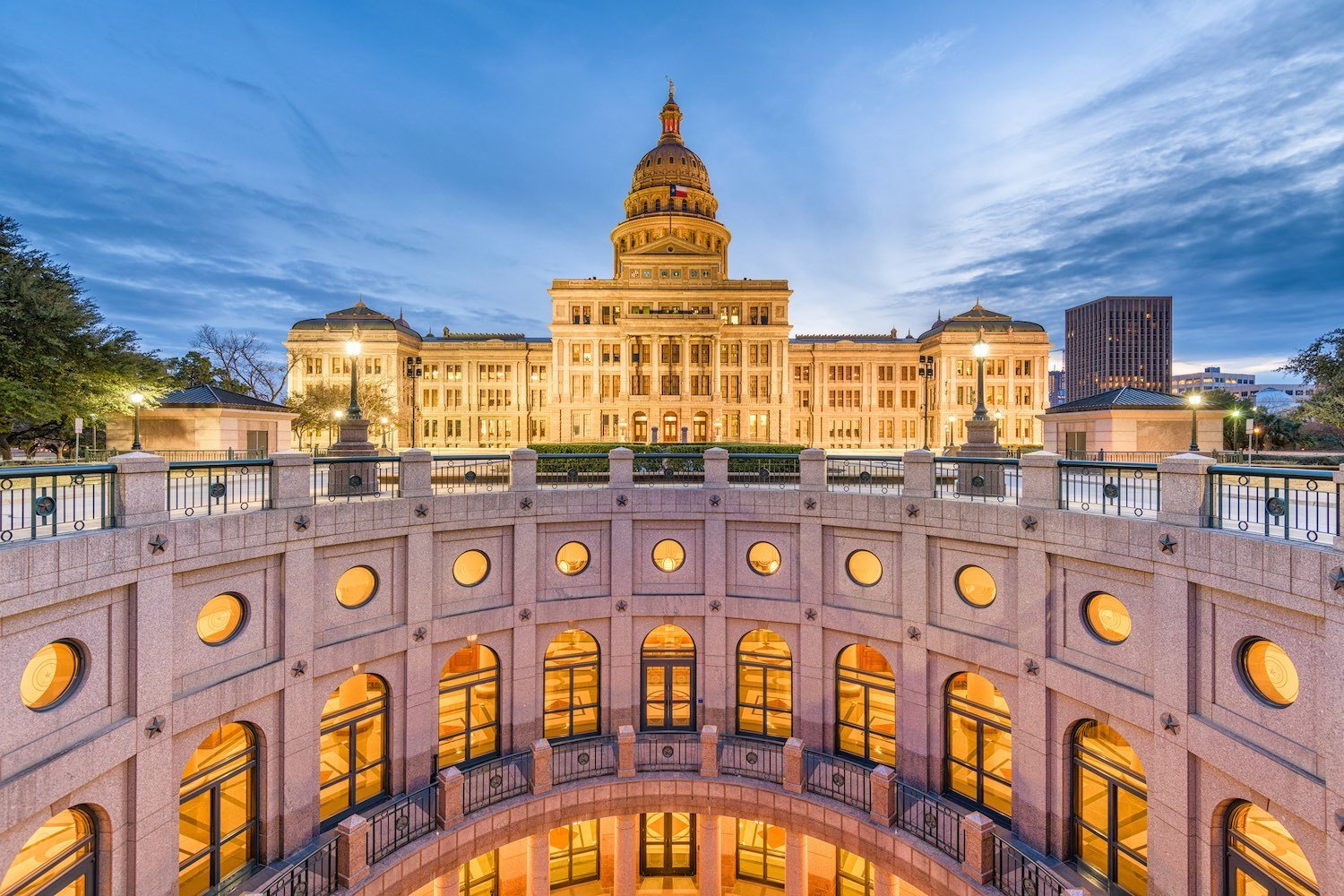 ---
Am I Missing Any of The Best Airbnb Austin Rentals?
Have you recently visited the city and stayed at awesome Austin, TX Airbnb? Please let me know! While doing research for this article, I really did discover there are so many amazing vacation rentals in Austin! I'm hoping to make a trip to Austin in the next year, and definitely will be planning on staying at one of these awesome pads!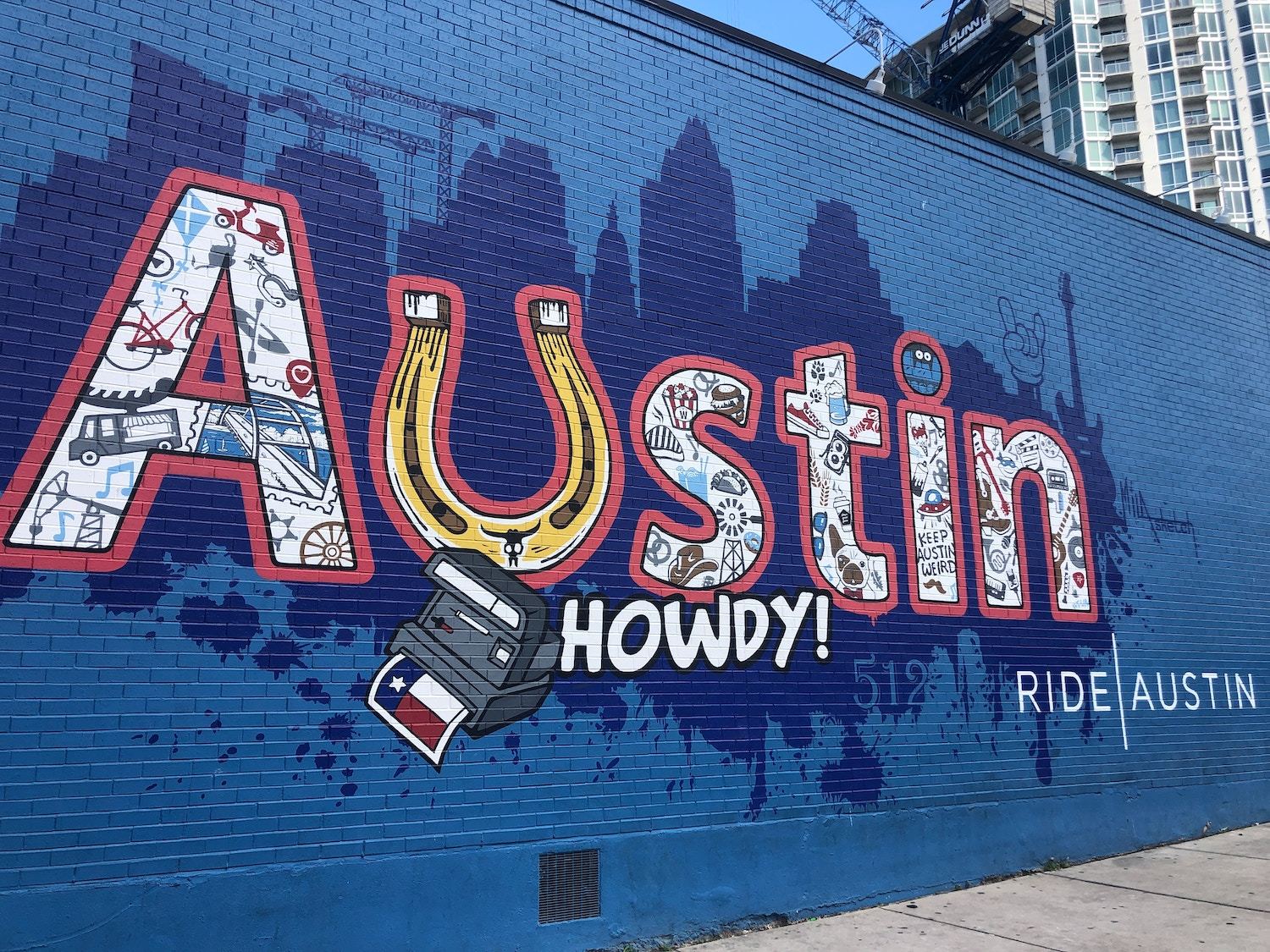 ---
Thanks for reading my Best Airbnb Austin, TX Guide!
Share these Airbnbs in Austin with your Texas travel squad!
https://www.jonesaroundtheworld.com/wp-content/uploads/2019/12/Best-Airbnbs-in-Austin-Texas.jpg
1193
1500
Dave
https://www.jonesaroundtheworld.com/wp-content/uploads/2017/03/logotry-1-1-300x106.png
Dave
2020-10-21 21:23:40
2023-09-30 18:48:32
Best Airbnb in Austin, Texas: 20 Unique, Cool & Luxury Stays