Heading to the Czech capital soon and looking for the best Airbnb in Prague? Well, look no further, because this is the ultimate Airbnb Prague guide to suit any travel style, budget, or season!
I've been to Prague a number of times, and it is one of my favorite European cities without a doubt! I know everyone comes back from their Euro trips raving about Prague, and I've honestly never met anyone who hasn't fallen in love with it. The capital city of the Czech Republic is home to 1.3 million permanent residents but receives over 20 million annual visitors. That's a serious testament to its ranking as one of the most popular European cities.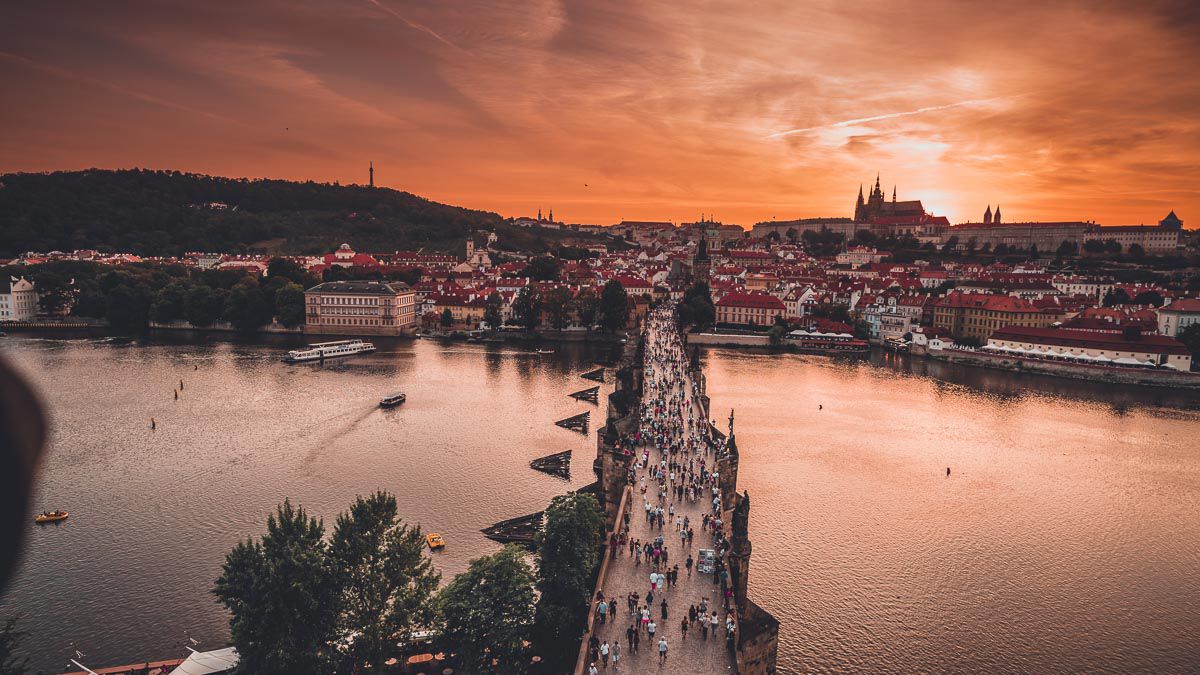 ---
What makes Prague so special? Man…where do I begin? In summer it's bright, warm and colorful, and that Czech beer goes down a treat on a hot day, believe me. In winter, it's snow-capped and magical, and Czech bread dumplings and mulled wine are a match made in heaven. The city sights are like something out of a fairytale. Majestic castles, cathedrals, clock towers, churches and bridges that visitors flock to, and a famous river that separates the Old Town from the Castle District. It has a sombre history that is still very much close to the hearts of Czechs, and that history is something visitors are welcome to learn about and experience at the city's fascinating synagogues and other sacred spaces.
The shopping is amazing, the locals friendly and welcoming to visitors and the food – oh the food. I was probably Czech in another life – I swear.
If you're heading to this stunning city and ready to book your accommodation, look no further. I've put together my list of the 18 best Airbnb Prague listings. Just promise me when you're there, you'll smash a few pints of Gambrinus for me and tuck into a plate of svíčková – those are my unmissable Prague dining experiences I'll impart to you!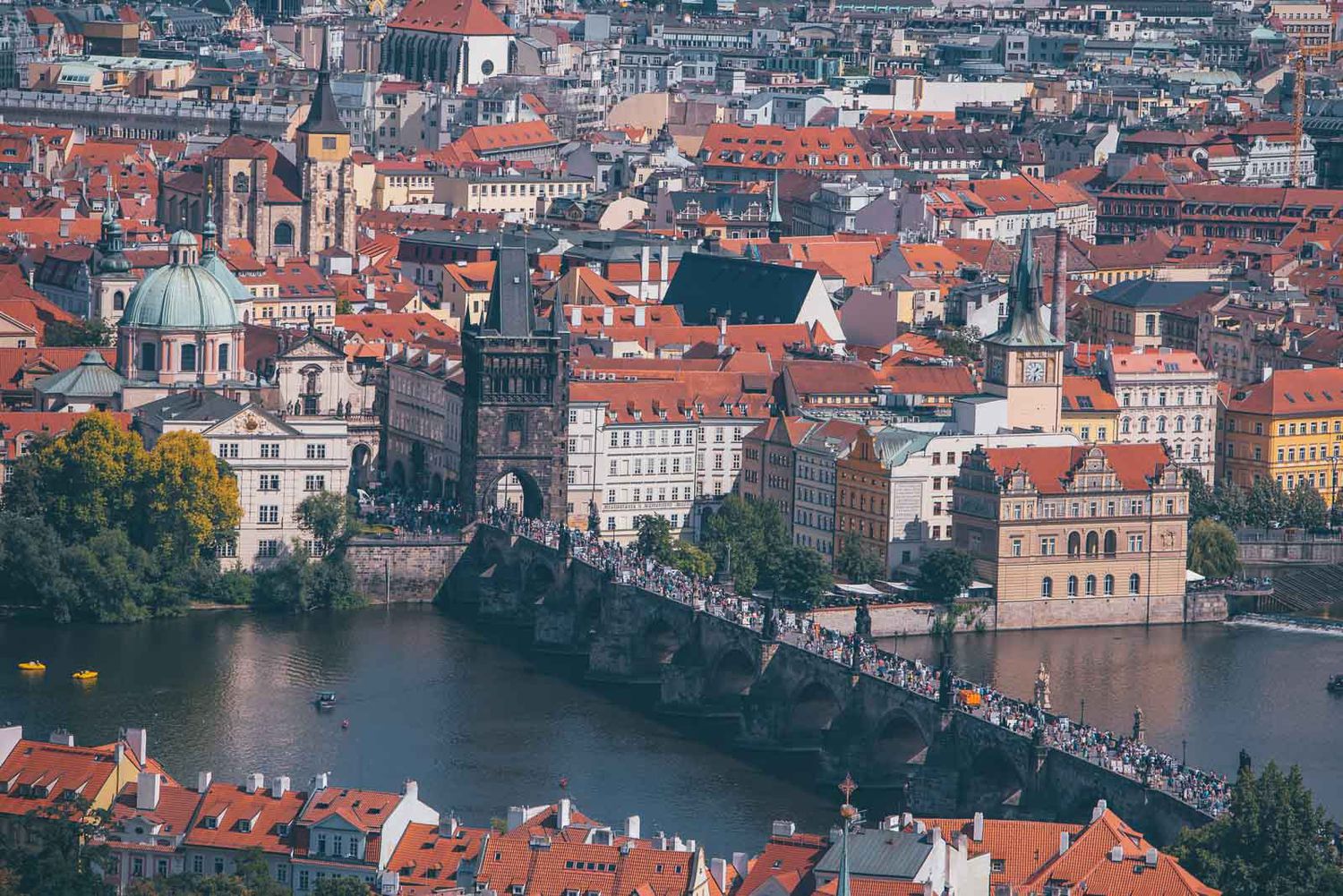 ---
Quick Breakdown of the Best Prague Airbnbs
Ready to "Czech" into your Prague AirBNB and have no time to waste on browsing endless listings? No worries! My "Quick Top 4" "Czech" all the boxes so you can choose your perfect stay quickly and easily. Traveling to Prague solo or as part of a couple? I got your back. On a budget or with a blank "Czech" to spend to your heart's content? They're on there. Just want the best Airbnb in Prague all to yourself? "Czech" me out – I found it for you!
I've also included tons of fun, helpful, and inspiring travel videos for your upcoming trip to Prague! It truly is one of the most magically enchanting cities in Europe, and it's one of my personal favorite places in the world! Be sure to read my article on 2 Days in Prague Travel Itinerary for some more travel planning inspiration!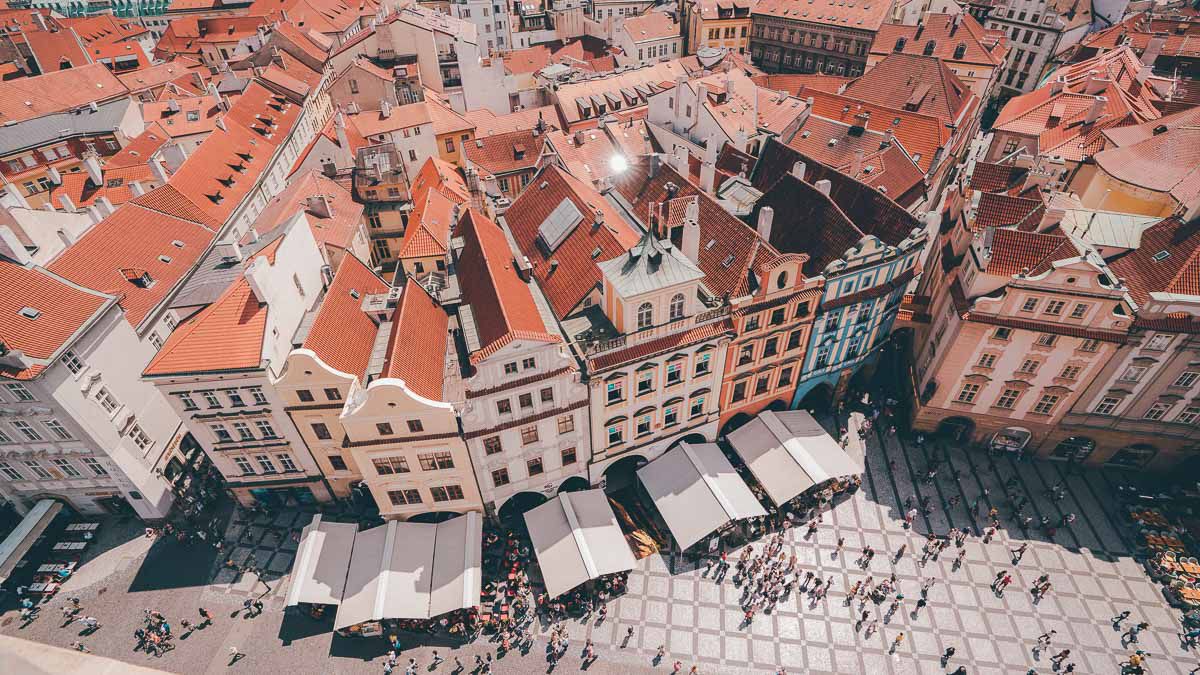 ---
1) Explore Prague from the Old Town Square
The Overall Best Airbnb Prague Old Town
Location: Old Town, Praha 1
Airbnb Plus: Yes
Superhost: Yes
Price: $60+ USD per night
https://www.airbnb.com/rooms/24672971
Staying right in the heart of Prague is one of the best ways you can experience this incredible city, and this one-bedroom apartment is the place to do it! It's my choice for the best Prague Airbnb! The Airbnb Plus abode is modern, polished, and perfectly positioned in the heart of the Jewish Quarter, just a couple of minutes walk to the Old Town Square. There are tons of great cafes, restaurants, bars and clubs in the neighborhood, and all of Prague's most iconic sights are all within walking distance. It's affordable, beautiful, and has tons of amazing reviews – earning its spot on my list of the best Prague Airbnbs!
Guest review: "This was the most beautiful apartment we've stayed in. I personally think this is one of the best locations to stay in Prague. The apartment was perfect, it had everything we needed, and more. Sarah and Jan were the perfect hosts. They went above and beyond for us. We can't wait to come back to Prague to stay in this beautiful place again." – Fiona
View Photos, Read Reviews & Check Availability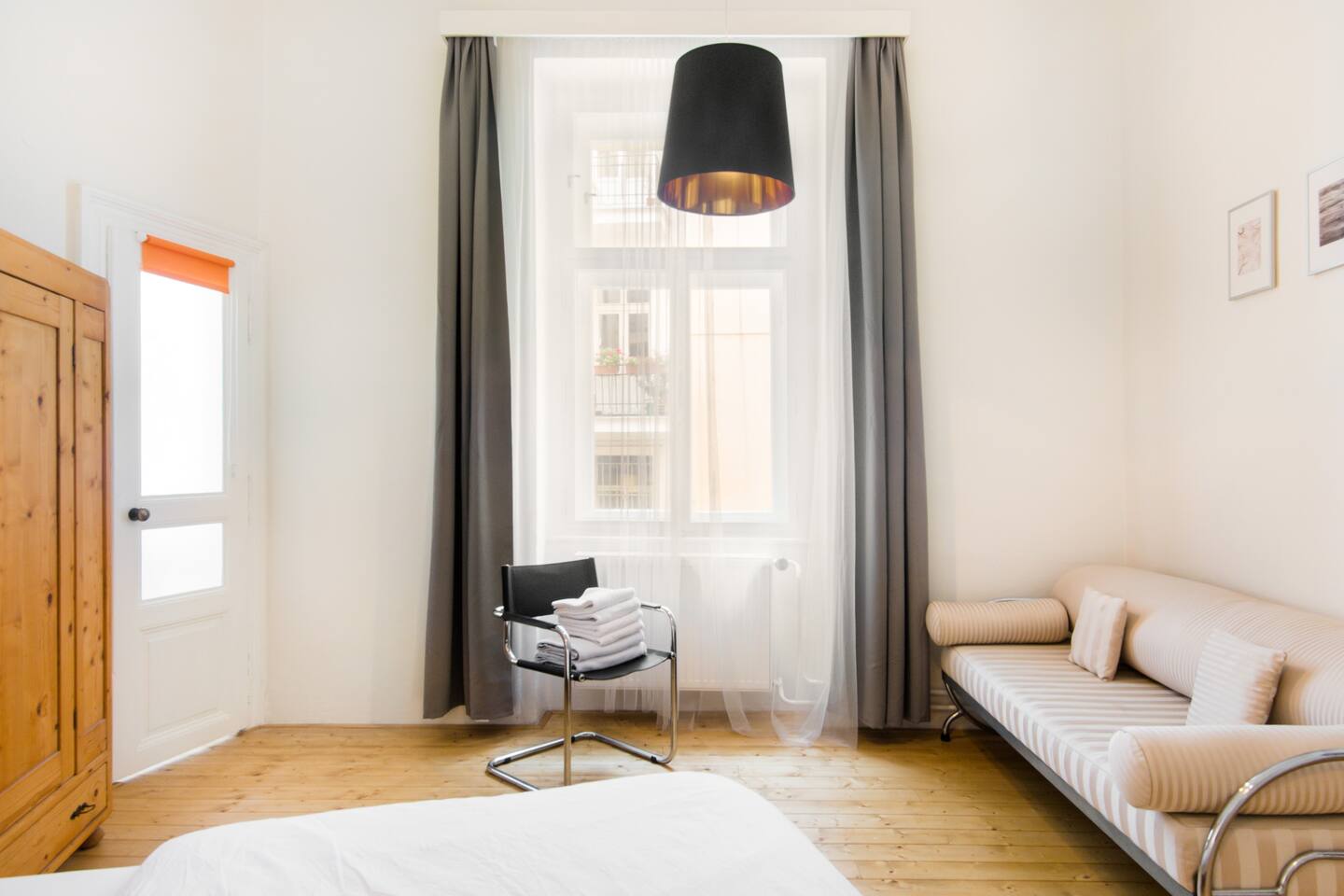 ---
2) Charming River Apartment with Castle View and Free Breakfast
The Best Airbnb in Prague For Couples
Location: Smichov, Praha 5
Airbnb Plus: Yes
Superhost: Yes
Price: $50+ USD per night
https://www.airbnb.com/rooms/12987070
This neat, crisp and clean one bedroom apartment offers gorgeous views of Prague's Vltava River and the city's castle, and is the best Airbnb in Prague for couples. A stay at this gorgeous verified apartment is not only amazing value for two, but includes free breakfast each morning at the cafe around the corner. And if you're lucky enough to visit the Czech capital when the snow begins to fall, it's one of the most romantic places in the world.
Guest review: "Jan is a thoughtful host who provides great tips to enjoy the amazing city with suggestions of local restaurants and places to check out. His home is immaculate and is not only well furnished, it's stylish and has a great views outside. One of the best places I've stayed while using AirBNB!" – Anna
View Photos, Read Reviews & Check Availability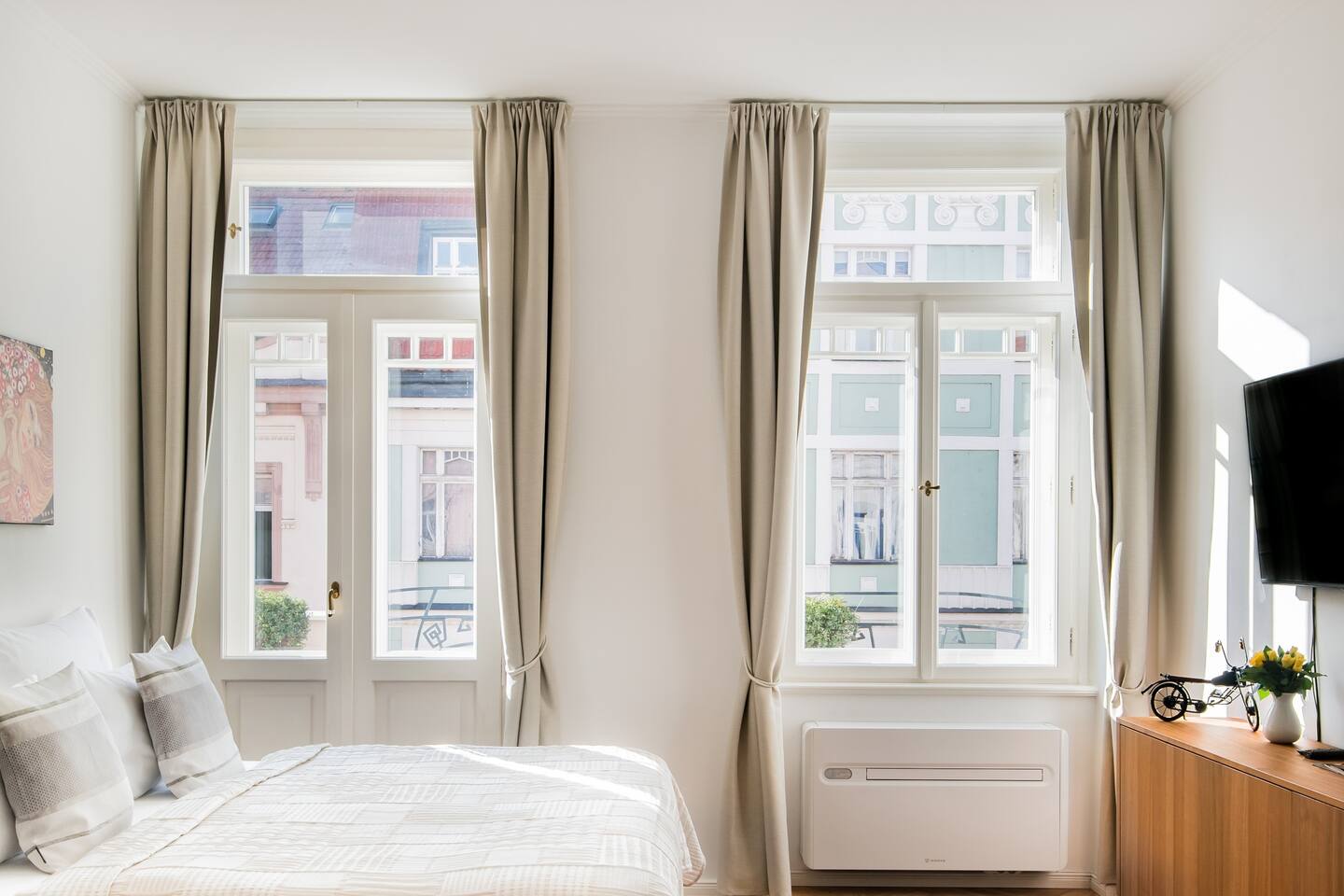 ---
3) Walk to Museums From a Modern Gem in Malá Strana
The Best Airbnb in Prague for Solo Travelers
Location: Malá Strana, Praha 1
Airbnb Plus: Yes
Superhost: Yes
Price: $40+ USD per night
https://www.airbnb.com/rooms/30979386
At any time of the year, Prague is heaving with solo travelers either on a big Euro trip or living and working in the city for a time, and this modern one bedroom apartment is the best Prague Airbnb for solo travelers! It is sleek, stylish and secure, and tucked away in the riverside Malá Strana neighborhood, right near to a smorgasbord of cafes, clubs, bars, restaurants, shops and sightseeing adventures. Everything is within walking distance and you'll feel right at home in this perfect city from this 5/5 guest rated base!
Guest review: "This place easily exceeded expectations. From the moment you walk in it is warm and inviting with heating set perfectly and heated floors in the bathroom. Everything amenity necessary is done at a higher level than expected, with several towels (and good towels too) being provided, many pillows an extremely comfortable bed along with several other less needed but lovely to have amenities included to with Netflix included and a nice coffee machine to highlight a couple. Communication with hosts was also wonderful and extremely fast helping me sort out any questions I had in a timely manner." – Chris
View Photos, Read Reviews & Check Availability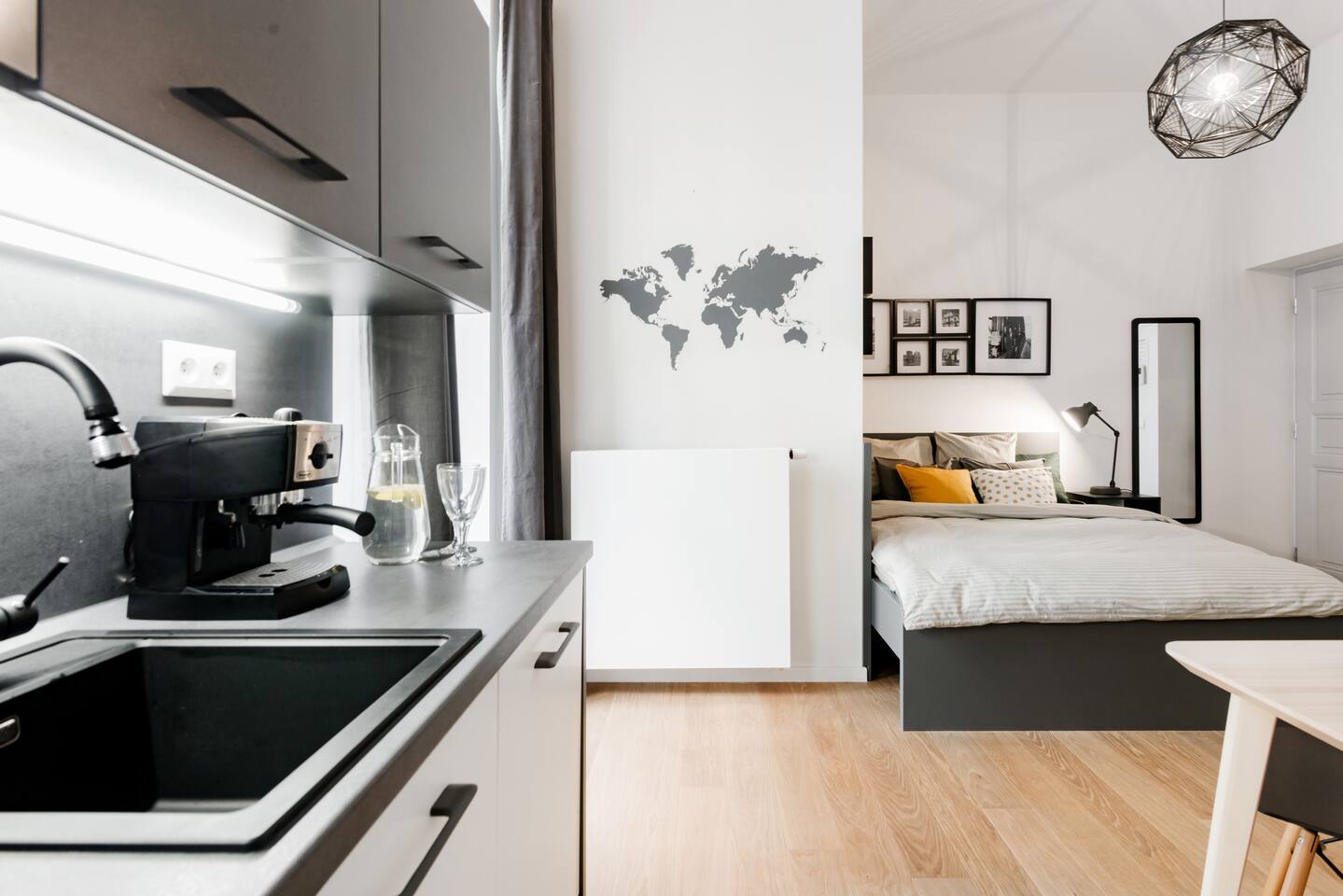 ---
4) Chill in the Hanging Chair in a Boho-Chic Loft
The Coolest Airbnb in Prague
Location: Old Town, Praha 1
Airbnb Plus: Yes
Superhost: Yes
Price: $130+ USD per night
https://www.airbnb.com/rooms/12995752
Personally verified by Airbnb Plus for the utmost quality, this two-bedroom boho loft gives a nod to the Bohemia region of the Czech Republic that the trendy word is derived from. Think bright yellow, plush sofas, leafy hanging plants and bold decor choices. It's truly one of the coolest, most unique, and sunny spaces in the entire city. This fun and friendly space is located just five minutes by foot to two of Prague's biggest tourist attractions – the Charles Bridge and Old Town Square.
Guest review: "We loved everything about this apartment. It is spacious and beautifully decorated just as the photos show, and all the amenities and toiletries you could possibly need are provided. The location was perfect for us as well: a quiet street very close to Old Town Square and the Charles Bridge. The hosts are great at communicating without over-communicating, and we appreciated the welcome gifts. Warmly recommended!" – Lisa
View Photos, Read Reviews & Check Availability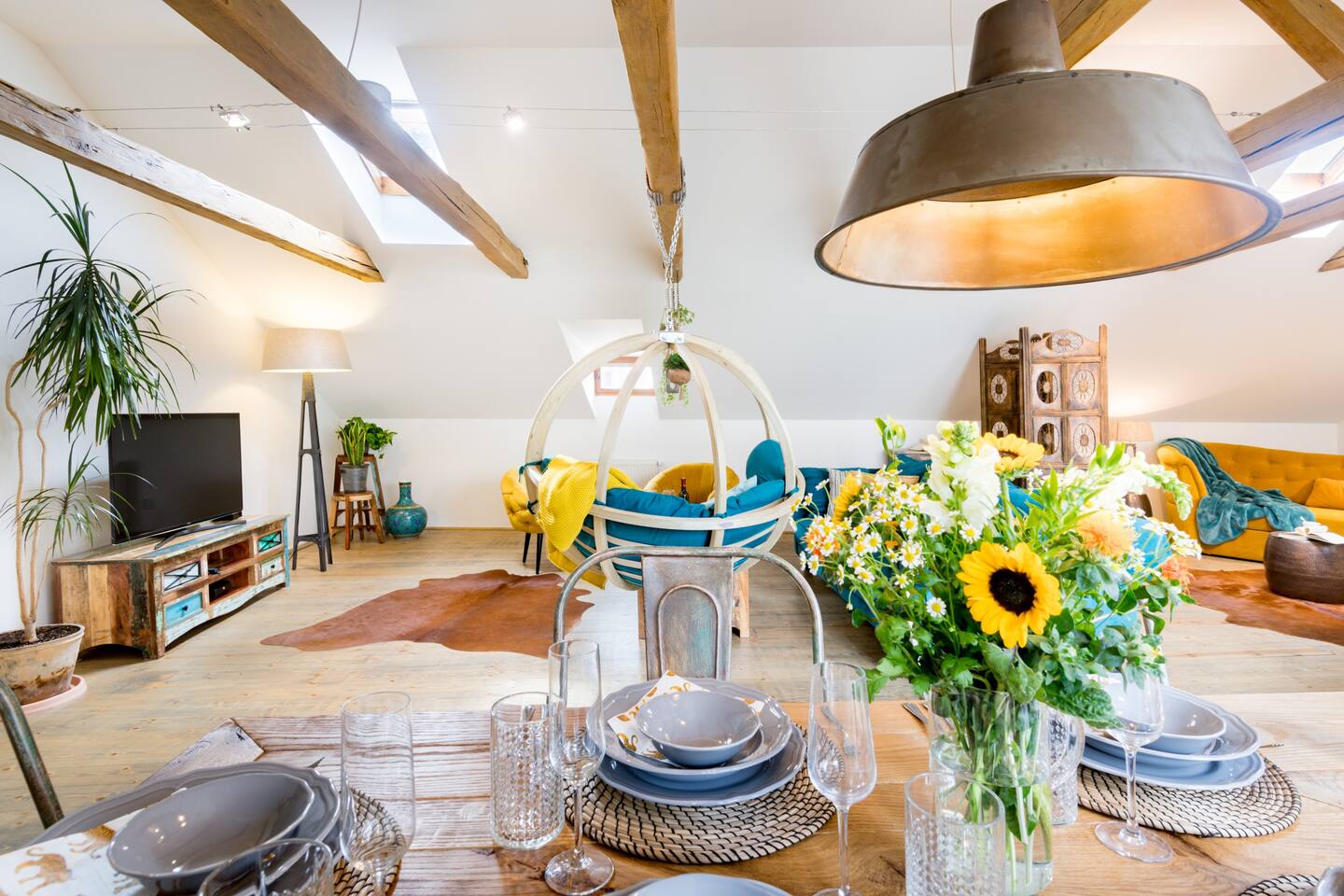 ---
5) Impeccably Designed Old Town Residence
Location: Old Town, Praha 1
Airbnb Plus: Yes
Superhost: Yes
Price: $40+ USD per night
https://www.airbnb.com/rooms/21760997
You can save a pretty penny staying in Prague for a while, and this Airbnb Plus listing shows just how budget-friendly a stay in the Czech city can be. This contemporary, classically stylish loft apartment receives tons of natural light, has a full bathroom and up-to-date technology. The central pad is walking distance to major Prague attractions, including Wenceslas Square, The Old Town Square and the Charles Bridge. An absolute steal.
Guest review: "Martina has excellent communication with us on our trip. We were introduced to the apartment by Tomas and although he was very busy with other check-ins, he took the time to show us quickly around the apartment. The apartment was modern and nicely furnished, and allowed us to have an incredibly comfortable stay. There was a comfortable bed and very nice shower with some bath essentials provided. The space had a lot of gorgeous natural light and was sparkling clean. We highly recommend this place to other travellers!" – Nicholas
View Photos, Read Reviews & Check Availability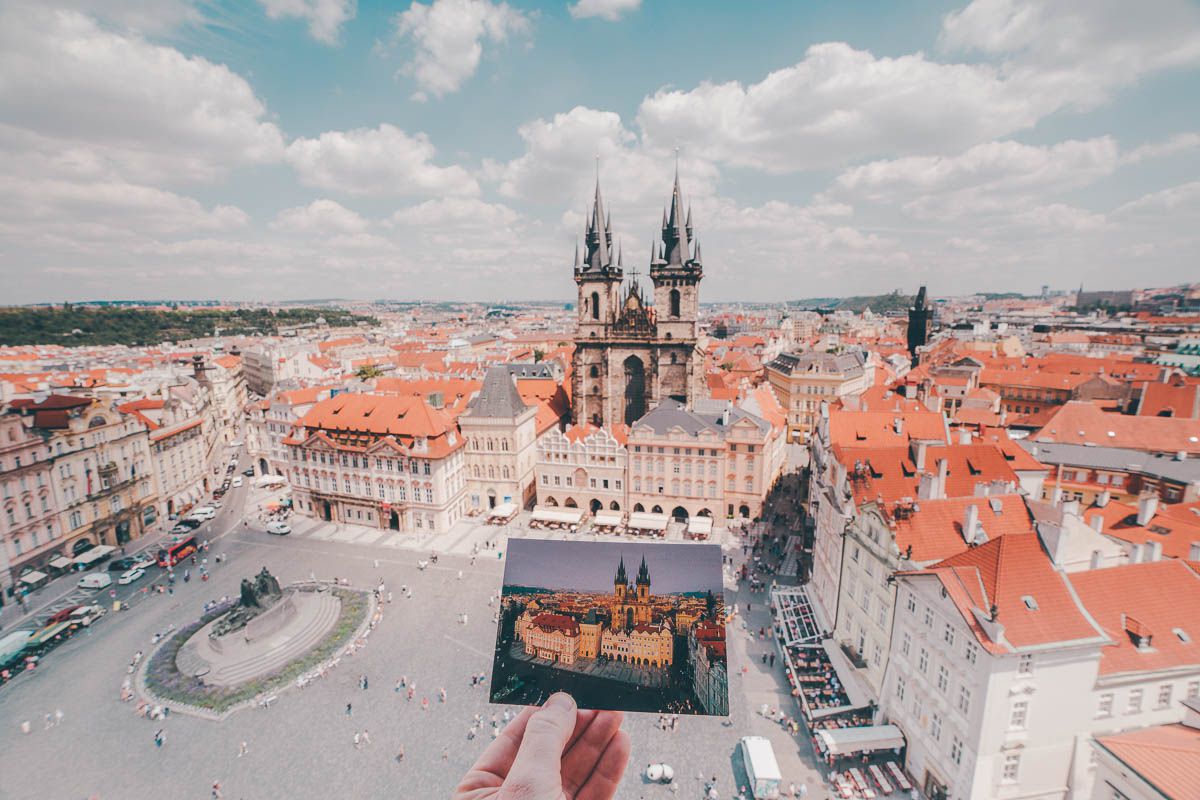 ---
6) CHARLES BRIDGE ROYAL APARTMENT
Location: Old Town, Praha 1
Airbnb Plus: No
Superhost: Yes
Price: $40+ USD per night
https://www.airbnb.com/rooms/23738474
Few Prague Airbnbs are as centrally located as this one, and few are as elegant, chic and plush. This one-bedroom suite is well and truly "Royal", as its name implies. It is spacious, luxe and the cleaning fee is included in the price, which makes it even better value for money. The apartment is located just steps from Prague's famous Charles Bridge, bustling with tourists year-round and offering amazing views of the river and up to the Prague Castle. It's just five minutes walk to the Old Town Square and less than 10 minutes to Wenceslas Square.
Expert tip: If you want to avoid the Charles Bridge crowds and snag an epic photo op, get up early and head there as the sun comes up! Or stay up all night drinking Czech beer and head there on your way home – either or.
Guest review: "Great location, just a minute walk to Charles Bridge, great modern apartment with a washing machine, which is great when you're living out of a suitcase during your travels! We got a bit lost trying to find the right door, however Krste responded super quick and we were able to find the place easily. Highly recommend this place, will definitely book again if we come back to Prague." – Emma
View Photos, Read Reviews & Check Availability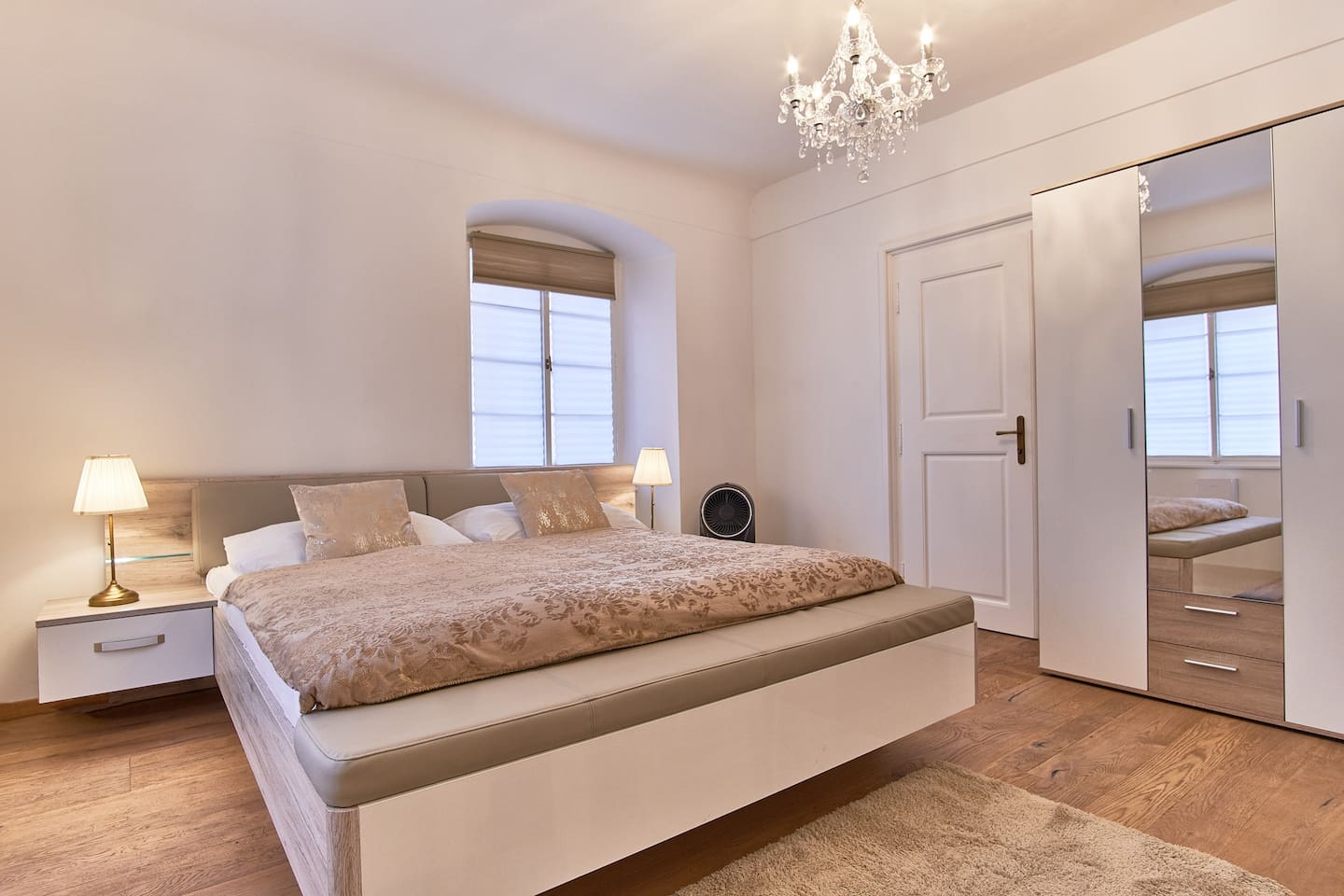 ---
7) Old World Style Meets Modern Luxury in Malá Strana Apartment
Location: Malá Strana, Praha 1
Airbnb Plus: Yes
Superhost: Yes
Price: $32+ USD per night
https://www.airbnb.com/rooms/27142872
Malá Strana is a quieter, riverside district of Prague 1, with many restaurants, pubs and beautiful buildings, and this verified one bedroom apartment is nestled right in the midst of the action. Newly updated, bright and fashionable, the apartment is in a leafy neighborhood and has a private balcony overlooking a tranquil courtyard. This Prague Airbnb is also family-friendly and has a cot, high chair, window guards and children's toys and books if you should need it. For this low price, it offers maximum bang for your buck.
Guest review: "Staying at Josef's charming apartment was a pleasure. Josef provided a city guide to Prague and many helpful recommendations, and we were able to store our luggage after a very early arrival. The apartment itself is lovely – very comfortable bed and all the amenities you could need, including a variety of teas to choose from! Location is excellent as it's in a quiet part of Malá Strana, but still easy walking distance to Old Town and other main sites. Overall, I lovely stay and I would recommend." – Indie
View Photos, Read Reviews & Check Availability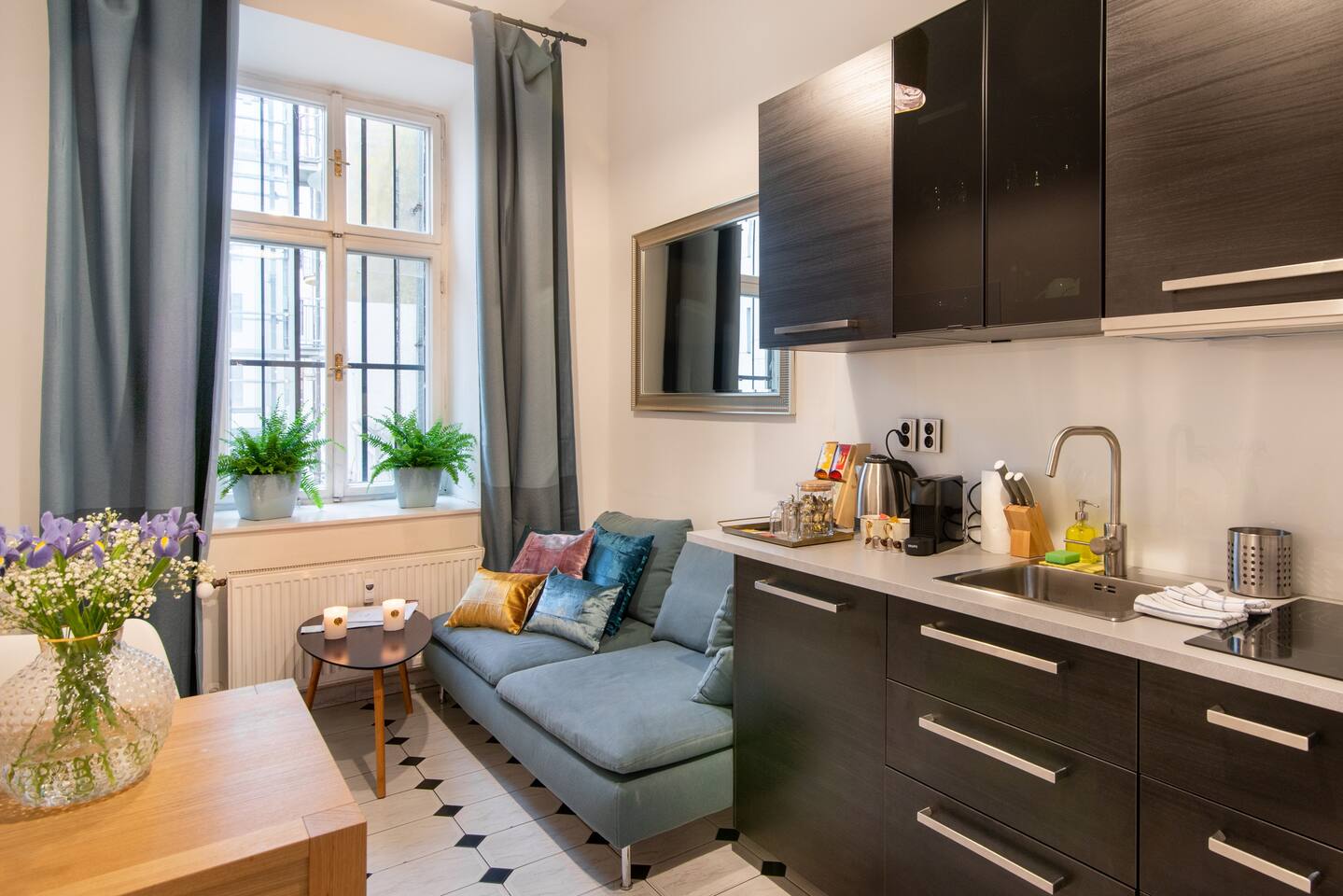 ---
8) Fabulous Brand New Designer Apartment
Location: Karlín, Praha 8
Airbnb Plus: No
Superhost: Yes
Price: $25+ USD per night
https://www.airbnb.com/rooms/28914100
An enjoyable 10-minute stroll into the heart of Prague Old Town, this one-bedroom designer apartment is tasteful, stylish and available for both short and long term stays. The apartment is also professionally cleaned both before and after each stay, so you can be guaranteed a pristine environment. There is a tram stop outside that heads into Old Town in three minutes, but Prague is such a great walking city, I suggest taking every chance you get to hit the pavement!
Guest review: "Our apartment was in a quiet location in Karlín. New, fresh and spotlessly clean. Contemporary design and styling suited us as a couple. Comfortable bedding and quality towels. Tram plus great cafes and restaurants were close by. We walked easily into old and new Prague. Staff were friendly and readily answered our questions before and during our stay. Highly recommended." – Allison
View Photos, Read Reviews & Check Availability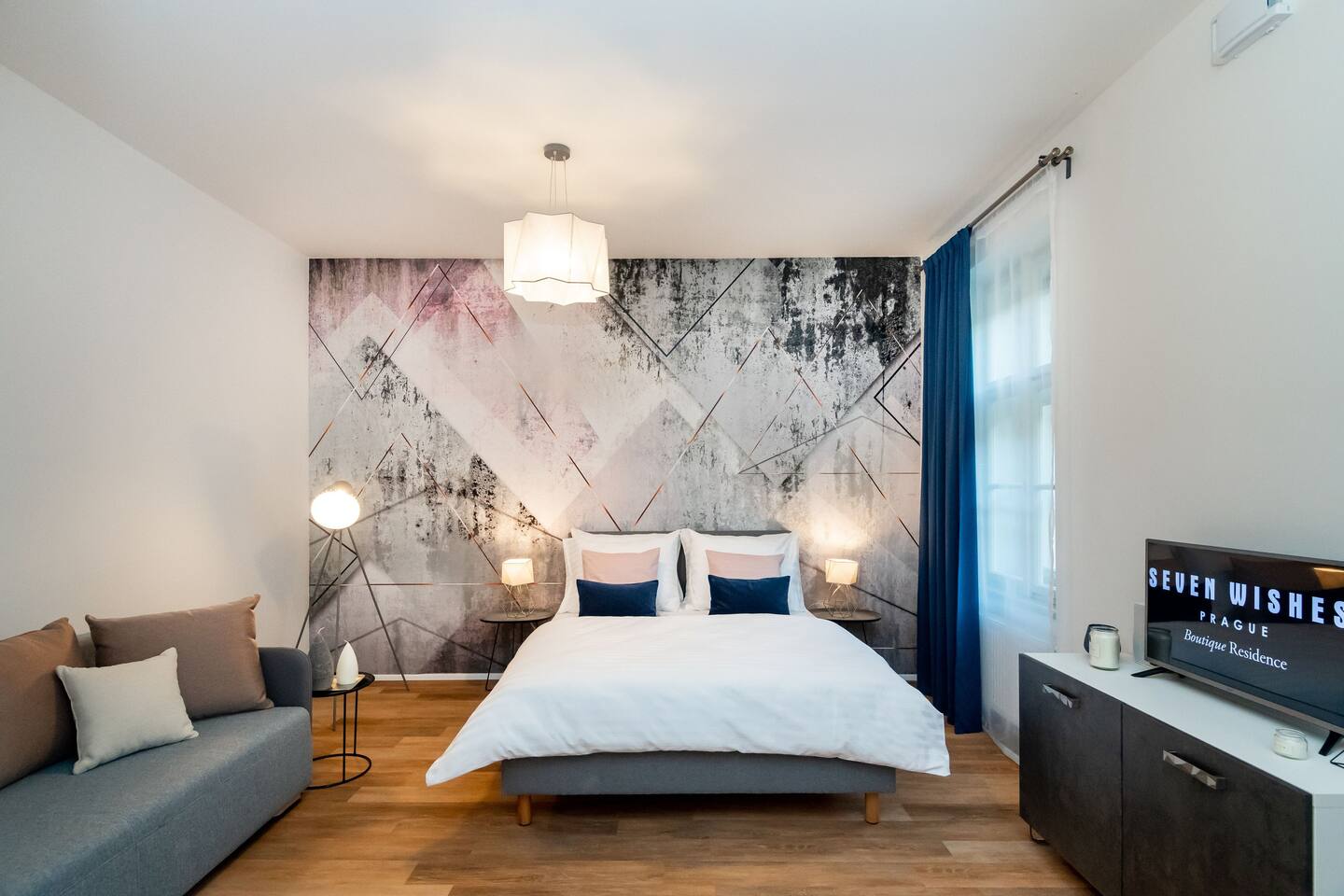 ---
9) Beautiful Luxury and Quiet Loft in Central Prague
Location: Zizkov, Praha 3
Airbnb Plus: Yes
Superhost: Yes
Price: $40+ USD per night
https://www.airbnb.com/rooms/18266947
Located just 20 minutes walking time from the Old Town Square, this sunny loft apartment is nestled within one of the most sought-after residential neighborhoods in Prague. The one bed apartment is bright and friendly, and in close proximity to this happening districts many pubs, bars, cafes and restaurants. The city's iconic tram network is super efficient, simple to figure out and frequent, and you can jump on right nearby to this pad and explore the entire city with ease.
Guest review: "Our stay at this apartment was excellent in every way. It really was a home away from home and it is certainly the best airbnb that we have stayed in on this trip. Many thanks to hosts Robert and Pavel." – Geoffrey
View Photos, Read Reviews & Check Availability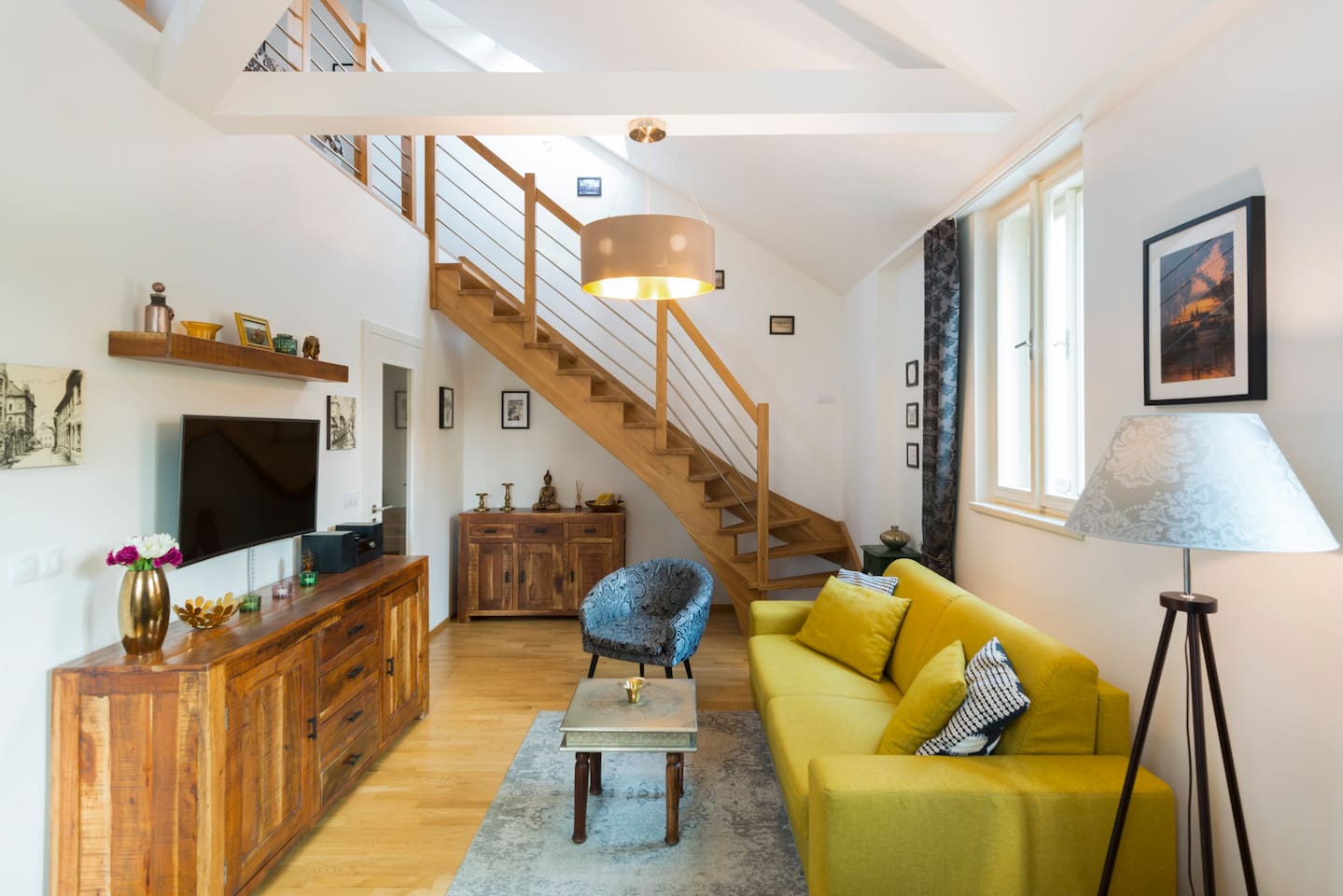 ---
10) Unique Place with a Secret Garden in the Old Town
Location: Old Town, Praha 1
Airbnb Plus: Yes
Superhost: Yes
Price: $60+ USD per night
https://www.airbnb.com/rooms/16645612
Located in the historical Jewish district of Josefov – an unmissable visitor experience in its own right – this pretty one bedroom apartment is bright, airy and cheerful. While it is contemporary and fresh, it has some beautiful original features, including its 15th century vaulted ceilings. It has its own little secret outdoor garden, which is a rarity in a city where apartments and living spaces are generally very close together. Walk to all major Prague Old Town landmarks in minutes, and take full advantage of the amazing Czech restaurants, bars, pubs and shops all in close proximity.
Guest review: "Real pleasure staying in Sarah & Jan's place, they were always on hand to answer any questions and help out, as well as passing on some fantastic local tips and advice to get the most out of Prague, particularly the less "touristy" stuff that you wouldn't normally hear about. The apartment itself is in a great location, literally around the corner from Old Town Square. Would definitely stay here again upon returning to Prague." – Jason
View Photos, Read Reviews & Check Availability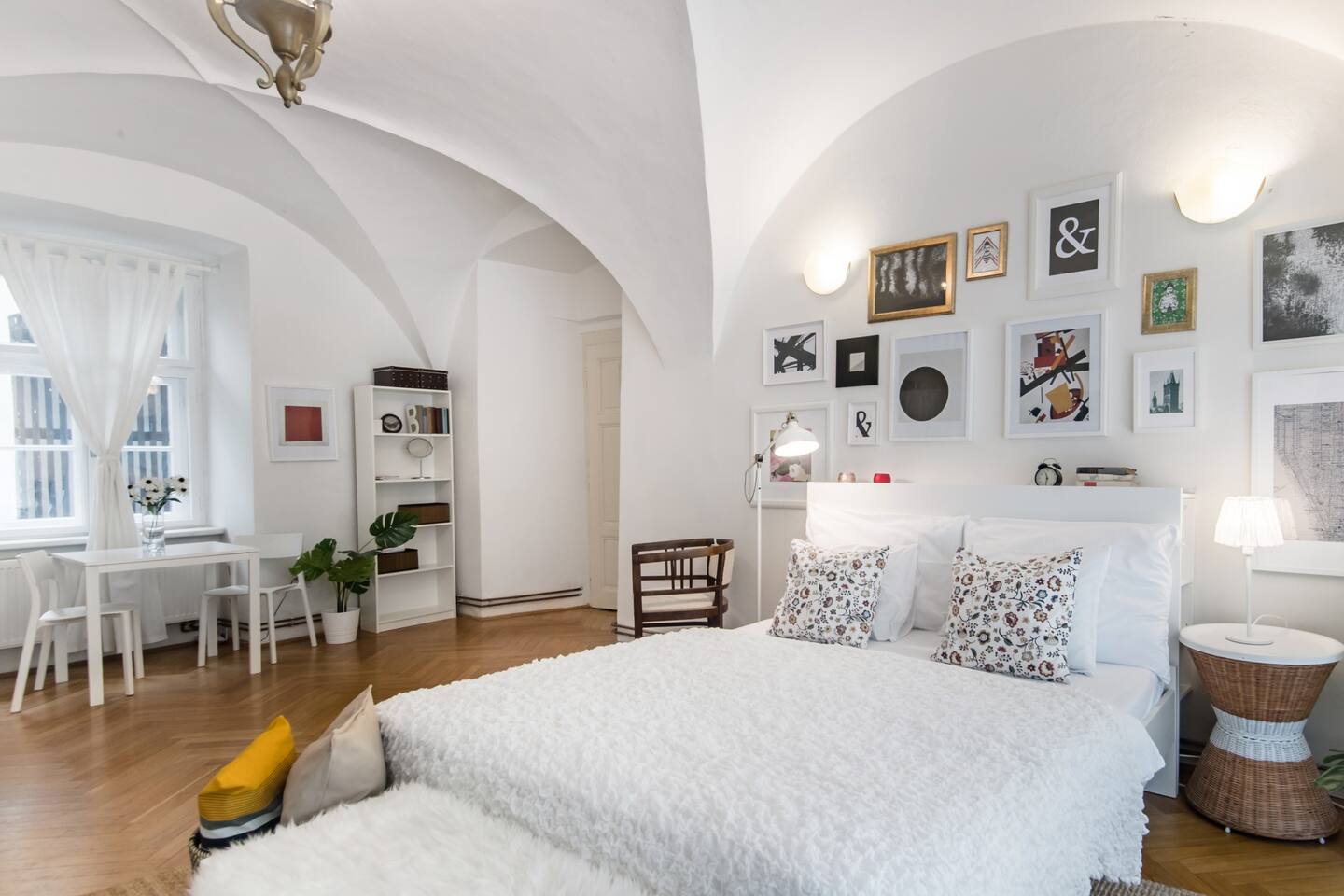 ---
11) Modern apartment in a hip neighborhood
Location: Karlín, Praha 8
Airbnb Plus: No
Superhost: Yes
Price: $20+ USD per night
https://www.airbnb.com/rooms/8551014
Prague is still super cheap in comparison to its Western Europe counterparts, and you can stay in a modern apartment like this one just a short tram ride out of the Old Town for as little as $20 per night. This cozy apartment features one bedroom, a private balcony, a yellow feature kitchen, a king size bed – and a baby bed if you need it. The leafy Karlín neighborhood has been transformed into a hip and happening area, with many pubs, cafes, bars and unique sights. It's just 10 minutes walk from this Prague pad to the Vltava River and 2 metro stops or a short tram ride into the Old Town.
Guest review: "This apartment was fantastic, clean, great location and very comfortable. My husband and I both agreed that the bed and pillows were a massive highlight, we've come across some uncomfortable beds in Europe and this one was amazing! The location to old Town Prague is only a few tram stops away, very easy to use public transport. Plenty of great cafes and restaurants close by which we make the most of. We even squeeze in a few brisk morning walks to the local parks. I would certainly recommend staying at this apartment, absolutely superb hospitality by the owner. Thank you and hopefully we can visit Prague again." – Sara
View Photos, Read Reviews & Check Availability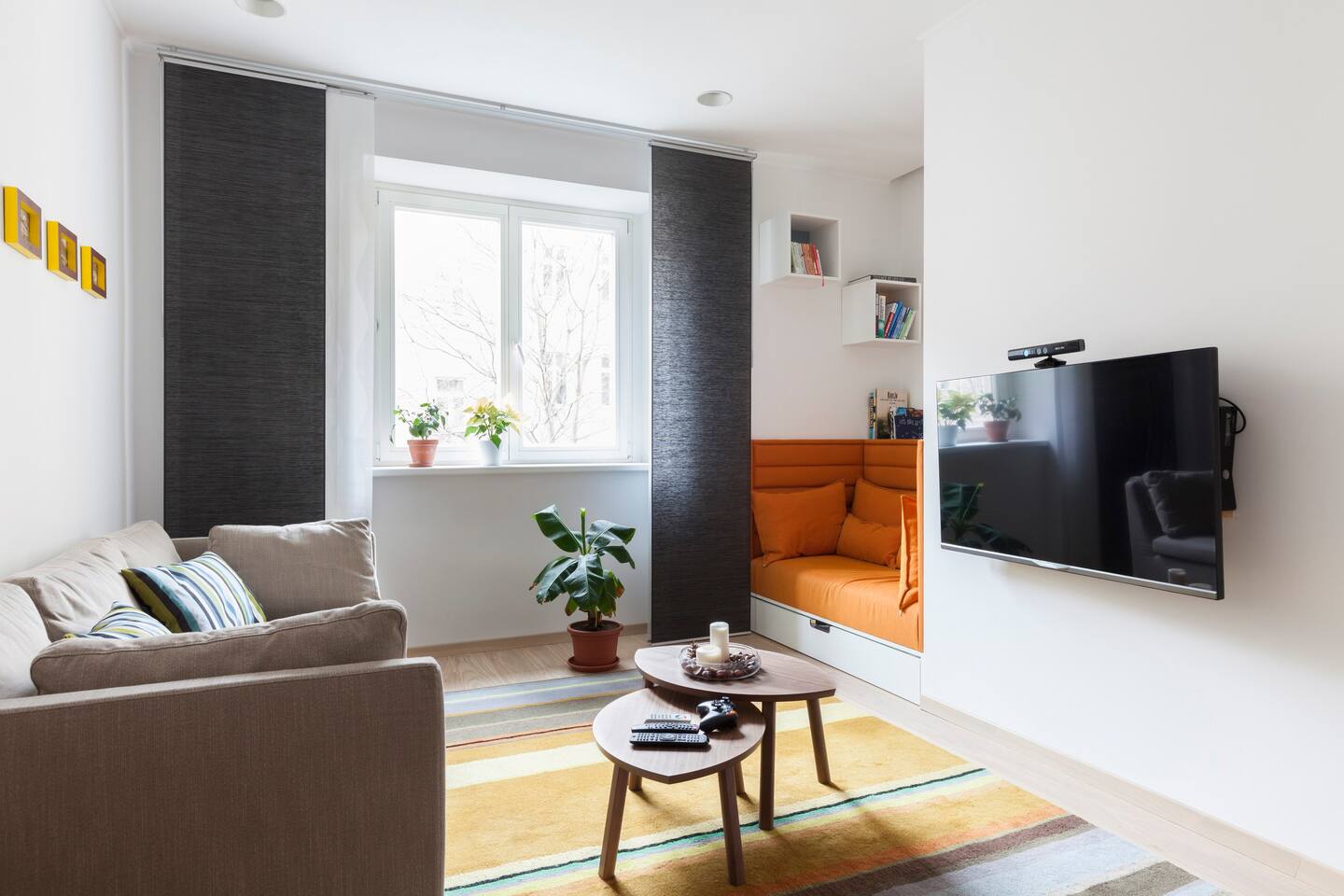 ---
12) Quiet and charming apartment near Republic Square
Location: Old Town, Praha 1
Airbnb Plus: Yes
Superhost: Yes
Price: $90+ USD per night
https://www.airbnb.com/rooms/11505834
A relaxed stroll into the Old Town and to Prague's fascinating Jewish Quarter, this spacious and modern two bedroom apartment is located within a classic 1940's house in a quiet neighborhood. Verified by Airbnb Plus, you'll love its proximity to all the major city sights, as well as the space this abode offers. Many Old Town Prague apartments are only one bedroom and are quite close together, so this gem is well worth adding to your Prague Airbnb shortlist!
Guest review: "This was a fabulous apartment with great attention to detail. Very spacious and welcoming. Beds were comfortable and well furnished. Unbelievably quiet and close to everything – we walked everywhere we wanted to go. A number of supermarkets and restaurants close by. Stefan was an attentive host and provided a map and advice on where to eat on check in. Thanks Stefan. If we return to Prague will definitely stay again!" – Jan
View Photos, Read Reviews & Check Availability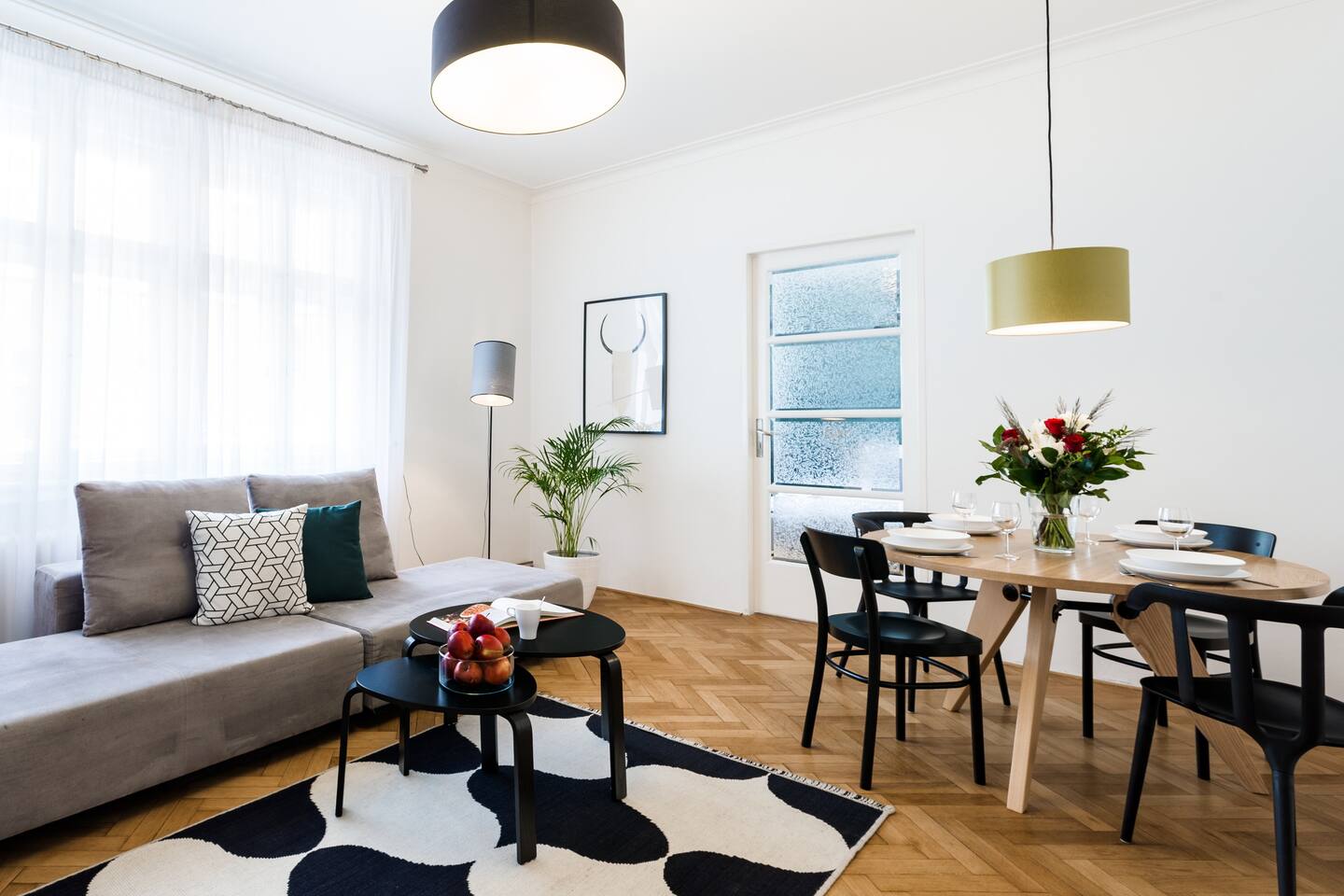 ---
13) Modern, Stylish Apartment in a Historic Building
Location: Vinohrady, Praha 2
Airbnb Plus: Yes
Superhost: Yes
Price: $70+ USD per night
https://www.airbnb.com/rooms/21447453
One of most highly-rated Airbnbs in Prague, this beautiful one-bedroom apartment is nestled within an original 1800's building that oozes old world charm. The Airbnb Plus offering has a fantastic host, updated airy interiors that are spotless and stylish and a great location just slightly afield of the tourist heavy Old Town. The Art Deco neighborhood of Vinohrady is just a short tram or train ride into the heart of Prague, but is far enough away from the hustle and bustle that you can truly unwind. There are lots of trendy cafes and restaurants in close proximity, and the locals are generally young, fun and friendly – with many expats calling this district home.
Guest review: "Its amazing to stay at Eva's place! the location is so convenient! tram and subway are both short walking distance! very new and stylish house! We love it the moment we got in:) Cozy, simple and modern. Eva has provided us everything we need! She even hand wrote all the nice cafes and restaurants around for us which we have tried every day and none of them disappointed us. Thank you Eva! for such a great place which we feel at home and welcome! thank you for the gifts too! Welcome to Australia and please let us know if you come:) We can show you around :)" – Angie
View Photos, Read Reviews & Check Availability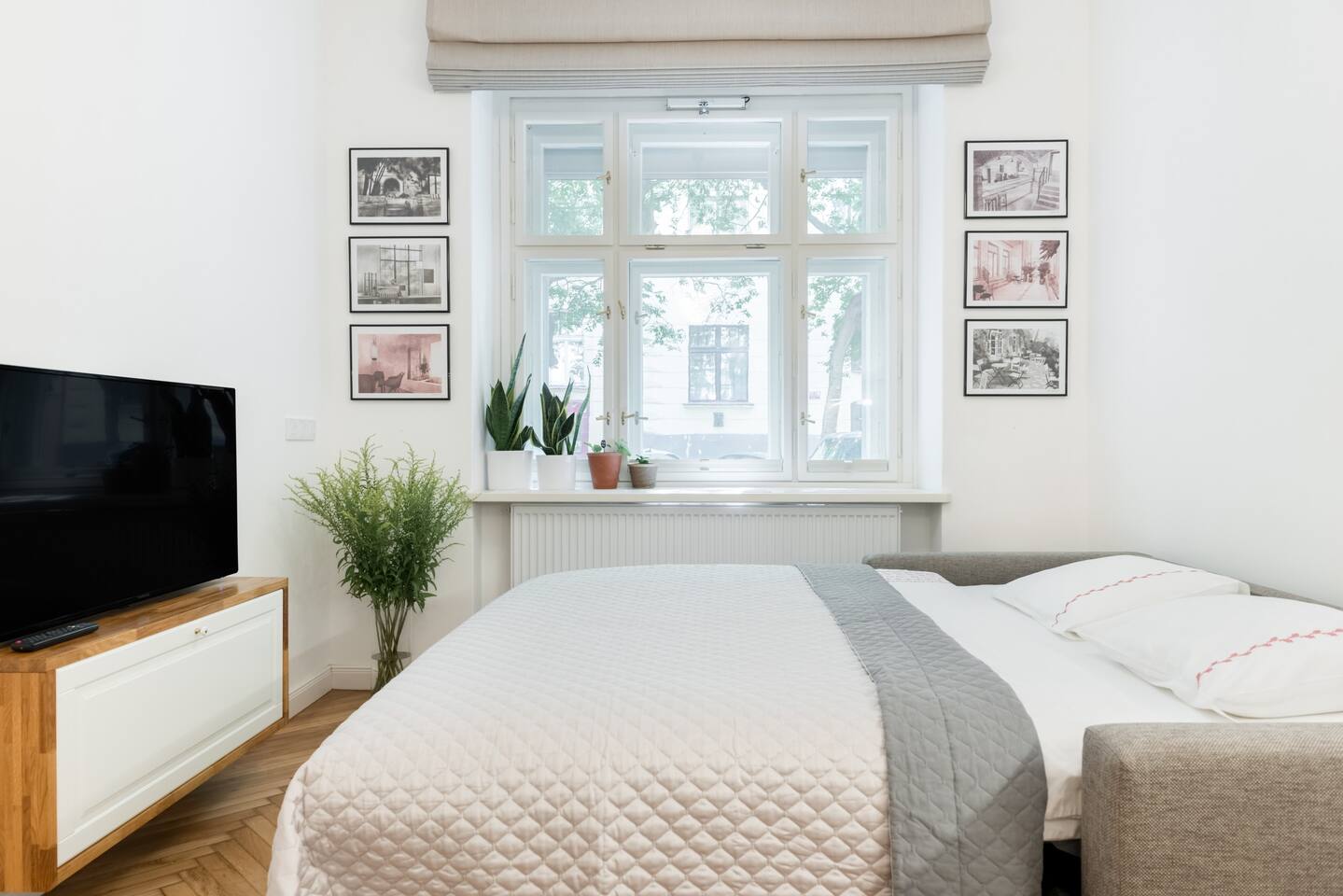 ---
14) Stroll to Wenceslas Square from a Colorful Central Apartment
Location: Florenc, Praha 1
Airbnb Plus: Yes
Superhost: Yes
Price: $50+ USD per night
https://www.airbnb.com/rooms/25853756
With bold feature walls, glistening chandeliers and artistic interiors, the vibe of this one bedroom apartment blends so well within this Art Deco Prague neighborhood. This hip and colorful space is tucked right between Wenceslas Square and the Old Town Square, which will literally put you in one of the best central locations in this entire city. The large Palladium shopping mall is right nearby (this area is jam-packed with AMAZING and affordable shopping), bars, pubs and restaurants. Top value for money!
Guest review: "This apartment is very well appointed and a little bit unique. You're choosing somewhere special to stay. It's located in a great spot for a base to explore Prague. It's within easy walking distance of all the major sites and public transport is at your fingertips for any longer trips you might be planning. Highly recommend enjoy!" – Helen
View Photos, Read Reviews & Check Availability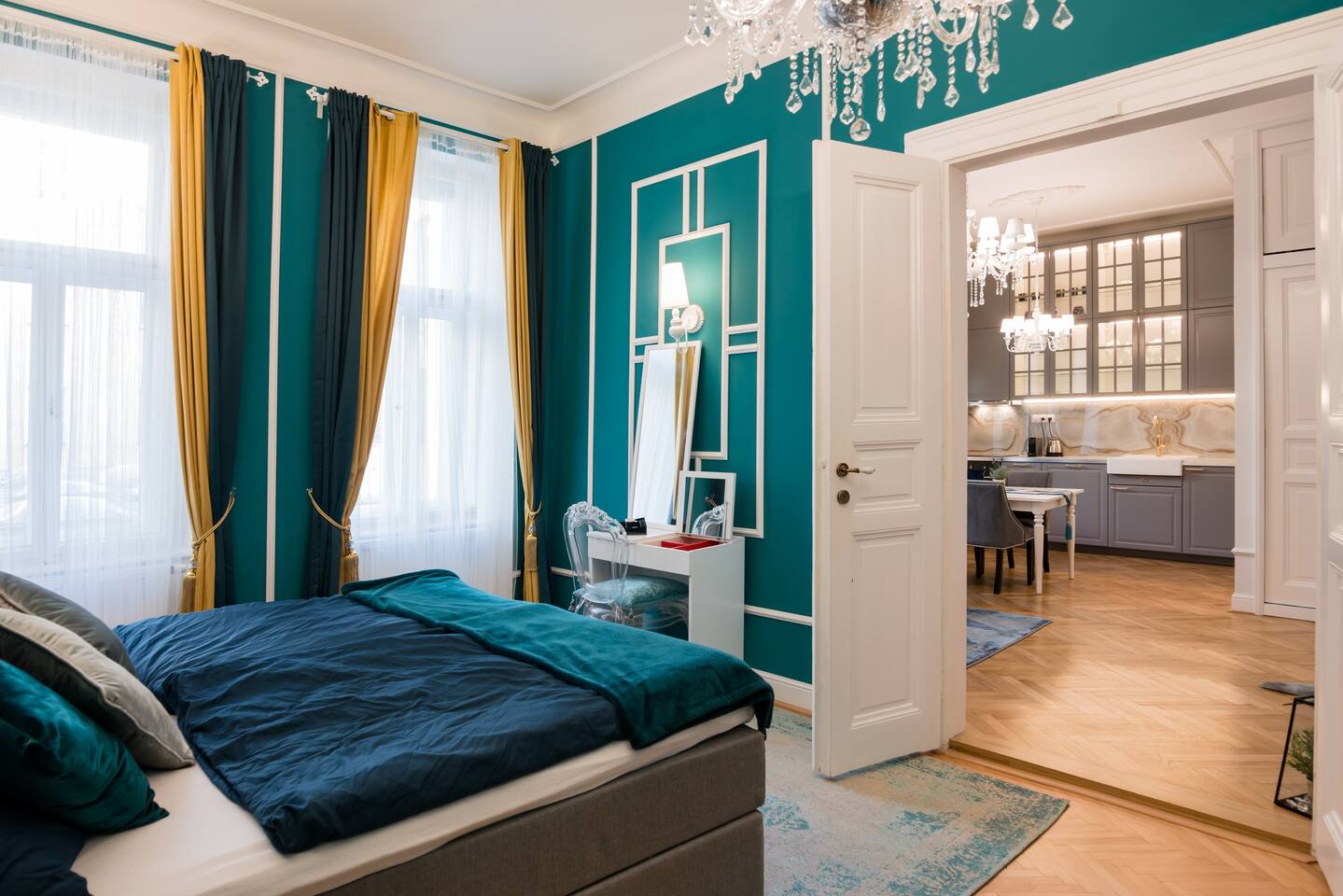 ---
Prague Tours & Day Trips to Consider Booking
Prague is a city I would 100% recommend joining as many organised tours as you can while visiting. There's so many hidden nuances to this incredible city, you'll get so much more out of your visit if you learn about it from an expert local with insider information. It's also super affordable to join a tour here, and what you'll get back will be priceless. Tour Prague Castle, immerse yourself in the sombre history of the city or take a day trip out to the famous Church of Bones in Kutna Hora. There are my recommended tours in Prague you have to do.
---
The Art of Falconry and Bird Rescue
Winner of the best "Insider Access" experience in Prague in 2019
With a near-perfect rating from 200 happy Prague travelers, this tour is widely reviewed as a highlight of people's trips! "You will participate in feeding the birds of prey, including our bald eagle Helen, vulture Omar, pair of Harris hawks and a few others. They will fly just above your heads, and they will land (should you dare to try it!) on your arm protected by a special glove"
Price: $45 USD per oerson
Review: "This was hands down one of the coolest and unique experiences of my life. You will learn a lot about falconry and all of their different birds (Which they have a lot of). I would have never expected to have a bald eagle or a vulture on my arm. Can definitely recommend to anyone that likes animals. The hosts are super friendly and we had some great talks. Even learned something about history. If you are in Prague, please do this experience!"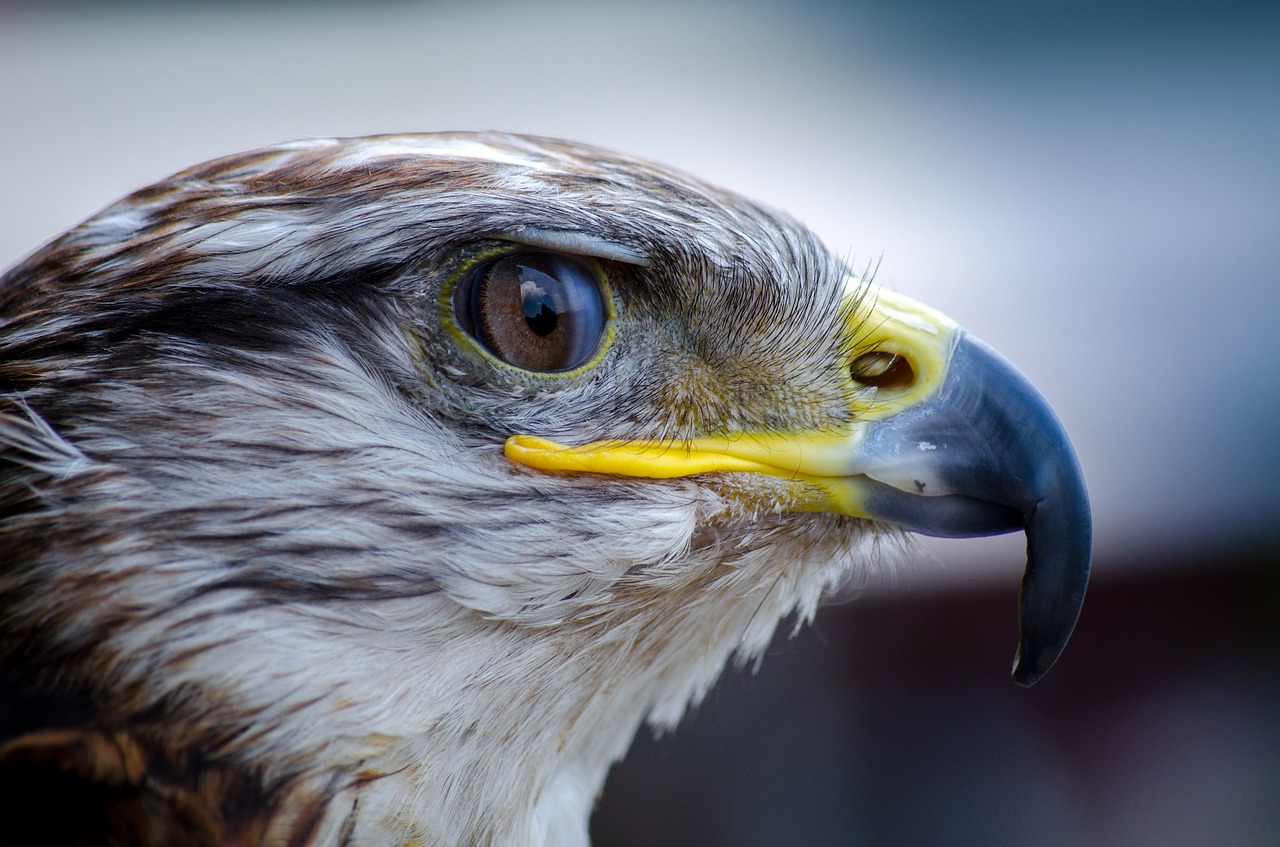 ---
Prague Castle 2.5-Hour Tour Including Admission Ticket
"Explore spectacular Prague Castle and visit St. Vitus Cathedral, St. George's Basilica, and Golden Lane. Take a tram ride up to the castle from the city's Lesser Town, and learn about more than 10 centuries of the Czech capital's history."
https://www.getyourguide.com/old-town-square-l4827/prague-prague-castle-25-hour-tour-with-entry-ticket-t50046/\
Price: From $57 USD (2.5 hours)
Review: "The tour guide I had for the English language tour was quite possibly the best tour guide that I have ever had. He was informative. He was local. He had experienced life from communist occupation to current times. He knew his history and he kept things moving at a good pace while letting people take the photos they wanted. I wish I knew his name because I would refer everyone to him. He wore a peaky blinder hat with the UK Union Jack all over it." – Landan, United States
View Photos, Read Reviews & Check Availability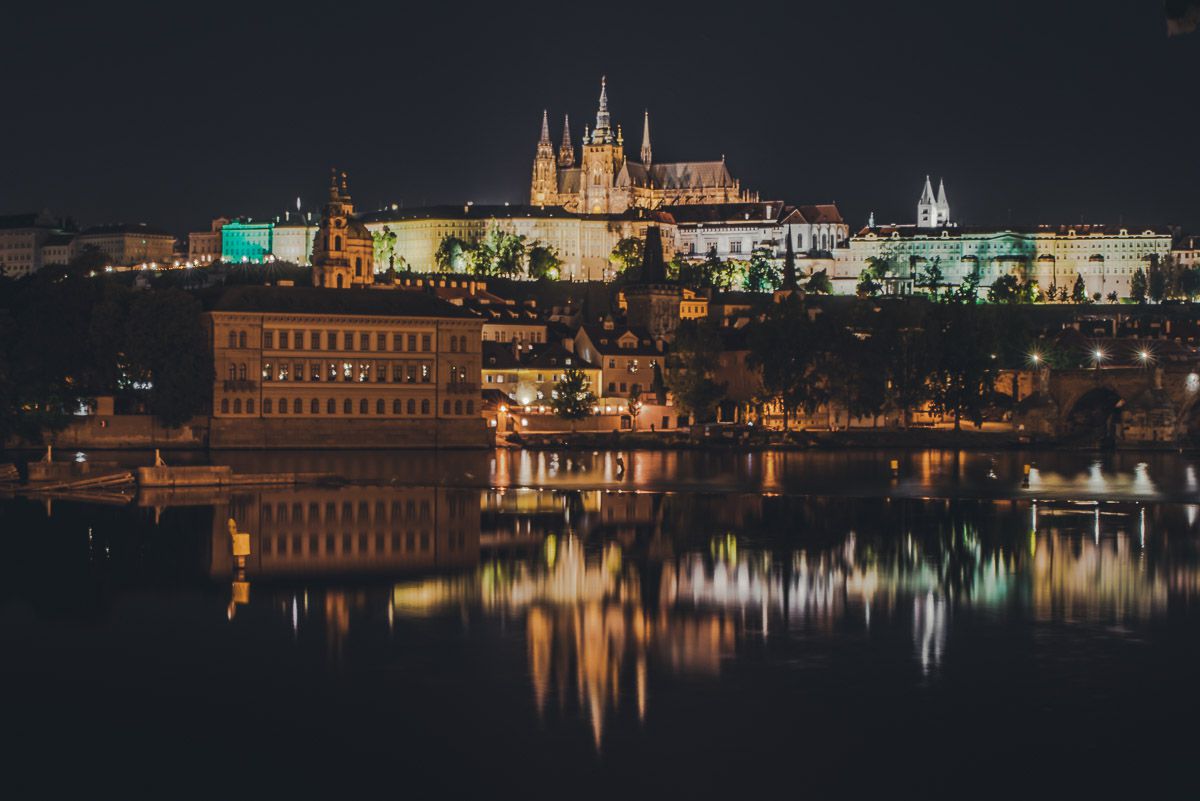 ---
Prague: World War II and Communist History Tour
"Take a moving journey through the unimaginable suffering and unspeakable courage of the people of Prague in the 20th century. Learn the World War II and communist history of the city at key locations."
https://www.getyourguide.com/prague-l10/prague-world-war-ii-communism-tour-t67817/
Price: From $23 USD (2.5 hours)
Review: "A must-do when in Prague! Our guide, Zac, was an excellent historian and storyteller. He paints pictures with his words that make history come alive right in front of you as you walk the streets where major events of Czech history during WWII and the Velvet Revolution took place. My history buff husband and I highly recommend this tour and Zac in particular!" – Matthew, United States
View Photos, Read Reviews & Check Availability
---
Kutna Hora & Bone Chapel Tour from Prague
"Discover the macabre bone chapel of Kutna Hora on a day tour from Prague. See one of the most popular destinations in the Czech Republic, about 1-hour outside Prague, and continue your excursion with a tour of the medieval town."
https://www.getyourguide.com/prague-l10/kutna-hora-the-bone-chapel-tour-t27182/
Price: From $52 USD (7 hours)
Review: "Nice tour within people from all over the globe. Our guide had great knowledge of the Kutna Hora's History (was from Colorado), was nice and funny and made sure everything went well. We just had to sit/follow and enjoy the visit. The bone chapel was amazing as expected and the town was lovely. We enjoyed staying at a local tavern in which food is delicious and cheap as well as beer. I would recommend!" – Nicole, France
View Photos, Read Reviews & Check Availability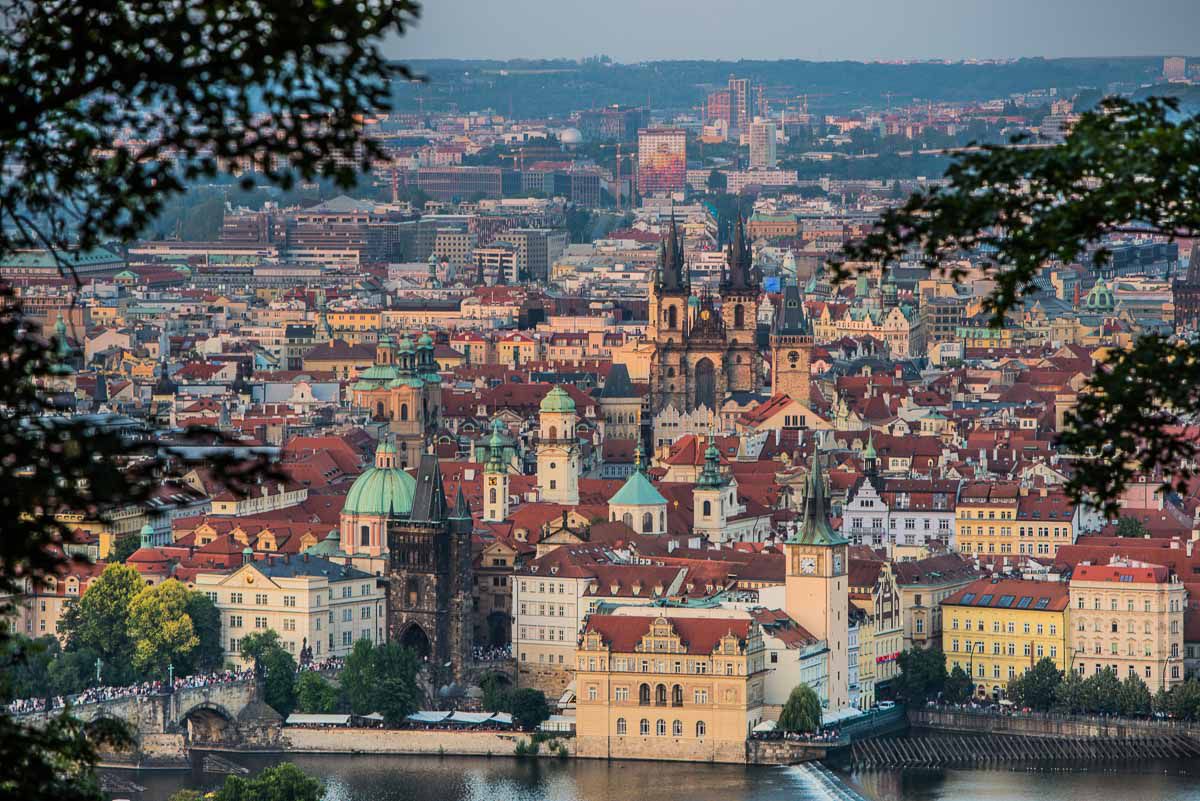 ---
Am I Missing Any of the Best Airbnb Prague vacation rentals?
It was so tough to narrow down a shortlist of the best Prague Airbnbs. There are just so many amazing ones in top locations across the city! Have you stayed at a great Prague Airbnb recently, or are you a host of a place you'd love to have featured on my list? Don't hesitate in reaching out to me, and I'll see what I can do! I love showcasing top-notch stays on my blog, and Prague is one of my favorite cities so I'm open to suggestions!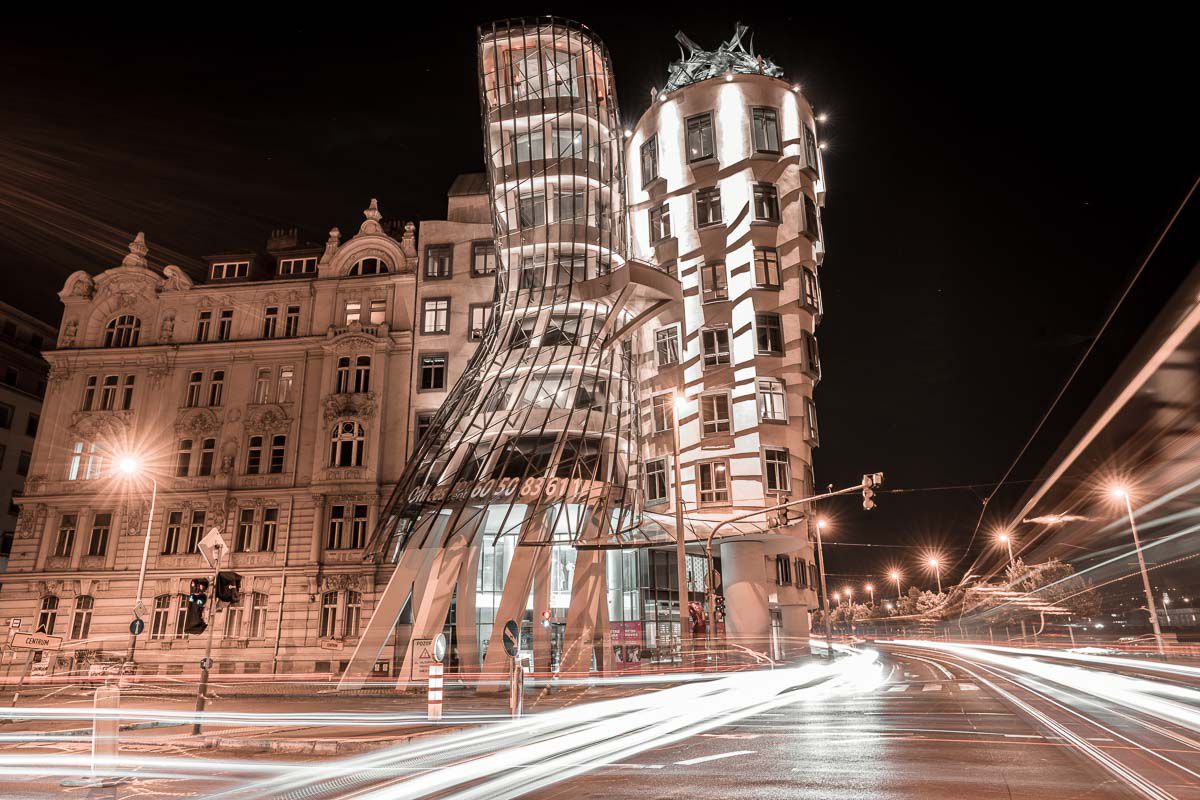 ---
Planning a trip to Prague & Europe?
I've spent over three years living, working, and traveling all over Europe, so I'd love for you to take a browse through a few more of my favorite articles below! Also, if you ever have any questions about anything you've read on my website, don't hesitate to reach out to me on social-media or shoot me an email as I love hearing from readers! Always happy to help any way I can!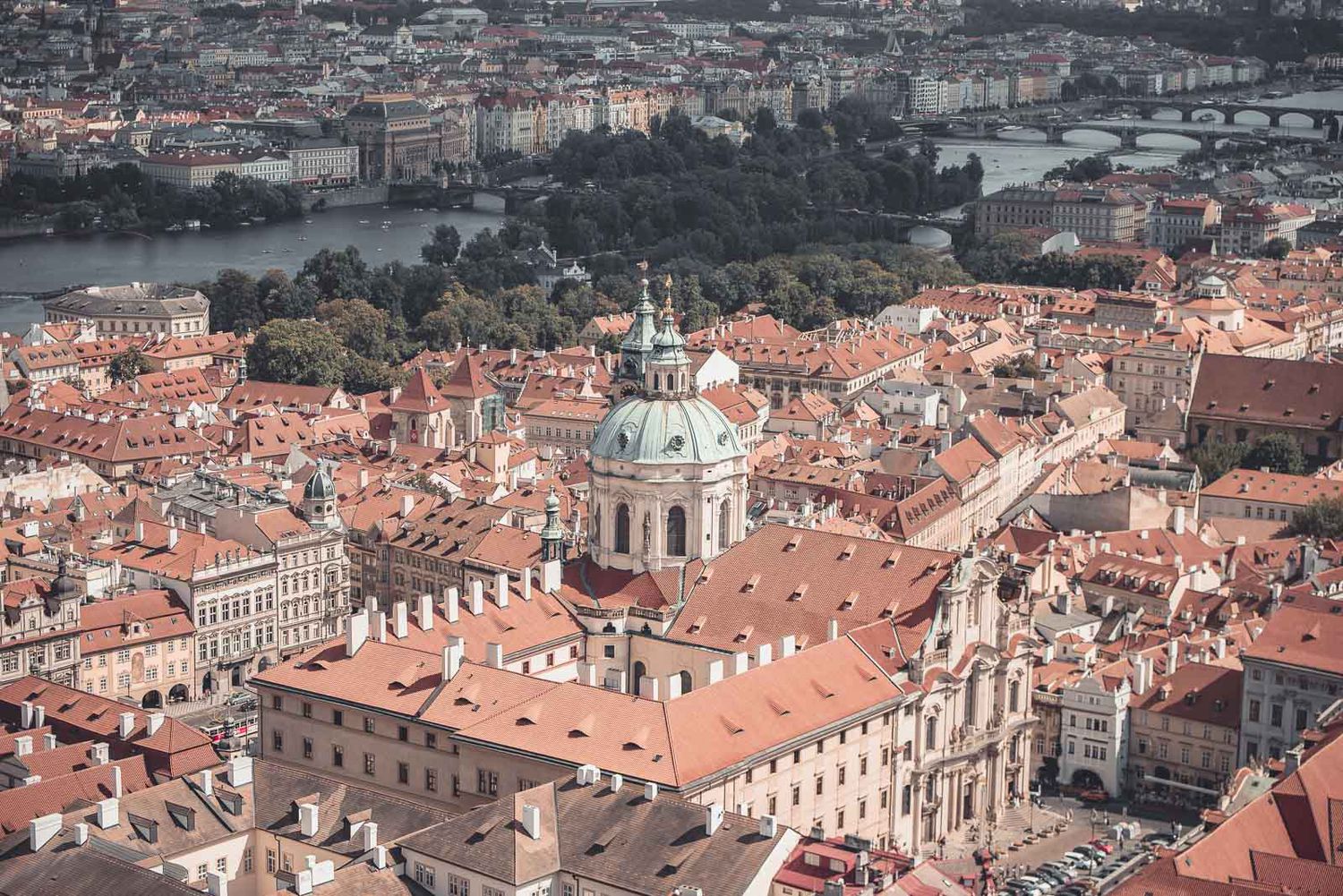 ---
FINAL THOUGHTS ON AIRBNB PRAGUE
Prague is one of those cities that just enchants you from the moment you arrive, and I guarantee that a great Airbnb will be the cherry on top of a brilliant trip to the Czech capital. Prague is a fantastic destination year-round. I've been in both the warm and cold months, and both have their own unique beauty. However, the major tourist hotspots can get pretty crowded in summer, and prices are higher than during winter. Airbnbs also book up well in advance of the peak seasons, so plan ahead and secure your stay! No matter which of these Airbnbs in Prague you decide to book though, I'm sure you'll fall in love with this city as much as I have!
But whatever you do, have a Pilsner (or ten) for me! It's the land of great beer after all!
---
Thanks for reading my Airbnb Prague travel guide!
SHARE THESE AIRBNBS IN PRAGUE WITH YOUR TRAVEL CREW!
https://www.jonesaroundtheworld.com/wp-content/uploads/2020/08/Best-Airbnb-Prague.jpg
675
1200
Guest Contributor
https://www.jonesaroundtheworld.com/wp-content/uploads/2017/03/logotry-1-1-300x106.png
Guest Contributor
2020-10-23 03:56:42
2020-10-23 17:44:18
The 14 Coolest & Best Airbnbs in Prague for the Perfect Fairytale City Visit