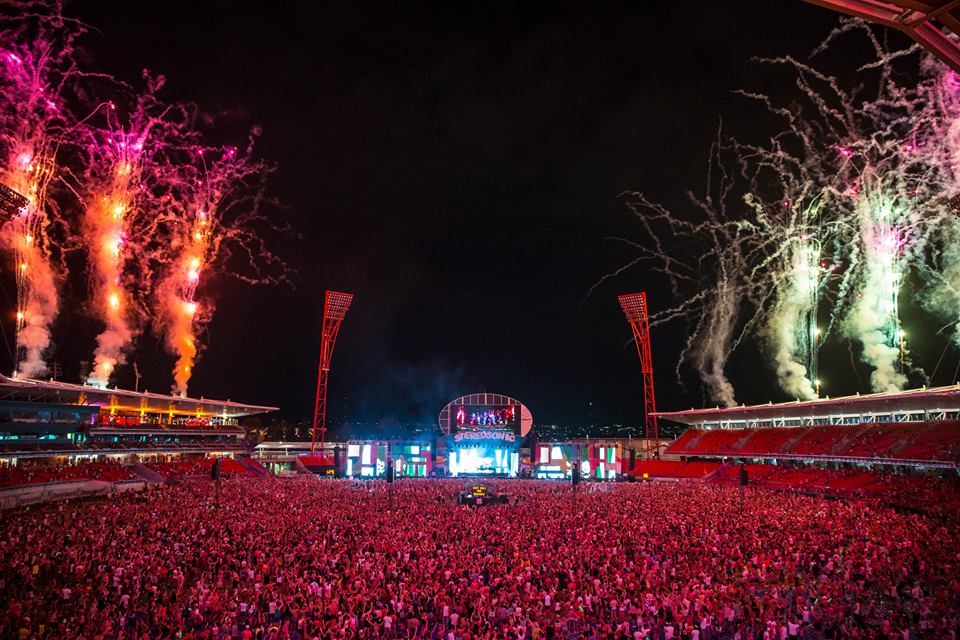 I crawled into bed at 2:00 A.M.  The only way to express the state of my body and mind would be utterly knackered.  I closed my eyes and could still see the lazers.  I tried falling asleep but still could feel the powerful bass pulsing through my chest.  I just got home from quite possibly the best night I've had in Australia so far, and a day I had been looking forward to for ages.  
Stereosonic 2015.  Wow.  What a night for the record books.  
With a line-up this stacked, how could it not have been…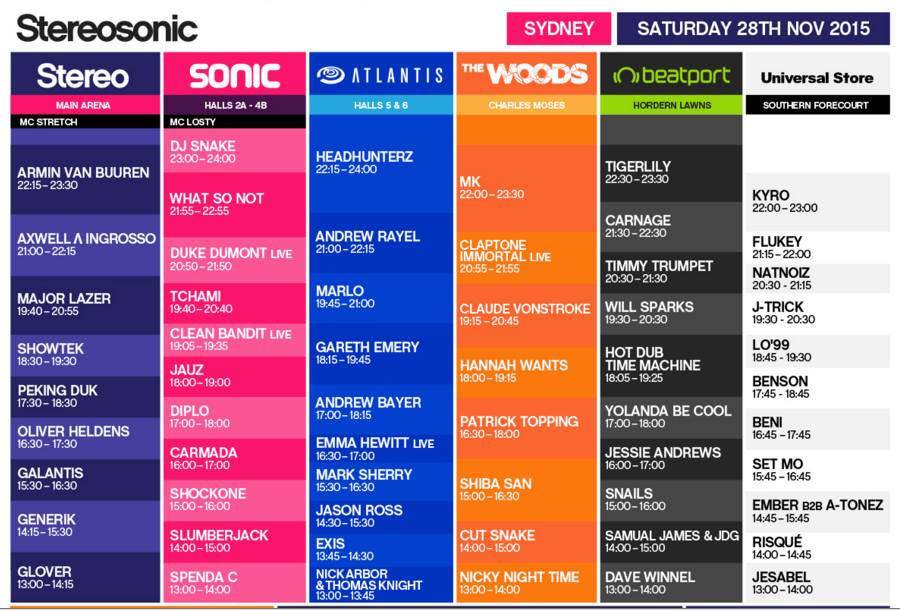 When it comes to music festivals, I'd like to say I'm a pretty experienced guy.  I've grazed the polo fields during Coachella, I've escaped into the mysterious realm of Tomorrowland, and I've danced under the stars at Electric Daisy Carnival in Las Vegas.  I'm pretty stoked to say that I've crossed another massive name when it comes to electronic music festivals around the world.  
If there's one things Australians love to do — it's party.  And wow, Stereosonic was a prime example of how well they can do so.
It was the first major electronic music festival I've attended during my time on Sydney, and it just got me even more pumped for the upcoming parties I'll be attending.  
Let's talk about Stereosonic…
Getting to the festival.
I met up with my mates at the train station, and made our way to Olympic Park.  I couldn't believe how easy it was to reach the venue.  The whole train was packed with Stereosonic attendees, all dressed up in their festival gear, and chugging the remaining pre-game mixes they had had prepared for the walk to the gates.  
With Stereosonic being a massive rave, and there only being one entrance — I was pretty nervous it was going to be hectic as hell to actually to get into the festival.  
But it couldn't have been easier.  The entrance and security process lines took no more than 3 minutes total.  
 I entered the festival grounds, could hear the soothing sound of bass coming from all directions, and was prepared for the next 10 hours of electronic music.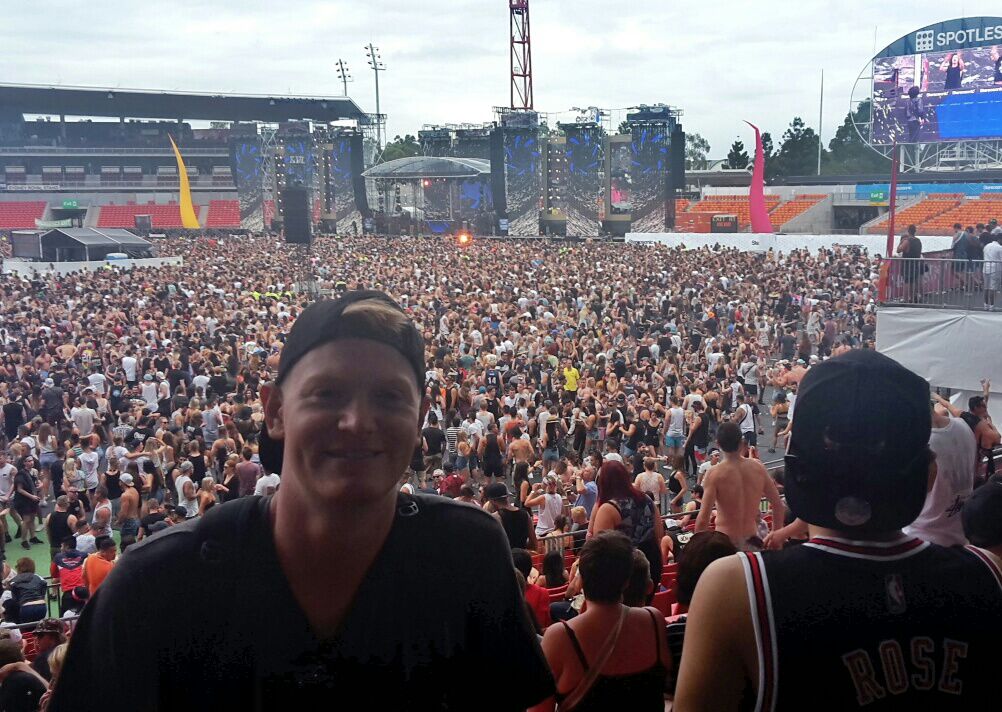 Music Highlights
I spent the majority of the day in "The Woods" stage, which was the stage for the deep and tech-house lovers.  It wasn't the biggest stage, or most popular — but it was quality music the entire day.  I stage hopped a little bit, but if you needed to find me — odds are you'd find me in the Woods.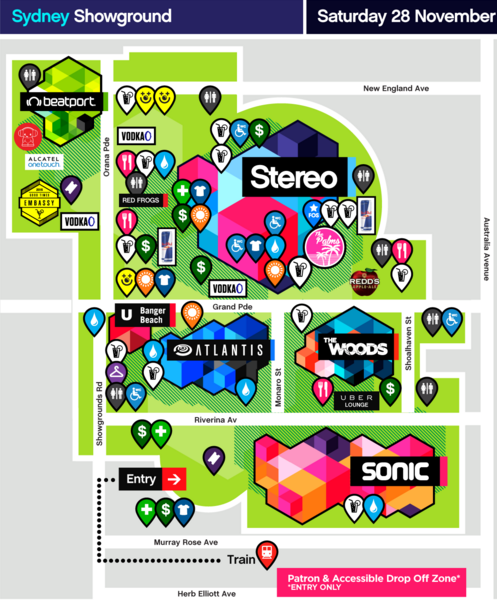 Claude Von Stroke — If there was one person on the entire line-up I cared about seeing — it was poppa Claude.  The "Godfather" of Dirtybird Records delivered a high-quality set of booty shaking house music.  He kept a solid groove going the entire time that kept my feet moving from left to right.  
Claude VonStroke - Make A Cake [OFFICIAL VIDEO]
Hannah Wants — I've had a few of her songs in my iTunes collection, but had never really had the opportunity to see her before.  She absolutely threw it down.  The crowd was solid, and she was dropping some dirty tech-house tracks. 
Roger Sanchez - Remember Me (ft. Stealth) [Hannah Wants Remix]
Armin Van Buuren — Now, I wasn't planning on venturing over the main stage at all because I wanted to close out my night with MK in the Woods, but I couldn't help myself to check out the MainStage at night.  And wow, it was impressive.  The pyrotechnics, the sound, the lakers — all top notch for a main stage festival.  I've seen Armin Van Buuren before, and I know he'll always put on a good show.  His set at Stereo was just as I imagined it.  A mix between big room drops and pulsating trance bombs.  
Stereosonic 2015 - Closing Fireworks - Sydney Australia - Armin Van Buuren
JAUZ — Ever since I saw that Perth Stereosonic created a petition on reddit to put JAUZ on a later stage time, I knew I wanted to check out at least a bit of his set.  I probably only stayed for about 20 minutes, but it was one epic party.  Heavy trap and dubstep to get your heart pumping.  
The Worst Part About Stereosonic….
The Bathrooms.
I've been to many festivals, but the bathroom situation at Stereosonic was by far the worst I've ever experienced.  You'd have to wait in line for way to long, and girls were always going into the guys bathrooms because the lines for the ladies bathrooms were like 20-30 minutes long.
Oh…and the Condom situation
At any large electronic music festival, there will be a large amount of people sneaking in drugs.  When it comes to Australian festivals though, they have sniffer dogs everywhere around the entrance.  This leaves guys and girls one option to smuggle in their illicit substances.  I'll let you guess where that is.
In almost bathroom I went to — there were condoms all over the place.  It was revolting.
Drug Death at Steresonic Sydney
I can't write a review about this festival without bringing up the sad news of the passing of a 25-year old party attendee.  I can't know 100%, but I'm actually pretty sure I saw the girl being driven out on a golf cart.
What's my opinion on the matter?  Well, I really don't think you can blame the organizer at all.  Stereosonic has gotten a lot of bad press recently.  But festival organizers always make sure there is the appropriate safety and security measures for it's attendees.
Fun fact:  Australia ranks #1 for recreational drug use in 2014.
If you want to take drugs at a party like Stereosonic — than that's your personal decision.
But it's ultimately the person's responsibility to take care of themselves.
Overall, Stereosonic was a complete blast.  Great music, atmosphere, and lots and lots of dancing.  I think my legs are still sore.  It was my first big festival in Australia, but I know I'll be attending many more in the future.  Like the remaining festivals on the list below.
9 Music Festivals in Sydney To Keep You Dancing This Summer. 
Thanks for reading!
https://www.jonesaroundtheworld.com/wp-content/uploads/2015/12/12294709_10153739299733648_7764216569678100699_n.jpg
640
960
Dave
https://www.jonesaroundtheworld.com/wp-content/uploads/2017/03/logotry-1-1-300x106.png
Dave
2015-12-01 02:01:02
2016-02-11 08:40:58
Stereosonic Sydney 2015: A Festival Review