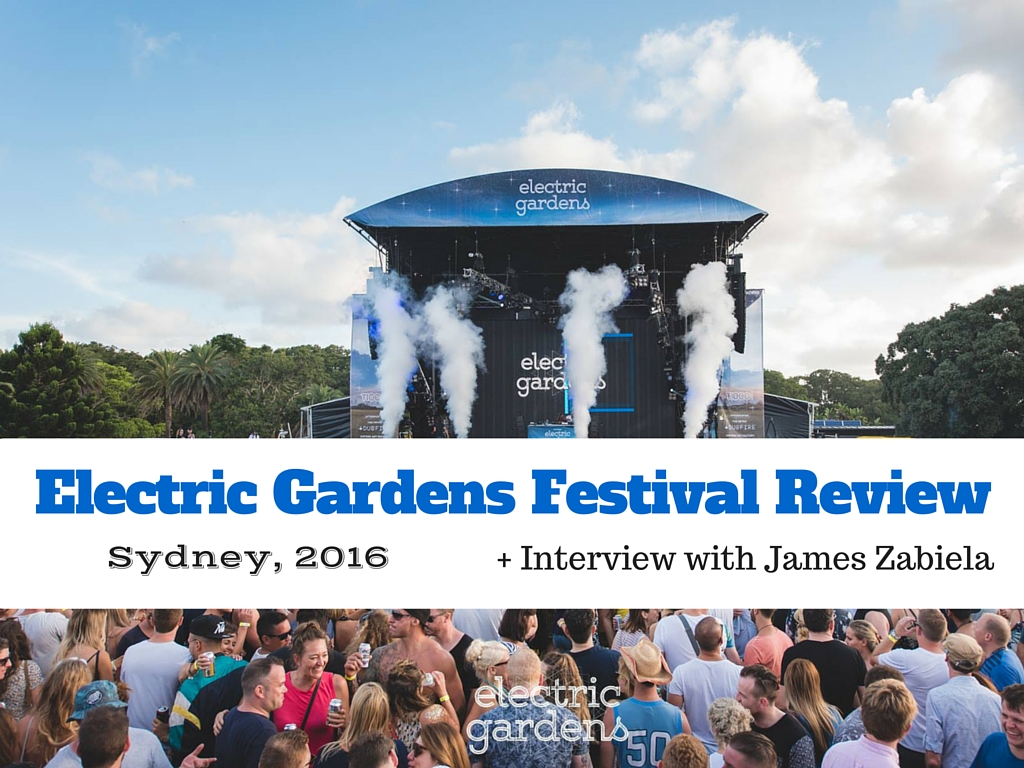 The day had finally arrived. I woke up, got out of bed, and went straight to my speakers to turn on some morning techno jams. I couldn't have been more excited. Not only was it the first festival in Sydney that had some proper underground house and techno music, but I also got accredited a Media Pass and would be allowed to interview James Zabiela.
I remember writing a blog post about music festivals in Sydney months ago, and knew that I would be in attendance for Electric Gardens. They had only announced three names at the time, but with Fatboy Slim, John Digweed, and James Zabiela already on the line-up, this was one event I was not going to miss.
As I walked down to the local bottle shop to buy some pre-game essentials…
I felt it slowly starting to rain…SHIT.
As much as I'd like to say that rain at music festivals makes it more fun…it's not. It actually sucks.So I was definitely a little worried. Was this unpredictable Sydney weather about to rain on my techno parade?
I carried back a case of 24 beers back to my house in the pouring rain. As I waited anxiously for my friends to arrive to start pre-drinking — I had a feeling that today was going to turn around for the better, and I was definitely right.
Beers + Techno = Pre-game session. Then right around 1:00 P.M – the sun started peaking through the cloudy gray sky.
Around 2:00 P.M, we got a lift to the Centennial park, and proceeded to the entrance. I gotta say that the venue was the absolute perfect place for a summer day music festival. Nice open fields of grass, lots of space, and to put it simply — a really beautiful park. And the weather might have been bad in the morning, but it was nothing but nice clear skies the rest of the day!
Getting inside the festival grounds only took about two minutes, and thankfully I had a Media Pass because security almost turned me away for having a GoPro stick. Fortunately, they allowed me to bring it in.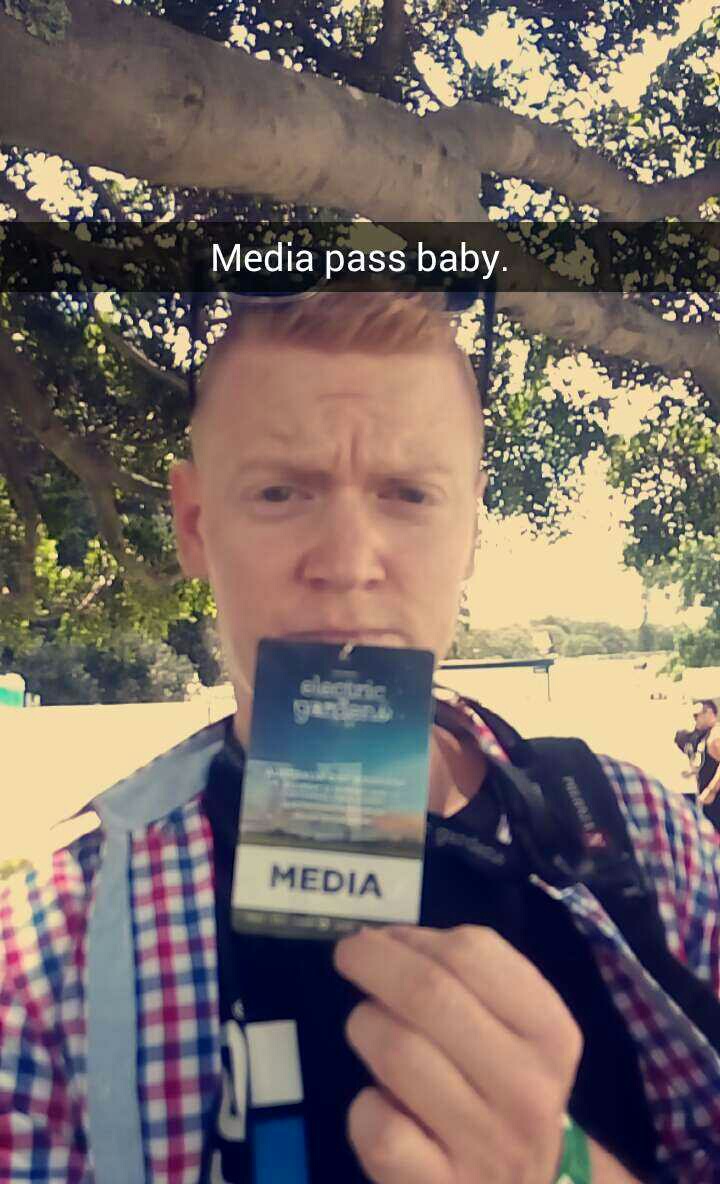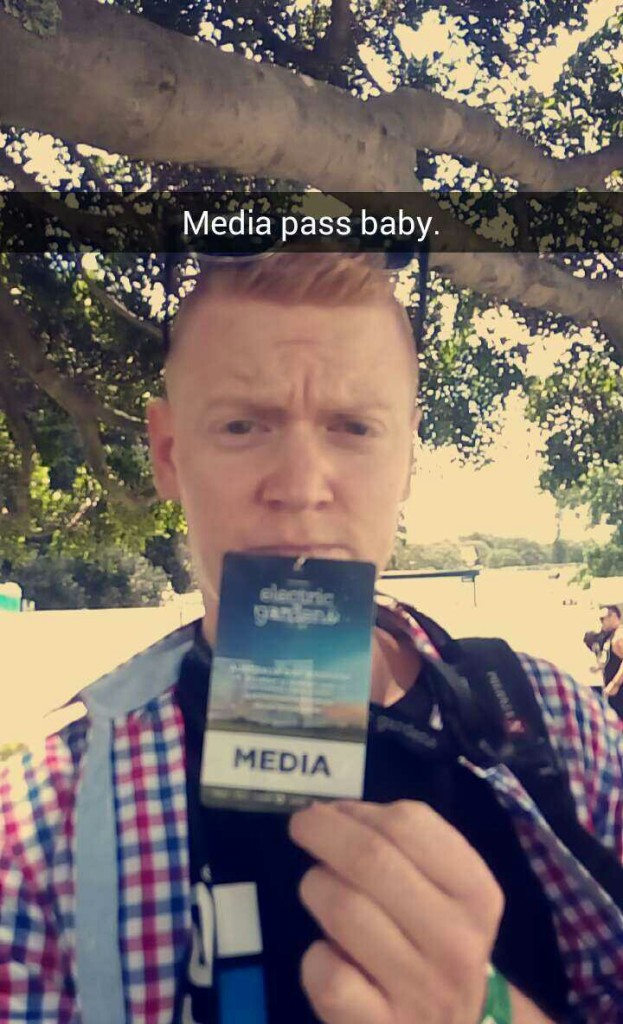 I was actually kind of surprised they didn't check my bag more thoroughly. The only thing they saw was the GoPro stick, and didn't even check all the pockets. I was kind of surprised. I could have easily snuck in a bottle of vodka, or heaps of beer. But then I realized why…
Because…there were DRUGS DOGS EVERYWHERE.
I knew this would be the case because music festivals in Sydney have been receiving a lot of negative attention recently.
There was a drug-related death at Stereosonic, and a girl went into a coma (and miraculously sprung to life) after Listen Out…
Within the first five minutes of being around the entrance gate, I saw two people get arrested. All I know is this, Australia is not a place you want to get caught with drugs. They're beginning to "make examples" of people, and giving them criminal records for drug possession.
Electric Gardens made this known on their Facebook page that there would be an increase in security.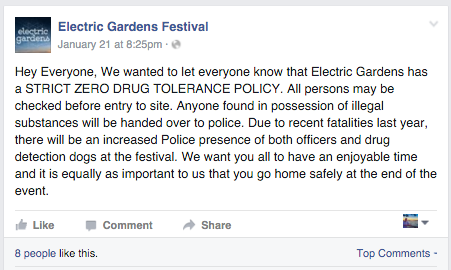 But THE GOOD NEWS…
There were zero deaths at Electric Gardens.
The Festival Map
One of the first things that surprised me about the festival was that the three stages were all lined up right next to each other, facing the same direction.
It seemed really strange to me that they wouldn't have one of the stages at a different area of the park, but it actually worked out really. Besides the minor annoyance of hearing both stages if you were standing in the middle of them (which was easily avoided), I really enjoyed the layout.
Stage hopping was as easy as 1…2…3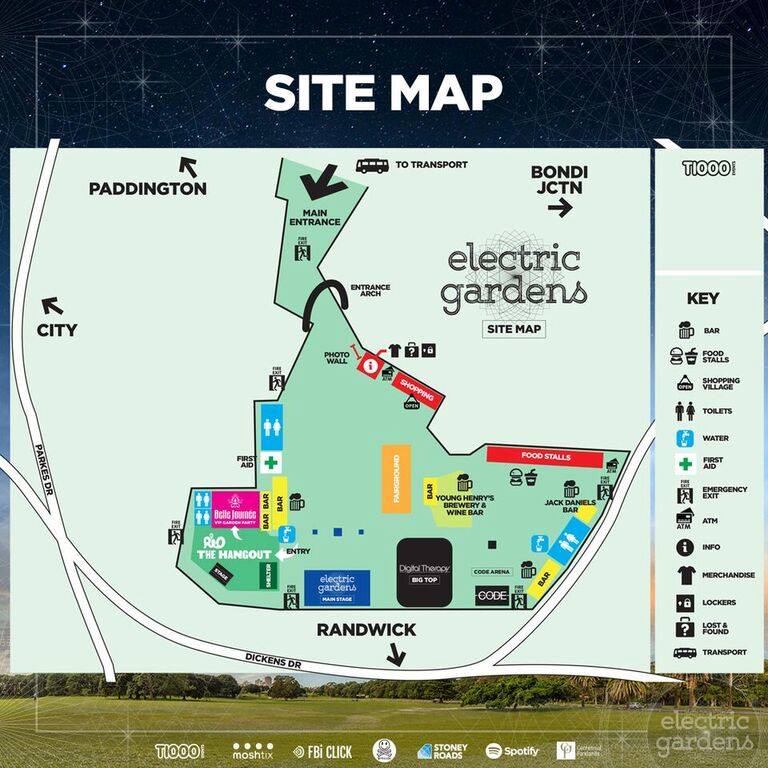 Bathrooms & Beers
A very important aspect of a music festival for me is how easy it to access a bathroom when you need, and how quickly you can get some booze.
Both of these were extremely easy tasks at Electric Gardens. I never had to wait in line for the bathroom, and I don't think it took me longer than 2 minutes to purchase some beers.
Everything was so clearly organized, and was great to see a festival be on top of their shit.
There's nothing worse than being at a festival, and having to wait in line for the bathroom or the bar. The festival organizers planned it out really well, and I got to give them credit for it.
Let's Talk Music…
Electric Gardens Set Times…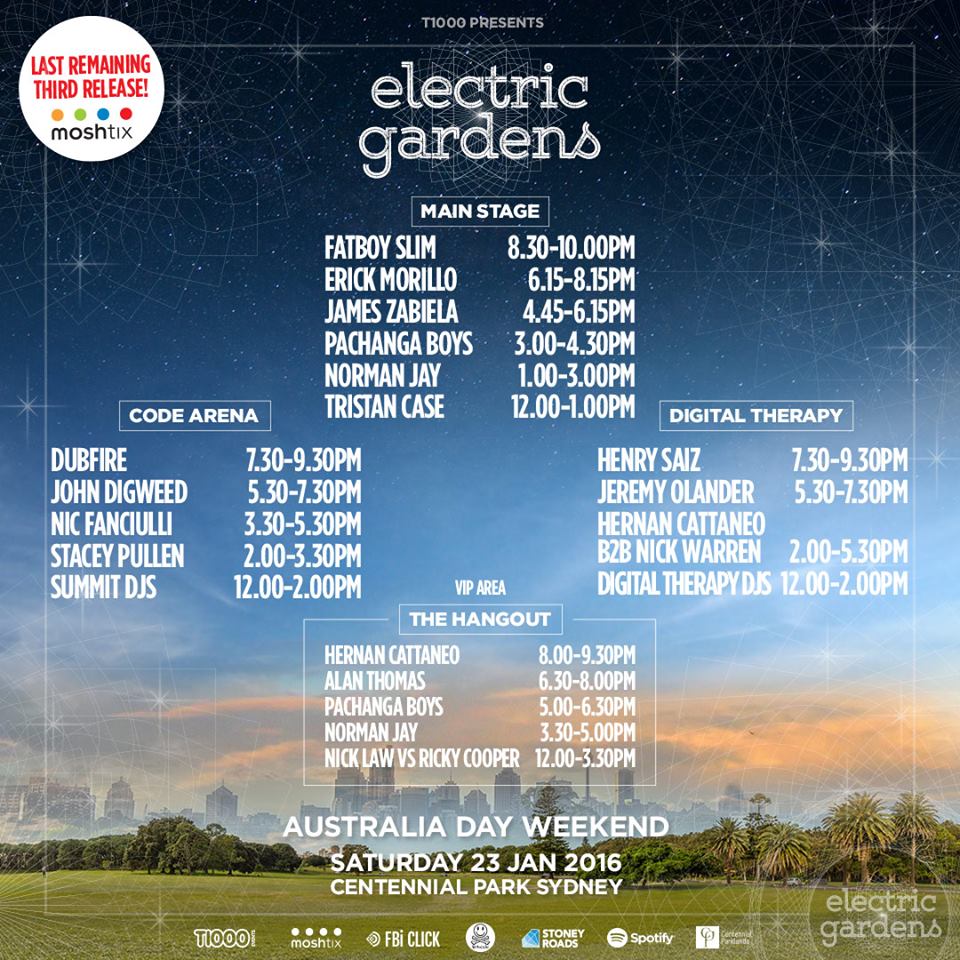 When I'm at festivals, I pretty much tend to just follow the music, the crowd, and the vibe. I was with a good group of friends, and we were always on the same page of who we wanted to see next.
We started out the day stage-hopping between Stacey Pullen at the Code Area, and Hernan Cattaneo B2B Nick Warren at the Digital Therapy stage. (Just a 1-2 minute walk right next to each other)
To be honest, I had never heard of Stacey Pullen before researching the artists on the line-up, and I absolutely loved his music. He set the tone for the rest of the day. Just a solid groove of quality deep-house tunes.
Now Hernan Cattaneo & Nick Warren had a 3.5 Hour B2B Set. They were absolutely destroying the place. This was the only tented stage, so it definitely added a different element to the atmosphere.
What I noticed about the beginning of the day, is that the majority of the people at the festival were actually spread out between these two stages. I wondered over to the mainstage for a bit of Norman Jay's & The Pachanga Boys sets, but there actually weren't that many people there. The music was good, but the party was happening elsewhere.
We caught about 20 minutes of Nic Fanciulli's set, which was nothing but amazing tech-house. This is the type of music I fell in love with while living in Spain, and I was really bummed to leave. I definitely was keen to listen to more of his set, but too many artists, in too little time.
The festival crew and I knew that we needed to check out the legendary James Zabiela.
This was the best set of the day in my opinion. He absolutely crushed it.
Song after song was a complete tech / house banger.
James Zabiela in action spinning right when he dropped this tune below, and it's been stuck in my head ever since.
Leftwing & Kody - Detection - Leena046
After James Zabiela's set, my friend Rachel & I journeyed backstage to meet up with the press manager. We waited around for 20 minutes or so while we waited for the interview with James to happen. [See Interview at the end of review]
The whole process took about 45-60 minutes, and we cruised out to meet the rest of the group around 7:30P.M. For around 30 minutes we checked out the different stages and couldn't stop dancing. At this point, I had been drinking for a solid 8 hours, and just finished an awesome interview — so I was feeling pretty damn good.
We cruised over to the mainstage to catch the last little bit of Erick Morillo's set, and it honestly bummed me out because I could tell he just put on an incredible show. Erick has an incredible stage presence, and you can tell he's having just as much as the crowd. He was playing some really fun upbeat house music, and keeping the crowd entertained.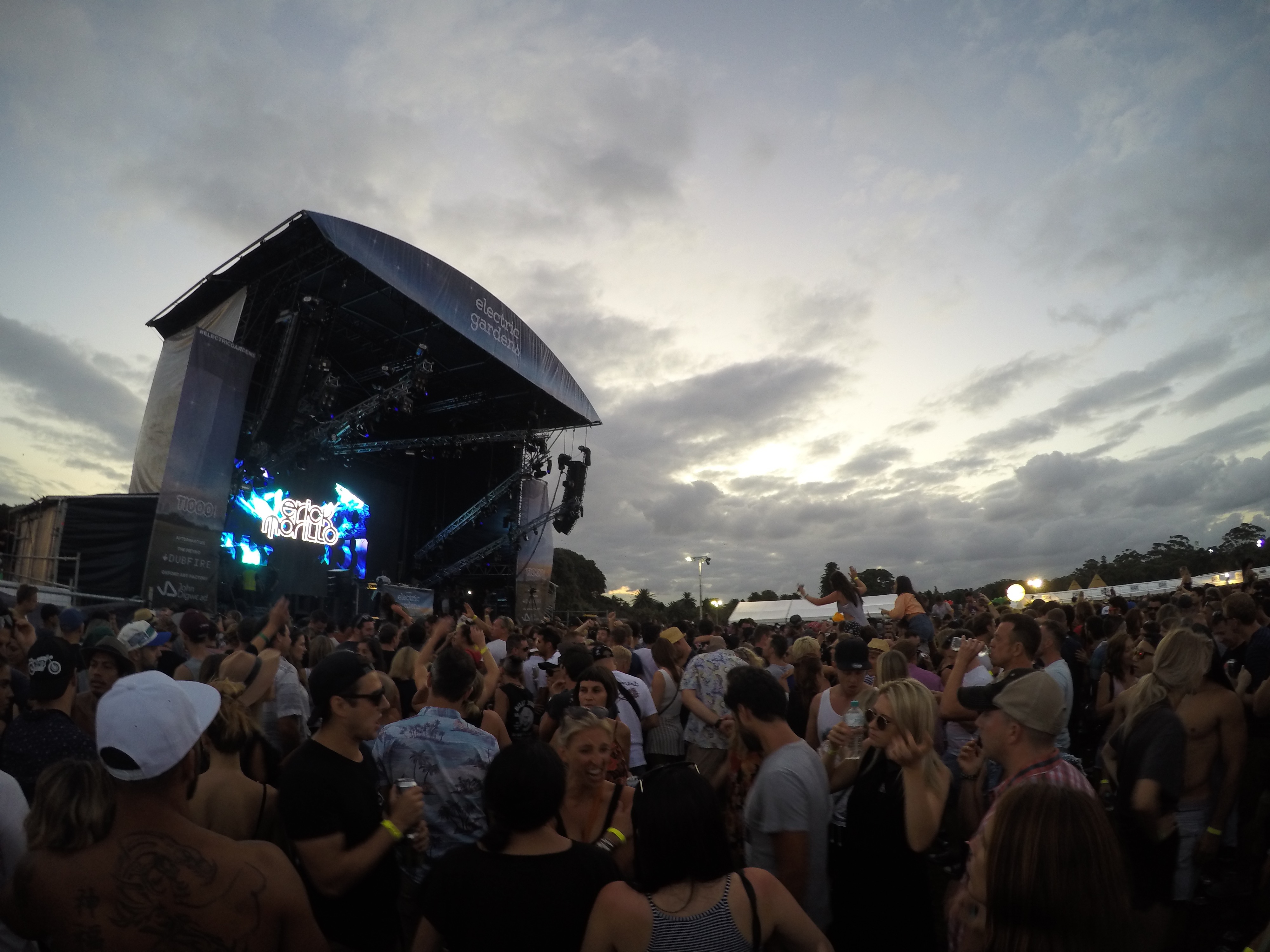 But the time had come — the main headliner of show
Fatboy Slim
I had seen Fatboy Slim twice before at Tomorrowland & Coachella, I was expecting him to play an absolute banger of a set.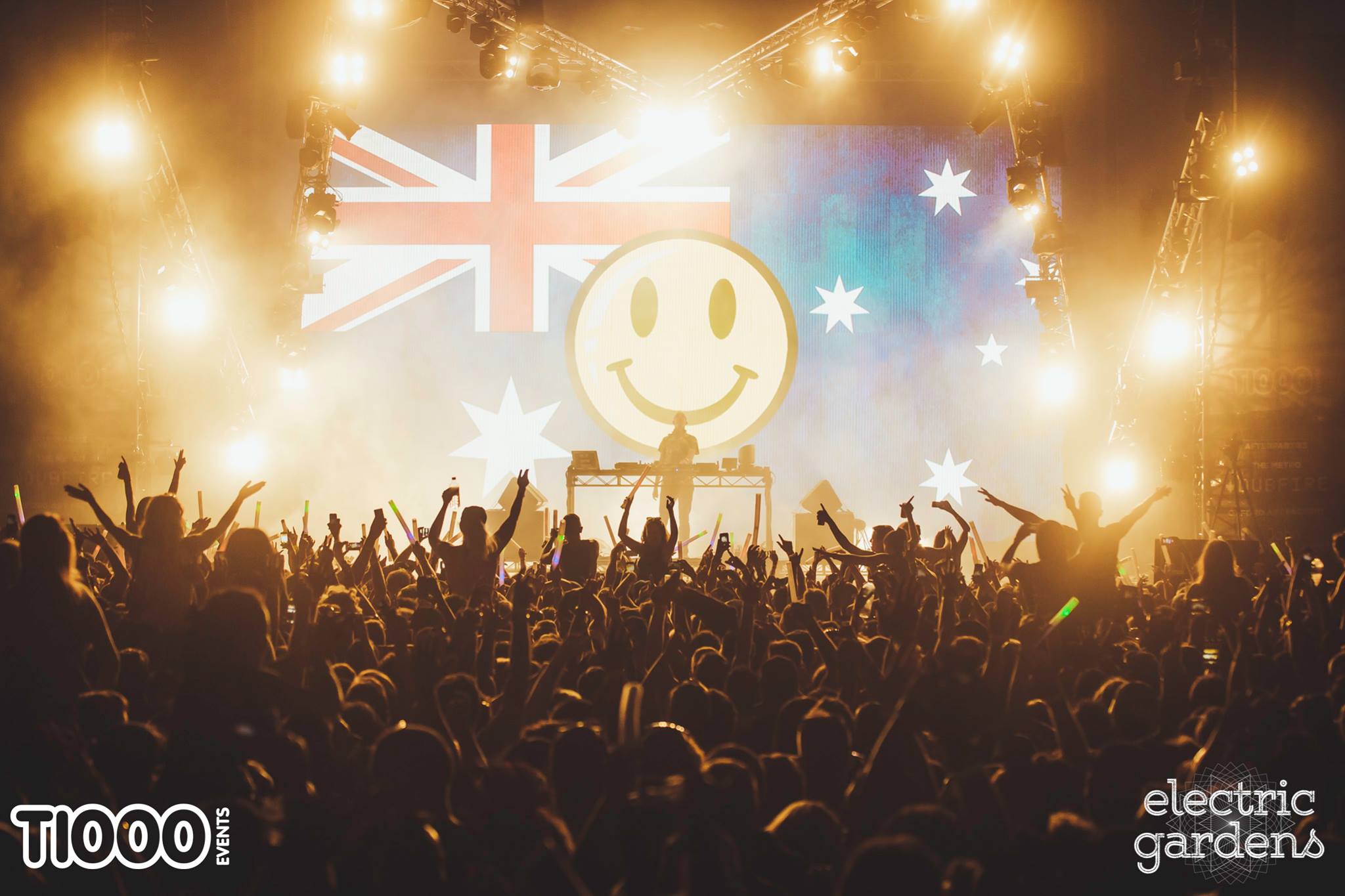 Which I think he played — but only for the first half of his set.
Now, this might not be the most popular opinion, but I actually found the second half of Fatboy Slim's set to be quite boring.
Let me explain:
This was a full-on day festival. I love a good day-drink & dance just as much as the next person, but I'm a firm believer festivals are much better at night.
With only 90 minutes of actual darkness, complete with lazers and LED screens, and Fatboy Slim playing the main stage — I was just expecting him to bring the house down. His mixing was fantastic, and he played a lot of crowd favorites — but I really wanted him to play some FILTH.
Especially since the other stages ended their music at 9:30 P.M. He had the only music playing for the last 30 minutes, and it would have been great to play some epic electro.
Was it a good set? Yeah, but for being the headliner and closing set of the night — I was left a bit disappointed. He started off really strong, but just kind of lost it to towards the middle / end.
With that being said, it was still a great show, and tons of fun!
Conclusion
I've been to four music festivals in Sydney now, and I can definitely say that this was by far my favorite. The organization was done really well, the production value was fantastic, and the music was loud & bumping. My only complaint is that it ended at 10:00 P.M — because the festival atmosphere was strong, and I definitely could have stayed and danced the entire night away!

Electric Gardens Festival Aftermovie
Watch in HD
Electric Gardens Festival Aftermovie (Sydney)
Interview with James Zabiela
When I found out I was going to be able to interview James Zabiela, I couldn't have been more stoked. I was also pretty nervous about it though. What was I going to ask him? I'm a big fan of electronic music, but I wouldn't really consider myself a music journalist. I'm a travel blogger.
So I decided to interview him strictly about the traveling aspects of being a world-touring DJ.
We started out chatting and let him know that this was just a very casual interview for my humble little travel website Jones Around The World.
I didn't record this interview, so I'll just write his responses to my travel related questions…
If you could only eat three types of food for the rest of your life, which three would you choose?
Thai Food — Definitely the favorite.
Japan — Can't live without Sushi
"Can I just say Breakfast Cereal"??…hahaha. Well played, James.
If you could only live in three countries for the rest of your life, which three would they be?
Argentina — Really amazing gigs and friendly people.
Japan — A mix between sensory overload and super zen.
England — Can't stay away from home and family for too long.
Three Favorite clubs around the world to play?
Watergate (Berlin)
Cielo (New York)
Kristal (Bucharest)
If you could be a billionaire for one full year, but you weren't allowed to leave the city, where would you live?
James gave it a minute to think about, and then responded with San Francisco, California. He loves the city, but also added that there are a lot of homeless people, and joked about how awesome it would be just to hand them out money like in the scene from Dumb & Dumber.
If you were given three first class tickets to anywhere in the world, where would you choose?
Hawaii
Bermuda
Iceland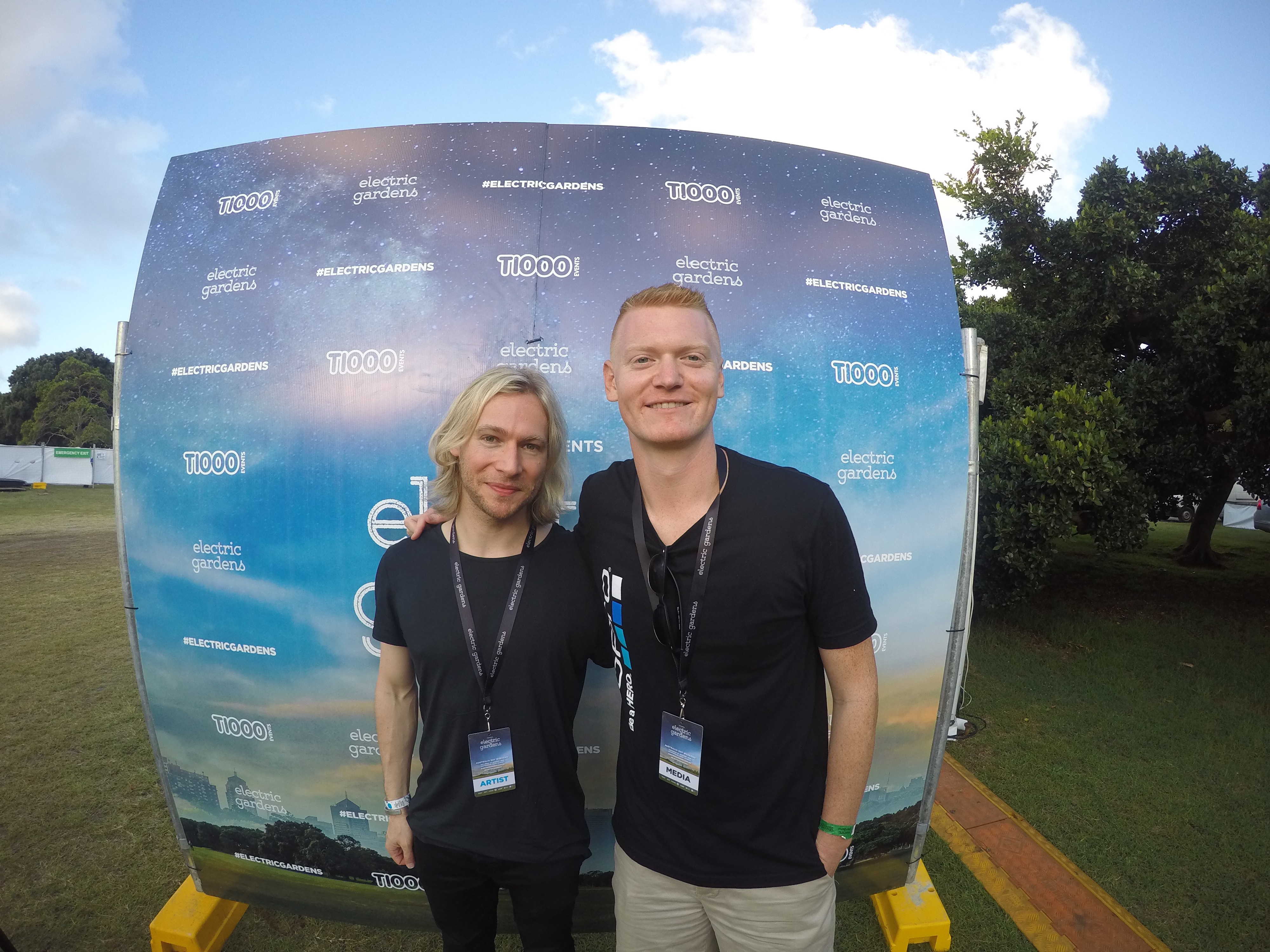 Thanks for the chat James. You're a legend. Looking forward to seeing you play again someday!
Check out this insane Essential Mix from James Zabiela, Nic Fanciulli, and Richie Hawtin back from 2007.
[soundcloud url="https://api.soundcloud.com/tracks/427334″ params="color=ff5500&auto_play=false&hide_related=false&show_comments=true&show_user=true&show_reposts=false" width="100%" height="166″ iframe="true" /]
Were you at Electric Gardens? Who was your favorite DJ?
https://www.jonesaroundtheworld.com/wp-content/uploads/2016/02/Electric-Gardens-Festival-Review.jpg
768
1024
Dave
https://www.jonesaroundtheworld.com/wp-content/uploads/2017/03/logotry-1-1-300x106.png
Dave
2016-02-03 04:46:42
2020-09-26 23:15:08
Electric Gardens Festival Review [Sydney, 2016]