It was October 30th at 1:08 P.M and my phone vibrated in my pocket.      It was a text message from the organizers over at HYHE.   With less than 24 hours to go for the party to commence, it was finally the right time to release the venue details!   
I got chills down my spine.  I had never been to a secret destination party before, and there is just something about it that makes it sound so damn cool.  After reading up on Have You Heard Events, I knew one thing was certain….
The Afterlife is going to be one epic party…
Secret location.  Rainforest.  Camping.  BYOB.  House Music. 
This is the exact type of party that I would want to attend Halloween, and I'm so glad my friends were down to tag along for the adventure.  This was one of the most best Halloween parties I've ever attended, and if I'm in Sydney next year — I know exactly where I'll be for next year's festivities.  After reading this review, I believe you'll be making the same decision.

Highlights of the Event
The Information given to the attendees before the festival even happened.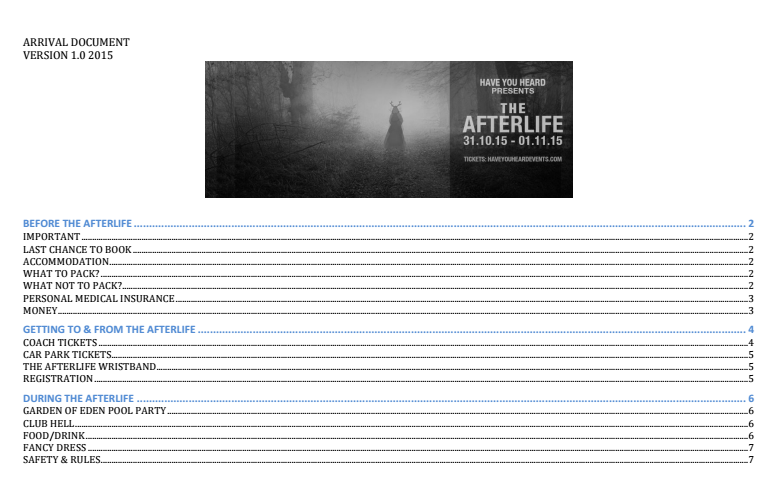 Before I even talk about the actual event, it's important to explain how awesome all the information was attendees received prior to the event.  This might have been a secret location party, but the organizers did a fantastic job of keeping everyone in the loop about what the party will include.
They included a detailed timetable, informative instructions on how to reach the venue, and answered every possible question people could think of.
As well — HYHE was keeping everyone in the loop about remaining tickets available, coach passes, car parking passes, and a lot more.  All of this information was given really clearly on the Facebook event page on the HYHE Fan Page.
The Venue & The Garden of Eden Party
The location (which shall remain a secret) was the absolute perfect location for the party.  There was plenty of room for camping , a nice swimming pool, and prime locations for both the dance floors.  The rainforest was covered with beautiful trees everywhere you look.  Just over an hour outside of Sydney, this venue provided exactly what this event needed.
My group and I were some of the first people on the campgrounds.  We had an early start to the day, so it was fun to be able to watch the party slowly grow bigger and bigger.
When everyone was ready, we made our way up to the day-time pool party area, and commenced in a wide variety of activities.
From swimming, constructing lego shapes, playing chess, battling teams in Tug-of-war, and other various games — the day party was a legit Adult playground. 
The DJ was spinning some really great tunes to get the party started the right way.  I must say however — it made it a lot more epic having a saxophonist playing along with the music.  He was absolutely crushing it!   Everyone was dancing, mingling, drinking, and just enjoying a proper day-drink.
Club Hell
As the day-party slowly came to an end, everyone made the journey into Club Hell.  This is where all the action went down.  The dance floor was nice and big, it was really well decorated, and the sound was perfect.  There was definitely enough bass to keep you bobbing your ahead to quality house music all night.  The DJ's were crushing it, and dropping some major filth.  From deep-house, tech-house, and some upbeat club music — it was a great night of dancing.  Props to the DJ's for providing an amazing soundtrack to the night.
B-Y-O-B
This is arguably the single best aspect of the party.  No one likes going to an event and paying ridiculously high prices for booze.  This was not an issue here.  As long as you came prepared (which my crew did), you always had a drink in your hand.  People were bringing large coolers with them into Club Hell, and would just run back and grab a new beer whenever you needed one.  This was the first ever official BYOB event I've ever attended, and it worked out really well.  (Maybe a little too well for some).
The Costumes & The Crowd
Being from America, Halloween is a big deal.  I was thoroughly surprised with how crazy some of these people dressed up.  Lots of group of friends had coordinated great costumes together, and many people took it to extremes!  Always great to see people make an effort, and not half-ass costume.  The face painters there also were a solid bonus!
Overall, The Afterlife was a complete success.  Huge props to crew over at Have You Heard Events for organizing such a quality party.  It was my first HYH Event that I attended, but it definitely won't be my last.  My group of friends already booked a 20 person Yacht for their massively popular Yacht Social Club events, and I'm definitely looking forward to their upcoming Summer weekend event…
Have You Heard Events Presents Summerland…
With the huge success of The Afterlife, HYHE has present their next big party called Summerland.
"Somewhere out there, in the mystical vastness of NSW bushland, is a place that is home to high-jinks and monkey business. A place filled with BBQs, pool parties & scorching sunshine. A place where the weird and wonderful come to chill, dance and play."
Don't miss out on this one.  Join The Facebook Event
https://www.jonesaroundtheworld.com/wp-content/uploads/2015/11/THE-AFTERLIFE.jpg.optimal.jpg
768
1024
Dave
https://www.jonesaroundtheworld.com/wp-content/uploads/2017/03/logotry-1-1-300x106.png
Dave
2015-11-06 06:40:10
2016-10-24 22:40:16
Have You Heard Events presents...The Afterlife [Festival Review]