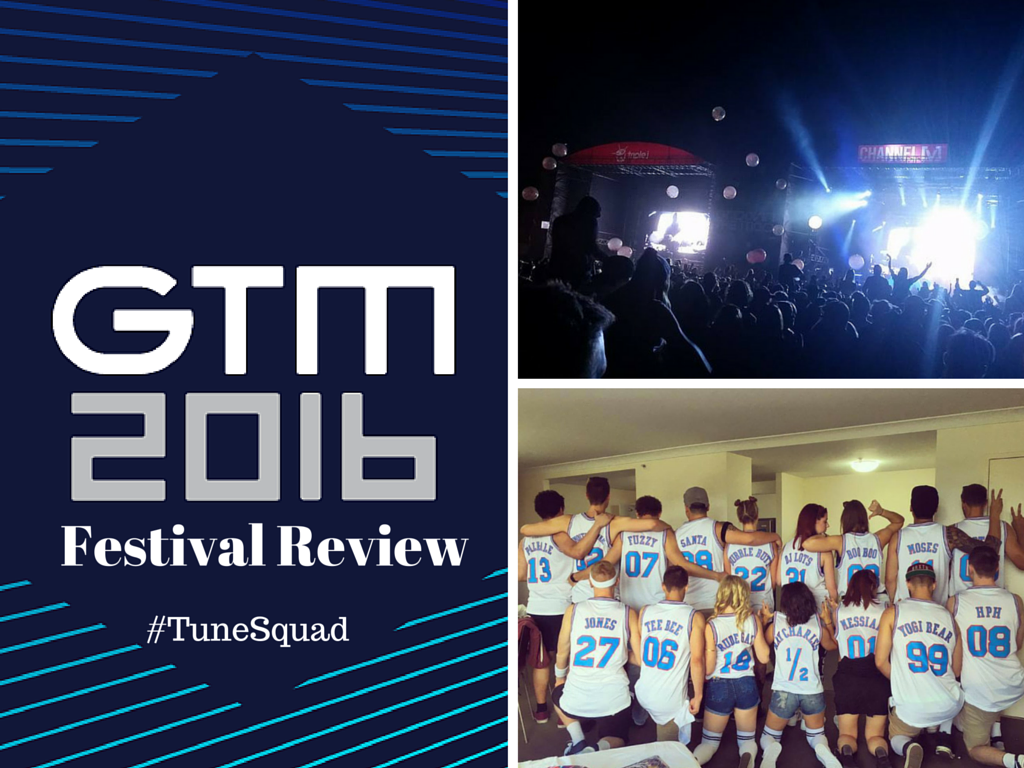 When I landed in Sydney, I had a goal to attend as many music festivals in Australia as possible.  Luckily for me, I found an amazing group of friends that have a similar passion for a quality party.
With it being one of my mate's birthdays that weekend (Happy Bday Troy), and the legendary Groovin The Moo Festival — it felt like the perfect time for a weekend away in Canberra.
I remember writing about how Groovin The Moo was one of the top music events in April, and it definitely did not disappoint.
I'll be honest, out of all the festivals I've been to in Australia — this might have been the one I was least excited for.  I was exhausted from working quite a lot, the line-up lacked any underground house and techno, and I've been trying to save money and festivals are expensive.
But I'm really glad I went, because Groovin The Moo definitely was a solid party.
Let's discuss…

TuneSquad
Just like any aspect of travel, sharing an experience with a great group of people can make the biggest difference.  Over the past 8 months, I've met some amazing people here in Sydney.  Thanks to their quality organizational skills (shoutout to Cass), we all rocked up to the festival in style.  We were easily the largest squad of the festival, and repeatedly had people take photos of us.  I mean, look at us.  Hot damn, we look good.
The Venue
In my opinion, Groovin The Moo was held at a pretty standard venue.  There was no "wow" factor about it, but it had green grass, a decent amount of room, and we were fortunate to  have beautiful weather!
There were a few times where I felt that it could have been a bit bigger though.
This was a Sold-Out event, and you could definitely tell.  There were people everywhere.  Almost too crowded at times.
The only thing that really bothered me was the bathroom locations which were pretty far away from everything.  It's nice when you're at a festival and can run away to take a piss and be back within a few minutes.
The Stages
If you're looking at the set-list, you'd see that there were 3 different stages.  The main stage could not be missed, as it was pretty massive.  What I found strange about it was that it was set-up in two-halves.  This was due to a lot of the bands needing their own equipment and to make artist transitions a bit smoother.  I had never seen a festival stage do that before, and I'm not sure how much I like it.  It was just a bit weird having the artist focused on one-side of the stage.  It wasn't really a big deal, but definitely something I felt was a bit strange.
The second stage was where I found myself at the majority of the day.   This was also a pretty massive tented stage, and felt that the vibe was consistently on point.  Everyone was dancing, grooving, and raving all day.
Top 3 Sets
Safia:  Rather early on in the day, SAFIA took stage and completely blew my mind.  My friends listen to Safia quite a bit, but I only realized that when I saw them play live.  I love their style, their vocals, and their deep and groovy tunes that blended so perfectly together.  
Golden Features:  I had seen them once before at Field Day, and I've been listening to their music every since.  These guys really know how to put on a show, and their track selection is fuego.
Alison Wonderland:  Australia's favorite trap queen closed out the main stage in style, and played one of the best sets of the entire day.  I'm not going to lie, I was a little bummed to hear her play a Justin Bieber remix, c'mon, closing set doesn't need that shit, but she quickly redeemed herself with banger after banger.
Read:  The JATW Playlist:  Top Ten Tracks of April 2014
The Downsides
All Ages Event:  Maybe I'm getting old, but you could definitely tell that this was an all ages event.  The last music festival I went to was Return to Rio, and that had one of the best festival atmospheres I've ever experienced.  Everyone was a bit older, and knew their underground house music.  At times this festival felt like a massive 17-years old birthday party.  Okay, maybe an exaggeration.  But I'm 27 years old, and partying around everyone 10 years younger than me was a bit strange.
Within 20 minutes of entering the festival, I swear I saw 16-year old girls throwing up with their friends holding back their hair.  I'm sorry, but this isn't a Prom afterparty.  Get it together people.  Learn how to party responsibly.
Alcohol Zone:  At music festivals, you'll most likely find me towards the back of the stage, in an area where there's plenty of room to dance with a beer in my hand.  Unfortunately, because this was an all-ages event – you weren't allowed to bring beer out of the 18+ zone.  It was a huge buzz kill.  Especially when I bought 4 beers for friends, and had plans to bring them back to the squad.
Ending at 10:30 P.M:    
Maybe it's from my years of partying until sunrise in Barcelona, or hitting up full-moon parties in Thailand, but ending a festival around 10:30 P.M is really sad.  I really don't think a festival should ever end before midnight, but unfortunately it happens all to often at music festivals in Australia.
I also was pretty hungover from drinking on Saturday night, so having the festival starting at 11:00 A.M just felt heaps early.
Conclusion
The music was great, the weather was beautiful, and the overall festival organization was above average.  There were definitely a few aspects of the party which I think could have made the festival a bit better, but I would definitely recommend Groovin The Moo to friends.  It's one of the last big festivals of the season, and I'm really glad I went.
Have to give a major shoutout to the TUNESQUAD.  We absolutely crushed it.  What a weekend.  Hoping we rock our jerseys to the next festival we all attend together!
---
THANKS FOR READING
---
& Add Me On

Snapchat

:  JonesATW
https://www.jonesaroundtheworld.com/wp-content/uploads/2016/05/Festival-Review.png
768
1024
Dave
https://www.jonesaroundtheworld.com/wp-content/uploads/2017/03/logotry-1-1-300x106.png
Dave
2016-05-17 11:21:36
2017-04-08 05:45:56
Groovin The Moo Festival Review #TuneSquad