Plan your next vacation in New Forest, U.K. which is home to incredible glamping destinations for a perfect family-friendly getaway or a romantic escape. If you love adventure, nature, and scenic views you will get a lot to explore since New Forest has secluded spots with an incredible backdrop and houses wonderful wildlife species.
Opt for New Forest if you are ready for a unique getaway at the secluded accommodations that offer the ultimate escape from the daily hustle. Enjoy an incredible list of outdoor activities. Cook your own food, or visit nearby restaurants to tickle your taste buds. We have listed the best glamping destinations in New Forest for seamless vacation planning. But, before that here's a quick breakdown of glamping options you shouldn't miss out on.
Also, be sure to read my guides on Best Glamping in England, Castle Hotels in Scotland, and Beach Resorts in Ireland & for more unique stays and sites to see in this amazing region!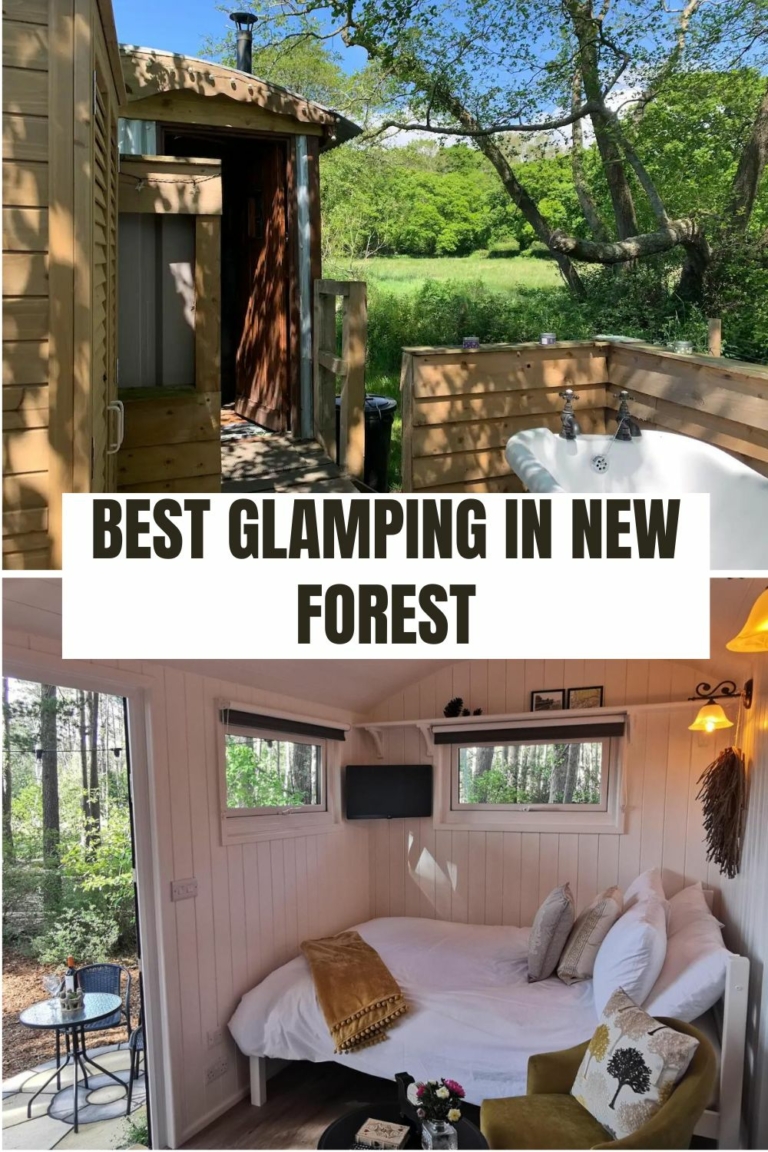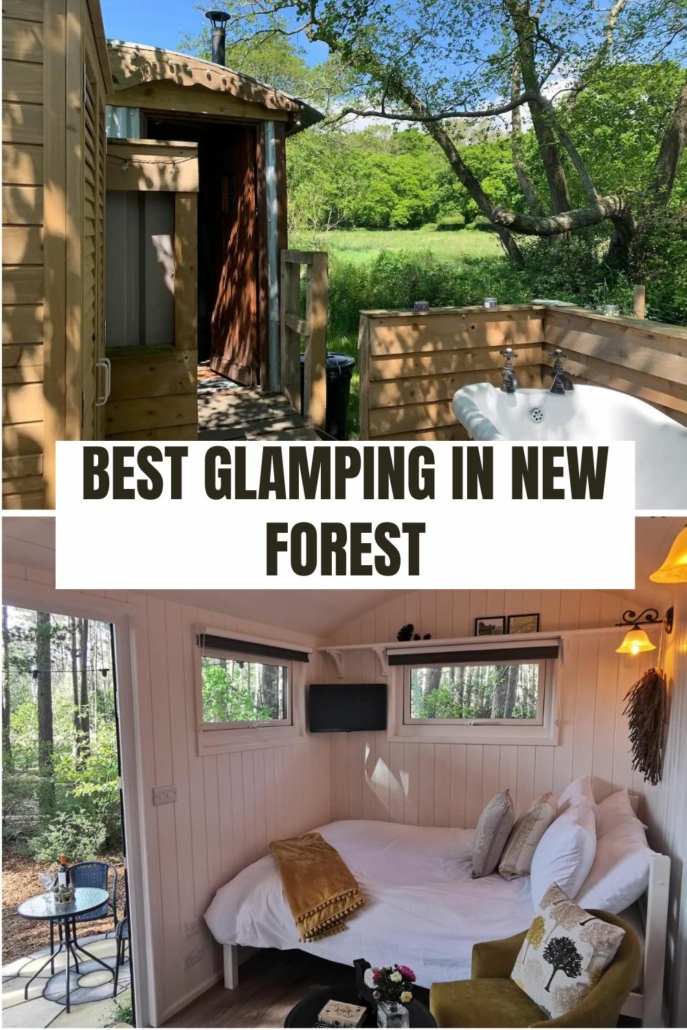 ---
Glamping New Forest Breakdown
We listed the best New Forest glamping sites to help you choose the best per category.
Overall Glamping in New Forest– Bell Tent Glamping at Royal Victoria Country Park
Best Pet-friendly Glamping in New Forest – The Hut – A perfect glamping experience
Best Posh Glamping in New Forest – Sandy Balls Holiday Village
Most Spacious Glamping in New Forest – Holly Tree Cottage
Most Comfortable Glamping in New Forest – Park Farm Holidays Glamping
---
15 Best Places To Go Glamping in New Forest
Discover the glamping locations we have hand-picked in New Forest. You will be satisfied with our unique collection you can explore on your next glamping day.
---
1) Secret Garden Glamping in Lymington
Where: Hampshire, UK
Price: $129+ per night
Accommodates: 4 Guests
https://www.airbnb.com/rooms/32538850
Secret Garden brings you to a fairytale-like venue welcoming you with a picturesque garden and fancy tent.
If you want a romantic escape, this is a perfect property. It's a family-friendly venue as its lotus belle tent, Flora, can accommodate up to four guests. Kids will love to run around the vast garden, ride a bike along the coast, and experience paddle boarding.
The venue is accessible to the shops and restaurants by a 10-minute walk. It's a residential area, but it keeps its serenity, so you won't get bothered as you sleep. The host offers breakfast, so you can warm yourself with wine or enjoy your private BBQ session at dinner.
---
2) Glamping In Traditional Huts
Where: Sway, Hampshire, UK
Price: $142+ per night
Accommodates: 4 Guests
https://www.airbnb.com/rooms/34312833
In a secluded area of Sway, Hampshire, you will find the traditional huts 20 minutes away from the beach. The private property offers a wildlife spot where you hear the owls and watch the bats. Horses, pigs, fish, and deer can also be spotted.
The property allows you to enjoy garden games and outdoor cooking. The super hosts provide logs, marshmallows, and chocolate biscuits for the campfire. You will love the fire pit and won't afford to miss an outdoor bath with running hot water.
---
3) The Hut – A Perfect Glamping Experience
Where: Hampshire, UK
Price: $95+ per night
Accommodates: 2 Guests
https://www.airbnb.com/rooms/50841350
The partly-fenced hut is a pet-friendly accommodation. With its tiny structure, you can find the shower 25 meters from the hut. The sink is also located outside. Even if it's a small space, it's complete with amenities for the sleeping area, additional chairs for outdoor use, and BBQ utensils.
It has a large outdoor space where you can enjoy the golden hour light. If you love taking photos, don't miss the chance to shoot the beautiful backdrop. If you have so much time on your hand, spend more time in the hut because one night is not enough.
---
4) The Cow Field – Luxury and Private Glamping bell
Where: Brook, UK
Price: $127+ per night
Accommodates: 4 Guests
https://www.airbnb.com/rooms/50308366
The Cowfield is a well-thought bell tent as the hosts stock it with the items you need. You don't need to bring camping equipment with you. Even if the temperature drops, the heater inside the tent is enough to warm the night. The cozy camping bell has a little porch in front.
The property is in a miniature campsite with a converted horse lorry field and bantams. Inside the bell dome you will find a cozy bed, additional seating, and side tables and a dresser for storing your items. Outside the bell dome guests have private access to the meadows and the facilities available, such as: separate seating area, small outdoor cooking area and separate bathroom and washing area.
---
5) The Cow Field 1 – Luxury and Private Glamping
Where: Brook, UK
Price: $122+ per night
Accommodates: 4 Guests
https://www.airbnb.com/rooms/50287935
The Cow Field 1 is a converted horse truck holiday home. If you are looking for an equine-inspired getaway, look no further.
The interior of the trailer includes sleeping arrangements for up to four guests so is perfect for families and friends. Also included inside are the amenities you need for a comfy stay, including: a refrigerator, clean showers, and toilets.
If you are visiting Burley and Lyndhurst, it's the best location to stay. The friendly host has a handful of recommendations for things to do. Across the road is a forest trail, and the coast is also accessible.
---
6) Forest Heath Shepherd's Hut
Where: Ringwood, UK
Price: $125+ per night
Accommodates: 2 Guests
https://www.booking.com/hotel/gb/forest-heath-hut.en-gb.html
Spotlessly clean and well-stocked kitchen tools are the two features guests praise in this glamping hut. The hut faces the woods and the field giving you an amazing yet peaceful view. It's a private location, but there are a lot of venues to visit nearby, such as shops, a country park, and a local pub.
You can use the kitchen to prepare your meal or order a freshly cooked breakfast. Coffee, tea, and milk are also available.
---
7) Holly Tree Cottage – 3 bedrooms and large garden with optional glamping double outside
Where: Lymington, UK
Price: $279+ per night
Accommodates: 6 Guests
https://www.booking.com/hotel/gb/holly-tree-cottage-lymington.en-gb.html
Holly Tree Cottage is one of the larger, and more spacious options on our list, and when you see the kitchen, you'll understand why.
Holly Tree is a spacious place to stay, and comfortably accommodates up to six guests. It's great for families looking to host social gatherings with family as the cottage layout perfectly fits any age group. The kitchen is fully stocked with anything you would need to cook and serve a delicious meal, and the garden outside the cottage holds the herbs you need to garnish your feast.
This cozy cottage is near the forest, Lymington town, and the Isle of Wight ferry. The house comes with comfy beds, a kitchen, and flat-screen TV.
---
8) Park Farm Holidays Glamping
Where: Lyndhurst, UK
Price: $130+ per night
Accommodates: 2 Guests
https://www.booking.com/hotel/gb/park-farm-bell-tent.en-gb.html
The host in this glamping site in Lyndhurst focuses on the guest's comfort. The bell tent is clean with amenities to provide you with a lovely experience. It's equipped with kitchen utensils for indoor and outdoor use. You can use the wood-burning mini stove and hot plate outside the tent. At nighttime be sure to enjoy the outdoor seating and firepit, complete with additional firewood to enjoy the night sky and stories with friends.
The toilet and wash facilities are available. You can also access fresh water through its aqua roll storage.
---
9) Sandy Balls Holiday Village
Where: Fordingbridge, UK
Price: $197+ per night
Accommodates: 10 Guests
https://www.booking.com/hotel/gb/sandy-balls-holiday-village.en-gb.html
If you want to host a posh glamping party, Sandy Balls Holiday Village is a no-brainer. It's a luxury and spacious caravan with well-furnished amenities.
This propoerty has several glamping options from small to larger sized facilities all with private beds and baths, as well as heating and cooling options for year-round comfort. This is the glamping experience you want if you desire a community-feel with group amenities. Aside from the private porch patios and spacious seating, you will find a pool, a playground, and even a unique Alpaca walk to enjoy during the day. This property is also dog friendly, so bring your dogs to play around the large venue.
---
10) Bell Tent Glamping at Royal Victoria Country Park
Where: Southhampton, UK
Price: $73+ per night
Accommodates: 4 Guests
https://www.booking.com/hotel/gb/bell-tent-glamping.en-gb.html
This is the perfect simple accommodation you are looking for, if you need a private and quiet retreat from the bustling city.
That's how you will describe your experience when you book the Bell Tent at Royal Victoria Country Park. Anything you can think of is provided, including food to cook, a well-stocked fridge, outdoor kitchen facilities, and controlled heating.
This is also a dog-friendly option, so feel free to bring your companions on the trip. It's also near a quiet and more intimate beach, which is perfect to walk your dog during sunset.
---
11) The Homestead
Where: West Parley, UK
Price: $73+ per night
Accommodates: 2 Guests
https://www.booking.com/hotel/gb/the-homestead-west-parley.en-gb.html
Located near the town of Bournemouth, home of the famous AFC Club, this option is great if you desire a nicely spaced-out glamping site.
The staff maintains the cleanliness of the tent so you can stay comfortable. They also ensure you won't have a noisy neighbor for better sleep. The nice evening lights sparkle to show your way back to the tent after you enjoy a nice evening around the campfire, looking at the starts. You won't worry about any amenities here as the basics are all covered: bathroom, sink, and small cooking area.
---
12) The Wayside Shepherd Hut
Where: Beaulieu, UK
Price: $140+ per night
Accommodates: 2 Guests
https://www.booking.com/hotel/gb/the-wayside-shepherd-hut.en-gb.html
The Wayside Shepherd Hut is a perfect location for a quiet secluded spot.
This is not a typical glamping tent, but instead is a unique above-ground hut made to comfortably sleep two guests. Inside guests will find all of the basic comforts for their stay: bathroom, seating area, and some storage for your personal effects. The host stocks the Beaulieu glamping hut's fridge with prosecco, milk, tea, coffee, and cereals. , you will find gorgeous foliage and ample seating for sunset gatherings and enjoying a beverage under the stars.
Be sure to visit the local pub during your visit. But, don't fret, because from the hut you can't hear honking cars and noisy people. The only noise you can listen to is the chickens greeting you every morning.
---
13) Lynbrook Haybarn, Hot Tub and Outdoor Kitchen, New Forest
Where: Ringwood, UK
Price: $314+ per night
Accommodates: 2 Guests
https://www.booking.com/hotel/gb/lynbrook-haybarn-and-hot-tub-new-forest-ringwood.en-gb.html
Lynbrook Haybarn is an adult-only property. Staying here lets you escape from busy and noisy city life and live a quiet life for a moment.
The favorite spots here are the hot tub and the terrace with garden views. It also has a bathroom with a walk-in shower. You're likely staying in a hotel as the property has other amenities, such as free WiFi and free private parking. Additional unique features of this property that are sure to 'wow' guests are the outdoor kitchen complete with ample guest seating to entertain yourselves late into the evening over a great meal.
---
14) Back of Beyond
Where: Ringwood, UK
Price: $146+ per night
Accommodates: 4 Guests
https://www.backofbeyondtouringpark.co.uk/
https://www.facebook.com/ringwoodbob
Back of Beyond is one of the most stunning locations in our list, and wins for creative and luxurious design.
The yurt is a spacious property for camping including a deck area, and features accommodations such as shepherd huts, yurt tents, lodges, medium pods, and large pods. The pods are named Kingfisher, Robin, and Magpie. You can also choose between two wooden lounges called Squirrel and Otter. This is another dog-friendly property so please contact the managers with questions.
---
15) Chic Cabin with Private Hot Tub in the New Forest
Where: Bransgore, UK
Price: $202+ per night
Accommodates: 2 Guests
https://www.airbnb.com/rooms/35586899
Sleeping two guests, this private abode is so much more than the typical glamping tent.
An Instagram-worthy property any time of the day, Chic Cabin includes a private hot tub as well as a large outdoor deck perfect for guests to sun themselves. Or, alternatively, enjoy the hot tub the day after exploring the outdoors. It's ideal for couples who want to spend a romantic moment together.As the sun sets, this private place's lively ambiance changes to a romantic venue.
These glamping accommodations in New Forest are guaranteed to provide the relaxing experience you need. Book now and enjoy the serenity of the properties.
---
Looking for more Glamping Resorts around Europe?
My travel blog has a massive catalog of glamping guides in Europe, so I'd love for you to browse through a few more save some of these for any future trip inspiration! Lots of amazing options and unique accommodations out there to choose from!
---
Thanks for reading my Glamping New Forest Guide
Share this article with your travel glamping crew!
https://www.jonesaroundtheworld.com/wp-content/uploads/2023/07/Back-of-Beyond-2-New-Forest.jpeg
600
800
Dave
https://www.jonesaroundtheworld.com/wp-content/uploads/2017/03/logotry-1-1-300x106.png
Dave
2023-08-16 21:00:43
2023-08-16 21:00:43
15 Best Places Go Glamping in New Forest, UK