Are you looking for the full Scottish experience and searching for the best castles to stay in Scotland? A castle hotel experience in Scotland can be the foundation and highlight of your trip!
When you think of Scotland, bagpipes, boisterous pubs, and buoyant folk music are usually the first things that pop up. But nature also thrives here in the form of dense forests, jagged mountain peaks, and freshwater lochs. The country is also home to the tallest hedge on Earth, the Loch Ness monster, and the game of golf.
Rumour has it that Scotland had more than 3000 castles in these lush landscapes in the past. And luckily for us, most of these remaining castles are now hosts to tourists from all over the world.
So, what do you say? Let the Scots teach you how to brave the seasons, feeling like a knight or lady in one of the impending tower castles or baronial-style mansions.
Once you're set on which castle will be your lavish abode, check out these music festivals in Scotland, Glamping in Scotland, and Luxury Cabins in Scotland for more future trip inspiration!
---
WHY YOU SHOULD FIND THE BEST CASTLE TO STAY IN IN SCOTLAND
Many TV series and movies have been filmed in Scotland since the country packs a punch in picturesque locations. Fans of The Crown, Harry Potter, and Brave will have a marvelous time exploring the dungeons and royal grounds of one of the many castle hotels in Scotland.
Begin your early mornings ready to fight the Vikings in one of the stone-walled castles of Scotland. Step back in time while basking in the luxe and let your magical fantasies of becoming a king or queen come alive.
The castle hotels in Scotland boast huge open grounds and opulent interiors. Spiral staircases, themed bedrooms with four-poster beds, tennis courts, golf courses, and falconry displays make up the monarch experience. These elaborate hotels also make for an excellent venue for weddings and special events.
From the Lowlands to the Highlands, many places outside Edinburgh offer jagged scenes, lots of greenery, golf courses, and more. Because of this, it's worth looking for affordable castles to stay in Scotland just outside of Edinburgh and discovering some of the quaint little towns.
---
BEST CASTLES TO STAY IN SCOTLAND BREAKDOWN
For a short guide, here are my top five picks on the best castles you can stay at in Scotland. These top Scotland castles to stay in offer different types of chateaus to cater to everyone's travel style, budget needs, and vacation types.
Castle hotel in Scotland near Edinburgh – Cringletie House, Peebles
Best Scotland bed and breakfast castle – Dalhousie Castle Hotel, Bonnyrigg
Best affordable castle to stay in Scotland – Tulloch Castle Hotel 'A Bespoke Hotel', Dingwall
Best castle hotel in Scotland for couples – Crossbasket Castle, High Blantyre
Best castle to stay in Scotland for nature lovers – Inverlochy Castle Hotel, Fort William
---
TOP 12 BEST CASTLE HOTELS IN SCOTLAND
Here are the best Scotland castle hotels. Here you can learn about Scottish culture, staying near cities, villages, and lush castle grounds in the Scottish Highlands and surrounds. Whether you're looking for luxury hotels or a more budget-friendly castle stay, these are the best in all the land.
Keep reading to find out more about some of the castles in Scotland to stay in this weekend!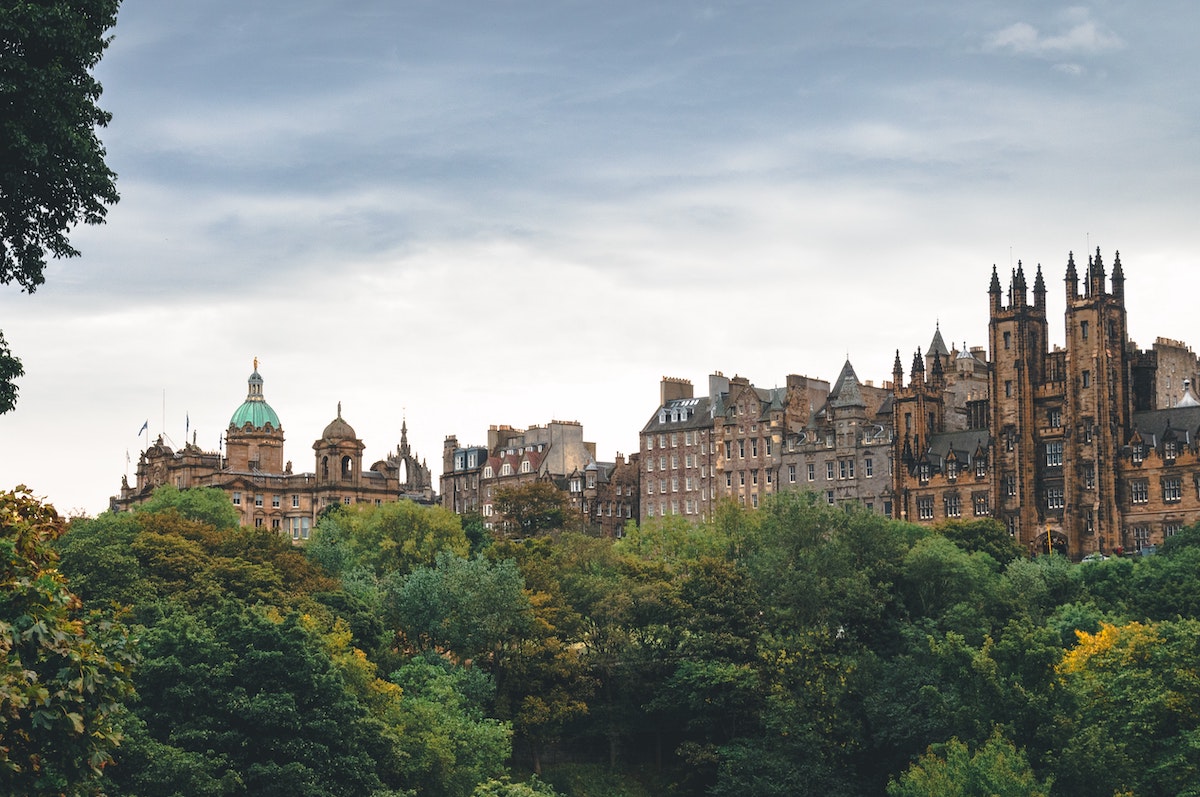 ---
1) Cringletie House
Location: Peebles, near Edinburgh
Price: $339+ USD per night
https://www.booking.com/hotel/gb/cringletie-house.en-gb.html
Cringletie is a country-style castle hotel located in the Scottish borders, near Peebles town and Edinburgh. The baronial mansion covers 28 acres and dates back to 1666. It offers luxury and high standards with 13 different unique rooms.
These rooms are modern, with flatscreen TVs and sound-proofed walls. However, each suite retains the hotel's charm through its decor, with patterned wallpaper or vintage furniture finishes.
Designed by globally acclaimed architect David Bryce, Cringletie features a breathtaking Walled Garden. The hotel's restaurant has been awarded the "Hotel Dining Experience of the Year 2019" title and the "AA Rosettes" award twice.
View Photos, Read Reviews & Check Availability
Guest review: "The staff was excellent! I felt very special, and every need was not only met, but exceeded. The food was delicious… some of the best I had in Scotland on my entire trip. The atmosphere was delightful, even despite Covid restrictions." – Erin.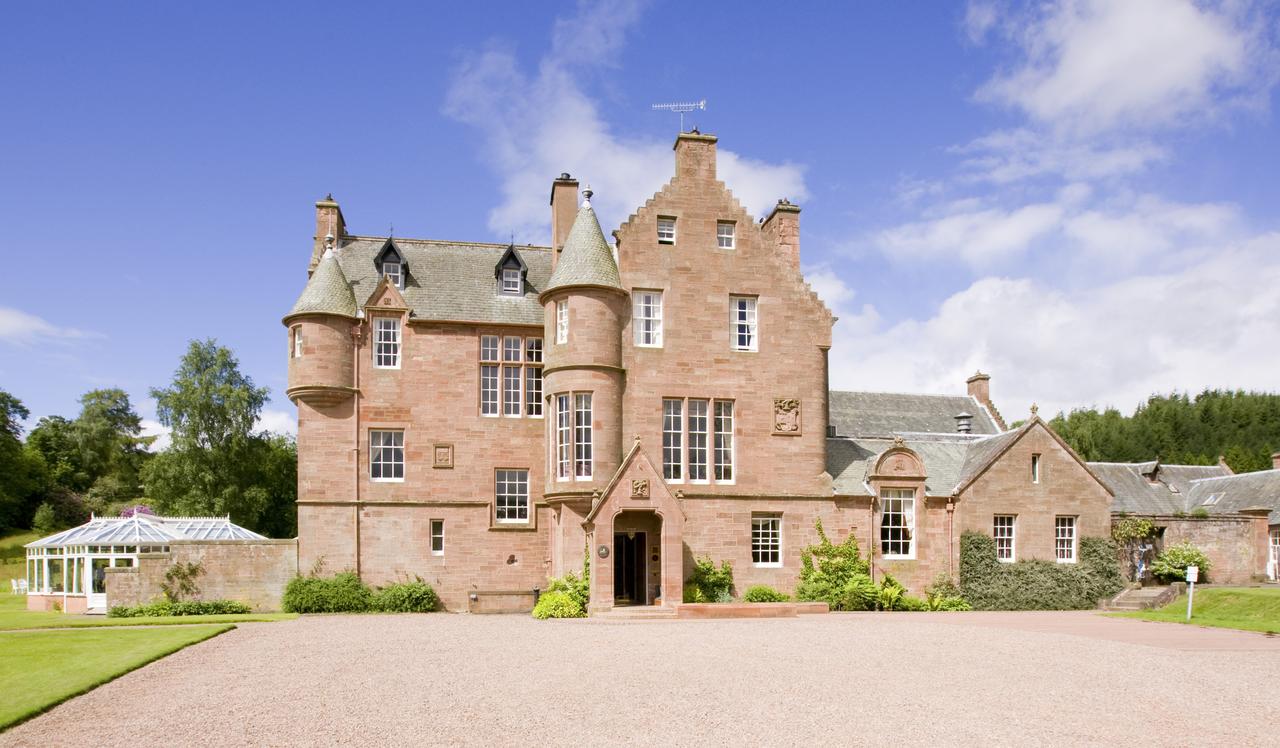 ---
2) Dalhousie Castle Hotel, Midlothian
Location: Bonnyrigg, Edinburgh
Price: $207+ USD per night
https://www.booking.com/hotel/gb/dalhousiecastleandspa.en-gb.html
Approximately a 30-minute drive from Edinburgh, Dalhousie Castle is a pretty 13th-century hotel. It occupies 11 acres of woodland and is set on the banks of the River Esk. The castle has hosted hotel guests like King Edward I, Queen Victoria, and Queen of Scots in the past. It offers royalty treatment and has a charming aura.
Guests can read classic books in the library or walk amongst the green wildlife trails to enjoy the simple pleasures. For fun activities, guests can fly a bird of prey in the falconry or sign up for archery classes.
Guests can also descend an ancient staircase to indulge in authentic food at the vaulted Dungeon restaurant. Old storage vaults of the castle have been transformed into spa rooms, where guests can unwind while getting a massage.
View Photos, Read Reviews & Check Availability
Guest review: "Not much not to like here..I opened the shutters in the morning to see two deers running through the fields, the surrounding area is breathtaking, and we have already rebooked again. My family have agreed that this will be our go-to place when traveling to Edinburgh" – Lee.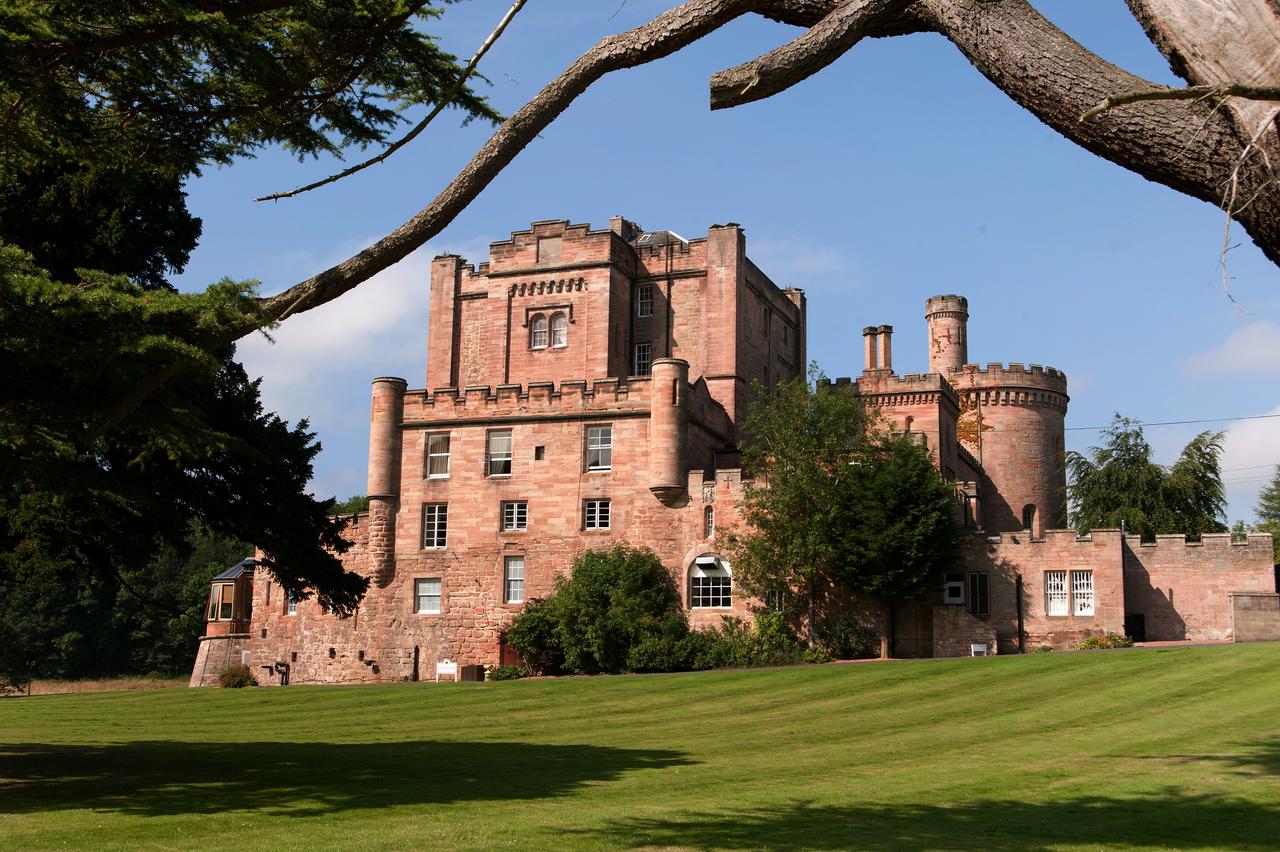 ---
3) Tulloch Castle
Location: Dingwall, near Inverness
Price: $120+ USD per night
https://www.booking.com/hotel/gb/tullochcastlehotel.en-gb.html
Located in the Highlands of Scotland, the Tulloch Castle is a magnificent fortress with historical significance. It is the birthplace of Clan Davidson, and you can visit the Davidson cemetery on the castle's grounds. After the evacuation of Dunkirk, the castle was used as a hospital for casualties.
The original fireplaces and ceilings from the 12th century have been retained with some maintenance. It also features a 250-year-old paneled Great Hall and 22 en-suite bedrooms.
And, if you're looking for some attractions outside of the castle walls, Dingwall, a market town, is a mere five minutes away. The capital city of the Scottish Highlands, Inverness, is also less than an hour away.
View Photos, Read Reviews & Check Availability
Guest review: "The building and views are stunning from all sides, and it was lovely to visit the historical rooms, particularly the Oak Room. The staff were friendly and helpful. I had a tasty and comforting dinner. The breakfast was also excellent, with a variety of good choices. I would stay here again in a heartbeat." – Sarah.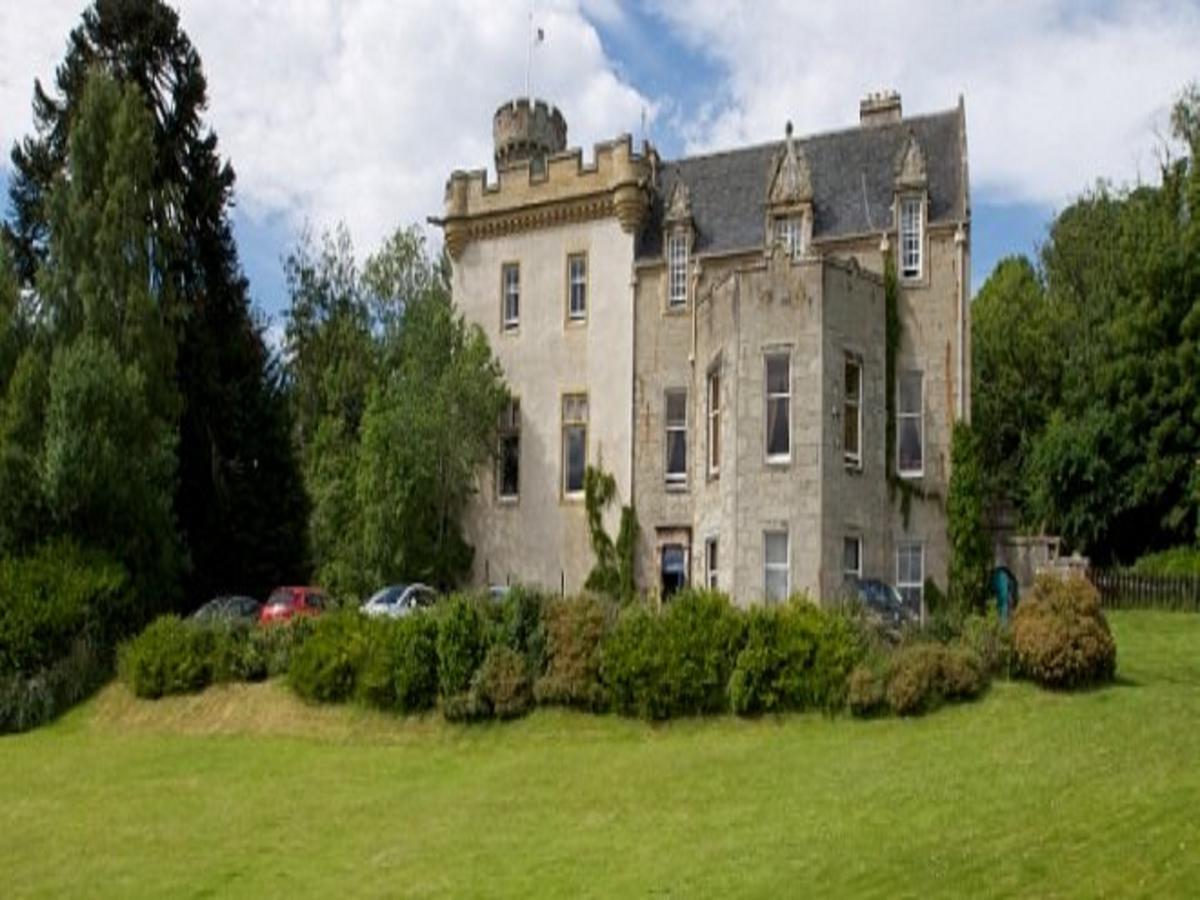 ---
4) Crossbasket Castle
Location: Blantyre, near Glasgow
Price: $389+ USD per night
https://www.booking.com/hotel/gb/crossbasket-castle.en-gb.html
About an hour away from Edinburgh and less than 30 minutes away from Glasgow is Crossbasket Castle. This 17th-century mansion is a gorgeous 5-star hotel that doesn't shy away from modern luxuries.
There are nine ornate en-suite bedrooms uniquely decorated with antique decor. If you are a bigger party, consider staying in the larger outside cottages with a beautiful view of the manicured gardens. Of course, these are decorated equally as ornate.
Because of the castle's stunning decorations and absolute beauty, it is famous for wedding events and romantic getaways. The Lindsay Tower Suite has a balcony with impressive views of the castle's grounds and the Rotten Calder River, making for a great bridal suite.
View Photos, Read Reviews & Check Availability
Guest review: "Beautiful castle, very welcoming. Staff are lovely, food was fantastic. Our second stay here and we will definitely go back again." – Angela.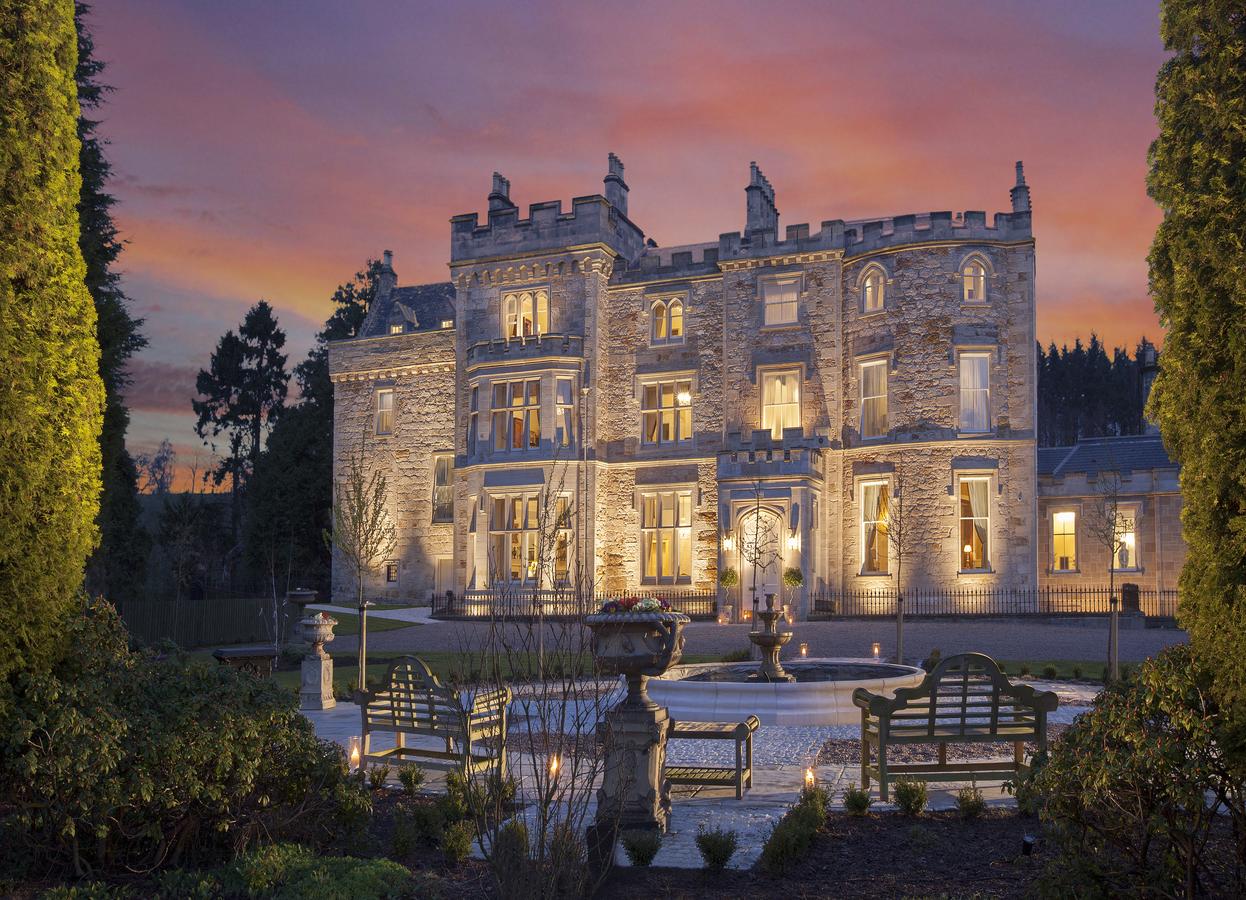 ---
5) Inverlochy Castle Hotel
Location: Torlundy, Fort William
Price: $521+ USD per night
https://www.booking.com/hotel/gb/inverlochy-castle.en-gb.html
This 19th-century castle in Fort William is tucked away in the Scottish West Highlands. Because of this, it offers majestic views of Ben Nevis (the tallest mountain in the UK). So, it's safe to say that nature lovers will feel at home in the wilderness, as it provides scenic walks and pleasing hill views.
The Inverlochy Castle Hotel's beauty and AA 3 Red Rosettes have also caught the eye of many notable people. It has hosted big names like J.K. Rowling, the cast and crew of Harry Potter, Sean Connery, and Liam Neeson.
There are 17 rooms, each more ornate than the last, with plush curtains and princely-like decor. Each is spacious, with private bathrooms and seating areas overlooking either the garden or the nearby mountains.
While there's plenty of hiking and adventure around the hotel, guests can also enjoy activities like clay pigeon shooting and biking tours. The hotel's posh restaurant, Albert and Michel Roux Jr, also offers fine dining.
View Photos, Read Reviews & Check Availability
Guest review: "The location was absolutely amazing in every way and the castle reflected the beauty of its surroundings! The food was exquisite from start to finish with the signature Seasgair dining experience an absolute triumph. The staff couldn't have been friendlier and were happy to help with anything during our stay." – James.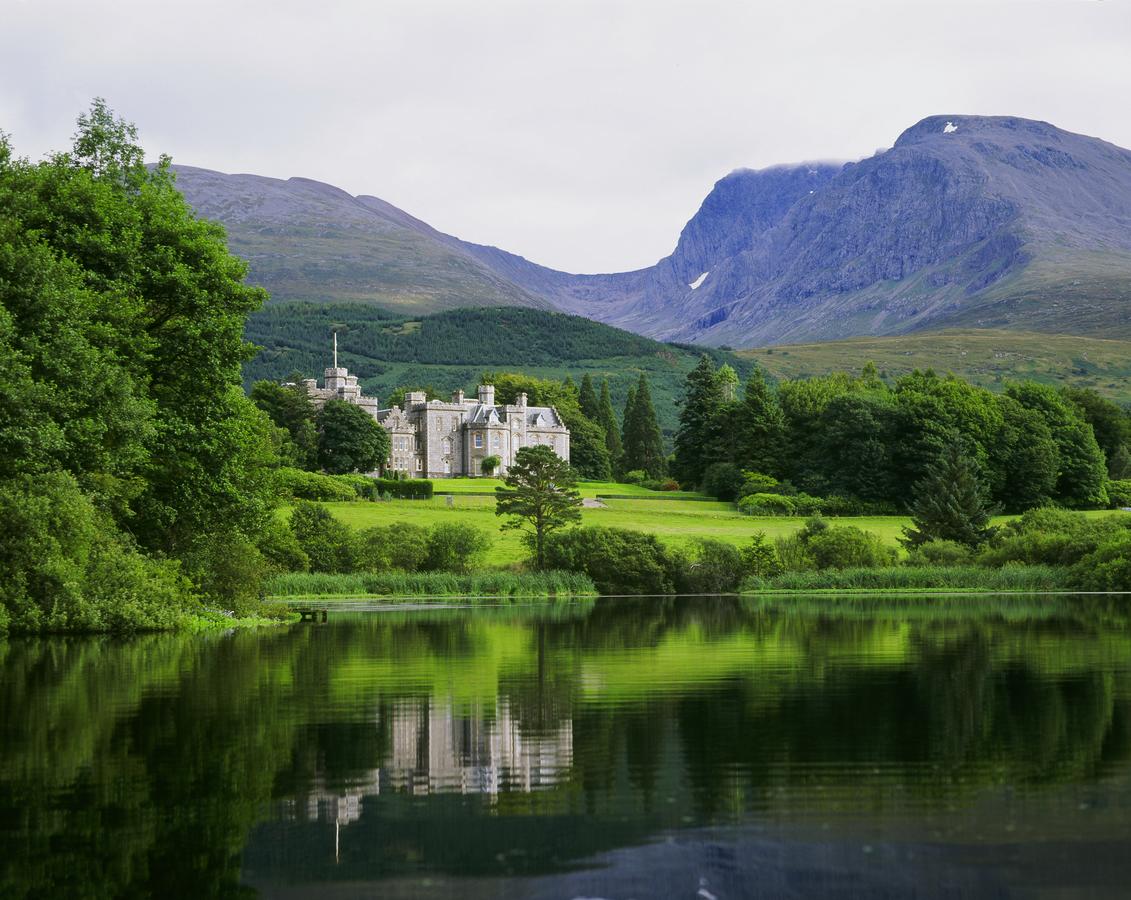 ---
6) Dalmunzie Castle
Location: Glenshee, Perthshire
Price: $160+ USD per night
https://www.booking.com/hotel/gb/dalmunzie-castle.en-gb.html
Dalmunzie Castle is a classic fairytale-type turreted castle in Glenshee's heart. The former Laird's mansion dates back to 1510 and occupies 6,500 acres with breathtaking mountain views.
There are plenty of fun and adventurous things to do here, like fine dining (recommended in the Michelin Guide), a tennis court for a competitive game, mountain bikes for hire, fishing, and free parking. The mountain countryside offers ample privacy, where you can spend evenings lounging beside a log fire.
View Photos, Read Reviews & Check Availability.
Guest review: "Everything. The staff were genuinely friendly and very efficient, the food was great even though the menu was limited, which we understand. We will definitely be back."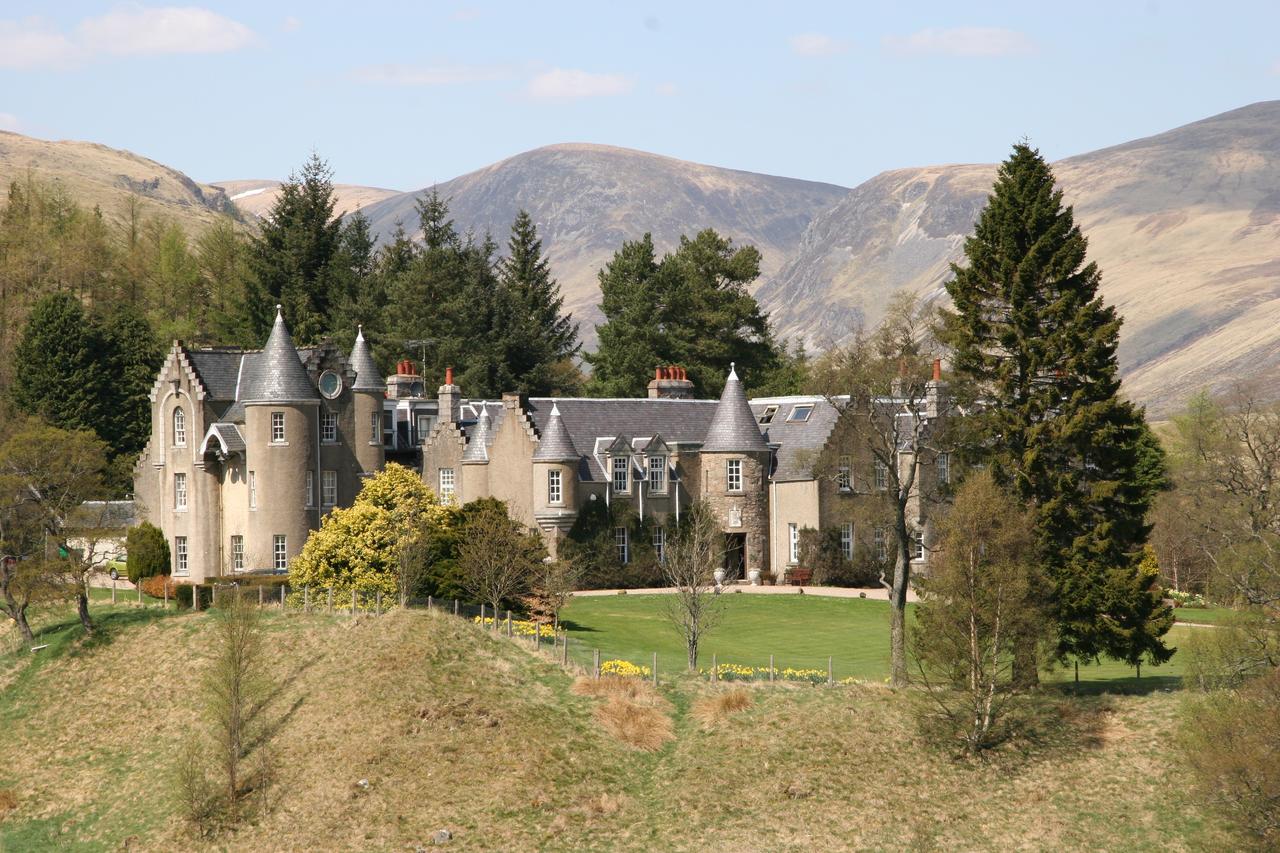 ---
7) Glenapp Castle
Location: Ballantrae, Ayrshire, Scotland
Price: $400+ USD per night
https://www.booking.com/hotel/gb/glenapp-castle.en-gb.html
Located in the southeast of Ballantrae, on the Ayrshire coast, this Scottish Castle offers exquisite rooms with ritzy antique furnishings and interiors. The castle is of Scottish baronial style and was built in 1870.
Lush gardens, state-of-the-art rooms, golf courses, tennis courts, falconry displays, and a 150-foot Victorian glasshouse are just some of the features of this award-winning five-star hotel. Play croquet, try your hand at golf, fish for salmon in nearby rivers, and indulge in other activities true to the royal countryside lifestyle.
View Photos, Read Reviews & Check Availability.
Guest review: "The food was superb. The grounds were beautiful. The decor was thankfully not faux moderne and was in keeping with the architecture and interior design." – Martin.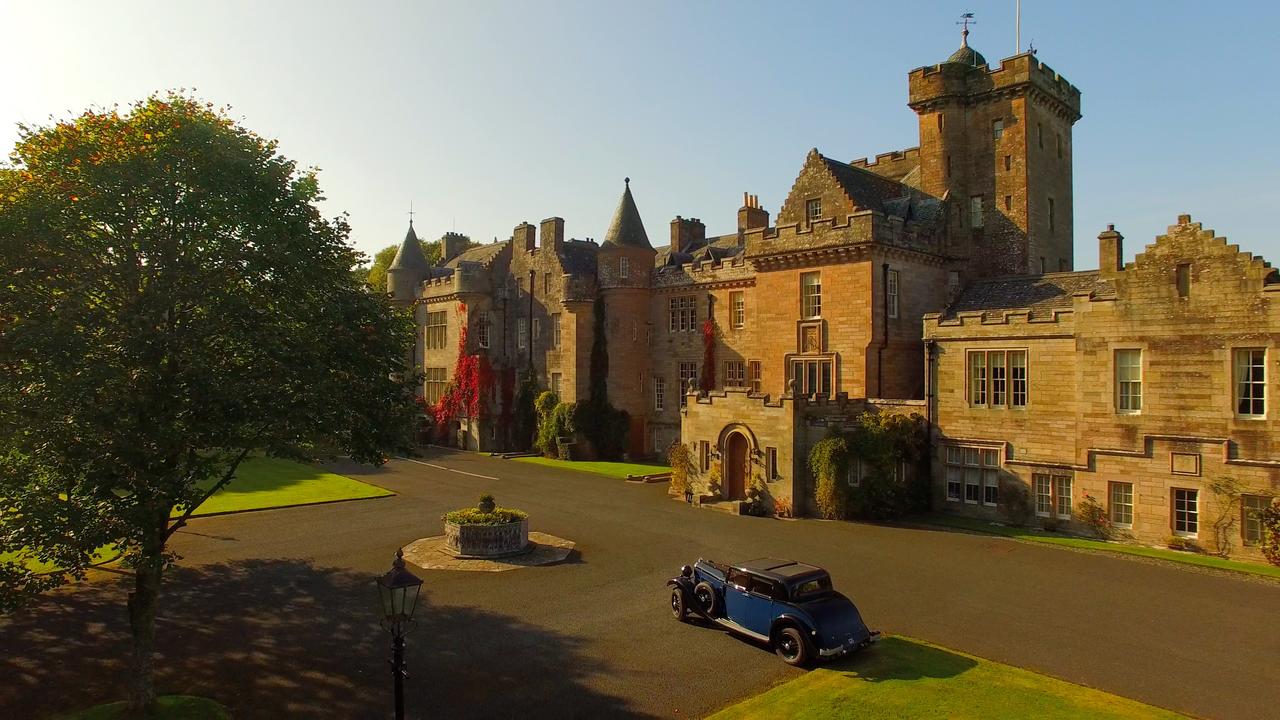 ---
8) Kincraig Castle Hotel
Location: Invergordon, Scotland
Price: $205+ per night
https://www.booking.com/hotel/gb/kincraighousehotel.en-gb.html
As you approach Kincraig Castle Hotel, you'll be greeted by its elevated position and breathtaking views of the Cromarty Firth. Initially built in 1800, this elegant property has been carefully restored to retain its original features, creating a captivating blend of old-world charm and modern comforts.
Indulge in the culinary delights served at the hotel's two Red Rosette restaurants, where you can savor fine cuisine and sample local Dalmore malts in the cozy lounge with its remarkable Adam fireplace.
Immerse yourself in the rich history of the castle and its surroundings as you explore the nearby attractions, including Ullapool, Aviemore, Wick, Inverewe Gardens, and Kyle of Lochalsh. Outdoor enthusiasts will find plenty to do in the area, with easy access to picturesque beaches and renowned golf courses. With 20 golf courses within a 20-mile radius, golfers will be spoiled for choice.
View Photos, Read Reviews & Check Availability
Guest review: "The Staff is incredible, not even a slight exaggeration. It's a beautiful hotel, especially the main living area downstairs. It really makes you want to hang out a lot. Gardens and outdoor space are well kept. and Breakfast each morning was special. Otherwise, Bed wasn't that comfortable, and train access to Inverness is difficult… but we really enjoyed every other aspect of our stay. And would highly recommend!!" – Stephen
---
9) Mansfield Castle Hotel
Location: Tain, Scotland
Price: $149+ per night
https://www.booking.com/hotel/gb/mansfield-castle.en-gb.html
Step into the grandeur of Mansfield Castle Hotel and immerse yourself in its magnificent oak-paneled interiors. The hotel boasts a range of accommodation options, with superior rooms in the castle and standard rooms in the beautiful garden wing. Guests traveling with pets can also be accommodated in the standard rooms, and furry friends are welcome to join their owners for dinner or breakfast in designated areas.
Indulge in traditional Scottish and European cuisine, prepared with locally sourced fresh ingredients, in the hotel's cozy atmospheric bar and restaurant. For whisky lovers, a visit to the nearby Glenmorangie distillery is a must. Immerse yourself in the flavors and traditions of Scotland's famous single-malt whisky.
View Photos, Read Reviews & Check Availability
Guest review: "Lovely old castle style building. Loved the period bathroom and bedroom decor. We had a large room with a large bay window looking out to the garden. Breakfast was good. Had a good selection of whisky and gin at the bar." – Helen
---
10) Carberry Tower Mansion House and Estate
Location: Musselburgh, Scotland
Price: $215+ per night
https://www.booking.com/hotel/gb/carberry-tower.en-gb.html
Carberry Tower Mansion House and Estate is steeped in history, having welcomed royalty and dignitaries over the centuries. Each room showcases its own distinct charm, complete with a work desk and tea/coffee-making facilities. The castle's architectural splendor, including old staircases, fireplaces, and stained-glass windows, transports you back to the era of Mary, Queen of Scots.
Embrace the natural beauty surrounding the estate, from picturesque rose gardens to a tranquil lily pond, and keep an eye out for free-roaming wildlife. A 10-minute drive leads to the nearby beach, offering scenic coastal views and a refreshing sea breeze. Discover nearby attractions, including the vibrant city of Edinburgh with its iconic landmarks and cultural treasures.
View Photos, Read Reviews & Check Availability
Guest review: "The staff went above and beyond, from changing our room to accommodating our sleeping arrangement to providing a to-go breakfast for my early departure." – Alexander
---
11) SHERBROOKE CASTLE HOTEL
Location: Glasgow, Scotland
Price: $239+ per night
https://www.booking.com/hotel/gb/sherbrook-castle.en-gb.html
If you're planning on staying in a castle in Scotland but don't want to be too far from the city of Glasgow, Sherbrooke Castle Hotel is the perfect place for you.
The Sherbrooke Castle Hotel in Glasgow is a modern and luxurious castle accommodation. While its exterior looks rugged, inside, you'll find modern rooms with a bar and restaurant serving elevated Scottish favorites — and even serves afternoon tea.
You also can't miss a stroll on their beautiful grounds while here.
View Photos, Read Reviews & Check Availability
Guest review: "Large comfortable room. Spacious hotel with good lounge areas. Dinner was very good and reasonably priced. Breakfast had a choice of full English or continental, the latter was extremely good." – Christine
---
12) BARCALDINE CASTLE HOTEL
Location: Oban, Scotland
Price: $282+ per night
https://www.booking.com/hotel/gb/the-barcaldine-castle.en-gb.html
Compared to other Scottish castle hotels on the list, The Barcaldine Castle is quite small. But that doesn't mean that it doesn't hold a lot of character.
This ancient castle is set in the small Western resort town of Oban and dates back to the 17th century. The Barcaldine Castle location is excellent for whiskey lovers as this town is home to the popular Oban Whiskey Distillery and very close to many beautiful outdoor activities on the bay.
Depending on your room choice, you can be transported back to the days of the past or stay in a modern double room. Whichever room you choose, you'll still have wonderful modern amenities, including cable TV and treats like champagne and chocolates.
View Photos, Read Reviews & Check Availability
Guest review: "This stay was absolutely incredible. It's a beautiful hotel on a beautiful property and the manager really wants to make sure you enjoy your time. I would definitely recommend." – Sydney
---
SCOTLAND TOURS & EXPERIENCES
Now that you've found the best places to stay in Scotland, it's time to explore your surroundings. As most of the best Scottish castles are just outside of Glasgow and Edinburgh, those cities are good places to start.
---
Glasgow: Celtic Park Stadium Tour
https://www.getyourguide.com/glasgow-l438/glasgow-15-hour-celtic-park-stadium-tour-t72342/
Price: $21.50 USD (1 hour)
Review: "Excellent and uplifting experience, exceptional and passionate guides and staff. Second visit and would definitely do the tour again." – Julie
View Photos, Read Reviews & Check Availability
---
Edinburgh: Loch Ness, Glencoe & the Scottish Highlands Tour
https://www.getyourguide.com/edinburgh-l44/edinburgh-loch-ness-glencoe-the-scottish-highlands-tour-t385687/
Price: $72 USD per person (12.5 hours)
Review: "It was an amazing trip. Charlotte is an amazing and passionate guide. She has mesmerising voice and good knowledge of history on top of that, Keith is quite excellent driver." – Rhajeev
View Photos, Read Reviews & Check Availability
---
VISITING ANY AREAS IN AND AROUND BRITAIN OTHER THAN SCOTLAND?
If you're planning an exciting "all around Britain" trip with places to see other than just Scotland, you'll want to check out these exciting blogs, lists, guides, and itineraries for more information:
---
BOOK ONE OF THE AFFORDABLE CASTLES TO STAY IN SCOTLAND NOW
Can you stay in a castle in Scotland? You sure can! And, thankfully, there are hundreds of castles to stay in. We have just listed some of the best castles in Scotland in this post.
These magical castles are fairytale icons appropriately located in a country whose national animal is a Unicorn. And we love the Scots for allowing us to walk the castle grounds and protect ourselves against rival clans.
It's time to live your castle fantasy. Choose your favorite castle hotel with activities and amenities fit for a King or Queen. From luxury spa facilities, authentic dining in the castle's dungeons, and quirky tales of ghouls to traditional royal pursuits like horse riding, golf, and much more.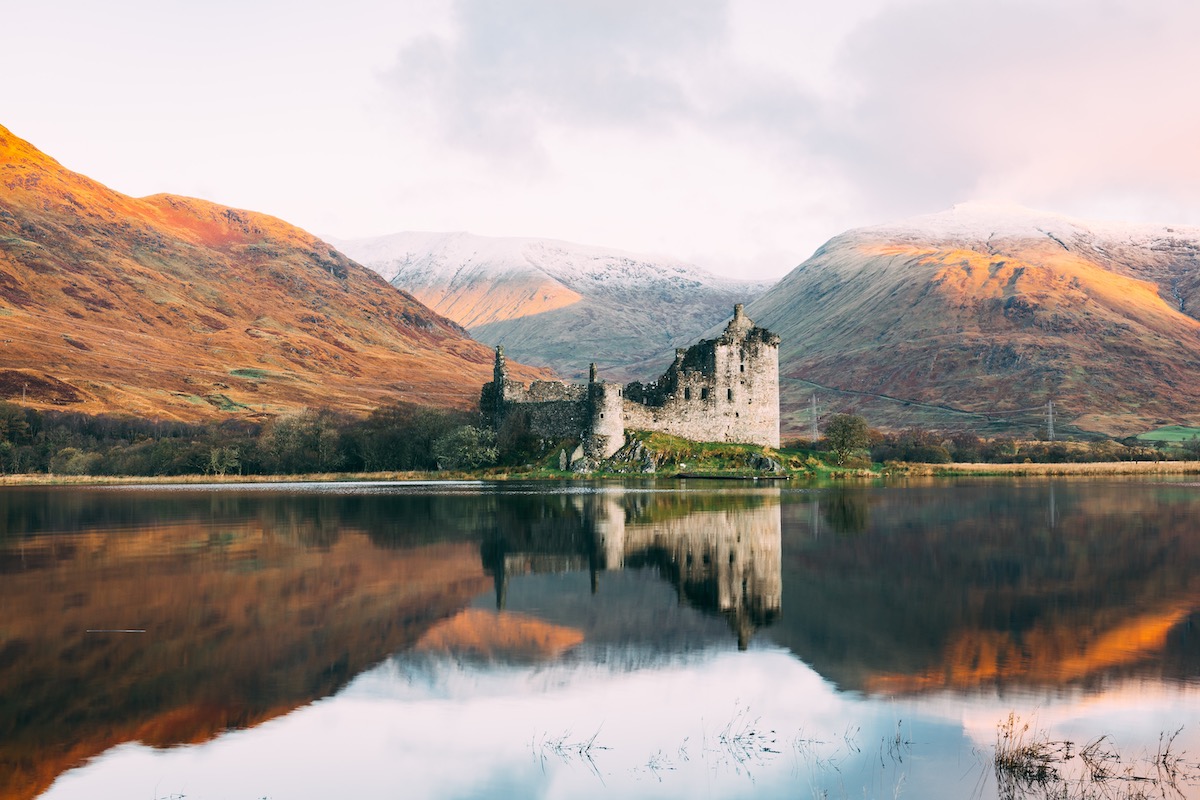 ---
THANKS FOR READING THIS LIST OF MY FAVORITE CASTLE HOTELS SCOTLAND HAS TO OFFER!
SHARE THIS LIST WITH YOUR TRAVEL CREW SO YOU CAN START PLANNING YOUR CASTLE FAIRYTALE TODAY!
https://www.jonesaroundtheworld.com/wp-content/uploads/2021/04/Crossbasket-Castle-Hotel-.jpg
900
1246
TravelTractionsJATW
https://www.jonesaroundtheworld.com/wp-content/uploads/2017/03/logotry-1-1-300x106.png
TravelTractionsJATW
2023-05-21 18:32:49
2023-07-05 07:21:15
Best Castles To Stay in Scotland: 12 Castle Hotels