Europe is sprinkled with beautiful castles like powdered sugar on a cake. Some of the coolest castles in Europe are filled with mysterious tales of the past, treasured artifacts, vintage furnishings, and spooky ghost stories.
Castles surpass centuries of war and kingdoms. Exploring them allows us to appreciate the history of kings, queens, territories and learn about the battles between them. More than just the monarch, castles represent all the people of its time who contributed to its structure and longevity.
Luckily for us, some of these castles have been transformed into hotels, giving us a chance to bring our childhood fairytales of becoming a King or Queen to life.
I've compiled a list of the most rad royal structures with exciting facts, just for you in this post. Don't miss out on the sight of these cool castles the next time you're close to them in Europe.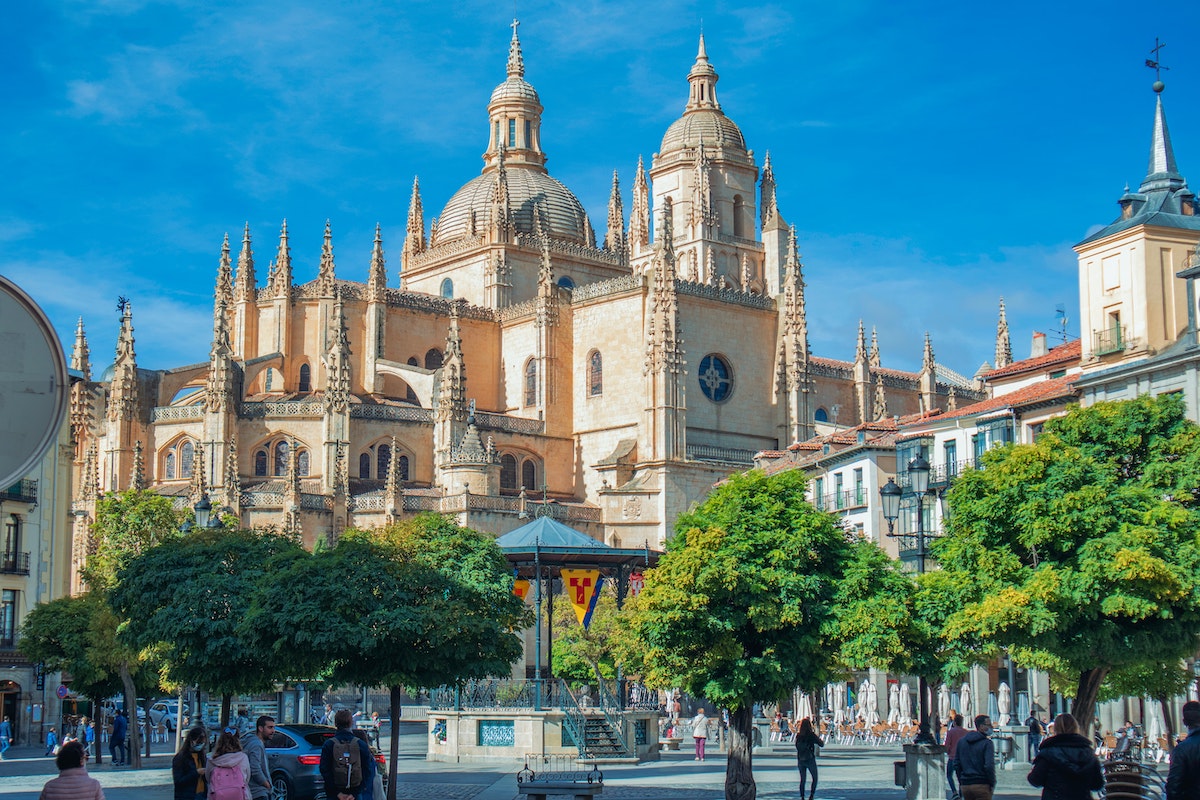 ---
Which Country Has the Most Castles in Europe?
Germany has the most castles in the world, with an astounding amount of 25 000 (or even more, as some experts claim). On the other hand, Wales has the most per square mile with more than 600 castles. In Wales, all the castles are in close proximity, so you'll always be near one of these beautiful structures wherever you are in the country.
If you're looking for some unique places to stay, check out my posts on the best castle hotels in Scotland and best castle hotels in Ireland for romantic getaways, family vacations, or a city escape!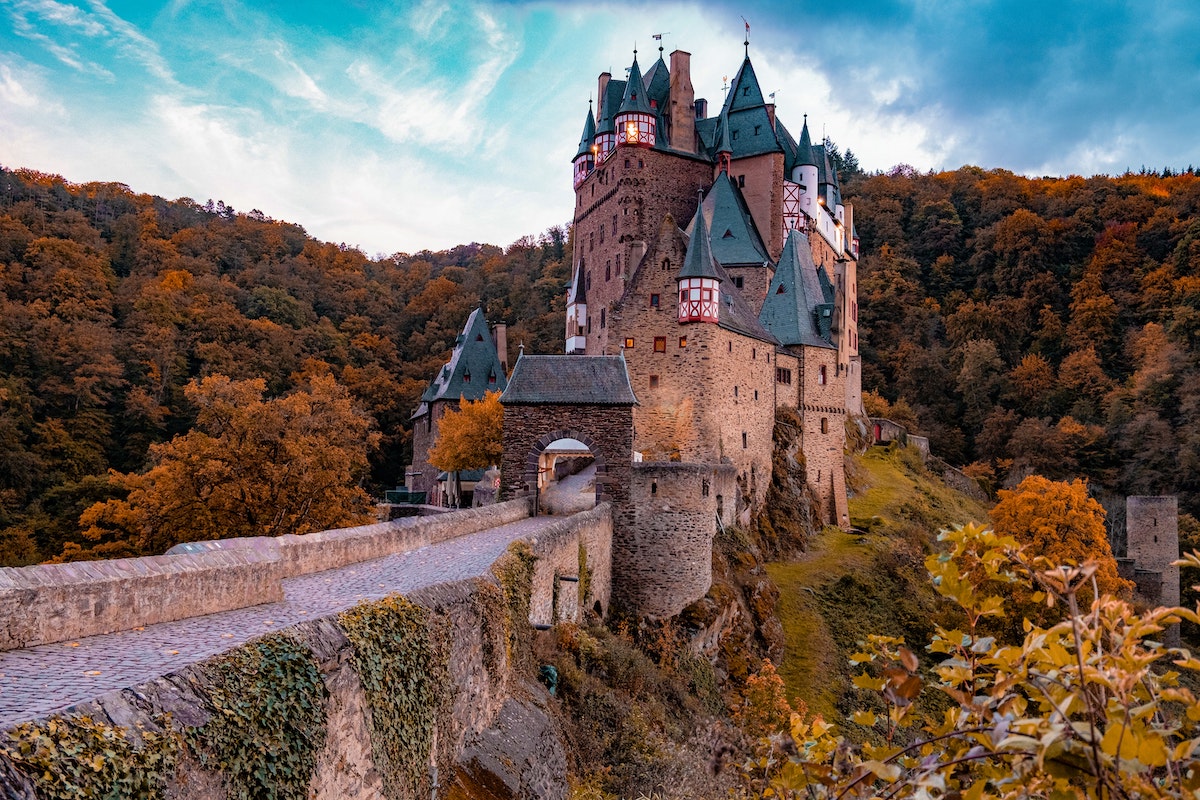 ---
The 8 Best Castles in Europe For Your Bucket List
Welcome to the ceremony of some of the best European castles, presenting the most fascinating castles with jaw-dropping facts that will leave you bewildered. Hop along as I steer this carriage in different directions around Europe to dissect what makes these castles so cool.
---
Bran Castle, Romania – Spookiest European Castle
Location: Bran, Romania
If you like myths, legends, and magical stories, this spooky castle will catch your attention. The perfect setting for a Halloween-themed horror film, Bran Castle, is also known as "Dracula's Castle" because it's the only castle in Transylvania to match the description of Dracula's Castle as described by Bram Stoker.
Despite its haunting reputation, Bran Castle is extraordinarily beautiful. The castle is perched wickedly on the edge of a precipice and has eerie turrets, underground passages, secret staircases, and more than 60 rooms. Visitors can tour the fortress, view art pieces and furnishings collected by Queen Marie, and visit a small open-air museum showcasing traditional Romanian structures.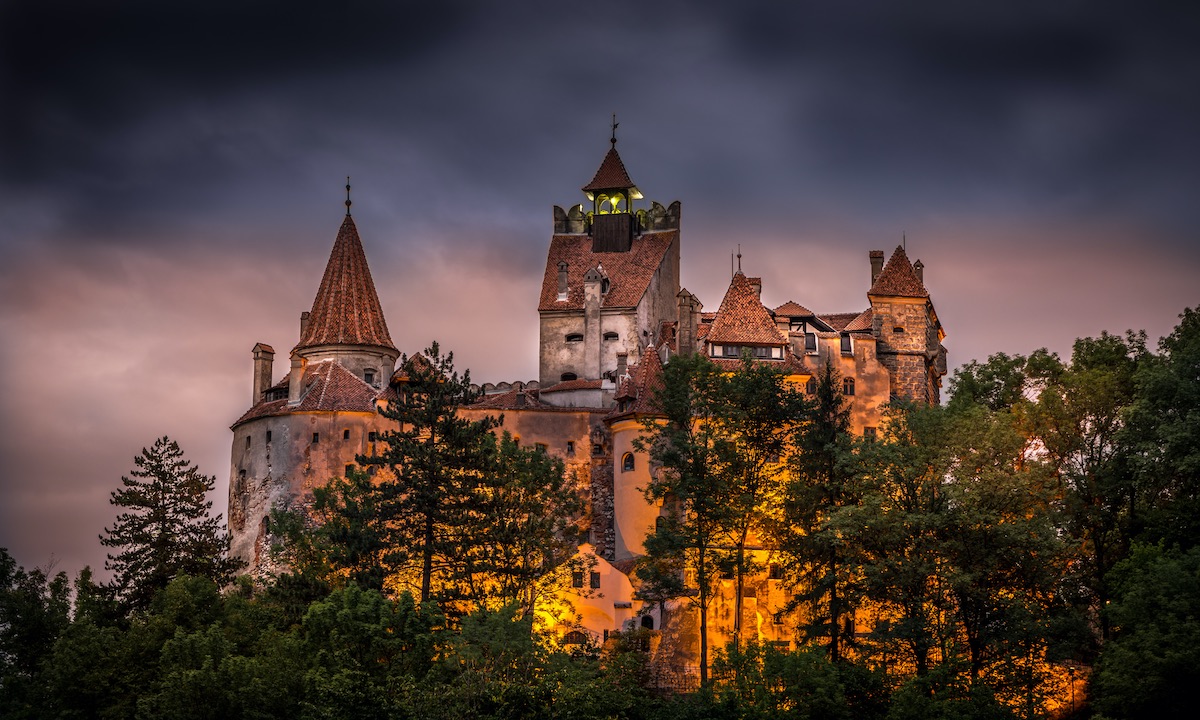 ---
Dracula's Castle Full-Day Tour from Bucharest
Tour Price: $70+ per person
https://www.getyourguide.com/bucharest-l111/excursion-to-dracula-s-castle-with-lunch-included-t24039/
Guest Review: "the place is very nice; you can see the diversity between the city of Bucharest and the small mountain villages. Thanks to the guide, the visit to the castle was very comprehensive. To visit for those passing through Bucharest." – Pasquale.
Castelul Bran - Bran Castle - Dracula's Castle in Transylvania
---
Neuschwanstein Castle, Germany – Most Famous Castle in Europe
Location: Schwangau, Bavaria, Germany
https://www.neuschwanstein.de/englisch/tourist/
In 1868, King Ludwig II designed the Neuschwanstein Castle by himself. The fortress was built on a rugged outcrop, above the Hohenschwangau village so that the King could isolate himself from the public eye. Ironically, just seven weeks after his death, Neuschwanstein was opened to the public, who flocked to the castle to see the King's private residence.
Neuschwanstein is the most famous castle in Europe, seeing more than 1.4 million tourists every year. The fairytale-like castle in the German Alps inspired Walt Disney's Sleeping Beauty Castle, with its white limestone towers and striking blue turrets. It was also one of the many castles that inspired Cinderella's castle.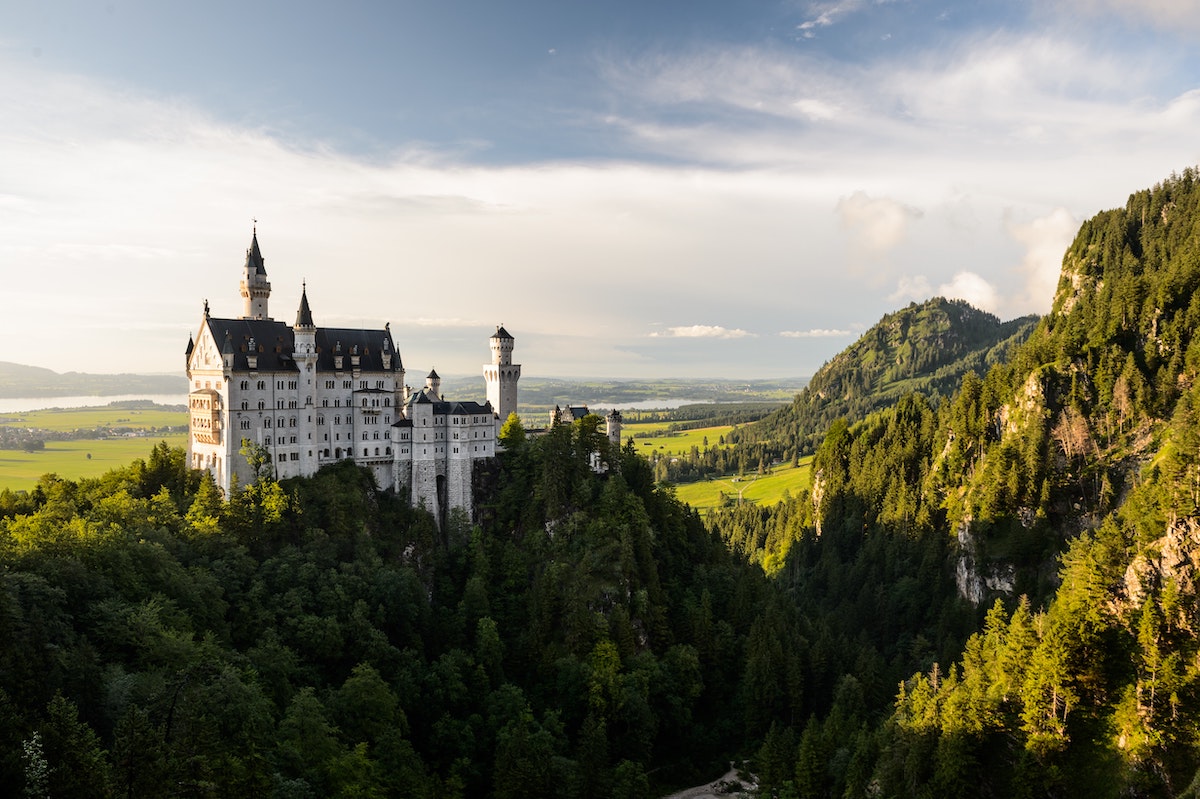 ---
Neuschwanstein Castle Day Trip from Munich
Tour Price: $67+ per person
https://www.getyourguide.com/munich-l26/neuschwanstein-castle-day-trip-from-munich-by-train-t23715/
Guest Review: "An easy hike up to a really cool historical landmark. A good way to spend a day in Bavaria." – Omnia.
Neuschwanstein: The Reality of Building Fantasy
---
Windsor Castle, England – The Oldest Castle in Europe
Location: Windsor, Berkshire, England.
https://www.royal.uk/royal-residences-windsor-castle
Windsor Castle is the oldest castle in Europe and also the largest inhabited fortress in the world. Built in the 11th century, the castle is the Queen's favorite residence in London.
At the castle, you can visit St. George's Chapel, which has been a venue for many royal services, weddings, and burials. You can also see the lavish state apartments and view the Royal Collection, Queen Mary's Doll's House (a miniature artistic masterpiece), the China Museum, and the changing guard ceremony.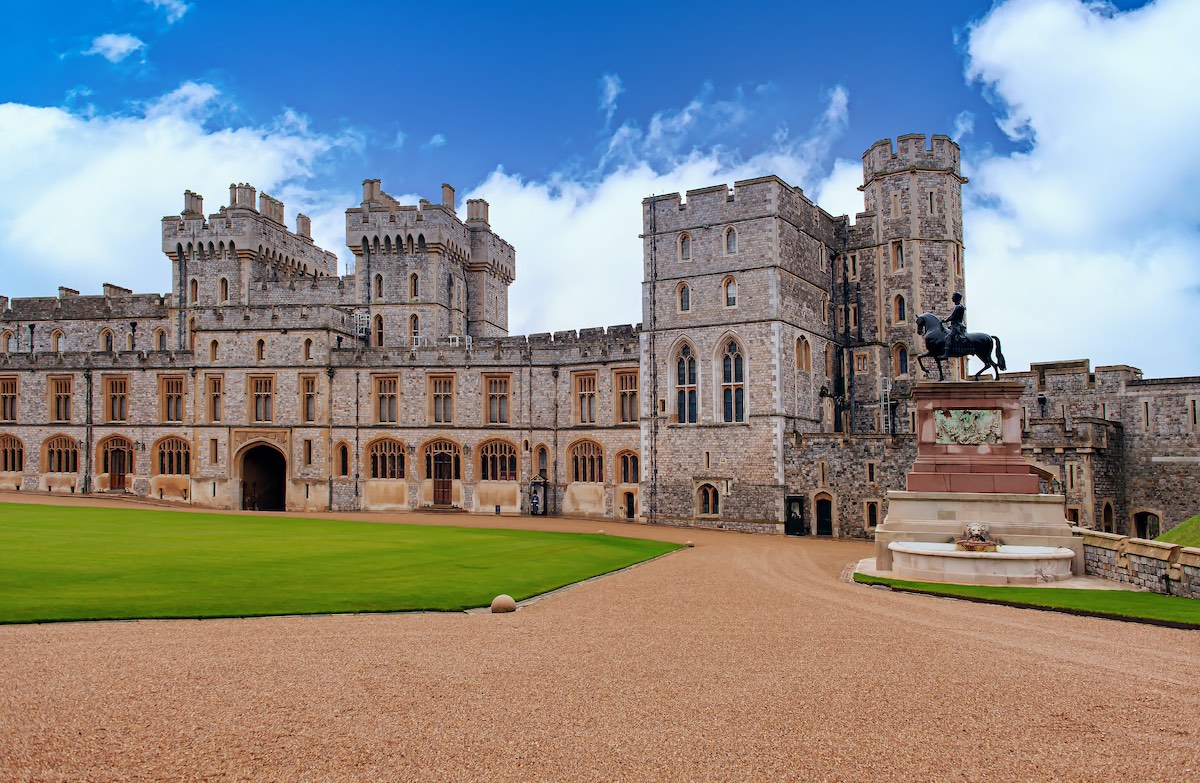 ---
From London: Full-Day Windsor, Stonehenge & Oxford Tour
Tour Price: $74+ per person
https://www.getyourguide.com/london-l57/from-london-full-day-windsor-stonehenge-oxford-tour-t71373/
Guest Review: "Excellent tour if you stay short in London. Great guide, great driver, comfortable coach, just enough time on every location to experience the place" – Stephanie.
Windsor Castle Tour - The Queen's Royal Residence - England Travel Ideas
---
Malbork Castle, Poland – The Largest Castle in Europe
Location: Malbork, Poland
https://whc.unesco.org/en/list/847/
Known as the "Castle of the Teutonic Order," the Malbork Castle is the largest in Europe. It's also the most extensive castle in the world measured by land area. And it was the largest brick castle at the time of its completion. Whew, what a load of "largest" titles just for one castle!
The castle is a vast complex spanning more than 52 acres and comprises three separate palaces. Guests at the castle can roam the massive courtyard and the long corridors that lead to many different exhibition halls. The Castle's museum has an impressive collection of artifacts consisting of coins, sculptures, medals, prints, drawings, and products made of amber.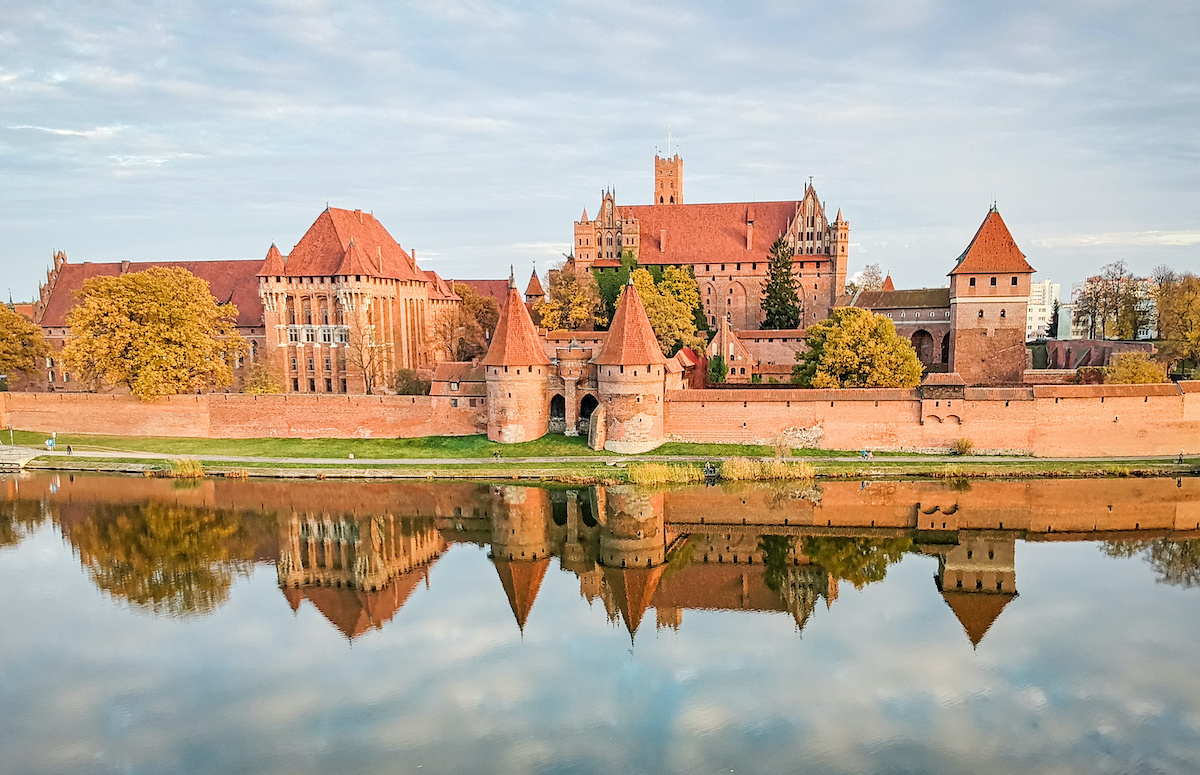 ---
Gdansk: Malbork Castle Regular Tour
Tour Price: $79+ per person
https://www.getyourguide.com/gdansk-l1960/gdansk-malbork-castle-regular-tour-t218583/
Guest Review: "Our driver arranged pickup perfectly. The guide( an old lady, forgot her name) was very knowledgeable and friendly, to know every details of the castle, a very historical tour worth to see this spot if you stay in Gdansk. It was a little bit pity we went there in a cold rainy day. The castle is very beautiful and magnificent. We had a very good time for this half day tour." – Elaine.
INSIDE MALBORK CASTLE IN POLAND | THE LARGEST CASTLE IN THE WORLD
---
Alcázar of Segovia, Spain – Most Beautiful Castle in Europe
Location: Segovia, Spain
Made only of stone and in the shape of the bow of a ship. The castle sits on an impending height on top of the Guadarrama mountains, above the convergence of two rivers (Eresma and Clamores). The Alcázar of Segovia is perhaps the most beautiful and uniquely shaped castle in Europe.
The castle is rumored to be an inspiration for Walt Disney's Cinderella and Snow White and the Seven Dwarves Castle. It's a fortification masterpiece and has also been declared a UNESCO World Heritage Site. Visitors can roam the Hall of Kings, the Hall of the Throne, and the Hall of Ajimeces, which has an incredible art collection.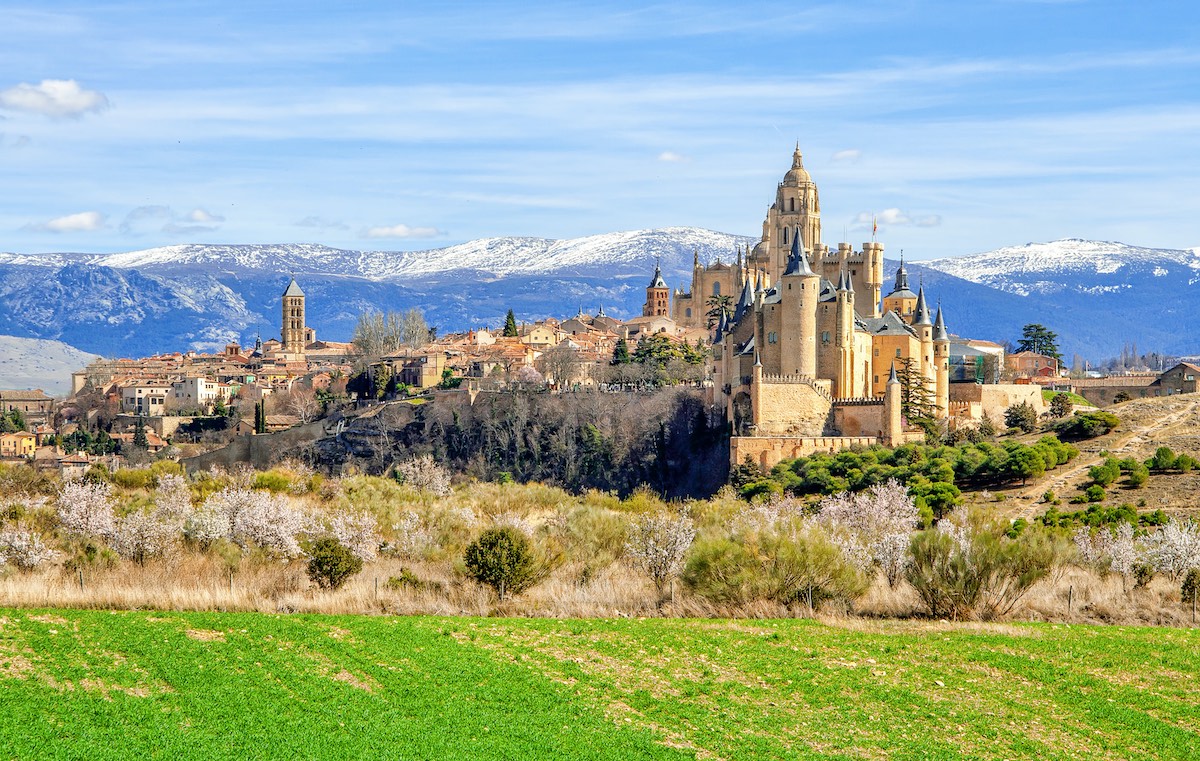 ---
Segovia and Toledo: Alcazar with Cathedral & Lunch Options
Tour Price: $54+ per person
https://www.getyourguide.com/madrid-l46/from-madrid-full-day-segovia-toledo-tour-t117462/
Guest Review: "Smoothly run day and great tour guide. The bus was comfortable and we had plenty of time to explore both Segovia and Toledo. Good value for money" – Tamara.
Segovia Castle - Alcazar de Segovia - Castile and Leon, Spain
---
Palace of Pena, Portugal – Most Colorful Castle in Europe
Location: Sintra, Portugal
https://www.sintra-portugal.com/Attractions/palacio-pena-palace-sintra.html
In vivid shades of red, yellow, and blue, the Pena Palace of Sintra is one of the coolest castles in the world. It has been declared a World Heritage Site by UNESCO and is also one of the Seven Wonders of Portugal.
This Romanticist 19th-century castle stands on the edge of a hill in the Sintra Mountains region and is surrounded by luminescent coastlines. The palace also has a park made of lush gardens.
The German architect who built it, Baron Wilhelm, combined many architectural styles in the castle's design, including Neo-Gothic, Neo-Islamic, Neo-Renaissance, and Neo-Manueline. King Ferdinand II's designs on the castle's vault arches and the idea to mix Medieval and Islamic elements is what makes this castle so famous and charming.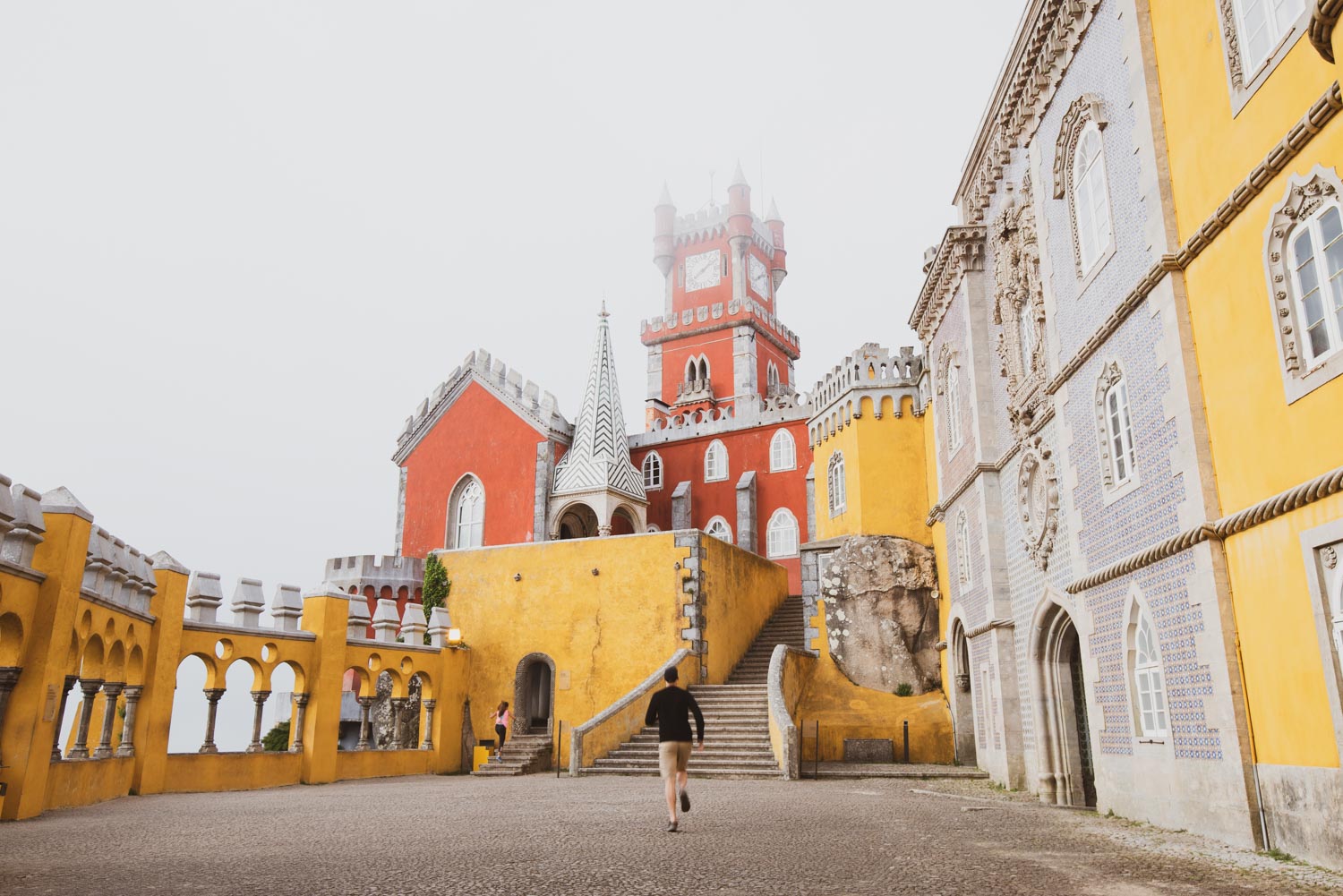 ---
Lisbon: Pena Palace, Sintra, Cabo da Roca, & Cascais Day-trip
Tour Price: $72+ per person
https://www.getyourguide.com/lisbon-l42/lisbon-pena-palace-sintra-cabo-da-roca-cascais-daytrip-t387617/
Guest Review: "This excursion was just excellent, our guide Maria was great, she made the story very interesting and lively. I highly recommend this tour with Maria." – Ervina.
Visiting Pena Palace | Day Trip to Sintra from Lisbon, Portugal
---
Chenonceau Castle, France – Best Fairtyale Castle in France
Location: Chenonceaux, France
Called "Castle of the Ladies" or "Ladies Château" because of the role women played in its development and operations, Chenonceau is an opulent castle located in the Loire Valley.
After the Royal Palace of Versailles, Chenonceau is the most visited château in France. It has been a royal residence and home to influential women like Diane de Poitiers and Catherine de Medici, who loved, protected, and administered the castle.
In the past, the gallery of the château was used as a hospital ward. During WWII, Germans bombed the château. And in 1944, while the Germans occupied the château, it was bombed by the Allies.
The castle has historical significance and rich collections of masterpieces that will leave you entranced in their beauty.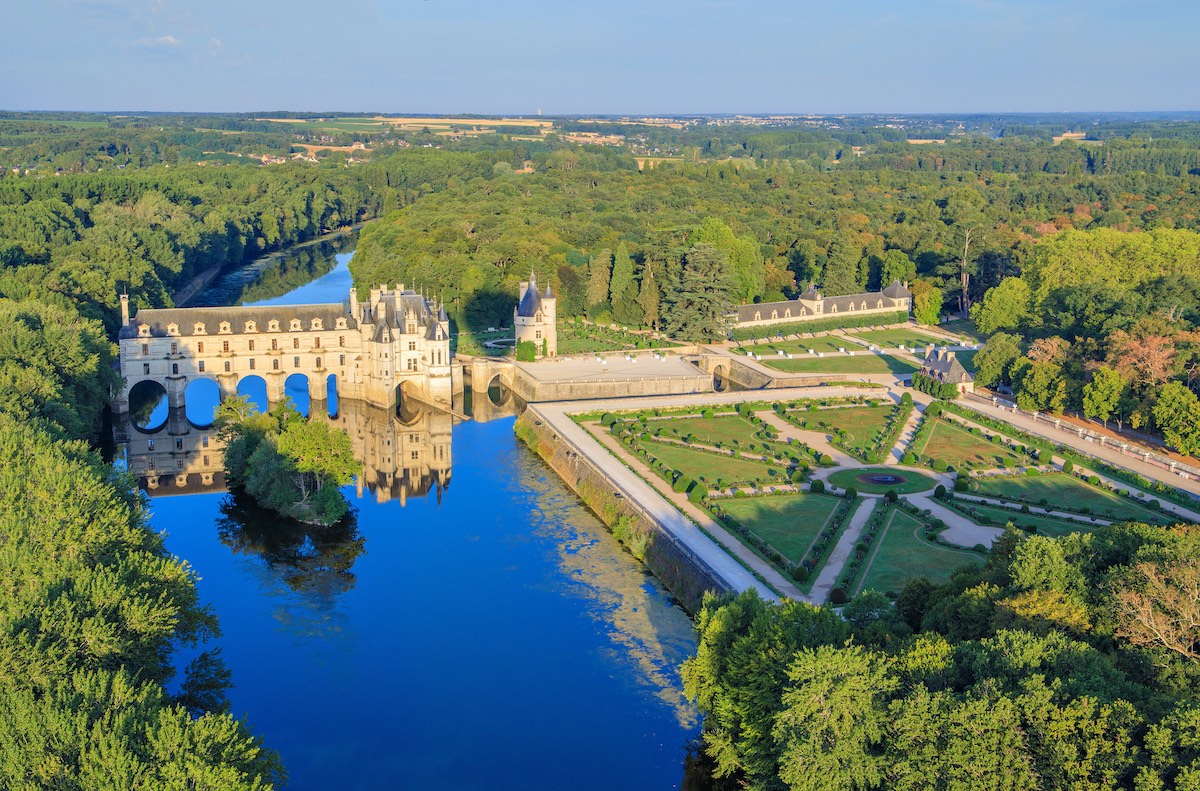 ---
From Paris: Fairytale Loire Castles, Wine Tasting, and Lunch
Tour Price: $203+ per person
https://www.getyourguide.com/paris-l16/skip-the-lines-loire-valley-castles-wine-tasting-t13987/
Guest Review: "Marianne and Addie, were great tour guides. Very funny, energetic knowledgeable of French history. The tour was well worth it. The tour guides were stars." – Yen.
Loire, France: Château de Chenonceau
---
Kronborg Castle, Denmark
Location: Elsinore, Denmark
Kronborg is Denmark's most famous and powerful castle. This 16th-century castle is also one of the most important Renaissance castles in Northern Europe and has been declared a World Heritage Site by UNESCO.
The castle has a strategic position and overlooks the Baltic Sea. In the past, it was used as a prison and garrison. But perhaps the coolest fact about this castle is that it was the setting of Shakespeare's castle for Hamlet, where he referred to Kronborg as "Elsinore Castle." Every year, a Shakespeare festival takes place where locals gather to watch original Shakespeare plays and performances.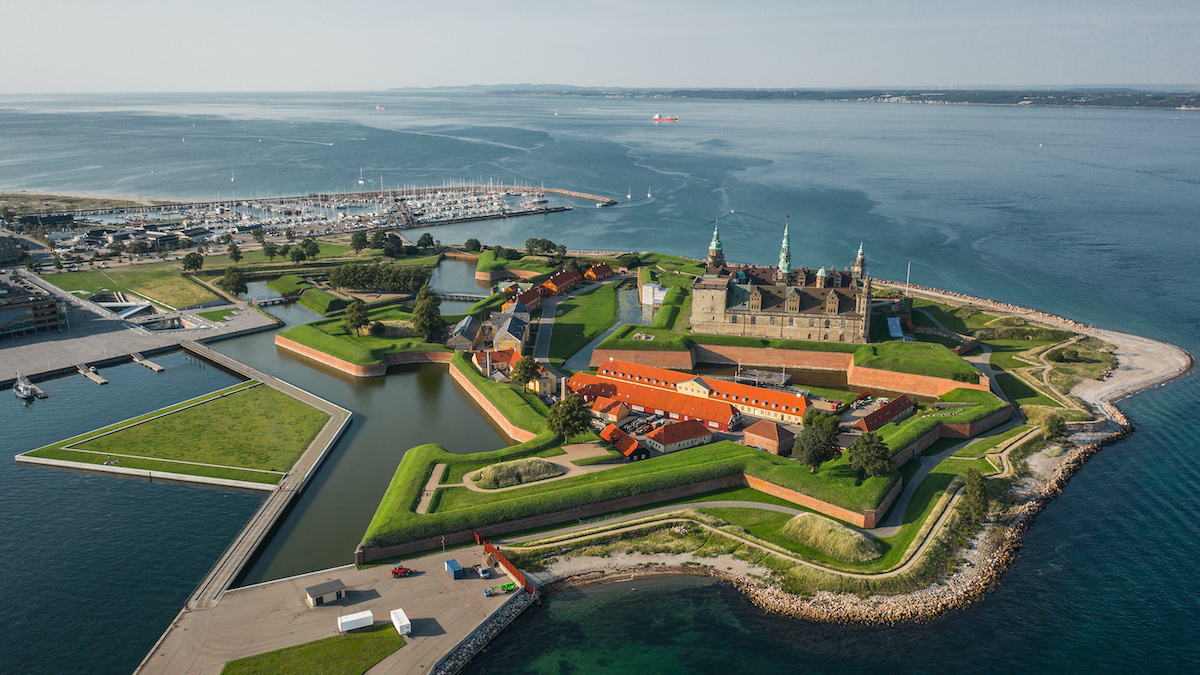 ---
Copenhagen: Roskilde, Frederiksborg & Kronborg Day Tour
Tour Price: $142 per person
https://www.getyourguide.com/copenhagen-l12/grand-day-trip-around-copenhagen-t38371/
Guest Review: "We absolutely loved our tour with our guide, Harry! The trip was comfortable and entertaining even between stops as Harry shared history with us through stories. I would definitely recommend this trip to anyone looking to maximize time but still get a great experience learning and exploring these historic sites of Denmark." – Shay.
Kronborg Castle - UNESCO World Heritage Site
---
Planning a trip to Europe?
My travel blog is filled with helpful articles, travel guides, detailed itineraries, and articles on fun facts about Europe. If you're planning a trip to this continent soon, check out my favorite articles below and let me know what you think.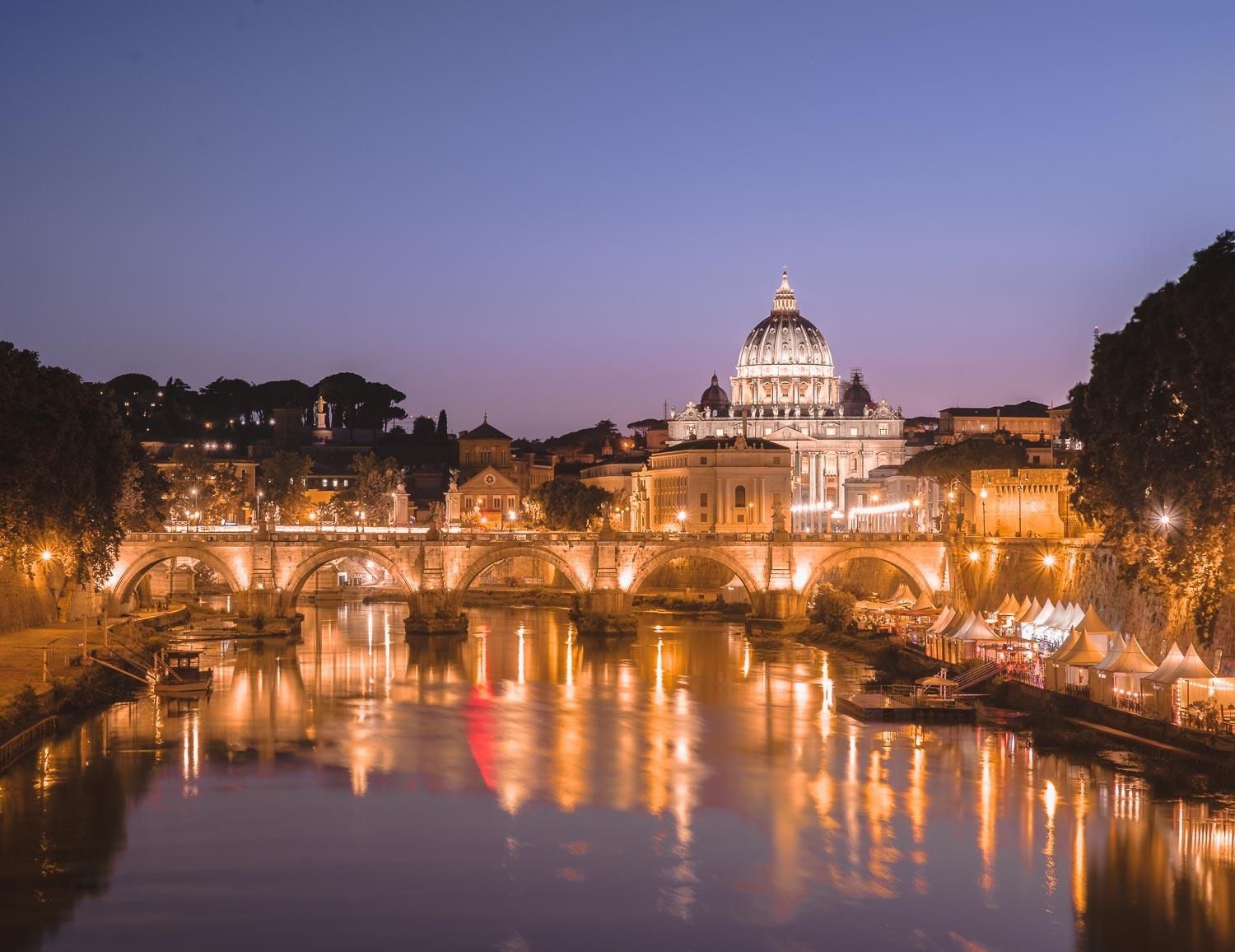 ---
Final Thoughts on European Castles
In all honesty, we owe it to the Europeans for preserving these magnificent structures and allowing us to get an inside glimpse of royal life. Europe is a cool and interesting place with pretty castles, important monuments, and lots of history.
The continent is home to more than 10000 medieval cultures. These castles have served as royal residences, political centers, government offices, military training centers, and more. I've only listed eight of the best European castles, but there are thousands of more famous ones of historical significance, creative designs, spooky stories, and lavish interiors that you can visit.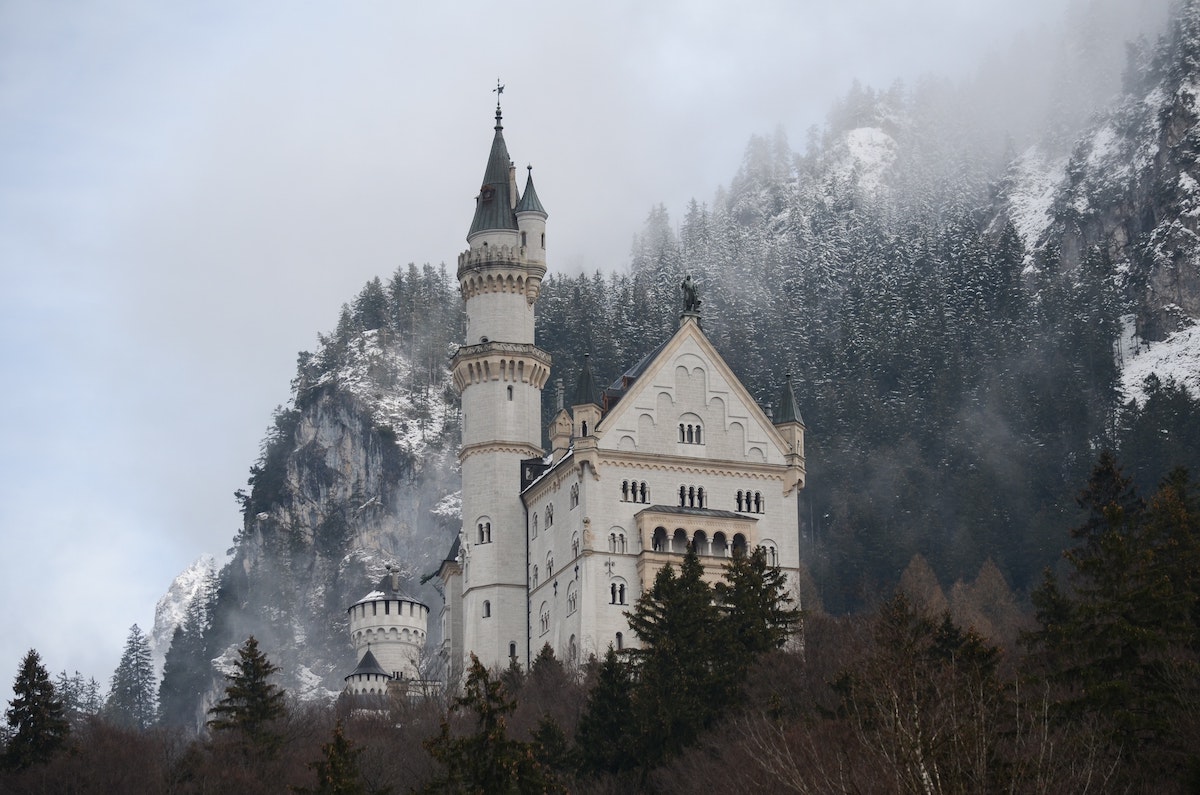 ---
THANKS FOR DISCOVERING THESE COOL CASTLES WITH ME!
SHARE THIS LIST WITH YOUR FAMILY AND FRIENDS SO THEY CAN ALSO BE WONDERSTRUCK BY THESE COOL PALACES!
https://www.jonesaroundtheworld.com/wp-content/uploads/2021/05/Neuschwanstein-Castle-Germany.jpg
799
1200
TravelTractionsJATW
https://www.jonesaroundtheworld.com/wp-content/uploads/2017/03/logotry-1-1-300x106.png
TravelTractionsJATW
2021-05-07 22:52:59
2021-05-07 22:54:23
Top 8 Coolest Castles in Europe For a Fairytale Getaway