Are you looking for information on how to start a music blog in just a few minutes? I'm here to help! I started my first blog back in 2012, and it's been one of the most rewarding ventures in my entire life. While I must warn you it can become time-consuming, I really do think that starting a music blog will be extremely fun, and over time could lead to some really fun opportunities (like attending music festivals & club events for free)!
The key to starting a successful music blog is writing what you're passionate about! If you have a deep love and understanding for the music, then the rest will follow.
Are you obsessed with a certain genre of music?
Do you attend every music festival you possibly can?
Are you always showing your friends new music?
Do you make people Spotify playlists?
Spend hours searching through Beatport, Soundcloud, and Youtube for new music?
Are you an aspiring DJ / Producer?
Do you want to work in the music industry?
Are you interested in how to start a music review blog?
There are many reasons why people should start a music blog, but I mainly think you should do it because in this day and age, you need to have an online presence! If you want to work in the music industry, having an established website showcasing your talents can be a huge bonus!
---
How to Start a Music Blog in 2022
---
1) Pick a Music Blog Name & Niche
It's all in the name!
What's your music blog all about? What do you want to write about? Why are people going to visit your site, read through the articles, and discover your recommended music? These are important questions to ask yourself before just landing on any name. This is your new company, and you'll want to have a catchy / easily remember brand name.
If you're going to blog about Electronic Dance Music (E.D.M) for example, you want that to be demonstrated through your name. For example, these are the top EDM blogs right now: YourEDM, Dancing Astronaut, ThisSongIsSick, EDMSauce, etc.
Have you been brainstorming names already? It's crucial to remember – It's all in the name!
You want to be proud of it, and be stoked about sharing it with people. Will the name look good on a t-shirt or hat…? ;-)
---
Keep in mind that there are always a lot of established music blogs out there already, so you don't want to copy anyone else, or be unoriginal. It might take some time to think of something good, but the idea will come! You can use BlueHost to check the domain availability after the sign-up page.
If you're not sure if your domain name availability, use this fun widget below to check!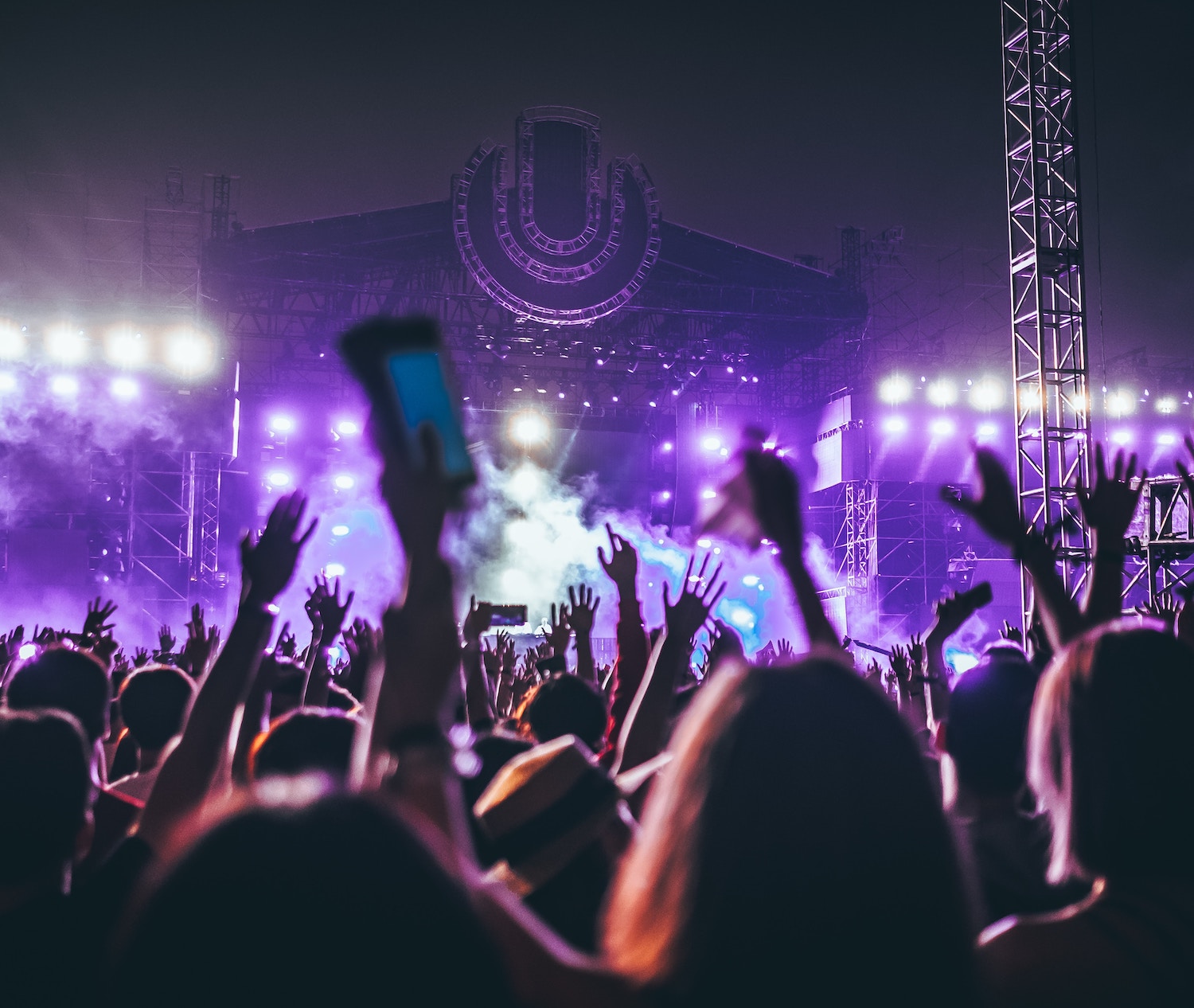 ---
2) Buy Your Domain & Web Hosting
So you've picked your new music blog name!? CONGRATULATIONS!
Once you've got your name picked out, it's time to set-up your web-hosting. There are dozens of popular companies out there that can do this for you, but I'd definitely reocmmend setting up through BlueHost. They've got an amazing service, the best prices, and it's simply the best web host for starting a new site.
I've actually worked closely with them to provide the cheapest possible option online for their services (most other offers are at least $2-3 more per month!
When I first started out, I made things a lot more complicated than they needed to be, and used the free WordPress version, which meant the first version was "www.jonesaroundtheworld.wordpress.com"! DON'T DO THIS. It was a pain in the ass to change later, and actually caused a lot of issues (which were finally all resolved).
Select Your Blue Host Plan – Basic $2.95 per month *Special Pricing
Click on the Blue Host link and then select Get Started, and it'll bring you to to this page. For a blog that's just starting out, you really don't need anything fancy. You won't be receiving a ton of web-traffic, so just the bare minimum is what you're looking to get started.
After you've been blogging for a bit and build an audience, you can choose to upgrade as necessary, but when you're just starting out the BlueHost Basic plan is more than enough.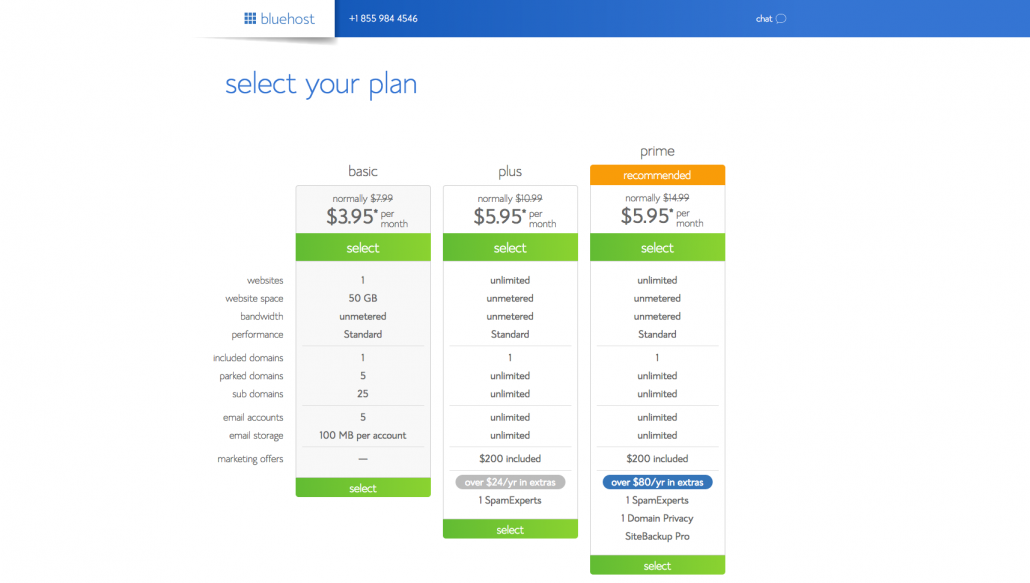 ---
Enter Your Music Blog Domain Name
You should have already done this during step 1 to make sure it's available, but this is when you'll enter it in and click NEXT. If you've already purchased your domain (which can be common), you would just type it in the box to the right.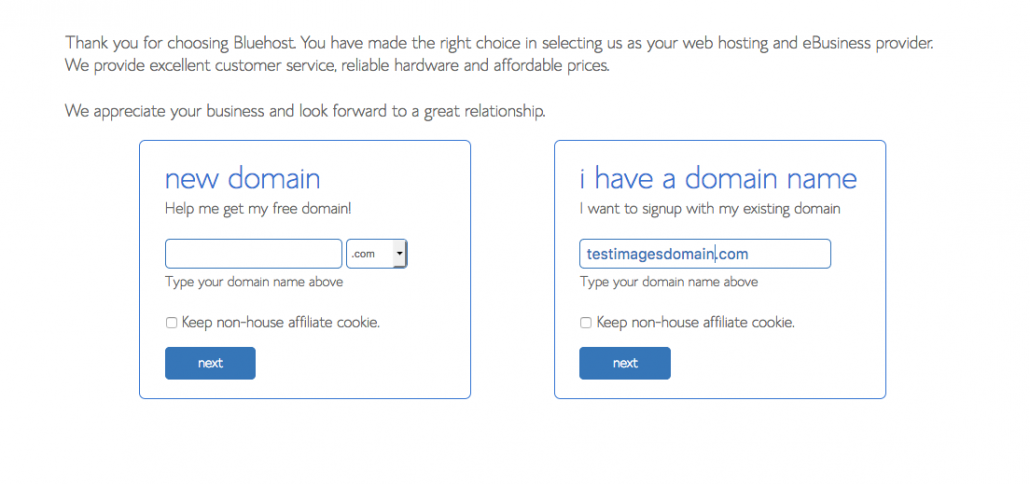 ---
Enter In Your Account Information / Details
Be sure to enter all your details correctly, and you can untick all of the boxes at the bottom (that might be automatically checked). While it is a personal preference, I really don't think anyone of them are necessary.
Account Plans: It's going to give you a few options at different prices. The promo rate of $2.95 per month is only available if you choose the 36 month option. It really just depends on what you're wanting to spend at the time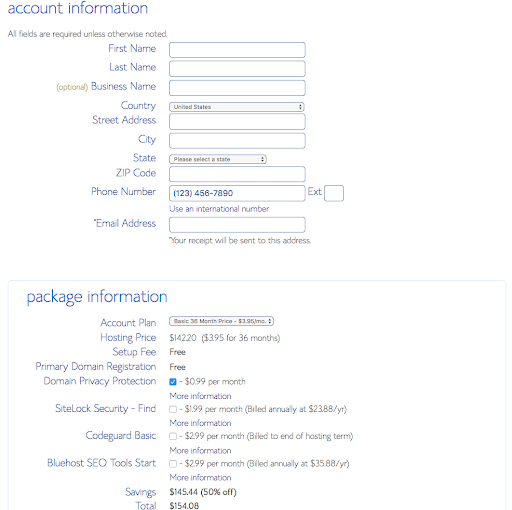 ---
ENTER YOUR PAYMENT INFORMATION NEXT TO FINALIZE ORDER
If you ever have any questions about the whole process, BlueHost really does have great customer service to help out as well!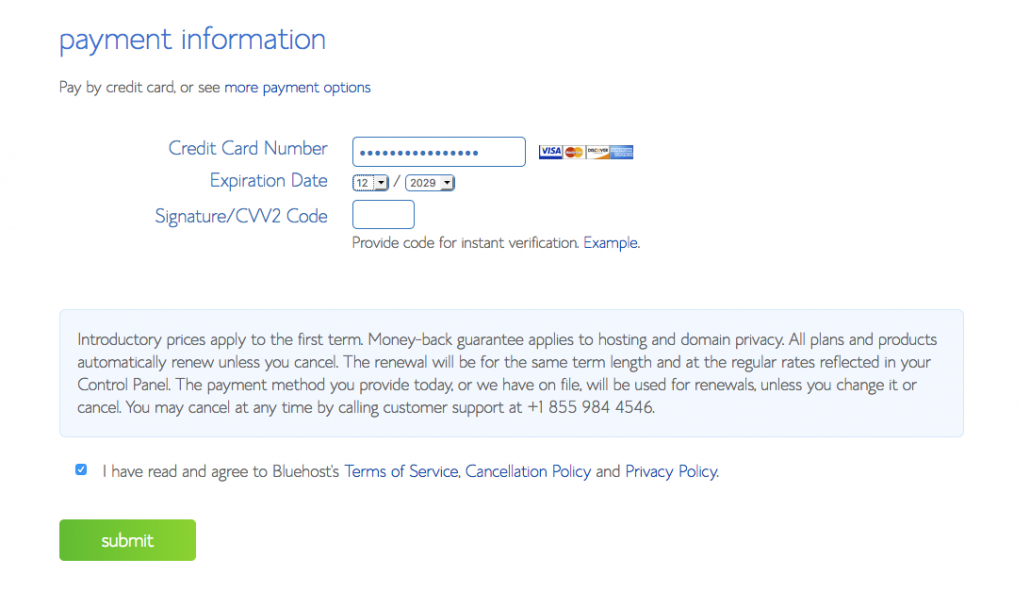 ---
Creating Your Password
Now that you've paid for the web-hosting account, you've got to set-up your password! Make sure it's unique to your BlueHost account, but also something easy to remember. Once you've got your log-in details sorted, you can move on to the next stop.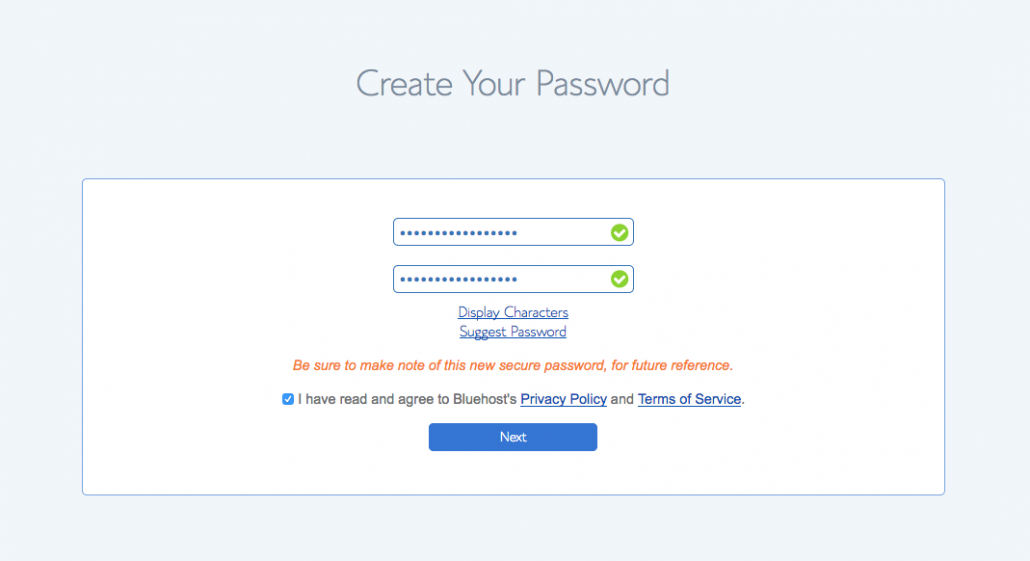 CONGRATULATIONS. YOU JUST STARTED A MUSIC BLOG!!
---
3) Install WordPress
Now that you've got your domain name and web-hosted sorted, it's time to Install WORDPRESS. This is the #1 Blogging Platform to use because it's easy to learn, super user-friendly, and highly customizable. (This travel/ music blog is hosted on WordPress). I've been using it for over 5 years, and it's absolutely amazing (and also a really useful skillset to have).
One of the best aspects about getting your hosting done with BlueHost is that it will automatically prompt the WordPress download, and will have you choose a theme (which you can change at anytime).
This process is also super simple with BlueHost (one of the reasons I recommend them), and their online customer service can help out if you have any questions.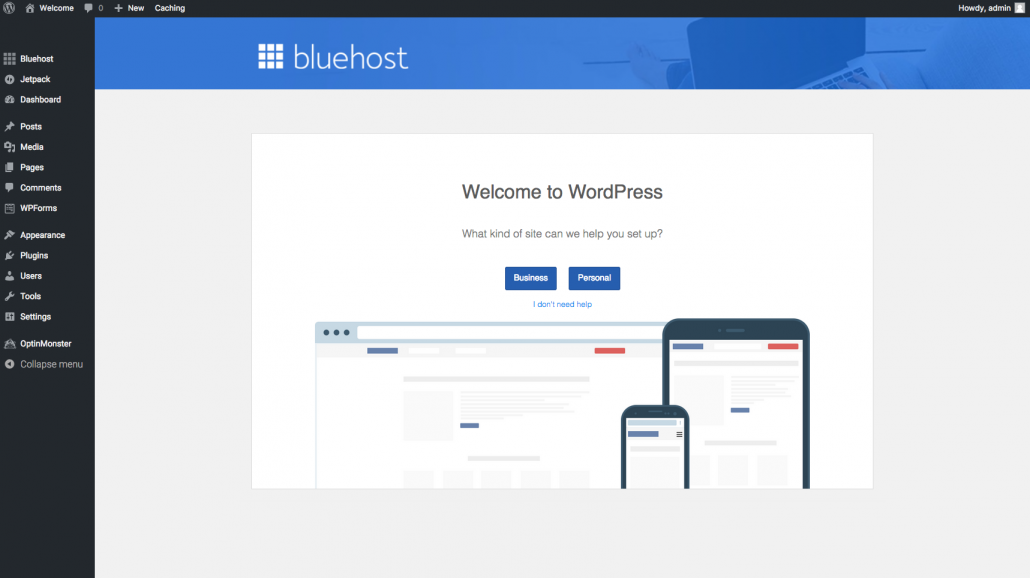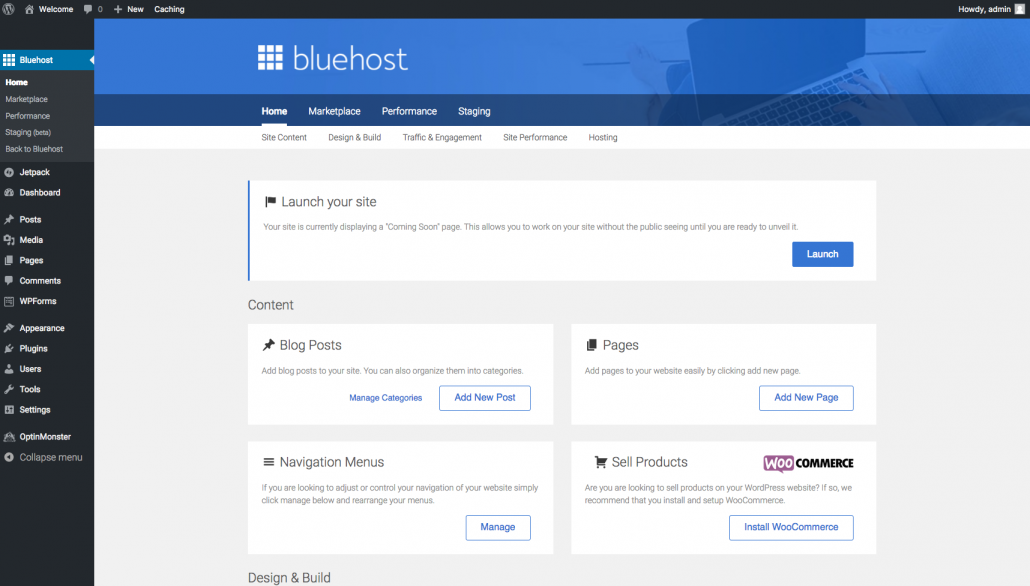 ---
Once you've successfully installed WordPress, you'll be to LOG-IN To WORDPRESS by using the link
www.YOURBLOGNAME.com/wp-admin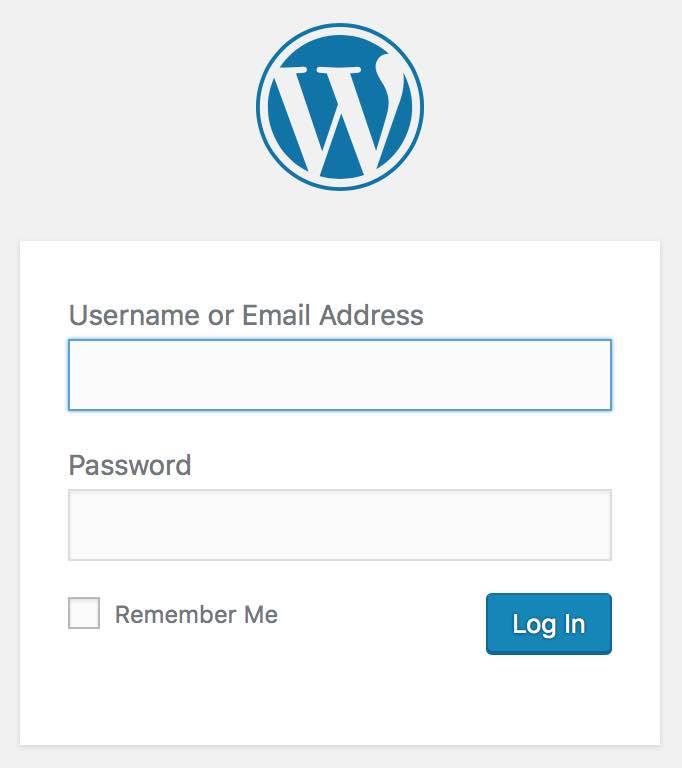 ---
4) Choosing a Website Theme & Plugins
Now that you've got WordPress Installed, it's time to DESIGN YOUR BLOG.
Unless you want to hire someone to make your blog look professional, all you need to do is find the right theme & plug-ins to make your sight look awesome!
What I love about Worpdress is that it's all done through "themes"…which basically means it's a pre-designed look for your new website.
To Install a new WordPress theme for your music-blog, follow these instructions:
On the left side of your WordPress dashboard, hover over "APPEARANCES".
Click on "Themes"
Test out a few of the pre-installed Themes like "Twenty Seventeen".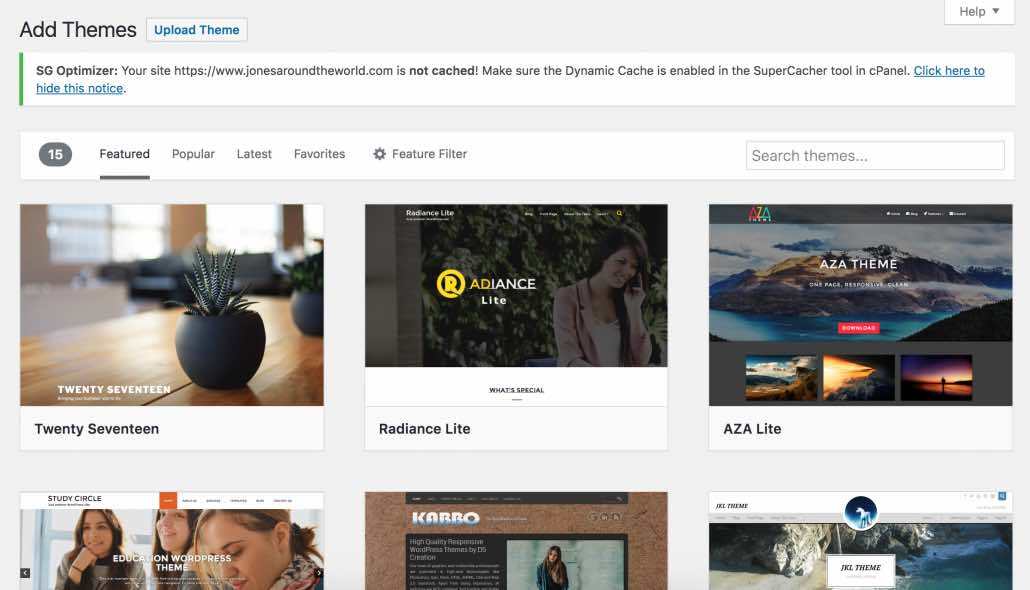 ---
You can browse through and test out dozens of different themes by clicking on PREVIEW. While there are hundreds of quality free-themes, I'd personally recommend buying a Premium theme from this site called Theme Forest. While it does mean a bit more of an investment, it'll give your website a much more professional and quality look it. But also – you can start out with a basic free design theme while you initially build your site's content, and then purchase one once your ready to launch your new music blog!
Plus, one of the benefits of buying a premium theme is that they typically include a 12-month customer support package, which means you'll have a team of web developer's available to you to ask questions! When I bought my first theme, I took advantage of that a lot, and the support really helped out with CSS customizations to make my site look exactly how I wanted it to look!
My personal travel-blog uses the ENFOLD Theme, and I really do love it! But fair warning – this is a bit advanced theme that can take a bit of time to learn all of it's power, but it's one of the best themes out there. It can be a bit slow at times, but I would recommend it for sure (because I love the flexibility)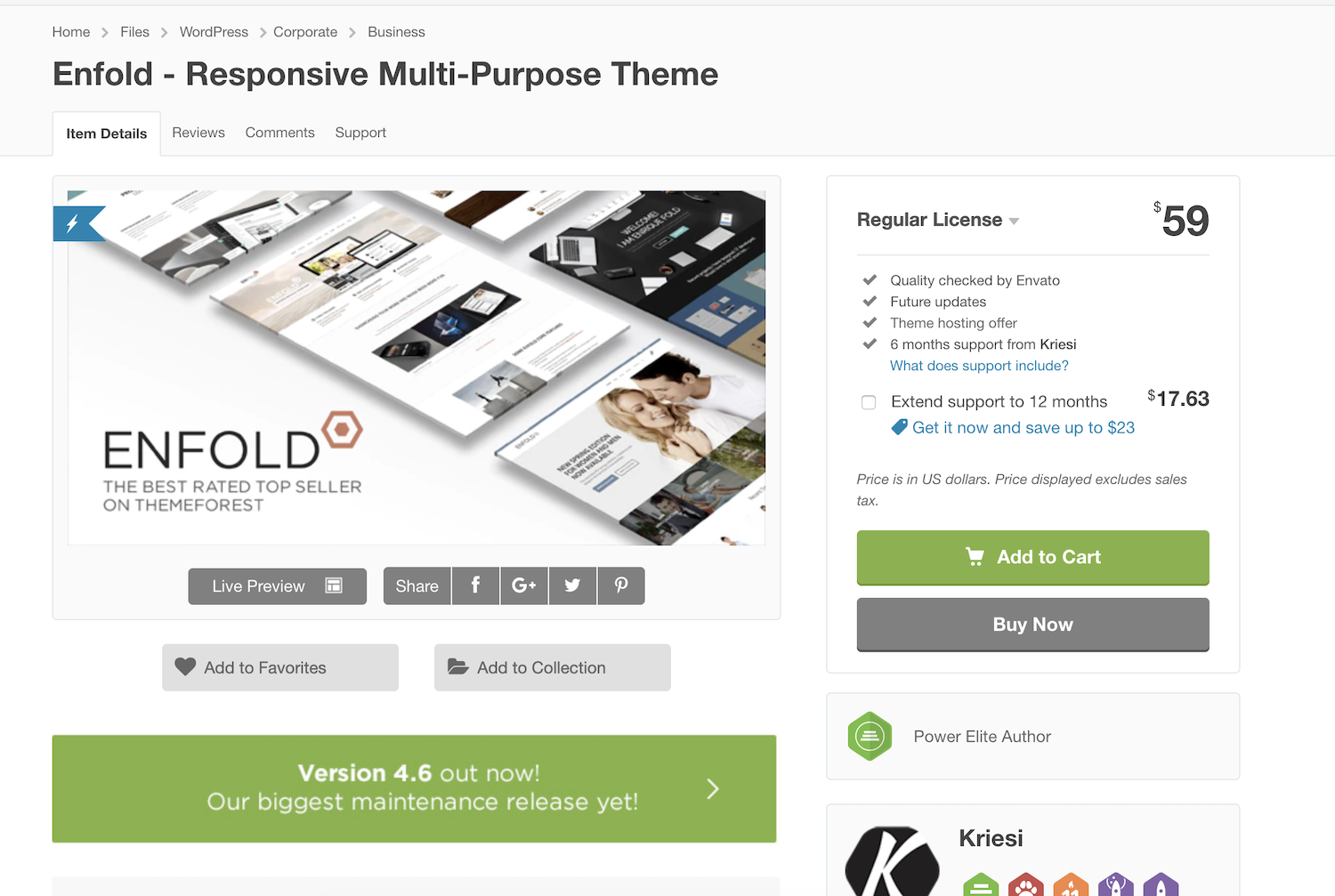 ---
Want to find what your favorite websites are using for their theme?
One of the best ways to pick a theme is to browse a bunch of music blogs, and learn what you like, and then you can replicate or gain some inspiration from different people's themes! You can do this for free by using this awesome site WPThemeDetector.com.
I used this all the time when I first started blogging, and it's packed with epic features to show you the most popular themes, plug-ins, and speed optimization tools.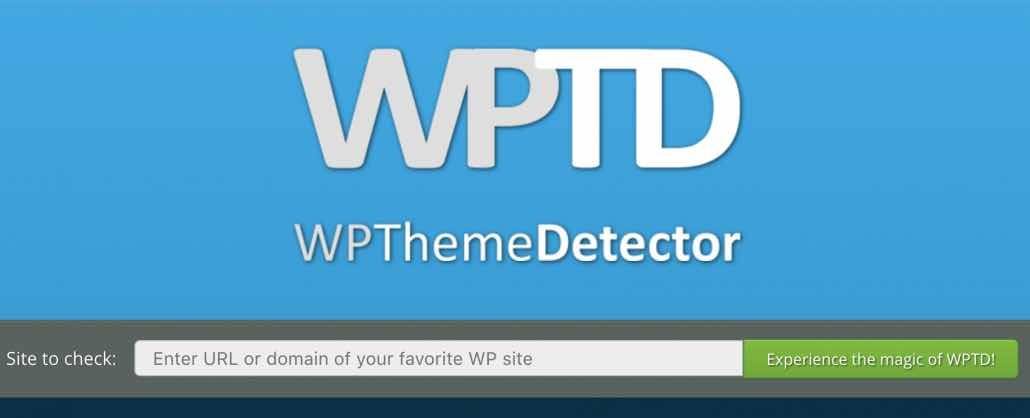 ---
WordPress Plugins
What's a plug-in? Good question. Essentially, it's a third-party app for your music blog that can perform certain tasks that your theme might not include such as Social-Media Sharing, Related Posts, Author Boxes, Speed Optimization, Image Compression, Caching System, Security, and so much more!
The more you get into designing your website, the more you'll understand which plugins you'll want to install on your site! BUT keep in mind, that if you have too many plug-ins, it can seriously slow down your music blog (and no one likes a slow website).
If you ever have any questions about this, feel free to shoot me an email and I'd be happy to take a look at your new site and give any honest feedback, critiques, and advice. I remember what it was like to start a music blog, and I would be more than happy to help!
---
5) Start Writing Pages & Posts
Alright. So you've got your domain name, web hosting, and have your WordPress Theme & Plugins installed – it's time to start FILLING YOUR WEBSITE WITH CONTENT.
You're going do all of this is in the WordPress Dashboard…
---
Popular Music Blog Pages to Add:
Pages are meant to be for things that don't need to fall into a category, and very rarely need to get updated.
About
Contact Page
Demo Submissions
Resources Page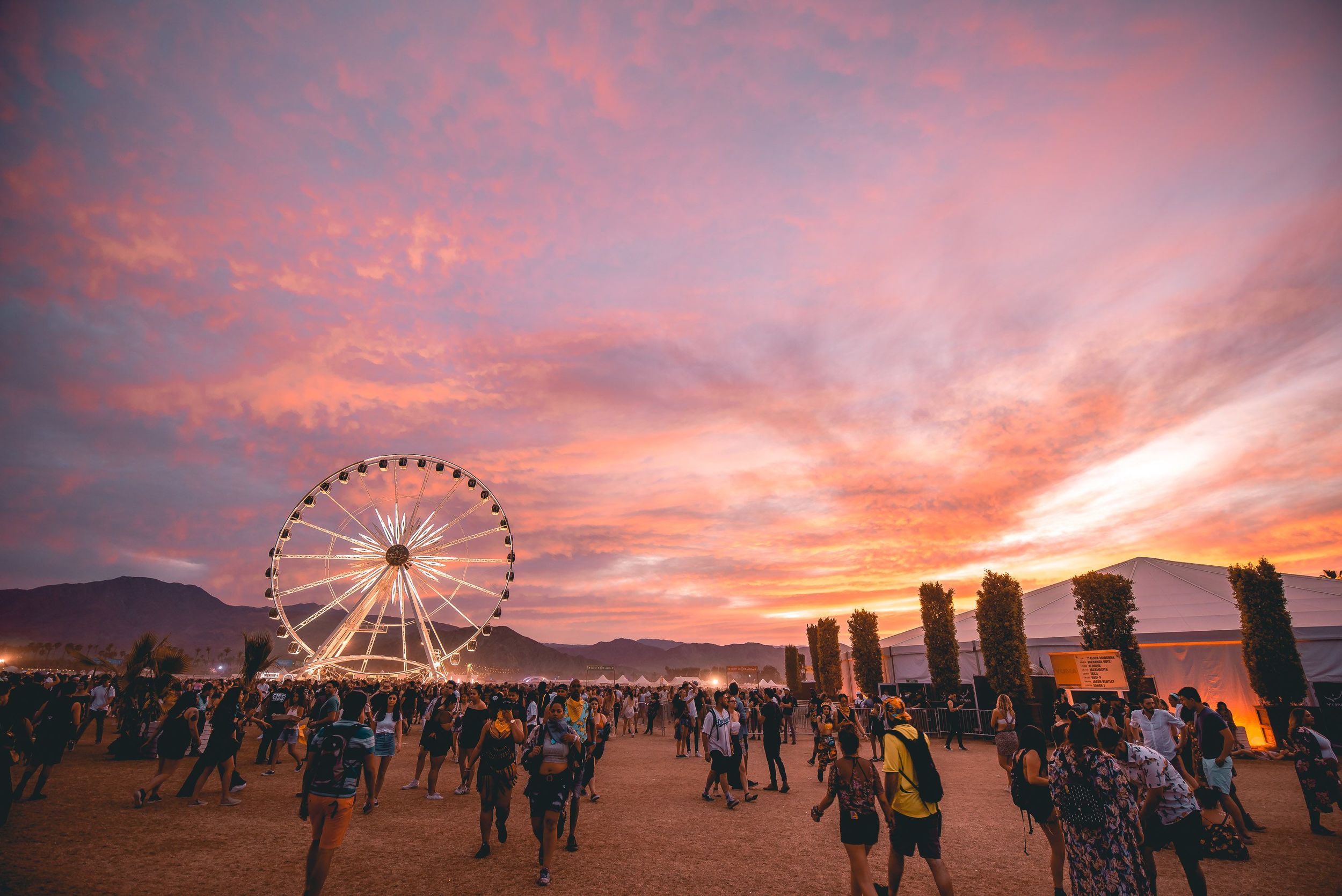 ---
Popular Music Blog Categories
Every time you publish a blog post, you'll have to put them into a category. So let's say you send a writer to cover a music festival, you'd publish that post in the categories: "Music Festivals" & "Reviews". Then, when someone clicks on the category of Music Festivals, all the articles that are in that category will show up on your blog roll page!
Music Genres
Music Festivals
Artist Mixes / Live Sets
Industry News
Club Events
Reviews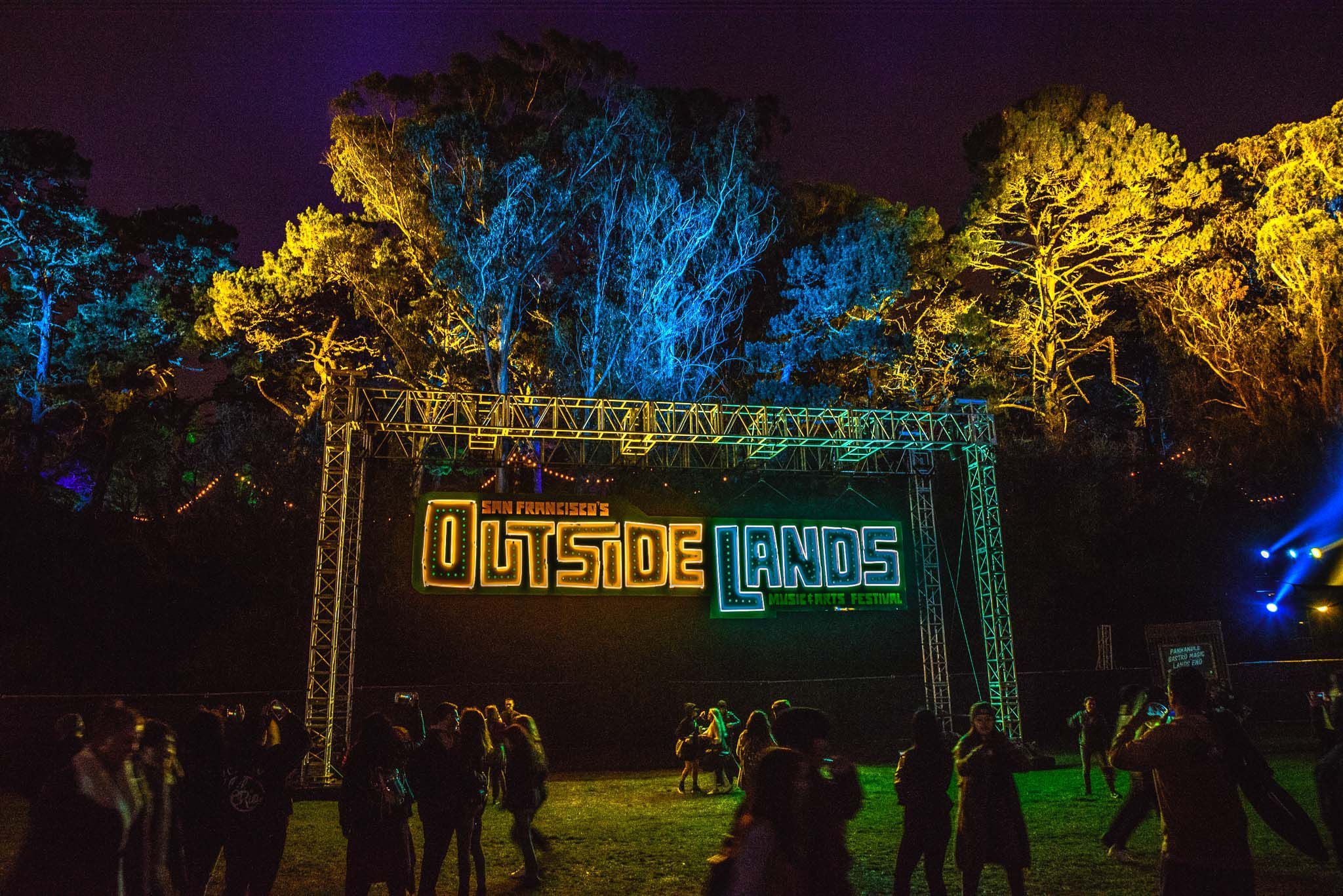 ---
Now You're all Done with Starting a Music Blog!
I'd recommend locking down your social media channels (primarily Facebook page, Twitter, Instagram, Soundcloud, and Youtube), and start figuring out ways to increase your audience and following.
If you work hard and treat your music blog like a business…you'll soon be getting comp'd passes to the biggest music festivals around the world, interviewing famous artists, and making a decent income online!
If you ever any questions about how to start a blog, tips & tricks I've used for my websites, or anything else — feel free to shoot me an email, and I'd be happy to help any way I can. :-)
---
Check out my favorite posts about music festivals below:
---
Starting a Music Blog Tips
How do music bloggers make money?
That's probably one of the most common questions have when starting a music blog! Well, the answer is a lot more complicated than you might think. While my website is a combination of a music and festival blog, as well as an adventure travel blog – it all makes money in the same way.
I can make money by web traffic advertising, promoting certain events and festivals, and through strategic affiliate marketing.
What I will say is that it can take a long time for a blog to make money, so you want to make sure you're starting a blog because you're actually passionate about the music! If you're not – you might lose interest too quickly!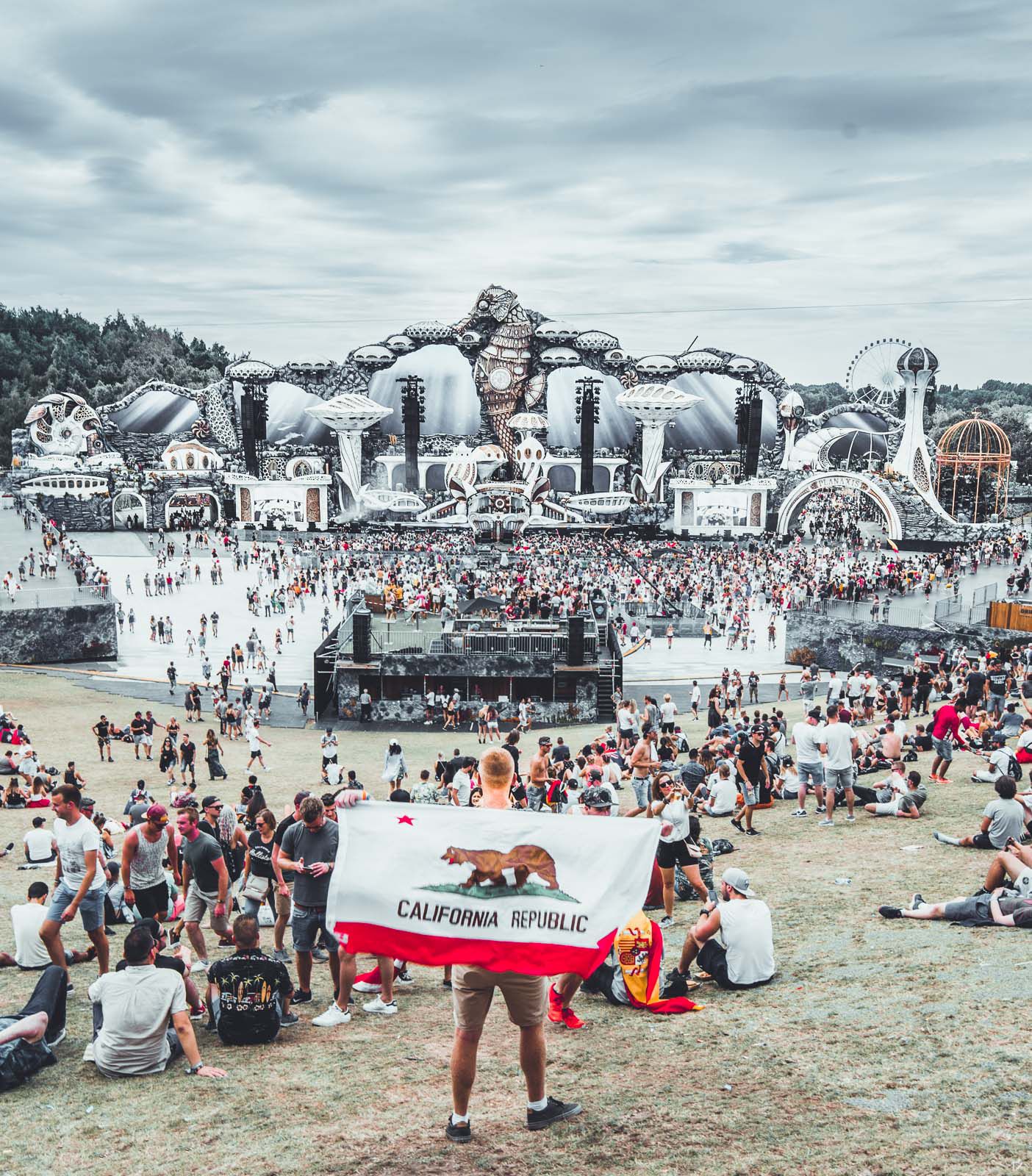 ---
Starting a Music Blog | Social-Media
In these days, I'm seeing that social media is playing a much more important factor in the success of your music blog! Be as active as you can, repeatedly share amazing content, and work super hard to engage with you audience.
Start a festival group on Facebook, comment on DJ's and bands Instagram photos, and try and build a loyal audience who enjoys your posts!!
Regularly share line-up posters, music festival news, and industry drama! You want people to get used to seeing your name as often as possible as a NEWS outlet! It can really make a big difference.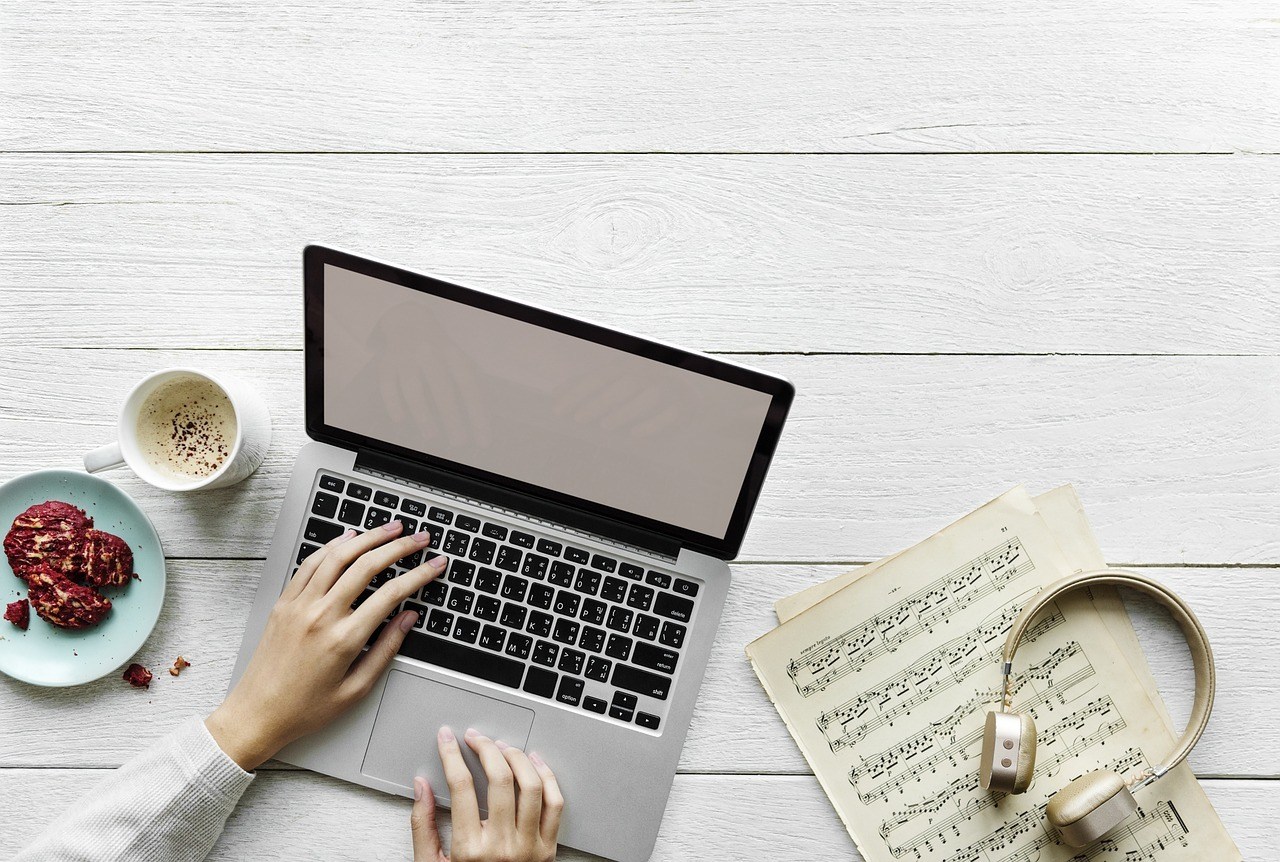 ---
Start Applying for Media Passes | Music Blogging 101
You would be surprised how easy it is to get accepted as a journalist to music festivals and shows these days! It's a great way to network and meet people in the industry, get free tickets to shows, and practicing as much as possible on your writing! When I first started writing I was honestly terrible, but just like anything in life – practice makes perfect! While you may get rejected by PR firms in the beginning stages, you'll soon learn how to pitch the perfect email, and will soon be going to any event you want for free!!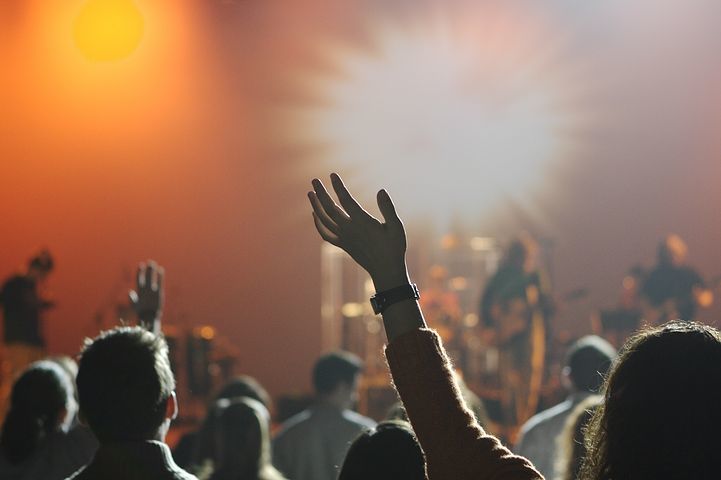 ---
Disclaimer: This article contains affiliate links, which means if you purchase some of these items, I may receive a small commission (at no extra cost to you). I solemnly swear I'll put that money to good use and fun adventures
---
Thanks for reading my Start a Music Blog Guide!
SHARE THIS ARTICLE! :-)
https://www.jonesaroundtheworld.com/wp-content/uploads/2017/05/STARTING-A-MUSIC-BLOG-IN-5-EASY-STEPS.jpg
768
1024
Dave
https://www.jonesaroundtheworld.com/wp-content/uploads/2017/03/logotry-1-1-300x106.png
Dave
2022-03-01 23:09:04
2022-03-03 23:20:55
How to Start A Music Blog In Five Minutes | Step-by-Step Guide