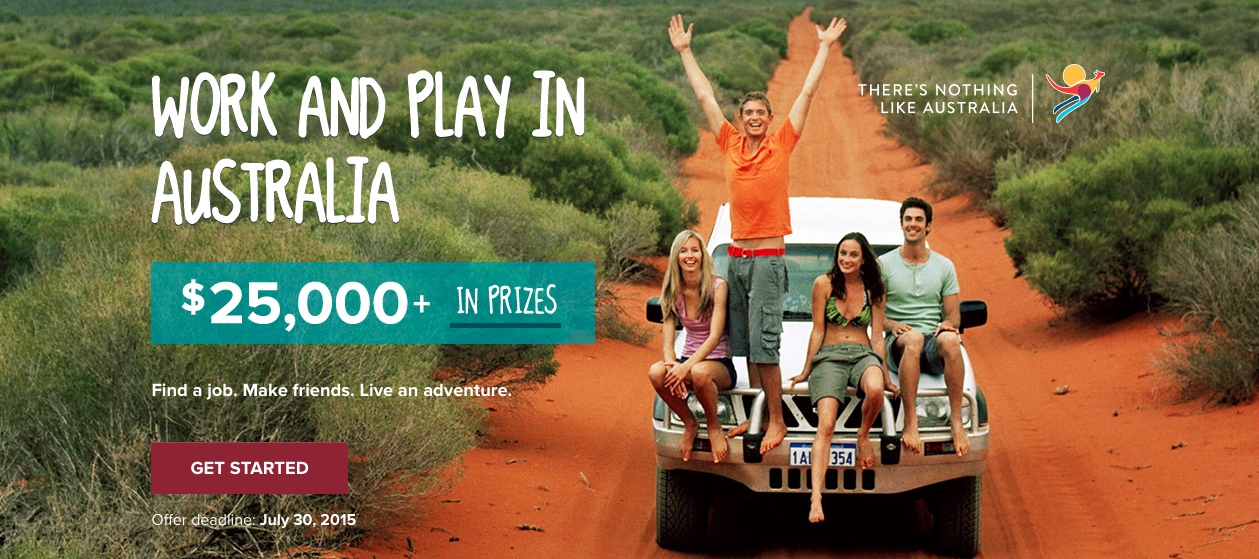 Ever dreamed of heading down under to the beautiful country of Australia, or as the cool people say, "Oz". Well it's actually not that hard. It's probably one of the best ways for people who love traveling to begin a nomadic lifestyle.
If you haven't heard before…if you are between the ages of 18-30, you can apply for a working holiday visa. This basically entitles you to live and work in Australia, open up a bank account, and live in one of the most beautiful countries in the world.
It's an incredible opportunity, and I've had several friends complete a working holiday visa in Oz, and no one has ever said a bad thing about it.
The minimum wage in Australia is pretty high at $17.29 AUD per hour. So if you're working, you can SAVE a lot of money if you want. Rent prices, alcohol, and food are much more expensive as well, but if you are smart, you can definitely figure out ways to cut costs.
THE CONTEST
The great people at Go Overseas have partnered with Tourism Australia and have created an amazing contest with over $25,000 worth in prizes.
First Prize — Gets free round-trip airfare to Australia, working holiday visas covered, program fees covered or discounted, and free travel insurance.
12 Runner-Up Prizes — Working holiday visas covered, program fees covered or discounted, free travel insurance, and bonus prize possibilities.

HOW TO ENTER
This is a free-contest to enter, and does not take TOO much time — although for a great submission you should spend a bit more time on it. Check out the entire application process on the contest entry page.
You'll enter in your personal information, and answer questions about the type of activities and programs you are most interested in. There are 12 different programs to choose from — with something that would interest anyone. The 12 program providers will decide on their own winner who will have their program fees waived (or heavily discounted).
You are given an option to add a Creative Photo & Personal Essay. This is your time to show why you are the perfect candidate.
This is an incredible opportunity, and there will definitely be thousands of applications, so if this is something you feel strongly about — try to make your application shine, and stand out from the rest.
Application Due Date: July 30, 2015.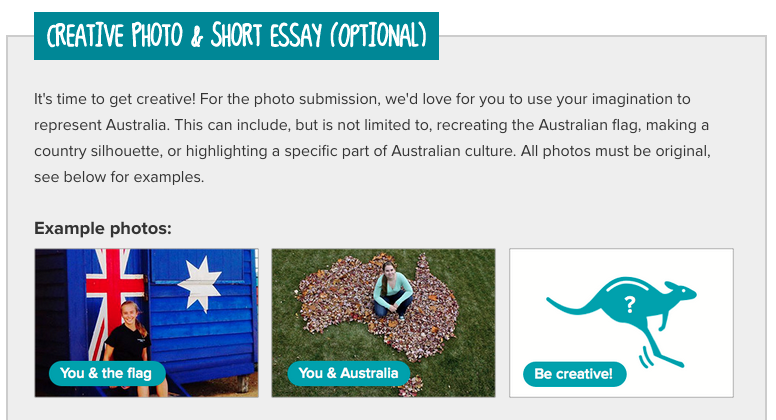 7 REASON WHY YOU SHOULD ENTER
If you want to live and work abroad, Australia is one of the best places to do it. The country is full of amazing cities filled with backpackers, and it'll be one of the best decisions you've ever made.
The earning potential in Australia is phenomenal. Even if you just work at a restaurant or bar, you'll be making great money.
Australian people are awesome.
There are going to be 13 prize winners!
Australia is a massive country, with so many incredible places to visit.
Working and living abroad during a young age will give you a whole new perspective on life.
There are a lot of awesome music festivals in Australia.
If you're looking for an exciting new opportunity, then this contest should definitely be something you enter. Even if you don't win one of the prizes, start looking at the working holiday visa, and start planning your adventure down under.
ENTER NOW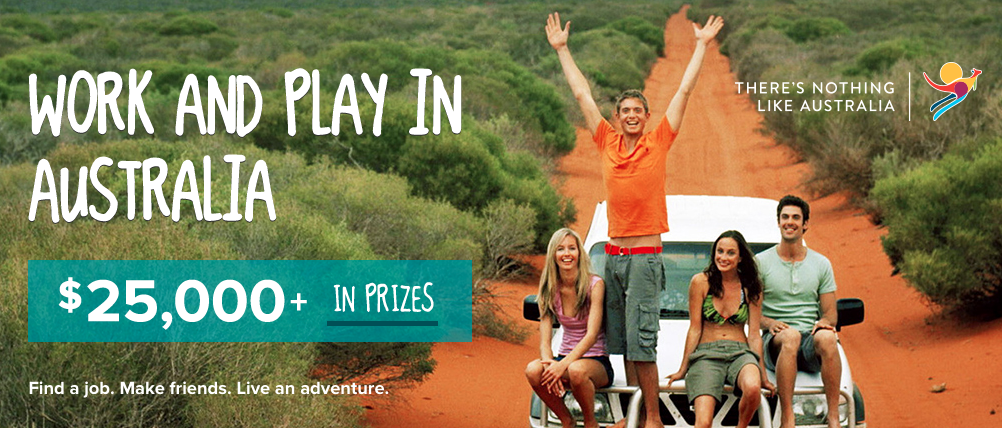 [shareaholic app="share_buttons" id="7411671″]
Like this post? Follow me on Facebook, Instagram, and Twitter for more adventures Around The World…
https://www.jonesaroundtheworld.com/wp-content/uploads/2015/07/Screen-Shot-2015-07-16-at-2.33.34-PM.png
559
1259
Dave
https://www.jonesaroundtheworld.com/wp-content/uploads/2017/03/logotry-1-1-300x106.png
Dave
2015-07-16 05:53:07
2019-12-12 05:24:15
Work & Play In Australia Contest