Planning a trip to Italy and wondering how to spend three days in Rome? Well, you're in luck, because I've put together an amazingly thorough Rome travel guide. This post covers the top things to do in Rome in three days, plus essential Rome travel tips!
With such an abundance of options at your disposal, you may struggle to narrow down your Rome itinerary to three days. Sure, if you want to hit all the major sights in just a few days, it's going to be busy and exhausting. But trust me, it's SO worth it.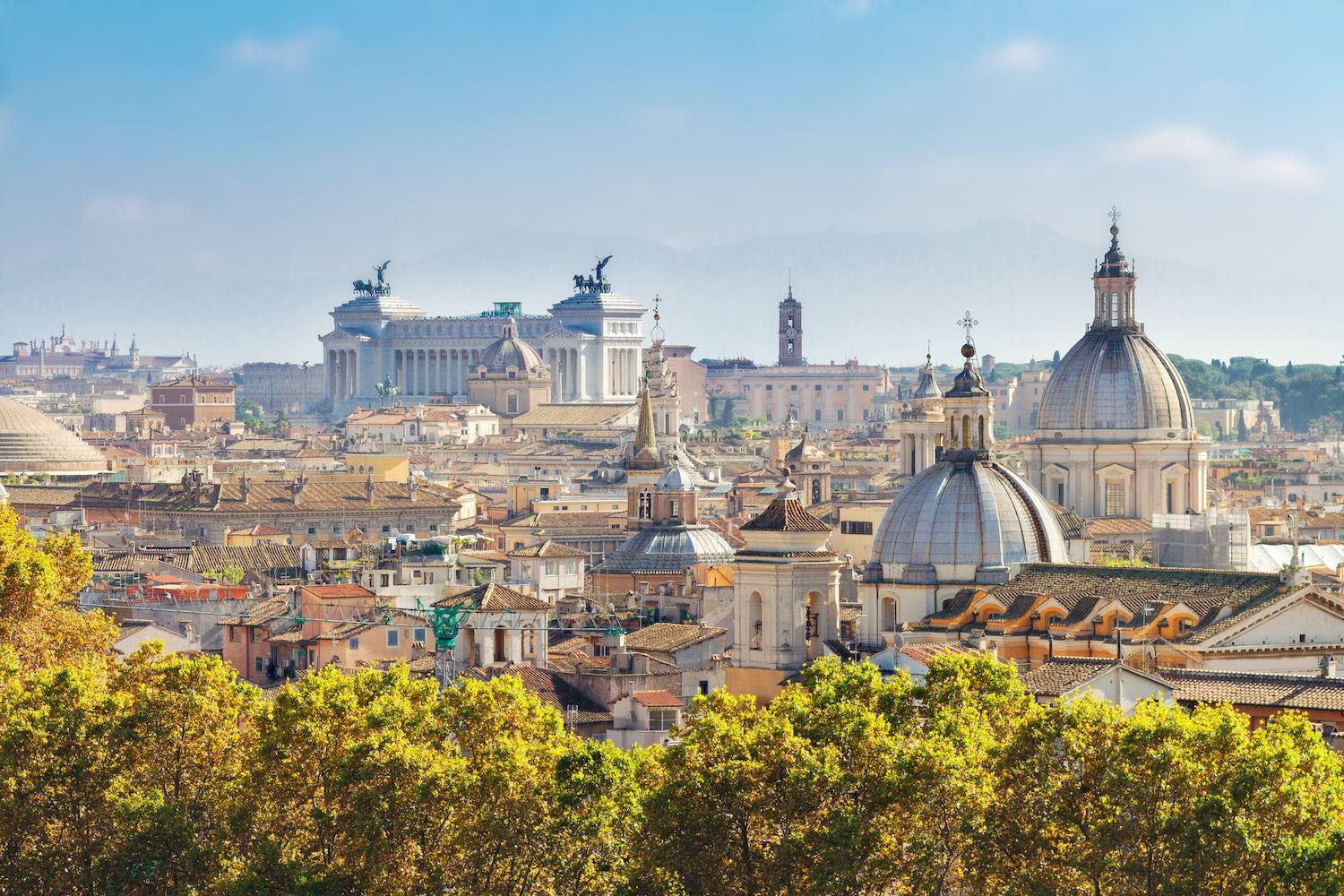 Rome is an assault on the senses – but a wonderful one. This noisy and vibrant city is constantly humming, yet laid back – like its inhabitants. The food is delicious, the people are welcoming and the entire cityscape feels alive. This city is an enormous museum of remnants of the past, all so close you can reach out and touch a part of history.
Roaming through Rome will leave you as satisfied as that enormous bowl of Roman pasta or those late-night Negronis in a dark, ultra-hip bar in the back alleys of the city. So…shall we!?
---
Arriving In Rome
There are two airports in Rome – Fiumicino & Ciampino – and both are super easy to get to the city center from! While the majority of travelers will be flying into Fiumicino (the major airport for international arrivals), if you're flying from within Europe on a budget airline like RyanAir, you'll be flying into Ciampino airport.
TRAIN –

"

Book a Train From Fiumicino Aeroporto to Roma Termini

" – This is always the best and easiest way to get into the city center (especially if you book accommodation near Termini.) The trains are frequent, easy to navigate, and affordable. You can book in advance to save money, but it would also be easy to just book a ticket same-day.

BUS –

Fiumicino Airport: Bus to/from Rome City Center Termini

: The cheapest way to get to Rome is by bus. Tickets are cheap online, and you can book them at the airport for the same price. I only recommend this option if you're on a super small travel budget, and don't want to spend any more money than you need to. The journey will take about an hour but can take much longer if there's traffic (which is unfortunately common in Rome).

PRIVATE TRANSFER –

Rome Fiumicino Airport to Hotel

: If you're traveling with a family/ kids, and have a lot of luggage, this Viator deal is going to be your best bet! It's budget-friendly, and they'll drop you off at your hotel (which can come in handy if you decide to stay at a Rome hotel or Airbnb that isn't close to the train station.)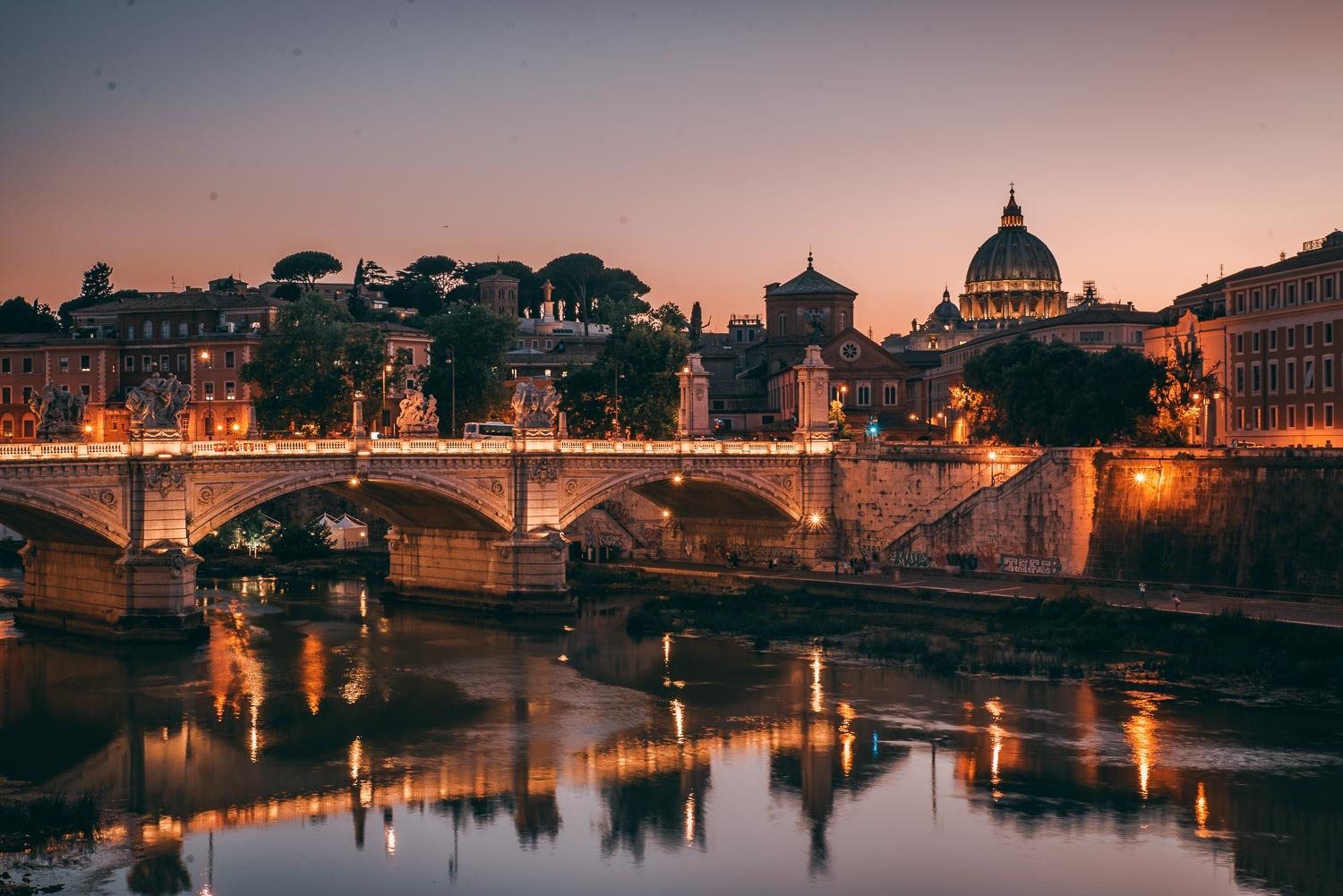 ---
Getting Around Rome
Rome is a brilliant place for walking, but if your time here is brief and your feet are getting weary from pounding the cobblestones, there are tons of other ways to get around this massive city.
Public transport in Rome
METRO – Rome has a decent underground Metro network that stops at the majority of tourist destinations. With many stations with names like Colosseo, Musei Vaticani, and Fontana di Trevi, it's pretty easy to figure out and navigate around.
BUS – Rome's buses are also a cheap way to get around the city, albeit slightly more confusing than the Metro for non-Italian speakers. If you have access to data while you're in Rome, Google Maps does a great job of offering bus routes that can get you where you need to go.
There are bus stops all over the city with the route numbers on them, and once you figure out how to take a bus ride, the rest is easy.
Hop-On Hop-Off Bus – Like most major cities, Rome has a fantastic Hop-On Hop-Off bus network that allows you to hit all the sights at your own pace and for an affordable price. These work well in Rome as there are SO many major tourist landmarks, monuments, and places of interest.
While I personally think it's best to walk as much as possible, with only three days in Rome, this would be a fun way to maximize your sight-seeing time.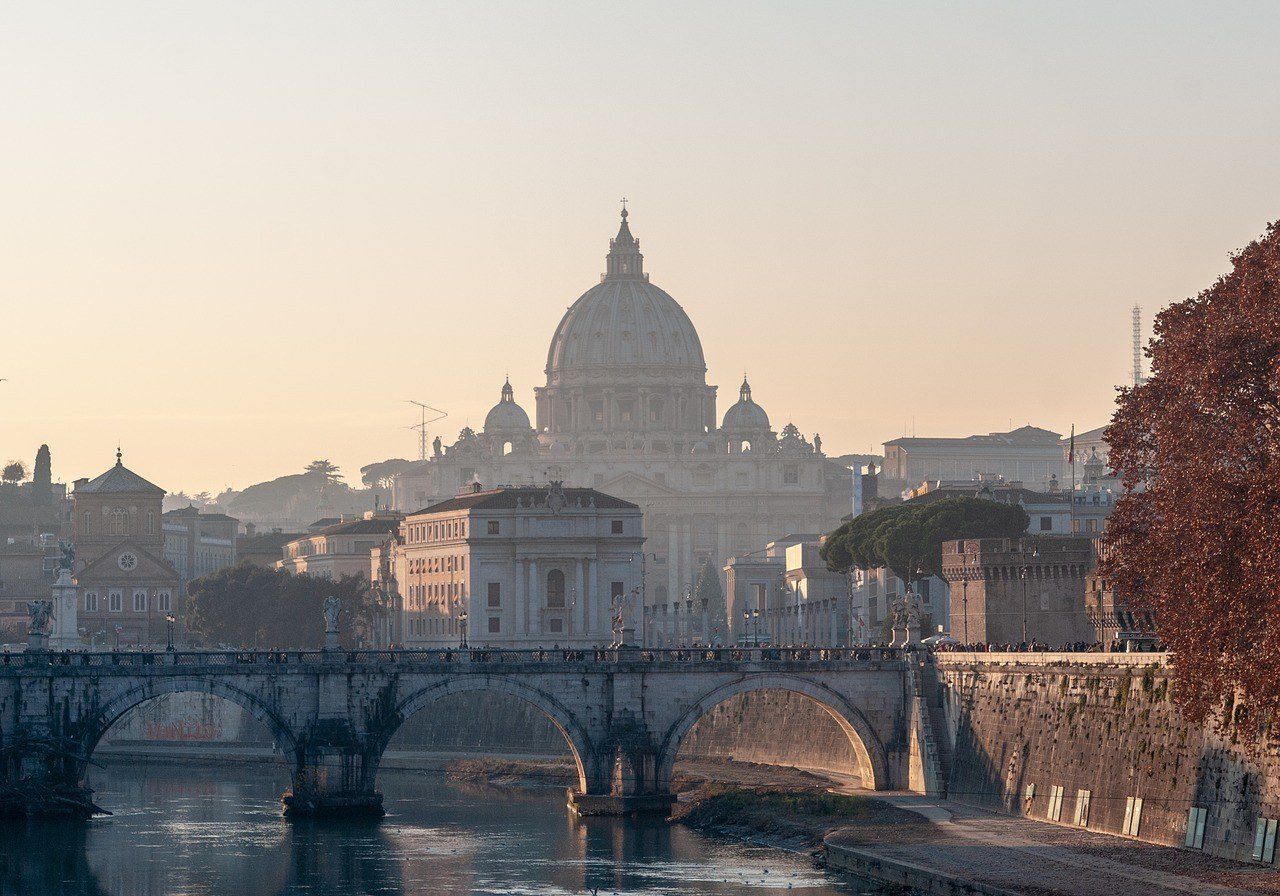 ---
Where to Stay in Rome For 3 Days
If you're a fan of renting apartments for a more local experience, then there are some incredible Airbnbs in Rome! I've become a big fan of utilizing Airbnb, as I think it's a great way to experience the local life while still having comfortable accommodation. It's also a great way to support local people renting out their apartments instead of the bigger hotel chains.
Romantic Suite Apartment near Colosseum and the Roman Forum
https://www.airbnb.com/rooms/3308548
Price: $96+ USD per night
View Photos, Read Reviews & Check Availability
Guest review: "The apartment was in a great location, very quiet little lane way and really handy to local attractions and restaurants. The bed was lovely and comfy and on our one cold day, the heating made it super cozy. Lovely restaurants nearby including one that the host personally recommended and ended up being one of our faves – La Carbonara. Also, the roof deck was great too! A nice surprise. Perfect communication from the friendly host who was very responsive to our questions during our stay." – Victoria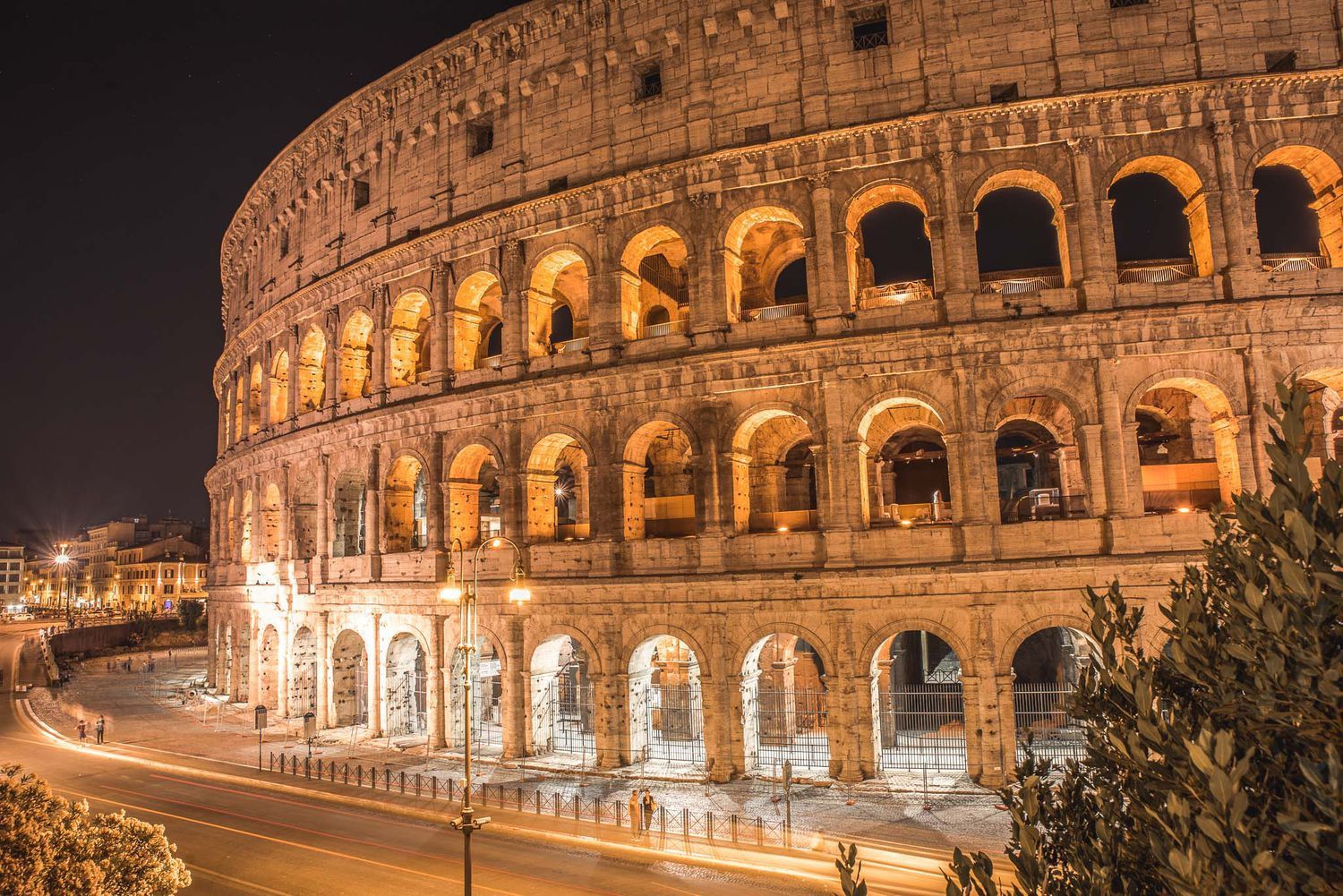 ---
Trevi Fountain Luxury Home (Airbnb PLUS)
https://www.airbnb.com/rooms/5534126
Price: $608+ USD per night
This conveniently located apartment is beautiful and luxurious! It's walking distance to some of Rome's best attractions and has outstanding reviews. Previous guests have raved about stellar service – not to mention the exceptional and simple check-in and check-out process.
With outstanding amenities and a modern and chic feel, this luxury home has everything you'd need for a comfortable stay.
View Photos, Read Reviews & Check Availability
Guest review: "We had an absolutely amazing time! The apartment was super chic and comfy with everything we could possibly need for our stay (even a bottle prosecco in the fridge on arrival!). Carlo and Joey were so lovely, checking in on us during our stay and were really helpful letting us leave our cases on the last day while we went out due to a late flight. Plus the amazing location (right by the Trevi Fountain), we couldn't of had a better stay. Hugely recommend this apartment and would love to return! Thank you so much :)" – Chris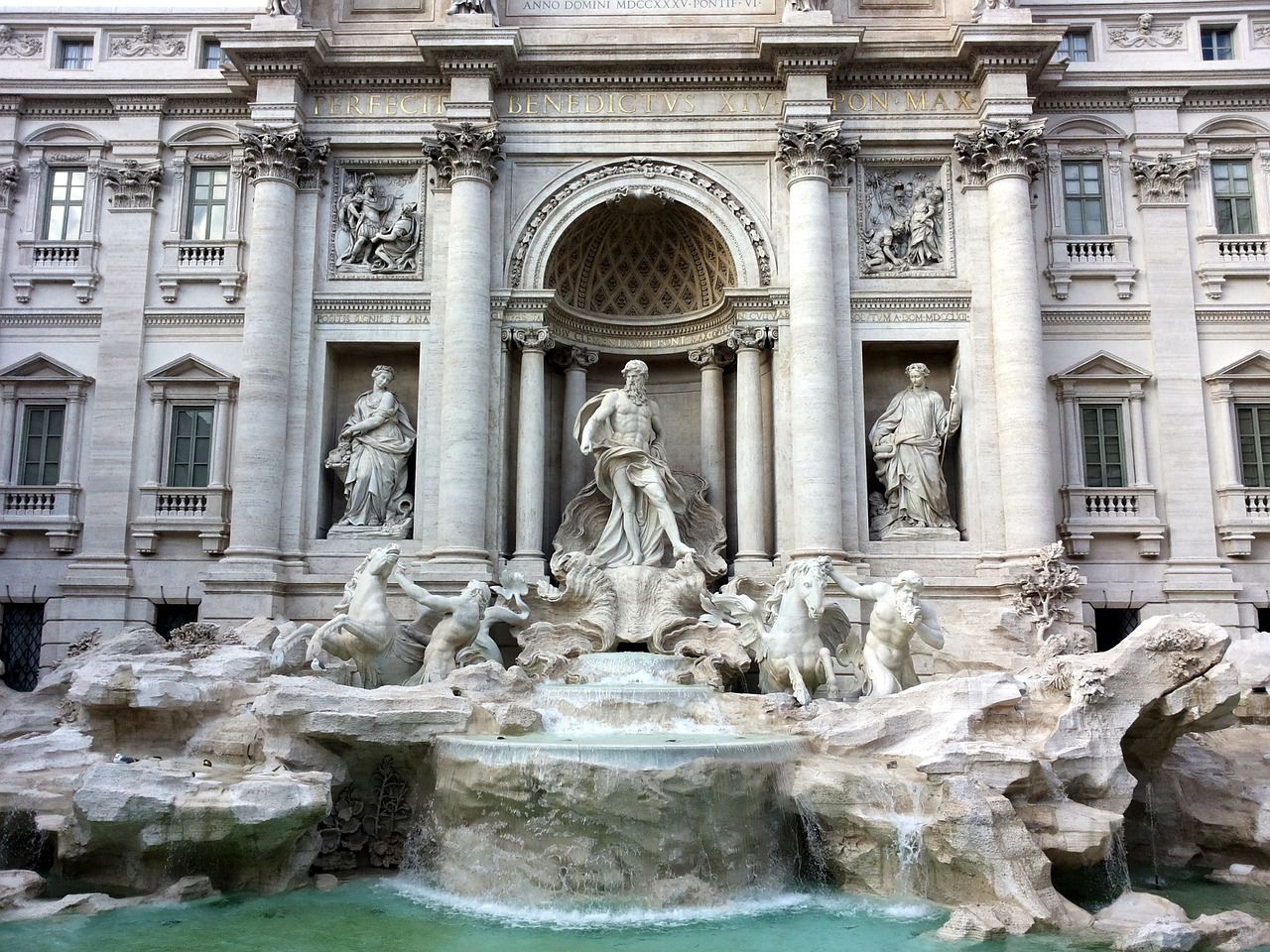 ---
When I visit Rome for shorter visits, I always like to stay near the Termini train station! It makes it super easy to check-in and check-out, is very well-connected to public transportation, and there are tons of awesome places to stay. Here are a few of my top picks and recommendations for Rome hotels:
The Hive Hotel

: With its immaculately clean rooms and luxurious modern design, it's no surprise that the hive is consistently reviewed as being the best value in Rome! Perfect location, tasty food, and excellent prices! Definitely, the perfect way to begin your Italian holiday!

Hotel Impero

: One of the best-selling hotels in Rome, Hotel Impero is located within walking distance of the train station, has excellent prices, and comfortable rooms. There's a decent breakfast included, 24-hour reception, and it's got a gorgeous furnished terrace overlooking Rome's rooftops and the nearby Opera Theater.

Hostel Carlito

: If you're a backpacker on a tight budget and looking for a decent hostel, then this is exactly where you should stay! It's just a 10-minute walk from the station, has clean & comfortable rooms, and is one of the most affordable dorm beds in the city!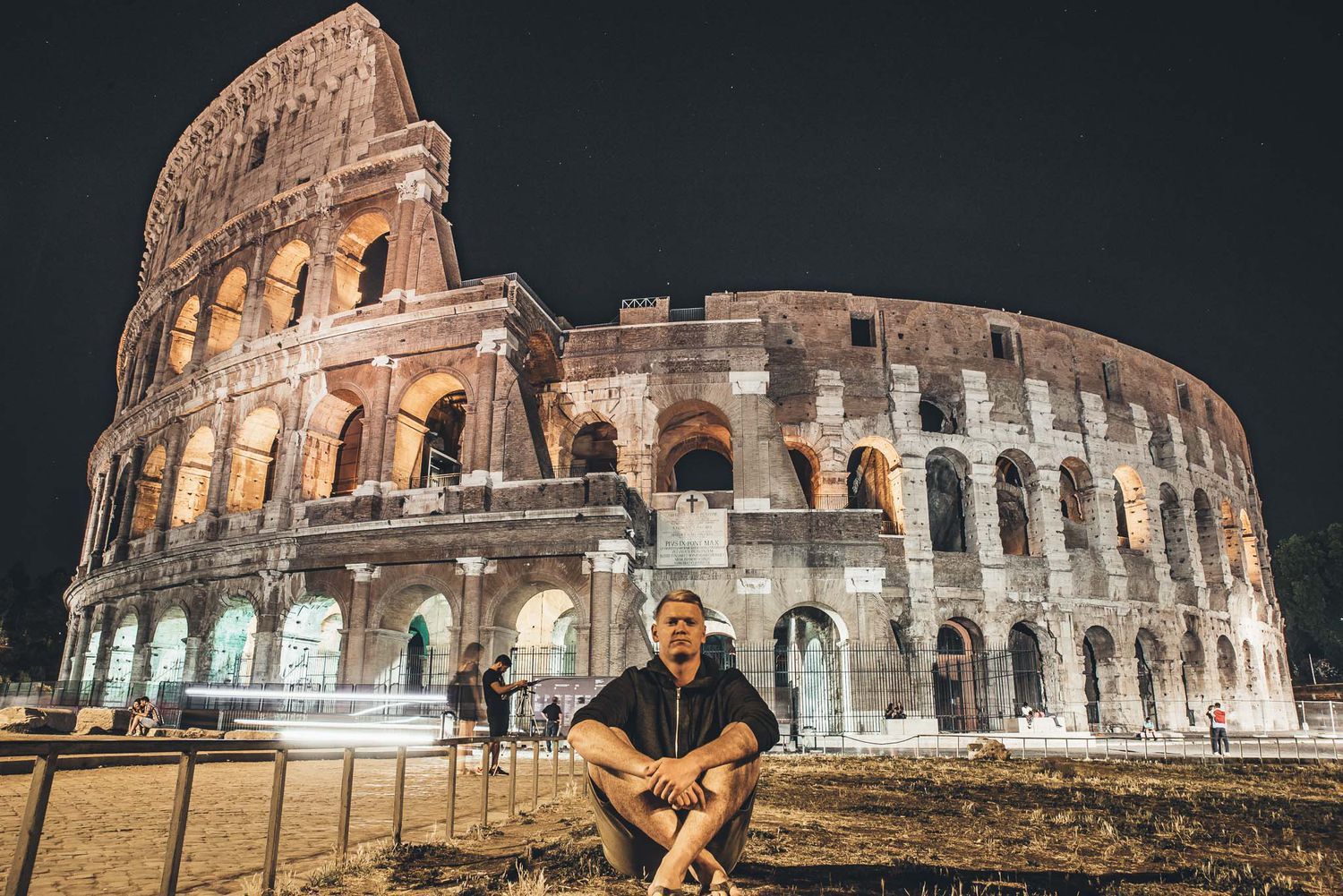 ---
What To Do In Rome In 3 Days
"Three days in Rome, I laid my heart out, I laid my soul down, I'll always remember, three days in Rome." -Sheryl Crow
---
Rome Itinerary Day 1: The Colosseum, Roman Forum + more!
"You should see the Colosseum Spaniard. Fifty-thousand Romans… watching every movement of your sword… willing you to make that killer blow…" – Proximo, Gladiator
Rome is essentially one big museum, and if you love history, you'll revel in a getaway to this Italian city. For your first day in Rome, a visit to two of the world's most famous ancient landmarks is in order.
The Colosseum and the Roman Forum – both icons in Rome in their own right – attract tourists in droves year on year. People from all over the world go to The Colosseum to walk the same steps that gladiators, emperors, peasants, and wealthy Romans walked.
At the Roman Forum, you can truly immerse yourself in the Rome of old. Both of these impressive and historical buildings in Rome offer unique experiences that really get to the heart of Roman culture.
If you've got a loaded weekend ahead of you, make sure you account for some long queues. A tour through both of these will take a good chunk of the morning & afternoon, but simply cannot be missed! If you want to see the best of Rome in just three days, keep reading!
---
The Colosseum
When we think of Rome, we think of the Colosseum, and seeing it in person is truly other-worldly. Whether during the day as a steady stream of traffic circles it, or at night as it glows from within, the Colosseum is the definition of breathtaking.
It was the biggest amphitheater in the world when it was erected in 80AD, where gladiators fought for their lives, spectators cheered and Roman leaders watched on. Be sure to sit awhile and take it all in, and definitely join a tour to get the full experience and inside access. (Keep reading for my Colosseum tour tips.)
https://parcocolosseo.it/area/colosseo/
Price: € 2.00 per person for full-day access.
You can also book a guided tour of the Colosseum, Roman Forum and Palatine Hill. This way you can skip the queues and get a professional guide of these three incredible monuments.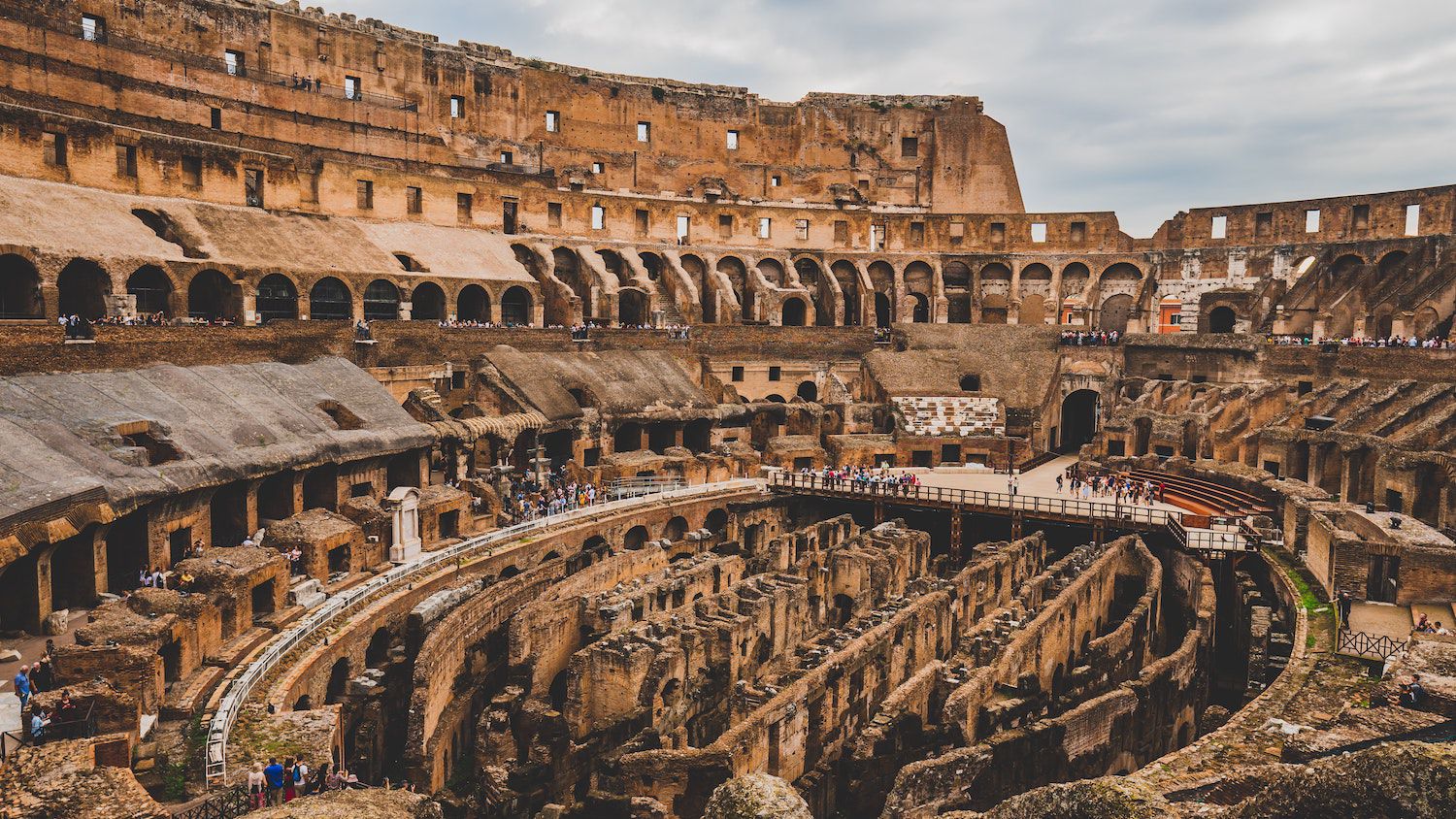 ---
The Roman Forum
The Roman Forum also has an entry fee, but trust me, it's worth every penny. This major landmark was once Rome's central public square and the basis for everyday life for many Romans. It saw elections and major speeches, trials and executions, and processions of Emperors.
It was where friends and foes met and people bought and sold wares. Now it's one of the world's most iconic architectural sites, and 5 million tourists a year make their way through the relics that remain. The Roman Forum is a walk through ancient history.
https://parcocolosseo.it/area/foro-romano/
Price: Your day-pass for The Colosseum also covers the entrance fee for The Roman Forum. These bundles sometimes include access to their neighbor, Palatine Hill, another of Rome's most ancient relics.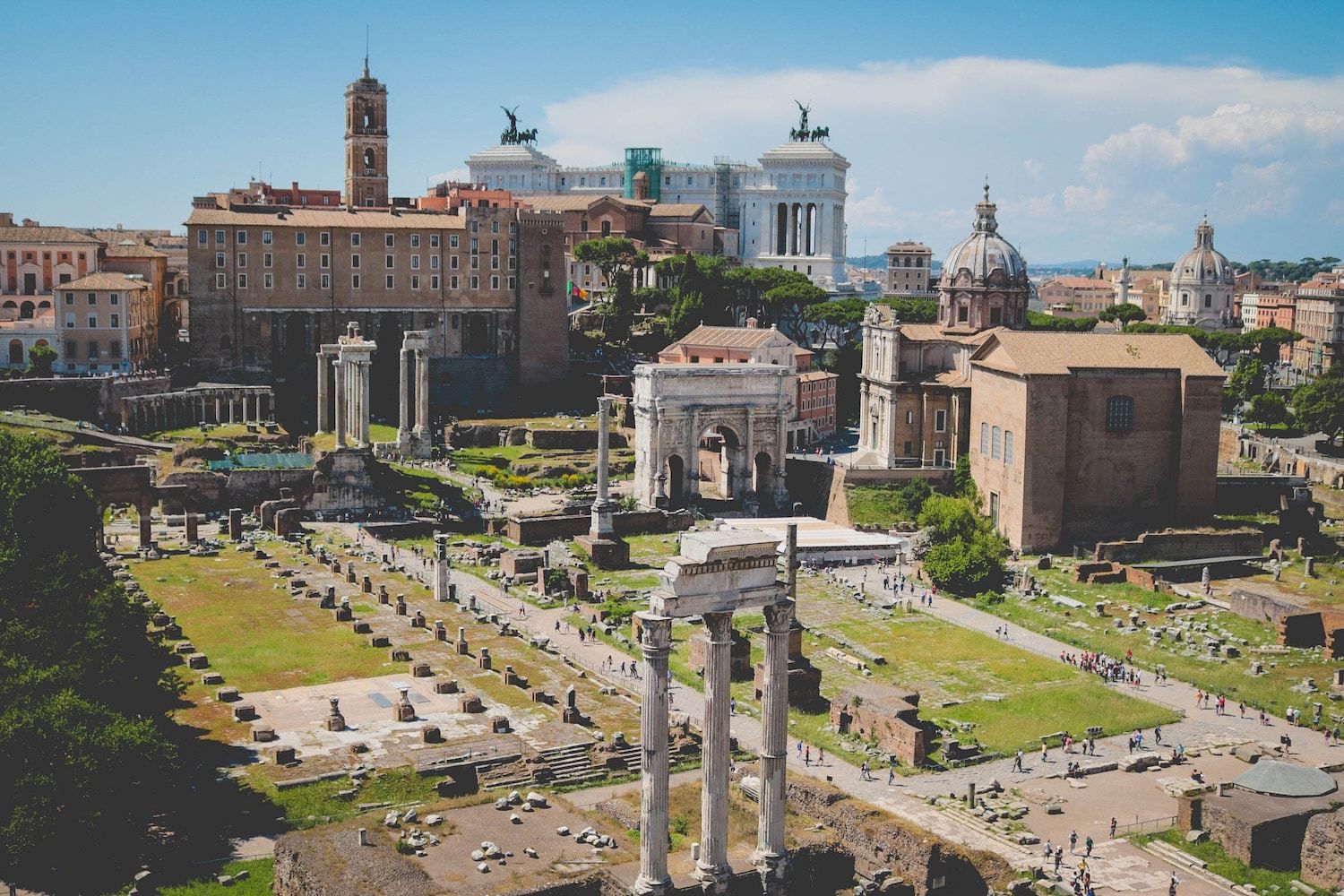 ---
Tours for The Colosseum & The Roman Forum
The monuments are open most days of the year, with more limited hours in the winter months, but are typically quite busy. It's highly recommended to book a packaged combo for fast-track entrance and guided tours.
I've been on a guided tour through the Colosseum twice now, and both times I learned so much fascinating history and fun facts. If you only book one tour while in Rome, make sure it's one of these:
Rome: Skip the Line Colosseum, Forum, and Palatine Hill Tour

: "

Visit the incredible Colosseum with a skip-the-line ticket. Learn about the fascinating secrets and history of the building with an official guide. Explore the ancient ruins of the Roman Forum and Palatine Hill for a truly unforgettable experience.

"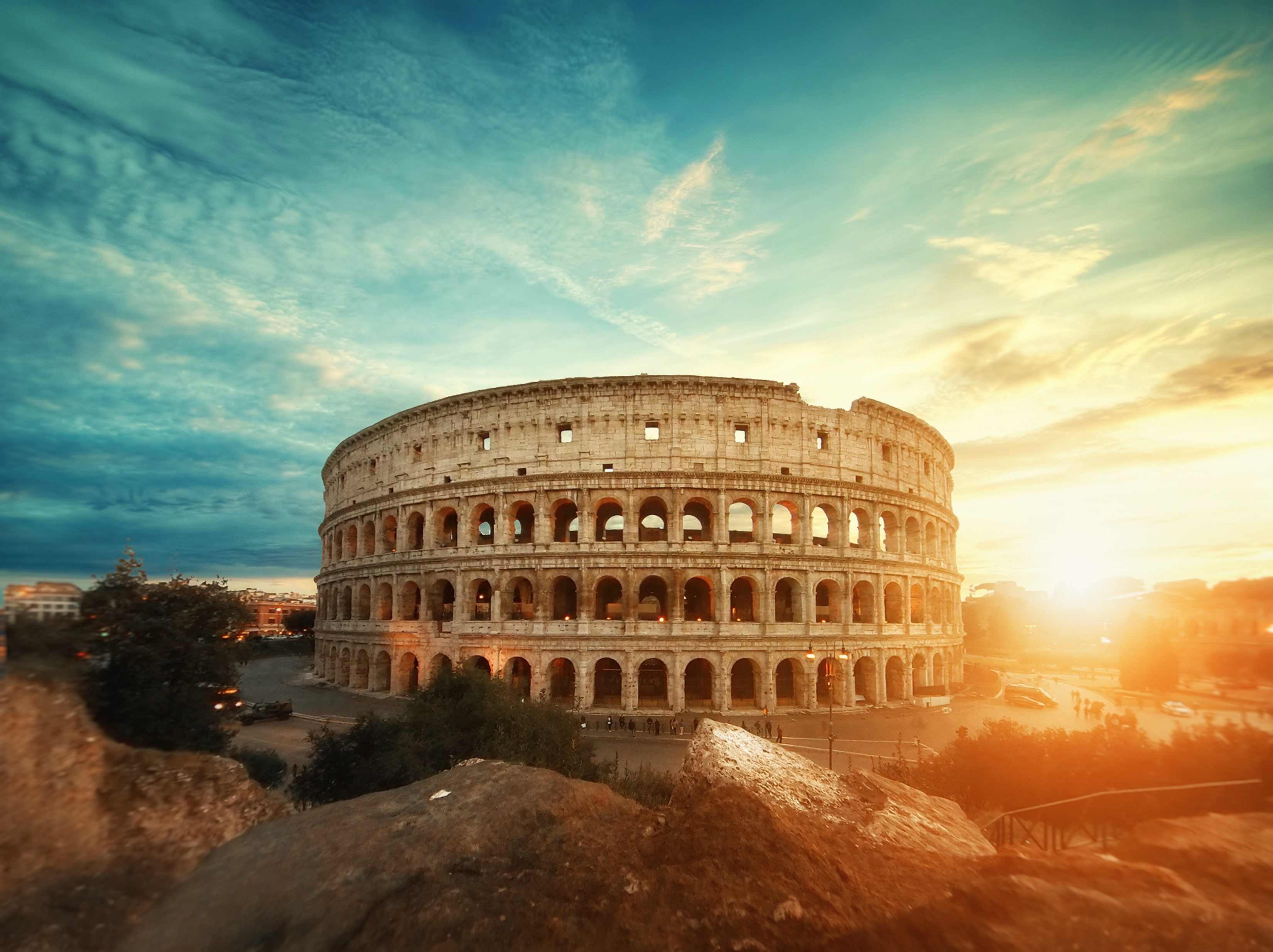 ---
La Bocca Della Verita
While you're in the vicinity of the Colosseum and the Forum, you're very close to one of Rome's best-kept secrets, La Bocca Della Verita. There's nothing quite like it in the world.
Meaning "The Mouth of Truth" in English, La Bocca Della Verita is a kitschy yet charming Roman tradition. For the cost of a gold coin donation, you can place your hand and arm in the "mouth" of the lion sculpture.
Legend says that if you are an untruthful person, the lion will bite your hand clean off. The Mouth of Truth was immortalized in the classic film Roman Holiday (more on that later). Are you game?
---
Tiber River
Walking along the Tiber River is one of the best free things to do in Rome. I did it myself quite often when I lived in Italy! I'm obsessed with all the different bridges, beautiful buildings, and relaxing Roman vibes.
While this walk is great at any time of the day, it's particularly enjoyable during sunset, when the golden hour lighting hits the Roman monuments just right. It's the best place to experience your first sunset in the Eternal City!
I'd suggest beginning around Castel Sant'Angelo, and walking down to Ponte Sisto, which is the main entrance to Trastevere, my favorite neighborhood in Rome (more on that later).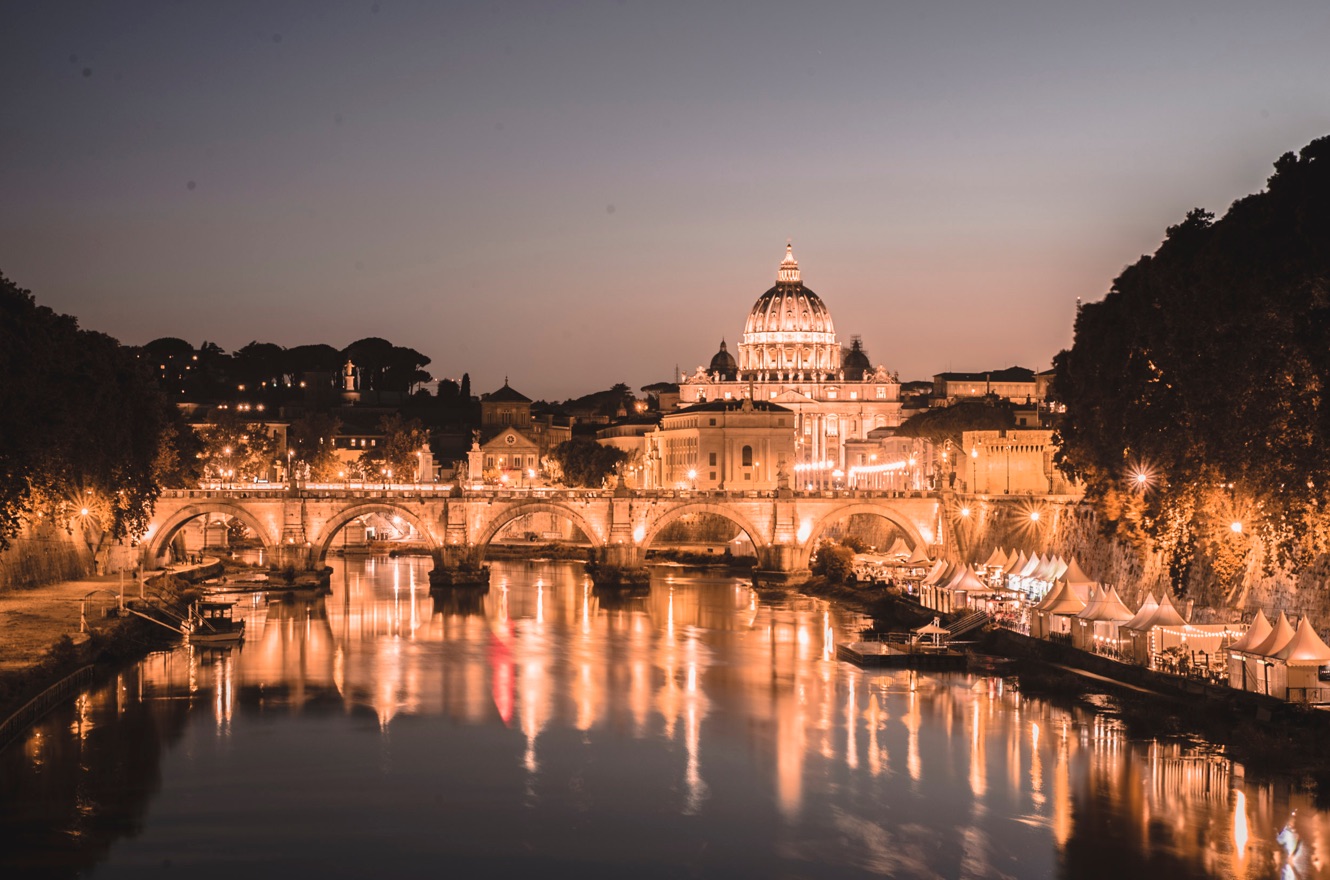 ---
Trevi Fountain
To conclude your first day in Rome, I'd suggest you pick up a bottle of delicious Italian wine and some cheap glasses and make your way to the iconic Trevi Fountain. It's arguably the best place in the city for some classic people-watching, meeting fellow travelers, and soaking up the lively atmosphere.
Rome is a city that is filled with popular landmarks, and I think it's quite nice to do a lot of sight-seeing during both the day and at night! The city does a great job at lighting up all the attractions, and the Trevi Fountain really must be seen at night.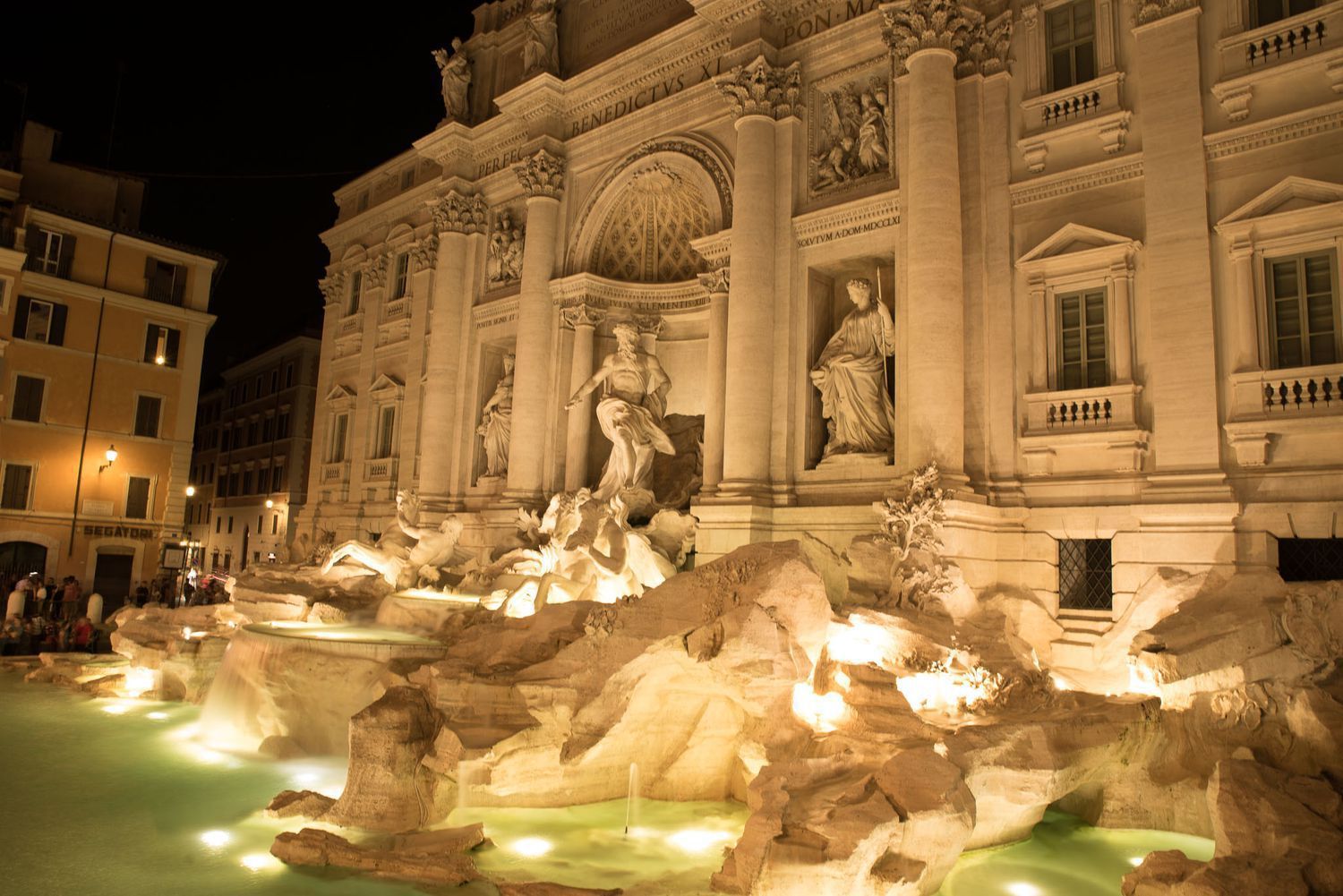 ---
Rome Itinerary Day 2: The Vatican, The Sistine Chapel & St Peter's Basilica
"I just love Rome. It really does cast a spell on you." – Alec Baldwin
Yesterday you experienced incredible relics of Ancient Rome for yourself. Today I hope you're up bright and early to visit the home of the Catholic Church and one of the greatest museums in the world – the Vatican!
Pass through the Vatican walls and you are in the presence of greatness. Put on your most comfortable shoes because these Vatican attractions will see you covering a lot of distance!
If you have time, I highly recommend either joining a Vatican tour group or splurging on a private tour for yourself. It will give you a once-in-a-lifetime opportunity to learn so much about this amazing destination from the most informed guides in the business.
If you can't manage to fit a tour in, definitely pay for an audio guide to learn on the go as you make your way through the Vatican.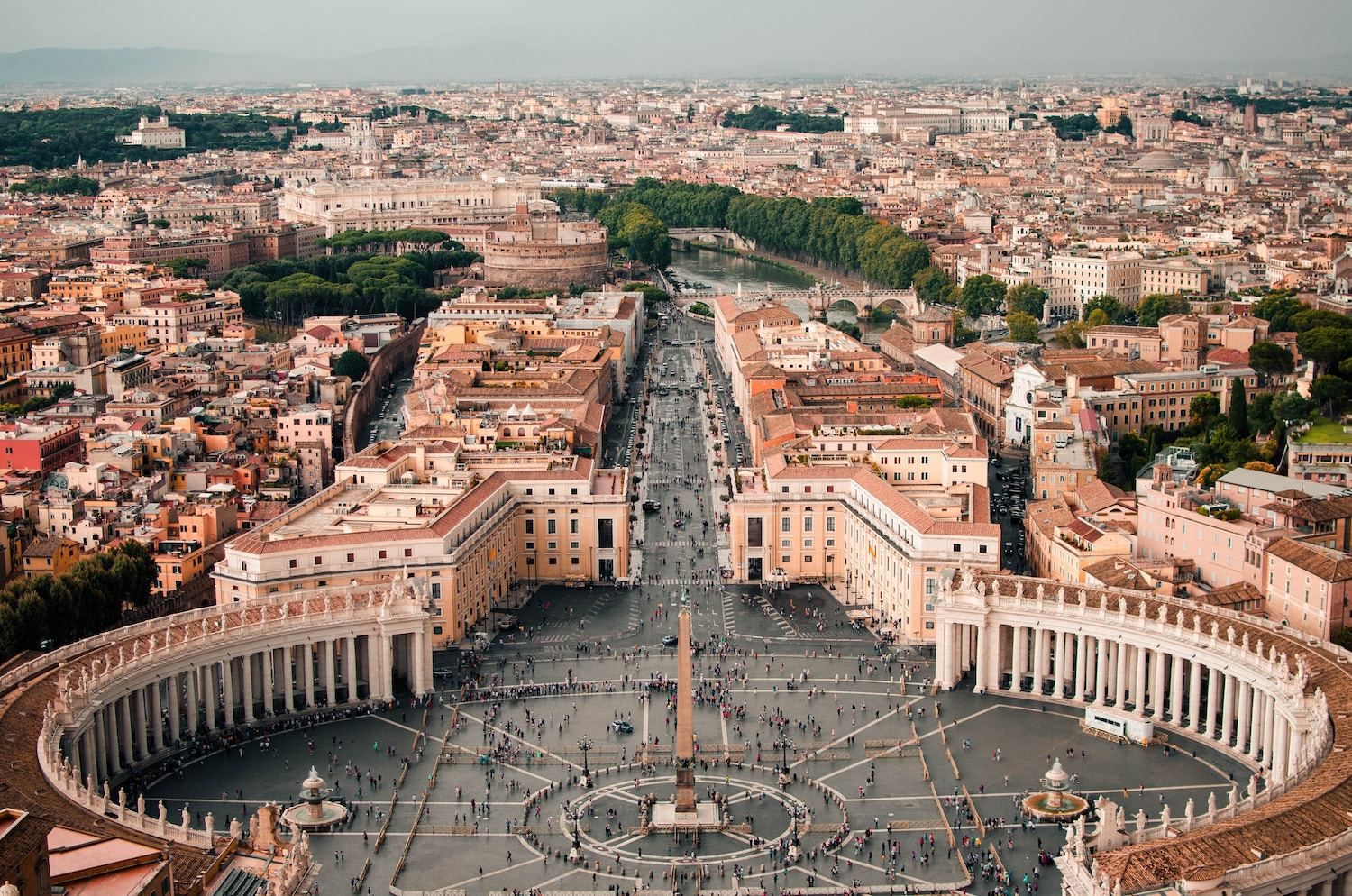 ---
The Vatican Museums
When people talk about visiting "The Vatican", they are more than likely talking about the Vatican Museums. which houses a collection of over 70,000 pieces of Christian artwork. This includes paintings, sculptures, and famous masterpieces.
The Vatican Museums were built in 1506 and welcome over 7 million visitors per year!
And speaking of masterpieces…
---
The Sistine Chapel
http://m.museivaticani.va/content/museivaticani-mobile/it/collezioni/musei/cappella-sistina/storia-cappella-sistina.html
The pièce de résistance of the Vatican Museums is without a doubt Michelangelo's mind-blowing Sistine Chapel. The Italian master worked for many years during the early 16th century, painting the chapel's ceiling that still impresses today – beautifully maintained, protected, and widely loved.
When you are in the confines of the Sistine Chapel, you are in the place where the Church leaders enter "conclave" to elect a new Pope. If you happen to be in Rome on the rare occasion when a conclave is occurring, you obviously won't have access to the Sistine Chapel.
But you will be in a city that is brimming with energy and excitement, as thousands upon thousands of visitors make the pilgrimage to St Peter's Square to await the big announcement.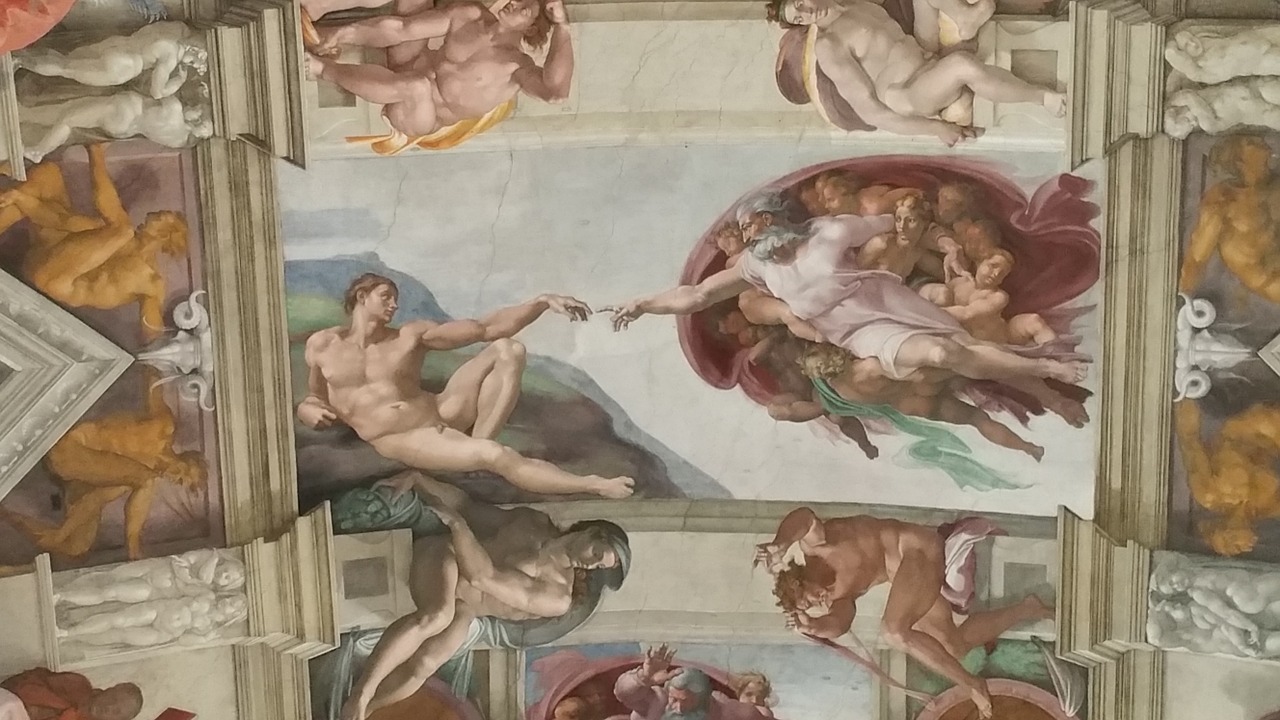 ---
St Peter's Square & Basilica
St Peter's Basilica is the largest church in the world and is located within Vatican City. Consecrated in 1626, this Catholic shrine is one of Rome's most busy tourist attractions, welcoming visitors of all denominations to experience its majesty.
It's home to some of the Catholic Church's most important artworks, including Michelangelo's Pietà, the statue of St Peter, and even the church itself. It's recognizable "dome" was designed by the Church's favorite artist – Michelangelo.
St Peter's Square is a sprawling plaza located in front of its famous Basilica. It's renowned for its unique design and monuments, which include the central Egyptian Obelisk, fountains, and enormous columns forming the iconic curved borders.
Did you know: Vatican City is its own independent country located within Rome with a permanent population of just 1000 people. However, you don't get citizenship in the Vatican by being born there. It is only given to those who reside in the Vatican for work or office.
Vatican travel tip: If your week in Rome falls during the last week of the month, you're in luck! The Vatican Museums offer free entry to the public until 2 pm on the last Sunday of each month. Vatican City is simply a must-see in Rome.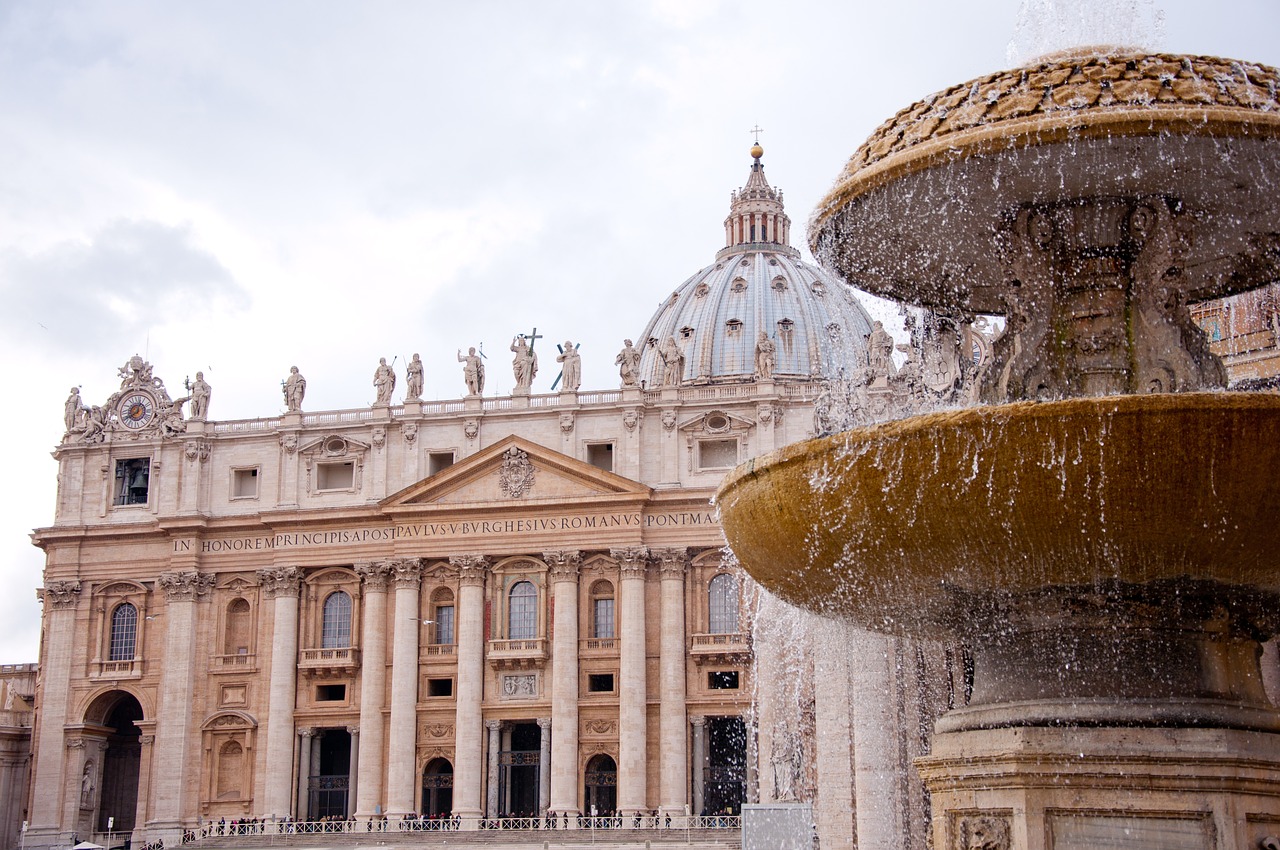 ---
Piazza Del Popolo
https://www.rome.net/piazza-popolo
Located at the beginning of Via Flaminia, the Piazza del Popolo is where foreigners arrived in the city during the era of the Empire.
While it may be a 35-minute walk from St. Peter's Square, I'd suggest enjoying a leisurely stroll over to Piazza del Popolo after your day exploring the Vatican! It's one of the largest and most visited squares in Rome, and marks the beginning (or end) of three major streets in Rome!
Marvel at the massive Egyptian obelisk in the center of the piazza, head inside the churches Santa Maria dei Miracoli and Santa Maria in Montesanto, and soak up the splendid Renaissance atmosphere.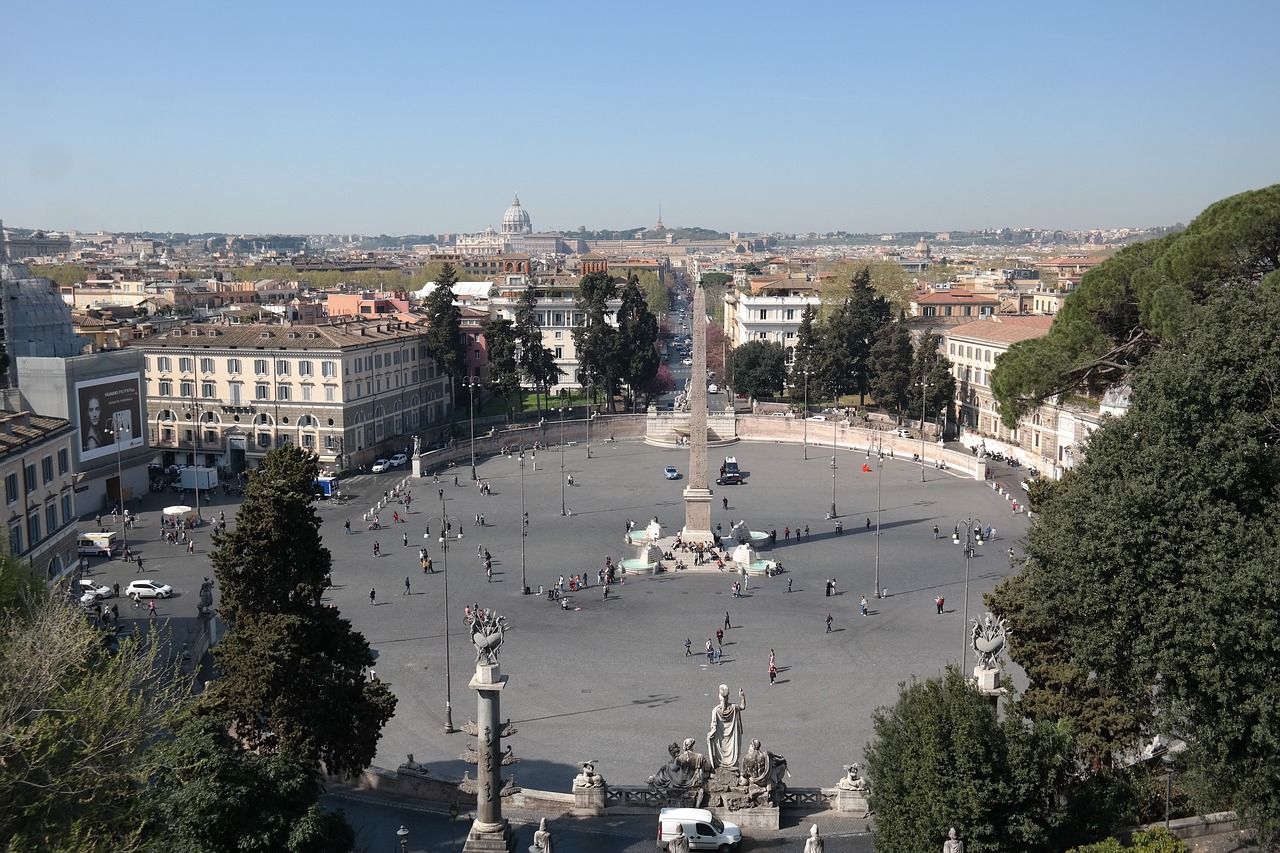 ---
Villa Borghese
While standing in Piazza Popolo, look out for the staircase that leads up the Villa Borghese! This will lead to an absolutely stunning view of the square, and is also one of the best places to watch the sunset in Rome!
If you've got some time to spare before the sunset, use it to explore Villa Borghese, one of Rome's largest public parks. It's a popular choice for joggers and cyclists to get in their daily exercise, but also a relaxing place to wind down on the grass. It offers an escape from the chaotic streets with loads of things to do, gardens to explore, and is also completely free!
---
Rome Itinerary Day 3: Rome's Fountains, Castles & Churches
"All roads lead to Rome." – Roman proverb
Your third and final day in Rome needs to be spent wandering through the parts of Rome that house some of the most ancient, important, and beautiful remnants in all of Europe.
Make sure to tick these landmarks off your bucket list as you make your way through the cobblestone streets Romans have walked for thousands of years…
---
Victor Emmanuel II Monument (Wedding Cake)
https://www.rome.net/monumento-vittorio-emanuele-ii
I'd recommend starting your third day in Rome at The Monumento Nazionale a Vittorio Emanuele II, also known as the "Altare Della Patria" – "The Wedding Cake". It's one of the most eye-catching landmarks in the city, is centrally located, and provides a great photo opportunity.
This building has a panoramic terrace that offers a marvelous view of Rome's skyline. Inside its walls, you'll find The Museum of the Risorgimento, which is a museum dedicated to the unification of Italy. This is simply a must-visit on your trip to Rome! It's open every day from 9:30 am – 7:30 pm (last admission at 6:45 pm).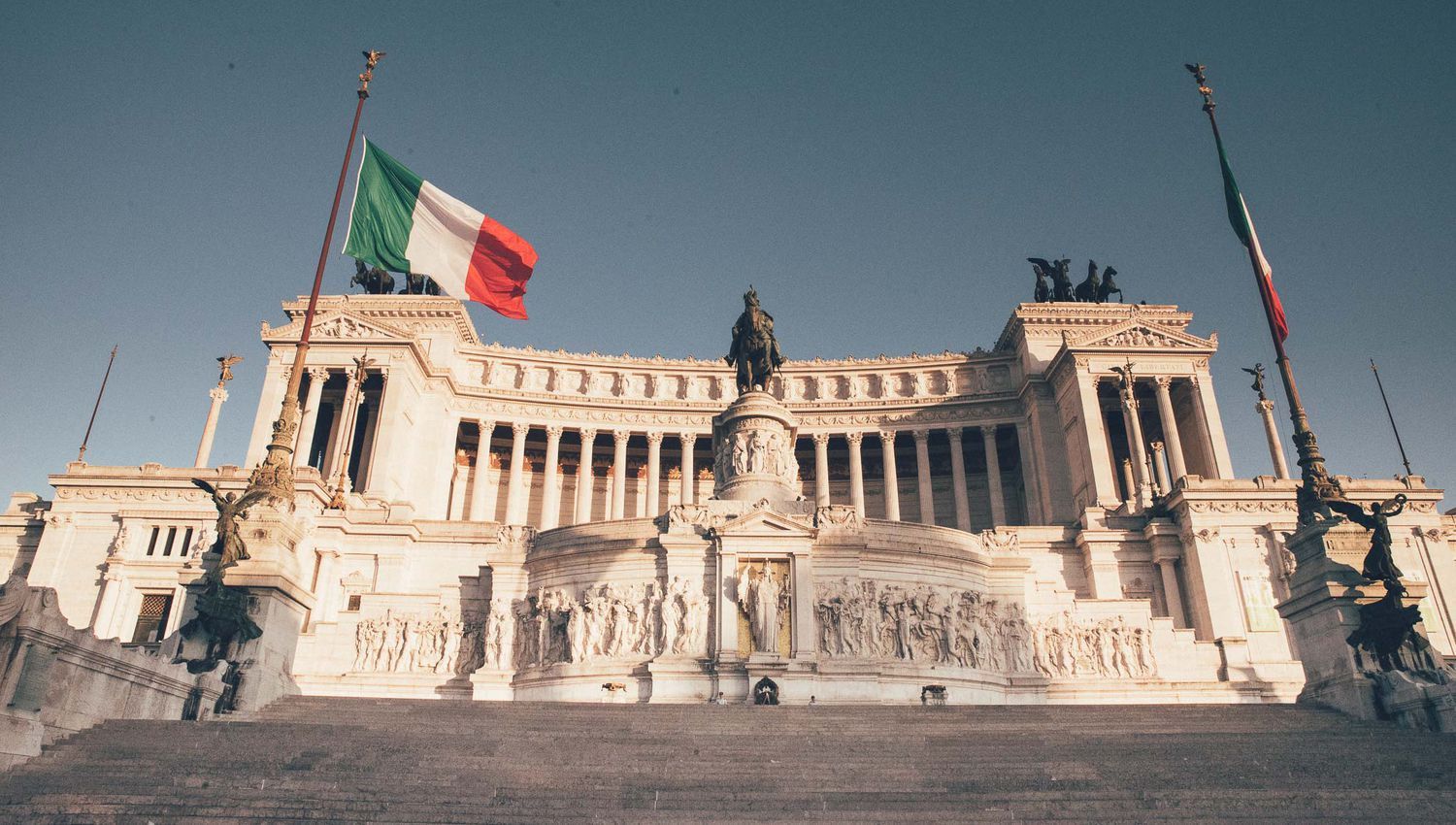 ---
The Trevi Fountain
Rome's largest and most visited fountain, The Trevi Fountain has stood in the heart of the city since 1762. No matter what time of the year you visit Rome, you'll find tourists at the Baroque fountain's edge, throwing coins over their left shoulder with their right hand into the water.
This tradition is meant to ensure the coin thrower returns to Rome. Over $1 million dollars per year is thrown into the Trevi Fountain, and the city uses this money to give back to the needy. I've done this and I returned to Rome, so maybe there's something to it?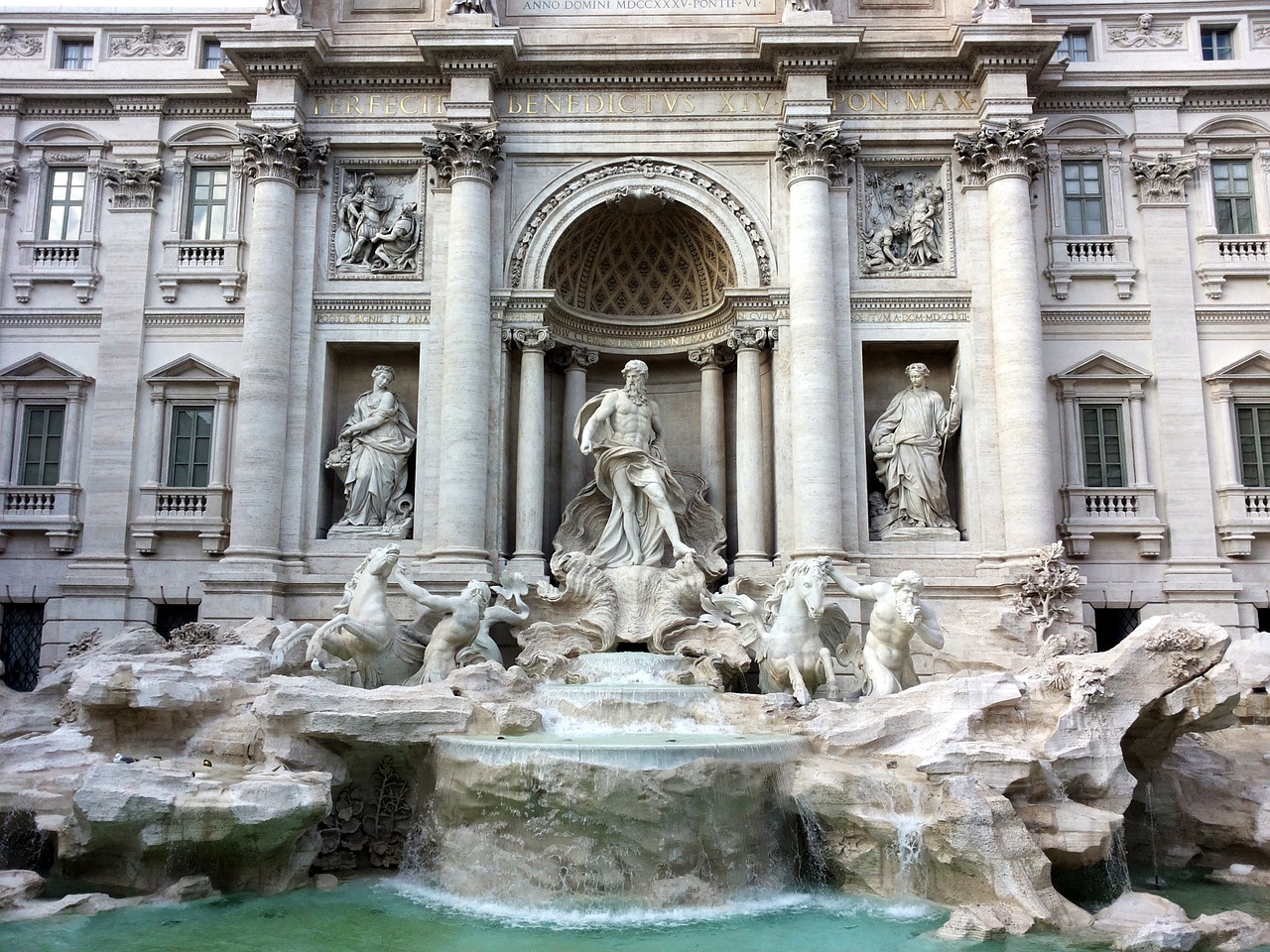 ---
Piazza Navona
Another stunning Roman square, the Piazza Navona is a fantastic place to sit and take in the beauty of a historical pocket of the city while enjoying a strong Italian espresso.
Do you remember the scene in Angels & Demons where Tom Hanks tries to save the priest who is weighed down and pushed into the fountain? And others jump in to help? That fountain is the incredible Fountain of the Four Rivers (Fontana Dei Quattro Fiumi) right in the center of the Piazza Navona.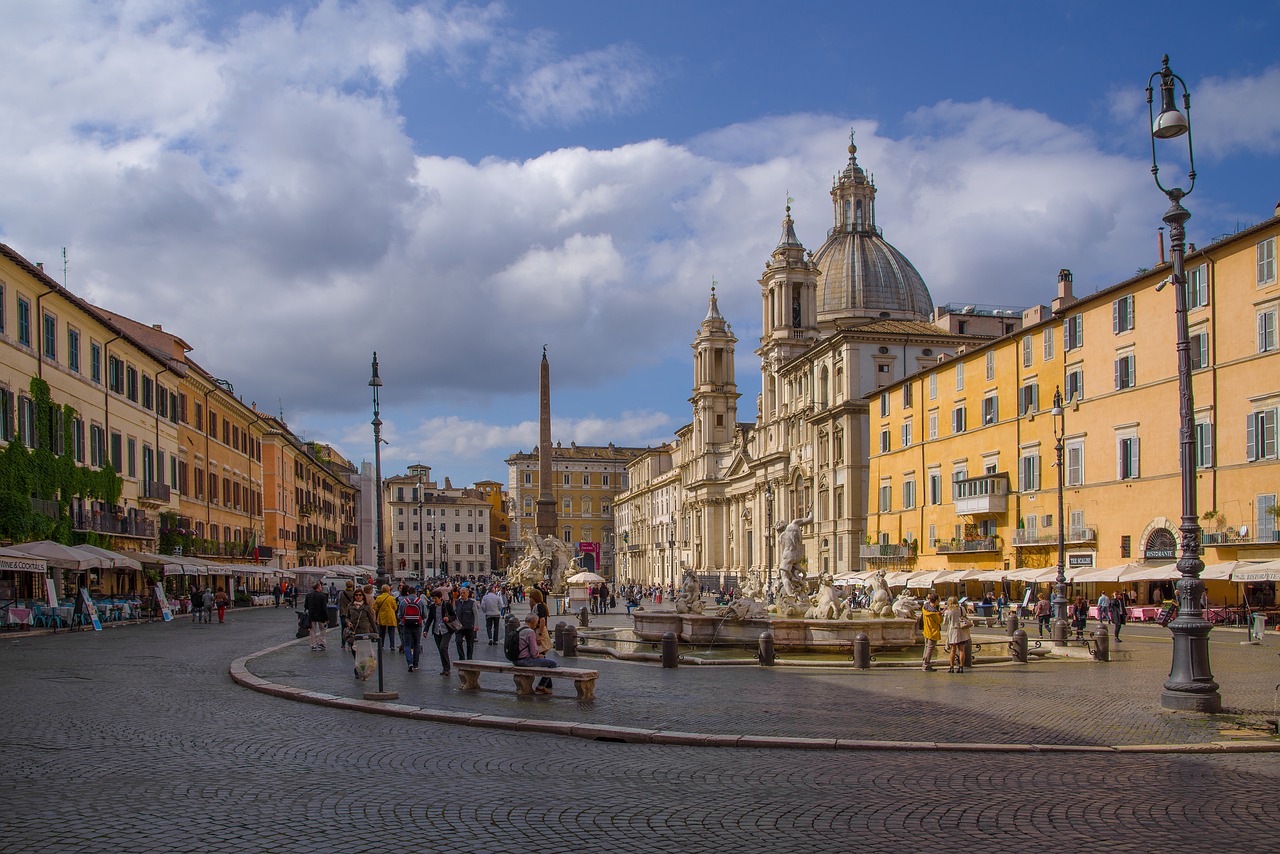 ---
The Spanish Steps
The Spanish Steps climb high above Rome's central Piazza di Spagna, and the 174 steps are a heavily trafficked tourist hotspot. These steps (which date back to 1752) are already crowded by a steady stream of people day and night; Rome's city laws forbid taking a break on the steps. Get your photo and move along – there'll be time to rest and eat gelato later!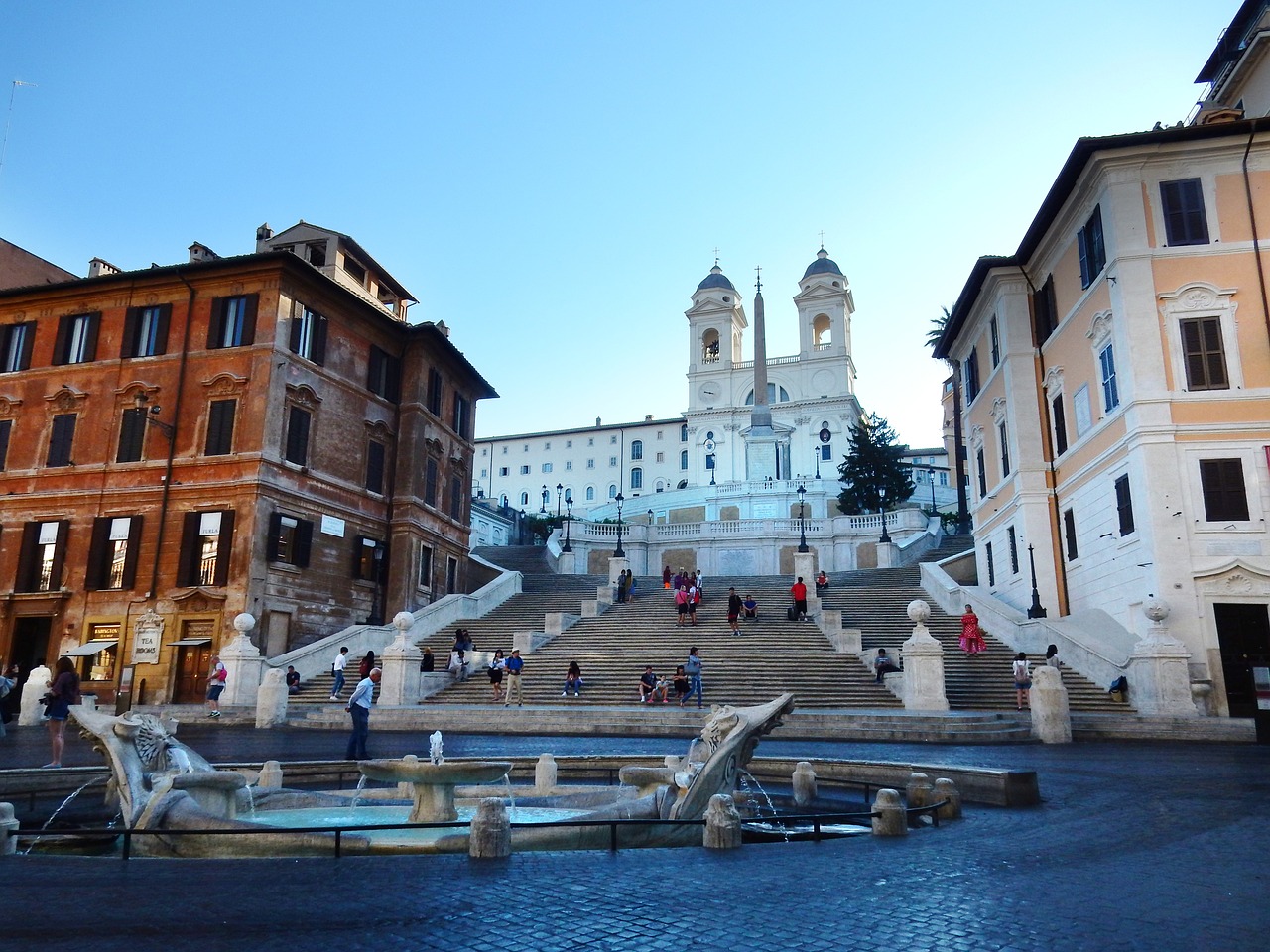 ---
The Rome Catacombs
https://www.rome-museum.com/catacombs-of-rome.php
At the top of the Spanish Steps, you'll find one of many of Rome's Catacombs, the smaller Italian counterparts of the massive Parisian underground graveyard. Rome actually has quite a few Catacombs but many of the big ones are a fair distance from the rest of the city's attractions.
The creepy Capuchin Crypt is a few minutes' walk from The Spanish Steps. This crypt is said to be the resting place of over 4000 Capuchin monks. Their bones were used to create elaborate displays within the crypt, which you can still see today.
---
The Pantheon
http://www.polomusealelazio.beniculturali.it/index.php?it/232/pantheon
A major church brimming with daily visitors, the Pantheon has stood tall and proud in the heart of Rome since 125AD, surviving wars, raids, and the destruction of many other Roman relics. What makes the Pantheon so unique is its domed roof with a perfect 8m diameter circle cut in it.
On a pleasant day, the rays of sunlight streaming through the dome and into the church make for an unearthly experience. But don't worry! When it rains, the clever design of the dome ensures it rarely makes it inside.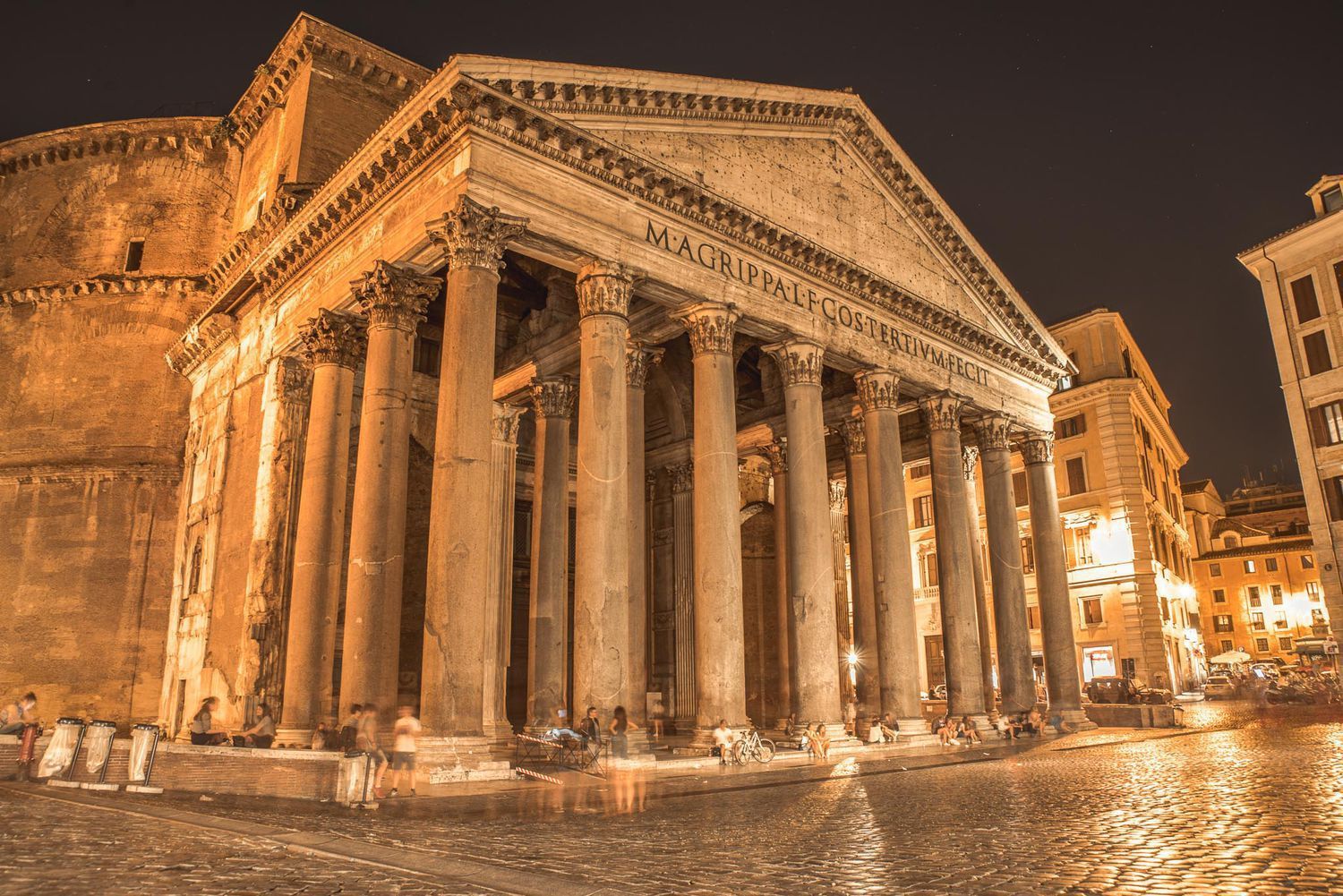 ---
Castel Sant'Angelo
http://castelsantangelo.beniculturali.it
Rome's most famous castle is in fact a mausoleum commissioned by Emperor Hadrian in 123AD as a tomb for himself and his family. Almost 2000 years on, the Castel Sant'Angelo is now a strong symbol of Rome and a fantastic museum to enjoy.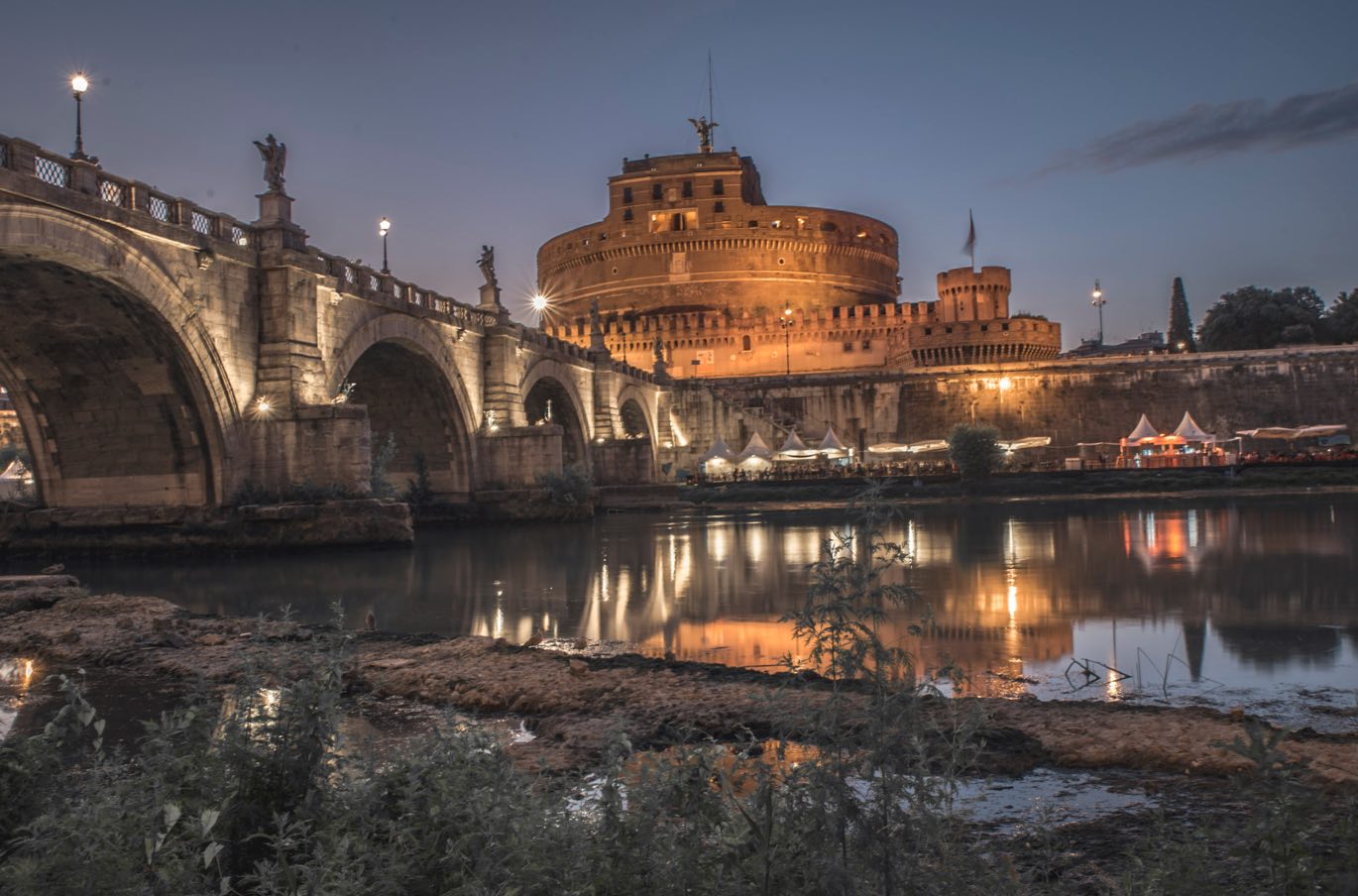 ---
Travel Trips For 3-Day Itinerary In Rome
Rome tends to be a bit expensive, so take advantage of special deals or bundled packages

when and where you can. If you are a full-time student or concession holder, be sure to flash your card as this can result in a significant discount off your entry fee. The cards also give you a percentage off many store purchases.

While Rome is a relatively safe city and on par with Paris or London in terms of crime rates, be aware of your surroundings at all times – especially when on the Metro or at well-known tourist spots.

The big attractions are unfortunately magnets for scammers, thieves, and pickpockets who can pick a tourist with ease.

Speaking of scammers,

walk away from anyone trying to give you a rose, a bracelet (or anything really) in Rome

. This is a common scam that can spell trouble – just walk away and don't take anything from anyone on the street!

Don't forget to book travel insurance before your trip for peace of mind! I ALWAYS make sure to book a policy before getting on an airplane, as if things do go wrong – it's nice to know you're protected!

Things in Rome don't always go according to plan. Romans seize the moment, and this applies to most areas of their lives. Driving, parking, eating, drinking, laughing – they do it all with gusto and passion. If you're a traveler that prefers to run to a strict schedule, Rome is the place to throw caution to the wind and just relax! When in Rome, do as the Romans do!
https://www.youtube.com/watch?v=tMnD1pvEXFs
---
Nightlife Spots To Visit In Rome In 3 Days
While this itinerary is chalked full of museums, churches, and historical landmarks – you simply can't visit Rome without experiencing its vibrant nightlife. Now that we've covered what to see in Rome in three days, let's talk about what to drink!
Take to the streets & check out some of Rome's best bars! I could write a ton about this subject, but here are a few to start with:
Campo Di Fiori
During the day Campo di Fiori is widely visited by tourists and locals alike – all patrons of the flower, fruit, and vegetable stalls. At night this market transforms into one of the main nightlife hubs in the city. It's a large rectangular piazza, and has a wide selection of bars to choose from! It's super fun, busy, and a great place to meet fellow travelers!
I spent a lot of time here during my study abroad days, and it's pretty common for people to bring their own alcohol and just hang out in the square (as it's always packed)
While the younger crowd prefers spots like "The Drunken Ship" or "Sloppy Sams", there are several other more relaxed places to grab a drink as well. You can check out this article on different Bars in Campo Di Fiori if you want to pick out one that suits your style!
---
The Jerry Thomas Project
https://www.thejerrythomasproject.it/en/regole/
Few small and cozy bars in Rome attain the interest The Jerry Thomas Project has, and this is all thanks to their members-only policy. Entrance requires a €5.00 membership fee, an advanced booking that can ONLY be made by telephone, AND a daily password that is hidden on their website homepage.
Designed in an old-timey speakeasy style, the cocktails here are not just made – they're crafted. The whole experience is slightly over the top (I'm not kidding – there's a list of further rules of entry on their website), but it's so cool and unique it's totally worth adding it to your three days in Rome itinerary!
https://www.youtube.com/watch?v=X4qrd6lDWWE
---
Club Derrière
https://www.facebook.com/clubderriereroma/
Decked out in the style of a 1920's jazz bar, Club Derrière really has earned its spot on so many lists of Rome's best bars. Its location is hidden in the back of a restaurant and can only be found on a dark and tiny backstreet near The Pantheon. The cocktails, atmosphere, and live music are worth the hunt for the elusive Club Derrière door.
---
Stravinskij Bar
https://www.roccofortehotels.com/hotels-and-resorts/hotel-de-russie/restaurant-and-bar/stravinskij-bar/
If the weather is warm when you're in Rome (luckily, that's much of the year), make a beeline for Stravinskij Bar. There you'll find delicious bar snacks and amazing drinks all served al fresco in their luxurious private garden and piazza.
Stravinskij Bar is located within the elegant Hotel de Russie near the Piazza del Popolo and is fun, lively, and chic. It's also a way to enjoy a visit to this celebrity hotspot hotel without paying the price to stay there.
---
Shopping in Rome
All tired out from seeing the many monuments, landmarks, churches, and fountains? Take a break from the tourist trail and hit the shops – Roman-style!
It will come as no surprise that Rome is incredible for shopping enthusiasts. After all, the rest of Italy is a shopper's paradise, so the capital will blow you away. Here are a few shopping destinations in Rome where you may want to spend some Euros…
Via del Corso:

Arguably Rome's most well-known shopping street, The Via del Corso is located right in the heart of Rome near many of the city's major attractions. Wander the narrow street that is jam-packed with a mix of upmarket boutiques and affordable chain stores.

Via Condotti:

Situated near the Spanish Steps, Via Condotti is the place to be and be seen. Expect lots of designer names from Italy and abroad.

Via dei Coronari:

A traditional ambling Roman street near the Piazza Navona, Via dei Coronari is a magnet for shoppers who come for its unique gift and souvenir stores. You'll even find fantastic gelaterias, cafes, and pizzerias galore. Ancient and gorgeous, Via dei Coronari is a terrific place to spend some downtime in Rome.

Porta Portese Market:

This flea market is held every Sunday, so if your three days in Rome fall over a weekend, head down to Porta Portese Market. Located in the Trastevere area, Porta Portese Market is the place to find a beautiful preloved Roman bargain to take home with you. Clothes, shoes, homewares, antiques, books and jewelry are on offer across hundreds of stalls.

Campo de Fiori:

This fresh food market is held in the central Piazza of the same name every day. Stallholders sell flowers and fresh produce, continuing the square's historical use that dates back to the 15th century. Hang around after the daytime market and experience the Campo Di Fiori nightlife, which boasts great bars and amazing restaurants.
https://www.youtube.com/watch?v=fcPvyIoemoo
---
More Fun Things To Do in Rome in 3 Days
Maybe this is your second visit to the city, or you're lucky enough to have more than three days on your hands! If so, here are a few more ideas on fun activities and attractions to add to your Rome itinerary! days
Explore Rome on a Vespa
"When in Rome, do as the Romans do." – 4th century AD proverb
One of the most striking things about Rome is the sheer number of Italian Vespas on each and every street. They are stacked up on display in an array of eye-catching colors and will make you want to move to Rome and spend your days zipping around on your own.
If you have the proper licenses and certifications, consider renting a Vespa for a fun twist. But be warned: Italian drivers – Romans in particular – are notorious for their crazy, fast driving and relaxed attitude to road rules. They make it work, but that doesn't mean you should try to.
You can still experience Italian scooter fun while leaving it to the professionals, Opt for a Vespa tour of Rome. I recommend this highly-rated Airbnb Vespa Experience:
Enjoy Rome On A Vintage Vespa
https://www.airbnb.com/experiences/391866?
Price: $140+ USD (3 hours)
Review: "We were blown away by this tour! We knew it would be fun, and we would see a lot but we had no idea just how much we would see. The guides were funny and informative and stopped for several photo opps! He made up a route for us, but we had the option to pick and choose places we wanted to see. It was customized for us and we enjoyed every minute! Definitely an experience of a lifetime!" – Brooke, U.S.A
---
Rome By Vespa Sidecar With Cappuccino
Another similar option is a Rome Vespa Tour, where you can see the Eternal City's highlights from the view of a Vespa sidecar. That's not all – you also get to sip on a bold Italian cappuccino while you explore the Roman cityscape.
https://www.viator.com/tours/Rome/Rome-by-Vespa-Sidecar-Tour/d511-75037P3
Price: $123.20+ USD (3.5 hours)
Review: "Honestly I cannot recommend this enough. To go round Rome in a Vespa and sidecar was fantastic and the tour guide Luca was so knowledgeable he spoke very good English he had humour and passion and clearly loves his job. We paid the extra 15 Euros each yo be picked up and dropped off at our Hotel which was well worth it. The tour itself was awesome – great fun and the best way to see a wonderful city. Luca is a brilliant guide but the company is so professional I'm sure the others are great too – highly recommended we loved it"
Watch the video below to see if this would be something you'd be interested in doing yourself!
https://www.youtube.com/watch?v=omen8D1SibE
---
Ciampini
During my very first visit to Rome, my cousin (who had been living in Italy for years) took me to this small restaurant and gelateria called Ciampini Roma! Ro this day, it's the best gelato I've ever tried in the entire world, and I'd highly recommend adding this place to your Rome itinerary!
It's located about a 5-10 minute from Piazza de Spagna and the Pantheon, so make sure you make a quick pit stop here!
My favorite flavors are Pistacchio, Crema, and Nocciola. The staff are always super friendly, and will let you sample as many flavors as you want!
https://www.instagram.com/p/BveVxTBlHWk/
---
Mercato Centrale Roma
Conveniently located inside the Roma Termini train station, Mercato Centrale is an incredible new culinary endeavor. This delightful spot offers its visitors a wide range of authentic Roman food from a variety of artisanal vendors! Think of it as a one-stop-shop to try some real, authentic, and delicious Italian cuisine!
Expect good old Italian pizza, unique pasta, mouthwatering truffles, unbeatable tiramisu, and heaps more. Mercato Centrale is a fantastic destination for your Italian food bucket list!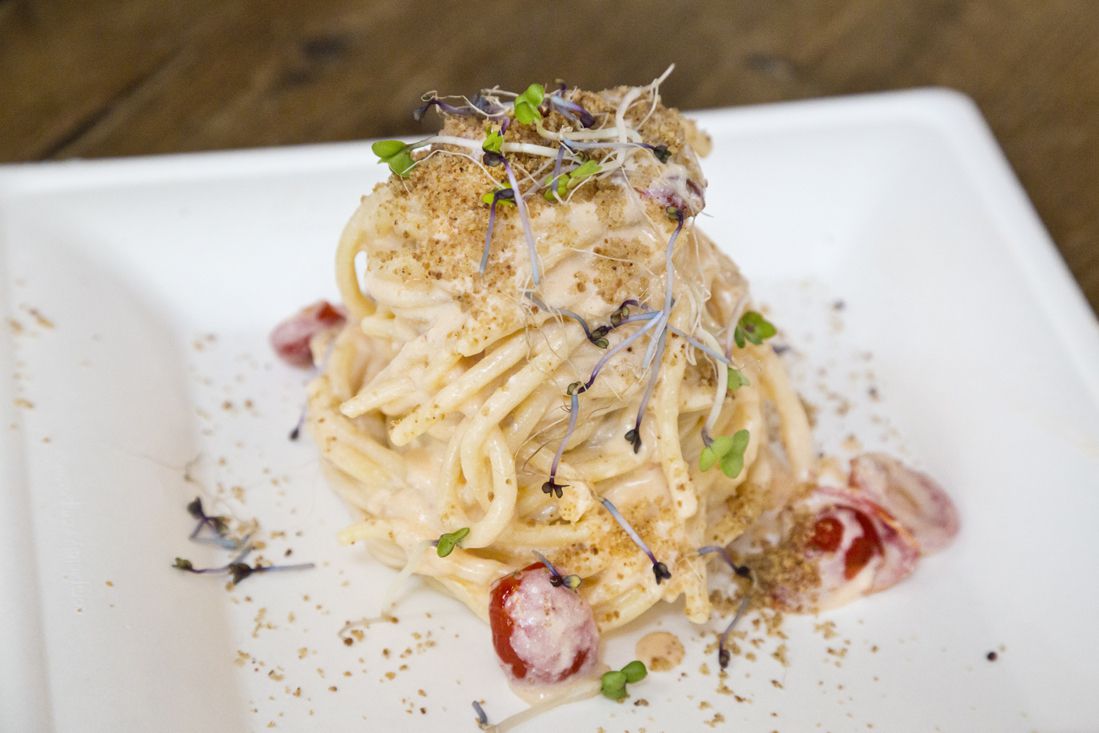 Give a quick read through my article 9+ Italian Dishes to Feast on in Rome to give you some ideas and recommendations on more of their products!
---
5 Movies to Watch Before Your Rome 3 Day Itinerary
Rome is a well-liked setting amongst filmmakers – and why wouldn't it be? The city's beauty sells itself. The historical buildings and unique cityscape make for visually stunning locales, and film directors from around the world have taken note.
Rome – as well as some of its most famous landmarks – has featured in many a major motion picture. The atmosphere in this Italian city is inherently romantic, which is why you'll see Rome in some of your favorite rom-coms.
Here are 5 films set in Rome to get you in the mood for your big Italian adventure: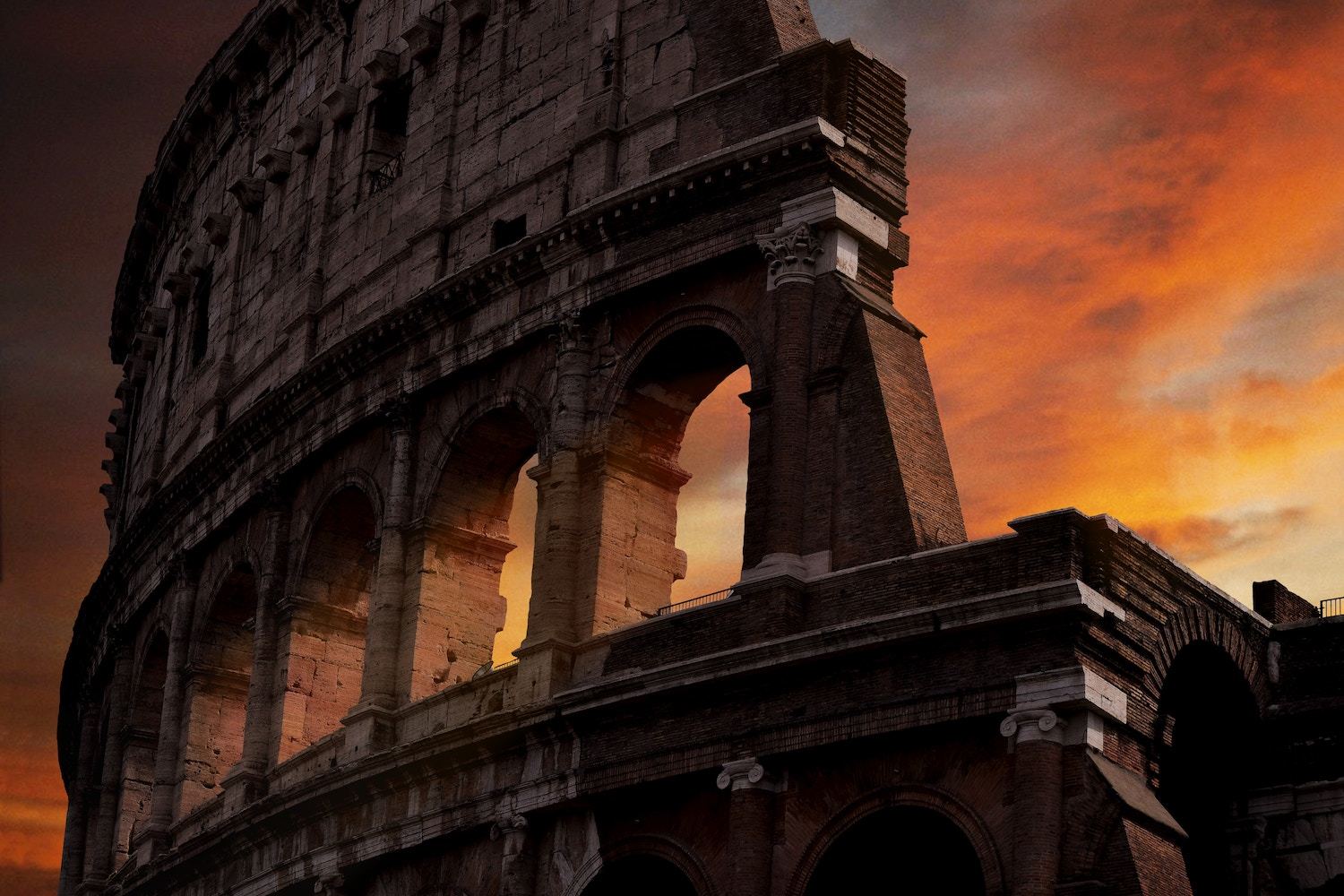 ---
Are There More Places To Visit In Rome In 3 Days?
While I do think this is one of the best and most action-packed Rome itineraries on the internet, I'd love to hear from you. Let me know your ideas on what to do in Rome for three days!
Rome is such a marvelous city, and I miss living there so much! Writing and compiling all this information has got me planning my own return to the Eternal City!
Have you been to Rome recently? What was your favorite thing to do, restaurant, tour, or anything you loved about your visit? I'd love to know!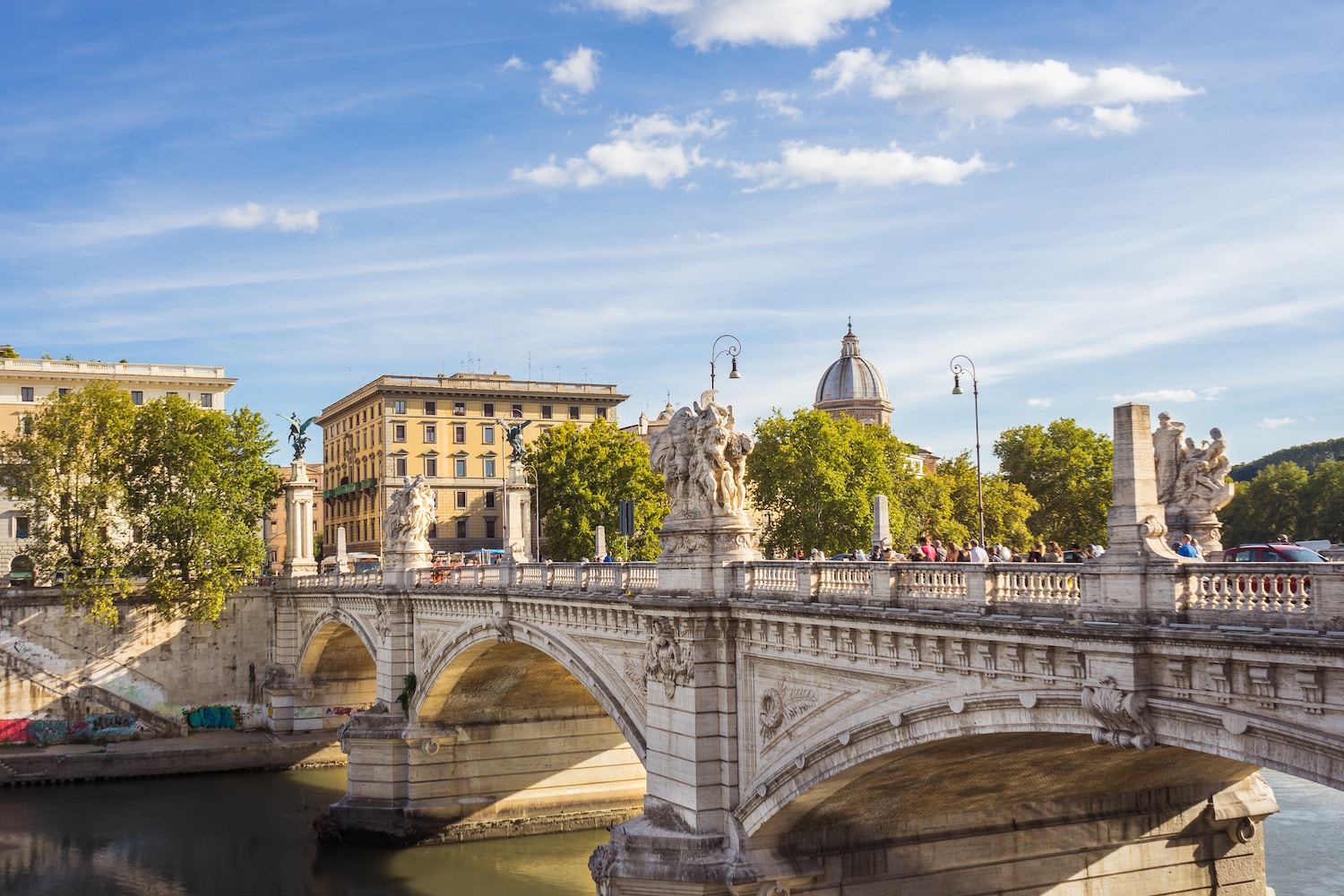 ---
Planning a trip to Italy?
Having lived in Italy for over two years, and taken several different trips around the country, my travel blog is filled with information! There are loads more fun and helpful posts about traveling in Italy! It's honestly one of my favorite countries in the world, and I'd love for you to check out a few more of my best Italy articles!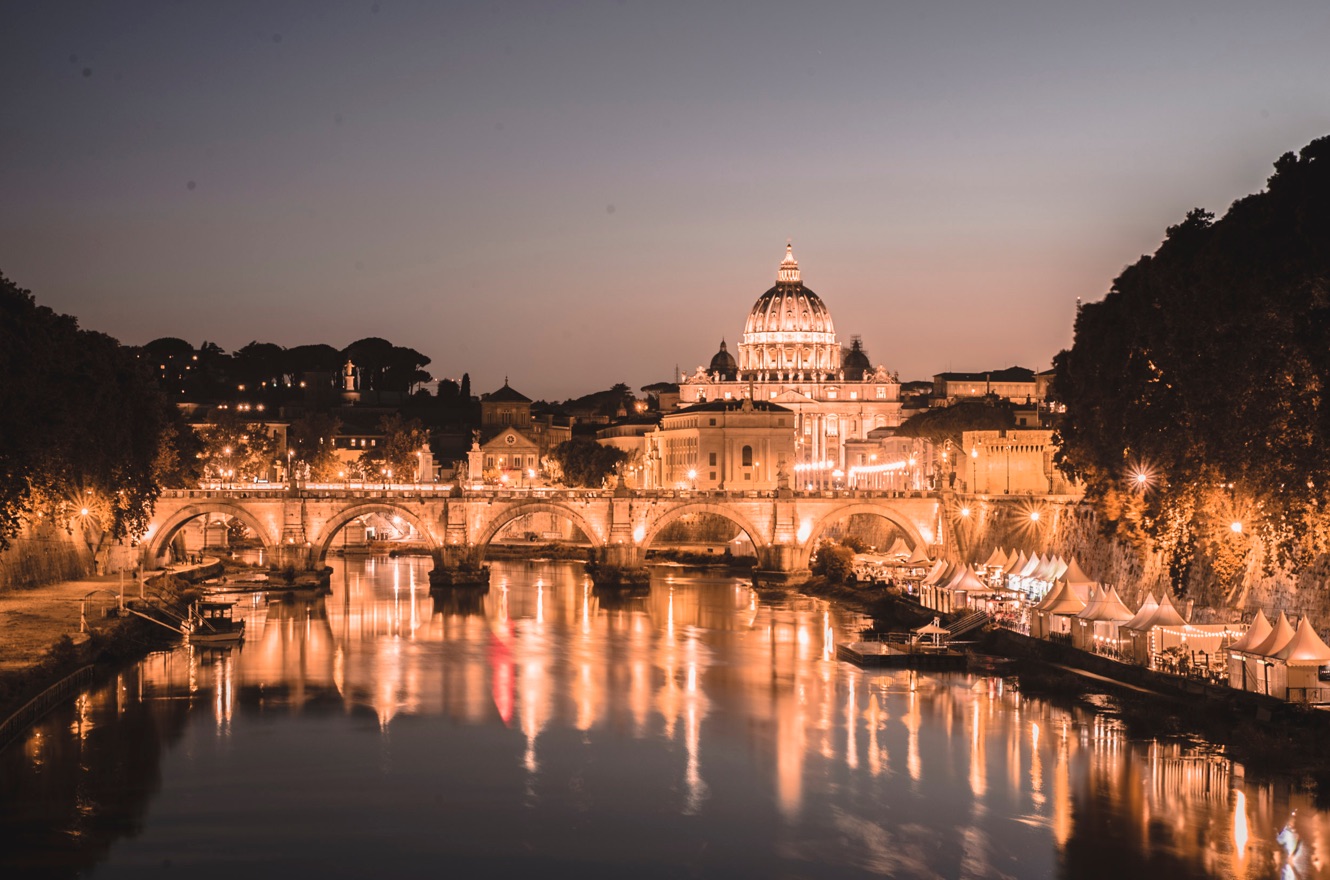 ---
Planning a Trip to Europe?
Heading to Europe soon and planning a multi-country visit? I've written guides, itineraries, and lots more fun inspirational content that can give you loads of ideas on the best things to do! Check out a few of these posts below, and let me know what you think!
---
THANKS FOR READING MY 3-DAY ROME ITINERARY!
SHARE THIS ROME 3-DAY ITINERARY WITH YOUR TRAVEL SQUAD!
Buon Viaggio!
https://www.jonesaroundtheworld.com/wp-content/uploads/2019/10/Rome-Itinerary-3-Days-.jpg
1000
1500
Dave
https://www.jonesaroundtheworld.com/wp-content/uploads/2017/03/logotry-1-1-300x106.png
Dave
2020-08-19 17:14:10
2022-10-05 20:35:26
The Ultimate 3 Days in Rome Itinerary & Travel Guide