Ah, Rome. The Eternal City. The place to experience all that is great about love and life, in the heart of one of the most historically significant cities in the world.
But we all know that even if you haven't experienced the Italian capital for yourself, their food is beyond compare and our collective love of it has spread to the far corners of the globe.
Mercato Centrale is an exciting culinary endeavor in the center of Rome, located right in the city's main Termini train station, and offers up traditional Italian and authentic Roman food from a range of artisan vendors. It's a must-visit on your next trip to this incredible city, and a chance to experience real Italian cuisine at its very best, along with some international options made with Italian ingredients (like sushi & ramen)!
So what better opportunity to list out my absolute favorite Italian dishes? These top 10 Italian foods must be tried on your next visit, as they are an experience all their own.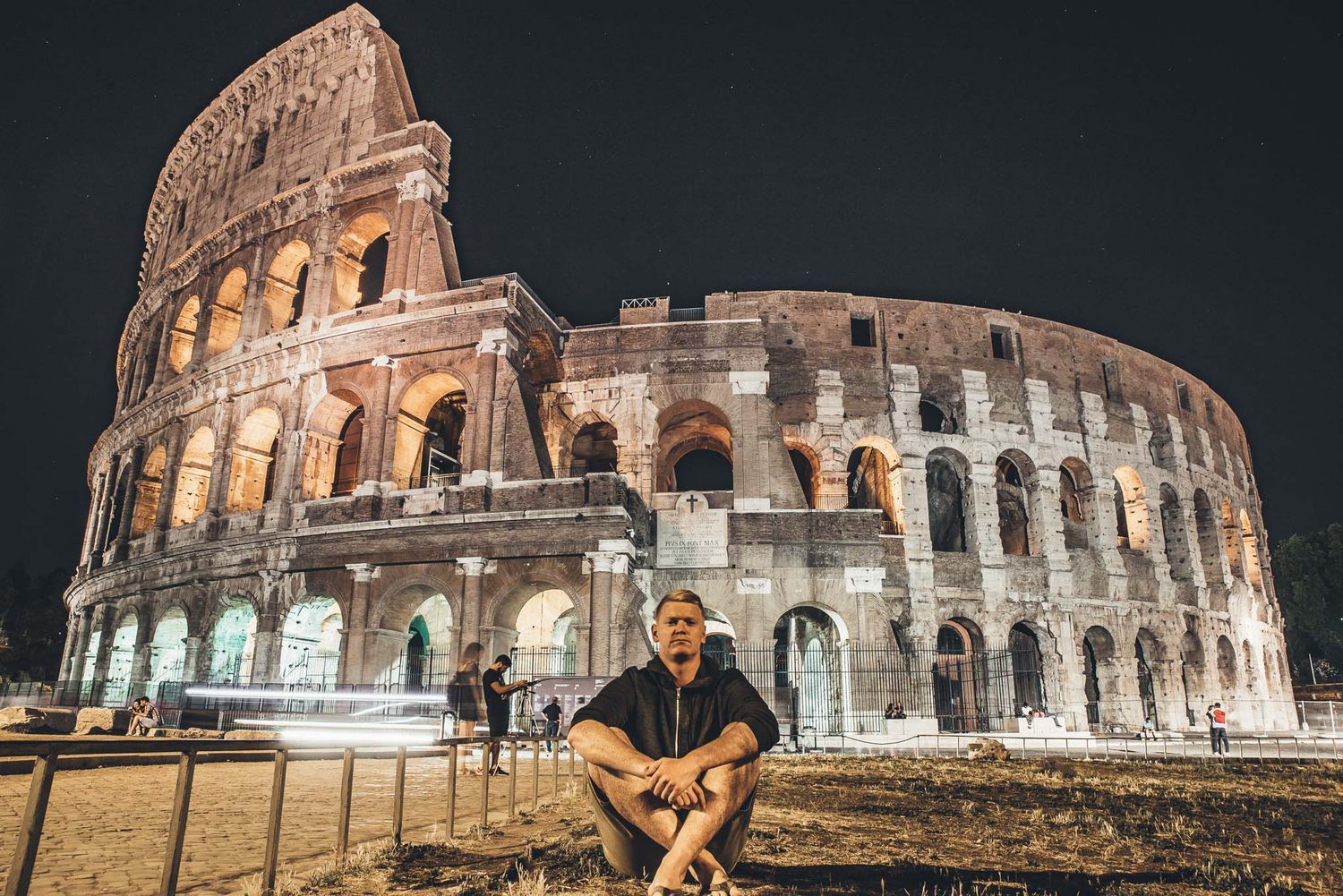 ---
1) Pizza
Who doesn't love pizza? I sure do, but there's no better place to enjoy a slice or five than the place where it all began – Italy!
This round dough, layered with an assortment of toppings of your choosing and baked until just right is best served up hot and eaten in front of the world's best backdrop. The immortal city of Rome.
Where to experience the world's best pizza at Mercato Centrale:
Il Trapizzino – by Stefano Callegari
A triangular pizza pocket filled with traditional recipes.
Recommended dish: The chicken cacciatore pizza pocket.
La Pizza – by Pier Daniele Seu
The pizza dough is made with different types of flour, a long leavening, and a very small amount of yeast that makes the dough easy to digest.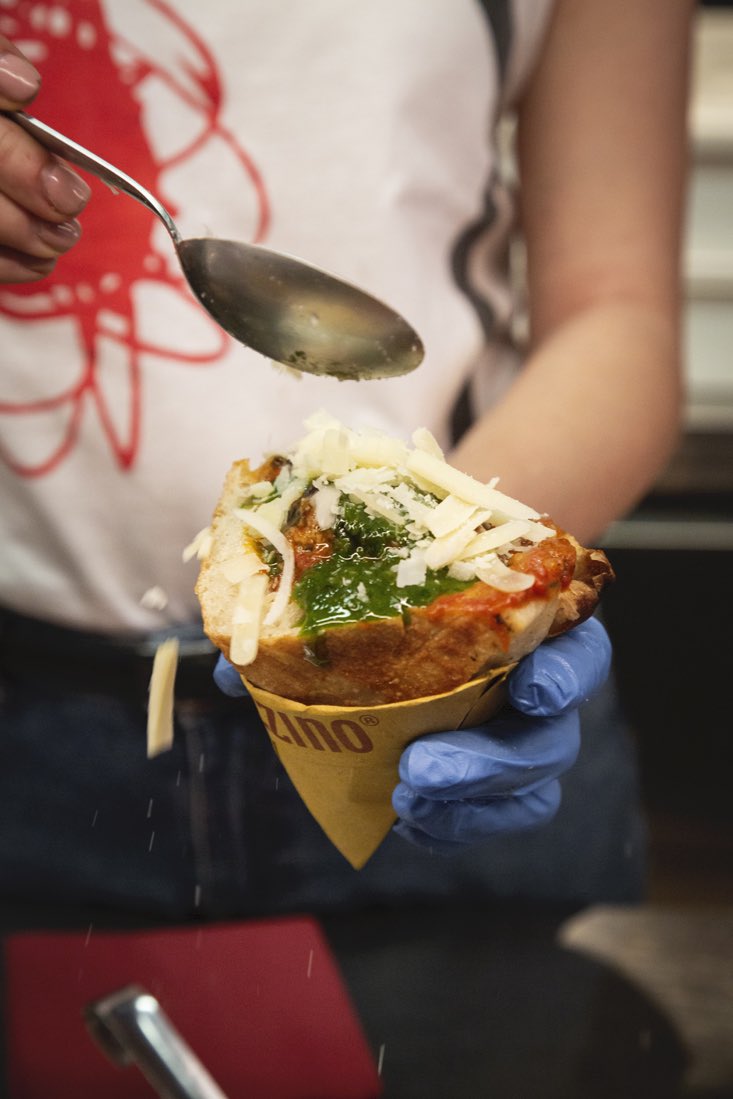 ---
2) Pasta
Forget going carb-free. Italians know how to enjoy life and all that comes with it, and that goes for the carby, delicious goodness that is pasta.
There are over 300 different types of pasta, with the forever favorites including spaghetti, fettuccine, tortellini, ravioli, penne, gnocchi… sorry, I got carried away thinking about it.
Eating traditional pasta in Rome should be at the top of your bucket list. After all, they've been crafting the world's best pasta since around 800 AD!
Where to fill up on traditional Roman pasta at Mercato Centrale:
La Pasta Fresca – by Egidio Michelis
Every product is made combining old homemade recipes and traditional recipes to guarantee rich and unique flavors.
Recommended dish: Roman carbonara.
Il Pesce Fresco – by Fabrizio Giannini e Stefano Di Somma
Mediterranean fish from local markets bring a taste of the sea in the heart of Rome.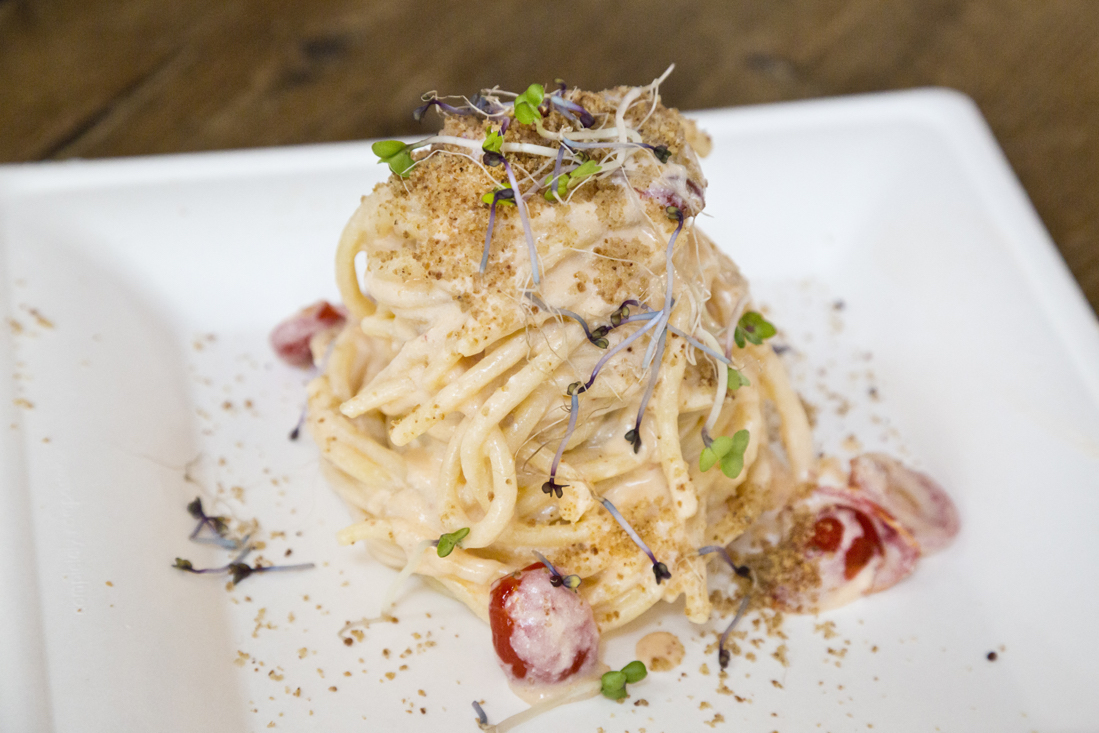 ---
3) Gelato
In Italy, it's a real craft to make genuine gelato, with the masters putting in years of study to create that soft, satisfying flavour hit Italy is known for.
Proper artisan gelato can be found all across Italy, but Rome is the place to get the absolute best of the best.
Wandering around this ancient city on a warm day with some of the world's finest gelato in hand? We want that.
Where to taste heavenly gelato at Mercato Centrale:
Il Gelato – by Luca Veralli
100% natural gelato that is continuously creamed in the lab to make sure it stays soft and fresh.
Recommendation: Cookie (biscotti) gelato.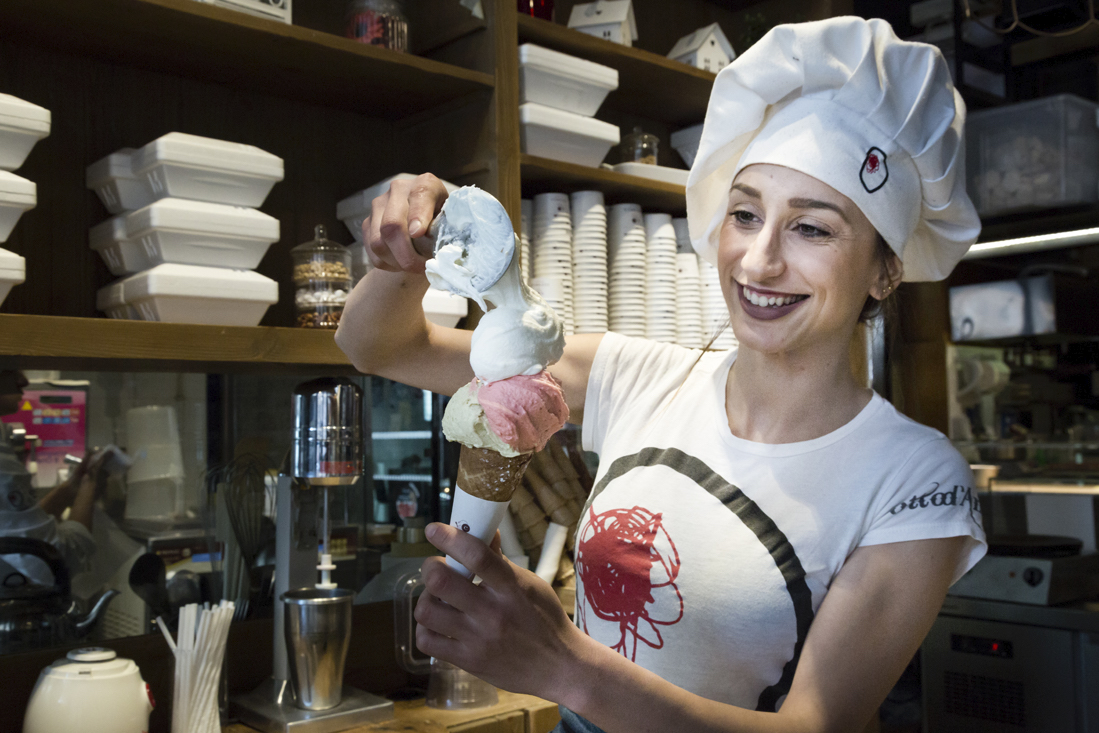 ---
4) Tiramisu
Close in competition to gelato on the Italian dessert popularity barometer, Rome's authentic dessert tiramisu ticks all of the boxes any real sweet tooth requires.
Made with top shelf Italian coffee, sponge biscuits (savoiardi, in Italian) eggs, sugar, and mascarpone cheese, you'll want to enjoy this every day on your journey through Rome. And you can!
Who said food can't bring happiness?
La Pasticceria – Fratelli de Bellis
Innovative and traditional pastries that not only taste great but look beautiful.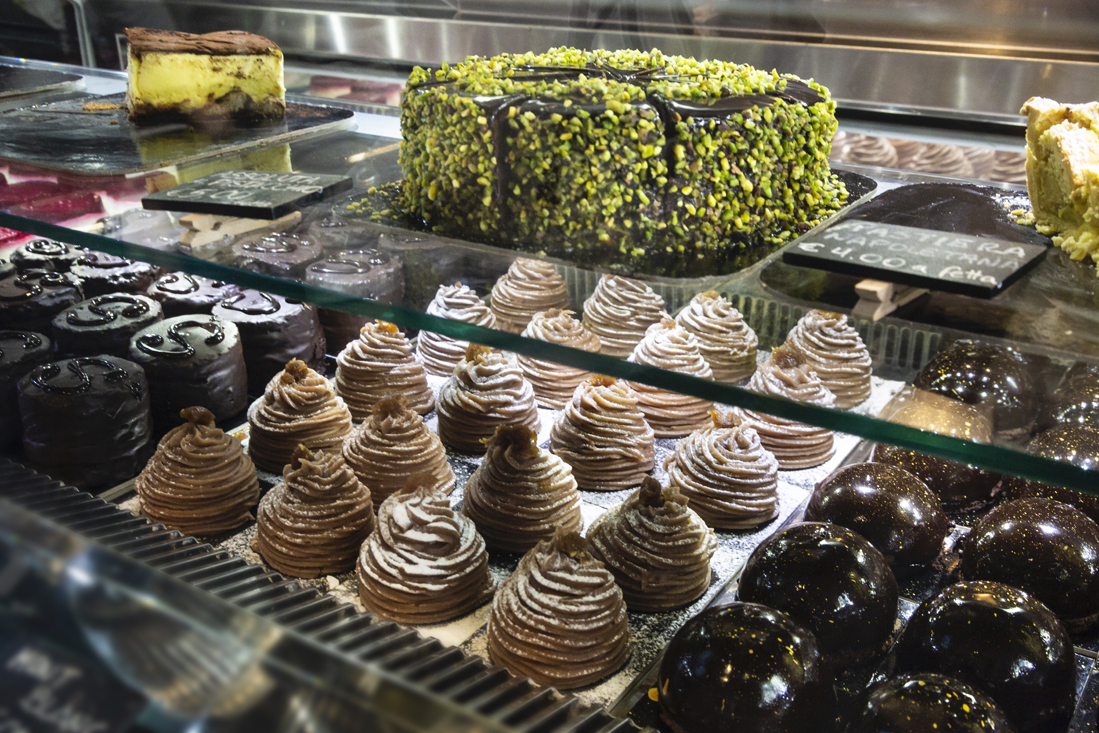 ---
5) Italian Cheeses
Cheese fiends across the globe can thank the Italians for introducing our favorite binge-worthy dairy products to the rest of the world.
If it wasn't for Italy, we wouldn't have the joy of access to Gorgonzola, Parmesan/Parmigiano, pecorino and ricotta right at our fingertips wherever we are. But noshing on world-class cheese in Rome should be on your culinary bucket list, if only for the fact that it's the country with the most amount of cheese varieties on offer. 2500 traditional varieties to be precise, and 500 on the commercial market.
Who's coming on a cheese tour of Italy with me?
Where to binge on the best cheese at Mercato Centrale:
Il Formaggio – by Beppe Giovale
Recommendation: The charcuterie plate.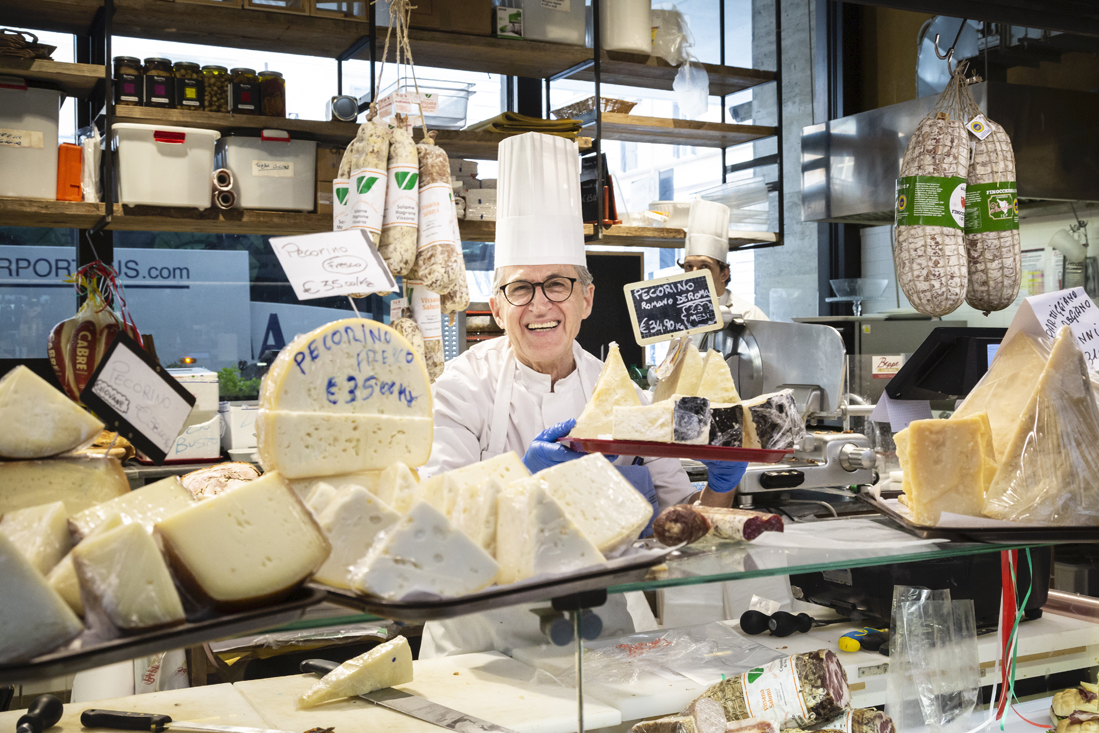 ---
6) Truffles
Truffles have always been a more pricey, rare indulgence, mostly due to the time and effort that goes in to the farming process.
Truffles are enjoyed across Italy, and white truffles, in particular, are grown in abundance across many central and northern parts of the country.
Musky, aromatic and earthy, Italy's white and black truffle varieties are fantastic as a counterpart to a range of Roman dishes, including pasta. Treat yourself to a taste testing of beautiful Italian truffles in the country's capital and you won't be let down.
Where to indulge in truffles at Mercato Centrale:
Il Tartufo – by Luciano Savini
In 2007 Savini entered the Guinness World Record for the most expensive truffle sold at auction, weighing 1.497 kg, and sold for $330.000!
Recommendation: Tagliolini with white and black truffle (there's always time for more pasta!)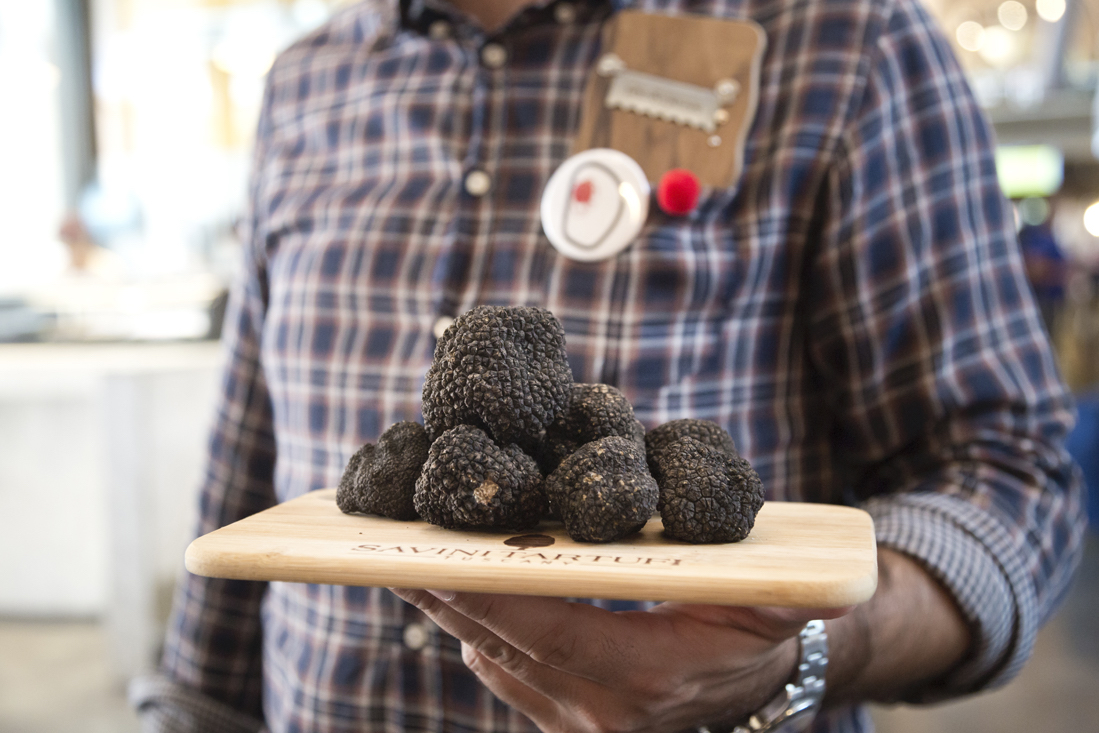 ---
7) Italian Meats
Italian meat is world-famous, and for very good reason. It comes in hot, cold and cured varieties, and if you're a carnivore like me, you just can't get enough of it.
Sure, salami and the like can be found almost anywhere, but experiencing real meat in Rome is something else entirely. Carefully produced by masters at their craft, Rome offers up a smorgasbord of your favorite meats, including pork, beef, ham, prosciutto, pancetta, mortadella, capicola – and the list goes on!
Where to chow down on a range of meats at Mercato Centrale:
L'Hamburger di Chianina – by Enrico Lagorio
Enrico Lagorio's "La Toraia" is one of the most authentic places to taste Chianina beef in the Tuscan area.
Recommendation: Tuscan pork hot dogs.
La carne e i salumi – by Fausto Savigni
100% Italian raw meat, grilled meat, and cold cuts.
Recommendation: Ribeye steak.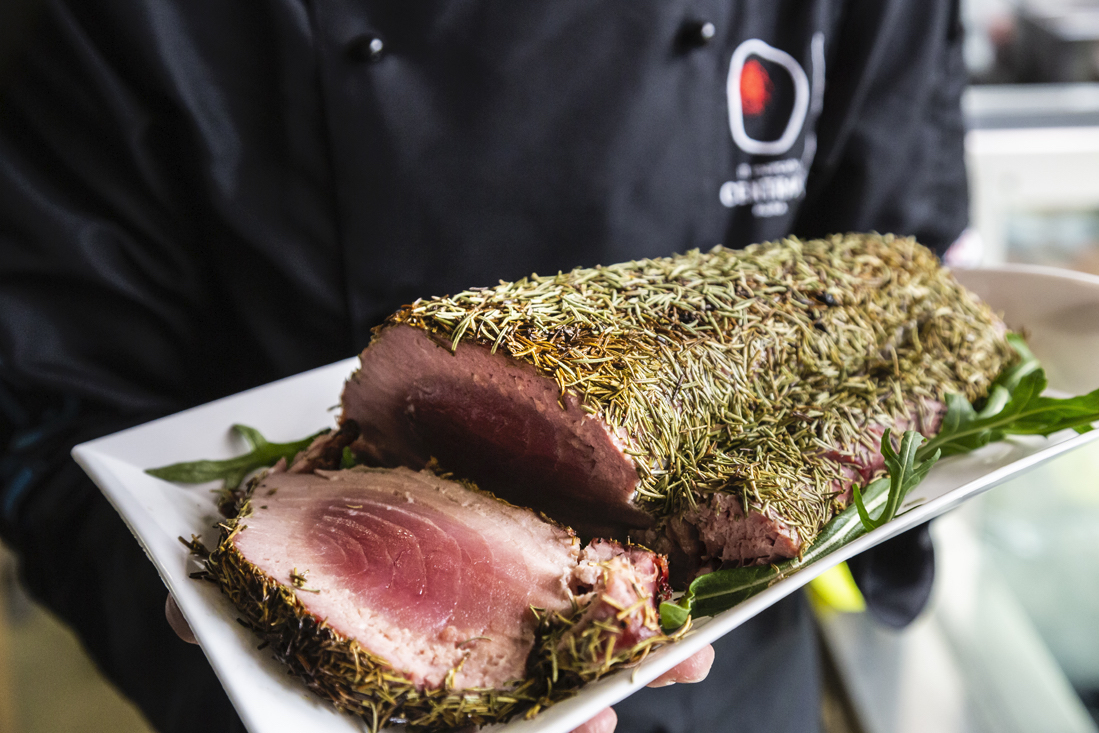 ---
8) Roman rice balls
Referred to as "supplì" or "arancini" in Italy, Roman rice balls are fried balls of rice. Italians have fried food for thousands of years, and have found ways to fry even the most basic ingredients to transform them into something really special. Enter Roman rice balls.
A Roman "street food" for centuries, these fried balls of rice are often filled with Mozzarella cheese and Bolognese sauce. Bellissimo!
Where to find authentic Roman rice balls at Mercato Centrale:
Il Fritto – by Martino Bellincampi
"Everything taste better when fried" according to Martino Bellincampi.
Recommendation: Roman rice balls or Roman potato croquette.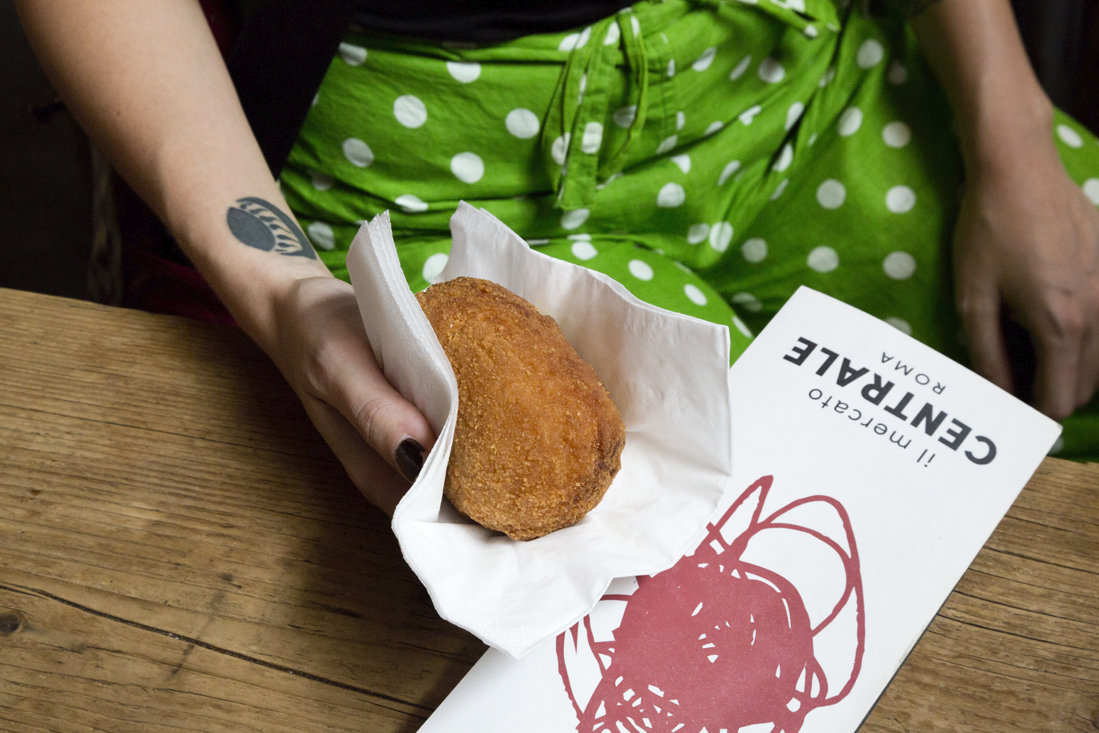 ---
9) Pastries and bread
Some of us have more of a sweet tooth, but some of us love nothing more than a savoury spread to tuck into. Luckily, the pastry and bread selection in Rome is unparalleled. Something as simple as fresh bread can be a revelation to your taste buds, but something extra sweet and sumptuous like cannoli, biscotti or panna cotta… Sign me up.
Unbuckle your belt, because your journey of degustation in Rome is going to get real.
Where to get satisfy your savoury cravings at Mercato Centrale:
Il pane e la pasticceria – by Gabriele Bonci
(a few words on Bonci – he's called the "Michelangelo of Pizza" in Italy and is quite a celebrity baker known for his pizzas and bread.)
Recommendation: The Roman speciality, Maritozzi.
Le Specialità siciliane – by Carmelo Pannocchietti
Sicilian specialties steeped in tradition are a piece of Sicily that melts in your mouth.
Recommendation: Fresh cannoli.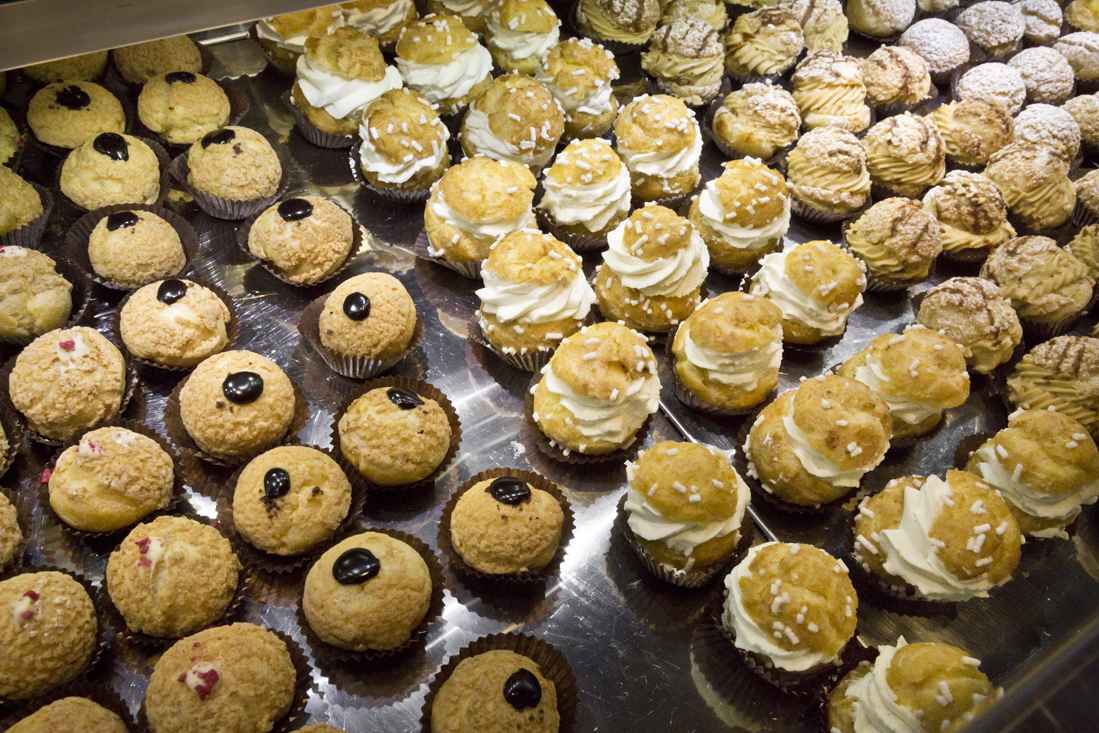 ---
Italian drinks to try in Rome
Rome isn't just perfect for lovers of Italian food. Italian drinks are also some of the most mouthwatering, including their world-renowned coffee, wine, and beer.
Mercato Centrale also has a range of retailers selling the best in robust Italian coffee, fine wine and handcrafted beer from across the country.
Be sure to visit these impressive shops on your next trip:
Il Vino al bicchiere – by Luca Boccoli
Recommendation: A robust Italian Barolo Red can't be passed up.
La Caffetteria e la Birreria
Recommendation: For a caffeine hit, a strong espresso, and for visitors to the beer pub, any pint from the Moretti Beer brand.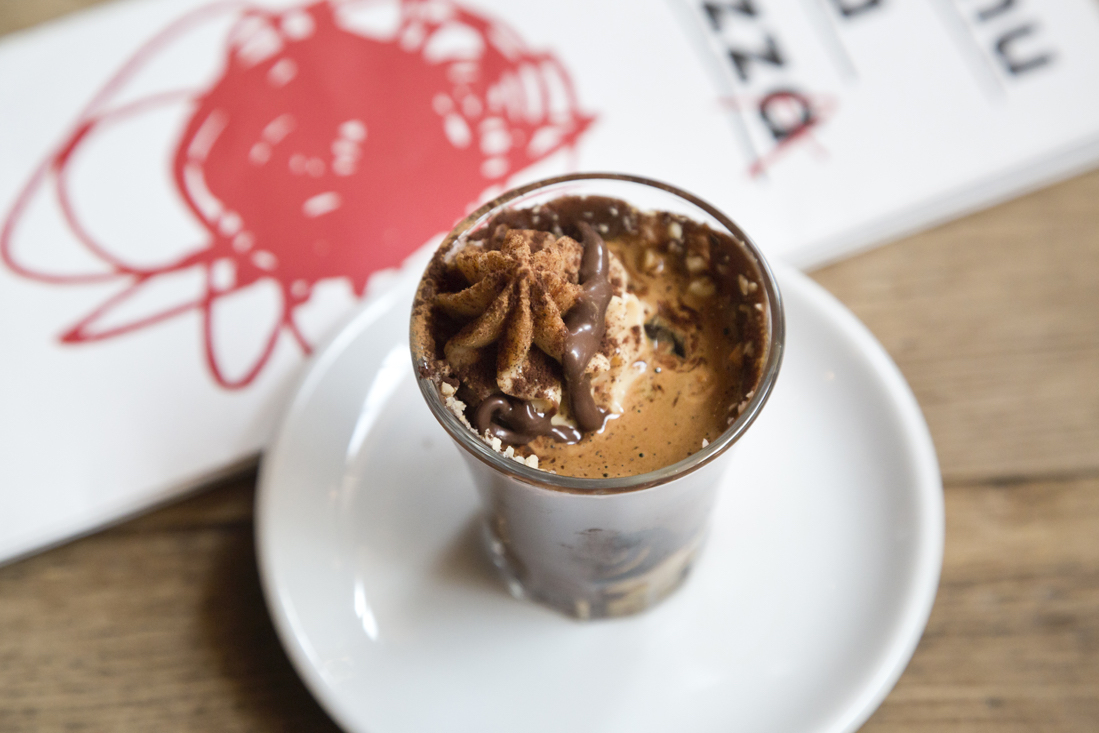 ---
About Mercato Centrale
Located within Termini Station in the very heart of Rome, Mercato Centrale offers visitors to the Italian capital the chance to enjoy traditional, authentic Roman fare from a range of quality retailers who put their heart and soul into their craft.
On your next trip to Rome, be sure to stop by Mercato Centrale and sample the best artisan created food in the Eternal City.
Visit Mercato Centrale Roma's website:
https://www.mercatocentrale.it/roma/
Mercato Centrale also has locations in beautiful Florence and Torino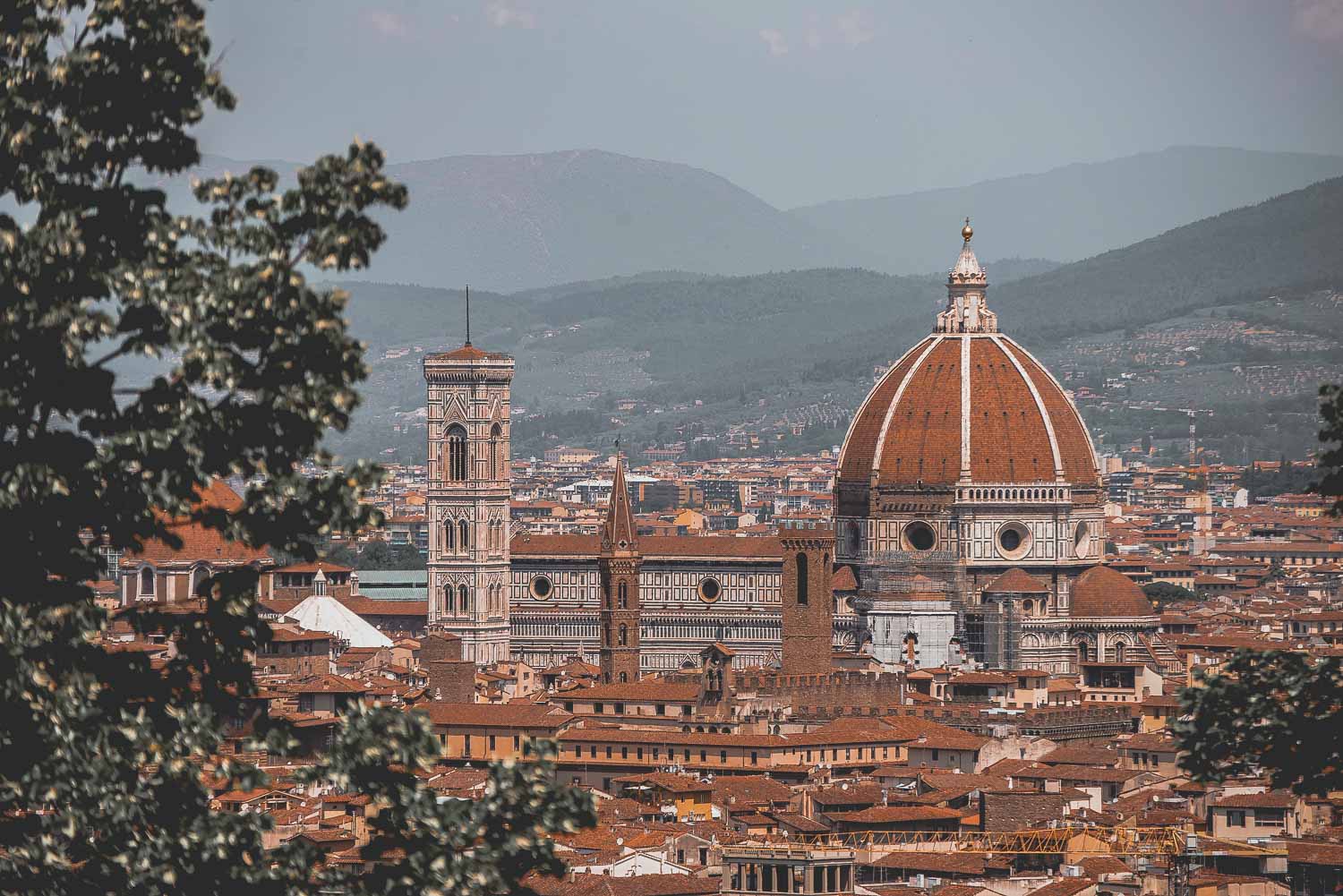 ---
What is your favorite Italian food or drink? Have you had an incredible meal in Rome you wanted to shout from the rooftops about? You should read some of my other Italy blogs then! They might inspire another trip to the Eternal City!
Be sure to check out my other Italy articles, and feel free to reach out to me with any questions you have!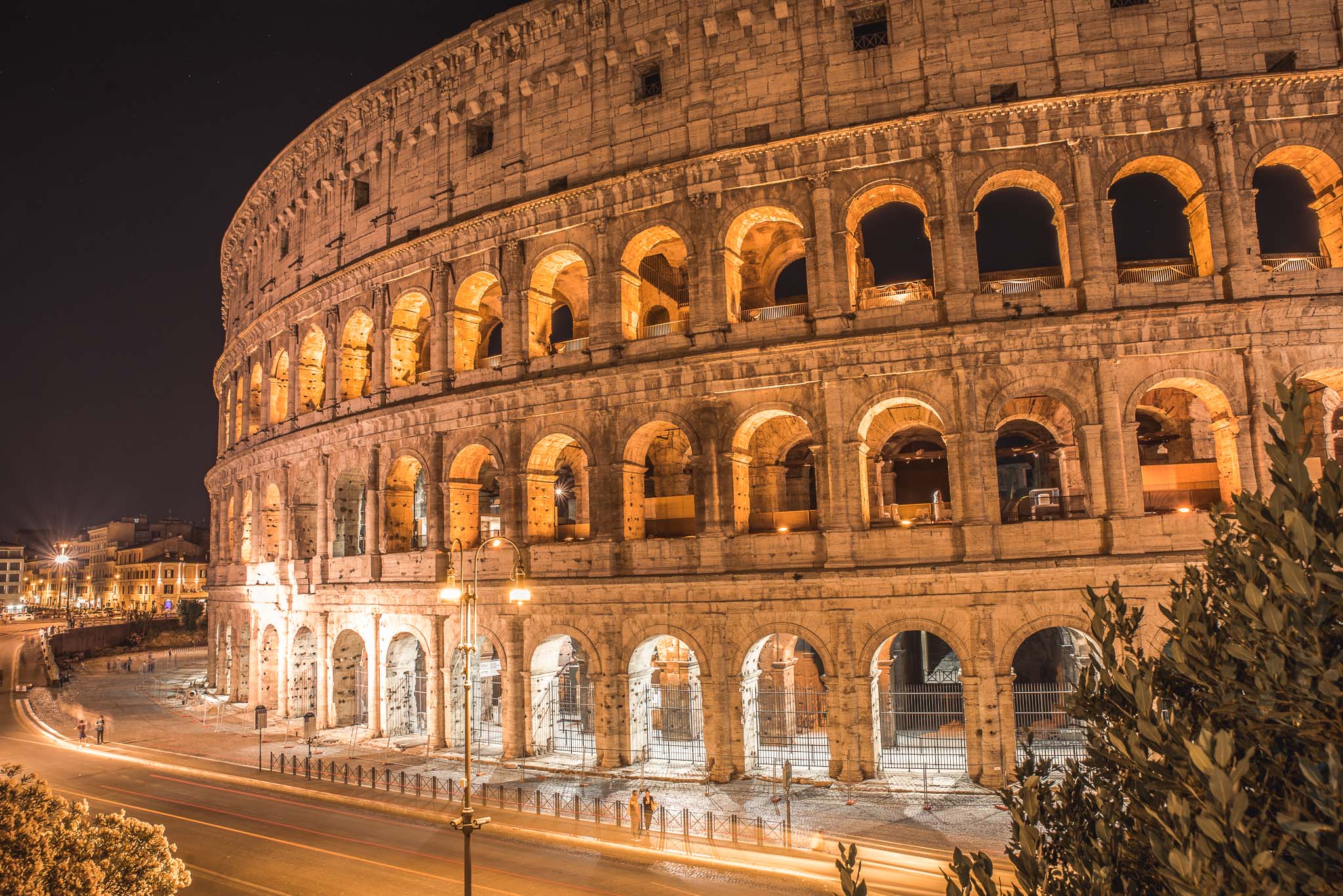 ---
Thanks for reading!
https://www.jonesaroundtheworld.com/wp-content/uploads/2019/09/La-Pasta-Fresca.jpg
733
1099
Dave
https://www.jonesaroundtheworld.com/wp-content/uploads/2017/03/logotry-1-1-300x106.png
Dave
2019-09-24 18:40:48
2019-09-25 21:33:15
9+ Italian Dishes To Feast on in Rome