Are you planning an unforgettable trip and you're on the hunt for the best Airbnb Anchorage rentals? Well, here is a list to provide you with some romantic, opulent, and fun Airbnb Alaska vacation rentals!
Anchorage, the Big Apple of the north, is unlike any other U.S. city. This beautiful Alaskan gem lies at the very base of the Chugach Mountains, forming the Cook Inlet. The inlet boasts an abundance of wildlife, from salmon and whales to moose and brown bear. With plenty of parks, chilly waters, and 5000ft peaks of snow-capped mountains, you'll never get bored.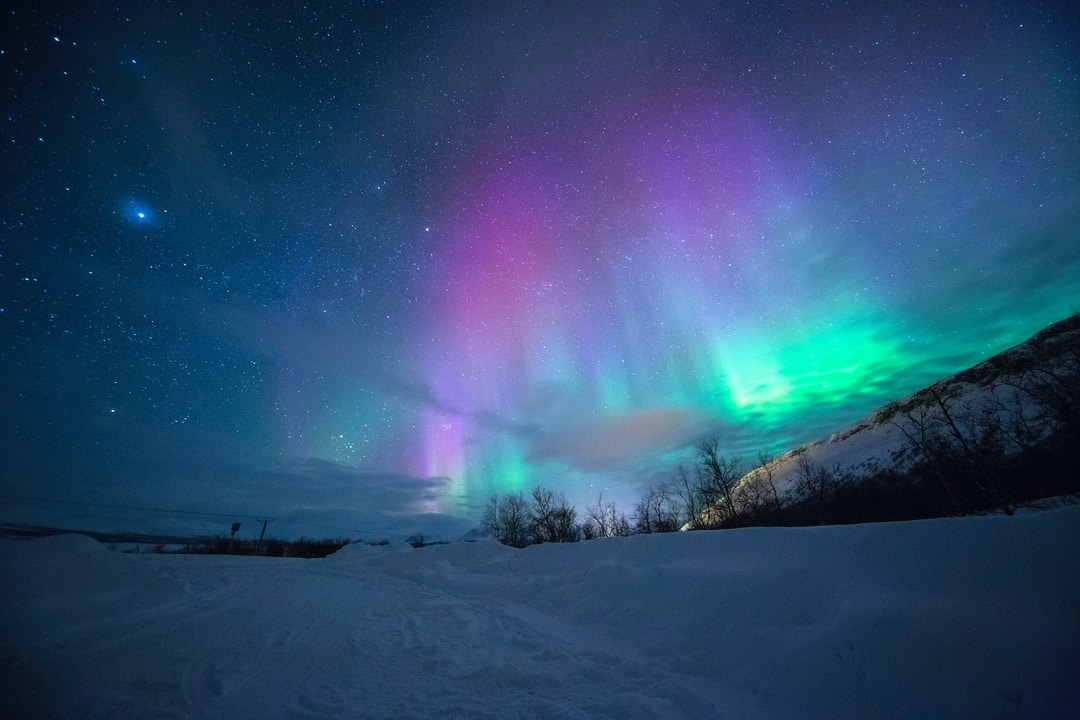 ---
Quick Breakdown of the Top Anchorage Vacation Rentals
Working out where to Airbnb in Anchorage for the best experience can be overwhelming. Before we get started, I've put together the top 5 Anchorage Alaska vacation rentals to make your choice easier.
In this post, I've included some entertaining and inspiring travel videos to get you pumped for your Anchorage vacation. So while you're browsing through the post, take a look at some of these cool videos to get a take on some awesome things to do.
Note: Due to the closure if the Airbnb Associates program, some of the properties listed have been changed to other booking platforms (which can have lower rates and less cleaning/service fees!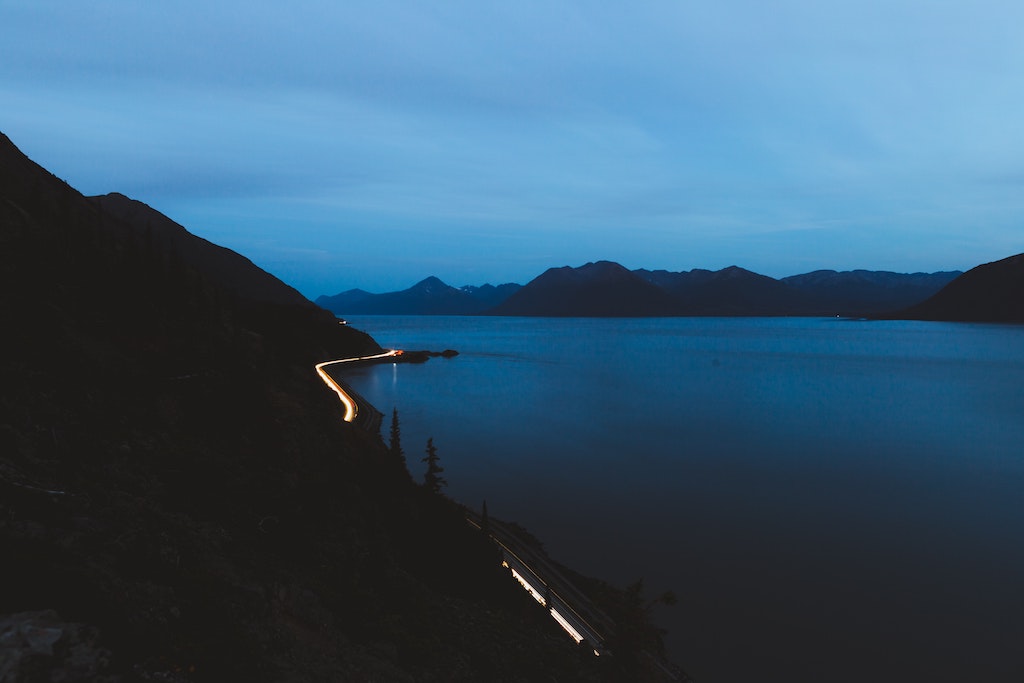 ---
Best Neighborhoods to Airbnb in Alaska, Anchorage
The city of Anchorage, AK, has a total of 38 neighborhoods. Portage Valley is the neighborhood with the highest livability score, and the Northeast has the largest population. Before we dive into some of the best Airbnb Anchorage vacation rentals, I thought to include a rundown on some of the best areas.
Huffman O' Malley: This moderately sized neighborhood is close to shopping areas, parks, and fantastic restaurants. It's popular amongst vacationers for its natural setting and affluent community.
Downtown Anchorage: It's considered the central business district and is the busiest part of the city. With a variety of homes available and the coastline being right at your fingertips, it's a popular place to Airbnb in Alaska.
Rabbit Creek: Properties here are more opulent than other places in Anchorage. Though it's more secluded, most of these places provide stunning Alaska views, with the neighborhood running through the Turnagain Arm waterway and Seward Highway.
South Addition: It's home to many large properties, mostly built around the 1940s. The area is a mix of parks, mid-century homes, and small businesses. There are plenty of walkable streets, giving you a feel of Alaska's suburban charm.
Bootleggers Cove: It's located west of Downtown Anchorage and north of South Addition neighborhood. And a popular destination amongst travelers. It faces onto the 25-mile (40km) long river, the Knick, with a glacier as it's source.
Hillside: Another popular neighborhood in the Anchorage area, with the community, focused on tourism. As the name implies, it's located on and around a few hills, providing some spectacular Alaskan views at sunset.
Rogers Park: Located in a great area and is close to surrounding amenities. There's a short commute to popular restaurants, shops, and entertainment areas.
Spenard: Is near the International Airport, southwest of Downtown Anchorage and Bootleggers Cove. The neighborhood sits on the main north-south highway, providing easy access for travelers looking to explore their surroundings.
Turnagain: Situated west of Anchorage. It boasts views of the Knik Arm, nearby to Earthquake Park and the Tony Knowles Coastal Trail.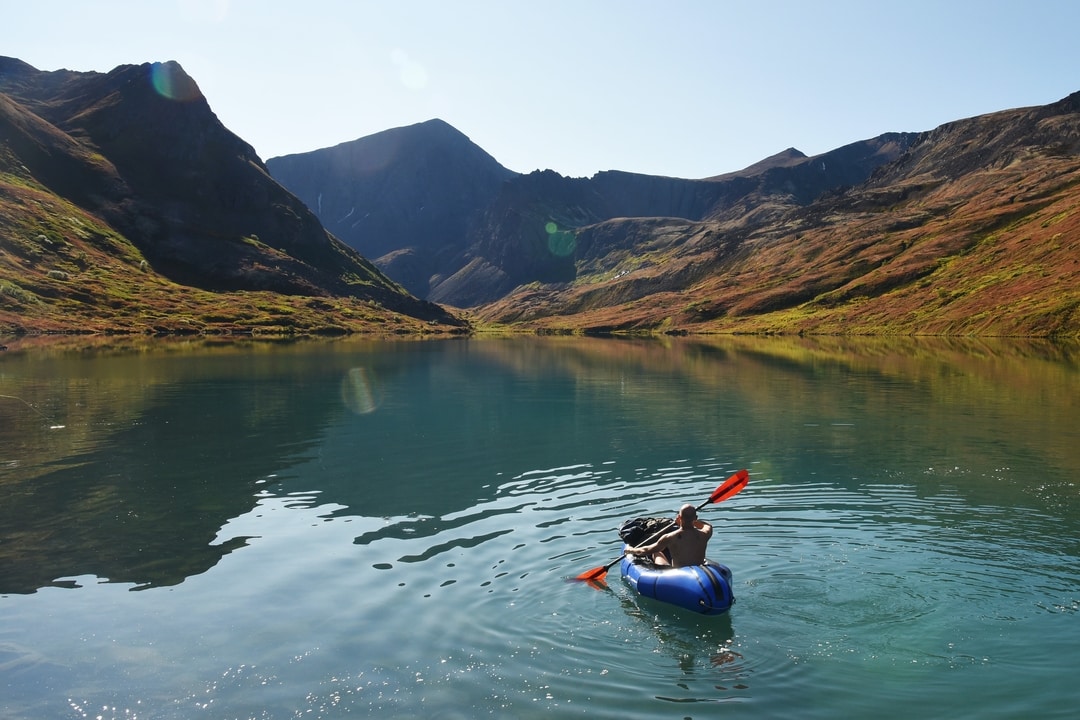 ---
Top 20 Airbnbs in Anchorage, Alaska
Now that we've covered some of the best neighborhoods in Anchorage, let's take a look at some incredible vacation rentals.
I've included various locations, styles, and price points to suit everyone's needs and tastes; from Anchorage cabin rentals, to luxury condos and cuddly homes.
---
1) Have an Authentic Log Cabin Alaskan 5 Star experience at "The Eagles Nest"
Location: Bear Valley
Price: $100+ USD per night
Experience Alaska the way it's meant to be experienced, with a stay at a proper log cabin with wildlife on the doorstep. This authentic two bedroom log cabin its located near to parks, trails, lakes and state parks, and offers incredible views of Mount McKinley and across the city of Anchorage. The home features rustic interiors, an outdoor deck with seating and an outdoor grill. Its just 15 minutes into Downtown Anchorage, and the cabin is situated on a hill overlooking the city. This is the way Alaska is meant to be enjoyed!
View Photos, Read Reviews & Check Availability
Guest Review: "This was our last stop of our two week stay in Alaska. House was very nice and had a beautiful view. Clean and comfortable. We saw a mother moose with her baby on the last evening we were there! Thank you for sharing your place! Would book again if we are lucky enough to come to Anchorage again!" – Yolanda
---
2) Charming studio home on three acres w/ back deck – close to university – dogs OK
Location: University Area
Price: $60+ USD per night
Visit Alaska's most populous city without spending a fortune, and secure your stay at this studio home on three quiet acres. The home is spacious, well equipped and located on a private part of the property, and has its own large back deck nestled alongside a meandering stream. Cook out on the deck at the included grill. This property is situated on the University of Alaska campus, just a few miles from the heart of Anchorage and walking distance to shops and a medical centre. The best of both worlds in this beautiful city!
View Photos, Read Reviews & Check Availability
Guest Review: "If I can put 100 stars i would for that magical absolutely breathtaking place❗❗<br /> I went there to experience beauty of winter and Anchorage Escape exceeded my expectations at all levels = its feels that you live in the middle of untouched forest two steps away from salmon brook in such quite well preserved sanctuary and yet not too far for all convenient places like coffeehouse or pharmacy.<br /> Hiking trails just cross the street along the lake and sunrise will meet you every morning through dutch celling to floor windows that is open to private terrace.<br /> And did i mention fireplace🔥? ? Thai is insane💗😍 and room is full of artsy touches from little souvenirs to wonderful choice of books that will fulfill your rustic taste.<br />The only wish is extra set of fresh sheets when needed on that super comfy bed😇😇 <br />Definitely come back! Thank you Alex and Martha to make me feel at home with all desirable privacy👍🌼🌼" – Olga
---
3) Lakeside Private 4 Bedroom Home In South Anchorage, With Boat Availability.
Location: Sand Lake
Price: $800+ USD per night
If you're heading to Anchorage with the family for an Alaskan getaway, this four bedroom lakeside home is easily the place to stay. The large home is picture perfect and modern, with upmarket interiors and a large front deck on the lake with a BBQ. The great hosts also have a inflatable boat you are free to use. Use the bicycles on offer for guests and explore the local area. This fantastic rental is located in a quiet pocket of Anchorage, a few miles from Alaska Zoo, Dimond Centre, Prince William Sound and the University of Alaska.
View Photos, Read Reviews & Check Availability
Guest Review: "We were visiting our daughter and vacationing. We had a group of 8 and this house was perfect!! We had plenty of room and everything that we needed to make this a perfect vacation. This was SO MUCH nicer than staying in a hotel! This home is wonderful! There is plenty of room to hang out together and enjoy. The deck and yard were beautiful. We spent many hours relaxing and watching the float planes land. We even watched a bull moose across the lake! Our host was wonderful! She patiently answered all of our questions and made sure that our vacation was perfect!!" – Velma
---
4) Lavish 5 Star Modern Villa Best Location in Downtown
Location: Bootleggers Cove, Anchorage
Superhost: Yes
Price: $278+ USD per night
https://www.airbnb.com/rooms/34042512
Step into this exquisite space, boasting natural light from the surrounding large windows and open plan living area. This luxurious and newly remodeled Anchorage Alaska Airbnb provides three bedrooms and 6 beds, giving you the perfect vacation rental for families and friends.
Enjoy new elegant furnishings, a flat-screen TV (including Netflix and HBO), a gas fireplace, and a fully equipped kitchen – ideal for the ultimate relaxing vacation. If you're still undecided, this stunning house provides tasty breakfast.
Enjoy the luxuries of this lovely space near downtown's main attractions. Outdoor enthusiasts will find some of the best hiking and sightseeing places close by, such as the Elderberry Park or the majestic Alaska Range. If you feel like grabbing a bite to eat, visit some local favorites such as the 49th State Brewing or the Glacier Brewhouse.
View Photos, Read Reviews & Check Availability
Guest Review: "Lovely stay. AMAZING PLACE. Comfortable and great host!"
---
5) Luxe Alaskana Downtown Ocean + Mountain Views
Location: Downtown, Anchorage
Superhost: Yes
Price: $132+ USD per night
https://www.airbnb.com/rooms/24733156
Slump back on the sofa, grab a good book, and enjoy this beautifully decorated luxe apartment in downtown. To add, enjoy a glass of wine on your patio as you look out onto sweeping ocean and mountain views.
Guests can use the fully equipped kitchen, stocked with an assortment of coffee, hot chocolate, and other supplies. There is a washer, dryer, wifi, and other amenities available to suit your comforts. If you're not already booking this space, you'll surely be sold with the BBQ grill and outdoor patio.
This space is located near the prestigious Bootleggers Cove neighborhood and is within walking distance from popular attractions. Nearby is the Snow City Cafe – great for your morning coffee fix – the Coastal Trail, parks, and transportation services to get around the city.
This modern, one bedroom apartment can easily fit four people. Great for small families, couples or a group of friends.
View Photos, Read Reviews & Check Availability
Guest Review: "Great location! Easy to walk to Downtown Anchorage. Super clean!"
CANADA TRAVEL DOCUMENTARY | Road Trip from BC to Alaska
---
6) Lush & New // Modern Two Bedroom by Jewel Lake //
Location: Sand Lake, Anchorage
Superhost: Yes
Price: $115+ USD per night
https://www.airbnb.com/rooms/35944903
If you're looking for a vacation home that ticks all the boxes – luxury, comfort, location – this newly remodeled, two bedroom home is perfect.
Enjoy the fully stocked chef's kitchen with romantic dim lighting, for setting the ambiance. There is also a private washer and dryer to use as you go.
The condo is a quick 5-minute walk to the stunning Jewel Lake, and a short drive to fine dining restaurants and local coffee shops. This space provides the ideal setting for a remarkable vacation in Anchorage that is great for couples, families, and friends.
View Photos, Read Reviews & Check Availability
Guest Review: "The home was super clean, beds and pillows very comfy, all the necessities available in the kitchen and bathrooms. The location was great, considering the coffee places and groceries nearby. Our family had a great stay at Tyler's and Yana's place! We even saw a moose crossing a street one of the mornings!"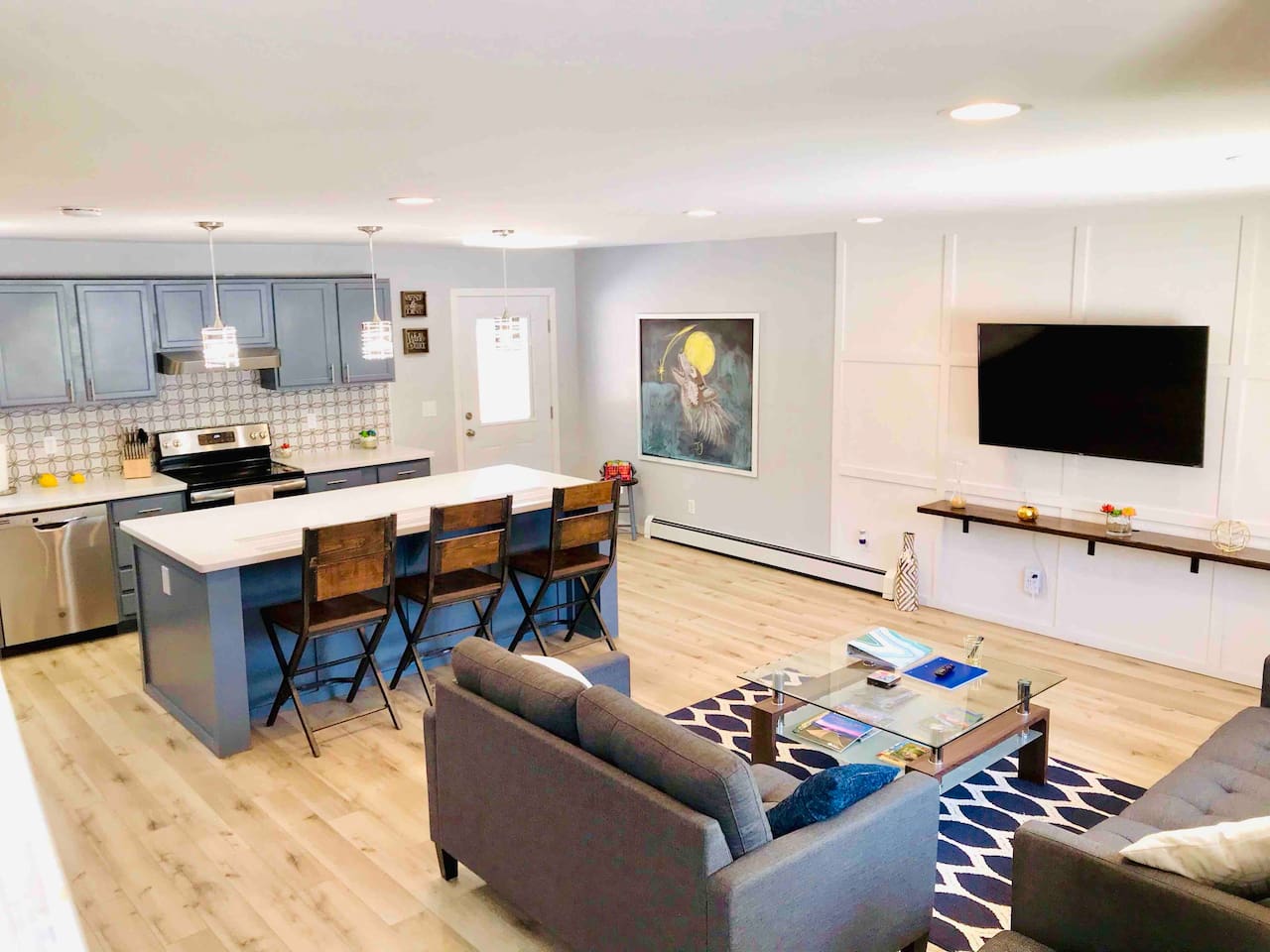 ---
7) Spacious House
Location: Russian Jack Park, Anchorage
Superhost: Yes
Price: $211+ USD per night
https://www.airbnb.com/rooms/20283459
If you're looking for a place with friends or family, this large, modern house is perfect. It's a spacious two-story, three bedroom home located in the middle of Anchorage.
Lie back on the sofa and cozy up next to the warm fireplace and enjoy an array of programs on Netflix, Amazon Prime, and Hulu. Or enjoy a cup of hot cocoa on the balcony. Whatever it is, and whoever you're with, you'll feel at home in this warm and inviting spacious house.
Since you're in the middle of some fantastic attractions, pop over to the 'Yes Bistro' for a lovely breakfast before heading out for the day.
View Photos, Read Reviews & Check Availability
Guest Review: "Rebekah's place is very spacious indeed. I recently stayed together with a group of 11 friends and the place is more than you'll ever need. Clean, comfortable and incredibly conveniently located, the surrounding amenities and proximity to Downtown is a big plus. We were all super well looked after and thanks to Rebekah's hospitality we had everything we needed for our 3 week long stay. If you're in a large group or even just want a big place to stay, this is definitely the place to go!"
What to do in Anchorage Alaska! - A post cruise travel guide
---
8) Picturesque Cottage on the Hillside
Location: Rabbit Creek, Anchorage
Superhost: Yes
Price: $50+ USD per night
https://www.airbnb.com/rooms/14361354
Lie back and relax in this beautiful cottage nestled on the Hillside. It's a bed bedroom wooden cabin providing all the necessities to make your stay a memorable one.
The space will give you a true Airbnb Alaska experience, with peaceful surroundings, a plethora of wildlife, and it's a few minute's drive from the bustling downtown area. Enjoy the rustic, yet comfortable setting with a comfortable queen-sized bed, and a fully serviced outdoor lavatory. Light up the grill and flip some burgers outdoors, or cozy up to your significant other inside and watch some cable TV.
It's the perfect place for a honeymooning couple, a small family or friends looking to experience this beautiful part of Alaska.
View Photos, Read Reviews & Check Availability
Guest Review: "Can't say enough great things about this place. The cottage was perfect for our anniversary getaway. Very clean and quiet."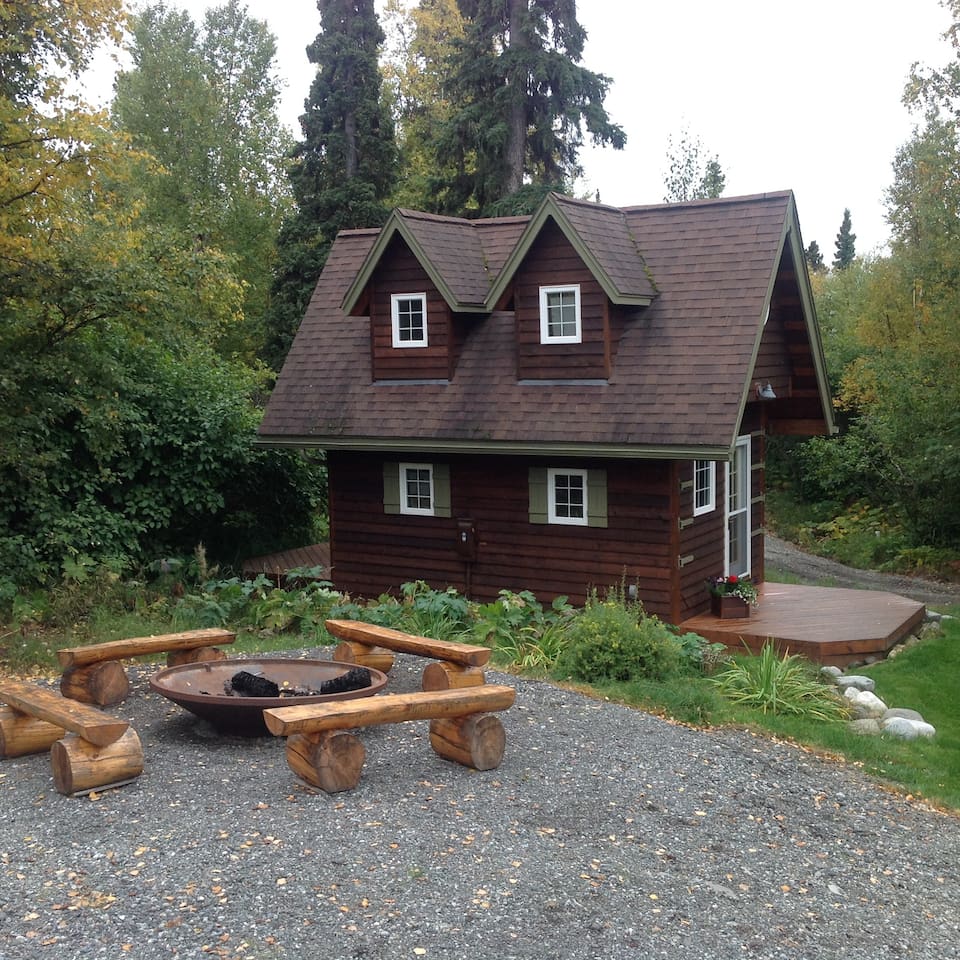 ---
9) Anchorage Wilderness Lodge Apartment | True Beauty
Location: Huffman / O'Malley, Anchorage
Superhost: Yes
Price: $65+ USD per night
https://www.airbnb.com/rooms/37429407
Relax in this beautiful Anchorage home in a serene neighborhood, minutes away from the city's most popular hiking and walking trails, such as Flat Top and Little O'Malley. This lovely one bedroom, private apartment is located on the upper level of a two-story home, ideal for couples or a small family.
Why not flop back onto the sofa and find your favorite movie on Netflix after a busy day exploring? Enjoy the fully-equipped kitchen area, a spacious bedroom with a queen-sized bed, and a lovely bathroom. The unit is also fitted with a Smart TV, including Netflix and wifi.
If you're not keen on exploring the outdoors and around town, spot the local wildlife from your pirate deck looking out to the forest.
View Photos, Read Reviews & Check Availability
Guest Review: "Was such a nice house, very clean, and felt so spacious. It is in a beautiful location as well."
Anchorage Vacation Travel Guide | Expedia
---
10) Secret Spenard B&B (#1) – Close to the Airport
Location: Spenard, Anchorage
Superhost: Yes
Price: $83+ USD per night
https://www.airbnb.com/rooms/25736839
Get comfortable in this newly remodeled, one bedroom unit, located in a quaint neighborhood.
This beautiful condo provides natural light throughout the day. The fully equipped kitchen boasts modern finishes, ideal for any culinary enthusiasts. Guests can enjoy free wifi, central heating, and best of all… free breakfast is provided.
This unit is within walking distance to lovely local restaurants, including popular Gwennies and the Rustic Goat. It's a short bike ride to Midtown and is minutes from the famous Coastal Trail.
View Photos, Read Reviews & Check Availability
Guest Review: "Perfect spot for starting an Alaskan getaway. Very stylish and clean."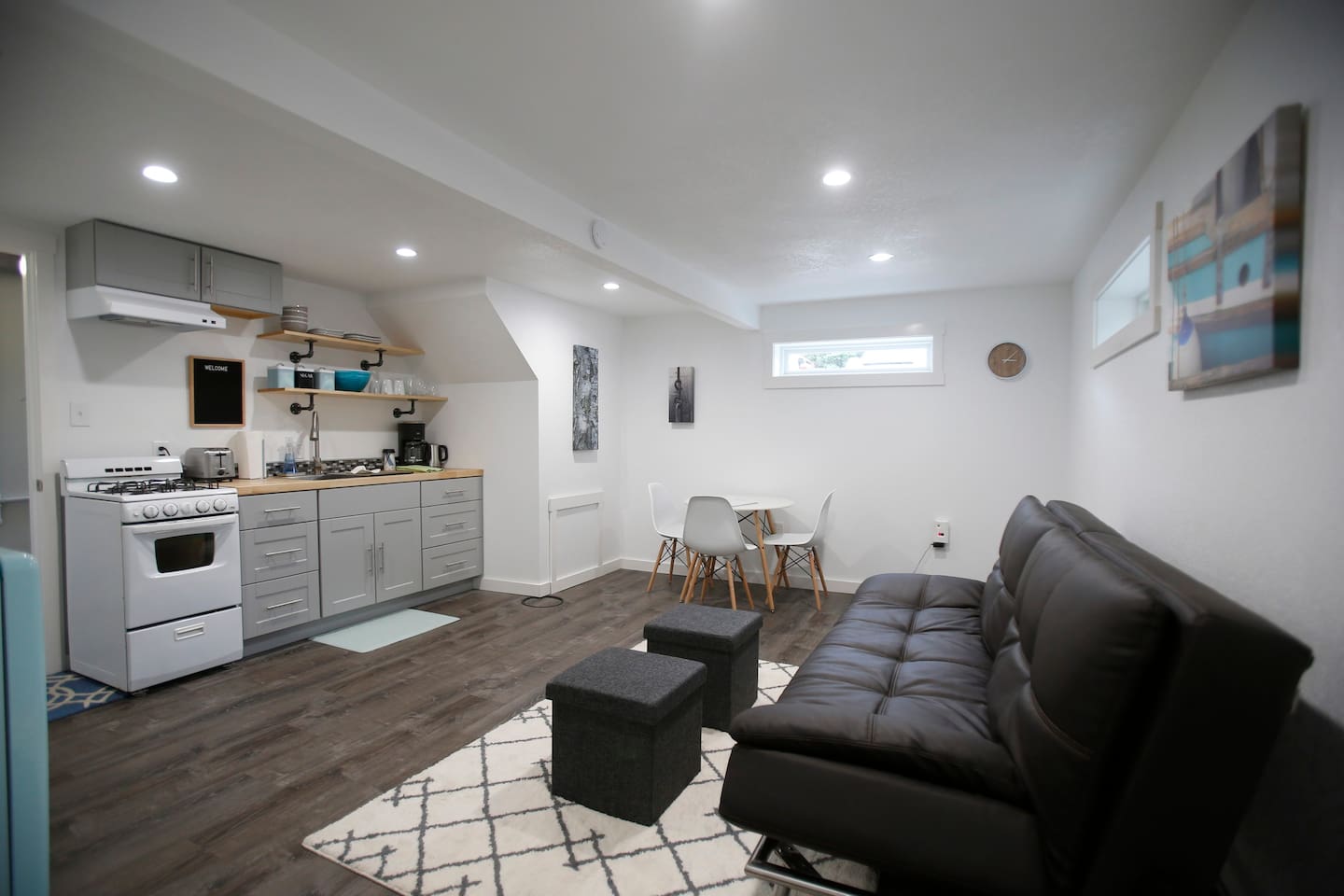 ---
11) New! Modern Anchorage Home w/ Stunning Mtn Views!
Location: Bear Valley, Anchorage
Superhost: No
Price: $293+ USD per night
https://www.airbnb.com/rooms/42561004
Are you looking for a place to relax and gaze out onto sweeping views of Alaska's rugged coastline and mountainous terrain? The newly built vacation rental is the perfect place for families or a large group of friends to enjoy Anchorage in summer and winter.
The three bedroom, two bath home sits on a hillside, providing picturesque views from every angle of the house. There is a fully equipped kitchen, free wifi, and two flat-screen TV's for you to feel at home.
Curl up to watch a movie near the wood-burning stove, look out for wildlife as you enjoy a cup of coffee on the deck, or pop on your hiking boots and hit the Chugach State Park trails. This beautiful deluxe mountainside home invites friends and families to enjoy the outdoors.
View Photos, Read Reviews & Check Availability
Guest Review: "Our stay at your home was a wonderful experience. The house is spacious and beautiful with all the amenities you would need. The views are stunning. We saw a black bear and moose right outside the window. I would definitely stay again. Abe and Fraidy."
---
12) Anchorage Gueststay #2
Location: Turnagain, Alaska
Superhost: Yes
Price: $129+ USD per night
https://www.airbnb.com/rooms/41590824
This lovely three bedroom apartment, on the 2nd floor, provides you with Anchorage's main attractions right at your fingertips. There is a master bedroom with a king-sized bed and another two spare bedrooms with twin beds. Comfortably accommodating up to 6 people, this home is ideal for families or a group of friends.
Snuggle up next to the indoor fireplace to read a good book, or take advantage of the free wifi during your downtime. The lovely unit is equipped to make your stay comfortable.
Enjoy the kitchen's social atmosphere as you prepare your meals or head to one of the local restaurants nearby. This unit is great if you're looking for a delightful place to stay near to some exciting attractions in central Anchorage.
View Photos, Read Reviews & Check Availability
Guest Review: "Good central location. Good sized place for 6 of us. Enjoyed our stay."
---
13) Anchorage Hideaway
Location: Mountain View, Anchorage
Superhost: Yes
Price: $89+ USD per night
https://www.airbnb.com/rooms/33068144
This lovely townhouse provides two bedrooms and four beds, ideal for a family with kids, or anyone looking for smooth travels around Alaska. The condo is minutes away from both major highways, downtown area, and some outstanding restaurants. You'll have everything you need for a spectacular stay in Alaska.
Enjoy free wifi and access to your favorite series on Netflix or Amazon Prime. Cook up something delicious in the fully stocked kitchen, including coffee and tea for your morning cup of joe.
Are you bringing your little one along? You can request some pack-n-play toys to be provided. There are also some coolers and camp chairs available, too, superb for an amazing Alaskan adventure outdoors.
View Photos, Read Reviews & Check Availability
Guest Review: "Wonderful stay, cute little home, perfect for us! I love that it had a full kitchen and Ashley even had some stuff stocked up in there! We loved being able to use the washer and dryer & it even had laundry pods there! Overall a wonderful experience!"
Touring Downtown Anchorage, Alaska
---
14) Very Private Room and Bath, No Cleaning Fee
Location: Midtown, Anchorage
Superhost: Yes
Price: $58+ USD per night
https://www.airbnb.com/rooms/3782509/
Relax in this comfortable and private one bedroom and bathroom, available in Midtown. Enjoy a sleep-in with the room darkening shades, handy for blocking out the 'midnight sun'.
The space provides a comfy king-sized bed with extra blankets to keep you cozy and snug. Guests can enjoy wifi and cable TV during their downtime. There is also a small refrigerator to keep your beverages cold. Enjoy your morning joe with the provided coffee maker and necessities.
There is easy access to all the main attractions Downtown, and it's close to the popular skiing areas. Ideal for solo travelers or couples alike.
View Photos, Read Reviews & Check Availability
Guest Review: "Second stay here…. 'nuff said! Great on all accounts. See our earlier review."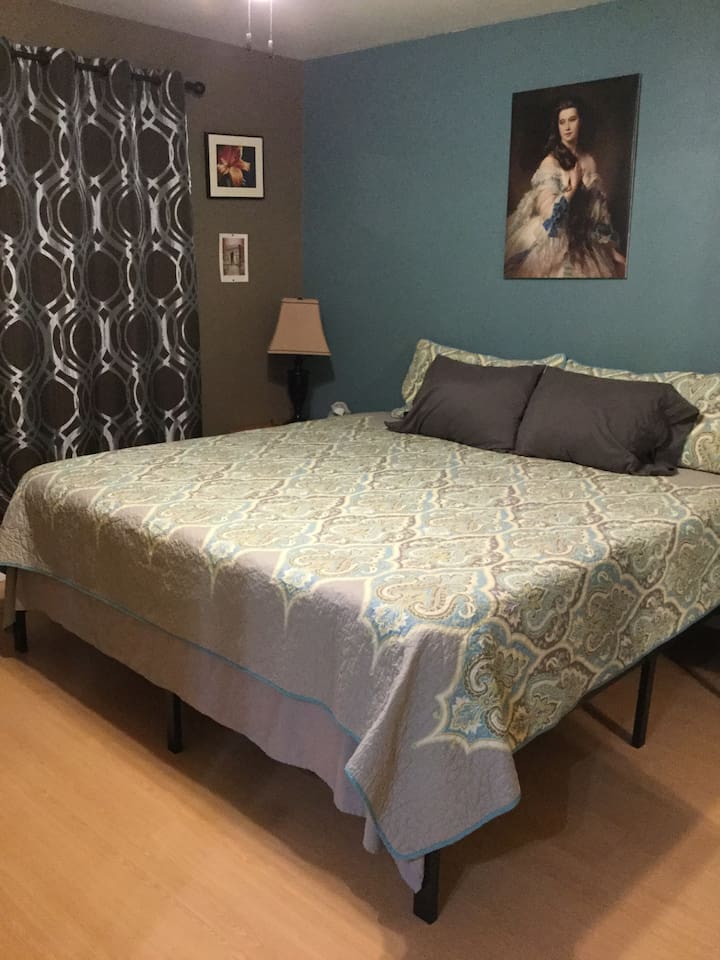 ---
15) Views Alaskan Prospect Heights Guesthouse
Location: Upper Hillside, Anchorage
Superhost: Yes
Price: $130+ USD per night
https://www.airbnb.com/rooms/23187948
This stunning two bedroom Airbnb in Anchorage provides guests with stunning views and plenty of light filtering through the rooms.
The beautiful home can comfortably accommodate up to 6 people. It's great for those looking to explore the wooded Upper Hillside area. It's an easy drive to the airport and downtown area, making it perfect for leisure and business visitors alike.
Cozy up to a fire pit outside or lie back on one of the garden sofas to relax. Flip some burger patties on the George Foreman electric grill and soak in the stunning delights of Anchorage. The space features an array of amenities such as wifi, cable TV, and there is free parking on the premises. You'll feel as if it's a home away from home.
View Photos, Read Reviews & Check Availability
Guest Review: "The Guesthouse was everything I had hoped and beyond. The kitchen and bathroom are not only beautiful, but they have everything you could think you might need. The common areas are beautiful, comfortable and there is lots of Alaskan artwork to enjoy. The deck is large and inviting, a lovely spot to drink your morning cup of tea in the sun, look through the trees and gaze at the inlet. I had a hard time with the mattress on one of the beds, I let Donna know, and had a response in less than 3 minutes. I might just make it back this coming winter to enjoy the fireplace and view once the leaves fall. I would love to see it with snow on the ground. You won't be disappointed."
10 Best Tourist Attractions in Anchorage, Alaska
---
16) Snow City Hideaway // Downtown with Ocean Views…
Location: Downtown, Anchorage
Superhost: Yes
Price: $88+ USD per night
https://www.airbnb.com/rooms/17048600/
This beautiful one bedroom 'hideaway' home is located in the heart of downtown, in the prestigious Bootleggers Cove neighborhood. Wake up to panoramic views of the ocean and the mountains as your backdrop, or lie in for the day with room-darkening shades.
There is a private entrance with an outdoor patio at the back. There is also a laundry room available upon request. The kitchen is fully kitted with utensils, providing you with all the necessities to cook a delicious meal on your vacation.
If you're not looking to cook on your vacation, then why not explore some local restaurants like the Snow City Cafe.
This space is perfect for couples or solo travelers visiting Anchorage.
View Photos, Read Reviews & Check Availability
Guest Review: "Really enjoyed the stay and the space in general. Walking distance to Snow City Cafe which is a must if you're visiting Anchorage."
---
17) Cozy Turnagain Guest-Unit
Location: Turnagain, Anchorage
Superhost: No
Price: $87+ USD per night
https://www.airbnb.com/rooms/38262393
If you're looking for a memorable stay, this stunning, newly remodeled guesthouse in Anchorage is superb. The modern two bedroom unit boasts unique wood finishings and is a pleasant place to relax.
You'll have the entire space to yourself, including amenities such as free wifi, a kitted-out kitchen, and other essentials like bedding, towels, etc,.
Located in the Turnagain and Spenard area, this space is close to nearby parks and bike paths, which is great for outdoor enthusiasts. It's a block away from popular restaurants like the Rustic Goat and Kaladi Brothers coffee. If you're looking for a local bar and grill, the Bear Tooth Bar and Grill is the perfect spot for afternoon sundowners.
View Photos, Read Reviews & Check Availability
Guest Review: "Highly. Recommend and I'm very particular. Garrett was a wonderful host and his airbnb was perfect for us. Will stay again for sure!"
Anchorage, Alaska - Top 10 Things to do | Best Places to Visit |
---
18) Cute and Close to The Airport & Kincaid Park
Location: Jewel Lake Road, Anchorage
Superhost: No
Price: $39+ USD per night
https://www.airbnb.com/rooms/6452438
This delightful, floor-level apartment is located near the Anchorage International Airport and Jewel Lake Road.
The space offers a small kitchen with everything you need to cook a wholesome meal. Relax and watch TV or Netflix using the high speed-internet. The bedroom has a comfy queen-size bed for a sound night's sleep.
This beautiful property is near the popular Kincaid Park, which is awesome for visiting any time of year. The DeLong Lake is within walking distance and provides excellent fishing opportunities for fishing enthusiasts.
View Photos, Read Reviews & Check Availability
Guest Review: "Michael's place was a perfect place for my parents who were visiting town. They had everything they needed in a cute space close to the airport and walking trails. The apartment was very clean and cozy."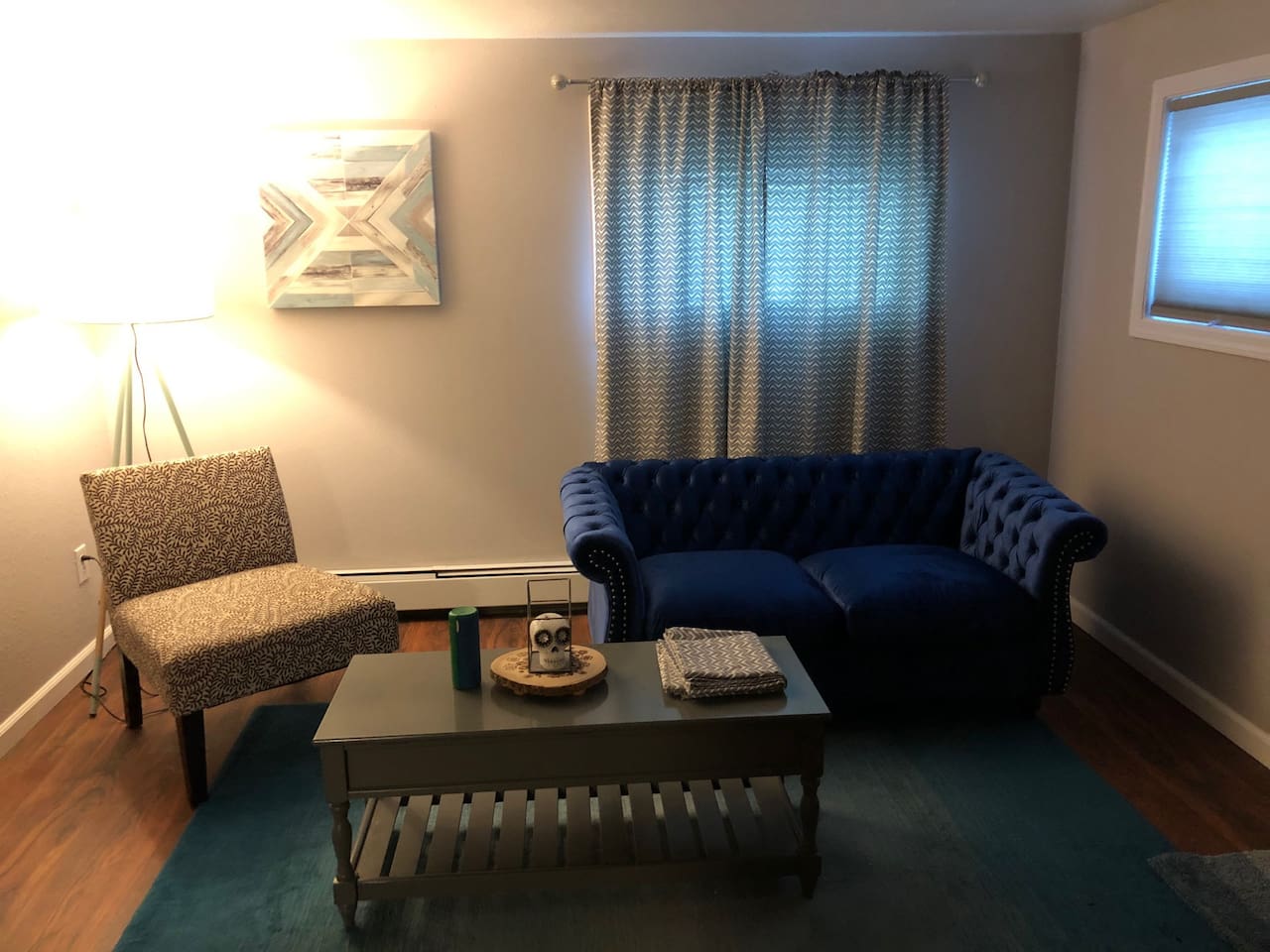 ---
19) Private Spenard Home and Yard
Location: Spenard, Anchorage
Superhost: No
Price: $42+ USD per night
https://www.airbnb.com/rooms/26432232
Enjoy this charming, one bedroom and bathroom home nestled in the trendy neighborhood of Spenard. The home boasts a cast iron bathtub and original hardwood floors, just right to make you feel at home.
The homestead is a 10-minute drive from the airport and downtown area by car. Best of all… Pets are welcome.
The house is kitted with a washer and dryer, a backyard, and accessible parking space – if you decided to rent a car. It's the ideal place for a small family or couples looking to be nestled in a charming area for their vacation.
View Photos, Read Reviews & Check Availability
Guest Review: "Great place. Great location, comfortable, with ice cream in the freezer."
DOWNTOWN NIGHT LIFE | ANCHORAGE, ALASKA
---
20) Updated Alaskan Condo – Pet Friendly
Location: Baxter Heights, Anchorage
Superhost: Yes
Price: $69+ USD per night
https://www.airbnb.com/rooms/19719753
This appealing condominium features all the amenities to make you feel relaxed during your stay. Best of all, it's pet friendly.
The lovely two bedroom, one bathroom unit provides space to sleep up to 6 people. Each room has darkening shades for you to snooze during the 'midnight sun'. The place has a fully equipped kitchen and plenty of other amenities such as wifi, air conditioning, and a laundry area.
The condo sits in an incredible location nestled in Baxter Heights neighborhood. It's steps away from parks, trails, and Cheney Lake. Enjoy the outdoors on the furnished patio while you light the fire for ambiance, or cook something delicious on the BBQ.
View Photos, Read Reviews & Check Availability
Guest Review: "It was certainly cozy and pet friendly. Had plenty of amenities and felt like a home away from home. Excellent stay!"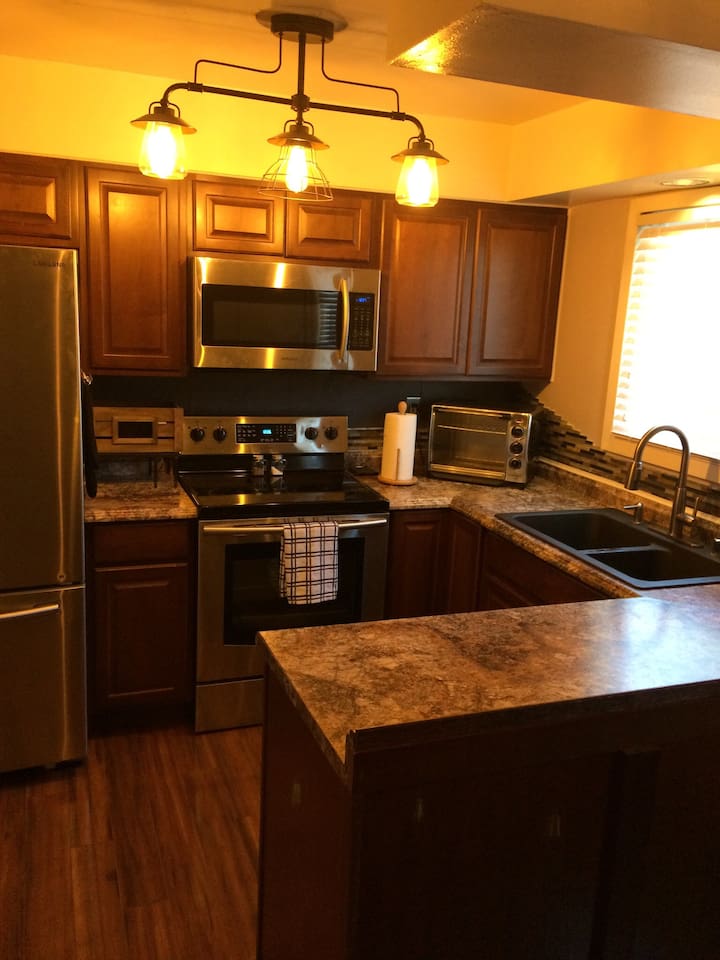 ---
Best Day Tours from Anchorage During Your Alaska Airbnb Stay
Apart from all the exciting things to do in Anchorage, why not go on an adventure to explore further? A short drive away and you'll come to find curious walruses, majestic glaciers, and areas where nature gets exciting.
Choose from a range of activities including glacier climbing, dog sledding, iceberg kayaking, wildlife cruises, and more. Let's take a look at the three best tours available.
---
From Anchorage: Glacier and Wildlife Full-Day Tour
"Discover glaciers, wildlife, and spectacular mountain vistas on a full-day tour of the Chugach Mountains and Cook Inlet along the Turnagain Arm. Stop off at the Alaska Wildlife Conservation Center and cruise the Portage Glacier."
https://www.getyourguide.com/activity/anchorage-l978/turnagain-arm-full-day-sightseeing-tour-from-anchorage-t21027
Price: From $205+ USD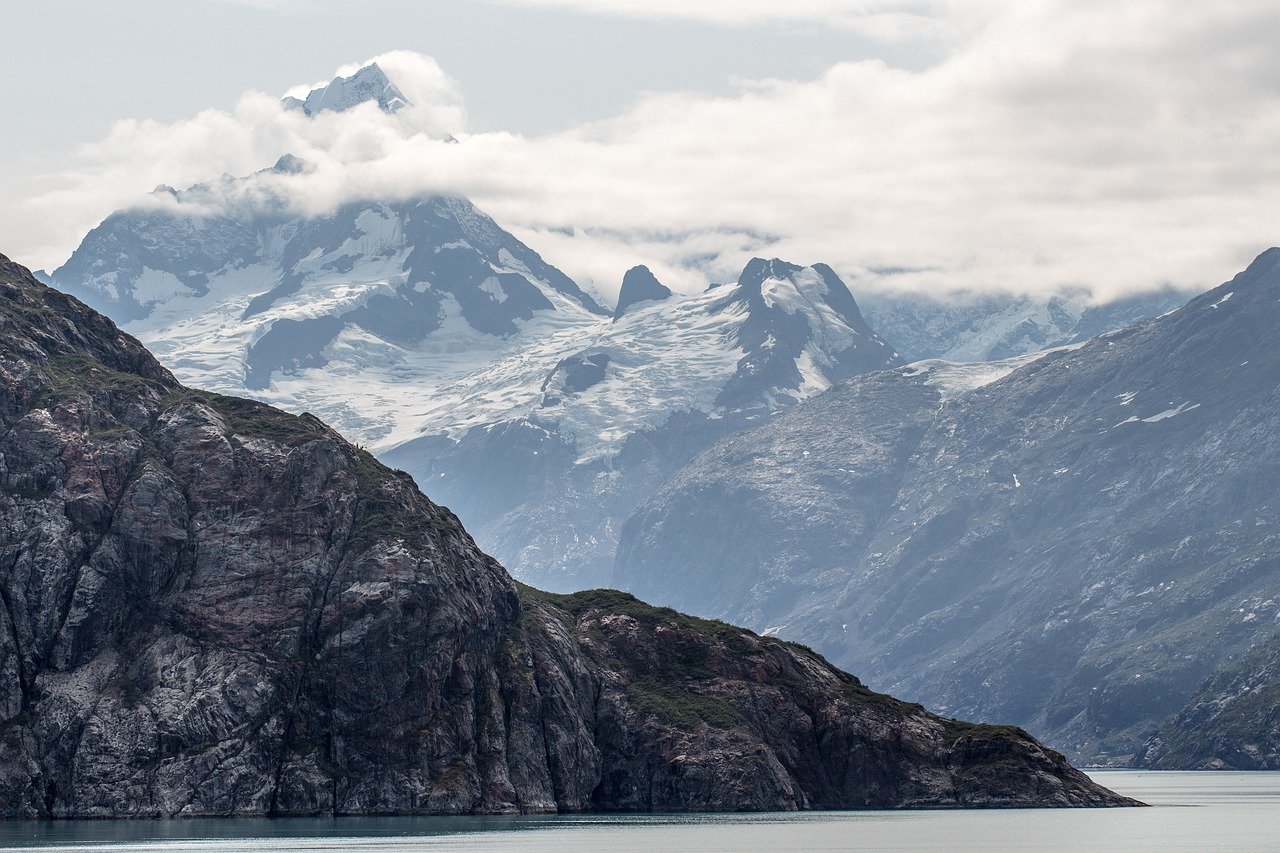 ---
From Anchorage: 1-Hour Trolley Tour
"Climb aboard the Anchorage Trolley for a 1-hour tour of the city's historic and scenic sights. Travel 15 miles through the city as Alaskan guides share family stories and tell stories of the past. Receive a coupon book for Downtown restaurants and stores."
https://www.getyourguide.com/activity/anchorage-l978/1-hour-city-tour-t51047
Price: From $20+ USD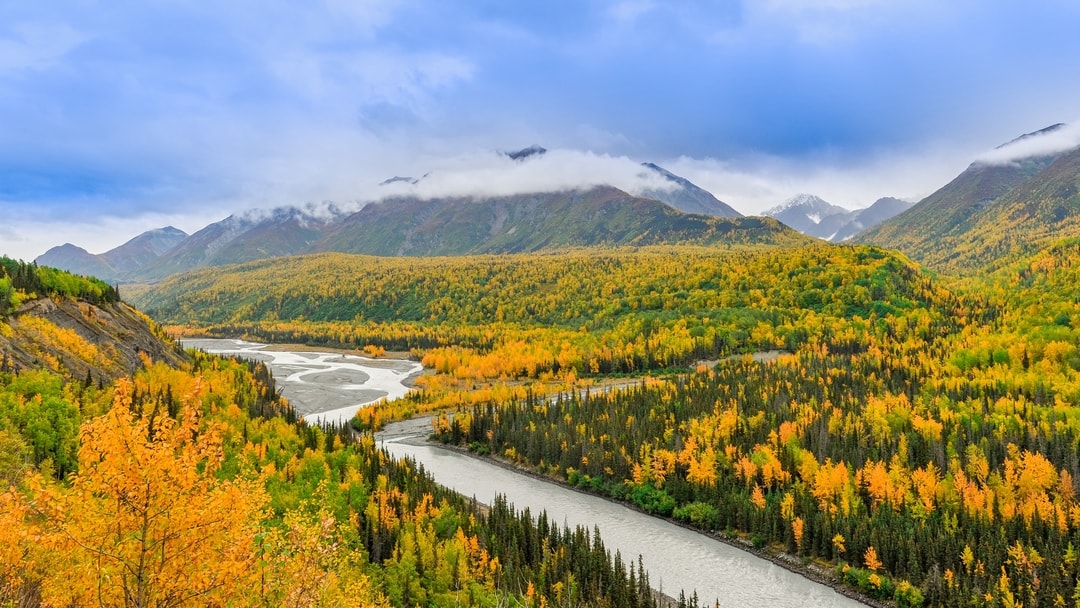 ---
From Anchorage: Coastal Trail 3-Hour City Bike Tour
"Experience Anchorage by bike on the Tony Knowles Coastal Trail. Spot local wildlife and stop at Kincaid Park, Earthquake Park, and Westchester Lagoon."
https://www.getyourguide.com/activity/anchorage-l978/anchorage-coastal-trail-3-hour-city-bike-tour-t255627
Price: From $85+ USD
---
Am I Missing Any Other Anska Airbnb in Anchorage?
These top picks are just a few of the very best Airbnb's in Anchorage. The ones that blew me away. If I had included all of them, you would be reading this list forever.
If I've missed any spectacular Anchorage Alaska vacation rentals, please share, I'd love to know your thoughts.
---
Other Recommended Readings Not to Be Missed
Whether you're visiting Alaska for an adventure to see the Aurora Borealis or for a bucket list itinerary, there's always more to explore and learn.
Take a look at some other unmissable glamping sites, Airbnbs and festivals happening in the U.S. and U.K., you'll not want to miss.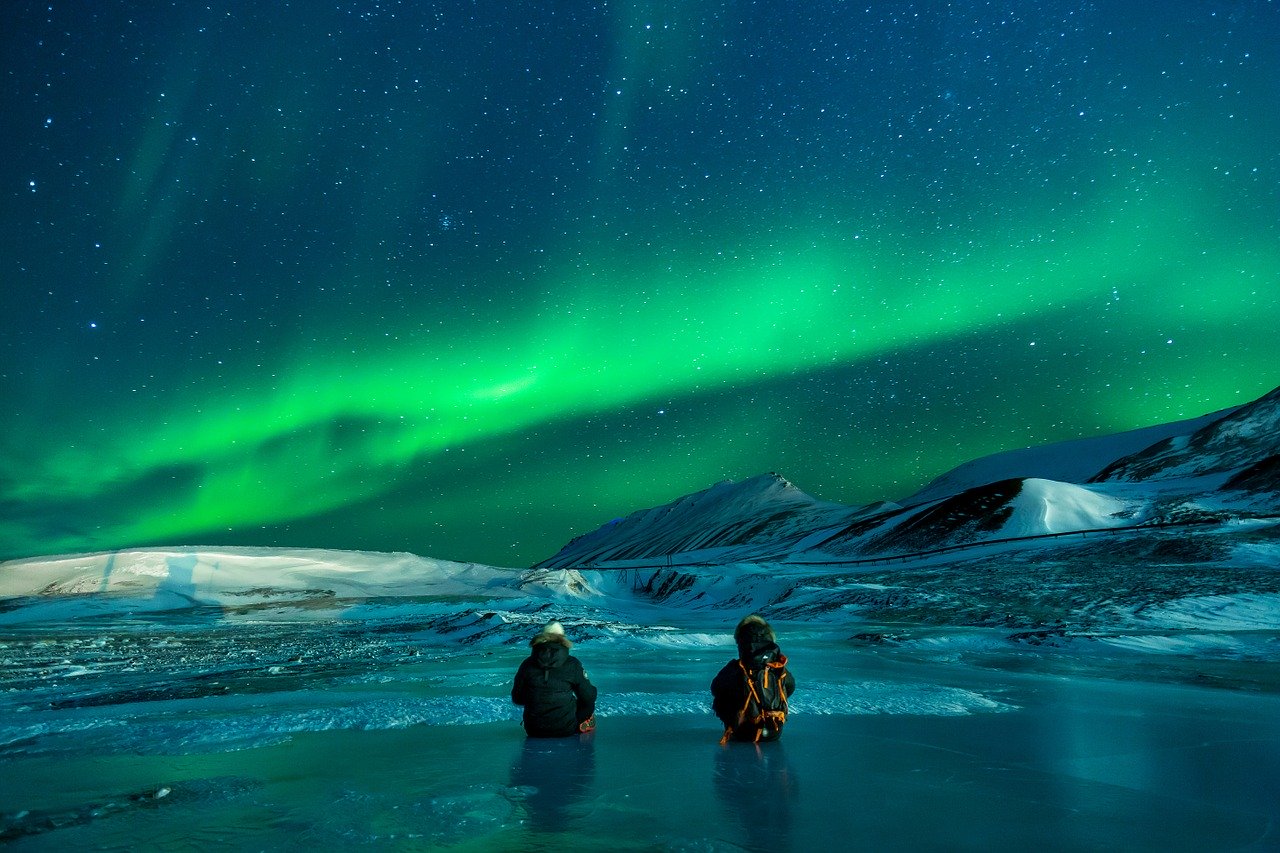 ---
Final Thoughts on the Best Airbnbs in Anchorage, Alaska
If you're planning to Airbnb in Alaska, be sure to stop over in the glorious city of Anchorage. With wild Alaska at your doorstep and stunning Airbnb vacation rentals, what's stopping you from booking your exciting experience?
Oh, and if you decided to make a road trip out of it, take a look at my highlights for 26 months traveling and living abroad for some inspiration. I look forward to hearing your take on vacation rentals in Anchorage, AK.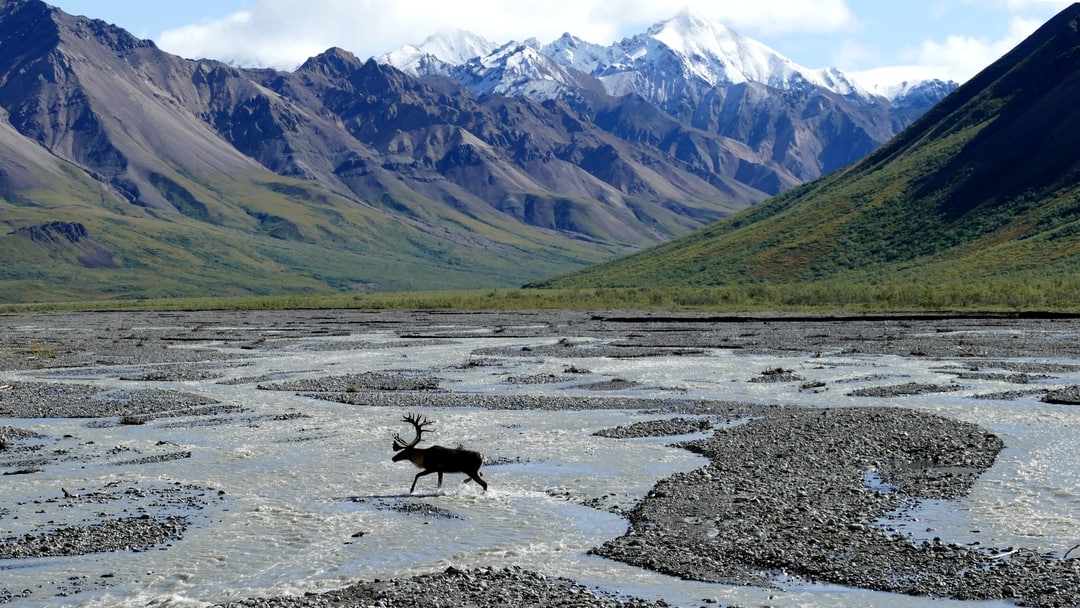 ---
THANKS FOR READING ABOUT MY AIRBNB ANCHORAGE GUIDE!
SHARE THESE AIRBNB'S WITH YOUR ALASKA TRAVEL CREW!
https://www.jonesaroundtheworld.com/wp-content/uploads/2020/08/Airbnb-Anchorage.jpg
720
1080
TravelTractionsJATW
https://www.jonesaroundtheworld.com/wp-content/uploads/2017/03/logotry-1-1-300x106.png
TravelTractionsJATW
2020-08-20 21:08:41
2021-05-07 08:33:23
Airbnb Anchorage • 20 STUNNING Airbnbs in Anchorage, Alaska