Are you looking for famous landmarks in Australia? The Down Under has it all: Fascinating landmarks, striking buildings, and a bunch of crazy wildlife that can give you nightmares at a moment's notice! But as wild as Aussie-land can get, there are some fascinating landmarks and structures there that you absolutely have to see.
Some of these have amazing historical value, while others serve up some entertainment with a side of cool. Most, if not all of these places, also have some deeper, local meanings attached to them. Some of these famous Australian buildings may surprise you with their history.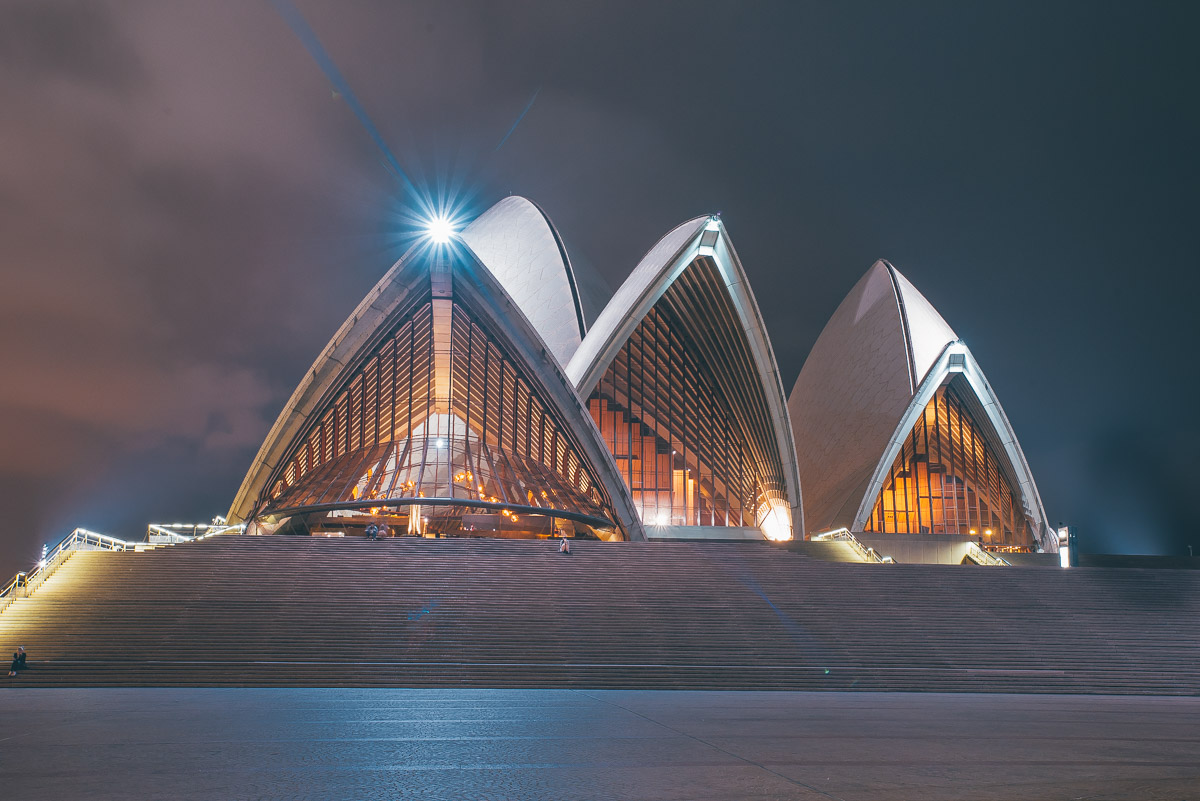 Many of the Australian famous landmarks in this post have historic origins dating back many years, so they are bound to surprise you with some sort of intriguing detail or fun fact. So while you plan your adventure, keep these awesome travel tips for Australia in mind.
Wondering "what is Australia famous for"? The answer lies in the post below. The Australian Express is about to leave: join us on a trip to the wonderful, unique, and fascinating landscape that is the Land Down Under.
Also, be sure to read my guides for a Sydney Itinerary, Melbourne Itinerary, and Music Festivals in Australia for more Oz inspiration!
---
1) Sydney Opera House
A source of multiple funny memes on social media, the Sydney Opera House is one of the most iconic buildings or locations in Australia. Besides the absolutely stunning architecture used to create this modern marvel, the Opera House is actually a multi-functional, multi-venue performing arts center.
It is not just another pretty building to look at, rather it is a fully functional piece of human genius. Besides being used as a performance venue, the Opera House (or "Dish Drying Rack," as it is lovingly known) also has a wonderful restaurant.
This UNESCO World Heritage Site will wow you from the moment you lay eyes on it (and trust me, you'll see it coming from miles away). It is just one of those iconic things that make Australia famous around the world.
Fun Fact: The Opera House is not smooth and glossy like most people think. In reality, it is comprised of thousands of small, triangular "tiles" all fitting together to form the illusion. From far off, it looks pristine and sleek, but up close it can actually be quite rough to the touch.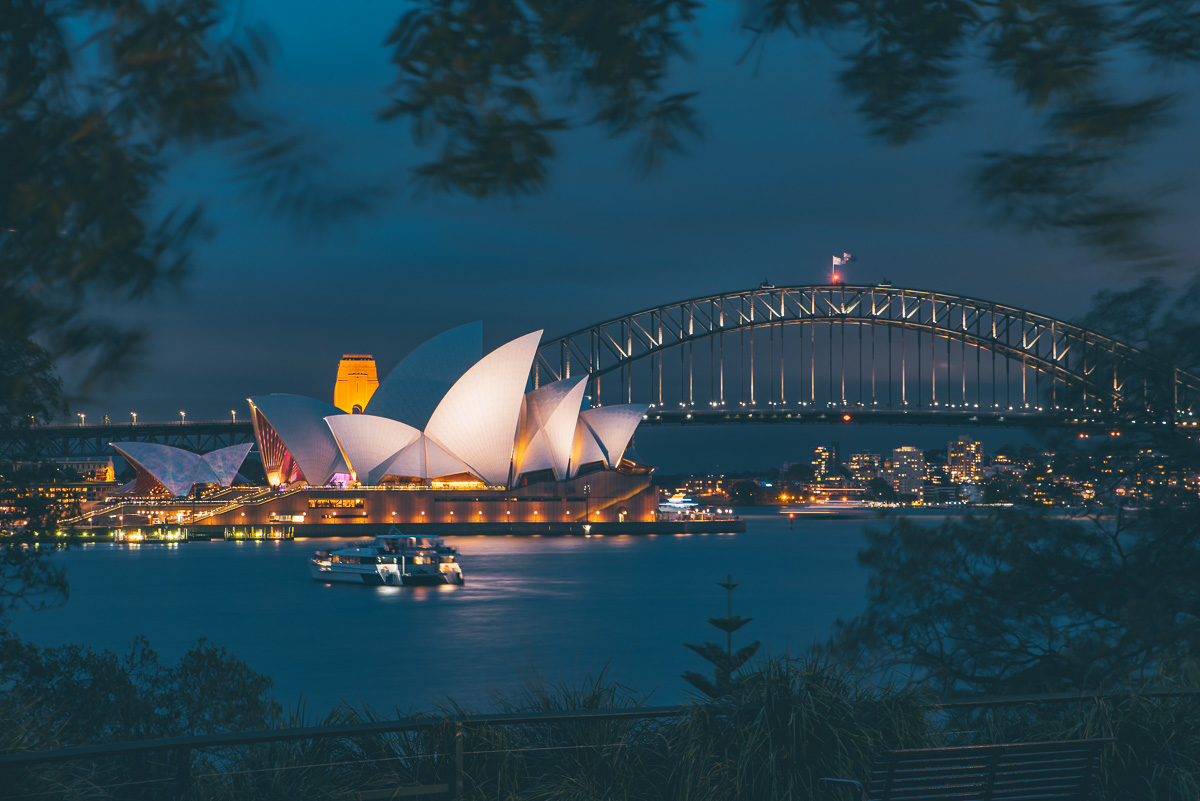 ---
2) Sydney Harbor Bridge
Almost like twins, once you have the Opera House, the Harbor Bridge is never far behind. With these two monuments sitting so close to each other, it's a wonder people don't just stare in amazement all day long.
Besides connecting Dawson's Point to Milson's Point, right on the edge of Sydney, this bridge can also serve as a workout. It has multiple different climbing and walking routes to take, all of them allowing you to experience a superb landscape view of the harbor. This is a good place for those panorama shots everyone is so crazy about.
Interestingly, "the Coathanger" is also the largest bridge of its kind. It is the tallest and widest steel arch bridge in the world, at 440 feet from top to bottom.
---
3) Bondi Beach
While it may seem strange to include a beach on this list, once you visit this iconic stretch of warm white sand, you'll see why. The beautiful beach stretches as far as the eye can see, with surfers braving the killer waves, lots of cafes and shops lining the streets, and an iconic coastal walking trail.
The Bondi to Coogee coastal walk is well-known in this part of the world. A 3.7-mile pathway leads you past cliffs, caves, parks, and restaurants. As you meander along, take in the sights and sounds of the Aussie coast.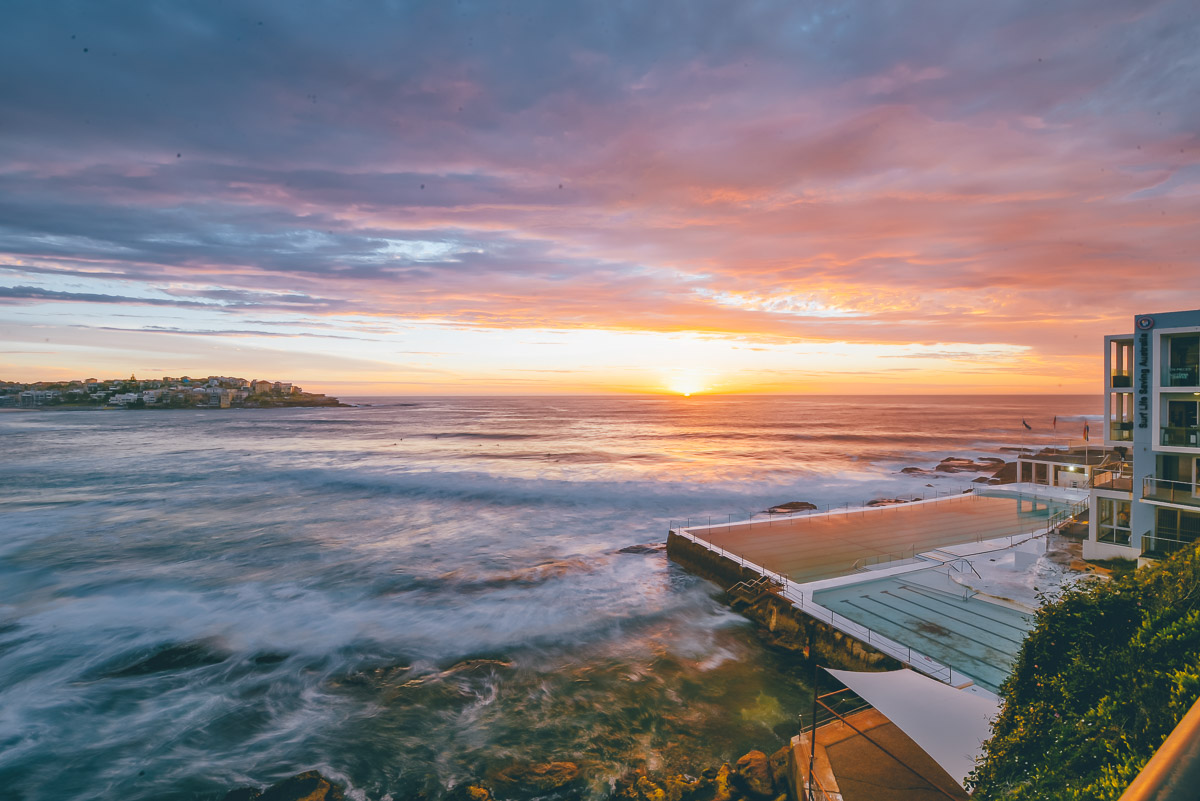 ---
4) Queen Victoria Building
Ah, the iconic QVB. Instantly recognizable to any of the locals, this shopping center is like nothing you've seen before. It has some stunning architecture inspired by the Romanesque style. In fact, it was constructed to be able to provide jobs to out-of-work masons and plasterers.
There are tons of activities at QVB besides regular shopping. These include a concert hall, a library, and even served as office space for the Sydney City Council. QVB is just one of the many famous buildings in Australia.
Cool Fact: A time-capsule letter written by Queen Elizabeth II to the citizens of Sydney resides here. It is to be opened and read in the year 2085.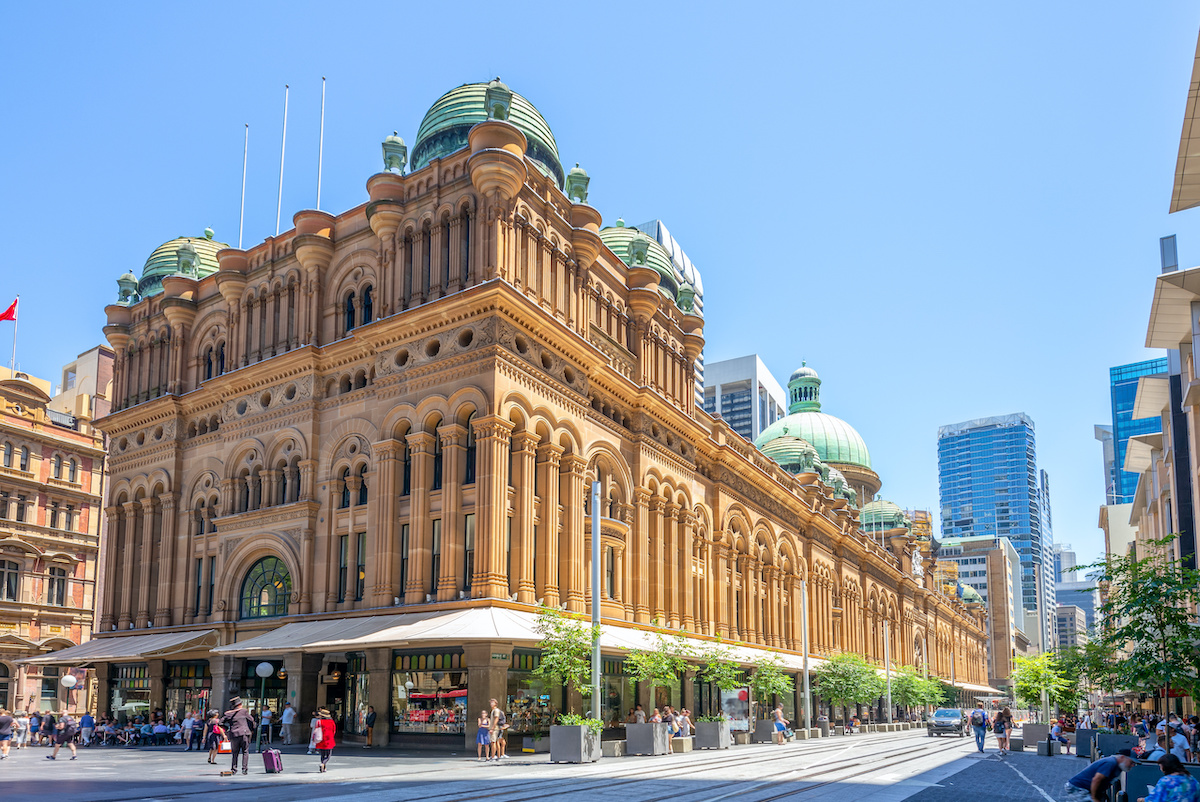 ---
5) Sydney Tower Eye
Now they say a bird's eye view is the best way to get the lay of the land. Well, in this case, the bird's eye is a huge, manmade structure, otherwise known as the AMP tower. This thing is massive, standing at just over 1000 feet tall, and is the highest building in Australia.
Even more impressive is that it's also the second-highest observation tower in the southern hemisphere. This one is really worth the (elevator) trip. Once at the top, you can view the city from the rotating "disc" floor, getting a 360-degree view.
For some classic touristy activities, you can enjoy a mixed reality, 4D theatre experience, as well as a mini photo album of some crazy and wacky photos. If you've ever wondered what a giant (digital) koala might look like, you have to check this out.
For a unique, premium dining experience, you can try out the Infinity restaurant. Nothing beats the view 81 floors up, and the fine dining is a wonderful addition to this fun attraction. Definitely add this one to your list of famous Australian landmarks. This Sydney itinerary will guide you to some of the best spots and places to complement your trip.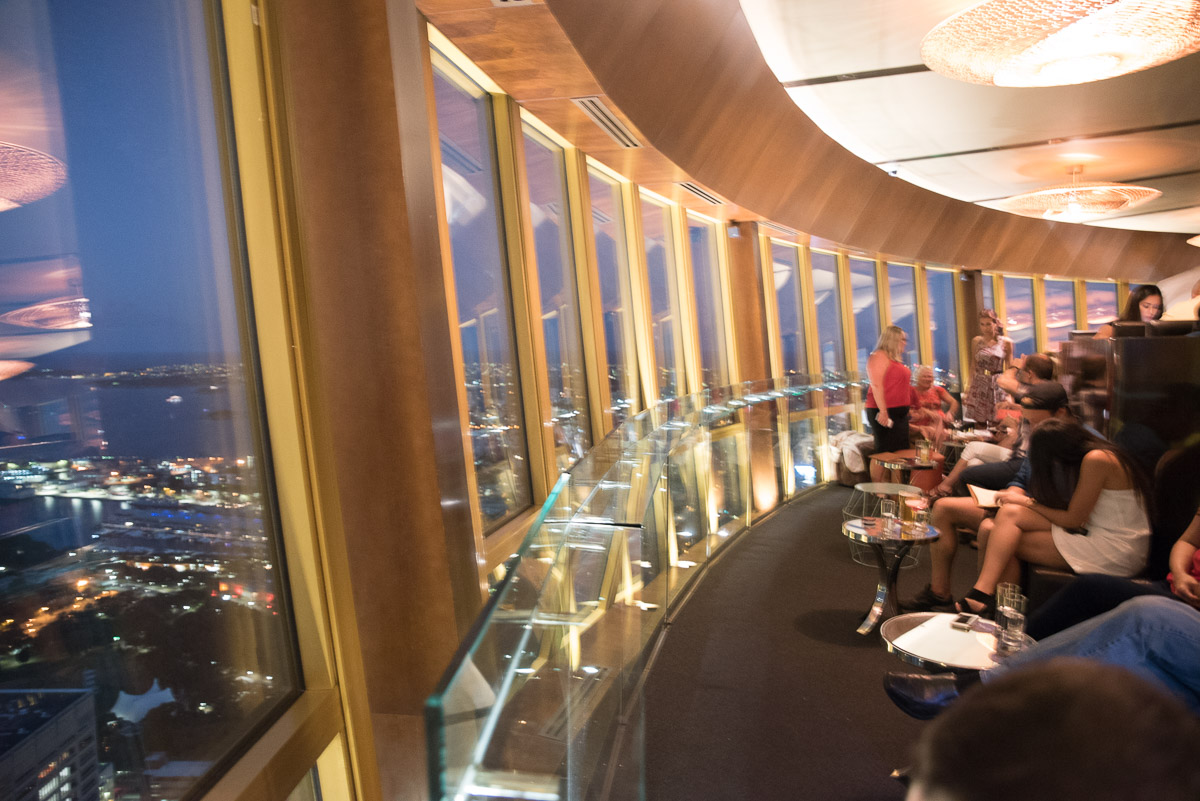 ---
6) Captain Cook Statue
Located in Cooktown, this famous statue is here to forever mark the legacy of James Cook, the British explorer. He charted the east coast of Australia and started Australia's colonization by making the very first recorded European contact.
Cooktown is a coastal town in Queensland and is actually the location where James got stranded after his ship ran aground. The statue to commemorate him stands in the Bicentennial Park in Cooktown.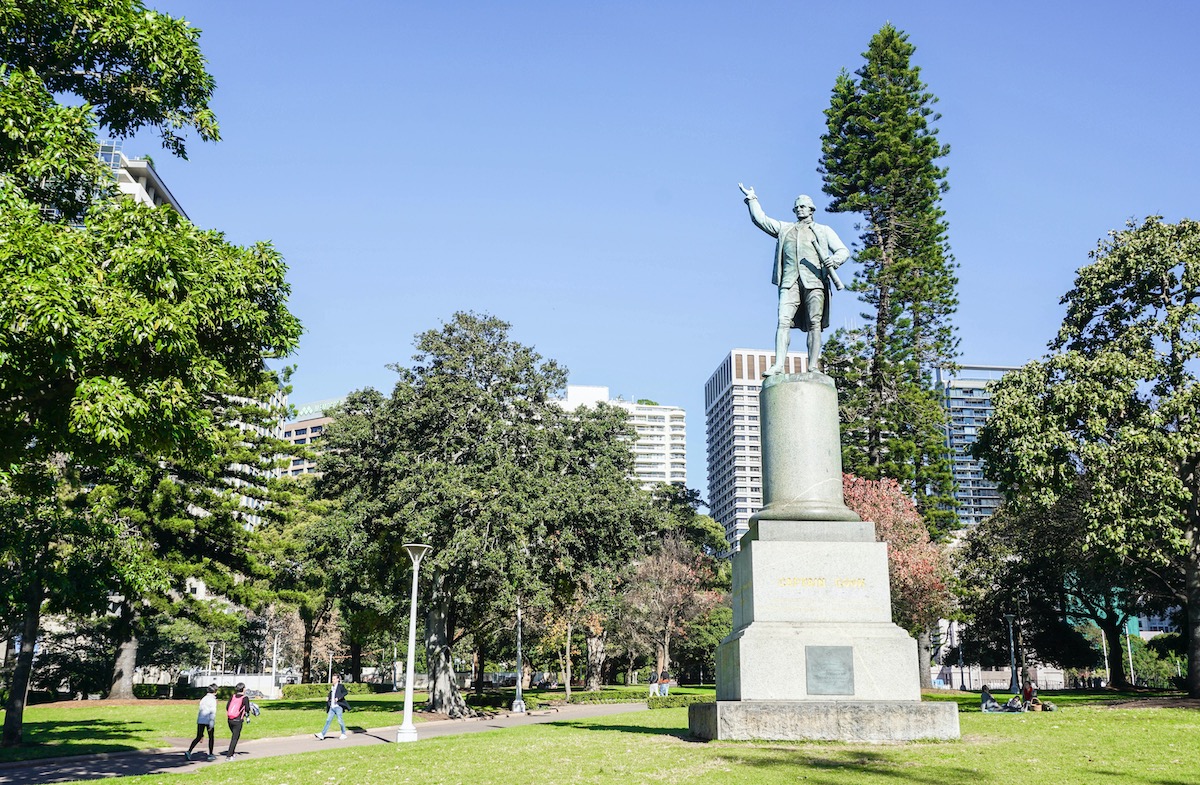 ---
7) Australian War Memorial
A unique combination of shrine and museum, this memorial is dedicated to the brave Australians who died fighting in the Australian wars. It is in the capital city of Canberra and features some Byzantine architecture. This Australian monument houses some fascinating history and should be on anyone's travel bucket list.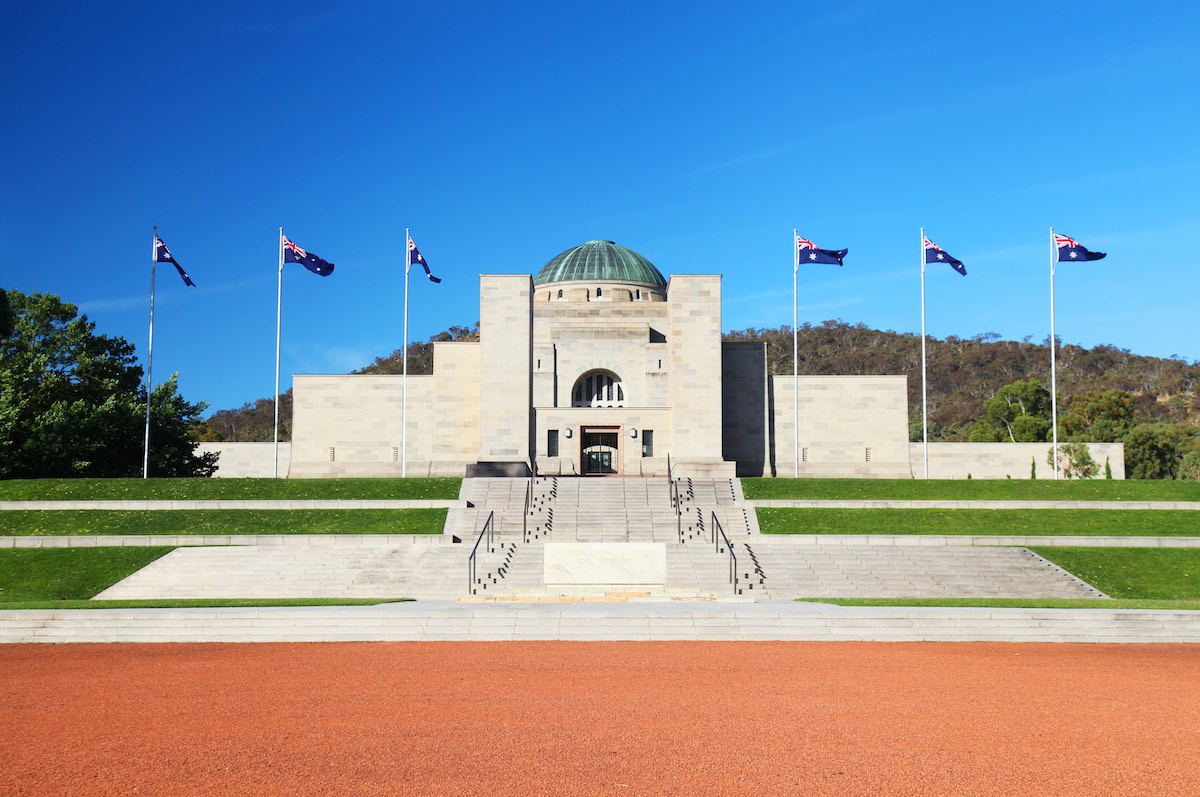 ---
8) Port Arthur
As part of Australia's origins, from 1788 to 1868 thousands of convicts were shipped to Aussie colonies. These convict sites later went on to become one of Australia's World Heritage sites, just like Opera House.
The most famous of these convict sites is Port Arthur. It lies on the Tasmanian island and is a dark reminder of the unpleasant days that have come to pass. Today, it is a popular tourist destination hosting a variety of "ghost-tours" and informative sessions on the nation's history.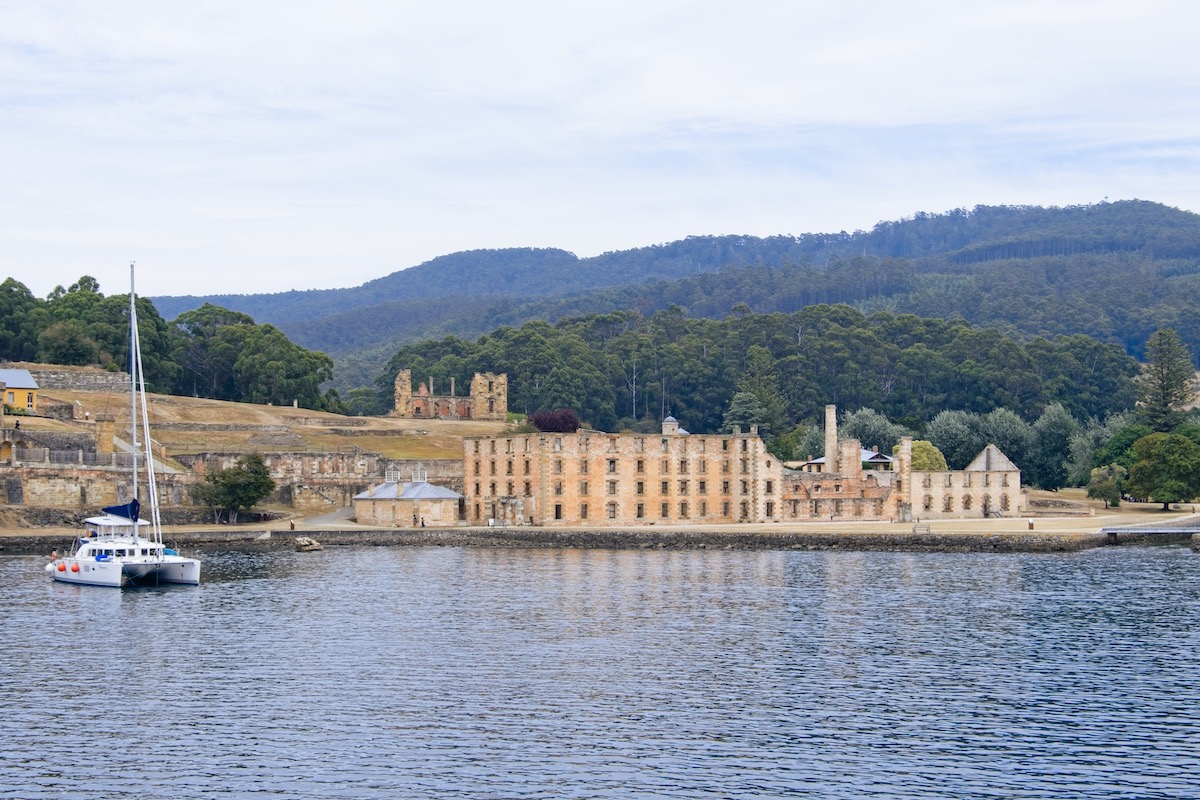 ---
9) Great Barrier Reef
Another addition to the World Heritage list, the GBR is a breathtaking natural wonder. It is a massive ecosystem of over 3000 different reefs and habitats, more than 1500 species of fish, and other marine animals.
This reef is extremely well-known – almost on par with the Opera House in its fame. It stretches for over 1400 miles along the Queensland coast and is one of the must-visit spots for anyone coming to Australia.
You may have heard that the reef is extremely endangered, something that will most likely continue for several more years. But the good news is that conservation actions that have been taken have made all the difference. Slowly but surely, this natural marvel is bouncing back.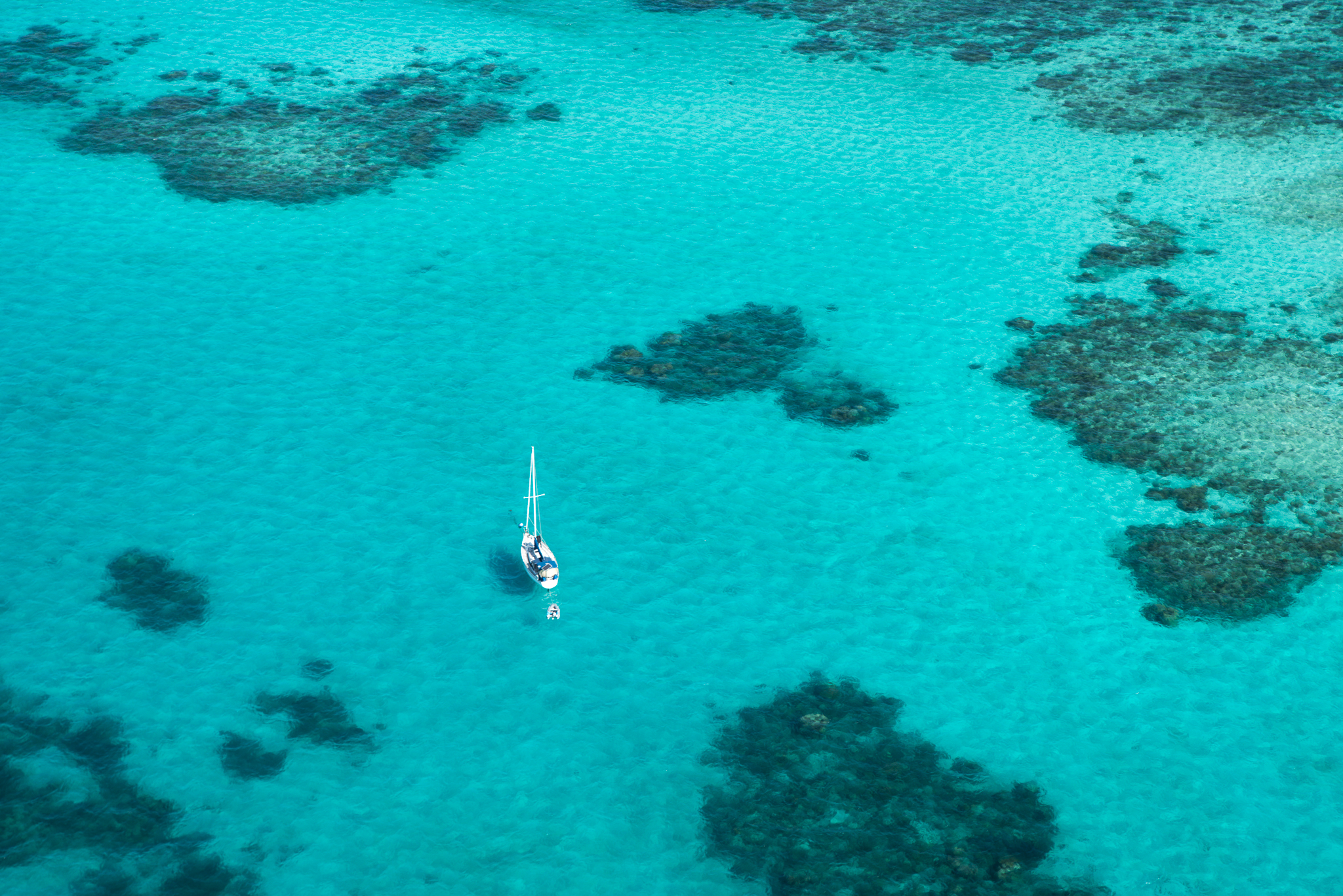 ---
10) 12 Apostles
Scenic drive: check. Stunning surroundings: check. Stunning limestone monuments that litter the coastline: yes, please! The 12 Apostles is one of the most memorable and important landmarks in Australia (trust me). They sit along the Victorian coastline and are millions of years old. Therefore, they definitely qualify as part of Australia's famous landmarks
These limestone formations are what make the Great Ocean Road such a beautiful drive. The rainforests, coastal towns, and beaches you drive past on this road, all add up to the climax of these monuments. Funnily enough, they were formed by erosion: nature's destruction. You wouldn't think anything destructive can form such stunning formations, but here they are in all their glory.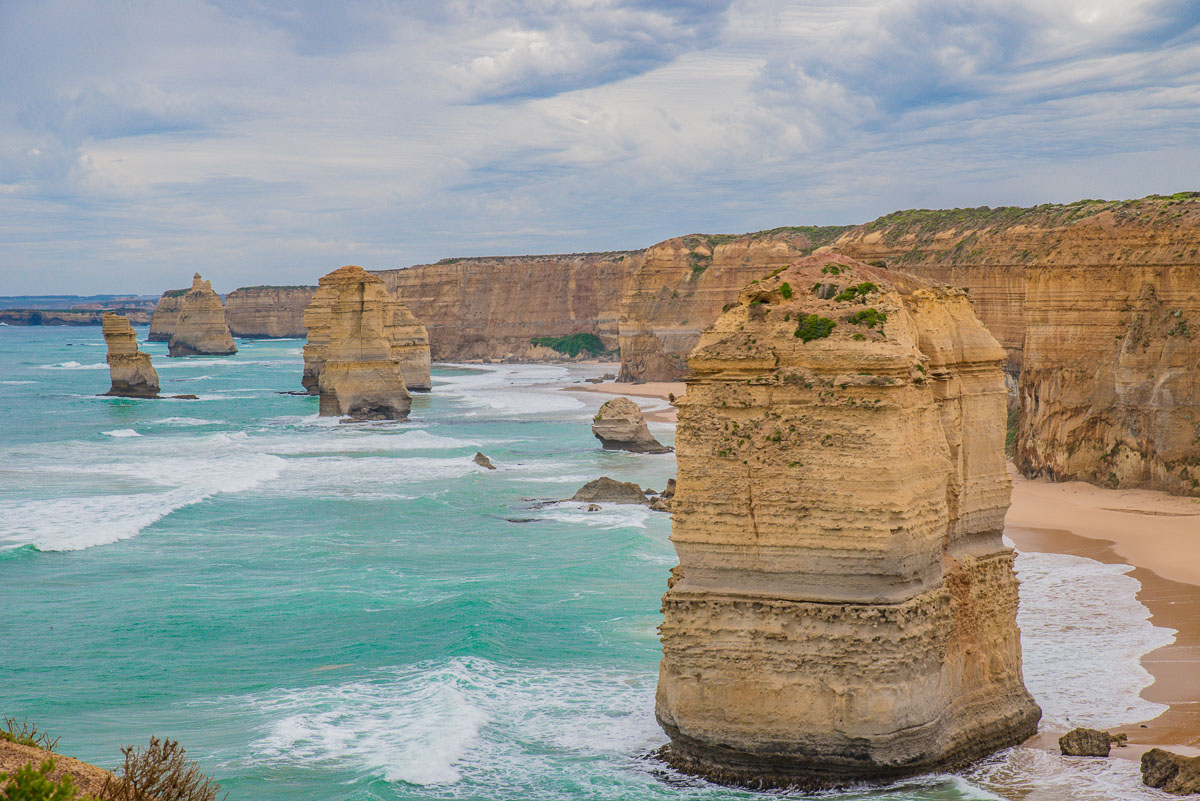 ---
11) Uluru
One of the most distinctive natural landmarks in Australia is none other than the Uluru mountain range. Hidden away in the Outback of Central Australia, there is an abundance of hidden gems like this in the area.
Uluru is often known as the heart of Australia and is extremely sacred to the Anangu people. It really is quite far removed from civilization, as the nearest town is over 250 miles away.
The landmark consists of sandstone and has a very distinct red color when the sun is setting. It is what is known as an inselberg – an island mountain – jutting out abruptly from the surrounding flatlands.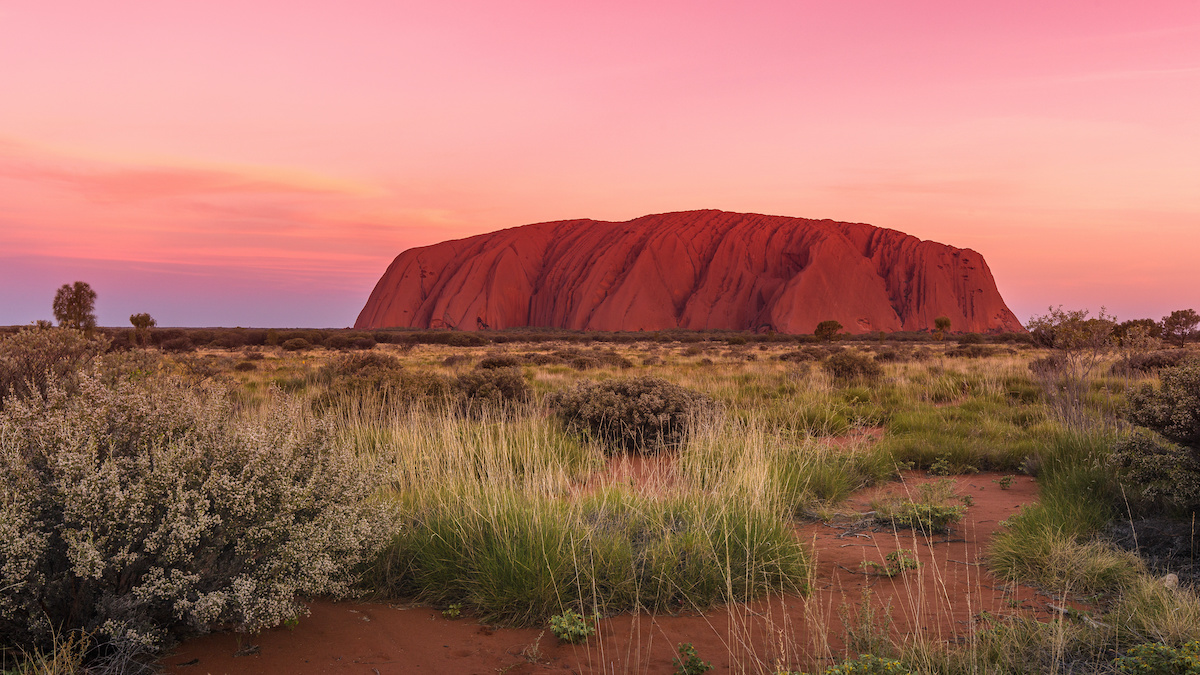 ---
12) Bungle Bungles
Who would have thought that bees and rocks could have something in common? The Bungle Bungle Range is such a strange natural occurrence: beehive-like formations of sculpted rock forms this unique landscape.
Even more weird is the fact that they are colored a striking orange with black striped domes. They are a cool example of cone karst (an area of land that is made up during movement in the earth) in sandstone.
Karstification is the process that created these quirky outcroppings, due to the tectonic movements of the plates. Fancy words aside, they look super cool and you should definitely make a point of seeing them.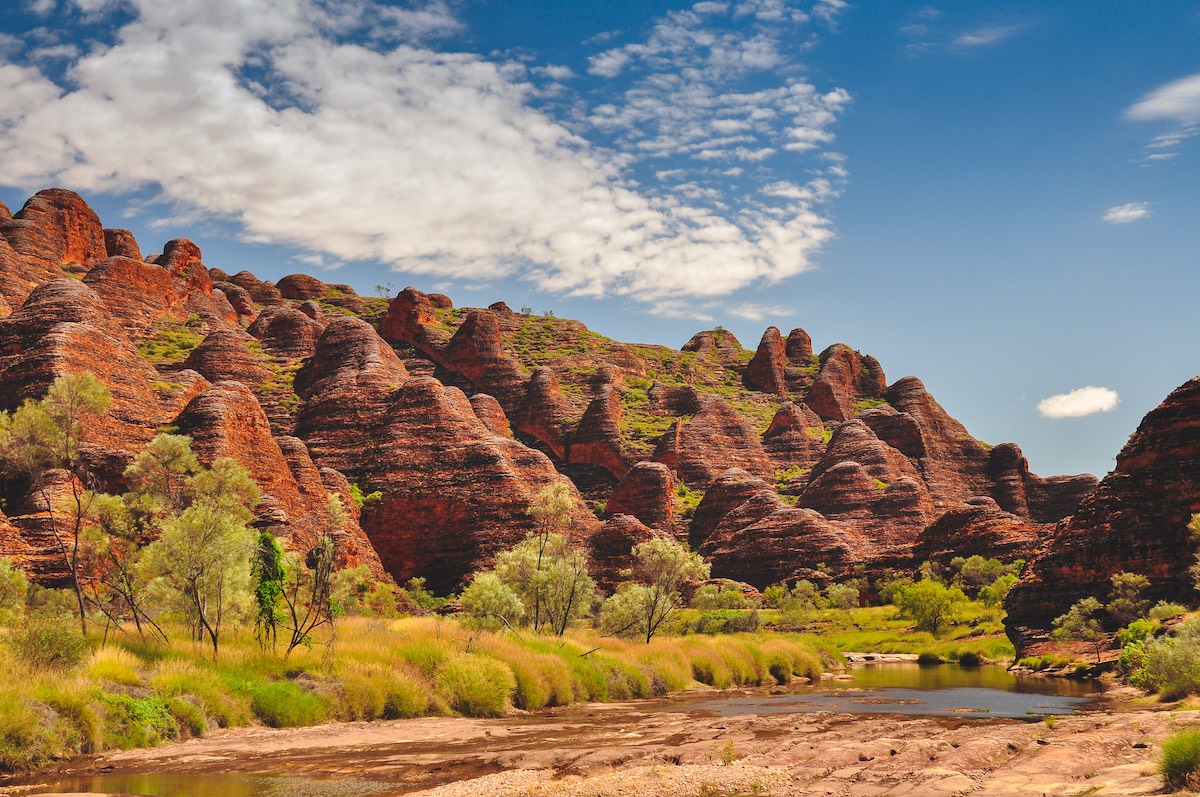 ---
13) Lake Hillier
Ever seen a pink lake? Well, that's exactly what Lake Hillier is. There are actually quite a number of these rosy-hued bodies of water in Australia, but Hilliar is definitely the most well-known.
It gets its iconic shade due to algae in the water (no, it's not made of strawberry milkshakes). It is a saline lake, and the algae absolutely thrive on this high salt content. They are among the only living organisms in the lake, as you can imagine. And of course, to answer your question: yes the lake is safe to swim in.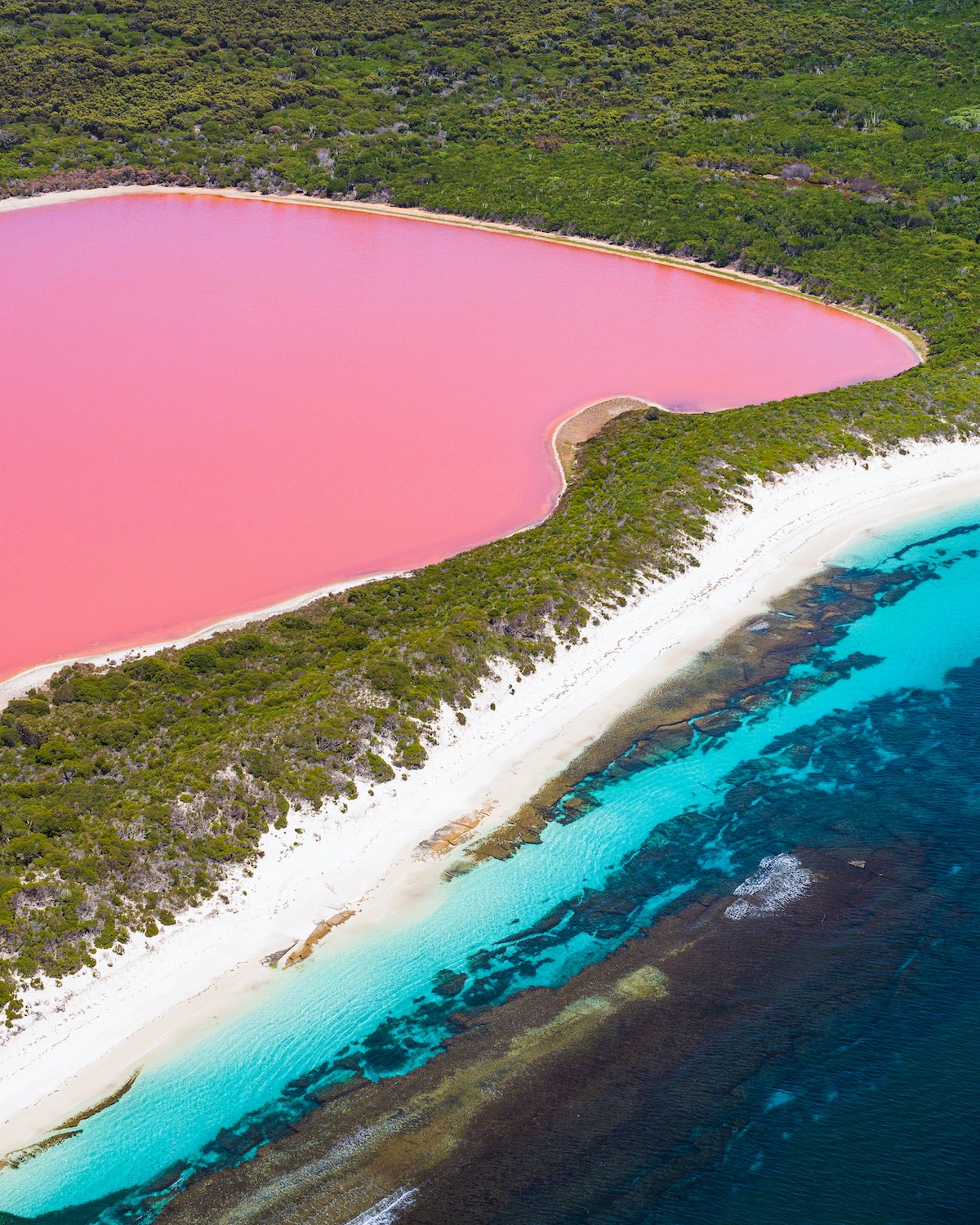 ---
14) The Big Merino
The statue of The Big Merino is located along the Hume Highway. It is an iconic representation of the country's wool industry. This massive sheep towers over anything and anyone nearby. If you have a phobia for the woolly ones, you might want to steer clear.
The woolly mammoth houses a gift shop as part of its heft, giving visitors the chance to browse a weird and wacky range of eclectic gifts and merchandise. You can also see an exhibition of the Australian wool industry.
Rambo (as the massive beast is known) even gets the chance for a makeover every once in a while. He gets dressed up or changed in some way to bring awareness to various issues or movements. He received a blue pair, in support of testicular cancer, and even got some green eyes at one point, supporting eco-awareness.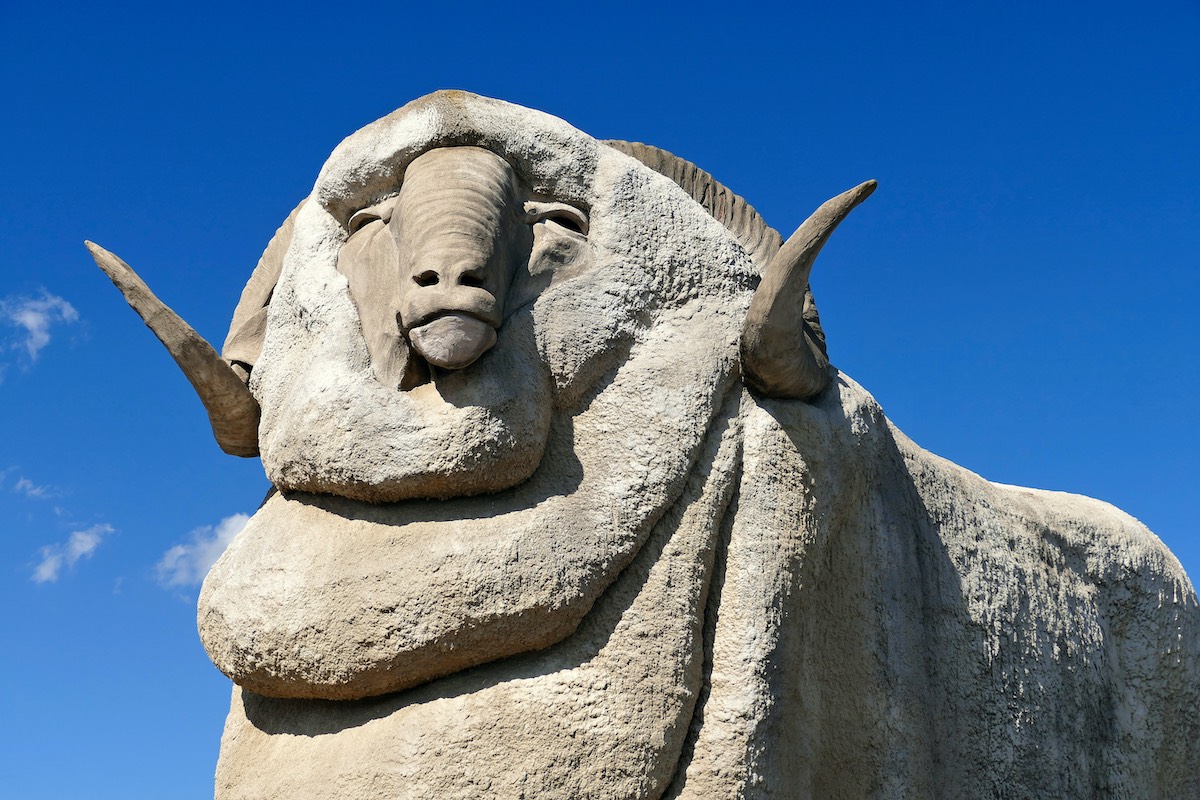 ---
15) The Big Banana
The Banana is situated on a banana plantation and stands tall at over 42 feet high. It makes the drive through Coffs Harbor just a bit more interesting. It was originally constructed to create that "look over there!" reaction in passersby. Since then, it has evolved into quite the roadside attraction, boasting a huge water park.
The Big Banana Fun Park actually has the biggest Giant Slide in the country. It is also the largest waterpark between the Gold Coast and Sydney.
The Big Banana Coffs Harbour Fun Park Australia | Toboggan Ride
---
16) The Big Pineapple
Part of the Sunshine Coast's top attractions, The Big Pineapple is the notable landmark next to the exhilarating TreeTop Challenge ziplining course. This massive fruit gives us a peek into Spongebob's world and posing for a selfie is an absolute must.
It is also the location for The Big Pineapple Music Festival which began in 2013. This annual festival, held in May, has become a local legend and attracts crowds of people every year to jam out to a variety of bands and artists.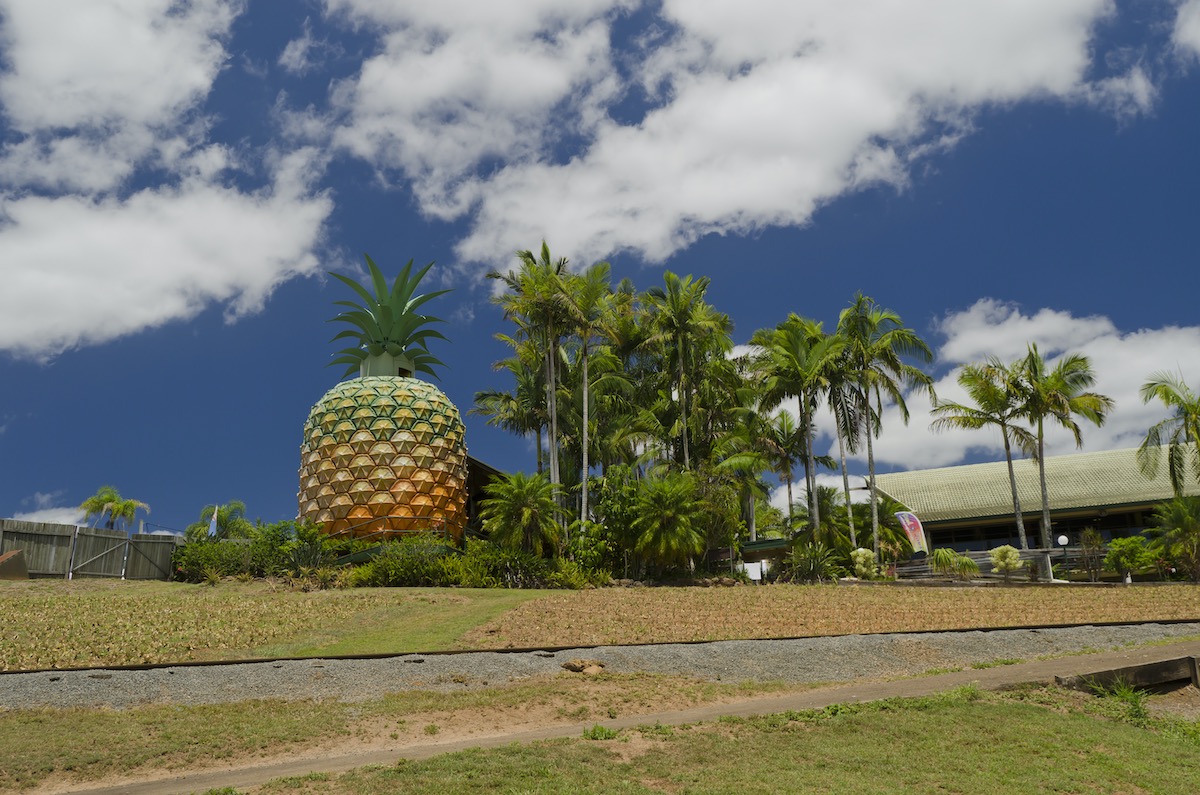 ---
17) The Big Prawn
At nearly 30 feet tall, this massive critter holds the title of "The World's Largest Artificial Prawn." Yes, that really is a thing. The funny thing is that it was actually meant to be demolished in 2009, but the local community banded together to save the crustacean.
It is located in the town of Ballina, NSW, and should definitely be included in your road trip adventures. Seriously though, who wouldn't want to pose with this massive bit of seafood?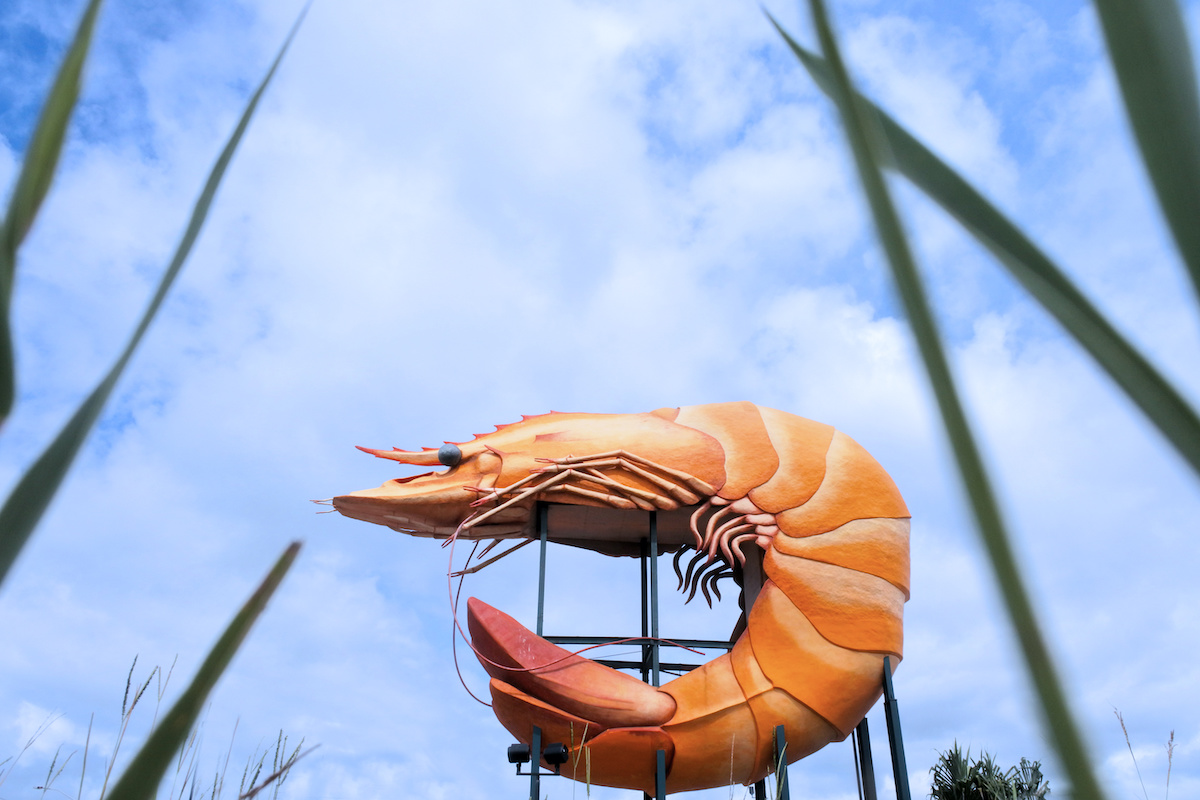 ---
Planning a trip to Australia?
My website is filled with useful articles, things to do, destination guides, and travel itineraries for a bunch of popular places to visit all over this incredible destination! Take a look through a few of my favorites and let me know what you think!
THANKS FOR READING! SHARE THIS ARTICLE WITH YOUR AUSTRALIA TRAVEL CREW!
https://www.jonesaroundtheworld.com/wp-content/uploads/2021/09/Sydney-Opera-House-Landmark-Australia.jpg
801
1200
TravelTractionsJATW
https://www.jonesaroundtheworld.com/wp-content/uploads/2017/03/logotry-1-1-300x106.png
TravelTractionsJATW
2021-09-21 09:21:37
2021-09-21 18:40:45
Famous Landmarks in Australia – 17 Iconic Buildings & Places To Visit