California's magnificent Pacific Coast Highway is the best option when taking a road trip from Los Angeles to San Francisco drive. It's a long trip – just over 380 miles, so you're going to need a few breaks. So why not make the most of it with one or more of these amazing stops when driving from LA to San Francisco?
Pacific Coast Highway is also called Highway 1 and passes through or by several of the most impressive sights, sites, and stops that the Golden State has to offer. You'll be able to take advantage of some great hikes, views, and recreational activities. You'll also get to taste some unique flavors in the food, wine, and sweets departments.
Let's dive into the possible stops – in order – on the Los Angeles to San Francisco drive. You can also check out a south-bound road trip itinerary for LA to San Diego here!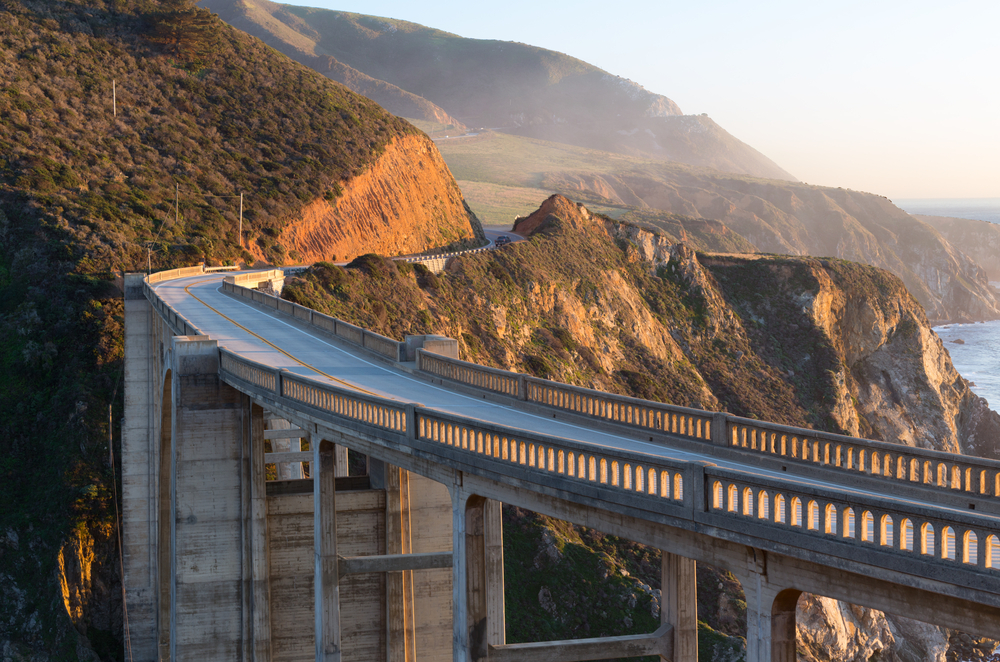 ---
1) Santa Monica
Most drives from LA pass by the great beach town of Santa Monica. The most famous point here is the Santa Monica Pier (go for a trapeze lesson). If you've got more time, enjoy the beach or walk the Marvin Braude Beach Trail.
Where to stay in Santa Monica: Shutters on the Beach
Right on the beach, this hotel has hydro spa baths in every room. You can also enjoy one of the two restaurants. This will be a great option if you're not staying in LA, just as you start your drive. There are also a bunch of Santa Monica Airbnbs to choose from if you prefer the self-catering option.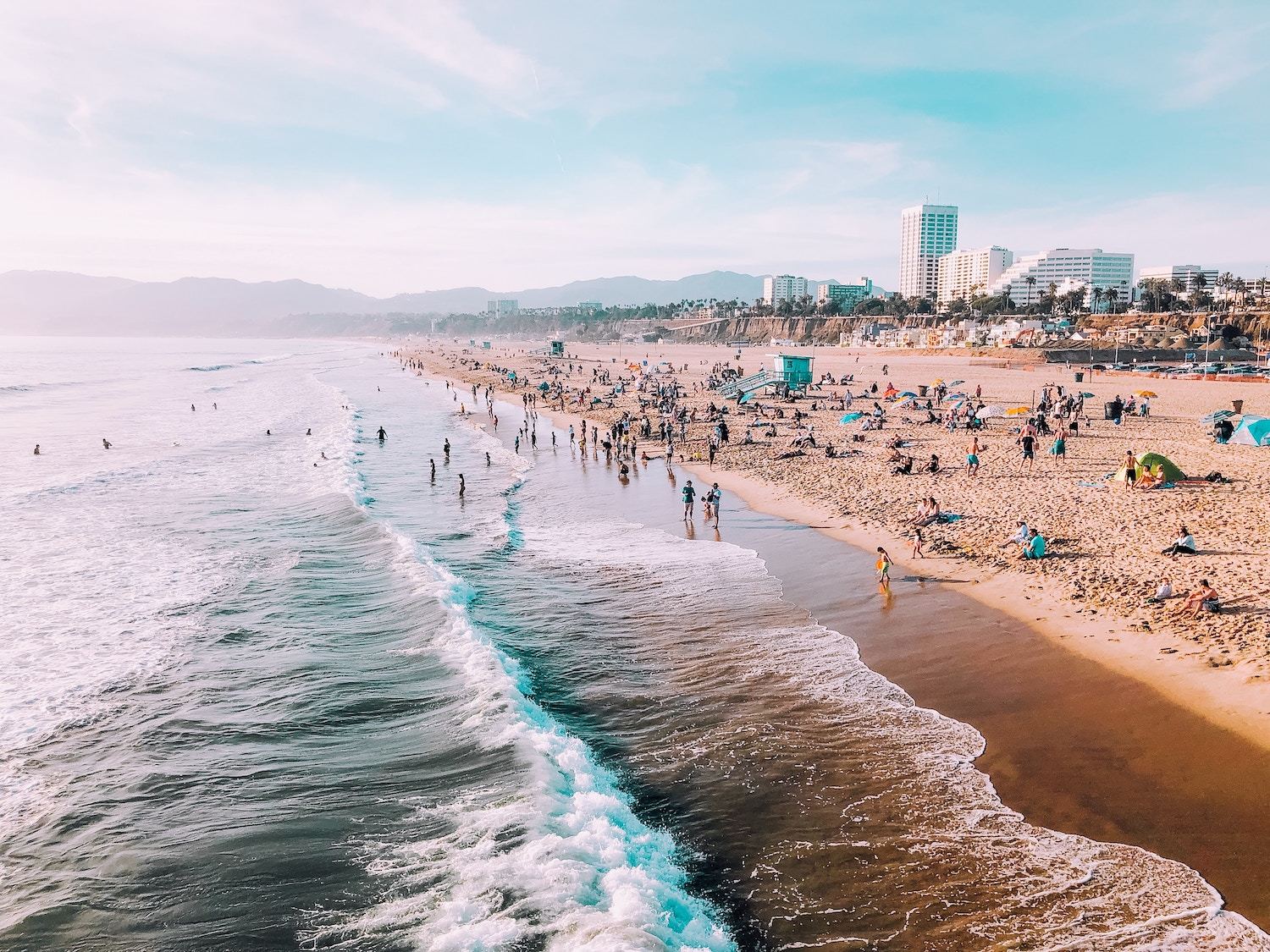 ---
2) Malibu Coast
Road trips from Los Angeles to San Francisco get going once you hit Malibu. If you're a keen hiker or nature enthusiast, Malibu offers loads of great canyon walks and a gorgeous beach. Malibu also has more than its fair share of shiny autos and beachfront mansions to gawk at, as it's a fairly affluent community.
Where to stay on the Malibu Coast: The Surfrider Malibu
The highlight here is the guests-only rooftop bar. It overlooks the pier and the beach. You can use the hotel's surfboards and paddleboards if you'd like.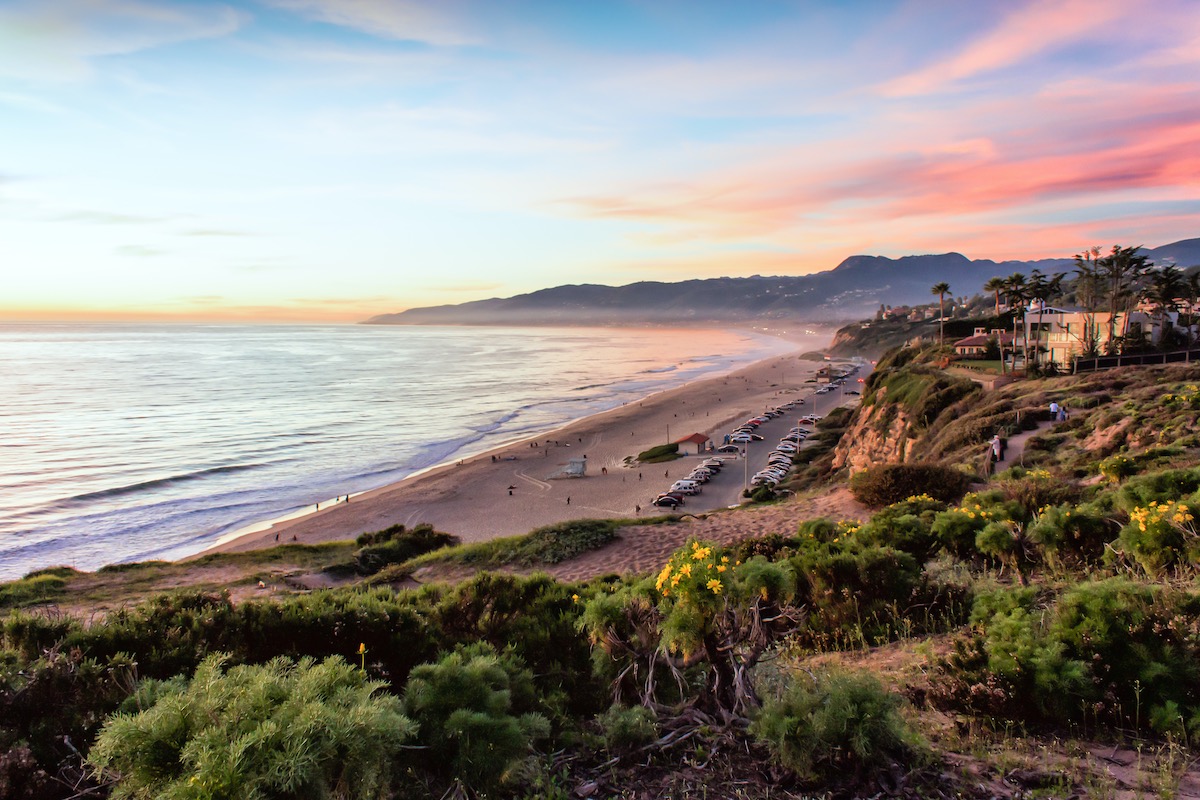 ---
3) Santa Barbara
You might think of Santa Barbara as the forgotten step-sister of LA and San Francisco. But she has several admirable charms of her own, including a vibrant wine scene, a boardwalk, and a few incredible old buildings and museums to visit.
Mostly, it's a beautiful location in which to indulge Spanish colonial history – that's why it's called "America's Riviera" – a potentially important stop on your Los Angeles to San Francisco road trip.
Here's another guide if you're looking for a separate road trip itinerary for LA to Santa Barbara.
Where to stay in Santa Barbara: Castillo Inn at the Beach
A pretty, comfortable traditional-style hotel setting, just a stone's throw from the Santa Barbara Wine Collective. Spacious rooms, great value, and highly rated for passers-through.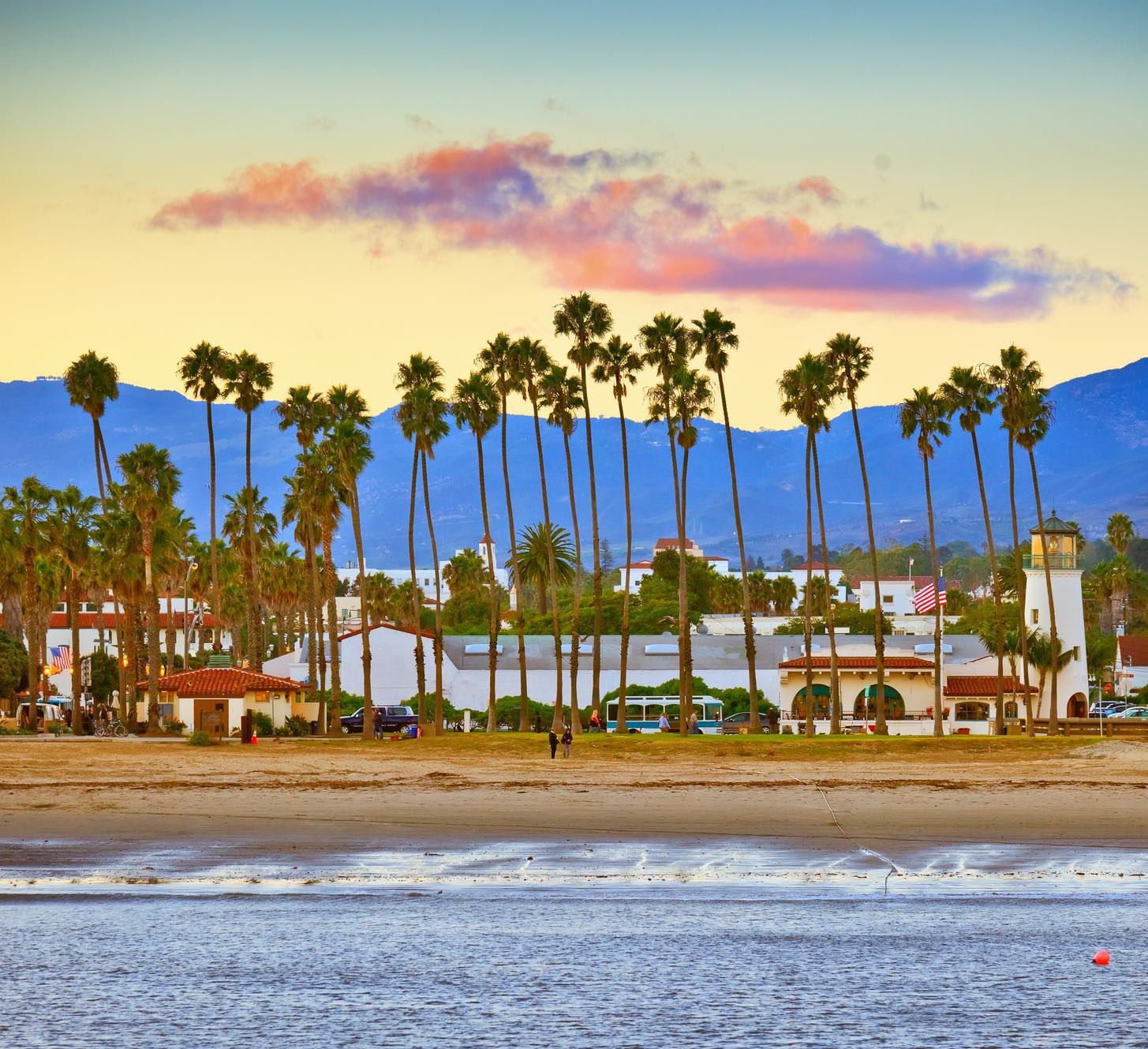 ---
4) Solvang
If Santa Barbara is a home for Spanish history in the US, Solvang is where you can explore Danish America. This is where you can stop for a traditional Danish pastry while riding the Solvang trolley.
The atmosphere is laid-back, with plenty of vineyards and tasting rooms to break up the endless varieties of traditional Danish food opportunities.
Where to stay in Solvang: Hotel Corque
This is a boutique hotel with all the top-end amenities you might expect, including meals at the Root 246 restaurant. You can also try The Willows Steakhouse. But the rooms are the highlight, all with great views of the Santa Inez Hills or Solvang Village.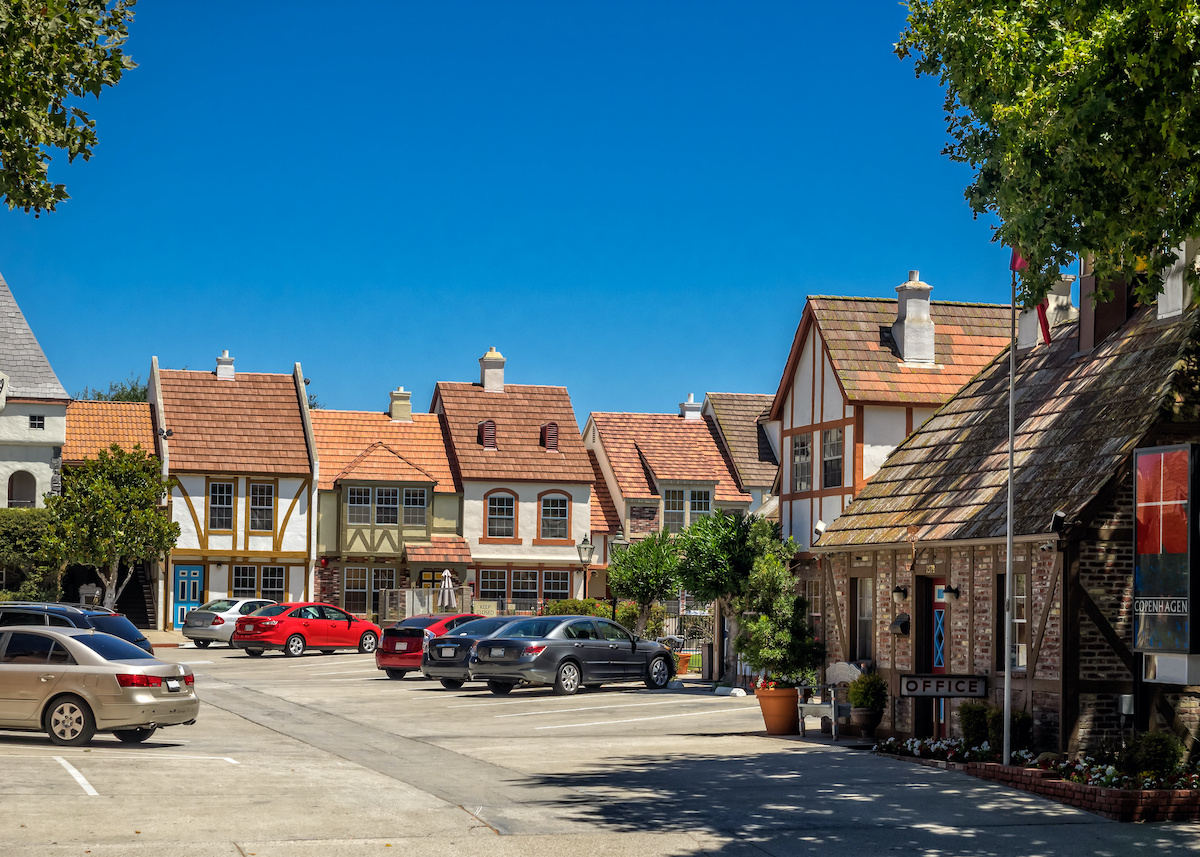 ---
5) Pismo Beach
There's no doubt any kids in your group (no matter what age) will want to stop in at Dinosaur Caves Park on the LA to San Fran road trip. For the gentler touch, visit the Pismo Beach Monarch Butterfly Grove. If you like a bit of adventure, ATV dunning is quite popular around here.
Where to stay in Pismo Beach: Pismo Lighthouse Suites
The perfect option if you're traveling with your dog. The accommodation is dog-friendly, and the pier is a light 1-mile walk from here. An additional leisure activity at the Suites is the on-site putting green.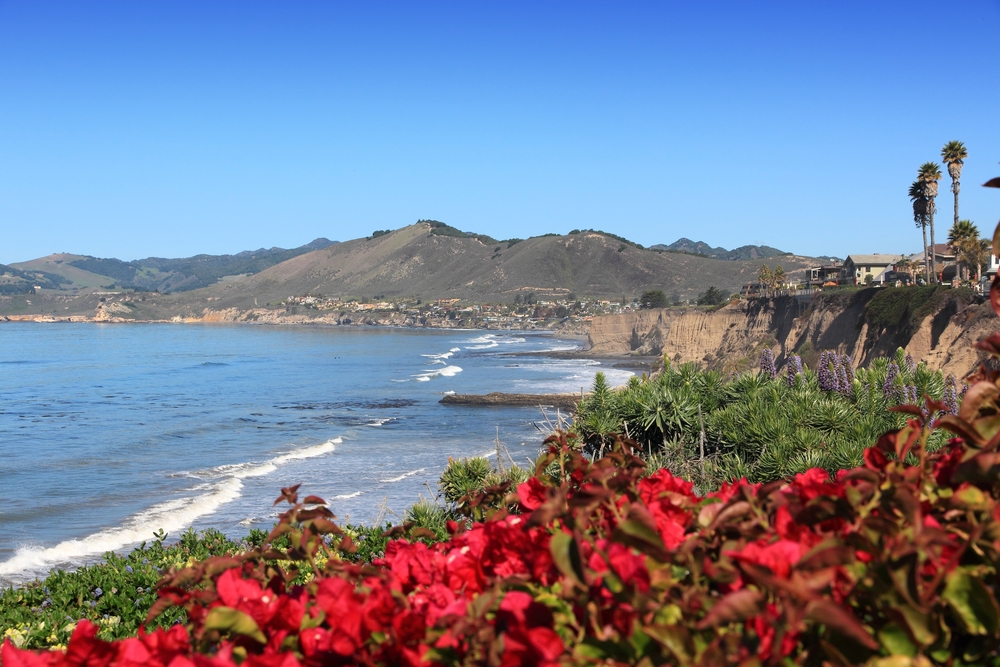 ---
6) Morro Bay
You may have heard of the famous Morro Rock, a volcanic plug jutting out from the coastline. It used to be an essential navigational tool for seafarers. Today it is a reserve and sits alongside a famous beach. You can't climb it anymore, but seeing "The Gibraltar of the Pacific" is well worth the (slight) detour.
Where to stay in Morro Bay: Estero Inn
There's a touch of home at the inn, as you can BBQ, engage in watersports, and even enjoy some karaoke! It's got a very slight California Hostel feel, though a little more high-end.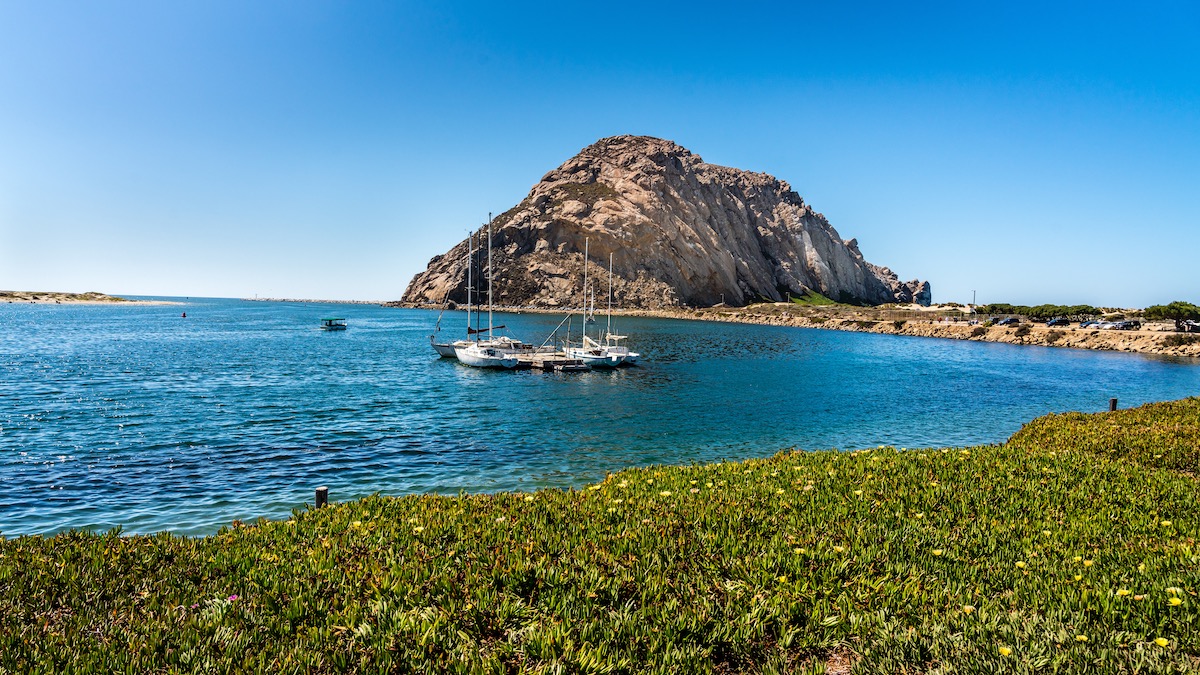 ---
7) Hearst Castle
Thirty miles on from Morro Bay is Hearst Castle, the former estate of the famous William Randolph Hearst. The Big House offers tours and walks in the garden and has excellent views of the San Simeon Pier and beach.
If you're keen on the views, it's best to explore on good weather days. Otherwise, a tour of the home will take about two hours.
Where to stay close to Hearst Castle: Quality Inn
If only you could stay at the big house. You'll have to settle for this lovely inn just two miles away. A continental breakfast is included.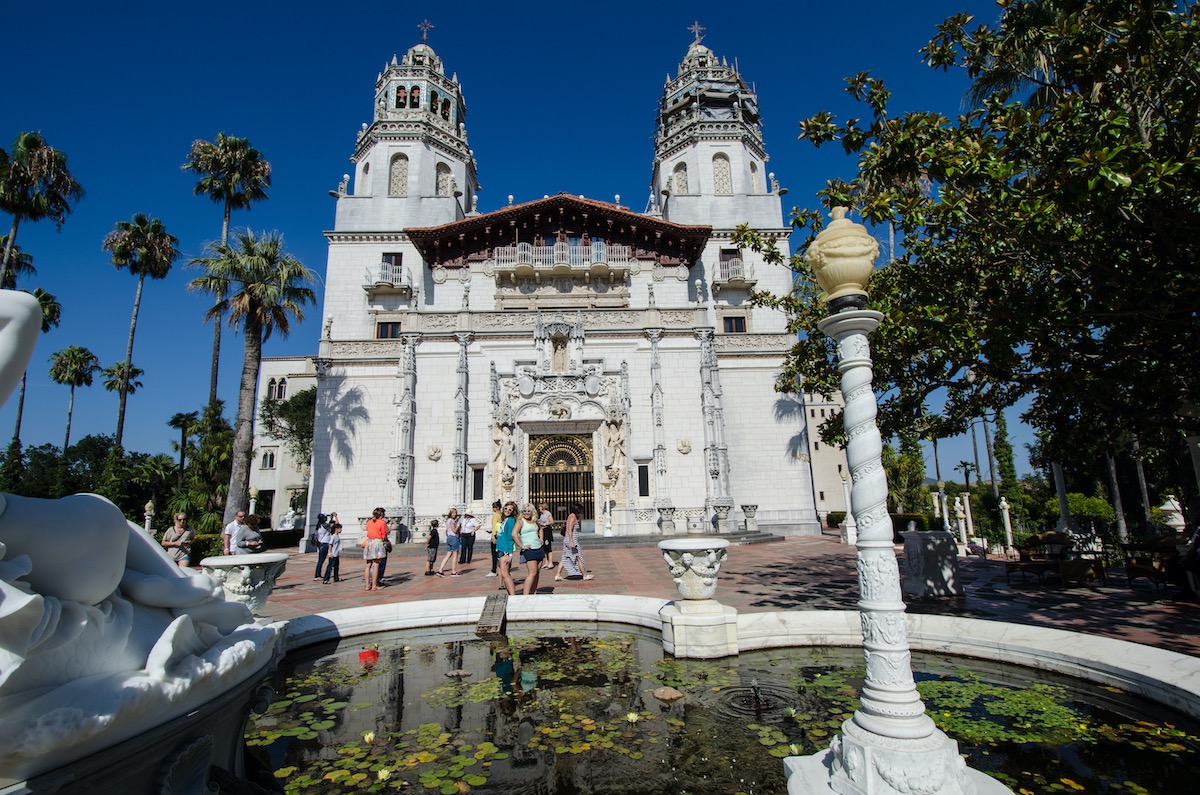 ---
8) Elephant Seal Vista Point
Driving from Los Angeles to San Francisco is anything but boring. Elephant seals abound on this beach area, just five miles north of Hearst Castle. In peak times (January, April, and October), a reported 17 000 of them hang out on the beach or nearby. The Vista Point offers an observation deck from which to see the seals safely.
Where to stay in Elephant Seal Vista Point: Ragged Point Inn
An easy-going stop with some beautiful outdoor points to relax. Sit out on the lawn overlooking the water, and enjoy a gorgeous sunset drink.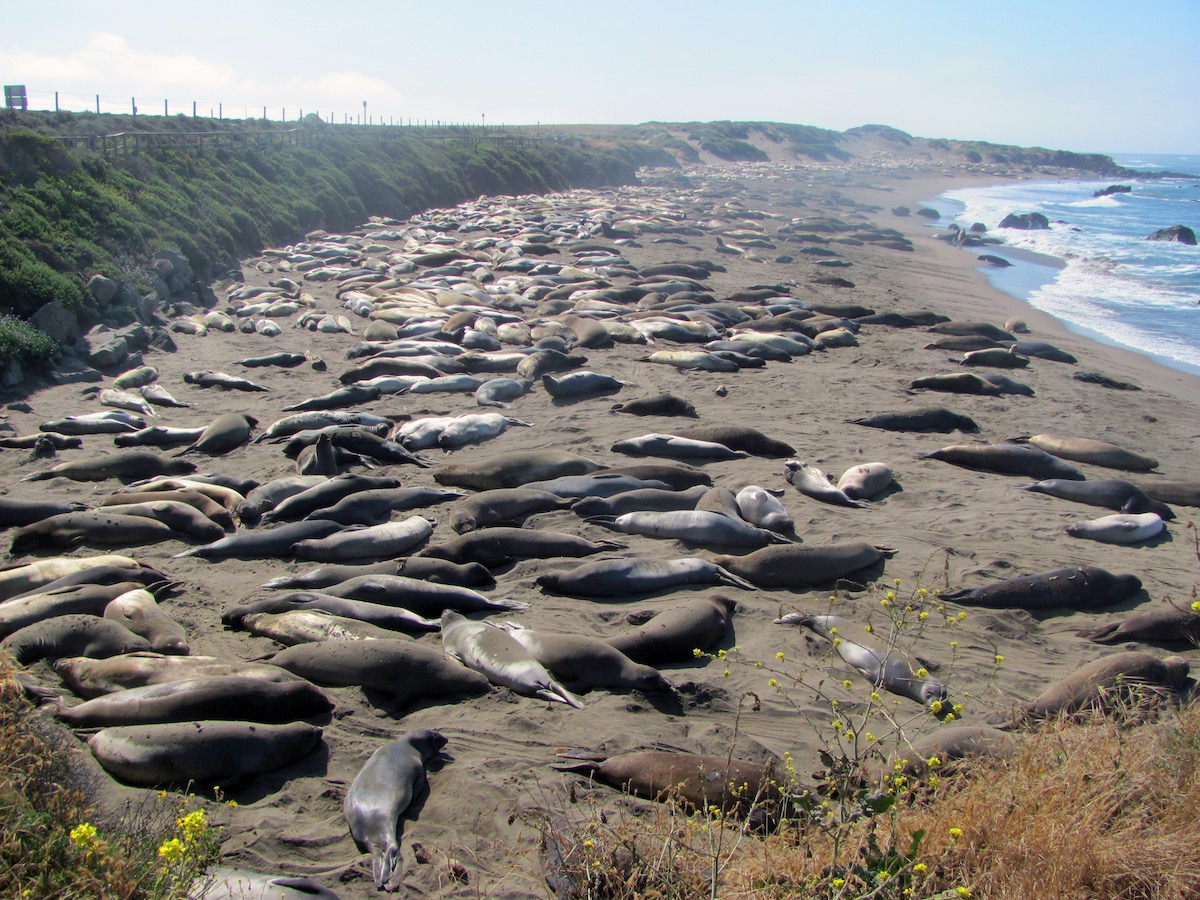 ---
9) Big Sur
The charm of Big Sur is that it's as close to pure nature as you can get in these parts of the US. It is a stretch of undeveloped natural wonder. Mountains, forests, and ocean simply blend along this stretch of highway, forming the "longest and most scenic stretch of undeveloped coastline in the contiguous United States."
Beaches, hiking, and other activities are available, making Big Sur reportedly one of the top 35 undeveloped tourist destinations in the world, according to some.
Where to stay in Big Sur: Big Sur River Inn
If you're looking for a stay with a river element, this is your best ticket. It's the ideal place from which to launch a hike or visit the nearby beach. And the deck, covered in umbrellas, is unique enough to be a big attraction.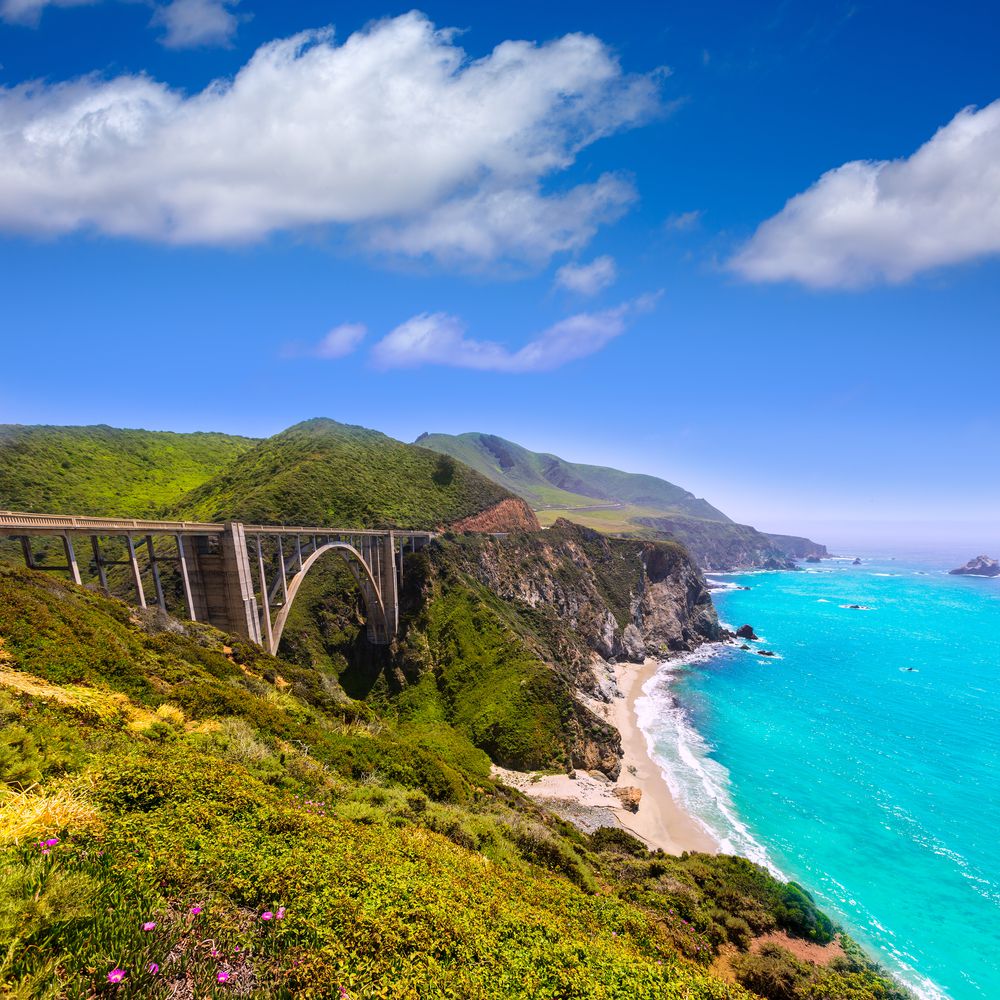 ---
10) Point Lobos Natural Reserve
If you didn't get enough of the elephant seals at Vista Point, pop in and say hi to the sea lions at Point Lobos. As the name suggests, the natural reserve has excellent nature walks, but you can also try your hand at SCUBA diving. This is a great place to stop for a picnic or to stretch the legs with a walk or run.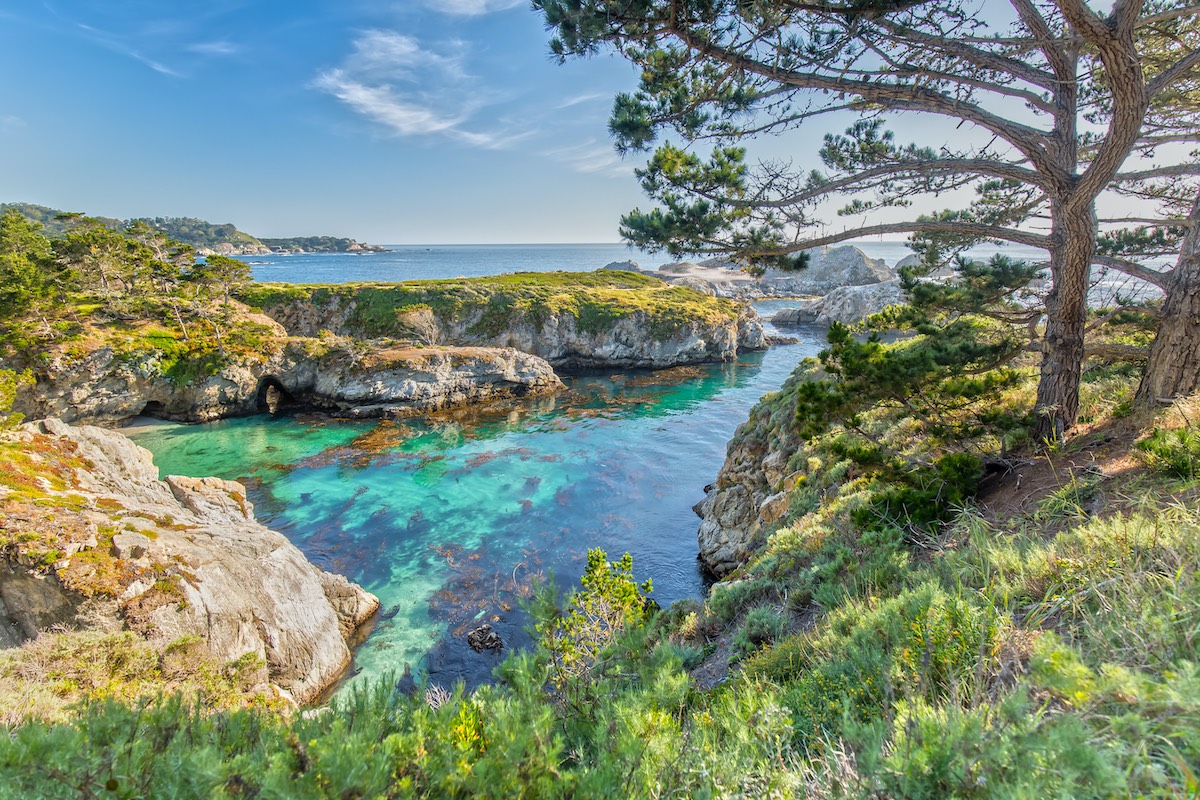 ---
11) Carmel-by-the-Sea
Getting back to civilization, so to speak, Carmel returns you to beach town vibes. Take the Scenic Bluff Path to enjoy both the surf scene and the River State beach. Many of the walks and trails in the area will challenge the serious hiker, but there are a few lighter options.
For awe-inspiring views, try the Garland Ranch Regional Park. For a historical touch, visit the Carmel Mission, built in 1770.
Where to stay in Carmel-by-the-Sea: Candle Light Inn
In the heart of downtown Carmel, you'll find this delightful and comfortable inn. It's close to Carmel's best attractions and has a lovely outdoor social area where you'll likely meet fellow travelers.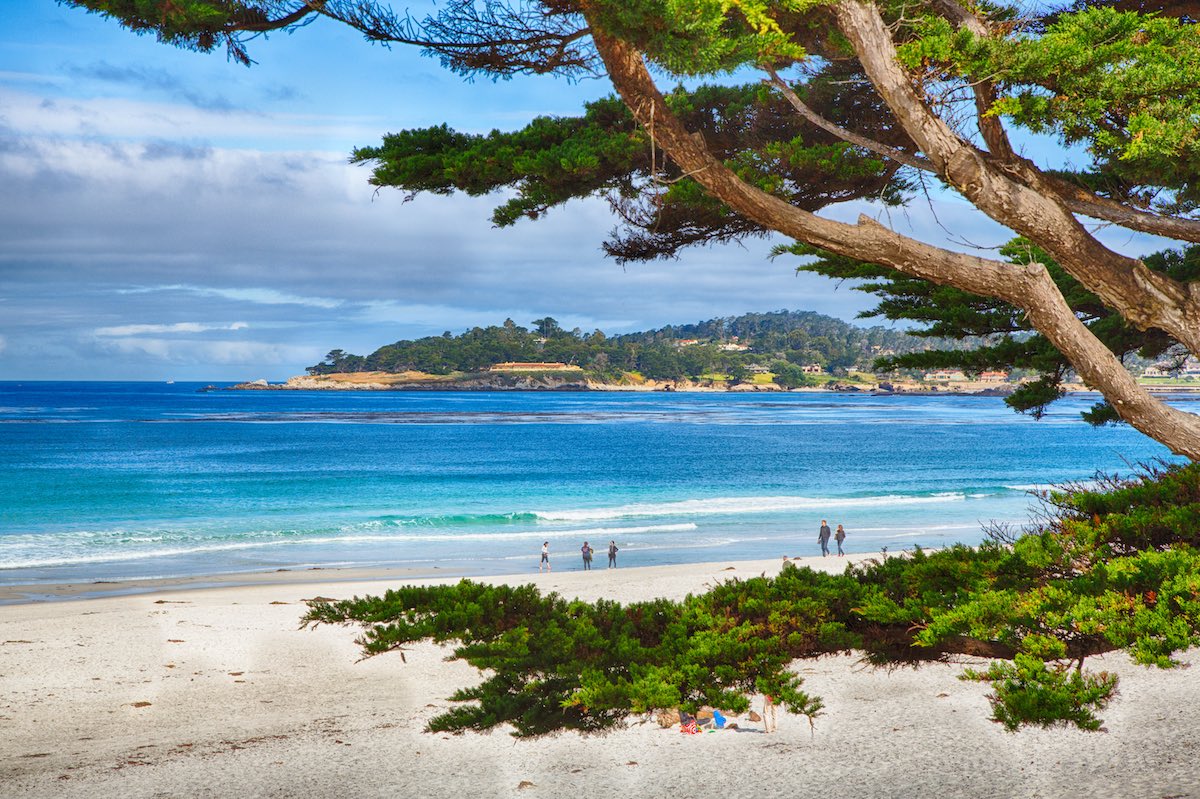 ---
12) Carmel Mission
Speaking of which, Carmel may require more serious consideration, especially for those interested in religious or Spanish history. The Misión de San Carlos Borromeo de Carmelo is a Roman Catholic mission, initially built in the 18th Century and now fully restored – it still has its original bell tower and bell!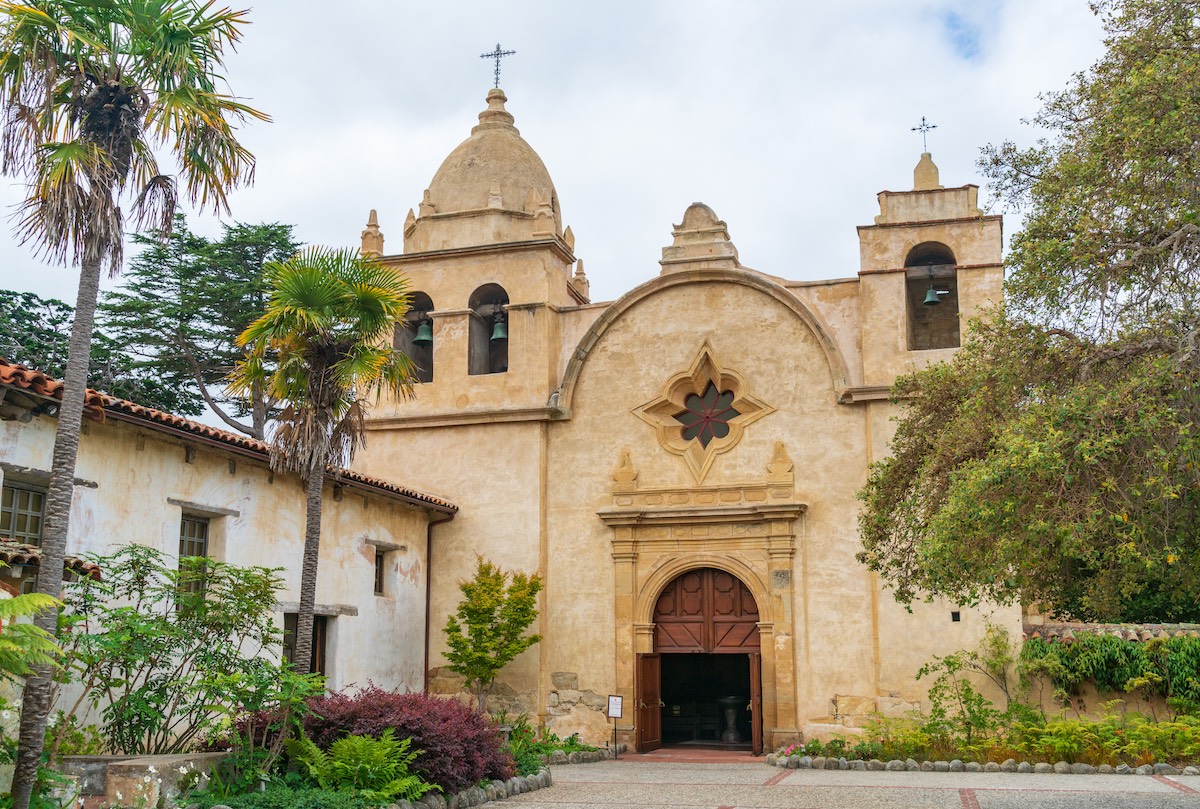 ---
13) The 17-Mile Drive
For those unfamiliar, this sounds like an odd name. And it's proposed as a drive-within-a-drive. But the 17-Mile Drive is a unique experience that winds through a specific section of Pebble Beach and Pacific Grove. It's a drive that requires an entrance fee and passes by scenic coastline, the famous golf course, and the Del Monte Forest.
All in all, it's a semi-curated course for those going from Los Angeles to San Francisco by car. It winds through a beautiful stretch of the coastline, which also happens to feature eight golf courses, several impressive mansions and hotels, and a host of particular interest points like the Lone Cypress Tree.
The guide map indicates 17 stops of note along the way, and it's easy to spend three hours or more if you visit each one.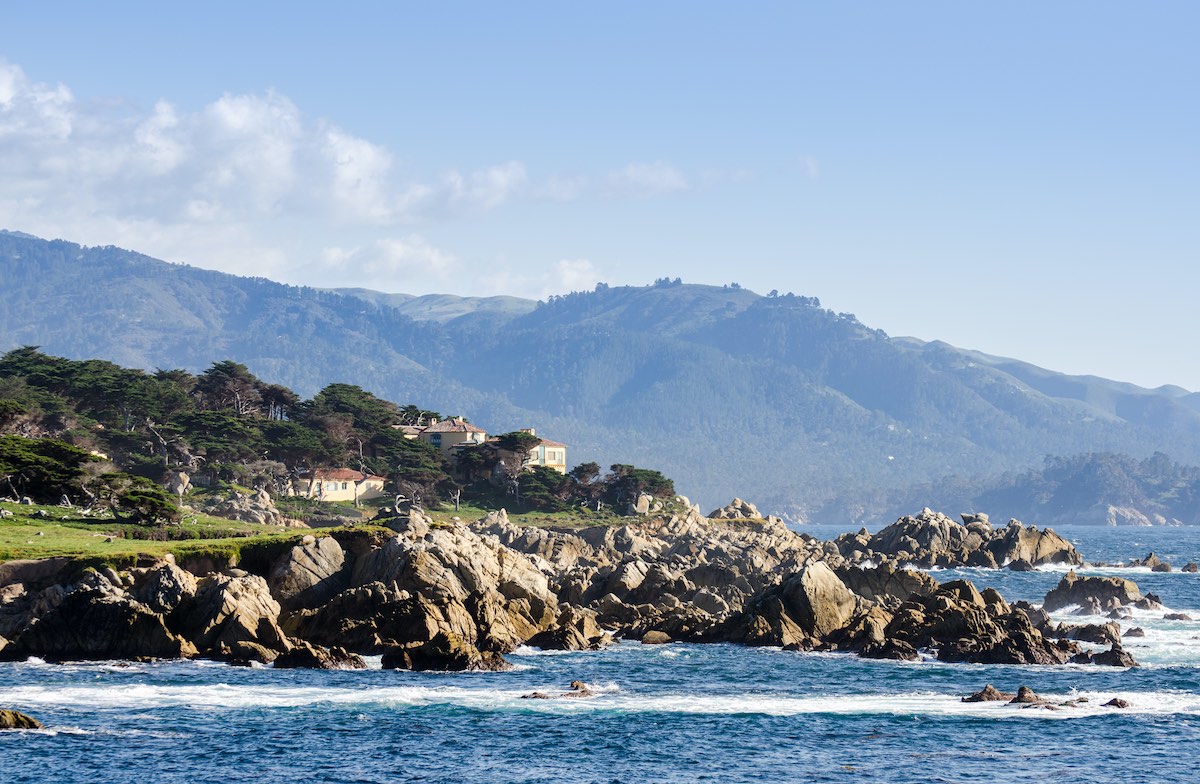 ---
14) Monterey
The most notable feature of Monterey is the Cannery Row. Today it's a famous district of shops, restaurants, and bars. At one time, though, it was the center of the sardine packing industry. American literature fans associate the name with the work of John Steinbeck, who published the novel Cannery Row in 1945.
You have to try the Monterey Walking Path of History, a fascinating outdoor walkabout taking in historic sites around the town.
Where to stay in Monterey: Monterey Plaza Hotel & Spa
The Plaza overlooks the rocks and is a stilted hotel, sitting romantically above the waves and rocks. It also offers a private beach for guests. The hotel sits just outside the 17-Mile Drive, so it's the ideal location to enjoy both spots.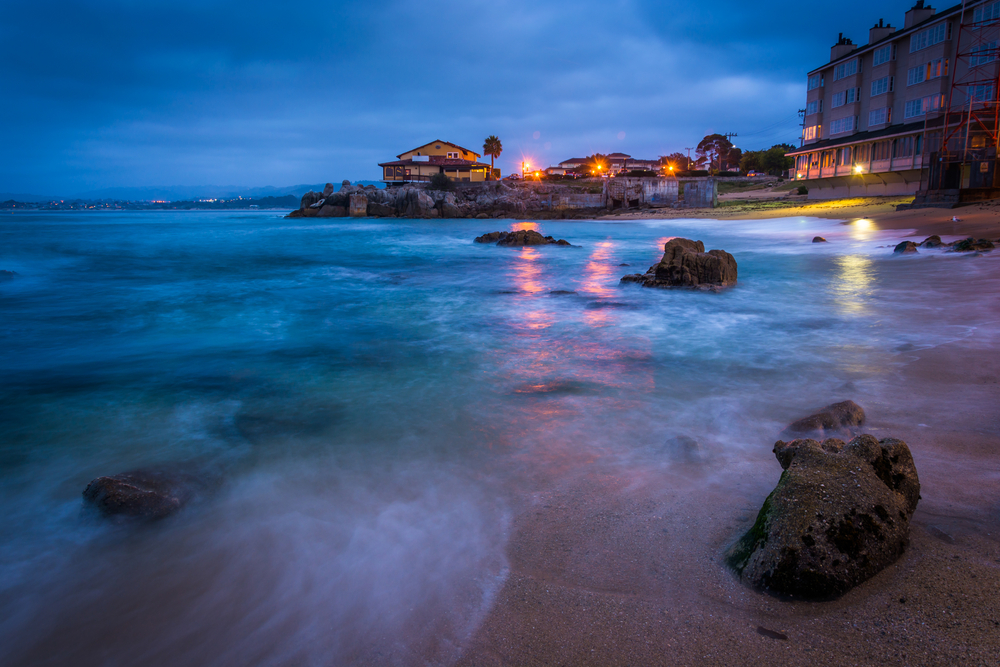 ---
15) Santa Cruz
The road trip from LA to San Fran is almost over. You're within touching distance of San Francisco now. But before you get there, here's another famous boardwalk to get your steps in. Of course, there are several beaches to choose from for a lazy lie, but in general, it's the laid-back, easy beachside atmosphere you're after.
Take yourself to the Giant Dipper roller coaster if you dare – it's wooden! There are also plenty of walks, hikes, and adventure sports activities to engage in. You'll mostly want to explore the shops, which offer all kinds of eclectic ware like vintage clothing, trinkets, and food.
Where to stay in Santa Cruz: Beach Street Inn and Suites
Why not stay literally across from the beach? The hotel offers bicycles for hire if you choose to explore anywhere beyond the shore. But you'll be sorely tempted to simply hang around and watch the sunset, dip in the pool, and enjoy a cool drink on the terrace.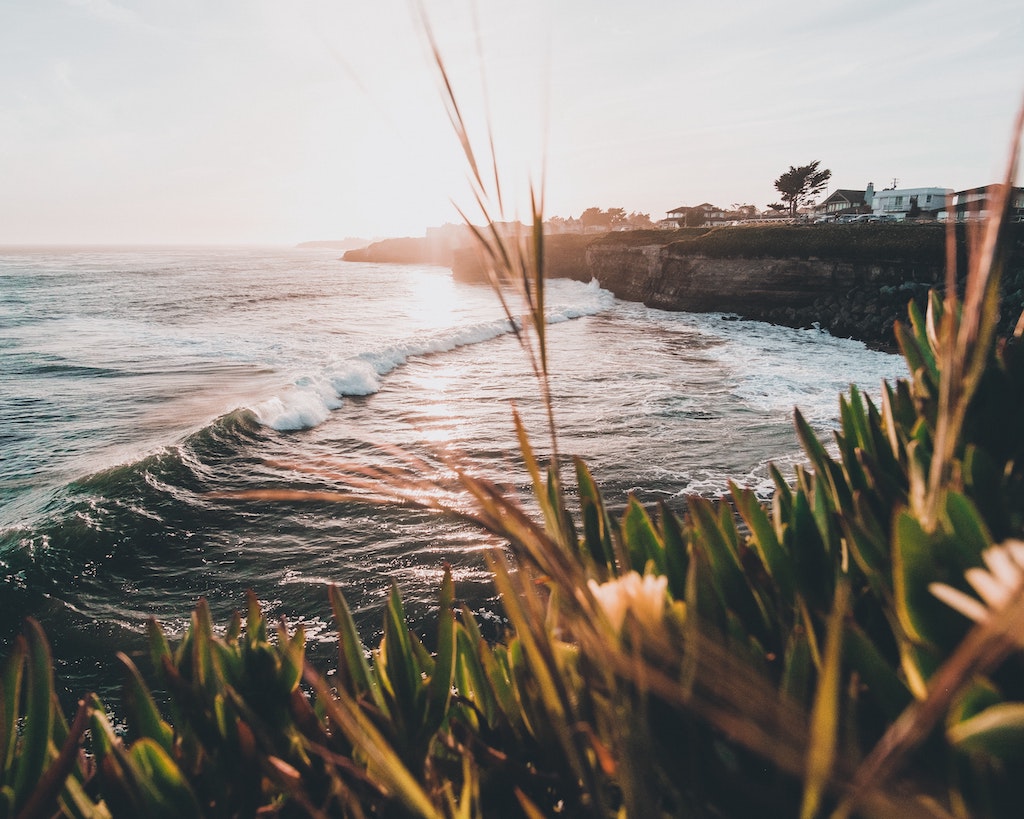 ---
16) Half Moon Bay
If you get here on the right day and at the right time, you'll catch a moody fog rolling in over the ocean, obscuring the rugged rocks and cliffs that jut out from the coastline. This is where the rum runners from Canada might have stealthily dropped their supply during Prohibition, as it's well obscured.
In the town itself, the main street is well worth the walk. It has all the charms of a small-town main street – just a few blocks in length. Look into the small shops and eateries there, and you'll fall in love with the quaint atmosphere.
Where to stay in Half Moon Bay: Seal Cove Inn
Every room here has a balcony or a patio, which is ideal, as the hotel is elevated on a bluff overlooking the ocean. There's a bonus gourmet breakfast included with your accommodation, too.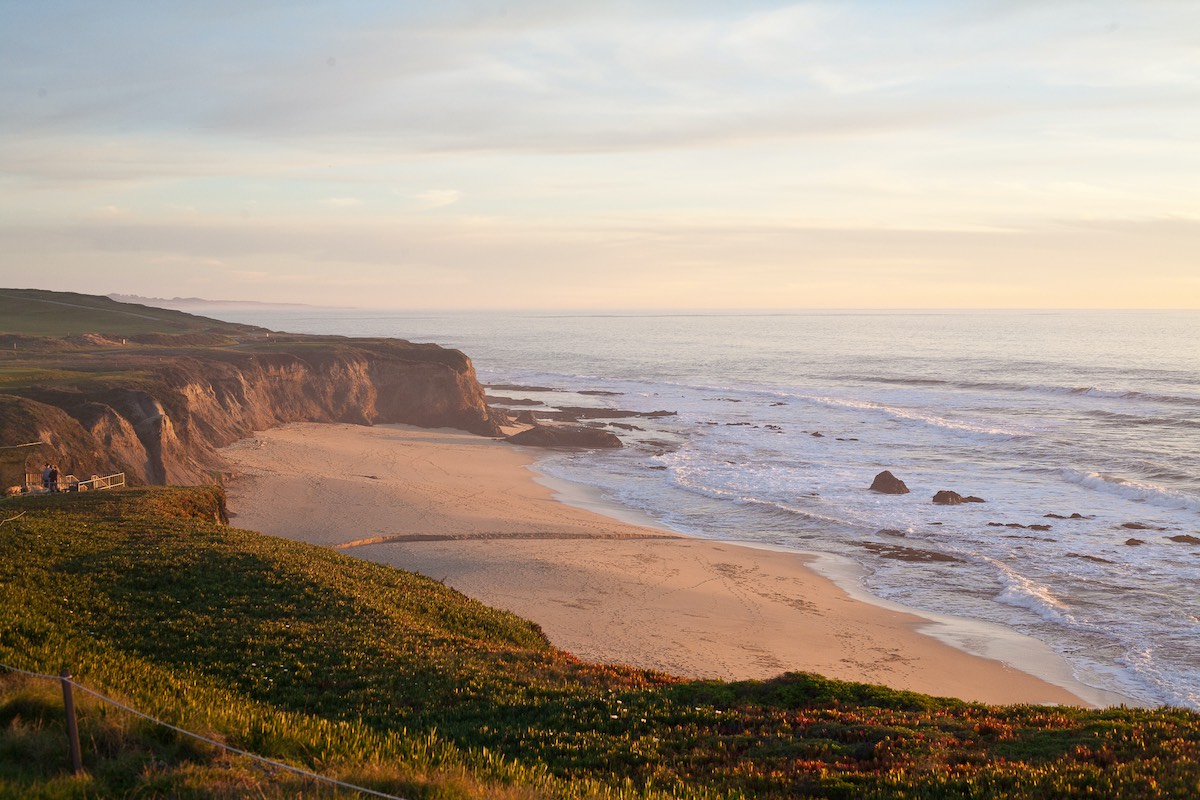 ---
17) Marin Headlands
You can often hear the sound of the foghorn here, and when you catch the first sight of the Golden Gate Bridge, you'll know you've made the fabulous road trip to San Francisco in one piece. There's a particular interest here for those interested in geology, amongst other things.
The area is also known for its biodiversity, so it is truly a nature lover's paradise, fitting for that last moment before you hit the big city that is San Francisco. Congrats, you've made a very special road trip from Los Angeles.
Where to stay in Marin Headlands: Cavallo Point
If you're going to stay this close to San Francisco without actually entering the city, make it memorable. This resort is in the Golden Gate National Recreation Area. You can access spectacular views of the bridge and get yourself in the proper frame of mind with a free morning yoga class.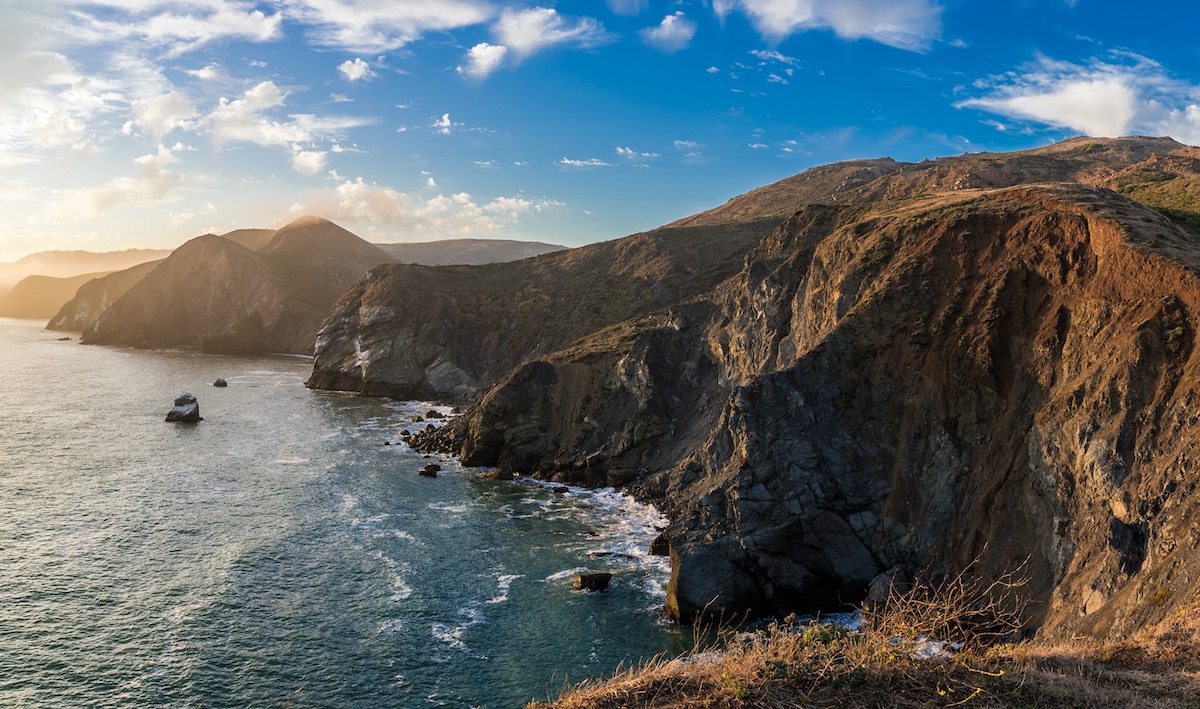 ---
Planning a trip to California?
Take a look through some of my other top articles in the area for some future trip planning inspiration!
Thanks for reading!
https://www.jonesaroundtheworld.com/wp-content/uploads/2021/09/Los-Angeles-to-San-Francisco-Drive.jpg
662
1000
TravelTractionsJATW
https://www.jonesaroundtheworld.com/wp-content/uploads/2017/03/logotry-1-1-300x106.png
TravelTractionsJATW
2021-09-21 19:05:57
2021-09-21 19:10:41
Los Angeles to San Francisco Drive | 17 Scenic Road Trip Stops