If you're keen on an adventure and want to explore the Pacific Northwest, then the Seattle to Portland Drive/road trip is just the ticket. It's a short 180-mile road trip through some incredible nature places, with plenty of stops along the way.
There's no place quite like America's Pacific Northwest. You'll get to pass along some stunning seascapes, lush forests, and towering mountain ranges. From the incredible Olympic National Rainforest, Mount Rainier, Cannon Beach, Mount St Helens, and more to see along the way – who's feeling pumped?
If this tickles your fancy and you're keen on exploring the most scenic way to get from Seattle to Portland, read on to find out more.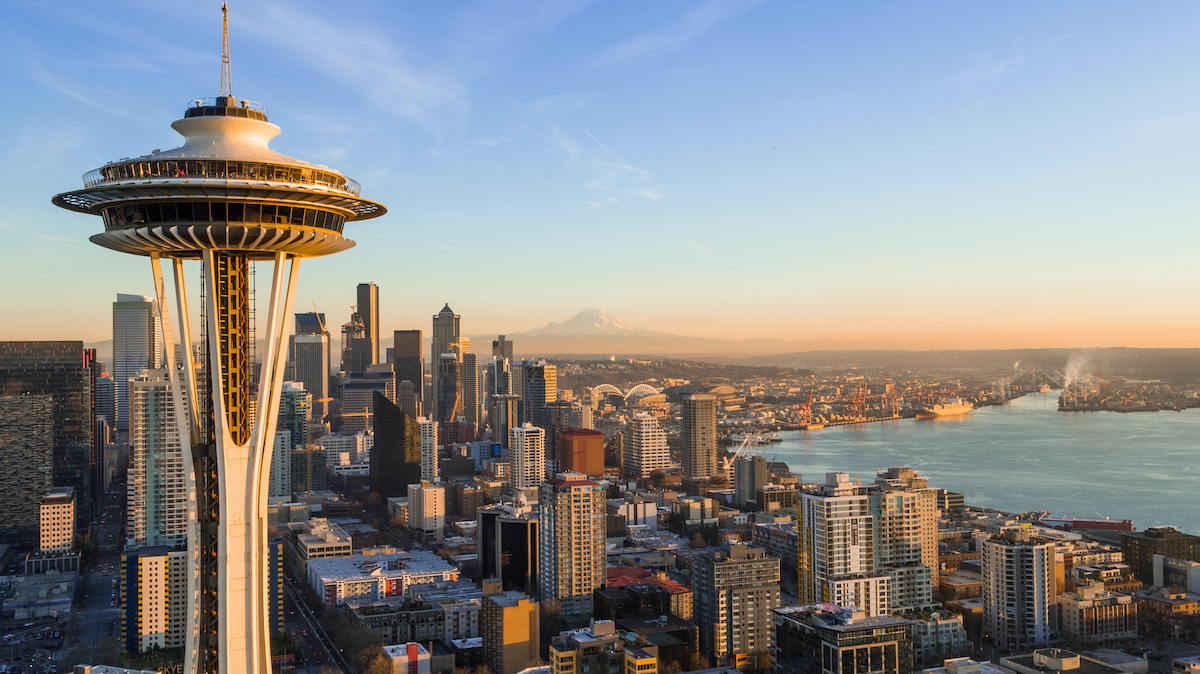 So, without further ado, pack your cooler, put on your comfy shoes, gas up, and get ready for a great time finding things to do between Portland and Seattle.
Psst…Looking for some inspiration before you leave Seattle behind? Take a look at these awesome Seattle quotes for some inspiration!
---
1) Point Defiance State Park, Washington
Once you've got your Original Starbucks coffee, your first Seattle to Portland stop should be the Point Defiance State Park. It's located a 45-minute drive from Seattle and just outside Washington's third-most populous city, Tacoma.
It's a 760-acre urban park, which includes a huge zoo and aquarium, the Fort Nisqually Living History Museum, world-class beaches, trails, and gardens.
It's the only joined zoo and aquarium in the Northwest, and most of the park's residents are native to the Pacific Rim. Here you can explore the 5-acre Asian Forest Sanctuary and spot plenty of wildlife, including clouded leopards, Sumatran tigers, and Asian elephants.
The Arctic Tundra exhibit hosts many cold weather-loving mammals. This includes polar bears, reindeer, and musk oxen that are native to the Arctic areas of Canada and Greenland. There's also the Pacific Seas Aquarium that houses an array of aquatic animals.
Visitors can also feel what life was like in Washington during the 1850s fur trade era at the Fort Nisqually Living History Museum. The majority of this area is covered in lush forests of cedar, douglas fir, and maple. Here you'll find plenty of hiking trails with the snow-capped Mount Rainier and Olympus from dramatic viewpoints.
Suppose you have time on your road trip from Seattle to Portland, head to Bob's Java Jive restaurant-turn drive-bar. The 25-by-30 foot coffee pot-shaped building is a great place to share a pint or two with the friendly locals and enjoy the atmosphere of Tacoma.
Where to Stay near Point Defiance Park: Silver Cloud Inn – Tacoma Waterfront
Located in Commencement Bay, Silver Cloud Inn provides a stunning beachfront stay, with rooms flaunting extensive views of the bay. After a day of exploring your surroundings and a stop on your scenic drive from Seattle to Portland, enjoy a large 55-inch plasma TV with WiFi to relax.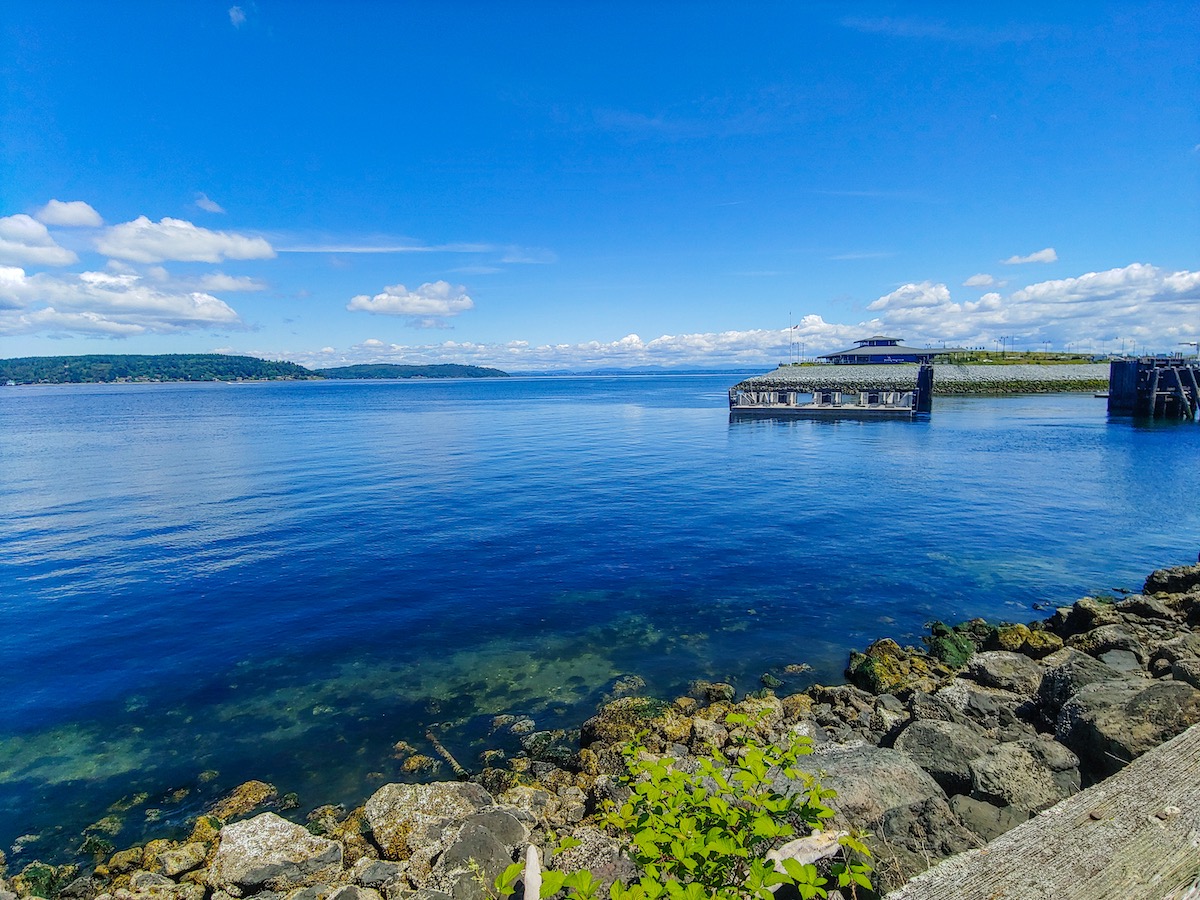 ---
2) Nisqually National Wildlife Refuge
After an hour's drive from Seattle, you'll come to find the Billy Frank Jr. Nisqually National Wildlife Refuge. Once you arrive at the visitor center, walk through to the viewpoint of the marshy lake to spot the wildlife that calls this refuge home.
There are several trails with signs highlighting the different fauna and flora in the region. Make your way along the winding boardwalk to the wetlands until you reach a gazebo. There you'll be spoiled with sweeping views of the Puget Sound and Mount Rainier peak. It's a great place to look around before continuing on your trip.
Where to Stay near Nisqually National Wildlife Refuge: Best Western Plus Lacey Inn & Suites
Located a mere 10 minutes drive from the Nisqually National Wildlife Refuge lies the Best Western Plus Lacey Inn & Suites. Flop back on the sofa, turn on the flat-screen TV with WiFi and stream your favorite movies. There's also free breakfast, a heated indoor pool, and a hot tub to enjoy during your stay.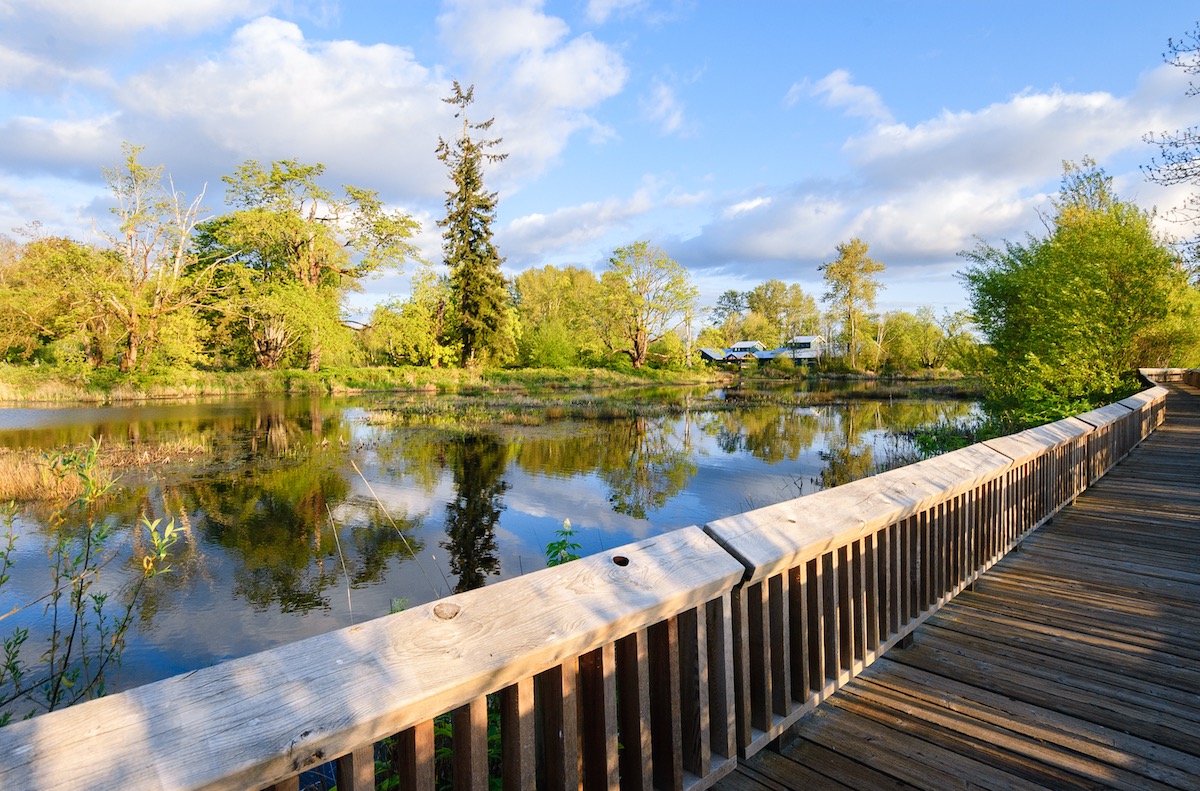 ---
3) Olympia, Washington
Around an hour's drive south of Starbucks' headquarters and Nirvana's birthplace, Seattle to Olympia drive time is well worth a visit to stretch your legs and look around – after all, it's Washington's capital.
Pop into the Capitol Campus, which holds the historic Governor's Mansion. To catch some scenic views, head to Capitol Lake, connected to the campus. There are 3.5 miles of trails that hug along the lake. If you're keen on exploring some green spaces, head for a stroll to Ellis Cove and picnic in Priest Point Park.
Step back in time and visit the Olympic Flight Museum. Discover over 20 vintage aircraft, from military trainers to an array of historic helicopters and carrier fighters from World War II.
Before heading back on the road, enjoy some delicious Italian cuisine at Pizzeria La Gitana for a quick bite to eat.
Where to Stay in Olympia: Ramada by Wyndham Olympia
Located in Olympia, Washington, the Ramada features a flat-screen TV with pay-per-view channels, WiFi, en suite bathrooms, and more. Wake up to a delicious complimentary breakfast, relax in the hot tub, and stock up on snacks at the mini-market onsite.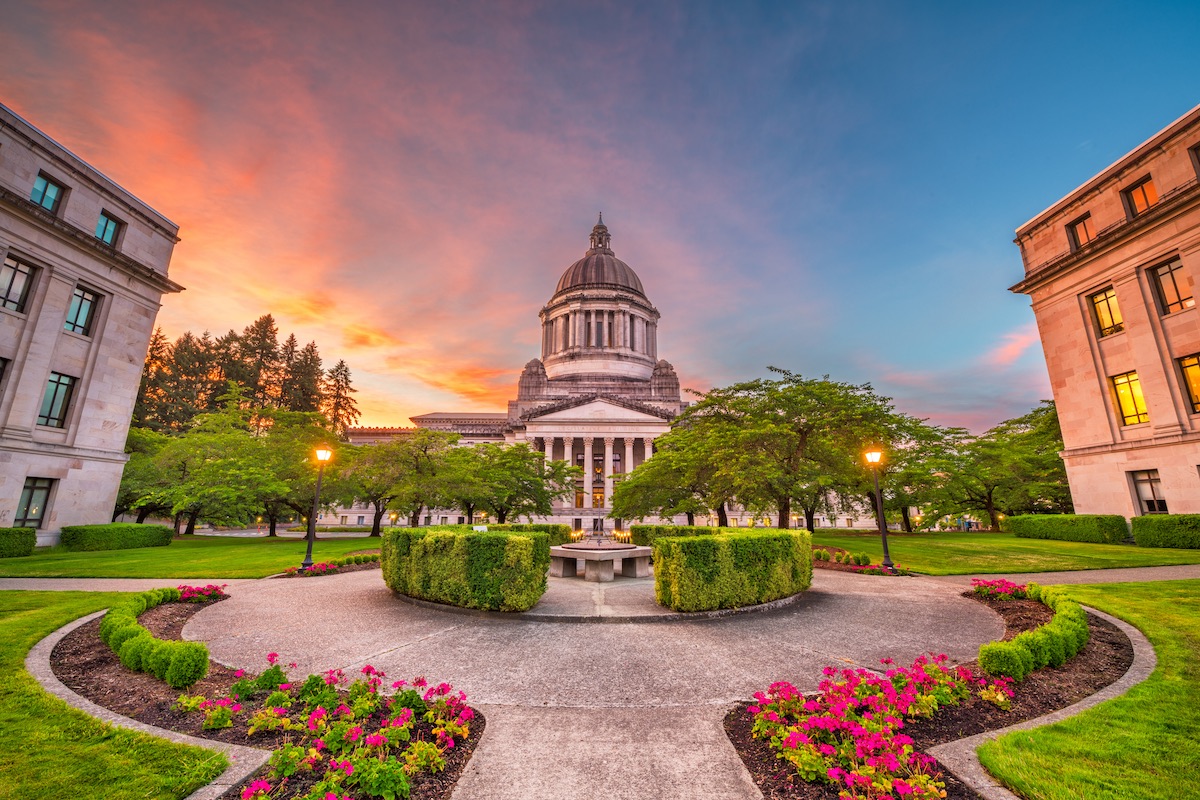 ---
4) Mount Rainier National Park
Mount Rainier to Portland is around two and a half hours drive. And around an hour and 40 minutes from Olympia, you'll begin to see towering Mount Rainier in the distance. As Washington State's highest peak, the park offers some incredible hiking routes amidst the forests and alongside rivers.
If you're brave enough, you can climb to the 14,410-foot peak of Mount Rainier. Alternatively, you can opt for a more relaxed route, such as starting from the Sunrise Visitor Center to Sourdough Ridge.
Another fun activity in the national park is riding the scenic railroad. It's a beautiful ride that takes visitors through the foothills and countryside on a vintage logging locomotive.
You should consider stopping at Mount Rainier National Park for at least two days, if possible. It's an incredible place with so many things to see and do in it. Although 48 hours may not be enough, you will still be able to hit some highlights without feeling totally worn before hopping back on your ​​scenic drive from Portland to Seattle again (or visa versa).
Where to Stay near Mount Rainier National Park: Mountain Meadows Inn
Located 6.2 miles from Mount Rainier Park in Ashford, Mountain Meadows Inn boasts cozy accommodation, ideal to come back to and relax after a busy day exploring. The stay provides flat-screen TVs and WiFi in all the rooms, a private bathroom, free toiletries, and parking is available.
Note: If this place isn't your vibe, take a look at this list of secluded cabins in Washington State.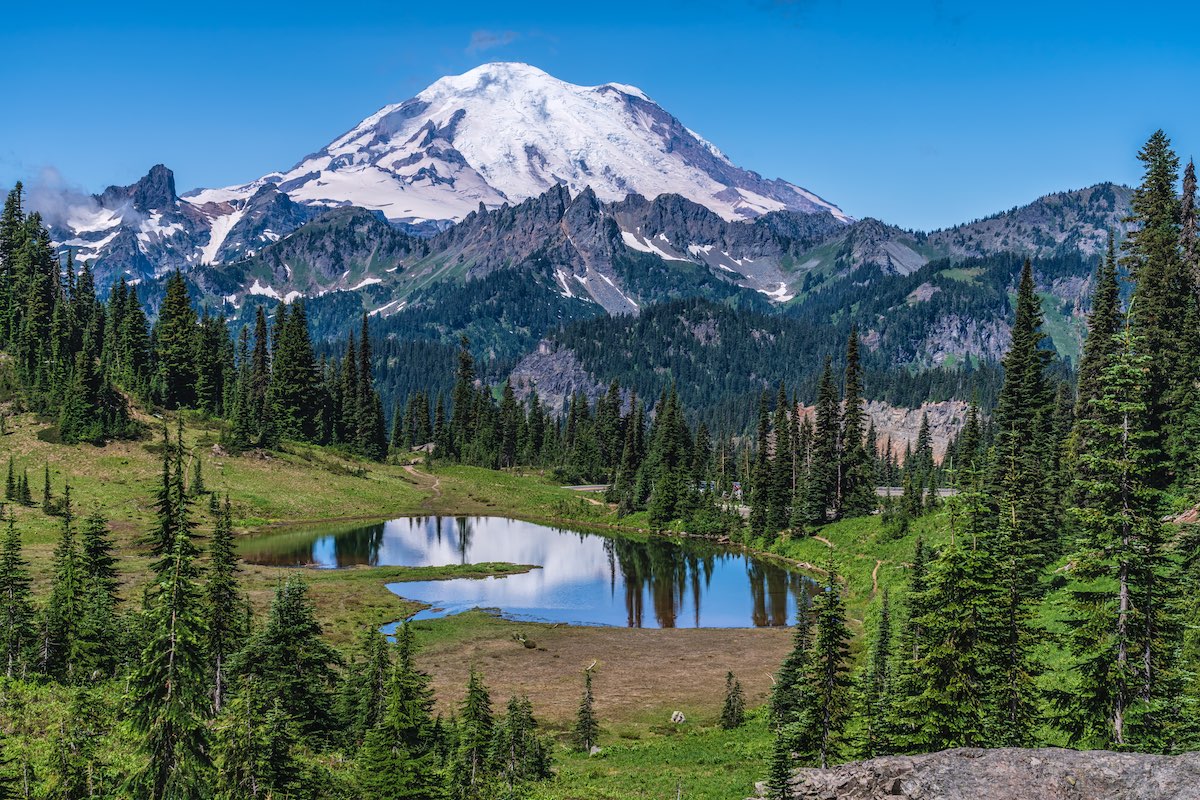 ---
5) Mount St. Helens Visitor Center
Mount St. Helens' eruption in 1980 sparked the biggest landslide ever recorded in history and spewed ash thousands of feet into the sky. Today, tourists may learn about the active stratovolcano's massive eruptions at the Mount St. Helens Visitor Center, which serves as a gateway to the mountain.
In the center, visitors can enjoy an assortment of interpretive displays, including a model of the volcano, a live feed of the current volcano's seismicity, and more. And if you're looking to stretch your legs a little, you can embark on a 0.6-mile trail to explore Silver Lake.
You can also visit the Learning Center in Seaquest State Park on the Spirit Lake Highway. Learn about the area's geology and history from the aftermath of the explosion.
Where to Stay near Mount St. Helens: GuestHouse Inn & Suites
If you're looking for a break to stop over and stay during your Seattle to Portland scenic drive, then the GuestHouse Inn & Suites may be a solid choice. It's also a great place to stay as it's en route between Silver Lake and Mount St. Helens Visitor Center. Each room features WiFi, a flat-screen tv, an en suite bathroom, and coffee/tea making facilities.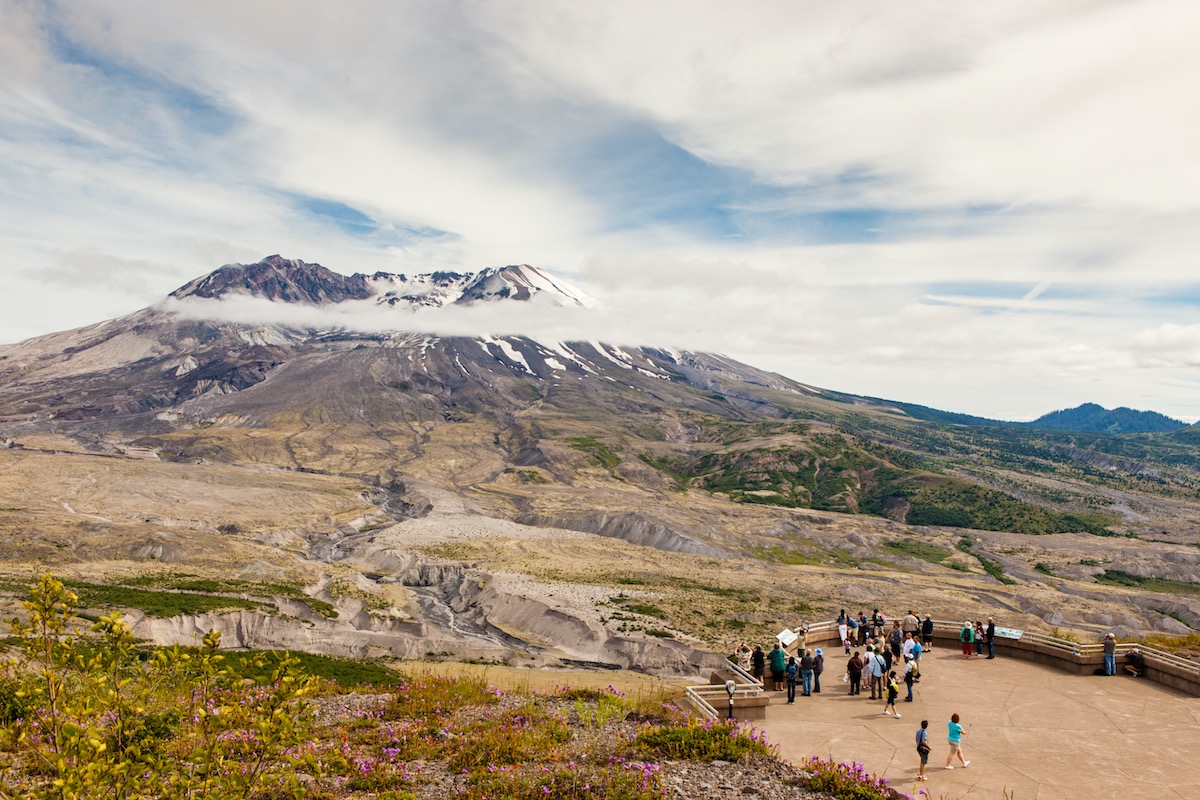 ---
6) Silver Lake, Washington
Silver Lake is on your way to Mount St. Helens, about 65 miles from Portland and 123 miles to Seattle.
It's one of the top Seattle to Portland road trip stops and makes for a great place to stop and stretch your legs. It's a 3,000-acre, intermittent high-desert lake, where visitors can enjoy plenty of water activities such as fishing and boating. There are also camping facilities available here too.
If you're keen on heading out for an outride or walk, there are also trails open to horseback riders, mountain bikers, and hikers.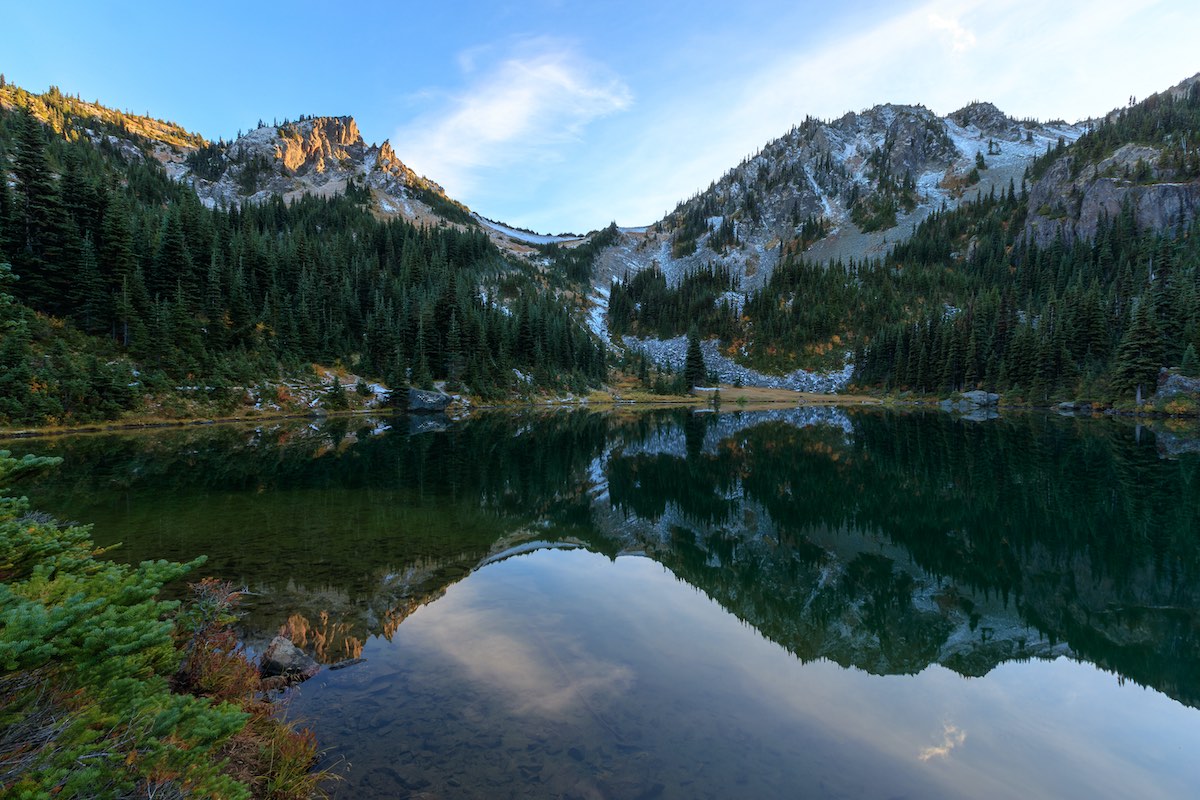 ---
7) Astoria, Oregon
Now it's time for a bit of a coastal drive from Seattle to Portland. You'll travel along US Route 30 to Astoria, a beautiful coastal town where the Columbia River meets the Pacific Ocean. This spot marks a little history, as it's near the place where the famous explorers Lewis and Clark ended their expedition across the country in 1805.
Astoria is packed with quaint Victorian homes built for the first settlers and fur traders. The town is chock-full of boutiques, cafes, and art galleries for you to amble around and explore during your off time or to stretch those legs.
And once you've worked up a thirst, head to the Buy Beer Company for a bite to eat and a little guzzle of beer. It's a brewery that serves locally caught, fresh seafood, meats, and other produce.
Where to Stay in Astoria: Norblad Hotel
Norblad Hotel is a lovely accommodation option to rest your head for the night before you continue driving from Portland to Seattle (or visa versa). The 90-year-old historic building is located a short stroll away from lovely restaurants and shops along the riverbed. It offers WiFi, free toiletries, and a private bathroom.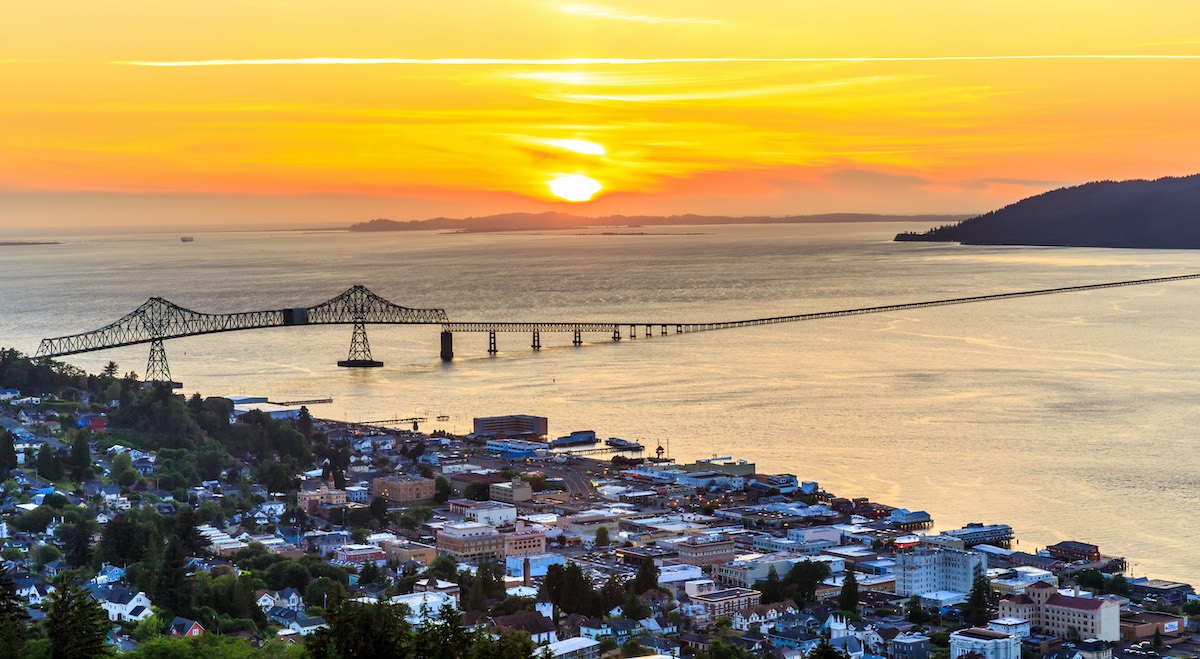 ---
8) Seaside, Oregon
If you're driving from Seattle to Portland along the coastline from Astoria, then you'll certainly want to make a stop at this charming little resort town along the Oregon Coast.
The distance from Seattle to Seaside, Oregon is around 197 miles via the I-5 S and a mere 20-minute drive from your stay in Astoria. It's famous for its gnarly surf breaks and the Tillamook Head Recreational Trail starting point, which ascends to Ecola State Park.
In the Ecola State Park, you'll come to see some of the Northwest's most incredible wildlife, from bald eagles to elk and deer, and the seasonal gray whales en route to Alaska.
Take a walk and snap some pictures at Turnaround, a commemorative statue celebrating the Lewis and Clark expedition. Relax at Arcadia Beach State Recreation Area or head out for a paddle on the waters.
Before you head off for your next adventure, stock up and indulge your sweet tooth at Seaside Candyman shop, one of the largest candy shops in the region. You can stay in Cannon Beach or Astoria and make Seaside your little stopover for the day.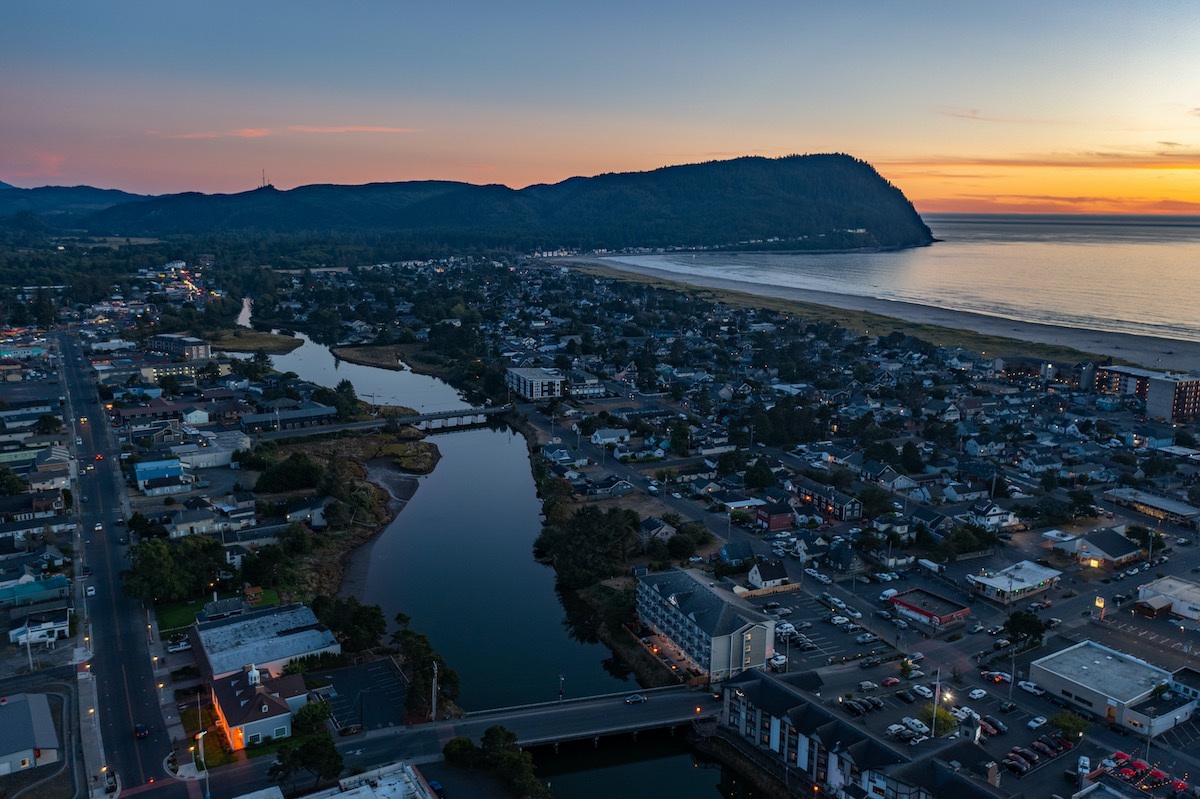 ---
9) Cannon Beach, Oregon
A 13-minute drive from Seaside and you'll come to Cannon Beach and Haystack Rock. Here, a giant rock looms over the beach and provides beachgoers ample photo opportunities up close.
The large slab of protruding earth is also protected as part of the Oregon Islands National Wildlife Refuge. It also provides a home for an array of seabirds and intertidal animals, including starfish, crabs, and more.
A short hike along the shores, and you'll come to waterfalls and caves that are found at Hug Point. There's also the Les Shirley Park, Coaster Theater, and the Haystack Gallery to visit while you're here.
Where to Stay in Cannon Beach: Webb's Scenic Surf
Located in Cannon Beach, a hop, skip, and a jump away from the shores and Haystack Gallery, Webb's Scenic Surf features stunning accommodation options. Each room has a flat-screen TV, a coffee maker, free WiFi, and a private bathroom. It's the ideal spot to relax on the terrace with a cup of coffee and watch the waves come in from the Pacific.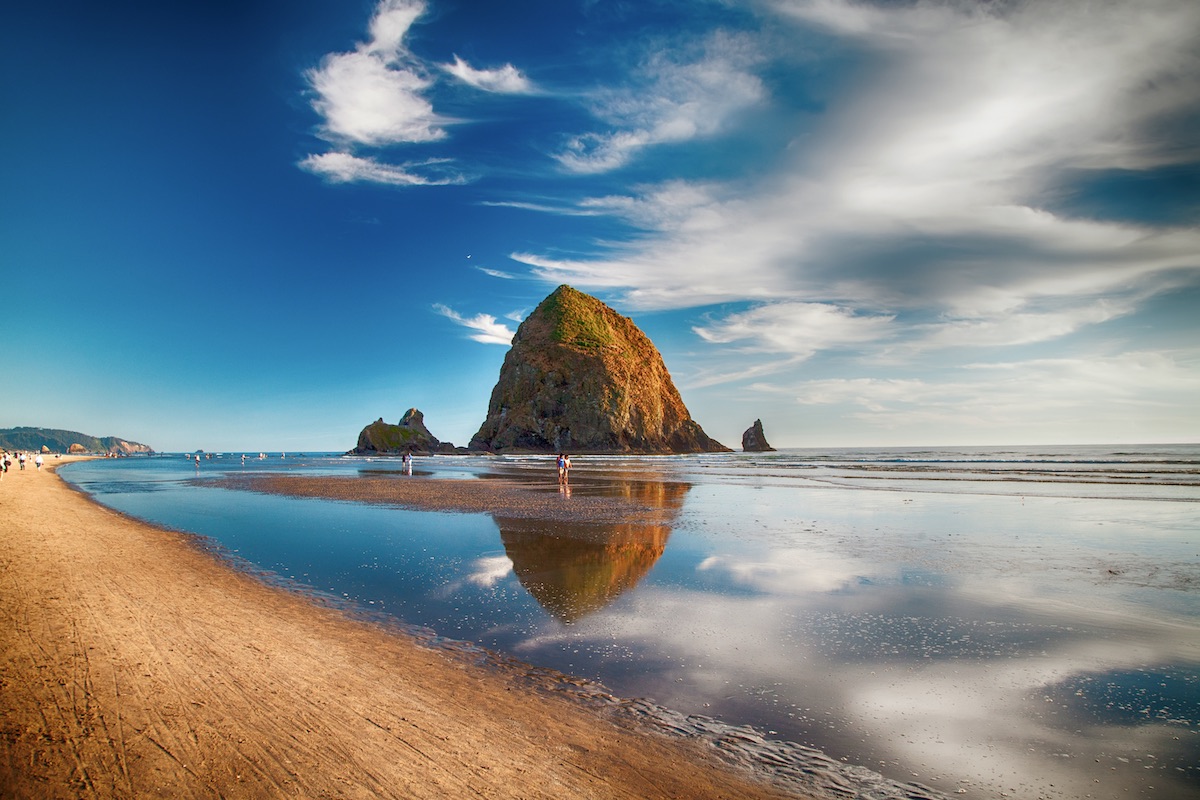 ---
10) Tillamook, Oregon
A little south of Seaside and Cannon Beach is Tillamook. It's another cute, small-town that may sound familiar to you in the context of its dairy products produced at Tillamook Creamery – yum!
Provided you aren't lactose intolerant, the creamery may just be a good enough reason to visit Tillamook. But if that isn't enough, make your way to Tillamook Bay, where you'll come to find a beautiful stretch of coastline. Stretch your legs and snap some pictures of the Cape Meares Beach and Oceanside Beach – both of these are Seattle to Portland road trip-worthy sites.
Where to Stay in Tillamook: Sheltered Nook on Tillamook Bay
Sheltered Nook on Tillamook Bay is, as the name suggests, a short stroll from the bay. Each room is furnished with a flat-screen TV, a shower, tea/coffee making facilities, and a stocked kitchen. Sit out on the terrace, recharge, and enjoy the beautiful mountain or garden views before your drive into Portland.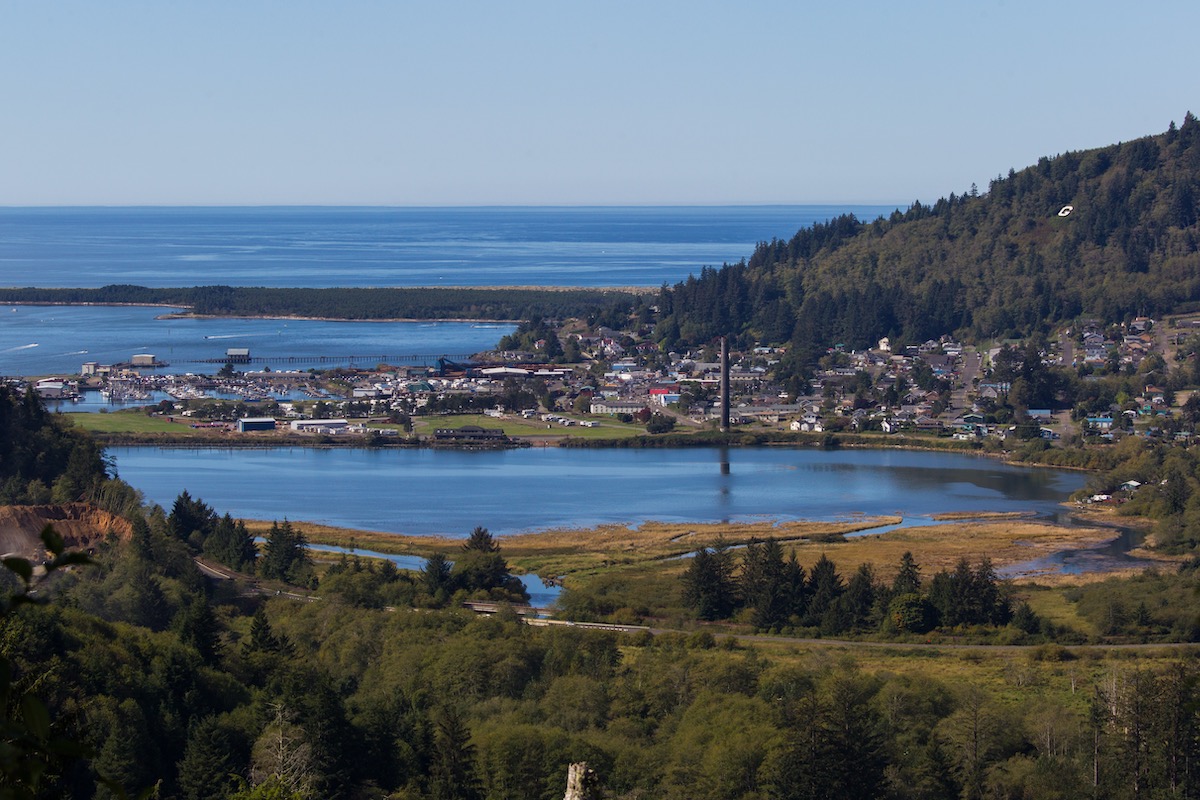 ---
11) Portland, Oregon
From Tillamook or Cannon Beach, you'll need to head inland via the OR-6E and US-26 E for around an hour and a half until you reach – drum roll – Portland. As Oregon's largest city, you'll find its cool vibe super exciting, with plenty to see and do.
Discover the many boutiques and shops along the Saint Johns neighborhood and hit the Portland Saturday Market featuring locally made jewelry, wood making, and art. And one place you certainly want to stop by is Powell's Books, the world's largest independent bookstore – so large that you may just need a map to find your way through.
Take a light stroll through Washington Park, home to Japanese Gardens and the International Rose Test Garden. And once you've worked up an appetite from all the driving and strolling, stop by Voodoo Doughnut for some mouth-watering pieces of sweet deliciousness.
Where to Stay in Portland: The Mark Spencer Hotel
After exploring all the top attractions between Seattle and Portland, why not spoil yourself with a well-deserved stay at The Mark Spencer Hotel. Located near Portland's Pearl District, the boutique hotel offers a 24-hour fitness center, room service, and private parking. Each room features WiFi, a full kitchenette and cooktop stoves, coffee makers, and cable TV.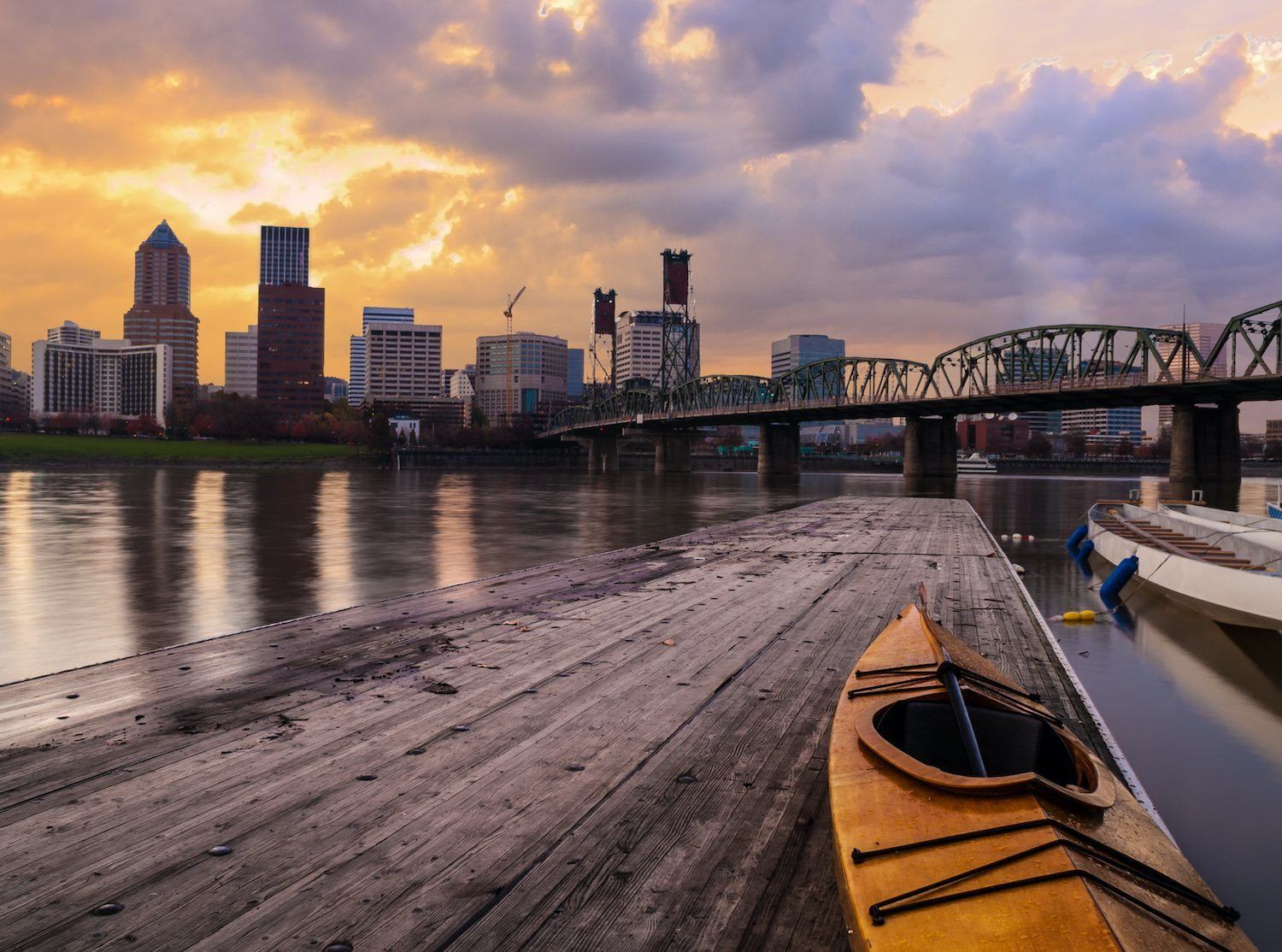 ---
Planning a trip to the Pacific Northwest?
Take a look through a few of my other favorite articles that could help you plan your trip or provide future trip inspiration!
Thanks for reading my Seattle to Portland drive road trip guide!
https://www.jonesaroundtheworld.com/wp-content/uploads/2021/09/Seattle-to-Portland-Drive.jpg
674
1200
TravelTractionsJATW
https://www.jonesaroundtheworld.com/wp-content/uploads/2017/03/logotry-1-1-300x106.png
TravelTractionsJATW
2021-09-21 19:43:32
2021-09-21 19:46:05
11 Amazing Road Trip Stops Along the Seattle to Portland Drive