Planning to drive up north from Los Angeles to Santa Barbara? Then you'll need this LA to Santa Barbara drive itinerary which features the best places to stop along your multi or single-day trip.
It features the low-down on coastal towns, attractions, and activities found along the way. This itinerary ensures you won't miss out on the best of what Southern California offers, regardless of your travel logistics. The focus will be the Pacific Coast Highway instead of Highway 101 because you just can't skip over Cali's beaches.
Sit back, relax, and read further so you know where to go on your drive to Santa Barbara from Los Angeles.
If you plan to travel south of LA anytime soon, then I'd recommend reading this piece for the best stops on a drive between LA and San Diego.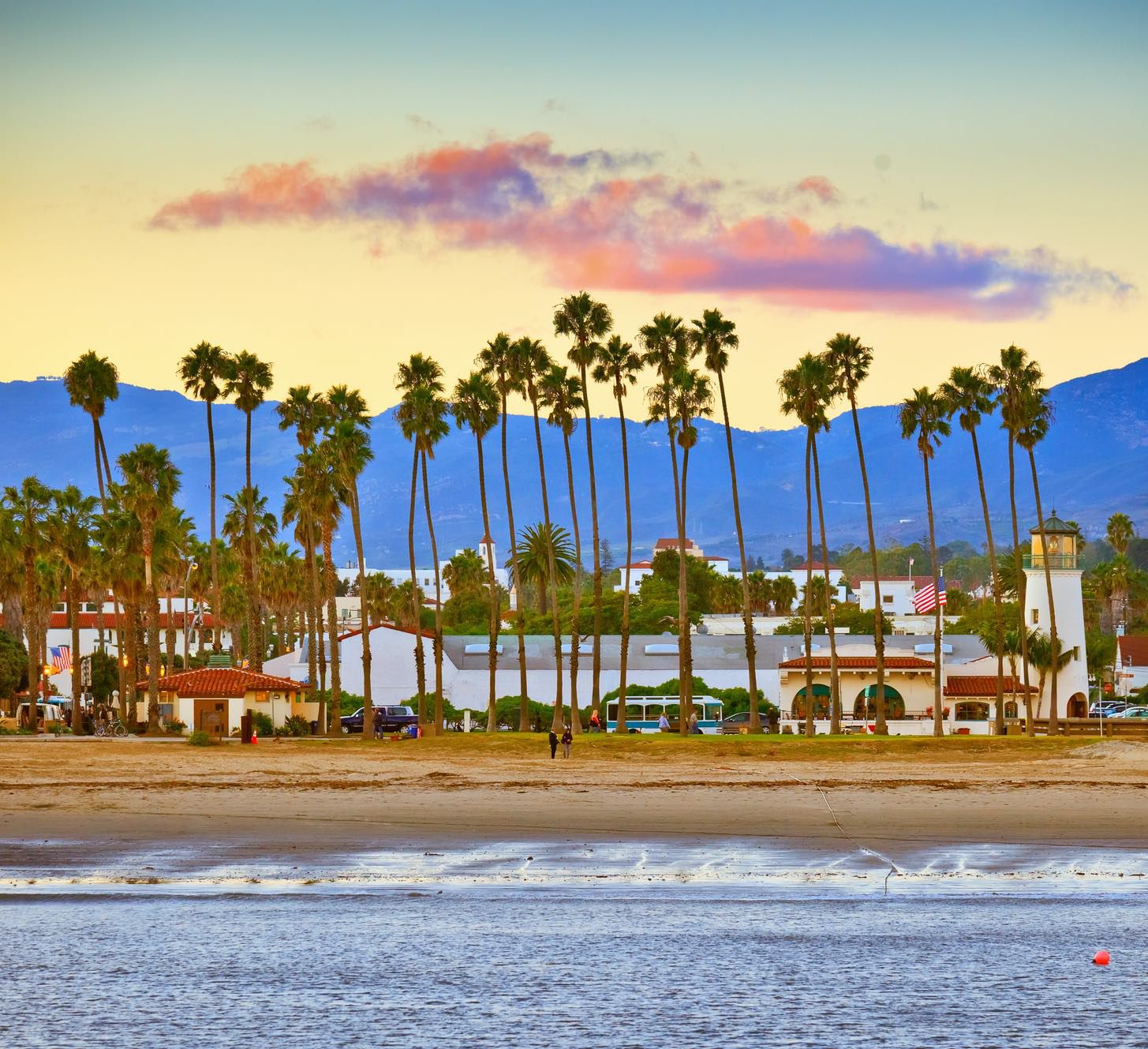 ---
1) Santa Monica
Santa Monica is a quintessential stop for any road trip beginning in Los Angeles. The city has a variety of things to do, all of which have helped it get its icon status. These attractions make it a perfect start for a Santa Barbara day trip.
Visit Third Street Promenade to experience all the fun the area has, with activities suited for movie lovers, shopping enthusiasts, and party animals. A journey to Santa Monica pier is a must; the wooden wharf offers an aquarium, a roller coaster, a massive Ferris wheel, and more.
Then make your way to one of the several sandy beaches in Santa Monica. Rent a bike to get some exercise and travel along a 26-mile bike path through Venice, Marina del Rey, and so on. Get yourself some fresh produce for the drive at the Santa Monica Farmers Market or visit the Santa Monica mountains for scenic views.
Where to stay in Santa Monica: Casa Del Mar
This fine hotel has been called home by many of Hollywood's stars, and now it's your turn. It has two on-site restaurants, a pool, and a tub. Plus it offers fantastic views of the Pacific ocean. Alternatively, take your pick from one of these Santa Monica Airbnbs.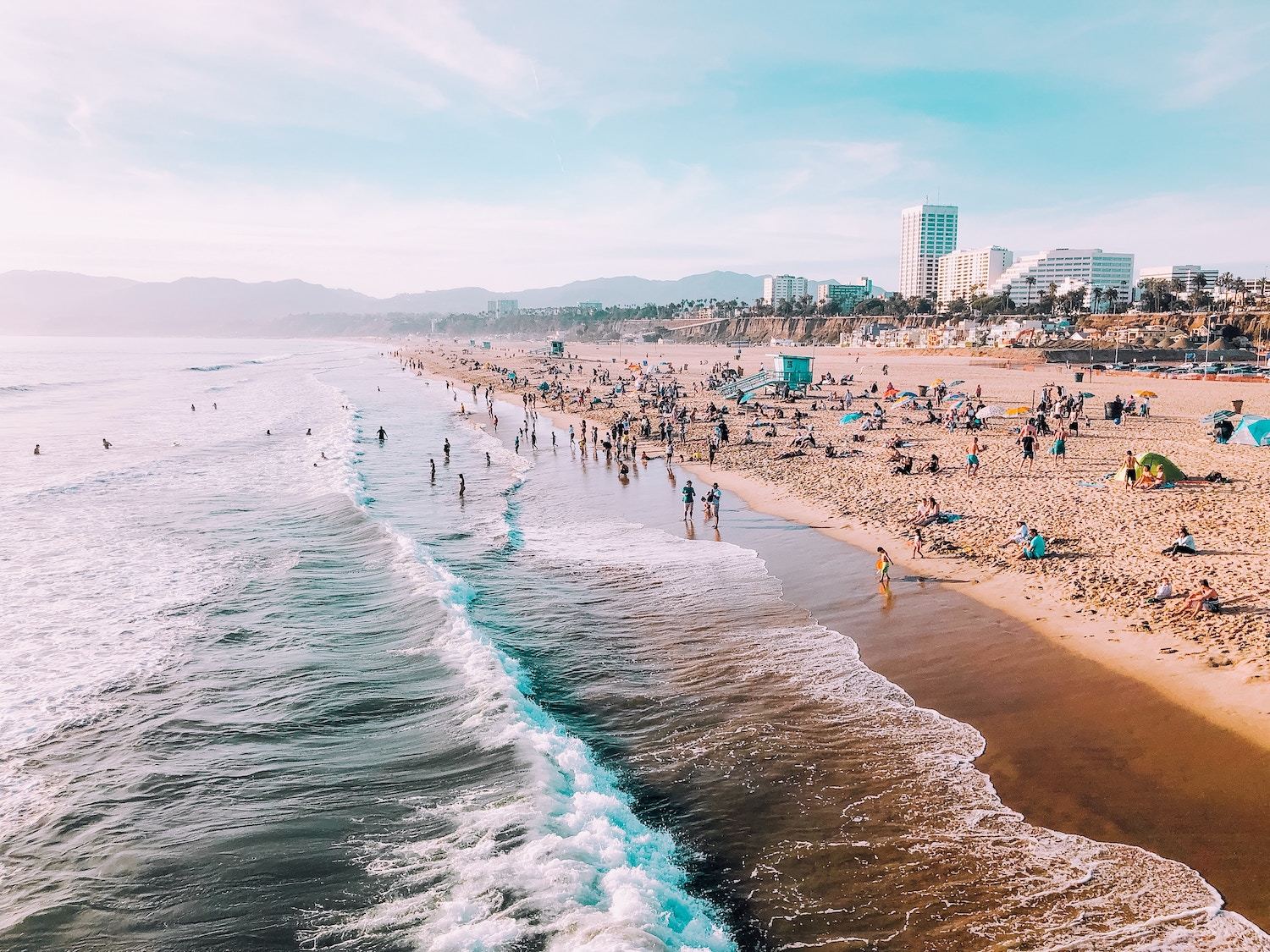 ---
2) Getty Villa
Nestled in Pacific Palisades, this fantastic art gallery is an excellent stop for a Santa Barbara trip. The museum features tons of ancient relics from Greeks, Romans, and other people, with some dating as far back as 400 CE. The beautiful Getty Villa is modeled after the Villa of Papyri at Herculaneum, giving you a European feel when you visit.
Take a stroll outside to view the garden and grounds which boast amazing flora, although this facility is closed for construction at the time of writing. Still, there's more to do, like visiting their cafeteria to enjoy a delectable meal or taking pictures beside the life-size sculptures.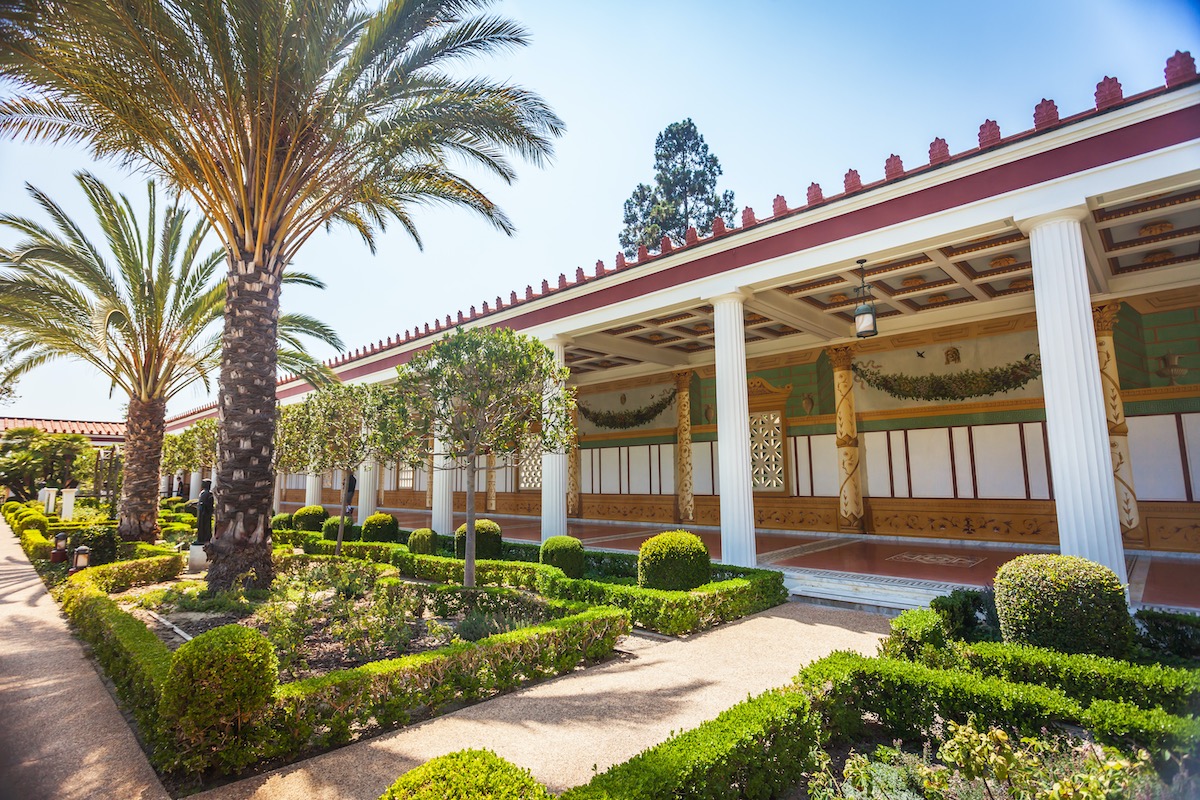 ---
3) Malibu
Malibu is a seaside SoCal town as famous as the celebrities that live in the area, making it an essential stop when driving from LA to Santa Barbara. It's primarily renowned for its amazing beaches. Take your pick from white sand Zuma Beach, rugged El Matador beach, quiet Carbon Beach and more.
I'd recommend a visit to Malibu Pier, which is a haven for shopping, dining, fishing, or just relaxing. Plus, it offers picturesque views of the Southern California coastline in an uncrowded space. Then do a tour of the celebrity homes, which will leave you either feeling inspired or mesmerized.
Embark on one of the many hiking trails including Nicholas Flat trail and Escondido Falls, and visit vineyards on a wine hiking tour. For a quieter time, visit the Malibu Contemporary Art Gallery, Frederick Weisman Museum of Art, Adamson House, and Malibu Lagoon Museum to view some great pieces. Want to see Malibu uniquely? Then take in views of the town from the sky on a Fly-in Malibu paragliding and parasailing experience.
Where to stay in Malibu: The M Malibu
This modern motel features an outdoor pool, free Wi-Fi, and a flat-screen cable TV, plus some rooms offer balconies with ocean views. It's a great budget stay and Malibu Pier and most beaches are just around a 20-minute walk away from the motel. Alternatively, choose to stay at one of these Malibu Airbnbs.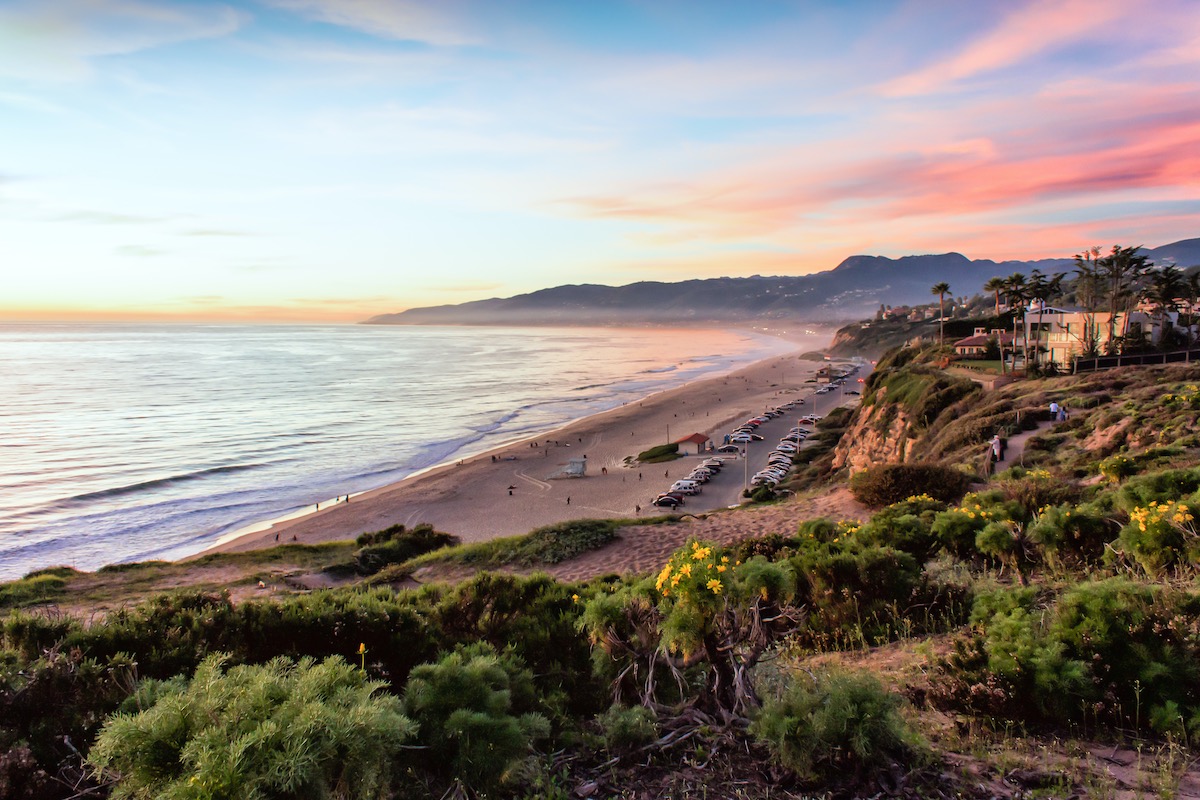 ---
4) Thousand Oaks
Surprisingly not a tourist destination, inland Thousand Oaks has plenty of jam-packed fun that awaits all visitors. It's a great stop after Malibu as you navigate to Santa Barbara, being excellent for single, couple, or family travelers. You'll take a detour from the Pacific Coast Highway and drive along Decker Rd to get to Thousand Oaks.
Do you love all things flora? Then Thousand Oaks is perfect for you; take a stroll to the Gardens of the World or Conejo Valley Botanic Garden to take in their wonderful flower collections.
If you're a history buff, then make sure to visit the Chumash Indian Museum. It features countless artifacts and anecdotes about how the Chumash Indians lived harmoniously with nature, including some life-size replicas of the Chumash people and their village.
Will your body through a hiking trail through Wildwood Regional Park to soak in some scenic natural views, and visit Paradise Falls to witness beautiful cascading waterfalls.
For some family fun to get your blood pumping and face smiling, visit DojoBoom. It has a ton on offer, including a dodgeball court, trampolines, rock walls, and more. Trust me; you don't want to miss out.
Where to stay in Thousand Oaks: Quality Inn & Suites Thousand Oaks
This inn features a modern design along with an outdoor pool and hot tub. Rooms come with a flat-screen TV and coffee maker. You also get spoiled with a delicious morning breakfast featuring several items, including bacon, waffles, and bagels.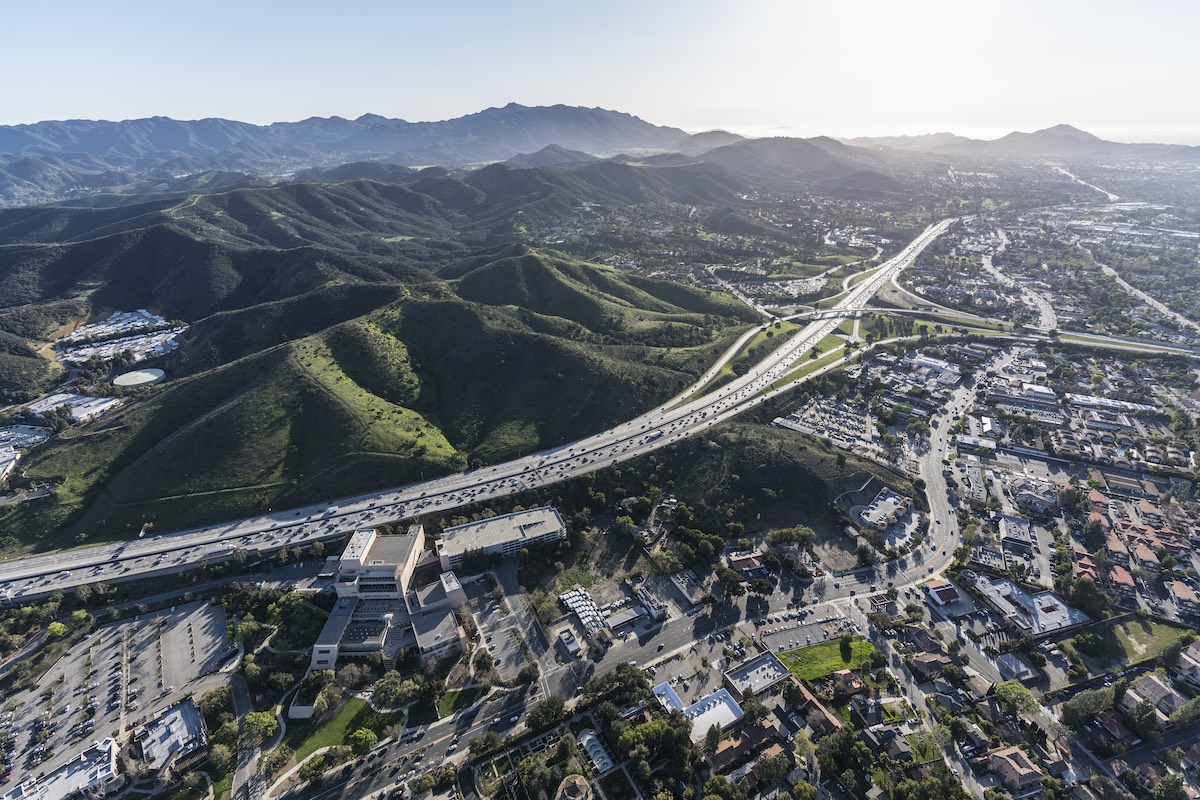 ---
5) Sycamore Cove Beach
While driving straight ahead from Thousand Oaks is okay, I'd recommend making your way back to the Pacific Coast highway. The Los Angeles to Santa Barbara drive is more scenic on this coastal road.
Your next stop will be quiet Sycamore Cove Beach, which features a long stretch of sand and clean water. It doesn't have much going for it in terms of amenities, but it's a perfect stop to catch a breather and enjoy the sound of waves crashing.
It has a picnic table you can enjoy your food at, or just spend a quiet time escaping the hustle and bustle of California.
The beach doesn't have a nearby place to stay, and to be honest, there isn't much here that warrants an overnight stay. Although, you can camp at nearby Sycamore Canyon Campground which also has a great trailhead to stretch your legs on.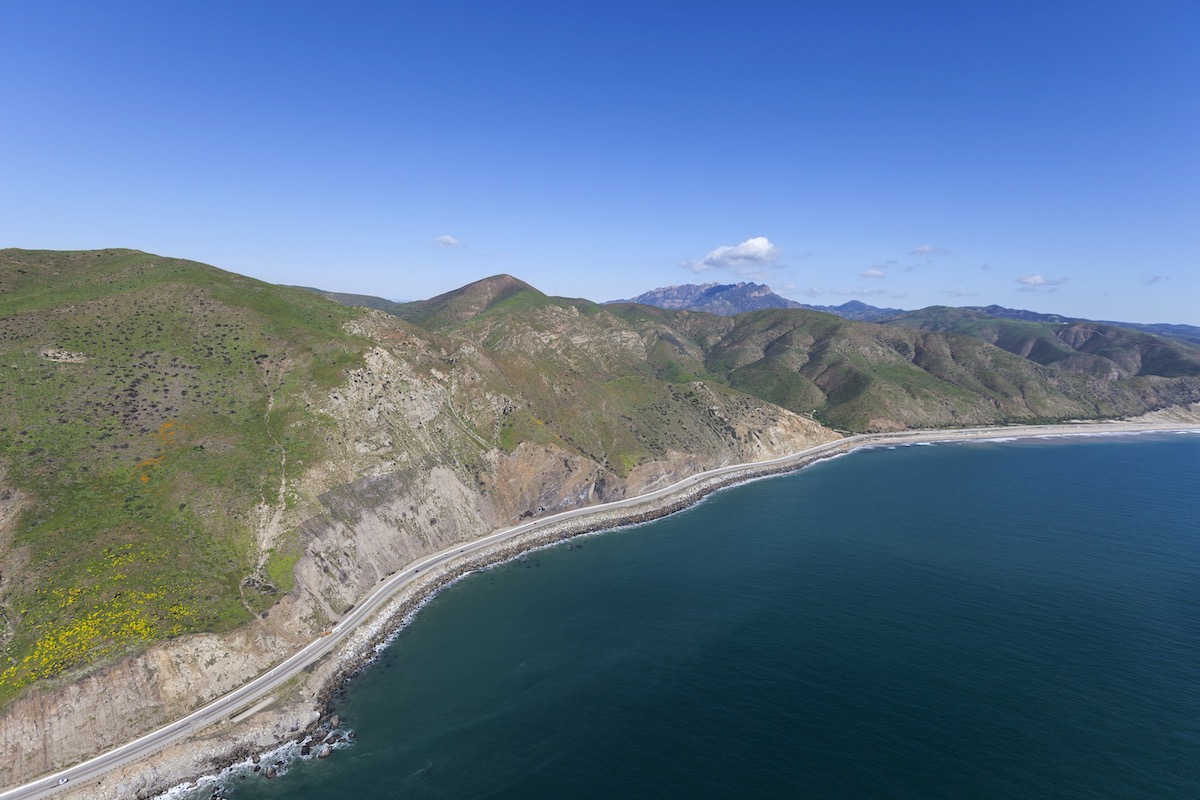 ---
6) Oxnard
North of Malibu and on the precipice of Ventura County is coastal Oxnard, a city that doesn't get many tourists. This is surprising because it boasts several beaches, fun activities, and dramatic landscapes, making for a worthy inclusion in an LA to Santa Barbara drive itinerary.
Pick from Oxnard State Beach and Park and Mandalay State Beach to get a tan. Enjoy a stroll on the beautiful shore featuring dunes or swim in the turquoise waters. To generate a bit of buzz, visit one of the several wineries in the area and get a taste of different wines.
If you're a car enthusiast, two hidden gem automotive museums showcase classic cars – the Mullin Automotive Museum and the Murphy Auto Museum. They feature vintage vehicles, some from the early 1900s, like the Ford Mustang and a vehicle modeled after the Model T, America's first automobile.
If ships are more your thing, visit the Channel Islands Maritime Museum featuring maritime paintings and scaled ship models. There's also a Carnegie Art Museum to see, if you prefer artistic pieces by some talented artists.
Visit Channel Islands National Park for rugged, beautiful landscapes or take up parasailing and canoeing experiences there. Tickle your funny bone at Levity Live Comedy Club, with some funny comedians frequently taking the stage.
Where to stay in Oxnard: Channel Islands Inn
This inn is a great place to stay because it offers bang for your buck. It provides free Wi-Fi and American breakfast. The rooms are equipped with flat-screen satellite TVs and a coffee maker. You'll also get to enjoy the sauna, hot tub, and swimming pool.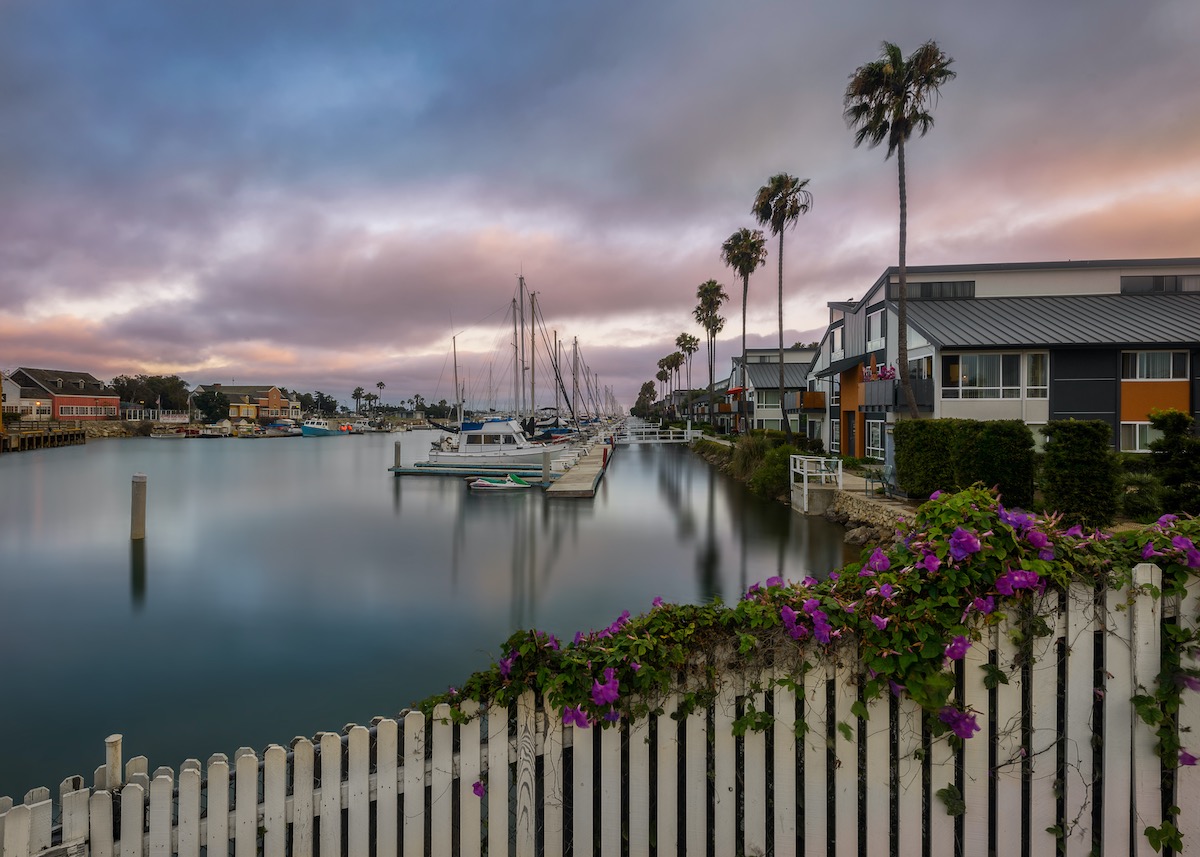 ---
7) Golf N Stuff
In Ventura County is this amusement park which I recommend you include in your plans of driving from Los Angeles to Santa Barbara. It's bursting with activities fit for the entire family, although more suited for kids (or big, adult kids).
Mimic Tiger Woods when playing miniature golf or put the pedal to the metal on a racing track in a GoKart that accommodates two. Then have fun bumping into each on bumper boats or bumper cars. Afterward, try your hand at over 50 games with prizes at stake and end your time here with something from the snack bar.
The park opens at 10:00 and closes at 21:00, except on Fridays and Saturdays where it's open for an extra hour.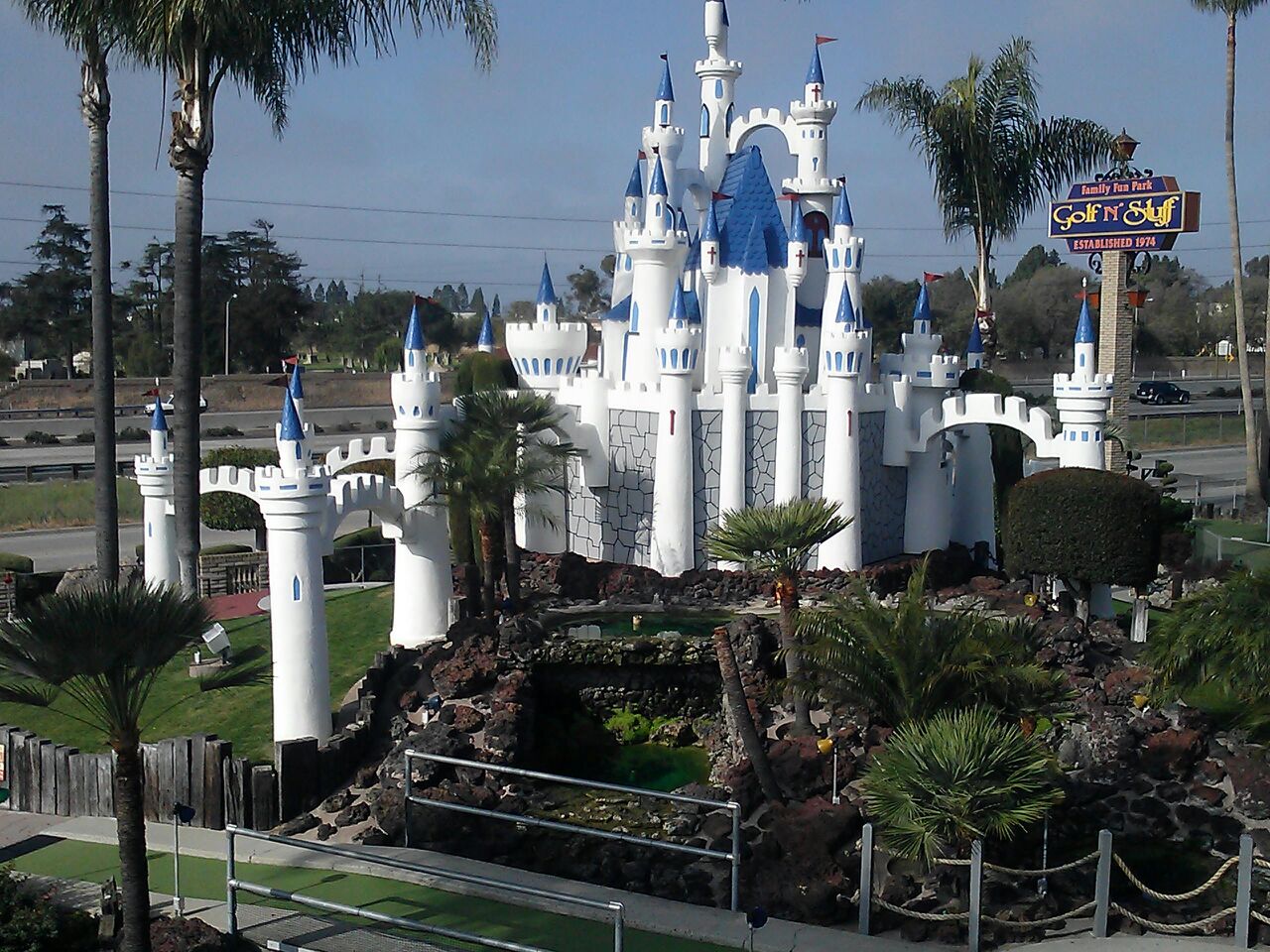 ---
8) Ventura
Towards the end of the Los Angeles to Santa Barbara drive stands this bustling city with various activities and attractions on offer. Among the list of things to do is visit the coastal city's beaches, including Ventura Beach, which features long stretches of golden sand and clean water.
Once you're at the beach, make sure you hop on Ventura Pier and Promenade to enjoy seafood delicacies and tacos at the many restaurants here. There's also a brewery on the pier offering scenic views of the ocean if you want to wet your whistle.
I'd recommend a visit to Ventura Harbor Village where you can enjoy palate-pleasing seafood and art galleries in every corner. Rent an electric boat or kayak and head out on the water to see seals and have family fun playing in the sand or arcade.
If you love flora, then visit the Ventura Botanical Gardens and Serra Cross Park for a stroll through gardens and then enjoy beautiful views of the city. Treat the history and art itch with a visit to Ventura City Hall and Ventura County Museum of History & Art. Then go on the Island Packers cruise tour where you get to see whales and dolphins from a boat traveling to Santa Cruz Island or Anacapa.
Where to stay in Ventura: Holiday Inn Express Hotel & Suites Ventura Harbor, an IHG Hotel
This modern inn is pet friendly and its rooms boast a flat-screen TV and free Wi-Fi. They also come equipped with a work desk and seating area. The hotel is located a few minutes from the Ventura harbor.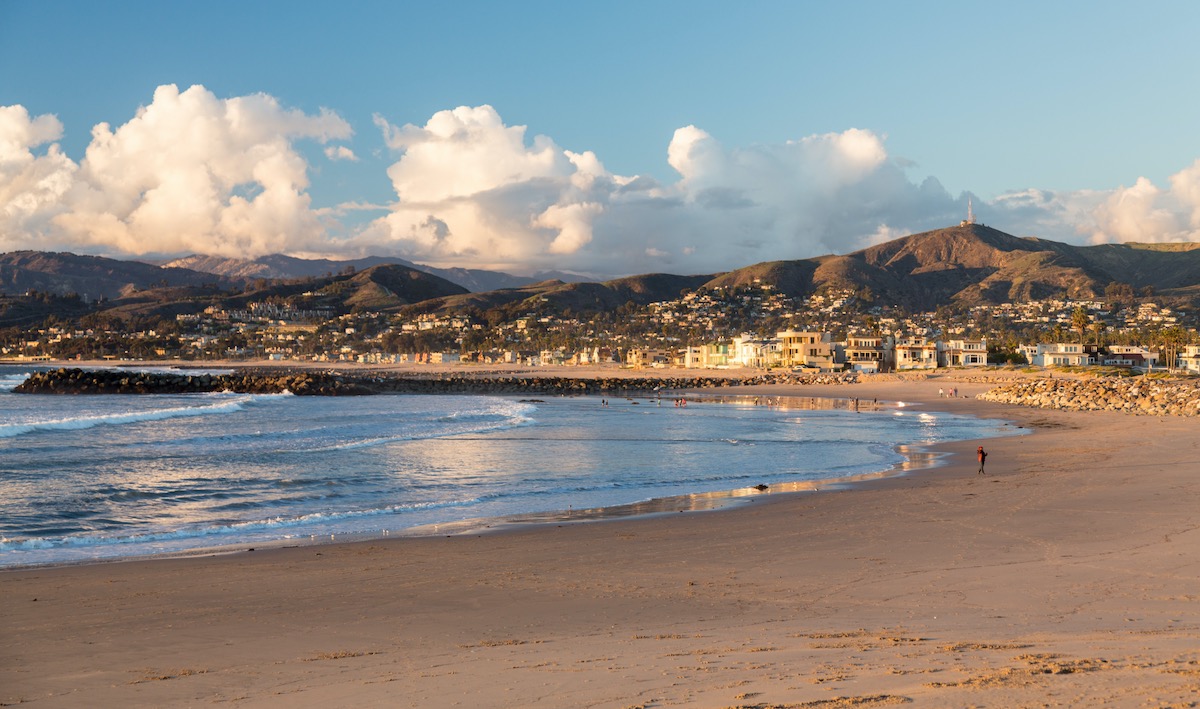 ---
9) Carpinteria
The final stop of the LA to Santa Barbara scenic drive is Carpinteria, a quiet coastal city in proximity to Santa Barbara. It's the perfect last stop before heading into its fast-paced neighbor, although it has several activities and attractions.
Take a stroll to the fantastic Carpinteria State Beach via Linden Avenue, dotted with excellent restaurants and cafes serving Thai cuisine, seafood, and sweet delicacies. Visit the Carpinteria Harbor Seal Preserve to see some seals in action, or visit Canzelle Alpacas to pet alpacas.
For a nature-filled visit, journey to the Carpinteria Bluffs Nature Preserve and Carpinteria Salt Marsh Nature Park and see amazing flora. I also recommend visiting the Wardholme Torrey Pine, which is the world's largest Torrey Pine tree. Then explore the rugged landscapes of the city on foot or rent a bike and embark on the Rincon Bike Trail that passes through a beautiful beach.
Want to wet your whistle in Carpinteria? Great, there isn't a shortage of breweries and wineries here. Visit Island Brewing Company for excellent ales and Apiary Ciderworks & Meadery to taste different wines and drinks.
If you have little kids with you, take them to the Carpinteria Valley Museum of History filled with artifacts. Afterward, take them to Tomol Interpretive Play Area, which features slides and cool animal statues.
Where to stay in Carpinteria: Best Western Plus Carpinteria Inn
Located just a walking distance from Carpinteria State Beach, this hotel offers comfortable rooms with free Wi-Fi and cable TV. An outdoor pool, hot tub, and on-site restaurants are other offerings from the hotel. Towards the end of the night, stroll through the large courtyard which features a beautiful koi pond.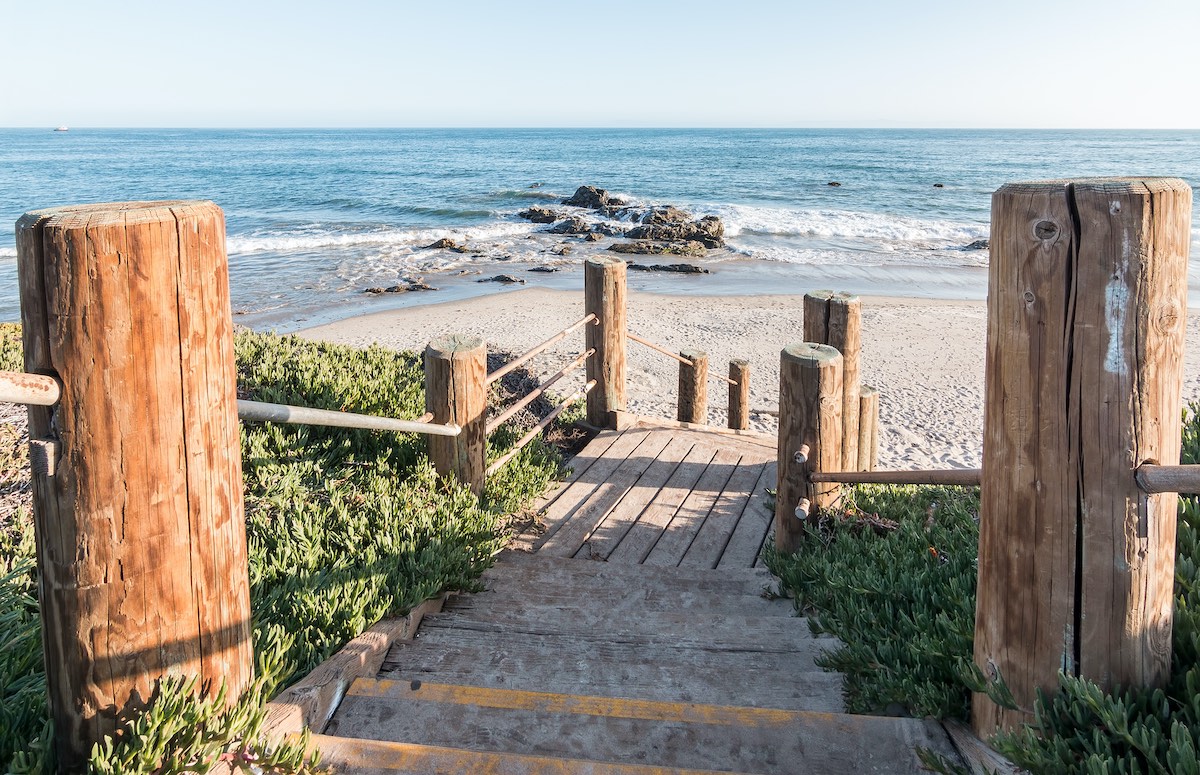 ---
Planning a trip to California?
I've got tons of other amazing content on my home-state of California, so be sure to check out a few of my favorite posts below:
---
Thanks for reading my LA to Santa Barbara Drive Itinerary!
https://www.jonesaroundtheworld.com/wp-content/uploads/2021/07/LA-to-Santa-Barbara-Drive-Itinerary.jpg
1329
1455
TravelTractionsJATW
https://www.jonesaroundtheworld.com/wp-content/uploads/2017/03/logotry-1-1-300x106.png
TravelTractionsJATW
2021-07-07 20:24:22
2021-07-08 22:09:26
9 Incredible Stops to Make on an LA to Santa Barbara Drive