You know the South Island is going to be epic as soon as your plane tips its wings over the glorious mountains of the Southern Alps where views are endless, north to south.
The South Island may look small on a map but once you have set foot on Aotearoa, scale takes over and you seemingly become lost amongst the warm waters of the Abel Tasman or as you ice climb on Franz Josef Glacier. Walking with giants is possible, just head to Aoraki National Park for visually stunning landscapes or if you prefer to chill out, maybe Stewart Island is the spot as Aurora's dance in the earth's atmosphere.
Once in the South Island is never enough as you are about to find out.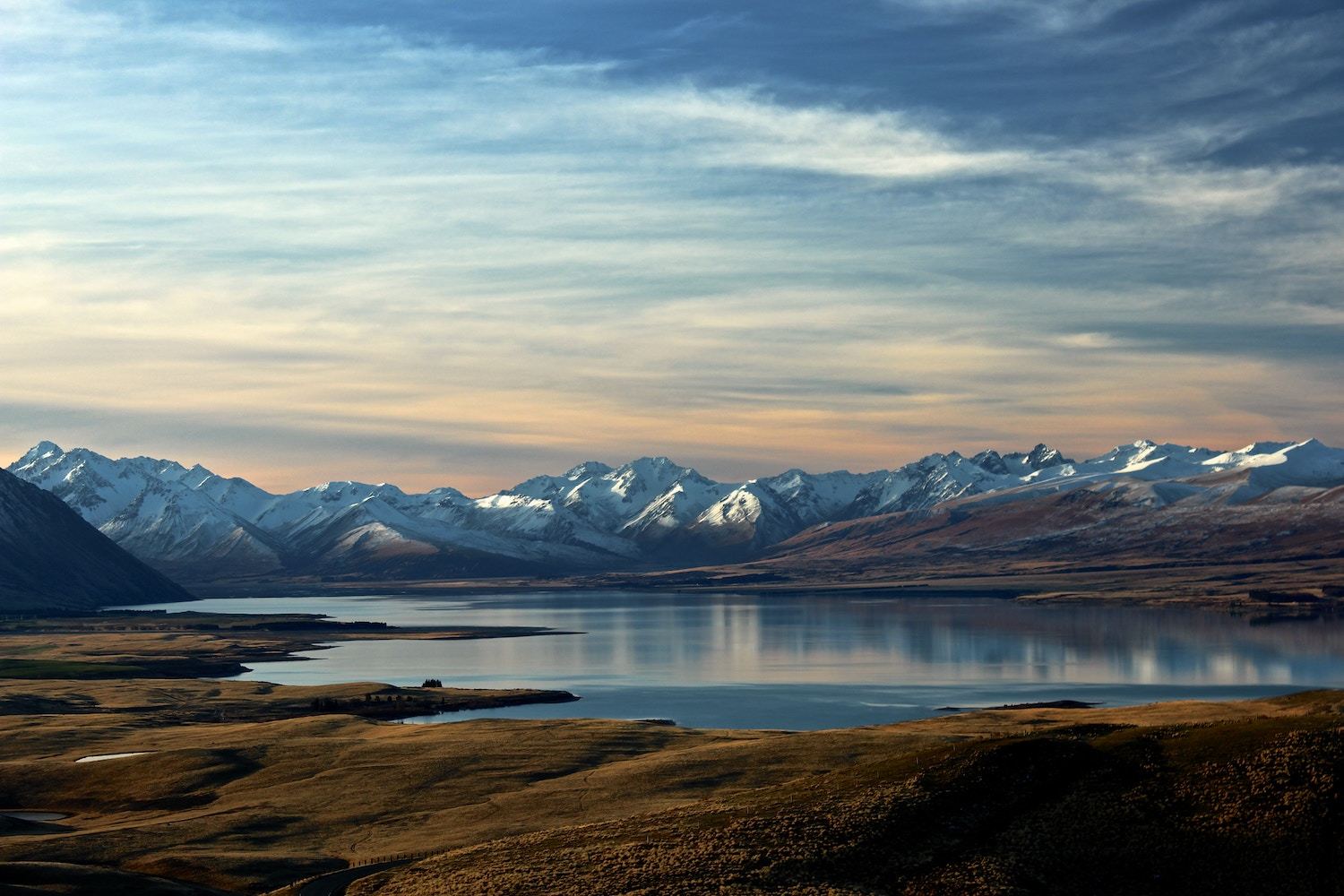 ---
How to get around the South Island of New Zealand?
Having spent a good chunk on the South Island, I have come to the conclusion that a campervan or hiring a car is the best way to go hands down.
Having your own car or campervan simply allows you to get to those hard to reach places, and those places are generally not included with bus travel. Hiring a car or campervan can be done at every airport in New Zealand or a major city.
The truth is that the South Island of New Zealand is just one of the stunning places in the world, and you really WANT to be able to explore at your own pace. The landscape you'll see driving in between the top destinations will blow your mind, and it's just nice to have that freedom.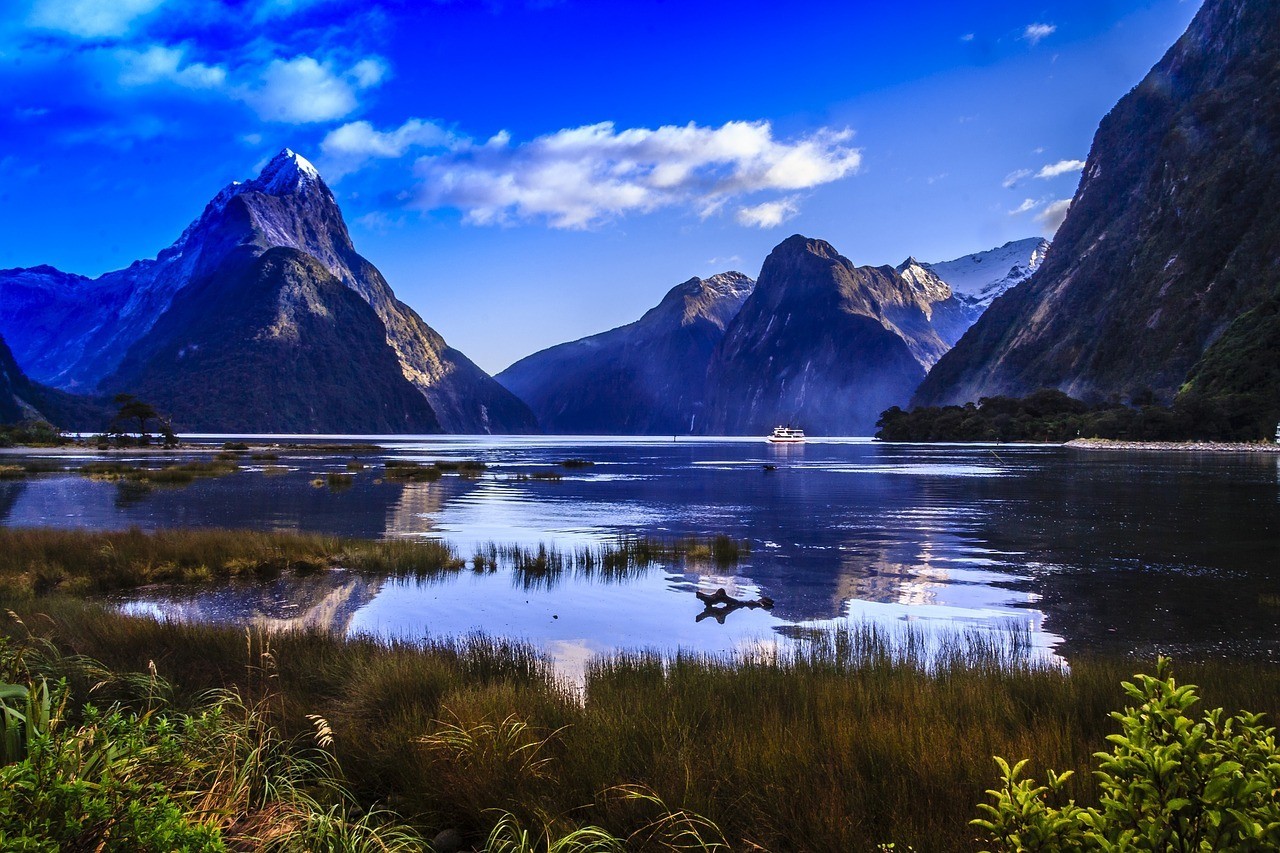 ---
Where Should I Start My South Island Trip?
Starting in Christchurch is a lot cheaper than starting in Queenstown but then there is the dilemma on whether to travel north to Kaikoura, Blenheim and Nelson. Starting in Queenstown is ideal if you just want to stay and ski, but not ideal if you plan to visit the wine countries or Abel Tasman.
If you are traveling from the North Island on a ferry, I prefer to head from Picton to Abel Tasman National Park and down the West Coast to Franz and Fox Glaciers and onward to Wanaka and Queenstown.
Also, make sure you browse through my article, "The Best 15 Music Festivals in New Zealand To Experience Before You Die" to see if there are any epic events occurring during your New Zealand adventures!!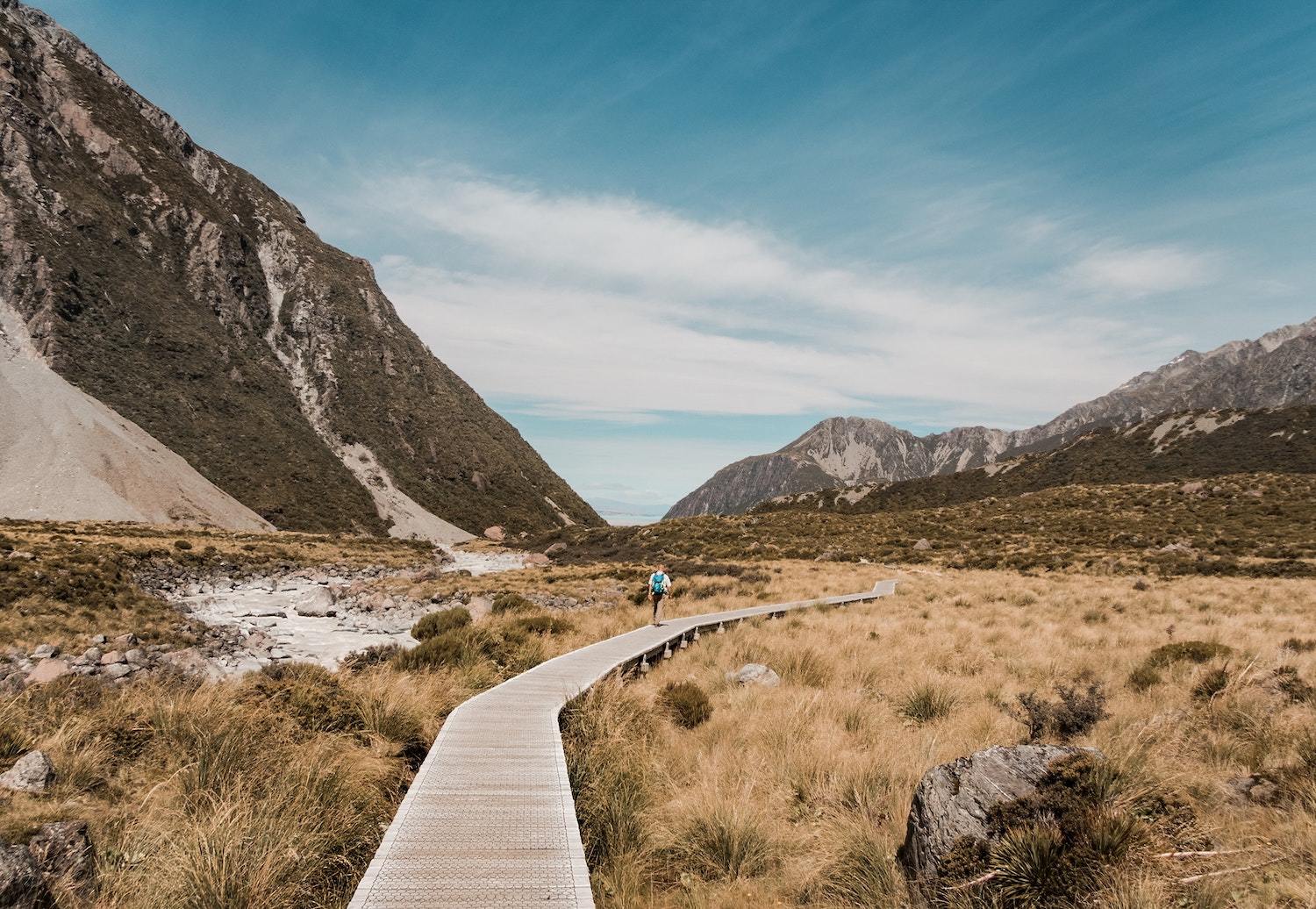 ---
The South Islands Best Destinations
Best things to do in New Zealand South Island
I hope you've got at least 10 days to three weeks to properly explore the South Island, because there really is an unbelievable amount of incredible places to visit, mountains to climb, and adventures to experience!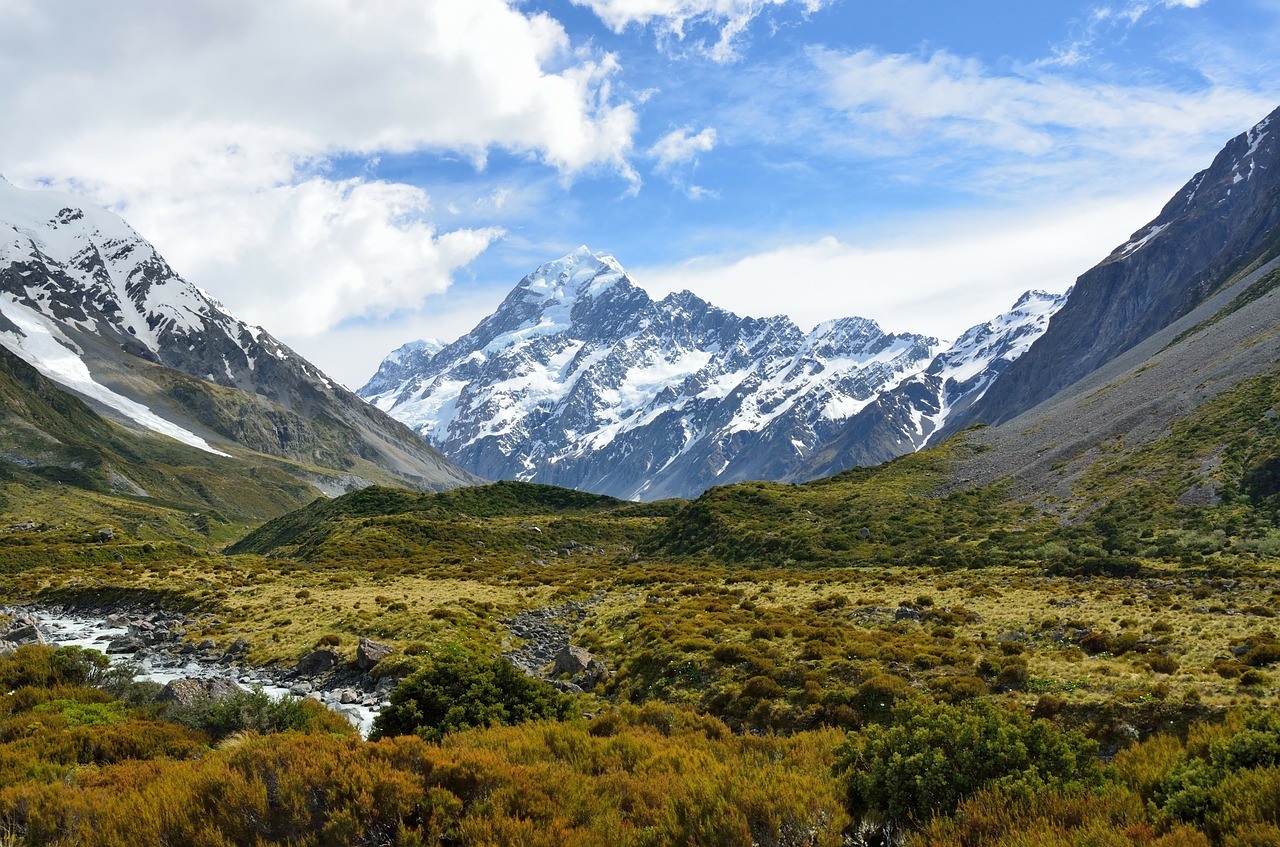 ---
Marahau – Abel Tasman National Park
Marahau is the gateway to some of New Zealand's finest beaches and islands all while been a hotspot for wildlife.
The Abel Tasman National Park holds the title for most the sunny days anywhere in New Zealand throughout the year and with that brings keen kayakers, hikers and wildlife lovers. Any adventure in the Abel Tasman starts in Marahau, a tiny seaside town that comes to life every morning as tractors pull trailers of kayaks to the waters' edge as tourists don their lifejackets and sunscreen.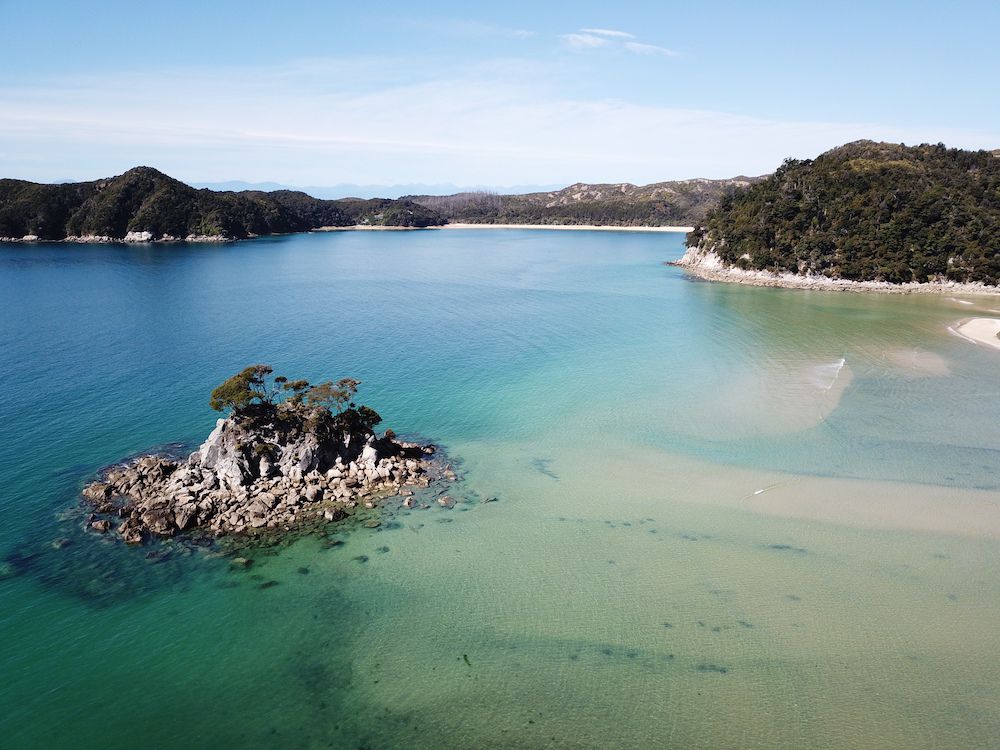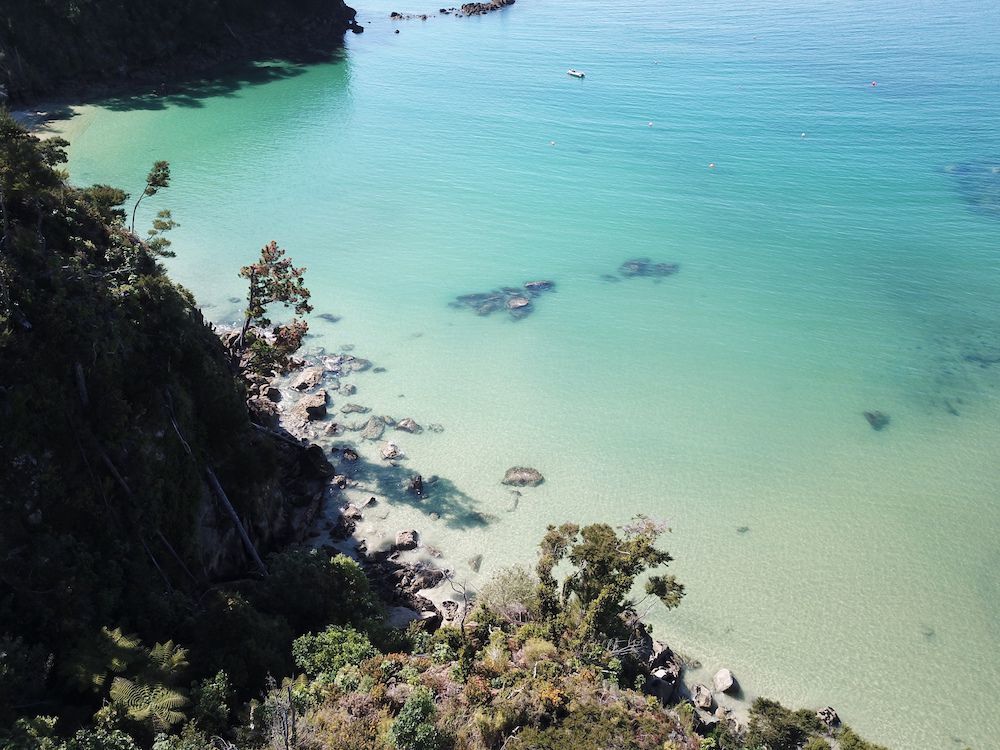 ---
What's so awesome about Marahau is that it is the hub for all activities in the national park. If you want to go kayaking, you'll have no problems hiring one or if you want to go hiking along the famous Great Walk of New Zealand, Marahau is the start point for that! If you just want to spend a day on a remote beach or island, you can simply catch a water taxi to paradise. Marahau is also the perfect place to literally just chill out with a beer, seafood or a day of basking in the glorious sun that this environment provides.
Thinking of hiring a kayak or going on a guided tour? Checkout Abel Tasman Kayaks! Hiking the Abel Tasman Coastal Track can be done all year round but for updates and tidal conditions check with www.doc.govt.nz. Peak season on the track can lead to full cabins so book ahead!
Best Stay: The Barn is a campervan/ backpacker accommodation based area minutes' walk from the Tasman Bay and the start of the Abel Tasman Coastal Track. Prices start at $32 NZD for a dorm room bed
Hiking Abel Tasman National Park | Part 1: Abel Tasman Coast Track
---
Nelson
After spending a few days to a week hiking and kayaking through the Abel Tasman National Park, Nelson was a place I just had to visit and having next to no idea what to expect in Nelson, I was super surprised! Nelson is perched beautifully next to the glorious Tasman Bay which backs onto the Cook Strait and a lot like The Abel Tasman National Park, Nelson sees one of the highest annual days of sunshine in the whole country.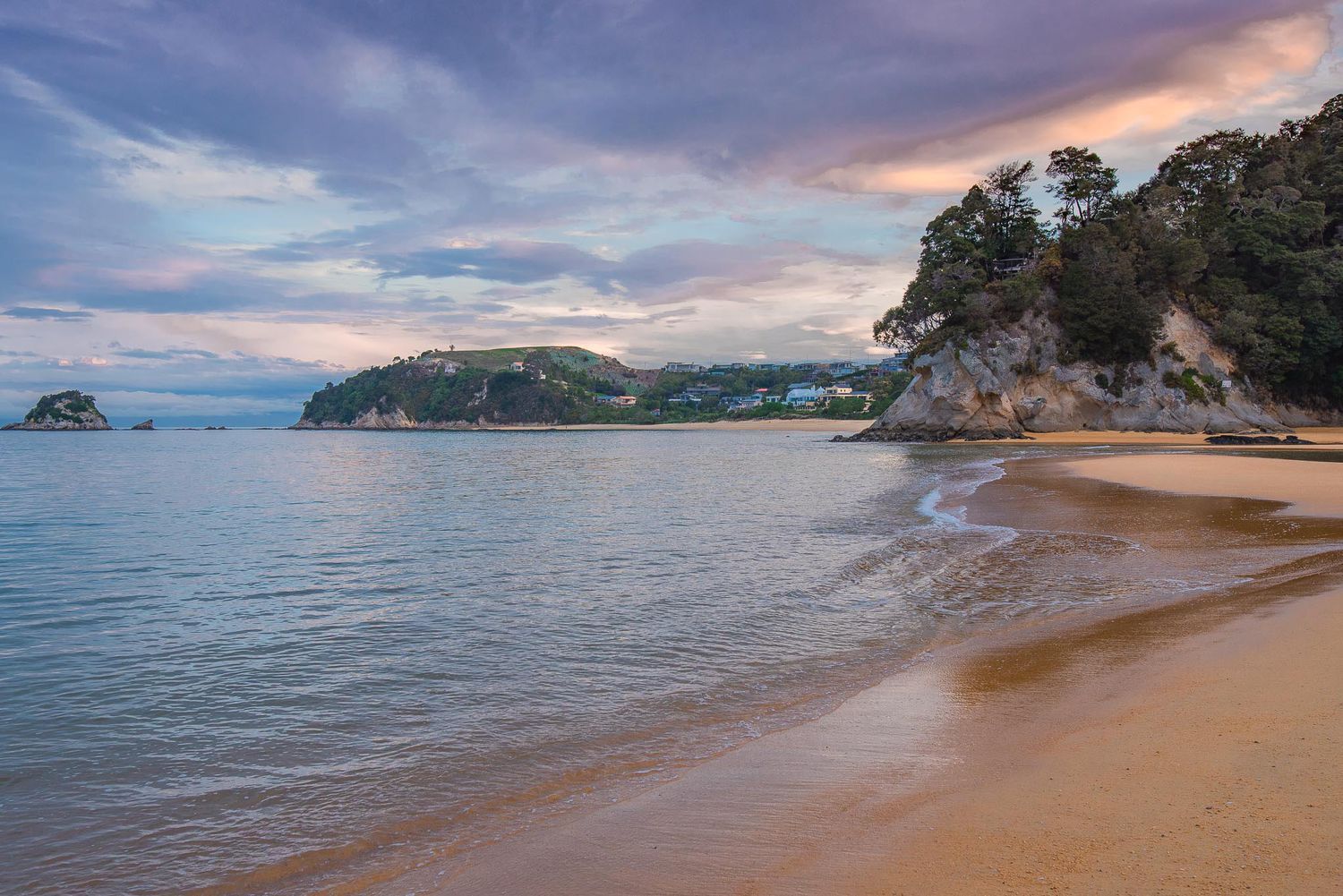 Nelson is said to be one of the most livable cities in New Zealand and I get why with easy access to the Marlborough Sounds, Abel Tasman National Park, Kahurangi National Park and Cape Farewell to who are some of the most majestic places in the country.
From the stunning Tasman Bay to the streets of Nelson, everything is so clean and well-kept with a gorgeous Christchurch Cathedral and gardens leading onto the cobbled street of Trafalgar where dining and drinking is a must do.
One thing I can't resist while in New Zealand is a good Speights Brewery, Macs Brewery or Monteith's Brewery to which all have delicious brews, perfect after a day's adventure! While these are exceptional breweries, the Nelson Region is known for its hops which serve as integral ingredient to beer making so there will never be a shortage of breweries or beer in Nelson or surrounds!
Best Stay: the Innbetween Lodge & Backpackers is centrally located in Nelson and only a few minutes' walk from Trafalgar Street. Prices start at $36 NZD per night.
Your Guide to Nelson - New Zealand
---
Kaikoura
The first time I travelled to New Zealand my mind was already blown and then came Kaikoura, a place that I thought was not possible…like how is it possible for a snowcapped series of mountains be right next to some of New Zealand's most stunning coastlines?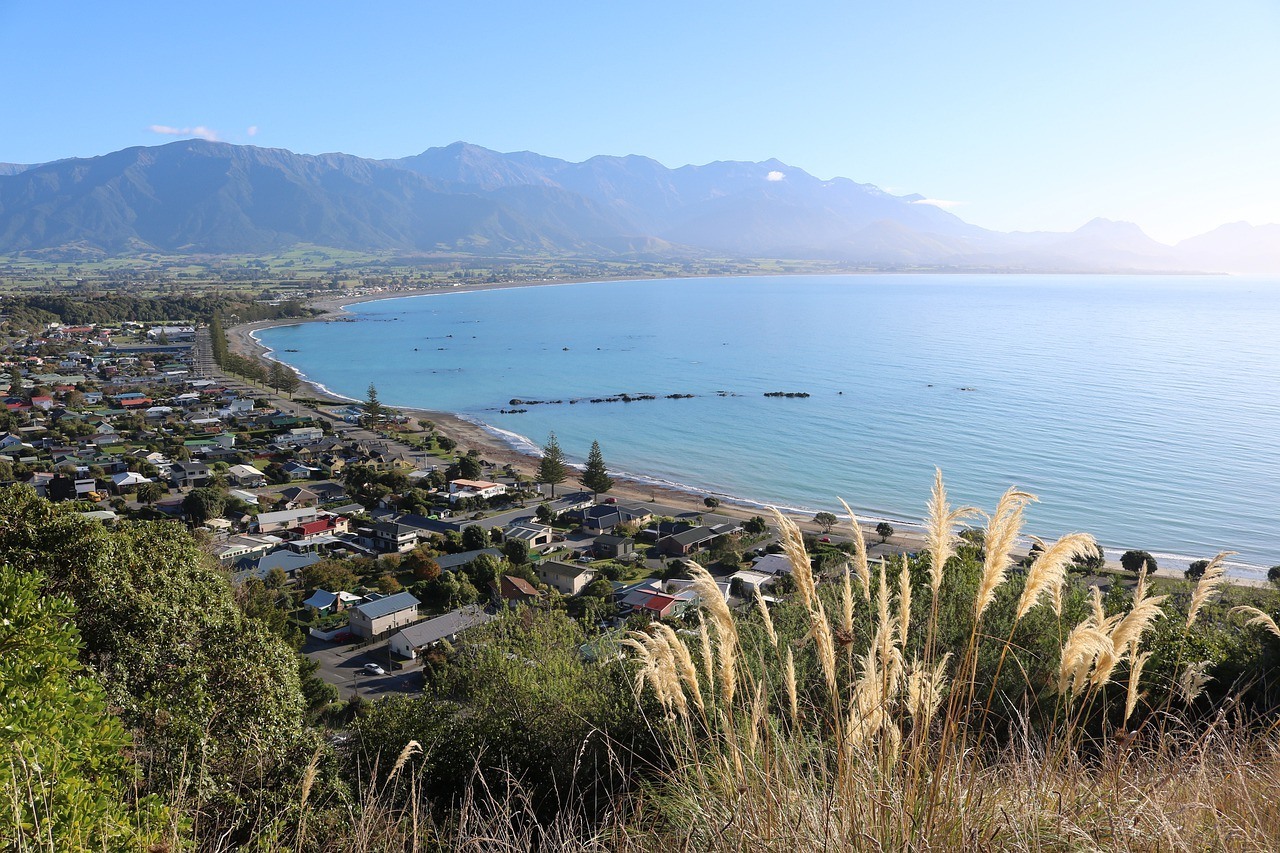 Many trips later to Kaikoura, I was hooked. The place has it all from wild dolphin encounters, trekking in the mountains to sampling exceptional seafood and that's just the start of things. Kaikoura is known for its seal colonies based at Point Kean. Seals can be spotted lumbering around rock pools or soaking up the sun in the local carpark…they literally roam everywhere, don't get too close as they can be aggressive!
While at Point Kean, why not check out more on the Kaikoura Peninsula with a series of coastal walks and probably the best views of the Seaward Kaikoura Ranges, those snowcapped mountains I was telling you about!
Kaikoura's natural landscapes and wildlife is certainly a winner but don't leave this beautiful coastal town without taking a drive along Highway 1. During the 2011 earthquake, Kaikoura was cut off from the rest of New Zealand and its delicate coastal areas were severely damaged. Only in the last 2 years has Kaikoura been opened up again for tourism as major landslides removed parts of the highway and to this day, repairs are continuing.
Best Stay: Kaikoura Seaside Lodge has the best views of the Seaward Ranges with prices starting at $32 NZD.
Things to do in Kaikoura - Must Do New Zealand
---
Fox & Franz Glaciers – Tai Westland Poutini National Park
The Wild West Coast of New Zealand presents to you, Glacier Country, a rugged, lush landscape home to some of the most accessible glaciers and mountains in the Southern Alps. Within 45 minutes of one another are Fox Glacier and Franz Josef Glacier via the West Coast Highway.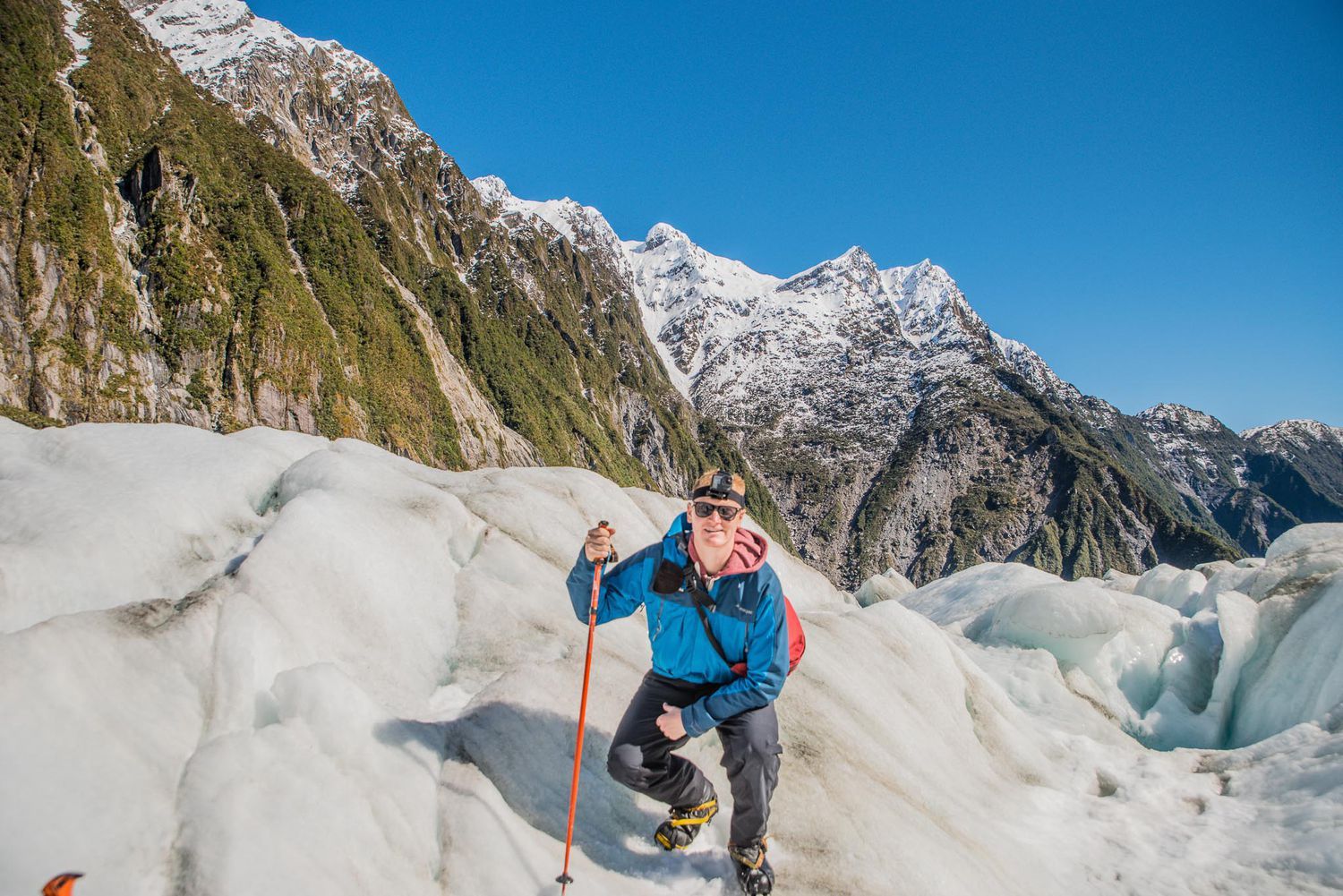 Fox Glacier is the quieter of the two glaciers in terms of tourists meaning you're going to get more quite time for you to just enjoy the Avatar-like landscape that encapsulates you. Getting to the terminal point of the glacier takes 30 to 40 minutes with a decent uphill clamber before views of Fox Glacier appear. Glaciers are very fragile and at any moment, chunks of ices can fall therefore keeping a distance is necessary but there is another alternative and that's with the team at Fox Glacier Guiding who run guided tours upon the glacier.
Franz Josef Glacier sees numbers almost triple of what Fox Glacier sees meaning there are a stack more options on where and what you can do in the area. The number 1 reason tourists flock to Franz Josef Glacier is to get on a helicopter and head for the mountains to get a view of this special frozen river of ice.
In the main street of town, there are a multitude of options for getting onto the glacier with companies running 20 minute flights to half-day tours and some involve crampons and ice picks! My recommendations are Franz Josef Glacier Guides for a hands-on experience and afterwards enjoy an hour or two in the hot pools to thaw out those frozen limbs!
Helicopter Line are the best for scenic flights or if you just want to land on a high mountain top, have a snow fight or chill out, these are the people to see!
Franz Josef is much more than just glaciers and having lived there for 3 months, I got to see and do everything! There are around 6 hikes to do ranging from easy to advanced or if you want to hire a bike, there are lots of tracks to choose from.
For up to date information on tracks check with the local i-SITE in Franz Josef or www.doc.govt.nz.
As I mentioned, Franz Josef is more than just a glacier and there can be terrible weather days generally meaning helicopters won't fly. The best way to kill time is to check out the main street in town with awesome restaurants like SnakeBite who serve the best Asian on the West Coast while Monsoons located at the front of Rainforest Retreat serves up a quality dish of local lamb chops and soon after dinner, Monsoons turns into a nightclub…literally.
Best Stay: You can't go past Franz Josef Rainforest Retreat which has everything from a place for a campervan, dorm rooms through to 5 star luxury rooms which have a spa!
FRANZ JOSEF + South Island, New Zealand
---
Haast Pass
The Haast Pass is one of the gnarliest and most wonderful crossings in New Zealand. In order to cross from the rugged West Coast and into The Otago Region, crossing the Southern Alps is a must so make sure your hire cars brakes work!
Most people today merely cross the Haast Pass to get from Wanaka to Glacier Country but I am telling you that you need to take the time to look around as there are so many hikes, waterfalls and hidden gems waiting to be discovered.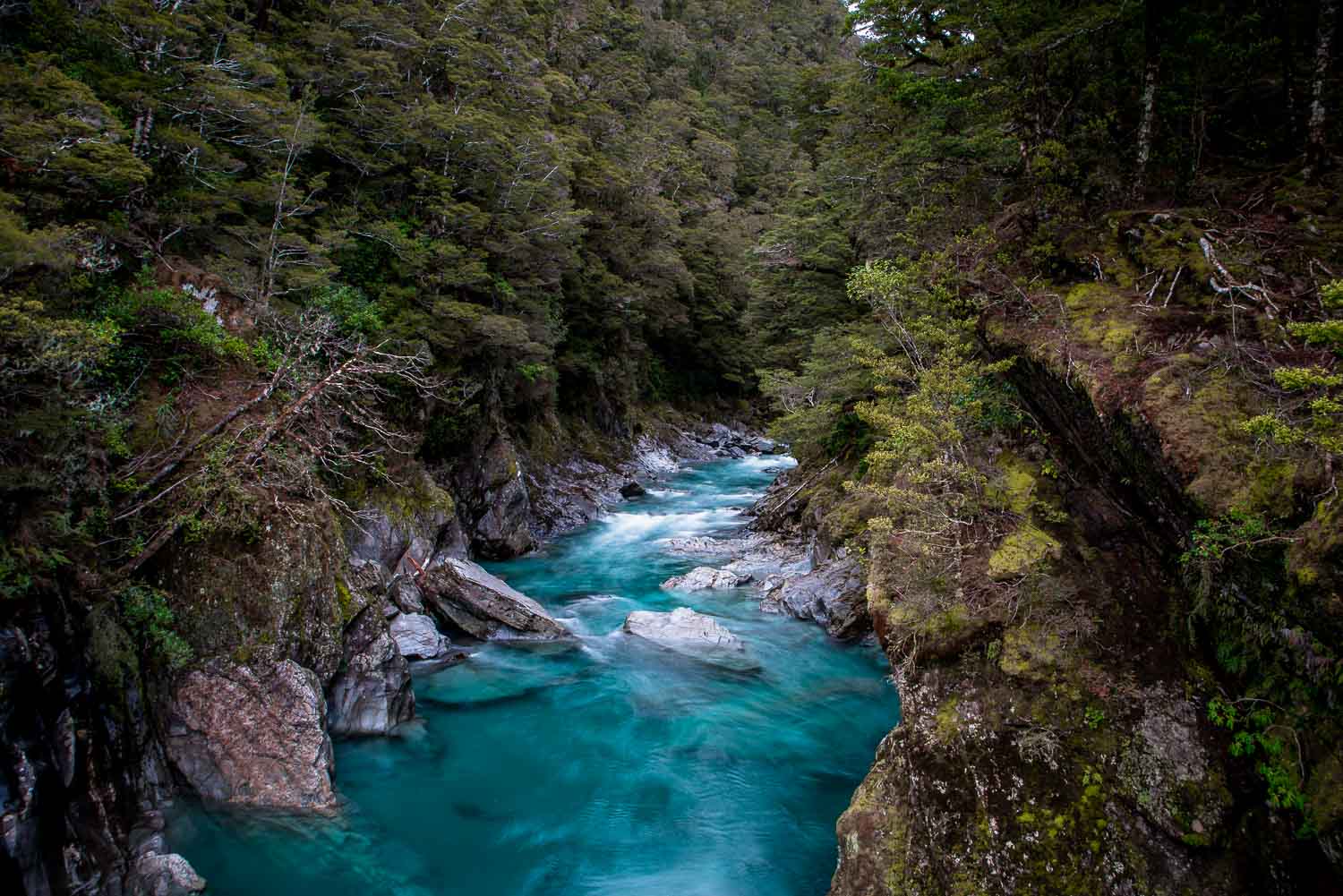 One of the most popular spots is Blue Pools just outside of Makarora with a short 30-minute return walk over 2 crystal blue rivers with the aid of classic New Zealand swing bridges. In the summer, the glacial waters become swimmable but during the winter you may want to keep your cold weather gear on.
Once you have crossed the steepest part of the pass, there are a plethora of short treks and waterfalls to checkout including Thunder Creek Falls, a waterfall which seemingly falls from the sky. One of my favourites and a lesser visited spot is that of Roaring Billy Falls, a gushing cascade of glacial water falls through lush native forests with each end of the short walk holding views of the Southern Alps and Thomas Range.
For those avid adventurers, Brewster Hut is a stunningly steep hike to the base of Brewster Glacier which forms part of the Southern Alps. Brewster Hut is a day/ overnight trek so prepare well for this one and check with www.doc.govt.nz for track information and cabin fees.
Best Stay: Unless you are hardcore and into your tramping, Makarora is a small township enroute to Wanaka and quite close to Blue Pools where a small caravan and RV spots are available. Lake Hawea might suit you better even Wanaka which is about 1.5 to 2 hours' drive from Haast Pass.
New Zealand Road Trip: Wanaka, Haast Pass, & West Coast of the South Island - Cinematic Travel Video
---
Arthurs Pass
The Arthurs Pass region is one of the most commonly visited places in the Southern Alps commonly seen while on the Christchurch to Greymouth TranzAlpine Train. The TranzAlpine is a fantastic way to see the beautiful snowcapped peaks of the Southern Alps, but it isn't the best way to see everything.
Traveling by car allows you to stop, stretch your legs and wander into the mountains and see crystal clear reflections on pristine lakes. Crossing the Arthur's Pass by car can take a few hours to a few days depending on what you want to see. I started my trip across the pass from Greymouth and headed east to Christchurch and was able to see so much within the space of a day.
---
Highlights of the Arthur's Pass
The quirky town of Otira is a gem to visit even if it's to grab a pie before hitting the road again. Otira's old pub is home to large statues of Gandalf the Grey from Lord of the Rings as well as Smaug the fire breathing dragon from The Hobbit movies.
After departing Otira, it's all uphill and the views at the top won't disappoint. Soon after arriving at the top of the pass, take a sharp left hand turn and you'll end up in a small carpark overlooking a series of peaks and bridge heading back towards Otira.
The Bealy Track is a definite highlight of the Arthur's Pass and is often missed by those driving past so watch out for a small roadside carpark highlighted by Department of Conservation signs. The Bealy Track takes you to the base of Mount Rolleston, a stunning 2,275 metre peak in the Southern Alps.
The most popular walk on the Arthur's Pass is the Devils Punchbowl track leading to a spectacular waterfall where the cheeky Kea likes to hang out. A Kea is an alpine parrot, one of the most intelligent birds of its type and is known to only live around the alpine areas of the South Island's Southern Alps. These birds are critically endangered and all though they might do some damage to your car or tent, please respect these birds as there are very few left in the wild.
Best Stay: Accommodation isn't cheap with rates starting at $89 for a bed at the YHA. There are plenty of camping or campervan options from Arthurs Pass Village to Castle Hill.
Places to visit in South Island New Zealand - Arthurs Pass
---
Akaroa
Every country has a taste of French about it and when it comes to New Zealand, Akaroa is the place where baguettes, champagne and the people who have French heritage become a part of everyday life in this secluded peninsula on the South Island.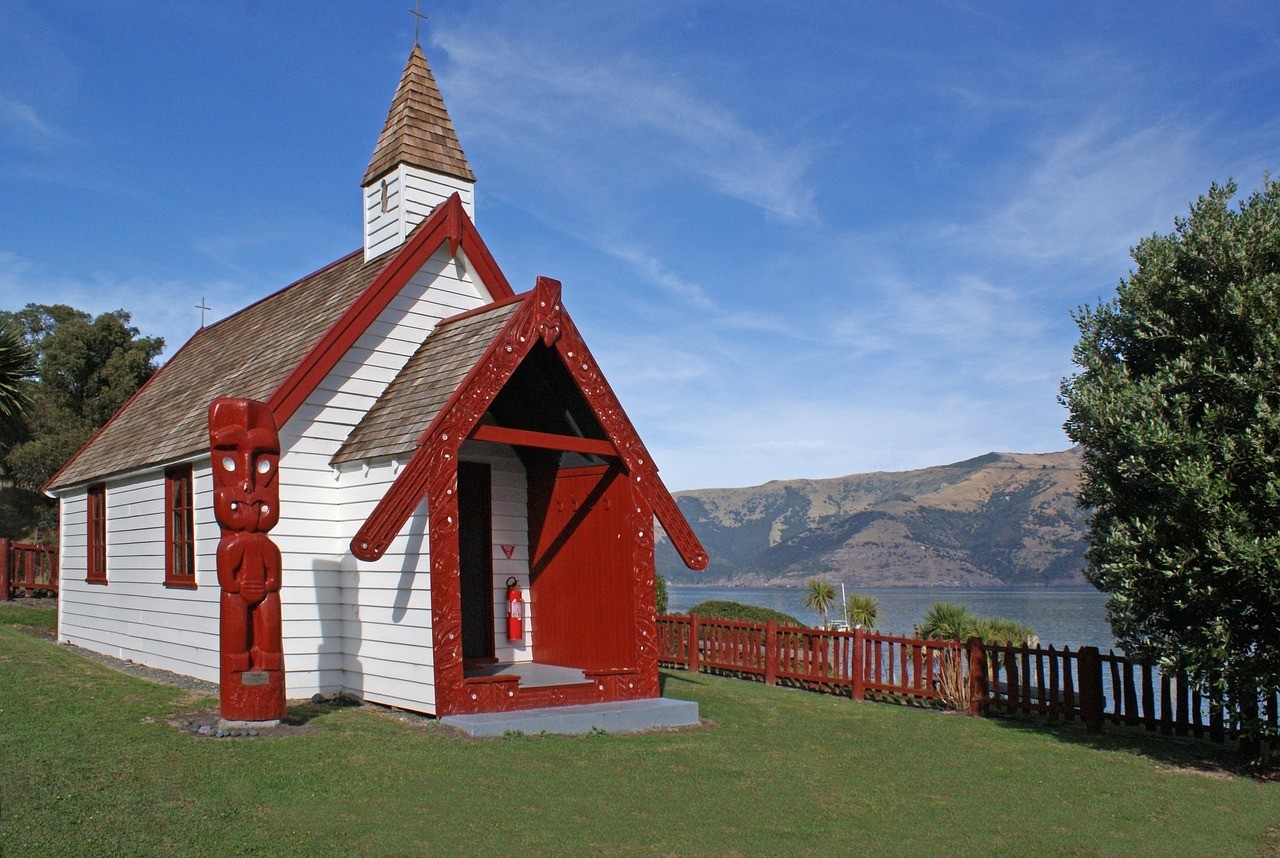 With French flags dangling from every building, flowers of all colors fill planter boxes and the waft of a freshly poured coffee wafts down the main street, Akaroa is an essential part of New Zealand's history being established in 1849 after conflicts with a Maori iwi.
Today, Akaroa is bliss throughout all seasons especially summer as Akaroa Harbour and surrounding harbor's and inlets become a haven away from the mild heat New Zealand experiences. Also sharing the harbor will be Hector's Dolphins, a rare species only found in New Zealand.
Away from the water's edge, a multitude of treks and trails weave and wind through native forests and lush headlands. Close to Akaroa is Newtown's Waterfall, a short 1 hour return track to a waterfall surrounded by trees native to the area. Akaroa offers spectacular 360 degree views and if you take the Skyline Circuit, you'll have the peninsula all to yourself!
Best Stay: Chez La Mer isn't your usual backpackers hostel instead appearances will have you think it's a dolls house from the outside but this warm and cosy French-inspired set up is perfectly placed to a short walk to Daly's Wharf and Akaroa Harbour.
Akaroa New Zealand. Car trip from Christchurch to Akaroa
---
Queenstown
The first thing you think of when the name Queenstown arises is 'adventure' or 'adrenaline' with epic ski fields, bungy jumping and jet boat rides the depth of things you can do in Queenstown is incredible.
Be sure to read through my detailed Queenstown Itinerary as well!
Queenstown is the best all year round destination in the South Island as winter descends ski fields such as Coronet Peak, The Remarkables and Cardrona open for action and are all within a relative close distance of one another so why not jump between resorts to get the maximum out of this winter wonderland!
When the ski field's close for the season summer is mint for hiking in The Remarkables with most hikes starting around Kingston and Frankton and if you are looking for a taste of the mountains, why not hike to the summit of Ben Lomond, high above Queenstown! Queenstown has a good reputation for mountain biking with an intricate system of tracks trailing from the Ben Lomond Scenic Reserve rivalling that of Rotorua in the North Island.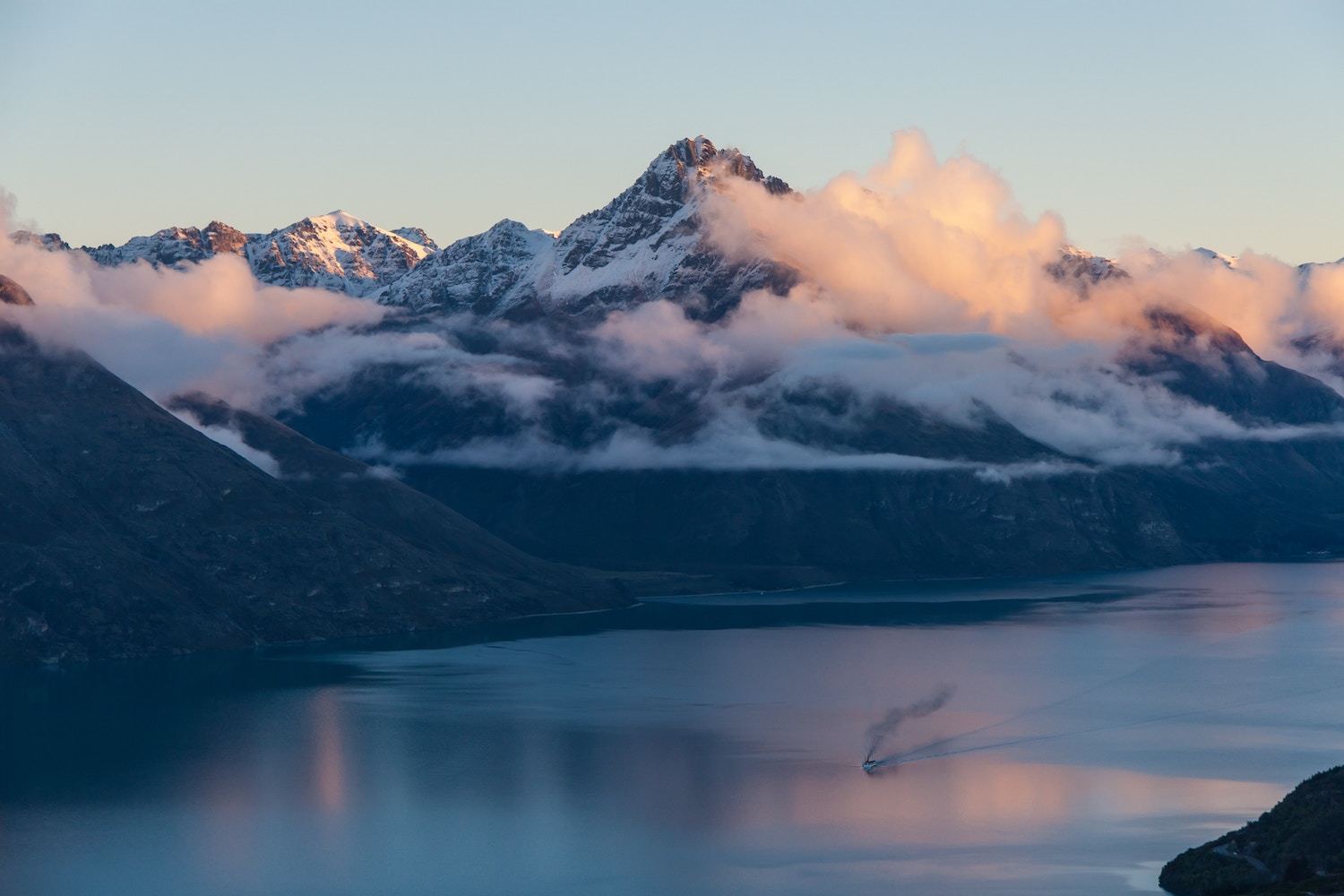 Not far from Queenstown is the historic gold mining town of Arrowtown cast into a corner of the Crown Range meaning lush mountain slopes are spectacular during autumn and winter
If you're all adventured out, the town of Queenstown is idyllic for those wanting to kick back and watch the mountains reflection on the pristine Lake Wakatipu with an array of cafes, restaurants and bars to suit everyone's needs but one that is perfect after a hectic day's exploration is Pub on Wharf with an array of boutique beers and a local produce menu.
Best Stay: from backpacker dorms to luxury, Queenstown has everything but getting a room in peak season is often very hard so book in advanced. For a bit of fun, NOMADS Hostel on Church Street is the spot to go especially if you love a weekday party. Prices start at $28 NZD.
Queenstown Vacation Travel Guide | Expedia
---
Glenorchy
Often at times Queenstown can just be too much so why not go for a day trip to Glenorchy, about 1 hour's drive along Lake Wakatipu to a very relaxed, almost tourism-free town. Based at the foothills of the Southern Alps, 2,000 metre mountains surround Glenorchy as the reflections bounce off Wakatipu.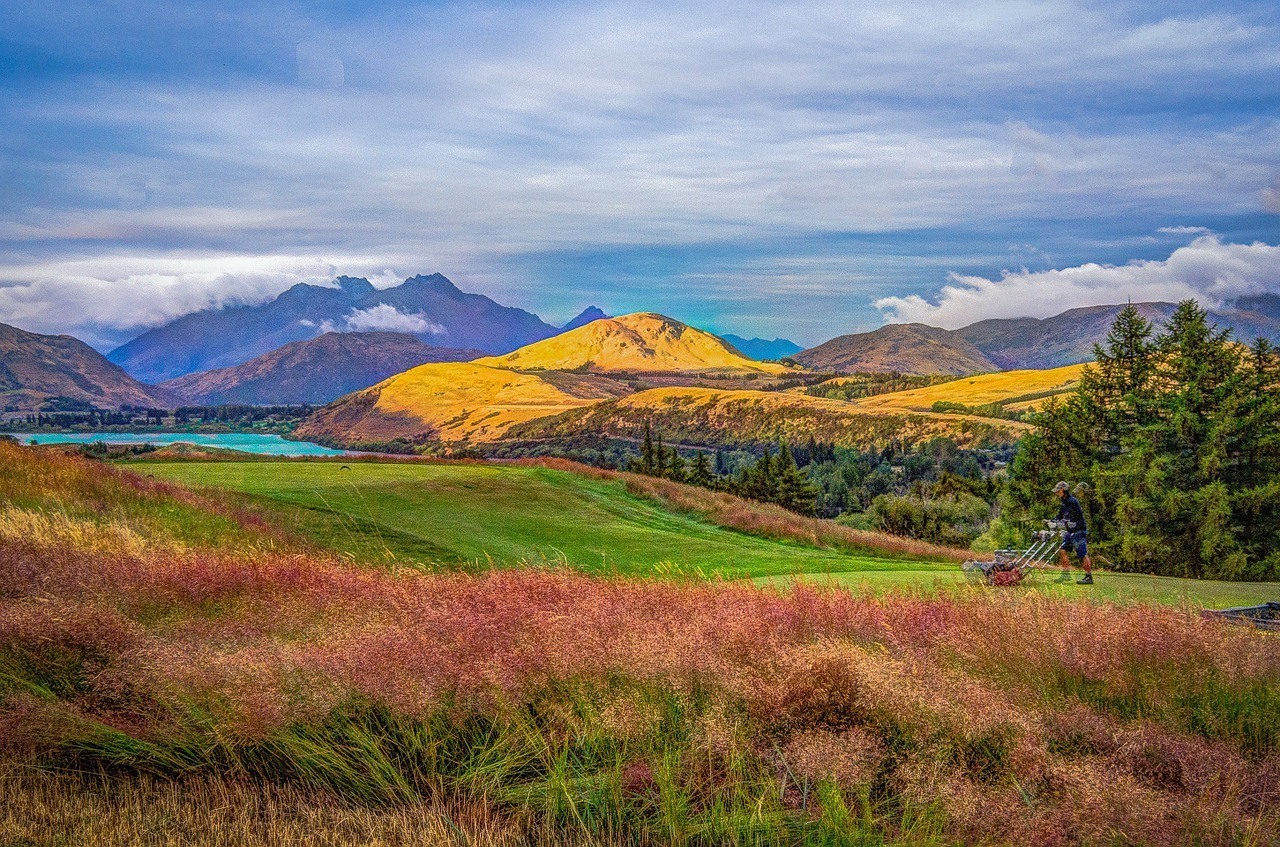 Glenorchy is a gateway to the Routeburn Track, a Great Walk of New Zealand spanning 32 kilometres over gorgeous mountain landscapes. Close by is the Dart River Track, a four day advanced level track with the inclusion of an alpine track; for more information on these tracks and avalanche updates, check on www.doc.govt.nz.
Best Stay: Kinloch Lodge offers the cheapest rooms starting at $35 NZD. Getting to the lodge is fun with the requirement of a boat!
---
Wanaka
Wanaka is commonly described as a mini Queenstown but with the same popularity, mountain views but less of Queenstown's party vibe and more pow time! Wanaka days are to live for!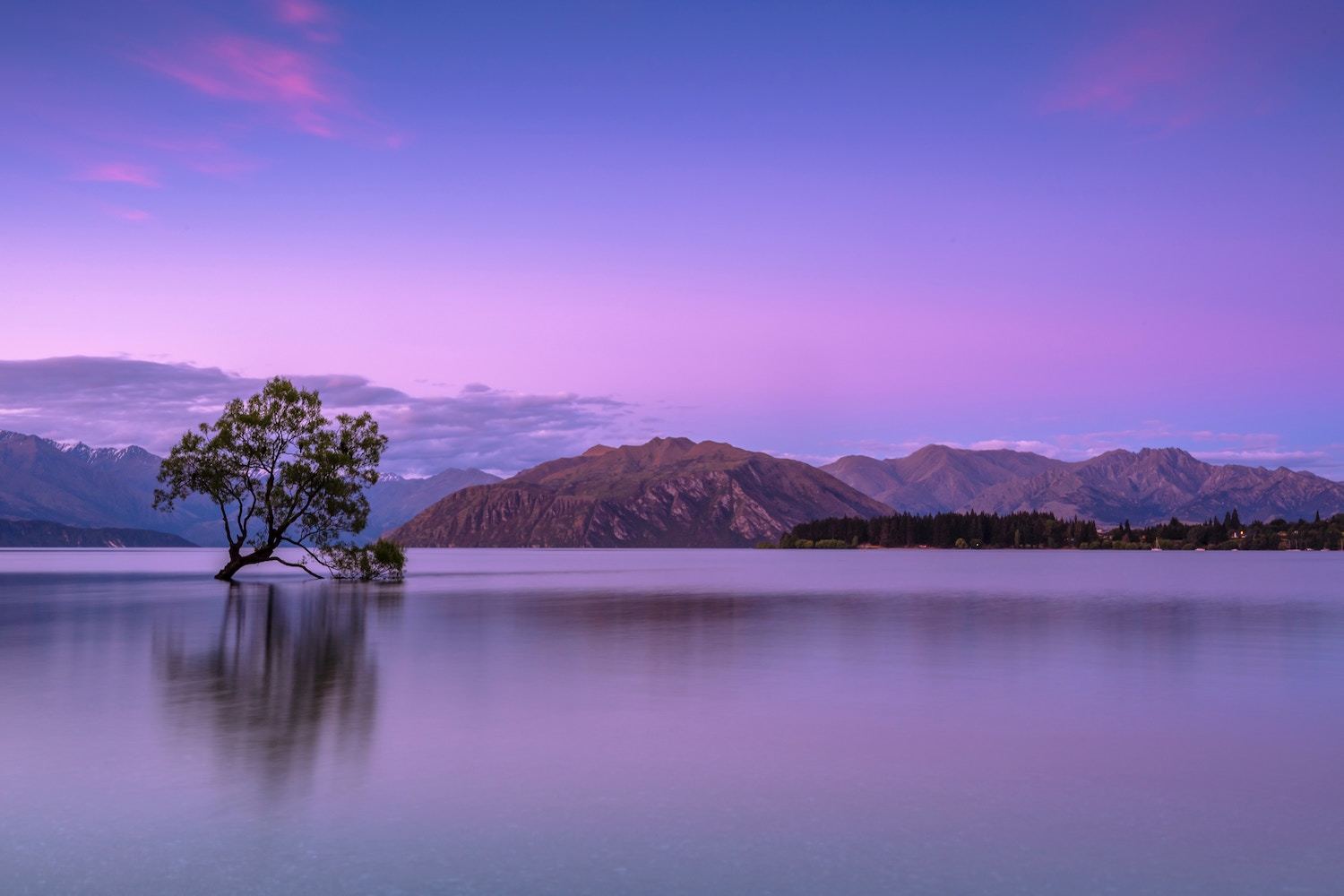 Wanaka is a 1.5 hour drive from Queenstown which can be approached via the Crown Range near Cardrona or through Kawarau Gorge and Cromwell which gives an awesome opportunity for wine tasting at mountain-backed vineyards.
If you're looking for a more challenging or just opting for better views on the ski field, Treble Cone and Cardrona are definitely one-ups on Queenstown's snow with epic terrain to suit everyone, even the professionals occasionally ascend to Wanaka's powder.
Trekking, mountain climbing or sightseeing is largely popular at Mount Aspiring National Park located 1.5 hour's drive from Wanaka through the Matukituki Valley where deer farms run throughout and fiords stream on by. The Rob Roy Glacier Track gets you close to a high mountain glacier as peaks rise into the sky on this 3 to 4 hour adventure.
To end the day, nothing beats sitting on the shore at Roy's Bay and watching the last of the sun's ray's dance on Mount Aspiring, the 23rd highest peak in New Zealand.
Best Stay: Wanaka's YHA is a winner and only a 2 minute walk from the lake and 2 minutes to nearby shops. Rates start from $31 NZD.
Wanaka things to do, tours and attractions - Must Do New Zealand
---
Fiordland
Cornered away in New Zealand's Deep South is Fiordland National Park, a true gift from the gods to us humans on earth. Fiordland has a myriad of places to visit including Milford Sound, Doubtful Sound and Mitre Peak and that's just getting things started.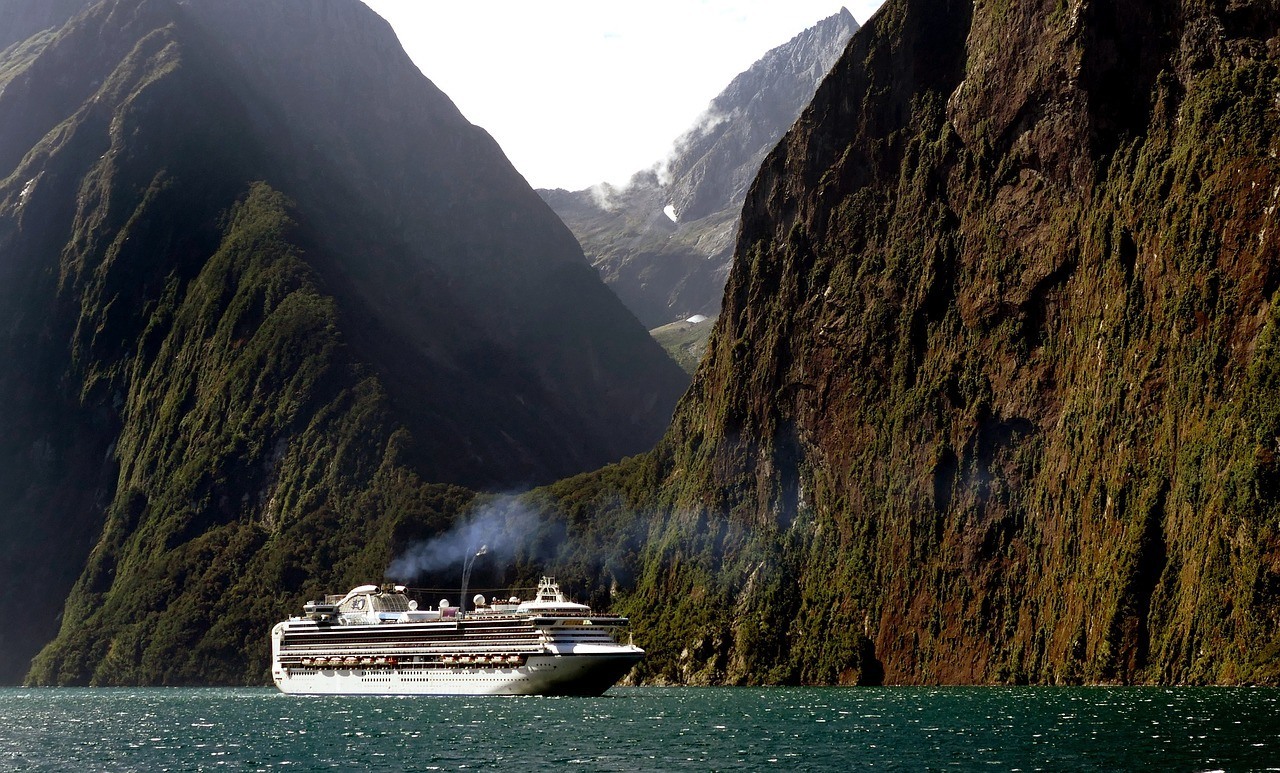 Fiordland is a maze of mountains and fiords meaning from sea level to a peaks summit is 2,700 metres and seeing something like this is truly breathtaking. One of the most popular journeys to take is a cruise on the Milford Sound past the likes of Mitre Peak, a dramatic spire peak often covered in snow and Bowen Falls; a cascading waterfall spilling into the Milford Sound.
Seal populations often dabble around rocks close to the drastic shore lines while Hector's Dolphins and Orca's become a common sight for those cruising on a boat or kayaking these wonderful waters.
Fiordland is also home to the Milford Track and Hollyford Track, two Great Walks of New Zealand. The Milford Track takes 4 days and spans 53 kilometres where swing bridges, mountain passes and stunning alpine views are a beautiful sight. As for the Hollyford Track, expect lots of glacial creeks and rivers while following remote forest trails. The Hollyford spans 54.5 kilometres and takes 3 to 4 days.
Best Stay: Day trips to the Milford Sound are more common these days but if there are vacancies around, opt for the Milford Sound Lodge with rates starting at $20 NZD for a dorm room. Nearby Te Anau offers an array of accommodation so you don't have to rush back to Queenstown.
Milford Sound – the Eighth Wonder of the World in 4K! Play On In New Zealand | DEVINSUPERTRAMP
---
Aoraki Mount Cook National Park
New Zealand's most popular national park is home to the mighty Sky Piercer, the name given by the Maori people to describe Aoraki; New Zealand's tallest and most prominent mountain. Aoraki soars to an incredible 3,724 metres high and dominates nearby peaks.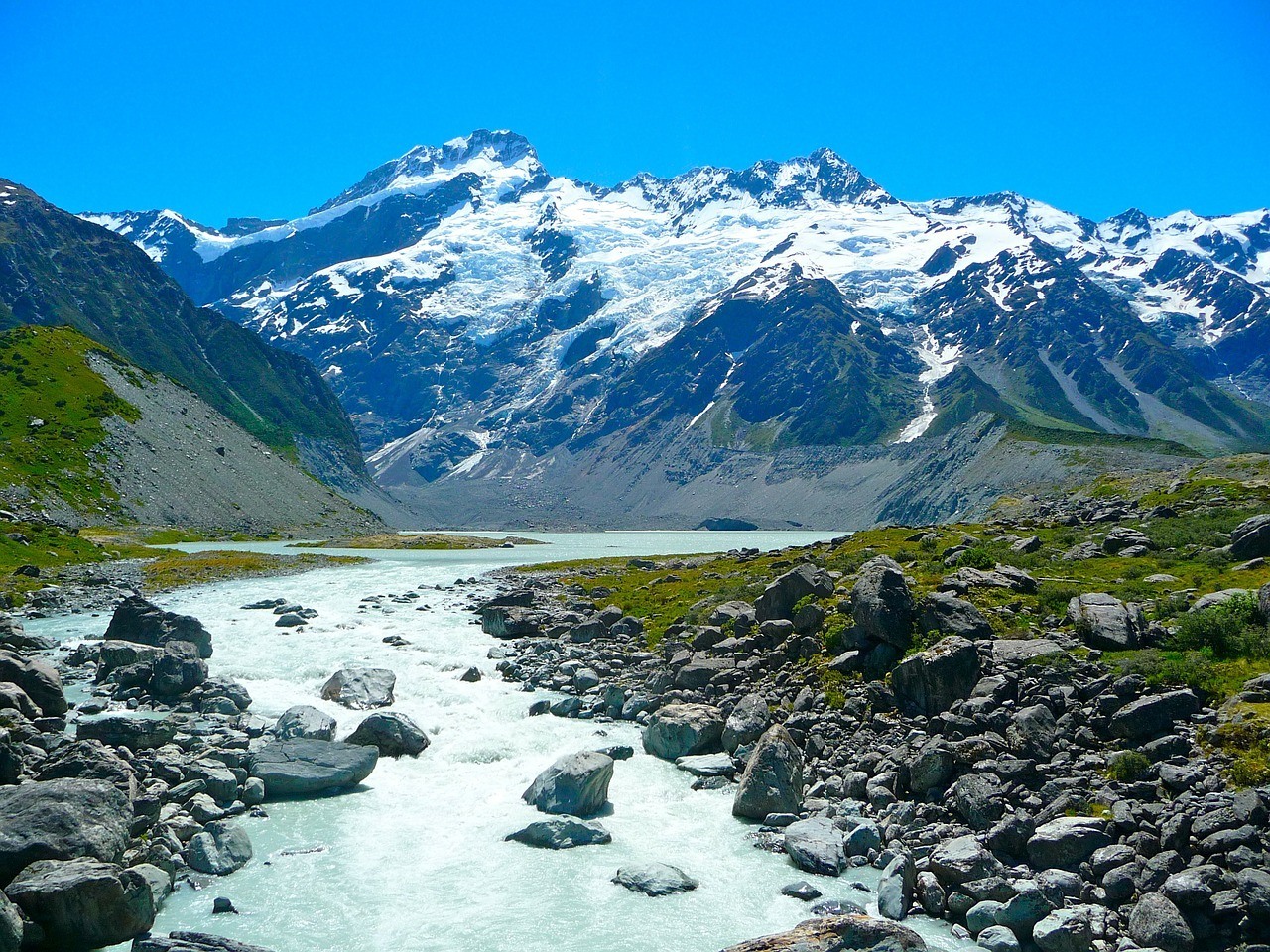 The Hooker Valley Walk is one of the most hiked trails in the country and for good reason with exceptional access to the mountains and that of Aoraki and it's an easy 10 kilometre return mission to the exit point of Hooker Glacier Lake where Aoraki can be seen extending high from the glacier below. Mountains are everywhere you look and due to their height, snow and ice almost always stays upon the peaks.
Sealy Tarns Track to Mueller Hut might be the best access to an alpine hut in the country and can be generally accessed all year round. To Sealy Tarns, expect a lot of stairs and steep sections almost requiring the use of hands. Once at the tarns, views are exceptional of Mount Sefton to the right and Aoraki straight ahead. If you decide to continue on to Mueller Hut, mountaineering gear like crampons and cold weather gear may be needed along with enough food for a night at this mountain hut. Check with www.doc.govt.nz on vacancies and conditions at Mueller Hut before heading up.
Tasman Glacier is directly on the other side of Hooker Valley and is less visited than the popular Hooker Valley. Hiking to the Tasman Glacier view point takes around 30 minutes each way and the views are incredible with expansive views of Tasman Lake and Tasman Glacier which is the longest in New Zealand.
Best Stay: Accommodation is a-plenty at Mount Cook Village ranging from backpackers to luxury. Mount Cook Backpackers Lodge is a good option with rates starting from $35 NZD for a dorm room plus the upstairs bar and restaurant is a winner with great pub food overlooking Mount Wakefield and Mount Cook with Mount Sefton popping its head out of the clouds every now and then.
Places to visit in New Zealand - Mount Cook
---
Stewart Island
Technically New Zealand has 3 islands and Stewart Island is one of them! No visit to the South Island is ever complete without taking a ferry across the rough Foveaux Straight to Oban tucked away into the side of the remote Rakiura or Stewart Island.
Stewart Island is home to the famed Kiwi bird, a flightless animal pushed to the edge of extinction but on this island, it remains to be vibrant and if you are out on a midnight walk they might just pop out the shrubs to say Kia Ora!
Given the islands remote nature and closeness to the poles of earth, aurora spotting is idyllic for the legendary Aurora Australis which can be spotted at various times of the year in the southern skies.
Best Stay: Accommodation is limited but with enough options to cover all styles of travellers. Stewart Island Backpackers is nicely positioned and cheap with rates starting at $20 NZD for a dorm room.
🗺️ Exploring Oban on Stewart Island – New Zealand's Biggest Gap Year – New Zealand Guide
---
Otago Peninsula
Only 30 minutes' drive from the Scottish town of Dunedin, the Otago Peninsula is a slice of Ireland and maybe the most underrated patch of nature in New Zealand. Picture this and trust me, you'll need to Google images to understand what I am talking about; shear coastal walls with wildflowers dotted throughout the narrowing cliffs as albatross's circle looking for a feed of fish. Beaches are often occupied by lazy seals or curious penguins waddling from the cool sea to the wind-blown sand dunes…the Otago Peninsula is natures finest.
---
My perfect day on the Otago Peninsula looks a bit like this:
Start of in Dunedin and take Portobello Road past cute little bay towns such as MacAndrew Bay and Portobello. Lookout for colourful boat and fishing huts!

From Portobello continue onwards to Taiaroa Head were penguins and albatross's are commonly seen. There are also a few short walks near the Royal Albatross Centre with exceptional views of the coast and headlands.

Head back to Lower Portobello and take Weir Road which follows a section of Papanui Inlet and Hoopers Inlet. Take a left on Allans Beach Road to a windswept and remote Otago Peninsula Beach which is popular for seals.

Sandymount Reserve is my favourite and that's why I have left it for last as this piece of rugged coastline holds the best views and best walks on the peninsula.

To see the sunset, there are so many places but height is best so get onto Highcliff Road which looks over Dunedin and the Otago Harbour…happy days for sure!
Best Stay: Camping on the Otago Peninsula is very hard and is restricted due to wildlife been about but bed and breakfasts are available. Allans Beach Farmstay is by far the best with small cottages upon Cape Saunders which includes a private wildlife tour to see penguins, albatross's and seals! Prices start at $150 NZD.
Otago Peninsula & The Catlins | New Zealand
---
Christchurch
A trip to the South Island just wouldn't be complete without a visit to Christchurch, the largest city on the South Island where views of the ocean, Southern Alps and amazing city vibes are all entwined.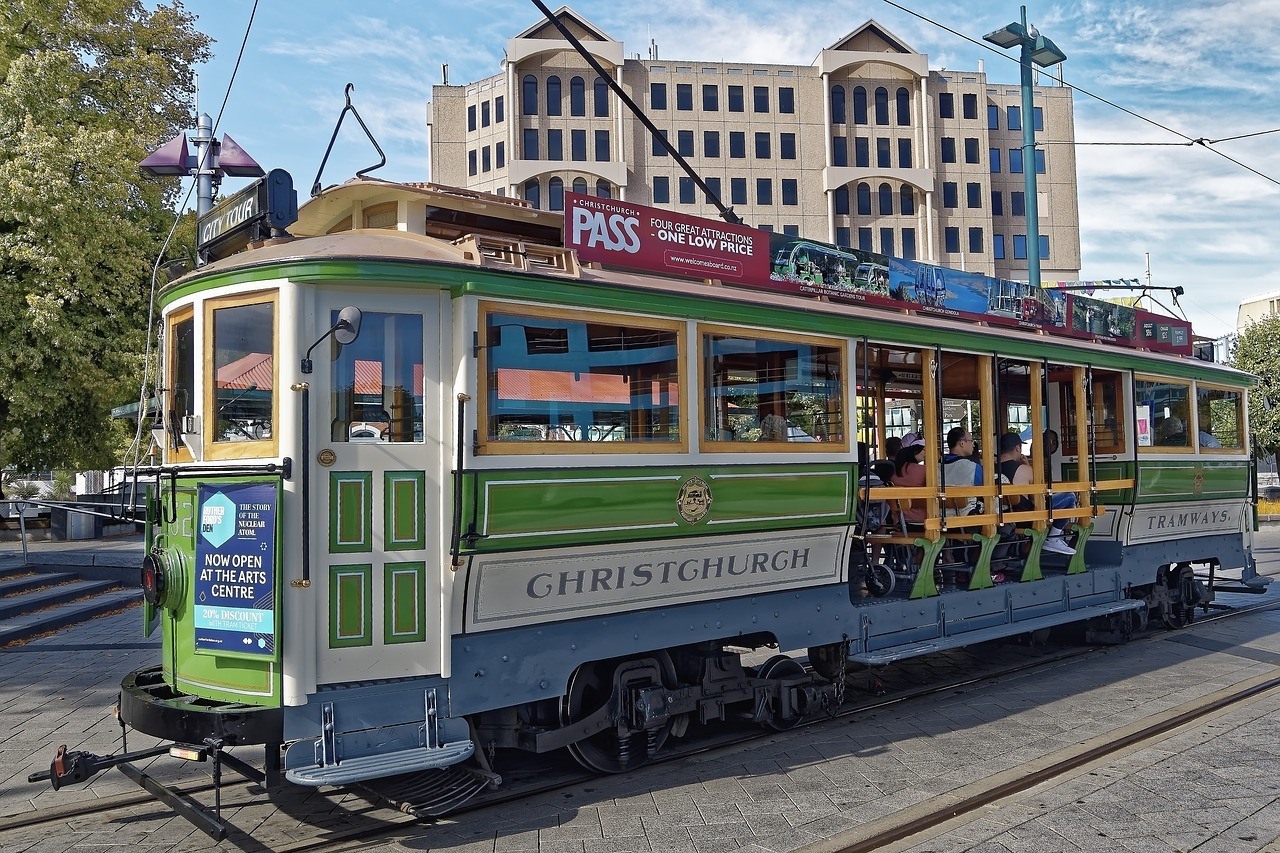 Christchurch has had a horrendous past few years and that's something I don't want to delve into but I would like to say just how awesome the people of Christchurch and New Zealand are and how they overcome adversity.
Please don't overlook Christchurch when going to the South Island, every tourist that goes there helps in some way or another.
My favorite place in Christchurch is anywhere near the Avon River as it peacefully flows through the Botanical Gardens, under the Bridge of Remembrance and out to sea. Cathedral Square and the Canterbury Museum are connected by Worcester Road which will take you over the Avon River.
When the weather is fine, there are opportunities to see snowcapped peaks from Christchurch and if you are a keen skier or snowboarder, Mount Hutt is 1 hour and 40 minutes away with some of the best slopes in the country.
Best Stay: for a central stay in Christchurch opt for Chester Street Backpackers with prices starting from $32 NZD. Jucy also has an awesome set up right near the airport with heaps of room to chill out, cook and whatever you please. Rates start at $32 for pod.
---
South or North Island, New Zealand: Which is better…?
Ah the classic question for travelers coming down this way, and such a hard one to nail on the head because I still can't give a straight answer!
If you love the culture, rolling hills and less tourism, than the North Island might be best for you.
If you are a keen hiker, snowboarder or love adrenaline then the South Island is calling you.
But as the taco girl says "why not both"?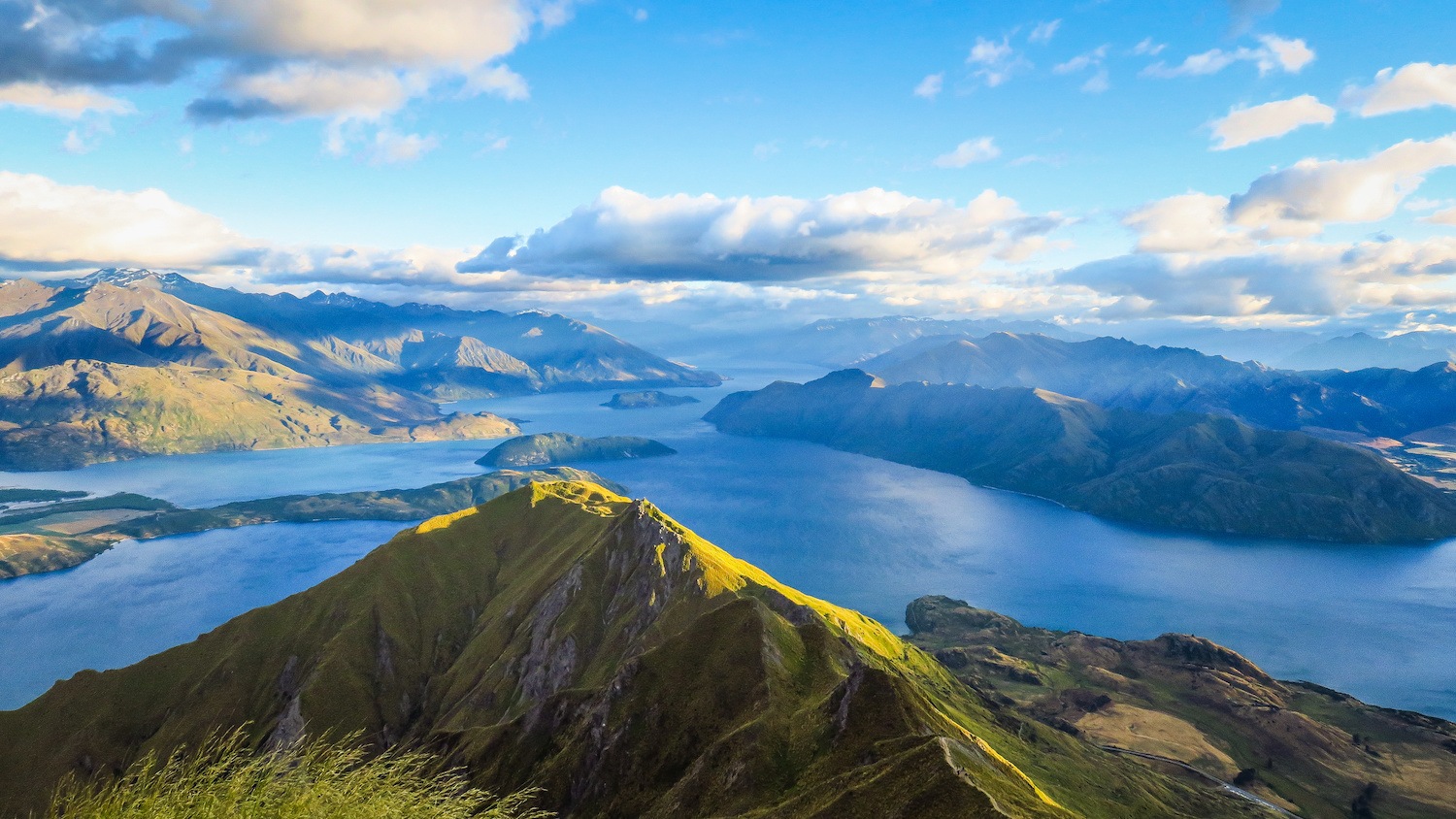 ---
NEW ZEALAND South Island Road Trip + TRAVEL COSTS
New Zealand and Australia are quite similar in travel costs, meaning most things can be pretty expensive. Here's a rundown of basic items and their cost. If you have any specific question about these costs, let me know and I'd be happy to answer them!
Accommodation – $30 NZD for a 6 bed share at a local backpackers
Coffee – $5 NZD for a latte from a café
Beer – $6 NZD for a schooner or $9 for a pint
Pub Meal – $20 to $30 NZD
Fuel – $1.70 NZD for fuel in a major city like Christchurch or Queenstown.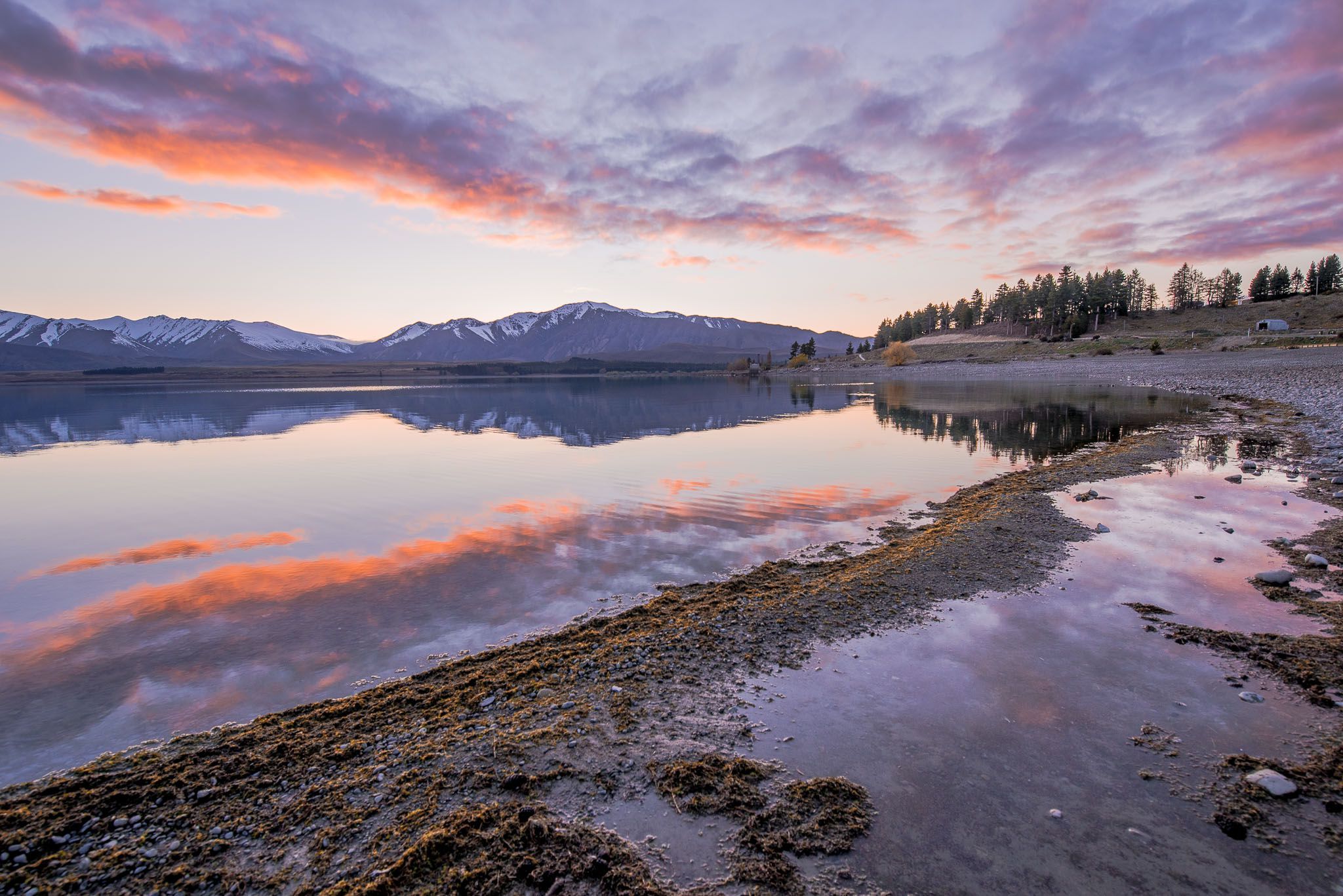 ---
South Island New Zealand Travel Guides & Books
Whether you're spending two weeks two months in New Zealand – I'd definitely recommend picking up a guide book or two to assist you while you're on the road! I'm personally a fan of Lonely Planet, but there are a decent amount of options that would be a great resource while you're exploring the North Island: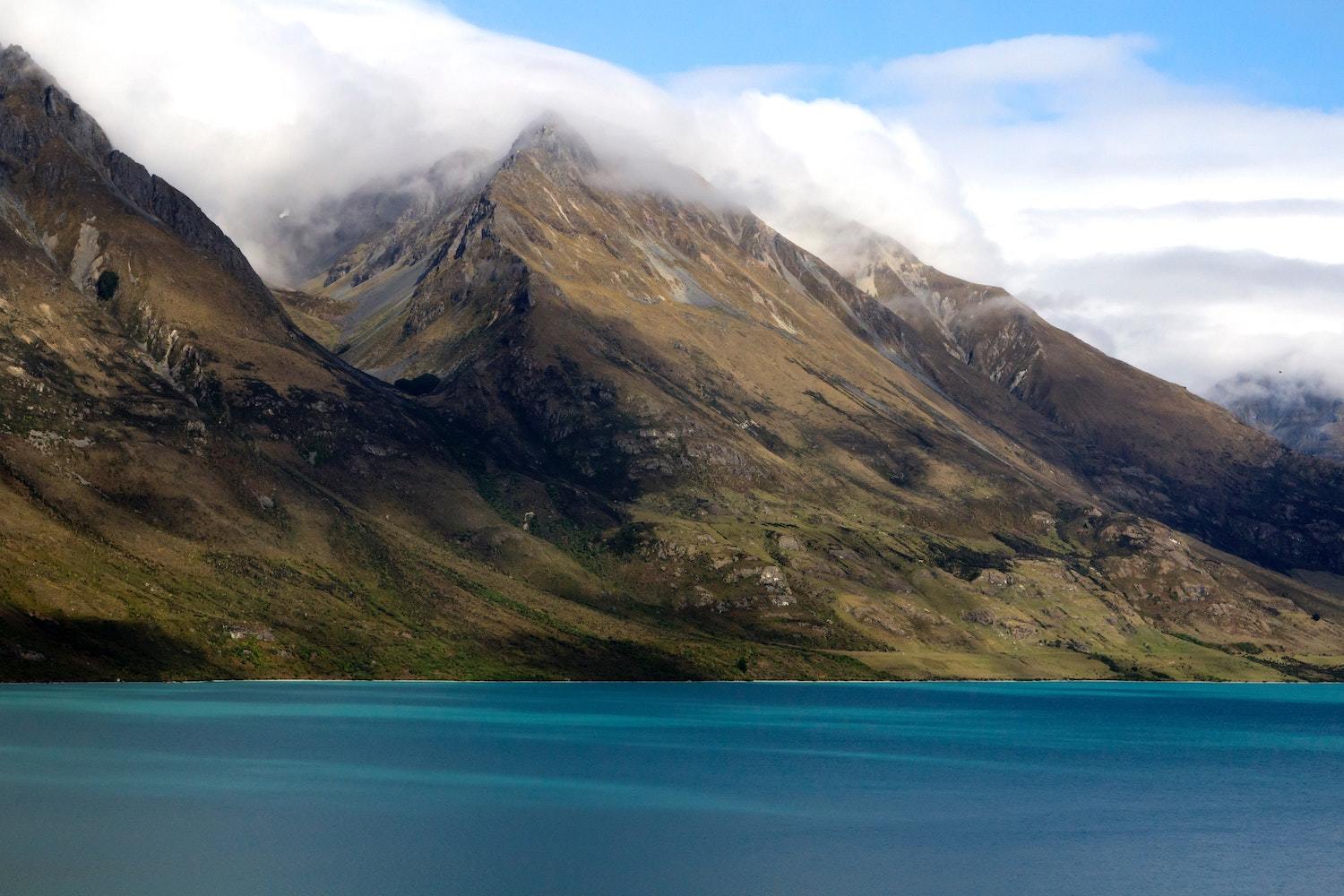 ---
Planning a trip to New Zealand & Australia…?
These are two of my favorite countries of the world, and my website is filled with articles just like this can be a great source of information and inspiration! Check out a few of my favorites blogs below, and feel free to reach out to me with any questions you have! I'm always happy to help any way I can!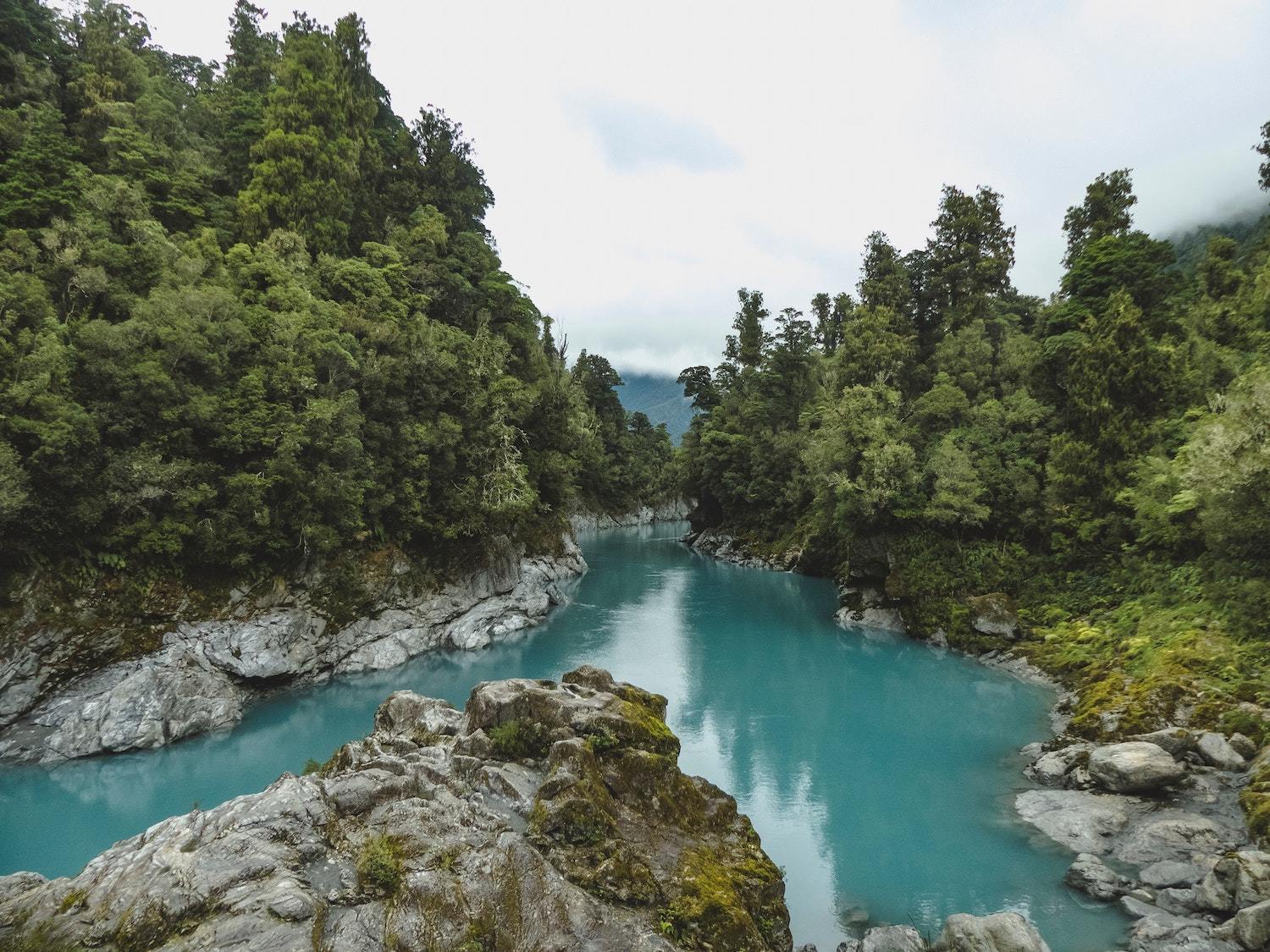 ---
Don't Forget South Island New Zealand Travel Insurance !!
Whether you are heading to New Zealand for just a week or embarking on a lengthy trip around both the north and south islands, travel insurance is absolutely essential.
Getting sick or having items stolen while travelling is rare, but when it does happen, it can be an absolute nightmare. Having insurance (which is essential for visas in some countries) will give you the peace of mind that if anything terrible does happen, you are covered. While people often make the mistake of thinking healthcare is 'free' in countries such as New Zealand, as a visitor that is usually not the case.
I highly recommend HeyMondo due to their extensive range of cover for all situations and trip lengths, their fair pricing, and their handy app which allows you to not only manage any claims within the app, but also access free assistance online so you don't need to rack up an expensive phone bill while abroad!
So, whether you need a single trip cover or an affordable annual cover for multiple trips worldwide, be sure to buy your travel insurance before you travel, and relax during your trip knowing that HeyMondo has your back. Nowadays I would never travel without insurance again, especially after hearing so many (expensive and dangerous) horror stories from other travellers I've met!
Still planning your trip? You can always just get a no commitment travel insurance quote now, so you have an idea of how much extra to budget for your vacation!
New Zealand South Island road trips: Kaikoura, Punakaiki, Otago, Mackenzie Basin, Akaroa
---
Thanks for reading my New Zealand South Island Itinerary
Share this South Island itinerary with your travel friends and hobbits!
https://www.jonesaroundtheworld.com/wp-content/uploads/2019/07/New-Zealand-South-Island-Itinerary-2019-.jpg
1000
1500
Dave
https://www.jonesaroundtheworld.com/wp-content/uploads/2017/03/logotry-1-1-300x106.png
Dave
2019-07-21 21:41:09
2022-06-13 19:19:13
The Ultimate South Island New Zealand Itinerary & Travel Guide